BLACK LABOR IN THE OLD SOUTH
Until the end of the Civil War, slaves constituted the backbone of the southern labor force. While picking cotton and other agricultural employments are commonly associated with black bondsmen, it is not so widely known that they also predominated in craft and industrial labor as well. The Documents in Part I reveal the use and extent of slave labor in the Old South, and some of the unique occupational patterns which developed under the "peculiar institution."
An overview of the Afro-American prevalence in southern crafts is presented in Documents 1–3, with W. E. B. Du Bois and A. G. Dill suggesting that this propensity could be attributed to African ancestry (Doc. 1). Whether or not their assertion is true, slaves were found in all the crafts, from the most skilled to the least skilled. Documents 4–23 clearly show the variety of skills practiced by slave craftsmen. Equally striking is the significance of slave labor in virtually all of the important southern industries. In fact, it is difficult to see how most industries could have operated without bonded labor. Documents 24–37 indicate the extent of this omnipresence. According to the famous southern novelist Thomas Nelson Page, in 1865 blacks held "without a rival the entire field of industrial labor throughout the South." Indeed, Page claimed that "ninety-five per cent of all the industrial work of the southern states" was performed by black labor (Doc. 24). While this was an exaggeration, slaves were heavily concentrated in the industries.
The skills these slaves learned naturally increased their economic value. Because the slave artisan or mechanic could not be regulated as easily as the farm hand, especially in urban areas, he usually enjoyed more mobility than his more regimented brother in the field. While owners frequently hired, or leased, the services of their slaves to industrial employers, for example, bondsmen sometimes were permitted to hire their own time. As long as their earnings were turned over to the master, these slave mechanics experienced a relative freedom. This was not entirely enviable for frequently the hired mechanic encountered physical and psychological difficulties with his work which were as unique as the status itself (Doc. 38–40). Because slave artisans and mechanics were in great demand, they frequently used their free time to perform extra work for money which they kept for themselves. Sometimes they were able to accumulate enough money to purchase freedom for themselves or for loved ones, several cases of which are indicated in Documents 41–45.
Nevertheless, like other slaves, black artisans and mechanics yearned for freedom. In fact, that degree of liberty which they did enjoy only highlighted the inability to control their own destinies, which represented the most disillusioning aspect of bondage. When it became too unbearable, these "privileged" bondsmen often fled to freedom in the North. Frederick Douglass' own escape from a Baltimore shipyard is a pointed example (Doc. 46).
By the 1850s, perhaps as many as ten per cent of the black population of the South consisted of free people of color. Even though their status is best described as "quasi-free," being grossly restricted by malevolent laws designed to keep them under white control, free blacks also labored in every occupation requiring all degrees of skill to be found in the region. Documents 47–58 describe the range of free black occupations in the Old South and some of the discrimination black workers experienced.
BLACKS IN THE CRAFTS AND INDUSTRIES OF THE OLD SOUTH
Is there any evidence of mechanical skill among the African natives? A glimpse into African life may help us to answer . . . ; for among the Pygmies, the Hottentots, the Bushmen, the Ashantis and in practically all parts of the continent of Africa, we find concrete evidences of that ability which makes for artisanship.
While the Pygmies, still living in the age of wood, make no iron or stone implements, they seem to know how to make bark cloth and fibre baskets and simple outfits for hunting and fishing. Among the Bushmen the art of making weapons and working in hides is quite common. The Hottentots are further advanced in the industrial arts, being well versed in the manufacture of clothing, weapons and utensils. In the dressing of skins and furs as well as in the plaiting of cords and the weaving of mats we find evidences of their workmanship. In addition, they are good workers in iron and copper, using the skeepskin bellows for this purpose. The Ashantis of the "Gold Coast" know how to make "cotton fabrics, turn and glaze earthenware, forge iron, fabricate instruments and arms, embroider rugs and carpets, and set gold and precious stones." Among the people of the banana zone we find rough basket work, coarse pottery, grass cloth, and spoons made of wood and ivory. The people of the millet zone, because of uncertain agricultural resources, quite generally turn to manufacturing. Charcoal is prepared by the smiths, iron is smelted and numerous implements are manufactured. Among them we find axes, hatchets, hoes, knives, nails, scythes and other hardware. Cloaks, shoes, sandals, shields and water and oil vessels are made from leather which the natives have dressed. Soap is manufactured in the Bautschi district, glass is melted, formed and colored by the people of Nupeland, and in almost every city cotton is spun and woven and dyed. Barth tells us that the weaving of cotton was known in the Sudan as early as the eleventh century. There is also extensive manufacture of wooden ware, tools, implements and utensils.
Leo Africanus writing of Timbuctu in the sixteenth century said: "It is a woonder to see what plentie of Merchandize is dayly brought hither and how costly and sumptuous all things be. . . . Here are many shops of artificiers and merchants and especially of such as weave linnen and cloth."1
Kuka, on the west shore of Lake Tchad, and Sokoto, in the northwestern part of the empire of the same name, are the principal manufacturing centers of this district. Here cotton is spun and woven into cloth; skins are tanned and manufactured into boots, shoes and saddles; and implements, ornaments and tools are wrot of iron.
Thruout the continent of Africa we find evidences of the industrial ability of the natives. Anthropologist and geologist, scientist and man of letters alike record the achievements of the African people along this line.
W. E. B. Du Bois and Augustus Granville Dill (eds.), "The Negro-American Artisan," Atlanta University Publications, No. 17 (Atlanta 1912), pp. 25–26.
2. AN OVERVIEW: THE AMERICAN SOUTH
During the days of slavery the Negro mechanic was a man of importance. He was a most valuable slave to his master. He would always sell for from two to three times as much in the market as the unskilled slaveman. When a fine Negro mechanic was to be sold at public auction, or private sale, the wealthy slave owners would vie with each other for the prize and run the bidding often up into high figures.
The slave owners early saw the aptitude of the Negro to learn handicraft, and fully appreciating what vast importance and value this would be to them (the masters) selected their brightest young slavemen and had them taught in the different kinds of trades. Hence on every large plantation you could find the Negro carpenter, blacksmith, brick and stone mason. These trades comprehended and included much more in their scope in those days than they do now. Carpentry was in its glory then. What is done now by varied and complicated machinery was wrot then by hand. The invention of the planing machine is an event within the knowledge of many persons living today. Most of our wood-working machinery has come into use long since the days of slavery. The same work done now with the machine, was done then by hand. The carpenter's chest of tools in slavery times was a very elaborate and expensive outfit. His "kit" not only included all the tools that the average carpenter carries now, but also the tools for performing all the work done by the various kinds of "wood-working" machines. There is little opportunity for the carpenter of today to acquire, or display, genuis and skill in his trade as could the artisan of old.
One only needs to go down South and examine hundreds of old southern mansions, and splendid old church edifices, still intact, to be convinced of the fact of the cleverness of the Negro artisan, who constructed nine-tenths of them, and many of them still provoke the admiration of all who see them, and are not to be despised by the men of our day.
There are few, if any, of the carpenters of today who, if they had the hand tools, could get out the "stuff" and make one of those old style massive panel doors,—who could work out by hand the mouldings, the stiles, the mullions, etc., and build one of those windows, which are to be found today in many of the churches and public buildings of the South; all of which testify to the cleverness of the Negro's skill as artisan in the broadest sense of the term. For the carpenter in those days was also the "cabinet maker," the wood turner, coffin maker, generally the pattern maker, and the maker of most things made of wood. The Negro blacksmith held almost absolute sway in his line, which included the many branches of forgery, and other trades which are now classified under different heads from that of the regular blacksmith. The blacksmith in the days of slavery was expected to make any and everything wrot of iron.. He was to all intents and purposes the "machine blacksmith," "horseshoer," "carriage and wagon ironer and trimmer," "gunsmith," "wheelwright;" and often whittled out and ironed the hames, the plowstocks, and the "single-tree" for the farmers, and did a hundred other things too numerous to mention. They were experts at tempering edge tools, by what is generally known as the water process. But many of them had secret processes of their own for tempering tools which they guarded with zealous care.
It was a good fortune of your humble servant to have served his time as an apprentice in a general blacksmithing shop, or shop of all work, presided over by an ex-slave genius known thruout the state as a "master mechanic." In slavery time this man hired his own time,—paying his master a certain stipulated amount of money each year, and all he made over and above that amount was his own.
The Negro machinists were also becoming numerous before the downfall of slavery. The slave owners were generally the owners of all the factories, machine shops, flour-mills, saw-mills, gin-houses and threshing machines. They owned all the railroads and the shops connected with them. In all of these the white laborer and mechanic had been supplanted almost entirely by the slave mechanics at the time of the breaking out of the Civil War. Many of the railroads in the South had their entire train crews, except the conductors, made up of the slaves—including engineers and firemen. The "Georgia Central" had inaugurated just such a movement, and had many Negro engineers on its locomotives and Negro machinists in its shops. . . .
From a letter of J. D. Smith, stationary engineer, Chicago, Ill., quoted in W. E. B. Du Bois and Augustus Granville Dill (eds.), "The Negro American Artisan," Atlanta University Publications, No. 17 (Atlanta, 1912), pp. 34–36.
An ex-governor of Mississippi says:
"Prior to the war there were a large number of Negro mechanics in the Southern States; many of them were expert blacksmiths, wheelwrights, wagon-makers, brick-masons, carpenters, plasterers, painters and shoemakers. They became masters of their respective trades by reason of sufficiently long service under the control and direction of expert white mechanics. During the existence of slavery the contract for qualifying the Negro as a mechanic was made between his owner and the master workman."
Such slaves were especially valuable and formed usually a privileged class, with a large degree of freedom. They were very often hired out by their masters and sometimes hired their own time although this latter practice was frowned upon as giving slaves too much freedom and nearly all states forbade it by law; although some, like Georgia, permitted the custom in certain cities. In all cases the slave mechanic was encouraged to do good work by extra wages which went into his own pocket. For instance, in the semiskilled work of the Tobacco factories, the Virginia master received from $150-$200 annually for his slave and the employer fed him; but the slave, by extra work, could earn for himself $5 or more a month. So carpenters sometimes received as much as $2 a day for their masters, and then were given the chance to earn more for themselves. In Texas nine slaves, some of them carpenters, were leased at an average of $280.22 a year and probably earned something over this. If the mechanic was a good workman and honest the master was tempted to allow him to do as he. pleased so long as he paid the master a certain yearly income. In this way there arose in nearly all Southern cities a class of Negro clients free in everything but name; they owned property, reared families and often lived in comfort. In earlier times such mechanics often bought themselves and families and became free, but as the laws began to bear hard on free Negroes they preferred to remain under the patronage and nominal ownership of their white masters. In other cases they migrated North and there worked out their freedom, sending back stipulated sums. Many if not most of the noted leaders of the Negro in earlier times belonged to this slave mechanic class, such as Vesey, Nat Turner, Richard Allen and Absalom Jones. They were exposed neither to the corrupting privileges of the house servants nor to the blighting tyranny of field work and had large opportunity for self development.2
Usually the laws did not hinder the slaves from learning trades. On the other hand the laws against teaching slaves really hindered the mechanics from attaining very great efficiency save in rare cases—they must work by rule of thumb usually. North Carolina allowed slaves to learn mathematical calculations, but not reading and writing; Georgia in 1833 decreed that no one should permit a Negro "to transact business for him in writing." Gradually such laws became more severe: Mississippi in 1830 debarred slaves from printing offices and Georgia in 1845 declared that slaves and free Negroes could not take contracts for building and repairing houses as mechanics or masons. Restrictions, however, were not always enforced, especially in the building trades, and the slave mechanic flourished.
There were, no doubt, many very efficient slave mechanics. One who learned his trade from a slave writes us an interesting and enthusiastic account of the work of these men:
"During the days of slavery the Negro mechanic was a man of importance. He was a most valuable slave to his master. He would always sell for from two to three times as much in the market as the unskilled slaveman. When a fine Negro mechanic was to be sold at public auction, or private sale, the wealthy slave owners would vie each other for the prize and run the bidding up into high figures.
"The slave owners each saw the aptitude of the Negro to learn handicraft, and fully appreciated what vast importance and value this would be to them (the masters) selected their brightest young slavemen and had them taught in the different kinds of trades. Hence on every large plantation you could find the Negro carpenter, blacksmith, brick and stone mason. These trades comprehended and included much more in their scope in those days than they do now. Carpentry was in its glory then. What is done now by varied and complicated machinery was wrought then by hand. The invention of the planing machine is an event within the knowledge of many persons living today. Most of our 'wood working' machinery has come into use long since the days of slavery. The same work done now with the machine, was done then by hand. The carpenter's chest of tools in slavery times was a very elaborate and expensive outfit. His 'kit' not only included all the tools that the average carpenter carries now, but also the tools for performing all the work done by the various kinds of 'wood-working' machines. There is little opportunity for the carpenter of to-day to acquire, or display, genius and skill in his trade as could the artisan of old.
"One only needs to go down South and examine hundreds of old Southern mansions, and splendid old church edifices, still intact, to be convinced of the fact of the cleverness of the Negro artisan, who constructed nine-tenths of them, and many of them still provoke the admiration of all who see them, and are not to be despised by the men of our day.
W. E. B. Du Bois, The Negro Artisan (Atlanta, 1902), pp. 15–16.
My father had among his slaves carpenters, coopers, sawyers, blacksmiths, tanners, curriers, shoemakers, spinners, weavers and knitters, and even a distiller. His woods furnish timber and plank for the carpenters and coopers, and charcoal for the blacksmith; his cattle killed for his own consumption and for sale supplied skins for the tanners, curriers, and shoemakers, and his sheep gave wool and his fields produced cotton and flax for the weavers and spinners, and his orchards fruit for the distiller. His carpenters and sawyers built and kept in repair all the dwelling-houses, barns, stables, ploughs, barrows, gates &c., on the plantations and the outhouses at the home house. His coopers made the hogsheads the tobacco was prised in and the tight casks to hold the cider and other liquors. The tanners and curriers with the proper vats &c., tanned and dressed the skins as well for upper as for lowere leather to the full amount of the consumption of the estate, and the shoemakers made them into shoes for the negroes. . . . The blacksmiths did all the iron work required by the establishment, as making and repairing ploughs, harrow, teeth chains, bolts &c., &c. The spinners, weavers and knitters made all the coarse cloths and stockings used by the negroes, and some of finer texture worn by the white family, nearly all worn by the children of it. The distiller made every fall a good deal of apple, peach and persimmon brandy. . . . All these operations were carried on at the home house, and their results distributed as occasion required to the different plantations. Moreover all the beeves and hogs for consumption or sale were driven up and slaughtered there at the proper seasons, and whatever was to be preserved was salted and packed away for after distribution.
Edmund S. Morgan, Virginians at Home: Family Life in the Eighteenth Century (Charlottesville, Va., 1963), pp. 53–54.
Content removed at rightsholder's request.
Gerald W. Mullin, Flight and Rebellion: Slave Resistance in Eighteenth-Century Virginia (New York, 1972), pp. 57, 94–96.
6. CARPENTERS, CAULKERS, BRICKLAYERS
This is to forewarn all Manner of Persons whatsoever, not to employ two Negro Carpenters, . . . Mingo and Norwich, belonging to Lawrence Dennis of Charles town, without first agreeing with the said Dennis, or his Spouse for the same.
This is to give Notice to all Persons, that they do not hire or employ these following Negroes . . . Cuffee and Beavour, two Caulkers, and Anselm a Bricklayer, without first agreeing with . . . Nicholas Trott, or Sarah his Wife.
John Vaughan and Ralph Rodda Bricklayer[s] having two Negro Boys brought up to their Trade, which are employed by Persons without their Master's Leave or Licence, they hereby forwarn all and every Person from doing so in the future.
South Carolina Gazette, January 20, 1733; March 10, 1733; July 31, 1736.
Run away near two Years, two Negro Men (being Sawyers) . . . , by Names Quamino and Quacco short, but very well Set, they both speak English very well, and are so crafty, that they would almost deceive any Body, and if taken, will frame a very Plausible Story that they are not runaways: The said Quacco is mark'd in the Forehead with Gunpowder thus RS.
South Carolina Gazette, August 4, 1733.
Whereas a Negro-Man named Lancaster, commonly known about the Two for a White washer, and Fisherman, has of late imposed upon his Employers, and defrauded me of his Wages; I do therefore advertise all Persons not to employ the said Lancaster, without first agreeing with me, or his producing a proper Ticket, unless they are willing to pay the Fine prescribed by Law; and all Negroes who shall carry the said Lancaster a Fishing, shall be rigorously prosecuted by Elizabeth Smith.
Whereas I have formerly advertis'd all Persons not to employ my Negro-Man Lancaster in white washing or any other kind of Work whatever, but to little Purpose; since he constantly earns Money (which he loses either by Gaming or spends among the little Punch-Houses.) altho' he has been run away for this Month past: I do therefore once more peremptorily forbid all Persons from employing the said Lancaster in any Manner whatever, unless they first agree with, and have a Ticket from Dr. Dale, and pay unto him whatever Money the said Lancaster shall earn, otherwise they will assuredly be prosecuted according to Law.
Elizabeth Smith
South Carolina Gazette, December 25, 1740; October 17, 1741.
To be Let, to work in Charles Town, at five shillings a Day each, Four able Negro Men, who have been used to labour for Brick layers.
South Carolina Gazette, December 7, 1747.
10. COOPER3
A Negro Man to be sold by Samuel Dunnscomb in New-Street, he is about 32 years of Age, understands most of the Cooper's Business: Price 90

. he has been some Voyages to Sea.
New York Gazette or Weekly Post-Boy, August 28, 1763.
He is an indifferent shoemaker, a good butcher, ploughman, and carterer; an excellent sawyer, and waterman, understands breaking oxen well, and is one of the best sythemen, in America; in short, he is so ingenious a fellow, that he can turn his hand to any thing.
Virginia Gazette, October 27, 1768.
At Mr. M'Lean's, Watch-Maker near the Town-House, is a Negro Man whose extraordinary Genius has been assisted by one of the best Masters on London; he takes Faces at the lowest Rates. Specimens of his Performances may be seen at said Place.
Massachusetts Gazette, January 7, 1773.
The SUBSCRIBER,
Intending to leave the Province in April next,
WILL DISPOSE OF
His NEGRO FELLOWS, Painters,
On Wednesday the Seventh of April next,
At his Yard in Queen-Street, directly opposite Mr. CANNON'S
AS to their Abilities, he thinks them evident, they having transacted the Whole of his Business, without any hired Assistance; and he has taken no little Pains in initiating them in the true Principles of their Profession.
LIKEWISE,
A good HOUSE-WENCH,
Who can wash and iron exceeding well, and is a tolerable Cook.
JOHN ALLWOOD.
South Carolina Gazette, March 8, 1773.
Philadelphia, April 27.
Eight Dollars Reward.
RAN-AWAY from the subscriber, a negro man, named JOHN FRANCES, but commonly called JACK: he is about 40 years of age, five feet ten inches high, ender [sic] built, speaks good English, by trade a goldsmith; he generally affects to be very polite, and it's more than probable he may pass for a freeman. Said negro was carried to New York and left in charge of Mr. Ephraim Brasher, goldsmith, from whom he absconded, and returned to me after skulking about this city for a considerable time: had on when he went away, an old gree coat, fustian waistcoat and breeches, a pair of half-boots, but may probably change his dress. All mates of vessels and others are forbid to harbour or carry him off at their peril. Whoever takes up said negro and delivers him to John Le Telier, goldsmith in Market street, or to the subscriber in New York, shall have the above reward, and all reasonable charges paid.
BENJAMIN HALSTED.
Pennsylvania Packet, May 1, 1784.
FIFTY PRIME NEGROES FOR SALE. To be sold on Tuesday, the 15th March Instant by the Subscribers, before their office near the Exchange.
About fifty prime orderly Negroes; consisting of Fellows, Wenches, Boys and Girls. This gang taken together, is perhaps as prime, complete and valuable for the numbers as were ever offered for sale; they are generally country born, young, able and very likely; two of them capable of acting as drivers, and one of them a good jobbing carpenter. The wenches are young, and improving; the boys, girls and children are remarkably smart, active and sensible; several of the wenches are fitted either for the house or plantation work; the boys and girls are trades or waiting servants. The age, descriptions and qualifications of these negroes, may be seen at the office of the Subscribers, and of Brian Cape and Son, or of Treasdale or Kiddell, merchants in Queen-street, who can give directions to those who desire it where the negroes may be seen. . . .
Charleston City Gazette, March 10, 1796.
WANTED IMMEDIATELY.—As an apprentice to the blacksmith's business, a smart, active boy, of from twelve to fifteen years of age, who can come well recommended. A black boy of this description will be taken. Wanted also, a Journeyman who understands his business and has good recommendations for honesty, industry and sobriety. A black man would not be rejected.
ELLIS MADDOX, Nashville.
Tennessee Gazette and Mero District Advertiser, Nashville, October 24, 1804.
GUY is a shoemaker by trade, and may probably endeavor to get employment—he carried off with him his tools of every description.
Richmond Enquirer, June 6, 1806.
APPRENTICES WANTED.—The subscriber carrying on the blacksmith's business in all its branches on Reynold street, near Calffrey and Bustin's hotel, would willingly receive three Negro fellows as apprentices. The owners may confidently rely that every necessary attention will be given to their instruction. J. J. PERIN.
Augusta (Ga.) Chronicle, March 2, 1811.
To be hired immediately, a very complete Seamstress; a complete worker of muslin, sober, and no runaway; she is a young colored Woman in her eighteenth year; she is very fond of children, can make their clothes and dress them with taste.
Charleston Courier, October 11, 1813.
Twenty Dollars Reward. Ran away on the 9th instant, from the plantation of David Aiken, Winnsborough, Fairfield District, a Negro Man named March, a Carpenter by trade, well known in this city as formerly the property of John Duncan, Esq. having worked at his Mills, for years. . . . March is about 5 feet 8 inches high; very black, with large whiskers, and a scar on the upper lip. He had a forged pass, to pass him on to Charleston, where he no doubt is now or in the neighborhood of this city.
Charleston Courier, December 12, 1826.
More negroes! Received from this day's steamer from Mobile, 42 likely negroes, from Georgia and Virginia. Buyers are requested to call and see for themselves. All descriptions: Field-hands, mechanics, cooks, washers and ironers, and body servants. . . . Among them I have a No. 1 Blacksmith, two seamstresses, two No. 1 Body-servants, and a Barber.
Louisiana Gazette, April 16, 1857.
This Indenture witnesseth that Ignatius Digges of Prince George County and Province of maryland gentlemen doth bind his Slave mulatto Jack to William Nicols of said county carpenter to learn his Art or Mistery as a carpenter and Joyner, and with him the said William Nicols after the manner of an apprentice to serve from the day of the date hereof for and During the Term of four years next running During which term the Said apprentice his said master shall faithfully Serve and all his Lawfull Commands obey, and further the Said Ignatius Digges covenanteth that in Case the said apprentice should be Sick that he will take him at his own expence, and the Said William Nicols Shall procure and provide for him the Said Jack sufficient meat Drink Appearil Lodging, and all Necessary Tools for Learning his Trade, the Said William Nicols is also to pay his Levy and permitt the Said apprentice to go on Sundays and Hollydas to Church, when the Said Ignatius Digges shall Direct, the said Nicols further agrees that he will not During the Term aforesaid, Carry or permitt the said Apprentice to go out of the Province, in witness whereoff the parties have hereunto felt their hands and Sealt this the thirty first day of July Anno Dom. 1771
Witness
Ign. Digges
David Crawford
wm Nicolls
Maryland Historical Society, Ms. 446
On Sept. 23, 1798 John Jones took Negro Jack into the forge to learn him the trade of half-bloomer. To work nine months without pay and then three years at 10/ per ton.
Joseph E. Walker, "Negro Labor in the Charcoal Iron Industry of Southeastern Pennsylvania," Pennsylvania Magazine of History and Biography 93 (October, 1969): 474.
In 1865, when the Negro was set free, he held without a rival the entire field of industrial labor throughout the South. Ninety-five per cent of all the industrial work of the Southern States was in his hand. And he was fully competent to do it. Every adult was either a skilled laborer or trained mechanic.
Thomas Nelson Page, The Southerner's Problem (New York, 1904), p. 127.
Oxford Iron Works, Bedford County, October 16, 1777
I will give ready money for likely young Negroes from 15 to 20 Years of Age. I would also hire between this and the first of January 50 or 60 Negro Men for one, two, or three Years. One half the first Year's Hire will be paid down, if required. The Situation of the Works is very healthy, the Labour of the Slaves moderate, and they shall have a plentiful Diet. I will allow an advanced Price for Carpenters and Wheelwrights, but will not be concerned with any that are noted Runaways. . . .
David Ross
Virginia Gazette, November 7, 1777.
MANUFACTURES IN THE SOUTH. The capacity of the Southern States for manufacturing their great staple, is no longer a matter of speculation. Practical experiment has demonstrated, not only their capacity to manufacture, but to manufacture their own staple at a cheaper rate than any part of the Union! Last February a year, I accompanied a most intelligent planter from Pittsburgh to Nashville, a Mr. Nightingale, formerly of R. Island. He was then taking with him a "foreman" from Providence, Rhode Island, to superintend his cotton factory.—The factory is located in Maury county, Tennessee. The machinery is propelled by a never failing, and never freezing stream. The entire labour is performed by slaves. Mr. Nightingale now supplies a large portion of Tennessee and North Alabama with coarse cotton cloths.
(Augusta), Georgia Courier, April 24, 1828, reprinted in Ulrich B. Phillips (ed.), A Documentary History of the American Industrial Society, Vol. II (Cleveland, 1910), p. 358.
It is quite astounding to see the legions of steamers from the upper country which are congregated here [New Orleans]; for miles and miles the levee forms one unbroken line of them, all lying with their noses on shore — no room for broadsides. On arriving, piled up with goods mountain high, scarce does a bow touch the levee, when swarms of Irish and niggars rush down, and the mountainous pile is landed, and then dragged off by sturdy mules to its destination. Scarce is she cleared, when the same hardy sons of toil build another mountainous pile on board; the bell rings, passengers run, and she is facing the current and the dangers of the snaggy Mississippi. The labour of loading and unloading steamers is, as you may suppose, very severe, and is done for the most part by niggers and Irishmen. The average wages are from

7 to

8 per month; but, in times of great pressure from sudden demand, etc., they rise as high as from

l2 to

14 per month, which was the case just before my arrival. The same wages are paid to those who embark in the steamers to load and unload at the different stations on the river. Every day is a working day, and as by law, the slave has his Sunday to himself to earn what he can, the master who hires him out on the river is suppose to give him one-seventh of the wages earned; but, I believe, they only receive one-seventh of the ordinary wages — i.e.,

1 per month.
H. A. Murray, Lands of the Slave and the Free, or Cuba, the U. S. and Canada, Vol. II (London: 1855), p. 25.
The Mid-Lothian Coal Mining Company wish to hire for the year 1846, able-bodied, healthy, well disposed Negro MEN: . . . The Company have been liberal in the expenditure of money and labour, to put their Mines in good working condition, and they are under the superintendence of skillful Mining Agents. . . . There is no service in which Slaves are better treated, fed, clothed, and attended in sickness, or enjoy better health. A well conducted Hospital, under the care of a careful steward, and daily attended by three Physicians, is provided at the Mines, and owners of slaves may have them secured from all Medical and Surgical charges, by the payment of three dollars each per annum.4
No slaves are hired who are not willing to enter the Company's service, and it is desired that none of bad character should be offered, as the Company are using every effort to improve the moral character of their own slaves and hirelings, to which end, they have the present year sold three disorderly men. The slaves have a Church of their own at the Pits, and divine service is regularly performed on the Sabbath by white Ministers. At least one half of those now in the Company's service are temperance men, and the use of spirituous liquors discountenanced. The Company feel gratified in being able to say, that their slaves and hirelings are as orderly, well-behaved, and moral, generally, as a like number of labouring men any where to be found. There is no work in which slaves are better satisfied and contented than coal-mining; and there is no service in which they have an equal chance of making money for themselves. There have been fewer deaths amongst the Company's hands from disease or casualties, since its organization some 12 years ago, than will be found in a like number of men any where. The Company have in their employment several free coloured men, who hire themselves annually upon the same terms and conditions as slaves, and are subject to the same discipline, and have been so employed for years. They have also in their Mines many white labourers.
There has been but one instance of any slave in the Company's service being committed for felony, and that one was discharged at the instance of the Commonwealth's Attorney, who states that the proof did not sustain the charge. . . .
The lives of Slaves hired to the Midlothian Company can be insured at a reasonable premium, if desired by the owners.
Richmond Whig and Public Advertiser, January 2, 1846.
On the banks of the Oconee river—one fork of which runs close by the town of Athens, in a deep valley, the town itself being on a hill, and the other forks at a distance for a few miles only—are three cotton factories, all worked by water-power, and used for spinning yarn, and weaving cloth of coarse qualities for local consumption only. I visited one of these, and ascertained that the other two were very similar to it in size and operations. In each of them there are employed from 80 to 100 persons, and about an equal number of white and black. In one of them, the blacks are the property of the mill-owner, but in the other two they are the slaves of planters, hired out at monthly wages to work in the factory. There is no difficulty among them on account of colour, the white girls working in the same room and at the same loom with the black girls; and boys of each colour, as well as men and women, working together without apparent repugnance or objection. This is only one among the many proofs I had witnessed of the fact, that the prejudice of colour is not nearly so strong in the South as in the North. Here, it is not at all uncommon to see the black slaves of both sexes, shake hands with white people when they meet, and interchange friendly personal inquiries; but at the North I do not remember to have witnessed this once; and neither in Boston, New York, or Philadelphia would white persons generally like to be seen shaking hands and talking familiarly with blacks in the streets.
The negroes here are found to be quite as easily taught to perform all the required duties of spinners and weavers as the whites, and are just as tractable when taught; for their labour is dearer than that of the whites, for whilst the free boys and girls employed receive about 700 dollars per month, out of which they find themselves, the slaves are paid the same wages (which is handed over to their owners,) and the mill-owner has to feed them all in addition; so that the free labour is much cheaper to him than the slave; and the hope expressed by the proprietor to me was, that the progressive increase of white population by immigration, would enable him to employ wholly their free labour, which, to him would be more advantageous. The white families engaged in these factories, live in loghuts clustered about the establishment on the river's bank, and the negroes repair to the huts allowed them by their owners when they are near, or stay at the mill, when their master's plantation is far off.
J. S. Buckingham, Slave States of America, Vol. II (New York, 1842), pp. 111–13.
30. SLAVE LABOR UPON PUBLIC WORKS AT THE SOUTH
The Cheapness of Slave Labor Belonging to Companies in Constructing Improvements, Compared to the System of Contracts.
The Commonwealth of Virginia having at this time many improvements in progress of construction, it becomes a question of serious importance, as to the cheapest mode of making these improvements. The system of making contracts with individuals is universally adopted in the free, and generally in the slave States. There can be no question but it is the better plan in the Northern States, and can be done cheaper than if companies were to hire labor; but in slave States, where the labor can be owned by the companies, we are decidedly of the opinion, that the grading, masonry, and mechanical work on railroads, and the entire construction of canals, will be less than half the cost it would be under the system of contracts. To sustain this view of the subject, is the object of our essay, for we are deeply interested not only as a large tax payer, but as a stockholder in two of the most important improvements in the State—the James River and Kanawha Company, and the Virginia and Tennessee Railroad Company.5
As a lover of our native State, we should delight to see not only those two important improvements completed, but also the other great lines commenced, and some that are contemplated carried on to consummation. Then, we should expect to see all our geographical divisions healed, and our good old Commonwealth take the position in the confederacy to which she is entitled by the extent of her territory, the productiveness of her soil, and her mineral resources. . . .
The plan proposed, we are convinced, will have this effect, and ought to be embraced by all the improvement companies in the slaveholding States.
To sustain the position assumed, it is necessary to compare the cost of labor to a company owning the slaves, and a contractor who hires them, for it is generally known that but a small portion of the laborers can possibly belong to the contractors—that they principally rely upon hirelings—and that they have found slaves the most profitable laborers. As proof of this fact, more than three-fourths of the laborers on the James River and Kanawha Canal the last year were slaves.
The average hire the present year of negro men to work on public improvements is about $120. If a railroad or canal company were to purchase at the present price, say $600, the annual cost to the company compared with the hirelings, will be nearly as follows:

less than half for a hand to be employed in grading or excavating earth, besides the profit to the contractor; but upon mechanical work, a still greater difference exists. Take masonry, for example, and upon all these improvements a vast amount of masonry has to be done. A sprightly negro man will, in six months, make a tolerable mason, and in twelve months an excellent one, for it is a simple trade, easily learned. Yet masons are scarce, and demand a high price, and a contractor offering for work bases his calculations upon paying these high prices. The cost to a company owning slaves who are masons, and to contractors who hire them, will approximate to the following calculation:

Eighty-one dollars per annum, allowing 250 working days, are equal to 32-1/2 cents per day; whereas the hired mason will cost the contractor $2 50 per day, more than seven times as much as the mason costs the company who owns him. In this estimate there is no allowance made for tools and overseering, as both use the former; and the hired mason, though white, requires as much overseering as the slave. Other mechanical work will show a considerable difference, but perhaps not as much as masonry.
Again, let us make an estimate of what excavation of earth and masonry will cost a company if owning slaves, and the price that is usually paid to contractors. We will base this estimate also upon the cost of negro men at $600:

In excavating earth, &c., ten cubic yards are considered an average day's work for a man—allowing 250 working days to a year, a man will excavate 2,500 yards; then divide $106 by 2,500, and excavation will cost the company about four cents per cubic yard. The usual price for excavation of earth paid to contractors is about twelve cents per cubic yard, for eight cents is the lowest price we have ever known to be paid to a contractor, and frequently fifteen cents. The calculation of excavating rock is attended with more difficulty; but still we can approximate sufficiently near to show that the difference of cost, if performed by labor belonging to a company and by contractors, will be greater than in the excavation of earth; for instance, by the calculation we have made, the entire cost to a company owning slaves, for a man, is $106 per annum, allowing 250 working days to the year, and the cost per day is 42 cents; and as the excavation of three cubic yards of rock is considered a fair average day's work per man, by dividing the 42 by 3, we have the cost per cubic yard fourteen cents, whereas the usual contract price is sixty cents. As a proof that this calculation is nearly correct, the writer made in the year 1839, when employed on the James River and Kanawha Company's canal, about $600 to each hand in excavating rock; and a friend told him that last year his hands, similarly employed, made from $600 to $700 each.
From the above calculations, we have these results, that slaves belonging to a company can excavate earth for less than half—can excavate rock for about one-fourth—and can construct culverts, bridges, abutments, locks, dams, &c. at about one-seventh that the same kind of work will cost contractors. With these facts, ought companies to hesitate as to the mode of constructing their improvements? and ought not the Legislature to require the State proxies to vote for the adoption of the system, here proved to be so decidedly superior to one almost in universal use, particularly as the State has so large an interest in all the improvements?
Let us test the two systems in the tobacco crop. Suppose a planter were to cultivate tobacco by contract; advertise that proposals would be received to repair——miles of fence; plough, re-plough, and manure——acres of land; put up——thousand tobacco hills, and plant, work, worm, and sucker this tobacco; cut, hang, house, fire, strip, bulk and prize the crop—at what price could he afford to sell this tobacco? We will answer at not less than twenty dollars per hundred; yet, by owning slaves, he can realize a small profit at five dollars. It may, however, be answered that greater skill is required to make canals or railroads, than is necessary in the cultivation of tobacco; but we beg leave to rejoin and say, that having had much experience in making tobacco and canals, we believe that more sound judgment is necessary in the former, than is required in the latter operation.
We have frequently heard the objection urged against companies making their improvements with slaves belonging to them—that contractors feel a greater interest, and with fewer hands to superintend, will have more work done by their laborers than companies can have performed by their slaves. It is admitted that this might be the case to some inconsiderable extent; but with a good system, and with a man of good common sense to manage the affairs of a company, we feel satisfied that this difference would be inconsiderable. For proof that this opinion is well formed, we refer to a contractor now at work, both on the canal and railroad, (Mr. Chas. Scott,) who has from three to five hundred men employed, (principally slaves,) and yet, from the best information that could obtained, he makes a larger profit in proportion to numbers than the contractors who work, comparatively speaking, but few hands—he has to rely upon a good system and upon overseers, and so would the president of a company. It is readily admitted that, with inefficient officers—with a president, whose only qualification is the ability to write long reports, with beautiful figures of speech and handsomely rounded periods; and who believes it is his only duty to preside at the meeting of the directors—or one whose time is almost entirely occupied with his own concerns—or one who knows nothing of the management of works of this character, nor of the governing and controlling of men, that such presidents might progress with more ease to themselves, and other officers; but with a good system and good officers, we contend that it is not much more difficult to manage one thousand than ten men.
We would recommend the following system for the government of a large number of slaves upon a work of internal improvement. The slaves, we think, ought to be divided into companies of about thirty men, including boys for the driving carts, if this be required—each company should have an overseer, a cook, and a blacksmith, with all necessary carts, horses and tools—the companies should be located as nearly to each other as the work, with accompanying circumstances, would justify—for about every ten companies an assistant engineer would be necessary, and for about one thousand men, a commissary, to purchase provisions, carts, horses, tools, &c. It should be the duty of the assistant engineer, aided by two sprightly slaves, (for rodmen) to designate particularly by metes and bounds the work to be executed by the overseers—pass along the work intrusted to his supervision as often as possible, noting in a book, or check roll kept for the purpose, the number of hands at work on each section, and at the end of the month make an accurate estimate of the quantity of work done by each overseer.
It should be the duty of every overseer to keep an account of all tools, provisions, &c., received from the commissary, and a check roll of the number of hands at work each day, with the causes of the absence of any hand.
At the end of the month, the quantity of work done by each overseer would indicate to the president his value, and notwithstanding there is great difference in the quality of earth and rock, yet a man of good common sense would soon form a pretty correct judgment of what could be excavated and removed, and also of the value of the overseer, and should any of the overseers prove unworthy, dismiss them and employ others. With such a system as this, well carried into effect, there is no doubt that the work would not only be well executed, but as much done to the hand as is usually obtained by contractors. . . .
The canal from Richmond to Lynchburg cost nearly $6,000,000; with that sum it is contended that the canal could have been constructed in Ohio, (whether a sufficient feeder could have been obtained on the Alleghany, we shall not now attempt to discuss,) and much the larger portion, if not the whole of that amount, returned to the State and stockholders.
When the canal was commenced, negro men were worth about $400, but we are willing to make our calculations upon their present selling price, $600. At the commencement of the work we would have bought one thousand negro men, which would have cost $600,000; and used the first year, $400,000 to purchase the necessary carts, horses, and tools, to pay land damages, engineers' salaries, and all other necessary expenditures, which would have been an ample allowance; and the remaining $5,000,000, at interest, would yield $300,000 annually, which would be sufficient for each succeeding year's expenditure, and to purchase as many slaves as would be probably necessary to keep up their number. When the canal was completed to Lynchburg, the income derived from tolls would be increased from $150,000 to $200,000. This sum, after defraying the necessary expenses of the unfinished canal, might have been made a sinking fund, and as the canal progressed, this sinking fund would be increased, until the completion of this great work; when it would, together with the slaves, have been sufficient to pay back the $1,000,000, together with the greater part of the interest annually drawn to carry on the work. . . .
The same system might be applied to railroads, with the exception of the cost of the rails. Take, for example, the Virginia and Tennessee Railroad, the grading of which, we are satisfied, might be done for less than half it will cost under the system of contracts with private owners for hired slaves. If negro men were purchased as fast as the funds of the company would justify the expenditure, and the first two hundred of the negroes so purchased (except such as might be required for other particular services) put into companies with a skillful and prudent mason to superintend and instruct them, in one year they would be good masons, and whilst learning the trade, effect a large saving over the system of contracts; and at the expiration of that time, their value would be doubled to the company. The same system might be pursued as to carpenters and blacksmiths; and when the company had sufficient funds for the purpose, negroes might be purchased to do part of the excavation of rock and earth, until the road was completed, when a large number will be always required to keep it in repair, to work at the depots in loading and unloading the cars, and in cutting wood and locating it where it may be wanted for the use of the steam-engine.
Unsigned article in DeBow's Review 17 (July 1854):76–82.
The shad and herring fisheries upon the sounds and inlets of the North Carolina coast are an important branch of industry, and a source of considerable wealth. The men employed in them are mainly negroes, slave and free; and the manner in which they are conducted is interesting, and in some respects novel.
The largest sweep seines in the world are used. The gentleman to whom I am indebted for the most of my information, was the proprietor of a seine over two miles in length. It was manned by a force of forty negroes, most of whom were hired at a dollar a day, for the fishing season, which usually commences between the tenth and fifteenth of March, and lasts fifty days. In favorable years the profits are very great. In extremely unfavorable years, many of the proprietors are made bankrupt.
Cleaning, curing and packing-houses are erected on the shore, as near as they conveniently may be to a point on the beach suitable for drawing the seine. Six or eight windlasses, worked by horses, are fixed along the shore, on each side of this point. There are two large seine-boats, in each of which there is one captain, two seine-tenders, and eight or ten oarsmen. In making a cast of the net, one-half of it is arranged on the stern of each of the boats, which, having previously been placed in a suitable position—perhaps a mile off shore, in front of the buildings—are rowed from each other, the captains steering, and the seine-tenders throwing off, until the seine is all cast between them. This is usually done in such a way that it describes the arc of a circle, the chord of which is diagonal with the shore. The hawsers attached to the ends of the seine are brought first to the outer windlasses, and are wound in by the horses. As the operation of gathering in the seine occupies several hours, the boat-hands, as soon as they have brought the hawsers to the shore, draw their boats up, and go to sleep.
As the wings approach the shore, the hawsers are from time to time carried to the other windlasses, to contract the sweep of the seine. After the gaff of the net reaches the shore, lines attached toward the bunt are carried to the windlasses, and the boats' crews are awakened, and arrange the wing of the seine, as fast as it comes in, upon the boat again. Of course, as the east was made diagonally with the shore, one wing is beached before the other. By the time the fish in the bunt have been secured, both boats are ready for another cast, and the boatmen proceed to make it, while the shore-gang is engaged in sorting and gutting the "take."
My informant, who had $50,000 invested in his fishing establishment, among other items of expenditure, mentioned that he had used seventy kegs of gunpowder the previous year, and amused himself for a few moments with letting me try to conjecture in what way villainous saltpetre could be put to use in taking fish.
There is evidence of a subsidence of this coast, in many places, at a comparatively recent period; many stumps of trees, evidently standing where they grew, being found some way below the present surface, in the swamps and salt marshes. Where the formation of the shore and the surface, or the strength of the currents of water, which have flowed over the sunken land, has been such as to prevent a later deposit, the stumps of great cypress trees, not in the least decayed, yet protrude from the bottom of the sounds. These would obstruct the passage of a net, and must be removed from a fishing-ground.
The operation of removing them is carried on during the summer, after the close of the fishing season. The position of a stump having been ascertained by divers, two large seine-boats are moored over it, alongside each other, and a log is laid across them, to which is attached, perpendicularly, between the boats, a spar, fifteen feet long. The end of a chain is hooked to the log, between the boats, the other end of which is fastened by divers to the stump which it is wished to raise. A double-purchase tackle leads from the end of the spar to a ring-bolt in the bows of one of the boats, with the fall leading aft, to be bowsed upon by the crews. The mechanical advantages of the windlass, the lever, and the pulley being thus combined, the chain is would on to the log, until either the stump yields, and is brought to the surface, or the boats' gunwales are brought to the water's edge.
When the latter is the case, and the stump still remains firm, a new power must be applied. A spile, pointed with iron, six inches in diameter, and twenty feet long, is set upon the stump by a diver, who goes down with it, and gives it that direction which, in his judgment, is best, and driven into it by mauls and sledges, a scaffold being erected between the boats for men to stand on while driving it. In very large stumps, the spile is often driven till its top reaches the water; so that when it is drawn out, a cavity is left in the stump, ten feet in depth. A tube is now used, which is made by welding together three musket-barrels, with a breech at one end, in which is the tube of a percussion breech, with the ordinary position of the nipple reversed, so that when it is screwed on with a detonating cap, the latter will protrude within the barrel. This breech is then inserted within a cylindrical tin box, six inches in diameter, and varying in length, according to the supposed strength of the stump; and soap or tallow is smeared about the place of insertion, to make it water-tight. The box contains several pounds of gunpowder.
The long iron tube is elevated, and the diver goes down again, and guides it into the hole in the stump, with the canister in his arms. It has reached the bottom—the diver has come up, and is drawn into one of the boats—an iron rod is inserted in the mouth of the tube—all hands crouch low, and hold hard—the rod is let go—crack!—whoo—oosch! The sea swells, boils, and breaks upward. If the boats do not rise with it, they must sink; if they rise, and the chain does not break, the stump must rise with them. At the same moment the heart of cypress is riven; its furthest rootlets quiver; the very earth trembles, and loses courage to hold it; "up comes the stump, or down go the niggers'."
If I owned a yacht, I think I would make a trip to Currituck next summer, to witness this Titanic dentistry. Who could have invented it? Not a Carolinian; it is too ingenious: not a Yankee; it is too reckless: not a sailor; it is too hard upon the boats.
The success of the operation evidently depends mainly on the discretion and skill of the diver. My informant, who thought that he removed last summer over a thousand stumps, using for the purpose seventy kegs of gunpowder, employed several divers, all of them negroes. Some of them could remain under water, and work there to better advantage than others; but all were admirably skillful, and this, much in proportion to the practice and experience they had had. They wear, when diving, three or four pairs of flannel drawers and shirts. Nothing is required of them when they are not wanted to go to the bottom, and, while the other hands are at work, they may lounge, or go to sleep in the boat, which they do, in their wet garments. Whenever a diver displays unusual hardihood, skill, or perseverance, he is rewarded with whisky; or, as they are commonly allowed, while diving, as much whisky as they want, with money. Each of them would generally get every day from quarter to half-a-dollar in this way, above the wages paid for them, according to the skill and industry with which they had worked. On this account, said my informant, "the harder the work you give them to do, the better they like it." His divers very frequently had intermittent fevers, but would very rarely let this keep them out of their boats. Even in the midst of a severe "shake," they would generally insist that they were "well enough to dive."
What! slaves eager to work, and working cheerfully, earnestly and skillfully? Even so. Being for the time managed as freemen, their ambition stimulated by wages, suddenly they, too, reveal sterling manhood; and honor their Creator.
Frederick Law Olmsted, A Journey in the Seaboard Slave States, With Remarks on Their Economy (New York: Mason Brothers, 1859, originally 1856), pp. 351–55.
32. WORKING AT A RICHMOND TOBACCO FACTORY
I was much struck by a forcible illustration of the loss attending the employment of slaves, by a visit to one of the largest tobacco factories in Richmond. . . .
Down the centre of a long room were twenty large presses, at each of which some dozen slaves, stripped to the waist (it was very hot), were tugging and heaving at long iron arms, which turned screws, accompanying each push and pull by deep-drawn groans. Within a few yards of the factory runs, or rather rushes, an illimitable supply of water, the merest fraction of which would furnish power to turn the screws of all the tobacco pressed in Richmond. On suggesting the desirableness of using this great natural force, instead of numerous Negroes now employed, thus saving their labor, the proprietor of the factory, who kindly acted as my guide, assured me the slaves did the work far better than it could be done by machinery, as the overseer could direct them to apply precisely as much pressure as the tobacco required.
Charles Weld, A Vacation Tour of the United States and Canada (London, 1855), pp. 313–14.
The "Great Dismal Swamp," together with the smaller "Dismals" (for so the term is used here), of the same character, along the North Carolina Coast, have hitherto been of considerable commercial importance as furnishing a large amount of lumber, and especially of shingles for our Northern use as well as for exportation. The district from which this commerce proceeds is all a vast quagmire, the soil being entirely composed of decayed vegetable fibre, saturated and surcharged with water; yielding or quaking on the surface to the tread of a man, and a large part of it, during most of the year, half inundated with standing pools. It is divided by creeks and water-veins, and in the centre is a pond six miles long and three broad, the shores of which, strange to say, are at a higher elevation above the sea, than any other part of the swamp, and yet are of the same miry consistency.
The Great Dismal is about thirty miles long and ten miles wide on an average; its area about 200,000 acres. And the little Dismal, Aligator, Catfish, Green, and other smaller swamps, on the shores of Albemarle and Pamlico, contain over 2,000,000 acres. A considerable part of this is the property of the State of North Carolina, and the proceeds of sales from it form the chief income of the department of education of that Commonwealth.
An excellent canal, six feet in depth, passes for more than twenty miles through the swamp, giving passage not only to the lumber collected from it, but to a large fleet of coasting vessels engaged in the trade of The Albemarle and Pamlico Sounds, and making a safe outlet towards New York for all the corn, cotton, tar, turpentine, etc., produced in the greater part of the eastern section of North Carolina, which is thus brought to market without encountering the extremely hazardous passage outside, from Cape Hatteras to Cape Henry. This canal is fed by the water of the pond in the centre of the swamp, its summit-level being many feet below it.*
*Of the main products of the country, the annual freightage on the Dismal SwampCanal is about as follows:

Much of the larger part of the "Great Dismal" was originally covered by a heavy forest growth. All the trees indigenous to the neighboring country I found still extensively growing, and of full size within its borders. But the main production, and that which has been of the greatest value, has been of cypress and juniper; (the latter commonly known as white cedar, at the North). From these two, immense quantities of shingles have been made. The cypress also affords ship-timber, now in great demand, and a great many rough poles of the juniper, under the name of "cedar-rails," are sent to New York and other ports, as fencing material, (generally selling at seven cents a rail,) for the farms of districts that have been deprived of their own natural wood by the extension of tillage required by the wants of neighboring towns or manufactories.
The swamp belongs to a great many proprietors. Most of them own only a few acres, but some possess large tracts and use a heavy capital in the business. One, whose acquaintance I made, employed more than a hundred hands in getting out shingles alone. The value of the swamp land varies with the wood upon it, and the facility with which it can be got off, from 12-1/2 cents to $10 an acre. It is made passable in any desired direction in which trees grow by

The canal was made with the assistance of the National Government and the State of Virginia, who are still the largest owners. It is admirably constructed, repairs are light, and it is a good six per cent stock. laying logs, cut in lengths of eight or ten feet, parallel and against each other on the surface of the soil, or "sponge," as it is called. Mules and oxen are used to some extent upon these roads, but transportation is mainly by hand to the creeks, or to ditches communicating with them or the canal.
Except by those log-roads, the swamp is scarcely passable in many parts, owing not only to the softness of the sponge, but to the obstruction caused by innumerable shrubs, vines, creepers and briars, which often take entire possession of the surface, forming a dense brake or jungle. This, however, is sometimes removed by fires, which of late years have been frequent and very destructive to the standing timber. The most common shrubs are various smooth-leafed evergreens, and their dense, bright, glossy foliage, was exceedingly beautiful in the wintry season of my visit. There is a good deal of game in the swamp—bears and wild cats are sometimes shot, raccoons and opossums are plentiful, and deer are found in the drier parts and on the outskirts. The fishing, in the interior waters, is also said to be excellent.
Nearly all the valuable trees have now been cut off from the swamp. The whole ground has been frequently gone over, the best timber selected and removed at each time, leaving the remainder standing thinly, so that the wind has more effect upon it; and much of it, from the yielding of the soft soil, is uprooted or broken off. The fires have also greatly injured it. The principal stock, now worked into shingles, is obtained from beneath the surface—old trunks that have been preserved by the wetness of the soil, and that are found by "sounding" with poles, and raised with hooks or pikes by the negroes.
The quarry is giving out, however, and except that lumber, and especially shingles, have been in great demand at high prices of late, the business would be almost at an end. As it is, the principal men engaged in it are turning their attention to other and more distant supplies. A very large purchase had been made by one company in the Florida everglades, and a schooner, with a gang of hands trained in the "Dismals," was about to sail from Deep-creek, for this new field of operations.
Slave-Lumbermen.
The labor in the swamp is almost entirely done by slaves; and the way in which they are managed is interesting and instructive. They are mostly hired by their employers at a rent, perhaps of one hundred dollars a year for each, paid to their owners. They spend one or two months of the winter—when it is too wet to work in the swamp—at the residence of their master. At this period little or no work is required of them; their time is their own, and if they can get any employment, they will generally keep for themselves what they are paid for it. When it is sufficiently dry—usually early in February—they go into the swamp in gangs, each gang under a white overseer. Before leaving, they are all examined and registered at the Courthouse, and "passes," good for a year, are given them, in which their features and the marks upon their persons are minutely described. Each man is furnished with a quantity of provisions and clothing, of which, as well as of all that he afterwards draws from the stock in the hands of the overseer, an exact account is kept.
Life in the Swamp—Slaves Quasi Freemen.
Arrived at their destination, a rude camp is made, huts of logs, poles, shingles, and boughs being built, usually upon some place where shingles have been worked before, and in which the shavings have accumulated in small hillocks upon the soft surface of the ground.
The slave lumberman then lives measurably as a free man; hunts, fishes, eats, drinks, smokes and sleeps, plays and works, each when and as much as he pleases. It is only required of him that he shall have made, after half a year has passed, such a quantity of shingles as shall be worth to his master so much money as is paid to his owner for his services, and shall refund the value of the clothing and provisions he has required.
No "driving" at his work is attempted or needed. . . . No force is used to overcome the indolence peculiar to the negro. The overseer merely takes a daily account of the number of shingles each man adds to the general stock, and employs another set of hands, with mules, to draw them to a point from which they can be shipped, and where they are, from time to time, called for by a schooner.
At the end of five months the gang returns to dry-land, and a statement of account from the overseer's book is drawn up, something like the following:

which is immediately paid him, and which, together with the proceeds of sale of petry which he has got while in the swamp, he is always allowed to make use of as his own. No liquor is sold or served to the negroes in the swamp, and, as their first want when they come out of it is an excitement, most of their money goes to the grog-shops.
After a short vacation, the whole gang is taken in the schooner to spend another five months in the swamp as before. If they are good hands and work steadily, they will commonly be hired again, and so continuing, will spend most of their lives at it. They almost invariably have excellent health, as do also the white men engaged in the business. They all consider the water of "the Dismals" to have a medicinal virtue, and quite probably it is a mild tonic. It is greenish in color, and I thought I detected a slightly resinous taste upon first drinking it. Upon entering the swamp also, an agreeable resinous odor, resembling that of a hemlock forest, was perceptible.
The Effect of Paying Wages to Slaves.
The negroes working in the swamp were more sprightly and straight-forward in their manner and conversation than any field-hand plantation-negroes that I saw at the South; two or three of their employers with whom I conversed spoke well of them, as compared with other slaves, and made no complaints of "rascality" or laziness.
One of those gentlemen told me of a remarkable case of providence and good sense in a negro that he had employed in the swamp for many years. He was so trust-worthy, that he had once let him go to New York as cook of a lumber-schooner, when he could, if he had chosen to remain there, have easily escaped from slavery.
Knowing that he must have accumulated considerable money, his employer suggested to him that he might buy his freedom, and he immediately determined to do so. But when on applying to his owner, he was asked $500 for himself, a price which, considering he was an elderly man, he thought too much, he declined the bargain; shortly afterwards, however, he came to his employer again, and said that although he thought his owner was mean to set so high a price upon him, he had been thinking that if he was to be an old man he would rather be his own master, and if he did not live long, his money would not be of any use to him at any rate, and so he had concluded he would make the purchase.
He did so, and upon collecting the various sums that he had loaned to white people in the vicinity, he was found to have several hundred dollars more than was necessary. With the surplus, he paid for his passage to Liberia, and bought a handsome outfit. When he was about to leave, my informant had made him a present, and, in thanking him for it, the free man had said that the first thing he should do, on reaching Liberia, would be to learn to write, and, as soon as he could, he would write to him how he liked the country: he had been gone yet scarce a year, and had not been heard from.
Frederick Law Olmsted, A Journey in the Seaboard Slave States, with Remarks on Their Economy (New York: Mason Brothers, 1859, originally 1856), pp. 149–56.
. . . I am employing in this establishment [the Tredegar works], as well as at the Armory works adjoining, of which I am President, almost exclusively slave labor except as to Boss men. This enables me, of course, to compete with other manufacturers and at the same time to put it in the power of my men to do better for themselves. With this [in] view, I am now giving my men, who are [as] steady and respectable as are to be found, each two furnaces at puddling and furnish them three of my own hands who are blacks—one of them [among each three negroes] capable of acting as Foreman of one of the Furnaces, and I pay each Boss puddler two [dollars] pr. [ton] net on the iron he makes in his furnaces. I am getting on very satisfactorily and will eventually have enough of Puddlers here; but I am told you are a respectable man and one who can be relied on, and if you are anxious to make money it is to your interest to come on here . . . as Mr. Morris tells me you would like to have three furnaces I will add, that I shall have no objections to increase the number when I am satisfied you are capable of it. With such iron as we work a puddler can easily make a ton at each furnace in his time of twelve hours.6
Reproduced in Kathleen Bruce, Virginia Iron Manufacture in the Slave Era (New York, 1931), pp. 237–38.
35. STRIKES AN ATTACK AGAINST SLAVE OWNERSHIP
To the Editors of the Enquirer.7
Gentlemen: It is mistake to suppose, as reported in your paper of this morning, on the authority of a statement in the Republican, that an accommodation has been effected between the "employer & employees" at the Tredegar works. The employer took the position which he chose to occupy deliberately and it was one which, under no circumstances, would he change or depart from. It was simply that those who enter into his employment must not expect to prescribe to him whom he shall be at liberty to employ; and that he would not consent to employ men who would unite and combine themselves into an association to exclude slaves from our factories. It was because the late workmen asserted such a pretension that he determined that their employment should cease; and because they were understood to have entered into a combination to effect their purpose, that he thought they had committed an offence against the laws, for which they deserved to be prosecuted. In that aspect, he regarded it as a matter in which the whole community was concerned; it must be evident that such combinations are a direct attack on slave property; and if they do not originate in abolition, they are pregnant with its evils.
It is a rule of public law which has been recognized in states in which there are no slaves, that combinations against any interest, or to accomplish private ends are public offences, and as such are prohibited and punished. The rule exists in this commonwealth, and there can be no case which calls more loudly for its application than combination to prevent masters from employing their slaves as it may be their pleasure.
You will perceive then that the "employer" could enter into no compromise or arrangement with the "employees." This community, it is presumed, would not sanction or excuse a proceeding which yielded everything to the pretension in question. Nothing occurred, but that the prosecution was dismissed upon the workmen disclaiming any purpose or design to commit an offence, avowing that they had not pledged themselves one to another; and expressing their regret if their proceedings were against the laws; and the dismissal of the prosecution was the act of the Mayor.
Trusting that the facts of a case involving a principle so important to the whole community and the South, may now be full understood. I will conclude By asking the Editors of the Republican to copy this communication.
Very respectfully,
Your obedient servant,
JOSEPH R. ANDERSON.
Reproduced in Kathleen Bruce, Virginia Iron Manufacture in the Slave Era (New York, 1931), pp. 237–38n.
36. TREDEGAR ADVERTISEMENT FOR SLAVES
WANTS.
WANTED—1,000 NEGROES.—We wish to hire for the year 1864, ONE THOUSAND NEGROES, to be employed at the Tredegar Iron Works, Richmond, and at our Blast Furnaces in the counties of Rockbridge, Botetourt and Alleghany, and Collieries in Goochland and Henrico, for which we are willing to pay the market prices.
Having made arrangements for a supply of provisions and clothing, we can safely promise that servants entrusted to us shall at all times be well fed and clothed.
Our furnaces and other works are located in healthy sections of the c country, remote from the enemy's line, offering unusual inducements to the owners of negroes to send them to us.
Parties having families of negroes, consisting of men, women and boys, may make arrangements with us for the whole, provided the classes are not disproportioned, as there are farms attached to some of the furnaces and collieries, on which the women and boys can be employed.
We would be glad to hear from those whose hands we have hired this year as early as possible, as to rehiring them another year, and whether they desire that the hands shall be sent home or retained under our protection at the end of the year.
J. R. ANDERSON & CO.
Tredegar Iron Works, Richmond Va.
The Augusta (Georgia) Constitutionalist, Atlanta (Georgia) Intelligencer, and Montgomery (Alabama) Mail will please copy semi-weekly till first of January, 1864, and forward their bills to us for payment.
J. R. ANDERSON & CO.
nov14—Stawlm
Tredegar Iron Works.
Richmond Examiner, November 14, 1863.
ONE HUNDRED ABLE-BODIED HANDS
WANTED.—Forty dollars per month and board will be paid for able-bodied hands to work on the repairs of the Virginia Central Railroad until Christmas. Apply to either of the station agents along the line; to W. G. Richardson, Frederick's Hall; or to the undersigned.
H. D. WHITCOMB.
nov11–12t
General Superintendent
Richmond Examiner, November 14, 1863.
37. ANNUAL MAINTENANCE COST PER INDUSTRIAL SLAVE, 1820's–1861 (in dollars)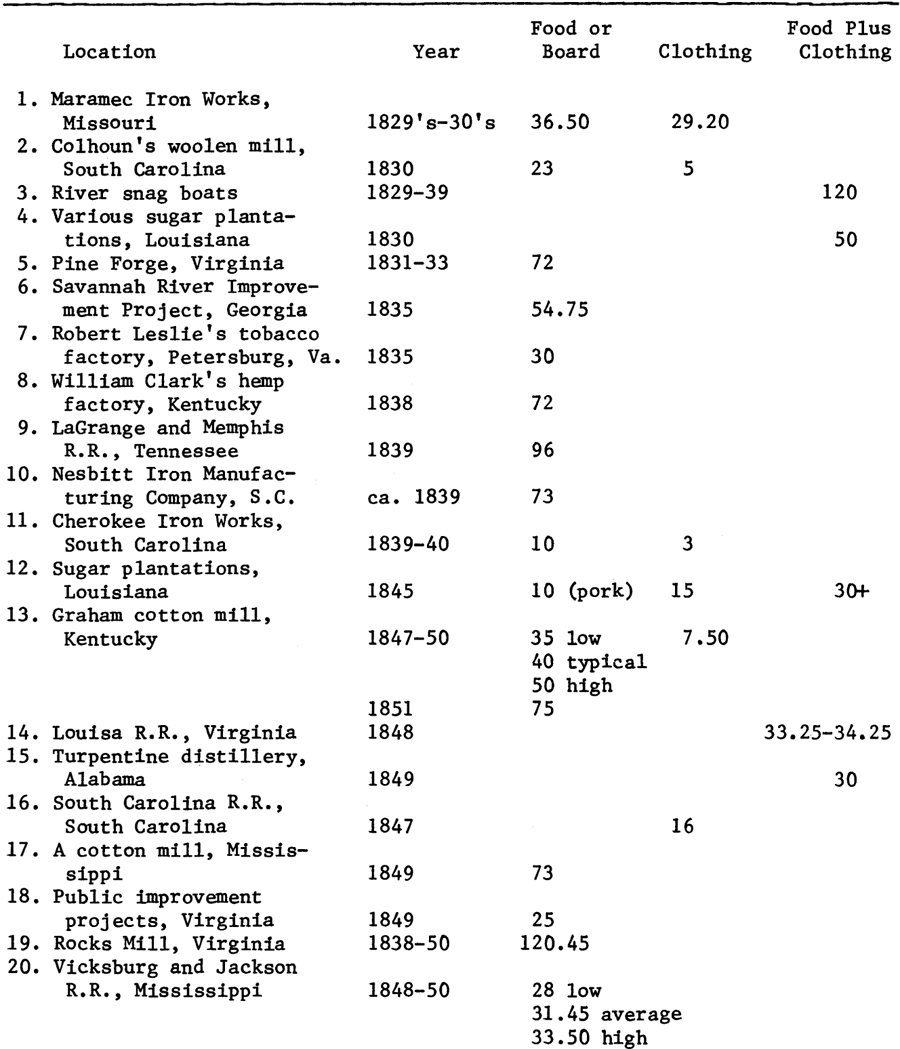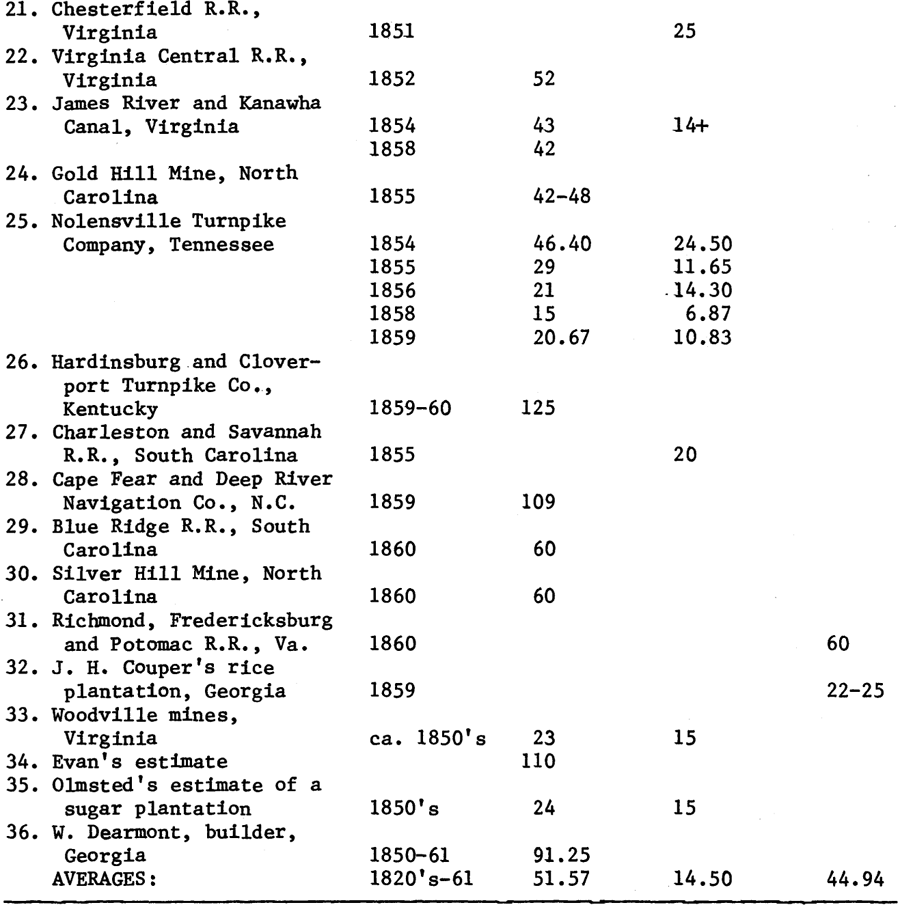 Robert S. Starobin, "The Economics of Industrial slavery in the Old South," Business History Review 44 (Summer, 1970):172.
38. SLAVES HIRING THEMSELVES OUT
The slaveholders' ever watchful jealousy has discovered great danger to their "system," from the practice of allowing slaves to look for work wherever they can get it, and bring a fixed amount of wages to their masters weekly. Newspapers in various parts of the South are urging the subject on the attention of the slaveholders. At Jackson, in Mississippi, a public meeting has been held and Committees appointed to promote "measures of reform necessary to correct the evils and grievances occasioned by the present condition of the free black and slave population."
They propose to "expel all free negroes from the city; prohibit, under severe penalties, the practice of permitting slaves to hire their own time; prevent all slaves residing without the limits of the city from coming to the place on Sunday, except on business of their own masters; establish an efficient and strict patrol for the city; and prohibit preaching by the slaves and free negroes."
A Norfolk paper says:—"Our laws in relation both to free negroes and slaves have remained for years a dead letter on the statute book, while that species of population have gone on acquiring privileges and immunities until they have amounted to a grievance too intolerable to be endured, and which the public voice calls in imperious tones for reform. The supposed clemency of the owners of slaves, in permitting them, in open violation of law, to hire their own time, so far from proving a kindness, often becomes an absolute wrong—productive only of positive injury to him who is the subject of it. Its effects, too, upon those denied these privileges, (if privileges they be deemed,) though the most servile and submissive, are often seen to be injurious—inviting, inducing and impelling discontent and insubordination. The result in many cases is most disastrous and awful."
The Suffolk Intelligencer says:—"To allow slaves to go at large and act as free persons, causes them to be restless under restraint, and if, after being allowed such a privilege, they are restricted, they become sullen and less willing to do their duty—this is one step to insubordination, and is apt to be followed by an attempt to go North. It begets in them a desire to have money, to have a chance for themselves, as it is usually called, and renders them dissatisfied, unless they always have the same opportunities.
"It causes other negroes not so circumstanced to become dissatisfied because their owners do not allow them the same privileges, and tends to insolence and rebellion on their part, and consequently produces trouble to the owner. It violates the letter and spirit of the law, and should not be tolerated.
"Persons owning slaves should always make the contract for the hires of their negroes, and collect the same when due.
"Let each owner of slaves whose interest it should be to make them valuable, put a stop to a practice which is so wrong in itself—one that is the cause of difficulty and trouble, not only to themselves but to others."
By the following from the Jackson Mississippian it seems that the burdens and vexations of Slavery are accumulating.
"There is not a greater evil existing among our servile population, than the privileges granted to negroes of allowing them to hire their own time. No slave should be permitted to remain out of the personal control of his master. It is the security which the State has given to us for the government of the slave population, and it should be the duty of every good citizen to see the laws on this subject faithfully carried out. The State as far back as 1822, enacted laws against slaves hiring out their own labor.
"It is evident that the slave has been made discontented with his condition by this kind of unlawful privilege. He enjoys a license for all manner of rascality, which the slave who has not this privilege regards with longing eyes, and is continually desiring to obtain himself. He sees, too, that these negroes are impudent to the whites, and compete with white laborers in our towns; that they have fine clothes, coffee and tea, work when they please, and lie in the shade when it suits their inclination; that they can hold intercourse with whites or blacks in their houses, and there cover up their plans for robbery, or crimes more dangerous. It is no wonder, then, that the slave should wish to hire out his time. But we think that at the present time, most especially, when abolition documents are circulating all over our country, that all violations of the law like the present should be summarily punished. In the absence of the restraining hand of the master; in houses tenanted by slaves exclusively, and having the power to hold intercourse with whom they please, we do not know what conspiracy may yet be hatched, and what sad disaster ensue, by allowing this law to be violated with impunity. We think it the duty of every good citizen to see that it is enforced. We know that the public press of our State is adorned by many noble and disinterested advocates of the public weal, and we shall look to them for a strong expression of opinion upon this interesting subject."
Another Southern paper uses this language in relation to slaves hiring their time:
"This important subject, we are pleased to find, is attracting more and more the attention of the public. The press, generally, at the South, is endeavoring to excite a more healthful tone of feeling and action in reference to this momentous interest—an interest which comes home to the business and fireside of every member of the community.
"The bad effects resulting from the practice of slaves hiring their time are too striking to require much proof. The evils produced by the residence of the free negroes amongst us are everywhere complained of; Gov. Smith's recommendation for their removal was hailed with a unanimity, proportionate to the extent with which those evils are felt. Yet our citizens blindly, thoughtlessly, permit the continuance of a practice by which those very evils are immeasurably increased, and others of a still more deplorable character created.
'All our experience has proven that the restraining hand of the master is essential to the slave's happiness, and to our safety. In Virginia the slave is worth, at best, little more than the cost of the chain that holds him in bondage; and at a time when so great an influence is at work tending to create excitement and insubordination amongst the population, it is hardly the part of prudence or of patriotism to continue that, the inevitable tendency of which is to aggravate those evils.
"The law of the land prohibits, with penalties, this practice, and the well being of the negro and the safety of the master alike demand that the law, to its fullest extent, should now be enforced."
There is probably no source more prolific of suffering to the slaves than that of being hired out by their masters. It would be difficult to ascertain the exact number thus hired, but they have been estimated at one third of the adult slave population. When we consider the cruel nature of slavery under the most favorable circumstances, we cannot doubt that this class must suffer fearfully from overwork, from insufficient clothing, food and shelter, and from various cruelties which may be inflicted upon them without incurring damages to the owner.
The Non-Slaveholder, 4 (1849): 254–55.
39. FREDERICK DOUGLASS ENCOUNTERS RACIAL8 VIOLENCE IN A BALTIMORE SHIPYARD
. . . Very soon after I went to Baltimore to live, Master Hugh succeeded in getting me hired to Mr. William Gardiner, an extensive shipbuilder on Fell's Point. I was placed there to learn to calk, a trade of which I already had some knowledge, gained while in Mr. Hugh Auld's shipyard. Gardiner's, however, proved a very unfavorable place for the accomplishment of the desired object. Mr. Gardiner was that season engaged in building two large man-of-war vessels, professedly for the Mexican government. These vessels were to be launched in the month of July of that year, and in failure thereof Mr. Gardiner would forfeit a very considerable sum of money. So, when I entered the shipyard, all was hurry and driving. There were in the yard about one hundred men; of these, seventy or eighty were regular carpenters—privileged men. There was no time for a raw hand to learn anything. Every man had to do that which he knew how to do, and in entering the yard Mr. Gardiner had directed me to do whatever the carpenters told me to do. This was placing me at the beck and call of about seventy-five men. I was to regard all these as my masters. Their word was to be my law. My situation was a trying one. I was called a dozen ways in the space of a single minute. I needed a dozen pairs of hands. Three or four voices would strike my ear at the same moment. It was "Fred, come help to cant this timber here,"—"Fred, come carry this timber yonder,"—"Fred, bring that roller here,"—"Fred, go get a fresh can of water,"—"Fred, come help saw off the end of this timber,"—"Fred, go quick and get the crow-bar,"—"Fred, hold on the end of this fall,"—"Fred, go to the blacksmith's shop and get a new punch,"—"Halloo, Fred! run and bring me a cold chisel,"—"I say, Fred, bear a hand, and get up a fire under the steam box as quick as lightning,"—"Hullo, nigger! come turn this grindstone,"—"Come, come, move, move! and bowse this timber forward,"—"I say, darkey, blast your eyes! why don't you heat up some pitch?"—"Halloo! halloo! halloo! (three voices at the same time)"—"Come here; go there; hold on where you are. D—n you, if you move I'll knock your brains out!" Such, my dear reader, is a glance at the school which was mine during the first eight months of my stay at Gardiner's shipyard.
At the end of eight months Master Hugh refused longer to allow me to remain with Gardiner. The circumstance which led to this refusal was the committing of an outrage upon me, by the white apprentices of the shipyard. The fight was a desperate one, and I came out of it shockingly mangled. I was cut and bruised in sundry places, and my left eye was nearly knocked out of its socket. The facts which led to this brutal outrage upon me illustrate a phase of slavery which was destined to become an important element in the overthrow of the slave system, and I may therefore state them with some minuteness. That phase was this—the conflict of slavery with the interests of white mechanics and laborers. In the country this conflict was not so apparent, but in cities, such as Baltimore, Richmond, New Orleans, Mobile, etc., it was seen pretty clearly. The slaveholders, with a craftiness peculiar to themselves, by encouraging the enmity of the poor laboring white man against the blacks, succeeded in making the said white man almost as much a slave as the black slave himself. The difference between the white slave and the black slave was this: the latter belonged to one slaveholder, while the former belonged to the slaveholders collectively. The white slave had taken from him by indirection what the black slave had taken from him directly and without ceremony. Both were plundered, and by the same plunderers. The slave was robbed by his master of all his earnings, above what was required for his bare physical necessities, and the white laboring man was robbed by the slave system of the just results of his labor, because he was flung into competition with a class of laborers who worked without wages. The slaveholders blinded them to this competition by keeping alive their prejudice against the slaves as men—not against them as slaves. They appealed to their pride, often denouncing emancipation as tending to place the white working man on an equality with negroes, and by this means they succeeded in drawing off the minds of the poor whites from the real fact, that by the rich slave-master they were already regarded as but a single remove from equality with the slave. The impression was cunningly made that slavery was the only power that could prevent the laboring white man from falling to the level of the slave's poverty and degradation. To make this enmity deep and broad between the slave and the poor white man, the latter was allowed to abuse and whip the former without hindrance. But, as I have said, this state of affairs prevailed mostly in the country. In the City of Baltimore there were not unfrequent murmurs that educating slaves to be mechanics might, in the end, give slave-masters power to dispense altogether with the services of the poor white man. But with characteristic dread of offending the slaveholders, these poor white mechanics in Mr. Gardiner's shipyard, instead of applying the natural, honest remedy for the apprehended evil, and objecting at once to work there by the side of the slaves, made a cowardly attack upon the free colored mechanics, saying they were eating the bread which should be eaten by American freeman, and aimed to prevent him from serving himself, in the evening of life, with the trade with which he had served his master, during the more vigorous portion of his days. Had they succeeded in driving the black freemen out of the shipyard, they would have determined also upon the removal of the black slaves. The feeling was, about this time, very bitter toward all colored people in Baltimore (1836), and they—free and slave—suffered all manner of insult and wrong.
Until a very little while before I went there, white and black carpenters worked side by side in the shipyards of Mr. Gardiner, Mr. Duncan, Mr. Walter Price, and Mr. Robb. Nobody seemed to see any impropriety in it. Some of the blacks were first-rate workmen and were given jobs requiring the highest skill. All at once, however, the white carpenters swore that they would no longer work on the same stage with Negroes. Taking advantage of the heavy contract resting upon Mr. Gardiner to have the vessels for Mexico ready to launch in July, and of the difficulty of getting other hands at that season of the year, they swore that they would not strike another blow for him unless he would discharge his free colored workmen. Now, although this movement did not extend to me in form, it did reach me in fact. The spirit which is awakened was one of malice and bitterness toward colored people generally, and I suffered with the rest, and suffered severely. My fellow-apprentices very soon began to feel it to be degrading to work with me. They began to put on high looks and to talk contemptuously and maliciously of "the niggers," saying that they would take the "country," and that they "ought to be killed." Encouraged by workmen who, knowing me to be a slave, made no issue with Mr. Gardiner about my being there, these young men did their utmost to make it impossible for me to stay. They seldom called me to do anything without coupling the call with a curse, and Edward North, the biggest in everything, rascality included, ventured to strike me, whereupon I picked him up and threw him into the dock. Whenever any of them struck me I struck back again, regardless of consequences. I could manage any of them singly, and so long as I could keep them from combining I got on very well.
In the conflict which ended my stay at Mr. Gardiner's I was beset by four of them at once—Ned North, Ned Hayes, Bill Stewart, and Tom Humphreys. Two of them were as large as myself, and they came near killing me, in broad daylight. One came in front, armed with a brick; there was one at each side and one behind, and they closed up all around me. I was struck on all sides, and while I was attending to those in front I received a blow on my head from behind, dealt with a heavy handspike. I was completely stunned by the blow, and fell heavily on the ground among the timbers. Taking advantage of my fall they rushed upon me and began to pound me with their fists. With a view of gaining strength, I let them lay on for awhile after I came to myself. They had done me little damage, so far, but finally getting tired of that sport I gave a sudden surge, and despite their weight I rose to my hands and knees. Just as I did this one of their number planted a blow with his boot in my left eye, which for a time seemed to have burst my eyeball. When they saw my eye completely closed, my face covered with blood, and I staggering under the stunning blows they had given me, they left me. As soon as I gathered strength I picked up the handspike and madly enough attempted to pursue them but here the carpenters interfered and compelled me to give up my pursuit. It was impossible to stand against so many.
Dear reader, you can hardly believe the statement, but it is true and therefore I write it down—that no fewer than fifty white men stood by and saw this brutal and shameful outrage committed, and not a man of them all interposed a single word of mercy. There were four against one, and that one's face was beaten and battered most horribly, and no one said, "That is enough," but some cried out, "Kill him! kill him! kill the d—n nigger! knock his brains out! he struck a white person!" I mention this inhuman outery to show the character of the men and the spirit of the times at Gardiner's shipyard, and, indeed, in Baltimore generally, in 1836. As I look back to this period I am almost amazed that I was not murdered outright, so murderous was the spirit which prevailed there. On two other occasions while there I came near losing my life. On one of these, I was driving bolts in the hold through the keelson, with Hayes. In its course the bolt bent. Hayes cursed me and said that it was my blow which bent the bolt. I denied this and charged it upon him. In a fit of rage he seized an adze and darted toward me. I met him with a maul and parried his blow, or I should have lost my life.
After the united attack of North, Stewart, Hayes, and Humphreys, finding that the carpenters were as bitter toward me as the apprentices, and that the latter were probably set on by the former, I found my only chance for life was in flight. I succeeded in getting away without an additional blow. To strike a white man was death by lynch law, in Gardiner's shipyard, nor was there much of any other law toward the colored people at that time in any other part of Maryland.
After making my escape from the shipyard I went straight home and related my story to Master Hugh, and to his credit I say it, that his conduct, though he was not a religious man, was every way more humane than that of of his brother Thomas, when I went to him in a somewhat similar plight, from the hands of his "Brother Edward Covey." Master Hugh listened attentively to my narration of the circumstances leading to the ruffianly assault, and gave many evidences of his strong indignation at what was done. He was a rough but manly-hearted fellow, and at this time his best nature showed itself.
The heart of my once kind mistress Sophia was again melted in pity towards me. My puffed-out eye and my scarred and blood-covered face moved the dear lady to tears. She kindly drew a chair by me, and with friendly and consoling words, she took water and washed the blood from my face. No mother's hand could have been more tender than hers. She bound up my head and covered my wounded eye with a lean piece of fresh beef. It was almost compensation for all I suffered, that it occasioned the manifestation once more of the originally characteristic kindness of my mistress. Her affectionate heart was not yet dead, though much hardened by time and circumstances.
As for Master Hugh, he was furious, and gave expression to his feelings in the forms of speech usual in that locality. He poured curses on the whole of the shipyard company, and swore that he would have satisfaction. His indignation was really strong and healthy, but unfortunately it resulted from the thought that his rights of property, in my person, had not been respected, more than from any sense of the outrage perpetrated upon me as a man. I had reason to think this from the fact that he could, himself, beat and mangle when it suited him to do so.
Bent on having satisfaction, as he said, just as soon as I got a little better of my bruises, Master Hugh took me to Esquire Watson's office on Bond street, Fell's Point, with a view to procuring the arrest of those who had assaulted me. He gave to the magistrate an account of the outrage as I had related it to him, and seemed to expect that a warrant would at once be issued for the arrest of the lawless ruffians. Mr. Watson heard all that he had to say, then coolly inquired, "Mr. Auld, who saw this assault of which you speak?" "It was done, sir, in the presence of a shipyard full of hands." "Sir," said Mr. Watson, "I am sorry, but I cannot move in this matter, except upon the oath of white witnesses." "But here's the boy; look at his head and face," said the excited Master Hugh; "they show what has been done." But Watson insisted that he was not authorized to do anything, unless white witnesses of the transaction would come forward and testify to what had taken place. He could issue no warrant, on my word, against white persons, and if I had been killed in the presence of a thousand blacks, their testimony combined would have been insufficient to condemn a single murderer. Master Hugh was compelled to say, for once, that this state of things was too bad, and he left the office of the magistrate disgusted.
Of course it was impossible to get any white man to testify against my assailants. The carpenters saw what was done, but the actors were but the agents of their malice, and did only what the carpenters sanctioned. They had cried with one accord, "Kill the nigger! kill the nigger!" Even those who may have pitied me, if any such were among them, lacked the moral courage to volunteer their evidence. The slightest show of sympathy or justice toward a person of color was denounced as abolitionism, and the name of abolitionist subjected its hearer to frightful liabilities. "D—-n abolitionists," and "kill the niggers," were the watchwords of the foul-mouthed ruffians of those days. Nothing was done, and probably would not have been, had I been killed in the affray. The laws and the morals of the Christian city of Baltimore afforded no protection to the sable denizens of that city.
Master Hugh, on finding that he could get no redress for the cruel wrong, withdrew me from the employment of Mr. Gardiner and took me into his own family. Mrs. Auld kindly taking care of me and dressing my wounds until they were healed and I was ready to go to work again.
While I was on the Eastern Shore, Master Hugh had met with reverses which overthrew his business and had given up ship-building in his own yard, on the City Block, and was now acting as foreman of Mr. Walter Price. The best that he could do for me was to take me into Mr. Price's yard, and afford me the facilities there for completing the trade which I began to learn at Gardiner's. Here I rapidly became expert in the use of calkers' tools, and in the course of a single year, I was able to command the highest wages paid to journeymen calkers in Baltimore.
The reader will observe that I was now of some pecuniary value to my master. During the busy season I was bringing six and seven dollars per week. I have sometimes brought him as much as nine dollars a week, for wages were a dollar and a half per day.
After learning to calk, I sought my own employment, made my own contracts, and collected my own earnings—giving Master Hugh no trouble in any part of the transactions to which I was a party.
Here, then, were better days for the Eastern Shore slave. I was free from the vexatious assaults of the apprentices at Gardiner's, free from the perils of plantation life, and once more in favorable condition to increase my little stock of education, which had been at a dead stand since my removal from Baltimore. I had on the Eastern Shore been only a teacher, when in company with other slaves, but now there were colored persons here who could instruct me. Many of the young calkers could read, write, and cipher. Some of them had high notions about mental improvement, and the free ones on Fell's Point organized what they called the "East Baltimore Mental Improvement Society." To this society, notwithstanding it was intended that only free persons should attach themselves, I was admitted, and was several times assigned a prominent part in its debates. I owe much to the society of these young men.
The reader already knows enough of the ill effects of good treatment on a slave to anticipate what was not the case in my improved condition. It was not long before I began to show signs of disquiet with slavery, and to look around for means to get out of it by the shortest route. I was living among freemen, and was in all respects equal to them by nature and attainments. Why should I be a slave? There was no reason why I should be the thrall of any man. Besides, I was not getting, as I have said, a dollar and fifty cents per day. I contracted for it, worked for it, collected it; it was paid to me, and it was rightfully my own; and yet upon every returning Saturday night, this money—my own hard earnings, every cent of it—was demanded of me and taken from me by Master Hugh. He did not earn it—he had no hand in earning it—why, then should he have it? I owed him nothing. He had given me no schooling, and I had received from him only my food and raiment, and for these, my services were supposed to pay from the first. The right to take my earnings was the right of the robber. He had the power to compel me to give him the fruits of my labor, and this power was his only right in the case. I became more and more dissatisfied with this state of things, and in so becoming I only gave proof of the same human nature which every reader of this chapter in my life—slaveholder, or non-slaveholder—is conscious of possessing.
To make a contented slave, you must make a thoughtless one. It is necessary to darken his moral and mental vision, and, as far as possible, to annihilate his power of reason. He must be able to detect no inconsistencies in slavery. The man who takes his earnings must be able to convince him that he has a perfect right to do so. It must not depend upon mere force—the slave must know no higher law than his master's will. The whole relationship must not only demonstrate to his mind its necessity, but its absolute rightfulness. If there be one crevice through which a single drop can fall, it will certainly rust off the slave's chain.
My condition during the year of my escape (1838) was comparatively a free and easy one, so far, at least, as the wants of the physical man were concerned, but the reader will bear in mind that my troubles from the beginning had been less physical than mental, and he will thus be prepared to find that slave life was adding nothing to its charms for me as I grew older, and became more and more acquainted with it. The practice of openly robbing me, from week to week, of all my earnings, kept the nature and character of slavery constantly before me. I could be robbed by indirection, but this was too open and barefaced to be endured. I could see no reason why I should, at the end of each week, pour the reward of my honest toil into the purse of my master. My obligation to do this vexed me, and the manner in which Master Hugh received my wages vexed me yet more. Carefully counting the money, and rolling it out dollar by dollar, he would look me in the face, as if he would search my heart as well as my pocket, and reproachfully ask me, "Is that all?"—implying that I had perhaps kept back part of my wages, or, if not so, the demand was made possibly to make me feel that after all, I was an "unprofitable servant." Draining me of the last cent of my hard earnings, he would, however, occasionally, when I brought home an extra large sum, dole out to me a sixpence or shilling, with a view, perhaps, of kindling my gratitude. But it had the opposite effect. It was an admission of my right to the whole sum. The fact that he gave me any part of my wages was proof that he suspected I had a right to the whole of them, and I always felt uncomfortable after having received anything in this way, lest his giving me a few cents might possibly ease his conscience, and make him feel himself to be a pretty honorable robber after all. . . .
Frederick Douglass, Life and Times of Frederick Douglass Written by Himself, His Early Life as a Slave, His Escape From Bondage, and His Complete History (London: Collier-Macmillan Ltd., 1962, originally 1892), pp. 178–93.
40. ONE YEAR IN THE LIFE OF A HIRED-OUT SLAVE9
Content removed at rightsholder's request.
William Wells Brown, Narrative of William W. Brown; A Fugitive Slave (Boston: The Anti-Slavery Office, 1848), second edition, as reproduced in Robin W. Winks, Larry Gara, Jane H. and William H. Pease, and Tilden G. Edelstein (eds.), Four Fugitive Slave Narratives (Reading, Massachusetts: Addison-Wesley Publishing Company, 1969), pp. 5–12, 14–18, 21, 26.
SELF-PURCHASE BY SLAVE MECHANICS
41. FREE BLACKS PURCHASE FAMILY MEMBERS
I visited this week about 30 black families, and found that some members of more than half these families were still in bondage, and the father, mother and children were struggling to lay up money enough to purchase their freedom. I found one man who had just finished paying for his wife and five children. Another man and wife had bought themselves some years ago, and have been working night and day to purchase their children; they had just redeemed the last and had paid for themselves and children 1,400 dollars! Another woman had recently paid the last installment of the purchase money for her husband. She had purchased him by taking in washing, and working late at night, after going out and performing as help at hard labor. . . .
Theodore D. Weld to Lewis Tappan, March 18, 1834, in Gilbert H. Barnes and Dwight L. Dumond (eds.), Weld-Grimke Letters, Vol. I (New York, 1934), p. 134.
We have just received a call from Mrs. E. B. WELLS, a slightly colored lady, one who has experienced in her own person the evils inherent in slavery, a member of the Baptist Church in St. Louis, in good and regular standing, having any number of certificates of excellent character, and has given proof of the good qualities of her head and heart by having purchased her own freedom at the enormous price of sixteen hundred dollars, of which one thousand was raised by the citizens of St. Louis, and who had also purchased her mother and sister by the payment of one thousand five hundred dollars. This lady (for a lady she really is) is now in the city of Rochester for the purpose of raising money with which to purchase the freedom of her only remaining sister in slavery. This sister is owned by Mrs. BRENT, of Boonville, Mo., and Mrs. BRENT is willing to take one thousand dollars for this Christian chattel, of which sum five hundred dollars have already been raised by the indefatigable exertions of Mrs. WELLS.—Her case is commended to the humane and benevolent portion of our citizens, and we cannot but hope that at least a part of the five hundred dollars still remaining to be raised for this ransom may be obtained in the city of Rochester.
Douglass' Monthly, April, 1859.
We take pleasure in publishing the following letter, which contains an account of the purchased freedom of a slave who seems to be a man of remarkable intellect:—
G. HALLOCK, Esq.,
Dear Sir:—I am very happy to inform you that the freedom of the slave Benjamin Bradley has been accomplished by the payment of $1,000, to which you contributed the final $122 necessary to make it up.
Some particulars of the case will perhaps be of interest to your readers.
Bradley was owned by a master in Annapolis, Md. Eight years ago he was employed in a printing office there. He was then about sixteen, and showed great mechanical skill and ingenuity. With a piece of a gun-barrel, some pewter, a couple of pieces of round steel, and some like materials, he constructed a working model of a steam engine.
His master soon afterwards got him the place of helper in the department of Natural and Experimental Philosophy in the Naval Academy at Annapolis. He sold his first steam engine to a Midshipman. With the proceeds, and what money he could lay up (his master allowing him five dollars a month out of his wages), he built an engine large enough to drive the first cutter of a sloop-of-war at the rate of sixteen knots an hour. He was assisted in planning this engine, being told how to find the resistance of an immersed floating body, and the size, &c., of his propeller.
Professor Hopkins, of the Academy, says that he gets up the experiments for the lecture-room very handsomely. Being shown once how to line up the parabolic mirrors for concentrating heat, he always succeeded afterwards. So with the chemical experiments. He makes all the gases, and works with them, showing the Drummond light, &c. Prof. Hopkins remarks of him that "he looks for the law by which things act."
He has been taught to read and write, mainly by the Professor's children; has made very good progress in arithmetic, and will soon take hold of algebra and geometry.
Great interest was naturally felt in such a man, and his master expressing a willingness to take $1,000 for him, if paid by Oct. 6th, though well worth $1,500, a subscription was set on foot privately for the purpose. Two gentlemen in Annapolis agreed to lend Ben $500. He had his own savings, $100. The friends of Ben devoted themselves to raising the money, and at the time we called on you, the sum was completed with the exception of $122, which you supplied. This was forwarded to Annapolis. Meantime Professor H. H. Lockwood, with the utmost generosity, had himself borrowed the necessary amount at the bank of his own note (namely, $900), and thus secured the freedom of Ben beyond a contingency.
In saying the sum is completed, I of course mean to include the money which has been loaned to Ben, and which he is to repay.
He is now free, and the question is, what is best for him to do? He is a mere child as to worldly matters, and his only plan is, to remain at Annapolis and finish his education as far as he can. But it seems very desirable to furnish him employment of a nature suited to his abilities. The professors consider him perfectly competent to take charge of the engine of a steamship. It is possible that some of your readers may be able to suggest employment for him; and, if so, a letter addressed to him at the Naval Academy, Annapolis, will be thankfully received.
I am yours, &c.
The Anglo-African Magazine 1 (November, 1859): 367–68.
44. A FOUNDER PURCHASES HIS FAMILY'S FREEDOM
A St. Louis paper of a recent date has the following paragraph:—
'In the foundry of Gaty, M'Cune & co., in this city, among its two hundred and seventy operatives are two negroes, who began life at the establishment, in 1849, as slaves. By dint of unlagging industry, in due course of time one of them bought himself, wife and five children, paying for himself $1400, and on an average for his wife and children $800 each. The negro is now supposed to be worth, in his own right, more than $5000 in real estate in that city. Another negro entered the factory about the same time, amassed sufficient money by his attention to duty to purchase himself at the price of $1500, his wife at $500, and four children at $400, and is now worth $6000 in real estate. These negroes were bought from their masters by Mr. Gray, with the understanding that they should work themselves free, and out of his own pocket he gave two per cent. interest on the deferred payments.'
The Liberator, October 26, 1860.
A Biographical sketch
Died at his late residence in Philadelphia last Sunday afternoon, Willis Hoges Cromwell, in the ninety-second year of his age.
The deceased was born near Shoulders' Hill in Nansemond Co., Va., May 25th, 1792. He belonged to what was known as "the free school estate" of that county, the circumstances of the establishment of which adds another page to the chapter of the many outrages perpetrated, under the system of American Slavery on the rights of colored people. His maternal great grand parents were Jack and Julia Cromwell. Julia belonged to one James Yates, a Scotchman who as he had no children, gave by will Julia and her two daughters their freedom and two plantations and left seven plantations for the education of the poor. The land left to Julia and her family was taken, they were cheated of their freedom, and they and their posterity were taken to support the free schools under the name of "the free school Negroes." Up to the time of the war there were some hundreds of these who were hired out from year to year to the highest bidder.
Mr. Cromwell made his home in early manhood in the city of Portsmouth. Up to the time of his leaving Virginia in '51 and since, the deceased was looked up to as the general adviser of the large community above referred to, as much because of his independent spirit, industry and pluck as for any other reason. Because of his refusal to be dogged and driven about by hard task masters or overseers, he was allowed to hire his own time and that of his family.
He was a ship carpenter and wharf builder and he eventually ran a freight ferry between the two cities of Norfolk and Portsmouth—a business then monopolized by two colored men—the other being the late Charles Cooper of Monrovia, West Africa, but since run by the captain of the noted Merrimac. From the profits of this business he accumulated quite a sum, and at the age of fifty-six he paid three hundred dollars for his time and more than three thousand dollars for his wife and seven children, the youngest being then two years of age. One of his children a daughter, had but recently been married. The "owner" of her husband, L. Bilisoly, the proprietor of a large grocery, to whom Mr. Cromwell voluntarily gave his services on Saturday evening, put that husband in jail and threatened to send him to New Orleans, on the pretext that as his wife had become under the law a free woman, her husband would at the first opportunity escape from slavery. He did this knowing that before he would be allowed to send him to New Orleans his father-in-law would secure his freedom, which the sequel proved to be true.
Besides this expenditure of nearly four thousand dollars for personal freedom, he had in his possession receipts for $9000 paid at different times for the hire of his own family.
According to the laws of Virginia persons obtaining their freedom could not remain in the state except on humiliating conditions. So merchants and preachers alike used their influence to have Willis, as they termed him, "go to Liberia where he could be a free man indeed, and see his children grow up to usefulness, if not to distinction." His views and theirs conflicted and he rebuked them for the solicitude for his welfare—"they stood between him and the sun and then blamed him for not seeing." In company with his wife he made a tour of several northern cities, including New Haven, Brooklyn, New York and Philadelphia, returned to Virginia and finally in 1851 settled in the last named city.
Mr. Cromwell grew restive under the hardships and persecutions against his race and gave support to all movements for their amelioration. He conducted a retail coal and wood business, and set a personal example of encouraging colored men in business. We have known him repeatedly to send his orders for coal to Smith (Rev. Stephen) and Whipper (William) Smith and Vidal (U.B.) colored merchants, four miles away, although he could have been as well supplied by hundreds of others, nearer his place of business—simply because the former were colored men.
On more than one occasion he was station agent of the underground railroad. He had no patience with pro-slavery arguments as they found expression in the Northern press. We have known him time and again to be overcome because of his indignation against some time-serving policy or plea in the interest of the slave owner. One day, in the darkest hour of the war, before colored people were allowed to ride in the street cars of Philadelphia, he had occasion with a son and grandson to ride on one of these cars. He had not gone far before espying an unoccupied seat within without asking leave he left the platform, took the seat and then made room for those who were with him, and made them come in. The conductor came up, told him to get up and not violate the rules of the company, &c., but he insisted on his right to ride and retained his seat. A white gentleman on leaving the car handed Mr. Cromwell his card as "Attorney at law" and said, "You are in the right, and should you need any assistance call on me."
The funeral services were held Wednesday afternoon at the Zion A. M. E. Church of which the deceased was a member and his first wife a founder. Eulogistic remarks having been made by Revs. B. F. Combash (the pastor), Theo. Gould, Dr. B. T. Tanner, F. P. Main and B. Siers, the paster said a gentleman had requested an opportunity to pay a tribute to the deceased, whereupon a venerable looking white gentleman came forward, and said that he could heartily indorse all that had been said, for he had known the deceased for over sixty years in his home in Virginia where he was universally esteemed, both in his business transactions and as a private citizen. He gave a few reminiscences which illustrated how Mr. Cromwell stood as the business man of his race in the community from which he came. This stranger was unknown to the family of the deceased and he had only heard of the funeral by seeing it announced in the daily papers. The venerable Rev. Thomas Jones paid a most eloquent tribute saying the deceased was the man referred to in the 1st Psalm.11
The remains were interred in the Lebanon Cemetery. Mr. Cromwell leaves a widow, five children and sixteen grand children. His children are Mrs. M. A. Armstead and Mrs. E. Nash, Levi Cromwell, the restaurateur, Willis H. Cromwell, Jr., Supt. of Bethel A. M. E. Sunday School of Philadelphia and J. W. Cromwell of THE ADVOCATE of this city.
The People's Advocate, July 14, 1883.
A SLAVE MECHANIC'S ESCAPE TO FREEDOM
46. THE ESCAPE FROM SLAVERY OF FREDERICK DOUGLASS, BLACK SHIP-CAULKER
My condition during the year of my escape (1838) was comparatively a free and easy one, so far, at least, as the wants of the physical man were concerned; but the reader will bear in mind that my troubles from the beginning had been less physical than mental, and he will thus be prepared to find that slave life was adding nothing to its charm for me as I grew older, and became more and more acquainted with it. The practice of openly robbing me, from week to week, of all my earnings, kept the nature and character of slavery constantly before me. I could be robbed by indirection, but this was too open and barefaced to be endured. I could see no reason why I should, at the end of each week, pour the reward of my honest toil into the purse of my master.
My obligation to do this vexed me, and the manner in which Master Hugh received my wages vexed me yet more. Carefully counting the money, and rolling it out dollar by dollar, he would look me in the face, as if he would search my heart as well as my pocket, and reproachfully ask me, "Is that all?"—implying that I had perhaps kept back part of my wages; or, if not so, the demand was made possibly to make me feel that after all, I was an "unprofitable servant." Draining me of the last cent of my hard earnings, he would, however, occasionally, when I brought home an extra large sum, dole out to me a sixpence or shilling, with a view, perhaps, of kindling my gratitude. But it had the opposite effect. It was an admission of my right to the whole sum. The fact that he gave me any part of my wages was proof that he suspected I had a right to the whole of them; and I always felt uncomfortable after having received anything in this way, lest his giving me a few cents might possibly ease his conscience, and make him feel himself to be a pretty honorable robber after all.
Held to a strict account, and kept under a close watch,—the old suspicion of my running away not having been entirely removed,—to accomplish my escape seemed a very difficult thing. The railroad from Baltimore to Philadelphia was under regulations so stringent that even free colored travelers were almost excluded. They must have free papers; they must be measured and carefully examined before they could enter the cars, and could go only in the day time, even when so examined. The steamboats were under regulations equally stringent. And still more, and worse than all, all the great turnpikes leading northward were beset with kidnappers; a class of men who watched the newspapers for advertisements for runaway slaves, thus making their living by the accursed reward of slave-hunting.
My discontent grew upon me, and I was on a constant lookout for means to get away. With money I could easily have managed the matter, and from this consideration I hit upon the plan of soliciting the privilege of hiring my time. It was quite common in Baltimore to allow slaves this privilege, and was the practice also in New Orleans. A slave who was considered trustworthy could, by regularly paying his master a definite sum at the end of each week, dispose of his time as he liked. It so happened that I was not in very good odor, and was far from being a trustworthy slave. Nevertheless, I watched my opportunity when Master Thomas came to Baltimore (for I was still his property, Hugh only acting as his agent,) in the spring of 1838, to purchase his spring supply of goods, and applied to him directly for the much-coveted privilege of hiring my time.
This request Master Thomas unhesitatingly refused to grant and charged me, with some sternness, with inventing this stratagem to make my escape. He told me I could go nowhere but he would catch me; and, in the event of my running away, I might be assured that he should spare no pains in his efforts to recapture me. He recounted, with a good deal of eloquence, the many kind offices he had done me, and exhorted me to be contented and obedient. "Lay out no plans for the future," said he. "If you behave yourself properly, I will take care of you." Kind and considerate as this offer was, it failed to soothe me into repose. In spite of all Master Thomas had said and in spite of my own efforts to the contrary, the injustice and wickedness of slavery were always uppermost in my thoughts and strengthening my purpose to make my escape at the earliest moment possible.
About two months after applying to Master Thomas for the privilege of hiring my time, I applied to Master Hugh for the same liberty, supposing him to be unacquainted with the fact that I had made a similar application to Master Thomas and had been refused. My boldness in making this request fairly astounded him at first. He gazed at me in amazement. But I had many good reasons for pressing the matter, and, after listening to them awhile, he did not absolutely refuse but told me that he would think of it. There was hope for me in this. Once master of my own time, I felt sure that I could make, over and above my obligation to him, a dollar or two every week. Some slaves had, in this way, made enough to purchase their freedom. It was a sharp spur to their industry; and some of the most enterprising Negro men in Baltimore hired themselves in that way.
After mature reflection, as I suppose it was, Master Hugh granted me the privilege in question, on the following terms: I was to be allowed all my time; to make all bargains for work, and to collect my own wages; and in return for this liberty, I was required or obliged to pay him three dollars at the end of each week, and to board and clothe myself, and buy my own calking tools. A failure in any of these particulars would put an end to the privilege. This was a hard bargain. The wear and tear of clothing, the losing and breaking of tools, and the expense of board, made it necessary for me to earn at least six dollars per week to keep even with the world. All who are acquainted with calking know how uncertain and irregular that employment is. It can be done to advantage only in dry weather, for it is useless to put wet oakum into a ship's seam. Rain or shine, however, work or no work, at the end of each week the money must be forthcoming.
Master Hugh seemed, for a time, much pleased with this arrangement; and well he might be, for it was decidedly in his favor. It relieved him of all anxiety concerning me. His money was sure. He had armed my love of liberty with a lash and a driver far more efficient than any I had before known; for, while by this arrangement, he derived all the benefits of slaveholding without its evils, I endured all the evils of being a slave, and yet suffered all the care and anxiety of a responsible freeman.
"Nevertheless," thought I, "it is a valuable privilege—another step in my career toward freedom." It was something even to be permitted to stagger under the disadvantages of liberty, and I was determined to hold on to the newly gained footing by all proper industry. I was ready to work by night as by day, and being in the possession of excellent health, I was not only able to meet my current expenses, but also to lay by a small sum at the end of each week. All went on thus from the month of May till August; then, for reasons which will become apparent as I proceed, my much-valued liberty was wrested from me.
During the week previous to this calamitous event, I had made arrangements with a few young friends to accompany them on Saturday night to a camp-meeting, to be held about twelve miles from Baltimore. On the evening of our intended start for the camp-ground, something occurred in the shipyard where I was at work which detained me unusually late, and compelled me either to disappoint my friends, or to neglect carrying my weekly dues to Master Hugh. Knowing that I had the money and could hand it to him on another day, I decided to go to camp-meeting and, on my return, to pay him the three dollars for the past week.
Once on the camp-ground, I was induced to remain one day longer than I had intended when I left home. But as soon as I returned I went directly to his home on Fell street to hand him his (my) money. Unhappily the fatal mistake had been made. I found him exceedingly angry. He exhibited all the signs of apprehension and wrath which a slaveholder might be surmised to exhibit on the supposed escape of a favorite slave. "You rascal! I have a great mind to give you a sound whipping. How dare you go out of the city without first asking and obtaining my permission?" "Sir," I said, "I hired my time and paid you the price you asked for it. I did not know that it was any part of the bargain that I should ask you when or where I should go." "You do not know, you rascal! You are bound to show yourself here every Saturday night." After reflecting a few moments, he became somewhat cooled down, but, evidently greatly troubled, said: "Now, you scoundrel, you have done for yourself; you shall hire your time no longer. The next thing I shall hear of will be your running away. Bring home your tools at once. I'll teach you how to go off in this way."
Thus ended my partial freedom. I could hire my time no longer. I obeyed my master's orders at once. The little taste of liberty which I had had —although as it will be seen, that taste was far from being unalloyed,—by no means enhanced my contentment with slavery. Punished by Master Hugh, it was now my turn to punish him. "Since," thought I, "you will make a slave of me, I will await your order in all things." So, instead of going to look for work on Monday morning, as I had formerly done, I remained at home during the entire week, without the performance of a single stroke of work. Saturday night came, and he called upon me as usual for my wages. I, of course, told him I had done no work, and had no wages. Here we were at the point of coming to blows. His wrath had been accumulating during the whole week; for he evidently saw that I was making no effort to get work, but was most aggravatingly awaiting his orders in all things.
As I look back to this behavior of mine, I scarcely know what possessed me, thus to trifle with one who had such unlimited power to bless or blast me. Master Hugh raved, and swore he would "get hold of me," but wisely for him, and happily for me, his wrath employed only those harmless, impalpable missiles which roll from a limber tongue. In my desperation I had fully made up my mind to measure strength with him in case he should attempt to execute his threat. I am glad there was no occasion for this, for resistance to him could not have ended so happily for me as it did in the case of Covey.12
Master Hugh was not a man to be safely resisted by a slave; and I freely own that in my conduct toward him, in this instance, there was more folly than wisdom. He closed his reproofs by telling me that hereafter I need give myself no uneasiness about getting work; he "would himself see to getting work for me, and enough of it at that." This threat, I confess, had some terror in it, and on thinking the matter over during the Sunday, I resolved not only to save him the trouble of getting me work, but that on the third day of September I would attempt to make my escape. His refusal to allow me to hire my time therefore hastened the period of my flight. I had three weeks in which to prepare for my journey.
Once resolved, I felt a certain degree of repose, and on Monday morning, instead of waiting for Master Hugh to seek employment for me, I was up by break of day, and off to the ship-yard of Mr. Butler, on the City Block, near the draw-bridge. I was a favorite with Mr. Butler, and, young as I was, I had served as his foreman, on the floatstage, at calking. Of course I easily obtained work, and at the end of the week, which, by the way, was exceedingly fine, I brought Master Hugh nine dollars. The effect of this mark of returning good sense on my part was excellent. He was very much pleased; he took the money, commended me and told me that I might have done the same thing the week before.
It is a blessed thing that the tyrant may not always know the thoughts and purposes of his victim. Master Hugh little knew my plans. The going to camp-meeting without asking his permission; the insolent answers to his reproaches and the sulky deportment of the week after being deprived on the privilege of hiring my time, had awakened the suspicion that I might be cherishing disloyal purposes. My object, therefore, in working steadily was to remove suspicion; and in this I succeeded admirably. He probably thought that I was never better satisfied with my condition than at the very time I was planning my escape. The second week passed, and I again carried him my full week's wages—nine dollars; and so well pleased was he that he gave me twenty-five cents! and bade me "make good use of it." I told him I would do so, for one of the uses to which I intended to put it was to pay my fare on the "Underground Railroad."
Things without went on as usual; but I was passing through the same internal excitement and anxiety which I had experienced two years and a half before. The failure in that instance was not calculated to increase my confidence in the success of this, my second attempt; and I knew that a second failure could not leave me where my first did. I must either get to the far North or be sent to the far South. Besides the exercise of mind from this state of facts, I had the painful sensation of being about to separate from a circle of honest and warm-hearted friends. The thought of such a separation, where the hope of ever meeting again was excluded, and where there could be no correspondence, was very painful.
It is my opinion that thousands more would have escaped from slavery but for the strong affection which bound them to their families, relatives, and friends. The daughter was hindered by the love she bore her mother and the father by the love he bore his wife and children, and so on to the end of the chapter. I had no relations in Baltimore, and I saw no probability of ever living in the neighborhood of sisters and brothers; but the thought of leaving my friends was the strongest obstacle to my running away. The last two days of the week, Friday and Saturday, were spent mostly in collecting my things together for my journey. Having worked four days that week for my master, I handed him six dollars on Saturday night. I seldom spent my Sundays at home, and for fear that something might be discovered in my conduct, I kept up my custom and absented myself all day. On Monday, the third day of September, 1838, in accordance with my resolution, I bade farewell to the city of Baltimore, and to that slavery which had been my abhorrence from childhood.
In the first narrative of my experience in slavery, written nearly forty years ago, and in various writings since, I have given the public what I considered very good reasons for withholding the manner of my escape. In substance these reasons were, first, that such publication at any time during the existence of slavery might be used by the master against the slave, and prevent the future escape of any who might adopt the same means that I did. The second reason was, if possible, still more binding to silence—for publication of details would certainly have put in peril the persons and property of those who assisted.
Murder itself was not more sternly and certainly punished in the State of Maryland than was the aiding and abetting the escape of a slave. Many Negro men, for no other crime than that of giving aid to a fugitive slave, have, like Charles T. Torrey, perished in prison. The abolition of slavery in my native State and throughout the country, and the lapse of time, render the caution hitherto observed no longer necessary. But, even since the abolition of slavery, I have sometimes thought it well enough to battle curiosity by saying that while slavery existed there were good reasons for not telling the manner of my escape, and since slavery had ceased to exist there was no reason for telling it. I shall now, however, cease to avail myself of this formula, and, as far as I can, endeavor to satisfy this very natural curiosity. I should perhaps have yielded to that feeling sooner, had there been anything very heroic or thrilling in the incidents connected with my escape, for I am sorry to say I have nothing of that sort to tell; and yet the courage that could risk betrayal and the bravery which was ready to encounter death if need be, in pursuit of freedom, were essential features in the undertaking. My success was due to address rather than to courage; to good luck rather than to bravery. My means of escape were provided for me by the very men who were making laws to hold and bind me more securely in slavery.13
It was the custom in the State of Maryland to require of the free Negro people to have what were called free papers. This instrument they were required to renew very often, and by charging a fee for this writing, considerable sums from time to time were collected by the State. In these papers the name, age, color, height and form of the free man were described, together with any scars or other marks upon his person which could assist in his identification. This device of slaveholding ingenuity, like other devices of wickedness, in some measure defeated itself—since more than one man could be found to answer the same general description. Hence many slaves could escape by personating the owner of one set of papers; and this was often done as follows: A slave nearly or sufficiently answering the description set forth in the papers, would borrow or hire them till he could by their means escape to a free state, and then, by mail or otherwise, return them to the owner.
The operation was a hazardous one for the lender as well as for the borrower. A failure on the part of the fugitive to send back the papers would imperil his benefactor, and the discovery of the papers in possession of the wrong man would imperil both the fugitive and his friend. It was therefore an act of supreme trust on the part of a freeman of color thus to put in jeopardy his own liberty that another might be free. It was, however, not unfrequently bravely done, and was seldom discovered.
I was not so fortunate as to sufficiently resemble any of my free acquaintances as to answer the description of their papers. But I had one friend—a sailor—who owned a sailor's protection, which answered somewhat the purpose of free papers—describing his person and certifying to the fact that he was a free American sailor. The instrument had at its head the American eagle, which at once gave it the appearance of an authorized document. This protection did not, when in my hands, describe its bearer very accurately. Indeed, it called for a man much darker than myself, and close examination of it would have caused my arrest at the start. In order to avoid this fatal scrutiny on the part of the railroad official, I had arranged with Isaac Rolls, a hackman, to bring my baggage to the train just on the moment of starting, and jumped upon the car myself when the train was already in motion. Had I gone into the station and offered to purchase a ticket, I should have been instantly and carefully examined, and undoubtedly arrested. In choosing this plan upon which to act, I considered the jostle of the train, and the natural haste of the conductor in a train crowded with passengers, and relied upon my skill and address in playing the sailor as described in my protection, to do the rest.
One element in my favor was the kind feeling which prevailed in Baltimore and other seaports at the time, towards "those who go down to the sea in ships." "Free trade and sailor's rights" expressed the sentiment of the country just then. In my clothing I was rigged out in sailor style. I had on a red shirt and a tarpaulin hat and black cravat, tied in sailor fashion, carelessly and loosely about my neck. My knowledge of ships and sailor's talk came much to my assistance, for I knew a ship from stem to stern, and from keelson to cross-trees, and could talk sailor like an "old salt."
On sped the train, and I was well on the way to Havre de Grace before the conductor came into the Negro car to collect tickets and examine the papers of his black passengers. This was a critical moment in the drama. My whole future depended upon the decision of this conductor. Agitated I was while this ceremony was proceeding, but still, externally at least, I was apparently calm and self-possessed. He went on with his duty—examining several colored passengers before reaching me. He was somewhat harsh in tone and peremptory in manner until he reached me, when, strangely enough, and to my surprise and relief, his whole manner changed. Seeing that I did not readily produce my free papers, as the other colored persons in the car had done, he said to me in a friendly contrast with that observed toward the others: "I suppose you have free papers?" To which I answered: "No, sir; I never carry my free papers to sea with me." "But you have something to show that you are a free man, have you not?" "Yes, sir," I answered; "I have a paper with the American eagle on it, that will carry me round the world." With this I drew from my deep sailor's pocket my seaman's protection, as before described. The merest glance at the paper satisfied him, and he took my fare and went on about his business.
This moment of time was one of the most anxious I ever experienced. Had the conductor looked closely at the paper, he could not have failed to discover that it called for a very different looking person from myself, and in that case it would have been his duty to arrest me on the instant and send me back to Baltimore from the first station. When he left me with the assurance that I was all right, though much relieved, I realized that I was still in great danger: I was still in Maryland, and subject to arrest at any moment. I saw on the train several persons who would have known me in any other clothes, and I feared they might recognize me, even in my sailor "rig," and report me to the conductor, who would then subject me to a closer examination, which I knew well would be fatal to me.
Though I was not a murderer fleeing from justice, I felt, perhaps, quite as miserable as such a criminal. The train was moving at a very high rate of speed for that time of railroad travel, but to my anxious mind, it was moving far too slowly. Minutes were hours, and hours were days during this part of my flight. After Maryland I was to pass through Delaware—another slave State, where slave-catchers generally awaited their prey, for it was not in the interior of the State, but on its borders, that these human hounds were most vigilant and active. The border lines between slavery and freedom were the dangerous ones, for the fugitives. The heart of no fox or deer, with hungry hounds on his trail, in full chase, could have beaten more anxiously or noisily than did mine from the time I left Baltimore till I reached Philadelphia.
The passage of the Susquehanna river at Havre de Grace was at that time made by ferry-boat, on board of which I met a young colored man by the name of Nichols, who came very near betraying me. He was a "hand" on the boat, but instead of minding his business, he insisted upon knowing me, and asking me dangerous questions as to where I was going, and when I was coming back, and so on. I got away from my old and inconvenient acquaintance as soon as I could decently do so, and went to another part of the boat.
Once across the river I encountered a new danger. Only a few days before I had been at work on a revenue cutter, in Mr. Price's ship-yard, under the care of Captain McGowan. On the meeting at this point of the two trains, the one going south stopped on the track just opposite to the one going north, and it so happened that this Captain McGowan sat at a window where he could see me very distinctly, and would certainly have recognized me had he looked at me but for a second. Fortunately, in the hurry of the moment, he did not see me, and the trains soon passed each other on their respective ways. But this was not the only hair-breadth escape. A German blacksmith, whom I knew well, was on the train with me, and looked at me very intently, as if he thought he had seen me somewhere before in his travels. I really believe he knew me, but had no heart to betray me. At any rate he saw me escaping and held his peace.
The last point of imminent danger, and the one I dreaded most, was Wilmington. Here we left the train and took the steamboat for Philadelphia. In making the change I again apprehended arrest, but no one disturbed me, and I was soon on the broad and beautiful Delaware, speeding away to the Quaker City. On reaching Philadelphia in the afternoon I enquired of a colored man how I could get on to New York? He directed me to the Willow Street Depot, and thither I went, taking the train that night. I reached New York Tuesday morning, having completed the journey in less than twenty-four hours. Such is briefly the manner of my escape from slavery—and the end of my experience as a slave.
Life and Times of Frederick Douglass Written by Himself (New York, 1941), pp. 210–23.
OCCUPATIONS OF FREE BLACKS IN THE SOUTH
47. THE FREE NEGRO AND THE SOUTH
That class of politicians opposed to the President's proclamation, which he proposes to issue on the 1st of January, for the general emancipation of the negroes belonging to those in rebellion at that time, are trying to make the people of the North believe, that as soon as these negroes are liberated, there will be an influx of this entire population into the Northern States.14
The statistics of 1850 develop the following facts:
Virginia had 54,333 free negroes.
While Ohio had 25,279.
Maryland had 74,723 free colored persons, with only 90,368 slaves.
At this time, New York had only 49,069 free negroes.
At this time, the District of Columbia had 10,059 free negroes and 3,688 slaves.
Delaware had then 18,073 free negroes, and 2,290 slaves.
North Carolina had 27,463 free negroes.
Alabama had 2,265 free negroes.
Georgia had 2,981 free negroes.
Illinois had only 5,436 free negroes.
Indiana had only 11,262 free negroes.
While Louisiana had 17,662 free negroes.
The white population of Indiana was 977,943, while the white population of Louisiana was only 255,491; while Maryland, with a population of 417,943 whites, has a population of free colored persons of 74,728.
And New York, with a population of 3,048,325 whites, has only 49,069 free negroes.
The Liberator, November 7, 1862.
48. THE GAINFUL OCCUPATIONS OF FREE PERSONS OF COLOR
Georgia, Richmond County, Clerk's Office Inferior Court, 2nd March, 1819.
I certify that the following is a correct list of the names of persons of color registered in this office, in conformity to the act of the 19th December, 1818 supplementary to, and more effectually to enforce an act prescribing the mode of manumitting slaves in this state, etc. and all persons concerned or interested will take notice that certificates will issue to them on or before the first Monday in May next, if objections are not filed thereto, on or before the second Monday in April next, viz.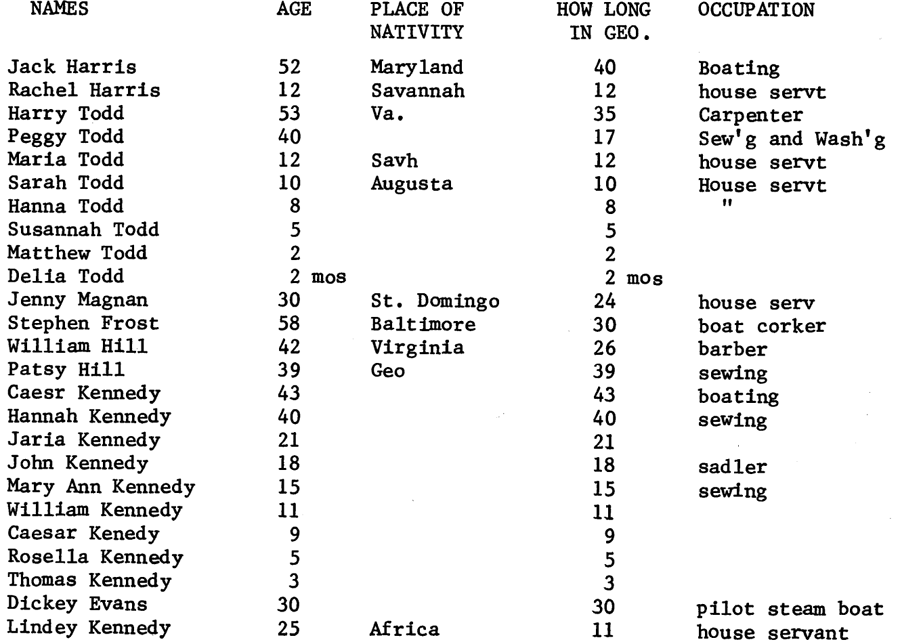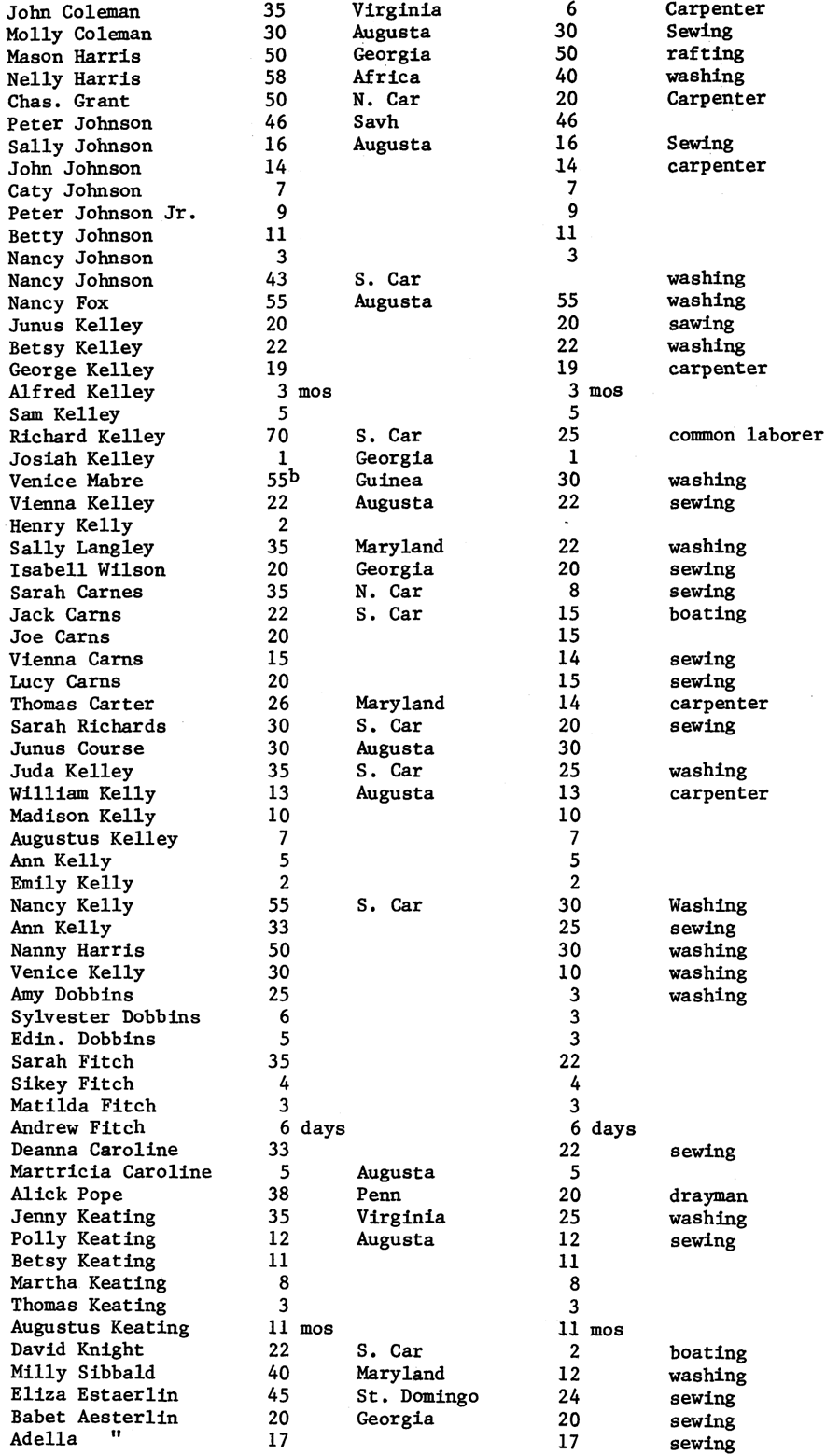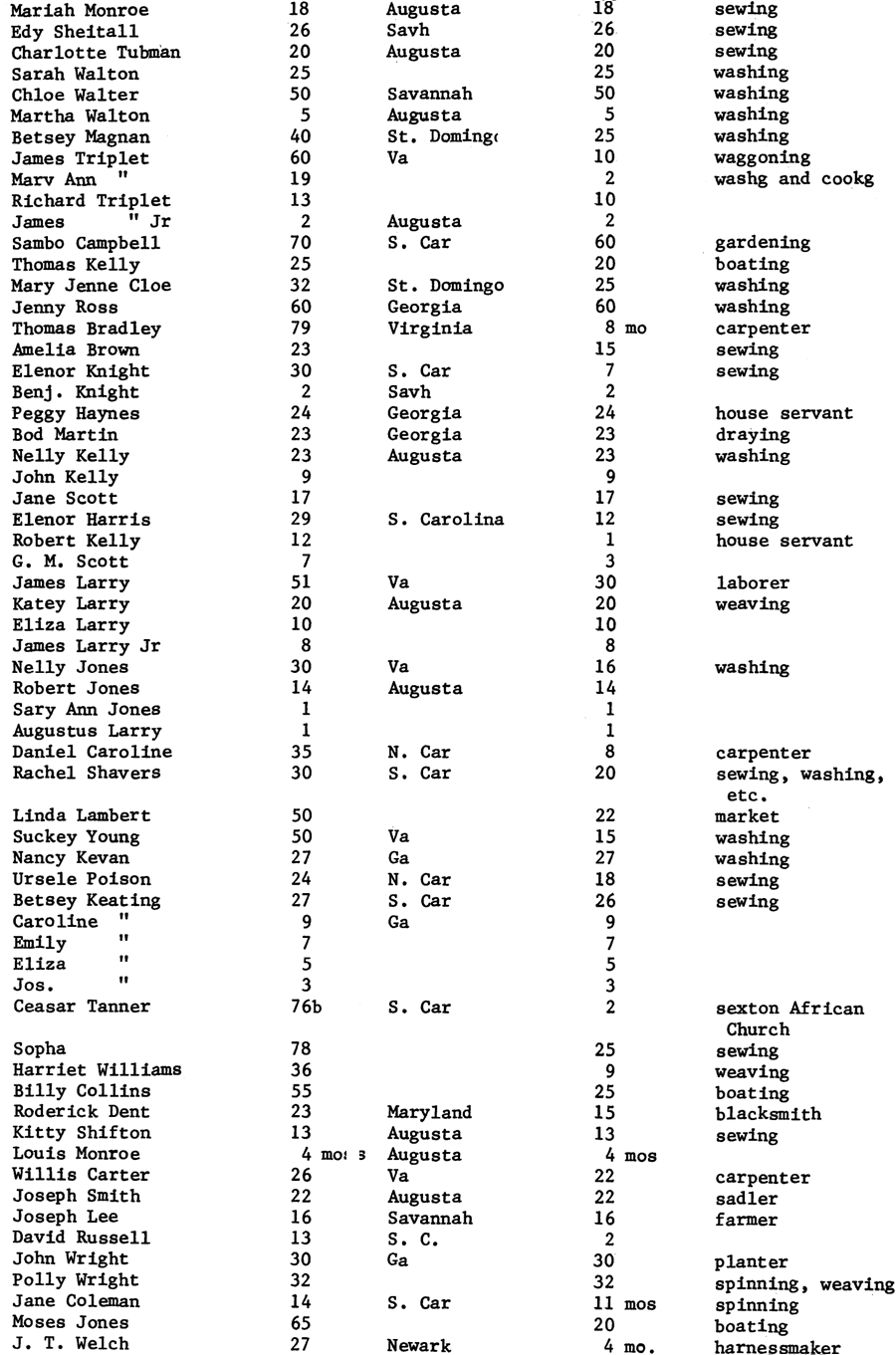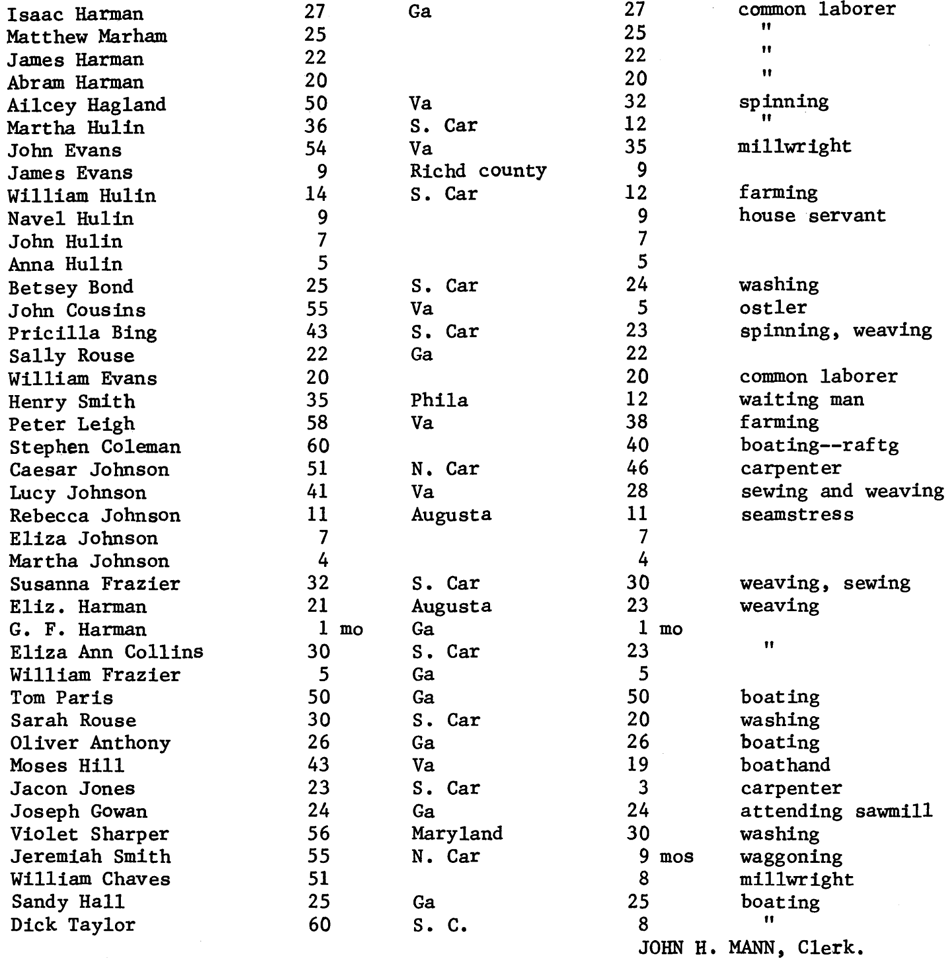 Adapted from Augusta (Ga.) Chronicle, March 13, 1819, as reproduced in Ulrich B. Phillips (ed.), A Documentary History of the American Industrial Society, Vol. II (Cleveland, 1910), pp. 143–47.
49. OCCUPATIONS OF SLAVES AND FREE BLACKS IN CHARLESTON, 1848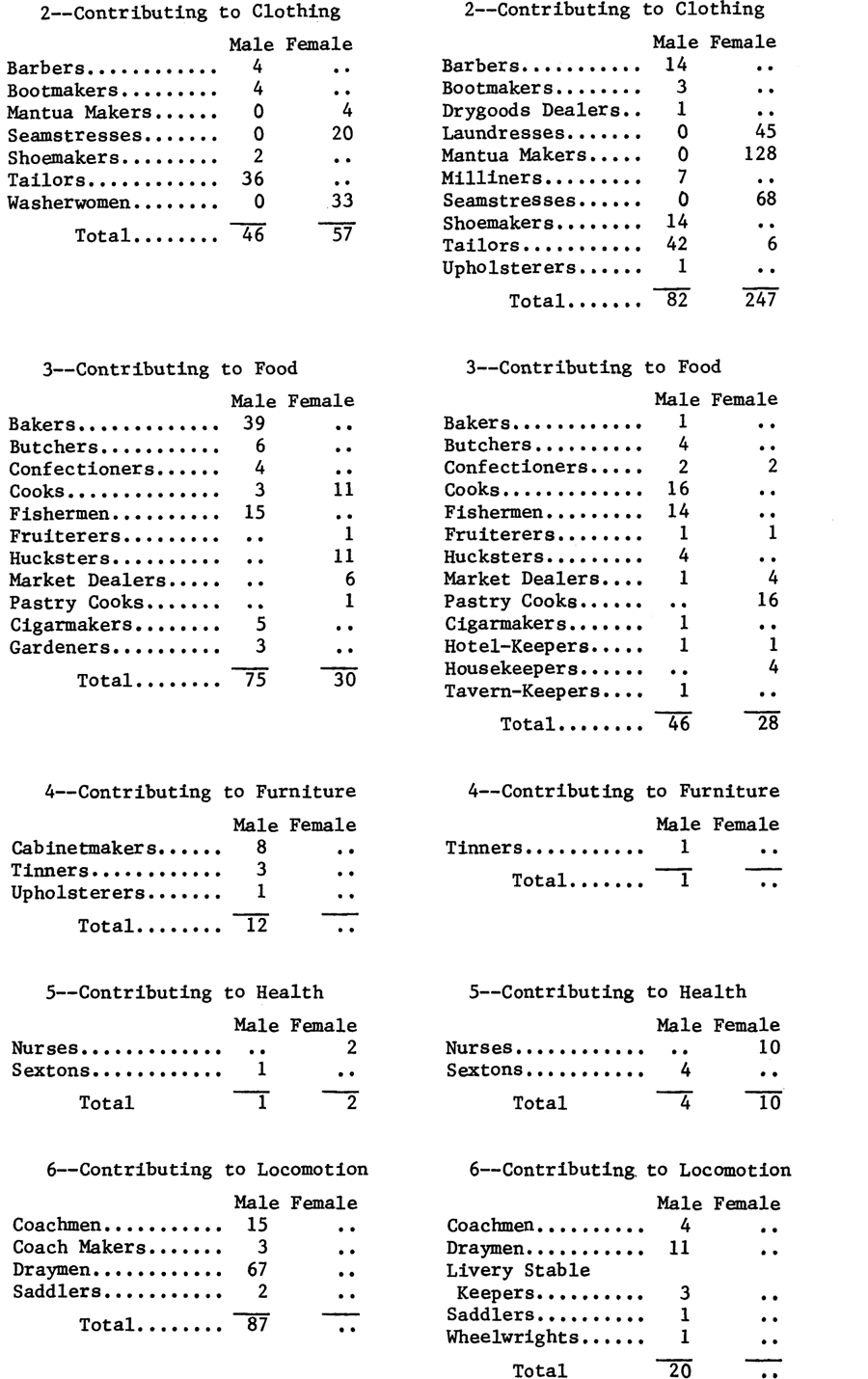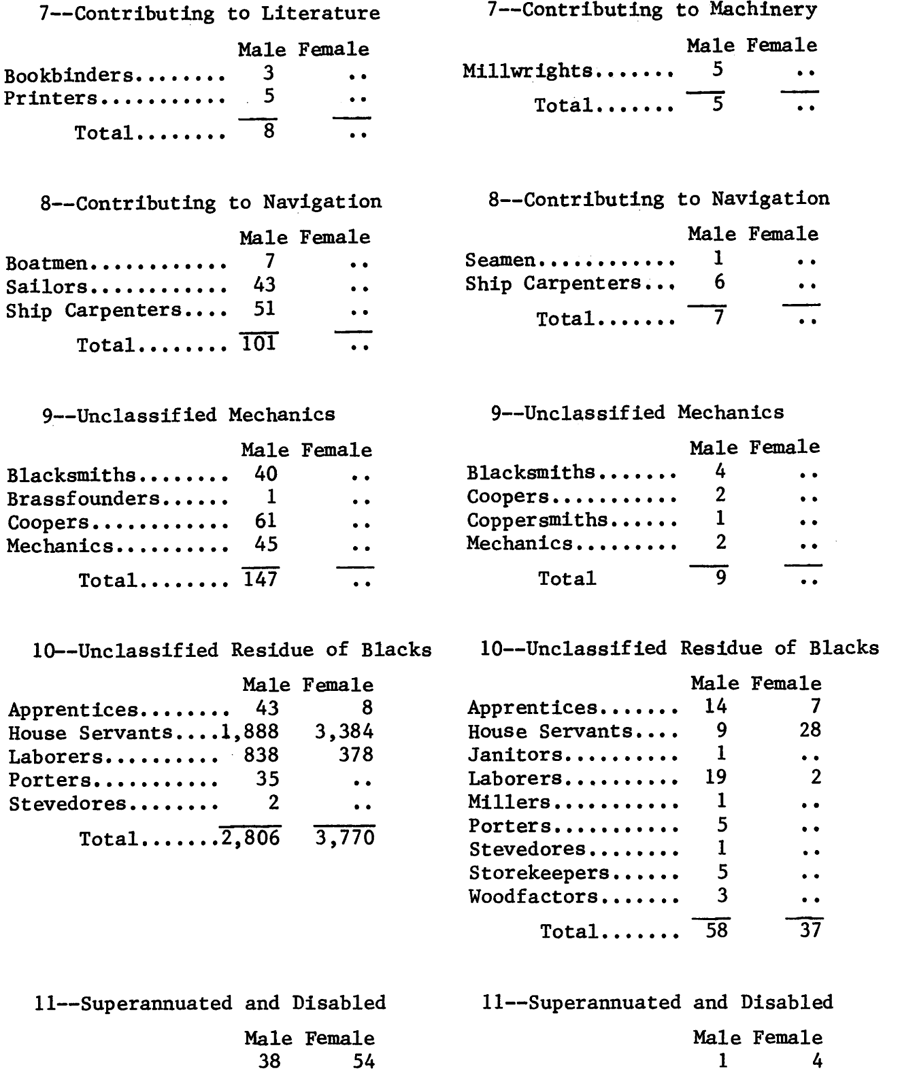 Census of the City of Charleston for the year 1848, pp. 34–35, reprinted in Charles G. Wesley, Negro Labor in the United States (New York, 1927), pp. 34–36.
50. OCCUPATIONS OF NEGROES IN CHARLESTON IN 1850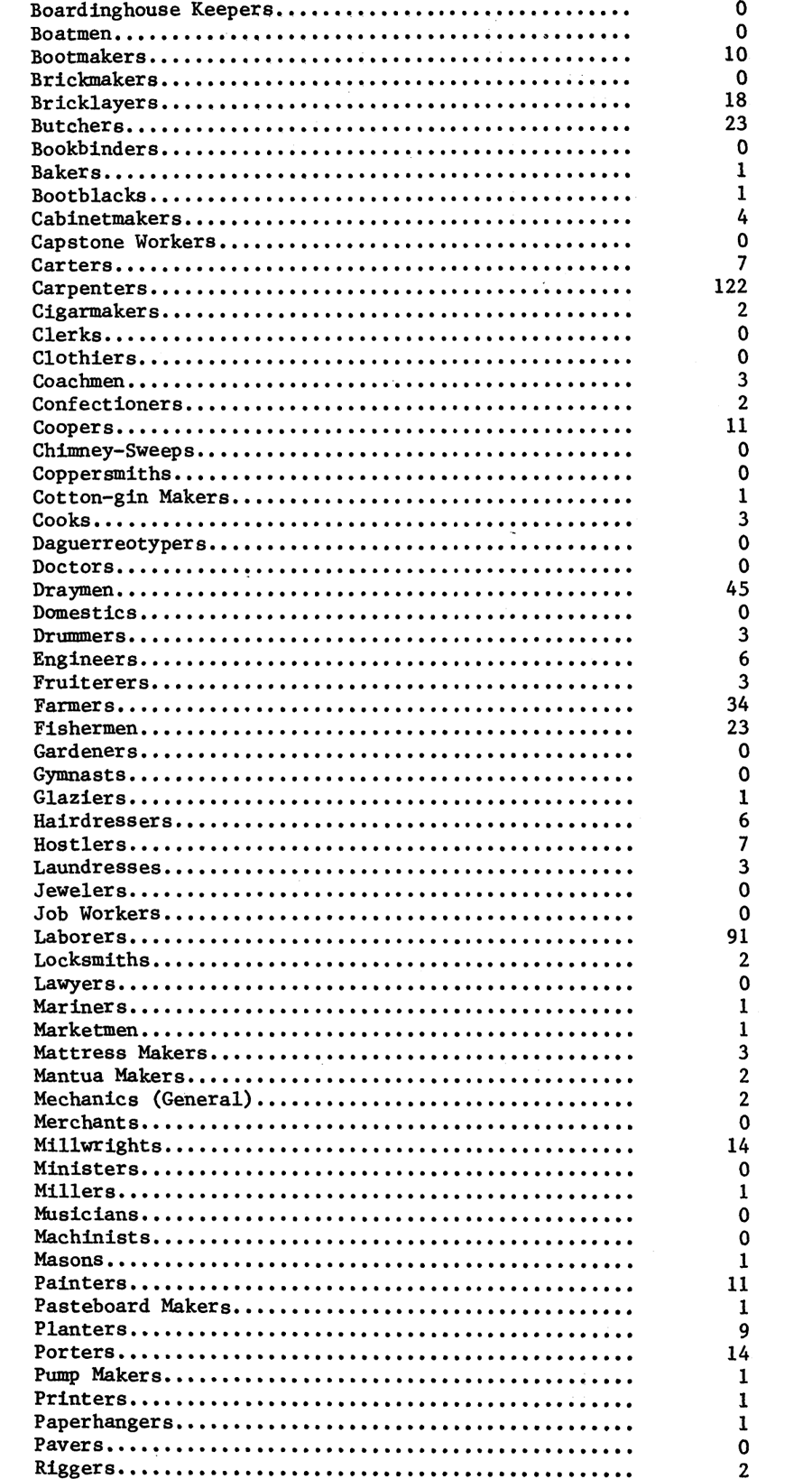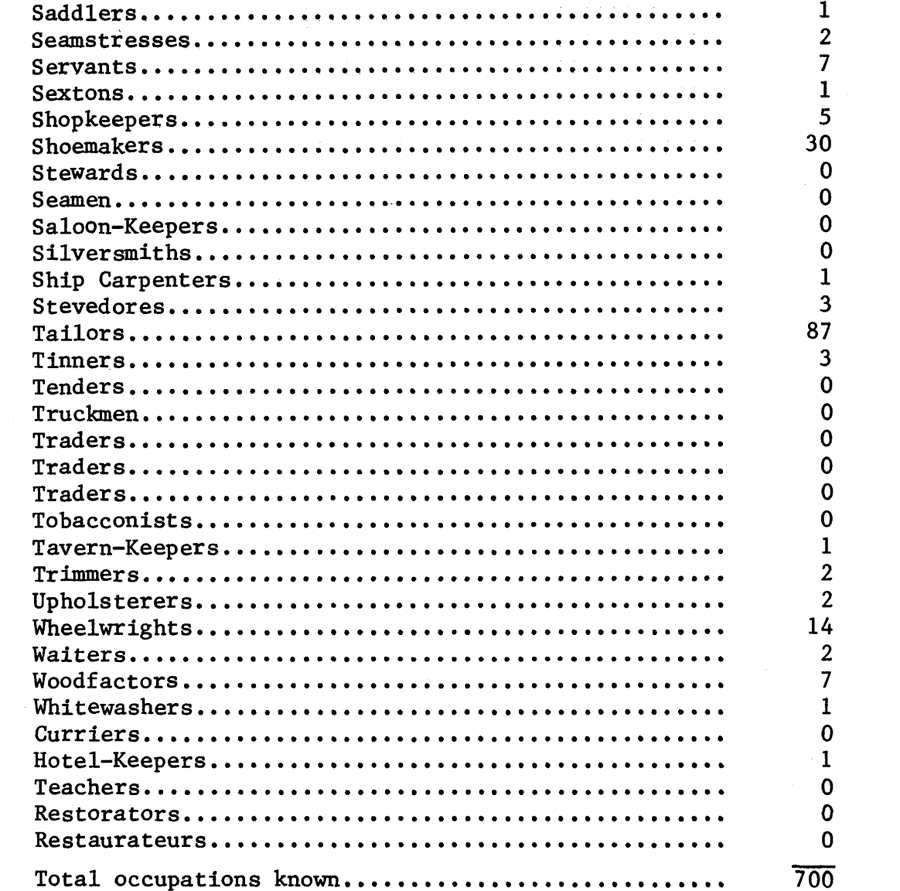 Charles G. Wesley, Negro Labor in the United States (New York, 1927), pp. 43–44.
51. OCCUPATIONS OF NEGROES IN ST. LOUIS IN 1850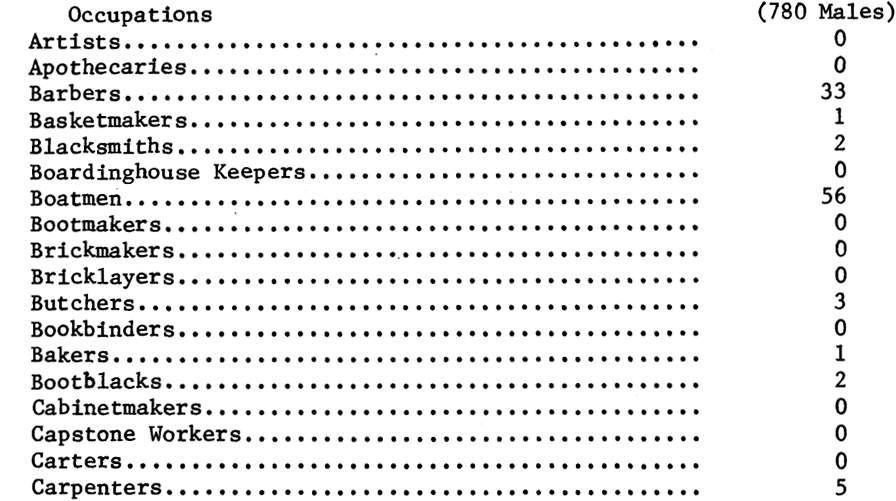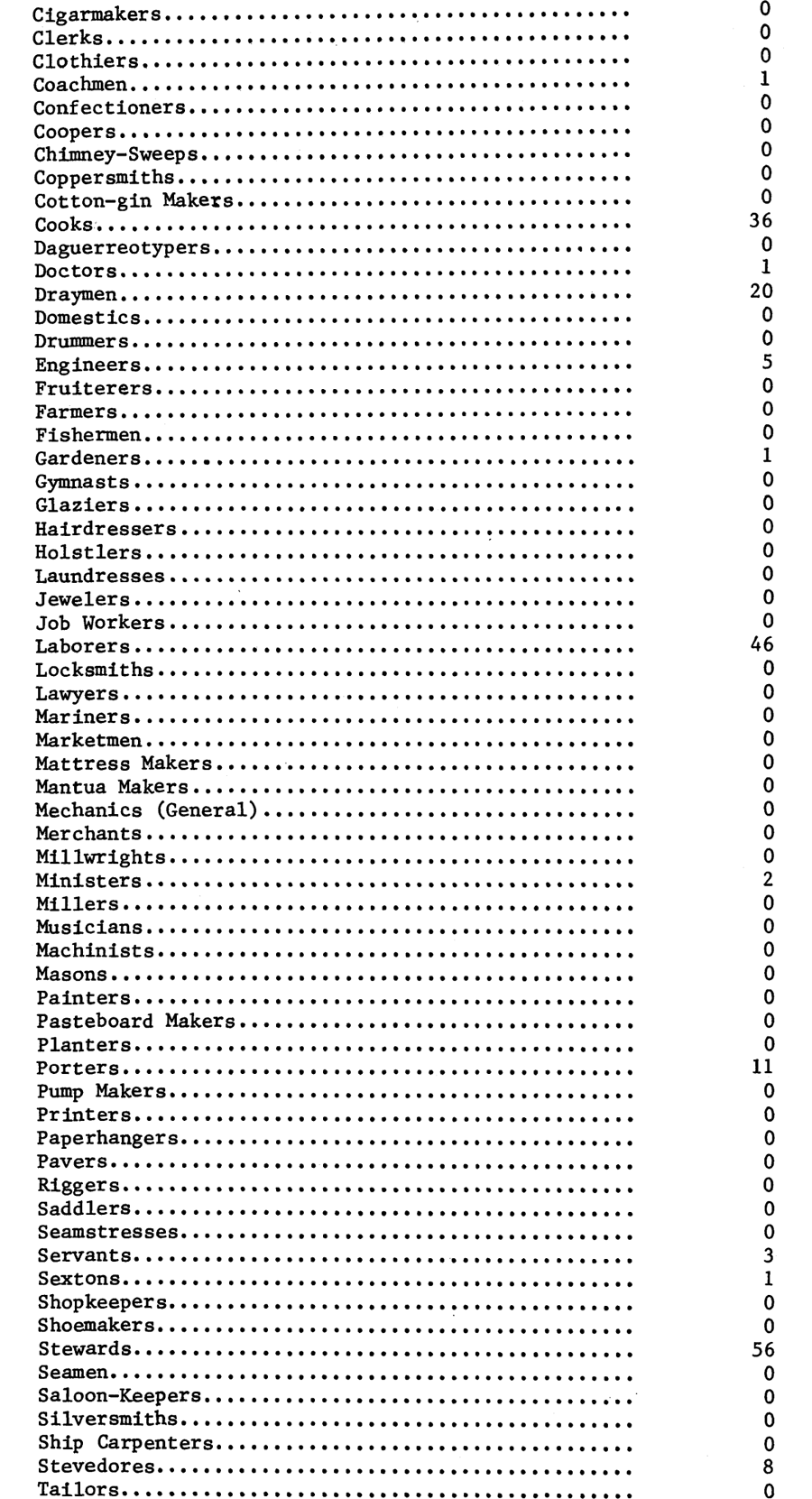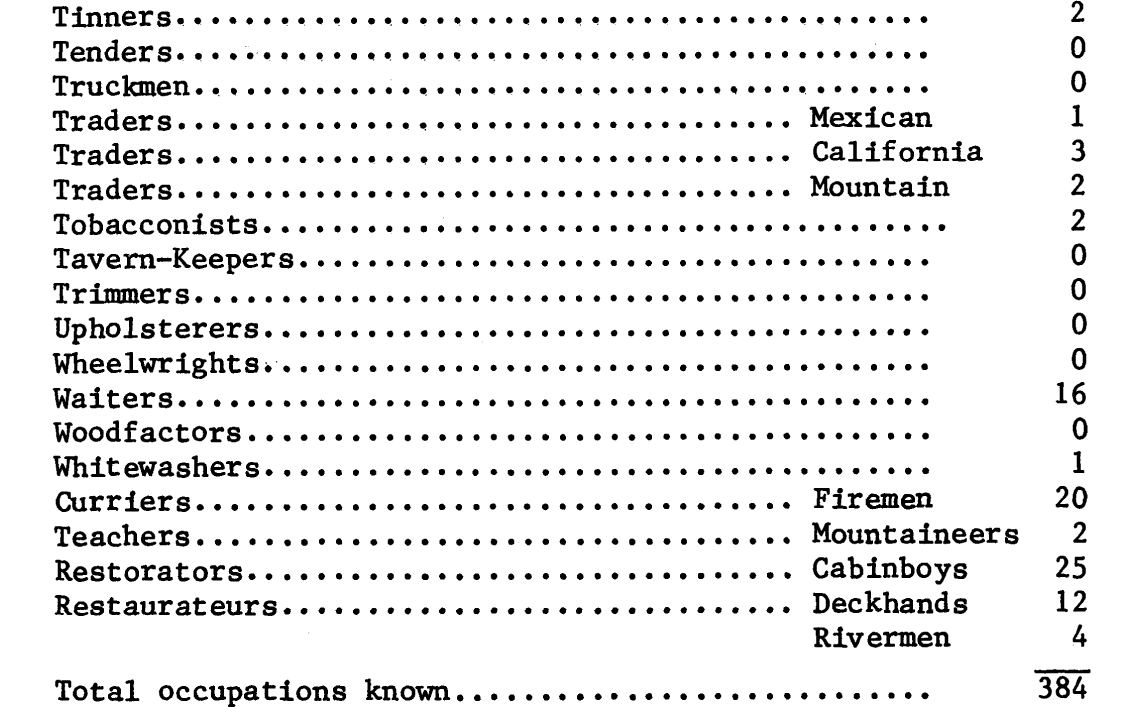 Charles G. Wesley, Negro Labor in the United States (New York, 1927), pp. 43–44.
52. LEADING NEGRO OCCUPATIONSa IN BALTIMORE IN 1850 AND 1860*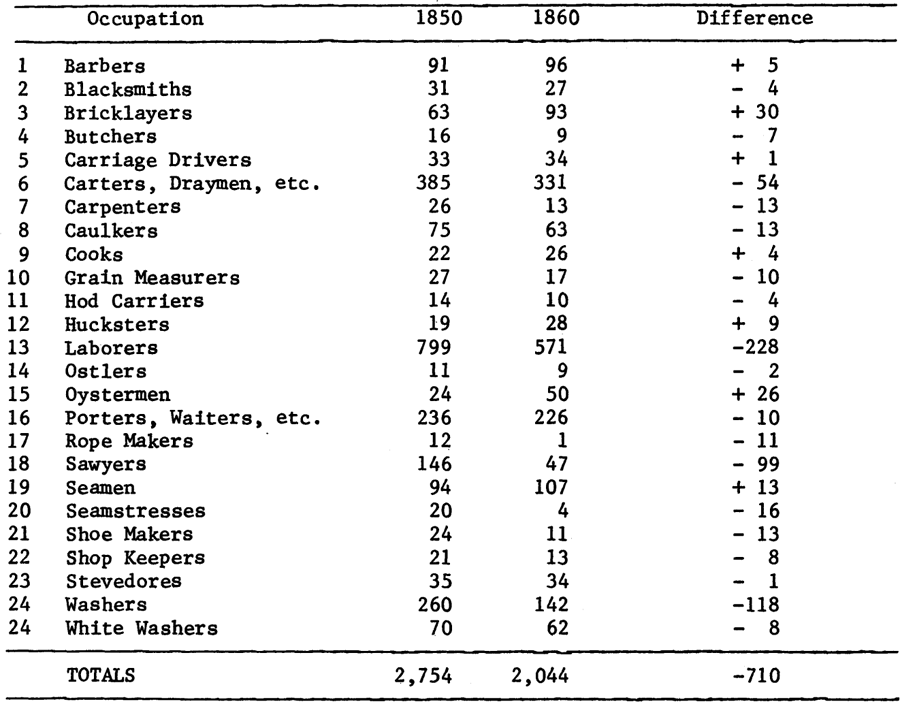 aTotal Negro labor decrease of 38.8 percent from 1850 to 1860.
*Matchett's Baltimore Directory, For 1849–50 (Baltimore: R. [Richard] J. Matchett, 1849, pp. 439–473; Woods' Baltimore City Directory (Baltimore: John w. Woods, [1860]), pp. 427–459.
M. Ray Delia, Jr., "The Problems of Negro Labor in the 1850's," Maryland Historical Magazine 66 (Spring, 1871):28.
53. OCCUPATIONS OF FREE NEGROES OVER FIFTEEN YEARS OF AGE IN NEW ORLEANS, 1850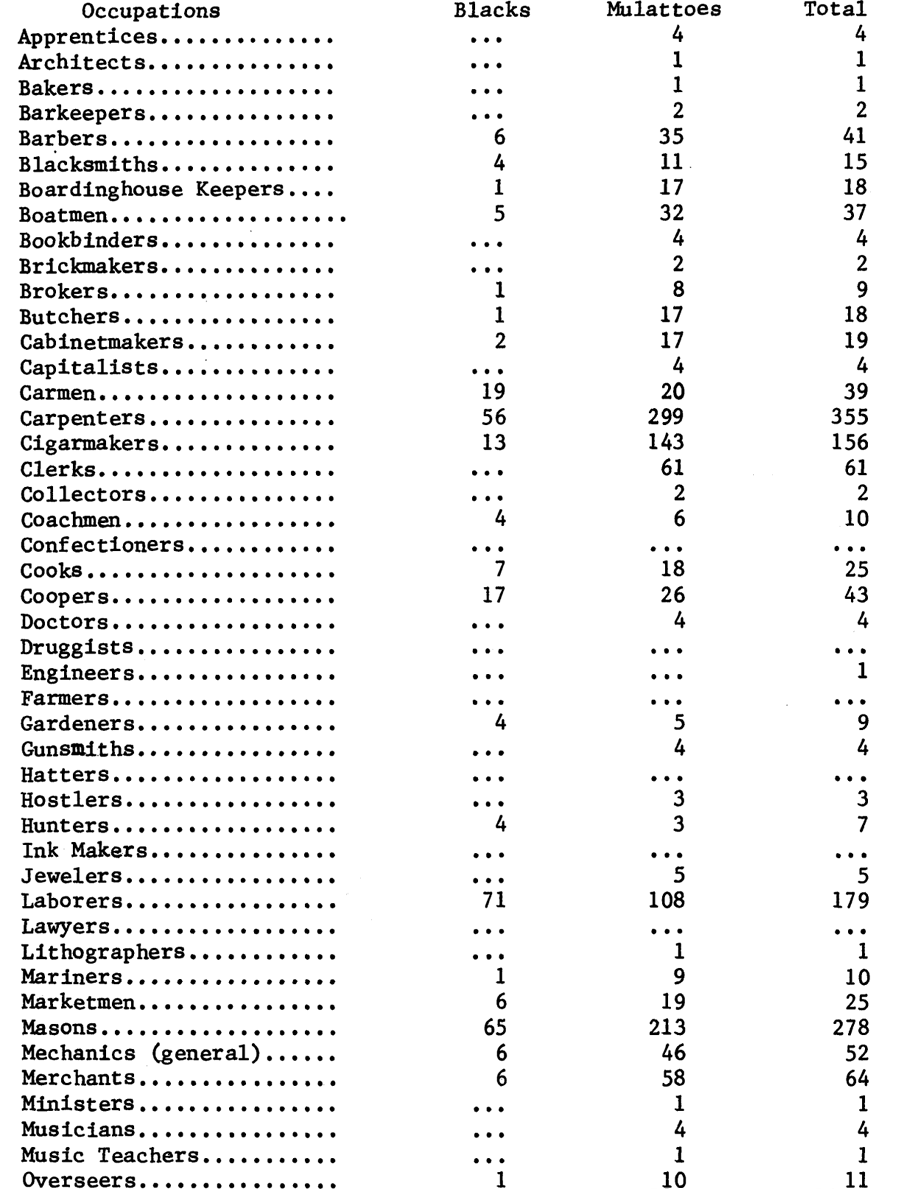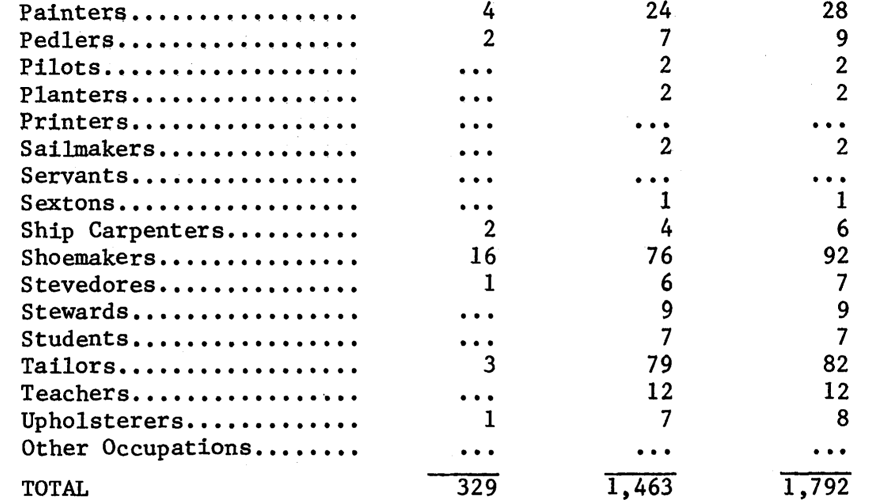 Statistical View, Compendium of the Census of 1850, pp. 80–81.
54. THE CASE OF HENRY BOYD, A FREED CARPENTER
Henry Boyd was born a slave in Kentucky. Of imposing stature, well-known muscles, and the countenance of one of Nature's noblemen, at the age of eighteen, he had so far won the confidence of his master, that he not only consented to sell him the right and title to his freedom, but gave him his own time to earn the money. With a general pass from his master, Henry made his way to the Kanawha salt works, celebrated as the place where Senator Ewing, of Ohio, chopped out his education with his axe! And there, too, with his axe, did Henry Boyd chop out his liberty. By performing double labor, he got double wages. In the daytime, he swung his axe upon the wood, and for half the night, he tended the boiling salt kettles, sleeping the other half by their side. After having accumulated a sufficient sum, he returned to his master, and paid it over for his freedom. He next applied himself to learn the trade of a carpenter and joiner. Such was his readiness to acquire the use of tools, that he soon qualified himself to receive the wages of a journeyman. In Kentucky, prejudice does not forbid master mechanics to teach colored men their trades.
He now resolved to quit the dominions of slavery, and try his fortunes in a free State, and accordingly directed his steps to the city of Cincinnati. The journey reduced his purse to the last quarter of a dollar; but, with his tools on his back, and a set of muscles that well knew how to use them, he entered the city with a light heart. Little did he dream of the reception he was to meet. There was work enough to be done in his line, but no master-workman would employ "a nigger." Day after day did Henry Boyd offer his services from shop to shop, but as often was he repelled, generally with insult, and once with a kick. At last, he found the shop of an Englishman, too recently arrived to understand the grand peculiarity of American feeling. This man put a plane into his hand, and asked him to make proof of his skill. "This is in bad order," said Boyd, and with that he gave the instrument certain nice professional knocks with the hammer till he brought it to suit his practised eye. "Enough," said the Englishman, "I see you can use tools." Boyd, however, proceeded to dress a board in a very able and workmanlike manner, while the journeymen from a long line of benches gathered round, with looks that bespoke a deep personal interest in the matter. "You may go to work," said the master of the shop, right glad to employ so good a workman. The words had no sooner left his mouth, than his American journeymen, unbottoning their aprons, called, as one man, for the settlement of their wages.
"What, what," said the amazed Englishman, "what does this mean?"
"It means that we will not work with a nigger," replied the journeymen.
"But he is a first-rate workman."
"But we won't stay in the same shop with a nigger. We are not in the habit of working with niggers."
"Then I will build a shanty outside, and he shall work in that."
"No, no; we won't work for a boss who employs niggers. Pay us up, and we'll be off."
The poor master of the shop turned, with a despairing look, to Boyd—"You see how it is, my friend, my workmen will all leave me. I am sorry for it, but I can't hire you."
Even at this repulse, our adventurer did not despair. There might still be mechanics, in the outskirts of the city, who had too few journeymen to be bound by their prejudices. His quarter of a dollar had long since disappeared; but, by carrying a traveller's trunk or turning his hand to any chance job, he contrived to exist till he had made application to every carpenter and joiner in the city and its suburbs. Not one would employ him. By this time, the iron of prejudice, more galling than any thing he had ever known of slavery, had entered his soul. He walked down on the river's bank below the city, and, throwing himself upon the ground, gave way to an agony of despair. He had found himself the object of universal contempt; his plans were all frustrated, his hopes dashed, and his dear-bought freedom made no effect!
William C. Nell, The Colored Patriots of the American Revolution (Boston, 1855), pp. 265–68.
55. "AS HIGH AS A COLORED MAN COULD RISE"
My first call was on a Mr. Knowles, a first-class carpenter, to see if he would take me as an apprentice. His excuse was that he had but little work and that he was going to close up business. I next applied to a Mr. Langley, a shoemaker, but he refused without giving me an excuse. I next called on Mr. Ira B. Winsor, a grocery man. His promise to hire me as a clerk encouraged me very much. He had first to consult his uncle, who was his guardian. His uncle bitterly opposed hiring a black boy while there were so many white boys he could get.
Other [white] boys of my acquaintance with little or no education, were learning trades and getting employments, and I could get nothing. I found it was on account of my color, for no colored men except barbers had trades. I was now seventeen years old and was at a loss to know what steps to take to get a living, for if I possessed the knowledge of a Demosthenes or Cicero, it would not bring to me flattering prospects for the future. To drive carriage, carry a market basket after the boss, brush his boots, or saw wood and run errands was as high as a colored man could rise.
The Life of William J. Brown (Providence, 1883), p. 56.
Saturday night! Dunk! goes the smoothing-iron, then a swift gliding sound as it passes smoothly over starched bosom and collar of one of the many dozen shirts that hang round the room on chairs, lines and every other thing capable of being hanged on. Dunk! Dunk! and that small and delicately formed hand and wrist swell up with knotted muscles and bursting veins!
The apartment is small, hot as an oven, the air in it thick and misty with the steam rising from the ironing table. In the corners, under the tables, and in all out-of-the-way places are stowed tubs of various sizes, some empty, some full of clothes soaking for next week's labor. On the walls hang pictures of old Pappy Thompson, or Brother Paul, or Sammy Cornish; in one corner of the room a newly varnished mahogany table is partly filled with books—Bunyan's Pilgrim's Progress, Watts' Hymns, the Life of Christ, and a nice "greasy novel" just in from the circulating library. Between the windows stand an old bureau, the big drawer of which is the larder, containing sundry slices of cold meat, second-handed toast and carcass of a turkey, the return cargo of a basket of clothes sent downtown that morning. Dunk! Dunk! goes the smoothing-iron. The washerwoman bends again to her task. Her mind is far away in the South, with her sisters and their children who toil as hard but without any pay! And she fancies the smiles which will gladden their faces when receiving the things she sent them in a box by the last Georgetown packet. Dunk! Dunk! Dunk!!! goes the iron, this time right swift and cheerily. Oh Freedom! Her tired muscles forget all weariness. The iron flies as a weaver's shuttle, shirts appear and disappear with rapidity and at a quarter to twelve, the groaning table is cleared, and the poor washerwoman sinks upon her knees in prayer for them, that they also may soon partake of that freedom which, however toilsome, is yet so sweet.
James McCune Smith, Heads of the Colored People — No. 3.
57. OBSERVATIONS OF SAMUEL RINGGOLD WARD ON DISCRIMINATION15
I grew up in the city of New York as do the children of poor parents in large cities too frequently. I was placed at a public school in Mulberry Street, taught by Mr. C. C. Andrew, and subsequently by Mr. Adams, a Quaker gentleman, from both of whom I received great kindness. Dr. A. Libolt, my last preceptor in that school, placed me under lasting obligations. Poverty compelled me to work, but inclination led me to study; hence I was enabled, in spite of poverty, to make some progress in necessary learning. Added to poverty, however, in the case of a black lad in that city, is the ever-present, ever-crushing Negro-hate, which hedges up his path, discourages his efforts, damps his ardour, blasts his hopes, and embitters his spirits.
Some white persons wonder at and condemn the tone in which some of us blacks speak of our oppressors. Such persons talk as if they knew but little of human nature, and less of Negro character, else they would wonder rather that, what with slavery and Negro-hate, the mass of us are not either depressed into idiocy or excited into demons. What class of whites, except the Quakers, ever spoke of their oppressors or wrongdoers as mildly as we do? This peculiarly American spirit (which Englishmen easily enough imbibe, after they have resided a few days in the United States) was ever at my elbow. As a servant, it denied me a seat at the table with my white fellow servants; in sports of childhood and youth, it was ever disparagingly reminding me of my colour and origin; along the streets it ever pursued, ever ridiculed, ever abused me. If I sought redress, the very complexion I wore was pointed out as the best reason for my seeking it in vain; if I desired to turn to account a little learning, in the way of earning a living by it, the idea of employing a black clerk was preposterous—too absurd to be seriously entertained. I never knew but one coloured clerk in a mercantile house. Mr. W. L. Jeffers was lowest clerk in a house well known in Broad Street, New York; but he never was advanced a single grade, while numerous white lads have since passed up by him, and over him, to be members of the firm. Poor Jeffers, till the day of his death, was but one remove above the porter. So, if I sought a trade, white apprentices would leave if I were admitted; and when I went to the house of God, as it was called, I found all the Negro-hating usages and sentiments of general society there encouraged and embodied in the Negro pew, and in the disallowing Negroes to commune until all the whites, however poor, low, and degraded, had done. I know of more than one coloured person driven to the total denial of all religion, by the religious barbarism of white New Yorkers and other Northern champions of the slaveholder.
However, at the age of sixteen I found a friend in George Atkinson Ward, Esq., from whom I received encouragement to persevere, in spite of Negro-hate. In 1833 I became a clerk of Thomas L. Jennings, Esq., one of the most worthy of the coloured race; subsequently my brother and I served David Ruggles, Esq., then of New York, late of Northampton, Massachusetts, now no more.16
Samuel Ringgold Ward, Autobiography of a Fugitive Negro (London, 1855), pp. 28–29.
58. WELL PUT.—THE COLOURED RACE AT THE NORTH
Major NOAH of the N. Y. Sunday Messenger makes the following truthful remarks on a subject, which is more misrepresented and misunderstood at the North, than all others put together:
"A FRIEND IN NEED.—The coloured race in this country never wanted friends more than they do at the present time—not professing friends who calculate how much political capital can be made by being clamarous in their behalf, but true friends, who wish to see them comfortable, safe and happy. When has Africa been happy? Labouring under divine displeasure, a marked and differently created race from the white man, always at war with each other in their own country, sold as slaves by our Northern ancestors, and purchased by the South to till the land, the only comfort, protection, security and safety which they have ever enjoyed since they left the land of Cush, is in what is called the Slavery in the Southern States; and this comfort and safety they are about to be robbed of by a host of sympathising politicians, calling themselves Free Soil men and the friends of the coloured race.
Here, at the North, the poor blacks are not permitted to work alongside of the white man. We reduce them to the lowest grades of civilization by making them our servants, our waiters, and our dependants. Once they were permitted to follow the humble employment of carrying up bricks and mortar, but they were kicked from the ladder by our white fellow-citizens. They clean boots, scour clothes but are not permitted to sweep streets—they do not won or command a ship, they are only cooks and stewards—they are not merchants, bankers, or brokers—they hold no public appointments, and are rudely thrust from our cars and carriages—we do not eat with them or pray with them, and in our places of amusement there are pens and divisions in which they may sit by themselves. Is it any wonder that they are poor, vicious, and the inmates of our hospitals and prisons? And yet we, who persecute neglect and repudiate the free black man here, are filled with holy zeal to make the slave free at the South, and deprive him of a home, of food and clothing, and of a kind considerate master; and we struggle for that freedom even at the expense of breaking down, dividing and destroying our glorious republic! Well may the blacks say: "Save us from our friends!—Save us from the pity and protection of the political Abolitionists!"
What is to become of the poor free blacks, when thrown upon the world without protection, deprived of their happy home in the slave States, and of kind and sympathising masters? The Governor of Virginia, in his last message to the Legislature, proposes to direct by law that the free blacks shall leave the State. True, they work but little, and idleness is the parent of crime—true, they corrupt the honest and industrious slave, are useless to themselves, and a burden and injury to the State. That freedom so essential to the whites is to them an unbearable burden. What, however, is to become of 100,000 poor, friendless, free blacks, driven from their own State to take refuge in the North, where we allow them so few privileges? Suppose all the slave States were to say to their free blacks—"My friends, we have given you employment and bread, but your abolition friends in the North are anxious that you should come forth from the iniquity that surrounds you—go to them, and see if they will do as much for you as we have done!" What is to become of more than half a million of freed blacks driven forth to seek the cold charities of the North? They will starve! We of the North will give them no succour, no employment, and yet we are even in favour of rending our glorious constitution to pieces in order to give them liberty!—When will the age of reason be revived? We cannot rebuke the slave States in ridding themselves of their free blacks, which are a dead weight upon them; and yet we dread the day when they shall be thrown upon the North for support and protection. Wherever we turn, we see nothing in the agitation of the slave question but ruin and distress to the coloured race.
A circumstance occurred here last week which has led to the foregoing reflections. Passing down Nassau street, three or four persons were standing inside of a store talking to a black man, and they invited us to come in. "Here is a black man," said one of the gentlemen "who wishes to sell himself as a slave for $150.
We entered the store, and saw a short stout fellow in rags, with a good countenance, and no indication of vice.
"Where do you belong?"
"To New York; I was born there."
"Don't you know that you can't sell yourself as a slave in this State?"
"What am I to do? I can get no work; I have had no breakfast; I am almost naked; no one cares for me, and I have no friend. Is it not better to have a good master whom I can work for, and who will care for me?"
Here was an illusion of the practical benevolence of domestic African Slavery, while it exhibited the rank hypocrisy of the Abolitionists. They could raise

2,000 to purchase the liberty of two mulatto girls, and yet allowed a poor black to offer to sell himself as a slave to save himself from starving in a free Northern State!"
It has ever been the misfortune of very poor and ignorant people in all Christian and densely populated nations, to be the victims of untold privations and hardships. Somehow it always happens that the Benevolence of high civilization cannot see the pressing wants—the cruel hunger and nakedness at its own door; while it will labour day and night with untiring zeal, to remove the purely imaginary distress of persons in some far off country. Thus, English Humanity, which could tax itself

20,000,000, or one hundred millions of dollars to emancipate the slaves in the West Indies, who were in comparatively a comfortable condition, experienced little uneasiness in permitting thousands of whites to die of starvation in Ireland.
Emancipate the three millions of slaves now in the Union, and distribute them equally in every State, to compete with the Anglo-Saxon race for employment and bread, and instead of a blessing, the act would be an infliction, from the blighting effects of which, both blacks and whites would suffer to an incalculable degree. Of course the inferior race would suffer in the conflict, far more than the stronger one. The withdrawal of all guardianship now extended over this class of servants, which is in truth so much needed, would operate like a general law declaring all children to be of age, and quite independent of parental care and government when twelve years old. Every intelligent person can appreciate the supreme folly of such precocious liberty. Why then, it may well be asked, cannot all intelligent men and women at the North discover the necessity of humane and legal guardianship over the African race, imported into the planting States and sold by their own merchants and slave dealers? Undoubtedly this guardianship, or relation of master and slave, may be abused; but so may the relation of parent and child, husband and wife, employers and employed. There are very few of us who do not abuse some of the blessings of life, yet this abuse would hardly justify the destruction of all life on that account.
All abuses, whether of servants, children, hirelings or neighbours, should be corrected. But when this task of correction shall be undertaken in good earnest, there will be found as many and as serious wrongs in Northern as in Southern communities, which demand abatement. We have seen able-bodied men in Northern cities beg for employment at twenty-five cents a day, to command the means to purchase a little corn meal or a few potatoes, to keep a wife and small children from starving; and then often beg in vain. In Georgia every slave enjoys the legal right to transform his honest sweat into bread. In no State in the Union has a poor white man this right, provided no one sees fit to employ him and he owns no land. Take the case of the free man of colour seen by Mr. NOAH. If no one saw fit to purchase his labour and sell him bread or a shirt, how could he get either without stealing it? What is the labour of a white man worth in Ireland, New York or Georgia when he is in immediate want, and no human being will buy his labour or supply his wants?
To stimulate industrious habits, and cure the vices incident to improvidence and excess when poor free persons have employment, civilized communities regard it as wise to let all such understand distinctly, that they must lay up their surplus earnings, and provide in seasons of plenty for those of scarcity. To guaranty employment and food at all times and under all circumstances, as was strongly demanded by the poor in France, would be in effect to offer a bounty on general indulgence and improvidence, by saying to all that Government would never permit them to lack work, wages and bread. Three millions negroes would make a sorry showing in the way of providing against all contingencies of bad harvests, sickness, infancy and old age if left entirely at liberty to work or play as they might feel inclined.
The necessity for guardianship by persons better informed and more provident than slaves are, for their own good, is so apparent that a man with half an eye ought to see it. That the labour of this class of people is now generally employed to the best possible advantage, we are far from believing. It can be made vastly more productive than it now is, for the equal benefit of master and servant.
National Anti-Slavery Standard, April 26, 1849, quoting the Augusta (Ga.) Chronicle and Sentinel.