FREE BLACK LABOR IN THE NORTH
About five per cent of the total black population lived in the North dur-the Ante-Bellum Era. Although free Negroes in the northern states enjoyed more personal freedom than their brothers and sisters in the South, this often meant the freedom to starve. Certainly life was not easy, and northern blacks encountered gross discrimination, sometimes of the most vicious variety. This was particularly true during economic depressions when white workers were desperate for employment. Under normal conditions, however, a sort of peaceful coexistence prevailed, maintained by traditional occupational patterns for the two races, in which blacks were confined to menial labor and to the service industries. Only a small percentage of blacks were mechanics, artisans, or shopkeepers. This pattern is clearly presented for Philadelphia (Doc. 1, 3–4), New York (Doc. 6–11, 14–15), and Boston (Doc. 16–17, 19–22).
Consequently, black workers were concentrated in the lowest paid and most precarious of jobs. Therefore, they suffered more from economic deprivation, poor education, housing, and nutritional maladies than whites. This precarious social, economic, and political position meant that Negroes came into competition with newly-arrived immigrants, such as the Irish, who learned very quickly that blacks were a ready scapegoat. With the white populace and their officials disposed against them, black workers all too frequently found the best of their jobs threatened by the dregs of white society. The resultant poverty and injustice is easily demonstrated for Philadelphia (DOC. 2, 5), New York (Doc. 12–13, 24), and Boston (Doc. 18).
One of the most famous cases exemplifying the discrimination against black artisans in the North is that of Frederick Douglass (Doc. 25). A skilled ship-caulker, Douglass fled from Baltimore to New Bedford, Massachusetts, a relatively liberal state on racial issues. Once there, however, Douglass was forced to work as an unskilled day-laborer because no one would employ him at his trade even though New Bedford was a prosperous ship-building community. The example of Henry Graves, a poor and obscure black handcart peddler in New York who had his license revoked, is another excellent case in point (Doc. 26–29).
NORTHERN FREE BLACK OCCUPATIONS
1. REGISTER OF TRADES OF COLORED PEOPLE IN THE CITY OF PHILADELPHIA AND DISTRICTS, 1838
Bakers 9
Basket-Makers 3
Blacksmiths 23
Black and White Smiths 5
Bleeders 9
Bleeders and Hair Dressers 5
Boot and Shoemakers 91
Brass-Founders 2
Brewers 1
Bricklayers 6
Bricklayers and Plasterers 5
Brush-Makers 3
Cabinet-Makers 15
Cabinet-Makers and Carpenters 5
Carpenters 40
Caulkers 2
Chair-Bottomers 2
Confectioners 5
Coopers 5
Curiers 2
Dentists 1
Dress-Makers 74 (women)
Dress-Makers and Tailoresses 14
Dyers and Scourers 4
Fullers 4
Glass-Paker Makers 2
Hair-Dressers 95
Hair-Dressers and Hair-Workers 10
Hatters 4
Iron-Forgers 1
Masons 2
Millers 3
Milliners and Dress-Makers 25
Nail-Makers 2
Painters 6
Painters and Glaziers 11
Paper-Makers 1
Plasterers 1
Plumbers 3
Potters 1
Printers 3
Rope-Makers 3
Sail-Makers 19
(including James Forten, James Forten, Jr., and Robert B. Forten)
Scythe and Sickle Makers 1
Ship Carpenters 4
Stone Cutter 1
Sugar Refiners 3
Tailoresses 17 (women)
Tanners 31
Tanners and Curriers 6
Tin-Plate Workers 1
Tobacconists 2
Turners 5
Weavers 5
Wheelwrights 6
Register of Trades of Colored People in the City of Philadelphia and Districts (Philadelphia, 1838), copy at the Library Company of Philadelphia.
2. COLORED INHABITANTS OF PHILADELPHIA
We have been favored with a copy of an interesting pamphlet, just published, entitled, "A Statistical Inquiry into the Condition of the People of Color of the City and Districts of Philadelphia." "The census (says the preface) which forms the basis of the calculations and statements which follow, was taken near the close of the year 1847, at the suggestion and under the direction of some members of the Society of Friends. It is submitted to the public in the conviction that it presents, so far as it goes, a faithful picture of the condition of our people of color—a picture which should inspire them with hope and confidence in the future, and encourage their friends to persevere in their efforts."
The first table shows the total number of colored residents in Philadelphia to be 20,240, though this is believed to be rather less than the actual number. The increase during the twenty years from 1820 to 1840, is shown to be 14 per cent per annum.
It appears from another table, that 42.7 per cent. of the colored population of Philadelphia have been born out of the State; and it is further supposed that two-thirds of these immigrants are from the slave States. The total number of those born slaves is stated as 1,077; manumitted, 767; bought their freedom, 275; the amount paid for their freedom, $63,043.
It has been attempted by the compilers of this pamphlet, to form an estimate of the real and personal estate held by the people of color; but it is justly observed, that "no returns of this nature can be more than an approximation to the actual value," on account of the difficulty of obtaining correct returns from the individuals. The total value of real estate, carefully computed from the information obtained is $531,809. None of the public property, such as meeting-houses, school-houses, &c., is included in this estimate. The increase in the value of the real estate between the years 1837 and 1847, is rated at 50 per cent. This real estate is held by 315 freeholders, who are likewise the owners of personal property to the amount of $194, 318; of these freeholders there are two who own from $5,000 to $10,000, and two who own from $10,000 to $20,000.
The total amount of rental in 1847; was $199,665.46—paid by 4,019 families—being an average of $49,68 per family. The taxes were in the same year $6,308.38; the water rents $1,032.
The trades and occupations of 3,358 men, and 4,249 women, forming about four-fifths of the entire able-bodied population above 21, has been ascertained. Of these, 268 are mechanics; 166 shop-keepers and traders; the rest are laborers, waiters, hair-dressers, &c. Of the women, 216 are dress-makers; 231 seamstresses; 23 keepers of boarding-houses; 13 school-mistresses.
Under the heading of "Education and Employment of Children," it is stated that the numbers between the ages of 5 and 20 are computed to be about 4,500. Of this number, 1940, or upwards of 64 per cent of these go to school; and there are returns of the manner in which 1,340 of those who do not go to school are disposed of; leaving about 1,200 between 5 and 20 who are not reported.
The statistics of the Eastern Penitentiary furnish some interesting information. The fact that although the population of the State has been increasing at the rate of 3 per cent., the number of committals for crime has been steadily decreasing, is peculiarly gratifying—showing as it does, that the colored population of Pennsylvania are gradually advancing in intelligence and morality.
There are 16 colored churches in Philadelphia. From 12 of these returns have been received, which state the number usually attending at 6,100. These twelve congregations all have Sunday schools, employing 107 teachers, and attended by upwards of 1,000 scholars. The cost of eleven out of the twelve meeting-houses is given at nearly $67,000.
There are a number of literary associations (says the writer) established among the people of color, several of which appear to be supported with zeal and ability, and which, no doubt, have an important influence upon those who are within the sphere of their operations.
There is a marked difference in the condition of the various districts. As may of course be expected, the immigrant population are chiefly found in those crowded streets and alleys where destitution and wretchedness most prevail: though some of that class are among the most industrious and thriving of the people of color. In respect to this state of things, the pamphlet well remarks
"We may fairly trace these extremes in the condition of the colored immigrants to the evil influences of slavery. Upon a feeble and common mind it operates like a blight, withering the active principles of our nature, and inducing a listlessness and indifference to the future, which, even should the slave become a freeman, leave all the vicious habits of slavery worked into the very grain of his character. To those, on the other hand, who have resisted these withering influences and bought their freedom with the hard-earned fruits of their own industry, the love of liberty often imparts a desire for improvement and a consciousness of their own worth as men, that invigorate all their powers and give energy and dignity to their character as freemen."
Here is a statement, written December 18th, 1848, by N. B. Leidy, the late Coroner, which gives a lamentable illustration of the effects of prejudice and injustice. Let Christian Republican (!) Americans who do not cease to boast of the freedom and equality of this land, hang their heads for shame as they read it.—"All men are by nature free and equal!"—Horrible mockery! "How long, Lord, how long" shall the pale-faced tyrant be permitted to keep his iron heel upon the necks of the oppressed! Away with Constitutions! away with Republicans! away with governments! if this is the best they can do for the human family!
"Many were found dead in cold and exposed rooms and garrets, board shanties five and six feet high, and as many feet square, erected and rented for lodging purposes, mostly without any comforts, save the bare floor, with the cold penetrating between the boards and through the holes and crevices on all sides; some in cold, wet and damp cellars, with naked walls and in many instances without floors; and others found dead, lying in back yards, in alleys, and other exposed situations."
The result of this inquiry is considered by those who instituted it, to be in a high degree interesting and satisfactory. Say they—
"Of a large portion of this class of our fellow-citizens, it may be truly said, that they are steadily advancing in all that constitutes a respectable and intelligent community. They have numerous skilful and industrious artisans and tradesmen—the desire for information and the feeling of self-respect are increasing among them; and it is upon the influence of the Christian example and the steady conduct, both as regards industry and morals of those who have thus raised themselves, and upon their benevolent exertions, that the future welfare and respectability of the people of color in this city, must, as a class in the community, mainly depend.
"The distinction of color, and the prejudices which have grown out of the condition of slavery, are no doubt felt by the man of color to be the principal barriers against his obtaining that social position to which, by his good conduct, intelligence and wealth, he is fairly entitled. There are few things in the world more unreasonable and unreasoning than these prejudices of caste and color."
The writer has large hope that these prejudices will speedily die away.
"Our more intimate connection with the people inhabiting the tropics, where men of color form a large proportion of the people, and exercise the highest offices of state, must, of itself, in the end, obliterate the odiousness of the distinction here. Let the man of color cultivate the spirit of self-respect and independence, and without allowing his mind to be disturbed by prejudices which cannot be at once removed, pursue that course of quiet industry and unpretending virtue which will make him happy and respectable as an individual, and will contribute more than anything else to elevate the condition of his people.
"This proper feeling of self-respect would tend to check the disposition so prevalent among many of the people of color, to indulge in love of show and extravagance, in anniversary processions and entertainments, which add nothing to their respectability in the eyes of their fellow-citizens, and foster tastes and habits most unfriendly to the real improvement of the people of color.
"There is no way in which the patriotic man of color can so promote the well-being of his people, as in kindling and keeping alive the desire for instruction. A good school is not merely a place for training in knowledge, but in virtue and morals."
This pamphlet is highly interesting and instructive. Our limits will not admit of more copious extracts. It should be carefully read and pondered by colored men who are endeavoring to achieve their own elevation; and by the friends of colored men who are desirous to learn in what way efforts on their behalf may be rendered most effective.
The North Star, February 2, 1849.
3. TRADES AND OCCUPATIONS IN PHILADELPHIA, 1849
The returns enable us to state the occupations of 3358 men and 4249 women, who form, it is probable, about four-fifths of the able bodied population, above 21 years of age. These occupations may be thus classified.

The principal occupations are as follows: boot and shoe makers 113, bakers 7, carpenters 33, cabinet makers 17, blacksmiths and workers in metal 9, tailors 18, sailmakers 10, tanners 14, bricklayers 5, plasterers 10, painters and glaziers 10, basket and mat makers 9, dyers and hatters 7, engineers 5, second-hand clothes dealers 52, furniture dealers 22, confectioners and cake sellers 34, hominy dealers 15, hucksters 11, cooks, tavern, oyster and eating house keepers 77, waiters 453, musicians 32, preachers 22, school-masters 11, bleeders, dentists, physicians and herb doctors 19, coachmen 111, carters and draymen 157, labourers and jobbers 603, porters 444, hod carriers 102, work in brick yards 70, wood sawyers 76, stevadores 57, white washers 40, raggers and boners 51.
In 1838 a pamphlet was published containing a directory of coloured mechanics and tradesmen, which furnishes us with a point of comparison. It contained the names of 506 mechanics and tradesmen, of whom 207 were master workmen, and 299 journeymen. In a note appended to the Register it is stated, that one half of the latter work as journeymen, and the rest from choice or necessity follow other occupations. The number working at their trades in 1838, may therefore be stated at 357; according to the recent enumeration the corresponding number is 481, being an increase of 35 per cent. Many of these mechanics and tradesmen are excellent and industrious workmen; 75 of them own altogether real estate valued at $230,000, and personal estate valued at $96,000.

Among the occupations are 216 dress makers, 231 seamstresses, 19 tailoresses, 19 milliners, 33 keepers of boarding, eating and oyster houses, 13 school mistresses, 10 cake bakers, 60 white washers, 24 hucksters, 12 confectioners, 9 mat makers, 33 sewers of carpet rags, 35 shopkeepers, &c. The aggregate numbers of the occupations thus reported, of the children at school, and at service, and of the children under five years fall about 2500 short of the whole enumeration of those above five years old. Nearly one half of this number, it will be seen, is under 21; and the deficiency is readily explained by the fact, that the occupations of the heads of families only are in many instances reported. . . .
It is greatly to be desired, that there should be more mechanics among the people of colour, and that more of their children should learn mechanical trades. A good master workman, who by steady perseverance and integrity has acquired a reputation of skill and industry, and who trains up his apprentices in the same knowledge and habits, is a valuable and useful citizen; and instances could be pointed out in which one such man has raised up a succession of skilful and successful workmen in the business he has pursued,—who have received their full share of public patronage.
Statistical Inquiry into the Condition of the People of Colour, of the City and Districts of Philadelphia (Philadelphia, 1849), pp. 17–18, 44.
4. OCCUPATIONS OF BLACKS IN PHILADELPHIA, 1849
I. MECHANICAL TRADES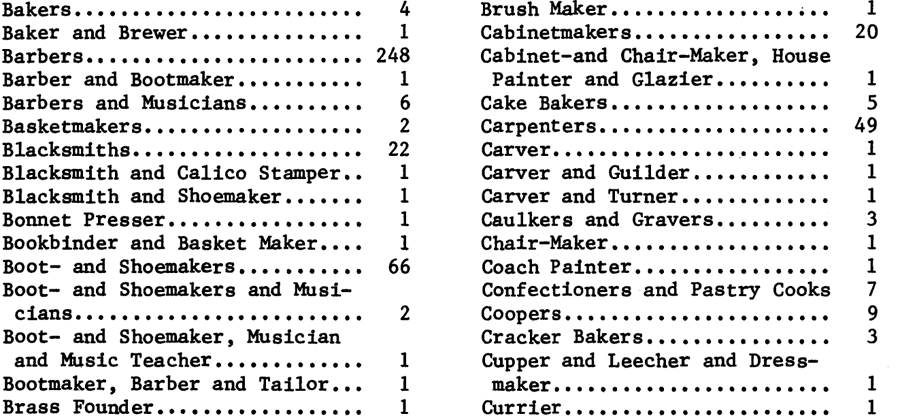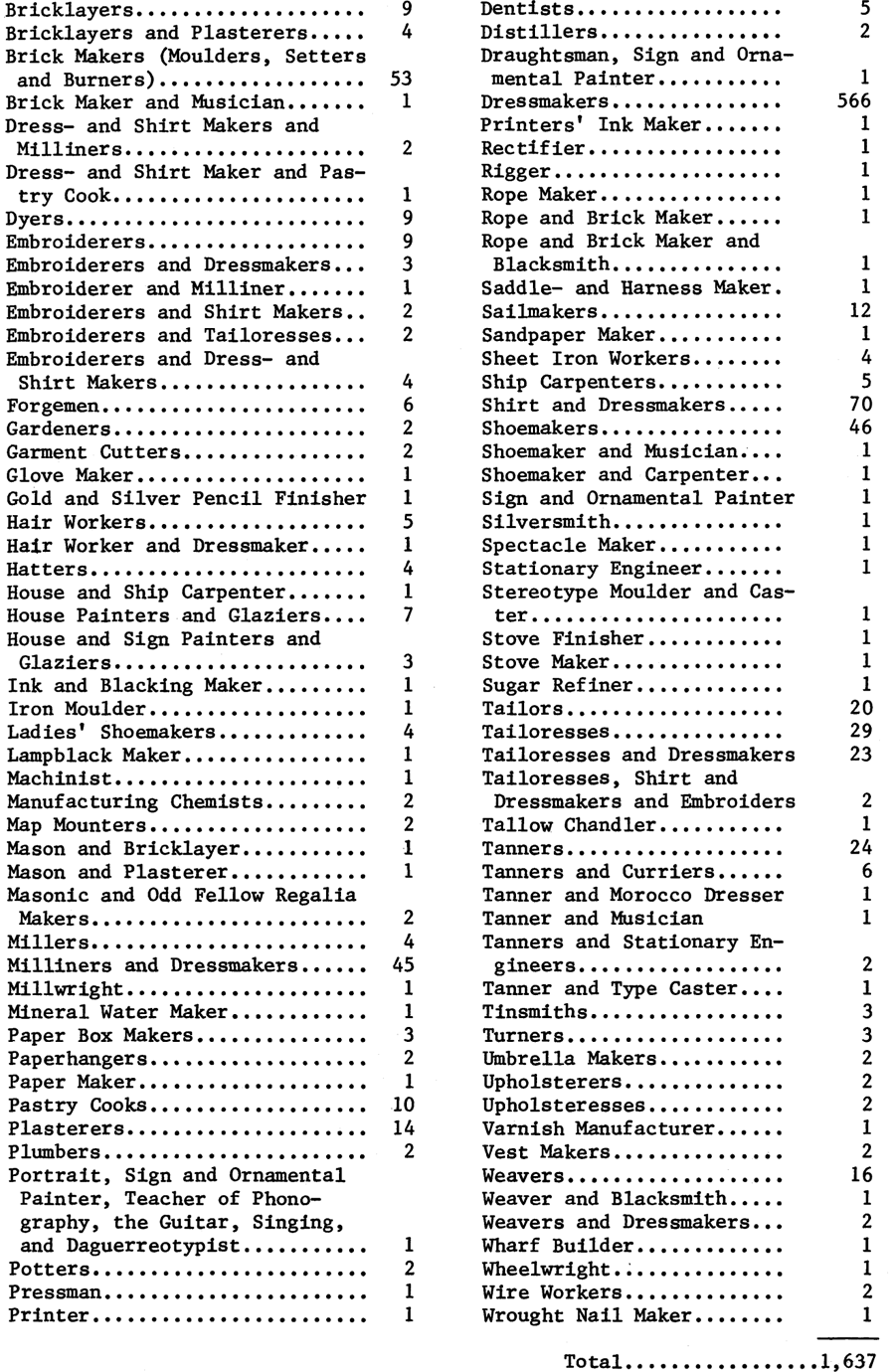 (An error occurs in this total which is not accounted for in the original pamphlet.)
II. OTHER OCCUPATIONS

Benjamin C. Bacon, Statistics of the Colored People of Philadelphia (Philadelphia, 1856), pp. 13–14.
5. THE COLORED PEOPLE OF PHILADELPHIA, 1860
By some statistics which were published a few years since, there were 4,019 families of colored people, of whom 241 were living in their own houses. Of these, there were about 5,000 able-bodied men over 21—of whom 1,581 were laborers, 256 mechanics, 240 mariners, 166 shopkeepers, 275 coachmen and carters, 557 waiters, 156 hair-dressers.
The present colored population of the city is from twenty thousand to twenty-five thousand. They own property to the amount of nearly three millions of dollars, and have churches and schools valued at from four hundred thousand to five hundred thousand dollars.
The great majority of negroes are poor. They seldom inherit money; many of them come to the city direct from slavery, destitute of capital wherewith to make business beginnings, and without education.
It cannot be expected that men of this race—who are said, by certain statesmen, to be, in their best estate, mere animals—should struggle suddenly on to fortune. That many of them have made money, and advanced themselves socially, is miraculous; for, be it said to the shame of our people, a free colored man has more powerful disadvantages with which to contend in the free States than in the slave. . . .
The prejudice against blacks extends to every class, and may be remarked in pleasure and in business. At theatres, and concerts, lectures and churches, the negro is restricted to a remote gallery. In mechanical pursuits, if a colored apprentice or journeyman be employed, there is an immediate rebellion upon the part of the white laborers. It has been to us a matter of wonder how the black man masters any trade, studies for any profession, or learns anything of the arts. In only the dull, manual labors, has he a show of equitable competition. He is a hotel-waiter, a vendor of peanuts and cakes, or a mere beast of burden.
The Colored Man's Avocations in Philadelphia.
Those negroes of this city who pursue what may be called the higher mechanical branches, acquire their knowledge chiefly in the North and East. The principal of the colored academy of this city is from New Haven; most of the colored teachers are from Boston, and Providence, and New York. There are several bona-fide negro physicians in Southern Philadelphia. Some of these, we are told, managed to acquire odds and ends of medical science in our own medical colleges, but they perfect themselves in the East. Their clergymen are as a class, conversant with theological differences, and some of them acute reasoners. There is not a colored lawyer in this city, that we have heard of. There are two large African literary societies, one of them named after Benjamin Banneker, and more than twenty beneficial organizations. They have fine Masonic, Odd Fellow, and Temperance Halls, lodges of every kind, several excellent private schools, and some half dozen public libraries.28
As caterers, the colored men are remarkably successful. We know of several who keep central saloons, fitted up in gorgeous style. One individual has a fine hotel at Florence Heights, and fine dining-rooms in this city. A number are the owners of carriages and a span of blooded horses. The females are milliners, dress-makers, &c. They frequently exhibit great tact in their respective trades.
Those who look lightly upon the negro as of no practical value to Philadelphia society are unwise, for he fulfills functions distasteful to most whites, and, in certain departments, labors with an aptness which whites could not supply.
Philadelphia Press, September 12, 1860.
The Subscriber will undertake to furnish colored apprentices, gratis, to the different Mechanical business. Philanthropists, on application to him, at his dwelling, in the evening, at No. 272 Spring Street, up stairs, or through the day at No. 118 Anthony, near Elm St., will be attended to.
Colored parents and guardians of our youths, are respectfully requested to give in the names, residence, and age of their boys, in season, so as to secure a place, that will be to their future advantage.
The Colored American (New York), April 15, 1837.
SWAMP Leather and Finding Store, 64 Frankfort-Street, New York. W. P. Johnson thanks the public for patronage already received, and solicits a continuation of the same. Stock, consisting of an assortment of Sole Leather, Calf Skins, Linings, Findings &c. Johnson being a Boot and Shoemaker flatters himself that he can accommodate his Customers a little better than many in his line. N.B. He always trusts after he gets the cash.
The Colored American, June 10, 1837.
William J. Wilson, Boot Maker, has removed to 15 Ann-Street (corner of Theater Alley), basement story, where he continues to manufacture Boots and Shoes in the best manner, and on reasonable terms, for Cash.
The Colored American, December 2, 1837.
PATRICK H. REASON, Historical, Portrait and Landscape Engraver, Draughtsman and Lithographer, No. 148 Church-Street, New York. Address, visiting and Business Cards, Certificates, Jewelry, &c, neatly engraved.
The Colored American, June 2, 1838.
9. OCCUPATIONS OF FREE NEGROES OVER FIFTEEN YEARS OF AGE IN NEW YORK CITY, 1850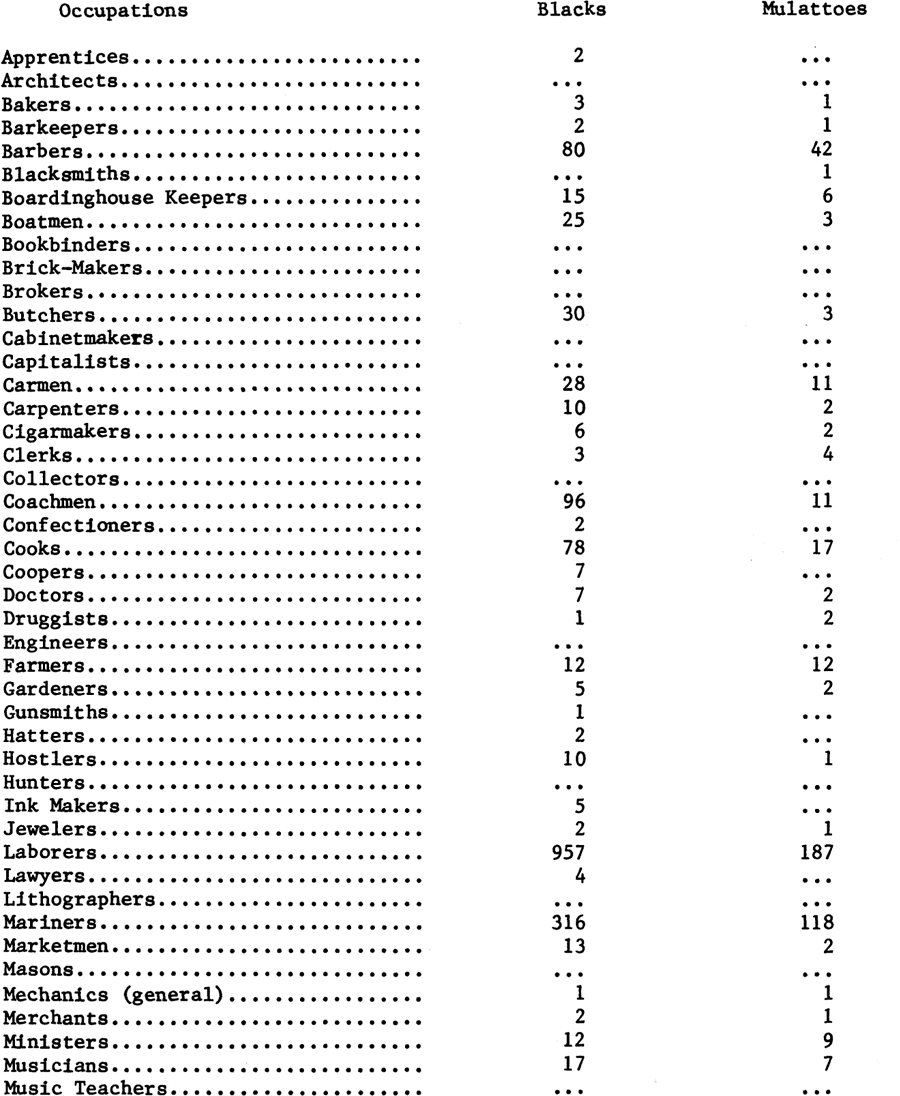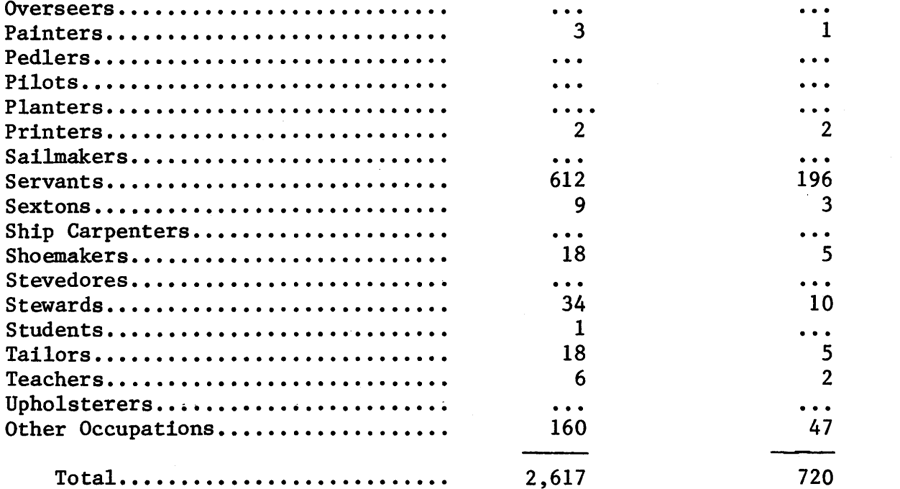 Statistical View, Compendium of the Census of 1850, pp. 80–81.
10. TO COLORED MEN OF BUSINESS.
A RARE chance for a partner with a cash capital from three to six hundred dollars to engage in the wholesale and retail new and second-hand clothing trade. To a man of energy this is an inducement rarely offered.
A business of years standing—a large and rapidly increasing run of good cash customers—a fine store on as good a business street as any city can afford, and a good credit with some of the most respectable firms in the city of New York.
The partner solicited may employ in the business his time and means, or the latter only; for which the most undoubted securities will be given. To a man wishing to engage into a sure and respectable business without hazard, would do well to communicate immediately to the undersigned when the particulars will be given.
267
J. N. STILL & CO,
56 Atlantic St., Brooklyn, L. I.
Frederick Douglass' Paper, September 5, 1854.
EDWARD V. CLARK,
WATCHMAKER AND JEWELLER,
891 Canal Street, NEW YORK,
KEEPS constantly on hand a large assortment Gold and Silver Lever Watches, Gold guards and Vest chains, Finger rings, Brooches, Gold and Silver Pencil cases, Gold pens, &c. Silver and Plated Ware, Chronometers, Duplex, Lever, Horizontal and Vertical Watches, Musical boxes, and Foreign clocks carefully reparied.
LIST OF PRICES
| | |
| --- | --- |
| Ladies' fine gold watches, as low as | $25 |
| A fine gold lever, full jeweled, at | 25 |
| English gold patent levers at 40, 45, & | 55 |
| Eng. hunting patent levers, gold faces, at | 15 |
| Silver levers, full jeweled, at | 10 |
| Cylinder Watches at | 1 |
| Each Watch warranted one year | |
Frederick Douglass' Paper, September 5, 1854.
12. EMPLOYMENT OF COLORED LABORERS IN NEW YORK
It is said to be an ill wind that blows no one any good. The floods of emigration that have flowed in upon us for the last ten or fifteen years—in fact, directly on the heels of the emancipation acts, by the different northern States, were evidently opened with the view of supplying the places of the colored people, and have ever since tended greatly to that end. This, however, was not all. They did not only arrest colored men from the domestic drudgeries and the mechanical pursuits, but they arrested native born white Americans, not only from these, but from the more lucrative ones—from offices of every kind in the gift of the government. This has brought white Americans to a more natural sense of feeling. We are certainly quite glad of it. Colored laborer have now become quite as acceptable as stevedores, porters, &c, &c, as white ones, and a little more so. We are informed that the demand for colored laborers has not been so great in this city for a number of years—while hundreds and even thousands of white foreigners are seeking to vain for employment, colored ones are in constant demand. We really hope that colored men will make well of the present state of favorable feeling in their behalf. Strange as it may appear, yet it is true, that while thousands of whites are begging for labor to enable them to get bread colored laborers who choose to work are in constant demand at a living price.
Frederick Douglass' Paper, February 2, 1855.
13. THE PROBLEMS CONFRONTING BLACK WORKERS IN NEW YORK, 1852
Within ten miles of where I now write there are at least thirty thousand colored people. Out of that number, there are not perhaps over two hundred traders, producers, and manufacturers, conducting business on their own account, to an extent to afford employment for more than one person. The rest are engaged in those occupations generally allowed to the colored man by our enemies, . . . Of course, then, if there are not more than that many fathers, the masters of trades, and conducting business on their own account, there are not, at most, more than that number of boys growing up so engaged. Under existing circumstances, this follows, as neither colored men nor boys can secure situations in white establishments, of a respectable character. Prejudice, aided by the press, is always at work to prevent our reception in any lucrative pursuit. The poorer classes conceive they will be benefitted by this, not only by securing that employment themselves, but we shall thereby be kept poor and dependent on them for our means of consumption. They will allow us to do the drudgery. We may black the boots of the merchant, whitewash his dwellings, drive his madam and misses; but attempt, even, to cart the bales of cotton, or boxes of sugar, which he exports or imports—the very goods which we are to consume, and the white laborer objects; a pretext is made, and the press, the free American, press is called in to villify, denounce, and abuse us; we must not even sweep in the street the dirt that falls from their carts, that being more profitable and independent that those employments assigned to us. We are not only deprived of profitable labor, but are thereby unable to accumulate and engage in trade.—The consequence is, our want of information, as to cost and price of articles of consumption, allows the same unscrupulous traders to again over tax us in selling to us. We desire but little or no advantage from the poor whites. But what immense profits are derived from us by the small dealers and domestic traders; in fact, every branch of trade and manufacturing interest. What are the profits on the amount required to manufacture, produce, &c, &c, for a city of thirty thousand? Those who are thus benefitted, think they can well afford to employ the regard him as having committed the highest outrage against suffering humanity.
I have delayed this to await the publication of the testimony which you will find in the Columbia Spy, which I will send tomorrow. I felt anxious to give a true representation and I find that I have nothing to alter, or take back.
WILLIAM WHIPPER29
Columbia, May 3, 1852
Frederick Douglass' Paper, May 13, 1852.
14. BLACK WORKERS IN NEW YORK, 1859
A correspondent of the Christian Register thus gives him impressions of the colored inhabitants of New York city:
Within a few weeks past I have recreated myself by a trip to Africa, and though I cannot felicitate myself upon any new discoveries, possible the result of my explorations may fill, not uninterestingly, my weekly column in the Register.
The colored population of this city it is difficult to state with exactness. The number of names of colored persons in the directory of 1849, out of a total of 139,801. The latter number represents a population of at least 750,000; this would give a colored population of ten thousand, assuming the proportion to hold good. This result is probably considerably within bounds. Of this 1849 adults, 144 are porters, 201 waiters, 150 whitewashes, 80 coachmen and hostlers, 64 cooks, 48 barbers, 182 laborers, 124 seamen, 183 washers, 214 are marked as widows, and no occupation appended. Not more than 40 are in trade, and not above twice that number following regular mechanical trades, other than those enumerated; 2 are farmers, 1 broker, 3 printers, 6 physicians, 7 teachers, 18 reverend clergy, and 1 ventriloquist.
Douglass' Monthly, March, 1859.
Now is the time, at Tilmon's agency for employment, 70 East 13th street, one door east of 4th avenue. Fall is here, and now is the time for all first class help who want to secure good situations for the winter. Families are coming in town and engaging their help for the season, and never was there a greater demand for colored help—cooks, chambermaids, laundresses, waiters, house-workers, seamstresses, coachmen, men and boys to drive and take care of horses, &c.
N.B.—All good colored help coming to this city in search of employment would do well to call. Every attention paid to strangers.
New York Anglo-African, November 24, 1860.
16. DAVID WALKER'S "GROG SHOP"30
CLOTHING kept constantly on hand for sale by David Walker, No. 42 Brattle Street, Boston. A great variety of New and Second-hand clothing. He also cleans all kinds of woolen clothing in the neatest manner and on the most reasonable terms.
Freedom's Journal, October 30, 1828.
17. BLACK WORKERS IN BOSTON, 1831
. . . in Boston, where there are near two thousand people of color, it does not appear that there is among them, one merchant, broker, physician, lawyer, blacksmith, shipwright, tinman, caulker and graver, rigger, sailmaker, coppersmith, silversmith, brass-founder, mason, cooper, painter, glazier, printer, bookbinder, cabinet-maker, truckman, baker, or stone-cutter, or any trader in any article except clothes. The Directory for 1830 gives the names of 175 persons of color, with the employment of most of them. The list contains the names of 34 hair-dressers and barbers, 30 mariners, 17 clothes dealers, 15 waiters, 10 laundresses, 9 boot blacks, 9 keepers of boarding houses, 6 laborers, 3 clergymen, 3 cooks, 3 window-cleaners, 3 tailors, 2 sawyers, 1 cordwainer, 1 keeper of a bar-room, 1 servant, 1 clothes cleaner, 1 housewright, 1 handcartman, 1 stevedore, 1 grain measurer, 1 dealer in junk, 1 soap maker, 1 renovator of human hair, 1 confectioner, and 1 blacking maker.
The Liberator, January 22, 1831.
We have received from a valued correspondent the following communication respecting the people of color in this city. His statements we are confident are entitled to credit. We are fully persuaded that he has made great efforts to ascertain the condition of this part of our population, especially of the poor and destitute. Poor and destitute a great portion of them may well be, from the disadvantages under which they are placed;—and vicious also may we expect that many of them will be—many more than in the proportion of their numbers to the whites—since their children are, (we do not say from what cause) excluded from trades, and in no small degree, by circumstances beyond their control, from the benefits of the most common education.
MR. EDITOR,—I wish to call attention to the wants of the people of color in this city. They are many and great. For the last nine months I have taken special pains to inform myself of their wants, and to the utmost of my ability I have done all I could to assist them—and the more I see of them, the better I think of them, and feel an increasing interest in their temporal as well as spiritual affairs. As they are in a deplorable condition, I do think their case ought to be made public, because I am convinced the people in this city do not know how much these poor, oppressed and neglected people suffer for the want of employment and the necessary comforts of life.
In the American Almanac, the population of the colored people of this county, is set down as 1883. Now how do this great multitude manage to live? Listen, and I will inform you. It is not by mechanical business; for this great city has only two colored mechanics—one a blacksmith in Cambridge street, and another a shoemaker in Brattle street. Of the females, not one obtains a livelihood as a milliner, mantuamaker, or tailoress. Neither is there one girl of color in Boston now learning any of these useful trades! And the boys are equally as bad off. Not one is now learning a mechanical trade, if printing is excepted, in which there may be two or three. Here then are near two thousand persons, in Boston, who are obliged to get their living by the poor means of becoming barbers, clothes cleaners, window washers, servants, domestics, day laborers, &c. Can we wonder at the vanity, ignorance, idleness or vice of such a people under such circumstances? The great astonishment is, that they are able to live, and behave as well—and maintain so much moral courage, virtue and piety, as may be found among them. Some of these people are now old, some are sick, some without employment, having families dependent on them; some are in want of every comfort—wood, clothes and food. I therefore respectfully request my white friends, male and female, to remember the poor colored people of Boston. Let us feel that they are men and women, and have wants like ourselves, and have as much claim on our sympathies as those in Georgia or South Carolina. Let us act on the principle that 'charity begins at home,' in this case.
A POOR LAYMAN.
We pretend to no wisdom in these matters; but we have no doubt that the class of people in which our correspondent takes so sincere an interest, have claims upon the charitable beyond what are community believed. With respect to their immediate wants, and relief from suffering, we are ready to point out to any whose charity may flow in that direction, a faithful almoner of their bounty, as we believe. In a prospective view, it is very possible that means may be devised without any loss to individuals or to the community, by which a reasonable number of colored youth may be trained to useful trades, and thus we may spread among them habits of greater industry and self-respect, make them more useful, and save many of them from the House of Correction or of Alms.
The Liberator, November 22, 1834.
19. OCCUPATIONS OF NEGROES IN BOSTON, 1837
Among other inquries, I have ascertained the occupations of every man reported. . . . That you may have every important item of intelligence respecting them before you, to aid you in preparing your report, I present the following table:

The above are as reported to me, and I presume they are nearly, if not perfectly correct.
"Report of Reverend Spaulding to the Boston Auxiliary of the American Union for the Relief and Improvement of the Colored Class," African Repository 13 (March, 1837):89–90.
20. OCCUPATIONS OF NEGROES IN BOSTON, 1850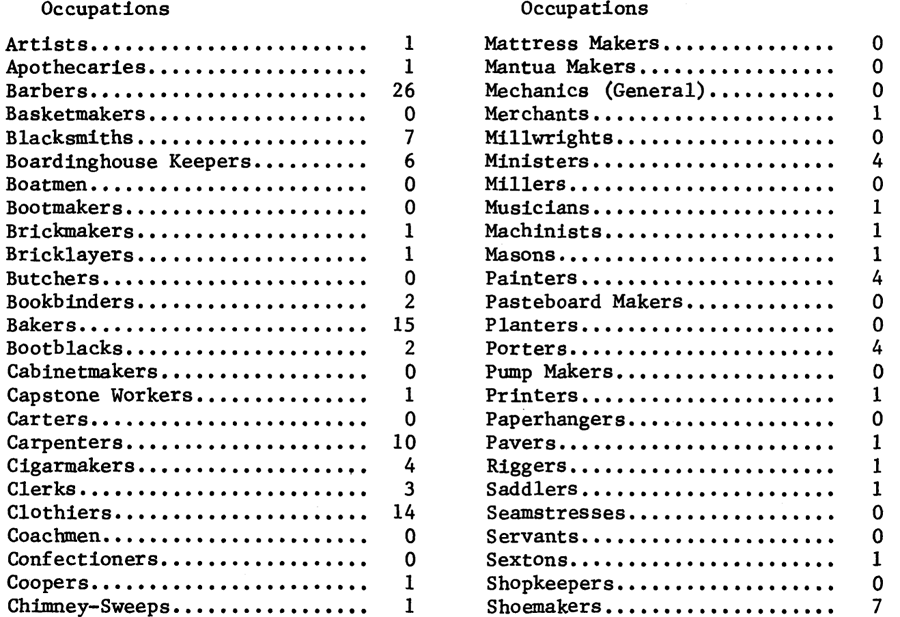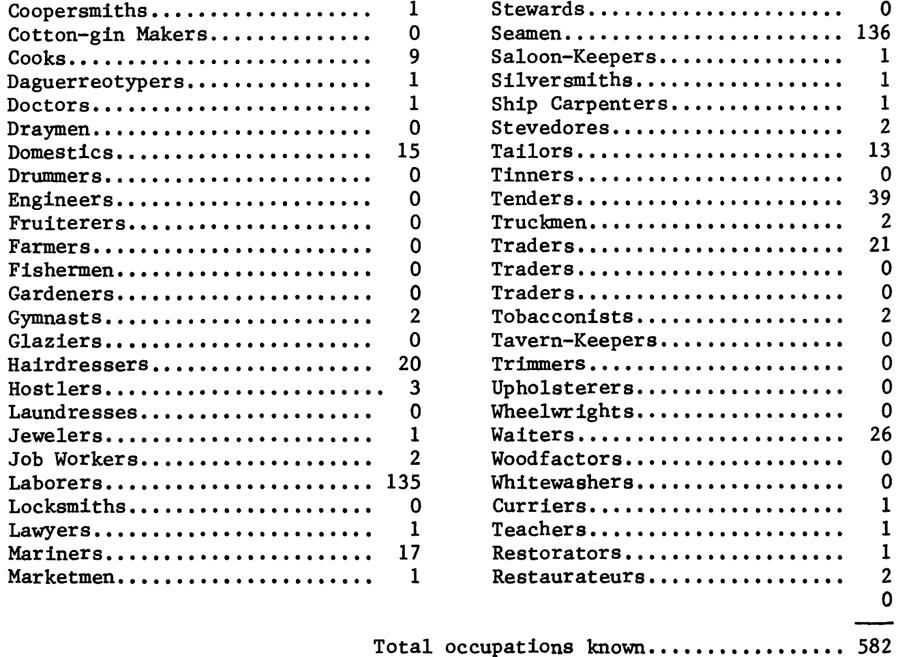 Charles G. Wesley, Negro Labor in the United States (New York, 1927), pp. 43–44.
Boston, hitherto rather tardy in due appreciation of her colored mechanics, business men, &c., is hopefully waking up to encourage those who, thus stimulated, will prove worthy recipients of her favor.
NELSON L. PERKINS having, for the past few years, filled several stations in an extensive lamp and gas apparatus establishment on Washington street, has, by dint of close observation and experiment, become very successful in the department of fitting and putting up the various patterns and fixtures in the drawing-rooms and public houses in Boston and vicinity,—giving perfect satisfaction to his employers and their patrons.
JOHN T. MATTHEWS has just located himself at No. 17 Howard street, where he cleans and repairs all kinds of silver and plated ware, jewelry, &c. Appended to his card is the following recommendation, and a better one is not needed:—
'Boston, April 10th, 1856.
'John T. Matthews has been in our employment nine years, and we commend him to all as a worthy young man, and deserving of a liberal share of public patronage.
PALMER & BATCHELDER.'
JONATHAN C. HOGAN, also, at 106 Court street, solicits orders in electro gilding, fine gilding, silver plating, and working in jewelry.
To all having need of such services, we say, give these young men a call, and test the American question, whether color of the skin incapacitates a man from the development of mechanical or artistic skill.
Boston, April, 1856.
W. C. N.
The Liberator, April 25, 1856.
22. NEGRO OCCUPATIONS IN MASSACHUSETTS IN 1860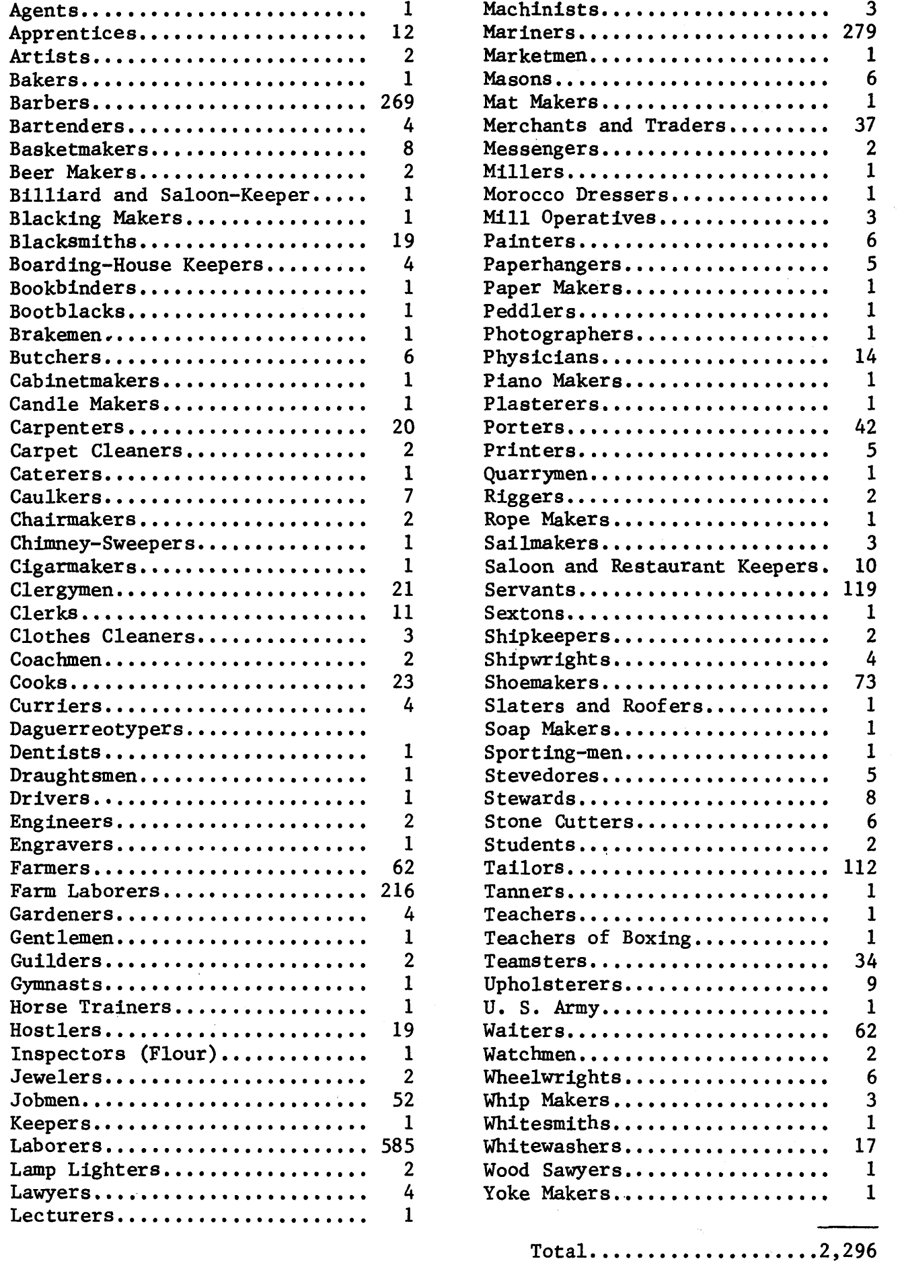 Abstract of the Census of Massachusetts, 1860, pp. 356–58, as reproduced in Charles G. Wesley, Negro Labor in the United States (New York, 1927), p. 48.
23. THE COLORED PEOPLE OF RHODE ISLAND
In Rhode Island, the colored people seem to be doing as much, if not more, for their own elevation, than is being done in any other State in the Union. This is doubtless owing to the fact, that in that State there are a greater number of mechanics among them, according to the number of inhabitants, than is to be found elsewhere. Carpenters, joiners, cabinet-makers, blacksmiths, printers, and men of various other trades, as well as a large number of farmers, are among the comparatively small population. The most finished designer and pattern-maker in the State is Mr. John Mason, of Providence, a man who enjoys the respect and confidence of the entire white population, as well as those of his own color. As a matter of course, these trades instil into their minds energy and a taste for intellectual pursuits. 'The Rachel Club,' a literary association of Providence, holds its weekly meetings, at which choice selections from approved authors are read or recited by both male and female members.
We had the good fortune, last week, of attending a dramatic exhibition of the above Society, and must confess that we were agreeably disappointed. The characters were well sustained throughout, and some of the acting would have done credit to professional artists. As self-elevation is, after all, the great means by which the mass of mankind is to arrive to a high state of cultivation, we hope the noble example set by the Rhode Islanders will be followed by the colored population of the other States.
The Liberator, March 28, 1856.
DISCRIMINATION AGAINST FREE BLACK WORKERS IN THE NORTH
24. EXCERPT FROM REPORT OF PITTY HAWKES ON NEW YORK-AFRICAN31 FREE SCHOOL, OCTOBER 13, 1829
. . . after a boy has spent five or six years in the school, and is deservedly encouraged by the teacher and the trustees, and (as in many instances is the case) is spoken of in terms of high approbation by respectable visitors, for his manifest talent and superior intellect, he leaves school, with every avenue closed against him, which is open to the white boy, for honorable and respectable rank in society, doomed to encounter as much prejudice and contempt, as if he were not only destitute of that education which distinguishes the civilized from the savage, but as if he were incapable of receiving it.
All this must be endured, with the additional sensibility which it is the very nature of education, in some sense, to impart. A case in point is now before us. A young man, 17 years of age, who about two and a half years ago, left this school with a respectable education, and an irreproachable character, which he still retains, was taken as an apprentice to the Black Smith business, in this City, and served about two years with satisfaction to his master. Depression of business rendered little or no opportunity of his obtaining a thorough knowledge of the trade, his father made arrangements with his master to release him, with a view of the lad's serving his time out else where: every place that appeared suitable to his object, was closed against him, because he was black! A friend in Philadelphia, agreed to take him; but when this friend came to make it known in his Factory, he found "an insurmountable difficulty" in his way; viz. The unwillingness of the workmen to pursue their business in company with poor Isaac, because he was darker than they.
When the lad was informed of this, so far from uttering a word of angry disappointment, he resolved to leave the country and go to the Colony of Liberia.
Isaac will not only leave in the school the remembrance of a good character, but also several highly creditable specimens of his abilities as a scholar.
Charles G. Andrews, The History of the New-York African-Free Schools (New York, 1830), pp. 117–19.
25. EX-SLAVE FREDERICK DOUGLASS BECOMES A FREE BLACK WORKER
Mr. Ruggles was the first officer on the "Underground Railroad" whom I met after coming North, and was, indeed, the only one with whom I had anything to do till I became such an officer myself. Learning that my trade was that of a calker, he promptly decided that the best place for me was in New Bedford, Mass. He told me that many ships for whaling voyages were fitted out there, and that I might there find work at my trade and make a good living. . . . Thus, in a fortnight after my flight from Maryland, I was safe in New Bedford, a citizen of the grand old commonwealth of Massachusetts.
Once initiated into my new life of freedom and assured by Mr. Johnson that I need not fear recapture in that city, a comparatively unimportant question arose as to the name by which I should be known thereafter in my new relation as a free man. The name given me by my dear mother was no less pretentious and long than Frederick Augustus Washington Bailey. I had, however, while living in Maryland, dispensed with the Augustus Washington, and retained only Frederick Bailey. Between Baltimore and New Bedford, the better to conceal myself from the slave-hunters, I had parted with Bailey and called myself Johnson; but in New Bedford I found that the Johnson family was already so numerous as to cause some confusion in distinguishing them, hence a change in this name seemed desirable. Nathan Johnson, mine host, placed great emphasis upon this necessity, and wished me to allow him to select a name for me. I consented, and he called me by my present name—the one by which I have been known for three and forty years—Frederick Douglass. Mr. Johnson had just been reading the "Lady of the Lake," and so pleased was he with its great character that he wished me to bear his name. Since reading that charming poem myself, I have often thought that, considering the noble hospitality and manly character of Nathan Johnson—black man though he was—he, far more than I, illustrated the virtues of the Douglas of Scotland. Sure am I that, if any slave-catcher had entered his domicile with a view to my recapture, Johnson would have shown himself like him of the "stalwart hand."
The reader may be surprised at the impressions I had in some way conceived of the social and material condition of the people at the North. I had no proper idea of the wealth, refinement, enterprise, and high civilization of this section of the country. My "Columbian Orator," almost my only book, had done nothing to enlighten me concerning Northern society. I had been taught that slavery was the bottom fact of all wealth. With this foundation idea, I came naturally to the conclusion that poverty must be the general condition of the people of the free States. In the country from which I came, a white man holding no slaves was usually an ignorant and poverty-stricken man, and men of this class were contemptuously called "poor white trash." Hence I supposed that, since the non-slave-holders at the South were ignorant, poor, and degraded as a class, the non-slave-holders at the North must be in a similar condition. I could have landed in no part of the United States where I should have found a more striking and gratifying contrast, not only to life generally in the South, but in the condition of the colored people there, than in New Bedford. I was amazed when Mr. Johnson told me that there was nothing in the laws or constitution of Massachusetts that would prevent a colored man from being governor of the State, if the people should see fit to elect him. There, too, the black man's children attended the public schools with the white man's children, and apparently without objection from any quarter. To impress me with my security from recapture and return to slavery, Mr. Johnson assured me that no slave-holder could take a slave out of New Bedford; that there were men there who would lay down their lives to save me from such a fate.
The fifth day after my arrival, I put on the clothes of a common laborer, and went upon the wharves in search of work. On my way down Union street I saw a large pile of coal in front of the house of Rev. Ephraim Peabody, the Unitarian minister. I went to the kitchen door and asked the privilege of bringing in and putting away this coal. "What will you charge? said the lady. "I will leave that to you, madam." "You may put it away," she said. I was not long in accomplishing the job, when the dear lady put into my hand two silver half-dollars. To understand the emotion which swelled my heart as I clasped this money, realizing that I had no master who could take it from me, —that it was mine—that my hands were my own, and could earn more of the precious coin,—one must have been in some sense himself a slave. My next job was stowing a sloop at Uncle Gid. Howland's wharf with a cargo of oil for New York. I was not only a freeman, but a free working-man, and no "master" stood ready at the end of the week to seize my hard earnings.
The season was growing late and work was plenty. Ships were being fitted out for whaling, and much wood was used in storing them. The sawing this wood was considered a good job. With the help of old Friend Johnson (blessings on his memory) I got a saw and "buck," and went at it. When I went into a store to buy a cord with which to brace up my saw in the frame, I asked for a "fip's" worth of cord. The man behind the counter looked rather sharply at me, and said with equal sharpness, "You don't belong about here." I was alarmed and thought I had betrayed myself. A fip in Maryland was six and a quarter cents, called fourpence in Massachusetts. But no harm came from the "fi'penny-bit" blunder, and I confidently and cheerfully went to work with my saw and buck. It was new business to me, but I never did better work, or more of it, in the same space of time on the plantation for Covey, the negro breaker, than I did for myself in these earliest years of my freedom.
Notwithstanding the just and humane sentiment of New Bedford three and forty years ago, the place was not entirely free from race and color prejudice. The good influence of the Roaches, Rodmans, Arnolds, Grinnells, and Robesons did not pervade all classes of its people. The test of the real civilization of the community came when I applied for work at my trade, and then my repulse was emphatic and decisive. It so happened that Mr. Rodney French, a wealthy and enterprising citizen, distinguished as an anti-slavery man, was fitting out a vessel for a whaling voyage, upon which there was a heavy job of calking and coppering to be done. I had some skill in both branches, and applied to Mr. French for work. He, generous man that he was, told me he would employ me, and I might go at once to the vessel. I obeyed him, but upon reaching the float-stage, where others calkers were at work, I was told that every white man would leave the ship, in her unfinished condition, if I struck a blow at my trade upon her. This uncivil, unhuman, and selfish treatment was not so shocking and scandalous in my eyes at the time as it now appears to me. Slavery had inured me to hardships that made ordinary trouble sit lightly upon me. Could I have worked at my trade I could have earned two dollars a day, but as a common laborer I received but one dollar. The difference was of great importance to me, but if I could not get two dollars, I was glad to get one; and so I went to work for Mr. French as a common laborer. The consciousness that I was free—no longer a slave—kept me cheerful under this, and many similar proscriptions, which I was destined to meet in New Bedford and elsewhere on the free soil of Massachusetts. For instance, though colored children attended the schools, and were treated kindly by their teachers, the New Bedford Lyceum refused, till several years after my residence in that city, to allow any colored person to attend the lectures delivered in its hall. Not until such men as Charles Sumner, Theodore Parker, Ralph Waldo Emerson, and Horace Mann refused to lecture in their course while there was such a restriction, was it abandoned.
Becoming satisfied that I could not rely on my trade in New Bedford to give me a living, I prepared myself to do any kind of work that came to hand. I sawed wood, shoveled coal, dug cellars, moved rubbish from back yards, worked on the wharves, loaded and unloaded vessels, and scoured their cabins.
I afterward got steady work at the brass-foundry owned by Mr. Richmond. My duty here was to blow the bellows, swing the crane, and empty the flasks in which castings were made; and at times this was hot and heavy work. The articles produced here were mostly for ship work, and in the busy season the foundry was in operation night and day. I have often worked two nights and every working day of the week. My foreman, Mr. Cobb, was a good man, and more than once protected me from abuse that one or more of the hands was disposed to throw upon me. While in this situation I had little time for mental improvement. Hard work, night and day, over a furnace hot enough to keep the metal running like water, was more favorable to action than thought; yet here I often nailed a newspaper to the post near my bellows, and read while I was performing the up and down motion of the heavy beam by which the bellows was inflated and discharged. It was the pursuit of knowledge under difficulties, and I look back to it now, after so many years, with some complacency and a little wonder that I could have been so earnest and persevering in any pursuit other than for my daily bread. I certainly saw nothing in the conduct of those around to inspire me with such interest: they were all devoted exclusively to what their hands found to do. I am glad to be able to say that, during my engagement in this foundry, no complaint was ever made against me that I did not do my work, and do it well. The bellows which I worked my main strength was, after I left, moved by a steam-engine.
Frederick Douglass, "My Escape to Freedom," Century Magazine 23 (November, 1881):125–31.
. . . Is it not an OUTRAGE upon revelation and reason, and even a violation of the laws of instinct, by which birds and beast are governed? We have seen some species of the animal creation, who would wait until the weaker caught their prey, and then seize upon and take it from them: but it was left for the Municipality of a christian city, to prevent the hungry poor from pursuing an honest calling, by which they might get bread for themselves and their children.
It may be said on the part of those in authority that they have made no enactments, especially prohibiting colored men from driving carts or rolling wheelbarrows. This is true: but they have made incorporate laws prohibiting all men from pursuing these occupations without special license, and they withhold these licenses from colored men, while they give them freely to white men, without respect to name or nation, and too frequently without respect to character.
It is further pleaded on the part of the authorities, that it is IN MERCY to the colored man, that they deny him license. Were they, it is said, to license colored carmen and porters, it would bring them into collusion with white men of the same calling, and they would get their horses and carts "dumped" into the dock, and themselves abused and beaten. We confess this is mercy on the part of our authorities, with A VENGEANCE TO IT!! And it is a compliment indeed to our worthy carmen and porters.
Who are the carmen of New York, and who are the porters? Are they illiterate, savage barbarians? NO, READER—many of them are among our very best citizens, men who for moral worth and industrious enterprise, are the pride of our city, and whose names will ever be united with all that is glorious in our nation. They are, some of them, leaders in the HOLY CAUSE of equal rights, and are laboring to do away, FOREVER, those monopolies and distinctions which are the curse of the nation.
We do not believe, should the authorities license colored men as carmen and porters, there would be any serious difficulties whatever. But were the case otherwise, are not the authorites bound to see every citizen protected in his rights, and sustained in his honest efforts to get bread?—Surely they are. Any colored citizen, who with a respectful petition and recommendation in his hand, applies for license as a carman or porter, is entitled to them: and the authority which withholds them, alike violates the laws of the land, of humanity, and of God.
This illegal proscription of colored men is not practiced in the dark. It is an open violation of law and of conscience. We know an instance in which a worthy citizen, fully convinced of the injustice and cruelty of withholding from colored men THEIR LEGAL RIGHTS, and prohibiting them from pursuing lawful callings, got up and signed himself, a petition to the Mayor in behalf of an industrious, worthy man. This same gentleman afterwards himself became Mayor of the city, and actually denied the same man a license as a porter?
The spirit of injustice and slavery apparent in this inhuman measure of taking from the colored man the means of getting his bread, is disgraceful to indulge in such feelings of slavery, and resort to, as an apology, the fear of public sentiment. THE CARMEN WILL NOT SUBMIT TO IT!!! . . .
The Colored American (New York), September 16, 1837.
27. HENRY GRAVES AND HIS HANDCART
Here was a worthy gray-headed man arraigned and fined, not for driving a horse with a cart, but for being his own horse, and drawing his own cart, for the accommodation of his friends and neighbors, and as a means to furnish himself and family with bread—fined because he had no license to do so when the City would not grant him a license. One reason urged is, the other cartmen, if they should license a colored man, would push horse, cart, and driver all into the dock. Such an outbreak on the part of the cartmen would be a violation of all law. Does the Mayor presume to suppose that the cartmen are lost to all respect for law?
The Colored American, May 30, 1840.
28. NEW YORK CITY CORPORATION, vs. MR. HENRY GRAVES AND HIS HANDCART
Mr. Editor,—On Monday the 27th ult., Mr. Henry Graves, in obedience to a notice and command of the Corporation, appeared and paid a fine for using his handcart without license. Mr. Graves was not aware that he was violating any law, but as the Corporation made him wise touching that point, he was determined that he would not again violate the law. So, on Tuesday, the 28th inst., Mr. Graves went to the Mayor's office, accompanied by Dr. Sherman and myself, having with him the necessary testimonials of character, and the following petition, in order to get his license:
PETITION
To the Hon. Isaac L. Varian, Mayor of the city of New York.
The undersigned would recommend to your Honor, Henry Graves, as worthy of a license for a handcart.—We have known him for several years, and always as a sober, honest and industrious man.
A. Sherman,
J. Stillwell,
Amos Upham,
Charles S. Benson,
Lawrence Van Wort,
Washington Gordon,
Gilbert Weeks,
Lawrence M. Van Wort,
Charles M. Ray,
George Gurmby,
R. McDonald,
John Parr,
Peter Herbert Hall,
Wm. Redfield,
John M. Shepperd,
Horace Dresser,
A. M. G. Depew.
New York, April 27, 1840.
By this time, Mr. Editor, I presume you think Mr. Graves has got his license; but not so. The Mayor was absent, and those that were in attendance would not so much as look at the papers, but told us, that it was against the law; but I told the gentleman that there was no law to the contrary. He then said that he had received express orders not to give any license to colored people. I told him that there were several colored men who had spring carts, and that I thought they had license, but he said they had no license, and furthermore, they were already fined. Now, Mr. Editor, such insults are too much to bear. It is more than enough to excite the holy indignation, not only of every colored man in these United States, but every man that has one drop of philanthropic blood in his veins. What—chain a man down, so that he cannot get up to go to work, and then lacerate his body because he does not do it! 0, sir, the justice of heaven will not much longer sleep o over such consummate wickednesses.
Mr. Graves resides in the 15th Ward, and also the gentlemen who petition for him; some of them are merchants, some carmen, some doctors, and some lawyers, and all of whom are men of education and respectability; and there can be but little doubt, that some of these worthy men aided in placing this functionary into the sacred office that he is thus prostituting; and now hear the excuse: they told us if the Mayor should grant license to colored men to be carmen and porters, white men following the same business would mob the colored ones, shove them off the docks, &c. That is all a sham, Mr. Editor; it is false, because it has been tried both in theory and practice. When C. W. Lawrence filled that important office, I circulated a petition principally among carmen, for a colored man to get license, and they signed it cheerfully, not a few, and it was signed, too, by David Bryson, Charles Collins, Israel Corse and many other leather merchants in the city; and if my memory serves me right, Charles Collins, accompanied by Israel Corse, presented it to his Honor, C. W. Lawrence, and he refused to grant the license for similar reasons that are now made. It will be recollected that Anthony Provost drove his own cart for some time, and was kindly received 'hail fellow well met,' and was treated with as much familiarity and respect as the colored hackmen are treated by the white ones, and the first intimation that Mr. Provost received of a mob, or being shoved in the dock, was by the Corporation, which was bound both by law and justice to protect him. The Corporation lynched him, and exacted a fine from his pocket, which in justice belonged to his wife and children; and then the respectable carmen are insulted by being told that if the Mayor should give a colored man his inalienable right, that they would mob him and shove him in the dock, rights and all.
Now, Mr. Editor, I do not say that we can remedy this evil, that unrighteous distinction of demarkation is daily inflicting upon us, but I do say, that we should immediately arise simultaneously, in the majesty of our nature, and lay hold of the best means to attain that end, and when we shall have done that, then, sir, whether we will have gained our object or not, we shall not lose our reward, but will be sure to get an equivalent in something, for which I am willing to trust God. The question now arises, what is the best means? I answer negatively, it cannot be respectability, morality, nor religion, for we have all that, neither can it be the want of education, for we have as much at least as many have, who do not suffer from the evil. Therefore I am compelled to believe, that it is for the want of the right of suffrage, and a due appreciation of its value.—Now, sir, I am sure that if his Honor the Mayor was aware that it was in our power to resent the wrongs that he is inflicting upon us, at the ballot box, so as to give him a private instead of a public chair, he would be sure to feel differently, and of course act differently, because a man's feelings are very apt to be developed in his character; and I am not certain but what we have that power, if it were only called forth. For instance, I think that there are enough in several Wards in our city, who have $250 worth of intelligence, (or real estate) to turn the election either way; and we must take measures to bring that power into action. I believe, sir, that I am entitled to vote, and I wish you, as the guardian of my brethren, to examine my claims' and respond to my appeal. I claim the right from the fact that I belong to a church that owns the ground as well as the walls that are built upon it, and I am sure that my share is worth more than $250; and, sir, if that principle be a legitimate one, then all the rest of the members are entitled to vote, as well as the members of Old Zion, St. Philip's, Bethel, and the Union church in the village. I hope, Mr. Editor, that you will give us a faithful and certain sound, touching this important consideration, because if it be true that we have that much political strength, let us have a knowledge of it, so that we can immediately begin to tear down the strong holds of the devil.
I am well aware, Mr. Editor, that I have made this article too long, but I have ended as soon as I could.—I hope that Mr. Graves will not cease until he gets his license, for I believe that nineteen-twentieths of the citizens of New York will endorse his prayer.
W. P. J.
We have some remarks to make upon certain points in the above letter, which will appear in our next.—ED.
The Colored American, May 9, 1840.
29. HENRY GRAVES AND HIS HANDCART
Our readers will perhaps recollect, that number 150 of this paper contained a communication under the title "New York Corporation, vs. Mr. Henry Graves and his hand cart," signed W. P. J. We promised to make some comments upon certain points and inquiries contained therein—but in consequences of a pressure of matters, have not had time until now.
By referring to the article, our readers will perceive what kind of men and measures the inoffensive, innocent colored people of this city have to contend with. Here was a worthy, grey-headed man arraigned before a corporate body, and fined, not for driving a horse with a cart, but for being his own horse, and drawing his own cart, for the accommodation of his friends and neighbors, and as a means to furnish himself and family with bread—fined because he had no license to do so, when the Corporation refused, and would not grant him a license, and his color is the only ground attempted to be urged for such a refusal. Now it appears to us that in strict justice, the Corporation had as good a right to fine father Graves for sawing wood, or being a prevate porter, or coachman, as for drawing his own cart, for if in the latter a corporation ordinance was violated, it was not his fault, but theirs, in refusing to let him comply with the ordinance. This is meeting out justice with a vengeance.—But one reason urged is, it is against the law to license colored men to drive or draw a cart. Not so fast, Mr. Substitute for Mayor—there is no law about it, and if colored men should all of them draw or drive carts, they would be good loyal citizens still. It appears to us that the Mayor in his absence would do well to provide a substitute who understood a little the duties of the office, at least the laws in the case, and not have to be instructed as to what was law and what was not, by one of our brethren, as in this case. Another reason urged is, the other cartmen, if they should license a colored man, would push horse, cart, and driver all into the dock. A greater libel upon the civil and honest cartmen of our city, than whom none of any other city, or any other country are more pure minded and worthy. Here is also a wonderful regard manifested in one form, for the lives and property of our people, while the same seeming regard manifests an entire want of care in life and property in another form. This disposition, cares not whether our people starve to death for the want of means honorably to live, or whether for the same reasons they remain poor as the poorest, for if both should depend upon drawing or driving a cart, such only must be the result, as to all the Mayor or Corporation might care. The Mayor, Corporation, and no one else, need have any fear as to such a result—they would do much better to do right, than to fear any such occurrences from their doing justly. Our honest cartmen, if we know them at all, have too much respect for their own rights, to interfere with our brethren in the free exercise of theirs. Besides, such an outbreak on the part of the cartmen would be a violation of all law, and would render themselves criminals in view of it, and does the Mayor presume to suppose that the cartmen are lost to all respect for law?
The last reason referred to above for refusing to license colored men as cartmen, seems to be an old, stereotyped reason, for it has been used successively by every Mayor in almost the identical form. We hope our next will show that he has more originality, by bringing forward some other reason.
In regard to the inquiry of W. P. J., as to his right to vote upon property he holds in trust with others, we think he can have no right upon property held in trust, as is church property, when held by trustees, and individuals, on whose behalf such property is held in trust, also, we think can have no right to vote.
The Colored American, May 30, 1840.