RACE RELATIONS IN OLD SOUTHERN INDUSTRIES
Even though slave labor was employed extensively throughout the crafts and industries, the practice sparked a heated debate among southern leaders during the Ante-Bellum Era. More than a simple controversy about who would perform what types of labor, the argument represented a conflict over just what kind of society would prevail in the South. The tension between rural-agricultural and urban-industrial interests further complicated the debate. Although planters favored an increase in manufactures, they viewed industrialization as a threat to their way of life. Moreover, the relative loss of control over slaves in such a fluid setting caused planters to fear the social consequences of industrial slavery. On the other hand, sporadic white labor militancy, and white labor's anxieties over competition with slaves, caused planters to fear any increase in the white working class as well.
Two influential arguments favoring the use of slave operatives by Thomas Jones (Doc. 1) and Charles Fisher (Doc. 2), published in 1827 and 1828 respectively, argued that blacks not only were capable of learning the "mechanical arts," they were more profitably employed as well. Proponents of free white mechanics, on the other hand, such as James H. Hammond (Doc. 3), and Christopher G. Memminger (Doc. 4), both prominent South Carolinians, usually concerned themselves with maintenance of the social-political status quo. They believed that the poor whites must be uplifted from poverty and squalor; otherwise they constituted a danger to the slave regime. A letter from the New York black activist William P. Powell (Doc. 5), living in England in 1851, provides a corrective point of view.
The search for a consensus on a proper southern labor policy was not an issue which concerned a small elite. Pressures were generated from white workers whose means of expression were much less genteel. Documents 6–11 provide examples of free white southern mechanics, from South Carolina to Texas, who banded together to petition legislative bodies for laws restricting the employment of black tradesmen as competitors who depressed wages.
As a result of these political pressures, numerous restrictive measures were enacted throughout the South (Doc. 12–19). In some cases, these laws were aimed directly at black mechanics (Doc. 20), and generally pressed blacks into abject poverty (Doc. 21–23). Sometimes white mechanics struck when black workers were introduced into a plant. The 1847 strike of white wokers at the famous Tredegar Iron Works in Richmond, Virginia, was one such occurrences When the white mechanics struck, however, they were fired and blacks filled their positions. The legal authorities upheld Tredegar's right to employ slaves as it saw fit (Doc. 32).
Where the arm of the law did not reach, white working class vigilantism was sometimes directed against blacks or whites, usually foreigners, who disobeyed local racial taboos (Doc. 24, 26). White hostility over competition with slave and free blacks frequently erupted into violence (Doc. 25). But the nature of race relations varies greatly in the region, from violent conflict to the integrated and seemingly cordial relations found in a few plants (Doc. 27–34). Occasionally, well-intentioned whites attempted to improve the lot of free blacks, such as the Baltimore Society for the Protection of Free People of Colour, formed in 1827 (Doc. 35).
THE DEBATE OVER THE USE OF FREE OR SLAVE MECHANICS
1. "THE PROGRESS OF MANUFACTURES"
The great progress which has been made in the work of internal improvements, and more especially in the establishment of manufactures, has hitherto been principally confined to the eastern, the middle and western states. There are, however, several works for the spinning of cotton to the south of the Potomac, and others are on the eve of being established; and if I am not greatly in error, another bond of union will, in the course of a very few years, be added to the confederacy by a community of pursuit, in the extension of manufactures, over that important section of our country.
I have, for some years, been convinced, that the plans in those states might be advantageously employed in the manufacturing of some staple articles, and more particularly in that of cotton; this conviction I have long foreborne to promulgate, because I have thought that the only result would be to afix on myself the imputation of singularity, at least, if not of absurdity. I rejoice, however, to percieve that the question of the practicability, and the eligibility of the measure has lately become the subject of discussion in the public papers, and that much has been said in its favour. While expressing my own convictions and anticipations upon this point, I am aware that they will appear sanguine, if not extravagant, even to those who, to a certain extent, think favourably of the proposition: these opinions, however, have been the result of much observation and reflection, under circumstances particularly favourable to the formation of correct judgment.
It has formed no small portion of my occupation through life; to render myself familiar with the structure of machines, and their application to manufactures; and to estimate the portion of skill required in their management, in establishments upon a large scale, where the division of labour is necessarily carried to the utmost extent. I have also resided for a considerable number of years in the southern states, and have in consequence, acquired some share of knowledge, with regard to the habits, inclinations, and capacities of negroes; the result of which is, that I am thoroughly convinced, not only that they may be profitably employed as manufacturers, but that they are peculiarly suited to this purpose. It would be improper here, to enter into a discussion of the question, whether the negroes are absolutely inferior to the whites in intellect; and indeed were we able to settle this question, it would scarcely affect that upon which I am speaking, as only a small degree of intelligence is necessary to the acquisition of the utmost skill in the performance of an individual operation, however delicate it may be. In all extensive manufactories, we meet with the veriest dolts, who become, as it were, from habit, adepts in the business allotted to them, with a degree of dexterity and precision which appears almost miraculous; and those which are adepts in other departments of the same business might essay in vain.
The object proposed to be accomplished, is to teach the negroes to work machines which have already been invented, and extensively used; their occupation would be those of mere routine, and for this they are peculiarly fitted; their deficiency in imagination and inventive genius may fairly be thrown into the scale of advantages, rather into that of objections. With respect to the actual employment of slaves in manufacturing hempen bagging in Kentucky I extract the following remarks upon the subject, which appear in the Ariel, published at Natchez, Mississippi, and since in the American Farmer, and some other papers.
Strange as it may appear to those who have never observed for themselves, nor reflected on this matter, it is demonstrably true, that slaves are the most profitable of all operatives, in the business of manufacturing coarse fabricks, where ingenuity has furnished them with suitable machinery. In Kentucky, for instance, by the assistance of trifling machines, slaves manufacture vast quantities of hempen bagging. We, indeed, scarcely see any other operatives in the great factories of Lexington, Paris, Danville, Shelbyville, and other towns in Kentucky. If we except a manager or two, and a machinist, neither Englishmen, Scotchmen, nor even New Englandmen, are to be seen in the profitable establishments. Why are slaves employed? Simply because experiment has proved that they are more docile, more constant, and cheaper than freemen, who are often refractory and dissipated; who waste much time by frequenting public places, attending musters, elections, &c. which the operative slave is not permitted to frequent. The habits of slaves, too, are more uniform, and the deficiency of inventive genius can seldom endure the monotonous occupation of attending a spindle or a loom; whereas experience has amply proved that slaves are competent, not only to these pursuits, but are capable of exercising many trades where much more intelligence is required. It surely requires but little talent to draw out a thread with a mule, to join it to a spindle, or apply the cotton to a carding apparatus. England, in the plentitude of her power, imagined that two millions of people, in her colonies were incapable of making a hoe handle or a hobnail; and with a spirit as blind, New England now seemed to imagine that the cotton growing states, with a million or two of the best operatives in the world, would continue incapable of using these simple machines, which the very children of the white slaves of Europe can learn to manage in a month. The eradication of this gross and silly prejudice, in the north and in the south, will produce a complete revolution in public opinion with regard to manufactures, in every portion of our country. To secure the cotton crop of the south in cotton bagging and rope, will require 28,000 bales of cotton annually. This is no inconsiderable market; but it would be prodigiously augmented by the use of our cotton in blankets, and coarse negro clothing.
A proposition to encourage the employment of slaves in the manufacturing of cotton bagging, cotton cordage, cotton blankets, and coarse clothing, was made at a public meeting convened for the purpose at Natchez, in July last, and such preliminary measures adopted, as were thought to be necessary for the attainment of the end. The resolutions passed were conceived in a spirit of liberality, embracing the promotion of manufactures in every part of the union. Their view, very properly, restricted to saying, in the first instance, the coarser fabricks; it will be seen, however, in the course of this address, that I am of opinion much more than this, can, and will be accomplished, as I believe the slave population to be peculiarly fitted to learn, and to perform most of the operations required in a cotton mill.
Early impressions, and habit, are alone sufficient to account for the expectations, and even the desires, of the slaves being circumscribed, within very narrow limits; one of his most ardent wishes, however, is to learn some mechanical business, and he who has a trade is, by common consent, considered as superior in situation to him who works upon the plantation, and even to the house servant. Many, indeed the greatest part of them, are but indifferent workmen; this, it is evident, does not arise from a want of capacity to become otherwise, but from defective instruction, indifferent tools, and that slovenly habit of doing almost everything in makeshift, as they are called, which is perhaps unavoidable under existing circumstances. Indeed it is rather a matter of surprise, that so much skill exists as is frequently manifested, where nearly every plantation has its blacksmith, and its carpenter, whose operations are limited to the immediate wants of home; were white men brought up under like circumstances, it may be fairly questioned whether they would exhibit any portion of that superiority which is so generally ascribed to them.
In all the larger towns, and in many of the smaller, there are negro workmen, particularly blacksmiths, who execute with great cleverness, and sometimes, with extraordinary skill. I have seen several well made screw presses, for baling cotton, which were entirely the work of negroes; the gins, which are almost as numerous as the larger plantations, are usually tended exclusively by them, although they exact as much care and skill as are generally required in the process of the manufacture of that article into yarn and cloth.
The negro possesses, in general, a degree of emulation, equal, at least to that of the white labourers; I say at least equal, but, in my estimation it is superior. I have been repeatedly struck with the avidity with which they seek, and the gratitude with which they receive instruction on any point relating to their business; and surprised to hear how anxiously the wish has been expressed that they could visit the north, to see and to learn new methods of working; a wish entirely unconnected, I am sure, with any other idea than the simple one expressed. Although thus emulous, the emulation of the negro is limited to his own particular business, and if this be one simple operation, requiring to be perpetually repeated, he is perfectly satisfied to pursue it, and will be proud of any superior skill which he may acquire.
Assuming these positions as facts, and such I know them to be, it will readily be admitted, that better materials for making workmen, in any regular and ordinary manufacture, where labour saving machinery is employed, do not exist anywhere. It is not merely in cotton bagging, and other fabrics of the coarser kind, that the negro may be employed; although these will necessarily come first in order, he, I am convinced, will be found equal to the production of some of the finer articles furnished in the spinning factory, and by the loom; what valid reason can be urged to the contrary, I am utterly at a loss to divine.
So little aware of this fact, or so adverse to its manifestations, have been those persons which have conducted the establishments for cotton spinning to the south, that in mills which have been in operation for three or four years, none but white persons are, or were lately, employed, except in offices of mere labour. Some enterprising gentlemen are now establishing cotton works in the vicinity of Petersburg, in Virginia. A gentleman who has taken great interest in this subject, accidently met with the superintendent, and inquired whether it was his intention to employ negroes in the manufactory; he replied that it was a thing of which he had never thought; and until very lately, all the owners of slaves appear to have been in the same predicament; even now, there are but few of them prepared to give credit to the doctrine which I have so confidently advanced. This, however, need not excite surprise, as most of them are acquainted with the manufactured goods in their finished state only, and cannot, therefore, estimate the moderate portion of skill required by each individual employed in their formation. This can be done only by those acquainted with the details of the workshop.
Should the truth of the doctrine which I have advocated be admitted, the philanthropists, and the political economist will hail with equal pleasure, the change which will be affected in the south, by the introduction of manufacturing establishments, as it will, at the same time, add greatly to the comfort of the slave, and to the solid wealth of the community. For a considerable period the planters in many places have found it extremely difficult to pay their current expenses, and to feed and clothe their negroes, from the annual produce of their lands; and thousands have removed to the more fertile regions in the western states, not with the expectation of accumulating wealth, but merely for the purpose of obtaining a ready and abundant supply for their negro families. Thousands more of our southern fellow citizens will be compelled to adopt the same expedient, unless some new resource be obtained.
Do not imagine I am a friend of slavery, or that I would willingly promote any measure which I believed to be in the slightest degree calculated to extend and perpetrate this great moral evil. At the present day slavery has but few advocates; and they are as rare among the intellectual slaveholders to the south, as they are with us. A long residence among them, enables me to make this declaration with the most undoubting confidence; and I feel, therefore, that in making it I perform an act of simple justice only, and should be much gratified if I were able to remove any portion of that prejudice which tends to estrange one part of our country from the other.
When I first came to the South, I carried with me many of those prejudices which are common in the non-slave holding states; and although, for the very nature of moral truth, it was impossible for me to see anything which could lessen my abhorrance of slavery, in the abstract, I found that much more had been done than I had apprehended, and that much is still in progress, to lessen its attending evils; and was also thoroughly convinced, that its removal is a problem of no easy solution. The work, however, is making a sure, though slow, progress; the slaves are gradually acquiring information, and their owners generally both confess, and feel the iniquity of the system. Examples of cruelty are very rare, and indelible disgrace affixes itself to him who has the character of being a bad master. The friends of emancipation must rejoice should one of the most serious obstacles to its accomplishment be removed, by training the slave to habits of industry, in a business which will tend to prepare him for a state of freedom, and thus pave the way for the gradual removal of an entailed evil, which cannot be directly or suddenly, touched, without committing monstrous injustice in the case of both parties concerned.
At present, the occupation of the plantation slave is, in many instances, an alteration between absolute idleness and severe labour; but most of the crops raised, demanding at one period, unremitted attention, and at others, allowing long intervals of complete relaxation. The principal product of the plantation, which exacts regular attention and affords employment to the younger negroes, is the cotton crop; and this circumstance has operated as a strong inducement to many planters to cultivate it; as every intelligent man is aware that moderate, and regularly continued labour is the most favorable to the physical and moral constitution of man. The period, however, has arrived, when, as I have already remarked, the cotton crop will not, in many situations, pay for its culture, preparation, and carriage to market; and it is absolutely necessary that other employment should be found for the hands, there being no probability, and scarcely a possibility, of an advance in the price; indeed, the Very reverse of this may be anticipated. I have attempted to indicate that new employment, which is so much needed, and to prove that it is not only necessary and desirable, but practicable.
In the introduction of every system, difficulties are to be encountered, and removed; but those which at first appear insuperable, yield readily, and rapidly to the energy of determined perseverance. In the present instance, as in most others, prejudice and habit both stand in the way. The south will not supply persons able to establish or superintend these new manufactories, and the proper management of the slave requires considerable knowledge and experience; his usefulness, and even his happiness, demands that the kind of familiarity which is admissable among white persons should be avoided, and that the difference of situation should be constantly and distinctly marked; and all this may be, and is done, without violating the duties of kindness, or of humanity. Persons brought up to the north frequently err in this point; for though there are some whose understanding will enable them at once to adopt the right course, the greater number are inclined to be at first too familiar, and subsequently too severe, and there is constantly some well grounded prejudice against making them the managers of negroes. This may limit the number of suitable managers, yet it is not an insuperable objection to the system I am advocating; the practice of a few years would enable the south to supply her own superintendents, and in many respects with manifest advantage to herself.
There is another class of persons existing in the southern states, who are in fact, though free, less happily situated than the slaves themselves, and which by the extensive introduction of the manufacturing system, would not only be redeemed from wretchedness, but become a mine of wealth to the country, instead of remaining a degraded case, and a heavy burden; I allude to the poorer portion of the white inhabitants. Among these there is a very large number of widows, with families of children, who, with the utmost efforts of their industry, earn a miserable and precarious subsistence; of these, all who are able, would soon be employed. That the number of widows and orphans, in the situation represented, should be comparatively much greater in the southern, than in the northern states, may, to some, appear paradoxical and incredible, it is, however a fact, and one for which it would not be difficult to assign a reason, were it necessary, or suitable to the occasion.
It is a subject of increasing difficulty in the part of our country of which I am speaking, that the occupations are so few, which are deemed respectable for the sons of those who are in good circumstances; and, in the present state of things, this difficulty is a real one. The encouragement to become planters is very small indeed, and the professions of medicine, and of law, are overstocked. Manufactories do not exist on a scale sufficiently extensive to afford acceptable stations, and until they do, it would argue but little knowledge of the state of affairs in the south, or of the principles of human nature, to expect those who are considered as holding a station in the higher walks of society, to devote their attention to the mechanic arts. A deficiency in the requisite talents will not be expected, for although the opportunities of displaying it have been less numerous, the same aptitude at invention and adaptation exist in the south, which is so characteristic of the inhabitants of the northern states. The records of the patent office, and numerous ingenius contrivances which have been divided, and are in use, might be adduced, were proof of this. . . .
Of the awakening attention of the south, to the diffusion of information on the important subject of the mechanic arts, many evidences might be adduced; one only shall be mentioned. The board of visitors of the University of Virginia, have, by a recent resolution, made it the particular duty of the professor of natural philosophy, to include in his course of lectures, the application of this science to operative mechanics.
It may be thought by some, and perhaps correctly, that a subject might have been chosen better suited to the purpose of an opening address to the Franklin Institute, than that to which I have given a prominent place.
Thomas P. Jones, "The Progress of Manufactures and Internal Improvements in the United States, and Particularly on the Advantages to be Derived from the Employment of Slaves in the Manufacturing of Cotton and Other Goods," The American Farmer, 9 (November 30, 1827), 290–91, reproduced in The Textile History Review, 3 (January, 1962), 155–61.
It has hitherto been urged against the establishment of manufactures in North Carolina, and in the southern country generally, that the price of labour is too high to yield profits, or to enable us to compete with the northern states and England, where population is more dense. This is a great mistake. If it were so, when the price of cotton ranged from 15 to 20 cents per lb. it is certainly not so now, since the great fall in price in that and other staples.
We have two species of labour—white labour and black labour. As to white labour, we hazard nothing in saying, that it is cheaper in North Carolina than it is either in England or at the north. The price of labour in England is regulated by the price of provisions and the onerous taxes imposed upon the people. When these are considered, it is clear that a common operator could not live in that country, unless he received nearly double what is paid here. In England, veal is worth from 16 to 18 cts. per lb.; beef, from 14 to 16; mutton from 12 to 14 cents; while here, beef in plenty can be had from 3 to 5 cents per lb. and other provisions in proportion.
Mr. Thomas Massey, a very intelligent manufacturer, who has been engaged for eighteen years in the business, gives the following as the lowest prices ever known in his neighbourhood, viz:

In the flannel factories at Amesbury, Massachusetts, the wages for females is 50 cents per day, and of males one dollar. The wages of girls at 14 years old, at Lowell, average more than one dollar a week and their board.
According to a statement, taken from the Paterson Intelligence, there are employed at the Paterson factory, 381 men, 386 women, and 686 girls and boys. The average wages of the whole is $152 per year, or nearly $3 per week.
Now let any one compare these prices with similar labour in the interior of North Carolina, and he will at once come to the conclusion that labour is cheaper here than at the north. Indeed, labourers of the south can always afford to take lower wages, as they require less fuel and clothing than in New England. The species of labour that has been high at the south, is that of male adults; while that of females and children has always been low.
Mr. Donaldson, who owns a cotton factory at Fayetteville, and another at the falls of Tar river—a gentleman who has visited the northern establishments and those of England, and who is well acquainted with the subject, gives it to the committee as his decided opinion, that factory labour is cheaper here than in either in Old or New England.
Black Labour.—But if this be the fact as to white labour, it is still more so when black labour is employed.
We are aware, that the opinion is entertained at the north, and even by some persons among ourselves, that our slaves cannot be advantageously employed in manufactories. 1st. Because, as is alleged, they are deficient in intellectual qualifications; and 2d. Because they have no moral principle. Now, that the northern manufacturers should hold out these ideas, is not to be wondered at, when we consider that it is their interest to do so; but that these notions should be entertained by any well informed persons acquainted with our black population, is strange indeed. What branch of mechanics have we in our country, in which we do not find negroes often distinguished for their skill and ingenuity? In every place we see them equalling the best white mechanics.
But if the evidence drawn from analogous pursuits be deemed insufficient, we offer proof in point. Mr. Donaldson, before mentioned, says, that he has been for some time in the habit of working blacks in his factories, and that he not only finds them equal to whites in aptness to learn and skill to execute, but, all things considered, he actually prefers them. Mr. D. further states, that he has had several superintendants from the north, and all of them, with the exception of one, decidedly preferred black help, as they term it, to white. With the blacks, there is no turning out for wages, and no time lost in visiting musters and other public exhibitions.
But one of the great advantages of black labour is, that you can attach it permanently to the establishment by purchase. The following calculations will show the difference in cost between white and black labour.
We suppose a factory is erected in New England, to be carried on for ten years, by white operatives.
Another is erected in North Carolina, to be carried on for the same length of time by black operatives. Each of 1000 spindles, and both conducted by good managers.
1. The one with white labour.
According to statements to be relied on, it requires 33
hands, large and small, to carry on 1000 spindles.
At the most moderate rates, and the hands will
cost per week, . . . . . . . . . . . $70
Or, if paid at the end of the year, . . . . . . $3,640
The fact is, however, that the $70 is always paid at the end of each week, which, when the interest is carried forward, to the end of the year, makes yearly, or altogether $109 more; but we will throw this aside, and state the sum of $3,640.
From the time of paying the first $3,640 to the end of the term of ten years, will be nine years; therefore count the interest on that sum for nine years. On the payment of the wages for the second year, count interest for eight years; on the wages of the third year, add interest for seven years; and so on to the end of ten years. When it will be ascertained that the sum paid out for wages alone, with simple interest thereon, will amount to more than $46,000.
2. The establishment with black labour.
In place of hiring hands, we say let them be purchased, and we allow enough, when we estimate that hands of the right description may be had for 200 dollars each, on an average.
Instead of taking 33 operatives, the number employed in the white establishment, add one in eleven, making 36. These supernumeraries are put in to make up for any loss of time on account of sickness or other causes. Thirty-six slaves, at $200 each, is $7,200.
The next inquiry is, what will it cost per annum to clothe and feed these thirty-six blacks? Some very intelligent gentlemen, large owners of slaves, give it as their opinion, that slaves of this description can be decently clothed and plentifully fed for 25 dollars each, which would make 850 dollars per year; but not to fall under the mark, the committee estimate that the cost will be 1000 dollars per year. To these sums should be also added, the wages of a superintendant—say 500 dollars per year. This being the expenses of black labour, we wish now to compare it with the cost of white labour of 33 hands.
The 33 whites, we have seen, will cost 3640 dollars per year; or, in other words, their wages may be put down as worth 3640 dollars.
Now 36 blacks, and one white superintendant, can certainly do as much work as 33 whites. We therefore put their labour down at the same price of 3,640 dollars.
Having thus ascertained the cost of black labour, and its value in wages, we proceed to make the annual calculations during the term of ten years.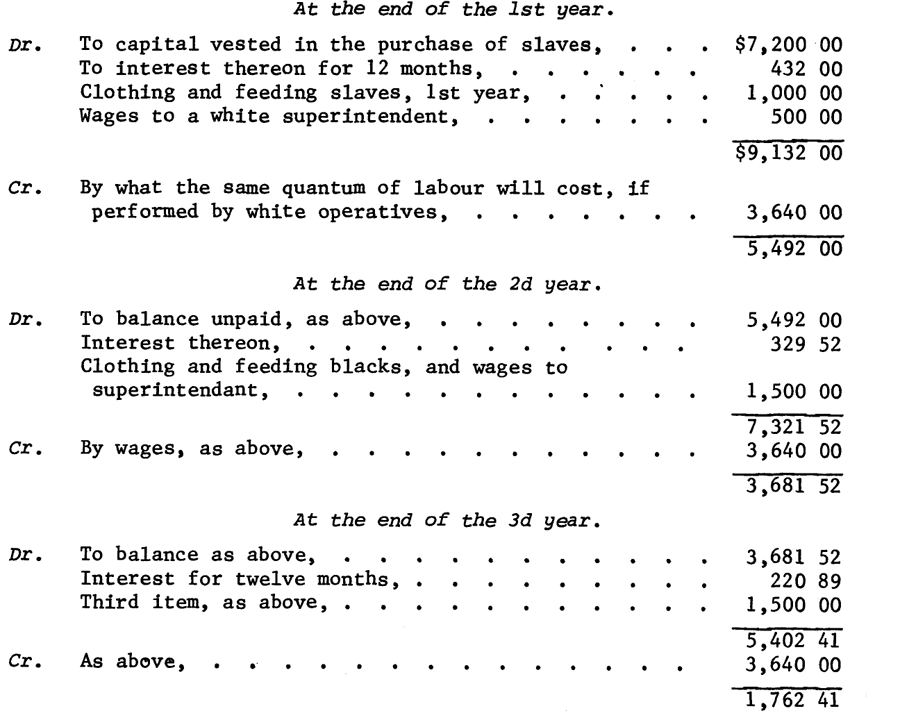 Thus, at the end of the fourth year, the capital invested in slaves, with interest regularly carried forward, will be paid off, and more than paid, by $220.15. Besides this, the slaves have been well fed and clothed, and 500 dollars annually allowed as wages to a white superintendant.

Thus, at the end of the term of ten years, the establishment carried on by white operatives, has cost for labour alone, $46,000.
While the one carried on by blacks has paid the purchase money with interest; has fed and clothed the hands; has paid a superintendant, and made a saving on the basis of white labour, of $15,021.80. In addition to this, the blacks are still on hand, and worth more than when first purchased. But, to be on the safe side, deduct for deaths and casualties 25 per cent. from first cost, leaves $5,400.
Then so far as regards wages of the operatives, if you employ white labour, at the end of ten years you pay about $46,000.
If blacks are employed, you have the same labour, and at the end of ten years, actually save $15,021.10.
The two sums added together, $61,021. shows the difference between black and white labour for ten years, in an establishment of only 1000 spindles. But there are many establishments of 5000; of course the difference would be in proportion—that is, $305,105.
To this add the item of transportation on the raw material for ten years, on 500 bales, at $7.50 per bale, that being the quantity of cotton annually consumed by such an establishment, equal to 5000, at $7.50, is $37,500.
Total difference in favour of black establishment is $342,605.
The committee have thus, at greater length than they could wish, presented their views on the policy of introducing the manufacturing system into North Carolina. They firmly believe that it is the only course that will relieve our people from the evils that now so heavily press on them. We have nearly reached the lowest point of depression, and it is time for the reaction to begin. Our habits and prejudices are against manufacturing; but we must yield to the force of things, and profit by the indications of nature. The policy that resists the change is unwise and suicidal. Nothing else can restore us.
Let the manufacturing system but take root among us, and it will soon flourish like a vigourous plant in its native soil: It will become our greatest means of wealth and prosperity; it will change the course of trade, and, in a great measure, make us independent of Europe and the north.
Nature has made us far more independent of them than they are of us. They can manufacture our raw material, but they cannot produce it. We can raise it and manufacture it too. Such are our superior advantages, that we may anticipate the time, when the manufactured articles of the south will be shipped to the north, and sold in their markets cheaper than their own fabrics, and when the course of trade and difference of exchange will turn in our favour. The committee, at this time, are not aware that it is within the power of this General Assembly, by any legislative act, to forward the introduction of the system into North Carolina. They, however, recommend the granting of acts of incorportion to companies for manufacturing purposes as often as suitable applications may be made.
All which is respectfully submitted,
CHARLES FISHER, Chairman.
Charles Fisher (Chairman), "A Report on the Establishment of Cotton and Wollen Manufactures, and on the growing of Wood; made to the House of Commons of North Carolina, by Mr. Fisher, from Rowan, on Tuesday, January 1, 1828," reprinted in The American Farmer, 9 (January 18, 25, 1828), 346–48, 353–54.
3. JAMES HAMMOND, "PROGRESS OF SOUTHERN INDUSTRY"17
The great item of cost in manufacturing, next to the raw material, is that of labor. And the final result of the great struggle, for the control and enjoyment of the most important industrial pursuit of the world, will probably depend on its comparative cheapness. We are forever told of the "pauper labor" of Europe, and for the reason I have just given, the North is, perhaps, excusable for never having been able to look with composure at this bug-bear. The cheapness of labor is undoubtedly much influenced by density of population, though labor is dearer in Massachusetts, with a population of one hundred, than it is in South Carolina with a population of twenty-two, to the square mile. Ultimately, however, the value of labor must depend on climate and soil. Wherever men can work the most, and under a just and secure government, live at least expense, there, in the long run, labor must be the cheapest. In England, factory labor is now limited by law to sixty hours a week. In our northern States, the average of available weekly labor is estimated at seventy-three and a half hours—in the middle States at seventy-five and a half hours, and, the further south we come, the more it is susceptible of increase. Cold, ice and snow, rarely present impediments to working in the cotton region, and the steady heat of our summers is not so prostrating as the short, but frequent and sudden, bursts of northern summers. If driven to that necessity, there is no doubt we can extend our hours of labor beyond any of our rivals. The necessary expenses of the southern laborer, are not near so great as are those of one, in Northern latitudes. He does not require as much, nor as costly clothing, nor as expensive lodgings, nor the same quantity of fuel, nor even an equal amount of food. All the fermented and distilled liquors which, in cold climates, are in some sort necessaries, are here uncalled for and injurious indulgences. Corn bread and bacon, as much as the epicure may sneer at them, with fresh meat only occasionally, and a moderate use of garden vegetables, will, in this region at least, give to the laborer greater strength of muscle and constitution, enable him to undergo more fatigue, and insure him longer life and more enjoyment of it, than any other diet. And these, indeed, with coffee, constitute the habitual food of the great body of the southern people. Thirteen bushels of corn, worth now, even in the Atlantic southern States only about $6 on the average, and one hundred and sixty pounds of bacon, or its equivalent, worth about $9, is an ample yearly allowance for a grown person. Garden vegetables bear no price except in cities. If sugar and coffee be added, $18 or at most $19, will cover the whole necessary annual cost of a full supply of wholesome and palatable food, purchased in the market. . . . In addition to sound theoretical reasoning we have strong practical proofs to lead us to the conviction, that the cotton region is entirely competent to convert the whole cotton crop into goods of all descriptions, at a cost so low as to distance all competition. And the South has only to address herself earnestly to the great work to accomplish it, in a space of time that no one, not intimately acquainted with our people, would deem credible, if suggested now. . . .
The immense benefits the South would derive from such a result, are not generally appreciated. Few have the remotest idea of them. Indeed they would be so vast as to defy all previous calculation. . . . How would the failing industry of South Carolina recuperate under an increased annual expenditure of $14,000,000 within her limits? How would her cities grow, and new ones spring into existence? How would her marshes be drained, and her river swamps be dyked in, until pestilence was driven from her land, and virgin fields of exhaustless fertility, conquered for her agriculture? What railroads would be built along her thoroughfares, and what steamships would be launched upon her waters? How many colleges, and schools, and charities, would be founded and endowed? How would her strength be consolidated at home, and her influence abroad augmented and extended? I am not conjuring up ideal visions to excite the imagination. All these things have been actually done. They have been, in our own times; and under our own eyes, carried out and made legible, living, self-multiplying and giant-growing FACTS in Old England and New England; and they have been mainly accomplished by the incalculable profits which their genius and enterprise have realized on the products of OUR LABOR. But the question will naturally be asked, can South Carolina manufacture 100,000,000 pounds of cotton? Has she, without drawing from abroad, which is not desirable if it can be obviated—has she capital, the motive powers of machinery, and the operatives, that will enable her to do it to advantage? The answer is yes! and the truth of it may be demonstrated in a few words. To manufacture this amount of cotton, $40, 000,000 of capital would be an ample and liberal investment, that would cover all contingencies, if made judiciously. Now, for the want of profitable investment, a much larger amount of South Carolina capital has, within the last twenty years, actually left our State, and been lost to us forever. And that, without diminishing our agricultural productions, or foreign exports, which have increased considerably in quantity, if not in value, since 1830. I have already shown, that from 1830 to 1840, upwards of 80,000 slaves were carried from our State, and it may be assumed as certain, that full as many have gone within these last ten years. These 160,000 slaves, at $400 each, were alone worth $64,000,000. But for each one of these slaves, at the very least, $100 worth of land and other property must have been sold here, and the cash proceeds transferred with them beyond our borders. This would amount to $46,000,000 more. And if to this be added the $10,000,000 which, made here by mercantile and other pursuits, has been sent elsewhere for investment, as has undoubtedly been done, we have, without computing interest, the immense sum of $90,000,000, of which, within these last twenty years, South Carolina has been drained, in currents which still flow, and bid fair to flow deeper and broader every year. No one is to be blamed for the transfer of this vast amount of capital. No one is under obligation to make or keep unprofitable investments. It is not to be expected. It never will be done to any great extent by enlightened and enterprising men. But if we had embarked in manufactures twenty years ago, as successfully as others, and afforded to capital here returns of thirty, or twenty, or even ten per cent., not a dollar of that $90,000,000 would have left the State. The slaves might have gone, and the lands they cultivated might have been sold—but the enterprising owners would have remained here, and the full cash equivalent of this property would have remained with them. In their hands, it would not only have sufficed to erect all the factories requisite to spin our entire crop, but the vast overplus of $50,000,000, would have constructed and paid for thousands of miles of railroad, and built fleets of steamships and merchant vessels, sufficient to carry our augmented commerce in direct lines to all the great marts of the world. If we begin now, and, instead of removing, sell, for a time, the superfluous increase of our slaves, the proceeds, added to the floating capital otherwise accumulated, will enable us to accomplish all these objects in a much shorter period than twenty years, and bring in upon our State a flood-tide of prosperity, that will cover every hill and valley—every bog and barren—with deposits more valuable than those in California.
But if ample capital were supplied, have we in South Carolina sufficient water power, advantageously located, or can we, on reasonable terms, generate steam power to manufacture our whole crop? The immense pine forests which line our railroads and navigable streams, will, if judiciously managed, furnish fuel for all the factories we shall want, at $1 25 a cord, for generations yet to come.
At this rate, fuel can be supplied as cheaply as the best Cumberland coal at $3 a ton, or 12 cents a bushel, which is cheaper than the same quality of coal is furnished to the English factories. The cost of steam engines, enhanced now only by the charges of transportation, will be proportionably reduced as the mechanic arts advance, under the fostering spirit of manufactures and commerce. . . . As to water power, without looking further, the sand hill streams, which course through the pine barrens of our middle country—the healthiest region, take the year round, on the surface of the globe—are, it is well ascertained, capable of putting in motion millions of spindles and their complimental machinery—spindles enough to consume several times the amount of our crop. . . .
With capital, motive-powers, cheap provisions, and convenient transportation at our command, it would only remain to obtain operatives, on fair terms, to render our capacity to manufacture our cotton crop, complete. For this purpose, about thirty-five thousand, of all ages, would be requisite. There is no question but that our slaves might, under competent overseers, become efficient and profitable operatives in our factories. It may be of much consequence to us, that this fact has been fully fested, and is well known and acknowledged, as it would give us, under all circumstances, a reliable source. But to take, as we should have to do, even three-fourths of the required number from our cotton fields, would reduce our crop at least one-third—a reduction that would seriously affect the great results we have in view. It would also enhance the prices of labor and provisions; not so much by the legitimate and profitable process of increasing the demand, as by diminishing the supply; and it would curtail the relative power of the agricultural class. If purchased by the factories—the only feasible plan of using them—their cost would add fifty per cent. to the capital required for manufacturing. While, in their appropriate sphere, the cultivation of our great staples, under a hot sun and arid miasma, that prostrates the white man, our negro slaves admit of no substitute; and may defy all competition, it is seriously doubted, whether their extensive and permanent employment in manufactures and mechanic arts, is consistent with safe and sound policy. Whenever a slave is made a mechanic, he is more than half freed, and soon becomes, as we too well know, and all history attests, with rare exceptions, the most corrupt and turbulent of his class. Wherever slavery has decayed, the first step in the progress of emancipation, has been the elevation of the slaves to the rank of artisans and soldiers. This is the process through which slavery has receded; as the mechanic arts have advanced; and we have no reason to doubt, that the same causes will produce the same effects here. We have, however, abundant labor of another kind, which, unable at low prices of agricultural produce to compete with slave labor, in that line, languishes for employment; and, as a necessary consequence, is working evil to both our social and political systems. This labor, if not quite so cheap directly, will be found, in the long-run, much the cheapest; since those who are capable of it, will, whether idle or employed, inevitably, in one way or another, draw their support from the community. According to the best calculation, which, in the absence of statistic facts, can be made, it is believed, that of the three hundred thousand white inhabitants of South Carolina, there are not less than fifty thousand, whose industry; such as it is, and compensated as it is, is not, in the present condition of things, and does not promise to be hereafter, adequate to procure them, honestly, such a support as every white person in this country is, and feels himself entitled to. And this, next to emigration, is, perhaps, the heaviest of the weights that press upon the springs of our prosperity. Most of these now follow agricultural pursuits, in feeble, yet injurious competition with slave labor. Some, perhaps, not more from inclination, than from the want of due encouragement, can scarcely be said to work at all. They obtain a precarious subsistence, by occasional jobs, by hunting, by fishing, sometimes by plundering fields or folds, and too often by what is, in its effects, far worse—trading with slaves, and seducing them to plunder for their benefit. If the ancient philosopher had the slightest grounds for saying that it would require the plains of Babylon to support, in idleness, five thousand soldiers and their families, we may infer how enormous a tax it is on our resources, to maintain to the extent we do now, and are likely to have to do, directly and indirectly, our unemployed, or insufficiently employed poor.
From this class of our citizens, thirty-five thousand factory operatives may certainly be drawn, as rapidly as they may be called for, since boys and girls are required, in large porportion, for this business. Nor will there be any difficulty in obtaining them. Experience has shown that, contrary to general expectation, there exists no serious prejudice against such labor among our native citizens, and that they have been prompt to avail themselves, at moderate wages, of the opportunity it affords of making an honest and comfortable support, and decent provision for the future. The example thus set of continuous and systematic industry, among those to whom it has heretofore been unknown, cannot fail to produce the most beneficial effects, not only on their own class, but upon all the working classes of the State. And, putting aside the immense contribution of manufactures to the general prosperity, it would be one of the greatest benefits that could possibly be conferred on the agriculture of South Carolina, to convert thirty-five thousand of her unemployed or insufficiently compensated population into active and intelligent workmen, buying and paying for the products of her soil, which their families consume.
But it has been suggested, that white factory operatives in the South would constitute a body hostile to our domestic institutions. If any such sentiments could take root among the poorer classes of our native citizens, more danger may be apprehended from them, in the present state of things, with the facilities they now possess and the difficulties they have now to encounter, than if they were brought together in factories, with constant employment and adequate remuneration. It is well known, that the abolitionists of America and Europe are now making the most strenuous efforts to enlist them in their crusade, by encouraging the exclusive use of what is called "free labor cotton," and by inflammatory appeals to their pride and their supposed interests. But all apprehensions from this source are entirely imaginary. The poorest and humblest freeman of the South feels as sensibly, perhaps more sensibly than the wealthiest planter, the barrier which nature, as well as law, has erected between the white and black races, and would scorn as much to submit to the universal degradation which must follow, whenever it is broken down. Besides this, the factory operative could not fail to see here, what one would suppose he must see, however distant from us, that the whole fabric of his own fortunes was based on our slave system, since it is only by slave labor that cotton ever has been, or ever can be cheaply or extensively produced. Thus, not only from natural sentiment and training, but from convictions of self-interest, greatly strengthened by their new occupation, this class of our citizens might be relied on to sustain, as firmly and faithfully as any other, the social institutions of the South. The fact cannot be denied, that property is more secure in our slave States than it is, at present, in any other part of the world; and the constant and profitable employment of all classes among us will increase, rather than diminish that security. . . .
James Hammond, "progress of Southern Industry," Gov. Hammond's Address Before the South Carolina Institute, 1850, reprinted in DeBow's Review, 8 (June 1850), 513–22 are reproduced here.
4. A PRO-INDUSTRIAL SLAVERY OPINION
Charleston April 28, 1849
My Dear Sir
I understand that you are preparing a review of Elwood Fisher's pamphlet, a work which I am very glad you have undertaken. As it is a subject in which we all feel a deep and common interest, I will venture to suggest one or two considerations to you, even at the hasard of suggesting what may have passed through your own mind.
Mr. Fisher has not noticed an important element which makes in favor of the Slave interest. The products of slave labor are such as can never be the subjects of competition with white labor. Cotton and Rice are the products of Districts of Country where the white man cannot labor on account of malaria. They with Tobacco require cultivation during the whole summer with exposure to a summer's sun. The two chief of them are confined within geographical limits. The other products of agriculture upon which whites are employed are grains which are planted either in the fall or spring and require but little cultivation. There seems a necessity therefore, if the world must have Cotton, and if the Rice District is to be cultivated at all, that slave labor must be resorted to, and the whites can only be furnished with Cotton Fabrics at the cheap rates which now prevail, by the use of slave labor. Nay it is questionable, if slavery were abolished, whether the Cotton Crops would be worth noticing. For without the organized labor of the South, it could not be produced at all—and it is certain that the negroes themselves would never volunteer to raise it. No free negro now ever attempts such a thing. They generally go into other pursuits.
This leads me to another consideration, which is very important to us in this State and City. I find an opinion gaining ground that slaves ought to be excluded from mechanical pursuits, and everything but agriculture, so as to have their places filled with whites; and ere long we will have a formidable party on this subject. The planters generally do not perceive how it affects their interest, and very frequently chime in with this cry. I think our friend Gregg of Graniteville, with those who are agog about manufactures, without knowing it, are lending aid to this party, which is in truth, the only party from which danger to our Institutions is to be apprehended among us. Drive out negro mechanics and all sorts of operatives from our Cities, and who must take their place. The same men who make the cry in the Northern Cities against the tyranny of Capital—and there as here would drive all before them all who interfere with them—and would soon raise hue and cry against the Negro, and be hot Abolitionists—and every one of those men would have a vote. In our Cities, we see the operation of these elements—and if the eyes of the planting community are opened, the danger may be averted. Fill Barnwell District with some hundred Lowellers, and how do you think they will vote at elections. The scheme by which "Brutus" has expected to foment division among us is based on this element of Discord. For you Know that even in our lower Country, there are many that could be Marshalled against the Planter, upon the idea that they were fighting against the aristocracy. These things I have no doubt you will Keep in view. But I think you would do much good by giving a timely warning to our agricultural community—as every body will read your review.
Yours with much esteem
C. G. MEMMINGER18
Christopher G. Memminger to James H. Hammond, reprinted in Thomas P. Martin (ed.), "The Advent of William Gregg and the Graniteville Company," The Journal of Southern History, 11 (August 1945), 413–14.
5. LETTER FROM WILLIAM P. POWELL
Liverpool, March 23d, 1851
. . . it is not necessary for me to visit "the cotton factories of Manchester and Salford, the nail factories of Preston, and, above all, the coal pits in the north of England, etc. etc." in order to make a just comparison between the two systems of free and slave labor, for they are, in effect, as far apart as the Poles. The operatives of those factories and mines are protected in their property and their persons by law; and the scale of prices for labor performed, especially for the younger branches, and the number of hours to be employed, are regulated by Parliamentary enactments; and they realize from THREE shillings sterling to TWO pounds per week for their labor; and, what is more, they are not chattels personal, subject to corporeal punishment, whips and chains, and separated, parents from their children, and husbands from their wives. But not so "with the sleek, oily appearances of the comfortably clothed, well fed, fat and saucy southern slaves." Are there any laws regulating the price of slave labor, forbidding corporeal punishment for non-performance of task? Are there laws punishing with death the master, overseer, or driver, for murder, rape or violence committed daily upon the defenceless slaves? And yet the American negro slaves are better off than the operatives in the cotton factories and coal mines in England?
William P. Powell.19
National Anti-Slavery Standard, May 8, 1851.
PETITIONS AND PROTESTS OF WHITE MECHANICS AGAINST BLACK MECHANICS
6. PETITION OF CHARLESTON CITIZENS TO THE STATE LEGISLATURE, 1822
. . . your Memorialists are decidedly of opinion, that the number of negroes to be hired out, should be limited by law, and that no negro should be allowed to work as a mechanic unless under the immediate control and inspection of his master. By far the greater portion of negroes who work out, are released in a considerable degree from the controul of their masters—laboring or forbearing to labour, as their interest or inclination prompts, rendering unto their owners, only a monthly account; and provided they but settle the wages with punctuality are permitted to regulate their own conduct; the consequence is, they assemble together whenever they wish, and having their time at their own disposal, can be convened at any given and fixed period, and having regular and stated meetings, can originate, prepare and mature their own plans for insurrection. Whereas, the slaves who are kept in the yards of their masters, are immediately under their eyes, and cannot fix a period for assembling—they know not at what hour they may be called for by their owners, or for how long a period they may obtain leave of absence—they cannot, therefore, act in concert and "concert is the very life of a conspiracy."
But there is another consideration. The facility of obtaining work is not always the same. At one period the demand for labor is considerable; at another the demand is comparatively small; the consequence is, the labor of the slaves hired out is very irregular, and a quantity of time is consumed in idleness. Irregularity of habits is thus acquired; this irregularity produces restlessness of disposition, which delights in mischief and detests quiet. The same remarks will apply to the negro mechanics, who having a stated portion of labor to perform, are masters of the remainder of the day, when the work is ended. The time in the evenings, and on the Sabbath is so entirely at their disposal, that the most ample opportunity is afforded of forming combinations and devising schemes. Should a law be passed limiting the number of slaves to be hired out and confining the exercise of the mechanical arts to white persons (except in the cases above specified,) the result will be that a large portion of the black population now in the city, will be removed into the country, and their places be supplied by white laborers from Europe and the Northern States. In this manner we will exchange a dangerous portion of our population for a sound and healthy class of persons "whose feelings will be our feelings, and whose interests our interests."
The late intended Insurrection forcibly proves the truth of the above remarks; for with a very few exceptions, the negroes engaged in that conspiracy were mechanics or persons working out. Great inconvenience, perhaps even considerable misery, may be experienced by many worthy citizens, who at present are maintained by the hire of their slaves. But to obtain important objects by effecting considerable change or reform, great sacrifices must be made, and great difficulties encountered. This is an affair in which temporizing expedients will avail nothing. We must meet the difficulties with resolution, and overcome them by the most vigorous and determined course of action. They are difficulties which, if eluded now, will meet us again in their progress, multiply and crowd upon us until we are involved in confusion and disorder.20
"Memorial of the Citizens of Charleston to the Senate and House of Representatives of the State of South Carolina (Charleston, 1822)," as reproduced in U. B. Phillips (ed.), Documents of American Industrial Society, Vol. II (Cleveland, 1909), pp. 103–16.
7. WHITE ARTISANS CLAIM UNFAIR COMPETITION FROM FREE BLACKS
Petition of William J. Grayson, James R. Verdier, and 62 other citizens of St. Helena Parish as the Senate of South Carolina.
To the Honorbl the President and other members of the Senate, The undersigned inhabitances of St. Hellena Parish convinced of the perniceous consequences resulting to the State of So Car from the number of free persons of colour within her limits beg leave respectfully to bring the subject before you. The State not only derives no strength from the class of wich we complain, but is essentially injured, the example of indolence and vice exhibited by the coloured free persons is perpetually before the Slaves. They encourage insubordination by pricept as well as example. They are rapidly drawing from the country the valuable class of industrious mechanics, on whose intelegence and hardihood the safety of So Car must mainly depend. What will be the condition of the State when your carpenters and painters and Blacksmiths, and the occupants of all the departments of mechanical industry are free men of colour. Yet such must be the consequences of the competition which the white mechanic encounters from the coloured labourer, the latter is able to work at a less price from obvious causes. He has very often no family to support, his wife and children are Slaves. He lives on the premises of their owner. He has no house rent to pay no clothing or food but his own to purchase. His expences are almost nothing, and he can therefore labour for almost nothing. Your petitioners cannot believe that you will permit a class so useless, perniceous, and degrading, to the character of the State, to Supplant the intellegent industrious and vigorous freemen, who in the various mechanical departments would so essentially increase her physical and moral strength. Your petitioners therefore pray that you will take the whole subject into consideration, and make such provisions for the removal of the free coloured persons as to your wisdom may seem meet—and as in duty bound they will ever pray.—
[Post-Revolutionary File, ca. 1831] South Carolina Department of Archives and History, Columbia, S.C., as reproduced in Willie Lee Rose (ed.), A Documentary History of Slavery in North America (New York, 1976), p. 95–96.
A meeting of the Journeymen Mechanics of the town of Petersburg, Va., was held on the 20th ult., the object of which was to oppose the competition brought about by the employment of Negro Mechanics. We copy from the Republican, the following Preamble and Resolutions which were adopted at the meeting and ordered to be published—
While we regard the right of property, and the privilege of the owner to employ his slave in honest labor, our sense of self-respect demands that we put, place, esteem and maintain ourselves a distinct society, and not associates of the Negro. Therefore, be it Resolved,
1st. That we regard the teaching of any Negro any branch of the mechanic arts as prejudicial to the interests, and injurious to the morals of the laboring White man.
2d. That we, whose names are hereunto annexed, will not work for any employer who shall take a Negro in his employ, for the purpose of teaching said Negro any branch of the mechanic arts.
3d. That each member is at liberty to engage with any employer using his own slave at the business, provided they be not published or provided in any way subsequent to this time.
4th. That we form ourselves in a society for our rights, as stated in the preamble.—Signed by the Committee.
The North Star, November 2, 1849.
9. GEORGIA MECHANICS' CONVENTION
Agreeably to previous notice, between four and five hundred of the Mechanics of Georgia met in council at Atlanta, on the 4th of July, and organised, temporarily, by calling Wm. H. Pritchard, of Richmond county, to the Chair.
The President having taken his position, in a neat address explained the object of the Convention to be the advancement of the Mechanic Arts and the elevation of the Mechanics of Georgia—and returned his thanks for the honour conferred upon him, expressing his earnest wish that the motto of the great seal of the Commonwealth—"Wisdom, Justice and Moderation"—would govern the meeting in its deliberations, and invoking a spirit of concord among the members thereof. . . .
The Committee appointed to prepare and report matter for the consideration of the Convention, reported the following Preamble and Resolutions, which, on motions, were received:
Preamble:
Whereas, the development of the Mechanic Arts in Georgia, and the advancement of the Mechanical and Manufactural pursuits of the Commonwealth, are no longer matters of questionable importance, as elements of permanent State prosperity, but an admitted necessity; and whereas, it is due to our fellow-citizens that the reasons for the meeting of this Convention, and for its action, should be unreservedly laid before the public, the following considerations are submitted, as embodying the views of its members generally, on the several subjects of interest embraced in this Preamble:
Negro Mechanics.
The policy of Instructing Negroes in Mechanic pursuits is of a very questionable nature. The history of the past proves that nearly all the escapes of slaves from Georgia and several other Southern States, to Free Soil territory, are traceable to the pernicious influence exercised by these persons. It is our firm conviction, that a few Negro Mechanics in towns and cities have done and can do more practical injury to the institution of Slavery and its permanent security than all the ultra abolitionists of the country. Mechanical pursuits elevate the negro's mind and quicken his intellect, leading to a desire to read and write, the gratification of which is often obtained in a clandestine manner, by which he is furnished with facilities for making money, and led into depravity and dissipation, thereby making him restless and unhappy, and an unsafe associate for the dutiful and contented negroes of the State, of a lower grade of condition. Is it not then the dictate of wisdom and prudence, looking merely to the security of our institutions, to take such steps as will guard and protect us from such influences, for all time to come?
Mechanical pursuits, moreover, to be fully worthy of Georgia's sons, and rendered capable of competition with other sections, must be honourably associated. Educated young men of the South can seldom be found who will engage in pursuits which lead them into professional competition with persons of inferior morals and minds.
As Mechanics and Southern men, by birth or by adoption, and as slaveholders, we appeal to every class of our fellow-citizens for a just appreciation of our motives, and for encouragement in the work we design to accomplish. That design is to raise and exalt our position as men and as citizens, morally, socially and intellectually. Let that be achieved, and a desire will, it is believed, soon be evinced by our youth to enter at once the workshops of the State, and thus contribute to make it great and independent. We ask only for such encouragement as will raise our calling in the scale of respectability and usefulness, as well as secure, on a permanent basis, the peculiar institution of the South, and promote the general welfare of the people. . . .
Resolved, 6. That in the opinion of this body the instruction of negroes in the Mechanic Arts is a source of great dissatisfaction to the mechanical interest, prejudicial to Southern youths engaging in industrial pursuits, and is believed to be inexpedient, unwise, and injurious to all classes of the community.
The report and resolutions were then taken up separately, and on motion to adopt the preamble as read, W. U. Anderson, of Cowets, moved to strike out all that portion which referred to the subject of Negro Mechanics, which after full discussion was rejected by an overwhelming vote. The preamble was then adopted as it stands.
1st, 2d, 3d, 4th and 5th were then severally read and adopted unanimously.
On a call of the 6th resolution, W. U. Anderson, of Cowets, moved, that it be laid on the table, which after discussion was lost. The 6th resolution was then put and carried.
Resolved, That this Convention individually and collectively do hereby express their firm and abiding devotion to the peculiar institution of the South as it is, and their utter and unqualified detestation of those Northern Abolitionists and Fanatics, who are constantly interfering with our interests and property. Carried unanimously and with great enthusiasm. . . .
Georgia Citizen.
National Anti-Slavery Standard, July 31, 1851.
There is much that is worthy of consideration in the following remarks of the Centreville Enquirer, which first met our eye in the Pennsylvania Observer:—
'We believe the Legislatures of all slaveholding States should pass an act prohibiting the owners of slaves from making mechanics of them. The rice, corn and cotton field is the proper place for the negro—and not the workshop. That should be kept for the white man exclusively. There are thousands of industrious, enterprising young men, who are driven from the mechanical trades, rather than work all day side by side with the negro. Their pride revolts at it, and we think very properly; all cannot be professional men, their inclinations do not lead in that way, but necessity drives them to business of some kind, and they rush into the learned professions without one single qualification. And why do they do this? Because they do not like to be thrown into daily intercourse with the negro mechanics. See how many young lawyers and physicians are starving, because the country is overrun with them, and their pride forbids them from following trades. But exclude the negro race from the mechanical arts, and you at once ennoble the business. Men who are now ashamed to acknowledge themselves mechanics, would take pride in it, and there would be but few drones in society. All parents are not able to give their children education sufficient to be a professional character, and how far superior is the respectable artisan to the quack doctor or the jack-leg lawyer, the one scarcely able to distinguish chill from fever, and the other incompetent to make a speech in a magistrate's court. We hope the Legislatures of the different States will take this matter into consideration. We are aware that men will say we have the right to do as we please with our negroes, and convert them to any use we think proper; but it is not so. The rich have no right to build up fortunes at the expense of the poor, and this is done whenever you degrade the mechanic to the level of the slave. The only trade entirely excluded from the negro is the printer—he may defy them, for the States have wisely prohibited them from education.'
No one will pretend that a master who owns a skilful mechanic ought to be or can be deprived of half of his value by a law forbidding such mechanic from working at a trade which he has been taught at much expense and loss of time. The master, beyond dispute, has a vested right in the enhanced productiveness of the mechanic slave's labor at a trade wherein skill, training and intelligence are as important elements as physical strength.
Nor is it certain that a law, which should permit negroes who have already acquired mechanic arts to work at them, but which should prohibit any others from being taught and employed at such trades, would be quite equitable and just to the owners of intelligent negroes, whose services would be doubled in value by being so instructed and employed.
If the proposal to exclude negroes from the mechanic arts were merely a question of competition between white mechanics and the few owners of negro mechanics, a satisfactory solution of it might be reached by legislation. But laws, if just, are not made for classes, but for the whole people. We are to guard with lynx-eyed vigilance against all that can endanger even remotely our vital institution. It is much to be feared that any hasty and unnecessary tampering with the limits wherein slave labor may be employed may become a precedent for a greater mischief hereafter.
New Orleans Courier reprinted in The Liberator, September 3, 1858.
11. PETITION OF TEXAS MECHANICS
Marshall, Texas, January 17th 1861
To the Honorable's E.A. Blanch, Eli Craig, E.H. Baxter & George W. Whitmore
Gents
We the undersigned petitioners respectfully wish and request you to endeaver to get a bill passed by the Legislature of Texas to prevent the competition and encouragement of Negro Meachanick as we think that it is not just or right to give Slaves the advantages or liberties that they are now endevering to take or get to put down White whose daily living is made by the sweat of their brow in their industrious pursuits, and men too, who have been reared upon Southern Soil and who have always been with the South and all her institutions.
But we do most solemnly object to being put in competition with Negro Mechanicks who are to rival us in the obtaining of contracts for the construction of Houses Churches and other Buildings—or any other of the Mechanical Branches that are taking by contract
We would therefore appeal to you as your fellow Citizens and constituents to remedy this one feature that is now if let a lone to be greatly to the disadvantage and draw back of our Bright Lone Star State—
We say Negroes forever but Negroes in their places (viz: in Corn & Cotton Fields) and if there are those who have Negro Mechanicks to do their own work let them; have them; but we do not want to be equalized with them by allowing them to go at large contracting for jobs of work up on their own account or on account of those who pretend to be their agents, or to be made the compeditors of Negros in this a true Southern State—
We think that a law might be passed to confine them to the hire of some workman or undertaker whose duty it will be to keep them in their places and under proper control without the owner or Master being at all injured.
W.T. Smith
C. W. Slater
L. A Henderson
L M Stevens
J C Curtis
W A Salmon
Hames K Fzfee
R. E. Ramsay
Henny Jenks
Phil /Brown
J H Van Hook
W Miller Johnson
G W Martin
G. W. Slants
etc.
Ms., File Box No. 42, Library and Historical Commission, State Library, Austin, Texas.
FREE BLACK WORKERS AND THE LAW
12. A SUPPLEMENT TO THE MARYLAND ACT OF 1831 RELATING TO FREE BLACKS AND SLAVES
Sect. 3. And be it enacted, That the Justices of any Magistrate's Court in the several counties of this State, or of any Orphan's Court in the said Counties, in which there is no such Magistrate's Court, upon information given to them that any free negro or negroes, mulatto or mulattoes, male or female, are residing within the jurisdiction, or County in which said Magistrate's Court or Orphan's Court is situated, without visible means of support, shall have power to direct the Sheriff, or any Constable of said County, to bring before the said Magistrate's Court or Orphan's Court, as the case may be, such free negro or negroes, mulatto or mulattoes, and summon all necessary witnesses to inquire into the condition or habits of such negro or negroes, mulatto or mulattoes; and if, upon examination, the Justices of the said Magistrate's Court, or Orphan's Court, as the case may be, shall be of the opinion, that the said free negro or negroes, mulatto or mulattoes, have not the necessary means of support, and are not of good and industrious habits, then they shall issue an order in writing, directed to the Sheriff or Constable to proceed forthwith to sell the said negro or negroes, mulatto or mulattoes, at public sale, the highest bidder, to serve in the capacity of A SLAVE for any [ ] during the year in which said sale shall be made, first giving ten days public notice of such sale; provided, that nothing in this section contained shall go into effect until the first day of January next; and provided, also, that every purchase of any free negro or negroes, mulatto or mulattoes, by virtue of this act, shall, in addition to the prize paid by him for such free negro or negroes, mulatto or mulattoes, find him, her or them during the term for which the said purchaser shall purchase him, her or them, with good and sufficient food, lodging and clothing.
Sect. 4. And be it enacted, That if within ten days from the end of the term for which any such negro or negroes, mulatto or mulattoes, shall have been sold by virtue of the third section of this act, he or she shall not leave the State, or sell him or herself to some respectable white person, to serve as A SLAVE for the following year, then he or she shall be again sold or disposed of, as required and directed by the said third section, and in like manner in each successive year thereafter.
Sect. 5. And be it enacted, That the purchaser of any free negro or mulatto, by virtue of the provisions of the third or fourth sec. of this act, shall pay to the said negro or mulatto, at the end of the term for which he or she shall be sold, the amount of money bid for said negro or mulatto at the sale thereof, deducting the necessary costs and charges, the sum of ten per centum, as commissions to the officer—the sum of 5 dollars to the informer, if there shall be one, and the sum of one dollar to each of the justices, as a fee for their services. Provided that the purchase money aforesaid, after deducting the costs, charges and allowances as aforesaid, which shall be paid in cash at the time of sale, shall be secured by bond with security to the Sheriff for the use of said negro, or mulatto at the end of the term aforesaid, which bond shall be then assigned to said negro or mulatto, and may be recovered, as small debts now are recovered by law.
Sect. 6. And be it enacted, That if any free negro or negroes, mulatto or mulattoes, sold by virtue of the provisions of the third and fourth sections of this act, shall be the father or mother of any child or children, below the age of 21 years, if male, or 18 years, if female, then the Justices of the said Magistrate's Court, or Orphan's Court, as the case may be, shall have the infant child or children brought before them, and bound out to serve as apprentices to good masters, to serve until the age of 21 years, if male, and until the age of 18, if female, in like manner as orphan children are now bound out; and all indentures made by the Justices of the Magistrate's Court shall be by them returned to the Orphan's court of the County, in which said Magistrate's Court is situated, and shall be subject to all the provisions of law, regulating indentures of apprentices in this State. Provided, that the interest in said apprentices shall be considered personal property, and shall be liable to be transferred to any person within this State, but said apprentices shall in no case be removed out of the State.
Sect. 7. And be it enacted, Provided this act shall not be constructed to interfere with the provisions of the several acts of Assembly in favor of free people of color visiting Liberia, Trinidad, British Guiana, or other Colonies.
Sect. 8. And be it enacted, That all acts, or parts of acts, inconsistent with this act, are hereby repealed.
By the Senate, March 21, 1840.
By the House of Delegates, March 21, 1840.
The Colored American, May 30, 1840.
13. INCENDIARY PUBLICATIONS IN BALTIMORE
John C. Pulley, a free coloured man, has been arrested, says the Baltimore Patriot of the 5th instant, "on the charge of receiving abolition papers, knowing them to be such, in violation of section 1st of the act of 1841, which provides that any free negro or mulatto who shall knowingly call for, receive, or demand from any Post Office in this State, or have in his possession, any abolition handbill, pamphlet, newspaper, or pictorial representation of an inflammatory character, having a tendency to create discontent among or stir up to insurrection the people of this State, shall be deemed guilty of felony and when conviciton thereof, shall be sentenced to undergo a confinement in the Penitentiary of this State for a period of not less than ten nor more than twenty years."
The specific charge in this case was the receiving through the Post Office the Ram's Horn. The accused was held to bail in the sum of $500 for his appearance at the next term of the Baltimore City Court. He can scarcely read, it is said, and the paper was sent him by a friend in this city.21
National Anti-Slavery Standard, August 20, 1841.
The Black Man Who Was Imprisoned For Reading Uncle Tom's Cabin.22
I am asked to make an appeal for a poor man—a criminal, just out of jail. He was convicted for three offences:—first, because a black skin covered his face; second, because the English alphabet came and sat upon his tongue; and third, because he had read the story of "Uncle Tom's Cabin."
For these crimes he was tried and convicted by a Maryland Court in 1857, and sentenced to the Baltimore Penitentiary for ten years. After wearing out five years of this long penalty, the gate of his cell was opened a few weeks ago by the new Governor of Maryland, who told him that he might quit the jail, if he would quit also the United States. He immediately promised to go to Canada, and is now in New York on his way thither.
The culprit's name is Samuel Green. He is 62 years of age, though, except for his gray hair, he seems younger; good-looking, intelligent, and amiable; showing in his face God's plain handwriting of a good character; a man whom a stranger would trust at first sight.
He was born a slave in Maryland, and wore the chain for 30 years, until his master died, bequeathing him freedom at the end of five years. The slave, kindled with this hope of becoming a man, worked extra hours, and earned in one year enough money to buy his service for the remaining four. While a slave, he had married a slave-woman, the property of a kind master, who, after her husband had so handsomely worked out his freedom, sold him his wife for 25 cents! Mr. Green says, "My wife was worth more, but I was willing to take her for that!"
They had two children—son and daughter—both slaves of one master. Eight or nine years ago, the son, after praying long for freedom, got it at last, after the manner of Frederick Douglass, who "prayed with his legs." The boy Green started on a moonlight night, and ran away to Canada. His master, fearing the sister would follow, sold her straightway to Missouri; breaking her heart by separating her from her husband and two little children.
About this time, when almost everybody was laughing and crying over the pages of Uncle Tom, one morning while Samuel Green was going to the mill, a blacksmith came out of his shop at the roadside—himself a black man, and since a Methodist clergyman—exclaiming:—
"Sam Green, would you like to see Uncle Tom's Cabin?"
"What is it?" asked Sam, who thought it was some new shanty put up in the neighborhood.
"It's a book," replied the blacksmith; "it's the story of a slave, and it goes for Abolition."
"Yes, I'd like to read it," said Sam; and he took home the story, in two volumes, and began to read. But before he finished, he received a letter from his boy in Canada, saying, "Come and bring mother, and let us all live together here." It was a good idea, but the old man, before venturing to take all his little property to a foreign country, made a hurried trip to Canada, to see what was the prospect of earning a livelihood in the high latitudes. Meanwhile, the story of his absence made noise enough to reach the attentive ears of the civil officers. On his return, a constable knocked at his door, and said, "You are suspected of holding correspondence with the North, and I shall search your house."
"Come in, sir," said Mr. Green; "it is a small cottage; you can soon search it through; but you will find nothing, for there is nothing to find."
But Samuel Green—unsuspecting man!—found to his cost that he was a great rogue, and that the proof of it was in his own house. The constable found three guilty things: first, Uncle Tom's Cabin; second, a map of Canada; third, a picture of a hotel at Niagara Falls. These were all, but were they not enough? What constable in Maryland would have asked for more? What Court in the State would have given less than ten years in the State-prison after such proofs? Besides, even out of Maryland, does not Gov. Stanly, and the editor of the Herald, and other good men, call it a crime for a black man to know how to read?
But without palliating Samuel Green's crime, if any kind-hearted person can be persuaded to show kindness to the criminal, by giving a little money to help the old man off to the penal colony of Canada, it will reach him if sent to
THEODORE TILTON23
The Liberator, July 4, 1862.
15. FREE COLORED POPULATION OF MARYLAND
We have heretofore called attention to the movement in the Maryland Legislature for the passage of stringent laws against the free people of color. This effort to expel or enslave that unfortunate class of population has been agitated for a year or two past, but it received a severe check last summer from the report and resolutions adopted by the Slaveholders' Convention at Baltimore, in which good sense and humanity prevailed over the brutal sentiment which prevails in the lower counties. The agitators, however, have availed themselves of the excitement growing out of the Harper's Ferry affair and the Helper pamphlet, to renew their efforts, and they now have high hopes of enacting their diabolical hatred of the poor free colored people into a law. We are glad to find that there is still spirit enough among the more enlightened and humane portion of the people to resist this wicked scheme, as will be seen by the following memorial, which we find inserted as an advertisement in the Baltimore Sun.24
The following memorial will be immediately presented to the public for their signatures: To the Hon. General Assembly of Maryland:
The undersigned, citizens of Maryland, respectfully represent that they have observed with great surprise and sorrow the introduction into the Legislature of various bills which, if enacted into laws, will bear with great severity on the free colored population of the State, and they most earnestly and respectfully ask that neither these, nor any similar measures, may receive the sanction of your honorable body.
The bills have not yet been published for the information of the people, but sufficient has been made known to indicate their general character.
All future manumissions are prohibited, and all those who have been set free since 1832 are to be banished from the State or reduced to slavery.
The noble support which, during the period of her greatest financial embarrassment, the State continued to grant to the scheme of African colonization, is to be withdrawn.
Free negroes are to be prohibited from acquiring real estate, and such as they already possess is to be sold.
Their churches in the counties are to be sold, and everywhere new barriers are to be opposed to their obtaining the rudiments of knowledge, and even the instructions and consolations of religion.
Any free negro convicted of a peniteniary offence, and every free negro now in the penitentiary, is to be sold as a slave for life.
No negro shall preach or conduct any assembly for religious purposes. Negroes between twelve and fifty-five years of age are to be from time to time hired out for a period of ten years—and those under twelve to be bound out until they are thirty-five.
A new and very large police force is to be established in the counties, for the purpose of carrying out and enforcing these laws, and the regular police of the city of Baltimore is to be charged with the execution of them in the city.
Provision is made for renunciation of freedom and voluntary return to slavery by those who are free.
This is the substance of the bills reported by the committee on the colored population.
The committee of the slaveholders recommend different but very harsh legislation, and, in conformity with their recommendation, bills containing the following provisions have been introduced into the Legislature.
No slave hereafter is to be manumitted, and the fact of a negro going at large, and acting as free, is no longer to be considered as evidence of his freedom. This would deprive many colored people of all testimony of their freedom.
Free negroes are prohibited from acquiring real estate, and, on their death, such as is now held by them is to be sold.
Provision is made for the voluntary return to slavery of all free negroes; and if a mother shall thus return to slavery, all her children under five years of age shall become slaves for life.
Stringent provisions are made against receiving through the post office or otherwise, by any person, white or black, any published matter of an inflammatory character, having a tendency to create discontent among the negroes; and these regulations are so framed as to render innocent white people, as well as black, liable to severe punishment.
Police commissioners are to be appointed throughout the counties and the city of Baltimore to enforce these laws.
They are to have a registry made of all free negroes, and are to cause to be sold until the first day of the ensuing January all such negroes as are not of good and industrious habits, and have not the necessary means of support.
These commissioners are also to bind out all free negro children.
Other harsh laws have been proposed by other persons, one of which prohibits the pursuit of mechanical employment by negroes, and another the granting of them to licenses to trade.
All such legislation, and any legislation which would make the condition of the colored people in any respect less happy and comfortable than it is at present, would be, in the opinion of your memorialists, unjust, oppressive, and uncalled for; not only wrong in itself, but inevitably calculated to inflict deep and lasting injury on the prosperity of Maryland, and to leave an indelible stain on her character.
There are about 90,000 free negroes in the State, many of them respectable, industrious, and religious, constituting a most important part of our laboring population, and the chief portion of our domestic servants.
The tendency of the proposed measures is to banish them from the State; and if this should be the result, their places could not for many years be supplied, and, if supplied at all, would be by a population which would greatly imperil the security of slave property.
They are helpless before the law, and, by every consideration of humanity and manliness, are entitled to protection.
This is not the time for the agitation of this question. Maryland, as becomes her character and position, has always been conservative and moderate, although firm and decided, on the subject of slavery, while at the North and further South bitter controversies have arisen, which, at this moment, endanger the stability of the Union itself.
The enactment of laws such as are now proposed would infallibly lead to an agitation which could do no possible good to any interest or portion of the State. Already a wide-spread alarm has been excited in the minds not only of the colored people, but of a large portion of the white population.
Your memorialists pray that such action may be taken by your honorable body, that all such apprehensions may speedily and forever be put to rest. . . .
New National Era, February 23, 1860.
16. NOTE FROM THE DIARY OF A FREE BLACK
the 5 day June 1833 on Wensday my Wife and children philis Shiner wher sold to couple of gentelman Mr. Franklin and mr John Aremfield and wher caried down to alexandria on the six day of june 1833 on thrusday the 7 of June 1833 on friday i went to alexandria 3 times in one day over the long Bridge and i wher in great distress But never the less with the assistance of god i got My wife and children clear
i am under ten thousand oBlagation to the Hon Magor general adam lin for his kindness to me and my wife and children on the 7 day of June 1833 on friday the general laid a Detachment on my Wife and 3 children at Mr. Aremfield jail and taken them and put them in the county: jail of alexandria to await action of the court and my Wife and children Remained in the county jail in alexandria from the 7 of June 1833 on tusday and the same day Mr. levy humprhey executed papers and Manumeited them free the papers wher executed at the city Hall in Washington She came up from alexandria the 12 day of June 1833 on wensday and i am allso under obligations to Mr Steil and Mrs Steil for ther kindness to My Wife and children while they wher in the Jail and may the Allmighty Bless them they gave me such a Race at that time that all the people that wher acquainted with the affair in alexandria wher sorry for me and appeared to Be weiling to Believe me of my disstress
i am also under great OBlagation to Comodore isaac Hall for the time my Wife wher Sold to George he had command of the Washington navy yard fore his kindness to me and allso to Captain John H Aulie for his kindness to when my Wife wher sold to George and allso to Captain Joseph Hall for his kindness to me at that time at that he wher furst lieuntenant of Washington navy yard and allso under the same OBlagation to Major Cary Selon who wher naval storekeepper and allso to Mr. John Itheride which at that time he the Commodres Clerk and also to Mr David eateon Boatswain all those ABoved name gentilmen all of them wher wiling to help me out of my my distresses in a honest up right way when my Wif andd Childdren wher snacht away from me and sold on the 5 day of june 1833 on Wensday from near whil alley the Between 7 and eight st last and May the lord Bless them all i shal never forget them
Michael Shiner Diary, pp. 52–54, Manuscripts Division, Library of Congress.
A bill has been introduced into the Legislature of Virginia, proposing a plan for the forcible expulsion of all the free colored people from the State—men, women and children—in all, amounting to about sixty thousand persons, as shown by the returns of the last census. The design is to free the State from this class of its inhabitants, whose presence is, by the projectors and advocates of the measure, deemed to be unsafe for the institution of slavery. The bill has not been passed by the Legislature, and we can hardly think that it will be; yet the proposition to do such a deed of darkness is an outrage, almost without a parallel, upon every rule of justice. The thing seems to us so perfectly barbarous, so flagrantly at war with the civilization of the age, that we cannot believe that the good people of Virginia will tolerate the measure.
Where, let us ask, have these colored people a right to live, to breathe and to die, if not on the spot that gave them birth? Virginia, to most of them, is their native land, as much so as it is to the white population; and if they have a right to be any where on the face of the earth, then this right applies to the place of their nativity. Surely, there is no sin in being a freeman, even with a black skin: it ought not to be made a crime, and punished as a trespass upon civil society. If, as individuals, they violate the laws, then let them, as such, be punished according to law: but to expel them as a whole class, on the simple charge of freedom and color, would be a most outrageous infraction of justice. We should like to know, also, whither these persons are to be driven, what is to become of them, and where they are to find a home, if forcibly exiled from the one given them by nature? If they have no right to remain in Virginia, where have they a right to stay? Is it in the other slave States? Is it in the free States? Clearly, their claim of residence is not as good upon either of the latter, as it is upon the former: and thence the consequence of the doctrine would be, that free colored people have no right to be any where; that is to say, God has made some men, and sent them into this world, that he ought not to have made, since there is no place for them. If Virginia may expel them, without crime, on the mere charge of freedom and color, then other civil communities may refuse to receive them for the same reason. If they have no right to stay where they were born, then obviously they have no better right to go where they were not born.
The Liberator, March 8, 1853.
18. STATE OF DELAWARE VS MOSES MCCOLLY, NEGRO
Indictment no. 10 to April Term 1841
And now to wit, this sixth of April A.D. 1841 it satisfactorily appearing to the Court that the defendent is not able to pay the fine and cost which he has adjudged to pay—It is therefore ordered by the Court that the said defendent be disposed of as a servant to any person or persons residing in this State, for the highest sum that can be obtained for such term as shall be necessary in order to raise sufficient money to satisfy such fine and cost, or any balance remaining after such payment as can be obtained from the said defendent provided such term shall not exceed seven years
Atest
G.M. Manlow C.P.
Ind for cuting sapling convicted & fined    $5.00
Bill of fees

Delaware Archives, Division of Historical and Cultural Affairs, Hall of Records, Dover, Delaware.
Wilmington (Delaware), March 1, 1850
Our laws are much more severe on the colored than on white persons for the same offence. I have known a colored person charged with stealing a ham that could not pay two-fold its value, and cost of prosecution, sold as a servant for seven years; and in some instances it has been done to a father or mother of a family that have had several children. Many of our petty officers have no principle, and take up our colored people under false pretences, without their having offended in any way just for the sake of the paltry fees allowed in such cases.
Thos. Garret
The Anti-Slavery Bugle (Salem, Ohio), March 23, 1850.
20. 1845 ACT OF GEORGIA LEGISLATURE DIRECTED AGAINST BLACK MECHANICS
An act to prohibit colored mechanics and masons, being slaves or free persons of color, being mechanics or masons, from making contracts for the erection of buildings, or for the repair of buildings, and declaring the white person or persons directly or indirectly contracting with or employing them, as well as the master, employer, manager, or agent for said slave, or guardian for said free person of color, authorizing or permitting the same, guilty of a misdemeanor.
Section 1. Be it enacted by the Senate and House of Representatives of the state of Georgia in General Assembly met, and it is hereby enacted by the authority of the same, That from and after the first day of February next, each and every white person who shall hereafter contract or bargain with any slave mechanic, or mason, or free person of color, being a mechanic or mason, shall be liable to be indicted for a misdemeanor; and on conviction, to be fined, at the discretion of the court, not exceeding two hundred dollars.
W. E. B. Du Bois and Augustus Granville Dill, "The Negro American Artisan," Atlanta University Publications, No. 17 (Atlanta, 1912), pp. 32–33.
21. THE CONDITION OF THE FREE NEGRO IN LOUISIANA
Mr. EDITOR: The legal condition of the free negro in Louisiana, contrasted with his legal condition in the Northern States, is largely in his favor. The free negro in Louisiana is governed by the same laws which govern the free blanc, or white man; and, what is more, they are administered with exact justice to both classes of men. There is no foolish prejudice in that State against the color of the free man, when the law sits upon him. The only question is, is he free? If he is, he enjoys all the immunities of the white man, so far as laws grant them to him. Even socially, the free black has privileges which he does not enjoy in the North. His presence is tolerated where it is not allowed in Northern States. He is suffered to mingle with merchants on 'Change. He is not expelled from traveling vehicles, as Dr. Delany, of Pittsburg, was recently driven out of a coach near Buffalo. He is found in the courts of justice as plaintiff and defendant, and mingles with the whites on perfect equality. This brings me to the point to which I wish to call your attention, and that of your Northern and Western readers.25
In the St. Martin's Creole of a late date, I find the following advertisement in French, which I translate. It is evidence from the record how impartially the law is administered in Louisiana, whether the parties be white or black.
DISTRICT COURT, PARISH OF ST. MARTIN. NO. 3961. Ls. Decuir, free man of color, against Rosina Ronchon, free woman of color.—In this case, according to law and the evidence, which is in favor of the plaintiff, it is ordered, adjudged, and decreed, that he shall be forever divorced from the defendant, and that the parties be restored to that position which they occupied previous to marriage; and by consent of parties, it is agreed that the defendant, Rosina Ronchon, shall keep, at her expense, the child born of the marriage until it is ten years old; and that she shall recover the personal and the real property which she brought in marriage. It is further ordered, &c., that the defendant shall pay the expenses that shall be taxed in this case.
Done and signed in open court, this 23d day of October, 1847.
C. VOORHIES,
Judge of the 14th District.
New National Era, June 29, 1848.
22. EXODUS OF FREE NEGROES FROM SOUTH CAROLINA
A considerable number have arrived in Philadelphia; but by far the largest portion have been forced into slavery. The process by which they are made slaves is as follows:—Up to 1822, emancipations were frequent in the State, but in that year a law was passed forbidding manumission. By that law, slave owners, upon resigning their ownership in negroes, were to place them in the hands of trustees, who were to be vouchers for the negroes, pay their taxes, and a tax, except in the negro's possession, was evidence that he had been made free.
The law lately passed makes one man their guardian. They are to be entered on the tax list as slaves, and must always wear a badge of servitude, made of copper, with their number upon it. If found without a trustee, they are to be sold at the block; if failing to have a badge, they are to be fined $20, or imprisoned. Under such stringency there was but little hope for them. They might be robbed of their badges by designing men, then imprisoned, and then sold unconditionally into slavery. To escape such a fate, thousands of the negroes have fled from the State. The Philadelphia Press has an account of the condition of those which have arrived in that city, which we copy in part. Up to November 1, more than seven hundred and ninety persons departed from the port of Charleston, about one hundred and fifty of whom have arrived at Philadelphia.
The facts given by the Press are from a personal visit by the editor to a large number of families. The editor says:
Of the one hundred and fifty mentioned, two-thirds are trades-people. The men are carpenters, tailors, shoemakers, and masons; the females, mantua-makers, milliners, laundresses, and nurses. We read a long list of certificates from white ladies of Charleston, stating that one of these was an 'excellent and faithful nurse.' One testimonial was addressed 'to the ladies of the North,' and certified that the bearer had attended her through a 'long and dangerous sickness'—a fact which does not go far to show the gratitude of the recent Palmetto legislation.
Another party bore a certificate of his proficiency in plastering, from a master-mason of Charleston.
The Liberator, November 23, 1860.
23. ARRIVAL OF FREE COLORED PEOPLE FROM SOUTH CAROLINA
Since the 1st inst., quite a large number of the intelligent portion of of the free colored people of Charleston have arrived in this city, among whom were many first-class mechanics. A part of these, we are pleased to learn, will find employment here, and the balance will go to Hayti. Among those who left Charleston on the 13th in the steamer Marion were Mr. H. T. Graddick, his wife, and mother-in-law. Owing to rough weather, the vessel was obliged to lay to until the 15th, and during her detention officers came on board and seized Mr. G., on the authority of the Governor, carried him back to Charleston, and there detained him until the sailing of the next steamer. Their excuse was that he, being an old harbor pilot, they suspected that he was leaving for the purpose of bringing Northern vessels into Charleston harbor. We had the pleasure of an interview with Mr. Graddick, and learned from him that he and others had to make great sacrifices of property in order to get away—as, for instance, a house and lot valued at $1500 before the excitement, was sold by Mr. G. for $600. It is supposed that the stampede of this class of persons during this month and next will be very great, as they do not relish the idea of having their property confiscated and themselves reduced to bondate, to enable the fire-eaters to raise the "sinews of war." We copy the following in relation to these people from the "Tribune:"
A great portion of the Charleston free colored people, they say, read and write, and become well posted in legislation directly concerning themselves, through the medium of the daily papers. Among the bills suggested in the South Carolina Legislature relating to the free negroes, they told our reporter there were no less than six in number, none of which has yet been adopted. The leading one was that introduced by Mr. Aldridge of the Barnwell District, about the first of January, which provides that all of them shall leave the State or be sold, and their property, no matter how large, be confiscated. Mr. Easton of Charleston proposed that they should be allowed to remain, but he prevented from carrying on any business; not to allow even their guardian or agent to hire them, but leaving that alone to bosses, who were to have the right to hire them by the day. Mr. Lessene had presented a petition against this which had received about 600 signers in Charleston. Another amendment was next offered by Mr. Reade, giving the slaves who, by neglecting to depart, lost their freedom, the privilege of choosing their own masters, who were each to donate the magnificent sum of $5 to those coming into their post session by this statute. To this it was objected because it would be giving them too much privilege.
These and different propositions, they tell us, have been made in the councils of the Secessionists, and the free colored people have learned enough about it to become fearful that their liberty may be taken away at any moment; so that all of them who have the money at hand are leaving. Among other oppressive features of the day, they inform our reporter, is that about six months ago the Government stopped their children from going to school, and about the same time a law was enacted declaring that all who had purchased their freedom prior to 1822 were yet to be considered as slaves, on the ground of some point of illegality. This drove about 700 of them away from Charleston alone. The Mayor's officers had called upon them and informed them that they were not free, though they had paid the money. They believed that all this was done because the public treasury was in need of funds. The authorities also made them pay $20 for not taking out a "badge," for which they had to pay $5 more, and mechanics $7. They say that each free negro has to pay $13.75 annually as "head-tax;" that the amount this year will probably not be less than $40. Those who own property are, besides, taxed like other people. They are not allowed to meet in any sort of meeting, social or public, and cannot have a dance or anything of that sort among themselves, without permission from the Mayor; and if they attempt to disregard this regulation, the police come up and take them to the guard-house. Even in the streets it is not allowed, they say, that more than two should engage in conversation together, and this law was strictly enforced. There was a law now pending which forbids colored people from riding in a carriage. They are not allowed to buy any sort of liquor, even from a druggist. In the country, they tell us, the free colored people are considered to be a "thieving set." At Columbia the head tax was $26 last year. . . .
New York Anglo-African, January 26, 1861.
LABOR VIOLENCE IN BLACK AND WHITE
24. A COAL MINE—NEGRO AND ENGLISH MINERS
Yesterday I visited a coal-pit: the majority of the mining laborers are slaves, and uncommonly athletic and fine-looking negroes; but a considerable number of white hands are also employed, and they occupy all the responsible posts. The slaves are, some of them, owned by the Mining Company; but the most are hired of their owners, at from $120 to $200 a year, the company boarding and clothing them. (I have the impression that I heard it was customary to give them a certain allowance of money and let them find their own board).
The white hands are mostly English or Welchmen. One of them, with whom I conversed, told me that he had been here several years; he had previously lived some years at the North. He got better wages here than he had earned at the North, but he was not contented, and did not intend to remain. On pressing him for the reason of his discontent, he said, after some hesitation, that he had rather live where he could be more free; a man had to be too "discreet" here: if one happened to say anything that gave offense, they thought no more of drawing a pistol or knife upon him, than they would of kicking a dog that was in their way. Not long since, a young English fellow came to the pit, and was put to work along with a gang of negroes. One morning, about a week afterwards, twenty or thirty men called on him, and told him that they would allow him fifteen minutes to get out of sight, and if they ever saw him in those parts again, they would "give him hell." They were all armed, and there was nothing for the young fellow to do but to move "right off."
"What reason did they give him for it?"
"They did not give him any reason."
"But what had he done?"
"Why I believe they thought he had been too free with the niggers; he wasn't used to them, you see, sir, and he talked to 'em free like, and they thought he'd make 'em think too much of themselves."
He said the slaves were very well fed, and well treated—not worked over hard. They were employed night and day, in relays.
The coal from these beds is of special value for gas manufacture, and is shipped, for that purpose, to all the large towns on the Atlantic sea-board, even to beyond Boston. It is delivered to shipping at Richmond, at fifteen cents a bushel: about thirty bushels go to a ton.
Frederick Law Olmsted, A Journey in the Seaboard Slave States, with Remarks on Their Economy (New York, 1859), pp. 47–48.
25. TROUBLE AMONG THE BRICKMAKERS
The spirit of lawlessness, and interferences with the rights of others, which has exhibited itself in several sections of the city recently, broke out again yesterday among several brick-yards located upon the Ferry road, Federal Hill. During one early part of the day a band of some twenty-five or thirty men, organized for the object visited the brick-yard of Henry Thomas, Esq., for the purpose of driving off the colored employees, and supplanting them in their places. The workmen were attacked by the mob and compelled to run for their lives—pistols, and several instances guns being fired upon them. The colored employees in the yard of the Messrs. Donnelly, adjoining, were also assailed and driven from their work by menance and pistol shots. It was rumored that one colored man was badly shot. Serious difficulty being apprehended, about two o'clock Mr. Thomas was induced to apply to the southern district police station for a force to suppress the riotous proceedings. Capt. Woods at once dispatched to the scene Lieut. Davis, with Sergeants Crouch, Roxenberry, Chambers, Somberton, and a posse of about eighteen officers. This determined movement had the effect to disperse the rioters, and upon the arrival of the police they had disappeared. The aggression, however, caused a perfect stampede among the colored workmen, . . .
Baltimore Sun, May 18, 1858.
could be collected again. A number of police remained upon the ground during the day for the protection of the yards. To-day the authorities will exercise surveillance over the yards to prevent further interference.
Baltimore Sun, May 18, 1858.
26. WHITE WORKERS ATTACK FREDERICK DOUGLASS
Until a very little while before I went there, white and black ship carpenters worked side by side, in the ship yards of Mr. Gardiner, Mr. Duncan, Mr. Walter Price, and Mr. Robb. Nobody seemed to see any impropriety with it. To outward seeming, all hands were well satisfied. Some of the blacks were first rate workmen, and were given jobs requiring the highest skill. All at once, however, the white carpenters knocked off, and swore that they would no longer work on the same stage with free negroes. Taking advantage of the heavy contract resting upon Mr. Gardiner, to have the war vessels for Mexico ready to launch in July, and of the difficulty of getting other hands at that season of the year, they swore they would not strike another blow for him, unless he would discharge his free colored workmen.
Now, although this movement did not extend to me, in form, it did reach me, in fact. The spirit which it awakened was one of malice and bitterness, toward colored people generally, and I suffered with the rest, and suffered severely. My fellow apprentices very soon began to feel it to be degrading to work with me. They began to put on high looks, and to talk contemptuously and maliciously of "the niggers;" saying, that "they would take the country," that "they ought to be killed." Encouraged by the cowardly workmen, who, knowing me to be a slave, made no issue with Mr. Gardiner about my being there, these young men did their utmost to make it impossible for me to stay. They seldom called me to do anything, without coupling the call with a curse, and, Edward North, the biggest in every thing, rascality included, ventured to strike me, whereupon I picked him up, and threw him into the dock. Whenever any of them struck me, I struck back again, regardless of consequences. I could manage any of them singly; and, while I could keep them from combining, I succeeded very well. In the conflict which ended my stay at Mr. Gardiner's, I was beset by four of them at once—Ned North, Ned Hays, Bill Stewart, and Tom Humphreys. Two of them were as large as myself, and they came near killing me, in broad day light. The attack was made suddenly, and simultaneously. One came in front, armed with a brick; there was one at each side, and one behind, and they closed up around me. I was struck on all sides; and, while I was attending to those in front, I received a blow on my head, from behind, dealt with a heavy hand-spike. I was completely stunned by the blow, and fell, heavily, on the ground, among the timbers. Taking advantage of my fall, they rushed upon me, and began to pound me with their fists. I let them lay on, for a while, after I came to myself, with a view of gaining strength. They did me little damage, so far; but, finally, getting tired of that sport, I gave a sudden surge, and, despite their weight, I rose to my hands and knees. Just as I did this, one of their number (I know not which) planted a blow with his boot in my left eye, which, for a time, seemed to have burst my eyeball. When they saw my eye completely closed, my face covered with blood, and I staggering under the stunning blows they had given me, they left me. As soon as I gathered sufficient strength, I picked up the hand-spike, and, madly enough, attempted to pursue them; but here the carpenters interfered, and compelled me to give up my frenzied pursuit. It was impossible to stand against so many.
Dear reader, you can hardly believe the statement, but it is true, and, therefore, I write it down: not fewer than fifty white men stood by, and saw this brutal and shameless outrage committed, and not a man of them all interposed a single word of mercy. There were four against one, and that one's face was beaten and battered most horribly, and no one said, "that is enough;" but some cried out, "kill him—kill him—kill the d—d nigger! knock his brains out—he struck a white person." I mention this inhuman outcry, to show the character of the men, and the spirit of the times, at Gardiner's ship yard, and, indeed, in Baltimore generally, in 1836. As I look back to this period, I am almost amazed that I was not murdered outright, in that ship yard, so murderous was the spirit which prevailed there. On two occasions, while there, I came near losing my life. I was driving bolts in the hold, through the keelson, with Hays. In its course, the bolt bent. Hays cursed me, and said it was my blow which bent the bolt. I denied this, and charged it upon him. In a fit of rage he seized an adze, and darted toward me. I met him with a maul, and parried his blow, or I should have then lost my life. A son of old Tom Lanman, (the latter's double murder I have elsewhere charged upon him,) in the spirit of his miserable father, made an assault upon me, but the blow with his maul missed me. After the united assault of North, Stewart, Hays and Humphreys, finding that the carpenters were as bitter toward me as the apprentices, and that the latter were probably set on by the former, I found my only chance for life was in flight. I succeeded in getting away, without an additional blow. To strike a white man, was death, by Lynch law, in Gardiner's ship yard; nor was there much of any other law toward colored people, at that time, in any other part of Maryland. The whole sentiment of Baltimore was murderous.
After making my escape from the ship yard, I went straight home, and related the story of the outrage to [my] Master Hugh Auld. . . .
. . . His indignation was really strong and healthy; but, unfortunately, it resulted from the thought that his rights of property, in my person, had not been respected, more than from any sense of the outrage committed on me as a man. . . . He related the outrage to the magistrate [Mr. Watson] . . . and seemed to expect that a warrant would, at once, be issued for the arrest of the lawless ruffians. . . .
"Mr. Auld, who saw this assault of which you speak?"
"It was done, sir, in the presence of a ship yard full of hands."
"Sir," said Watson, "I am sorry, but I cannot move in this matter except upon the oath of white witnesses."
"But here's the bou; look at his head and face . . . they show what has been done."
But Watson insisted that he was not authorized to do anything, unless white witnesses . . . would come forward, and testify to what had taken place. He could issue no warrant on my word, against white persons; and, if I had been killed in the presence of a thousand blacks, their testimony, combined, would have been insufficient to arrest a single murderer.
Of course, it was impossible to get any white man to testify against my assailants. The carpenters saw what was done; but the actors were but the agents of their malice, and did only what the carpenters sanctioned. They had cried, with one accord, "kill the nigger!" kill the nigger!" Even those who may have pitied me, if any such were among them, lacked the moral courage to come and volunteer their evidence. The slightest manifestation of sympathy or justice toward a person of color, was denounced as abolitionism; and the name of abolitionist, subjected its bearer to frightful liabilities. "D—n abolitionists," and "Kill the niggers," were the watch-words of the foul-mouthed ruffians of those days. Nothing was done, and probably there would not have been any thing done, had I been killed in the affray. The laws and the morals of the christian city of Baltimore, afforded no protection to the sable denizens of that city.
Frederick Douglass, My Bondage and My Freedom (New York, 1855), pp. 308–18.
A paragraph has recently been published, derived from South Carolina papers, stating that a workman engaged on the State House, in Columbia, S. C., was recently seized by a mob, on account, as was alleged, of holding anti-slavery opinions, and that he received thirty-nine lashes, and was tarred and feathered, and then conveyed to Charleston. The following detailed narrative of the injuries inflicted upon the man, is published in the New York independent. A more inhuman deed is seldom perpetrated. The Independent says:
We have seen this unfortunate man, and heard his story, and looked at his wounds. His name is James Power. He is an intelligent young man, about twenty-three years of age, a native of Wexford, Ireland, and a stone-cutter by trade. He went from Philadelphia to the South, and obtained employment in Columbia, where he had worked for nine months.
The only opinion he ever expressed against slavery was that it caused a white laborer in the South to be looked upon as an inferior and degraded man. But this was enough. The remark was reported to the Vigilance Committee, (composed of twelve members,) who immediately ordered the police to arrest him. He was seized two miles away from town, in attempting to escape. He was brought back and put in a cell, where he remained for three days, during which time he was denied the use of pen and ink, and all communication with his friends outside.
At length he was taken before the Mayor. Four persons appeared, and bore testimony to the remark which he had made. The evidence was conclusive. He was returned to prison, and kept locked up for six days. During this time he was allowed only two scanty meals a day, and the food was carried to him by a negro. He was then taken out of jail in the custody of two marshals, who said to him:
'You are so fond of niggers, that we are going to give you a nigger escort.'
He was led through the main street amid a great crowd, hooting and yelling, the marshals compelling two negroes to drag him through the puddles and muddy places of the street, and of the State House yard! As he was taken past the State House, three members of the Legislature, including the Speaker, stood looking on and laughing! The crowd gradually increased until it numbered several thousand persons, headed by a troop of horse.
Douglass' Monthly, July 1859.
OBSERVATIONS ON RACE RELATIONS
27. SOUTHERN WHITES AND BLACKS COULD WORK TOGETHER
. . . He has now there ten or fifteen white men, mechanics, and some twenty or more negroes, working well. As a proof, on Saturday they launched a fine boat built for this river, capable to carry two tow-boats. The scene to us was novel and sublime.
He has another Steam-Boat framed and preparing to receive the plank, and to all appearance, timber sufficient to build three or four tow-boats. This has all been done since the first of January under the immediate direction of Captain Fish, who seems to conduct the business as becomes a master-workman. Besides, this, they have built a small town, as cabbins to live in, shops, etc., and small craft, such as flats to convey timber up and down the river.
Exerpt from a letter to the editor of the Federal Union (Georgia), March 18, 1836.
28. TO THE CONTRACTORS FOR MASON'S AND CARPENTER'S WORK
Gentlemen: I desire your candid consideration of the views I shall here express. I ask no reply to them except at your own volition. I am aware that most of you have too strong antipathy to encourage the masonry and carpentry trades of your poor white brothers, that your predilections for giving employment in your line of business to ebony workers have either so cheapened the white man's labor, or expatriated hence with but a few solitary exceptions, all the white masons and carpenters of this town.
The white man is the only real, legal, moral and civil proprietor of this country and state. The right of his proprietorship reaches from the date of the studies of those white men, Copernicus and Gallileo, who indicated from the seclusion of their closets the sphericity of the earth: which sphericity hinted to another white man, Columbus, the possibility by a westerly course of sailing, of finding land. Hence by white man alone was this continent discovered; by the prowess of white men alone (though not always properly or humanely exercised), were the fierce and active Indians driven occidentally: and if swarms and hordes of infuriated red men pour down now from the Northwest, like the wintry blast thereof, the white men alone, aye, those to whom you decline to give money for bread and clothes, for their famishing families, in the logic matter of withholding work from them, or employing negroes, in the sequel, to cheapen their wages to a rate that amounts to a moral and physical impossibility for them either to live here and support their families—would bare their breasts to the keen and whizzing shafts of the savage crusaders—defending negroes too in the bargain, for if left to themselves without our aid, the Indians would or can sweep the negroes hence, "as dew drops are shaken from the lion's mane."
The right, then, gentlemen, you will no doubt candidly admit, of the white man to employment in preference to negroes, who must defer to us since they live well enough on plantations, cannot be considered impeachable by contractors. It is a right more virtual and indisputable than that of agrarianism. As masters of the polls in a majority, carrying all before them, I am surprised the poor do not elect faithful members to the Legislature, who will make it penal to prefer negro mechanic labor to white men's. But of the premises as I have now laid them down, you will candidly judge for yourselves, and draw a conclusion with me, that white bricklayers and house joiners must henceforward have ample work and remuneration; and yourselves and other contractors will set the example, and pursue it for the future without deviation. Yours respectfully
J. J. FLOURNOY.
An open letter from a local citizen published in the Southern Banner (Athens, Ga.), January 13, 1838.
29. A VISITOR COMMENTS ON RACE RELATIONS IN VIRGINIA COAL MINES
The laborers have each their proper duty to perform—some are employed to dig coal—some to blast rock, and others to attend upon the shafts, fill and manage the cars, &c. There are about two hundred in all—made up of Americans, English, Scotch, free blacks and slaves. . . . Though politically and naturally there is a difference in these operatives, yet every tub here stands on its own bottom—but when they get out of the Pits they assume to each other their proper attitude. The free blacks in these pits are very respectable, and make money for themselves and children. It is a pity that a great number of the free blacks in the State will not or cannot be made to follow suit, instead of being paupers to the counties. One of these free hands tried the North, but found that he could do better at home, and after wasting $150 as an experiment, begged to come back, which he finally did at the expense of the President of the Company. Many of the slaves lay up $50 per annum for work done out of the regular hours. This should teach some of those abolition blatherskites at the North that many of their stories are too big for this region altogether. They won't go down any way. The worst slaves in the South are the men who own them.
"The President of the Company, Maj. Wooldridge, is not annoyed and harassed for a 'respectable minister' to preach the Gospel to his people, as District Attorney B. F. Butler was at Sandy Hill—for he has three or four of them. The colored operatives have a meeting house and a Church organized here. On Sabbath last three professed to have 'new hearts and new hopes,' and are soon to be 'buried in baptism.' The place is in a high degree moral and orderly and affords conclusive evidence that all we need to change the whose aspect of affairs in this State and to better our condition, is the WILL to change our WAYS.
John Smith (of Richmond, Va.) in the Richmond whig and Public Advertiser, June 26, 1846.
30. FREE AND SLAVE LABOR IN VIRGINIA
The white workmen on the Tredegar and Armory Iron Works at Richmond, Va., have made a strike in consequence of the employment of slaves on a portion of the works. As an indication of the progress of the age, this movement is important, striking as it does, the very root of slave labor. It sets up a distinction in the slave States themselves between the servile labor of the degraded beings who are held in bondage, and the voluntary labor of the skilful mechanics who have gone there from the North—a distinction which the South have not been accustomed to behold, and one they would fain hope never to see exist. When the principle that "all labor is degrading" is overthrown, and the mechanic whose capital is his ingenuity and his sinews, begins to be regarded as what he really is by the cotton lords and tobacco growers of the South, they will not, like the Richmond workmen be thrown upon their dignity as citizens, and their manhood as freemen, to save themselves from being classed and associated with slaves, and to be treated in almost every sense like them. The progress of the age is onward, and light is breaking slowly, though surely on one of the most productive though badly managed sections of the republic.
Barre Patriot.
Voice of Industry, June 11, 1847.
31. SLAVE-LABOUR VS. FREE-LABOUR
Our readers will remember the difficulty which occurred recently at the Tredegar Iron Works, in Virginia. The white operatives refused to work because slaves were employed, not, we presume, from any objection to labour with them, but because there could be no fair competition between themselves and the owners of slaves. A slave-owner, who gives to his slaves barely the simplest necessaries of life, and none of the comforts and luxuries, but who gains for himself from the product of their united labours, a large return on the capital invested in their bodies, can afford to let them out at a price which is a miserable remuneration to the free labourer, who has the fruits of his own labour only to support himself and his family. Here is the cause of the wretched condition of the "poor white folks" of all slave-countries, and, to a certain degree, the still more miserable and abject condition of the free coloured people, who are pointed at as evidence of the inherent imbecility of negroes, and of their inability to take care of themselves.26
In this proposition, too, is involved the general want of enterprise and prosperity in slave States. Those who constitute the chief portion of the labouring population, do only so much as they are compelled to do, for they are not stimulated by the fear of want, or the hope of gain; they are sure enough to support life, and are certain of receiving nothing more. The remaining portion of the labouring class have little other stimulant than the fear of want, because their labour does not receive an adequate reward,—because their labour is servile and therefore disgraceful,—and because, from both these causes, it cannot be the avenue to wealth and respectability. The remainder of the people are the slave-owners, who are to be sure, a small minority, but who live upon the unrequited toil of their slaves, and through their power over the slave-labour hold all other in check.
The attempts now making at the South to introduce manufactures, must prove abortive for these reasons.—The poor whites cannot, will not work, in competition with the invested labour-capital of the slave-owners; and if the slaves could be made to work enough to render manufactories profitable, they would become too intelligent to labour for nothing but a peck of corn per week, and two suits of clothes per year, and would soon become united enough in large bodies of manufacturing people, either to compel their emancipation, or render it necessary to break up all such establishments. It is impossible, then, that there can be in a slave-country any other prosperity than that which belongs to a rude system of agriculture; for there can be no other than ill-directed, and cramped, and unwilling industry.
All this, perhaps, and much more to the same purpose, the white operatives at the Tredegar Iron Works would have said, in extenuation of their contumacy, to the slave-holders, had they been permitted. But they were not allowed to say anything. Mr. Anderson, the proprietor, published a list of the rates of wages paid at his works, and declared them to be higher than the rates paid at similar establishments at the North. All this might be true, for the simple reason that the demand for the sort of labour he wanted was greater than the supply, inasmuch as the slaves were not yet educated up to that point when their labour could come readily into competition with that of white workmen. This, these workmen seemed to understand, declared that they did not demand higher wages, but refused to work till the slaves were discharged. Thereupon they were denounced as conspirators against the peace and prosperity of the "Peculiar Institution," and treated accordingly. It was a struggle between Slave-Labour, and Free-Labour—between the slaveholder, who lives upon the toil of others, and the labouring man, who only asks for a fair field and no favour; and the latter, of course, went to the wall.
Precisely what measures were resorted to the quell these rebellious spirits who thus asserted the dignity of labour, and the right of every man "to eat his own bread in the sweat of his face," we have not learned.—We only know that the strong arm of the law was resorted to, and the operatives were brought to disclaim any purpose of uniting in any unlawful combination, or of violating the laws in any respect. And Mr. Anderson maintains his determination of employing such labour as he sees fit, which of course will be cheap slave-labor, when slaves enough of sufficient intelligence can be had to answer his purpose.
National Anti-Slavery Standard, July 1, 1847.
32. RESPONSE TO THE STRIKE OF WHITE WORKERS TO ELIMINATE BLACK COMPETITION AT TREDEGAR IRON WORKS, 1847
The principle is advocated for the first time, we believe, in a slaveholding State, that the employer may be prevented from making use of slave labor. This principle strikes at the root of all the rights and privileges of the master and, if acknowledged, or permitted to gain a foothold, will soon wholly destroy the value of slave property.
Richmond (Virginia) Times and Compiler, May 28, 1847.
33. A FOREIGN TRAVELLER'S OBSERVATIONS ON INDUSTRIAL RACE RELATIONS IN THE SOUTH
. . . It had previously been imagined that an impassable gulf separated the two races; but now it is proved that more than half that space can, in a few generations, be successfully passed over, and the humble negro of the coast of Guinea has shown himself to be one of the most imitative and improvable of human beings. Yet the experiment may still be defeated, not so much by the fanaticism of abolitionists, or the prejudices of those slave-owners who are called perpetualists, who maintain that slavery should be permanent, and that it is a blessing in itself to the negro, but by the jealousy of an unscrupulous democracy invested with political power. Of the imminent nature of this peril, I was never fully aware, until I was startled by the publication of an act passed by the Legislature of Georgia during my visit to that State, December 27, 1845. The following is the preamble and one of the clauses:—
"An Act to prohibit coloured mechanics and masons, being slaves, or free persons of colour, being mechanics or masons, from making contracts for the erection of buildings, or for the repair of buildings, and declaring the white person or persons directly or indirectly contracting with or employing them, as well as the master, employer, manager, or agent for said slave, or said free person of colour, authorising or permitting the same, guilty of a misdemeanor," and prescribing punishment for the violation of this act.
"Section 1.—Be it enacted by the Senate and House of Representatives of the State of Georgia in General Assembly met, and it is hereby enacted by the authority of the same, That from and after the 1st day of February next, each and every white person who shall hereafter contract or bargain with any slave, mechanic, or mason, or free person of colour, being a mechanic or mason, shall be liable to be indicted for a misdemeanor; and, on conviction, to be fined, at the discretion of the Court, not exceeding two hundred dollars."
Then follows another clause imposing the like penalties on the owners of slaves, or guardians of free persons of color, who authorise the contracts prohibited by this statute.
I may first observe, in regard to this disgraceful law, which was only carried by a small majority in the Georgian Legislature, that it proves that not a few of the negro race have got on so well in the world in reputation and fortune, and in skill in certain arts, that it was worth while to legislate against them in order to keep them down, and prevent them from entering into successful rivalry with the whites. It confirms, therefore, most fully the impression which all I saw in Georgia had left on my mind, that the blacks are steadily rising in social importance in spite of slavery; or, to speak more correctly, by aid of that institution, assuming, as it does, in proportion as the whites became civilised, a more and more mitigated form. In the next place I shall endeavour to explain to the English reader the real meaning of so extraordinary a decree. Mr. R. H. Wilde, formerly senator for Georgia, told me that he once knew a coloured freeman who had been brought up as a saddler, and was a good workman. To his surprise he found him one day at Saratoga, in the State of New York, acting as servant at an hotel. "Could you not get higher wages," he inquired, "as a saddler?" "Yes," answered he; "but no sooner was I engaged by a 'boss,' than all the other workmen quitted." They did so, not because he was a slave, for he had long been emancipated, but because he was a negro. It is evident, therefore, that it requires in Georgia the force of a positive statute to deprive the negro, whether he be a freeman or slave, of those advantages from which, in a free State like New York, he is excluded, without any legislative interference.
I have heard apologists in the North endeavouring to account for the degraded position which the negroes hold, socially and politically, in the Free States, by saying they belong to a race which is kept in a state of slavery in the South. But, if they really desired to accelerate emancipation, they would begin by setting an example to the Southern States, and treating the black race with more respect and more on a footing of equality. I once heard some Irish workmen complain in New York, "that the niggers shut them out from all the easiest ways of getting a livelihood;" and many white mechanics, who had emigrated from the North to the Slave States, declared to me that every opening in their trades were closed to them, because black artisans were employed by their owners in preference. Hence, they are now using in Georgia the power given to them by an exclusive franchise, to pass disabling statutes against the blacks, to prevent them from engaging in certain kinds of work. In several States, Virginia among others, I heard of strikes, where the white workmen bound themselves not to return to their employment until the master had discharged all his coloured people. Such combinations will, no doubt, forward the substitution of white for negro labour, and may hasten the era of general emancipation. But if this measure be prematurely adopted, the negroes are a doomed race, and already their situation is most critical. I found a deep conviction prevailing in the minds of experienced slave-owners, of the injury which threatened them; and more than once, in Kentucky and elsewhere, in answer to my suggestions, that the time for introducing free labour had come, they said, "I think so; we must get rid of the negroes." "Do you not think," said I, "if you could send them all away, that some parts of the country would be depopulated, seeing how unhealthy the low grounds are for the whites?" "Perhaps so," replied one planter," "but other regions would become more productive by way of compensation; the insalubrity of the Pontine marshes would be no excuse for negro slavery in Italy. All might end well," he added, "were it not that so many anti-slavery men in the North are as precipitate and impatient as if they believed, like the Millerites, that the world was coming to an end."27
One of the most reasonable advocates of immediate emancipation whom I met with in the North, said to me, "You are like many of our politicians, who can look on one side only of a great question. Grant the possibility of these three millions of coloured people or even twelve millions of them fifty years hence, being capable of amalgamating with the whites, such a result might be to you perhaps, as a philanthropist or physiologist, a very interesting experiment; but would not the progress of the whites be retarded, and our race deteriorated, nearly in the same proportion as the negroes would gain? Why not consider the interests of the white race by hastening the abolition of slavery. The whites constitute nearly six-sevenths of our whole population. As a philanthropist, you are bound to look to the greatest good of the two races collectively, or the advantage of the whole population of the Union."
Sir Charles Lyell, Second Visit to the United States of North America, Vol. II (New York, 1855), pp. 97–101.
34. TWO BLACK FOUNDRYMEN PROSPER
'In the foundry of Gaty, M'Cune & Co., in this city, among its two hundred and seventy operatives are two negroes, who began life at the establishment, in 1849, as slaves. By dint of unlagging industry, in due course of time one of them bought himself, wife and five children, paying for himself $1400, and on an average for his wife and children $800 each. This negro is now supposed to be worth, in his own right, more than $5000 in real estate in that city. Another negro entered the factory about the same time, amassed sufficient money by his attention to duty to purchase himself at the price of $1500, his wife at $500, and four children at $400, and is now worth $6000 in real estate. These negroes were bought from their masters by Mr. Gray, with the understanding that they should work themselves free, and out of his own pocket he gave two per cent. interest on the deferred payments.'
The Liberator, October 26, 1860.
35. CONSTITUTION OF THE BALTIMORE SOCIETY FOR THE PROTECTION OF FREE PEOPLE OF COLOUR, 1827
"The Baltimore Society for the protection of free people of colour," having been instituted for the purpose of aiding those who are in fact or prospectively entitled to their freedom, in maintaining their rights against violation, have deemed it expedient to prefix to their constitution, a short exposition of the motives which have induced them to associate, and of the objects they have in view. The members are aware that institutions of this character are received with jealousy by many intelligent and well disposed persons, from an apprehension that they are inimical to the rights of slaveholders; they therefore feel it incumbent upon them to declare most explicitly, that, whatever may be their individual sentiments in relation to the policy or justice of slavery, it is not among the objects contemplated by this organization, to promote the abolition of legal slavery or to interfere with the legal rights which are exercised over slaves. But it is a matter of public notoriety, that a shameful traffic is carried on, in the persons of many of these unhappy people; who, possessing a right to freedom and the precious enjoyment of liberty, are deprived of these inestimable privileges and entrapped into a state of slavery by theft, fraudulent purchase, and variety of other treacherous artifices, which neither the laws of our country, & principles of Christianity, nor the obligations of moral rectitude, can for a moment tolerate or sanction. To wrest these unhappy victims from the fangs of avarice and cruelty, to rescue them from the kidnapper and the unprincipled, and to contribute our efforts in subjecting to the penalties of the law, the mercenary agents in this infamous traffic, are the purposes and the designs of this Society; and we believe, that every considerate and virtuous citizen will admit, that it is not less the interest than the duty of all classes of the community to lend their aide in suppressing a practice, which is disgraceful to the character of our country, destructive of the happiness of many of our fellow-creatures, and which requires such a total destitution of principle in its agents, that they become fitted for the perpetration of any other act of atrocity affording equal inducements to their avarice. It is therefore for the interest of owners of slaves, because it is hostile to those who only want an opportunity of totally destroying their legal rights; for it cannot be supposed, that an entrapping a free person into slavery, they would be scrupulous of robbing a master of his slave, if they would do it with equal impunity. Instances can be cited of their having really done so. It is however probable that cases may happen in which, people of colour are illegally detained by persons of very different character, who would not be guilty of such flagrant outrages as have been mentioned, and who may be ignorantly infringing upon the liberties of others; but it is unquestionably the duty of every man to become acquainted with the nature and legality of any claims which he may have to a right of property in persons of colour; and as negligence and innocent intentions ought not to secure him from the operations of justice and law, so neither ought they prevent the interference of the society in the cases supposed: But it has been said that the law prescribes a mode by which the injured party may obtain redress; and that any man possessed of the common feelings of humanity would not hesitate to aid in obtaining it for him, that therefore no necessity exists for such an association. It is admitted that the law does provide a mode by which those who are illegally detained in slavery may prefer their claims to the judicial authority and command a hearing. But the situation in which these poor and friendless creatures are generally placed, preclude the possibility of their being benefitted by the benevolent intentions of the law, for, though the law will respect proof when brought to its view, yet it will not go in quest of it for them, nor furnish the means by which they may receive it. The proof rests with the sufferers, and they are subjected to the necessity of proving a negative, of showing with legal formality and precision that they are not slaves, whilst they are debarred from all intercourse with those who could furnish it: deprived of the means by which it could be obtained, remote perhaps from the district of country in which evidence could be procured, ignorant of the proper mode of proceeding, and destitute of funds to defray the consequent expenses, they wage an unequal contest with men well versed in legal proceedings, and commanding the immense influence which money can call into exercise in thwarting the intentions of justice. How few men are there among those who possess the feeling of humanity, even in an eminent degree, that would be willing to encounter the trouble and expense of affording them such entire assistance, as only could avail them, and of maintaining vigilant endeavours to become acquainted with the numerous cases in which such care is wanted. To relieve individual exertion and liberality of so unequal a tax is sufficient to establish the propriety of this institution, which designs to extend to them this assistance, by furnishing a medium through which they may carry their complaints to the constituted authorities of our country, and be enabled to collect the requisite testimony, that when they appeal to the tribunals of justice a reasonable expectation may be indulged that the appeals will not be made in vain. In short we only propose to aid them in maintaining their rights to which they are entitled by law, and in the prosecution of this object we shall pursue the path which the law itself prescribes, and for this purpose we have agreed to the following rules for our government.
Article 1st
This association shall be called The Baltimore Society for the protection of free people of colour, the stated meetings thereof shall be held yearly and quarter-yearly. The annual meeting on the first Monday of January and the quarterly meeting on the first Mondays in March, June, September and December.
But the President or any two of the managers may call special meetings at any time they may deem it necessary.
Candidates for membership shall be proposed at a meeting of the society and may be balloted in by the votes of two thirds of the members present and when elected shall be notified thereof by the Secretary. Every member upon his admission and signing this constitution shall pay into the Treasury of the society one dollar, and an additional sum of fifty cents at every stated meeting.
Article 3rd
The society may provide for the admission and privileges of honorary members and also for the expulsion of members by a special by-law, which By Law shall not be passed until the next meeting of the society after that in which it has been proposed and read.
Article 4th
Any member who shall absent himself from the meetings of the society for twelve months unless absent from the city, and refuse to pay the dues and fines he may have incurred shall cease to be a member.
Article 5th
There shall be chosen by ballot at the annual meeting from among the members, a President, Vice President, Secretary, Treasurer and eight managers, by a majority of votes of those present. The President, Vice President, Secretary and Treasurer being ex-officio members of the board of managers.
Article 6th
It shall be the duty of the President, to preside in the meetings of the society, to attest when necessary its official acts, to give a casting vote when the meeting is equally divided, and generally to see that all the resolutions and proceedings thereof are duly executed.
Article 7th
The Vice President in the absence of the President shall perform all the duties of the President and when both are absent the meeting shall appoint a President pro-tempore.
Article 8th
The Secretary shall keep fair records of all proceedings of the society and cause a notice of every meeting thereof to be left at the store or dwelling of each member before the hour of meeting.
Article 9th
The Treasurer shall keep all the funds of the society, and where there is any money in the treasury shall pay all orders which the managers may direct, which orders shall be sufficient vouchers for this expenditures. He shall report a statement of his account to every stated meeting.
Article 10th
The board of managers are hereby authorized to appoint such counsellors as they may think necessary and to call to their aid such members as they may deem proper to attend to such cases as require immediate care.
Article 11th
For non-attendance of the meetings of the society and non-payment of the dues at each meeting every member shall be fined twenty five cents for every omission unless a reasonable excuse is offered and accepted by the meeting.
Application for aid in behalf of any person of colour shall be made to the Board of managers who shall cause enquiry to be made into every case for which application is made, and if good reason be afforded for believing it proper to extend aid, they shall render such assistance and protection as they may consider advisable, not exceeding the pecuniary means of the society, and they may adopt at their discretion any proper measures for promoting the execution of the laws against those who may be engaged in violating the rights and liberties of free people of colour.
Article 13th
A history of every case in which the aid of the society shall have been afforded, shall be noted by the managers and recorded by the Secretary who shall report the same at the annual meeting in every year.
Article 14th
The society may pass any By Laws for effecting the object of the association which may be found necessary and not contrary to this constitution, but no By Law shall be passed or repealed but by a vote of three fourths of the members present at a stated or special meeting and no alteration shall take place in this constitution unless it be proposed at one meeting and acted on at the next when if two thirds present agree to the proposed alteration, it shall be considered as forming a part of this constitution.
Thomas Matthews
Joseph Davenport
Wm. E. Bartlett
William Dallam
Aquila Jones
George Appal
Benjamin P. Moore
Jno Q. Hewlett
Jefferson Hough
Gardner Betterton
John Williamson
Wm. Gruyere Jones
John B. Thomsen
George Gillingham
John Needles
Samuel Wilson
At a meeting of a number of citizens of Baltimore held according to previous notice on Monday evening the 9th of July 1827. Thomas Matthews was called to the chair and Wm. Gruyere Jones appointed Secretary.
The object of the meeting was then stated to be divise some method of preventing the numerous instances of kidnapping of free blacks which are constantly occurring in the vicinity of this city and other parts of the country. Several communications were laid before the meeting shewing the necessity of the friends of humanity exerting themselves to prevent such depredations and for the prompt assistance of these oppressed people, when it was unanimously concluded that it is expedient that an association be formed under such regulations as may hereafter be adopted for that purpose, the following gentlemen being present viz,
Thomas Matthews
Joseph Davenport
Robert Armstrong
Stephen Swain
Joshua Matthews
Benjamin Lundy
William Dallam
Jefferson Hough
Daniel Pope
Ephraim Gardiner
George Gillingham
Wm. E. Bartlett
Aquila Jones &
Wm. Gruyere Jones.
Resolved that Samuel Wilson, John Needles, Wm. Gruyere Jones, George Gillingham, Joseph Davenport & Joshua Matthews be a committee to prepare rules and regulations for the government of the proposed association, and that they report to an adjourned meeting.
When the meeting adjourned to Friday evening next July 15th at 8 o'clock.
Friday evening July 13th 1827.
The company met according to their adjournment Thomas Matthews chairman and Wm. Gruyere Jones Secretary.
Present the same members as at the preceding meeting with the addition of
Robert Holloway
William R. Jones
Garden Betterton &
George Apple
The committee appointed at the former meeting to prepare rules and regulations for the government of the proposed association, produced a report accompanied by a draft of a constitution. The report of the committee was accepted and the constitution was read, amended an unanimously adopted.
Resolved, that the committee appointed to prepare a constitution be continued to provide a suitable room for the next meeting of the society and notify the members thereof.
When the meeting adjourned to Monday evening the 23rd inst at 8 o'clock.
At a meeting of the Baltimore Society for the protection of free people of colour held on Monday evening July 23, 1827, Samuel Nelson was appointed chairman and Wm. Gruyere Jones secretary.
Ms. Constitution and Minutes of the Baltimore Society for the protection of free People of Colour, Quaker Collection, Swarthmore College Library.