CONDITION OF THE BLACK WORKER DURING EARLY RECONSTRUCTION
Even though blacks were overjoyed by the destruction of the institution of slavery, freedom brought unparalleled problems as well. Throughout the South, blacks suffered from inadequate food, housing, and other vital necessities. Since specie was scarce, many employers who remained "unreconstructed" fell back on former methods of coercion, such as the whip, to force the ex-slaves to continue in their previous capacities. Conflict was inevitable where whites demanded that blacks remain subordinate, and Negroes were determined to exercise their hard-won freedom (Doc. 3–5). While illiteracy further hampered blacks, not all Negroes confronted that obstacle. Many items in Part VIII are from the New Orleans Daily Tribune, the first black daily in the South. The Tribune was published in both English and French.
Because the old economic system had collapsed and a new one had yet to emerge, blacks fell back on traditional institutions for relief, such as the church and the numerous benevolent societies which flourished in the black community (Doc. 6). New black organizations appeared almost immediately after the war; however, most of them were founded along occupational lines. The Universal Suffrage Party (Doc. 9), the Freedmen's Aid Association of New Orleans (Doc. 10), and the Commercial Association of Laborers of Louisiana (Doc. 14), are representative examples. Most black people agreed, however, that the only effective solution to the difficulties lay in a division of land ownership among the ex-slaves (Doc. 7).
While some white southerners were not convinced that conversion to a free labor system spelled certain destruction (Doc. 16) most of them envisioned the demise of "civilization" as they knew it (Doc. 19). On the other hand, the newly-founded National Labor Union saw in the new free labor system a fertile field for labor organization (Doc. 21). The growing discontent and militancy among the black and white working classes lent credence to such a view (Doc. 23–50). Undoubtedly, the source of this militancy among Negro workers lay in the passage of the hated "black codes," passed in 1865 and 1866 by the white state legislatures, which attempted to control the mobility of blacks (Doc. 26–27, 37).
In fact, the determination of black workers to exercise their freedom of choice often was the immediate reason for many of the labor disputes. Thus, on one Louisiana plantation in 1865, blacks laid down their tools and refused to work when they suspected their employer of trying to trick them (Doc. 25). Many ex-slaves simply left the plantations behind and moved to the cities where wages were higher (Doc. 31). Once there, labor organization was facilitated, and grievances were often channelled into local strikes, protests for higher pay, or petitions (Doc. 32–34, 39–50).
Economic privation was not confined to southern blacks during the early Reconstruction period. The Civil War failed to alter the prevailing patterns of discrimination which had existed in northern cities, and blacks continued to be concentrated in the menial categories (Doc. 54–55). Nor had the root cause evaporated, as white prejudice against black workers remained as strong as ever (Doc. 53), and social discrimination remained rigid (Doc. 52).
One of the most disastrous results in slavery was the contempt for the laborer, and the repulsive disposition shown for labor, by the aristocratic class of planters. Labor is the only true element of prosperity, strength and grandur in modern societies. The prize is no longer won, among nations, by bodily qualities, such as the power of endurance and the athletic forms which gave the Greeks the superiority over their rivals. The future of civilized countries is no longer at stake upon the issue of a "single fight." We, now, use gun-powder and steam-engines. The time when Ajax knocked down the Trojan chief, with a rock that two ordinary men were hardly able to raise from the ground, is past for ever. No other Horatius will, in the nineteenth century, defend a bridge against a whole army, or even a whole regiment. No modern Robert Bruce will crush at one blow the helmet and head of Sir Henry Bohun, in the presence of a large army. No other Lion-Hearted Richard will, in our days, gallop for two hours in front of the enemy's lines, without finding his match and fight to death. The invention of fire-arms has equalized all men; and the bullet from the gun of the meanness and weakest recruit may strike the heart of the highest officer in command of the enemy.
The steam-engine has, in a similar way, equalized the powers of men in master of navigation, traffic, industrial works and commerce. The competition of nations, on the market of the world, is now based upon the extent of their productive means, that is to say upon the quantity of labor. Every man who fairly works—be he an humble field hand on a plantation, or a distinguished engineer at the had of an important workshop—contributes to the power, greatness and renown of his country. National strength and national fame are, in our time, the offsprings of labor.
The contempt for the laborer is therefore, a great injustice, and a capital error. It is unjust, because the labor is the true fountain of life for modern nations. The isolated man, whatsoever be his purity of birth and his individual elegance or courage, or audacity, no longer has a sufficient power by himself. Men become useful by their co-operation in the great work of producing the national riches only. Labor is, therefore, the first requisite of modern societies, and it ought to be regarded in consequence and duly praised and honored.
New Orleans Daily Tribune, November 26, 1865.
2. BIOGRAPHICAL INFORMATION ON BLACK LEADERS IN NEW ORLEANS DURING RECONSTRUCTION
SOURCES: Manuscript Census Returns, Eighth Census of the United States, 1860, Louisiana, Records of the U.S. Bureau of the Census, Record Group 29; Muster Rolls, Returns, and Regimental Papers, Volunteers. Civil War, U.S. Colored Troops, 73rd, 74th, 75th, 76th, and 77th Regiments, Records of the Adjutant General's Office, Record Group 94; Pensions, Records of the Veterans Administration, Record Group 15; New Orleans, Mayor's Office, Register of Free Colored Persons Entitled to Remain in the State, 1856–1864; New Orleans, Conveyance Office, Record of Conveyance, 1855–1862; New Orleans, Treasurer's Office, Tax Ledger, 1859–1861; New Orleans, Office of Vital Records, Record of Birth, 1819–1857; New Orleans, Office of Vital Records, Record of Death, 1865–1900; St. Louis Cathedral, Baptismal Register of Negroes and Mulattoes, 1831–1840; New Orleans Directory, 1855–1862; New Orleans press, especially L'Union, 1862–1864; Tribune, 1864–1869; Black Republican, 1865; Republican, 1867–1876; Louisiana, 1870–1880; Times, 1873–1880; and various other primary and secondary sources, published and unpublished. KEY: In the listings below the asterik (*) means that the exact place of residence in New Orleans in 1860–1861 is known for the person concerned; the dagger (+) means that the person was a slaveowner at some time before the Civil War. The abbreviations have the following meanings: F—free; S—slave; M—mulatto; B—black; N.O.—New Orleans; L—literate; I—illiterate.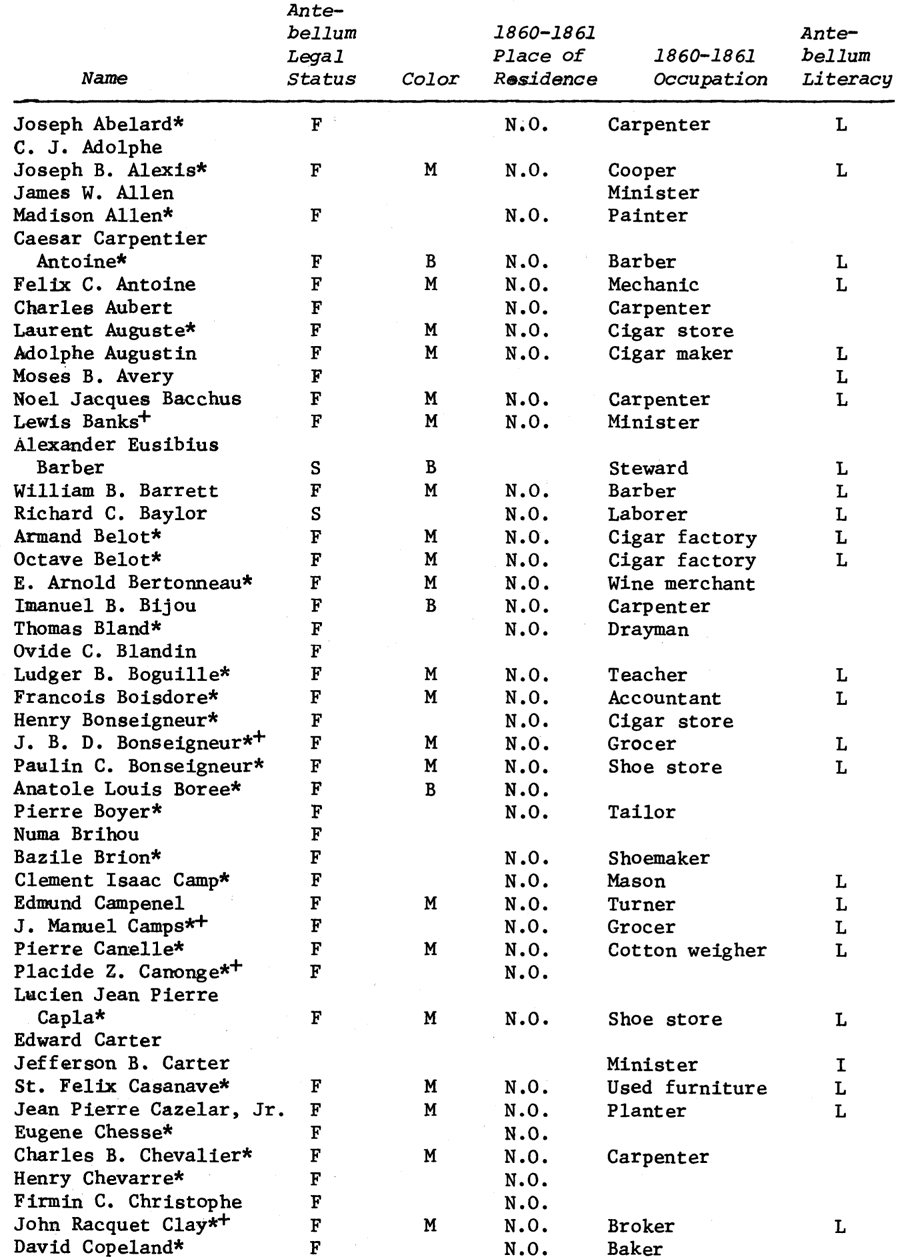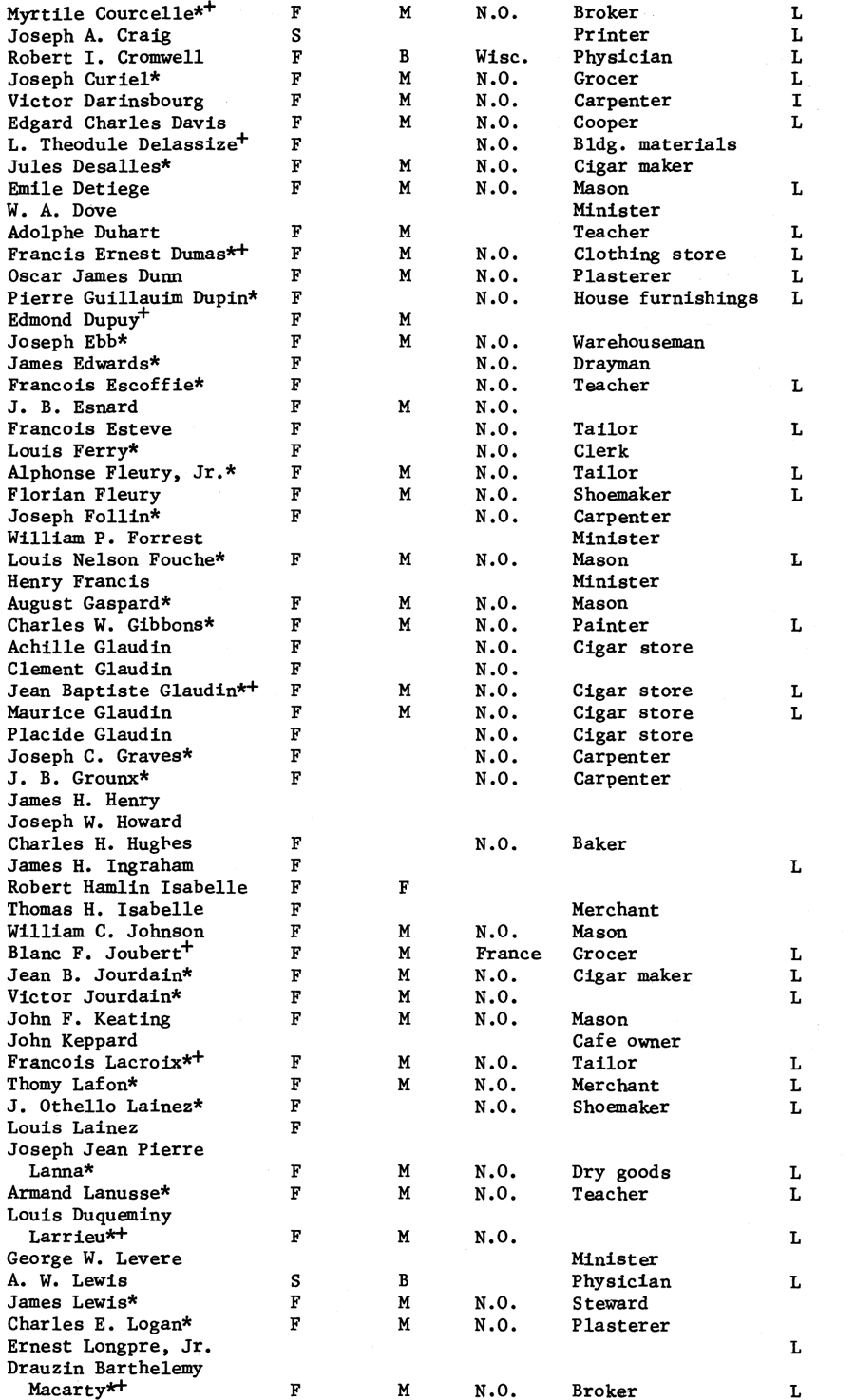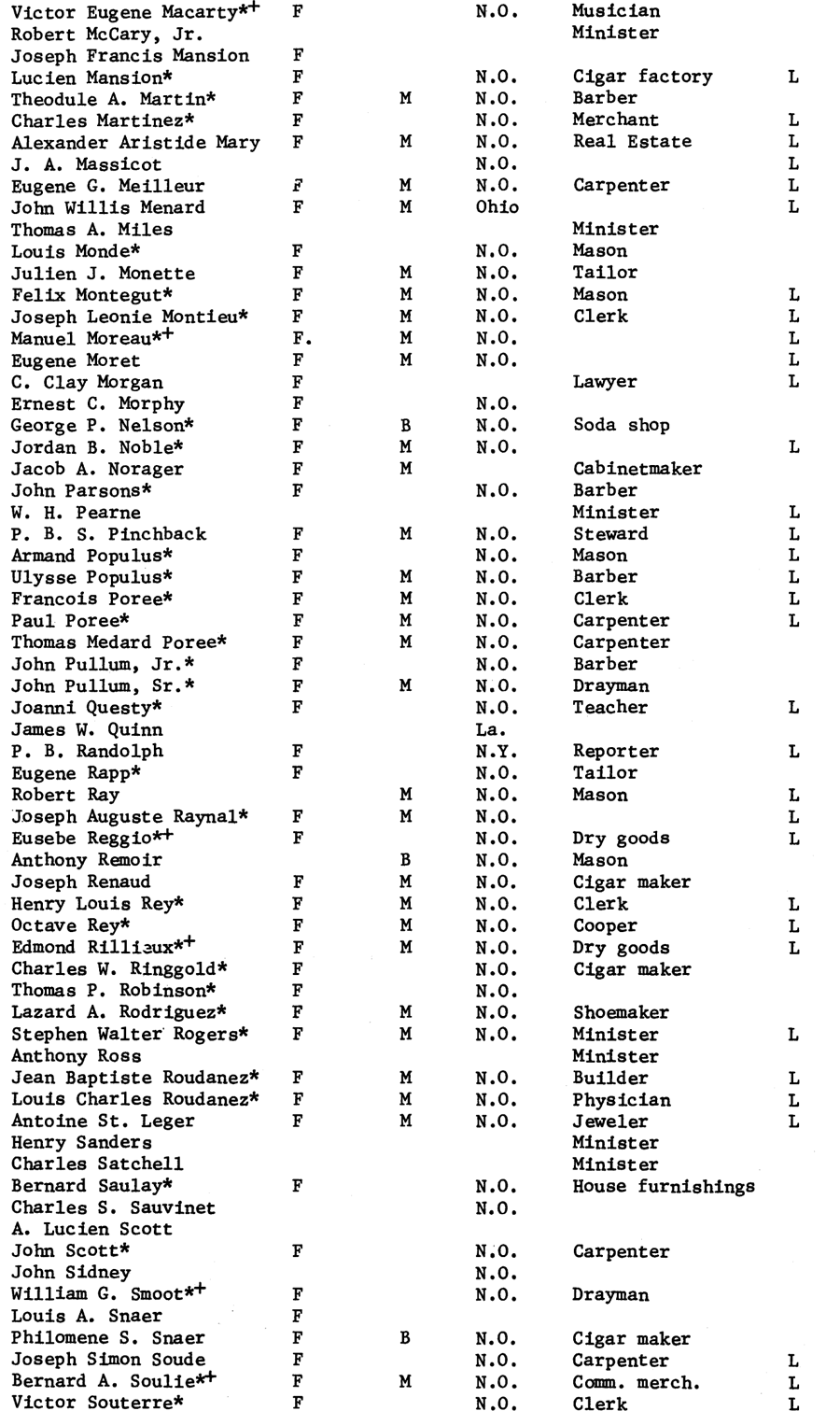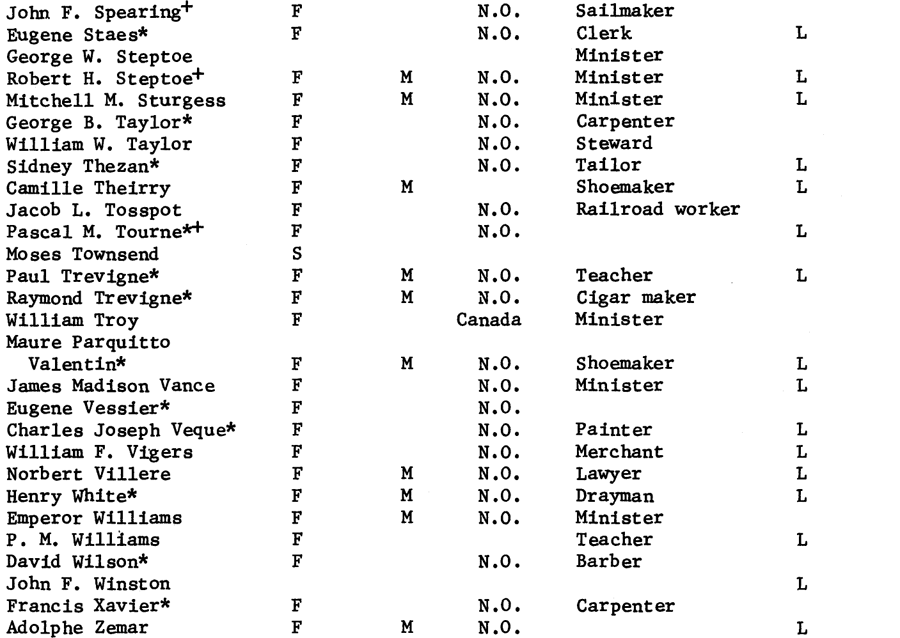 David C. Rankin, "The Origins of Black Leadership in New Orleans During Reconstruction," Journal of Southern History, 40 (August, 1974):436–40.
3. GENERAL SCHURZ ON BLACK WORKERS56
Bureau of Free Labor
Montgomery, Alabama, Aug. 19th, 1865.
Genl. C. Schurz
I take pleasure in laying before you my replies to the interogations you handed me yesterday. 1st General experience as to the efficiency of the negroes as free laborers.
For nearly two years I have labored exclusively with the colored race. Part of the time as an officer in colored organizations, part of the time with children, as Superintendent of colored schools in the Mississippi Valley, and finally as Superintendent of Freedmen in this city since May last, where I have had better opportunity than ever before of becoming acquainted with the plantation system of labor, its requirements and the negro as a tiller of the soil.
In my varied experiences I have found the race exceedingly patient and generally industrious. If they do not work with such rapidity as white men they do it as willingly and as surely. I have the grestest confidence that the freedmen will become reliable & efficient laborers in every branch of industry. There is among them a vast amount of mechanical skill, which has heretofore rendered many very valuable slaves. Many planters whose plantations I have visited have pointed to one of the negroes and said, "that man built this house he framed it all alone," "that man is my blacksmith, he makes all my ploughs and plantation tools." I find in this way good Shoemakers, Carpenters, Masons, Blacksmiths, Weavers, Spinners, and Seamstresses, Cooks, &c. as well as negroes familiar with agricultural pursuits, truly & competent foreman, who have had charge of large plantations during the war. As the providence of God led the children of Israel to Egypt to learn the mechanical arts and then go forth from bondage no more as a family but as a nation competent no itself to perpetual national existence, so that same kind Prodience has thought the colored race under similar bondage alike the useful arts, so that in due time, when the privilege is granted to these people of seeking employment like other laborers in any part of the world they are prepared to step in and fill successfully any & every branch of manual labor. Their hands are familiar with the tools of the Artisan. This diversity of talent of is inestiamable value and a great relief in the present emergency. If such men have been efficient under a slave I am confident they will be under a free system. This is the basis of my confidence.
I have observed as a race they love thrift & prosperity—& can endure success far more advantageously than the Irish nation. My residence in this city has forcibly convinced me of this statement. Some of the most prosperous men of this city are negroes. Some at this early day of their freedom, are ready to purchase land & many others are anxious to become owners of real estate. On closer inspection, one can readily detect among some, a foundness for trade, the germ of a commercial spirit, which is rapidly developing. Present to such people accustomed to labor incessant and in part inspired by a newly aquired freedom and stimulated by the love of gain, the proper rewards of industry, and they will, they must become efficient and reliable laborers. The might that slumbers in their sable arms will cause these desolate fields to whiten with returning prosperity. Some I confess are indolent, preferring to live in a dishonest way, rather than toil for an honorable support. But it is not strange if persons who have labored for years with no profit, do not realize at once the advantages of a directed labor, or see that nothing is attained without it.
2nd The second interrogatory, "Do they work well or not & under wath circumstances do they work well, and under wath badly," is answered under the 4th head.
3d. "What are the ideas of the planters as to the efficiency of the free labor system" in this part of the country." Poor enough. Many of the larger slaveholders, who have grown rapidly wealthy by slave labor declare the country ruined for ever; that cotton cannot be made by 'free nigghers.' I have heard many say that they never intended to try it again, nor would they have anything to do with the free niggers."
Not a day passes but I am told many times that they won't work. If asked who will cultivate fields, I have heard them reply that their plantations should grow up in the weeds before free negroes should attempt their culture. The depression of spirits, this unwarranted despondency, has its natural results in depreciating real estate. Good corn & cotton lands which before the war sold at from $25.00 to $40.00 per acre, and now offered for $10.00 and $15.00 per acre. Whit this wealthy class slavery was every thing when that was taken away it left them helpless. It destroyed all energy and was like the going out of life itself. These are the men who are most anxious to sell & cherish the poorest ideas as to the success of free labor. And what astonishes me most of all, is their despondency increases as they witness the negroes coming into the possession of rights and privileges which alone render them valuable as a free laborer. Happy for the South if some of them would leave the country for ever.
There is a class of small planters who have been accustomed to work themselves, who have always had the supervision of their own plantations and had not committed it to an overseer, who have much more confidence in the efficincy of the free labor. The people of this class have had much less trouble in controlling their hands this year than that of the former.
They are disposed to treat the freedmen more as white laborers are treated. These men, I doubt not, will be in a few years the wealthy men of the South. They are inclined to give better wages to their employees and express a determination to plant as in former years. They yielded more readily to the changing conditions of things & will make good loyal citizens.
4th Are Southern men far better adapted. At present there is no confidence existing between the late masters & slaves in but very few cases is there any good will existing between them. The planters say, "they won't believe any thing I tell them," & in most cases I know that this is true & Southern men realize this fact & are anxious to secure Northern men as partners so that they may better control their labor for the ensuing year.
5th What is the treatment free negro laborers are generally receiving from Planters?
Much better than it was months ago.
During June & July there was much suffering in consequence of ill & abusive treatment. But the change for the better of late, has been generally & rapid. The negro is gaining friends even in his own country. The friends of justice dare now to make their will heard in his behalf.
For their labor the freedmen generally are receiving nothing more than a support & their food & clothing is of the coarsest & poorest quality. Many negroes are working upon food which a white man would not touch. Corn meal & vegetables are the principal food in many instances. For the fall months the prospect is still more gloomy so far as compensation for labor is concerned, it is not worth mentioning. The free men are working simply for a livelihood, & we cannot expect men will work very hard for such meagre support. When the wages are fair, the money paid monthly, I have never heard a word of complaint, but on the other hand, I have heard planters say that they never had men do better. They work badly when the pay is nothing & they have no hope of bettering their condition.
6th There are many cases of differences arising constantly, some of a serious nature, between planters and freedmen. The difficulties arise as the planters alledge, because the negroes are "indolent & insolent." We have eight men in hospital now under treatment for gun shot wounds inflicted by white men. In all my experience here I have not seen a white man shot by a negro. This, at best is severe punishment for such harmless crimes. There are plantations not far from this city upon which a negro will not work another year, because of the bad treatment this year. The negro is far from receiving that treatment and consideration which is due a free laborer. Our hope is that the great patience of the race will not wear away till they come into their rightful position as freemen.
I have the honor to be, General,
with much regards, Your ob't serv't
(sig) C. W. Buckley, Asst Supt. Freedmen
Carl Schurz Papers, Library of Congress.
4. WORK ONLY FOR GOOD EMPLOYERS
The freedmen have, by this time, made a distinction between men, on one hand, who act fairly with them, who treat them manfully, give them their rights, and exact from them no more than what is just and fair; and men, on the other hand, who look upon them as upon an inferior class of beings, who distrust them, treat them harshly, and try every means of cheating their employees. With these last employers, freedmen have to act defensively all the time; . . . .
When these planters of the old school;—of the whip school—will see that they cannot obtain laborers, unless by a fair treatment, the system will undergo a sudden and remarkable change on the plantation. It will be done away with cursing, cheating and robbing; it will be done away with harsh treatment; and a better condition will then be made to the country laborer.
It is therefore in the power of freedmen to obtain fair dealing. Good or tolerably good employers are numerous enough; nobody is under the absolute obligation of contracting with the worse planters. Let these unjust and unnatural men stay alone. Let them cultivate their lands the better they can. Let them look after white laborers, if they like. They will have to pay them full prices, and to treat them as men. It will be at all events a lesson for the unfair employer. The remedy to your wrongs is in your hands. Do not neglect to apply it to the sore, at the proper time.
New Orleans Daily Picayune, October 13, 1865.
5. WHITELAW REID'S OBSERVATIONS ON NEWLY LIBERATED SLAVES57 IN SELMA, ALABAMA
The burnt houses in the business part of the city were being rapidly rebuilt. Negro carpenters and masons seemed to have exclusive control of the work. An old negro, who worked as hod-carrier, explained that he was paid a dollar a day. "By de time I pays ten dollars a month rent fo' my house, an' fifteen cents a poun' for beef or fresh po'k, or thirty cents fo' bacon, an' den buys my clo'es, I does n't hab much leff. I's done tried it, an' I knows brack man cant stan' dat." He had been "refugeed" from Tuscumbia; now he could not get back. He had been doing his best to save money enough, (forty dollars,) but he couldn't seem to get ahead at all with it.
His people were all going to work well, he thought, on cotton plantations where they were sure of good pay. Of course, they would work better for the Yankees, 'cause dey freed 'em. There was no talk of insurrection among them—had never heerd of sich a thing. What should they rise for? There were no secret societies among them.
On the other hand, the people had many complaints of insubordination, so great that they were in actual fear for the lives of their families! Some of the newspapers thought "the scenes of bloodshed and massacre of St. Domingo would be re-enacted in their midst, before the close of the year." "We speak advisedly," continued one frightened editor, "we have authentic information of the speeches and conversation of the blacks, sufficient to convince us of their purpose. They make no secret of their movement. Tell us not that we are alarmists. After due investigation and reflection upon this matter, we have determined to talk plainly, without fear or favor, and if our voice of warning is not heeded, we, at least, will have the consoling reflection that we have performed our duty."
All this silly talk was, doubtless, utterly without foundation. Negroes neglected to touch their hats to overseers or former masters whom they disliked; and straightway it was announced that they were growing too saucy for human endurance. They held meetings and sung songs about their freedom, whereupon it was conjectured that they were plotting for a rising against the whites. They refused to be beaten; and, behold, the grossest insubordination was existing among the negroes*
Near the ruins of the Selma armory was a village of huts, filled with the lowest order of plantation negroes. One or two were riding about on abandoned Government horses; more were idly watching them. They were "joying their freedom." A little round furnace stood some distance from the huts. At its mouth sat an old negro, far gone with fever and greatly emaciated. His story was a simple one. He had been sent here, by his master, from Northern Alabama, to work for the Government. Yankees had come along, and his paper to go home (his transportation) done wuf nothing no more. He begged a little, picked up a little, slept in the furnace, and so got along. He might last through the winter, but it was very doubtful. He was, apparently, sixty or seventy years old, and there was not a soul, black or white, to care for him.
Most of the negroes congregated here had either been sent to work in the Rebel shops, or had come since the end of the war to "joy their freedom."
"You were just as free at home as here," I said to one who had patched up an abandoned tent, under which he lived.
"But I's want to be free man, cum when I please, and nobody say nuffin to me, nor order me roun'."
"De Lo'd tole we to come heah," another said. "De Lo'd him'll take car' ob us now."
*Carl Shurz gave an instance in point:
One of our military commanders was recently visited by a doctor living in one of the south-eastern counties of Georgia. The doctor looked very much disturbed.
"General," says he, "the negroes in my county are in a terrible state of insubordination, and we may look for an outbreak every moment. I come to implore your aid."
The General, already accustomed to such alarming reports, takes the matter with great coolness. "Doctor, I have heard of such things before. Is not your imagination a little excited? What reason should the negroes have to resort to violence?"
"General, you do not appreciate the dangers of the situation we are placed in. Our lives are not safe. It is impossible to put up with the demonstrations of insubordination on the part of the negroes. If they do not cease, I shall have to remove my family into the city. If we are not protected, we can not stay in the country. I would rather give up my crop to the negroes than the lives of my wife and children."
"Now, Doctor, please go into particulars, and tell me what has happened."
"Well, General, formerly the slaves were obliged to retire to their cabins before nine o'clock in the evening. After that hour nobody was permitted outside. Now, when their work is done, they roam about just as they please, and when I tell them to go to their quarters, they do not mind me. Negroes from neighboring plantations will sometimes come to visit them, and they have a sort of meeting, and then they are cutting up sometimes until ten or eleven. You see, General, this is alarming, and you must acknowledge that we are not safe."
"Well, Doctor, what are they doing when they have that sort of a meeting? Tell me all you know."
"Why, General, they are talking together, sometimes in whispers and sometimes loudly. They are having their conspiracies, I suppose. And then they are going on to sing and dance, and make a noise."
"Ah, now, Doctor," says the imperturable General, "you see this is their year of jubilee. They must celebrate their freedom in some way. What harm is there in singing or dancing? Our Northern laborers sing and dance when they please, and nobody thinks anything of it; we rather enjoy it with them."
"Yes, that is all well enough, General; but these are negroes, who ought to be subordinate, and when I tell them to go to their quarters, and they do n't do it, we can't put up with it."
"By the way, Doctor, have you made a contract with the negroes on your plantation?"
"Yes."
"Do they work well?"
"Pretty well, so far. My crops are in pretty good condition."
"Do they steal much?"
"They steal some, but not very much."
"Well, then, Doctor, what have you to complain about?"
"0, General," says the Doctor, dolefully, "you do not appreciate the dangers of our situation."
"Now, Doctor, to cut the matter short, has a single act of violence been perpetrated in your neighborhood by a negro against a white man?"
"Yes, sir; and I will tell you of one that has happened right in my family. I have a negro girl, eighteen years old, whom I reaised. For ten years she has been waiting upon my old mother-in-law, who lives with me. A few days ago the old lady was dissatisfied about something, and told the girl that she felt like giving her a whipping? Now, what do you think? the negro girl actually informed my old mother-in-law that she would not submit to a whipping, but would resist. My old father-in-law then got mad, and threatened her; and she told him the same thing. Now, this is an intolerable state of things."
Whitelaw Reid, After the War: A Tour of the Southern States 1865–1866 (New York, 1965), pp. 385–89.
6. TO THE MASS MEETING AT THE SCHOOL OF LIBERTY
New Orleans Sept. 11th 1865
Ladies and gentlemen — I would respectfully submit to your consideration the following plan to aid, by pecuniary means, the "Central Executive Committee" of the Friends of Universal Suffrage, which Committee stands in want of funds to carry out the "good cause."
I will now proceed to demonstrate by facts and figures, the great case by which a sum of money may be raised, that may materially assist the above named "Committee" to carry out the great work.
There exist, at this present time, in this city, forty-two organized and "Benevolent Association," with an average membership of fifty persons to each association. My proposition is as follows:
First—That each Association or Society contribute from its treasury, the sum of ten dollars.
Second—That each and every individual member of every Association or Society aforesaid, pay the sum of twenty-five cents to round a general fund, this fund amounting to twelve dollars and fifty cents; that is to say fifty members at twenty-five cents each, $12 50 cents.
This sum, twelve dollars and fifty cents, to be added to the ten dollars contributed from the treasury, footing up a total of twenty-two dollars and fifty cents, $22 50 cents.
Now the sum $22 50 cents thus raised by each Association, be enclosed in an envelop giving on a slip of paper therein enclosed the amount contributed, and name of the Association or Society contributing it, and forward the same to the chairman of said Central Executive Committee, taking a proper receipt therefor.
The facts being given now for the figures:
Forty-two Associations or Societies at $10 each . . . $420 00
Fifty member of any one Association or Society paying 25 cents each . . . . . . . . . . . . 12 50
Forty two Associations or Societies paying $12 50 each . . . . . . . . . . . . . . . . . . . . . . . . 525 00
Making a grand total as follows: Forty-two Associations or Societies each contributing $22 50 as before stated . . . . . . . . . . . . $945 00
I would also suggest that the Pastors of each and every colored Congregation, throughout the city, would take immediate steps to take up collections for this good object and forward the amount thus collected to the Chairman of the Central Executive Committee of the Friends of Universal Suffrage, giving the names of Congregations contributing and amounts forwarded; and I truly believe that all concerned will get due credit for what they may accomplish as herein proposed.
I hope that the facts and figures herein given will go to prove with what little trouble we may be of real use to our real friends and co-labor in the cause of "equal human rights."
Very respectfully,
RICHARD C. BAYLOR.
New Orleans Daily Tribune, September 15, 1865.
The following letter, addressed by our friend S. Seiler to Major Gen. C. Schurz, will be read with interest. The division of the lands is the only means by which a new, industrious and loyal population may be made to settle in the South. Large estates will always be in the hands of an aristocracy. Small estates are the real element of democracy.
Mr. Seiler considers the question from a twofold stand-point. For us, we will be permitted to let aside, for the present, the question of foreign emigration. We must, first of all, begin our good work at home. There is a large population of freedmen that has to settle on the divided lands. We have also to bring on our field of labor the numerous refugees and soldiers who suffered and fought for the cause of freedom. Those are the men who have the first and unquestionable right to receive a part of the abandoned lands. The future will achieve the work.
We see with satisfaction that Gen Howard's policy is favorable to the division of the lands. It is the first step in a good direction. The high importance of that question gives more than a common interest to M. Seiler's letter.
To C. Schurz, Maj. Gen. U. S. V. Commissioner to the South.
General, different essays published by Louisiana planters during the last two years, but especially an article from the N.Y. copperhead World 'on labor in the restored States,' reproduced by our copperhead organ, the Times, of the 13th inst., pleasantly inviting all planters to form joint stock companies, induce ine to suggest in the Tribune, the features of another plan.
Next to Universal Suffrage, the grand issue in Congress will be the partition of rebel property. Insist, upon dividing, at once, all large real estates, confiscated, abandoned, or still in the hands of traitors, into lots suitable for small families. Provide first for the million freedmen available for agricultural purposes in the fourteen rebel States; then encourage foreign immigration. Establish at Mentz, Hamburg, and London, Central Immigration Bureaus, and declare Charleston and New Orleans, in spite of the jealousy of New York, as two great entrepois for immigrants, by converting the magnificent Judah-Touro-A-yium on the left bank of the Mississippi, at the latter place into a Southern Castle [illegible], where new comers from all nations may find shelter and protection on their arrival.
Thus, you will not only attract loyal labor to the South, but save many lives which are cost by compelling laborers from the old world to reach via New York their friend-along the Ohio, Mississippi, and Missouri.
Respectfully yours,
SEBASTIAN SEILER,
Member C. E. C.
New Orleans, 14th Sept. 1864.
New Orleans Daily Tribune, September 15, 1865.
8. AN APPEAL TO THE COLORED COTTON WEIGHERS, COTTON PRESSMEN, GENERALLY, LEVEE STEVEDORES AND LONGSHOREMEN
Gentlemen and Friends, I beg leave to state to you that I have already made an appeal to the Benevolent Societies, and all Colored Congregations in the city, for the object hereinafter set forth; and now friends, I would respectfully appeal to you all.
I have worked with you on the Levee, in the Cotton Presses, and around the cotton scales; and as a consequence I know well what you all can do, if you only will.
Friends, the most of you have voted at the first trial of your ability so to do, now I call upon you to sustain your ballots. Your late vote was cast only for the purpose of choosing delegates to a Convention, which Convention met, chose and nominated a delegate who is to proceed to Washington, to lay before the Government and Congress, your wants and grievances as citizens of the "United States" and this State. This delegate you will again have to vote for (ratifying the action of the Convention) at the next general election in this State, which will be held on Monday 6th of November next. On that day, I hope you all, my friends, will go to the polls and vote like men for the chosen delegate, and after voting, let each man of you go peaceably about his business or to his home. I, for one, if living, intend to vote on that day, and I will do so quietly and coolly, if God will be my helper, which in his own promises I faithfully believe he will. I am in hope, friends, that you will all do the same and please not let the idea of a failure in this respect dwell for a moment on your minds.
Remember the "Republican party" which has been for the last thirty-five years, working in your behalf. See the result of its labors our white friends to lead the cause, for your own sake, for the good of your children, and your generations that are to come after you. I appeal to you to do what you can in raising funds to defray expenses of our delegate. Do not let it be said by those who oppose you so much, that you had the means and did not give them, and were too miserly to contribute for the good of yourselves and children. My fellow laborers, come together like men, and prove to the world that you mean to do good for your country, yourselves and your posterity.
Now, my friends, I would respectfully suggest to you all the adoption of the following plan, whereby you all may contribute the necessary means towards a "General Fund" to defray the expenses of our delegates to Washington, for the purposes herein stated.
First To you, the levee laborers:—Form yourselves into companies of one hundred men, and choose one from among you to act as captain.
Second. After forming companies as above, let each man arm himself with "one dollar" and then all the companies meet on Claiborne street, on Sunday 29th inst., and proceed in a body to No. 49 Union street, quietly and peaceably, and each man march into the office, and deposit on a table his dollar; after doing which, quietly go to your various homes. The Secretary of the "Executive Committee of the Republican party," and other of your friends, will be there to receive your contributions.
Third. I propose that the same plan be adopted by the "Cotton Press Men," "Cotton Weighers," Stevedores and Longshoremen, on the day and date above specified to-day. Four millions of bond-men enjoying the blessings of liberty. The remainder left for us to accomplish is to prove, and show to the Government that we, as freemen, are worthy of and entitled to all the rights and privileges of men, that is to say, citizenship, in its broadest and fullest sense and meaning. I believe that I can safely say in your behalf, that you are entitled to all the rights and privileges accorded to other citizens in the country where you are born and where you live; they are not only God given rights that we ask for, but rights that we have earned by long toils and many sufferings. By our labors when in bondage, we have made the Southern portion of this Republic wealthy, and many of its inhabitants happy.
We have fought in three wars of our country: that of Washington, that of Jackson, and I thank God that I have lived to wear the blue and carry the musket in defense of the honor of my country during the late rebellion, and helped to open the door of Freedom to my fellow-bond-men. In these three wars we have assisted to conquer or subdue the enemies of our country. For the good of your country, you have done thus much, and though your record is honorable in that respect, yet, for yourselves and your children, you are called upon to fight another battle with the pen and the brain. To fight it, you well know that you require means to do it with, as well as in any other warfare. Friends, you have the means, and you know it. I call upon you all to contribute the means to assist and contribute your dollar as above individuals who may feel disposed to contribute more than the amount above specified, of course can do so, as the amount to be contributed by each man, is in nowise limited. Fellow citizens, do this, and God will bless you for your good work.
Friends, I beg of you to loose sight of him who thus appeals to you and your generosity,—for your own and your children's good, and look at the object for which you contribute, steadfastly in the face, and excuse your humble servant for annoying you so often with his name. The work in which you are called upon to assist, is for your own good and benefit.
Respectfully,
RICHARD C. BAYLOR.
New Orleans Daily Tribune, October 22, 1865.
9. APPEAL TO SUPPORT THE UNIVERSAL SUFFRAGE PARTY
We publish on the other page an appeal to the colored working men, more particularly to the numerous class of cotton weighers, cotton press-men, Levee stevedores and longshoremen. This call is signed by a citizen well known to the people for his constant and active devotion to the cause of progress. The name of Richard C. Baylor is synonimous of disinterestedness and patriotism. The new suggestion of this good citizen is worthy of the approbation of our friends. Mr. Baylor, who has himself, worked on the Levee, and who knows well his late fellow laborers, advises them to make a common move, on behalf of the Central Executive Committee.
The Committee needs money to carry out the purposes of its organization; and Mr. Baylor suggests that every colored workingman in the city should make a donation of one dollar to the Treasury of the Universal Suffrage Party. Most of the city laborers can afford to give the sum above mentioned, and many of them can afford to give even more. The sacrifice will be light for each man in particular, and the result, however, will be great, on account of the large number of contributors.
But, although this question of material aid be unquestionably of great consequence, we deem that the moral effect will be more important still. Mr. Baylor calls upon the colored laborers to go and bring on their donation on the same day, at the same time, by forming themselves in a civic procession. He invites them to meet on Sunday next, the 29th inst., on Claiborne street, and thence to proceed, in good order—two abreast—to the room of the Central Executive Committee. In order to give to that mass some organization, he suggests that companies of one hundred men or thereabout be formed, during the week, and that these companies should fall in line on Claiborne street, each man "armed," as Mr. Baylor says, with the "one dollar" he intends to contribute to the success of our cause.
This would be a two fold display—display of force, and display of patriotism. We have no doubt that the people will readily cooperate in this kind of celebration. It will be a holiday for the disfranchised. Their sole presence on Claiborne street will show that they take an interest in their political future. Not only the laborers will be there, but all the citizens who actively work for the advancement of the oppressed race.
New Orleans Daily Tribune, October 22, 1865.
10. NOTICE FREEDMEN'S AID ASSOCIATION OF NEW ORLEANS
[Resolutions passed on Tuesday, 28th inst.]
Resolved. That it is due to the honor and dignity of the State of Louisiana to encourage, reward and elevate labor, as the only safeguard for the lives, liberties and happiness of her inhabitants.
Resolved. That in the opinion of this Association labor is or should be free; and that any attempt to control the inhabitants of this State, and particularly the freedmen, by legislation or otherwise, through contracts spre spreading over many months, is deprecated by this Association.
Resolved. That in the opinion of this Association it is wise on the part of the freedmen of this State, at the present time, to make short contracts with their employers and insist upon regular weekly cash payments of their wages.
New Orleans Daily Tribune, December 12, 1865.
It is clear, therefore, that the laborer must not alienate his freedom, for any term of months. The only means for him to escape the injustice and exactions of a bad master, is to remain free to leave the plantation and go elsewhere. This is the only way to teach the employers how they have to treat their employees. It is the condition of most of the laborers throughout the civilized world; and this kind of freedom is more essential in a State directly emerging from the de-potism of slavery than it would be anywhere else.
The laborer has nothing to lose by making short contracts or no written contract at all, but working by the week or by the day. On the contrary, by doing so he preserves his freedom. We now assert that the planter will neither be the loser.
It is freely and voluntarily that a free man has to work. Compulsion is nothing short of disguised slavery. And when the planters speak of sheriffs and soldiers to keep their laborers, when they speak of retaining their wages, of pursuing them on the roads, bringing them back in chains, and putting them to work "without compensation," we cannot refrain from telling them that they take the wrong end of the horn.
New Orleans Daily Tribune, December 12, 1865.
12. THE EIGHT HOUR SYSTEM58
Our readers are probably aware that a meeting of workingmen was held on Wednesday evening, at the St. Charles Opera House, in regard of the "eight hours system." This great move has been fairly and fully inaugurated throughout the North and the Great West, and ought to find its way into the Southern States. We believe it to be a move in the right direction, as upon the broad platform of Republicanism it is intended to harmonize the two classes of laborers. The white laborer and the black laborer, whose interests are one and the same, will thus be brought together, and the prejudices of caste will evantually die away. The laborer is the bone and sinew of the land, and it is right that he should have time to cultivate his mind and prepare himself for the duties of citizenship.
New Orleans Daily Tribune, December 17, 1865.
State of South Carolina
District of Beaufort
Articles of agreement made and entered this twenty Sixth day of March 1866 and between Wm. Henry Heyward and the Freedmen and women whose names are herewith attached.
I. The said Freedmen and Women agree to have their time and labor on the plantations of the said Wm. Henry Heyward from this date of signing this agreement to the first day of January 1867. They agree to conduct themselves honestly and civilly, to perform diligently and faithfully, all such labor on said plantation as may be connected with and necessary for, the raising, harvesting, and protecting of the crop. The said freedmen further agree not to invite visitors upon the premises, or absent themselves from the same, during working hours, without the consent of the employer or his agent.
II. The said freedmen agree to perform reasonable daily tasks on said plantation, and in all cases when such tasks cannot be assigned, they agree to labor diligently, ten hours per day, unless the weather be such as to actually forbid labor, or the employer or his agent excuse them from work. In either case, no deduction for loss of time shall be made.
III. For every days labor lost by absence.
(refusal)
The National Archives.
14. CONSTITUTION OF THE COMMERCIAL ASSOCIATION OF THE LABORERS OF LOUISIANA
SECT. 1. The officers of the Association are: A President, a Vice President, a Treasurer and three Inspectors. These officers will from the Board of Managers. They will be elected for one year from the 1st of January, 1866, by a plurality of the members present at the meeting.
SECT. 2. The Board of Managers will make all by-laws and regulations which will be necessitated in order to secure the success and good administration of the several shops under their care, such by-laws and regulations to be dictated by a spirit of justice and equity. They shall report, every quarter, about the situation of the work, from the stand point of the practical operations as well as from that of the social progress. The President, when prevented from attending to his duties, will cause the Vice-President, or any other member of the Board, to fill his place.
SECT.3—The Treasurer shall keep the books in a clear and correct manner. He shall be responsible for all money entrusted to his care and for all mistakes he may make. He will have to give security to an amount double of the money kept in his hands.
SECT. 4.—All persons, without discrimination of nationality, origin or color, may become members of the Association, by giving in their adhesion to the present deed.
SECT. 5.—The Association intends first to organize a Bakery, and then to extend their operations as fast as the capital will accumulate.
SECT. 6.—The initiation fee will be $5, till the first declaration of dividend. Afterward such fee will be raised by adding to it twice the amount of the dividend paid to each member, in accordance with sect. 7. The initiation fee will, in that way, be, at all time, equal to the amount of capital forming each and every share; and such addition will be made at each time that a new dividend will be declared. In case that the investments made prior to the 1st of January 1866 be deemed insufficient, the Board of Managers may authorize the members present to lend to the Association the amount needed to immediately organize the first shop, said loan, however, not to exceed the sum needed to make up a capital of ten thousand dollars, and said loan to be made voluntarily, and to be reimbursed as fast as new members come in. The interest on said loan will be the legal interest, and the Association will be security for it.
SECT. 7.—Every six months one third of the net proceeds of the Bakery or any other shop is to be divided among the members. The balance, making two-thirds of said proceeds, will be devoted to the getting up of other workshops or business places, such as groceries, butcher-shops, stores, etc. To have a right to share in the profits it will be necessary to have been a member of the Association for at least six months.—Full weight and good measure will in all classes be one of the benefit to derive from our system, and all products will be of first rate or quality.
SECT. 8.—No limitation is fixed to the existence of the Association. One third of the members will have power to prevent its dissolution, and will be sufficient to continue the Association itself.
SECT. 9.—By-laws will be made, according to the operations exigencies. The Constitution may be amended annually, at the General Meeting which will be held on the first Sunday in January, provided that the amendments be offered by two-thirds of the members present. Moreover said Constitution will be posted on in the room of meeting, and printed in the form of hand-ills—at least one thousand copies.
New Orleans Daily Tribune, December 24, 1865.
The Charleston South Carolinian chronicles a new phenomenon in that city, namely, a demand by the blacks for higher wages.
Chicago Workingman's Advocate, April 28, 1866.
16. TO THE EDITOR OF THE WORKINGMAN'S ADVOCATE59
As you have frequently notified your readers that you are not responsible for the opinion of your correspondents, I take the liberty of using your columns (with your permission) to discuss a question of which, in my opinion, is assuming too much importance. The subject I allude to is
NEGRO LABOR.
In time gone by the subject of negro slavery served to agitate the public mind, and furnished the key to second rate politicians, designing knaves and ambitious fools, whereby they unlocked the popular heart and elevated themselves to place and power. The result of their suicidal policy and political machinations was a bloody and fratricidal war, in which over half a million of the best blood of America was slain or mutilated, and a debt of $3,000,000,000 entailed upon the American people, for which the LABOR of the republic is mortgaged to the bondholders, and the interest of which the child yet unborn, will have to pay without liquidating the smallest particle of the principal.
Now that slavery is abolished that fruitful source of agitation has become extinct, and in its place that ghastly shadow of negro labor is looming up in the distance. To those who are satisfied with a glance at the surface of things, negro labor may have a terrible significance, and it may scare the timid into the contemplation of some terrible things against this unfortunate race. But I cannot see what direful consequences are to result from free negro labor. By emancipation the relation only of the slave to the master was changed and NOT THE NATURE of the negro; the masters of the negro remains the same whether in the condition of freedom or slavery.
I take it as an incontestible truth that the Caucasian, mentally considered, is the superior race; and, though the negro may be more muscular, yet the former is capable of the greater endurance, and, therefore, for all practical purposes—mentally and physically—the superior of the latter. It is safe then to conclude that in the mechanic or fine arts, there is nothing to fear from negro labor or competition.
Previous to the consumation of emancipation there was full employment for this class of labor south, and there can exist no reasonable doubt, in a rational mind, but that if things were restored to a healthy condition in the south, this class of labor or so much of it as would be dispensed to labor, would be fully absorbed, thereby not only diminishing but practically destroying the probability of negro labor competition south of Mason and Dixon's line.
But by far the most important feature in the consideration of this matter as the probable existence of the negro race on this continent. The negro is naturally improvident, he is lacking in parental affection and that care which is a prerequisite to the preservation of a race is not a quality of his nature; hence, is a condition of freedom, being self dependent, he must docimate. In their condition of slavery there was an interest, and a great interest too, in preserving the race and in bringing it to as high a state of perfection as was possible, and under such a regime, and the accessions made to it by the slave trade, the negro population of the south increased, while that of the north decreased. But now things are changed; the negro is no longer a slave; the relation between master and slave is destroyed. The incentives to the care and preservation of the race by the Caucasian south no longer exists; the place of the negro can be supplied by the German and Irish emigrant, and the necessity for negro labor will with time pass away. Thus the negro, naturally improvident and indolent, will be reduced to pauperism, and the extinction of the race becomes a question of time and not of fact.
It is true this will not take place in a day, a month, nor a year; but every decade of time, as it rolls around, will make it, to those who choose to observe it, more perceptable, and the unfortunate negro, like the poor Indian, will have to move out of the path of the over-conquering Caucasian. Why then should the white man fear his competition? To do so is a weakness incompatible with his nature. Leave the negro to work out his own salvation, extending to him all rights and privileges to which his nature, relation, and condition entitles him. Let us study and understand ourselves, and closely scrutinize the motives of men, particularly political leaders and demagogues, and the ghost of negro competition need no longer haunt the mind of the white workingman.
Veritas, Baltimore
Workingman's Advocate, April 25, 1868.
The election in the city and state is over, and has proved to be more favorable to the city than state, and the democrats have elected over two-thirds of their candidates, viz; eleven representatives, two sheriffs, district attorney, five assessors, five judges (out of six), all the clerks, three state tax collectors, mayor, comptroller, street commissioner, and over two-thirds of the city councilmen. A majority of over 500 in the city, were cast against the (famous) constitution, and we may be sure that at least one-quarter of the colored population voted against it, although the partial returns from the interior gives a majority for it of from 10,000 to 12,000, so that we may look upon that instrument as soon to become the law of the state. However, full official returns have not yet been recorded or published, and an order from the commanding general was issued yesterday, appointing a new committee of tellers in order to count the votes over if needed, or to discover the frauds, if any. Mr. Warmothe (the negro worshipper) will be our next governor by a majority of 10,000 votes over Mr. Taliferro, with the whole negro carpet-baggers for state officers.60
By the results of the election, as far as known, New Orleans is to be found in a rather gloomy mood, and our people look as though they were doomed to a reign of ruin, many of the negroes are, and will continue, suffering from its results, and from voting the ticket of Distructiveness, Warmoth & Co. They are now being discharged in great multiples by those who have heretofore given them employment, which will cause them to work on the plantations or farms as heretofore, thus opening the way and giving inducements for white labor. Negroes who openly declare themselves the enemies of their employers, can expect no favors here in future, and must look to the carpetbaggers for work and support; and this sentiment pervades the whole city. They will soon learn who their friends are.
The order and talk of the day is, at present, the scene of impeachment, which may result in a war of races, and a war between them would be much worse than any of the revolutions or insurrections known heretofore.
P. J. K.
Workingman's Advocate, May 9, 1868.
18. BLACK SHIP-BUILDERS IN NORTH CAROLINA
The colored mechanics when employed command the usual wages paid, although in the days of slavery no colored man according to the law, could act as master workman upon a job, but must always be subordinate to the white man; yet the freed mechanics are now constantly taking work upon their own responsibility and doing it to the satisfaction of their employers. One of the most interesting sights which it was my good fortune to witness while in the state of North Carolina was the building of a steamboat on the Cape Fear River by a colored ship-builder with his gang of colored workmen.61
John M. Langston, Bureau of Refugees, Freedmen, and Abandoned Land, July, 1868, pp. 108–09.
19. A LOUISIANA CORRESPONDENT'S VIEW OF RADICAL RECONSTRUCTION
Over this land the evils of anarchy have hovered, and never suffered more than it at present endures under the rule of the carpet-baggers and their new-made voters, who are worse than a nuisance to all good citizens, even to many who have hitherto been followers of the Radical party. It is now apparent to all that the tribe of carpet-baggers only work for themselves, by stealing, and that they have robbed the people of this state alone of many millions of dollars; and the plundering horde is fastened upon an outraged people, and maintained by a galling military despotism, unparalleled in the history of the civilized world. Hence, it is not wonderful that our oppressed people should look forward with hope to the election of Seymour and Blair for deliverance. The demonstration of last Saturday, in which 20,000 voters marched in procession, carrying thousands of torches and calcium lights, amid the blaze of rockets, Roman candles, &c., was a scene to be remembered.62
The WORKINGMAN'S ADVOCATE has often written of the corruption of our Congress, but to witness bare-faced corruption and unblushing villainy, you should observe the shameless transactions carried on in our legislative halls.
White and black children shall go to the same school, and if white parents refuse to "mix" their children, school Superintendent Conway will take them from their homes and incarcerate them in a prison, called an asylum to be indoctrinate with Radical doctrines—Radicial "religion." I, for my part, have the happiness to be the father of a family; and feel the degradation inflicted upon us by this horde of adventurers, who, while they do much in the way of bleaching the incoming generation, have no intention of remaining long enough to hear their dusky offsprings call them father.
P. J. K.
The Workingman's Advocate, September 12, 1868.
20. THE NEED FOR A SECOND EMANCIPATION PROCLAMATION
Whatever our opinions may be as to immediate causes of the war, we can all agree that human slavery (property in man) was the first great cause; and from the day that the first gun was fired, it was my earnest hope that the war might not end until slavery ended it. No man in America rejoiced more than I at the downfall of Negro slavery. But when the shackles fell from the limbs of those four millions of blacks, it did not make them free men; it simply transferred them from one condition of slavery to another; it placed them upon the platform of the white working men, and made all slaves together. I do not mean that freeing the Negro enslaved the white; I mean that we were slaves before; always have been, and that the abolition of the right of property in man added four millions of black slaves to the white slaves of the country. We are now all one family of slaves together, and the labor reform movement is a second emancipation proclamation.63
James C. Sylvis, The Life, Speeches, Labors and Essays of William H. Sylvis (Philadelphia, 1872), p. 82.
21. TWO LETTERS FROM THE SOUTH BY WILLIAM H. SYLVIS
Augusta, Ga., Feb. 19, 1869
We have not said anything yet about the state of the South, socially and politically. We think it best not to until we have gone over the whole South, and from the people get their views, learn their wants, and see Southern life in all its phases. We are keeping our eyes and ears both open, and we are conversing with men in all the walks of life, white and black, and we promise the readers of the Advocate that, when we have gone over the country and made a thorough examination of everything, we will give them a true account of things here as we see them, and our opinions of the situation. The National Labor Union is but little known in this country, but everybody we come in contact with is delighted with it. Careful management, and a vigorous campaign, will unite the whole laboring population of the South, white and black, upon our platform. The people down here will be a unit on the great money question, because everybody is poor, and ours is a war of poverty against a moneyed aristocracy.
Mobil, March 8, 1869
. . . During our stay in Montgomery, friend Casey remained with us, and took all pains to show us the sights. We visited the court-house, where, for the first time, we saw a "mixed" jury, nine blacks and three whites; from the verdict rendered, we concluded it was a "mixed" jury. The case on hand was that of a villanous-looking loafer, charged with arson. He keeps the lowest kind of a negro dance-house, where he dispenses bad whiskey and other refreshments. There was no doubt as to his guilt, but he belonged to the right side, and was acquitted. The judge failed to make the jury comprehend the meaning of "arson," or of circumstantial evidence. This is the way justice is dispensed in this part of the world. The readers of the Advocate have often heard of what are known in the South as "carpet-baggers." There are many bad stories told of these men that are not true. Many of them are good men, and are esteemed and respected by all the people here; but there are many bad ones. We met two of them in Montgomery; one of them, a fellow by the name of Barber, from Saratoga, N. Y., is sheriff of Montgomery County. He is a man without brains, education, or character. He is a common drunkard, and his looks stamp him as a common blackguard, and excludes him from all respectable society. The other is John C. Keffer, from Philadelphia, Pa., who is Commissioner of Internal Improvements, a man that could not get a position as engineer of a train of night-cars at home. He came down here a practical adventurer, destitute of brains, honor, or honesty, and by worshipping his superiors—negroes—he obtained position. He has a family of daughters, who entertain young negro gentlemen in their parlors. It is just such low scoundrels as this Barber and Keffer, that has been the cause of so much bad feeling between the two sections of our common country; and one of the very best evidences to be found, that there is no such organization as the Ku-Klux Klan, and that the people are orderly and well disposed, having patience, charity, and sincerity, desiring peace and harmony, is the fact that such scamps are permitted to live here unmolested.
James C. Sylvis, The Life, Speeches and Essays of William H. Sylvis (Philadelphia, 1872), pp. 339–40, 345–46.
22. COOPERATION AMONG THE FREEDMEN
Cooperative farming in England is no longer an experiment. In various localities it has been successfully tried, and found to work to the mutual advantage of all concerned. We printed not long since, as our readers will remember, some account of two of these English Cooperative farms, from the London Social Economist. We commended the subject to the careful consideration of capitalists here, who are interested in promoting the welfare of the freed people of the South. The desire of the freedmen for land is equalled only by their desire for education. They should have been provided with homesteads from the confiscated estates of the rebels, their former slave-masters. The day for this, however, Congress has allowed to pass. The next best thing is undoubtedly cooperation, the union of small sums of money, and of laborers, for the purchase and cultivation of land.
We are glad to see that so competent and intelligent a man as WILLIAM CRAFT, whose history is well known to our readers, is already at work to inaugurate a movement for practical cooperative farming among the freed people of the South. He thoroughly understands the peculiarities and the needs of the freedmen, and he is familiar, by his long residence in England, with cooperative farming as it exists there. We doubt not that the movement he seeks to inaugurate in the South will accomplish great good, not only in a material point of view, but as an educational help, and a corrective of the lingering evils of slavery. We find the following in the Manchester (Eng.) Examiner of April 22d:
"Mr. William Craft, a negro, is at present in this country, endeavoring to raise a fund for the purchase and stocking of a cooperative farm in the United States, with a view to the employment of the freedmen. The New-castle Chronicle says Mr. Craft proposes to raise a capital of 1,500 by subscription, with which he will proceed to one of the Southern States, secure a suitable tract of land, probably on lease, purchase all the necessary implements, and make advances to the people employed on the estate until they understand the system. He believes that the undertaking may be made self-supporting in a year or two. It is not too much to expect that the greater part of the freedmen who possess a little money will be most anxious to join in the scheme, and that associated labor on the land, combined with cooperation in the purchase and distribution of the ordinary necessaries of life, will take root in the Far West on a most extensive scale. It must be borne in mind that the cooperative movement is not merely productive of material benefit; it is also a great educational agency, and, under this aspect, promises to confer inestimable benefits upon the population on whose behalf Mr. Craft is exerting himself. No man living, perhaps, is better fitted for the conduct of this philanthropic enterprise than he who has undertaken it. The past history of Mr. Craft points him out as the man specially adapted for the successful execution of the project. Throughout his interesting and romantic career, from the epoch of his perilous excape from slavery to his daring mission to the King of Dahomey, he has given the most abundant proofs of ability, energy, and integrity. To those who are unacquainted with Mr. Craft, and who lack the materials from which to form a judgment of the merits of his plan, it may be some assurance to know that amongst its active supporters and promoters are Mr. W. E. Forster, M. P., Mr. T. Hughes, M. P., and the executive committee of the National Freedmen's Aid Union of Great Britain and Ireland. The latter body has passed a resolution expressing its warm approval of the design, and its conviction that Mr. Craft is qualified, by his intelligence, aptitude, and integrity, to prosecute it to a triumphant issue.64
National Anti-Slavery Standard, May 15, 1869.
23. REGULATIONS FOR FREEDMEN IN LOUISIANA, 1865
Whereas is was formerly made the duty of the police jury to make suitable regulations for the police of slaves within the limits of the parish; and whereas slaves have become emancipated by the action of the ruling powers; and whereas it is necessary for public order, as well as for the comfort and correct deportment of said freedmen, that suitable regulations should be established for their government in their changed condition, the following ordinances are adopted with the approval of the United States military authorities commanding in said parish, viz:
Sec. 1. Be it ordained by the police jury of the parish of St. Landry, That no negro shall be allowed to pass within the limits of said parish without special permit in writing from his employer. Whoever shall violate this provision shall pay a fine of two dollars and fifty cents, or in default thereof shall be forced to work four days on the public road, or suffer corporeal punishment as provided hereinafter.
Sec. 2 . . . Every negro who shall be found absent from the residence of his employer after ten o'clock at night, without a written permit from his employer, shall pay a fine of five dollars, or in default thereof, shall be compelled to work five days on the public road, or suffer corporel punishment as hereinafter provided.
Sec. 3 . . . No negro shall be permitted to rent or keep a house within said parish. Any negro violating this provision shall be immeidately ejected and compelled to find an employer; and any person who shall rent, or give the use of any house to any negro, in violation of this section, shall pay a fine of five dollars for each offence.
Sec. 4 . . . Every negro is required to be in the regular service of some white person, or former owner, who shall be held responsible for the conduct of said negro. But said employer or former owner may permit said negro to hire his own time by special permission in writing, which permission shall not extend over seven days at any one time. Any negro violating the provisions of this section shall be fined five dollars for each offence, or in default of the payment thereof shall be forced to work five days on the public road, or suffer corporeal punishment as hereinafter provided.
Sec. 5 . . . No public meetings or congregations of negroes shall be allowed within said parish after sunset; but such public meetings and congregations may be held between the hours of sunrise and sunset, by the special permission in writing of the captain of patrol, within whose beat such meetings shall take place. This prohibition, however, is not to prevent negroes from attending the usual church services, conducted by white ministers and priests. Every negro violating the provisions of this section shall pay a fine of five dollars, or in default thereof shall be compelled to work five days on the public road, or suffer corporeal punishment as hereinafter provided.
Sec. 6 . . . No negro shall be permitted to preach, exhort, or otherwise declaim to congregations of colored people, without a special permission in writing from the president of the policy jury. Any negro violating the provisions of this section shall pay a fine of ten dollars, or in default shall be forced to work ten days on the public road, or suffer corporeal punishment as hereinafter provided.
Senate Executive Document, no. 2, 39th Cong., 1st sess., p. 93.
24. RESOLUTIONS OF THE FREEDMEN'S AID ASSOCIATION OF NEW ORLEANS
Our readers will find below the resolutions adopted by the Freedmen's Aid Association, at their last meeting, on Tuesday night. These resolutions bear on the labor question, and express the sense of the Association on that subject. They are worthy of being well considered. We will have to call attention upon that very point at an early day.
FREEDMEN'S AID ASSOCIATION OF NEW ORLEANS.
[Resolutions passed on Tuesday, 28th inst.]
Resolved, That it is due to the honor and dignity of the State of Louisiana to encourage, reward and elevate labor, as the only safeguard for the lives, liberties and happiness of her inhabitants.
Resolved, That in the opinion of this Association labor is or should be free; and that any attempt to control the inhabitants of this State, and particularly the freedmen, by legislation or otherwise, through contracts spreading over many months, is deprecated by this Association.
Resolved, That in the opinion of this Association it is wise on the part of the freedmen of this State, at the present time, to make short contracts with their employers and insist upon regular weekly cash payments of their wages.
New Orleans Daily Tribune, Novenber 30, 1865.
25. WHITELAW REID WITNESSES A PLANTATION "STRIKE"
On one of the "best-stocked" plantations that I visited in Louisiana, I witnessed, in March, a "strike" of the entire force. It was a curious illustration, at once of the suspicions and the docility of the blacks.
The negroes had been hired by a Southern agent, who had formerly acted as factor for the plantation. These gentlemen are never likely to fail in magnifying their offices; and in this particular case it happened that the agent left very distinctly upon the minds of the negroes the impression that he was hiring them on his own account. When, therefore, a month or two later, the proprietor went out and assumed charge, they became suspicious that there was something wrong. If they had hired themselves to the old factor, they didn't see why this new man was ordering them around, unless, indeed, he had bought them of the factor, which looked to them too much like the old order of things. Not one word of this, however, reached the ears of the proprietor. Before him all was respectful obedience and industry.
It happened that some little difficulty occurred in procuring the large amount of fractional currency needed to pay them off, and pay-day came and passed before it was obtained. The negroes had never mentioned payment to the proprietor. He asked the overseer, who replied that probably they would never know it was the beginning of a new month, unless he told them, and that therefore it was best to say nothing about the payment till the money came up from New Orleans.
One afternoon, a day or two later, the proprietor spent in the field with the laborers. Riding up among the plow-gang, he dismounted, talked with the plowmen about the best way of working, took hold of one of the plows himself, and plowed for some little distance. Everybody seemed cheerful. Going over to the trash-gang, he found there the same state of feeling; and after mingling with them till nearly sun-down, he returned to the house without the remotest suspicion of any latent discontent; or, indeed, as he said afterward, without having himself once thought of the deferred payment.
Next morning the overseer came dashing up to the house, before breakfast, with the alarming news that "the hands were on a strike; declared that they didn't hire with the man who was now on the plantation, that he hadn't paid them, and they wouldn't work for him." Not one, he said, would leave the quarters; and they were complaining and plotting among themselves at a great rate. The proprietor took the matter coolly, and acted on a shrewd estimate of human nature. Fortunately for him, the house was, in this case, some distance from the quarters. Directing the overseer to hurry off to the Freedman's Bureau and bring down the agent, he quietly resumed his easy chair and newspaper. The mules had all been taken from the plowmen as soon as they refused to work, and brought up to the house. They could not go to work, therefore, without asking permission.
The negroes expected to see the proprietor down at the quarters the moment he heard of their action. He had peremptorily refused to give them an acre of land apiece, to plant in cotton; and their plan was to refuse now to work till he promised them this land, and satisfied them about the payments. But hour after hour passed, and no proprietor was seen. Growing uneasy, they sent out scouts, who speedily returned with the news that he was reading his paper on the front gallery, just as if nothing had happened. Manifestly, he was not alarmed, which greatly disappointed them; and was waiting for something or somebody, which might be cause of alarm to them. In short, instead of being masters of the situation, they were suddenly eager to get out of a scrape, the outlet from which began to look very uncertain. By-and-by, they sent the plow-driver up to the house to ask if they could have the mules again. The proprietor told him "not just at present," and added that after a while he should go down to the quarters. Meantime no person must on any account go to work.
About twelve o'clock the overseer returned with the agent of the Freedman's Bureau, a one-armed soldier from the Army of the Potomac. They rode down to the quarters where the whole force was gathered, uneasily watching for developments. He asked what was the matter.
"We;s not been paid di's monf."
"Did you ask for your pay?"
"Did you make any inquiry whatever about it, to find out why you weren't paid?"
"N-n-no, sah."
"Didn't you have plenty of chance to ask? Wasn't Mr.——-out among you all yesterday afternoon? Why didn't you ask him whether it wasn't time for your payment?"
"Well, sah, we dono Missah——-; we hired ou'selves to Missah——-, (naming the New Orleans factor,) and we's afread we git no money. We nebber heern o' dis man."
The agent read over their contract; and explained to them how, being busy, the proprietor had simply sent an agent to attend to the business for him. All professed themselves satisfied at once, save one lank, shriveled, oldish-young fellow, who said, in a very insolent way, that "He'd done been cheated las' yeah, and he wanted his money now, straight down. He was as good as any other man; but tree o' four time now dis yeah new man, wat pretended to be boss had passed him in de fiel' without ever lookin' at him, much less speakin' to him fren'ly-like; and he was'n' agoin' to stand no sich ways." The agent sharply rebuked him for such language; and finally told him that he had already broken his contract, by refusing to work without sufficient cause, and that if he gave a particle more trouble, he would arrest him for breach of contract, and throw him into jail. The rest seemed ashamed of his manner. As it subsequently appeared, he had been the leader in the whole matter. The plowmen had gone to the stable in the morning, as usual, for their mules. This fellow met them there, persuaded them that they were going to be cheated out of their money, and induced them to return to the quarters. Several of them wanted to go to work; and took good care to inform the proprietor that, "Dey didn't want to quit,. . . .
"Y-yas, sah; but may be, if you'd tink 'bout it, it'd be better for us."
"Didn't you say though that you must have an answer right off?"
"Y-yas, but"—
"Stop! Didn't you get your answer right off?"
"Yas, but"—
"Stop! You got it. Well, I always keep my word. If you had waited, I might have given a different answer; but you wouldn't wait so you got your answer; and it is all the answer your going to get."
Meantime the crowd was chuckling at the discomfiture of Berry. It didn't seem to concern them so much that they were losing their case, as it amused them to see how Berry had entrapped himself. Every time he attempted to renew the discussion, the lessee stopped him with the reminder that he had demanded an answer in Natchez, and had got it; and each time the laughter of the crowd at their own champion grew more uproarious.
Whitelaw Reid, After the War: A Tour of the Southern States 1865–1866 (New York, 1965), pp. 546–50.
26. CHAIN-GANG FOR "IDLE NEGROES"
The Columbus (Ga.) Sun indulges in the following:
Preparations have now been completed to have a chain-gang of the idle negroes found in Columbus. All colored people, who have no visible means of support, are to have a ball and chain attached to them, and set to work at leveling the fortifications around the city, the city to feed them the while. It is the determination of both the civil and the military authorities that no idlers, who can only exist by pilfering and robbery, will be allowed to remain in the city, unless they can be forced to earn their bread. Some eight are to be put to work this morning.
New Orleans Daily Tribune, November 30, 1865.
27. THE SUBSTITUTE FOR SLAVERY
From the Cincinatti Gazette.
What is included in the Mississippi constitutional amendment that the Legislature shall make laws to guard the freedmen and the State from any evils that may arise from their sudden emancipation, may be seen by an "ordinance relative to the police, of recently emancipated negroes or freedmen within the corporate limits of the town of Opelousas," recently published in the Natchitouches (La.) Times:
"By this ordinance no 'negro or freedman' is permitted to visit the town without permission from his employer, under penalty of imprisonment and fine. Any 'negro or freedman' found in the streets at night after 10 o'clock without the written pass from his employer, shall suffer the same penalty. Section 3 of the ordinance enacts that "No negro or freedman shall be permitted to rent or keep a house within the limits of the town, under any circumstances, and any one thus offending shall be ejected and compelled to find an employer or leave the town within twenty-four hours.' Even the white lesser in such case is fined. No negro shall reside in the town unless in the regular service of a white person. No public meetings or congregations of negroes shall be held, under any circumstances, or for any purpose, without the permission of the Mayor or President of the Board.' No negro shall preach without the same permission. No freedman shall carry arms without permission. No freedman shall sell, barter or exchange any article of merchandise or traffic, without permission in writing from his employer, or the Mayor, or President of the Police. Penalties in all the foregoing cases are fine or imprisonment, or both."
When we have added to this the combination of the planters to pay no wages to the freedmen, or to pay them such wages as they see fit, and at their convenience, and to report any inhabitant who shall hire a negro without his master's permission, as was resolved upon in Virginia, we shall have slavery re-established, so far as the negro is concerned, without the obligation of support on the part of the master. Do these black regulations indicate a disposition in the late slaveholders to submit to the emancipation of the blacks? Is it strange that the loyal people of the North distrust their good faith when they see such atrocious regulations as these enacted against the only class in the South that has ever earned its subsistence by labor? How long shall common intelligence be insulted by this charge that the negroes will not work in the condition of freedom, made against them by whites who never labored, and whose first principle is to live by the unrequited toil of other men? All that is necessary to restore the labor and production of the South is common honesty on the part of the whites toward the blacks. It is a substitute for honest wages and fair dealing that these black codes are made.
National Anti-Slavery Standard, September 18, 1865.
The Richmond Republic reports that a meeting of the farmers representing seven counties in Virginia, held to consider the question of the wages of negro labor, after due deliberation, fixed the hire of field hands at five dollars a month, the hand to clothe himself and pay his own doctor's bills; also, the sum of one dollar a day for hands in harvest was fixed upon. The Republic supposes this will fix the wages throughout Virginia and the South.
These wages for first class hands, subject to the usual contingencies of sickness and seasons, will prevent the liberty of the blacks from being made dangerous by riches. We suppose that if the blacks of the aforesaid counties should hold a meeting to deliberate on the subject of wages for labor, and should fix the rate without which they would not work, it would be regarded as proof that the negro would not work in a state of freedom, and that slavery was the only condition he is fit for.—Cin. Gazette.
National Anti-Slavery Standard, June 24, 1865.
29. NORTHERN LABORERS—ATTENTION!
New York, June 10, 1865.
To the Editor of the Standard.
RESPECTED SIR: In your issue of the 10th inst., you give, from the Richmond Republic, under the heading of "How the Freedman Fares," a report of a meeting of the farmers of Virginia, held at Louisa Court House, in which the following rate of prices was ordained as a proper remuneration for their workingmen:
For agricultural laborers $5 per month—the negro finding his clothing and paying his doctor's bills.
In harvest time $1 per day.
The extract closes with the following ominous words: These prices far exceed those paid for agricultural labor in Europe and should be satisfactory to all parties.
Thus the minimum price of agricultural labor in the United States is fixed by Virginia employers to suit themselves. Workingmen of the North, now is the time to speak out! It pertains to you to reply to this. Your wages will soon be re-adjusted on the above mentioned basis. If your Christianity permits you to stand by idly, and see your colored brethren oppressed, have a little respect for your own interest. The labor system of the country is one now, and the blow that is aimed at your brother in the South to-day, will strike you full in the breast to-morrow.
JOHN.
National Anti-Slavery Standard, June 24, 1865.
30. LETTER TO A NEW YORK EDITOR FROM A FREEDMAN
Some have withheld just compensation, or such pay as would not support the laborer and his family, while others have driven the hands away without any pay at all, or even a share of the crops they have raised. Women with families of children, whose husbands have been sold, have died, or have wrongfully deserted them, have in some cases been driven away from the homes where, under Slavery, they have spent a lifetime of hard service. Is it just or Christian thus to thrust out upon the cold world helpless families to perish?
These grosser forms of evil, we believe, will correct themselves under wise and humane legislation, but we do most respectfully and earnestly urge that some suitable measures may be adopted to prevent unscrupulous and avaricious masters from the practice of these and other similar acts of injustice and cruelty toward our people.
Our first and engrossing concern in our new relation is how we shall provide shelter and an honorable subsistence for ourselves and families. You will say, "Work." This we are willing and expect to do, but without the aid of just legislation, how shall we secure adequate compensation for our labor? If the kindly relations we so much desire shall prevail, must there not be mutual cooperation? As our longer degradation cannot add to your comfort, make us more obedient as servants, or more useful as citizens, will you not aid us by a wise and just legislation to elevate ourselves? We desire education for our children that they may be more useful in all the relations of life.
We most earnestly desire to have the disabilities under which we have formerly lived removed; to have all the oppressive laws which make unjust discriminations on account of race or color wiped from the statutes of the State. We invoke your protection for the sanctity of our family relations. Is this asking too much?
We most respectfully and urgently pray that some provision may be made for the care of the great number of orphan children, and the helpless and infirm who, by the new order of affairs, will be thrown upon the world without its protection. Also, that you will favor, by some timely and wise measures, the reunion of families which have been long broken up by war, or by the operation of Slavery.
Though associated with many memories of suffering as well as of enjoyment, we have always loved our homes, and dreaded, as the worst of evils, a forcible separation from them. Now that freedom and a new career are before us, we love this land and people more than ever before. Here we have toiled and suffered, our parents, wives and children are buried here, and in this land we will remain, unless forcibly driven away.
Finally, praying for such encouragement to our industry as the proper regulation of the hours of labor, and the providing the means of protection of our property and of our persons against rapacious and cruel employers, and for the collection of just claims, we commit our cause into your hands, invoking Heaven's choicest blessings upon your deliberations and upon the State.
New York Daily Tribune, October 7, 1865.
The following extract from the Charleston (S.C.) correspondent of the New York Tribune, who has just returned from an extensive tour through the Southern States, shows the principal reason why "the freedmen will not work." He says the stereotyped expression all through the country, South, is: "Why, yes, the nigger is needed here. We want him to work our farms. There's plenty of work if he'll only do it."
This extract, concerning his experience at Branchville, is, substantially, but a repetition of his experience at the other places where he investigated:
I stopped at Branchville two hours, and there I saw a large company of negroes, numbering probably 200, and forming a most motley, yet, to me, interesting group,—ol men and women,—young men and women, and little children.
I walked up to one whose countenance indicated a good degree of intelligence, and said, "What are all you folks doing here?" He replied, quite guardedly, "Nothing much, just goin' down the road." I said, "I am from the North and have come out to see how you folks are getting along, and what you are going to do." He said, "I reckoned you're from the North. Well, I'm goin' to Charleston to make contract. I kin do better there 'n whar I bin." I said to him, "What makes you come away from work upon an uncertainty? The city is full now of negroes, and some of them must be suffering." He answered me, "Well, I let myself to a man up in Aubeville three months ago for $12 a month. Now you'se know that's mighty little for a man and his wife and two little chil'en what can't walk, an' when I came t' settle up for Christmas he didn't give me but $22 50; said I hadn't earnt it, do' I worked hard all de time, and didn't pay me no attention to his aliens complainin'. Now, I've been called good hand, and no white man wouldn't work for tree times dat."
I thought he knew what he was doing better than I could tell him, and wondered if this story, which is hourly and daily repeated and corroberated from mouths which four trying years have proved to have been truthful, and be a lie! Perhaps the vacant wharf stores of Charleston would never have been occupied by the poor blacks if employer and employee had alike fulfilled the contracts.
Boston Daily Evening Voice, January 15, 1866.
32. COMPLAINT OF TOBACCO WORKERS
Dear Sirs We the Tobacco mechanicks of this city and Manchester is worked to great disadvantages. In 1858 and 1859 our masters hiered us to the Tobacconist at a prices ranging from $150 to 180. The Tobacconist furnished us lodging food and clothing. They gave us tasks to performe. all we made over this task they payed us for. We worked faithful and they paid us faithful. They Then gave us $2 to 2.50 cts, and we made double the amount we now make. The Tobacconist held a meeting, and resolved not give more than $1.50 cts per hundred, which is about one days work in a week we may make 600 pounds apece with a sterner. The weeks work then at $1.50 amounts to $9—the stemers wages is from $4 to $4.50 cents which leaves from $5 to 4.50 cents per week about one half what we made when slaves. Now to Rent two small rooms we have to pay from $18 to 20. We see $4.50 cents or $5 will not more then pay Rent say nothing about food clothing medicin Doctor Bills. Tax and Co. They say we will starve through laziness that is not so. But it is true we will starve at our present wages. They say we will steal we can say for ourselves we had rather work for our living. give us a chance. We are Compeled to work for them at low wages and pay high Rents and make $5 per week and sometimes les. And paying $18 or $20 per month Rent. It is impossible to feed ourselves and family—starvation is Cirten unies a change is brought about.
Tobacco Factory Mechanicks of Richmond and Manchester
J. T. Trowbridge, A Picture of the Desolated States; and the work of restoration, 1865–1868 (Hartford, 1888), pp. 230–31.
33. THE FREEDMEN – A STRIKE EXPECTED
We hear that a number of the freedmen at Jackson held a meeting the other day in the Baptist Church for the purpose of regulating the price of wages, and, if possible, to get up a strike on the part of those employed for higher rates. The meeting was presided over by a burly darkey—who is an itinerant vender of ice cream. A similar movement has been going on by the colored washerwomen and they have presented an address to Mayor Barrows, which we publish below. Desiring the welfare of the colored people of Jackson, we regard this agitation so ill-timed, unfortunate and calculated to injure instead of better their condition. Besides, we believe it originated with one or two Northern adventurers who have come here to fill their pockets at the spense of the ignorant negro, under the pretense of philanthrophy and benevolence. Whether one of the aforesaid adventurers presided at the conclave of washerwomen, we are not advised, but he acted as their amanuensis, as it is said the petition comes up in his writing. There are now twice as many negroes in Jackson as have any regular employment. Little business is doing; it is the dull season of the year; the wages that have been given as a general thing are liberal, and any demand for higher rates would only end in many of those now employed, and who have comfortable homes losing their situations. Idleness and a disposition to change from one place to another without sufficient reason, are injuring the prospects of the freedmen more than low rates of wages, and if the itinerant vender of ice cream and the Northern Secretary of the washerwomen's convention had liad these facts before their assemblages, they might have done something to ameliorate the condition of their brethren. As it is, if the matter is persisted in, some temporary inconvenience may result to the residents of that city. It has heretofore been difficult to procure reliable servants, no matter what the price: but in the end, their places will be supplied, and the only result will be that the already large number of black loafers and vagrants will be increased.
Jackson (Mississippi) Daily Clarion, June 24, 1866.
34. JUNE 18, 1866 FIRST COLLECTIVE ACTION OF BLACK WOMEN WORKERS
"Petition of the Colored Washerwomen."
Jackson, Miss., June 20, 1866.
Mayor Barrows—Dear sir:—At a meeting of the colored Washerwomen of this city, on the evening of the 18th of June, the subject of raising the wages was considered, and owing to many circumstances, the following preamble and resolution were unanimously adopted:
Whereas, under the influence of the present high prices of all the necessaries of life, and the attendant high rates of rent, while our wages remain very much reduced, we, the washerwomen of the city of Jackson, State of Mississippi, thinking it impossible to live uprightly and honestly in laboring for the present daily and monthly recompense, and hoping to meet with the support of all good citizens, join in adopting unanimously the following resolution:
Be it resolved by the washerwomen of this city and county, That on and after the foregoing date, we join in charging a uniform rate for our labor, that rate being an advance over the original price by the month or day the statement of said price to be made public by printing the same, and any one belonging to the class of washerwomen, violating this, shall be liable to a fine regulated by the class.
We do not wish in the least to charge exorbitant prices, but desire to be able to live comfortably if possible from the fruits of our labor.
We present the matter to your Honor, and hope you will not reject it as the condition of prices call on us to raise our wages. The prices charged are:
$1.50 per day for washing
$15.00 per month for family washing
$10.00 per month for single individuals
We ask you to consider the matter in our behalf, and should you deem it just and right, your sanction of the movement will be gratefully received.
Yours, very truly,
THE WASHERWOMEN OF JACKSON.
Jackson (Mississippi) Daily Clarion, June 24, 1866.
35. MEETING OF PLANTERS TO REGULATE THE PRICE OF LABOR
We give below the proceedings of a meeting held by the planters of Cumberland county, Va., for the purpose of regulating the prices of labor among the freedmen. The mere publication of these proceedings, without a word of comment, would be sufficient for the intelligent reader, and were it not said by commenting upon them, we can thereby answer some of our contemporaries' outrageous falsehoods respecting colored laborers, we should not bear a single word to either prefer or append to this most infamous schedule of prices:
HIRING FOR NEXT YEAR.
A meeting of the citizens of Cumberland county, Va., was held at the Court-House, on November 27. The meeting was for the purpose of adopting some regulations between the farmers and the negroes. The meeting adopted resolutions expressing kind feelings toward the negroes, but asserting that up to this time, they had, too generally, been guilty of idleness, insubordination, vagrancy and theft. The following scale of prices for the ensuing year was adopted:
For men, strictly No. 1 in every respect, $6 per month.
For next class, $50 per year.
For ordinary men, $40 per year.
For boys between fifteen and twenty, from $25 to $40 per year.
For strictly No. 1 house women, cooks or washers, $60 per year.
For strictly No. 2 house women, cooks or washers, $40 per year.
For No. 3 house women and field hands, from $20 to $30 per year.
For girls from fifteen to twenty, from $10 to $30 per year.
For boys and girls under fifteen, food.
One-half the annual pay is to be paid in July—the other half in January. The men will not be allowed to converse during working hours; they will not be allowed to raise stock or fowls for their own use; they will be charged with all the property, stock, or fruit on the farm that may be lost or stolen; they will have 30 minutes for breakfast, and 45 minutes for dinner; they will be fined one dollar for each time they are impudent, or are guilty of swearing, quarreling, fighting, or wilful disobedience.
The above may be taken as a fair specimen of the prevailing ideas of justice and fair dealing among many of the planters in different sections of our own and neighboring States. We presume this action of the planters in Cumberland county, to be one link in the solution of the all-absorbing question, "Will the negro work?" Should the freedmen of said county find that, during the months of July and August, they have no clothes to wear, no money to pay doctor's bills, or to meet the thousand other incidental wants of their families, and should, in consequence thereof, express the slightest word of dissatisfaction or discontent, these self-appointed regulators of capital and labor will undoubtedly consider the great problem solved, and will exhibit to the world new and conclusive proof that the "negroes are inclined to idleness, insubordination, vagrancy and theft."
The most infamous portion of the rules laid down for the government of the colored laborers, is that relating to their personal liberty. They are not allowed "to converse during working hours." Even the small enjoyment of enlivening the weary hours of toil with "small talk," is denied them, and their mouths are locked in silence. The birds chatter while building their nests; the industrious bee hums while storing his hive, and a republic of busy ants hold converse with each other while laying up their winter food, but a community of human beings, endowed with reason and intellect, must transform themselves into dumb oxen, and work. Again, they will not be allowed "to raise stock or fowls for their own use." Here we have "Shylock" with a vengeance. The planter, in substance, says, "your labor is mine, and I will exact all, even to the last quiver of a muscle." Again we see cropping out that same disposition to discourage industry and enterprise among the freedmen. They must do nothing, be nothing, say nothing except what will profit their masters, alias employers. They are to be charged with everything "that may be stolen or lost;" they will be "allowed 30 minutes for breakfast and 45 minutes for dinner." "They will be fined one dollar for each time they are impudent." These are the enactments of professedly Christian planters, in a civilized land in the nineteenth century.
National Anti-Slavery Standard, February 10, 1866.
36. FREEDMEN'S BUREAU MEETING IN NORFOLK, VIRGINIA
REPORT OF AN INTERVIEW BETWEEN GENS. STEADMAN AND FULLERTON WITH THE LEADING COLORED CITIZENS OF NORFOLK, VA., HELD AT THE COURT-ROOM OF THE FREEDMEN'S BUREAU, CORNER FEN CHURCH AND MARSH STS., NORFOLK, VA., ON SUNDAY AFTERNOON, APRIL 22, 1866, at 3-1/2 O'CLOCK.
Nearly all the seats being filled and the hour having arrived, the audience was addressed by Capt. A. S. Flagg, in charge of First District R. F. and A. L. He stated in a brief and eloquent manner the object of the meeting to be, that Gens. Steadman and Fullerton wish to converse with the colored freemen and get their ideas concerning the wants and necessities of the people relative to the Freedmen's Bureau in the South, and also obtain from them their views as to existing state of affairs here and the best way to adjust the difficulties between the whites and blacks in the States lately in rebellion. Cap. Flagg referred to the idea entertained by some gentlemen that "the agents of the Bureau were mere sticks of wood" and incapable of rendering any assistance to the colored freemen.
At the close of his remarks, he enjoined that the colored people work quietly, orderly and industriously to bring about the desired results.
Gens. Steadman and Fullerton arrived, accompanied by Gen. 0. Brown, Capt. C. E. Johnson and others, who took seats on the platform.
Cap. Flagg introduced Gens. Steadman and Fullerton. The audience receiving them by rising to their feet.
Gen. Steadman stated that his mission was to converse with them as to the general state of feeling between the whites and blacks in this community, and said that he was with them in an official capacity, with Gen. Fullerton as a Commissioner, sent by President Johnson to inquire into the affairs of the Freedmen's Bureau in the South, and to obtain information as to the benefit derived from the Bureau by the people. He said that he could not talk to all of them, but if they would appoint a delegation, that he would talk with them in behalf of the people.
Accordingly, the following gentlemen were chosen said delegates, viz.: Wm. Keiling, J. T. Wilson, J. G. Selden, A. A. Portlock, N. Barbour and James Bryant.
Mr. Keiling—I hope the Freedmen's Bureau will not be abolished until law and order is restored here, and to the whole country; were the government to remove it now, while we are not recognized as men by the whites of the South, it would be leaving us and the white Union men at the mercy of the ignorant and still rampant rebels and enemies of the government.
Jos. G. Selden—I am a discharged seaman, and I thank God that I helped to suppress the rebellion. I know, having been an old resident here, that the great mass of the whites are against the blacks, and against the United States government. The colored people are true to the government, are quiet and lawabiding, but there are many of them ignorant of the existence of certain laws. The rebellious spirit is now rife against the blacks; they say that had it not been for the blacks they would have whipped the Yankees. The rebel sympathizers and the Copperheads are bitter against both the black man and the Union. The rebels say they hate the negroes because they were once their pro property. They say that one Southern man is better than ten Yankees. One man (a Mr. Marsden) told me the other day that he was "as good as ten Yankees at any time." Marsden was in the rebel army during the war.
Mr. Wilson—Can we render the white loyalist any protection in the position that we are in?
Gen. Steadman—In every way, except as a witness. A black man cannot (according to the civil law of Virginia) act as a witness in cases between white men; but where either party is colored, his evidence will be taken.
Mr. Wilson—Then if we were to see a rebel shoot down a loyalist, we could not act as a witness in such a case?
Gen. Steadman—No; you could not.
Mr. Wilson—Suppose the combatants were both colored, could a white man act as a witness?
Gen. Steadmen—Yes, according to Virginia law; you can make the white man a witness in your case, there is where you have the advantage of a white
A. A. Portlock—I have been in the United States Navy and was honorably discharged after the war; I would like to cite you a case where a rebel is trying to rob my mother-in-law of a piece of property; it is all she owns; the case was brought up before the Virginia Civil Court, Mr. Pepper being counsel; it has been postponed, and I expect the civil authorities are waiting so that the Bureau may be abolished and the military withdrawn, then they will dispossess this poor woman of all she has.
James Nickles (late First Sergeant, Co. I, 1st U. S. C. C.)—We know that we cannot get justice at the State courts; they do not recognize that we have any rights as white men have. We must have a say as to who shall compose the courts, then we can get justice, and not until then.
I know that my former master (Geo. Bramble) would shot me down if he could get a chance because I went into the Union army. When I returned from the battle-field I was willing to take his hand, but he scorned me with contempt. At the breaking out of the war, my old master was a cripple; he had his leg broken. I nursed and attended to him faithfully, and I thought he would be glad to see me on my return from the war; so I went to see him, and took hold of his hand and shook it three times, but he failed to return the compliment, so I let him alone ever since. If he needs my assistance at any time, I am ready to do what I can.
Mr. Wilson—Does the government recognize the Virginia courts?
Gen. Steadman—It does. If the action of the State courts is oppressive, application can be made to the United States courts, the same as in cases between white men.
Mr. Wilson—I think if we had the exercise of the right of suffrage, it might then be safe to abolish the Bureau, and until we do this, we are unsafe and cannot enjoy our freedom. We are anxious to vote because it is our right to do so. Our forefathers exercised this right in the dark days of our country, and why cannot we in this enlightened age? We have polled our vote on the battle-field; why cannot we poll it at the ballot-box? If we are allowed the use of the bullet to suppress rebellion, why can we not as intelligently use the ballot to keep down rebellion?
Educate the people of the South; learn them that we have laws, that we have a country and a government, and that the laws of the government must be enforced; then remove the great barrier, inequality, and put us all on the same footing, and we will then all be respected by the whites of the South and by all men. I hope the Bureau may yet remain until this is done. I hope the military will not be removed until this question is settled.
National Anti-Slavery Standard, May 26, 1866.
37. SOUTHERN CODES FOR FREEDMEN
From a statement of the laws and provisions of the reconstructed States, regarding the freedmen, called for by Congress, April 27, and recently sent to that body, we condense some of the most important facts
THE SOUTH CAROLINA APPRENTICESHIP CODE.
In the negro code of the Palmetto State, while "the statutes and regulations concerning slaves are now inapplicable to persons of color," yet it is thought necessary to declare that such persons are inadmissable to "social or political equality with white persons." They are privileged to make contracts, to sue and be sued, and to be protected under law in person and property. But an act to amend the criminal law, passed and approved December 19, declares in the first section that certain crimes specified shall be declared felony (which of late was punishable with death), viz.: for any person to raise an insurrection or rebellion in this State; fpr any person to furnish arms or ammunition to other persons who are in a state of actual insurrection or rebellion, or permit them to resort to his house for advancement of their evil purpose; * * * for any person who had been transported under sentence, to return to this State within the period of prohibition contained in the sentence; or for a person to steal a horse or a mule, or cotton packed in a bale ready for market. Another section forbids farm laborers to sell produce of any kind without written leave from the "master;" and the punishment is for the buyer, $500 or imprisonment; for the seller, a lighter fine, $5, or twice the value of the products; "and if that be not immediately paid, he shall suffer corporeal punishment."
The section devoted to corporeal punishment is well furnished to make flogging the rule and fining the exception. It forbids colored persons, under penalty of fine or flogging, to keep fire-arms or weapons of any kind; to keep a distillery, or to sell liquor; to come into the State from another State, unless he gets two freeholders to be his security for good behavior in a bond of $1,000. Section 30 provides that upon view of a misdemeanor committed by a person of color, any person present may arrest the offender and take him before a magistrate, to be dealt with as the case may require. In case of a misdemeanor committed by a white person toward a person of color, any person may complain to a magistrate.
Section 29 of the District Court act provides that indictment against a white person for the homicide of a person of color shall be tried in the Superior Court of law, and so shall other indictments in which a white person is accused of a capital felony in the same regard. Not so, however, with "persons of color." The accused, in a colored criminal case, and the parties in every such civil case, may be witnesses; and so may every other person who is a competent witnesses, and in every such case, either party may offer testimony as to his own character, or that of his adversary, or of the third person mentioned in an indictment;" and Section 35 secures to persons of color the same rights as to whites, in regard to the distribution of property by will.
The act to regulate the "domestic relations of persons of color" is worthy of attention. "Colored children between the ages mentioned, who have neither father nor mother living in the district in which they are found, or whose parents are paupers, or unable to afford to them maintenance, or whose parents are not teaching them habits of industry and honesty, or are persons of notoriously had character, or are vagrants, or have been, either of them, convicted of an infamous offence, may be bound as apprentices by the district judge, or one of the magistrates, for the aforesaid term." Section 22 of this law provides that the apprentice shall be well treated in certain useful respects, "and if there be a school within a convenient distance in which colored children are taught, shall send him to school at least six weeks in every year of his apprenticeship, after he shall be of the age of ten years, provided that the teacher of such school shall have the license of the district judge to establish the same."
Section 29 provides that a mechanic, artisan or shopkeeper, or other per-person, who is required to have a license, shall not receive any colored apprentice without having first obtained such license.
Section 35 provides that all persons of color who make contracts for service or labor shall be known as servants, and those with whom they contract shall be known as masters.
Section 39 provides that a person of color who has no parent living in the district, and is ten years of age, and is not an apprentice, may make a valid contract for labor or service for one year or less.
Section 60 provides that upon the conviction of any master of larceny or felony, the district judge shall have the right, upon the demand of any white freeholder, to annul the contract between such convict and his colored servants. If any white freeholder shall complain to the district judge that any master so manages and controls his colored servants as to make them a nuisance to the neighborhood, the judge shall order an issue to be made up and tried before a jury, and if such issue is found in favor of the complainant, the district judge shall annul the contract between such master and his colored servant or servants. It would appear that this act is obliquely directed at the innovating Yankees.
More wonderfully made is the following section, which prescribes that no person of color shall pursue or practice the art, trade, or business of an artisan, mechanic, or shopkeeper, or any other trade, employment, or business (beside that of husbandry, or that of a servant under a contract for service or labor), on his own account and for his own benefit, or any partnership with a white person, or as agent or servant of any person, until he shall have obtained a license thereof from the Judge of the District Court, which license shall be good for one year only. This license the judge may grant upon petition of the applicant, and upon being satisfied of his skill and fitness, and of his good moral character, and upon payment by the applicant to the Clerk of the District Court of one hundred dollars, if a shopkeeper or peddler, to be paid annually, and $10 if a mechanic, artisan, or to engage in any other trade, also to be paid annually: Provided, however, that upon complaint being made and proved to the District Judge of an abuse of such license, he shall revoke the same: And provided, also, That no person of color shall practice any mechanical art or trade unless he shows that he has served an apprenticeship in such trade or art, or is now practicing such trade or art.
GEORGIA, ALABAMA AND TEXAS.
The laws of Georgia make the average provisions in vogue as to the right of freedmen to contract, sue, and be sued; to testify and inherit; purchase, lease, and otherwise dispose of their property, and to have full and equal benefit of laws accordingly, without being subject to other deprivations or punishments than white persons. These are contained in the Act of March 17. An Act of Dec. 15 declares free persons of color shall be competentwitnesses in all the courts of this State, in civil cases, whereto a free person of color is a party, and in all criminal cases wherein a free person of color is defendant, or wherein the offence charged is a crime or misdemeanor against the person or property of a free person of color.
The law of Alabama declares that freedmen shall be competent to testify only in open court, and only in cases in which freedmen, free negroes and mulattoes are parties, either plaintiff or defendant, and in civil and criminal cases, for injuries in the persons and property of freedmen, free negroes and mulattoes, and in all cases, civil or criminal in which a freedman, free negro or mulatto is a witness against a white person, or a white person against a freedman, free negro or mulatto, the parties shall be competent witnesses, and neither interest in the question or suit, nor marriage, shall disqualify any witness from testifying in open court.
Section 2 of a law of Texas, passed April 2, states that "Africans and their descendants shall not be prohibited, on account of their color or race, from testifying orally, as witnesses in any case, civil or criminal, involving the right of, injury to, crime against, any of them in person or property, under the same rules of evidence that may be applicable to the white race; the credibility of their testimony to be determined by the court or jury hearing the same; and the Legislature shall have power to authorize them to testify as witnesses in all other cases, under such regulations as may be prescribed as to facts hereafter occurring."
FLORIDA PILLORY LAWS.
The law of Florida affecting negro testimony is much the same as the foregoing. But an act of the 15th of January provides in the twelfth section that it shall not be lawful for any negro, mulatto or other person of color to own, use or keep in his possession or under his control any bowie-knife, dirk, sword, fire-arms or ammunition of any kind, unless he first obtain a license to do so from the Judge of Probate of the county in which he may be a resident for the time being; and the said Judge of Probate is hereby authorized to issue such license upon the recommendation of two respectable citizens of the county certifying to the peaceful and orderly character of the applicant; and any negro, mulatto or other person of color so offending shall be deemed guilty of a misdemeanor, and upon conviction shall forfeit to the use of the informer all such fire-arms and ammunition, and in addition thereto shall be sentenced to stand in the pillory for one hour, or to be whipped, not exceeding thirty-nine stripes, or both, at the discretion of the jury.
Section 14 provides that if any negro, mulatto, or other person of color, shall intrude himself into any religious or other public assembly of white persons, or into any railroad or car or other public vehicle set apart for the exclusive accommodation of white people, he shall be deemed guilty of a misdemeanor, and, upon conviction, shall be sentenced to stand in the pillory for one hour, or be whipped, not exceeding thirty-nine stripes, or both, at the discretion of the jury; nor shall it be lawful for any white person to intrude himself into any religious or other public assembly of colored persons or into any railroad car or other public vehicle, set apart for the exclusive accommodation of persons of color, under the same penalties.
Section 4 provides that in addition to cases in which freedmen, free negroes and mulattoes are now, by law, competent witnesses, freedmen, free negroes or mulattoes shall be competent in civil cases, when a party or parties to the suit, either plaintiff or plaintiffs, defendant or defendants; also in cases where freedmen, free negroes and mulattoes are either plaintiff or plaintiffs, defendant or defendants, and a white person or white persons is or are the opposing party or parties, plaintiff or plaintiffs, defendant or defendants. They shall also be competent witnesses in all criminal prosecutions where the crime charged is alleged to have been committed by a white person upon or against the person or property of a freedman, free negro or mulatto; provided, that in all cases said witnesses shall be examined in open court on the stand, except, however, they may be examined before the grand jury, and shall in all cases be subject to the rules and tests of the common law as to competency and credibility.
Section 5 provides that every freedman, free negro and mulatto shall, on the second Monday of January, 1866, and annually thereafter, have a lawful home or employment, and shall have written evidence thereof, as follows, to wit: If living in any incorporated city, town or village, a license from the Mayor thereof, and if living outside of any incorporated city, town or village, from the member of the Board of Police of his beat, authorizing him or her to do irregular and job work, or a written contract, as provided in section 6 of this act; which licences may be revoked for cause at any time by the authority granting the same.
Section 7 provides that every civil officer shall and every person may arrest and carry back to his or her legal employer any freedman, free negro or mulatto who shall have quit the service of his or her employer before the expiration of his or her term of service without good cause; and said officer and person shall be entitled to receive for arresting and carrying back every deserting employe aforesaid the sum of five dollars, and ten cents per mile from the place of arrest to the place of delivery, and the same shall be paid by the employer and held as a set-off for so much against the wages of said deserting employe; provided, that said arrested party, after being so returned, may appeal to a justice of the peace or member of the board of police of the county, who, on notice to the alleged employer, shall try, summarily, whether said appellant is legally employed by the alleged employer, and has good cuase to quit said employer; either party shall have the right of appeal to the county court, pending which the alleged deserter shall be remanded to the alleged employer, or otherwise disposed of, as shall be right and just; and the decision of the county court shall be final.
National Anti-Slavery Standard, May 29, 1866.
Auburn, June 3d/1866
Gen. Pope:65
I have to appeal to you or have injustice shown me. I contracted to stay at the Isaid Hills of this place for this year, but after staying there a while found out that I could not do the work—that what had been done by them before & went there, I told them I was disatisfied and wished to leave. They told me I could not do so—If I attempted it they would put me in jail,—I have no husband—but one man by the name of Manuel Mitchell had been coming to see me for nearly two years. Mr Hill told me if I agreed to stay with him this year, he would not say anything but stand between me and the law, after I left them he has prosecuted me for living in adultery although the man has quit coming to see me. Mr Hall says I will have to either go to jail, pay, or go back to his house and work it out. The court is in session in oblilitra now and I understand I will have to go this week There is no justice in it—what can I do—can you not help me. . If so I would be ever lasting grateful
Your obedient servant
Elizabeth Gleenn
Records of the Assistant Commissioner for the State of Alabama, Bureau of Refugees, Freedmen, and Abandoned Lands, Letters Received, 1865–1870, National Archives.
39. WHITE AND BLACK LABOR UNITY IN NEW ORLEANS, 1865
I thought it an indication of progress when the white laborers and Negroes on the levee the other day made a strike for higher wages. They were receiving $2.50 and $3.00 a day, and they struck for $5.00 and $7.00. They marched up the levee in a long procession, white and black together.
J. T. Trowbridge, The South: A Tour of its Battlefields and Ruined Cities, etc. (Hartford, Conn., 1866), p. 405.
Some time since the Common Council of Savannah, Ga., adopted a municipal ordinance imposing a poll tax of $10 each on all stevedores and persons employed on the wharves. It does not appear that the City Fathers of Savannah really intended to discriminate against labor. But they were driven to a corner for money, and adopted means of raising it that were just as distasteful to the merchants and capitalists, as the ten dollar poll tax was to the stevedores. But the latter, who are chiefly colored men, managed to resist the impost, and refused to pay the tax. They flatly refused to work on such terms, and for several days there was great excitement in the city. The work of loading and unloading the cotton ships and steamers was brought to a standstill, to the great loss of the whole community. The merchants who suffered severely from the suspension of work on their vessels, offered to pay the poll tax for the stevedores. But the latter manfully refused. They felt that the tax was unjust, and opposed it to the last.
Finally, the force of public opinion being on the side of the stevedores, the Common Council met and reconsidered and repealed the tax, and the men promptly resumed work. We cordially congratulate our colored friends in Savannah upon their victory. This is not the first time since their emancipation, that they have resolutely asserted and vindicated their rights. The fact is that the black man likes to be paid for his work just as well as white men, and are rapidly learning how to secure their demands.
National Workman (New York), February 9, 1867.
41. DISCONTENT AMONG NEGRO LABORERS
For ten days or two weeks past a growing feeling of dissatisfaction and discontent has been manifested among the entire negro laboring population, including alike those engaged on the levee, those employed in saw-mills, and those who work odd jobs and day's-work generally.—That this is a combined movement is easily discerned by the manner in which the matter has been carried on. And that white men are the instigators of the trouble is equally evident from the same reason. The first public demonstration was made on Saturday, the levee laborers demanding an advance of 25₵ per hour for their services, the strenuous exertions of the police, alone preventing a very serious disturbance of the public peace. Yesterday and last night meetings were held by the leaders among the negroes, and resolutions were adopted by all of them, at the suggestion of the same white men who first incited the trouble, sustaining the strikers of Saturday and pledging themselves to stand by any of those who might become amenable to the law in the carrying out of the proceedings. This morning, Wylle Brown, a mulatto, formerly in the employ of Mr. Jewett, proprietor of a saw-mill in the lower part of the city, went to the lumber yard of Mr. Jewett, and attempted to persuade the negro hands at work there to leave, giving them to understand that nothing more was necessary to insure a large advance in their wages. Mr. Jewett, learning what was going on, went to the yard and ordered Brown from his premises, Brown refused to go, and Mr. J. had him arrested and sent to the station house, charging him with disorderly conduct in interfering with matters which did not concern him. After the news of his arrest became circulated among the other negroes, a large crowd assembled and moved up Royal street towards the city prison, evidently under excitement. The crowd, on reaching the side walk under the verandah of the building situated on the northeast corner of Royal and St. Michael streets, halted, and, after some consultation, gradually dispersed. The case of Brown came before Ald. Overall, acting Mayor, at this morning's session of the Municipal Court, and he was discharged, the officiating justice not deeming the evidence sufficient to sustain the charge made against the prisoner. The crowd, which had dispersed, as above stated, had assembled in front of the City Hotel, opposite the Mayor's Court room, and received the news of Brown's dismissal from custody with cheers and other manifestations of approbation.
We learn that after adjournment of the Court Brown was re-arrested by Officer Shelton, of the day police, but upon what charge we have been unable to ascertain. A small crowd of negroes followed the officer and his prisoner to the station-house, but made no demonstration towards his rescue.
We also learn that the negroes declare that no white men shall be employed in the work of discharging and loading steamboats until the present difficulty is arranged. The steamer Lucretia, from New Orleans, is now at her wharf laden with corn, and if, according to the ring leaders of the disaffected negroes, white men should go to work discharging her, it is feared that there will be serious trouble.
There is a rumor, for the truth of which we cannot vouch, that the Chief of Police dispatched a messenger to the Commandant of the Post requesting him to send a squad of men to the stationhouse to aid in preserving the peace, but we have not learned the result of the message.
LATER.—We are informed that a large crowd of negroes started for Broad street, where the chain-gang is employed, with the avowed intention of releasing the prisoners that were in charge of the officers of the Street Commissioner, but that the advice of the better disposed among the negroes prevailed, and the attempt was abandoned.
It is thought that the trouble is over, and that no serious disturbance will occur.
The Post Commandant has assured the Mayor that in the event of the service of the troops being required they will be promptly ordered out.
Mobile (Alabama) Register and Advertiser, April 2, 1867.
During the excitement on the wharf last Saturday, growing out of the strike of the negro laborers for higher wages, Capt. Charpentier, the Chief of Police, ordered the arrest of James Watson, one of the ringleaders, who was more boisterous and turbulent than the rest. He was taken to the station-house, where he was confined for one hour, when he was released by order of Capt. Charpentier. Whereupon Watson went before a justice of the peace and sued out two warrants against the Chief of Police, one for assault and battery and the other for $1,000 damages for false imprisonment. This morning the case of alleged assault and battery was brought before Justice MacDonald. Six white witnesses testified that Capt. Charpentier did not touch the complainant, but stood at least six feet from him when the arrest was ordered. The negro witnesses, however, of whom there were three, testified that Capt. Charpentier put his hand upon Watson and pushed him towards the officer ordered to make the arrest. Complainant's lawyer submitted the case upon the evidence, and it was dismissed.
The case of damages for false imprisonment will come up before the City Court.
We give simply a plain statement of the facts of the remarkable affair, without comment. In fact, comment is unnecessary.
Mobile (Alabama) Register and Advertiser, April 3, 1867.
43. A DIFFICULTY BETWEEN WORKINGMEN AND A CONTRACTOR
Yesterday morning, about half past seven, a crowd of colored stevedores, numbering about five hundred, assembled on the levee to deliberate upon some difficulty which existed between themselves and certain contractors. It appears that for some time the contractors who undertake to load and unload boats have been practising a swindle upon the workmen, and the latter were determined to prevent any further such abuses. The workmen were generally paid only one half of what was justly due them by these contractors.
Under the state of excitement the working men soon seized a contractor named Moses, and attempted to lynch him, but the man was soon rescued by Sergeant Stewart, of the river police, and he was placed in the station-house for safe keeping. Considerable resistance was made and many efforts attempted to rescue him.
The contractor employed in discharging the steamer Irene was also attacked, but the swiftness of his legs put an end to the assault.
Mayor Heath, with the Chief of Police, went to the scene of tumult and made an effort to appease their riotous dispositions by addressing them a few words of advice. But, as the Mayor has lost much of the affection of the colored people, very little attention was paid to his remarks. Mr. Heath then applied to the military authorities to quell the disturbances, and a company of soldiers was soon under arms. Meanwhile the disturbers had proceeded toward Julia street, going to the New Basin for the purpose of catching some other contractor; but passing the headquarters of Gen. Mower, the rioters were advised by Gen. Mower to desist in their conduct, which they did.
After 2 o'clock P. M., peace and quiet were completely established.
New Orleans Tribune, May 18, 1867.
Gen. Mower, Assistant Commissioner of the Freedmen's Bureau, has earned the title of "Swearing Mower," as Gen. A. J. Smith earned a similar title during the late war.
Gen. Mower can swear at poor freedmen as readily as he can swear at rebels. "By the eternal God" is a big thing to say. Pious people, as most of the freedmen are, on hearing such language from their assistant commissioner, must have opened their eyes and exclaimed: "What sort of a man is that?" Gen. Jackson, the hero of the Battle of New Orleans, is credited with a similar stretch of speech when he was arraigning South Carolina for her secession proclivities in former days.
If Mower should have uttered this speech when he was upbraiding rebels for the crime of rebellion and treason he might have been justified with the same sort of justification which charitable patriots usually extend to our illustrious ex President.
But to have met a few freedmen who felt indignant because they had worked hard under the burning sun and then been cheated out of their earnings, and to have exclaimed (as the New York Herald dispatches give him credit for) "By the eternal God, I will throw grape and canister into you," is something calculated to excite anything but praise of our commissioner.
Had the General gone to the levee as the duties of his office required, and compelled the contractors to pay wages due to the freedmen, there would have been no need of such an excitement as occurred at the time.
But the General loves to swear, and of course it would not do to let an occasion pass without letting out a regular Jacksonian.
To do him justice, however, we must publish the Herald's dispatch as we find it. It should not be read aloud where children could hear it, for we are anxious that the rising generation should not be tainted with the evil influence which it would be likely to impart:
GEN. MOWER'S SPEECH,—General Mower addressed the rioters yesterday, when two hundred passed his headquarters on their way to the New Basin, brandi-hing clubs and threatening to lynch the contractors there, as follows: "If you feel yourselves wronged you must apply to the proper authorities for redress, and you shall have it; but if you take this thing into your own hands, you may loose what rights you already possess. If you go on with this rioting, by the eternal God I will throw grape and canister into you. Now, disperse, and go to your homes or to your work." The mob immediately dispersed.
New Orleans Tribune, May 24, 1867.
We mean the discharging of a large number of workingmen, formerly employed by the department of streets and landings.
The number is now so much reduced that the service can hardly be performed. But there is something more. The workmen are not regularly paid. They must wait for their wage for months; and inasmuch as most of them cannot afford to live without their due, they feel compelled to discount their certificates, at a ruinous percentage. We are told that brokers take as high as twenty per cent. to discount said certificates, which moreover, are generally paid in part at least, with ten and twenty dollar city bills.
Under such circumstances, there is hardly a situation in the city, worse for a journeyman than to be employed by the Street Department. True work is scarce at this time of the year, when business is at a stand-still, the city deserted on account of a long and severe epidemic, and no traffic, no commerce, carried on for the present. But this is no reason for the city official to take advantage of these unfortunate circumstances, so as to oppress the men in the employ of the city. There is no humanity and no dignity in such a course. The government of a large and influential city as New Orleans should be above such petty calculations. We are certainly and emphatically in favor of economy and order. But economie should be of dollars not of cents; and they should not bear upon poor laborers, having but their hands to earn their daily bread. The city should be punctual to pay the monthly wages of these men. We are perfectly satisfied that this could be done, through some care and exertion. Why should the laborers be kept waiting? The claim of labor is the most pressing and the most sacred of all. The laborer has a privilege on the good and property of his employer. He is the first to be paid and satisfied in case of bankruptcy, death and depar ture. It behooves public administration to be conducted for sound principles, we set forth a just regard and a just consideration to labor.
New Orleans Daily Tribune, November 1, 1867.
46. THE BRITISH CONSUL IN BALTIMORE REPORTS ON PROBLEMS CREATED OVER INTEGRATED SHIP CREWS
British Consulate
Baltimore November 11, 1867
My Lord
One result of recent elections in this and neighbouring States, by which the Democrats have gained considerable influence, has already made itself apparent in connection with the employment of colored people in the merchant-shipping service; and I deem it my duty respectfully to call your Lordship's attention to facts that have come within my own cognizance, and which threaten to interfere with the interests of British Shipping—perhaps to a greater extent at Baltimore than in any other Port in the United States—because political feelings run very high here, and because the conduct of the Negroes in the more Southern States, on several recent occasions, has created towards them a hostile feeling in Maryland.
Hitherto white and colored Seamen have been shipped indiscriminately on board the same vessel,—whereas now the Shipping Masters and the Boardinghouse Keepers have—at a period when trade is extremely dull and seamen consequently plentiful, determined not to ship a white man on board the same vessel with a colored man, and their combined power in the matter cannot be counteracted by any means at my command—as through their medium alone can Seamen be obtained.
In order to illustrate the practical result of such combination, I have the honor to submit for your Lordship's consideration a case of recent date.
The British Ship "R. B. Mulhall" arrived here a short time ago with a mixed crew of white and colored seamen, shipped at Liverpool, Nova Scotia, for a term of twelve months. Soon after her arrival several of the men deserted (as is invariably the case here) but one colored man and two white men have remained by her. When she was nearly ready for sea, the Captain told me that the Shipping Masters positively refused to ship a white crew on board the vessel so long as the colored man remained there.
This colored man, the Captain informed me, was an excellent Seamen, whose services he was as anxious to retain as the man was desirous to remain by the vessel until the expiration of his term of service.
I made inquiries and found the Master's statement correct and no doubt rests on my mind that recent political events have been a means to create this state of affairs.
My instructions give me no authority to compel a seaman to leave a ship without just cause, and yet I felt that—the case being without a precedent, as far as I am concerned,—I should not be justified in delaying the departure of the vessel for an indefinite period. I therefore determined—if necessary—to take some responsibility on myself by discharging the colored seaman and sending him home at the Ship's expense.
Fortunately, however, I was later able to persuade him to take his discharge on payment of additional wages; and the matter was so settled.
But,—as a considerable portion of the British ships trading to this Port, arrives from Demerasa, the West Indies, & with mixed crews engaged for six or twelve months, I fear that Societies and Individuals, belonging to the opposing political party,—so soon as they learn these difficulties, will oppose amicable settlements.
Under these circumstances I would solicit your Lordship's instructions, as to the means I may be permitted to adopt if cases of a similar nature present themselves again—but where the colored Seamen insist on remaining on board the vessel until their time of service shall have expired.
I have the honor to be, with the highest respect,
My Lord
Yours Lordship's
Most Obedient
humble Servant
Harry Ranials
As reproduced in Herbert G. Gutman, "Documents on Negro Seamen During the Reconstruction Period," Labor History, 7 (Fall, 1966):308–09.
47. BLACK STEVEDORES STRIKE IN CHARLESTON, S. C.
A STRANGE PROCEEDING.—Yesterday morning a large number of colored stevedores, who have for many years, before and since emancipation, had a monopoly of loading and unloading ships at this port, stopped work on a demand for $2.50 and $3 per day. We regret this occurrence, because it can only end in loss and injury to the parties interested.
The merchants of Charleston controlling steamers and sailing vessels have always been known as liberal in their intercourse with the working people, and in spite of all the appeals that have been made to them, even under the pressure of political excitement, have refrained from giving preference against those colored men, and we are sure that a proper representation would have resulted in a satisfactory arrangement: but when a crowd of men with badges, insist upon fixing the compensation for service, and are not very particular, so long as the workman has a "badge," whether he is strong enough to handle a box of pickles or roll an empty-truck, there seems no redress but to make other arrangements.
We understand that Messrs. JAMES ADGER & CO. are loading the steam ship Champion with the help of a number willing of white citizens, who are anxious to work night or day, and that the steamer will be ready for sea at the appointed time.
There is a point beyond which forbearance ceases to be a virtue.
Charleston Daily Courier, October 4, 1869.
48. STRIKE OF THE LONGSHOREMEN
Violence and Lawlessness on Adger's Wharf—The Negroes Endeavor to Throw a White Man Overboard.
We have already alluded to the strike of the longshoremen, which commensed several days ago, and which still continues. No one will, of course, deny the right of a body of laborers to demand higher wages from their employers, and to refuse to work if these demands are not complied with. These men, composed of negroes, it seems have organized a protective union, and have struck for higher wages. We learn that they demand $2.50 per day for laborers, and $3 per day for foremen, and that the working days be comprised between the hours of 7 A. M. and 5 P. M. They demand, also, forty cents per hour additional for all work done after 5 P. M. With these demands the owners and agents of vessels in port have refused to comply, and were compelled to rely upon their crews and such white labor as they could procure.
On Monday, (yesterday morning) the agent of the New York steamer at Adger's Wharf, had a conference with the strikers; and we are informed it was agreed that twenty men should go to work at the price demanded, but that they should work until six o'clock.
This having been agreed upon the twenty men proceeded to work, but had scarcely begun when a messenger arrived, and they forthwith left, without any explanation.
The strikers now had possession of the wharf, and drove off everybody, white and black, whom they suspected of a desire to go to work. A gentleman who was engaged at work on the steamer was bidden by them to move off. He refused to comply, when four of the stoutest of the ruffians seized him for the purpose of pitching him overboard, and would have carried out their intention had they not been prevented by a number of gentlemen who were standing by. As usual, there was no policeman near by at the time, and one was sent for, and requested to clear the wharf. This was done, and the work proceeded. The conduct of these negroes is unbearable, and if the ringleaders can be identified they should be punished. To refuse to work is perfectly lawful, but they have no right to assault any man, white or colored, who is willing to work, and they should be taught the lesson.
We trust that the agents of these vessels will send North, if white or colored labor cannot be procured here, and obtain the necessary amount of hands. Men who would be guilty of the lawlessness that characterized the proceedings of yesterday are unfit to be trusted, and should not be employed. We hope that there will be a sufficient police force stationed in the vicinity of the wharves to prevent the recurrence of these unlawful acts.
Since writing the above, we learn that the gentleman whose life was threatened can identify the parties and will have them indicted.
Charleston Daily Courier, October 5, 1869.
49. ANOTHER LONGSHOREMEN STRIKE
Yesterday the Longshoremen, who seem to be bent upon striking at every opportunity, were on another strike. The cause, as near as we could learn, was as follows: Mr. G. B. STODDARD was employed as Stevedore on board the bark A. B. Wyman, now being loaded for Liverpool. The fact coming to the notice of some of the shippers by the vessel who had objections to Mr. STODDARD, they intimated their objections to the Captain, who thereupon discharged Mr. STODDARD. Upon this becoming known the Longshoremen struck, refused to work, and adjourned to the Military Hall, where the following resolutions were adopted:
Whereas, the shippers per the Boston bark A. B. Wyman, bound for Liverpool, have refused to ship any cotton on board of said vessel unless Captain G. G. Stoddard, Stevedore, is dismissed from loading said vessel; and whereas the shippers have declared that they make this demand on the sole ground that Captain Stoddard is a Republican, therefore
1. Resolved, By the Longshoremen's Protective Union of Charleston, that no member of this Union will work on board the bark A. B. Wyman, unless their brother member, Capt. G. B. Stoddard, be first restored to duty as stevedore on board of said vessel; and further, no member of this Union will aid in loading any vessel with cotton until the shippers withdraw all discrimination against longshoremen on account of their political sentiments, whether such members be Republicans or Democrats.
2. Resolved, That copies of these resolutions be forwarded for publication to the Boston Shipping Journal, the Boston Post, the New York Herald and Tribune, the Bath (Me.) Journal, and the papers in this city.
The strike extends along the entire wharves.
Charleston Daily Courier, October 14, 1869.
50. "THE COLORED TAILORS ON THE RAMPAGE"
Imitating the example set by the Longshoremen, the colored tailors have gotten up a strike for their own special benefit. Hurrah! we say. Let the colored workers bring more white labor to this city by their exorbitant demands. The more white men come, the better for the prosperity of the community, and white men will come when they can get better wages and cheaper living here than in the North. There are always a number of such persons out of employment in all the Northern cities, who will be glad to get permanent employment at remunerative wages, while these colored men, led on by demagogues, are deluding themselves with the idea that they are a necessity to the community. No man is a necessity to any community. The greatest of all men die, and he is missed but for a moment; but of all men, the one who is least needed is a colored tailor. If he must strike for the purpose of asserting his independence, he can do so to his heart's content. The master tailors have only to publish the fact, and their places will be supplied by others, who do not feel that a strike is a necessary part of a freeman's or freedman's existence.
We are glad to know that the master tailors have taken the same view of the question. The prices which they now offer will pay an industrious and capable man from $25 to $30 a week—wages high enough to tempt the best Northern white labor. For these prices the colored tailors were unwilling to work up to a late hour last night. If they continue to refuse what is offered, the master tailors will send an agent North at once to engage and bring out thirty-five journeymen tailors, and the colored strikers, without any work at all, may then practice their antics elsewhere.
The strike of the tailors commenced on Monday morning, since which time not a stitch of work has been done in any of the shops in the city. Last night, at nine, the word was: "The Board is still in session," said Board being the worshipful assembly of colored striking tailors in session at the Military Hall. There are tailors here who would be glad to work for the wages offered, but the strikers (following the example of the longshoremen) will not permit them.
One man who was bold enough to disregard the threats of the strikers, and worked in a shop, was set upon while the boss was at dinner, and forcibly taken away.
There are about one hundred colored tailors in this strike, and three whites.
Charleston Daily Courier, October 14, 1869.
CONDITION OF BLACK WORKERS IN THE NORTH DURING RECONSTRUCTION
51. HOME FOR "COLORED SAILORS"
A Home for Colored Sailors has become an indispensible institution. The colored sailor cannot be elevated without it, no more than this earth can exist without the sun that shines. As a general thing, a man "once a sailor is always a sailor." Thousands of our seamen enter the mercantile marine and naval service at an early age, uneducated and unskilled in the mechanical arts or scientific knowledge, and, therefore, have no chance of promotion on shipboard, and no encouragement to follow the industrial pursuits of landsmen. Under these circumstances, the sailor's manhood becomes a mere tool in the hands of evil-disposed persons.
Sailor's Magazine (March 1867):245–46.
52. CONDITION OF THE COLORED POPULATION OF NEW YORK
THE COLORED POPULATION.
The colored population of New-York which numbered, according to the census of 1860, 12,000 persons, increased during the first years of the war, from the arrival of contrabands and other causes, to 15,000. After the riotous uprising of the Irish against the colored people at the time of the draft, in July, 1863, many of them left the City for fear of future ill-treatment, and a gradual emigration has been since going on which has reduced their numbers at the present time, according to the calculation of those among them who have the best opportunities of judging, to something near 12,000. This is exclusive of a floating population of seamen, ships' cooks, habitual wanderers, &c., amounting to 2,000 or 3,000. They are thus distributed: In the neighborhood of Mulberry, Crosby, Chrystie, Delancey and Baxter streets, about 1,500; in the Five Points Mission district, about 250; in Twenty-seventh, Twenty-eighth, Twenty-ninth and Thirtieth streets, extending from Fifth avenue to the North River, nearly 4,500; in the neighborhood of Thompson, Laurens, York, Wooster and Sullivan streets, between Bleecker and Canal streets and from Bleecker to Eighteenth street, about 4,500; and some 1,500 scattered indiscriminately over the City. They change their residence so frequently that it is difficult to arrive at a precise estimate of their numbers, but this is believed among their own people to be a fair approximation.
THEIR PURSUITS.
The men are principally occupied as coachmen in private families, waiters in hotels and dining saloons, barbers, whitewashers, bricklayers and kalsominers; while many of them are teamsters and longshoremen, and a few work privately as artisans in different trades. In the Spring, Summer and Autumn great numbers of them go as cooks, stewards and waiters on the various river steamers, many more are employed as waiters in the hotels at the different Summer resorts and watering-places; and such is the exodus produced by these causes that it is computed that there are twice as many more colored men in the City during the Winter months, when the hotels are all closed and the steamers laid up, than there are in the Summer time. This latter class are generally compelled during the Winter to subsist upon what they have been able to save from their Summer earnings; and in cases where they have been improvident, or have not had employment during the entire season, very great distances is often experienced by them.
The principal occupations of the women are washing and ironing—for which they seem to have much aptitude—dressmaking and hairdressing, and a certain number teach in the colored schools. The washerwomen seem, as a class, to be very industriously inclined, and are generally contented with the weekly money they earn. They are compelled of necessity to keep themselves and their places clean, and get up the linen committed to their charge in a style fully equal to their white competitors, and in strange contrast with the dusky color of their skins.
THEIR CHURCHES AND INSTITUTIONS.
In matters of religion, the great bulk of the colored people may be divided into two sections—Methodists and Baptists. The Methodists comprise nearly two-thirds, and the Baptists about one-third, of the whole population; though there are some Episcopalians, Roman Catholics, and Presbyterians. They have two Methodist Episcopalian Churches, each of which has a special section in the cemetery at Cypress Hill for the burial of their people. Zion Church, at the corner of Bleecker and West Tenth streets, of which Rev. WILLIAM F. BUTLER is the pastor, is valued, with the ground on which it stands, at $100,000, and has also great real estate belonging to it, in different parts of the City, valued at $100,000 more. There are also two Union Methodist Churches, two Baptist, one Episcopalian, one Presbyterian, and one Methodist Mission. The Roman Catholics are so few in number that they have, as yet, no church of their own, but attend the churches of the whites. The total amount of Chruch property in this City belonging to the colored people, is valued at $455,000.
Their distinctive institutions are alike various and numerous, and appear to be very well supported by their own people. They have six public schools, an Industrial and Educational School at No. 185 Spring-street, which was opened last Summer, and which is daily crowded with pupils of all ages, from 5 to 30 years, only too anxious to learn something and everything; an Orphan Asylum, capable of accommodating 173 boys and girls, the highest number yet reached; and an asylum for aged people, called "The Old Folks' Home," which contains nearly 200 inmates. They have, moreover, several societies whose objects are relieving the poor, visiting and nursing the sick, burying the dead and reclaiming drunkards. The Society of the Good Samaritan has six lodges, and numbers nearly 600 members; the Society of Love and Charity has 850 members. Then there is the Society of the Sons of Wesley, 120 members; the Saloons' Men Society, 200 members; the Coachmen's Benevolent Society, the Young Men's Christian Benevolent Society, and the Mutual Relief Society. These are all of a benevolent character. But these charitable and benevolent associations are by no means confined to the men. Among the women there are the societies of The Daughters of Esther, a very wealthy institution; The Daughters of Wesley, The Female Perseverance, The Ladies' Mutual Relief, The Ladies' Loyal League, The Daughters of Zion, and Tappin's Assistant Society, numbering altogether 2,000 members. There are fourteen lodges of colored Freemasons, with 750 members, but they have no connection with similar associations in New-York. The New-York lodges refused admission to all negroes on the ground of their color, but they succeeded in obtaining a charter direct from the Grand Lodge of England, and are governed by the rules of that Order in that country. The Grand United Order of Odd Fellows, which has four lodges with 350 members, also derives its charter direct from England—the white lodges in this cith having declined to acknowledge their colored brethren. They have carried their animosity to such a pitch as to procur their connection with the English branch of the Order, in consequence of their having given a charter to the colored men of this and other cities. The Union League Council, which has 1,500 members, is a purely political club, having for its especial object the obtaining of negro suffrage. There is also a Young Men's Christian Association, consisting of 140 members, which has a reading-room and a lending library. A Literary Society is attached to this institution, under whose auspices courses of lectures on various improving topics are from time to time given. The Freedman's Bank, in Bleecker-street, has now been in operation nearly two years, and has received during that period deposits to the amount of $130,000. At the same time, very many others of the savings banks of the City have the names of colored customers on their books.
The Zion Standard & Weekly Review is a newspaper edited, printed and published entirely by colored men, for the use and benefit of their own people. It is devoted to religion, news, politics, literature, science and the general interests of the African race in this country—religious but not sectarian. Rev. DR. JAMES N. GLOUCESTER is the chief editor. The paper, which has correspondents in all parts of the United States, from New-England to C California, seems to have a fair advertising business, is very well gotten up, and is altogether very creditable to the enterprise of its promoters.
THE PREJUDICE AGAINST THEM.
Throughout the whole of the exploration which I recently made, accompanied by an experienced officer of the Police force, through the quarters of this City occupied by colored people, I met, in every direction, the most startling evidences of the powerful effects of prejudice. Of all the difficulties with which they have to contend, that of prejudice against them for their color's sake throws all others into the shade, and would seem under present circumstances to be almost insuperable. This is a feeling which is bitterly and intensely fostered by the Irish element, and quietly acquiesced in by a very large portion of native-born citizens. If a colored man applies for work at a new job, he always has to wait till the contractor sees whether he can get enough white laborers for his purpose before he is taken on, and it more often happens that he is at once refused employment, simply on the ground of his color, although the contractor who refuses to employ him, may be at the very moment short of his requisite number of hands; and, when he does succeed in getting work, he has to accept lower wages, and is always expected to work harder than a white man, while his fellow-workmen "put upon" him whenever they get the opportunity, and ceaselessly jeer at him and make him the butt of their jokes. To my inquiries, "Why do you not break up this wretched colony and move into more comfortable quarters," one invariable answer was returned: "We find it so difficult to persuade any one to rent us a decent place on account of our color. Hundreds of us would gladly pay twice the rent to live in some more respectable neighborhood; but the landlord's will not accept us as tenants on any terms, declaring that, should they let a couple of rooms to a colored man, all their white lodgers would immediately give them notice to leave." It has happened on many occasions that men, who have succeeded in obtaining work at a long distance from their homes in the negro quarters, and who were naturally anxious to remove themselves and their families to the immediate neighborhood of their work, have actually offered to different landlords much more rent than they could possibly hope to get from white men, and have been curtly told: "I never let my rooms to a nigger." The consequence is that the poor fellow often has to walk three miles to and from his work; and three miles is a long distance after a hard day's labor. Again, many members of the Trades Unions refuse to work on a building job if colored men be employed; and the Irish, especially, have often made combinations to compel the masters to discharge them. Neither will they work for masters who take colored apprentices. I was informed by highly respectable persons, who were by no means desirous of glossing over the faults of their people, that they did not know a single workshop in this city where a colored man could get employment as an artisan, however respectable or however clever at his trade he might be, or where a colored lad would be taken as an apprentice.
But this prejudice against the African people, on account of their color, is by no means confined to the laboring classes. Respectable hotels almost invariably refuse to admit colored people within their doors. The proprietors of ice-cream, oyster and dining saloons, and the keepers of liquor stores, even of a second or third rate class, refuse to furnish them with refreshments. Rev. WILLIAM F. BUTLER, pastor of Zion Church, a man of gentlemanly manners and appearance, and of some consideration education, assured me that one day last Summer he entered, in company with Mrs. BUTLER, an ice-cream saloon, by no means a fashionable one, and requested to be supplied with refreshments; in answer to which request he was informed that they were not in the habit of accommodating colored people, and must refuse to serve him. On another occasion, not long ago, Mr. BUTLER walked into a dining saloon on Sixth-avenue, about 4 o'clock in the afternoon. The place was empty, and he was readily served with dinner, which he partook of, paid for, and departed without a single remark being made by the proprietor. A day or two afterward he repaired to the same saloon, but on this occasion at midday. The dining room was nearly full of white people. The proprietor immediately walked across the saloon to him, and informed him that he could not dine there at that hour, but if he chose to come later in the afternoon, after all their white customers had left, he would then allow him to be served with dinner, but not before.
Again, some of the theatres refused to admit colored persons at all, while those who did condescend to do so only allow them to sit in one part of the house—the tier of seats immediately beneath the roof. But perhaps one of the most astonishing instances of this prejudice occurred last Summer; and that in a quarter from whence it might have been least anticipated. The Christian Convention of ministers of all denominations, which was then assembled in this City, thought proper to set the bad example of Christian charity and brotherly love to all the world of not inviting their colored brother ministers to attend their sittings.
The only class in this City who appear to be really uninfluenced by this intolerant spirit of prejudice against the color of the negro are the Germans. They seem, as a general thing, to have no objection to let lodgings to them; they willingly employ them and pay them fair wages—quite as much as they would pay a white man of equal skill and powers of work. Moreover, when they do employ a colored man, they treat him properly, and not simply as the nigger.
After making a searching and patient inquiry into the condition, ways and habits of the colored population of New-York, I can come to but one conclusion—that, in spite of all their efforts to the contrary, they are kept back by circumstances over which they themselves have no control; that if they could get rid of this inveterate and all-powerful hostility of the Irish to them, on account of their color, they would soon make rapid progress; but that till that desirable consummation is brought about, they will go on much in the same way as they have done for years past. . . .
CRIMINAL STATISTICS.
Much stress is laid by some unthinking persons on the unusually heavy proportion of criminals among the colored population of this City. There is no denying that crime does exist among them to a deplorable extent, but not to anything like the amount that is generally supposed. A careful analysis of the official statistics of crime published annually by the Board of Commissioners of Public Charities and Correction, accompanied by a fair and just consideration of all the circumstances of the case, would, I think lead unbiased persons to considerably modify their views on this head. I find that during the year 1867 there were no less than 47,313 men and women committed to prison from the different City Police Courts—16,144 whites, or about 5 1/5 per cent of the whole white population, taking it at 900,000, and 1,169 blacks, or 9 3/4 per cent of the whole colored population, with few exceptions, are all poor, that numbers of them, however willing they may be to work, find the greatest difficulty in obtaining employment, that there is a terrible amount of ignorance among the lower classes of them, and that they labor under social disadvantages to which no other race in the universe is exposed; and, when we consider that those equally poor among the white population are but a small proportion of its total, (there is, perhaps, no metropolitan city in the world where there is so little real poverty as there is in the City of New-York,) and the great bulk of which contributes but a very small quota to the criminal classes, it must be conceded that the proportion of colored criminals is not greater than, if even so great as, that of the whites; certainly nothing like so great as the proportion of the criminals among their great enemies, the Irish, who contributed 21,079 persons to the City prisons during the year 1867, against 15,871 native Americans, 7,336 Germans, 1,421 English, 363 French, 410 Scotch, 228 Italians, and 280 Canadians. The criminal classes are, incontestably, recruited from among the poor and uneducated. Of the 47,313 persons committed to the City prisons in 1867, the degree of education of 255 was unknown; 625 were well-educated; 30,390 could only read and write; 12,604 could only read, and 3,439 could neither read nor write. It would then be a fairer mode of making a comparison between the white and colored criminal classes to take a ratio of proportion of the poor and uneducated in each race, and then to work out the percentage of criminals from that ratio. Moreover, the colored people assert that the offences committed among them are by no means of so serious a character as those committed among the whites; and that whereas many whites somehow or other manage to escape the punishment to which they have rendered themselves liable, no colored man is ever allowed to get off.
Another great disadvantage under which many of them labor, arises from the fact that this species of ostracism from respectable neighborhoods compels numbers of them to reside in the Eighth Ward. In that district they are all packed like sardines in a box, in ricketty old houses, whose walls, floors and staircases are begrimed with dirt and where a decent mode of living is almost impossible; some of the houses being actually unprovided with water-closets of any description. It is hardly to be expected where the common decencies of life cannot be observed, that demoralization and degradation can be avoided. Many of the people are so poor that they are compelled to resort to the pawnsh ps in the Winter time in order to provide food and fuel for their families; and thus, from want of work, their furniture and clothing go, bit by bit, till there is nothing left for them but the workhouse or a prison. However, this is not the case with all of them, and it is wonderful to see how clean and comfortable many of these poor people will make even the miserable rooms in which they live look. But in these instances I generally found that the man or his wife had employment of some kind or another. It is another example of the old saying that "misery makes men callous."
New York Times, March 2, 1869.
53. A WHITE VIEW OF THE BLACK WORKER
Negro Laborers.
As a rule the negro does not take kindly to steady labor. He can be made to work, it is true; but, left to his own guidance, he would be content with little pay provided he was liable to illegible work. Give him his choice between a shilling an hour and a dollar a day, he would accept the former, and with great industry earn the first three or four shillings. Then he would weary of his task, throw it up in disgust, and devote the balance of the day to lounging or to playing policy. To this statement there are, of course, exceptions. Not a few negroes labor zealously all day, doing a full white man's work, and we doubt not if more opportunity was afforded, the number of these negroes would be found to increase. But after all, our general rate applies.
Black Tradesmen, Mechanics, Etc.
Negroes sometimes make capital carpenters. Edward Latham, in Chrystie street, is said to be an illustration of this statement. Colored blacksmiths are also found to be good workmen oftimes. As tailors, the negroes are known to be comparatively skillful. . . . As barbers, negroes have few equals among the Caucasians. As whitewashers, they "defy competition," while as caterers they are inimitable. With equal chances, one half the male blacks in New-York would rival Delmonicos or Martinez. Almost all the rich negroes of the Metropolis have made their pile as caterers.
New York World, March 16, 1867.
54. ESTIMATED NUMBER OF NEGROES IN SELECTED OCCUPATIONS IN NEW YORK CITY, 1867, BASED ON EIGHTH WARD, NEW YORK CITY
| | |
| --- | --- |
| Occupations | Number |
| Schoolteachers (Male and Female) | 50 |
| Thieves (Male and Female) | 250 |
| Cartdrivers | 50 |
| Shoemakers | 20 |
| Barbers | 60 |
| Longshoremen | 20 |
| Writers, Editors | 10 |
| Caterers | 300 |
| Saloon-keepers and Employees (Male and Female) | 90 |
| Mechanics | 30 |
| Professional Musicians | 25 |
| Merchants | 2 |
| Professional Orators | 6 |
| Tailors | 30 |
| Laundresses | 500 |
| Prostitutes | 200 |
| Nurses | 100 |
| Waiters and Cooks (Public and Private) | 2,000 |
| Whitewashers | 400 |
| Notary Publics | 2 |
| Ministers | 20 |
| Doctors and Druggists | 20 |
| Bootblacks and Chimney Sweeps | 100 |
| Coachmen | 500 |
| Fortune Tellers | 20 |
New York World, March 16, 1867.
55. CHARACTERIZATION OF SELECTED OCCUPATIONS FOR NEGROES IN NEW YORK CITY, 1867
"Many"
Barbers
Caterers
Waiters, Public and Private
Laundresses
Cooks
Private Coachmen
"A considerable percentage or number"
Whitewashers
Oyster-openers
Fortune tellers
Cartdrivers and porters
Thieves
Prostitutes
"A Certain Number"
Dyers
Bootblacks
"A Few"
Nurses
Chimney Sweeps
Shoemakers
Tailors
Carpenters
Blacksmiths
Laborers
Saloonkeepers
Ministers
School teachers
Professional musicians
"Very Few"
Longshoremen
Mercantile agents
Doctors
Notary publics
Druggists
Writers and Editors
Orators
"A Select and Envied Baker's Dozen"
"Gentlemen of leisure"
New York World, March 16, 1867.
56. COACHMEN'S UNION LEAGUE SOCIETY, INC.
Just before the eventful Civil War had closed in 1864, while the spirit of the freeman of the South and the freeman of the North was high, a group of Negroes, chiefly coachmen, fired with ambition and hopes, looking toward a new day of justice, freedom and achievement, formed the Coachmen's Union League Society, Inc. of New York City. Note that in definite and succinct preamble, the foundation of the organization is set forth: "We, the subscribers, reflecting duly upon the various vicissitudes of life to which mankind is continually exposed and stimulated by the desire of improving our condition, do conclude that the most efficient method of securing ourselves from the extreme exigencies of life to which we are liable to be reduced is by uniting ourselves in a body for the purpose of raising a fund for the relief of our members."
That these pioneers of vision, courage and faith builded more wisely than they knew for the advancement of the race is admirably attested by the present strength, idealism and constructive policy of the society. Verily it has become an institution of social and economic consequence and merit to the Negro in New York in particular and the country in general.
But this enviable status of accomplishment and promise was not attained without indescribable struggle and sacrifice. The tried and true membership have been put to the acid test. They have been weighed in the balance and happily, not found wanting. Persistently, resistlessly and ceaselessly, the present administration led by the capable and dynamic personality. Theodore H. Smith, the President, assisted by an able and loyal staff of officers and Board of Trustees, has piloted the organization from the small membership of 137 in 1920 to the astonishing and remarkable membership of 1,200; and, in assets from the humble sum of $8,000 to the laudable figure of $85,000 or more. But this figure of membership, though significant, does not tell the whole story of the growth and influence of the Coachmen's. Their's is a quality membership. They are not alone content with securing a member. They want men who have the will to pull together, to cooperate for the upbuilding of the organization in particular and the race in general. This spirit is contagious, it pervades their every meeting; their every officer. This is, to say the least, a healthy antidote to divisive and disintegrating tendencies that have too often constituted the rock upon which many worthy institutions of the race have foundered. But the members of a group which are not intelligently aware of the reasons for and the value of their unity are seldom reliable and loyal in a crisis. Their unity is unstable, ephemeral and insecure. Hence, the present administration has inaugurated monthly educational meetings when some prominent person lectures on some vital topic of the day. This is an admirable stroke of constructive vision and foresight. It keeps the membership awakened, alert and abreast of the changing world and the advancing strides of the world of color.
It is significant to note in this connection too that the Coachmen's, unlike many organizations is not only benevolent to its members, but, according to its ability, ministers to the needs and spreads the sunshine of cheer and happiness among the distressed who seek their aid.
As a result of the wise and progressive leadership of the existing administration, the interest of the organization is not limited to the work of taking care of the sick and burying the dead, though it is unusually prompt, efficient and generous in performing this eminently necessary and important task, but it embraces also the social, civic, religious and educational life of the race. Such worthy movements as the National Association for the Advancement of Colored People, the National Urban League, the Y. W. C. A., the Y. M. C. A. have been beneficiaries of its philanthropy. As a part of its educational program, it plans to contribute to a different Southern Negro school every year. It has heretofore confined its benefactions by way of helping schools to the Kawlaguia.
Such is a work of wide social usefulness. It is a program which will immediately arrest the attention and command the approbation of the most critical and skeptical. One might reasonably think that such was the farthest reaches of its scope. But not so. Realizing that charity, though imperative, is merely superficial, merely a palliative, that it must be ever repeated, that it does not go to the roots of our racial and social maladjustments, the Coachmen's plan the establishment of a free employment department for its membership, and to acquire real estate when feasable and advantageous, both of which policies are fundamental, basic and calculated to remove the cause of the conditions which necessitate charity. For obviously when a man or woman is sure of a job, the ghost and fear of want will not arise. Instead of being a burden he is an asset to society. And it is a matter of common knowledge that when a group possesses property it, ipso facto, possesses power. And power is the only thing the white race respects. The possession of property too renders a race or person independent. With property, it is no longer the object of pity. It no longer seeks alms. It is capable of standing erect and of standing alone, "a consummation devoutly to be wished" by any people.
Still the Coachmen's Society is not solely concerned about itself standing alone. This is manifest from the fact that its active President, Theodore Smith, initiated a plan to form a confederation of all of the benevolent societies of New York, one of whose laudable objects was to build a big hall to house all of the benevolent and fraternal organizations, thereby keeping within the race financial resources that are now lavishly poured into the coffers of white property owners. It is to be regretted that this plan of far-reaching and incalculable consequences to the group died aborning as a result of the failure of some of the societies to appreciate its immense business and social significance.
Let us hope that this plan of confederation will be resurrected, prosecuted and effectuated at no distant date for it is a step in the right direction toward the emancipation of the negro from economic bondage in Harlem. Besides it will serve as a potent inspirational example for the Negro in other cities throughout the country.
But unbaffled and undismayed, the Coachmen's purchased a home of their own at 252 West 138th Street. It is a magnificant structure, beautifully appointed and elegantly equipped and furnished. It provides a group of splendidly arranged lodge rooms, commodious and comfortable, for the accommodation of various societies. Add to this a grill room efficiently conducted by Mr. Braxton and the Coachmen's Home is at once a distinct credit and tribute to the Negroes of Harlem.
The stalwart, loyal and progressive types of men which brought this triumph to pass are:
Theodore Smith, President
John D. Younger, Jr., Financial Secretary
Board of Trustees.
Jordan B. Robinson, Chairman.
Nathaniel J. Lucas, Secretary
Leon A. De Kalb.
John H. Braxton.
Thomas D. Barnum, Treasurer.
The Messenger (September, 1925):320