The Reward System
Mining anthracite was a dismal and risky occupation. Climate, subsurface water, poor light, and air choked with coal dust and blasting powder were combined in terrible working conditions. Managerial and employee irresponsibility accentuated an already hazardous occupation until Pennsylvania's anthracite mines were among the world's most dangerous. The men, nevertheless, were induced by its reward system to overlook discomfort and risk injury in order to enter this collective productive industry.
The anthracite industry's reward system was chaotic. Operators took advantage of both piece and daily rates to fix wages for employees. Skill and age were the determinants of the daily wage rate which remained fairly uniform throughout a company. But management paid by the piece in one of three ways. Some operators paid their miners according to each ton of coal produced. Others paid by the wagon of coal sent to the surface. Operators working mines with greatly folded seams paid by the yard, or "run." A miner working by "the run" received an agreed-upon sum for opening his breast, and thereafter for each linear yard of breast driven. In each case the wage per yard varied according to the amount of propping and other necessary nonproductive work.
The actual rate within each piece-rate system varied between mines and within each mine. To a large extent the varying geological features serve to explain the difference in rates, but since the rates were the result of individual negotiations between the foreman and miner, they also reflected the foreman's tenacity and the miner's skill in bargaining.
Although it was the result of individual negotiations, the piece-rate system was the source of many grievances. Miners working by the ton complained that the "miner's ton," which ranged from 2,464 to 3,360 pounds, was an unfair weight. Those paid by the wagon insisted that the tendency of the operators to increase the amount a wagon could hold lowered their earnings. All contract miners found the practice of "docking"—deducting a certain amount from each payable unit for dirt and slate—a constant irritation.
All mine employees agreed that their wages were too low. The mine workers' charges seem to have been substantiated (see Table 11). But "low" is relative, and it is only by comparing wages in the anthracite industry with other industries that we can arrive at any conclusion. During the period 1875 to 1888 bituminous coal miners in Pennsylvania received slightly higher wages than did the anthracite miners.
Comparison with the wages paid in Pennsylvania's rolling mills (Tables 13 and 14) reveals that the steel mills also paid higher wages than the hard coal mines during the same period. Blast furnaces (Table 15) paid lower wages than did the anthracite industry, but the furnaces were one of the few industries that did. In 1884 the anthracite industry ranked 34th among the 58 industries in Pennsylvania reporting average weekly wages.
Irregularity of employment caused even lower wages. Employment levels reflected seasonal fluctuations in demand. "When things begin to improve," one operator explained, "we must have enough employees on hand to satisfy the demand, and that means, when business slacks up, that many have to be idle."1
Average Daily Wages in 1884, by Class and County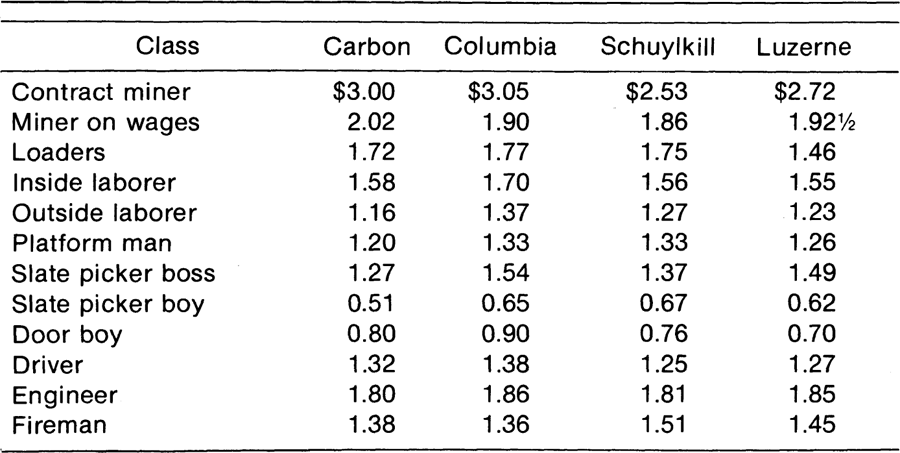 Source: Pennsylvania Industrial Statistics, 1884, 4.
Average Daily Wages in the Rolling Mills: Eastern Division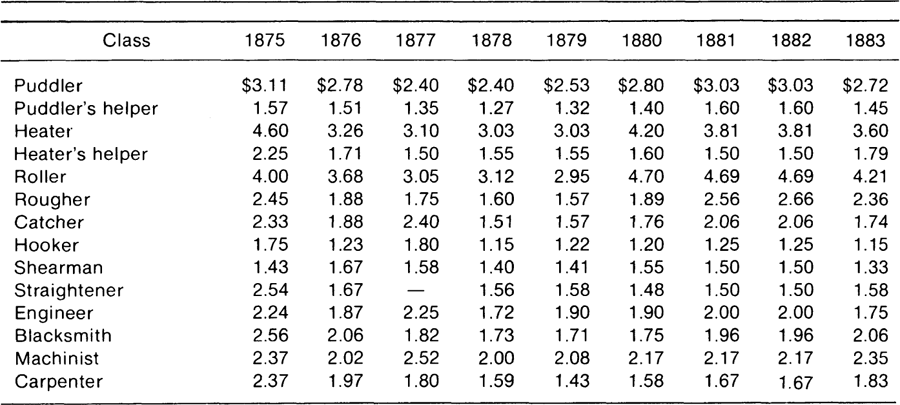 Source: Pennsylvania Industrial Statistics.
Regulation of production to offset overinvestment increased the unemployment caused by seasonal demand. As mentioned earlier, the coal pool instituted three-quarter, half, and one-quarter time to keep production in line with demand. Occasionally some companies worked less time than that suggested by the coal pool; during January 1890 the Delaware, Lackawanna, and Western mines worked only one day a week.
As can be seen in Table 17, the long periods of compulsory unemployment bit deeply into the workers' pay. In addition mine workers had to furnish their own tools, oil, and powder, which they bought from their employers.
The mine operators discovered that the sale of supplies was a good source of extra profit. Operators purchased oil at 25 to 35 cents a gallon and sold it for 75 cents a gallon. But the sale of blasting powder was the most lucrative. Paying 90 cents per 25-pound keg of powder, management retailed it at $3.00 a keg. Prudent operators realized an even greater return: powder companies paid 5 cents for each reusable keg returned, and they usually gave a discount for early payment. As would be expected, the companies maintained a monopoly of the sale of powder. If a thrifty miner bought powder elsewhere, he was not allowed to blast with it in the company's mines.
TABLE 16
Number of Working Days in the Anthracite Industry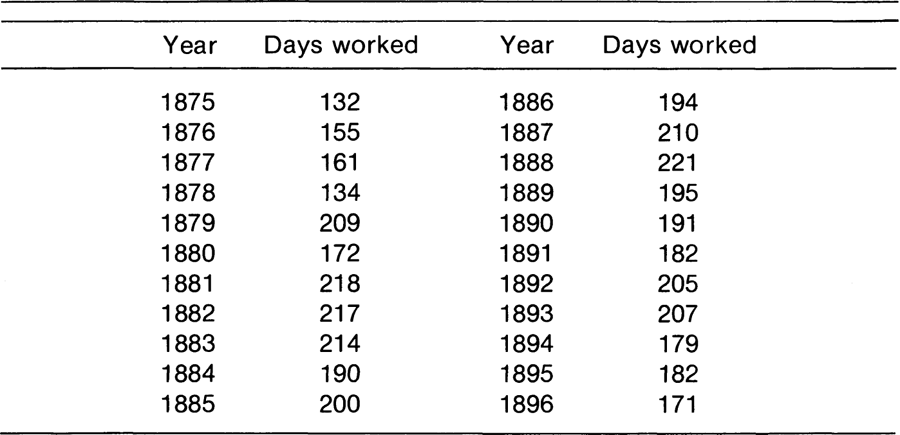 Source: Roberts, Industry, 121.
Deductions for mining supplies fell most heavily on the inside workers, but all mine employees paid the high cost of paternalism. Because of geographic isolation many mine owners were forced to become community developers. Despite the warning of the Pennsylvania Bureau of Industrial Statistics, that "the demand for rents out of proportion to cost of construction is not only wrong itself, as taking advantage of men's necessities, but it engenders and nourishes the feeling of discontent among wage earners," company houses were rented at exorbitant rates. Some mine operators found another source of profit in the company house system—they charged each renter for a ton of coal per month regardless of whether he used it or not.
The truck system was still another drain on the mine laborers' wages. Under the system workers received their pay in scrip, or store orders, rather than cash. Employees often complained that the scrip was discounted or that the store on which the order was drawn furnished shoddy goods at high prices.
Closely related to the truck system was the company store. Many operators maintained their own stores and compelled their men to trade at them. Other employers entered into an agreement with independent merchants whereby they would collect their employees' store bills for a commission and encourage their workers to trade at the favored merchant's store. In the latter case, a contract between the miner and the businessman preserved legality.2 In both types of store, a man's wages determined the extent of his credit. The bookkeeping department furnished the merchant with a daily report of the earnings of each employee, and no person's bill could exceed his earnings.
Payroll deductions for store bills meant a reduction in real wages (because of higher prices) as well as less pay. The company store usually took advantage of its captive clientele; one independent merchant testified that company store prices ranged as high as 160 percent above his.3 Merchants who had their bills collected by the operator increased their mark-up to recover the operator's commission.
Some operators developed a system of paternalism that included virtually all of the community's life. Married workers had 75 and single employees 50 cents per month deducted from their pay for the services of the company doctor, a deduction, however, which did not cover all medical expenses. Delivery of a baby required an extra payment ranging from $5.00 to $8.00.
The end result of low wages and numerous payroll deductions was little or no pay. Contract miners, the highest-paid level, received only a fraction of their earnings in cash. Other workmen often received the infamous "bob-tail check," a statement that the total deductions equaled wages. Some unfortunate employees learned at payday that their hard work had only placed them in debt to the company. Some went for long periods before their labor produced cash. One miner reminisced: "There was a man that worked very hard continuously for a little over five years, and he never drew a dollar. It is only that he drew $5 at the end of the five years and he came to me and told me of it, and the old gentleman was almost crying with joy that he had received $5 on that occasion."4
Operators were usually slow in informing their employees whether the reward for their labor would be cash, nothing, or a debt. Most mines paid on a monthly basis, but the time lapse between the end of the pay period and the date of actual payment was such that mine workers received their pay five or six weeks after they did the work. In some instances management did not make payment until forced to; in June 1884 the men around Ashley had to threaten to strike before they finally received their wages for April.
To a large extent mine owners structured wages so as to enrich themselves rather than recompense their employees. But the basic weakness of the industry also partly explains the operators' tendency to view their employees' reward system as an extension of their own. Squeezed between high capitalization charges and falling prices due to overinvestment, management often found labor to be the only source of profit. To a surprising degree, labor appreciated management's predicament, and instead complained about the perversions of a system that needlessly lowered their wages and callously struck at their pride.
TABLE 18
Prices in Company and Other Stores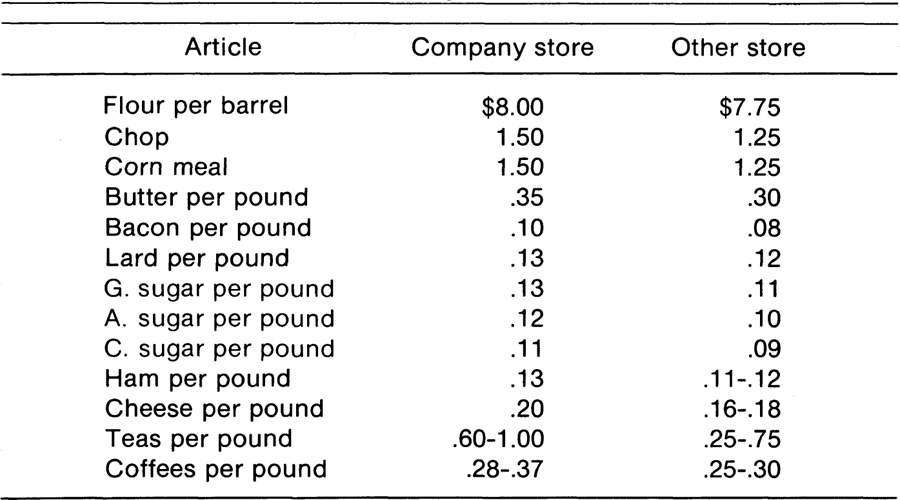 Source: Pennsylvania Industrial Statistics, 1878-79, 377–378.
TABLE 19
Pay Check for Contract Miner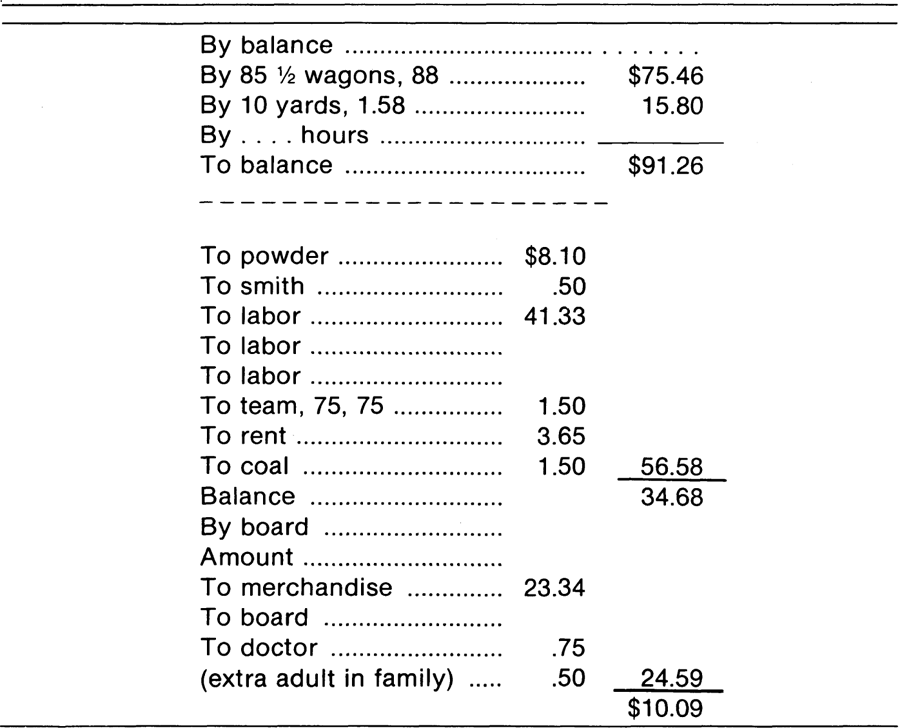 Source: Labor Troubles, 488.
The anthracite industry's reward system tended to deprive the mine workers of their self-esteem. Compulsory unemployment caused the mine employee to feel impotent. "My wife needs medicine. She needs nourishing food, but I have not the common necessaries of life to give her. My God what am I to do? I am idle through no fault of my own; I shrink from making it public."5
There was no sense of security even in company housing, expensive as it was. Often forced to sign a lease waiving his legal protections, the tenant-miner continually faced the threat of sudden eviction. The operator's ability legally to do anything he pleased with company houses sometimes stung the miners to the quick. One day in 1890 a miner named Edward Monaghan returned home from work to find his invalid wife on the pavement. The company had evicted her and their seven children after deciding to tear down the house to make room for a growing culm pile.6
Deductions for mining supplies and for the company store, along with other features of the operators' system of paternalism, deprived the mine workers of nearly all freedom. Mine laborers tended to view people who were able to buy wherever they pleased as "a superior class of freeman." Denial of the right to choose one's physician and pay one's taxes continually ate away at the pride of the miners.
In addition, the industry's payroll deductions reduced already low wages while the system of company paternalism, which the payroll deductions financed, further undercut the mine workers' pride. Indeed, the industry's reward system for anthracite mine workers appears on the whole to have been more of a studied insult than a reward.