The She-She-She Camps: An Experiment in Living and Learning, 1934–1937
Joyce L. Kornbluh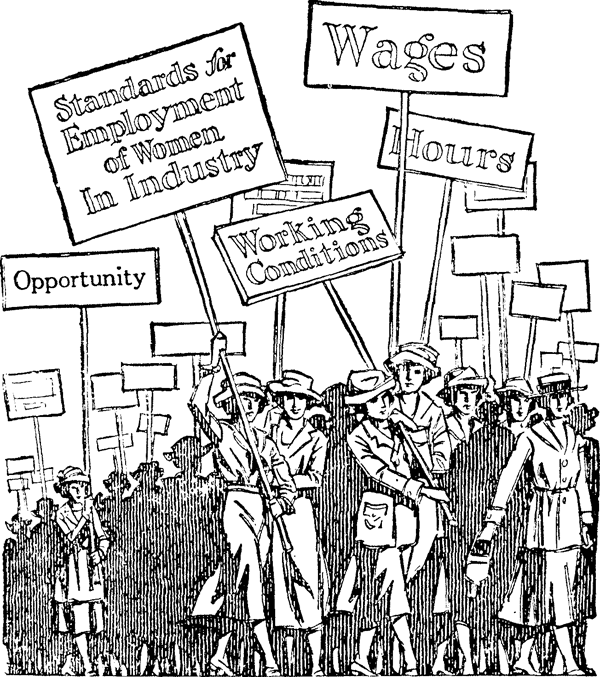 Soon after she arrived in Washington in September 1933, to start her job as Specialist in Workers Education in the Federal Emergency Relief Administration (FERA), Hilda Smith was asked by FERA director Harry Hopkins and his assistant, Clarence Bookman, to "do something" to meet the needs of jobless women.1 The program that she initiated and developed promoted educational camps in a nationwide New Deal experiment for women on relief. Nicknamed the "she-she-she camps" by their detractors, these projects were frequently compared to the successful Civilian Conservation Corps (CCC) camps in which unemployed men were put to work on highly visible public service projects in order to develop practical skills. The she-she-she camps were considerably less successful, however, and much less extensive than their counterparts for men.2
The camps and schools program for women was short lived. From 1934 to 1937, 8,000 to 10,000 women enrolled in over a hundred centers, generally for six to eight week periods. In late 1935, the program was transferred to the National Youth Administration (NYA); it lasted only until the fall of 1937, when federal funding to the project was cut and most of the camps were closed.3
Smith's project highlighted the limited place of women workers in the New Deal. Hopkins hired her as a workers' education specialist, but her position was vague and controversial and her efforts to promote and fuse education and relief programs for women were treated for the most part with benign neglect. Although women's organizations around the country, aware of the plight of jobless women, pressured New Deal administrators to handle the problems of female unemployment, the inequities in women's receipt of public relief increased and their list of economic grievances grew longer throughout the Depression decade.
By 1932, 2 million women in all occupations felt the financial, physical, and mental efforts of being without paid work. A new and alarming phenomenon developed in the country—bands of young, homeless women roaming the streets, reluctant to seek aid, frequently sleeping in train stations or behind heating ducts in subway bathrooms. "It's one of the great mysteries of the city where women go when they are out of work and hungry," Meridel Le Sueur wrote in 1932. "A woman will shut herself up in a room until it is taken away from her and eat a cracker a day and be quiet as a mouse so there are no social statistics concerning her." At the height of the Depression, National Women's Party activist Helena Weed observed, "Men thronged the breadlines; women hid their plight."4
Private charities exhausted their resources for those women who did seek help, and New Deal agencies concentrated on ameliorating the lot of male heads of households, still regarding women as peripheral workers. They remained antagonistic toward hiring women while men were out of work. Many of the New Deal projects discriminated against women in their hiring practices, regulations, and wage scales. Women were denied access to higher paying public service jobs, were paid lower wages, and, if married, were subject to layoffs from their public and private sector employment. Women made up only a small percentage of the recipients of federal work relief jobs. By the end of 1934, only 142,000 women had received emergency work relief, in contrast to approximately nine times that number of men.5
In March 1932, during his frantic first hundred days, FDR had developed the idea of a national work conservation program for young, jobless males, and he announced the program in his acceptance speech at the Democratic National Convention in July of that year. The concept of work camps for unemployed youth, foreshadowed in the writings of social philosophers Thomas Carlyle, John Ruskin, and William James, had been tested in a number of European countries in the 1920s, where young people were conscripted or volunteered for public service for periods of six to eighteen months. It is probable, although Franklin Roosevelt denied it, that he was influenced in his thinking by William James, his Harvard professor in 1912, who had called for "youth armies" working on national service projects in a "moral equivalent of war."6
The Civilian Conservation Corps bill (S.B. 598), signed by Roosevelt on April 1, 1933, was the first New Deal measure designed to deal directly with the unemployment problems of young men. It enrolled 2.5 million males during its ten-year period, paid them $1.00 a day, and maintained them for an average of a year. The CCC was one of the most publicized and successful of the New Deal experiments, reflecting the president's lifelong commitment to forest conservation, his romance with rural life, and his assessment that the "tree armies" of jobless males that he had started as a relief measure while governor of New York State were a sound investment of public funds since they utilized a hard-hit age group in work not ordinarily performed by private industry.7
Meeting in March 1933, a month before the CCC bill was passed by Congress, the National Women's Trade Union League (NWTUL) called for a parallel network of schools and camps for jobless women to be financed by the Costigan-LaFollette-Wagner relief bill, housed on public property, and modelled on the YWCA residential camps for young women in industry. Hilda Smith incorporated this recommendation in a memo that she circulated to New Deal administrators in August 1933 to solicit their aid for workers' education schools and activities, and she expanded it two months later in her response to Hopkins's and Bookman's request that she do something for unemployed women.8
The network of schools and camps for jobless women would not have developed, however, without the leadership and active intervention of Eleanor Roosevelt. The first lady, in the center of the New Deal's political sisterhood, used her contacts, influence, and prestigious White House facilities to advocate aid for the forgotten women of the Depression and New Deal years. Aware of the NWTUL proposal through her close connections with leaders of that organization, Eleanor Roosevelt had also been influenced by the concept of a young workers' corps of eighteen- to twenty-five-year-olds, an idea advanced in a slim 1932 volume, Prohibiting Poverty, by Prestonia Mann Martin, the granddaughter of educational philosopher Horace Mann. The book, which went through eight editions between 1932 and 1934, drew heavily on Edward Bellamy's Looking Backward for its vision of a utopia in which youth would be organized industrially to produce needed goods and services for the whole society. "It may be possible to try out some of these ideas under emergency relief," Eleanor Roosevelt replied to a correspondent who had written enthusiastically to her about Martin's book.9
Prodded by the continuing destitution of jobless women and inspired by this "Utopia drafted by a woman," Eleanor Roosevelt did initiate such a project in spring 1933. She asked FDR for funds to "provide healthful employment and useful instruction amid wholesome surroundings for needy young women." The president sent her proposal on to Hopkins, who agreed to the plan, allocated monies from the national relief appropriations, and instructed the New York director of emergency relief to comply with Mrs. Roosevelt's requests for a model camp for unemployed women to be started in her home state.10
Camp TERA (Temporary Emergency Relief Administration) opened June 10, 1933, in a Depression-closed employee vacation facility owned by the New York Life Insurance Company in Bear Mountain State Park, about an hour's drive north of New York City and not far from the Roosevelt homestead in Hyde Park. For the next four years it was identified by the press, the public, and its personnel as Mrs. Roosevelt's special project, since she and her daughter served on the advisory board, sent holiday presents, corresponded with staff and participants, and made occasional visits.11
At the start, Camp TERA benefited from the sponsorship of two powerful and highly visible public figures, Mrs. Roosevelt and her ally, Secretary of Labor Frances Perkins, who helped preside at the camp's opening. But TERA soon generated public confusion as to how this experiment compared with the CCC program and whether females would be paid to perform public service. From 1933 to 1937, when the camp program folded, the purpose of TERA and the camp projects for women that followed continued to be misunderstood. Camp administrators were confused about how to synthesize educational goals and relief objectives, and relief agency personnel were never clear about how the program's administration should be divided among the national, state, and county levels.
The needs of jobless women, however, were so acute, and the response of the recovery program was so inadequate, that Camp TERA stirred the public imagination and sparked headlines across the country in the days immediately following its opening. Letters and telegrams received at the White House pledged facilities owned by individuals and organizations for similar projects. Young women wrote to "Mrs. President" and "Madam Secretary" to apply. The YWCA director in Macon, Georgia, offered the Y's fully equipped 87–acre camp; the president of Temple University's Women's Club volunteered her family estate in Maine; the welfare director in Cincinnati, Ohio, promised that if Camp TERA was successful, his city would initiate a camp for needy girls.12
Twenty-year-old Marie Ether, the oldest of an Idaho farm family of thirteen children, was one of the many who wrote her congressman asking to attend such a program. "We haven't had no crop for three years and the prospects look bad for this year. As their is no job in sight around here and as I do not have a high school education, I thought it would be educational to go."13
Hilda Smith also thought that it would be educational if numbers of young women like Marie Ether could attend federally funded residential programs where they could take classes, develop group skills, exercise critical thinking, and experience personal growth. She visualized these schools as modelled on the Bryn Mawr Summer School for Women Workers and anticipated a program where unemployed women would be educated to understand the economic conditions that affected their lives and so could translate that knowledge into community action.
Her proposal to Hopkins and Bookman called for New Deal-financed experimental residential schools, to be run for two-month terms, to help jobless females develop a sense of "social responsibility." Hopkins's immediate response to Smith's proposal was favorable. But, in contrast to the speed with which other New Deal projects were being launched, he did nothing to expedite implementation of her recommended program for a number of months.14
Social workers, the network of women in national government positions, and women's organizations stepped up their campaign to lobby New Deal administrators to develop more adequate work relief policies and programs for women. At a White House conference on women's needs engineered by Eleanor Roosevelt and FERA women's director Ellen Woodward in November 1933, Harry Hopkins admitted that "the government has not done what it should [about jobless women] and feels pretty humble about it." He pledged government monies and determination to "care for unemployed women" and asked the hundred or so conferees for advice on how to extend that relief. Conference participants suggested establishing special public works jobs for women, earmarking 20 percent of federal funds for state-initiated women's work relief, and developing a network of schools and camps for jobless girls and women, a project that was being discussed by Smith, Mrs. Roosevelt, and members of the NWTUL.15
As time passed with no further action on her plan or on any other women's work relief projects, Smith requested to speak at a conference of FERA field representatives held in Washington in February 1934. A number of the FERA staff opposed her proposal, anticipating "serious discipline problems if women were brought together to live." Undaunted by these reactions, Smith launched a publicity campaign through the publication of a widely distributed pamphlet, "The Woman with the Worn Out Shoes," which outlined the plight of jobless females and the problems of destitute transients and summarized the recommendations for a network of schools and camps that might help keep these women constructively occupied and off the streets.16
Together with Eleanor Roosevelt and Ellen Woodward, two of her most vocal and influential advocates in the support system of social feminists in the national government, Smith orchestrated a White House conference in April 1934 that convened eighty women from national community and social welfare organizations, public agencies, and New Deal offices. The participants expressed a range of suggestions for a schools and camps program, including the need for health- and morale-building activities and a curriculum that would educate jobless women for more intelligent participation in a democratic society.17
One government staff member cautioned that, in a recent national survey of FERA administrators, over half had indicated that they had no interest in such a proposal and that there was no need in their states for such a program. Assistant FERA administrator Aubrey Williams, who was pinch-hitting for Harry Hopkins at the conference, pledged "limited funds" to carry out the plan, while making clear his displeasure with the term "workers' education," a component of the recommended curriculum that he felt "smacked of class distinctions."18
Despite precarious support, Smith moved quickly after the conference to set up a national advisory committee to consult with her office and to advise the states in curriculum development, the selection of teachers and students, and budgetary allocations. The national advisory committee included many national and New Deal leaders during the next few years.19
A comprehensive Memorandum on Standards and Procedures in Establishing Resident Schools and Educational Camps for Unemployed Women, which Smith sent to Hopkins in May, reflected her vision of a well-rounded educational program that integrated workers' education, social sciences, and English. The Memorandum also recommended vocational guidance, health education, and opportunities for cultural and recreational activities. It advocated the discussion method of teaching to help students analyze their economic and social worlds and a system of self-government to enhance their skills for problem solving and community participation.20
Hopkins approved the proposal as a relief measure and wrote to state relief administrators in May 1934 that limited funds were available for resident programs for jobless women. He asked states to telegraph detailed plans and budgets within the week for proposed projects to open in summer 1934. His memo stipulated that states would be responsible for obtaining rent-free facilities, appointing local advisory committees, and supervising each program. He gave no role to Smith's national office in the hiring of personnel and ignored the national advisory committee's proposal that it supervise budgets and consult on program development. Twenty state relief administrators wired within a few days that they were ready to apply.
The program would be confined to on-site education and group activities. CCC administrators had vetoed the national advisory committee's recommendation that young women in the resident programs be used, as men were, in reforestation and community service projects since, they claimed, "work outside the camps [for women] was not practicable and the supervision and transportation costs would be greatly increased." Thus, significant work and training opportunities for women in the program were curtailed from the start.21
Less than a month after Hopkins's approval, Smith and Mrs. Roosevelt used a White House press conference to publicize the start of a national program "intended to serve as social and educational laboratories [from which] women will go forth to cope more intelligently and with renewed strength and courage for their special problems." They estimated that each school would cost $6000 for approximately sixty students drawn from relief rolls for an eight-week term.22
Within a few weeks, twenty-eight schools and camps were operating within twenty-six states and the District of Columbia. Smith drafted and distributed "Suggestions for Organization of Curriculum and Teaching in the Residential Schools and Camps for Unemployed Women" to all project personnel and to state relief administrators. The manual succinctly summarized much of progressive education philosophy regarding education for democratic living. It recommended a system of participant self-management and group decision making about the administration and content of each project. It included a statement of Smith's long-time desire to help workers help themselves through workers' education. She defined workers' education in all of her publications as: a curriculum that "offers men and women workers . . . an opportunity to train themselves in clear thinking through the study of those questions closely related to their daily lives as workers and as citizens."23
Noble though Smith's ideals were, they contributed greatly to the confusion of purpose that quickly swamped the program. They implied a long-range, far-reaching approach to problems that, in the press of the New Deal's focus on economic recovery, appeared to require short-term, stop-gap solutions.
The schools and camps for women were organized by state relief agencies in cooperation with local YWCAs, some ongoing workers' education programs, women's clubs, churches, and settlement houses. Federal funds covered food and maintenance, which averaged $8.00 a week per enrollee, staff salaries, and the upkeep of buildings used in the programs. In addition, in 1935, the women participants received spending money of fifty cents a week. State or private funds were solicited for equipment and to meet other organizational costs.
Smith's role was to administer the program as part of her job in the FERA Emergency Education Program. She was aided by a small Washington staff that included Ernestine Friedmann, who was also spending time on the WPA teacher training projects. In 1935, Smith received permission and funds to hire eight field staff for three months; they also split their time between helping organize the WPA summer teaching training centers and the women's schools and camps. The state supervisors of workers' education, hired by the emergency relief program in twenty-four states by 1934, also aided the organization of the programs. The mix of state, local, and national direction, however, subjected the program in many areas to cross-purposes and confusion.24
Hasty and haphazard recruiting, pressures to fill quotas, lack of advance publicity, and poorly informed county relief and welfare workers meant that most of the women participants arrived at the residential programs ill informed about what to expect. Although local advisory committees and camp directors in some states had time to interview some applicants, for the most part enrollees were sent to the projects from the relief offices. Most of the women were under twenty-five and single; a third had never worked or had held only relief project jobs. Approximately 90 percent were Caucasian, and many came from small towns and rural areas, a pattern that continued through 1937. "I was told to be ready to leave in three days. I didn't know what the course of study would be or in what line of work," one woman later wrote Smith.25
Many had anticipated vocational training and thought they would be assured of jobs following the program. "I attended with the idea that the school, being a government school, would mean a lot in securing a job. The school was a good idea but if you can't get a job after you return home, the government school can't mean very much." A group of young women who had been to TERA wrote to Mrs. Roosevelt that they had gained health and an interest in life during their stay, but could not find paid work on their return to the city. "Now, after four weeks of tramping through the streets, more than one girl says there is nothing left except suicide or tramping on the roads." Smith estimated later that only one-fifth of the enrollees in 1934 and 1935 found paid work on their return home, many in New Deal-sponsored relief projects.26
Despite Smith's emphasis on educational activities, it was the harsh realities of the times that determined the real focus of the camps. Most county agents sent women who needed food and shelter first and foremost. A Washington staff person from Smith's office reported, after visiting a number of sites: "To see a group of girls assemble on the first night was to receive an immediate and tragic impression of the results of unemployment, Thin, emaciated girls . . . they were overcome by the sight of a simple supper. Many showed symptoms of long fatigue, exhausted nerves and mental strain. Many expressed anxiety in leaving husband, father or brothers unemployed, thankful, however, to relieve them of the burden of another person to feed for the summer. All were bewildered in trying to understand what was happening in their own lives."27
There was frequently a discrepancy between the expectations of what "should" happen and the actual camp experience. A camp director reported, "The first week the girls would not sing in the dining room as I, who had been brought up on private camp traditions expected them to do. . . . I realized that they were there to eat. Singing marred the flavor of corn bread dripping in butter . . . and made questionable the assurance of a second helping." Staff, too, did not always match Smith's vision. Many of them, also hired from relief rolls, looked on their subsidized stay in the residential programs as a chance to escape their own desperate family and community conditions and to live and eat well for a few months in a supportive and healthy environment.28
The seventy-five camps and schools operating in 1934 and 1935 reflected regional and cultural differences. In Arkansas, black sharecroppers' daughters lived on the campus of a Negro agricultural college. In New Jersey, a project was run for jobless professional women, the only one of its kind in the country. In Philadelphia, forty women lived and studied in a midtown YWCA. In Ohio, unemployed clericals spent six weeks in a small frame house on the Oberlin College campus in connection with the Summer School for Office Workers run by the Affiliated Schools for Workers. In the Ozarks, women from mountain families took part in a project run collaboratively with the Opportunity School, an ongoing program for illiterates. In New York City, trade union women, now jobless, lived in a Barnard dormitory. Out in North Dakota, young women left Indian reservations for the first time to go to a resident project in a nearby town.
Nine of the projects in 1934 were connected with ongoing workers' education programs on the campuses of universities in Wisconsin, California, and Ohio. Despite Smith's recommendation that workers' education be included in each curriculum, these were the only centers to include those kinds of materials and discussions. In most of the schools and camps, participants did not have the maturity or the experience in the work force or in workplace organizations to discuss labor history and labor problems. In addition, the open antagonism to unionism felt by some participants in a number of the camps and schools and by their neighbors in the surrounding communities prompted Smith to recommend in late 1935 that the term "social civics" replace the term "workers' education" and that discussions focus on current events and community problems instead of workplace issues.29
In all of the projects, participants divided their time between site maintenance, study, and recreation. Food preparation, house cleaning, and curtain sewing were considered laboratory work in some places since the staff assumed that the participants would be homemakers. A number of the projects ran beauty shops; some trained the young women to sew simple dresses. Some held sessions on table setting, home cleanliness, and personal hygiene. Commenting on the "she-she-she" focus of her experience, one young woman wrote Smith, "Most of us got the impression that they wanted to teach us something useful if we got married immediately and that that was the only proper thing to do."30
The scope and quality of the education classes varied among the projects. The teaching methods recommended by the national office were based on progressive education ideals. Many of the schools and camps scheduled three or four morning classes daily. Reports from the individual projects indicate that there was an attempt to discuss different social systems, the new social security legislation, the cooperative movement, war and peace, and simple economic trends. Participants supplemented classwork with trips to local businesses, public housing projects, cooperative stores, union meetings, museums, and education centers.
Two-thirds of the camps and schools scheduled classes in English grammar, composition, reading, and public speaking. Poor library facilities hindered reading programs in a number of the sites, but staff encouraged the women to read daily newspapers and current magazines, and a number of the projects dramatized current events through student-developed skits based on the WPA "living newspaper" model. Almost every camp published a newspaper, many with superficial social notes and gossip but some with book reports, poems, and short essays on personal experiences. In one project, enrollees sent weekly reports to their home-town newspapers; in a number of centers, the women took part in mock forums and debates. Some of the centers ran small co-op stores for refreshments and toilet articles; a few set up a simple "credit union" that made modest loans. In an attempt to broaden the social vision of the participants, guest speakers from Washington, nearby community groups, and local educational institutions spoke on topics such as good business practices, the League of Nations, the cooperative movement, and the artist in a democracy.31
Smith's 1935 report pointed out that an attempt was made "to develop a professional interest in some type of work for which the student was fitted and in which she might have a genuine professional pride. Very few of the girls had thought of work from the point of view of a life interest and quite naturally, their immediate concern was to earn a few dollars." Many of the projects included sessions on personal and job counseling and group discussions on practical employment problems. In some camps the women practiced filling out job applications, studied community job-referral facilities, and role-played job interviews. Although vocational training was not an original purpose of the program, several of the camps did train the young women for office or domestic work. Some of the projects attempted to organize follow-up programs to help the women find jobs and to continue to develop the interests and skills developed in the summer programs.32
Recreational activities, nature study, organized sports, and student government formed a part of the daily schedule. However, in a number of the projects, social life became an issue. Harry Gersh, a teacher at Camp Jane Addams in the mid-1980s, recalls that for many of the girls from New York City evenings were a problem:
These campers were neither Girl Scouts nor YW girls. . . . They were, for the most part, slum-raised, street-wise women transferred from teeming neighborhoods and crowded city apartments into the clean, brisk and totally foreign air of a state park. . . . Camp Jane Addams was fenced and campers were not permitted outside the fence. Inside, there were 153 female campers, 18 female staff, one old man hidden in the kitchen, one married man with wife present and two young male teachers. . . . It was a most unnatural environment for these young women. . . . The above is reported only because it illustrates a basic flaw; the planners and directors of the camps didn't really understand with whom they were dealing and, therefore, how to deal with them. No one had thought that sexual isolation would be a problem."33
Eventually, at Camp Jane Addams and at many of the other projects, there were weekly dances to which young men from nearby CCC camps were invited. In addition, through the student government process, some of the young women negotiated a periodic weekend back at their homes.
Community reactions varied in response to the programs. In some areas, residents pitched in to donate furniture for the facilities and volunteer their labor to clean the site, fix appliances, and help with daily chores. In other areas, projects were viewed suspiciously. In July 1936, for example, the Rockland County (N.Y.) American Legion accused Camp Jane Addams of using public funds to promote communism, citing as evidence that the camp was gated and restricted to outsiders, that the enrollees sang the "Internationale" and other labor songs, and that the staff provided a forum for anti-American speakers. It was one of a number of similar attacks mounted by the American Legion and the Hearst newspapers against the WPA emergency education program and the camps project through the period, adding to the accumulation of negative reactions that eventually led to their demise.34
Despite many problems and shortcomings, the program's paramount contribution was to help restore health and self-confidence to the thousands of young women who had come to the resident projects emaciated and exhausted by their long struggles with Depression problems. Eye glasses, dental work, and in some cases minor operations were negotiated for the women in a number of communities. Seventy-five percent of the women reported weight gains, and many attested to "a new outlook on life."35
On their evaluation surveys, which were part of a follow-up research project recommended by the national advisory board for the 1934 and 1935 sessions, participants testified to their positive experiences:
It seemed like someone did have an interest in whether we lived or starved and was trying to help.
It was a blessing for me to have the opportunity of spending eight weeks in a school building up my physical and mental strength, being sure of food, shelter and above all companionship. Since returning home, things have been much brighter even tho I am still unemployed.
After going to the FERA school, I felt that while conditions might be bad, they are not hopeless.
I came filled with thoughts of myself and my family. I'm going with interest in each and every one of you. I didn't know I could do what I've done here. I'm taking home more than I brought. I'm taking thoughts of beauty and kindness which will help me when the clothes that I made here have been used up.
It's not only that I am getting enough to eat for the first time in three years, but I am beginning to think of myself as a real person again.36
Late in 1935, after the FERA was transformed into the Works Progress Administration, the program for jobless women was transferred for administrative convenience to the National Youth Administration (NYA), which had been established to provide work opportunities for eighteen- to twenty-five-year-olds to produce goods and services for pay instead of receiving relief. This shift brought about changes in the program. These, however, were not significant enough to revitalize the project, since there was still a lack of serious commitment on the part of the New Deal administrators to provide enough funds and support staff to help put the project on a firmer foundation.37
Hilda Smith remained chair of the national advisory committee and was a major influence in the program's continuation. Administration of the camps program was assigned to NYA staff person Dorothea de Schweinitz, a national advisory committee member who had previously worked for the U.S. Department of Labor, and a five-person group at the NYA. Smith and de Schweinitz hoped that the NYA would create 150 camps and schools to serve 15,000 young women, but funds were never made available for more than a third of that number.38
Under the NYA, the project shifted its focus to give young women under age twenty-five who had never held a job some rudimentary vocational skills, in addition to group living, education, and physical rehabilitation. Seventy-five percent of the enrollees in 1936 and 1937 were under age twenty; most of them were Caucasian and came from rural areas or small towns where there were no jobs, no job training, and no other NYA project.
As in former years, the camps and schools were housed in donated or low-rent college or school buildings, YWCA camps, or on private estates. From January 1936 through the fall of 1937, when the program was eliminated, approximately 6,000 young women were enrolled in about fifty-projects; exact figures are hard to obtain, since some of the women enrolled in several sessions and some of the camps were open year-round and included several terms. Most of the projects, however, folded after a single three- or four-month session because of administrative problems and difficulties in recruiting participants and obtaining necessary federal and state financial and political support.
Under NYA regulations, the women worked an average of three hours a day for maximum wages of $25 a month, from which they paid approximately $15 for room and board. The NYA required that each girl have $5.00 in cash each month after her expenses were paid. Work projects for the women's camps aimed to be socially useful and to prepare the enrollees for their future in their homes, workplaces, and communities. Most of the work, however, was sex stereotyped, emphasizing manual skills and good work habits and providing training in homemaking and child care. Girls prepared hospital dressings, sewed for institutions and for families on relief, painted signs, repaired books and toys, produced Braille materials, and did simple clerical tasks and mimeographing for other WPA projects. In some camps, they worked in nearby communities as playground and nursery school aides.
Many of the camps lacked equipment and supplies for serious work. Production of even the simple objects was hindered by poor administration, cumbersome procedures for ordering and obtaining materials, and an uneven flow of supplies to the camps. Despite the limitations of the work projects, a number of camps and schools undertook imaginative learning projects and incorporated some self-government into their programs.39
In 1936, Smith still discussed the program as "a social laboratory in which it is hoped that the girls will acquire the skills, poise, a knowledge of resources and experience in self-government and democratic procedures." A staff report highlighted the programs' objectives in 1936, which included: "to develop an understanding of the obligations of citizenship . . . to develop qualities of initiative and cooperation for solving social problems . . . to develop attitudes and abilities for community service."40
Opposition to the work camp programs for women, however, continued to be a problem. Although there is no documentation, the national advisory committee reports imply that many NYA administrators attempted to scuttle the projects, claiming that they did not understand their purpose and objectives and questioning their necessity. Although NYA deputy director Richard Brown admitted that the national staff and national advisory committee had done a good job of interpreting the program, he told national advisory committee members in September 1936 that other New Deal agencies needed to see "eye-to-eye" with them about the program and that other government agencies needed a better understanding of its concept and objectives.41
In alerting the national advisory committee to the continued confusion about the program's objectives, Brown was communicating an administrative message that the program was in trouble. Some government officials complained that the costs of the program for women were higher than the costs of nonresidential NYA programs, that it was difficult to plan useful public work for inexperienced young women, and that the quality of the articles made in the women's camps was spotty. They cited problems in filling the camp quotas of approximately eighty enrollees because, they claimed, parents were reluctant to let young women live away from home even during the Depression. They cited cases where schools and camps were attacked by local community members or by the American Legion as sponsoring leftist discussions and programs.
Some of the issues raised pointed to real problems. Recruitment for the women's schools and camps had grown more difficult under the NYA because wages for the young women were so low after room and board were paid that the girls could not send money home to their families and could scarcely buy toilet articles or pay for other personal needs. Complaints had been lodged by some communities fearful of the forums and free discussions and suspicious that radical, anti-American ideas were being taught by federally paid staff who were outsiders to the community. Some of the camp staff were left-wingers, reflecting the variety of political affiliations current in the 1930s.42
Transportation to and from the residential projects remained a major problem throughout the four years, since the federal government never appropriated travel funds for enrollees, who had to depend on the National Guard, public school buses, camp staff, or private individuals to drive them to the projects. Finding qualified staff was also a continuing difficulty. During the FERA years, regulations required that teachers be hired from relief rolls. Teaching staff during the WPA period was borrowed, for the most part, from other WPA divisions. Many interested persons were discouraged from accepting jobs with the program because of changing government regulations and procedures, the hasty organization of many of the camps, low wage scales, uncertain job tenure, limited free time, and no vacation pay. Although a 1937 study of close to 500 staff members of the women's camps program indicates that about 60 percent had attended some college and 30 percent had a college degree, it was hard to find teachers competent in their fields who could also function effectively with young adults in an intense residential experience.43
Early in 1937, government appropriations for emergency education were reduced, and, alarmed at the implications of this move for the women's camps project, Hilda Smith again called on Eleanor Roosevelt's help through a memo to the White House. She suggested that $500,000 be allocated for twelve to fifteen demonstration projects in 1937–1938, which would serve 3,500 to 4,500 young women in a work and study program to include vocational counseling, follow-up job training, and placement when the women returned to their homes. The national advisory committee met on August 3 and endorsed this proposal. It recommended that the NYA concentrate on spring and summer residential programs to reduce the costs of heating the facilities. It suggested more on-the-job training opportunities, where enrollees could earn higher wages and obtain valuable vocational experience. It also underscored the need for residential projects for older women under the auspices of the WPA Adult Education Division.44
The August 1937 meeting was the last for the national advisory committee. On August 16, Mrs. Roosevelt paid a surprise visit to the 130 campers and staff at Camp Jane Addams (the renamed Camp TERA) and, meeting with them on the dock overlooking Lake Totorati, shared her "unofficial opinion" that the camp would be closed the following month for lack of funds. The following day, the New York Times announced that the girls' camps would close as of October 1, 1937. The reason given was the "relatively high cost of the camps as compared with other NYA residential work projects which will be continued and expanded." The article stated that costs of $45 per enrollee per month had been planned for the women's work camp projects, while the actual costs ranged from $38 to $58 per month (an average of $48—three dollars more than the budgeted amount). The article also assured the public that this move would have no effect on the boys in NYA work camps or in the CCC.45
The Final Report of the National Youth Administration, 1936–1943 claimed that the work camps for women were the forerunners of a highly successful NYA network of residential programs developed from 1937 until the war years and that they helped prepare NYA administrators for problems in coordinating and organizing work and living situations involving large numbers of people. What the official report failed to point out was that abandonment of the program meant abandonment of significant efforts to help unemployed women. The report concluded: "Consequently, the final abandonment of the old program did not constitute a complete loss, although some of the best characteristics of that program, namely self-government, cooperative management, personal guidance, and workers' education were now relegated to a less important role."46
Smith persisted in her advocacy of the schools and camps program for women and attempted to revive the concept in 1940 in connection with war defense. Writing to Mrs. Roosevelt about the need for programs for jobless women aged twenty-five to forty who were too old to be eligible for NYA projects, she stated: "The CCC camps with their millions of dollars for wages, education work, travel and supervision constantly remind me of what we might do for women from the same families. As so often is the case, the boys get the breaks; the girls are neglected."47
Her friendship with Mrs. Roosevelt had given her carte blanche in bringing her visions and problems to the White House and, through the first lady's intervention, had secured the attention of FDR and the limited support at the program's start of a few New Deal administrators. Smith and Mrs. Roosevelt shared a warm belief in the equal rights of women who, if given the proper intellectual "tools," could "work out their salvations wisely and well." But neither Smith nor Mrs. Roosevelt, nor their cohort of liberal women in New Deal government, had the power to mount a long-term, comprehensive, federally supported national educational program for jobless women.
Smith was primarily an educator and a reformer. Her adherence to the goal of a well-educated citizenry at all economic levels was grounded in her commitment to preserve democracy and the existing economic system through the educational process. Her view of education was comprehensive and ambitious, addressing the mind, body, and spirit of adult learners. The schools and camps program for women, which she pursued with evangelical zeal, reflected these philosophical and moral commitments. However, the program was too broad in its concept and too diffuse in its impact to take root in the crisis-oriented emergency relief programming of the New Deal period.
The camps and schools for women floundered owing to external pressures and internal contradictions. Externally, the she-she-she camps were seen as a social aberration by a country that had never used public resources to meet the nonvocational work needs of women or, for that matter, of men. The camps challenged the status quo by suggesting that women might go beyond their roles in the home to play extended, or different, roles in the workplace, in the labor force, and in public life.
The internal contradictions sprang from a mixing of goals. Early in the planning of the program, women in the schools and camps were barred from the kind of direct public service experience that men received in the CCC. Although the camps for women were an emergency relief effort, they were overseen by individuals who held long-term educational goals that fit awkwardly with the short-term emergency relief nature of New Deal programming.
There were no institutional models for preparing women to succeed in the workplace other than those developed by the higher education network of women's private schools and by the cross-class experiments for women workers in the residential programs coordinated by the Affiliated Schools for Workers in the 1920s and 1930s. These schools, such as the Bryn Mawr Summer School for Women Workers, were based on the concept that society must provide and pay for broad-based education for working-class women so that they can participate more actively in solving social problems. This model was too ambitious in the context of a temporary relief program because of the short duration of the camps, the lack of total focus on education, and the expectations of the enrollees, who needed job training and paid work.
Other issues also led to the program's demise: developing a federally funded and supervised education program in a country committed to local control of the content and format of public education; finding staff qualified to work with young female adults in residential settings; working within the New Deal emergency program, with its quixotically shifting personnel, variable congressional appropriations, and changing budgets and regulations; and mediating tensions—still not resolved—between federal and state responsibility for local programming.
What had the young women gained in these residential projects? Some of the objectives of the camps and schools had been attained in some degree. Certainly, mental and physical health improved; self-confidence quickened; group skills improved. Young women broadened their life experience, confronted new social and intellectual stimuli, and tasted the first freedoms of moving away from family households and home-town communities.
The program attempted to give young women some control over their lives at a time when the United States had lost control over its economy. On balance, although the program might have gone further, it was bound by ideological and financial limitations rooted in the New Deal's preoccupation with economic collapse and recovery, shaped by gender stereotypes, and influenced by an emphasis on educating individual women rather than on shifting their relationships to their families, workplaces, and society.
The she-she-she camps left neither long-term policies allocating public resources for the education or job training of women nor reforestation projects that would make a nation proud. They were a small but significant experiment directed to establishing a principle—that government has a responsibility in meeting women's education and job-related needs. They linked the programming of some of the New Deal education projects to the philosophical and moral concepts of earlier progressive philosophers and educators. In so doing, they underscored the need for women to be an educated and active citizenry and promoted the use of public resources for those who had been America's forgotten people.
The monologue "For Sale" was written in a creative writing workshop at the School for Unemployed Workers in Madison, Wisconsin, that was held from August 10 to September 18, 1935. The WPA instructor of the workshop considered it the best piece of work in his class and staged it for participants and community members in a theater on the University of Wisconsin campus.48
SCENE: A dirty clothes-strewn hovel. Upturned ash trays; piles of dirty clothes; broken shabby furniture litter the room which serves as home to the room's single occupant. She is a haggard and hard looking women with bright spots of rouge smeared on her drawn face. As the curtain rises, she squats on a chair, displaying a pair of bare, muscular legs. Her arms are drawn up under her chin. She smokes continuously during the entire scene, sometimes slinging the cigarette away before finished and starting another. A bottle of hard liquor stands on the floor.
Sally: (Spoken in spurts, as if thinking aloud.) "Yeah, just good old Sally—that's me. I ain't so hot to look at, but damn it, I never thought I'd come to this. Two bucks between me and starvation. (A long pause; her eyes become glassy and a cynical smile pulls her mouth tight.) Hell, eight months ago, Ida bought a pair of flimsy socks with two bucks. (Loud mirthless laughter) Said I'd be back to work in a day or so. Said I should just sit tight til the storm blows over. Those pie-eyed saps don't know what a storm is. They're still eating their cake. Then the relief department—"Go to your family. You can't get relief here." Hell, I don't have a family. Why should anyone worry about a dame like me?—Huh, once I went to church—kinda got a kick out of it—so nice and peaceful—like you used to think you'd like to be. All the pretty statues with the little do-funnies draped around 'em—and the pretty lights that came through the window. (Uproarious laughter. Slowly she pours out a generous shot. Picking it up, she assumes an air of affected gaity and parades around.) Oh yes, Mr. Zilch, I work in the perfume department. That's what makes me smell so good. (Takes a small drink). Well, I just can't recall but I believe I get about twelve dollars a week. Oh yes, I work ten hours a day. They say it's eight only but you know what little mistakes people make.—I figure I can pay up my room this week if I take the guy from Dallas. Oh, he's a nice guy. I imagine he's a very nice man. (Gulps down the rest of the drink.) Damn it, his wife should see him. Then she'd know how NICE he is.—Now, I ain't got a job at all. Now I can sell my whole damn body for anything I can get. Now I can go to hell. (Strides aimless around room.) Might as well get good and drunk. What've I got to lose? Good thing the sap left his alky here this morning—Hm, must be nearly 9:30—I hear him coming now—I think I'll spring the news on him. Will he give me hell! (Laughs and laughs as if hysterical. Falls into chair. Steps are heard coming up several flights of stairs. Her body seems to weaken; her face become more haggard.) God, me and a baby. Starving on a liquor diet as it is. I can't stand it any longer. I tell you I'm losing my mind. Those steps—those steps—why doesn't he come—get it over with—me and a baby—she won't get relief either. The hell with the department of outdoor relief. I can still make a living—selling my body. (Laughs more deliriously.)
Man: How's about it, Sally?
Sally: Yeah—yeah, come and get me. Just good old Sally.
—Helen Olson, 1935
In spring, 1936, young, unemployed women in the WPA-sponsored residential school in Philadelphia wrote papers in their English class from which the following excerpts are taken. They are typical of the kinds of essays written by the participants in the New Deal schools and camps for unemployed women.49
When I was fourteen years of age, I had to quit school and go to work. My first job was not very pleasant as there were long hours and very small pay. The work was in a shirt mill. In applying for the job I went to the employer's house and asked him for a job. He told me to come in the next morning, so I had to go before school. I worked that way for about a month, and then was old enough to quit school.
We worked nine hours a day. Sometimes if we did not get enough work out in the day time we had to go back at night and work until nine o'clock. For this work, I received on an average of seven dollars a week, for fifty-two hours and more.
After working there about three and a half years, I got very disgusted with the conditions so I looked for another job which I got. As soon as possible, I quit the old job. For a while I thought I was in heaven but it soon wore off, and was just as bad as ever. About a year later, the NRA came along and made things very nice for the workers. Soon after, the mill got organized and conditions got better so fast that the workers did not realize what was happening. I think it happened too quick for them for when the time came to fight to keep these conditions, the workers did not know enough about fighting for better things in life to respond the way they should have.
Everybody thought the NRA was in to stay but it quickly fooled the people. If the NRA had not gone out just as quickly as it had come in, the different employers had not moved South and all the girls that were put idle would still be working, and there would not be so much of the cheap labor going on, as the people in the South always work cheaper.
My experience in getting jobs was never very hard but the conditions were so bad that it was very hard to keep a girl. I worked until this past January when the firm I worked for moved part of their mill South. This, of course, put some of the people idle for some time. The things I work on will not start until next summer as I work on woolen coats for men and these orders only come through in the spring.
My next job was doing housework and I got that through the welfare. I was given the address and the same day I went over to see the woman and she wasn't sure until she saw her husband and told me to come over Sunday. So I called her up Saturday afternoon and her husband answered the phone and told me to start Monday morning. Sunday came and I went over to see her and went into a conversation. She asked me different things and I asked her what the wages were and she asked me what I got in the private tea room and I told her. I thought I would take it because I did not have another job on hand.
So I worked one year. There was more work to do and I did not get a raise so I quit. I told her I needed more money. She said she couldn't afford it. I said she then does not need me. I stayed home and she came after me. I still did not go to work and stayed home a week. On Sunday her husband came over and said he would give me a raise—it wasn't much. So I went to work and kept on working and worked another year and I did not get the raise I was promised and I did all the work there ever done so I quit.
I thought two years for small wages was plenty for a girl who has to give help at home.
The following excerpts are from papers written by the young women at Camp Arcola in Pennsylvania, during the summer of 1936. They give insight into the process through which individuals became engaged in group activities and collective learning.50
My first knowledge about Camp Arcola was when our [relief] visitor came to our house and asked me if I'd like to go to a resident school. He gave me a few days to think about it. In those days I thought a lot. I couldn't make up my mind to what good it would be for me until I went to the meeting at Pottsville and met Miss Segelbaum. She told us a lot of things we would learn such as swimming, dramatics, sewing and working in the kitchen. I went home after the meeting and told my mother that I'd made up my mind to go for maybe learning to live in a group and associating with different people would help me get work.
When we had our meeting before we came to this camp we talked about what we would like to do when we got here, if we would like to cook, or sew, or clean or do other things. Miss Segelbaum told us a lot more about the camp and we were all anxious to come, I knew before I came up here that they were all going to try to fit us in for a good job and I was pretty sure we could learn a lot up here. When I got here and had the different meetings and the committees and all the interest groups, I knew we would learn more than I had expected. I do think it is a very good idea in having this camp because when anyone hires you to work for them, they can expect more from you than just anyone that never came to this school. We are learning much more than girls who just sit around the house and are out of work. I know I learn a lot about waitress work and other things, too. In the time that we have left, I would like to know more about English and politics and how to make different things such as belts and covers, and do a lot of things in our social science work shop. I do think we are all going to have a good time and learn plenty more before we go home.
When I first heard of my opportunity to come to Camp Arcola, I sort of hesitated. I thought I would get homesick and not like the camp. After I thought it over, I finally decided to come because I realized that it would be quite an experience. Now that I have been here four weeks, I am certainly glad that I accepted the opportunity, I have gained more confidence in myself by being able to get up and speak in front of a group and have also learned how to adjust myself to a new environment. . . . I find that I have learned quite a few things. For instance, I was never interested in politics before coming here and now I find it is a really interesting subject. I made a chart on a political party from which I learned a lot about everyday life that I didn't know before.
It took several days for the girls to get acquainted. Then slowly and surely they began going around in groups. In the meantime, the cooperative store was organized and I was elected manager. The store surpassed all my wildest fancies of what it would be like. The girls are one great bunch.
I like very much the idea of cooperative living. The committees are very well organized and the council selected by the girls are doing a very good job. On the whole the camp is much more than I expected and the girls much nicer.
Although we were told that it was a camp where we make our own rules and regulations, I myself believed that the director would make rules which we would have to abide by. It was pleasing to find that we could set up our own government and also to really have a chance at cooperative living.
Camp Arcola is doing a great deal for me in more ways than one. First of all, I have learned to get along with strange girls. Never before had I the opportunity to get in and live with a group and get along as well as I have been doing. It is doing every one of us more good than we realize. Secondly, the camp is teaching me how to handle all kinds of situations. We are learning to express our own ideas and see them carried out. Third, there are so many subjects and interests to get into and learn things. The counselors are enthusiastic to show what the girls really can do. I hope to accomplish more speed on the typewriter and broaden my knowledge in English. I am getting first aid instructions and am very grateful for this.
All in all, I really think the camp is worthwhile if the girls take advantage of the groups offered in camp. Also a chance to indulge in sports and running a store.
I have been able to gain some more experience in office work and typing, taking dictation and answering the phone. I have enjoyed being on the library committee as it gave me the opportunity to be chairman and also work in the library. In the politics group I have really gotten a better idea of the different parties which will enable me to vote more intelligently in the Fall. Up to this time my coming here was worthwhile.
1. Federal Emergency Relief Administration (hereafter FERA), Concerning Workers' Education (Washington, D.C.: FERA, December–January 1934–35), 1: 44.
2. Oral history of Hilda W. Smith conducted by Ashley Doherty, May 30, 1969 (in Smith Collection, Franklin D. Roosevelt Library, Hyde Park, N.Y., container 1, folder "Interviews," p. 11).
3. FERA, Report on Educational Camps for Unemployed Women, 1934 and 1935 (Washington, D.C.: FERA, May 1936), appendix 2; Susan Ware, Beyond Suffrage: Women in the New Deal (Cambridge, Mass.: Harvard University Press, 1981), p. 113.
4. Lois Scharf, To Work and To Wed (Westport, Conn.: Greenwood Press, 1980), chap. 6, and Alice Kessler-Harris, Out to Work: A History of Wage-Earning Women in the U.S. (New York: Oxford University Press, 1982), chap. 9, are excellent summaries of conditions for women during the Depression and New Deal years. "Employment Conditions and Unemployment Relief: Unemployment Among Women in the Early Years of the Depression," Monthly Labor Review 38 (April 1934): 792, n. 7; Meridel Le Sueur, Ripening (New York: Feminist Press, 1982), p. 141; Helena Hill Weed, "The New Deal That Women Want," Current History 41 (November 1934): 181–82.
5. Weed, p. 183.
6. Chicago Council of Social Agencies, Work Camps (Chicago: Chicago Council of Social Agencies, December 1941), pp. 1–2.
7. William E. Leuchtenburg, Franklin D. Roosevelt and the New Deal, 1932–1940 (New York: Harper & Row, 1963), p. 52.
8. Women's Trade Union League, "Memorandum of Suggestions to Labor Conference, March 1933," Smith Collection, Franklin D. Roosevelt Library, Hyde Park, N.Y., Box 10, file "Public Relations-Labor, 1933–1938"; Hilda W. Smith, "Plan for Resident Schools for Unemployed Women in Need of Relief," Hilda Worthington Smith Papers, Schlesinger Library, Radcliffe College, Cambridge, Mass. (hereafter Smith Papers), Record Group A-76, file 290.
9. Joseph P. Lash, Eleanor and Franklin (New York: W. W. Norton & Co., 1971), pp. 510–11, 699.
10. Ibid.
11. New York Times, June 2, 1933 (10:6); "Memorandum, May 31, 1933," FERA, Women's Camps Section, Old Subject File, FERA, (hereafter cited as FERA Collection). National Archives, Washington, D.C.
12. Letters and telegrams from individuals and organizations offering facilities for the women's camps program can be found in FERA Collection, Record Group 69, file 984.
13. Ether to Congressman Lemke, July 12, 1933, FERA Collection, Record Group 69, file 284.
14. Hilda W. Smith, "Plan for Resident Schools for Unemployed Women in Need of Relief," Smith Papers, Record Group A-76, file 290. Schlesinger Library.
15. Ware, pp. 106–7; Weed, p. 183.
16. Hilda W. Smith, People Come First (New York: Adult Education Fund, Ford Foundation, September 1952), p. 78; FERA, Report on Educational Camps for Unemployed Women, p. 8.
17. 1934 FERA Report, p. 10; New York Times, April 29, 1934 (20:7).
18. "Summary of White House Conference on Problems of Jobless Women, April 30, 1934," FERA Collection, Record Group 69, file 360.
19. Members of the national advisory committee included Dr. Louis Alderman, director, WPA Emergency Education; Josephine Brown, intake and certification, WPA; Richard Brown, National Youth Administration; Mary Bethune, National Youth Administration; Mary Anderson, Women's Bureau, Department of Labor; Helen Gifford, National Board, YWCA; Eleanor Coit, Affiliated Schools for Workers; Dorothea de Schweinitz, National Youth Administration; Ellen Woodward, director of Women's Work, WPA; and Elizabeth Wickenden, WPA.
20. Smith, People Come First, pp. 75–76 and appendix G.
21. Ibid., p. 78.
22. New York Times June 16, 1934 (17:8).
23. Hilda W. Smith, Suggestions for Organization, Curriculum, and Teaching in Residential Schools and Educational Camps (Washington, D.C.: FERA, July 1934); American Labor Education Service Collection, New York State School of Industrial and Labor Relations, Cornell University, Ithaca, N.Y. (hereafter ALES Collection), Record Group 5225, Box 15, file "Schools and Camps for Unemployed Women."
24. 1934 and 1935 FERA Report.
25. Ibid., pp. 21–22.
26. As quoted by Lash, p. 205; 1934 and 1935 FERA Report, p. 4; Monthly Labor Review 39 (November 1934): 1110.
27. 1934 and 1935 FERA Report, p. 5.
28. Ibid.
29. Ibid.
30. Ibid., p. 17.
31. 1934 and 1935 FERA Report; in addition, I examined reports from about fifteen of the projects, which I found in the National Archives, the Smith Papers at the Schlesinger Library, Radcliffe College, and in the ALES Papers in the archives at Cornell University.
32. 1934 and 1935 FERA Report, pp. 34–36.
33. Harry Gersh, "The She-She-She Camps: An Episode in New Deal History," unpublished paper in the Smith Papers.
34. New York Times July 3, 1936 (3:4); also see articles in Smith Papers, Record Group A-76, file 297.
35. 1934 and 1935 FERA Report, p. 6.
36. Ibid.
37. Funds for the women's camps program under the National Youth Administration were provided through a separate allocation from the NYA budget. Presidential letter no. 5064, July 13, 1936, established a limit of $1,111,000, of which only $700,000 was actually allocated for the women's project. The camps program operated as an official work project and closed October 1, 1937 (Palmer O. Johnson and Oswald L. Harvey, The National Youth Administration, Staff Study no. 13 (Washington, D.C.: Advisory Committee on Education, 1938), p. 17.
38. Ella Ketchin, Report on the National Youth Administration Camps for Unemployed Women (Washington, D.C.: National Youth Administration, 1937), p. 48.
39. Ibid. p. 62.
40. Smith to Eleanor Roosevelt, November 18, 1936, in Smith Collection, Franklin D. Roosevelt Library, Hyde Park, N.Y., Box 21, file "Correspondence." also see Adeline Taylor, NYA Camps for Jobless Women (Washington, D.C.: National Youth Administration, 1936), p. 18.
41. "Minutes of the Advisory Committee, Monday, September 21, 1936," ALES Collection, Record Group 5225, Box 15, file "Schools and Camps."
42. Statement of Charles Taussig to the National Youth Administration Advisory Committee, February 8, 1938, National Youth Administration Collection, National Archives, Washington, D.C., Box 608, file "NYA Papers."
43. Ketchin, p. 42.
44. "Memorandum to Mrs. Roosevelt, June 1, 1937," notes made by Hilda W. Smith, and "Minutes of the National Advisory Committee Meeting, August 3, 1937" (both from Smith Papers, Record Group A-76, file 290).
45. New York Times (August 17, 1937) (24:4).
46. Federal Security Agency, Final Report of the National Youth Administration, 1936–1943 (Washington, D.C.: U.S. Government Printing Office, 1944), pp. 84–85.
47. Smith to Eleanor Roosevelt, May 15, 1940, Smith Papers, Record Group A-76, file 290, "Correspondence."
48. From ALES Collection, Box 15, file "Wisconsin School for the Unemployed."
49. From Report of the Resident School Camp for Unemployed Girls, March 23–May 17, 1936, Philadelphia, Pa., in ALES Collection, Box 15, file "Educational Camps for Unemployed Women—Philadelphia."
50. From Pennsylvania's Girls' Camps, National Youth Administration Collection, National Archives, Washington, D.C., file "Arcola Resident School Camp, Summer 1936."