Citizens for Democracy: The Industrial Programs of the YWCA
Mary Frederickson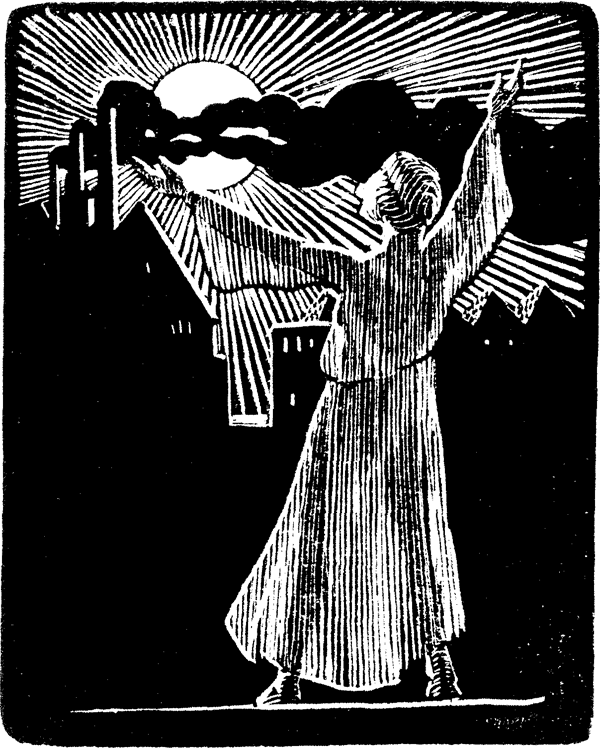 The Young Women's Christian Association (YWCA) played a crucial role in the development of workers' education for women in the United States. At its peak, the YWCA's Industrial Department had an interracial membership of almost 60,000 women workers, brought together by the common experience of their industrial employment. The association's experiments in workers' education began during World War I and continued to develop through the 1930s. Through the YWCA women workers attended local classes and regional workers' education conferences planned by the industrial membership. The Industrial Department maintained close contacts with the developing independent women's summer schools, which recruited extensively from the association's vast membership. For many working "girls," YWCA Industrial Clubs provided a gateway to full participation in the labor movement. Workers' education programs within the association became important vehicles for a workers' growth into active union involvement. Likewise, for middle-class YWCA "secretaries," the YWCA Industrial Department focused enthusiasm for social reform and channeled it into a growing movement for women's workers' education.1
In the years between 1904 and World War I, the YWCA redirected its focus from providing minimal social services for poor women to scrutinizing the social consequences of industrial capitalism and demanding far-reaching economic and social reforms. The moving force behind this transformation was Florence Simms, a young midwesterner who had worked with industrial women in Michigan and who was appointed as the first YWCA National Industrial Secretary in 1904. In the early years of the YWCA's industrial work, Simms advocated the study of the social and industrial problems of working women and recommended teaching industrial women about the protective regulations being legislated in their behalf.2
After 1908, the industrial group gained autonomy within the national organization, and YWCA Industrial Clubs within factories, laundries, stores, and mills became self-governing units run by the local membership. As the newly organized Industrial Department began to address wage issues, industrial health standards, working conditions, and protective legislation, more and more working-class women began to participate. By 1914 there were 375 Industrial Clubs; by 1918, over 800 local clubs had an industrial membership of more than 30,000.3 At the urging of the Industrial Department, the 1911 National YWCA Convention passed resolutions supporting a minimum wage and limited working hours for women.
During this period, an internecine competition developed between the Industrial Department and other factions within the YWCA. The national organization was closely tied to Protestant churches and required church membership as a prerequisite for association membership, and there were many local association members who continued to carry on traditional YWCA evangelism in factories, primarily through noontime Bible meetings, vocational training, and general adult education. Nevertheless, under Simms's leadership, the Industrial Department moved in new directions; it hired staff members trained in the social sciences, maintained independence from employers whenever possible, and assisted industrial women in raising questions about working conditions. As Simms wrote, "We began to change from the type of work in which we were doing for girls, thinking for them, to that in which we began to feel the solidarity of the whole human family."4
During World War I the Industrial Department extended its programs for women workers by establishing Industrial War Service Centers in newly developed industrial areas and in the industrial sections of large cities. Called "Blue Triangle Houses," over 300 YWCA-run hospitality centers provided rooms, food, recreation, and fellowship to women employed in defense industries, women visitors to military camps, and women waiting at wartime ports. The only admission requirement for women industrial workers was that they take a pledge stating: "It is my desire to serve to the best of my capacity in the ranks of the Women's Industrial Army. I pledge my loyalty by promoting in every way possible the spirit of service and good-will in my work and community."5 Thus the YWCA initiated thousands of women into the work force by emphasizing the importance of labor unity and the critical significance of women's wartime participation in the industrial sector.
As the "women's industrial army" increased in size, the YWCA sought to sharpen public awareness of the need for industrial health and safety regulations for workers. At YWCA War Service Centers, newly hired women defense workers found a place to sleep and a hot meal in the company of sister workers; there they began to formulate concrete demands for the eight-hour day and the six-day week, equal pay for equal work, and collective bargaining rights. Under YWCA auspices, committees of women workers and War Service Center staff educated new workers about protective legislation and contacted individual employers to inform them of particular health and safety issues affecting women workers.
Middle-class women, concerned about the increasing numbers of women workers entering industrial employment because of the war, came to the Industrial War Service Centers to assist in programs for women workers. At the centers they heard about the employment policies of their capitalist friends (or even husbands). Disturbed by what they learned through the YWCA about wage levels and working conditions, these women demanded routine factory investigations and better conditions for industrial workers. Industrial Department staff members believed that during this period many women, both workers and middle-class sympathizers, discovered "the power of a woman in the world's work, the realization of her worth, and of the necessity of women's standing together."6
After World War I, the YWCA sought to carry over into peacetime the spirit of cooperation and fellowship among industrial workers and the sense of responsibility on the part of professional women and women of leisure. At the war's end, Simms argued for accelerating the YWCA's industrial efforts, saying that "we have a very great responsibility upon us because we have now the favor of the public and the ear of the public. I know of no other organization that is creating a program like this, and we seem to be the logical people to carry on." She believed that solving the industrial problems of the postwar world would result in the establishment of a new social order permeated with justice for women and workers.7 In fact, the War Service Centers and the concept of cross-class cooperation among women formed the backbone of the YWCA's industrial work in the postwar period.
During World War I, in addition to expanding its industrial work and increasing the participation of middle-class women, the YWCA also substantially extended its work among black women workers. Although black women began to turn to the YWCA in greater numbers during the war, minority women had a long history of YWCA membership in segregated branches of the organization. Fourteen black student groups had affiliated with the YWCA in 1907, and southern student work in that year reached 2,300 young women (out of a total of 14,000 black women in secondary schools and colleges). The first city associations for black women began in 1907 in New York, Washington, Baltimore, and Brooklyn.8
Four years later, after the "mushroom growth of all colored Associations," work was being carried on in over twenty cities across the United States. Despite chronic short staffing and constant demands for more trained secretaries to meet the needs of women in the black community, two women carried the weight of coordinating all YWCA work among black women. They wrote in 1911 that "in nothing do we find greater satisfaction than in the knowledge that the crying need of colored women is finding some response," and they emphasized "the necessity of having definite provision in the budget for colored city work, which now appears as a provisional clause."9
In 1912, the first industrial survey of black women workers revealed "a picture full of deep shadows." In Winston-Salem, North Carolina, investigators reported "a story too dark, too depressing, too long, to be unfolded here." Later in the same year, black women workers from five states and the District of Columbia (women came from as far south as Alabama) traveled to New York City for the first conference of black city workers.10
During World War I, YWCA work among black women began to receive much-needed support from within the association. A field supervisor was named for the South Atlantic states, and thousands of black women took advantage of the services available at local YWCAs and at the Blue Triangle Houses established for the use of defense workers and women friends and relatives visiting military camps. By the end of the war, after working with "an undercurrent of race prejudice which is dangerous," YWCA fieldworkers had established dozens of new centers across the country, with 57 black Industrial Clubs comprising an industrial membership of over 2,000; more than 7,000 black industrial women attended the meetings of these clubs without officially joining the YWCA.11
As the YWCA Industrial Department broadened its focus to encompass new groups of women workers, Florence Simms, in her capacity as National Industrial Secretary, led a women's commission, with representatives from the National Consumer's League, the American Association for Labor Legislation, and the National Women's Trade Union League (NWTUL), to Europe to investigate conditions of women's work and to confer with European women who were also interested in bridging what Simms described as "the chasm between capital and labor."12 As these women toured European industries, factories, unions, and shops, they were deeply shocked by the desperate conditions faced by women workers. The women of the commission pledged to continue to work together to improve the working lives of industrial women in both Europe and the United States.
As a group, members of the commission endorsed a set of minimum industrial standards, including the abolition of child labor, the eight-hour day, a minimum wage, equal pay for equal work, and the right to collective bargaining. The YWCA had endorsed most of these standards prior to the war, but the National Board had balked at collective bargaining, an issue that provoked considerable controversy among the more conservative board members of the association. Early in 1919, plans had been made to call a meeting of representatives of industrial women in the YWCA to formulate a statement about the conditions of women in industry. This pronouncement was to be presented at the first International Congress of Working Women convening in Washington, D.C., late in 1919.13
In Simms's absence, plans to hold a small meeting of a few industrial women had escalated, and in the fall of 1919, sixty-five delegates, representing 30,000 women workers in twenty-six states, traveled to Washington, D.C., to attend the YWCA's first National Conference of Industrial Women. This assembly of women workers included unionists and nonunionists, Protestants, Catholics, and Jews, the politically active and the nonpolitical. Many of these women represented new constituencies brought into the association through the Industrial Department. The statement these industrial representatives prepared included a blanket endorsement of collective bargaining and a recommendation that the YWCA work for passage of protective legislation for women workers.14
Impressed by the independent action of the industrial women and motivated by their endorsement of a formal set of resolutions, Simms began to lobby vigorously for the National Board's approval of collective bargaining as part of the YWCA's industrial platform.15 In so doing, she encountered fierce opposition from many wealthy YWCA board women and touched off two years of heated debate. Reactions by members of the National Board ranged from enthusiasm to horror. One YWCA staff member recalled that many board women were shocked at the in-human aspects of American industrialization, and "they felt guilty about their own privileges and determined to take some action." These women took a stand that was "in some cases a threat to their marriage and family life, but they stood firm because they were convinced it was right." Others, however, were more shocked by collective bargaining than by the working conditions of the industrial members. Some women opposed collective bargaining because of their own point of view, others because of their husbands' stance on the issue. When Simms visited in board members' homes, she was often challenged by their spouses. One staff member recounted the story of Simms and two of her colleagues being invited to the home of a board member whose husband was a railroad executive. After dinner, the host "harangued us about our 'socialist beliefs.'" Simms finally lost her temper and said, "Mr.        , if we do have a revolution, it will be people like you that bring it on." That finished, she put on her hat and majestically led her party out of the house.16
At the YWCA's national convention in 1920, women on each side of the collective bargaining issue engaged in long and arduous debate. For two days over 2,000 women argued back and forth. Delegates representing women workers in the association addressed a YWCA convention for the first time and spoke for the adoption of the entire set of industrial standards, including collective bargaining. A Pennsylvania silk worker addressed the convention, pleading, "I beg of you to be the leaven among the girls in industry and help them rise to better conditions."17 National Board members, clearly divided on the issue, argued on both sides. One wealthy board member suggested that the word "agreement" be substituted for "bargaining," a proposal soundly rejected by the industrial membership. Another board member protested that as YWCA members "we [are] losing our religion and [are] in danger of Communism," and a third resigned in the middle of the convention. Finally, a middle-class member of the board argued that "we are having a power put in our hands that we must use. Do not be afraid of it."18
Eventually sentiment turned in favor of the Industrial Department's position. The strength of Simms's negotiations with the National Board, the zeal of working-class and middle-class leaders within the Industrial Department, and finally the threatened withdrawal of the industrial membership from the association provided the necessary impetus for inclusion of a collective bargaining plank in the YWCA's set of standards for women in industry.
Mixed reactions met the YWCA's acceptance of a comprehensive set of standards for working women. The NWTUL, long suspicious of the domination of the YWCA by middle-class women, praised the women of the Industrial Department for winning a significant victory. On the other hand, wealthy women within the organization looked to the Industrial Department with increased suspicion. One member voiced her fear of "radical socialism," a trend she had found "even in certain departments of our Association that we love so much."19 But the more than 30,000 working-class women within the association hailed the endorsement as a victory and as a measure of their growing power within the national YWCA.
In addition to recommending that the YWCA endorse collective bargaining, women workers at the YWCA National Industrial Conference in 1919 had proposed that the entire membership participate in educational programs designed to analyze social and industrial issues. Industrial women wanted these programs to be available to the association's board women, business clubs, and student groups in order to "prepare for citizenship and for our part as a Christian organization in helping solve the industrial problem."20 This proposal resulted in increased cooperation between college students and industrial workers within the YWCA. As part of this movement, industrial women addressed college groups about the problems of women in industry, and after 1921 college students, under the direction of YWCA industrial secretaries, took industrial jobs for a six-week period to experience at first hand the working conditions in factories and mills. Finally, joint study groups of industrial and college women were formed in many cities where there had been little previous contact between women who worked in industry and middle-class students.21
From the beginning of the Industrial Department, Florence Simms had preferred "education" to "agitation" and had argued that "knowledge must precede reform." The Industrial Department's gradual efforts to educate middle-class women about industrial issues had proved generally successful, and YWCA leaders consistently emphasized the "solidarity of interest uniting the women of leisure and the wage earners" in solving social and economic problems. To conservative board members who supported the YWCA in local communities across the country, the implementation of educational programs for women workers appeared to be another logical step in the process of slowly implementing a new system of social justice.22
Within the Industrial Department itself, workers' education was viewed as a means of training leaders among industrial women and providing the necessary skills working women needed to push for industrial reforms and to build a new society. YWCA staff members and women workers had supported the development of a working women's educational movement as early as 1916, when the NWTUL proposed that women's colleges open their doors to working women during the summer months. Two years later, YWCA industrial secretary Ernestine Friedmann, later the assistant director of the Bryn Mawr Summer School, designed a program for Industrial Clubs that emphasized training the "natural leadership of the industrial group" and sought to supplement traditional YWCA educational courses in basketry, home economics, and nursing with classes on "Women and Industry," the "Industrial Revolution," the "New Place of Women in Labor," and "Politics and Economics."23
Experimentation with workers' education in local associations had ramifications throughout the Industrial Department. Women began to ask for courses that would help them understand the historical context of their lives and the particular economic realm in which they lived and worked. The demands of women workers resulted in the development of a series of courses for women workers in economics and history. Initially this new educational direction drew criticism for not being traditional YWCA "Bible study," but later a consensus was reached that "this kind of course was even more needed than the other."24 In keeping with the collective goals of workers' education, YWCA secretaries felt strongly that YWCA classes in leadership, training, public speaking, parliamentary law, and writing should be designed to help a worker function better in workers' groups and cooperative enterprises, not to favor an "ambition for excellence in personal performance."25
Lucy Carner, who succeeded Florence Simms as National Industrial Secretary in 1923, argued that the YWCA's most continuous and widespread educational work among industrial women was done as young women learned to manage local clubs, departments, and regional and national organizations. Women who would not enroll in a "class" learned organizational skills as they elected officers and planned and executed programs. But she admitted that workers' education had redirected the focus of local programs and that "the few girls who had discovered the joy and responsibility of real study are making classes in economics and history and psychology the thing of which an industrial department has a right to boast and without which it feels a bit ashamed." In Carner's view, the finest thing was that the new educational interests of women workers were not being enjoyed simply for themselves, "but were being used as tools by increasing numbers of girls who in the process of education have caught the vision of a better social order."26
As workers' education programs spread through the YWCA, the Industrial Department transformed its summer conferences for industrial women, which had been held annually since 1912, from recreational camps into intensive educational sessions on industrial and social issues. After 1920, five conferences were held each year in the East, South, and Midwest. A total of 800 to 900 American women attended these programs annually. Women came to the conferences as representatives of their local Industrial Clubs and were instructed to return home ready to share what they learned and with proposals for new Industrial Club programs and activities. Industrial delegates administered their own conferences, invited economists and labor specialists to lecture, and led discussions on the specific labor problems they faced as women workers.27
Designed to meet the needs of the large number of women workers who could not leave their jobs or home communities for long periods, these ten-day, abbreviated summer schools for women workers were attended by a total of over 15,000 women workers in the years between 1920 and 1940. Union members, the unorganized, recent immigrants, native whites, and urban black women came together and worked to understand their common concerns as women and as workers.28
Former YWCA secretary Lois MacDonald saw the industrial conferences as providing a strategic educational opportunity to reach unorganized women workers, most of whom were "out of touch with any other agency which is interested in education and group development among industrial women."29 Nationally planned but regionally executed, these summer educational programs for women workers provided women from industry, and eventually from domestic service, with the opportunity to enjoy "freedom from the ever-present rush" in a course of study focused on labor legislation, issues of women's work, industrialization, occupational health, and trade unionism. Through the YWCA conferences, women had the opportunity to analyze their own industrial experiences and to participate in working out their own educational programs.30
By the mid 1920s, as the women's workers' education movement expanded, a debate about the authenticity of workers' education programs within the YWCA began to surface. Lucy Carner took a circumscribed view of the work done in her department, writing in 1925 that: "It would not be honest to leave an impression that the Industrial Department of the YWCA is doing intensive or prolonged educational work. Few departments could be so described."31
But Lois MacDonald, writing in the American Federationist in 1927, the year she was involved in founding the Southern Summer School for Women Workers in Industry, argued that whether the YWCA Industrial Department provided "worker's education in the technical sense of the term, is too academic a question to be of much concern." She emphasized that both the industrial conferences and the YWCA's educational work in local Industrial Clubs were unique workers' programs, "made out and almost entirely executed by workers," and that the YWCA was in touch with more industrial women than any other organization. MacDonald was cautious about the incremental nature of the work. Few expected a ten-day summer course to transform a hosiery worker into a union organizer, but MacDonald concluded that the YWCA conferences, "real workers' education or not, were important experiments] in education for workers, education which looks toward a new day when all workers shall be united."32
Despite the fact that the YWCA never established its own school for women workers, such as the Training School for Women Organizers sponsored by the NWTUL, the association's experiments in workers' education reached more working women, and affected more women's lives, than did the educational efforts of any other contemporary organization. At peak membership, in 1930, the number of working women in local associations with Industrial Departments was 57,556. Out of this group, more than 15,000 women received specialized leadership training through summer conference programs.33 By contrast, the NWTUL's Training School for Women Organizers admitted only three to five students a year, the Bryn Mawr Summer School reached 100 women each summer (for a total of about 1,500), the Southern Summer School had a total of only 350 students, and Brookwood Labor College and Vineyard Shores accepted under a dozen women each year. Workers' education programs within the unions reached thousands of women, but by the mid-1920s these offered women workers little except training in union administration.
Of all the workers' education programs established in the 1920s, only those carried out within the YWCA reached women at the grassroots level on a year-round basis. The YWCA Industrial Department brought women into an organization firmly established within a specific community. And for those industrial women who left their local organizations to attend a summer conference or a women's summer school, the YWCA provided a ready forum for discussion, support, and the dissemination of new ideas when they returned home.
What could, and often did, happen to women in the YWCA is eloquently illustrated in the life history of Jennie Spencer of Roanoke, Virginia. Born in 1917, Spencer became keenly aware of her family's working-class status when at age eleven she recognized that "my home wasn't as nice as the other children's and that while they had oranges everyday and money to spend, I didn't have these things." Spencer quit inviting her schoolmates home and "felt like an outsider." In her second year of high school, Spencer's father came out on a Norfolk and Western Railroad strike, and she had to drop out of school. She got a job with the American Viscose Corporation working as a reeler. Spencer had always wanted to go to the Roanoke YWCA, but "thought it was a place for the rich girl." Finally, some of her co-workers invited Spencer to attend their YWCA Industrial Club. Spencer joined the YWCA "and began to be happy again." She found that "the girls there were just like me; they had had to quit school to go to work to help their family out. They worked in the same mill as I did, we all made the same amount of money and their families weren't any better educated than mine."
Gradually, Spencer became a leader within the Industrial Club in Roanoke; after a year she was selected club secretary, and two years later her friends from American Viscose voted her their president. When still new to the YWCA, Spencer was named a delegate to an industrial conference held at Camp Merrie Wood. Each morning during the conference Tom Tippett, from Brookwood Labor College, spent an hour discussing unions, but Spencer still "thought the YWCA was a social club, and . . . wasn't the slightest bit interested in anything that was said." From a union family, Spencer was not antagonistic toward the labor movement; she "just didn't think unions concerned me, and when I later began to think a little, I was afraid of strikes," Within the supportive atmosphere of the Industrial Club, Spencer continued to develop the self-confidence needed to examine her own attitudes about the labor movement and other difficult social issues. At their meetings, Roanoke's YWCA women followed the guidelines of the YWCA national convention, and as a result they frequently discussed "the race question." Spencer recorded that "it didn't take me long to lose my race prejudice because I was that timid easy going kind, and injustice to human beings to me was a terrible thing."
The YWCA's industrial program brought women like Spencer into contact with other young women of similar backgrounds. Working together, these women gained a sense of common purpose and the strength to develop their own programs, meet and recruit new members, elect local officers, and serve as delegates to regional and national meetings. Through the YWCA, thousands of young women were introduced to new ideas and different ways of viewing the world. With a strong national program, unassailable moral credentials, and firm footing in local communities, the YWCA could facilitate a woman's rejection of conventional racial mores and validate the role of women in the labor movement.
For Spencer, exposure to the labor movement through the YWCA occurred slowly, as she attended the Industrial Department's workers' education programs over a period of several years. In May 1936, the Roanoke unions sponsored a workers' education conference and Spencer attended. Tom Tippett was again on the program, and the following evening he addressed the local YWCA Industrial Club. "I don't know what he said," Spencer recalled,
but all at once I realized that it was my duty to myself and my fellow men to join the union and take part in the things so to make life more as I think it should be, regardless of what might develop, whether difficult or not. I knew I was a worker and I belonged on the workers' side.
Following the Roanoke workers' education conference, Spencer became chairman of Pioneer Youth in Roanoke, and as an organizer of local youth clubs for union children she began attending the union meetings of the Viscose workers. Soon she joined the union. Pioneer Youth "expanded into clubs all over town," and Spencer and the women in the YWCA Industrial Department established a summer camp for thirty children outside of town. In the fall of 1936, Spencer ran for recording secretary of her local. During the election "one or two people objected to a woman having the office, as this was something new." But Spencer won by a large margin because she "had become well known to the membership by working with their children." As an officer, Spencer carefully followed events when her local transferred its affiliation from the American Federation of Labor (AFL) to the Congress of Industrial Organizations (CIO). As she put it "[O]ur contract expired and we just couldn't get Green [AFL president William Green] to negotiate for us. CIO's door laid the 'welcome' mat down and we walked in."
Under her local's new contract, Spencer sat in on grievance negotiations and once traveled to Pennsylvania with three other union members to meet with representatives from the other five locals covered by the same agreement with American Viscose Corporation. But Spencer "had many unpleasant experiences in the union," and during the period when her spirits "had been broken, all except a single thread," she almost left the labor movement. She wanted to return to the YWCA and "devote more time to the union" within the Industrial Department, where "a girl can be happy for her work is appreciated and encouraged." But a close YWCA friend repeatedly lectured her not to quit, and finally Spencer decided to continue her union work.
Although she became "much stronger as a result of staying on," Spencer found herself "usually in the minority on policies" and, as a result, unable to enjoy much of her local union work. But the union fulfilled Spencer's need for "the humanitarian work which is my religion." Eventually, she learned to "keep fighting and not let things break your spirit." After four years as an active union member, Spencer had negotiated grievances, recorded minutes, picketed local department stores selling Japanese rayon, marched down the main street of Roanoke in a strike parade with local furniture workers, and brought a carload of women to the picket line each day. Finally she saw her local begin to "accept the idea of girls being active," and Spencer saw herself as one who had chosen "to go through life fighting labor's battle."
Spencer recorded her history in 1940, in an essay she called "My Transition."34 Her story embodied all that the YWCA Industrial Department sought to do for young women workers across the United States. Convention resolutions on equal pay, minimum wage, limited hours, and the hard-won plank for collective bargaining were directed toward making things easier for women like Jennie Spencer in communities like Roanoke, Virginia. The Industrial Department had designed workers' education conferences to expose the Jennie Spencers of the country to the ideas of labor educators like Tom Tippett and to give them the skills they needed to become local union officers.
Finally, the association's Industrial Department wanted to continue serving women after they became active trade unionists. Union women could, and did, return to the Industrial Department to obtain essential support and encouragement. Within the YWCA, appreciative friends could help mend broken spirits and then send women back to their unions with the strength to continue their fight for industrial justice.
As women in the YWCA began to integrate workers' education into their programs, they recognized the need for their more serious students to obtain training that went beyond what was available through the Industrial Department. Thus, the YWCA supported the institutionalization of women's workers' education in the growing number of summer schools for women workers. Many association staff members served on summer school boards; others taught in six- to eight-week summer courses or in the year-round programs sponsored by various summer schools in local communities. YWCA Industrial Departments helped select students to attend the summer schools and often provided the financial support necessary for women workers to leave home. The women's summer schools depended heavily on the cooperation of YWCA Industrial Departments across the country to put them in touch with those women workers who would most benefit from an intensive workers' education program.
In promoting women's workers' education, the YWCA joined with other groups that supported a broader cultural and nonvocational education for industrial women. In 1918 the YWCA had agreed to cooperate with Bryn Mawr College in writing courses for the training of women for industrial work. Bryn Mawr economics professor Susan Kingsbury reported on the proposed training course for industrial workers at a YWCA Conference in Kansas City in the spring of 1918. A year later, the National Industrial Department voted to "cooperate as far as practicable with working women, universities and churches in the development of a working woman's educational movement."35
This cooperation was tangible in the YWCA's participation in the opening of the Bryn Mawr Summer School in 1921. The National Industrial Department staff was involved in planning for the school, and the local YWCA Industrial Clubs raised money to send women from their ranks to Bryn Mawr. Over half of the eighty-two students in the first Bryn Mawr Summer School class in 1921 were recruited through YWCA Industrial Departments.
By the late 1920s, all of the workers' education schools looked to the YWCA as a "recruiting agency." The YWCA cooperated with six workers' education programs in different regions of the country: the Bryn Mawr Summer School, the Barnard School for Women Workers, the Southern Summer School, the Wisconsin Summer School, Brookwood Labor College, and Vineyard Shores. After almost a decade of cooperation, the association considered it "a very natural part of its program" to recruit for the summer schools and "to help prepare girls for more advanced education than we ourselves give."36 As the recruiting agency for workers' schools eager to reach industrial women, the YWCA provided an invaluable service. Without this aspect of the Industrial Department's work, the summer schools for women workers could not have drawn women from local communities in all sections of the country to participate in their educational programs.
In addition to recruiting students for the women's summer schools, YWCA Industrial Departments across the United States coordinated workers' education fund-raising activities within local towns and cities. In select communities the summer schools themselves had local committees (of Bryn Mawr College alumnae, for example) that would choose industrial women to attend a summer school and provide scholarship support. But in the communities without summer school committees, women from the YWCA would contact a variety of local organizations and ask for contributions. In Duluth, Minnesota, in 1926, the Industrial Department organized a committee of seventeen women's organizations, including the Duluth Women's Club and the Junior League. This group raised scholarship funds to send three women to the Wisconsin Summer School. The YWCA then successfully approached the Duluth Trades and Labor Assembly, asking them to provide the money for a local trade union member to attend.37
Once a local YWCA had selected one or more women workers to attend a summer school and raised the necessary scholarship funds, the Industrial Department usually provided some type of preliminary training in labor economics or trade union history aimed specifically at preparing women for their advanced workers' education experience. On returning to their communities, these women continued their study of industrial and economic problems within their local Industrial Clubs. Their enthusiasm and newly acquired expertise infused energy into ongoing YWCA Industrial Department programs. In many communities, groups of summer school alumnae assumed leadership positions within both the Industrial Clubs and local labor organizations.
Because of the YWCA's extensive network among industrial women, the association was directly responsible for the initial organization of several workers' education programs. These ranged from the Wisconsin Summer School for Woman Workers, to a small workers' school in Cleveland established under the aegis of that city's YWCA Industrial Department, to the Summer School for Women Workers in Industry, which was organized in 1927.
The Wisconsin Summer School began in 1924, when the Industrial Department of the Madison YWCA and the University of Wisconsin's Department of Economics started a summer institute for factory women. The university, then under pressure from the state's labor federations to provide specific programs for workers, requested the existing school for women workers to invite local unions to participate. For several years women workers recruited through YWCAs continued to dominate the school, but by the late 1920s more men than women attended the renamed Wisconsin School for Workers.38
In the 1920s the YWCA had more contacts with industrial women in the upper Midwest than any other organization, and this pattern also held true throughout the South. In 1925, a group of former Bryn Mawr Summer School students active in local YWCA Industrial Clubs worked with Louise Leonard, YWCA industrial secretary for the southern region, to plan a small summer school for southern women workers. The first session was held in Sweet Briar, Virginia, in 1927, and over half of the twenty-four women who made up the first class had come to the school through the YWCA. Southern Industrial Departments continued to recruit many of the school's students until the mid-1930s, when a majority of the women came as representatives of newly organized unions from across the region.39
Through the YWCA's intramural workers' education programs, its support for the industrial conferences, its large industrial membership, and the strong trade union advocacy of its leaders, the Industrial Department earned some measure of respect from organized labor. By the mid-1920s, the YWCA was widely recognized by many leaders in the labor movement "as a force making for more social thinking among young workers which they have such difficulty reaching." The national association regularly sent representatives to AFL conventions; during the early 1930s, the YWCA's fraternal delegate status was an acknowledgment of its representation of thousands of industrial workers. The Industrial Department considered this participation an important opportunity to keep abreast of developments in the labor movement and to promote the interests of women workers within the male-dominated AFL.40
As one of the few national groups firmly committed to the organization of women workers, the YWCA maintained an ongoing critique of the AFL's refusal to organize women. The YWCA fraternal delegate at the 1933 AFL convention raised issues of special concern to the YWCA, including the needs of women workers and the necessity of integrating black employees into the labor movement. YWCA members joined others at the convention in calling for new strategies to reach unorganized workers and in endorsing a shift to industrial rather than craft-based unions. The report of Helen Carr, the Industrial Department's delegate to the 1935 AFL convention, underscored the AFL's conservatism, which she considered to be exemplified in a stodgy group of older men "who had become so set in their ways that they will not even tolerate the thought of change."41
The AFL remained intransigent on the subject of industrial organizing and on addressing the needs of women workers. Only with the ascendency of the CIO in the mid-1930s did these issues finally receive some attention. In many ways, the industry-wide unions that proliferated under the CIO subsumed the role of the YWCA as a meeting place for industrial women. This was exemplified in Jennie Spencer's shifting her participation from the YWCA to her local union. Moreover, lack of funds during the Depression contributed to a gradual decline in the Industrial Department's influence within the labor movement.
As the YWCA Industrial Department worked through the labor movement to draw attention to the concerns of women workers, the department's staff members gained invaluable experience in both workers' education and the principles of labor organization. Most young women who went into the YWCA in the 1920s saw the association as a place where they could act on their own religious convictions to bring about Christian social reform. As Eleanor Coit, a Smith College graduate who became a YWCA secretary in 1920 in Bayonne, New Jersey, recalled, "I came from a very religious family . . . of course we could not have worked in the YWCA if we did not have some religious motivation."42 Once in the YWCA, women like Coit witnessed at first hand the basic need for social reform and then recognized the trade unions as a vehicle for economic change. These women understood the importance of education as a prerequisite for the unionization of women workers, education carried on both within and outside of the YWCA.
YWCA secretaries who joined the Industrial Department in the years between 1915 and 1925 formed a cohesive group, a network of reform-minded women who had moved to New York City in the World War I decade. Many of these women came from elite Eastern women's colleges—Smith, Vassar, Radcliffe, Wellesley, Mount Holyoke, Barnard, and Bryn Mawr—and most attended graduate school at Columbia University, receiving social science training in the rapidly expanding fields of sociology, economics, and political science. At the YWCA's newly built National Headquarters Building on Lexington Avenue, Industrial Department staff members began to develop industrial reform programs and to experiment with women's workers' education in an urban atmosphere highly charged with social change.43
Each year National Industrial Department members were assigned to coordinate YWCA industrial work over six geographical areas. The National Industrial Secretaries traveled throughout their regions, meeting with local staff members and supervising the planning of regional industrial assemblies and workers' education conferences. Based in New York, often living in the National Headquarters Building, these secretaries enjoyed socially compelling and intellectually challenging work which they executed collectively, within a supportive, female-dominated environment.44
Scores of other YWCA industrial secretaries worked on the local level in both small towns and large cities, wherever women were employed in substantial numbers. Secretaries employed in far-flung community YWCAs faced the difficult task of transforming the Industrial Department's goals into reality. Many took YWCA jobs because they believed that the association would "prepare girls for getting into unions." Some risked their jobs in conservative communities by offering union organizers support and access to local contacts. Once involved at the grassroots level, YWCA industrial secretaries frequently found themselves in a "ticklish business' where workers often associated them with management and employers either viewed the YWCA as "harmless" or as unlawfully "preaching unionism."45
Many women in the Industrial Department fought private battles over how to reconcile a growing ideological attraction to socialism with their YWCA work. Florence Simms encouraged politically committed women to stay in the Industrial Department, writing to one woman that "many of our people will feel and think as you do now. Just go right ahead being a Socialist . . . there is not the least difficulty in your combining your secretarial work and Socialism."46 But often it proved impossible for staff members to continue working within the limitations of the YWCA where, as Louise Leonard McLaren put it, an industrial secretary had the difficult job of having to "cooperate . . . without compromising her ideals."47 Despite major changes in the YWCA's program for working women and the substantial power gained by the industrial membership, the National Board of the YWCA remained in the control of middle- and upper-class women whose commitment to social change and industrial reform remained circumscribed.
Few YWCA Industrial Department secretaries, on either the national or the local level, made a lifelong career of association work. Of those who stayed active in the labor movement, a few became union organizers, while the majority left the YWCA to take a more active role in workers' education programs for women. In fact, most of the women who became leaders in workers' education began their careers as YWCA industrial secretaries: Ernestine Friedmann, a YWCA secretary in 1912, became assistant director of the Bryn Mawr Summer School, served on the staff of the Affiliated Schools, and was named director of the Barnard School; Eleanor Coit left the YWCA to become director of the Affiliated Schools and then head of the American Labor Education Service (ALES); Alice Hanson Cook taught in each of the summer schools and worked for ALES; Louise Leonard McLaren became director of the Southern Summer School; Grace Coyle originated the idea of a workers' education program for office workers. Alma Herbst worked with ALES on a Works Project Administration workers' education project; Alice Shoemaker became director of the Wisconsin Summer School; Ethlyn Christensen worked with the White Collar Workshop; Lois MacDonald taught at the Bryn Mawr Summer School and was instrumental in founding the Southern Summer School; and Brownie Lee Jones directed the Southern School for Workers.48
As these women changed their careers, they transferred the network of personal and professional relationships they had established in the YWCA into workers' education. This facilitated communication among the various workers' schools and was largely responsible for forging a diverse group of workers' education programs into a cohesive educational movement for women workers.
The YWCA's influence on workers' education for women was unparalleled. No other organization's membership even approached the vast numbers of working women involved in YWCA Industrial Clubs; and no other institution supplied the workers' education movement with as many leaders as did the Industrial Department of the YWCA. The workers' education movement for women could not have developed as it did without the pioneering efforts and the sustained cooperation of the women of the YWCA.
YWCA Industrial Departments in local communities across the nation brought young women who worked in a variety of factories within the same town or city together in lively meetings like the one humorously depicted in this cartoon. Concerned about child labor, working conditions, and wages and hours, YWCA Industrial Departments often brought labor and economic issues to the attention of manufacturers and community leaders in efforts to improve the working lives of their members.49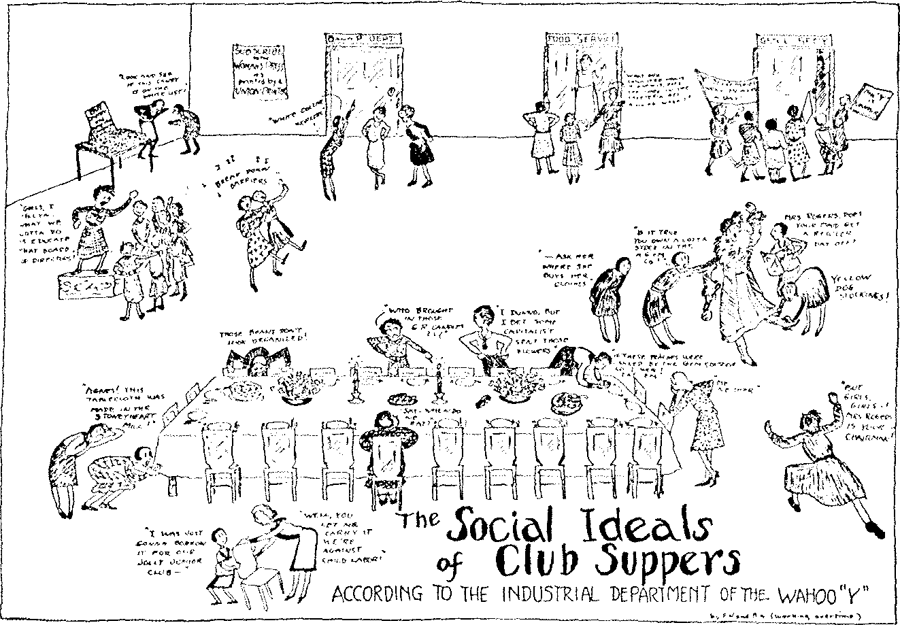 The essays and poems that follow were written by women workers who took part in YWCA Industrial Department programs. They were printed in YWCA newsletters and publications between 1928 and 1944. As a cross-class organization, the YWCA promoted interaction between industrial women and college students as a way to educate each group about the other and promote solidarity among women of different backgrounds. The organization also developed interracial programs for women and led integration efforts in hundreds of northern and southern communities.50
What I Want from Workers' Education
I enjoy working much more since my last three years of rich memories and experiences which I owe to the YWCA. As an underpaid worker, the ambitious girl has quite a struggle because to satisfy any ambition, particularly "forward," it takes money.
Since my study of economics at Chicago and Bryn Mawr [Summer School for Women Workers], I have been fired with enthusiasm for organization for women in all lines of industry. I am still in the ranks of the unorganized but I am waiting for my opportunity to work in an organized dress shop. I really like to sew but it is dreadfully irksome to do so for a small pittance. I believe women's salvation lies in organization because the few women that I know that belong to organizations seem rich in all the blessings of a worker. With poor working conditions and pay, it is rather hard to be truly happy.
With an eight-hour day, good pay and good working conditions, I will not be tired or lacking in funds to enjoy a good show or musicale occasionally and to really help in the Y. I at one time-wanted to be a social service worker, but since I went into industry before finishing the schooling necessary for such work, I have dismissed the idea. I am eager to learn all I can from experience and books so that I may be just as happy as one who has passed through college as with any kind of worker. I love to listen to the many different groups and nationalities which I meet in Y classes. I learned something about how to talk in Bryn Mawr public speaking classes.
After my ideal working conditions are obtained, I will be more successful in helping others to re-create, as well as to re-creating myself, as I will be stronger in more ways than one. I will get more pleasure out of developing my hobby which is learning to play the piano. I have been trying to interest my co-workers in gym, as all needle workers really need it, and I will feel truly rewarded if I get a dozen girls to take part in such a class. I have just learned how to relax last summer. It is refreshing to be able to relax after an exciting but interesting day. My days are now very crowded with my work and classes of economics, drama, clubs and music.
Girls that couldn't be interested in economics would certainly be interested in gym or charm school. It will be wonderful to help girls show off their best in health-giving recreation or dramatization after hours. This program [at the Y] is very near social service, I believe. I will be compensated if I am able to make good money three fourths of the year and can also act as an open door, eye-opener, or beacon light to other girls or women in industry.
I love to sew but hate to be cheap labor. I love the contact gained in meetings or classes of industrial girls; and last but not least, the friends I have among my leaders in different phases of workers' education.
—Edna Monroe, 1928.
I first became acquainted with the idea of the student-industrial movement in 1922 at a week-end party conducted by the Young Women's Christian Association. At that time I was not much impressed with its importance, and wished I would not be invited again; however, since then I have learned to appreciate the value of this movement.
When students actually go into industry, not for financial help only, but for the purpose of seeing for themselves what it means to work in a factory; and on the other hand when factory girls are actually given an opportunity to taste college life, the student-industrial movement becomes something more than good times and discussions; it is getting down to brass tacks, and stimulating thought and action which affects our whole industrial problem.
The best thing that happens to a student who has worked in a factory is that she has her illusions shattered on how to help the working class. She learns that it is not important to teach workers how to live properly, how to be good Americans or to be good producers. Nor is it important to teach them more religion or to inspire them to become millionaires or the President of the United States; but that it is important to awaken workers to the fact of the big role they play in industry and in helping to develop civilization, and to teach them that if they want respect and a square deal out of life they can not get [it] as individuals or with [an] "Everybody for himself" philosophy. Workers must learn that if one is hurt, all are hurt.
Some students do get that understanding out of their experience and decide to ally themselves with workers' movements and remain in industry. But few stick it out; the adjustment is too difficult. It often means the cutting off of all family and social contacts.
I would not discourage students who want to ally themselves with the workers' cause, but I would not encourage it. Instead I would advise them to go back to their professional and intellectual fields and do the job from there.
College students apparently do not realize their opportunities to influence workers' minds—what damage, what misleading and deadening work has been done by their group. If they are really interested in helping the working class, why don't they become teachers, and instead of glorifying kings, war lords and wars, emphasize the part workers play in developing civilization and tell what their heroes and martyrs have done in bettering working conditions.
When teaching economics, they should not glorify the wonderful opportunities our country offers for making profits. Instead, they should tell how our economic system can be run for service.
If they become social workers and wish sincerely to help the workers, they should not be satisfied with just patching up cases. They should question and trace back reasons. If they become lawyers they should see that the workers get a square deal in the courts, especially when involved in the industrial struggle. If they become journalists, they should not live off scandals and murders, but give the workers a little space when they are in a strike.
Some students hope to be active politically. In this field there are opportunities to help the workers "to clean up." If their ambitions spur them to become industrial engineers, why not give human beings at least as much consideration as machines and production? And ministers who tell workers that if they are denied things on this earth, they are made up in heaven are not the kind that will help the workers' cause. In fact, that kind of talk has a terribly deadening effect on the workers' mind. Students who become Y.W.C.A. secretaries should not be interested in teaching girls how to play; neither should they, when they realize the struggles and needs of the workers, find the Industrial Department too small and limited and go out into other fields. In that case, they are very often lost to the cause.
It is not going to be easy, this job of helping the working class from the professional fields. Those who try are going to have plenty of opportunities to experience that glorious feeling of martyrdom and suffering that always comes to those who stand for progressive ideals. They will get the same thrill that we workers get when we lose our jobs, go into strikes and get arrested. I know of three people of the professional class who in the past year have lost their jobs. It is much better to learn how to compromise, if it means getting a point a little later. But if they are put in a position where they almost sell their whole soul, then it would be better if they went out and sold vacuum cleaners instead.
What happens to my industrial sister when she gets a taste of the intellectual world? First a dizzy pain in the head. If she gets her taste at Bryn Mawr, Madison, Barnard, the Southern Summer School, or Brookwood, the dizziness is soon relieved with the help of teachers and tutors who understand the purpose of "workers' education." The second thing that happens is that the world begins to stretch out. They begin to see and hear things that have always been there, but to which they have been deaf, dumb, and blind.
For instance, at Bryn Mawr Summer School, the study of economics taught me that my employer was not the only one responsible for the struggle of workers. In fact, he too was a victim of forces such as inventions, discoveries, climatic changes, wars and new theories, all of which have resulted in separating our interests. Some understanding of the history of civilization gave me a feeling of importance as a factory worker. The study of English made speakers and writers out of us overnight. A taste of literature seems to flavor life and make a library look larger. We see books that have always been on the bookshelves but have meant nothing to us. The study of science opens our eyes to the skies and trees. A theoretical understanding of the trade union movement strengthens our faith in it, even when our fellow workers and leaders seem to fail us.
The biggest thing that the industrial girl gets out of a workers' school is the contact with the other working girl. She learns that though workers may be different in religion, nationality or color, they have one common problem as workers; that though they have many theories, philosophies, and tactics, the ultimate goal is the same.
I hope that the student-industrial movement will keep on growing. Students should be encouraged to go into industry and industrial girls should be encouraged to go to school. Students will find that any activity they engage in to help solve our industrial problems will enrich their lives more than any other activity can possibly do.
—Sadie Goodman, 1928.
(Passing through my mind as I sat in a conference called at Hollins College for working girls and college girls.)
I work, you play.
You have everything,
I have nothing.
Why should I sit here, afraid to take my coat off?
Is it because I smell so strong of acid?
Why don't I take my gloves off?
Is it because my hands are so rough and dirty looking?
Why do I keep my hat on?
Is it because my hair smells like a wet dog?
Acid again. Acid that smells like burning sulphur.
There are fumes of sulphur in hell.
You daughters of the rich,
You walk so easy and sure of yourselves,
You don't smell at all.
Your hands are well kept,
Your hair shines with cleanliness,
Your eyes are bright and eager looking.
But who makes your sweetness, your cleanliness, possible?
Is it not workers like me?
I work, you play.
You have everything;
I have nothing.
—Thelma Brown, 1937.
Will there be two heavens,
One for white, the other for color?
Or will there be two entrances?
For the superior and the lower?
Doesn't God stand for color equality,
Accept Christians of every kind,
And demand they serve in unity,
Put discrimination behind?
Can't we forget discrimination,
Since God is color-blind?
We are all of His creation,
And He's watching all the time.
There will only be one heaven,
And there'll only be one door.
There won't be any superior,
Nor will there be a lower.
We shall be our brother's equal,
When we enter the golden shore.
There will be no discrimination,
If we enter through heaven's door.
—Diamond Crouch, 1944.
1. For background on the YWCA, especially the Industrial Department, see Annabel M. Stewart, The Industrial Work of the YWCA (New York: Woman's Press, 1937); Mary S. Sims, The YWCA: An Unfolding Purpose (New York: Woman's Press, 1950); Grace L. Coyle, "A Historical Outline of the Work of the Industrial Department," November 1923, Sophia Smith Collection, YWCA Manuscripts, Smith College, Northampton, Mass (hereafter cited as SSC, YWCA); "The Work of the Industrial Committee" (pamphlet prepared by the Woman's Press [1924], SSC, YWCA, Box 16; "The Young Women's Christian Association and Industry" (pamphlet issued by the Industrial Department, National Board of the Young Women's Christian Association [1927/1928]), SSC, YWCA, Box 27, Folder 7.
2. For biographical material on Florence Simms and discussions of her influence on the YWCA, see Richard Roberts, Florence Simms: A Biography (New York: Woman's Press, 1926); Marion O. Robinson, Eight Women of the YWCA (New York: National Board of the YWCA, 1966), pp. 91–101; Edward T. James, ed., Notable American Women: A Biographical Dictionary (Cambridge, Mass.: Harvard University Press, 1971), 3:291–93.
3. Roberts, pp. 212 and 233.
4. Ibid., p. 193.
5. "The Young Women's Christian Association and Industry," p. 13–14. SSC, YWCA, Box 27, Folder 7.
6. Roberts, p. 217.
7. "Typed Report of the Industrial Conference, October 1–6, 1918," SSC, YWCA, Box 19, Folder: "Conferences, Industrial-National, 1918–20."
8. "History of Colored Work," compiled by Jane Olcott Walters, November–December, 1920, pp. 1–3, Archives of the National Board of the YWCA, New York, New York (hereafter cited as YWCA Archives, NB).
9. Ibid., p. 12.
10. Ibid., p. 16.
11. "Information from War Work Centers Indicating Industries in Which Colored Women Are Employed and Those in Which YWCA Club Membership Is Represented," YWCA Archives, NB.
12. Roberts, pp. 221–22.
13. Ibid., pp. 231–38.
14. The women of the Industrial Department also recommended that because the setting of industrial standards depends largely on legislation, the YWCA should work "for granting women the power to work for these laws through the ballot" (Roberts, p. 284).
15. Instead of working out an independent statement, the YWCA decided to endorse the "Social Ideals of the Churches," which had been prepared and adopted by the Federal Council of the Churches of Christ in America (see Sims, pp. 77–84).
16. Robinson, pp. 98–99.
17. Ibid., p. 100.
18. Ibid.
19. Ibid.
20. Ibid., p. 284.
21. Many delegates to the first industrial conferences compared their new position in the YWCA to that held by college women. One woman wrote: "For the first time in my life I feel that I have an equal chance with the college woman," putting into words her new sense of power and respect for herself ("The Young Women's Christian Association and Industry, p. 11, SSC, YWCA, Box 27, Folder 7).
22. Roberts, p. 57; "Our Second Line of Defense: Women's Industrial Army," June 4, 1918, p. 2, YWCA Archives, NB.
23. Ernestine Friedmann, "The Industrial Club and Its Program" (New York: National Board of the YWCA, 1918).
24. "Industrial Committee Minutes," October 17, 1922, YWCA Archives, NB.
25. Lois MacDonald, "Education by Conference," American Federationist 34 (February 1927): 188–90.
26. Lucy P. Carner, "Outline of Biennial Industrial Report, 1924–25," p. 7, YWCA Archives, NB.
27. "The Young Women's Christian Association and Industry," pp. 17, 26–34, SSC, YWCA, Box 27, Folder 7.
28. "Bulletin," Industrial Department, National Board YWCA, No. X, (November 1925), pp. 7–8, includes a description of the activities of black industrial women in a local association. In 1924–25, black and white delegates met together in industrial conferences, except in the South.
29. MacDonald, p. 188.
30. Ibid., p. 188.
31. Carner, p. 7.
32. MacDonald, p. 190.
33. Lucy P. Carner, "Biennial Report of Industrial Department, 1930–31, p. 7, YWCA Archives, NB.
34. Jennie Spencer, "My Transition," Operation Dixie, CIO Organizing Committee Papers, 1946–1953, Series III, Reel 32, Frames 72–74.
35. "Industrial Committee Minutes," 1919, p. 10, YWCA Archives, NB.
36. Roberts, p. 255.
37. "Bulletin," Industrial Department, National Board YWCA, No. XII, (July 1926), p. 11.
38. "The School for Workers" (pamphlet issued by the University of Wisconsin, University Extension Division, 1959).
39. See Chapter 5.
40. Carner, "Outline of Biennial Industrial Report, 1924–25," p. 11.
41. Helen Carr, "Report of the AFL Convention," November 1935, p. 12, YWCA, NB, Microfilm Reel 111.4, "Unions, 1919–1950."
42. Interview with Eleanor Coit, New York City, November 2, 1974.
43. Elizabeth Wilson, Fifty Years of Association Work among Young Women (New York: National Board of the YWCA, 1916), pp. 316–25; interviews with several former YWCA industrial secretaries are included in "The Twentieth Century Trade Union Woman: Vehicle for Social Change," Institute of Labor and Industrial Relations, University of Michigan—Wayne State University, Ann Arbor, Michigan.
44. "Tentative Set-Up of the National Industrial Staff for 1924–25," SSC, YWCA, Box 6, Folder: "Industrial-Inquiry Commission, 1924–27."
45. Louise Leonard McLaren Reports, Industrial Department, 1922–1926, YWCA Archives, NB.
46. Roberts, p. 56.
47. Louise Leonard McLaren Reports, Industrial Department, November 1925, YWCA Archives, NB.
48. "Tentative Set-Up," SSC, YWCA; Doris Cohen Brody, "American Labor Education Service, 1927–1962: An Organization in Workers' Education" (Ph.D. diss., Cornell University, 1973).
49. From the Woman's Press (1931), YWCA National Board Archives, New York, Record Files Collection in the Sophia Smith Collection, Smith College, Northampton, MA.
50. From the Industrial Department Papers, National Board, YWCA Archives, New York, N.Y.; "What I Want From Workers' Education," from Hilda W. Smith Papers, Schlesinger Library, Cambridge, MA., Box 13, folder 236; "Workers and Students" appeared in Labor Age, October 1928, p. 21; "Thoughts" appeared in the YWCA Program Exchange, January 1937, p. 15; "Color Equality" appeared in the YWCA Program Exchange, June 1944, p. 8, YWCA Archives, NB.