To Rekindle the Spirit: Current Education Programs for Women Workers
Barbara Mayer Wertheimer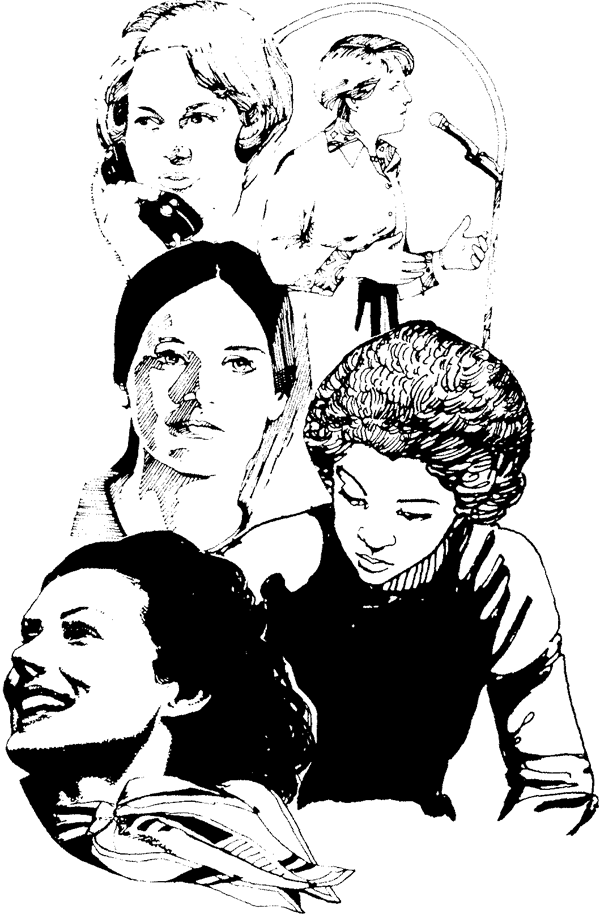 "What do I want from workers' education?" a trade union woman asked in 1928. She answered her own question in an article in the American Federation of Labor (AFL) newspaper, the American Federationist: "I want workers' education to teach me the truth about our economic system, our government, laws, customs and traditions. I want workers' education to give me that which no other educational institution has given me since I first entered the public schools, and which I cannot obtain anywhere else.1
Although much has changed in the fifty-four years since Nettie Silverbrook wrote these words, her goals sound familiar. There are many similarities between her experiences at the Bryn Mawr Summer School for Women Workers, Brookwood Labor College, and the Boston Trade Union College that she attended in the 1920s and the experiences and goals of women in contemporary labor education programs. Common themes run through labor education in her day and in ours.
Women played a key role in the development of labor education in the early twentieth century, and, following a hiatus in the post-World War II period, programs run by and for trade union women have become increasingly important. As in Nettie Silverbrook's day, the profession is still a small one, even with the expansion in union and university workers' education services. The field has depended on the personal influence and persuasiveness of individuals. Labor education activities have been deemed expendable when funds run short in unions and universities, and labor educators periodically must fight to maintain the existence of classes and other education services for women and for men.
Action-oriented education for change has been the hallmark of labor education. It is a field that has continuously sought to meet new needs and new demands while retaining a basic philosophy and a set of methods that we owe to the pioneers of our field. Meeting the needs and demands of women workers in the contemporary period has been one of the new developments in labor education. This chapter focuses on that process, the changes that World War II brought to labor education, and the renascence in programming for women workers in the late 1960s and 1970s. It indicates the ways in which the women's movement has reached union women and discusses the burgeoning number of projects and programs that offer a special outreach to work force women and, increasingly, to men as well. It details the major components of some of these programs and reviews several of the most innovative projects that have contributed new and different directions to the field.
World War II, a watershed for labor unions and for women workers, brought full employment and the end of many Depression-initiated emergency recovery programs developed under the government's Works Progress Administration. Wartime industries hired millions of women who entered the paid work force for the first time. Offering good pay and on-the-job training, blue-collar jobs opened to women and minorities as never before in our country's history. Many of the new jobs in heavy industry were unionized, and large numbers of women became part of an organized work force that was racially integrated, at least in a number of locations. Major issues for working women became the fight for equal pay, community services, and child care.
Researchers have now documented what happened to women's employment when the war ended and numbers were laid off to open jobs for returning servicemen. Women, however, did not retreat to their kitchens, but took lower paying service and clerical employment, the kinds of jobs that many of them had held prior to the war. As the postwar economy boomed, expanded services opened millions of new jobs in offices, hospitals, and education systems to women throughout the United States. Not until the 1960s, however, did union organizing successes among teachers, health-care workers, and government employees match the union membership gains that women had experienced during the war in the mass production industries.
The postwar years brought an increasing emphasis on higher education. The GI Bill of Rights helped many older male students attend college for the first time. Community colleges developed and expanded, their goal being that no American should be more than 100 miles from access to higher education. Increasing labor unrest and impatience with stringent governmental wage controls in the postwar period led state legislatures to fund labor education centers at state universities in an effort to promote industrial peace. These labor education centers, often staffed by people with trade union background and experience, began to reach workers through education programs held on the campus, on the job, and in the union hall.
Unions began to lobby for passage of a Labor Extension Service bill modeled on early Civil War legislation that had given farmers the benefits of government-funded agricultural extension services. Although the nation had become increasingly industrialized, Congress never recognized this basic inequity in publicly supported education services, nor passed appropriate legislation. Nevertheless, postwar university-based labor education services began to become available to workers on a state-by-state basis. Offered to groups of workers, predominantly to male union leaders and activists, these classes and programs were administered and taught by male educators who used classroom materials and case studies reflecting men's experiences in the labor force and in their unions.
By 1950, the labor force participation of women had soared beyond wartime peaks, a trend that has continued through the present period. Today, 44 million women workers represent over 43 percent of the work force. These women now have the same educational levels as men, and they need and expect to have the same permanent commitment to holding paid jobs. As a result, they have demanded more status as workers, improvement of the jobs they hold, and more opportunities to obtain those higher paying and more challenging jobs from which they have traditionally been barred. They seek equal pay for equal work, paid maternity leave, access to on-the-job training, and an end to sexual harassment. They also seek increased responsibilities in their unions and workplace organizations.
The Civil Rights movement, passage of the Equal Pay Act (1963) and of Title VII of the Civil Rights Act (1964), and Executive Order 11246 (1964), in addition to the implications of their continuous work force participation, led women workers to reassess their roles in the workplace and in their unions. Many started taking advantage of expanded educational opportunities at community colleges and universities to enhance their skills and broaden their understanding of social issues in our rapidly changing nation. Many responded favorably to the new courses and conferences offered by a few unions and university labor education programs that focused on the participation of union women in determining conditions in their workplaces and union policies in their workplace organizations.
These developments depended on the foresight and efforts of union and university leaders and labor educators, the financial support of several foundations, and the push from union women who had the motivation and energy to undertake the challenge of adding these education programs to their full-time jobs and their union and homemaking activities.
From small, tentative, and experimental beginnings, labor education programs for women workers have come to play a key role in encouraging women to develop self-confidence, learn new personal and organizational skills, and become part of a sisterhood of women with shared purposes and common goals. Today, labor education for women workers is a recognized and respected component of the labor education movement, drawing inspiration and strength from earlier periods of workers' education activities and responding to the current needs and interests of union women and their organizations. The renascence of labor education programs for women workers actually began in the 1940s and 1950s with the early work of the United Auto Workers (UAW) and the International Union of Electrical Workers (IUE), two unions with concrete positions on women's issues and a firm commitment to labor education for women.2 University labor education programs for female union staff, leaders, and rank-and-file members developed in the early 1970s and augmented the pioneer work of these unions. Model university programs for women were established at Cornell University and at the University of Michigan. Through the 1970s, new programs for women workers developed in organizations such as the Coalition of Labor Union Women (CLUW) and Nine to Five: the National Association of Working Women.
The UAW Women's Department, established in the 1940s, began advocating convention resolutions on issues important to women workers during World War II. In 1970, the union's convention resolutions included UAW support for the elimination of discriminatory state laws, job protection during maternity leaves, and the establishment of expanded child-care facilities. The women's rights' resolution, adopted at the 1974 UAW convention, staked out a clear women's position that indicated the direction UAW women members want to go.3
The IUE carried out an equal pay for equal work and an antidiscrimination policy as early as 1952 through the programs of its Education and Social Action Department.4 To carry out convention resolutions on equal pay, the union joined in forming the National Committee for Equal Pay, which was active in getting the 1963 Equal Pay Act passed by Congress. The union's interest in working to end discrimination predates Title VII of the 1964 Civil Rights Act and has led to programming, starting at the national level, that has moved into the district and local structure of the union. The union sees its education program as the vehicle for achieving its wider union goals; conferences and other education programs aimed at increasing women's involvement in every aspect of union life are a regular part of the union's ongoing program.
It is the policy of the International Executive Board that a national women's conference take place every second year. The first such conference, held in 1967, was built on the theme: "The Status of the IUE Woman: Her Responsibilities, Contributions, and Goals." This conference laid the groundwork for the union's first self-survey to determine where IUE women were in the union, what offices they held, and the extent to which they were underrepresented as local union officers. Succeeding surveys have shown that programs focused on increasing the participation of IUE women have helped women to move into union positions they had never held before and to run for office and for committee posts in increasing numbers.
The IUE's Women's Council, established in 1972, advises the International Executive Board and works to gain union support for women's issues. The chair of this council sits on the board, but has no vote. To further the Women's Council mandate, a special women's program is held at each union convention, not only to educate those who choose to attend but also to increase the visibility of women, close to 38 percent of the union's membership, at its national conventions.
Five years after the formation of the Women's Council, the IUE revamped its structure to increase the decision-making role of women in the union. It did this by providing a model constitution for all new IUE locals, mandating that the local union executive board consist of five people, two of whom were to be secretary and the social action chairperson, posts traditionally held by women. University programs that have pioneered in developing labor education services for women workers and women union members have benefited from the early efforts of union leaders and workers' education practitioners. Both the program at Cornell University and that at the University of Michigan were led by women experienced in labor education who used approaches and methods firmly rooted in the successful labor education programming of the past, A labor advisory committee worked with each program. Teaching methods involved students in the learning process through class discussions, simulation exercises, panel discussions, role play, the use of films, and other participatory education methods. Both of these programs have flourished and have been central to the development of labor education for women workers, not only in New York and Michigan, but throughout the country by way of the assistance they have provided other university and union labor education programs.
In 1970, what is now Cornell University's Institute for Women and Work did not exist. But the New York City Extension Division of Cornell's New York State School of Industrial and Labor Relations (NYSSILR) began to offer seminars and courses for union women staff, leaders, and active rank and file. Part of the purpose of these programs was to bring women leaders together to get to know each other, since there were relatively few at that time, and to develop an initial support network. Out of a series of monthly brown bag lunch meetings that provided information on topics such as working women and the law came rap sessions on the problems of women in unions.
As a result, the group constituted itself a planning committee for a major conference held in January 1974, attended by some 600 New York City union women. This conference, which predated by several months the initial organizational meeting for CLUW, indicated that the time was at hand to mobilize women in unions and associations across all jurisdictional lines to communicate with each other and to act on their common concerns and needs.
Parallel to this development, I received a one-year grant in 1972 from the Ford Foundation to study the barriers to the participation of women in unions. With Anne Nelson as collaborator, we proceeded to survey some 115 local unions in the New York City area to learn what positions women held. The study focused closely on seven unions, eager to cooperate with the research, that represented a cross-section of occupations and had a female membership of more than 25 percent.5
Out of this study came the design for Trade Union Women's Studies, a two-pronged labor education program for union women that started in September 1974 with assistance from the Ford Foundation. One aspect of this program included short courses and conferences that provided specific information in a number of areas, such as grievance handling, public speaking, and sexual harassment. The second component of the program included a year-long evening college credit program in labor studies and leadership skill development that provided thirty-six weeks of intensive training. In addition, union women also could earn nine credits toward a college degree.
The courses, specifically designed for union women, were developed to put working women back into the pages of labor history, into case studies, collective bargaining games, and all of the written resources used in these programs. These materials built a sense of self and sisterhood for women workers and union members, in addition to providing a knowledge of how unions work. The course work and the supporting materials encouraged women to examine ways of working within union structures to attain leadership positions and to effect change.
The Program on Women and Work (POWW) at the Labor Studies Center of the University of Michigan's Institute of Labor and Industrial Relations (ILIR) also started in the 1970s, following an initial series of meetings in southeast Michigan that brought together women from unions and university labor programs in that area. Because union members in Michigan are spread over a wide geographic area, the ILIR's Program on Women and Work on the Ann Arbor campus of the University of Michigan concentrated on Saturday workshops and a residential Michigan Summer School for Women Workers, held annually on campus each August since 1974.6
The one-day conferences, initiated in the fall of 1973, focused on one main subject or theme for a six- to eight-hour session: women and the law, collective bargaining issues, child care, union administration, women in politics, working with committees, effective speaking, or assertion training. In 1974, POWW experimented with bilingual programs on issues for Hispanic women workers and union members. The popularity and importance of the annual Summer School for Women Workers led to the start of an annual winter residential program, cosponsored by Michigan State University and the University of Michigan and held in late winter on the East Lansing campus. In 1979, under a grant from the Michigan state legislature, the Union Women/Minorities Leadership Training Project started providing programs for union women and minority members at six of the state's university labor extension service centers.
During the 1970s, several new organizations of women workers emerged, offering labor education for women as part of their ongoing programs. Although they differ in membership and methods of operation, their goals are similar: to improve job conditions for women workers, to help them gain equal opportunity under the law, to gain increased respect for women workers, and to help women participate more fully in their labor organizations. Only two of these pioneering organizations will be discussed here—Nine to Five: the National Association of Working Women, and the Coalition of Labor Union Women (CLUW). Established within six months of each other—Nine to Five in October 1973, and CLUW in March 1974—both organizations were initiated by women who were workers and feminists, often with considerable political expertise gained through participation in the Civil Rights movement of the 1960s. Nine to Five reaches out to organize clerical workers, and CLUW enrolls union women. Both organizations have a chapter structure, growing memberships, and huge potentials for helping working women improve their workplace conditions.
Now a national organization with 12,000 members, fifteen chapters, and the goal of doubling this participation by 1983, Nine to Five had its official beginnings in Boston in 1973. The ten founding members believed that clerical workers needed a collective voice in order to improve their salaries and workplace conditions. They took their first action by passing out Nine to Five job surveys to clerical workers in downtown Boston. Similar groups began to organize in other major cities, supporting themselves through local fund-raising campaigns, membership dues, foundation grants, newsletter subscriptions, literature sales, and speakers' fees as the seriousness of the office workers' movement became recognized. The city groups formed a loose affiliation in 1976.
Beginning in the early 1970s, Nine to Five chapters chalked up an impressive list of workplace gains in banks, insurance companies, and offices. Chapters won salary increases, job posting requirements, safer working conditions, and procedures for dealing with sexual harassment for their members. Through member education and direct action, the Nine to Five chapters filed suits under Title VII of the Civil Rights Act, lobbied, organized letter writing campaigns, and designed public information techniques to challenge offending employers and to educate the public about issues affecting office workers.
The education program of the national organization and its chapters has raised the consciousness of office workers across the country. Member
education is a central activity in each chapter, with classes and workshops, public forums, community publicity, and national and chapter newsletters that share program ideas, publicize worker complaints, and announce settlements won on equal employment and other workplace cases.
CLUW began with a series of regional meetings in 1973 to assess whether women were ready to assert their needs for more representation at every level of union leadership. A national founding meeting for a new organization, called for March 1974, brought 3,500 union women to Chicago, several thousand more than anticipated. They came by every means of transportation from all sections of the country to launch this new organization.
Four guiding principles were set at that meeting: to increase the number of women in trade union leadership positions through affirmative action on the job and in the unions; to support legislation on women's concerns; to move women into political office; and to organize the millions of unorganized women workers. An elected national executive board was established to govern CLUW, with a team of officers who ran the organization between board meetings. Paralleling the structure of most unions and associations in the U.S. labor movement, the organization established a convention procedure to pass resolutions and set policies to guide the officers and the chapters.
From these beginnings, CLUW has grown to include sixty-five chapters and 15,000 members. Education is essential to its leadership development function. Each CLUW Chapter has an education committee; the national organization has established the CLUW Center for Education and Research, which has received several foundation grants to conduct research and assist chapter development of education programs. Through the national organization, chapters obtain educational materials on collective bargaining of working women's issues, organizing CLUW chapters, and the need of union and other working women for an Equal Rights Amendment. The annual regional summer schools for union women,7 in which CLUW cooperates, provide another valuable way to reach potential members. CLUW also works in coalition with other women's groups on issues such as pregnancy disability and equal pay for work of comparable worth.
By 1975, with the sustained growth of programs for women within key unions, the development of university-based education programs for union and nonunionized women workers, and the creation of new organizations like Nine to Five and CLUW, the concerns of working women had become central issues for many union and university labor education programs. Moreover, the specific programs designed for union women by CLUW and for office workers by Nine to Five offered new models of labor education for women.
It is important to examine the current education programs in major unions and to trace the university-based programs beyond the pioneering efforts of the Cornell and the University of Michigan programs in the early 1970s. We need to look at the increasing cooperation between union and university programs and to analyze the contribution of those organizations, created in the last decade, to meeting the needs of working women in this period.
While only a few of the many programs for union and working women can be described or even mentioned in this chapter, the projects that are discussed illustrate the range and the direction of contemporary labor education programming for women. As they have developed and expanded, these programs have had an important impact on the field of labor education. Today, as in the period before World War II, increasing numbers of women unionists and feminists with the training and credentials for the field are choosing labor education as their life work. As veteran labor educator Larry Rogin has written:
Everyone interested in labor education is again in the debt of women labor educators. They have demonstrated an ability to reach a neglected audience in imaginative and creative ways. They and several men in the field as well, have thought deeply about their work. . . . Perhaps they will inspire other groups who have special needs to experiment with special programs. It is in this fashion that labor education will expand and will attract new participants, first to classes and programs, then into further union activity and, leadership.8
Among the heartening trends of the past decade's activities in developing labor education programs for women workers is the growing cooperation between unions and universities in planning and conducting these programs. This unified approach reflects the increasing number of women and men at university labor education centers who are concerned with working women's issues. It is also an indication of the growing number of women union members who have attended union and university programs for women workers, including the regional summer schools, and who now constitute a new pressure group for the expansion of such programs.
Increasingly, during the 1970s, labor unions set up women's divisions or departments and encouraged their education divisions to hold classes and workshops to meet the growing needs and concerns of women members. In several instances, international union leaders have found the resources of university labor education centers useful in carrying out their policies to plan regular conferences and education programs for women members.
Recently, the AFL-CIO Executive Council, which now includes two women members, took an official stand on working women's rights. In May 1982, Lane Kirkland, the AFL-CIO president, stated that "the primary concern of the AFL-CIO is that working women continue to suffer from widespread wage discrimination in the workplace." Kirkland affirmed that "the Federation has redoubled its efforts to see that all workers are paid equally for work of comparable value and to remove all barriers to equal opportunity for women."9
Kirkland recognized the issue of comparable worth as one important concern that has mobilized union women. Other issues that stimulate working women to action include health and safety on the job, child care, bargaining for maternity-paternity leave, sexual harassment, job training, and, more recently, the impact of the recession and the federal budget cuts on working women. These issues have become the basis for workshops and courses offered by labor education programs in unions and universities and at the residential summer schools for union women. In addition, throughout the 1970s, working women increasingly supported the Equal Rights Amendment, which served as a means of educating and unifying trade union women with other women's groups and organizations.
At the same time that programs for and about women workers have gained acceptance, there has been a growing recognition that the concerns of working women—health and safety on the job, vacations, seniority, decent wages and working conditions, viable grievance procedures, education leave, and flextime, to name a few—are issues that affect men as well as women workers. Long before Betty Friedan discovered that women need men to make their workplace gains permanent, union women were making continuous efforts to obtain the support of their male union leaders and to involve male rank-and-file members in education programs about working women's—and men's—issues.
The Communication Workers of America (CWA) is one of the unions with a national women's program that receives support from the union president for the work of its Women's Division. In 1978, the CWA invited the Institute for Women and Work at Cornell to help plan and conduct a national women's conference. The union's president, Glen Watts, asked all CWA regional directors to attend the conference, participate in workshops, and learn more about the concerns of women members. Taking the interests of its women members seriously, this union has continued to work on the problems emphasized at the 1978 conference: job stress, impact of high technology in the workplace, safety and health, and pay equity.
Moreover, the staff of the CWA Women's Division has worked with all CWA districts to conduct regional conferences on the national conference model. Each district has completed its second or, in some cases, its third such conference. Seven were held in 1982, each lasting several days and involving several hundred members. These conferences included discussions of the impact of technological change on women workers, plenary sessions on political issues, and workshops to develop basic skills for increased participation in the union. Sexual harassment, a subject that has come into the open in the past few years, is discussed at almost every CWA women's conference, where the film Workplace Hustle is often part of the program.10
The formation of local women's committees is encouraged as a way of organizing women's programs in each state. For example, CWA district 4 held a regional women's conference in June 1981 in connection with Women's Awareness Month and with the cooperation of Ohio State University's Labor Education and Research Service. Programs in CWA locals throughout the state focused on women's roles in the labor movement, while the district women's conference highlighted organizing.
Finally, the CWA is seeking to increase the participation of women in discussions on the quality of work life. To this end, a national labor-management committee brings representatives of the union and the American Telephone and Telegraph Company together. Vice-presidents of the national union staff and local officers sit on these committees locally, and the training programs for union representatives are becoming an important source of skills development for CWA women as well as men.
A second union that serves as an example here is the Service Employees International Union (SEIU), whose membership of 650,000 is 40 percent female. In 1980, SEIU's national convention passed a resolution calling for a national women's conference and for a women's committee for the union. Planned by this women's committee, the first SEIU National Women's Conference took place at the University of Connecticut in June 1981. More than 400 women from across the country attended this meeting, the purpose of which was to establish a regional structure for women's committees and programs.11 A model SEIU regional women's program has been developed by the women's committee of the Public Employee Federation (PEF) in New York State. Union members attend Saturday seminars and discuss concerns such as child care and pay equity. Through grass roots committees, this group was instrumental in persuading the state to adopt an Albany childcare center as a pilot project and pushed for the state to fund additional on-site childcare centers. Most recently, the PEF in New York State has received funding from New York State's Professional Development and Quality of Worklife Committee to hold a two-day, state-wide women's conference (August 1982) focusing on developing leadership skills.
One of the more unusual ways of developing union-university cooperation was initiated by SEIU through its film festivals. In 1981, in conjunction with the Smithsonian Institution in Washington, D.C., SEIU's education department sponsored a successful, well-attended summer film festival to bring labor films, many about women workers and women in unions, to a wider audience. The success of the program led SEIU to enlist the cooperation of university labor education centers in cosponsoring similar film festivals. By fall 1982, these had been held in five states in an attempt to inform the public about the labor movement, including the issues of women workers.
In unique cooperation, SEIU and the National Association of Working Women, Nine to Five, have joined many of their efforts and programs. SEIU has established a separate district 925 within its structure to concentrate on the organization of white-collar and clerical workers. SEIU provides support funding to Nine to Five and staff to spearhead organizing drives, and Nine to Five is in-eluded in all SEIU's women's programs.12
The support of SEIU's president, which is wholehearted and is essential to this effort, includes the view that the union is committed to a twenty-or thirty-year campaign to organize clerical workers under the SEIU banner. This is another instance where the top leadership of the union supports efforts to enlist active participation of women and sees the organization of clerical workers as a key mission. The composition of the union staff, which is close to 50 percent female, also reflects this focus.
The women's program of another major union, the American Federation of State, County, and Municipal Employees (AFSCME) developed from a women's caucus that became active at the union's 1978 convention. The union response was to appoint a woman coordinator with the responsibility for organizing four regional women's conferences that were held the following year. More than 1,200 women attended these programs, which focused on issues such as collective bargaining, pay equity, and sexual harassment.
One of the purposes of the regional meetings was to determine what AFSCME women wanted in the further development of women's programs. In 1980, regional conferences for clerical workers focused on the special concerns of this group, which is predominantly female. At the 1980 AFSCME national convention, major responsibilities for women's programs were shifted to the district council level, although the national Education Department continues to publish pamphlets on women's issues and to send representatives to meet with organizations, such as the National Pay Equity Committee, that are concerned with working women's issues.
On the district council level, women's conferences are sponsored by district women's committees. In Pennsylvania, for example, AFSCME works with Pennsylvania State University's labor education center to plan and conduct its women's conferences. In New York, District Council 37 has an education fund under its collective bargaining agreement with the city that supports a wide range of labor education and job training programs for its 110,000 members. The women's committee of D.C. 37 sponsors an annual conference and other education programs for women, while Cornell's Institute for Women and Work conducts a branch of its year-long Trade Union Women's Studies program for D.C. 37 members; this program is aimed at increasing participation in the union at the same time that college credits are earned.13
The George Meany Center for Labor Studies is a continuing education arm of the AFL-CIO. Located on a campus in Silver Spring, Maryland, close to Washington, D.C., it offers a residential training program for union staff. Throughout the year, five-day sessions are conducted on special subjects, including an annual leadership training session on women's issues that helps meet the need for skill development and technical competence that union staff women seek. This institute provides sound background on labor laws important to women, the current economics of women in the work force, and information on pay equity, health and safety problems, and other issues. The program offers an opportunity for women staff from a cross-section of labor organizations to share experiences and learn practical leadership skills in a supportive environment.
During the decade of the 1970s and on into the 1980s, university labor education centers have initiated a variety of new programs, many of them innovative in design and targeted to meet the changing needs and concerns of the growing number of women in the labor movement. A number of university labor education centers have come a long way in developing programs for union women, supporting them through staff assistance, and hosting the annual regional summer schools for union women. Equally important, women are more in evidence as staff members on labor extension faculties; by 1982, almost every university labor education program had at least one woman staff member.
A university base has provided some labor education programs with a research component. POWW at the Labor Studies Center of the University of Michigan developed a national oral history project, "The Twentieth-Century Trade Union Woman: Vehicle for Social Change," with a grant from the Rockefeller Foundation, that has collected and transcribed, interviews with seventy-five union women who were active in the union movement in the past six decades.14 From the outset, applied research has been one of the key activities of the Institute for Women and Work at Cornell. The study that explored the barriers to the participation of women in unions resulted in the book, Trade Union Women: A Study of Their Participation in New York City Locals.15 Another year-long study looked at the use women made of union-negotiated, company-financed tuition refund monies and reported these findings in a book, Where Are the Women? by institute staff member Mimi Abramowitz.16 Other research of the Institute on Women and Work has followed graduates of its year-long Trade Union Women's Studies leadership training program in a longitudinal survey of their progress in obtaining positions of responsibility in their unions, in CLUW, and in their communities.
Among recent Institute for Women and Work programs was a national conference for union leaders involved in the issue of pay equity, planned with the cooperation of the AFL-CIO Department of Education and the national CLUW. The institute is now deeply involved in a pilot two-year program to train ten minority group women as labor educators. Funded by the Muskiwinni Foundation, this project provides intensive training in labor education methods and field experience for ten minority group women, each sponsored by her union or association, which agreed to share some financial costs of the program and to utilize the women in labor education following the two-year period.
In a variation of the yearlong, college-credit program for union women, the Institute for Women and Work has developed a parallel project, Public Service Women's Studies (PSWS), designed to help women employed by New York State to move up the job ladder. PSWS focuses on human relations and organizational skills, written and oral communications, and workplace-related mathematics to help women advance through the state's civil service system and to encourage them to work for a college degree. The program, planned in cooperation with the Civil Service Employees Association, receives partial tuition reimbursement from New York State.
Throughout the country, university labor education programs have started including programming for union women. At the University of Alabama in Birmingham, a series of workshops for women leaders has been planned on health and safety, political action, women in labor history, communications skills, and basic unionism. Health and safety programs also are a special focus of the Labor Occupational Health Program of the University of California at Berkeley. At Ohio State University, the Labor Education and Research Service worked with the Women's Film Program of Cincinnati on an award-winning documentary, Pregnancy and the Working Woman.
Other programs for women workers have been conducted through labor education centers at the University of California at Los Angeles, the University of Connecticut, Rutgers, the State University of New Jersey, the University of Kentucky, the University of Maine, the University of Oregon, and Indiana University—a major change in labor education programming that has taken place in the 1970s and 1980s. These and other university labor education centers have cooperated in the most outstanding example of collaboration between university and union labor educators, the highly successful regional summer schools for union women. Over the past seven years, close to 2,000 union women have attended these schools, held in the Northeast, Midwest, South, and Far West regions.
Begun through the efforts of the Committee on Programs for Union Women of the University and College Labor Education Association (UCLEA), with the cooperation of the AFL-CIO Department of Education and CLUW, these regional schools bring together women from a cross-section of unions and experienced women labor educators. The regional schools, run on a shoestring budget, have served as a training ground for union activists as well as for women new to the field of labor education.
The regional summer schools seem to inspire as well as inform trade union women, who return to their unions and communities with increased motivation and skills to participate in workplace organizations, local union women's committees, and CLUW chapters. Although a number of women still use their vacation time and pay their own way to these week-long activities, growing union support for sending more women members to these regional programs is evident. The high spirit and dedication to the labor movement exhibited at these programs led one male labor educator who attended a regional summer school for women workers graduation to comment, "It's like the Thirties all over again!"
Perhaps as a testimony to the reality that women are in the work force to stay, new organizations of women workers have emerged in the contemporary period that share similar goals. Some of these groups are small and work effectively in one city or region: for example, Chicago's Women Employed, Union Women's Alliance to Gain Equality (Union WAGE) in California, and the National Congress of Neighborhood Women in New York City. The Nine to Five organization and the national CLUW, whose beginnings have already been reviewed, have made major gains in the past decade on the national as well as the local level and have incorporated education activities into all of their projects.
By 1982, the informal affiliation of city groups that Nine to Five formed in 1976 had become a permanent nationwide organization, Nine to Five: National Association of Working Women. Its steady growth is due to its chapter and national leaders, who have a keen sense of public relations. Over the years, "Nine to Five" has become a byword for women workers, as has the organization's slogan: "Raises, Rights, and Respect." In the last decade Nine to Five chapters have expanded their programs to include an annual three-day summer school. At the 1982 school, the organization's fourth, 300 women workers gathered at Bryn Mawr College to discuss such issues as closing the gap between men's and women's earnings, mobilizing women for more impact on the political process, maintaining and enforcing equal employment laws, and devising methods for women to have a role in restructuring offices that have installed new technology. The 1982 school initiated a national membership drive to double the number of Nine to Five chapters in the coming year.
The education programs of Nine to Five prepare workers for the opposition they meet during organizing drives and help them to succeed in building effective chapters. Its extensive materials include a four-session course on labor history, developed and tested with a grant from the National Endowment for the Humanities.
As a model of union and association cooperation, the SEIU-Nine to Five linkup bears close watching. This development, which has accelerated the awareness of many labor unions of the need to organize women office workers, has led to a women's organizing campaign in the Washington, D.C.-Baltimore area, launched with support from the AFL-CIO Industrial Union Department and CLUW. SEIU and six other major labor organizations are targeting banks, insurance companies, hospitals, universities, industrial operations, and food services to educate unorganized women about their need for workplace unions. Public education takes place through a media campaign, telephone polls and interviews, a women's resource center, and other community outreach programs.
Over the past decade, CLUW has emerged as an organization that seeks increased power for women in the labor movement. In addition to its success in raising funds from unions and foundations, organizing unorganized women, supporting legislation, and developing coalitions with like-minded groups, CLUW's education and leadership development programs have successfully expanded. One major CLUW research and education project, "Empowerment of Union Women," examined the positions women hold in labor organizations and developed a manual that provides information and "how to do it" material for CLUW chapters to use in developing women union leaders.
Recently, CLUW received additional funding from the Carnegie Corporation of New York for a two-year leadership training program for CLUW members and chapters that would extend its Empowerment of Union Women project. Union and university labor educators serve on the project's advisory board, another example of important cooperative links that help realize one of the project's goals—to encourage CLUW chapters to utilize university labor education resources in their own areas. Other recent CLUW research and education projects include Project Opportunity, a demonstration program in ten selected CLUW chapters designed to develop a network of "opportunity advisors" to link CLUW members with family and individual needs to community and educational resources; and the research and writing of a book on women in health-care settings where unionized hospital workers fight for better wages and working conditions.
These programs bring visibility to the national CLUW, its leaders, and its chapters and result in increased financial support from unions and foundations and a growing membership; in fact, they have necessitated the assignment of a CLUW staff member as organizing director to work full time on establishing new chapters.
Today, labor education for women workers is recognized by many unions and universities as both a legitimate and an important component of workers' education. Since the 1970s, the growing cooperation in programming between union and university labor educators has been of benefit to union women and to working women's groups that have a commitment to unionizing unorganized women. A range of new programs and a wealth of new resources—study guides, films, filmstrips, monographs, and books—have been produced for and about women workers. Even Nine to Five, a highly successful Hollywood film starring Jane Fonda, Lily Tomlin, and Dolly Parton, served to call attention to many issues of women workers.
Foundations and government grants and contracts have been important in providing support for new and innovative programs that have demonstrated the range and possibilities of labor education focused on meeting the needs of a particular group. This funding supported pilot projects when many unions and universities were not prepared to do so. Foundation funding has helped labor educators to demonstrate ways that ideas useful in one context are adaptable to others and, similarly, to show that traditional methods can be used in contemporary settings to meet new needs.
During the past decade there has been a growing awareness by the labor movement of the importance of organizing women workers. To do this, unions had to realize how central the public image of the labor movement is and that education is a critical process in arousing the consciousness of women workers as well as public awareness of their issues. Unions have realized that they must demonstrate a concern for women members if they want additional working women to join their ranks. Increasingly, unions have sought publicity in the media for their women's conferences and activities. More union resources have been made available in support of education programs for women union members and other women workers. The Industrial Union Department of the AFL-CIO has cosponsored training conferences with CLUW for women union members and has promised to increase the number of women organizers employed on its national staff. More local unions sponsor women members to attend summer schools for women workers and other classes and workshops organized by university labor education centers. In New-York City, many unions provide scholarships for women to attend the Institute for Women and Work's college credit program, Trade Union Women's Studies. There is more financial support for CLUW.
Women are still a long way from equality. The current economic recession and political backlash against working women will affect many union leaders. Union struggles to retain the gains of recent years are taking priority, and education, especially for women members, is considered expendable. Furthermore, the pressure to implement affirmative action through unions diminishes when these laws are not enforced by the federal government. In addition, recession layoffs involve conflicts between traditional seniority rankings and hiring patterns that have resulted from affirmative action.
These problems put new demands on labor educators and increase the need for workers' education that will help unions change to meet new times. Unions need to develop increased membership participation, especially among the growing numbers of women in their ranks. They need active member support for organizing drives. Unions seek ways of initiating effective new coalitions to press for the social policies and legislation that are so badly needed by working people.
Despite the gains in the past decade, there is a distance to go before obtaining support for education programs for women workers, although we now number over 30 percent of the labor movement's membership. In this process, it is still crucial to gain support of union and university program leaders. As Patsy Fryman, an assistant to the president of the Communication Workers of America, said in a 1979 conference on developing education programs for union women: "Unless you gain the support of the principal officer within a union, your project ideas may go nowhere."17 At the same conference, university labor educators indicated that many of their directors expected them to do programs for union women "on our own time" and did not consider these activities a legitimate use of staff time or budget monies which would count in favor of the educators when they came up for performance review or promotions.
As recently as 1981, it was necessary to devote a session at the Southern-Midwestern regional meeting of UCLEA to "Special Issues Faced by Women Labor Educators on the Job." Speakers addressed the fact that some labor education centers have not fully integrated programs for women workers into their budgets or their planning. Other issues addressed by speakers included developing essential materials for courses for women unionists; getting more working women, especially Latino and black women, to become labor educators; eliminating sexism from existing labor education materials; and integrating issues of sexism into all labor education courses. More work needs to be done in reaching other groups of women workers: older women, especially retirees; Hispanic women; and part-time workers, who make up one-third of all women workers.
Although this chapter has focused on programs for union women and other working women, labor education has a special role in reaching out to male union leaders and rank-and-file members. Especially in a period of shrinking jobs, men and women must understand how sexism and racism affect workers and how these problems can be eliminated. Men who have attended women's conferences and workshops often have learned a new respect for the articulation of women members, how it feels to be in a minority, and the concerns that most affect union women. Labor educators and union leaders need to develop new ways to reach male members and increase their understanding of the continuing role of women in the labor force and the implication this has for unions and for families.
The labor movement must organize women workers in order to grow. As the labor movement expands, there will be room for new leaders, women as well as men, who should not constitute any threat to incumbent union activists. The process of changing attitudes has begun and must continue, with information on subjects relating to women in the labor movement incorporated into programs, classes, and materials for all workers.
We do not know how much will change if a shift in the center of power occurs and women participate in proportion to their numbers in the work force and in unions. We must continue to seek the day when changes come because women are in a position to make things happen rather than merely to obtain changes through pressure on union leaders. We may yet arrive at a point when we can stop counting the number of women and men in leadership positions. Then, human concerns will take precedence over issues raised because racial, gender, or ethnic groups feel that they have not been heard. Not only is there a key role for labor education in this process; there is also enough challenge and excitement in developing and facilitating the necessary programs to last most labor educators twice a lifetime.
Barbara Kohn is a forty-three-year-old worker and mother of four children from a small town in southeastern Michigan, who has taken a number of classes offered by the University of Michigan's Institute of Labor and Industrial Relations and has attended several of the Michigan Summer Schools for Women Workers. She was interviewed by Joyce L. Kornbluh in October 1982.18
Interview with Barbara Kohn, United Auto Workers
Barb, tell me a little about yourself. Where do you work?
I've always worked, all my life since I was twelve. I put myself through high school by working. Then I married and worked in an office while my husband went to college. But I couldn't stand office work. It was too confining, too few people around. And I love people. So I quit and went to work in a TV factory where they make coils. . . . And after being there for seven years, I had to make a big decision to quit and go to work for General Motors. It was a big decision. I went to work at the auto plant fifteen years ago.
What do you do?
I'm a stripper (laughs). It doesn't mean taking off your clothes. A stripper is a person who stands on the other side of a pattern press and when six layers of material for the car upholstery come down, we tie it up and put it into a gondola and it's taken to the department that makes seats for the Oldsmobile.
How did you hear about the first workers' education class you attended?
I think there was a brochure. I had always been involved with the union as a silent majority. My husband was president of his local union. . . . So I lived union, but I lived it through him. Because of his involvement. His idea was for me not to get involved. My first venture in my local union was to edit the local union newspaper. I came down to Ann Arbor to a writing workshop for newspaper editors. It was $5.00 for a Saturday workshop. Since I was going to do the union newspaper, I thought why not? Our local union had never sent a woman to anything. And we are a woman-oriented shop. Run by men! So I came to the ILIR workshop that Saturday and that's how I got on the ILIR mailing list.
What were some of the other classes you took?
Basic Unionism, to learn about my local union. Assertive Training. I think I take an assertive training course every year. It's helped me come out of a shell. I've learned more through those assertive training classes. Collective Bargaining. I think I've taken pretty much all the classes. But Assertive Training is always on my list.
What was the reason you came to the classes?
To broaden my horizons, to learn more about my workplace, and to be able to speak out for people. The role of a woman in the generation I was brought up in was to be a housewife first, subservient to her husband. To be seen but not to speak. Or if you did speak, to speak softly. Decision-making was the male's job. You just didn't make decisions. You didn't do anything to push yourself ahead, to broaden yourself. You were locked into your own little world. You were dominated by others. I didn't want to be part of those "yes" people. I wanted to be part of the people in the decision-making, but I didn't know how to do it effectively.
Is that why you took the classes?
Yes, if I was going to write the union newspaper, I wanted to know what I was writing and understand what I was writing about in an intelligent way. So that's why and how I started with the writing class and I must say it was the best local union newspaper our local has ever had.
Did you have any trouble getting to the classes?
At first the officials in my local union were very reluctant to send me. Then I went to the executive board of my local to ask if three or four women could go with me to the classes. And it was met by an immediate "No." "If you want to go, Barb, we'll send you, but we're not going to waste union dollars on a bunch of women going off. What are they going to do? What are they going to do for the union when they get back?"
Well, the male union executive board members weren't going to give us a chance. But I went. And my enthusiasm for what I had learned in those labor classes—I used it. When I got back, I used the learning. I was able to speak up. And that was the result of the classes in effective speaking and the classes in assertive training. I didn't hold back. I let them know I could speak up. And what I had learned about the union contract. I was able to speak up and I wasn't afraid of my male counterparts.
So they decided that I should become chair of the local union women's committee. Give me something to do. And it's been very effective. I've gotten more women involved.
I'm interested in what the Summer Schools for Women Workers were like for you.
Very frightening at first. I was alone the first year when I went. I didn't realize that all the other women felt alone too. We had no idea of what the summer school was going to be like. We had no idea of what would be taught and what we were going to learn that would be beneficial to ourselves and other people.
What had you expected?
I really didn't know. I came into it blind. I thought I was going to learn basic unionism. I had watched [the union officers] hold a union meeting and I felt I could probably do as well. But I had no idea how the parliamentary procedure rules should be followed. But I did have to learn to conduct a meeting. Being chair of the women's committee, I really needed that.
I also needed the strength to stand up there and carry it off. I had no idea of how to do it. Now, I can be very authoritative. Before, I knew I was going to learn something but I didn't know what.
Now I go back to the local union after these classes and I am bubbling over with enthusiasm about what I've learned. I tell and I tell and I tell until people get sick of hearing me and they say, "When are we going to get to go?"
What did you like the most in the summer school program?
I formed some close friendships with women who have been in like situations that we've been in in our plant. It was a cross-section of women in unions from all walks of life and all modes of work. Not just from the Big Three auto companies, but from little workplaces, food places and telephone companies. And the problems they face. It's a problem-solving school. It doesn't solve the problems for us but it gives us the insight so that we can go back and tackle the problems and solve them.
How did it do that for you? Help you solve the problems?
I think through the summer school classes, I have a different outlook. Before, I used to punch the clock, and if I had a problem, I complained to the union. The people in the union couldn't care less. They would go by the contract. Go by the union books. Now I'm finding that even though I'm just chair of the women's committee, which has no real voice, I do have a voice. People come to me and say, "Gee, Barb, this is what is happening." Nobody else seems to care.
Why do they come to you, Barb?
I guess I've made it known that's what I am here for. Women have to look out for women. And now, through the assertive training, I'm not afraid to speak up to mingle in groups. I used to stand on the outside. I'm not afraid now to walk into any break area [in the plant] and sit down with someone and say "How do you like your job." And they'll tell me, "Well, the foreman's been riding me" or "I'm not getting any satisfaction with my grievance," and I can ask why.
Now, I can honestly be really concerned. Before, I cared only about me and my job. I care now about a lot more people and I think they care about a lot more people as a result.
What else was important to you at the Michigan Summer School for Women Workers?
I value the friendships I've gleaned from the schools. I've met people from all over Michigan and formed some close friendships. We keep in touch. That was an important part of the schools, living together. I came from a basically white area and I have really found that I don't have any prejudices. Now, I've met Blacks and Hispanics and I find that we're all the same. Now we have a few Blacks and Mexicans in our plant and some of them are my closest friends. The summer school was my first experience of living in a dorm and living with all these different ethnic and racial groups. And I learned a lot from that. I've always called myself a Christian but I didn't know what Christianity really meant until I was able to live with other people. I am very happy with that. We are very isolated in a small village away from the big cities.
What was the group experience like for you at the summer school?
I think last year really stands out in my mind. We had a play-acting thing, a role play, about sexual harassment. Now I see that every day in my plant on my job—favors being dispensed to women if they go along with the boss's wishes. And that really doesn't need to be. At one time, I would never have been able to explain this to women, to tell them that this doesn't need to be.
The group experience at the summer school made me more aware of it [sexual harassment]. Before the school, I had figured that the woman was loose, or that the boss was showing favoritism to women who were being nice to him. But the role play thing we actually did showed me that these things happen when the women DON'T want it to. And so, I was able to go back to the plant and say to some women, "Look, you don't have to let the foreman tell you dirty jokes. You don't have to let the foreman pat you on the bottom if you want three minutes personal time to go to the bathroom and take a smoke." The role play really helped me convey to them that we're all equal. It was something I had overlooked before.
How did you feel in the group?
Uncomfortable at first because I was new. I had never, never done anything like this before and I was older in my forties. It's easier when you are a child. I was afraid to make a mistake. But we all make mistakes.
When did you begin to feel differently in the group?
When I could look out and see the other women begin to identify with me, and I could identify with other people. Because we are all so isolated. When I could look around and see people with the same identical problems.
How did you relate to the teachers?
Feedback was encouraged by the instructors. It was not a teacher-student thing. We were all together. Someone would mention an issue and you looked around in the group and saw women nodding, identifying with the problem. "Yes, we have that situation too where I work." It was all group. Everyone had something to add.
It was not a teacher standing three feet above us talking down while we listened. It was all group—a feedback thing.
The teachers weren't doing the teaching. We were teaching ourselves. The teachers brought that out in us. I had expected to come to these classes and sit behind desks like a college student because I didn't know what it was going to be like. It was informal. More relaxing.
Can you give an example of how the teachers brought out the learning in you?
If we were in the speaking class, right away, I would not get up and say anything. On a one-to-one basis, I can probably talk more than you can. But don't get me up in a group to speak. I turn to jelly. I have to go to the bathroom. I get all nervous and sweaty.
So it was in such a relaxed way that you didn't even know you were participating. You were asked to tell something about yourself in the group. At least to give your name, tell what you do, what you are affiliated with. Well, everyone likes to talk about themselves. As the time advanced in the class, we were able to get into little clusters, maybe solve a problem or debate. . . . These things were done in such a way that we were really teaching ourselves.
What else in that situation helped you to learn?
The fact that I wasn't alone. That everybody was basically there for the same learning process that I was going through and I wasn't as afraid as I thought I was.
What about learning is important to you, Barb?
It's broadened my understanding. I was very closed in. Now, I'm hungry for more learning constantly. The classes have helped me to go beyond my own little circle. If I'm in a store, or traveling, or at work, I feel assertive enough to go up to a person and ask questions and get involved. I'm trying to get involved now with the substance abuse issue in our plant. We have a bad problem, a bad situation with alcoholism and drugs. You really have to gain the confidence of people to help, to get behind the problem, to find the causes that are making their lives to be messed up. And you've got to be truly genuine to gain their confidence. With all the substance abuse problems that we have now in the plant, if I can help one person, I can truly say that it was worth all the classes that I've taken.
Learning in these classes has given me the confidence to think of someone other than myself. And it has helped. All the classes have helped me to think to do this. They have made me aware of my own potential. The classes put me back into the mainstream. I was so narrow. Walking down a narrow road. Now, I am branching out. Coming to classes and learning. I'm spreading myself among my fellow people at work. I have to be busy now. I don't want to stagnate.
What way do you learn best, Barb?
Informal. Oh, yes, definitely. We've had some tremendous speakers and they have motivated me to get off my duff and do something. Because you can't do anything unless you get off your duff and do it yourself. You've got to want to do something. Then, if you meet someone who impresses you, you feel you want to strive.
If you learn in an informal way with people you admire . . . here you are, sitting around a table, rubbing elbows, drinking coffee, all equals. And you really see that these people have gone someplace and you want to do the same. Do like they have done and accomplish what they have accomplished. It's the real motivation, the real motivation.
How do you define learning, Barb?
Not keeping something to yourself. You can learn and absorb vast amounts of knowledge but then it can collect dust, like an unopened book. But unless that book is opened and fed back out through your mouth, no one is going to know what is in that book. It's up to you to put that knowledge back out, to use it. To me, learning is not just keeping knowledge to yourself, but giving it back. That's the learning process. Using the knowledge.
Do you see any changes in yourself, Barb? How have you used your learning?
One of the classes was about women's rights. And I first thought, what are they talking about? And then I came to see that I don't have any rights unless I stick up for myself. But then, I found that I was able to get a loan. In my name. I was somebody then. I could get a loan. I could get credit. I could open a savings account. I could buy a car. I could do this as a woman. I was not aware of that before. Because I was a woman, I was silent. I didn't know.
This learning process opened me to be able to ask questions without being fearful. To be able to take no for an answer but to ask "Why?" or "Why not?" It helped me to have a voice, to speak up for my own rights.
Have there been any other changes, Barb?
I never had to make decisions for myself. At first it was my father and mother. Then my husband. Then the minister. Then the employer. I felt like a puppet on a string and someone else was pulling the strings. You perform. Now, I don't feel I have that many strings attached anymore. Because, when I lift my hand, I'm doing it.
Women have been pushed into a role. Be a good girl. Be a good girl. Be a good wife. Get out there and make some bucks, but be quiet. No voices, no voices. Just be the silent person. But I don't think this country can run without us. We're intelligent beings. We have a lot to feed back, not only into our homes, but into our workplaces, our communities, our politics.
I've been finding my voice. I've even surprised myself. I never thought I had something worthy to be said. And now, in the last couple of years, people are asking me my opinions. Now, I'm being looked to for advice. And if I can do it, I'm sure that other women can do this if they have the opportunities.
"We Came Here Stripped," and "Better Than B-12" appeared in The Voice, the student-written newspaper at the 1982 Southern School for Women Workers, Austin, Texas, sponsored by the University and College Labor Education Association (UCLEA). They were written by members of the American Postal Workers Union, AFL-CIO in Texas and Florida.19
In our observations of the UCLEA summer school, we did not observe one single person who was not profoundly interested in bettering her local union and in equal rights for women.
The classes we attended were both motivating and informative. It was plain to see that the instructors were dedicated to the labor movement. They encouraged and stimulated us to overcome our inhibitions. Women's abilities were revealed in films of the early labor movement, where women have always been involved. We especially liked a quote from the film Talkin' Union: "My husband was Secretary Treasurer and every pay-day I would go down and collect the dues."
The instructors also motivated us in our ambitions and taught us how to use our abilities and skills in order to help our local unions.
One thing that was very evident was the fact that all the union representatives had the same goal—to achieve quality in their unions, and equality for women. There is no doubt in our minds that the women who attended this school will go back home to their own locals and create a lot of commotion.
We came here stripped and went home fully equipped.
—Debra Butcher,
Ruby Dixon, and Melba Gallant, 1982
Since my arrival at the Austin airport to attend the 1982 Southern School for Union Women, one very noticeable characteristic about many of the women who attended (staff and students) was just how nice they are. As my stay lengthened, this characteristic niceness became more and more evident. But these ladies are anything but pushovers as they are dedicated and committed to a cause. In fact, I have not met such a conglomeration of committed people since my flower child days. If I learn nothing this week except that I'm not alone, that there is a bunch out there making waves, causing changes, being heard and yet at the same time being themselves, sincere, people-oriented, and union-minded women, I'd still be proud.
I've asked myself what makes me want to be so involved, to jump in, totally submerging myself when I've got a man at home protesting (mildly, as he too is involved in our Union) my involvement and children demanding my time. An honest look at my feelings reveals that I can't help myself, that it's biological forces making me do this. It is because I'm devoted to my family that I so fiercely want to strike out at anything encroaching upon my personal rights, beliefs and territory. It is because I want my children to grow up strong, honest, and free that I must stand up and protest each manipulation, each lie, each imprisoning element. Just as it is invariably the females in the animal kingdom that rush out and protect their family in danger and risk their lives so their young ones might go free, it is precisely the woman in me that pushes me forward.
Getting together this week has strengthened me, redefined my purposes, and refocused my goals. I've learned that at the same time we are sensitive to the needs of others, we must be aware of our rights and willing to stand up for them, but not too proud to say we need each other to make things work. Yes, I honestly believe together we can make anything work as we have the knowledge, tools, and resources. At the end, the world will know that nice guys (gals) do indeed finish first.
—Betty Tsang, 1982
The following valedictory speech, was given by a member of the United Steelworkers of America, AFL-CIO, who participated in the Trade Union Women's Studies Program of Cornell University's New York State School of Industrial and Labor Relations in New York City. The one-year program, which includes courses in labor studies and training in leadership skills, offers college credits that can be applied to a college degree.20
Friends, classmates, teachers, Cornell and Empire State faculty, officers of DC 37, union officials and guests. It is with a great feeling of pride that I speak this evening as Valedictorian of the Trade Union Women's Studies Class of 1981. In the past year, we have shared an invaluable experience. As a group, we have increased our knowledge and awareness. Our consciousness has been raised as women, union members and workers. We have shared our problems, dreams and lifestyles. We have met new friends and come to know a feeling of closeness and sisterhood. I know I echo the feeling of the entire class when I say that we will go forward from this time and place with an added dimension and a personal enrichment, not only from academic absorption but from our own co-mingling. There were days when each of us thought that the struggle was too difficult, but here and now we know the struggle was worth it.
First I must speak of my classmates, many of whom have goals . . . dedicated and aspiring. . . . I speak of you ladies, who in addition to taking care of families, holding down necessary jobs, have been actively involved in union affairs. You ladies have added on yet another time-consuming role, that of educating yourself on the union front. . . . In addition to hours spent in class, there were many, many hours spent reading, researching and writing assignments, precious hours that made us realize that although some of us had been away from the school scene for a long time, our brain cells only needed a little motivation. Being "women on the move."
We ourselves got it together. Now that is over. In addition to the knowledge we gained from our studies, there emerges a totally overwhelming satisfaction. We made it.
I want to thank all of you for these months of friendship and intellectual exchange. I also want to thank all my classmates for their wonderful support and confidence in me as a person. I know that I do your bidding when I also express our gratitude and thanks to everyone who has made this experience come true. . . . For the 1981 Trade Union Women's Studies class, I say to you, we don't always pass through the doors that education opens for us, but we can always be warmed by the vast amount of sunlight that comes through them.
There are some gifts that are priceless beyond measure. This is one of them. We are "Women on the Move." Thank you most sincerely.
—Susan Tindall, 1981
Lynnette Rich, a cashier in Battle Creek, Michigan, is vice-president of Local 951 of the United Food and Commercial Workers' Union. Dottie Jones, former autoworker and chief steward for UAW Local 630 at the Chrysler plant in Ypsilanti, Michigan, is currently working as assistant director of the Walter P. Reuther Senior Centers in Detroit. Lynnette and Dottie, both poets in their spare time, have attended and co-taught many classes and workshops sponsored by the Program on Women and Work of the Institute for Labor and Industrial Relations at the University of Michigan.21
Been working on this line ten years and some.
I work hard just to get the job done.
I go home and try to get some rest,
Knowing full well I've done my best.
I can see those parts in my sleep,
After all, I've done the same thing
Week after week.
Why don't the boss believe me when I say,
"These parts ain't worth a damn."
He says, "Run them anyway."
People say I don't care,
I have no pride in my work.
But what do they know.
Let them work a few days in my place
And see how it feels to be part of
The factory rat race.
—Dottie Jones, 1980
On the wings of a dove we go forward,
Spreading peace, hope and love.
As watchful eyes gaze towards the clock,
We eagerly prepare for a better day.
For Mother Time is on our side.
We are the women of the nation,
A rainbow of colors, beautiful for any eyes to behold.
No longer silent, but free for all to hear
Our cry for dignity and equality.
For we are the gentle people,
The bearers of God's fruit.
On the wings of a dove, we join hands and go forward.
—Dottie Jones, 1980
She came from the ghetto
And I from the suburb.
She came, a woman of colour
And I, a "number one" (government classified)
She struggled with discrimination daily
And I thought I was free of all that . . .
Allowed by some great proclamation to do
Whatever I wished.
She and I dreamed (and do dream)
The same dreams. . . .
Quality lives and jobs,
Equality in our endeavors,
The right, unabridged by any government or state, to stand
Female and Free.
She and I, heritages intact, dreams identified, have met . . .
Have joined hands . . .
Realize the power within us. . . .
She and I
Have become
WE.
—Lynnette Rich, 1980
I don't believe
one person can do it; no,
not even two.
I believe the job too large,
the struggle all-encompassing
the time too short
for our success, for just us two.
Hello in there!
Do you hear me?
Is anyone home?
I need you
and you need me
we all so very much need each other
if any of us
are ever
to be
free.
—Lynnette Rich, 1981
I believe in women
The women in aprons, the women carrying briefcases, holding textbooks
and/or babies, stringing telephone wire, repairing automobiles, playing
guitars and pianos,
using artist brush and easel, writing furiously into the night. . . .
I believe in the women
marching, singing, chanting
or quietly standing and watching
banners held high
words illuminating our paths, our lives, dreams and soon-to-be realities.
I believe in the women of all ages, from every walk of life, rich and poor
forming a never-ending circle,
building bridges of caring and strength
gathering all people together
to make this world an infinitely better place in which to live.
—Lynnette Rich, 1982
1. Nettie Silverbrook in American Federationist 35 (January 1928): 100.
2. Gloria Johnson and Odessa Komer, "Education for Affirmative Action: Two Union Approaches," in Labor Education for Women Workers, ed. Barbara M. Wertheimer (Philadelphia: Temple University Press, 1981), pp. 204–17.
3. Ibid.
4. Ibid.
5. Barbara M. Wertheimer and Anne H. Nelson, Trade Union Women: A Study of Their Participation in New York City Locals (New York: Praeger Publishers, 1975).
6. For a detailed description of this program, see Joyce L. Kornbluh and Hy Kornbluh, "Conferences: The One-Day Model," in Labor Education for Women Workers, ed. Barbara M. Wertheimer (Philadelpia: Temple University Press, 1981), pp. 54–61.
7. The schools are sponsored by the Committee on Programs for Union Women of the University and College Labor Force Education Association, in which the AFL-CIO Department of Education also cooperates.
8. Lawrence Rogin, "A Summary Discussion," in Labor Education for Women Workers, p. 267.
9. AFL-CIO News (May 22, 1982), p. 7.
10. Interview with Lela Foreman, director of Women's Activities, Communications Workers of America, July 1982.
11. Interview with Pat Thomas, education director, Service Employees International Union, July 1982.
12. Ibid.
13. Interview with Andrea DiLorenzo, former AFSCME staff member, July 1982.
14. Working Womenroots: An Oral History Primer (Ann Arbor: Institute of Labor and Industrial Relations, University of Michigan, 1979), pp. 4–6.
15. Werthheimer and Nelson, Trade Union Women.
16. Mimi Abramowitz, Where Are the Women? A Study of Worker Under utilization of Tuition Refund Plans (Ithaca, N.Y.: Institute for Women and Work, New York State School of Industrial and Labor Relations, Cornell University, December 1977).
17. Summary Report, "Developing University and Union Workers' Education Programs for Women," Conference Proceedings, Institute for Women and Work, New York State School of Industrial and Labor Relations, June 15, 1979, n.p.
18. Interview with Barbara Kohn from Jean M. Golaszewski and Joyce L. Kornbluh (eds.), Women Workers View Their Learning (Ann Arbor: Institute of Labor and Industrial Relations, University of Michigan, 1983), pp. 59–67.
19. From The Voice, 1982 Southern School for Women Workers, St. Edwards University, Austin, TX, sponsored by the University and College Labor Education Association in cooperation with the AFL-CIO.
20. From the archives of the Institute for Women and Work, Cornell University, New York State School of Industrial and Labor Relations, Metropolitan Division.
21. "Factory Worker," "On the Wings of a Dove," "Sisterhood," "Hope," and "Conviction" are from the archives of the Program on Women and Work (POWW), Labor Studies Center, Institute of Labor and Industrial Relations, University of Michigan.