Blue Collars and Bluestockings: The Bryn Mawr Summer School for Women Workers, 1921–1938
Rita Heller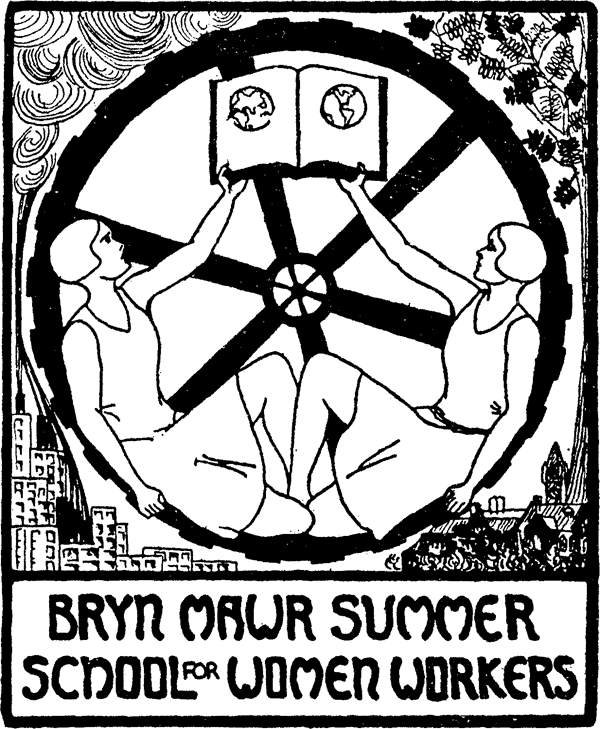 During the winter of 1920–1921, Lena Richman, a twenty-six-year-old native of Skalet, Austria-Hungary, an ex-student of its gymnasium, was employed in New York City's millinery industry. She had immigrated to America ten years before. Richman belonged to the Young Peoples' Socialist League and to the United Cloth Cap and Hatmakers' Executive Board. That summer, 1921, the newly formed Workers' Education Bureau sent Richman to the first session of the Bryn Mawr Summer School for Women Workers.1 There she joined eighty-one other students representing forty-nine trades and twenty-five nationalities.2 Richman's summer school experiences entered family folklore, enabling her granddaughter to recount:
Among the faculty in 1921 were Estelle Frankfurter (sister of Felix) who taught English and thought the girls lacked proper manners and didn't study enough; Henry Wadsworth Longfellow Dana who also taught English and was the reigning radical; Laurance Saunders of Ruskin College, Oxford who used H. G. Wells' Outlines of History as a textbook; Paul Douglas, who taught economics and frequently upbraided the young women for not studying hard enough and only wanting to have a good time and Amy Hewes [economist from Mount Holyoke] . . . who despite her conservative bent was much liked and admired by the young women there. Guest lecturers included [socialist, pacifist and labor educator] A. J. Muste and British labor educator Henry Clay.3
Sixty years later, the granddaughter remembered hearing that the summer experience was punctuated by "ideological disagreements between right and left, high spirits and enthusiasm, and a belief in the possibility of creating a brave new world."4
Scholars now regard the Bryn Mawr Summer School for Women Workers, which continued from 1921 to 1938, as a social feminist institution.5 As social feminists, the school's leaders gave priority to broadly based social reform. The school built on the accomplishments of organizations with similar goals. It emulated the National Women's Trade Union League (NWTUL), and the National Consumers League (NCL). Settlement houses provided another model, for they were mixed-class institutions engaged in evolutionary change. The Bryn Mawr Summer School for Women Workers and these kindred groups shared a belief in gradualism and voluntarism, and all wished to bridge economic and social classes.
During the three decades preceding the summer school's inception, women had been leading activists for social justice.6 A number of historical forces had converged to produce this phenomenon. Beginning in the late Victorian age, leisure-class women seized opportunities to expand their public roles. A new human resource was also available to take leadership in social reform movements—the first graduates of pioneering women's colleges. Educated women sought a productive outlet beyond domesticity for their skills and energy. Between 1890 and 1920, more women joined groups seeking reform of civil service, municipal government, and conditions under which women and children labored. The reformers sought enactment of child labor, conservation, and pure food and drug laws. In particular, these women pursued careers in social service. The names Jane Addams, Florence Kelley, Lillian Wald, Julia Lathrop, Katherine Davis, Alice Hamilton, and Margaret Dreier Robins are writ large over the era and its accomplishments.
One scholar has shown that the newly won vote revitalized social feminism in the 1920s. His "new women citizens" heeded the message embodied in the suffrage. "These . . . women citizens . . . wanted to use their newly won citizenship to advance the reform effort. They created new organizations and established new contacts to promote progressivism in the 1920s." The vote was an imperative to action. It called women to further democratize, civilize, and humanize American life.7 The Bryn Mawr Summer School for Women Workers can be seen as a prime example of a suffrage-inspired, social feminist institution.
At the Bryn Mawr Summer School for Women Workers, the women's social justice movement joined ranks with a fledgling labor education movement. The latter was a loose network of academicians, unionists, liberals, and socialists unified by a Jeffersonian vision of education and a commitment to organized labor. The pioneering effort at Bryn Mawr quickly gained recognition as a model. It set the pattern for subsequent programs conducted at the Brookwood Labor College, the Vineyard Shore School for Women Workers, the Barnard Summer School, the University of Wisconsin Summer School, the Southern Summer School, and the Summer School for Office Workers.
The appearance of a workers' summer school at an elite college resulted from the efforts of M. Carey Thomas and Hilda ("Jane") Worthington Smith. One woman provided the vision, the other the stewardship. It was the autocratic educator and feminist, M. Carey Thomas, who introduced the idea of opening a workers' school at Bryn Mawr, the college she had dominated as dean and president for thirty-five years. And while innovative geniuses defy categorization, it is still fair to term Thomas's final enterprise, the workers' summer school, as surprising. How was it that this crusading feminist who had devoted a life's energies to the attainment of feminine academic elitism abruptly embraced the cause of downtrodden working women? A desire to uplift weavers and garment workers appears to be at odds with, if not alien, to Thomas's beliefs.
Evidence from the newly opened M. Carey Thomas Papers suggests that close relatives in the Whitall Pearsall Smith family influenced Thomas throughout her life.8 Her mother's oldest sister, Hannah Whitall Pearsall Smith, was a formidable iconoclast,9 an author and orator who embraced feminism, the temperance movement, and evangelical Quakerism. Hannah Smith emigrated to England in the 1880s, where she quickly joined the intellectual avant-garde. One of her daughters married art critic Bernard Berenson; another married philosopher Bertrand Russell. The latter daughter, Alys Russell, was a companion and correspondent of M. Carey Thomas.
Among the many interests of this group of British intellectuals was the Workers' Education Association (WEA), which was a thriving enterprise by the time of M. Carey Thomas's visit to London as part of a 1919–1920 world tour. The WEA, brainchild of Albert Mansbridge, a clerk and a product of the cooperative movement, had the support of a remarkable coalition of Anglican bishops, Oxford dons, and self-educated men. Activated by the Christian Socialist belief that the educationally deprived suffered primarily from spiritual malaise, the movement was suffused with a Christian Socialist spirit. Mansbridge's favorite phrase was "the glory of education."10 The WEA curriculum was intended to prepare students for "life, not livelihood."11 Although course material was grounded in the social sciences, classes provided no training in trade unionism and were strictly nonvocational. Instruction was carried on in tutorial sections of sixteen to thirty-two working men and women who met for two hours weekly for three successive winters. J. F. C. Harrison, historian of the British workers' education movement, has provided the following judgment:
The idea of an equal partnership between the university and the working class movement, the emphasis upon the scholarship of the tutor coupled with the necessity of teaching subjects from the angle of the students' needs and the conception of the social purpose behind all studies, gave a distinctive slant to the typical class.12
The workers' school, which rapidly assumed a reality at Bryn Mawr in 1921, drew heavily on the WEA as well as on other British models developed by the Fabians and the National Council of Labour Colleges. The Bryn Mawr experiment emulated the British in curriculum philosophy and tutorial approach and in deliberately fostering alliances among incompatible constituencies and institutions. The school brought privileged, educated women into a partnership with poor and uneducated women. The college establishment and its capitalist network were the main sources of financial support of a school created to benefit and nurture women workers and, indirectly, the labor movement.13
M. Carey Thomas later alluded to her visits to British workers' education programs when she described her inspiration for founding the school. Thomas was also moved by British enfranchisement of women and the impending passage of the Nineteenth Amendment in the United States:
One afternoon at sunset I was sitting on my golden hilltop in the Sahara rejoicing that British women had just been enfranchised and American women would soon be politically free. . . . I also saw as part of my vision that the coming of equal opportunity for the manual workers of the world might be hastened by utilizing before it had time to grow less, the deep sex sympathy that women now feel for one another. The peculiar kind of sympathy that binds women together seems to come only to those who have not been free. . . . Then with a glow of delight as radiant as the desert sunset I remembered the passionate interest of the Bryn Mawr College students in fairness and justice and their intense sympathy with girls less fortunate than themselves; and I realized that the first steps on the path to the sunrise might well be taken by college women who, themselves just emerging from the wilderness, know best of all women living under fortunate conditions what it means to be denied access to things of the intellect and spirit.14
The speech was vintage Thomas. It exemplified both her luxuriant rhetoric and her publicist's skill in behalf of what she had come to call THE CAUSE.15 She now endorsed a broader feminist vision, one which included working-class women. Lacking direct evidence, one could presume noblesse oblige as Thomas's motivation. A closer look at her record suggests otherwise. In the preceding decade Thomas had shifted direction. After 1910, she began to retreat from scholarly isolation, turning instead to "social reconstruction and human betterment."16 In 1913, she authorized the progressive Phoebe Anna Thorne model school. Even more audacious, and on a grander scale, was the Graduate Department of Social Economy and Social Research opened at Bryn Mawr College in 1916. It was the first graduate school of social work in the United States and the first to offer a Ph.D. The intrusion of socially relevant institutions at staid Bryn Mawr was not accomplished easily.17 Disdain for the social work school and its director continued well into the 1920s, beyond Thomas's tenure as college president. The director was the pioneering sociologist, Susan M. Kingsbury,18 known for her abrasive personality.
Against this background, the Bryn Mawr Summer School for Women Workers, if precipitously decreed, was neither an anomaly nor an exercise in noblesse oblige. Rather, it was a culmination of the shift that Thomas had begun in the previous decade. In the years from 1910 to 1921, Thomas added social reformer to her established identity as feminist, educator, and suffragist.
The evidence shows Thomas to have been an impassioned activist, particularly in her later years. Increasingly, she had embraced the experimental or practical—first in the progressive Phoebe Anna Thorne School, second in the Graduate Social Work school. The latter provided training for worldly careers. By 1921, Thomas was ready to invite the world onto her hallowed campus. The summer school would incorporate blue-collar women into the liberal humanist tradition. At the school they would be offered things of the intellect and spirit that had been monopolized by the privileged few. From all that can be known, Thomas appeared dedicated to her newest innovation. Sincerity cannot, however, be equated with depth of understanding. Thomas did not, in fact, appreciate the complex character of the enterprise she had endorsed. As Hilda Smith later reflected, "President Thomas didn't realize that a workers' school would plunge Bryn Mawr into the heart of the organized labor movement."19
The woman who offered this judgment was the second key personality, the one tapped by Thomas to transform her dream into a reality. She named as director of the Bryn Mawr Summer School for Women Workers Hilda ("Jane") Worthington Smith, who was dean of undergraduates and a trained social worker. Submerged by melancholia over her mother's death, yearning to break out of the confines of educating daughters of the middle class, Smith was electrified by the surprising assignment, for which she was well qualified. After college at Bryn Mawr she had attended the New York School of Philanthropy, and in 1916 she had become director of a new community center in the town of Bryn Mawr. Susan Kingsbury had devised the center to provide accessible fieldwork for her graduate students. In jointly developing the Bryn Mawr Community Center with Smith, Kingsbury became the latter's mentor, advisor, and friend. The center offered evening classes for adult workers in the community. Later, while serving as college dean, from 1919 to 1921, Smith followed the same interests. She organized an educational program for the college's gardeners, electricians, and cooks. In so doing, she displayed a bold originality and a capacity to surmount traditional class boundaries between administration and hired staff.20 It was Smith, therefore, who took Thomas's nobly conceived but shallowly rooted idea and made it viable. She headed the summer school for thirteen years and became its revered symbol.
In addition to Smith, Thomas asked leading social feminists to design the summer school. Susan Kingsbury, since 1916 the director of the pioneering social work school, was Thomas's main link with women reformers. On March 19, 1921, in the exotic reception rooms of the College's deanery, Thomas convened a group that included Mary Anderson of the U.S. Women's Bureau, Fannia Cohn of the International Ladies Garment Workers Union (ILGWU), Mrs. Robert Speer of the YWCA, and labor economist David Saposs. In formulating plans for a women workers' summer school, they addressed an idea first advanced in 1916 when the NWTUL had urged women's colleges to make their campuses available to working women during the summer months.21 Although no NWTUL representatives were present at the meeting, the organization became a loyal summer school supporter. It recruited students and participated in key advisory capacities.22
The Bryn Mawr Summer School for Women Workers was firmly rooted in the Jeffersonian belief that a vital democracy requires an educated electorate. Thomas's dynamic feminism caused her to extend this progressive vision to laboring women; she was convinced that they, too, could benefit from exposure to the liberal humanist heritage. At its outset, the school strove primarily to enhance individual capacity. However, what would become obvious over time was the necessity for collective action to change workplace conditions for women.
The school's purpose can be viewed either as idealistic, inclusive, and timeless or as ambiguous, Utopian, and naive. According to the school's brochures and publicity releases, its purpose was "to offer young women in industry opportunities to study liberal subjects and train themselves in clear thinking." Instruction was to be conducted "in a spirit of impartial inquiry with freedom of discussion."
The School is not committed to any dogma or theory. The teaching is carried on by instructors who have an understanding of the students' practical experience in industry and of the labor movement. . . . It is expected that thus the students will gain a truer insight into the problems of industry, and feel a more vital responsibility for their solution.23
The school's founders aimed to create a community of industrial women, representing a cross-section of occupations, regions, religions, and races, with a balance maintained between union and nonunionized workers. The school welcomed as applicants women between the ages of eighteen and thirty-four who had an elementary school education and two years of industrial experience. The term "worker" referred to someone working with the tools of her trade, not in a supervisory capacity. Specifically excluded were teachers, clerical workers, and saleswomen. In selecting applicants, the school sought evidence of maturity, leadership, intellectual curiosity, and an awareness of economic problems. The Bryn Mawr College alumnae, the NWTUL, the YWCA, and unions all worked to recruit students. The college's established national alumnae club network became the primary recruiting body.
The predominantly white, Anglo-Saxon college alumnae groups were invited to work for the school and to recruit students among the heavily immigrant laboring classes. Beginning in 1926, blacks were welcomed as students. Within the student body were southern fundamentalists and Russian immigrant socialists, rural whites and urban blacks. Unionized city garment workers met provincial YWCA-affiliated factory operatives.
Margaret Fulton, a shoe factory employee of Syracuse, New York, was president of her branch of the Y, the Grey Shoe YWCA. Helen America of New York, an ILGWU member, worked in the Helene Dress Company. Both women applied to and were accepted by the Bryn Mawr Summer School for Women Workers in 1924. Ruby Haigwood, an R. J. Reynolds Tobacco Company worker of Winston-Salem, North Carolina, was president of the Sunshine Club of her Baptist church. Helen Maver from Tacoma, Washington, was an unemployed candy factory operative and a YWCA member. Haigwood and Maver were rejected in 1924. These four women were drawn from a sample of 197 applicants to the Bryn Mawr Summer School for Women Workers for the years 1924, 1929, and 1931.
These applications provide a rich body of data that permit a comparison between stated criteria and actual admissions policies.24 The documents portray the student body as well as rejected applicants.25 One can chart changes in the student profile between the years 1925 and 1931.
A demographic profile of the students attending the summer school in 1924,1929, and 1931 emerges from the data. Almost one-half of the accepted students came from the Northeast, and almost all were from urban locations. A little over half were native born; approximately one-third were born in Russia or Poland. Almost two-thirds of the students were between the ages of twenty-two and twenty-nine. Approximately half voted, and the overwhelming majority were single. Very few of their mothers were employed. An eighth-grade education was most common, followed by entrance into the workforce between ages fourteen and fifteen. The YWCA was the primary recruiter, with unions and churches following behind.
The sample was representative of the American female industrial work force in the 1920s and 1930s with respect to age and marital status. However, there was an overrepresentation of unionized and garment workers. Students under the age of twenty-five accounted for 55 percent of the school population, the exact percentage in 1920 of urban working women.26 In the sample, 93 percent were single; this corresponds to Tentler's description of the "typical" working-class daughter living in the parental home.27
Nearly half (46 percent) of the sample women were unionized. While the national figure for industrialized women in unions was 18 percent, this high percentage reflected the school's deliberate effort to recruit a student body from both union and nonunion industries. Eighty-three percent of its unionized students came from the needle trades (garment and hosiery industrial workers and seamstresses), double the national norm of 42 percent of unionized women (in the ILGWU, United Garment Workers, and Amalgamated Clothing workers).28 Milliners, composing 12 percent of the sample, were also overrepresented, compared to the national figures of 4 percent in 1920 and 2 percent in 1930.29 On the other hand, the percentage of textile workers was less than the national norms of 18 percent in 1920 and 20 percent in 1930.30
Compared with those accepted, rejected applicants tended to be younger. Fewer were of Russian or Polish origin. They were less likely to have voted or to be union members. They had worked fewer years, were less frequently in the needle trades, and were more likely to be unemployed. Their social affiliation tended to be a church and less frequently a Y or a union.
Over time, the student body changed. Most striking is the shift in origin of the sample. The native-born percentage fell by almost 50 percent between 1924 and 1931, while the percentage of recent immigrants (residents of less than ten years) increased. Between 1924 and 1931, there was also an increase in the number of students over age thirty and from the northeastern United States.
Analysis by occupation shows an increase over time in participation by the needle trades and the milliner group and a decrease among the other factory categories. Unemployment was unusual in the accepted group, reaching only 4 percent by 1931. There was an increase in union membership, so that by 1931 over one-half of the students belonged to unions. The YWCA remained a constant and major organization for student affiliation while union membership increased.
The foregoing data reveal a general congruence between declared criteria and admissions practice. However, over time, the sought-after balance shifted to favor immigrants from the Northeast who were union members. The reasons for this shift are conjectural, since direct explanations are lacking. It may be that recruiters increasingly indulged their bias in favor of intellectuals. School participants, in both oral and written records, have focused particular attention on this fact. Eastern unionized immigrant working women displayed great sophistication and interest in economic questions. As students, they set the school's level of inquiry, dialogue, and tone. Hence, their presence was probably sought. Perhaps they were also seen as gaining most from the school.
At the school, course content and teaching method were continually evolving to meet changing student needs and interests. Three constants gave some stability to the instructional environment: a commitment to humanistic education; a faculty drawn almost exclusively from the eastern academic community and not from the labor movement (some instructors were YWCA Industrial Department staff members); and the presence of a policymaking arm, the Joint Administrative Committee, composed of equal numbers of Bryn Mawr representatives and industrial women.
Of incidental interest are the unlikely circumstances that surrounded M. Carey Thomas's decision to make labor an equal partner in the summer school. The story added to Thomas's reputation as unpredictable. Hilda Smith recorded in her autobiography that the pivotal event occurred at a summer school board meeting in the fall of 1921. One of the school's leading students, a Baltimore buttonhole maker, acted as catalyst. It was Sadie Dressner who succeeded in winning over the formidable, legendary Miss Thomas. Dressner articulated her ideas on labor education to Miss Thomas. There and then, Thomas concluded that the students' objectives and hers were identical. "Convinced after that conversation that the workers desired a liberal course related to their own problems, rather than propaganda in favor of one viewpoint, Miss Thomas herself had proposed the motion that 50 percent of the members of the Board should be elected by the former students of the school." Since Smith had long realized that the school's future depended on labor's equal status, she greeted the decision with relief and delight.31
The curriculum underwent revision throughout the school's history. In the early years, students encountered an ambitious liberal arts program. The class of 1923, for example, had an eleven-hour per week course of study divided as follows: Modern Industrial Society (four hours), English (two hours), Hygiene (one hour), and an elective in either History, Art, Literature, or Science (four hours).32 Hilda Smith and her faculty discovered that so diverse a curriculum overwhelmed their average unschooled student. By 1928, the staff had redesigned the curriculum to focus on a core of practical English and economics, with science and the arts as secondary activities.33 One economist and one English professor were responsible for creating an integrated learning experience for a twenty-member student unit.34 From the school's inception, undergraduate tutors recruited from the Seven Sister Colleges supervised tutorial sections and provided one-on-one instruction.
In the course of overcoming educational hurdles—students' unschooled background and long absences from classrooms—the school created a learning environment that would bring it recognition as a model. Of necessity, it experimented with pedagogy inspired by John Dewey and progressive education.35 The staff designed courses for the adult woman worker who had an elementary school education. They generally compensated for academic deficiencies by using students' work and life experiences as the basis for discussion of economic and social issues. Personal material was the departure point for most instruction. The women frequently wrote autobiographies and discussed current events in an effort to make their aptitudes and interests central to learning. Amy Hewes, a Mount Holyoke economist who through years of summer school service became one of its revered teachers, described the experimental learning process:
Classes in English composition often started with the writing of autobiographies. Hygiene might begin with the study of the physical motions required to perform an industrial operation. How could strains be avoided and energy conserved? In the case of a group of textile workers a study ended in the composition and performance of the "Dance of the Weavers," set to appropriate music.36
In 1930 and 1931, the Depression was the unifying theme in economics classes. Students chronicled their unemployment experiences in Depression case histories: "The Effect of Unemployment on My Family and Me"; "My Experience of Being Unemployed"; "What Made Me Hold On."37 In addition, each summer school class produced a yearbook—a literary magazine containing a variety of poetry and prose based on material drawn primarily from the students' work lives.
Besides the classes and writing projects, the students participated in a rich extracurricular program. This included field trips to historical sites, museums, and factories. Highlights of the 1924 session were a debate on the Equal Rights Amendment and the school's first international folk musical festival, which featured an ethnic cross-section—Scots, Russians, Czechs, blacks—of the student body. That summer there were discussions of the national political platforms and a weekend forum entitled "The Bargaining Unit of Labor." The cooperative store and the student paper, published twice during the term as in previous years, had their place in community life. And, as in other years, the lantern ceremony, held in the library cloisters, was the season's final event.38
In 1934, during a crisis at the school, critics alleged that the curriculum had become radicalized. The school's charter had mandated "impartial," "non-dogmatic" inquiry. Had it ever been possible to adhere to those principles? Economist Broadus Mitchell believed that "advancing the rights and influence of organized labor infused all instruction."39 As early as 1922, in Amy Hewes's economics classes, for example, value-laden rather than value-neutral instruction prevailed. In her syllabus for "The Role of the Worker,"40 Hewes argued that the economic power of the individual worker is less than that of the capitalist. An employer's assets are his superior knowledge of market conditions and his bargaining skill. He fights for profit, not life. In a competitive system, an employer must use his economic power against workers because the public demands that he lower prices.
Hewes's outline expressed union principles. Antagonism between employer and employee regarding output requires the formation of unions. The employer's chief goal is increased production and decreased cost. The union's goal is restricted output. The latter is seen as necessary for wage and job retention. To eliminate unfair bargains and job insecurity, workers must act as a unit.
In Amy Hewes's course there clearly was a prochange, prounion bias. Twelve years later, a Communist party member was on the faculty, teaching from radical materials. The presence of this Communist, Emanuel Blum, showed the students' influence: they had lobbied for and won his hiring in 1933. The Emanuel Blum-Ellen Kennan teaching team used National Recovery Administration (NRA) Board member W. O. Thompson's statement. It read.
The trend of the National Recovery Administration has been and continues to be toward the development of monopoly capitalism in the United States.
The NRA handed over the trade associations dominated by the largest corporations in the various industries, the formulation of codes of fair competition without representation of the consumers or workers. . . . As a result of these conditions, small business is being oppressed.
The amount of goods that can be bought by workers with declining real earnings has dropped as a result of price advances created by monopolistic practice.
The only solution involves a change in class relationships. Only a government by workers and farmers can plan production, produce goods for use and not for profit, eliminate poverty, and raise the standards of living of the entire population.41
These cases indicate that ideology permeated some teaching during the school's first fourteen years. The school's reliance on experimental learning and current events made it particularly attuned to worldly politics. Classroom ideology ranged from Hewes's liberal prounionism to Blum's Marxism. Clearly, school participants enjoyed "a broad spirit of impartial inquiry and . . . academic freedom."42 Academic freedom meant one thing in 1921 and quite another in 1934. In the latter year, alternative economic systems and "isms" increasingly engaged the entire school.43 New Deal ferment brought too much reality to the Bryn Mawr Summer School and, with it, too much risk to the college.
By 1934, the Bryn Mawr Summer School for Women Workers had achieved success. It had educated 100 women workers annually. As indicated below, each summer many students left the school better equipped to take charge of their lives and to assume leadership positions in their communities and at work. But Depression-generated internal and external crises would wound its operation. The school had depended for its continuance on cooperation among incompatible forces: conservative and liberal college trustees and alumnae, union sponsors, industrial clubs of the YWCA, business and industrial leaders, and academicians. While it was possible for a tenuous equilibrium to be maintained in the quiescent 1920s, the charged political atmosphere of the 1930s proved its undoing.
Union representation at the 1934 session had increased to two-thirds of the student body.44 More students with louder voices were interested in communism and socialism. By chance, the college's fiftieth anniversary $1 million endowment campaign coincided with the radical developments within the school. Conservative members of the college's Board of Trustees (Mrs. Learned Hand, for one, who had become increasingly uncomfortable with the college's "leftist" labor school) were eager to seize an excuse to evict the school. Their opposition was sharpened by the need to raise additional endowment funds for the college. The event that galvanized the opposing forces was the Seabrook Farms strike of 1934.
The particulars of the crisis are easily summarized. A longstanding agreement had barred the school's participation, as a school, in strikes. Individuals were free to express themselves in strike activities. What occurred during July 10–12, 1934, was the involvement, as individual observers, of economist Colston Warne and sociologist Mildred Fairchild in the strike called by the workers at the Seabrook Farms in Bridgeton, New Jersey. By going to the strike "to be damned nuisances, if possible,"45 the two faculty members violated no agreement with the Bryn Mawr Board of Trustees and broke no rules. They observed a confrontation between police and teargassed strikers and gave a story to reporters. The next day, Bryn Mawr made the Philadelphia newspapers.46 This, of course, was just the turn of events for which the conservatives, influenced by Frances Fincke Hand, were looking. They claimed that the school had violated the agreement not to participate in strikes. The controversy grew into a cause célèbre of hysterical proportions and resulted in the school's eviction for the summer of 1935. Although the summer school returned to Bryn Mawr from 1936 to 1938, much of its momentum was gone and its idealistic energies spent.
The school ended, but what happened to its women students? Until now, that paramount question has gone unanswered. How did eight weeks of English and economics affect factory women? To what did health education, astronomy, folk festivals, debates, outings, lantern ceremonies, and myriad human interactions add up? Did the school alter the lives it touched? My follow-up study of fifty-four student participants, a forty- to sixty-year retrospective, confirms the school's efficacy.47
The data thus uncovered point up the vitality and importance of the Bryn Mawr Summer School. They also portray the follow-up sample whose mean age was 72.7 years in 1982. Native-born, urban, Protestant women respondents outnumbered Catholics and Jews. A majority came from the Northeast and had been recruited by the YWCA. Unions recruited the second largest group of students, who came primarily from the needle trades. Half of the women in the follow-up sample were union members.
There were some differences between the follow-up sample and the matriculant sample. The follow-up sample had fewer "other factory" workers, was somewhat better educated, and was more likely to be born in the United States and recruited by the YWCA and the NWTUL.
Most respondents credited the summer school with giving them an enhanced self-image, greater general knowledge, and changed personal lives. A comparable percentage viewed positively the interaction of diverse social and ethnic groups. Almost half the respondents noted improved social skills, while a majority believed the school had furthered their careers. One-fifth of respondents felt that the school had had no impact on their work.
Almost three-quarters of the respondents felt the school could not have been improved. One-third had no idea why it ended, while others thought its radical image and inadequate funding were the reasons.
The survey illuminates the school's impact on employment and careers. Worker-students clearly realized the founders' aspirations. Their subsequent lives followed widely divergent paths. Some experienced dramatic upward social mobility, perhaps a tribute to faculty role models. Others moved into trade union leadership. The canvass yielded the following: eight women continued in the same industrial work until retirement, twelve left paid employment for full-time homemaking, six left industry for either retail or white-collar work, and seven combined homemaking with community volunteerism. Five became middle-class professionals, while two gained college scholarships (to Barnard and the University of Wisconsin) through the direct intervention of summer school personnel. Fourteen provided no career data.
Twelve heeded the school's message to assume a greater responsibility for the solution of industrial problems. The ten who became shop chairladies and volunteer organizers for their unions are now chiefly remembered by co-workers, daughters, and granddaughters.48 Carmen Lucia and Elizabeth Nord became vice-presidents of the United Hatters, Cap, and Millinery Workers International Union and the United Textile Workers Union, respectively. Ultimately, Nord represented labor on the Rhode Island State Unemployment Compensation Board from 1956 to 1974.
Outside evidence has established the school's national contribution to union leadership training. Six of seventy-five subjects in the Twentieth Century Trade Union Women Oral History Project had been students at the Bryn Mawr Summer School.49 They were Sara Barron (ACWA), Sara Fredgant (ACWA), Dolly Lowther Robinson (ACWA), Elizabeth Nord (UTW), Carmen Lucia (Hatters Union), and Bonnie Segal (ILGWU). Rose Pesotta, who predeceased this study, attended the school in 1922. She became a leading trade unionist in the 1930s and 1940s and the only female vice-president of the ILGWU's executive board.50
For many of the faculty, the school's impact was as powerful as it had been on the students. It was their first opportunity to help the disadvantaged, an experience that proved irresistible and pivotal. Teaching assistants and instructors Margaret Honour, Elizabeth Lyle Huberman, Anita Marburg Lerner, Oliver Loud, Millicent Carey McIntosh, Broadus Mitchell, Mark Starr, Susan Shepherd Sweezy, Caroline Ware, and Colston Warne said the school fueled their dreams for equal opportunity and social justice.51 The faculty joined or returned to their home universities or social welfare and government agencies intimately acquainted with the problems of poor and exploited laboring women.
First at Wellesley and later at Vassar, Helen Drusilla Lockwood became well known for her activism. Lillian Herstein, a Chicago social studies teacher, moved into leadership in that city's American Federation of Teachers. Rosamund Tuve, a Connecticut College Renaissance scholar, said that teaching at the Bryn Mawr Summer School "left [her] left of center."52 Brooklyn College's well-known Theresa Wolfson, a member of the 1928 and 1929 faculty, focused her reformer's energies on the workers' education movement.53 Mount Holyoke's Amy Hewes, the University of Pennsylvania's Gladys Palmer, and the University of Chicago's Hazel Kyrk54 made names for themselves through economic research. Margaret Berry and Marie Algor returned to their YWCAs with broadened perspectives. Alice Hanson Cook moved from the YWCA to a faculty position at Cornell's School of Industrial and Labor Relations.
The New Deal generated further opportunities. Hilda Worthington Smith herself was the first, in 1933, to join FDR's team. Harry Hopkins tapped her to train unemployed teachers as labor educators, first in the Federal Emergency Relief Administration (FERA) and later for the Works Progress Administration (WPA).55 Those summer school faculty and staff members who joined federal agencies were for years part of a vital Washington, D.C., summer school network. These included Marguerite Gilmore (U.S. Women's Bureau), Katherine Pollak Ellickson (AFL-CIO), Jean Flexner Lewinson (U.S. Bureau of Labor Statistics), Constance Williams (U.S. Department of Labor), Esther Peterson (Amalgamated Clothing Workers of America), Ida Craven Merriam (Social Security Board), and Caroline Ware (Organization of American States). Other faculty staked out new territory. Colston Warne, for example, founded the Consumers' Union. Esther Peterson became a link to the contemporary women's movement when she was named as first chairperson of the President's Commission on the Status of Women in 1961.
While it appears that the quality of the educational program contributed to the school's effectiveness—well-trained academics and activists taught an innovative curriculum to carefully chosen students—its force derived in part because it fulfilled a need not met by other institutions. The school was in the vanguard of education programs for women workers, offering them scholarships, support, and awareness of their individual and group potential.
The Bryn Mawr Summer School was an experiment in residential living and learning that generated stimulating personal relationships. Many respondents wrote of acknowledging for the first time their collective identity as working women. In an age when working people seldom traveled, attending the school was a broadening experience. The school enabled its students to widen their acquaintance with other laboring women and to consider common problems. They valued opportunities to meet a cross-section of the American—and each year a few European women also joined the school—female work force.
The heterogeneity of the school's students often resulted in confrontations. A New York dressmaker wrote, "The School opened for me a lot of information about the status and backwardness . . . of women from all over the country who never heard about the class struggle."56 An unemployed Lawrence, Massachusetts, textile worker remembered being labeled a "nigger lover" by her Winston-Salem, North Carolina, roommate after befriending a black girl. She was a Catholic for whom the summer meant first meetings with Protestants and Jews. She confessed to having feared them as "Satanic" and "Christ Killers."57 A New York milliner remembered that some Christians experienced another sort of culture shock: "A few gentile girls from the Midwest were so disturbed when courses conflicted with their ideas about God and religion, that they left the School."58
Cross-class encounters were central to the entire experience. Academicians and collegiate tutors mixed with social classes known only from texts. Faculty women taught factory women. Some students focused on the summer's idyllic character, writing of the access to luxury and leisure. A Virginia textile worker wrote: "Bryn Mawr was a heaven on earth for me. I had a suite of rooms. The food was good. The nurse asked me if I wanted to put on some weight. I weighed 98—I gained 14 while there."59 A New York clothing worker said: "In that day, just being on such a campus was very different in concept to what we from the factory were even aware of—only the rich knew that life. So it was a new world."60 A neckwear finisher reminisced: "It was a terrific summer, especially for those girls who were really very poor and probably never lived in the environment we had there. To them, it was out of this world to have maid service and waitresses and meals."61
Elizabeth Nord was particularly moved by the faculty's capacity for empathy: "What really impressed me . . . was how well our professors, who had a different background from ours, knew so much about our problems, what affected us as workers. Lillian Herstein told us she had done laundry and ironing to go to College."62
Another student developed a deep six-year friendship with Vassar literature professor Laura Wylie. It began with an invitation to "Iolanthe."
That was only one invitation. Then one after another followed. I spent many weekends in her home and two weeks every summer. She gave me a list of books to read, encouraged me in everything I undertook. She wrote to me twice a week for all those six years that she lived (passed on in 1932), and insisted that I drop her a card once a week just to say I was O.K.63
After her summer at Bryn Mawr, the student left the dressmaker's shop. Passing the New York City teacher's exam opened for her a thirty-five-year career at the Manhattan Trade School for Girls as a dressmaking teacher.
Faculty were more analytic about cross-class mixing. Many stressed what they had gained from the unique experience. Economist Jean Flexner Lewinson, Carter Goodrich's undergraduate assistant in 1925, remembered: "The students greatly enjoyed the companionship among themselves and with faculty and tutors and the beauty and quiet of the campus. Those with strong Marxist leanings could not be pried loose. We learned as much or more from the experience as they."64
Another teaching assistant recounted the class feeling aroused by a neighborhood party.
I remembered being delighted when many of the students were indignant at a supper party given by a would-be kindly neighbor. We had hot dogs and store rolls. But the girls had expected a good home meal, were hoping for it. They thought this was a condescending effort to give them what they were "used to." They would have loved something like steak or chicken.65
Susan Shepherd Sweezy, an undergraduate assistant and later a member of the English faculty for several summers, devoted most of her memoir to the students.
But the students were the big education for me. Girls my age who had often less than an eighth grade education, many had emigrated from Europe, many had fled pogroms, all had worked hard when they could get jobs. . . . They all had to be literate, but really had very little education. They were wonderful people, some full of flare and color, some repressed, rigid, many of them nursing strong grudges against the world. When I returned to Wellesley that Fall I changed my major from English to Economics.66
Elizabeth Lyle Huberman, another undergraduate assistant who taught English, credits the school with political conversion.
The students were wonderful. They were overflowing with knowledge of a world I didn't know but felt I should have because my grandfather was a fisherman and my grandmother was a factory worker. . . . The School turned my politics upside down. From being an unthinking Republican simply because I'd inherited my parents' view I became some kind of socialist. . . . My parents were shocked but persuaded and ended up voting for Roosevelt.67
Her transformation began in earnest when she went to work for John L. Lewis in Washington, D.C., upon her graduation from Bryn Mawr College.
The Bryn Mawr Summer School for Women Workers, 1921–1938, was rooted in M. Carey Thomas's idealism and social feminism. By unifying women through education, Thomas hoped to reduce social and economic inequities and to hasten "the coming of opportunity for the manual workers of the world."68 Thomas provided the imprimatur for the ambitious experiment. She wisely tapped Hilda ("Jane") Worthington Smith as steward. Smith proved a transcendent figure capable of maneuvering among conflicting interest groups and ideologies. Into an institution that Mary Beard once described as "unnatural"69 she infused a messianic dedication. Smith was the source of the Bryn Mawr Summer School's equilibrium, clear-eyed confidence, and continuity.
Two forceful personalities, Thomas and Smith, energized a small private college into committing its resources to laboring women's advancement.70 Bryn Mawr College alumnae made the enterprise, which was costly and national in scope, possible. The college women brought a sense of mission to the lofty experiment. They annually collected $20,000 of the necessary funds and, in collaboration with the NWTUL, the YWCA, unions, and others, recruited applicants. The work brought reciprocal enrichment. While the summer school's existence required Bryn Mawr alumnae involvement, the work repaid them in challenge and sense of purpose.
The summer school was daringly original. It was the pioneering, and perhaps unequaled, school for women workers in the United States. Within its ivied walls it mixed ideologies, social classes, and races in unique and important ways. As a collective women's experience it was without peer. Communal living and studying, conducted in an atmosphere of mutual respect and admiration, deepen understanding as no textbook, rally, or lecture ever can.
The summer school was successful as well as original. Selected members of a generation of blue-collar and bluestocking women returned to homes, communities, factories, unions, universities, and YWCAs forever changed by the eight weeks. It enabled working women to "find their place on the side of right, justice, and humanity, to be in the mainstream of modern thought."71 In its faculty, it sharpened a belief in education as a vehicle for nonrevolutionary change. Carmen Lucia and Elizabeth Nord assumed new roles as union organizers. Helen Schuldenfreid Selden went to Barnard College on scholarship. Sophie Schmidt Rodolfo eventually established a vocational school in the provincial Philippines. Elizabeth Lyle Huberman went to work for the United Mine Workers and later wrote about the Mexican labor movement. Esther Peterson remains vital and prominent in Washington, D.C.
The school carried forward liberal activism of the progressive era. In the politically quiet 1920s, it kept alive a commitment to social change, readying many of its students and teachers for the recharged world of FDR. It linked the world of Jane Addams to that of Hilda Worthington Smith to that of Esther Peterson. It linked Agnes Nestor to Rose Pesotta to Elizabeth Nord and Carmen Lucia. It enabled a generation of women to discover new inner and outer worlds. It groomed women for leadership.
Students at the Bryn Mawr Summer School for Women Workers wrote the following poems and essays between 1924 and 1933, which were printed in the school's paper, the Bryn Mawr Daisy. The final piece is from the annual "Lantern Ceremony," which was held in the cloisters at the end of the school session each summer.72
The Song of the Factory Worker
Red-brick building
With many windows,
You're like a vampire
For wherever I go,
You know
I'm coming back to you.
You have held many under your spell,
Many who have sewed their life away,
Within your walls.
You say to me,
0, you may leave
But you'll come back.
The whur, whur of the machinery
The click of the tacker,
The happy laughter of the girls,
Telling jokes.
You'll miss the songs,
They sing,
And the tired-eyed ones,
Watching the clock.
The pieceworkers,
Sewing fast
So fast till it makes you dizzy
To watch.
(They haven't time to look up.)
And under the skylight,
The red-haired girl
When the sun sets her head aflame,
You'll miss the noise and the bustle and the hurry.
And you'll come back
You'll see.
All this and more
You say to me,
Red-brick building
With many windows.
—Ruth Collins, 1924.
Hello, you big monster.
I'm not afraid of you today.
Yesterday, you played me a dirty trick
By pulling in my hand,
And crushing it till I screamed.
You laughed and roared on and on.
Louder and louder, just like a wild lion
Full of joy that has just caught its prey.
I was helpless.
To fight you would be like fighting wild beasts.
You don't care what you do to me.
Cripple me for life or take it from me.
There is one who can compete with you
And that is Fate in all her glory.
If it wasn't for her,
I wonder where I would be?
When you took the notion, you fierce-looking thing,
That I no longer needed my hand,
Fate stepped in, and said to you,
"You have all the power in this world:
Your gears, your wheels, your huge rollers,
Why? The size of a human being compared to you
Is as great as a mouse compared to him.
This human body doesn't stand a chance with you;
You will go on living and roaring
Long after the human body is dead and buried.
So why should I let you take its life or disable it?"
You paid no heed to that, did you? Of course not.
Remember when you pulled that hand of mine
And how I screamed till I could scream no more?
Fate heard me and she stepped in,
Like lightning the power was shut off,
For what reason, no one knows but I.
Today, I am not afraid of you.
I don't hear your terrible noise,
I hear music, louder and louder.
Oh, how I wish to dance to you,
Your roaring wheels and your terrible curse.
—Mary Kosovicz, 1926
Clatter, clatter, clatter,
As the shuttle flies in and out.
If we could only weave our thoughts in patterns,
What a history it would be.
And many tales of woe
Would be woven in the patterns.
As the shuttles go back and forth,
Ambitions and desires,
With a sense of humor too.
Discontent and admiration,
In the patterns would be woven.
—Sarah Burgess, 1930
At the age of fifteen I took my first step in the industrial world, in the twisting department of the R. Mill, a branch of the American Woolen Company. The R. Mill is situated in the west of Providence on the banks of the Woonasquatucket River.
The first morning I reported to work, after I had taken off my hat and coat, I stood around talking to some of the girls I knew. All of a sudden out of the stillness of the room a loud shriek was heard which resounded throughout the mill and seemed to be right in the room, but to my surprise I soon discovered it was the whistle outside on top of one of the roofs.
After this loud shrieking had stopped, the girls I had been talking to all seemed to scatter in different parts of the room leaving me standing there alone in a quandary, not knowing what to do.
As the girls started their machines in operation the room became a mixture of different noises. The hum of machines and the shrieking of the belts on the pulleys which keep the shafts overhead in motion so the girls can run their machines, seemed to form a throbbing sensation through my head and vibrated throughout my whole body.
As I stood watching all the different wheels turning this way and that, looking like a jig-saw to me, the foreman, a short stocky Englishman, came walking up the room. He bid me, "Good morning," and introduced me to one of the girls and told her to teach me how to run a twisting machine.
As I walked into the alleys between the twisting machines, the din of the room seemed to become ever so much louder. The girl did her best trying to teach me how to run these machines but I was so frightened of them I didn't even want to touch them. The machines really frightened me so much that the girl who was teaching me told the foreman that I was too young to do this work and too small a child to be put on them. The girls working on these machines were all around the age of thirty.
The foreman then placed me on the Foster winding machines. This was a simple job and I soon learned to run these machines very efficiently. This work was on a piece-work basis and I averaged between $20 and $25 a week for full-time work. I hadn't been working on these machines very long when one of the yarn carriers for the twisting machines gave up her work to return to school and the foreman thought I would like this sort of work so I was moved again.
This was about the easiest work I ever did, and the most interesting to me because, while working on this job I could roam all over the plant talking to girls I knew who were working in different departments. Of course, this work did not pay as much as the Foster winding but I didn't have to work so hard. This job was a standard job and paid $17.50 a week.
—Madeline, 1933
When I first started to work in J & J, it was not a union shop. I didn't know what a union was. My boss was very friendly with me; she told me if I wanted her to be my friend I was not to make friends with anyone in the shop. The girls had told me to be very careful, because she was very fussy; she kept a girl a month then fired her and got someone else. I was afraid of losing my job and stuck by her and made no friends in the shop. Darn fool that I was, I was soon to know why.
A few weeks later there was a big argument in the shop. Mr. J. had gone over to the operators and told them he had to take five cents off every dress. The girls refused to take it. So he told them if they didn't like it, they could get the hell out. After much argument and discussion they all accepted the cut. More and more dresses were coming out each week. Girls were working twice as hard as before.
A few weeks later Mr. J. came around again and told them he had to take five cents more off as dresses were selling cheaper. There was no argument this time; no one said a word. A week later he came around again and told the girls he was going to give them a nickel more on the dresses as he had gotten customers who would buy dresses for their usual price. There was much discussion among the girls that week of which I could learn nothing.
Next morning when I went to work I found the workers from my shop in front of the building. As I came towards them, the men approached me and told me not to go up to work as they were striking. Everywhere you went you could heard the word, strike, strike, strike! By asking a few questions I found that the girls had not even been making enough to live on.
We had day in and day out of picketing in front of the shop without results. It seemed as though my boss got her work out just the same. So we kept a closer watch on the shop; this was very hard to do, because there were police everywhere; if you just stopped for a minute, you were told to move on and if you didn't do it, you were shoved right into the patrol wagon. On one part of the street the scabs in the shops above threw spools of thread at you and in addition to this the police would come prancing up to the sidewalk on horseback and try to scare you away. But it seemed the more the police threatened us the stronger our force grew. More and more people were joining us each day. People who knew nothing about our work used to come by and ask us how we were making out and wish us luck. We sure needed it.
One morning about 11 o'clock our shop was called to the union for a meeting. We were told that my boss had called up and told the organizer to tell the girls if they wanted to come back to come now, because after 3 o'clock he would take the five cent raise he had given them back. There was much laughter in the union, everybody took it as a joke. At noon we parted, the men went on the picket line and told us girls to go and have lunch, when we came back they would go, so we could have the shop covered all the time. Two days later my boss called the union again and told the girls if anyone wanted to come back they still had a chance. Everyone began to get uneasy; there seemed to be no results of our picketing and striking. It seemed as though the boss would not give in. The organizer told us to be patient; we would get what we wanted and more.
Next day the boss called up again and said he would give the operators five cents on every dress, but nothing to the finishers and pressers. This gave everybody courage. Girls said if he can give the operators five cents he could raise the finishers and pressers too. The organizer called back and told him we did not agree. This made him mad. That afternoon he called up again and said he would give five cents to the finishers and pressers but nothing more to the operators. There was much rejoicing in the union; now we knew our strike was almost won; we knew we would not come back till he gave the operators five cents more and cut down our hours.
Well I joined the union and got two dollars a week increase; the operators got twelve and a half cents per dress; the finishers got seven and a half cents; the cutters were on piece work and they were put on week work at forty dollars a week. We went back to work the next morning. Now our boss cannot tell us, "If you don't like it, you can get the Hell out."
I am glad I joined the union because it gained so much, not only for me and my shop, but it helped to organize many other shops in Boston. Because when girls of other shops knew what we gained they were more than willing to join.
—Mary C., 1933
Excerpts from the Lantern Ceremony Held on the Steps of Denbigh Hall During the Closing Exercises of the Bryn Mawr Summer School
Jean: Now our all too short time has ended.—We came, each with the picture of our own lives, not knowing or seeing the same problems in the lives of others. But now we go, knowing that we are not alone—but that we are many—all working together in the same direction, though we will be far apart.
This is a strange kind of going out from school. Not to a world waiting eagerly for us—but to one where we must make our own places, quietly. It will be hard to open all the doors that are closed to us. Doors closed because of hatred; doors closed because of ignorance; doors closed, but waiting to be opened. Behind large doors that now may seem too secure to be opened, there are people wanting you, people waiting to ask, wanting to have things explained. They do not know how much they want and need you.
Girls: Who are the ones that want and need us?
Youth: We are the youth of America. Five million of us are unemployed. Where are our promised jobs? Jobs we need so that we can live decently. What are we to do with our high school and college education? Every year thousands of us pour from these schools. To what? . . . We crowd into the machine of this modern world and, not knowing, become a part of its power . . . become a cog in the huge wheel that is crushing us. Are we to keep it going—what have you to say to youth?
Student: You belong with us—in the labor movement. Here your power will be used, not to destroy you, but to build for you!
Woman: We are the wives of laborers. The mothers of their children. Our men are cruelly exploited in the mills of big business, big industry. They give their lives to these mills and have so little of themselves to give to us and our children. It is we who suffer, too! Always wanting, but not having. It is we who suffer when they strike—when we see our children hungry. It is we who keep them on the line—or send them back for a paltry sum because it means bread. Bread, yes—our fight, our mothers' fight, but is there not more? Can't we have for our coarse, tired hands roses too? What have you to say to us . . . we women in the homes!
Girl: You, too, belong with us in the labor movement. Going side by side, we will fight for bread and roses!
Unorganized: We are the unorganized—we who are exploited in such ruthless ways because we do not have the knowledge of how we might work together in unity to protect our common interests. We are simply tools of the bosses—for so long we have seen only ourselves that now we are blind and full of hate and ignorance. This is our tragedy—we have no strength—we are afraid of ourselves and distrust each other. What have you to say to us, the unorganized?
Girl: Your place is with us, in the labor movement. There you will get fresh courage . . . there you will see a way.
Unemployed: We are the unemployed—do you hear the steady tramping of millions of us? Can you see millions of feet marching from agency to agency asking for work and being refused? Can you see these weary feet resting in the public squares and watching the seeds of agitation being sown in the fertile soil of discouraged hearts and minds? What a ghastly farce, the army of unemployed, increasing a thousand-fold while manufacturers close up their factories, oil up their machines, and let life rot in back alleys because these owners decide there is no more profit in human life. We are hungry, yet there are hundreds of idle factories. What is the answer, what have you to say to us, the unemployed?
Organized: We are the organized workers. We are in the labor movement; for years we have banded together to fight for our share of what we have created and in our fight we have fought each other, black against white, Jew against Gentile, union against union, leader against leader, worker against worker. We distrust ourselves; we do not know our power. Our leaders, those of our own people who have worked side by side with us, have gone from us, have forgotten the grind of the mill. Why are these things? What have you to say to us, the organized workers?
Student: We are coming to you in the labor movement, coming with eyes of youth, strength of youth strong in the knowledge that only together will we rise, but we must know. We come to you to learn with you, to rise with you (and not above you). We come to ask, to explain!
Jean: Ask and explain. Learn now the simple truth.
This research was funded by a dissertation grant from the National Council on Employment Policy, Contract No. DD 34–80–009.
1. The organizational files of the Bryn Mawr Summer School for Women Workers are located at the following repositories: American Labor Education Service Papers, School of Industrial and Labor Relations, Cornell University, Ithaca, N.Y. (hereafter cited as ALES Papers-Cornell); the Bryn Mawr Summer School for Women Workers Papers, Institute of Management and Labor Relations, Rutgers University, New Brunswick, N.J.; American Labor Education Service Papers, Wisconsin State Historical Society, Madison, Wis. (hereafter cited as ALES Papers-Wisconsin). Partial collections are located among the M. Carey Thomas Papers, Bryn Mawr College, Bryn Mawr, Pa. (hereafter cited as the MCT Papers); the Eleanor Coit Papers and Mary Van Kleeck Papers, Sophia Smith Collection, Smith College, Northhampton, Mass.; and the Hilda Worthington Smith Papers, Schlesinger Library, Cambridge, Mass. (hereafter cited as HWS Papers). Within three years of the demise of the Bryn Mawr Summer School for Women Workers, Florence Hemley Schneider's Patterns of Workers' Education: The Story of the Bryn Mawr Summer School (Washington, D.C.: American Council on Public Affairs, 1941), appeared. Schneider's work, based on her doctoral dissertation from the Bryn Mawr Carola Woerishoffer Graduate Department of Social Economy and Social Research, is largely an institutional history. She worked primarily from published materials on workers' education. Her evaluative chapter drew on her analysis of the short-term level of communal involvement undertaken by returning Bryn Mawr Summer School students in three cities: Rochester, Niagara Falls, and Pittsburgh. Schneider's work did not address itself to the long-term impact of attendance at the Bryn Mawr Summer School for Women Workers.
2. Hilda Worthington Smith, Women Workers at the Bryn Mawr Summer School (New York: Affiliated Schools for Women Workers in Industry, 1929), Appendix D, pp. 281–82.
3. Lee Katcher to Rita Heller, September 6, 1981. Lena Richman's widower, Hyman Zieph, was the source of the reminiscence.
4. Ibid.
5. William L. O'Neill coined the term "social feminism" in Everyone Was Brave: A History of Feminism in America (New York: Quadrangle, 1971). Social feminists submerged their interests as women in a multitude of philanthropic efforts. They were distinct from "ultra" feminists, who focused exclusively on a women's rights agenda. The term "social feminist" is now commonly accepted and used in contemporary feminist scholarship. The Bryn Mawr Summer School, in its promotion of women workers' interests, neatly fits the label. Some Summer School faculty have recently reacted negatively to the designation. They deny any hint of feminist militancy. They wished to change a society that discriminated against the poor and powerless of both sexes. Social sex segregation made women workers more accessible (telephone interview with Caroline Ware, November 29, 1982; telephone interview with Susan Shepherd Sweezy, November 30, 1982; telephone interview with Alice Hanson Cook, November 29, 1982). The faculty's antipathy to the term "social feminist" is more clearly understood in the context of the 1920s and 1930s. Then, "feminist" carried a pejorative meaning akin to that of "suffragette." Activists in the Bryn Mawr Summer School mold were critical of American feminists—e.g., Alice Paul and her Women's Party. They believed it to be narrow, extreme, and even ill conceived and harmful to most women. Susan Ware has shown in her study of women New Dealers that, although they were active women partisans, they were repelled by the term "feminist." "Today we would call the women in that network feminists because of their crusading efforts on behalf of women, but the women in the network consciously shied away from that label." As Ware has aptly observed, "Women activists in the 20s and 30s were not the first or last group of women to be confused and ambiguous about their priorities" (Susan Ware, Beyond Suffrage: Women in the New Deal [Cambridge, Mass.: Harvard University Press, 1981], p. 16).
6. The two comprehensive monographs that focus on the social justice movement of the 1890–1930 period, and on women's important contributions to it, are Allen F. Davis, Spearheads of Reform, the Social Settlements and the Progressive Movement, 1890–1914 (New York: Oxford University Press, 1967), and Clarke A. Chambers, Seedtime of Reform: American Social Service, 1918–1933 (Minneapolis: University of Minnesota Press, 1963).
7. J. Stanley Lemons discusses social feminist accomplishment in The Women Citizen: Social Feminism in the 1920s (Urbana: University of Illinois Press, 1973), p. ix. He argues that social feminists were chief bearers of the progressive impulse in the Harding-Coolidge era.
8. See correspondence between Thomas and Smith, MCT Papers.
9. Earl C. Kaylor, Jr., "Hannah Whitall Pearsall Smith," in Notable American Women, ed. Edward T. James (Cambridge, Mass.: Harvard University Press, 1971), 3: 313–16.
10. J. F. C. Harrison, Learning and Living, 1870–1960: A Study in the History of the English Adult Education Movement (London: Routledge & Kegan Paul, 1961), p. 263.
11. Albert Mansbridge, quoted in Margaret T. Hodgen, Workers Education in England and the United States (London: Kegan Paul, Trench, Trubner & Co., 1925), p. 140.
12. Harrison, p. 269.
13. The Bryn Mawr Summer School's financial records reveal that consistent donors, in the $1,000 and above category, included John D. Rockefeller, Jr., and the Carnegie Corporation, among others. Other substantial regular donations came from individual Bryn Mawr alumnae, as well as from Alumnae Clubs throughout the country and Bryn Mawr undergraduates. The records are more intermittent and obscure regarding union support. Extant, however, are some letters acknowledging donations from the Amalgamated Clothing Workers of America (ACWA), the International Ladies' Garment Workers' Union (ILGWU), the Brotherhood of Sleeping Car Porters, and the Electrical Workers Industrial Union, to name the most prominent unions ("Bryn Mawr Summer School Finances," ALES Papers-Cornell, Boxes 1, 6, 10, 11, and 44).
14. M. Carey Thomas, "1922 Address to the Bryn Mawr Summer School," quoted in Smith, Women Workers p. 4. This speech is the only extended discussion Thomas ever provided about the summer school.
15. As the school's implementation proceeded, Thomas used her weekly chapel talks to keep the college community informed of developments (M. Carey Thomas, "Chapel Talks," February–March, 1921, M. Carey Thomas Papers).
16. M. Carey Thomas, "Notes for the Commencement Address June 7, 1907," quoted in Roberta Frankfort, Collegiate Women (New York: New York University Press, 1977), p. 37. Frankfort charts Thomas's initial absorption with and later movement away from the scholarly ideal in "Martha Carey Thomas: The Scholarly Ideal and the Bryn Mawr Women," (pp. 26–40).
17. M. Carey Thomas's niece, Barnard president emeritus Millicent Carey McIntosh, brings the clarity of an eyewitness to the issue of noblesse oblige. Mrs. McIntosh was at Bryn Mawr during the period under scrutiny. She was a member of the class of 1920, a summer school tutor in 1922, and an English faculty member in 1926. She rejects "noblesse oblige"—connoting a self-conscious do-goodism—as Miss Thomas's motivation. Instead, Mrs. McIntosh presents Miss Thomas as a committed reformer applying the values of her Quaker upbringing to social problems. She writes, "[Miss Thomas's! record in starting the Carola Woerishoffer [Social Work] Department, in sponsoring an ultra-progressive [the Phoebe Anna Thorne] School with attendant courses in Educational Theory, suggest that she took unpopular steps out of conviction that Bryn Mawr must make its contribution to social justice. Even when I returned to Bryn Mawr in 1926 . . . there was faculty resistance to social science and education courses as diluting Bryn Mawr's classical, liberal arts curriculum. If anything, the Summer School would (and probably did) get Miss Thomas into trouble with some of her more affluent alumnae" (McIntosh to Heller, October 23, 1982; telephone interview with Millicent McIntosh, November 29, 1982).
18. See Mildred Fairchild Woodbury, "Susan Myra Kingsbury," in Notable American Women, 2: 235–36.
19. Interview with Hilda Worthington Smith, March, 1976.
20. Bryn Mawr College undergraduates actually had started the program but had operated it in a desultory fashion. It was Smith who made it viable. Smith credits Albert Mansbridge, pioneering leader of the British WEA, with providing inspiration. Mansbridge had been a guest lecturer at the college sometime during 1919 (see Hilda Worthington Smith, Opening Vistas in Workers' Education: An Autobiography of Hilda Worthington Smith (Washington, D.C.: By the Author, 1978), p. 106.
21. See Joyce L. Kornbluh and Lyn Goldfarb, "Labor Education and Women Workers: An Historical Perspective," in Labor Education for Women Workers, ed. Barbara M. Wertheimer (Philadelphia: Temple University Press, 1981), p. 19.
22. NWTUL women who endorsed the Bryn Mawr Summer School plan were Mable Gillespie, Frieda Miller, Agnes Nestor, Pauline Newman, Margaret Dreier Robins, and Rose Schneiderman.
23. Smith, "School Purpose," in Women Workers at the Bryn Mawr Summer School, Appendix H, p. 304.
24. Extant are application forms, alphabetically arranged and divided into categories of accepted and rejected students. A statistical analysis required selection of years for which both accepted and rejected sets were equally available. The choice of reasonable time spans was another consideration—1924, 1929, and 1931 were selected. Every second accepted application was selected for the statistical analysis, giving an N of 155. For the rejected group, 14 were randomly chosen for each year, giving an N of 42. The fact that complete sets of data were missing for the years 1933 through 1938 precluded the possibility of analyzing the school's admissions policies for its entire duration ("Student Application Forms," ALES Papers-Wisconsin, Boxes 8–10, 27, and 55–57).
25. Since figures are unavailable, the degree of competitiveness in the admissions procedure is a matter of speculation. Based on my counts of the accepted and rejected forms, I estimate that in 1924, 105 of the 184 applicants were accepted (57 percent); in 1929, 98 of the 203 (48 percent); and in 1931, 91 of 116 (78 percent). These figures give an overall acceptance rate of 58 percent.
26. Leslie Woodcock Tentler, Wage Earning Women: Industrial Work and Family Life in the United States, 1900–1930. (New York: Oxford University Press, 1979), p. 59.
27. Ibid., p. 85.
28. Leo Wolman, The Growth of American Trade Unions: 1880–1923 (New York: National Bureau of Economic Research, 1924), pp. 98, 106.
29. See U.S. Bureau of the Census, Fifteenth Census of Population (Washington, D.C.: U.S. Government Printing Office, 1930), pp. 6–11.
30. Ibid.
31. Smith, Opening Vistas, p. 160.
32. "1923 Publicity Brochure," HWS Papers, Box 12, Folder 221.
33. Bryn Mawr Summer School Curricula, ALES Papers-Wisconsin, Boxes 12–17.
34. Smith, Women Workers, pp. 62–65.
35. The School produced a voluminous archival record detailing its educational philosophy. Seemingly absent is an acknowledgment of John Dewey's influence. Two faculty members were highly conscious of the Deweyian impact and believe that the school deftly integrated theories of progressive, labor, and adult education (interview with Alice Hanson Cook, December 1980, and questionnaire response from Oliver S. Loud, 1982).
36. Amy Hewes, "Early Experiments in Workers' Education," Adult Education 6 (Summer 1956): 216.
37. "Unemployment Histories," ALES Papers-Cornell, Box 3.
38. "1924 Publicity Brochure," HWS Papers, Box 12, Folder 221.
39. Interview with Broadus Mitchell, January 1982.
40. Course Curricula of 1922, ALES Papers—Wisconsin, Box 2.
41. Course Curricula of 1934–1938, ALES Papers-Wisconsin, Box 22.
42. Smith, Women Workers, p. 7.
43. The intellectual freedom that students and faculty enjoyed was clear from questionnaires and interviews with former instructors: "In the general ferment of the 1930s . . . there was nothing unexpected or illegitimate about the interest and the engagement of teachers and students at Bryn Mawr with the issues of the time—nothing alarming about representation of diverse radical 'sects' in the student group or faculty" (questionnaire response from Oliver Loud). This perception was substantiated in interviews with Esther Peterson, January 1977 and May 1981; Susan Shepherd Sweezy, July 1981; Colston Warne, September, 1976. The official archival record is less revealing. Euphemism and indirect wording are standard. Hilda W. Smith later described student activism of 1934: "[The unionized students! came into the School with very definite ideas of the kind of help they needed through an educational program. They were actually the younger leaders in the labor movement and had certain specific problems in mind on which they wished illumination.
Some of our critics at the College believe we should offer a cultural course, so called, making economics only incidental. The School believes that such a course would not attract the able, intellectual girls and that we should have only the more superficial students who would be interested in coming to the School. . . . We are not committed in our teaching to any one theory, social or political. We do attempt to give opportunity for a full discussion of all these theories, pointing out to the students the need for further study . . . to come to any understanding of these complicated questions" ("Statement by Miss Hilda Smith" [n.d.], Mary Van Kleeck Papers, Sophia Smith Collection).
44. Two-thirds (sixty-three) of the students at the summer school in 1934 were union members. More than half of these women were in three unions: the Amalgamated Clothing Workers, the Inter'l Ladies Garment Workers Union, and the American Federation of Full-fashioned Hosiery. Significantly, half of the women had joined their respective unions since June 1933—a response to Section 7A, National Recovery Administration (see "Meeting Minutes Bryn Mawr Board of Directors," October 21, 1934, HWS Papers, Box 12, File 223).
45. Interview with Colston Warne.
46. See Philadelphia Record (July 9, 1934), pp. 3–4; and Philadelphia Inquirer (July 10, 1934), pp. 1, 4.
47. Fifty-four, or 3 percent, of the Bryn Mawr Summer School's 1,610 students participated in the survey I conducted between 1977 and 1982. Statistical data and quotations are derived from the completed questionnaires.
48. Besides Carmen Lucia and Elizabeth Nord, other union activists are: Jane Ogden Arenz, Helen Carr Chamberlain, Carolyn Morreale Cancelmo, Janvier Gauthier, Freddy Drake Paine, Edith Berkowitz Parker, Bessie Weiss Rabinowitz, Ann Baden Sampler, Rose Marshall Sylvia, and Edith Kowski Wallstrom.
49. The former Bryn Mawr Summer School students in the oral history project are: Sara Barron, Amalgamated Clothing Workers of America (ACWA); Sara Fredgant, ACWA; Dolly Lowther Robinson, ACWA; Elizabeth Nord, Textile Workers Union of America; Carmen Lucia, United Cap, Hat and Millinery Workers Union; Bonnie Segal, International Ladies Garment Workers Union (ILGWU) (The Twentieth Century Trade Union Woman Oral History Project, Program on Women and Work, Institute of Labor and Industrial Relations, University of Michigan-Wayne State University, Ann Arbor, Michigan, 1978).
50. See Alice Kessler-Harris, "Rose Pesotta," in Notable American Women: The Modern Period, ed. Barbara Sicherman and Carol Hurd Green (Cambridge, Mass.: Harvard University Press, 1980), pp. 541–42.
51. These findings emerged from my questionnaire canvass. Additional information came from interviews: Marie Elliot Algor, August 1981; Alice Hanson Cook, December 1980; Katherine Pollak Ellickson, May 1977; Marguerite Gilmore, May 1977, and May 1981; Jean Flexner Lewinson, May 1977; Ida Craven Merriam, May 1977; Broadus Mitchell, January 1982; Esther Peterson, January 1977 and May 1981; Susan Shepherd Sweezy, July 1980; Caroline Ware, May 1977; Colston Warne, September 1976; and Constance Williams, November 1976.
52. See Thomas P. Roche, "Rosamund Tuve," in Notable American Women: The Modern Period, pp. 702–3.
53. See Alice Kessler-Harris, "Theresa Wolfson," ibid., pp. 742–44.
54. See Elizabeth Nelson, "Hazel Kyrk," ibid. 405–6.
55. See Ware, pp. 111–14.
56. Mary Kerewsky Friedman, class of 1923.
57. Mildred Olenio, class of 1930.
58. Ida Radosh, class of 1923.
59. Thelma Brown Haas, class of 1936.
60. Freddy Drake Paine, class of 1934.
61. Olive Heller, class of 1934.
62. Elizabeth Nord, classes 1923 and 1924.
63. Beatrice Owen, class of 1925.
64. Jean Flexner Lewinson, 1925 faculty.
65. C. A., 1928 faculty.
66. Susan Shepherd Sweezy, 1927 undergraduate assistant, 1933–1936 faculty.
67. Elizabeth Lyle Huberman, 1936 faculty.
68. See p. 112–13.
69. Mary Beard wrote to the Fact Finding Committee established to investigate the Seabrook Farms "eviction" that the situation confirmed her original opinion that the school was "an unnatural educational project—artificial from the women workers and artificial for the College sponsors" (Mary Beard to Fact Finding Committee, May 1935, Mary Van Kleeck Papers).
70. Bryn Mawr College alumnae numbered 2,500 in 1920.
71. Interview with Alice Hanson Cook.
72. The poems, essays and skit written by participants at the Bryn Mawr School for Women Workers are from the Hilda W. Smith Papers, Schlesinger Library, Cambridge, Mass., Box 13.