The Businessman's Wife at Work
The home is a place for leisure, where the amenities of life are to be fostered, where the spiritual values are to be conserved. . . . The home undoubtedly exists primarily to build the personalities of the next generation, to surround children with that environment which will call out the best that is in them; but to do this adequately, the personalities of both mother and father must also be released, and those of the workers within the home.
—Amey E. Watson, "The Homemaking Industry," 1928
Husbands and children expected to find the home a healthy, sustaining retreat from the outside world, as it had been depicted in popular culture since the mid-nineteenth century. At home, one found appropriately cooked food, charmingly served; clean clothes; clean, orderly, and refreshing spaces for bathing, sleeping, eating, and socializing; and happy, well-mannered children. The time-consuming tasks required to meet this ideal represented a labor of love—of service to the family's members.1
Physical labor, hundreds of diligently performed tasks, made possible this pleasant existence. These were not, as we saw in Chapter Two, to require that the wife sacrifice her existence to her family's; rather, she must organize the family resources so that she, too, joined in the home's gracious living. How a wife got the necessary housekeeping done so that she retained time for the demands of homemaking is the subject of this chapter.2
First, the MCH reconceived her work as an analogue of her husband's work: management. By the end of the 1910s, middle-class husbands worked as managers and leaders in ever larger and more complex corporate and professional enterprises; these jobs became a middle-class norm.3 Their wives likewise aspired to transform housework from manual to managerial work. A workingman's wife, caring for a man whose clothes were dirty from a day of physical labor, could easily see the bargain between her husband's work and her own; a bank manager's wife could not.4 Business-class wives owed it to their husbands' careers and to their own feelings of equality and self-worth to be efficient managers and gracious hostesses, combining professional skills with the social style of the cultivated and wealthy.5
"Keeping up with the Joneses" became an American cliché in the 1920s. For middle-class wives, it was an imperative. A workingman's wife might shop for the cheapest or most durable of goods and expected to raise the family's living standard by buying good food and clothing and imaginatively reshaping it for aesthetic benefit. Business-class wives shopped for style as well as durability; their job was to increase the family's comfort and freedom from mundane concerns. Working-class wives learned about politics and took their opinions from their husbands; middle-class wives continued to develop independent thought in book clubs and discussion groups, following practices begun during the 1870s.6 It was socially acceptable for working-class wives to work to earn needed income; middle-class wives argued for not wasting their intellectual training. Both middle-class and working-class homes catered to husbands and children, even when wives worked, but the middle-class wife was distinguished by her superior organization and consumption.
With service the central concept of home living, wives had few choices: do the work themselves as servers, buy services in products already made, or buy and manage the labor of other women as substitutes for wives. (Well-to-do wives, of the sort who incorporated local societies into the national Junior Leagues in 1921, presumably had a staff of servants so that they could devote their energies to the public good.) Buying home equipment reduced the wife's physical labor; it did not bring the same benefits as turning the work over to a servant so that the housewife could enjoy the benefits that suffused the warm imagery of home. As one writer said,
There isn't one of us who does her own housework who doesn't also cherish the hope that one day she will have human assistance in the process. Science has been an enormous help in lightening the white woman's burden, but it'll be a long time before we're offered a satisfactory substitute for somebody else to do the housework, light or heavy.7
Surely many women succumbed to the desire to be mothered directly and not just through the vicarious pleasure of their own caretaking. A social system with working-class women available to be hired as servants increased the possibility that the wife could also enjoy at least moments of infantile regression.8
Husbands, who paid for the privilege, and children expected every sort of home comfort. Wives acted as the agents to buy things the family wanted and to wangle or coerce them out of hired workers. When they failed, the only recourse was for the wife to do the work herself—and to feel herself sunk unfairly into domestic servitude. A wife was torn between her family's demands and those of the servants she wished to placate; though she was often a mediator between the two groups, the wife's material interests remained firmly bound to her male breadwinner.
An exemplary schedule in such a home comes from a fictional account of one household's day published in the late 1930s by Fortune magazine to convey information gathered from a poll of readers yielding seventeen thousand responses and a survey of three thousand local women's clubs.9 In the house of William and Dorothy Smith, successful and jovial Mr. Smith
wants to get up in the morning in an orderly room; bathe and shave in a bathroom equipped with clean towels and toilet articles that are in their right places; leave the towels, however, in a soggy heap on the bathroom floor; and returning to his room, find clean underwear, socks, shirt, collar, and handkerchief in the proper drawers. He wants to go into a pleasant dining room for breakfast and find no traces of the poker game of the previous evening. He likes his newspaper at his place, his fruit ice cold, his eggs and sausages sizzling from the fire, his toast hot, crisp, and golden, and his coffee just so—boiling, fragrant, and of an exact strength. He wants to find his hat and overcoat without falling over tricycles and ice skates in the hall closet.
Many of the things that have to be done so that Mr. Smith can get ready to go to work in the morning are done, in this fictional household, by Anna Johnson. She has been up since 6:45 and cleared the ashtrays and glasses from last night's poker game; she has cooked and served breakfast, and she will clear and tidy the bathroom during her morning duties.
Dorothy Smith appears in the Fortune account after all these chores are completed, for "Mr. Smith likes his wife to kiss him goodby at the door; and as he leaves he may allow that they had better make it early tonight in view of last night's poker game, which lasted very late. He will be home for dinner at six-thirty, and no company. Mrs. Smith says fine," since she has "already told Anna that to make up for the extra work caused by the poker game she can get off early tonight to go to the movies."
Having seen her husband off, Dorothy Smith consults with Anna and plans "a simple evening meal: tomato soup, hamburg steak, baked potatoes, string beans and apple sauce with sponge cake that Anna baked yesterday." This three-course meal can be served and cleaned up by "quarter to eight" so that Anna can make her movie date. Dorothy then makes the beds for herself and her children, who have been sent off to school. She dresses and goes grocery shopping.
In the afternoon, the children arrive from school, and Anna gives them snacks. Dorothy sets the dinner table and is responsible for an evening chat with her husband and children. The Fortune account varies the evening story with an episode apparently common in middle-class households—inviting company for dinner.
Forgetting his morning resolution, Bill Smith responds with instant sociability to a visiting friend from out of town and asks him and his wife to dinner. He telephones his wife, who must inform Anna about this change in plans, and together they make the decision that "hamburger is not good enough for guests," so, at 4:00 the menu is changed, with steak and french fries replacing the hamburger and "homely" baked potatoes.
When Bill arrives home with the guests,
he wants to find Dorothy smiling on the doorstep and the children rest-fully out of sight for the night. He wants to find some nice little canapes in the living room to eat with the cocktails, but he wants to go to the pantry to make the cocktails himself. He wants to make Bacardis tonight, and in doing so spills sugar on the floor and leaves lime skins and some juice on the drainboard. He wants to sit around over the Bacardis and canapes until everybody is feeling good and then go in to dinner with a definite sense of pride in his house, his wife, his drinks, his food.
These are the just rewards of the successful man, Fortune implies; in addition to the promotions his hard work have earned him, Bill feels "he has also earned a pleasant home, a charming wife, children, an automobile, and every minute of the leisure in which he enjoys them."
Sharing her husband's views, Dorothy's main job is to make certain that her husband is unbothered by the work of keeping him comfortable and enabling him spontaneously to invite guests home to a restaurant-quality meal. To be attractively groomed and able to join the social conversation, Mrs. Smith relies on another woman to cook dinner and to keep it palatable until her husband is ready to bring his guests to the dinner table.
The outcomes, of course, are that the food is overcooked from waiting, Anna misses her date and alienates her boyfriend, Dorothy has to cajole Anna not to quit, and Bill Smith has a hangover the next morning. These problems, however, are not Mr. Smith's fault. He is, as the Fortune writer's lightly satirical tone implies, messy like most men and not so careful as women are with domestic tasks.
The problem is Dorothy's management and her assumption "that Anna is of a different, and lower, class." Anna is Dorothy's employee and not Bill's, and it is up to Dorothy to figure out how to mediate between her gregarious husband's spontaneous desires and her domestic's justifiable expectation to be treated like workers in other jobs. Bill Smith's expectations are not the problem; Dorothy's management is. Fortune assumes that Bill, like other bosses, cannot make such errors about employees because "he knows, and everybody else knows, that he is giving orders to his political and social equals (using society in its broad sense) and not to menials." If Dorothy wants to do her job properly and cannot manage her time and budget to hire the work done, then she must do it herself.
This version of a "day in the life of the Smiths" was fictional, but the same message pervaded home advice and housewives' own accounts. A significant part of the wife's job was to protect a husband's feeling that achievement in the public world entailed effortless comfort in the private world. Successful men, in this scenario, experienced home with a powerful bliss of infancy, when physical wants were served by a congenial mother. (Children in this account were kept out of the father's way so that they did not compete for attention and services.) He could be as messy as he liked, and the products of his waste would disappear with no effort on his part. He could violate the order with which he ran his business and suffer no penalties. He could make a mess and not have to clean it up.10
Between 1920 and the end of World War II, American housewives had a three-part job: managing labor (their own or someone else's) to produce cooking, laundry, cleaning, and child care for a middle-class household; displaying graceful aplomb in purveying these service products; and maintaining a social life with their friends and husbands. Manuals, textbooks, popular writings, and women's personal accounts convey the weight of the multiple demands. Yet once the flurry of cooperative experiments during World War I had passed, no one conceived the job as other than the problem of the individual housewife. To achieve the level of service described in the Fortune story, wives had to get particular household jobs done and maintain a social existence for themselves.
Women's clubs offered a sociable way of meeting two responsibilities: self-development and gathering information about child rearing and home management techniques. A New England tradition since the 1820s, secular mothers' clubs revived in Cambridge, Massachusetts, in the 1870s and continued for almost a century. Cambridge wives, many married to Harvard University faculty members, formed four generations of mothers' clubs, discussing child rearing and nutrition in the early years of each club's existence and turning, when the children that occasioned the clubs' formation were grown, to travel accounts, literature, and politics. The Cambridge clubs met at 2:30 to have time for presentations and tea before the members returned home to supervise dinner, indicating their reliance on servants to attend to children in the afternoon.11
Two Seven Sister colleges set up institutes to aid educated women such as those who met in the Cambridge mothers' clubs: Vassar College's Institute of Euthenics and Smith College's Institute for the Co-Ordination of Women's Interests. Under the direction of Ethel Puffer Howes, the Smith College institute developed a project to locate and place older and younger women as assistants to Smith College alumnae who had "household responsibilities, such that [they are] enabled to continue some measure, at least, of the work for which [they] have been trained," released "from care, or interruption."12 The Vassar institute responded to "the unrest among women [who] want adequate rest, exercise, recreation, mental stimulation, times for personal upkeep" with a recommendation for better "household organization" through the use of "business methods" and putting "in all the time-saving equipment possible."13
As college women met in clubs to discuss means for running their households and to sustain their identities as educated women with interests outside housework, they also imbibed and perpetuated rising standards of service production. During the 1910s, and in greater numbers in the 1920s, many college women enrolled in expanding departments of home economics. Women majored in the field, took courses, or became aware of advanced knowledge from their friends who were in such classes. Having learned theories of food chemistry and experienced standards of laboratory hygiene, as well as learning chemical analysis of textiles and cleaning methods and preparations, middle-class women brought new ideals to running their own homes and to assessing their friends' homes. Standards developed in high school or college courses were reinforced by vast amounts of publicity and public writing on how to design, furnish, and use the home, much of it created by home economists who found jobs with commercial companies and retailers. One listing of "education work in Home Management . . . being done by many manufacturers and wholesalers" found eleven categories in use: "Daily paper advertising; Daily paper reading articles; Magazine advertising and reading articles; pamphlets, samples and circulars; Demonstrations; Lectures with or without demonstration; Motion pictures; Display and Exhibits; Bill Boards; Special reports of Laboratory and Research Work."14 Some women gained incomes purveying standards that all MCHs were expected to meet in their own homes.
What were these standards, and how did an MCH in possession of a full-time or a daily domestic organize her work? What chores did housewives feel they must do themselves, and what tasks did they think appropriate for turning over to a hired worker? Which tasks did wives feel particularly stigmatizing as signs of an inadequately funded or improperly ordered household?15
At the beginning of the period, a popular home economics textbook offered a skeletal schedule for a week: "Monday—1) Put house in order, 2) Cook for Tuesday, 3) Prepare for laundering. Tuesday—Do Washing. Wednesday—Iron and bake; do thick starching. Thursday—Finish ironing. Friday—Put house in order. Saturday—Bake and plan for Sunday."16 The heavy emphasis on laundry left little time for putting the house in order, though the time was allowed for baking. Such an outline assumed that a few large tasks defined the week's work and that the housewife did not need instruction about the other tasks that fit in between the big job of laundry.
By 1940, by contrast, a daily schedule for "a full-time housekeeper" delineated the upkeep that a husband like fictional Bill Smith had come to expect. Every day the bathroom was cleaned to meet standards of hotel hygiene; the housekeeper was to "wipe tub, basin and floor. Wash glasses. Clean toilet. Change or refold towels and washcloths. Check toilet paper, soap, and mouth wash for replacements." After cooking lunch and dinner, she was to "brush kitchen floor, wipe working surfaces and stove." The weekly tasks, still arranged day by day, were as follows:
Monday: Laundry.
Tuesday: Ironing day. Marketing day. Sort and put away laundry.
Wednesday: Day off!
Thursday: Thorough cleaning of bedrooms (including vacuum-cleaning rugs, turning mattresses and changing bed linen, wiping finger marks from woodwork with damp cloth, dusting moldings, mopping closet floors).
Friday: Thorough cleaning of living and dining rooms (including vacuum-cleaning rugs and upholstered furniture, vacuum-cleaning cloth lampshades and washing others with damp cloth, wiping finger marks from woodwork with damp cloth, dusting all moldings). Clean icebox. Marketing day.
Saturday: Scrub bathroom floors and walls.
Finally, what were called the "Do-When-You-Can-Duties" could be fitted into spare time: "polishing silver—when it needs it. Polishing furniture—when it needs it. Waxing kitchen linoleum. Vacuum-cleaning beds. [And] washing windows (we hope you can hire someone for this.)"17 This was a housewife's schedule, but it could be adapted for hiring a "general houseworker," who would, of course, have Thursdays off instead of Wednesdays and not enjoy the flexibility of the housewife in taking extra time off or shirking some tasks.
High-quality housekeeping incorporated equipment advocated from the beginning of the 1920s by experts such as Christine Frederick. Frederick thought that housewives who lacked servants could manage most of their work by purchasing "fireless cookers," which would reduce "ashes, soot or smoke, to make further cleaning labor for the homemaker," and vacuum cleaners, washers, and dishwashers, which would "replace a large share of the work usually done by a permanent servant."18 Electric irons were so widely used in the early 1920s that Frederick did not even mention them.19
As the above roster of a week's housework showed, such equipment eased the physical burden but did not release the wife from the home. An MCH's actual schedule showed the advantage of servants: no dishwashing, no dinner to cook, and no heavy cleaning or washing. Instead, the wife expected to "assume responsibility for children . . . [do] cooking, baking, planning, marketing, and occasionally help with straightening the house." The schedule for this model household was "very flexible because uppermost in the minds of the parents in this household [were] the three children."
General Daily Schedule
8:00 A.M. Breakfast prepared and served by maid
12:00 Luncheon for two youngest children
6:00 P.M. Dinner (early hour to give maid free evening)
Monday
Wash day. Extra help for twelve hours. Finishes all washing and ironing including maid's.
When mistress is out maid puts laundry away (which is seldom)
Maid washes breakfast dishes
Makes bed and straightens up house
Gives children luncheon
Scrubs bathrooms and kitchen
Bathes youngest child while mistress prepares dinner
Maid sets table and serves dinner
Two older children usually help with dishes, unless they are legitimately engaged elsewhere
Tuesday
Same as Monday
Wednesday
Same as Monday. Silver is cleaned this day. Mother and children usually assist
Thursday
Extra help for ten hours for thorough housecleaning and window washing
Maid makes beds, washes dishes, straightens up 1:00 P.M. Free for day
Friday
Same as Monday. Extra work: cleaning ice box, stove and pantry
Saturday
Children are at home, consequently things do not get finished promptly as usual
maid scrubs kitchen and bathrooms, prepares food for Sunday's meal; changes bed linen
Sunday
straightens house, assists with lunch while mistress goes to church Children help with lunch dishes
Maid is off every Sunday right after lunch. The family helps her get away by two o'clock.
2:00 P.M. Free for day20
This housewife's high standard of hygiene required daily scrubbing of bathrooms and kitchen, daily straightening of the house and making beds, weekly change of bed linens, and weekly cleaning of windows, silver, and all rooms. She maintained the standard by purchasing the full-time work of one woman and the part-time, one-day-a-week work of two other women.
This housewife also considered herself a full-time worker. Her day presumably began with dressing three children before the 8:00 A.M. breakfast; moved into morning meal planning and marketing apparently accompanied by the preschool-age child; switched after lunch to afternoon child care and dinner preparation; and concluded with evening social time (notably absent from the schedule) with her children and husband.
The essentials of good housekeeping, as revealed in these accounts, were cleaning, laundry, cooking and serving meals, and child care. These tasks had to be accomplished in addition to the wife's managing her own labor or that of servants, marketing, and planning social life, as illustrated in Figure 1.21
Cleaning, laundry, cooking, and child care, however, required a workweek longer than that put in by most industrial workers by the 1920s. A more detailed account helps one imagine the demands reluctant housewives felt were placed on them.
Cleaning, that one simple word, covered a series of tasks that any proficient housewife or domestic should have in her head. Tedious though it is to list them, it was probably no less tedious to execute them. Of the usual six rooms in a house (living room, dining room, kitchen, bathroom, two bedrooms), the dining room required the following work once a week:
Assemble cleaning equipment.
Pick up and put away papers, magazines, and linens.
Carry out and clean rugs and scarfs.
Remove from room and dust small pieces.
Dust walls with wall brush, vacuum attachment, or broom.
Dust woodwork, windows, and door casings.
Shake and brush curtains or use vacuum attachment.
Dust pictures.
Clean and polish mirrors, glass doors, china closets, and cabinets.
Dust and polish furniture, taking higher pieces first. Be sure to polish legs and rungs of chairs.
Use vacuum on upholstered chair seats.
Use dust mop on floor.
Clean rug with vacuum.
Replace furniture and small articles and rugs.
Straighten shades and pictures.
Check before leaving room to make sure everything is in order.
Each day the housewife checked that the room was "straightened," wilted flowers were discarded and water changed, pictures were dusted, and crumbs were swept from table and floor.22 The other five rooms got the same attention. I have recounted these tasks in detail so that readers may mentally walk through them; my hope is to convey the laborious attention required to keep houses in conformity to middle-class standards of hygiene and orderliness.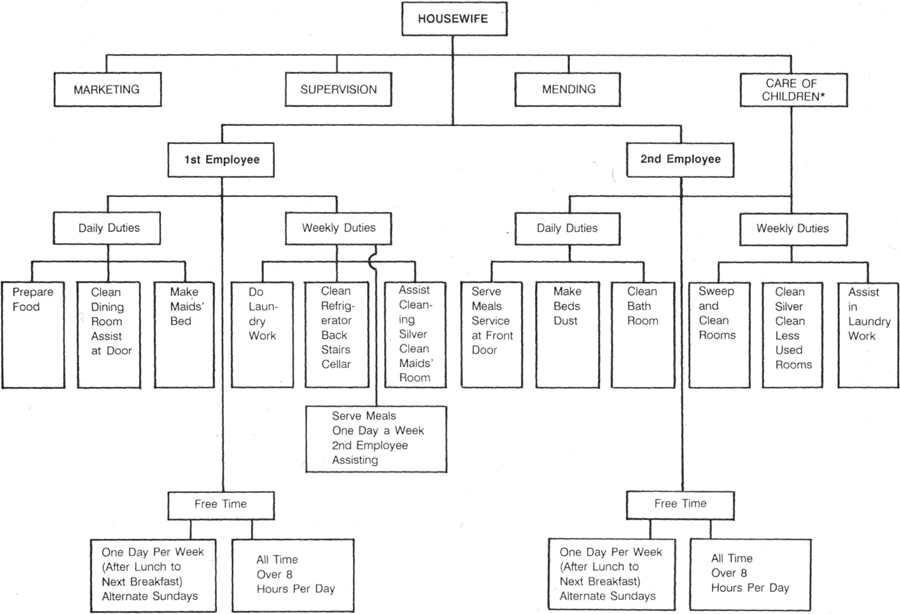 Source: Adapted from Lydia Ray Balderston, M.A., "Housewifery": A Textbook of Practical Housekeeping, 5th ed. (Chicago: J.B. Lippincott Company, 1936), 16. Copyright 1964 J.B. Lippincott Company. Used with the permission of Harper & Row. Publishers, Inc.
*Children should have a part in this schedule.
Such high standards of cleanliness required more than one worker or long hours of work. A wife could ask her family to make beds on the weekend but not during the week: for schoolchildren and her husband, "It's just one thing too heavy in the morning." She could leave straightening and dusting of the children's rooms for them after school. Older children "should certainly hang up their own clothes. But never be too great an optimist: some people have spent a life-time being taught and forced and begged to hang their clothes up, and they never, never learned how."23
Instead of relying on her family, an MCH could hire a domestic. One author gave the model of an ambitious schedule for a "part-time employee," who came in six days a week at 1:00 P.M. and left at 8:30 after serving dinner, which included cleaning the dining room and kitchen before leaving each day. She thoroughly cleaned the bathroom and kitchen on alternate days, lightly cleaned the apartment twice a week, and thoroughly cleaned it once a week. The housewife's cleaning responsibilities were making the beds and straightening the house each day.24
A survey of college-educated housewives in Bethlehem, Pennsylvania, found that only 45 percent did all the work of straightening up "toys, night-clothes, and magazines" before a domestic worker arrived. The same group of women expected their servants "to keep bathroom and kitchen in order at all times" but were
evenly divided upon whether or not they expected all pieces of furniture moved on cleaning days. 57 percent preferred having rugs carried out and shaken to having them merely cleaned by [vacuum] cleaner. 65 percent wanted their floors waxed by maid. 82 percent wanted their cushions taken out and cleaned. Half wanted floors done up on hands and knees and a little less than half expected unseen parts of furniture to be cleaned weekly.25
Cleaning entailed maintenance of heavy furniture. Varnished furniture had to be washed and polish reapplied. Old wax had to be removed and new rubbed into waxed furniture. Upholstery had to be scrubbed with a homemade soap jel or a commercial cleaner. Bedsprings had to be turned and dusted, mattresses and pads aired and scrubbed, and pillows washed. Kitchen stoves had to be taken apart and grease removed; refrigerators had to be defrosted weekly and odors removed with baking soda. Most controversially, windows had to be cleaned—a job that domestics resisted and argued should be hired out to men.26
Laundry, like cleaning, became an obsession. In the 1920s, laundry work that had been done outside the household began to return home, with scientific warnings about the danger of infection adding emphasis to manufacturers' claims on behalf of new home washing equipment. Even though home economics expert Benjamin Andrews thought that the economics of laundry production would ultimately take the work out of the home, home laundry was in the early 1920s "the most universal kind of domestic help in America. The advantages of this arrangement are its opportunity to give oversight, to control the processes," which might otherwise risk infections.27
Large quantities of clothes and linens had to be laundered because people expected to change clothing frequently. One innovation that increased weekly laundry was the passing of the detached starched collar. For almost one hundred years, from the 1820s to the 1920s, gentlemen wore shirts for many days running, needing only to change the collars and cuffs. Experience in World War I with attached collars on the shirts to military uniforms created a fad, and by the late 1920s the detached collar had passed from the scene. The new fashion, of course, required that the entire shirt be washed and ironed to clean collars and cuffs. With the addition of colored shirts to men's wardrobes in the mid-1920s, men's clothing choices proliferated and so did their wardrobes. By the late 1920s, caring for men's clothes had become a complicated and laborious job.28
As home equipment returned the weeks' washing to better-off households, wives found they had a more complex task than sorting clothes for the laundry and checking that all items were returned intact. First, clothes had to be sorted into "slightly soiled pieces" like table linens; "body-soiled pieces" like bedding, underwear, and shirts; and "colored clothes" divided among cottons and linens, lighter and darker. Before actually laundering, pockets had to be checked, stains removed, and clothes soaked for ten to fifteen minutes.
To begin washing, a batch of sorted clothes was dropped into the churning machine, while the launderer prepared rinse tubs, one with hot water and one with cold water, and bluing or bleach for dark or white garments. Clothes were fed by hand from the washer through a wringer directly into the first tub, and a second batch of clothes was put into the washer. While the second batch churned, the launderer wrung "the first batch into the second water, and finally from here into the [carrying] basket. . . . If any article require[d] starching, [she stirred] up a solution in a shallow pan, and dip[ped] it into this before consigning] it to the basket." Starch was mixed in heavy, medium, or light concentrations depending on its use for stiff collars and draperies; on "house dresses, slacks, smocks, and children's play clothes"; or on "sheer cottons, lawn, dimity, dotted swiss, and men's soft shirts." Old garments of silks, rayons, and linens might be given light starch "as a restorer."29
It is little wonder that one writer warned that though "the swishing, churning suds, the constant vital motion [of a washing machine] seemed to symbolize . . . the very epitome of energy and cleanliness, [which] we know, is next to godliness . . . after the suds came the wringing, came the hanging. . . . You [might] love washing machines in the aggregate and shy away from them in the flesh."30 A woman might well choose the hazards of sending clothes out or, if she possibly could, spend part of her household budget on a laundress to operate laundry equipment in the house.
Ironing completed the laundry task. By 1940, the standard still required ironing bath towels; one writer, however, suggested putting them "through the ringer neatly folded, and lay them with reasonable care in the basket. They will turn out tidy and pressed, ready for the shelf, and much more absorbent than if they had been ironed." A more daring suggestion: "how about simply folding the dish-towels—and the sheets—and the underwear—or are we going too far?"31 Certainly it was too far for the household that expected "never to hang away any garment . . . without pressing it."32
Maintaining high standards of cleaning and laundering enabled the family's appearance to exemplify its inner state of purity and "godliness." These tasks required hard physical labor and time. Even though the carpet might be vacuumed instead of being carried outside for beating, heavy furniture had to be moved so the vacuum could cover every bit of floor. Even though the washing machine worked on electricity, the clean clothes that emerged had to be lifted, starched, hung, and ironed. If a housewife could afford to hire only day work, it was little wonder that she hoped to get laundry and the major week's cleaning out of her purchase.
Cooking was another matter. Though meals were simplified by comparison with the prewar era, the housewife was assaulted with new information about nutrition and diet as keys to good health. Her duty to her family required producing three "protective" meals a day and making meals that could be the centerpiece to social life.33 Holiday, Sunday, and party meals inspired unusual efforts. Everyday meals defined a day's treadmill: breakfast by 8:00, lunch for children, and dinner at 6:30 or 7:00, followed by dishwashing. One cookbook hinted at this inexorability when it finished instructions for each dinner with a list of "preparations for the future" meals that could be completed while fixing that night's dinner.34
Breakfast began the day; usually it was cooked and served to a variety of tastes. Often, breakfast preparation included cleanup from the previous night. In a parody description, one Vassar critic saw a young domestic's morning: "She does not say she minds the stench of the ash-trays and empty glasses from last night's party, nor being up to clear away their traces before she gets the three-minute egg on the table in time for the [husband's] 7:55 train."35
Lunches were for children and the housewife, though she might entertain friends on a regular basis. Even if she had no "help" with entertaining, she could
cut down her output, not perhaps, on the amount of entertaining but on the type? For example, if she [found] she [could] not swing a luncheon party during a certain week with a menu of chicken in patty shells and souffle, suppose she [gave] the party anyway and serve[d] frankfurters and potato salad?36
Dinner was a central event of the day, the time for husbands and wives to socialize and to sustain friendship with each other and the time to create a sense of family unity. One textbook told the cautionary tale of "a social work student sent to aid a family that was hardly if at all maintaining its unity. . . . She insisted as the first step that the family meal be regularly prepared and that they sit down and eat together, and out of this beginning she remade family life."37
Social dinners increased the everyday demands of regular family cooking. One YWCA club member who believed in the 48-hour week for domestics, found that "our Sunday dinners made that impossible. It had been the tradition of the household that the family should have a gathering of the clan every Sunday, and I had no desire to give up that tradition when it fell to my lot to be responsible for carrying it on."38
Well-served families expected three meals a day, served formally, with multiple courses. Such service was not to require the mother to leave the table because this was disruptive of the gracious manners displayed at meals. (This is in striking contrast to working-class households in which the housewife often served the meal and did not eat until after the husband and children.) Ever ready to advocate mechanical innovations, Christine Frederick assured housewives that
the serving of meals can be accomplished gracefully and with ease, even without a servant. Some form of portable wheel tray and either warming disks or electric plate warmer or disk stove turned at "low" heat, and platters with covers are needed. . . . The reason meals without a servant are frequently interrupted with rising and confusion is not that it must be so, but because there has not been sufficient planning.39
Having a server was preferable, and special entertaining and parties required extra hands. Etiquette for table-setting and serving regularly appeared in advice books, classroom texts, and even specialized guides. The family might not enjoy such service every night, but the forms of "English or family style" serving were clear: food platters were placed by the host, and the servant brought two hot plates at a time to be filled by the host and then served, from the "left side using the left hand" to each guest beginning with the hostess. Water glasses were filled, dinner plates cleared, and dessert and coffee served without interrupting conversation.40
Housewives able to employ a full-time domestic to serve regular or special meals still had to gain nutritional knowledge to plan balanced meals and consumer information to get the best prices and products, "tasks requiring initiative, managerial ability, and a knowledge of scientific principles."41 Meal planning required the housewife to study nutrition, meal plans, and products available and to plot the use of leftovers. Two innovations especially encouraged this endeavor. The proliferation of refrigerators made it inexcusable to throw away food that could be hygienically stored and reused. "Scraps," a rural term to indicate that food left after the meal went to animals and was not necessarily incorporated into the next day's meal, ceased to be relevant in urban society. Proliferation of commercially canned and frozen foods encouraged greater diversity of menus and enabled attractive presentation of foods. "Eye appeal was regarded as important because so much of the struggle to have people eat what was good for them, rather than what they liked, involved persuading people to eat things such as canned spinach whose taste was not widely appreciated."42
A menu that showed the elegant incorporation of leftovers and canned goods started with "cream of corn soup," made from canned corn, had a main course of "vegetable salad with stuffed eggs" accompanied by melba toast, and concluded with a "cottage pudding" covered in "lemon or chocolate sauce." The menu-maker opined, "A vegetable salad is a great convenience every so often to use up those bits of vegetable that we just can't bear to throw away."43 With a refrigerator, the housewife could serve her family desserts of healthy milk disguised as ice cream, as well as leftover meats and vegetables served up in elegant aspics.44
Drama made meals an occasion. Though the housewife might use "cans or frozen foods with a simple sauce; serve cold cuts or chop suey or barbecue brought home from the delicatessen; or use packaged and semi-prepared foods," she should also "feature" favorite foods of her family:
If your husband speaks feelingly of the beauty and aroma of a standing roast, it's up to you to provide one even if it does take time to cook. If your son likes bisquits, why not have them often? . . . Families often get tired of too much semi-prepared food, but if you include one good "home-cooked" dish which will go with packaged or canned foods, you'll acquire the reputation of being a marvelous cook and manager.45
Once the meal ended, all dishes used for cooking and eating had to be washed and put away and the kitchen cleaned for breakfast. One of Christine Frederick's time-savers for a "servantless household" was to set the breakfast table with the cleaned dinner dishes so as to save the steps of putting away and getting out of dishes.46 In typical households, an 8:00 A.M. breakfast required that someone begin work by 7:30, and the day concluded with washing, drying, and putting away dishes after the 6:30 or 7:00 P.M. dinner.
Cooking and meal cleanup occupied the largest segment of time in a housewife's weekly schedule: 14.6 hours in cities of 50,000 to 250,000 and 11.7 hours in cities of 250,000 and more.47 Even with devices to reduce actual cooking time, many housewives wanted help. In a Chicago study of 1930, 84 percent of employers stated that they needed assistance with cooking, with washing dishes and weekly housekeeping as the second items listed in preference for work to be performed by hired domestics.48 In Philadelphia, "nearly half of the women (49.2 percent) in the four major occupational groups [care of food, shelter, clothing, and psychological and social needs] were engaged in occupations concerned with the preparation or serving of food."49
Of all her tasks, cooking was the one in which commercial products made the greatest inroad on the housewife's domain and work load. As live-in servants declined in numbers, housewives accepted a decline in the quality of food, though they might aspire to service for dinner. "While 'cleaning women' [hired by the day] may have taken over the house cleaning, laundering, and even child care duties of the ex-live-in servants, food preparation was usually a casualty of the new arrangements."50 Food so processed and removed from its origins as to be "dead" was one price of removing mess from the home and reducing the housewife's contact with the residue of living food. Refrigeration and cans protected the home from food contamination from live animals and from garden dirt; they made the manual work of cooking faster, though they required more cerebral study and planning. And they enabled women to count newly understood calories so as to attain new standards of slim, fit, youthful beauty.51
Child care was the ineradicable link with demanding life. Caring for children was a 24-hour-a-day job. Children could not be left alone and, before entering school, were the full-time responsibility of the mother. Middle-class mothers learned the elements of good infant care on their own, in discussions with friends and from reading. They were expected to sort out advertising claims about nutritional baby foods,52 know the correct temperature for the baby's bath, and balance play and development of the child's imagination with constraint and development of self-discipline.53 By the mid-1920s, psychology was a popular topic, and one group in Cambridge, Massachusetts, gave its entire 1926–1927 study calendar to "psychiatry and social adjustment."54 Mothers found the new dangers to children more complicated and worrisome than older ones like "teething, indigestion, mumps or measles, [and even] tonsils and adenoids, [which you could have out], but you can't subtract the unconscious."55
Nurseries and schools were obvious social reforms that benefited housewives unable to afford servants. Smith College's Institute for the Co-Ordination of Women's Interests established a nursery school intended to ease "the life of the average married woman today [and to enable her to pursue] professions that may be adaptable to a married woman's time."56 The schools made it possible for housewives with children over six to take part-time morning and early afternoon work,57 and groups such as the Bureau of Part Time Work in New York City sought to place educated women in such jobs.
During the day, any wife with small children had her hands full. As one said, "I have small children so that a maid is a necessity rather than a luxury. My maid's work is always the same. Her job is the laundry and cleaning and mine is the care of the children and the cooking" (to Jean Collier Brown, Women's Bureau, August 1938, Garden City, New York). In this household, washing the dinner dishes was included in the cleaning, which the maid finished before getting off at 7:30 or 8:00 P.M., enabling the wife to prepare the evening meal and then change her role to hostess, leaving the scullery work for the maid.
One employer described her own duties in a model schedule:
Get up, help children dress, start breakfast;
Eat breakfast, get children off to school;
Read paper, bathe, dress.
Clean upstairs;
Children's laundry twice a week;
Marketing or gardening, or baking.
Children's lunch if home;
Adult's lunch if husband is home
Free until 4:30 when children come home;
Children's supper. Start dinner
This wife also supervised a full-time, live-in domestic who washed dishes, served meals, and cooked the adults' meals; did the heavy cleaning and all the downstairs (public) spaces; and stayed at home at least four nights a week "on call" for children's emergencies,58 while the wife gave her attention to her husband in the evenings.
Child care was considered a constant, unmanageable job until children were grown and had left the maternal house. In all discussions of limiting domestic workers' hours, housewives finally retreated to child care as the most worthy and least controllable job that made home scheduling impossible: "A code for maids! I hope it fails. . . . I work far harder now than my maid does, and longer hours. Besides, no home that is a home, with children and frequent guests, can run strictly by the clock."59 Never having a claim for time of her own, the housewife was unfriendly to the idea that the domestic—a social inferior working under the housewife's direction—might make such a demand.
At the same time, the housewife had strong emotional incentives for accepting her own bondage to child care and enforcing the domestic's position as her backup. As one said, the family "was the one place in the world where she was indispensable":
I know that under the [John B.] Watsonian theory almost any trained expert can care for a child more efficiently than his own mother. . . . But what expert, without years of training in my particular family, would know that little trick I use to get the baby to finish his milk? Who else could restore Judy's shaken belief in a just and stable universe when a cold keeps her from going to a long-anticipated Halloween party?60
This author, however, talked about a 51-hour workweek for the housewife so it is unclear what portion of the time devoted to baby and Judy she considers work and what simply social time with her children.
Even when mothers described the care of children as one of their major duties in the household regimen, they expected maids to take charge during some parts of the day. Mothers did not take infants on morning marketing trips. Afternoon outings often coincided with rest time for children, who could be watched by the maid during the slower on-call period between lunch cleanup and dinner preparations.61
In chronic arguments between housewives and maids about hours worked, child care seems to have produced the most tension. This seems to have been the need that led most housewives to want full-time, live-in domestics. Children made housework a 24-hour-a-day job. They could not be left alone, so whether they needed care or social response, a responsible person must be in their presence. "When one has definite arrangements and cannot leave the house on account of children or other dependents, it is extremely annoying and embarrassing when the maid doesn't come."62
The freedom from constant child care was the greatest need regularly expressed by the wife. Indeed, wives assumed that normally five hours per day should be spent with children before doing other tasks.63 After five hours, a woman wanted relief. In an employee-employer dialogue held in 1942, when war exigencies meant that workers were hoping for better conditions and employers were reconciling themselves to labor shortages, workers offered a number of suggestions about how the workday could be constrained and how people with limited incomes could afford adequate service.
The employee-designed schedules envisioned a working day completed by 8:00 after the evening meal cleanup, and most assumed that a worker returned to her own home after the day's work. To various suggestions, the housewives replied,
"What provision is made for care of children?"
"How about child care? evening care?"
"No evening problem included. How about child care?"
"How about evening care of children?"
"How about evenings off? No mention of aid with children."
Or, as one employer put it in ranking "services needed, in order of their importance and qualifications desired":
1. Children (age 6-1/2 and 3-1/2)
a. responsibility when I am out
b. dependability, ability to act in case of emergency
c. enjoyment of being with children and ability to play with them
d. preparation of simple meals for them
e. encouragement to cooperate in household tasks whenever possible
Another employer in a household with two adults and four children listed "Services: 1) someone living in the house who can take care of children when employer is out. 2) laundry—large on account of large family. . . . Qualifications: 1) ability and experience with children." A third, in a household with one child, listed her services desired as "1) laundry; 2) night care of child; 3) heavy cleaning; 4) cooking."64
Some housewives did not think evening hours qualified as regular work to be paid, even though they wanted someone present in the house. A Fresno, California, employers' committee drafting comments on a 1938 proposal to legislate a 60-hour workweek for California domestic workers described evening hours in the home as
free time—time spent entirely as the employee sees fit, not leaving the vicinity. An example of this would be at night, after the work is done and the children are in bed, if her employer is away from home. She would be free to read, sew, entertain her friends, go to bed or anything else she wishes, so long as it does not take her away.65
A task that might represent free choice for the employer was, in this instance, projected to have the same meaning for the employee, a confusion that occurred more often around child care than any other job. "When there are children, there is a 24 hour schedule for the lady of the house, who doesn't complain about it but who does ask the helper to keep ears open for the children on occasional evenings when the employers are asked out" (to Louise Stitt, Women's Bureau, January 1941, Brentwood Park, Los Angeles, California).
The need of housewives to have time off from children was the most persistent argument for having live-in service. If the wife could not hire such service, she turned to part-time workers who performed other household duties—laundry, cleaning, and cooking—as well. Certainly, this most consuming of jobs was felt as a burden, as one story recounted by a YWCA workers' advocate indicates:
In California some years ago a maid strangled her employer's baby. At the trial it came out she had practically no free time. She worked from early in the morning until late at night. She often wished to attend club meetings or to be out with her friends and there was almost always some reason why it could not be arranged. Her resentment toward her employer grew until she did this terrible thing. I understand that after it happened women's clubs and social workers tried to get better conditions [for domestics]. The girl is now serving a life term.66
Whether or not this story was true, the desperation of a woman trapped in a house with a baby was a middle-class theme, and the violent impulse was more acceptably assigned to the domestic than to the housewife–mother, who had more freedom to leave.
Housewives indicated their preference for servants who were more available by paying higher wages for live-in, full-time workers than for live-out workers. In a 1936 Connecticut study, cash wages of full-time resident workers were $8.95 a week in Hartford and $8.42 in Waterbury. The wages for full-time, live-out workers were $6.66 and $6.21 respectively. This report concluded that the anomaly that those receiving room and board also got higher cash wages might be accounted for, in part, by longer hours for resident workers, "who in practice, if not in theory, may be considered as constantly on duty; in part by the greater skill usually required of resident servants, and in part by the many elements of personality and adjustability that enter into the employer-employee relationship."67
Though housewives preferred full-time workers, they were often not able to hire them. Day work and part-time work increased substantially during the 1920s. The ideal, however, given the work load, was to get as much work from the servant as one could. Shopping for a houseworker, managing her time, and supervising her behavior were central responsibilities for MCHs, no matter what kind of worker she got.
Purchasing service was a complex negotiation. Like any businessman or clever consumer, housewives wanted to spend as little as possible for the most work possible. Following the model of her husband's business world, the dominant model for well-run organizations, the housewife took seriously her responsibility to manage money wisely. Critical and apocryphal stories abounded during the early years of the Depression of a hostess at a "suburban bridge club" who "triumphantly explained that she had fired her $60-a-month maid and gotten another 'who gave her perfect service for $25 a month.'"68 In a capitalist economy with business standards of maximizing profits at least partially through minimizing labor costs, the housewife emulated her husband, though her actions were interpreted as "bargain hunting [—] a deeply rooted feminine instinct." In Depression America, it became all too easy for housewives to believe that they could get "a perfect treasure for $5 and a good enough person for $3 [per week]," the relief rate.69 Women were not supposed to exploit their help was the popular message, but why should a wife pay more for labor than she was forced to?
When the housewife made the hiring bargain, her work had just begun. If she purchased full-time work, or regular part-time, she had to cajole the maid into doing the onerous cleaning work to meet a high standard; she had to persuade her to work the hours around the edge of the day from breakfast through evening baby-sitting; and she had to enforce deferential behavior to maintain the feeling of service in the home. If she hired only day work or special jobs like laundry and spring cleaning, she had to define precise jobs so as to get the most work for her money. The servant had to be taught the particulars and inculcated with the vision of the wife's ideal home—clean, comfortable, well-ordered, and oriented to the development of the family members, including the wife.
One of the wife's jobs was to locate servants who did not object to the sophisticated customs of middle-class entertaining. During the 1920s, smoking and serving alcohol made illegal by Prohibition might risk losing servants or being reported to police.70 Servants' moral sensibilities were often grounded in religious worship, and their disapproval of morning hangovers was supported by legal standards of Prohibition until 1933.
Paradoxically, housewives felt that as guardians of households in which children were raised and morality taught, they must monitor the physical and moral well-being of a worker brought into the home. The ability to control behavior was added to convenience as a reason for preferring a live-in worker. Employers believed that domestics who lived out, particularly
negro women, . . . demand to go home at night for one of two reasons. Either they do really go to their homes to do the work they must neglect during the day, or particularly the younger ones want to amuse themselves and spend much too large a portion of the nights at dances, or movies or festivals & c. In either case they are trying to burn their candles at both ends and their health suffers, while the employer suffers from a tired servant utterly unequal to the requirements of her day's work.71
The housewife expected servants to maintain a high standard of hygiene and to master middle-class manners. They were to look neat and professional but not flashy. Hair must always be neat and covered by a cap or net; makeup used in moderation; perfume and fingernail polish eschewed during work; deodorant used; baths taken once a day "after the heavy work of the day has been completed"; teeth brushed; nails cleaned; shoes worn with low, neat heels; hose inspected for runs; and jewelry not to be worn during work.72
Manners when answering the telephone and door were important. The maid had to answer the telephone clearly and without using slang, identify the residence and her own status, and take messages clearly, all in language and manners acceptable to middle-class social life. An employee was to be "responsive and cheerful, and always dependable, reliable, and punctual. Her interest in the jobs [was] shown by the initiative she [took] and the way she cater[ed] to the family's preferences and needs. She must be cooperative and resourceful."73
The housewife had to persuade or inspire the domestic to cover over her physicality and manual labor with a veneer of cleanliness and neutralized sexuality. Since the domestic worker had to be fresh and neat looking while doing hard work and receiving low pay, the contradictory job demands intensified the housewife's sense that servants were inferior females; they could not be as clean, as dainty, and as well dressed as their employers, not because of poverty or work demands but because of their "nature." Housewives were graceful and cultivated creatures who needed help, and domestics were inferior females who should provide it as a matter of course.
One employer expected a servant to display "courtesy and spirit of service" by calling the household's two teenage daughters "'Miss Anne' and 'Miss Ruth,'" which two domestics had recently refused to do. She was disturbed, also, that these maids "act[ed], for the most part, as if I were going to 'put something over on them'" (to President Roosevelt, November 1934, Bethesda, Maryland). Other families expected the table service at family meals to be the same as when there were guests; one study showed that 45 percent of employers treated family and company meals the same.74
An employer expressed her lack of sympathy with servants because she felt that she "need[ed] help too [and was] ready for a sanitarium due to overwork" (to U.S. Department of Labor, February 1941, from Los Angeles, California). The housewife expected the maid to fill in the gaps between what was expected of the housewife and what she was able to do.
When I hire a maid I tell her that I should like her to be able to 'pinch hit' once in a while because of some task outside of routine duty which must be performed. . . . When a homemaker buys household service she thinks she wants greater freedom for outside interests. She wants in her employee the skill and experience she does not have. I am very dependent on the maid's time and skills. . . . The employer always prefers, if she has one maid, that she live in instead of out, because this gives her [the employer] the greater freedom.75
When experts advised housewives about how to negotiate, they did not suggest changing the service output of the home. Rather, the housewife was urged to identify more closely with the servant. One author advised employers to "realize that a household employee is a person, a very human person, with the same needs and drives which [you] and [your] families have. . . . She must feel valued, appreciated and respected." The behavior that indicated the "respect for the labor which [was] performed . . . [is] not asking or expecting the household employee to do anything which they themselves are not willing to do—even to washing soiled diapers or cleaning out toilet bowls."76
Conscientious "home-makers do not," the YWCA reformers continued, "save for themselves all the most attractive responsibilities, but find out what their employee gets most fun and satisfaction from doing, and try to give her as much choice as possible." The authors hinted at what activities middle-class women found fun, when they offered that the domestic might "make cakes or arrange flowers, for example, . . . even if the cakes aren't so good as baker's cakes, or the flowers so tastefully arranged as [you] or [your] daughters would arrange them."77 The housewife, the authors implied, need not fear losing her status simply because she shared the work of the home. Her superior taste and delicate execution defied confusion with her lower-class domestic.
Beset with standards for housewifery that emphasized homemaking yet required a considerable amount of housework, MCHs of the era between 1920 and 1945 pushed responsibilities onto other women and took credit for their job performance. The conservatism of the post-World War I, the Depression, and World War II crises that pushed citizens to find reassurance in well-tended homes held MCHs captive and organized most of the service production of caring for people in private households. Some MCHs did their "own" work; others hired houseworkers "in order to achieve some degree of freedom from household cares so that she [might] either work in a gainful occupation outside the home or follow such activities as she prefer[red]. [Others] retained household help to provide personal service and to assure a certain style of living."78
Though reformers thought that employers in the first category were less exploitive than those in the second, both groups of women sustained a popular belief in a housewife's solitary responsibility for the human care organized under housework. Middle-class women perpetuated the feeling that home was a place for clean clothes, hot food, responsive care, and gracious space—provision of a "good mother." To carry on this performance, however, they relied on economically less powerful women, whom they saw as their social and moral inferiors.
When the services of these women, who bore a large part of the household burden, were not available after World War II, middle-class women experienced "the problem that has no name" discovered by Betty Friedan among postwar suburban housewives. Wives' new-found need for husbands and children to share housework, euphemistically described as family "to-getherness," may also explain husbands' newly expressed dissatisfactions with traditional marriage, which was supposed to be a catered affair and not self-service. Family members, it seemed, did not like housework any better than domestic workers had.