Negotiatiating the Law of Service
Household Employees Song, sung to tune of "Tramp, Tramp, Tramp"
1. No more mistress, no more maid,
No more work that's underpaid,
Hours that take all your leisure time away.
We love beauty, art and song.
We must live, ere life is gone.
Unity is what we want to pave the way.
Chorus:
Social Security we need
Social Security indeed!
March we forth 2 million strong,
Workers all, but stand alone
While all legislative measures pass us by.
2. These are things we must demand
If high standards we command
Then a Household Worker we'll be proud to be.
Hours shorter, wages right,
Our security in sight—
Better understanding in the home we'll see.
—YWCA Song, Composed at Tower Hill, Michigan, Industrial Conference, 1938
In the mid-1930s, household workers sang this song at YWCA summer camps, wrote letters to members of Congress and the president, and collected data to bolster demands for inclusion of domestic workers in labor protections sponsored by the New Deal. Domestics, sometimes organized in clubs and union chapters, found allies among such women's reform groups as the YWCA, the National Women's Trade Union League (NWTUL), and the National Consumers' League (NCL), in civil rights organizations such as the NAACP and the National Urban League, and among union affiliates of the American Federation of Labor (AFL) and the Congress of Industrial Organizations (CIO). Nevertheless, the panoply of labor protections passed during the 1930s explicitly excluded domestic service from coverage, continuing the pattern of earlier state-level labor laws.
During the years between 1920 and 1945, a revolutionary era in American labor relations, little changed in the legal status of domestic work. Domestic workers failed to win inclusion in state and national laws designed to regulate workplaces and to protect workers, did not sustain a labor union, and were unable to gain widespread middle-class adoption of voluntary contracts. Steps were taken to transform a somewhat feudal image of domestic service into an industrial notion of household employment, but these strategies—government regulation, union organization, and voluntary labor contracts—failed. The key actors in the story were women—reformers, housewives, and domestic workers. They voiced their appeal to the men who ran institutions that might help them—unions, civil rights groups, legislatures, and courts.
World War I and After
Women reformers in the Young Women's Christian Association, the National Consumers' League, and the Women's Trade Union League used the labor needs of World War I to push for better conditions for women workers and federal oversight through establishment of a Women's Bureau in the Department of Labor. By the late 1910s, their interests included domestic workers, a group that had declined in numbers as women found alternative war-related jobs.
Although united in the demand for regulating industrial work, reformers had divided interests on the issue of domestic labor. They recognized the needs of domestic servants as workers who deserved the same protections as other women workers. But as middle-class women, they felt union with other women of their class who desired to have enough household help so that they could participate in public life. Instead of advocates, reformers became mediators on the issue of domestic work. They designed reforms to educate housewives about management and fairness, and they accepted the housewives' demand that workers be trained to merit better wages and hours. Reformers balanced the housewives' arguments that service was a personal relationship best governed by goodwill and voluntary contracts with domestics' demands that service be treated like a job and covered by the same laws as other jobs.
The YWCA was the women's organization that was most persistently concerned with the problems of domestic service. Its first Commission on Household Employment, formed in 1915, assumed leadership because "the Young Women's Christian Association exists for the benefit of all women, and numbers in its membership both employers and employees."1 From the YWCA's perspective, reforms should both improve work conditions for working-class girls and improve home conditions for middle-class sponsors. Though concerned to raise labor standards to help housewives attract more servants, the committee followed Roelofs and chair Elizabeth Dodge in seeking fairer conditions for workers.
In the context of World War I and the suffrage battle for citizenship, YWCA matrons urged their friends to treat their employees according to standards "developing in the best industries, where paternal bestowal of privilege is giving way to comprehension of the rights of all workers as citizens in a democratic community."2 War shortages encouraged housewives' clubs to adopt new terminology and work conditions and to organize placement bureaus for "household assistants[,] with standardized pay and hours and . . . addressed as Mrs. or Miss."3
During the war, the YWCA committee sought to persuade employers to expect to hire limited-hours, live-out household assistants rather than full-time, live-in servants. An article praising this new system reassured housewives that
all of this talk of standardizing housework and of making it a profession sounds very much more intricate than it really is. When put into practice it works somewhat like this: [The home assistant] works eight hours a day and works every minute of those eight hours, just as she would . . . in a factory. Her working week is the standard 44-hour week so arranged as to permit one full day of rest. . . . She comes to her employer's home at the hour agreed upon and returns to her home at the end of the work period, [perhaps] 7 to 11 A.M. and 12 to 4 covering breakfast, luncheon, and four or five hours of general household work [or luncheon and dinner and four hours of housework].4
Full-time household aid was maintained but full time was reduced to the workweek advocated for industrial workers.
The National Women's Trade Union League, another mixed-class group, promised in addition, as a 1919 resolution "Standardization of Domestic Service" put it, to "do all in its power to promote the organization of domestic workers throughout the country [and] go on record as favoring exactly the same standards of hours, wages and working conditions . . . as for workers in any other occupation." The NWTUL accepted another resolution called "Women's Domestic Service in Their Home," which committed the league to support "every movement or device designed to lighten the labor of the woman in the home, particularly the mothers, and that by the same methods the League do all in its power to secure . . . recognition of the social and economic value of the work of women in the home and appreciation of the fact that the millions of women so occupied are a very important part of the labor world." Amy Walker Field, the resolution's sponsor, argued for its adoption because "the work of families is going on whether there is paid domestic service or not, for the world must be fed and clothed and kept clean, however it is done."5
Winning suffrage in 1920 affirmed women's citizenship and their entitlement to larger roles outside the home. Middle-class women aspired to paid employment and to responsible voluntary activities, but not at the expense of failing to meet their standards for family and home service. Faced by the mid-1920s with a reduction of domestic labor that threatened either their mobility or their standards, housewives responded by looking for labor reforms to make the occupation more attractive relative to competing ones—to meet workers' demands "for the democratization of the kitchen and the abolishing of the more or less feudal relations of domestic service."6
Embarrassment seconded self-interest. Newly enfranchised housewives were chagrined to discover that the least popular women's occupation was domestic service. How could women claim their public rights if they were incompetent to direct their private realm, the home? For both reasons, after a brief postwar hiatus, clubwomen took up the issue of household employment.
Housewives' organizations had to propagandize for better conditions to attract women to domestic service, because by 1920 state governments were increasingly protecting women workers through hours and wages laws. The Supreme Court decision in Muller v. Oregon (1908) confirmed the right of state legislatures to establish maximum hours of labor (even if this infringed on the individual's presumed absolute right to contract) to protect workers unable to bargain as full adults—women in the Muller case but also adolescent boys and girls. Between 1876 and 1908, twenty-one states passed maximum hour laws. Between 1912 and 1914, twelve states adopted minimum wage laws. Other state regulations about age, night work, and hazardous employment were enacted during the Progressive era.7 Though by 1920 the impulse for new legislation was dead—the California state assembly, for instance, voted down a bill "providing for a 10-hour day for domestic workers"8—new norms had been established. Even the Supreme Court's holding in Adkins v. Children's Hospital (1923) that the District of Columbia's minimum wage law for women was unconstitutional did not set back some wage gains for women.
Groups like the Cambridge Home Information Center, formed during World War I to plan food conservation, turned into centers for teaching housewives better organization, including better treatment of servants. Other cities had Bureaus of Household Occupations that provided information and also acted as employment bureaus for servants. Model projects like Smith College's Home Assistants pointed the way for scheduling part-time, live-out work. The Philadelphia Council of Household Occupations, formed by socially minded Quakers, began to investigate employment in the city in 1926 and, aided by President Marion Edwards Park of Bryn Mawr College, conducted a self-study that became a Women's Bureau survey, following an earlier Women's Bureau study of a housewives' Domestic Efficiency Association in Baltimore.9
Women's groups emphasized education of members, publicity for local standards of wages and hours, and voluntary compliance. They were not successful in stemming the movement toward part-time, live-out, and day work, nor did they raise wages and reduce hours. Most significant, housewives believed that study and experimentation were required to "determine whether long overall hours can be cut down without loss to the employer of adequate service."10 One YWCA employer, who had heard about labor standards and a 54-hour week from other Y friends, unabashedly confessed:
After more than three years of experience with having a maid in the house I still do not quite see how it would be possible to keep the true spirit of the home and still have perfectly standardized working hours for the maid. The members of the household who are working on schedule surely need the relaxation that comes from lack of schedule pressure when they get home. And so I have never reached the place where I have said to the maid: your hours are from seven in the morning until one, and from five o'clock in the evening until seven-thirty, and it is your privilege to stop at one and at seven-thirty whether the work is finished or not.11
Domestic workers continued to work regular workweeks of 72 or even 84 hours, in contrast to a decline in manufacturing workers' hours from 59 per week at the beginning of the century to 50.3 per week in 1925.12 In seeking self-regulation, housewives seemed unable to agree on how to change the design of housework.
By the late 1920s, led once more by the YWCA, housewives' groups and reformers began to take coordinated action. In 1928, Lucy Carner, executive director of the YWCA's Industrial Division and a former teacher at the Bryn Mawr Summer School for women workers, contacted appropriate Washington offices with a proposal to hold a conference on household work. She succeeded in gaining support and in September sent out a call for a national meeting on employer–employee relationships in the home. Mary Anderson, director of the Women's Bureau and an advocate for ill-paid women workers, signed the call. Housewives' interests were represented by Louise Stanley, chief of the Bureau of Home Economics in the Department of Agriculture, and Benjamin Andrews, professor of home economics at Teachers College, Columbia University, a founding member of the American Home Economics Association and author of a leading collegiate home economics textbook. Housewives' organizations predominated at the meeting, but Carner insisted on inviting at least one worker representative from the YWCA. Josephine Holmes of the 125th Street YWCA in New York City, at the initial conference, and Nannie Helen Burroughs, head of the National Training School, who joined the committee early in 1929, represented Afro-American interests.13
Meeting in October 1928 in Washington, D.C., the conferees constituted themselves a national committee to function as a clearinghouse for information about promising experiments in home relationships and as a research organization. Amey E. Watson was chosen executive director of the National Committee on Employer-Employee Relationships in the Home (hereafter NCHE, though not renamed National Committee on Household Employment until 1933), which existed from 1928 until 1945. Independently, the YWCA National Board created a Household Employment Subcommittee of the National Industrial Committee that lasted from 1929 to 1940.14
The initial conference emphasized the usefulness of efforts to "further the organization of voluntary groups and mutual discussions on standards" in dialogues between housewives and servants, leading to "the formulation of working contracts by groups of employers and employees which shall specify minimum standards." It did not, as Carner wrote the AFL, consider such conversations "a substitute for definite trade union organization" and recorded its conviction "of the necessity for organization in this field."15 Nevertheless, the conference's recommendations envisioned harmony, not confrontation, between housewife and servant. Educating employers about management responsibilities would balance training programs for workers and make the home a model workplace.
Local organization of groups of well-informed employers and employees could together negotiate minimum wages in line with local rates, establish maximum hours and overtime and vacation provisions, and determine value of noncash payments in room, board, and uniforms. Though wages varied regionally, hours could be standardized nationally, and the conference recommended 48 hours per week as a goal. Recognizing that the "work of the home can not be concentrated into a consecutive eight-hour day and a five-and-a-half-day week," the committee recommended "experimenting with work plans and schedules in actual homes . . . to determine what adjustments will be practicable in different types of home situations."16
The Chicago YWCA, with Annetta Dieckman as industrial secretary, joined forces with Hazel Kyrk of the University of Chicago's Home Economics Department to survey local wages in various women's jobs and to analyze schedules of housework. Even this modest effort disconcerted some YWCA employers, who felt that the NCHE "should appreciate the personal elements in these relationships and not be too scientific and impersonal."17
Housewives' responses to demands for improved work conditions emphasized the personal element. Stressing each home's uniqueness and the need to accommodate idiosyncratic personalities, employers indicated their good intentions along with their unwillingness to regiment home life. Reformers believed that employers could learn to organize their homes and their work better and that only voluntary actions could bring the home within the standards established for other occupations through law. The Depression, however, cost women industrial jobs and made them eager for domestic work. When housewives no longer had to compete with industry for workers and the Presidential Committee on Emergency Employment recommended domestic work as an alternative for lost industrial jobs, hopes for voluntary improvement of standards faded at the same time demands for government regulation rose.
Workers' groups in the YWCA persisted in gathering information to bolster their demands for reasonable working conditions despite the economic downturn. In summer 1930, YWCA groups met at summer industrial conferences and debated the content of a Code of Ethics drawn up by the Twin Cities Club of Household Employees and presented at the May national convention. One New York group criticized use of the term servant and concluded that "progress in adjustments could not be made until employers as well as employees are interested in developing a Code of Ethics."18 The Subcommittee on Household Employment ratified the association's commitment to develop clubs of household employees as well as to encourage employers to study their own practices.
Depression gave a crisis air to household employment. Mary Anderson reported to Lucy Carner that
Dr. [Louise] Stanley again suggested diverting factory workers to work in the home to relieve the unemployment situation and asked if I wouldn't "agree to let down the bars," and have factory women take jobs in the home to relieve unemployment. Of course we have no bars up . . . and as I understand it there are many houseworkers looking for jobs, at least in some localities, and that there is plenty of unemployment among them. I should be very distressed if our slant would be that employment in the home would afford substantial relief in this unemployment situation.19
The NCHE called a second conference in April 1931 and devoted a session to "a discussion of the problems brought about by the present unemployment situation." Reports from T. Arnold Hill of the National Urban League, Edith Dudley of the New York City Employment Service, Dorothy Wells of the YWCA, and others "presented evidence of a widespread reduction in the wages of household employees . . . and of increases in the number of hours of work required." There were many reports of "increased number of so-called opportunity homes, in which the employee works for room and board, with possibly a small wage in addition."20 To counter the deterioration in standards, the conference adopted a model contract to be publicized. The conferees voted to uphold as a standard a 48-hour week for live-out workers and a 54-hour week for live-in workers, on the assumption that the live-in worker saved 6 hours a week by not having to commute to her job. When the worker was on call she was "not free to leave the house but may follow her own pursuits. . . . Two hours on call should be considered equivalent to one hour of working time." Wages were to be set according to local rates, and "a minimum wage for the full-time worker, whether skilled or unskilled, should be established at a rate that meets the cost of living of independent women at a tolerable level."21
Although the conference proclaimed its continued desire to facilitate discussions between employees and employers, the latter apparently opposed such high standards because they were feeling the financial strains of the Depression. One prominent New York YWCA member reported to Lucy Carner after the 1931 meeting that "the Y.W.C.A. has been greatly criticized for the biased attitude taken" and had created antagonisms "among the people [employers] you have to interest."22
Traditional notions that household workers were well off relative to other workers, which were given social scientific certification in Lucy Maynard Salmon's Domestic Service (1897), still held even in the Depression climate. Evidence had to be collected to counter popular impressions that the occupation was a good one and that workers were irrational to avoid it. The 1932 summer national YWCA convention empowered association employment offices to collect data about placements managed through YWCA offices (in 1931, these offices placed fifty-four thousand women in housework jobs); in addition, some of the twelve thousand YWCA members who worked as domestics were canvassed to gather information about their wages and work conditions.
The New Deal
The election to the presidency of Franklin Delano Roosevelt and the announcement of federal economic intervention spurred more aggressive labor action, even among domestic workers. By summer 1933, passage of the National Industrial Recovery Act (NIRA) stimulated hope that domestic workers might gain a household workers code enforceable by the National Recovery Administration (NRA).
Business accepted the NRA because it allowed committees to set industrywide wages and hours, which could mitigate competition and produce a manageable wage total. Reformers saw the codes as a means to issue nationwide, federally supported maximum hours and minimum wage rules in response to the Adkins rebuff to state minimum wage laws and the fact that "at the peak of the [state-level] protective labor legislation movement in 1930, only one-third of the eight and one-half million women working were covered by regulation of their working hours."23 The NRA promised to revolutionize working conditions. Even though the Supreme Court ruled it unconstitutional within two years, "the 40-hour week became the norm, [and] arithmetic dictated that the 40- and 48-hour week would bring with them the 8-hour day. . . . A large minority of the codes prescribed a premium rate for overtime hours, more frequently time and a third but often time and a half."24
It quickly became clear that these benefits would not extend to the majority of the female and black labor force. For many workers, exclusion from NRA confirmed their secondary status. When groups such as the National Association for the Advancement of Colored People (NAACP) and the National Consumers League protested racial discrimination, NRA headquarters ignored the actual racial and gender distributions in job assignments and responded that the codes did not specify differentials by race and were not, therefore, discriminatory to blacks. As one canny correspondent wrote to General Hugh Johnson, the director of NRA,
Thanks for your reply of the 3rd instant, in which you refer me to the "cotton textile code" as an evidence of the lack of racial prejudice. I am not fully conversant with this code, but I am informed that it does not cover cleaners nor outside workers, most of whom are colored.25
Labor historian Irving Bernstein estimates that 70 percent of black workers were not in covered jobs.26 In 1934, the Women's Bureau found that 10 to 15 percent of black women were "eligible for participation in code benefits as compared with more than half of all white women workers."27 White women were better treated than black, though about a quarter of the codes allowed differential wages (lower) for women compared to men.28
Advocates for the interests of white women workers and of black men and women soon realized that the NRA was limited by unwillingness to formulate codes for major occupations, especially in agriculture and domestic service, in which black men and women were concentrated, with the latter occupation also of substantial significance to white working-class women. A few weeks after passage of NIRA, the young black government economist Robert Weaver wrote a program, "Domestics and the NRA,"29 which was quickly endorsed by a black coalition, the Joint Committee on National Recovery, and by the YWCA.
Spurred by Women's Bureau director Mary Anderson, the YWCA raised the issue of code coverage at the 1933 annual two-week summer regional camps held for industrial workers.30 These workers were accustomed to gathering data about wages and hours and quickly compiled complaints to justify asking the NRA to set a code. Over the signature of Pearl Bobbitt, a domestic from Kansas City who had been elected chair of a national household employment committee, the YWCA workers wrote to Hugh Johnson advocating a household employment code. They reminded him that "there are about 2,469,000 domestic workers in the United States, and more than 1,000,000 of these are Negroes. In all YWCA organizations the Negroes are included."31
In addition to YWCA-organized workers, other black domestics formed associations to respond to the opportunity offered by NRA. Neva Ryan, a domestic, called a meeting with the Chicago Urban League to discuss codes. When only blacks attended, Ryan set out to attract white workers and in 1934 began working out of the YWCA offices on behalf of the Domestic Workers' Association.32 The Domestic Workers of America, U.S.A. wrote from Philadelphia asking for laws to "guarantee the domestic worker . . . a living wage, shorter and more standard working hours," and unemployment and workmen's compensation insurance.33 The National Association for Domestic Workers, headquartered in Jackson, Mississippi, with officers listed in Jackson, St. Louis, Knoxville, and Baltimore, presented a fully drawn code with a 48-hour week and overtime paid at the minimum hourly wage up to 56 hours per week. Employers could not hire workers under the age of sixteen, and "employees [should] have the right to organize and bargain collectively through representatives of their own choosing . . . free from the interference, restraint, or coercion of employers or their agents."34
Workers, civil rights groups, and reformers in the NCHE spawned an effective letter-writing campaign, but no regulation ensued. As Hugh Johnson's secretary, A. R. Forbush, wrote to most correspondents,
Every since the establishment of this [NRA] administration, we have received numerous communications concerning the status of household help. While we are in full sympathy, there is no possible way we can take direct action in their behalf. The homes of individual citizens cannot be made the subject of regulations or restrictions and even if this were feasible, the question of enforcement would be virtually impossible.35
Mary Anderson, answering similar inquiries from the Women's Bureau, advised that "the National Industrial Recovery Act in its present form does not apply to household employees." She encouraged instead working with the NCHE to get "cooperation from employers in the voluntary adoption of [a code]."36 A drive for a voluntary code seemed essential if a mandatory one could not be adopted, and publicity was easier to get in an environment of code-setting. That was the approach being followed by the fall of 1934.37
Though many reformers persisted in a drive to pass constitutionally acceptable national legislation, which culminated in Roosevelt's signing the Fair Labor Standards Act (FLSA) in June 1938, the NRA experience showed that domestic work had no chance of federal regulation. When Congress passed the FLSA, it claimed authority for national regulation of hours, wages, and child labor under the commerce clause of the Constitution, which limited its purview to activities of an interstate character (narrowly defined in the 1930s). If one worked in a covered industry, the act was, as United Mine Workers president John L. Lewis said, "a bill of rights for labor."38 The implication was that a worker not covered by the act was not a full citizen.
Domestic workers seemed the quintessential case of intrastate employment, though the definition would expand considerably over the decades to enable their inclusion under the 1974 FLSA amendments. Numerous other categories of predominantly female and nonwhite workers suffered implicit or explicit exclusion, however, and many of them shared characteristics of domestic work. Hotel workers such as waitresses and chambermaids; retail clerks performing customer service; workers in charitable or nonprofit hospitals, often cleaners and nurses ministering to patients; and agricultural workers, seen as transient and irregular, or as members of the household like domestics—none of these achieved FLSA coverage, whether because of the interstate commerce provision or, for agricultural workers, because of written exemptions.39
White male workers benefited disproportionately from the act, making up, Ronnie Steinberg argues, for women's differential access to coverage under pre-1938 state minimum wage and maximum hour laws. The 1938 act gave minimum wage protection to 39 percent of male adult workers and to only 14 percent of female adult workers. Less striking, the federal overtime hours provisions covered 31 percent of men workers and 23 percent of women.40
Requirements that employers pay overtime wages especially aided men. Women's hour protections under state laws took the form of setting an absolute limit on the hours per week a woman could work for one employer. Men's protections under the federal law set no limit on hours worked but simply required an employer to pay a premium wage (usually one and one-half times the regular wage) for keeping a worker longer than maximum hours (in Bunting v. Oregon the Supreme Court had upheld overtime provisions for men but not for women in the Oregon hours statute).41 State laws prohibiting any work over the prescribed maximum number of hours restricted incomes as well as hours; a woman had to moonlight at a second job at regular pay to raise her income instead of getting enhanced pay for long hours at one job. The message to employers of women, including housewives, was that women could work long hours in uncovered jobs and not choose a more flexible trade-off between pay and hours.42
Domestic workers were not overlooked because of lack of organization and consciousness. Many wrote to the Women's Bureau and to the White House asking for information to confront their employers' demands that they put in long hours for low wages. Southern black workers, especially, asked for help. After the defeat of the effort for an NRA code, however, the YWCA's attempts and local organizing activity were generally rechanneled into efforts to win voluntary agreements or to pass state-level hour and wage laws.
The NRA code activity crystallized the idea of setting national standards for hours, wages, and job descriptions, just as the interstate limitation promoted voluntary rather than compulsory regulation. After the flurry of activity in 1933 to obtain a code, organizations concerned about racial justice, the well-being of women workers, and the condition of homes joined together to urge members to design and adopt a voluntary agreement. Some even hoped to develop an emblem for employers similar to the Blue Eagle "consumers' emblem and agreement."43
By 1934, with the appearance of FERA, soon to be succeeded by WPA, YWCA women's groups took on a quasi-official character as local advisory groups to WPA household-training projects. With govenment support for housework training, coupled, at the insistence of Ellen Woodward, with publicity for labor standards, the YWCA intensified its efforts to get local employer advisory groups to set wages and hours appropriate to the area.
For the remainder of the decade the YWCA and other national women's organizations worked primarily to persuade leaders of local clubs and associations to be "progressive" forces leading the employers of their communities to adopt better standards. Though such women occasionally supported state legislation on hours and wages, federal coverage under Social Security, and union organization, women's clubs focused most of their energies on public education. The drive to reform their neighbors and clubmates represented an organizational and strategic alternative to legislative battles. It encouraged the notion that housework was something for personal negotiation between domestic servants and housewives and not for legislative regulation that the New Deal reforms spread to most occupations. Even this "private" approach did not assuage some members' opposition to considering the issue at all.44
As the best-known housewife in the country, Eleanor Roosevelt represented the ideal employer to emulate. Having donated money and time to the NCHE since 1930, Mrs. Roosevelt in 1934 became honorary chairman, with her name heading the organization's letters and bulletins (next to chairmen Benjamin Andrews of Teachers College, Columbia, and later Dorothy Wells, YWCA secretary of the Industrial Division). Mrs. Roosevelt wrote and spoke about good housewifery and put out press releases about such innovations as the redecoration of the White House servant quarters. She said,
Since the last alterations were made in 1901, we have progressed in our ideas of how people should be treated. I have always felt that public residences, such as the home of a governor, and certainly the White House, should set an example of the right conditions under which people should work, and to the extent that it is reasonably possible, establish standards of decent living for those who have to work in the homes of others.45
Eleanor Roosevelt's discussion of her own housekeeping set the pace for numerous surveys conducted by the YWCA and local women's clubs, including the League of Women Voters, the Council of Jewish Women, and women's city clubs, during the mid-1930s. Billed as research projects, the tabulated surveys informed housewives as to where their own practices fell in relation to those of their friends and peers. During the mid-1930s, local YWCA clubs conducted sixty-four studies, often with separate questionnaires for employers and employees, to make certain that each side presented its version.46
The YWCA's requests for information in 1933 went to white and "colored" workers. Emily Warrick, a black worker elected to the National YWCA Industrial Council in 1933, polled associations in the fall of 1933 to find data, since
we [have] very little information on household employees from the Negro branches in the south. . . . As we have the additional job [compared to government code-setting] of getting public opinion behind us, we need the point of view of southern Negro groups on provision[s] which should be included in a voluntary agreement. . . . We cannot let others be more interested in us than we are in ourselves.47
The YWCA encouraged interracial cooperation in collecting data with projects in Louisville, Kentucky, and Lynchburg, Virginia, though black workers did not attend the southern summer industrial conference camp until 1938, and then only two at each conference.
Even white southern clubwomen, viewed with suspicion by the national offices of the WTUL and the YWCA,48 organized discussions under the impetus of mid-1930s legislation and organizing. The Texas Commission on Interracial Cooperation at its 1933 meeting "pledge[d] to secure satisfactory wage and work conditions for all domestic workers, both men and women, of every race."49 Jessie Daniel Ames, founder of the Association of Southern Women for the Prevention of Lynching, reminded Mary Anderson that "there should be a certain number of state women invited [to any national meeting about servants] for the very simple reason that 55% of all women in domestic service in 1930 were in thirteen Southern States." Ames prepared a booklet on domestic service and used her position as director of women's work in the Atlanta-based Commission on Interracial Cooperation to encourage Southern Methodist, Southern Baptist, and Southern Presbyterian women to emphasize members' responsibilities to domestic servants.50
The focus on voluntary efforts led the NCHE to seek "an employer for chairman of the Standards Committee" in late 1934 and to match organizing employees with raising employers' consciousness. Mrs. Kendall Emerson, chair of the YWCA Public Affairs Committee, solicited local association presidents for names of interested employers, because "we feel strongly that whatever is done must be on a cooperative basis and that therefore we must have the thinking of groups of organized employers within our own membership."51
Despite its numerous research projects and employer study committees (242, in a 1937 account),52 almost no YWCA group succeeded in adopting a code. The Chicago YWCA under the leadership of Industrial Secretary Annetta Dieckman and with the aid of University of Chicago home economist Hazel Kyrk, produced a model for a voluntary contract in 1929, which was adopted by the NCHE conference in 1931.53 This model contract set the terms for discussion and was passed on to numerous U.S. Employment Service offices when they began to accept employers' orders for domestic service in 1935.54
In contrast to the pre-Depression model contract, the 1931 version envisioned 60 "actual working hours . . . during which the worker is not free to follow her own pursuits." Two hours of "time on call," when the worker was not free to leave the house but could "follow her own pursuits," counted as one hour of working time. Overtime could be required and compensated by "extra time off" or hourly payments. The worker got pay for four of the eight national holidays, and "some adjustment [should be] made for church attendance." Nevertheless, the two half-days off per week could begin as late as 2 p.m. "and immediately after the mid-day meal on Sundays." Minimum wages would be paid only to unskilled workers and the wage scale increased for more skilled workers, whose wages were to be comparable to those in "local industries." Finally, live-in situations should provide the worker "adequate food . . . access to bath, adequate heat and light, [and] a place to entertain friends."55
Though the proposed contract was hardly revolutionary, difficulties in gaining agreement to it reinforced YWCA findings that most domestics worked longer than 60 hours per week, for less than an industrial minimum wage, and with constant demands for uncompensated overtime. A 1936 Connecticut study conducted jointly by the YWCA and the state Department of Labor found the largest number of workers in the range of 60 to 70 hours per week, with an average workday of between 11.4 and 12.5 hours. "The 7-day week was general, but the majority of women covered in the report did not work full time on all 7 days." (The maximum hours allowed for regulated occupations in Connecticut was 52 per week.)56
Housewives showed great distress at the idea of signing a contract. One Midwest YWCA industrial secretary reported that when she called a meeting of household employers to publicize a model contract, "Women all over the city [said] that the YWCA shouldn't meddle in this matter and that if anything is done it will work to the detriment of the employee."57 Those groups that did manage to approve a voluntary code were hardly generous. One recommended by Buffalo employers in 1932 accepted an actual workweek of 63 hours, with daily overall hours not to exceed 2-1/2. A Tucson, Arizona, agreement between employers, employees, and agencies in 1936 put weekly hours at 60 with overtime limited to 12 hours per week and set the time for beginning Sunday's half-day off at 3 P.M. Both of the committees suggested that employers require certified health exams for employment.58
Employers refused to countenance the idea that households could be regulated by contract like businesses. Amey Watson's analysis in the late 1920s that housewives and domestics needed a good personal "relationship" to create a pleasant home environment was echoed throughout the era and across the nation. Even socially conscious housewives expressed sentiments like those of British scholar Violet M. Firth, whose Psychology of the Servant Problem (1934) promised that "no addition to wages or subtraction from hours will bring peace until the men and women concerned [as servants] receive their due as human beings."59 As workers represented their wage and hour demands more firmly and pursued legislation at the state level, women's clubs persisted in their ambivalence toward legally defined relationships.
Nevertheless, all major women's groups, the American Association of University Women, League of Women Voters, General Federation of Women's Clubs, National Association of Colored Women's Clubs, and women's groups in the affiliated denominations of the Federal Council of Churches sponsored some public relation efforts during the 1930s. Even the Junior League joined in by the end of the decade. Writing in the association's magazine in 1934, Lucy Randolph Mason, executive secretary of the National Consumers' League and a member of the Junior League, encouraged members not to take advantage of Depression unemployment to pay low wages but "to plan one's household in such a way as to combine family comfort with consideration of the domestic staff, whether it consists of one or a half dozen employees."60 By 1937, the Junior League's executive secretary, Katherine R. Van Slyck, corrected herself for talking about "servants" instead of "household employees." And, finally, in 1941, the league's magazine printed a three-part series on needs for standards61 and began to join legislative coalitions.
By the mid-1930s, workers organized to balance employers' reluctance to grant better working conditions. Sometimes organization took the form of a labor union affiliating with the AFL or, after 1935, the newly formed CIO. Workers at the biennial YWCA Industrial Assemblies of 1934 and 1936 voted to pursue voluntary contracts as an educational device but also to appeal to the American Federation of Labor, to "experiment" with unions, and to promote legislation.62 As one worker representative argued, "A voluntary agreement is much the same as a company union with the employer dictating rather than having a satisfactory agreement between employer and employee."63
Union organization was the norm for self-respecting workers during the 1930s. After the Wagner Labor Relations Act of 1935 explicitly excluded domestic workers from its protections for workers organizing for collective bargaining, journalist and American Newspaper Guild organizer Heywood Broun advocated labor unions for this most oppressed group of workers and ridiculed employers who feared intrusion in their homes. "The necessary first step," Broun said, "would be to change the name to 'houseworkers,'" to counter the "unconscious assumption that a houseworker is a serf or bound servant."64
Black civil rights groups also supported organizing for presentation of workers' demands. The National Negro Congress applauded the YWCA's efforts but asked for more emphasis on organizing workers. The National Urban League's Workers' Council issued a pamphlet in 1936 that commended YWCA and NCHE efforts at educating employers but observed that such groups did not reach "the socially dangerous majority [of employers] who are concerned only with paying domestics as little as possible for as much work as possible." The council applauded incipient unionization in Jackson, Philadelphia, and Chicago, as well as the creation of groups in Atlanta, Memphis, St. Louis, Richmond, and Seattle in conjunction with local Negro Workers' Councils.65
Most workers' groups took the form of clubs and not unions. White workers in Milwaukee, like black workers in Jackson and mixed-race groups in Kansas City and San Diego, found labor unions unable or unwilling to recognize the special needs of domestic workers. A San Diego workers' group affiliated with the Building Service Employees International Union (BSEIU) of the AFL briefly during 1933 but gave up the charter when the union expected domestic workers to pay the same dues as locals of better-paid workers.66
By the late 1930s, three locals of the AFL–affiliated BSEIU were in place in New York City. These, however, had initially been formed with the help of the national YWCA office as mixed unions of hotel chambermaids and domestics. When the chambermaids joined the hotel local in 1935, the union had to create separate locals for domestic workers. These locals, consisting mainly of black workers, sought to place workers at standard wages and hours and to act as intermediary with recalcitrant employers who refused to pay the money owing workers or "unjustly accused [them] of stealing."67
After 1935, the CIO accepted requests to affiliate from groups in Oakland, Baltimore, and Washington. These groups also had difficulty meeting the financial demands of the union. They attempted to control the labor supply by establishing skill and wage grades, but workers could not halt the influx of needy women. The ultimate union resort—strike or sit-in—was not feasible.68 Domestic work, poorly paid and with hours that left little time for meetings, was not a high priority for unions. One expert reported the informal comment of "one well-known labor leader [that] the organization of house hold workers will come about as a sort of 'mopping up' process when we have the bulk of other women in unions."69
The promise of NRA codes, which benefited so many other workers, "aroused a wave of interest and indignation from [domestics] because they were left out."70 Exclusion from the Economic Security Act of 1935 (the Social Security Act) intensified household employees' interest in sharing entiltlements that other workers were gaining through legislative action. When the NRA determined that domestic workers could be covered only by state hours and wages legislation, domestic workers turned their attention to state actions, focusing only on Social Security coverage at the national level.
Domestic workers were more effective in organizing for legislative campaigns for government regulation than for trade union recognition. This strategy, moreover, linked workers with reformers and women's clubs, who focused on law as a counterbalance to the economic power of employers. The organizer of the short-lived San Diego union, Gene Nicholson, turned from the AFL to the YWCA as a base for organizing a statewide federation of domestic workers' clubs in San Diego, Long Beach, Los Angeles, Oakland, San Francisco, and Pasadena to push for a 10-hour law in the 1935 legislative session. Though she argued that it was important to maintain a base independent of the mixed-class YWCA, she also believed in maintaining good relations with employers, who could be "educate[d] to the need for a change in the methods of running the home so as to liberate the domestic workers to a larger and more full life."71
Without cooperation from employers, hour and wage regulations were difficult to enforce. With legislation, the prospects seemed better for two reasons. First, as one commentator said, the simple existence of a law publicized a community moral standard for employers. Second, a state law enabled govenment employment offices to turn down calls for domestic servants that offered substandard working conditions. State employment offices, organized in a network by the U.S. Employment Service, were supposed to match available workers with jobs offered, even when the order was suspect or insulting. The order taker might inform the employer that the job would be difficult to fill at such low wages and long hours, but the agency could not refuse to post the notice; where there were no state laws to uphold, the Employment Service had to send a worker to any prospective employer who offered a job.
From 1933, when the USES was reactivated by the Wagner-Peyser Act to carry on the tradition of public labor exchanges begun during World War I, the system grew from "300 small and meagerly financed public employment offices [to a] network of more than 1,400 with a staff of over 18,000 persons" by 1938.72 With responsibilities that ranged from locating workers for massive New Deal public works projects to serving the smallest local employer, the offices took hiring orders from the federal government and from the local housewife seeking a half-day worker. Of the placements with private employers, the largest category in every year from 1933 to 1938 was domestic and personal service, as seen in Figure 2.73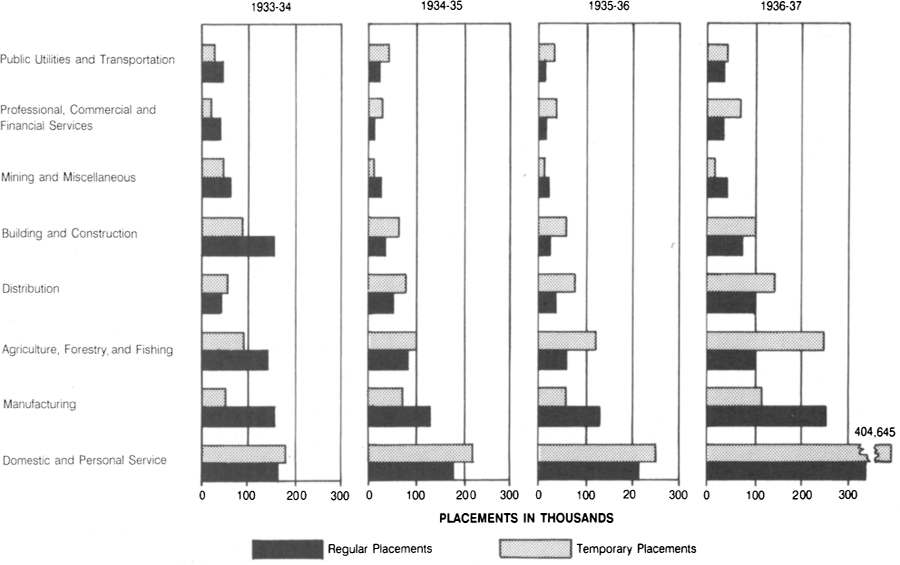 Source: Raymond C. Atkinson, Louise C. Odencrantz, and Ben Deming, Public Service Employment in the United States (Chicago: Public Administrative Service for the Committee on Public Administration of the Social Science Research Council, 1940), 34-35. and table 5.
As a primary placement source, the USES could assist domestic workers and housewives. Although the Employment Service was financed mainly through congressional appropriations (it became wholly federally funded in 1941), it was administered by state officials with minimal federal supervision.
The state offices enforced local notions of protocol and of appropriate job assignments and conditions. When the war caused labor shortages in the early 1940s, some states stopped placing domestic workers. "In Baltimore, by contrast, local employment officials continued to refer black women for service jobs despite the persistent female labor shortage and the complaints from black women regarding this form of discrimination."74
The first state (and the only state by 1945) to cover domestics was Wisconsin, where the Industrial Commission had issued wage regulations for women and minors in domestic service in 1932. Local surveys soon found widespread disregard of the order. Only through the intervention of local clubs such as the YWCA, the League of Women Voters, and the Jewish Council, publicity by a prominent local minister, and accounts in local newspapers were housewives shamed into paying the legal minimum.75 In general, state legislation limiting hours and setting a floor for wages introduced during the 1930s carried the customary exclusion of domestic and agricultural workers.76
Two fights illustrate the limits of domestic workers' success: the legislative battles over maximum hours in Washington State and California. In 1935–1936, the Seattle YWCA conducted a study that had the predictable result of revealing "cases of girls working 14 to 16 hours a day. While many other conditions needed improvement, hours were the employees' chief grievance." The Industrial Girls' Club of the Seattle Y decided to push for state legislation and received help from the League of Women Voters and the Federation of Women's Clubs for introducing a 60-hour bill in the 1937 session. The bill passed, though only after a provision for double pay for overtime was dropped. Indeed, an "emergency" clause enabled employers to escape fines if an emergency had required keeping the worker more than 60 hours.
Even with the bill's passage, it was easier to educate aspirants to domestic work in high school vocational education classes and NYA and WPA training programs than to reach housewives. Seattle, however, got star treatment because Anna Roosevelt Boettiger was a local journalist. When Eleanor Roosevelt visited in 1938, her daughter and others arranged a large public meeting with a speech by the first lady and dramatic skits to demonstrate to housewives how to behave appropriately as managers, since, in Boettiger's opinion, "not enough is being done to educate and help the employer."77
Inclusion of domestic workers in the California maximum hours bill had been attempted in 1920 and 1934. In 1939, a renewed effort came from the Household Employee's Alliance of the Bay Area composed of YWCA-based clubs in San Francisco and Oakland. After three years' work on legislation and support bills for other groups, the alliance introduced a maximum 54-hour-week bill in the 1939 session. The group worked with the local labor committee to get endorsement from the "Building Trades Councils, the C.I.O., the A.F. of L., Railway Brotherhoods and Labor's Non-Partisan League of Northern California. The doing of this has broadened the knowledge of all members of the club and had led to much more active interest in community life." The northern California group was backed by the Second Annual Household Employee's Conference in Pasadena, which attracted workers from six southern California YWCA groups.78 The bill, nevertheless, failed.
Though strenuously pushed by the New York Women's Trade Union League, three bills introduced into the New York State legislature in the 1939 session to require a maximum 60-hour week for domestic service, inclusion in the state's minimum wage law, and workmen's compensation coverage for disability in homes with two or more workers79 failed to pass, as did a maximum hours law in Illinois. Reviewing the failure of state efforts to gain basic hours and wages coverage, some scholars lay the blame on middle-class women's groups, which "have supported other types of labor legislation, [but] are loath to back proposals that would apply to them and their workers." Housewives had, as another commentator concluded, "the false idea that such laws would interfere with the way they want to manage their homes."80 Legislative action on hours accomplished no more than voluntary contracts.
The final struggle to ensure that domestics received some of the gains won by labor during the 1930s came with the Social Security Act amendments of 1939. Less controversial than reducing hours of work was guaranteeing security in old age and during unemployment. Passed in 1935, the Social Security Act guaranteed economic security for different groups of needy Americans through four different provisions. Older Americans would receive help in their retirement years through either Old Age Assistance, a means-tested grant administered by state governments, or Old Age Insurance, paid as an entitlement out of payroll taxes collected by the federal government. Children in families bereft of a father would be supported through Aid to Dependent Children (ADC), which gave a grant to the child and to the widowed mother as caretaker. Families of workers whose jobs were lost would receive Unemployment Compensation to tide them over until the family wage earner, usually the father, found another job.
Domestic workers and agricultural workers were explicitly excluded from coverage under the retirement and unemployment provisions. Black civil rights groups immediately protested exemptions that would exclude "more than fifty per cent of gainfully employed Negroes [who] came under these headings."81 Secretary of the Treasury Henry Morgenthau responded to NAACP Secretary Walter White that "whether collections for the contributory system are made from these [agricultural and domestic] classes of workers, there is no proposal to exclude them from the benefits of the non-contributory system."82
As civil rights groups knew, however, the difference between the contributory and noncontributory provisions was significant. Old Age Assistance and ADC were federally subsidized payments administered by state authorities. Retirement and survivor benefits and unemployment compensation were entitlements supposedly paid for by the worker like insurance, with eligibility set by Congress and payments "earned" according to workers' contributions. Though the federal government paid half of Old Age Assistance benefits up to $30 a month, the benefit level depended on the state's contribution, and state-appointed boards determined individuals' need and benefit. In 1937, the NAACP reaffirmed that "the Act which was designed to aid the people farthest down and most dependent . . . makes no provision whatsoever for three-fifths of all Negro workers [who work as agricultural, domestic and casual laborers] in its old age benefit and unemployment compensation provisions, [but leaves them] subject to the arbitrary action of the States."83 (Research in Social Security data in the late 1930s found, indeed, a large overrepresentation of aged domestics on public assistance.84)
The architects of Social Security, especially the first chair of the Social Security Board, Arthur Altmeyer, advocated linking benefits to contributions so as to counter political pressure to pay all older Americans a standard monthly benefit, a notion that gathered considerable political support in the movement inspired and led by Dr. Francis Townsend, a California physician. Altmeyer expected Old Age Insurance payments to be large and universal enough to scuttle Townsend's appeal.
Even though Old Age Insurance was a tax imposed on employers and workers and held in a special fund to pay retirement benefits, calling it insurance and linking a worker's earnings to the benefits he or she received entailed different record-keeping requirements from straightforward taxation.85 Only large businesses with payrolls or regularly employed workers were presumed to be able to keep records and collect the taxes necessary to conform to an insurance model. The original 1935 design, therefore, included a small percentage of American workers, most of them white men; the initial payback (scheduled for 1942) was small relative to welfare, needs-based benefits for workers eligible for Old Age Assistance in the years before it began to pay off.
As welfare paid out more benefits and gained public support, social insurance planners, according to historian Jerry Cates, felt compelled to speed up and enlarge payouts. By 1939, the Social Security Board, seconded by President Roosevelt, presented Congress with substantial amendments, most notably to pay survivor benefits to "aged widows and younger widows with dependent children" until the children reach 16 years of age, or 18 "while they are regularly attending school." The 1935 act awarded a modest lump sum to the estate of a deceased employee.86
Survivor payments had the additional advantage of moving deserving widows off ADC needs-based, state-directed rolls and onto the federally funded and administered insurance scheme. The American Association of Social Workers, the League of Women Voters, and the American Home Economics Association supported such a change, because the federal–state match had been set lower than the match for Old Age Assistance (up to $18 for one child, $12 for a second, in comparison to $30 for an Old Age Assistance recipient). States also had to match a larger percentage of the children's grant (2/3 rather than 1/2), so they were accepting fewer children on the aid rolls.87 It was assumed that the old age system would not have to pay out substantially more than it took in, because many widows would have worked at least part of their lives in covered employment during which they would have contributed some of the funds that would now come back to them as survivors of male workers.88
Grounding social welfare in employment-connected insurance required including as many workers as possible, the Social Security Board concluded. Though four years' experience indicated that many more workers than anticipated would move in and out of covered employment and, therefore, gain benefit entitlements, the board recommended including domestic and agricultural workers in the retirement provisions and domestic workers in the unemployment system.89
For black workers having to appeal to local southern white authorities for old age, work relief, or ADC assistance, inclusion could mean freedom from racial oppression. Many southern authorities refused to certify black domestic workers for direct relief, especially ADC, on the ground that domestics were employable because jobs were available and domestics could rely on their mothers or other female relatives, generically called "aunts," to care for preschool children while mothers worked.90 Relief agencies, moreover, often would not certify them as employable on government-subsidized relief projects, so they remained dependent on the racially segregated and low-wage local economy. Julia Kirk Blackwelder recounts as typical the story of one black woman, mother of three, in San Antonio, who was told by the local relief office to take a weekly housecleaning job or be "cut off from everything all together." The anxious woman reported that
I told her I was afraid to accept the job in the private home because I registered for a government job and when it opens up I want to take it. She said she was taking people off the relief and I have to take the job in the private home or none.91
A panoply of women's organizations favoring labor legislation mobilized testimony and letters for House Ways and Means Committee hearings on the amendments in February and March 1939, as did the National Negro Congress.92 But they organized too late; the committee voted in a March 17 mark-up session to delete coverage for agricultural and domestic workers, as well as employees of charitable and nonprofit organizations. Apparently swayed by opposition from minsters and from college fraternities and sororities, and loath to expand taxation on businesses during a mild economic upturn, the committee decided to make no extensions in coverage.93 Leaving out poor workers who obviously merited protection was rationalized because of the difficulty of administering collections and wage records for domestic workers.
Responding almost immediately, Amey Watson and a revitalized NCHE saw a use for research. The NCHE raised funds for a German refugee scholar, Erna Magnus, who had worked for the International Labor Organization in Geneva during the mid-1930s, to undertake a survey of all writings about domestic workers and Social Security and then to compile and analyze employment records of domestic workers. Assisted by the Social Security Board, which had seen its recommendation rebuffed by Congress, Magnus collected data to prove that domestic workers would not receive Social Security entitlements except through coverage of domestic work and indicated various systems already tested in Europe for domestics' contributions and records.
Magnus found that the majority of domestic workers would not receive retirement benefits through their spouses because many were divorced or single (34 percent among white domestics in the upper age brackets). Husbands of married domestics, entitled after 1939 to survivors' benefits, often worked in noncovered employment. Also, women would not be covered through working in covered jobs, because they did not move out of housework but rather moved in and out of a variety of service jobs, including domestic work. Finally, a large percentage of domestics had children dependent on their incomes and needed coverage for unemployment and survivors' benefits for their dependents (37 percent of Baltimore domestics in 1940, for instance.)94
The War Years
The threat of World War II, which sparked defense employment and improved workers' chances of bargaining for legislation and wages, increased efforts for domestic coverage. After the failure to win inclusion of domestic workers in the 1939 Social Security amendments, the YWCA and Women's Bureau began an information campaign to support amendments introduced by Senator Robert Wagner in 1940 and 1941. The YWCA issued a booklet of information for workers and a plan for lobbying that included creating women's group, labor, and interracial coalitions.95
A similarly diverse liberal committee formed in New York to push for inclusion of domestics in workmen's compensation. With committee members including Mrs. Irving Berlin and Mrs. Corliss Lamont, and Mrs. Benjamin Spock and Fannie Hurst as officers, the committee worked under the auspices of the Women's Trade Union League to sway the New York State legislature toward proper social responsibility. Domestic employment had come of age as a trendy social issue.96
The war brought higher wages but not shorter hours. And workers felt more connected to an outer world in which legal rights were a legitimate expectation for all workers. Interracial activity became more normal among younger women in southern as well as western and midwestern YWCAs. The war seemed to offer an opportunity that would not last long and should be seized. CIO affiliates of domestic workers organized in Baltimore and Washington.
At the end of the war all the legislative struggles remained unfulfilled: for Social Security coverage, reduction of hours, raising of wages, unemployment, and workmen's compensation. And once again, housewives would not attack the problem of the organization of household work but would seek, instead, a labor force with no choice but to acquiesce. Black women remained domestics in the South until civil rights activism made their job demands political issues. Puerto Rican women were imported to the mainland to fill up slots left by native-born white women. Women who could quit housework for other employment did so, and more women took up the pattern previously reserved for household workers, doing a day's (or half-day's) paid work and then cleaning, laundering for, and feeding men and children in their own homes.
On numerous occasions between 1920 and 1945, domestics formed associations, wrote to public officials, spoke out at meetings, and lobbied legislatures. Especially after Roosevelt's election in 1932 and growing public support for government regulation of the terms of labor—hours, wages, collective bargaining, retirement security—they sought inclusion in such laws: not only legal recourse for poor treatment but also the moral authority gained from public recognition of them as workers.
The reasons domestic servants failed to gain endorsement of their rights reveal the fault lines separating women's interests as housewives and as service workers. Domestic workers cleaned houses, cooked, and cared for children so that middle-class women could improve life for themselves, their families, and their communities. Reformers sought decent conditions for domestics but did not challenge notions of the home as a 24-hour center of emotional support and physical nurturance. Especially in organizations like the interracial, cross-class YWCA, reformers unwilling or unable to choose one value over another compromised efforts for legislative action with education campaigns for voluntary contracts.
Domestic workers, as a concentration of old, young, nonwhite, and low-wage women, were not able to counterbalance the powerful images of domesticity with a vision of the home as workplace. Domestic work remained outside the protection of the law.