OSHA
In adopting a liberal approach to workplace safety and health, Congress left workers vulnerable to the short-run balance of political forces: protection became dependent on agency enforcement of standards, enforcement dependent on the immediate political calculations of elected officials in Congress and the White House. Indeed, the act encouraged workers to rely on a particularly narrow form of state action, factory legislation, rather than build political and economic institutions that might facilitate a more radical restructuring of the relations between employers and employees.
For the most part, the labor movement remained trapped within this framework. Despite worker interest in occupational safety and health, and the popularity of environmental protection with wider constituencies, the unions continued to concentrate their efforts on short-term economic gains rather than make working conditions a priority. In contrast, employers rose to the occasion and mounted a well-funded and well-coordinated campaign against OSHA Concurrently, the White House's interest in promoting economic recovery dovetailed with employer concerns and led to intense scrutiny of the agency's activities.
As the political climate shifted against OSHA in the 1970s, the agency was forced onto the defensive. Business groups and sympathetic senators and representatives flooded Congress with amendments to the OSH Act and appropriations riders. Between 1971 and 1976, an average of a hundred bills a year were introduced that would have limited the agency in some way.1 After 1976, appropriations riders exempting small business from enforcement became commonplace. Congressional oversight was also intense, peaking in the late 1970s as the business offensive against social regulation reached a crescendo.2
Business opposition did not preclude regulation. Oversight by the House and Senate labor committees was designed to prod the agency into action rather than restrict its activities. All substantive amendments to the OSH Act, including one that would have required cost-benefit analysis and another that would have exempted nearly 90% of workplaces from OSHA enforcement, were defeated. Carter's appointees to head the DOL and OSHA supported occupational safety and health regulation and attempted to increase the agency's standard-setting and enforcement activities. As this chapter details, however, in combination, OSHA's command-and-control approach, employer opposition, and White House review limited what any administration could accomplish.
An Overview of OSHA
Taken as a whole, OSHA's record indicates a sharp gap between the promise of the OSH Act and the agency's performance. In its initial years, OSHA expanded rapidly as it established itself as an organizational entity. The growth in budgets and personnel subsequently leveled off and, after 1980, declined (see Figures 7.1 and 7.2). The OSHA budgets actually grew more slowly than total domestic spending from 1979 to 1982. Most important, except for one short period of relatively aggressive implementation during the Carter administration, the agency's standard-setting and enforcement activities were extremely limited.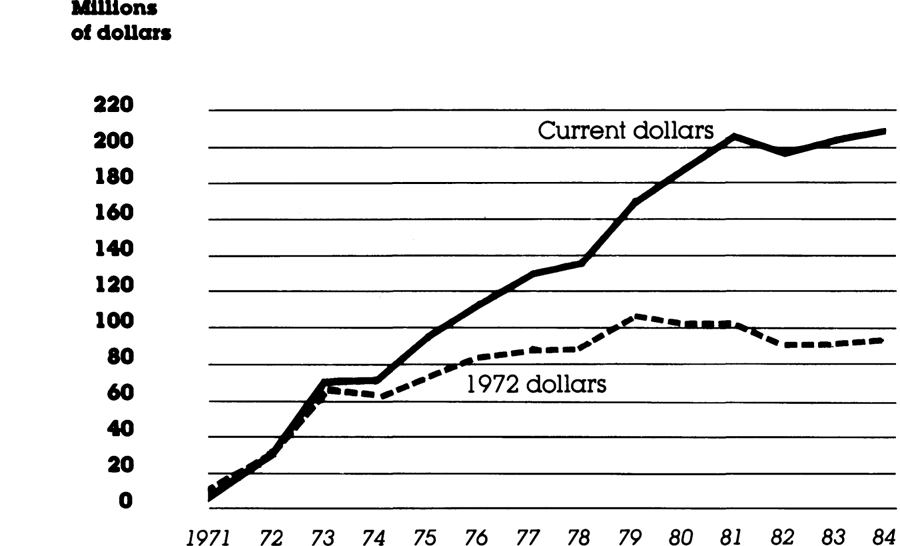 Sources: Office of Technology Assessment, Preventing Illness and Injury (Washingtoa D.C.: GPO, 1985), table 12-1, supplemented by Economic Report of the President 1985 (Washington, D.C.: GPO, 1985), and the OSHA Budget Office. "Budget" here is the congressional appropriation. Figures are adjusted to constant (1972) dollars using the implicit price deflator for federal government nondefense purchases of goods and services for 1972-1984 and rounded to the nearest $1000. The index for total federal government purchases of goods and services was used for 1971. See Economic Report of the President 1985, Historical Tables, and table B-3 for price deflator. The appropriations for 1971 and 1972 were drawn from the budget of the Workplace Standards Administration.
In its first year of operation, OSHA adopted over 4000 general industry standards and an additional set of rules covering particular industries, notably construction. Few of the general industry standards dealt with health hazards. Subpart Z of the original 1971 standards package included 400 TLVs for toxic and hazardous substances, but only 20 actually set exposure limits. In 1978 the agency revoked 982 of the original general industry standards—many had been ridiculed as "nitpicking" and "trivial"—concluding that they were, in fact, irrelevant to safety.
Apart from revising the general industry standards initially adopted, OSHA devoted its standards activity to rulemaking on health hazards. This proceeded slowly—the average health standard took almost three years to develop—and was quite limited.3 The agency adopted only 15 major health rules between 1971 and 1984; Only 11 of them actually set exposure levels. Two rules, the labeling standard and the access-to-medical-records rule, dealt with worker rights to information; a third, the cancer policy, established a framework for health standard setting; and a fourth, the 14 carcinogens standard, established work practices for the safe handling of the substances (see Table 7.1). Moreover, all but two of the new health rules revised existing TLVs from the original standards package. Thus the total number of toxic and hazardous substances covered by OSHA exposure limits remained slight—less than two dozen—despite the fact that there are approximately 2000 suspected or known carcinogens in use in the workplace.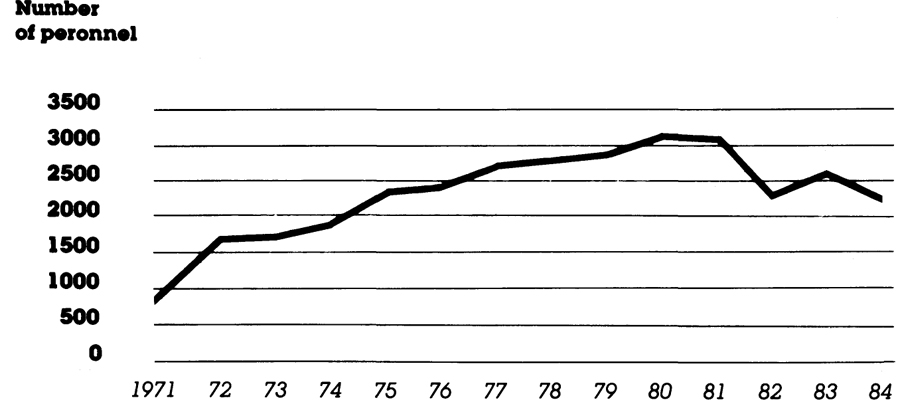 Source: Office of Technology Assessment, Preventing Illness and Injury (Washington, D.C.:GPO, 1985), table 12-1.
The enforcement effort was also limited in scope and intensity (see Table 7.2). The number of annual inspections increased rapidly through 1976, but was subsequently reduced by about one-third. As a result, the percentage of private-sector workers actually covered by OSHA inspections was low. In 1980, for example, inspected establishments included only 5% of nonagricultural, nonmining, private-sector employees.4 Violations and penalties were also low. Like inspections, the number of violations rose through 1976 and then declined quite dramatically to one-third or less of the peak-year total. Over a 13-year period, the average penalty per violation was $56.27. The average penalty for a serious violation—one in which the employer knows or could have known about a risk that poses a substantial probability of death or serious injury, or one in which a number of nonserious violations are grouped together—declined steadily from the agency's first years until 1983, and then rose slightly. The great majority of violations were "nonserious" or de minimis. And while the act authorized the agency to fine employers up to $1000 per serious violation, these fines averaged $263.05 between 1973 and 1985.5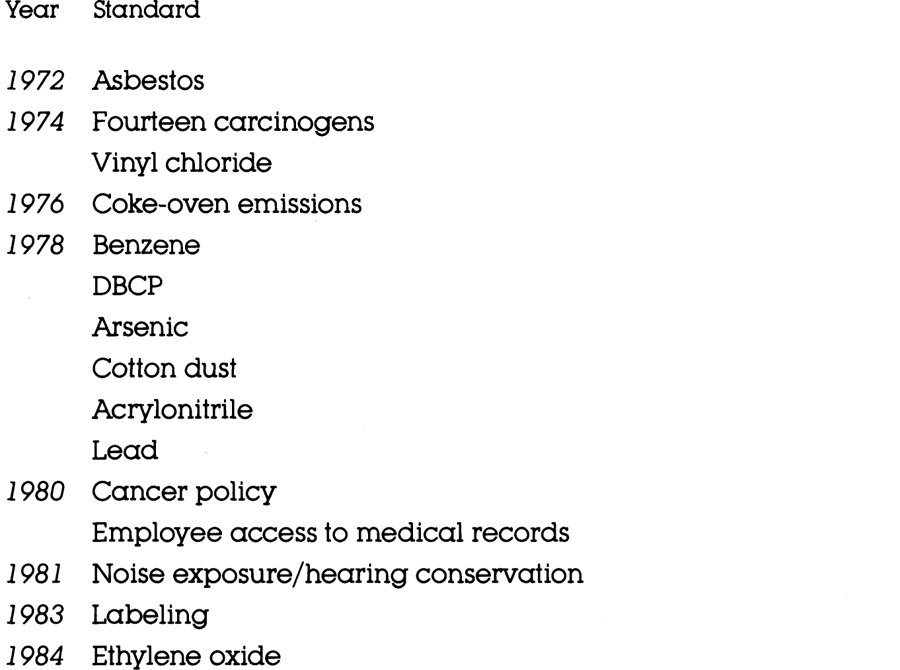 Finally, despite the importance that health hazards played in the struggle over the OSH Act, and the threat posed to workers by them, enforcement focused on safety rather than health. The proportion of inspections devoted to health hazards never exceeded 20%. In contrast, violations for machinery and machine guarding, only one kind of safety hazard, regularly accounted for over one-quarter of all violations. Those health violations that were cited tended to be classified as less than severe.6
The Two Faces of OSHA
Within this basic trajectory, two distinct modes of policymaking can be distinguished, one characteristic of the agency during Republican administrations and the other characteristic of the agency under Carter. Indeed, perhaps the most striking fact about OSHA policy is the degree to which the agency responded to the changing balance of political forces by vacillating between two almost completely contradictory approaches to occupational safety and health.
In theory, administrative regulatory agencies are not supposed to act this way. They are created to provide an environment in which professionals can apply their expert knowledge to the design of rational policies. These policies can then be tested through implementation and corrections made based on feedback from the field. But OSHA did not have the opportunity to pursue this tack. Instead, it developed two competing approaches to workplace regulation and shifted back and forth between them depending on changes in its political environment. I call these approaches voluntarism and activism. This section distinguishes between them and considers their impact on standard setting and enforcement.
Voluntarism
Voluntarism has been the dominant Republican approach to workplace regulation. In effect, it has meant self-regulation by employers. In this mode, OSHA has done little to challenge corporate control over work. Nor has it sought to impose substantial costs on industry. Instead, within the confines of the OSH Act, the agency has sought to minimize state intervention and subordinate public authority to existing private programs. Standards have been set slowly, and industry input has played an important role in rulemaking. Enforcement has emphasized cooperation between the agency and employers. The agency has deferred to firms: even when inspection activity has been high, the agency has not relied on penalties to secure compliance with standards.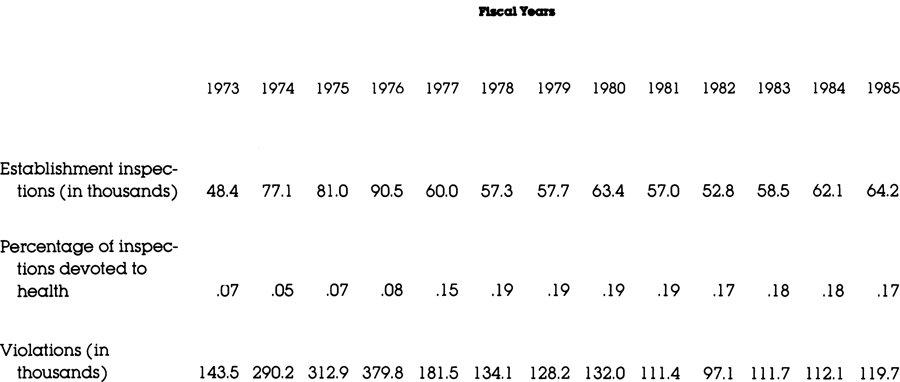 Notes: These data cover the enforcement activities of federal OSHA and do not include the activities of state programs. Establishment inspections do not include "records review" inspections begun in FY 1981. The period covered by the "fiscal year" changed in 1976. The transitional quarter from July 1976 to September 1976 has been omitted for presentational purposes.
Source: U.S. Department of Labor, Occupational Safety and Health Administration, "Federal Compliance Activity Reports," various years.
Republican administrations have differed in the degree to which they have pursued these objectives. During the Nixon-Ford administrations, OSHA was less aggressively procapitalist than under Reagan. Indeed, in the last year of the Ford term, under the leadership of Dr. Morton Corn, OSHA took several steps toward a less business-oriented approach to occupational hazards. Nonetheless, the basic principles and practices of voluntarism emerged as soon as the agency began operations in 1971, and they continued in force through 1976.
During the Nixon-Ford administrations, OSHA tried to give employers and private professional organizations a formal role in agency rulemaking. In its first major action, the agency adopted 4000 privately developed "consensus" standards despite the fact that the act allowed it to develop its own rules. Subsequently, OSHA established five Standards Advisory Committees (SACs) to maximize private input further. When the committees proved sympathetic to organized labor, they were disbanded.7 Then OSHA turned to ANSI, nonconsensus "proprietary" groups (i.e., industry standard-setting organizations, such as the American Society for Testing and Materials), and private consultants for proposals. At the same time, NIOSH, which recommended sharp reductions in existing TLVs in several cases, was asked to refrain from proposing exposure levels.
The agency's deference to private industry compounded whatever delays might have resulted from OSHA's inexperience. Between 1971 and 1976, only 4 new permanent health standards were promulgated. The agency set 15 new safety standards, but only the mechanical-power-presses rule was a major action.
Economic feasibility and costs played a major role in the determination of PELs in most rulemaking cases. In 1972 OSHA rejected union demands for a zero or "least-detectable" exposure level for asbestos. The standard was set at 5 fibers per cubic centimeter with a target level of 2 fibers per cubic centimeter by 1976. The four-year delay was specifically designed to meet industry objections to the costs of compliance. Similarly, OSHA rejected OCAW and HRG demands for a zero PEL and/or a total ban on a set of 14 carcinogens. It promulgated a work-practices standard rather than an exposure limit. Firms were ordered to reduce worker exposure "to the maximum extent practicable consistent with continued use." Cost considerations played an important role in the 1974 proposal to revise the national consensus standard on mechanical power presses. The unions wanted a "no hands in dies" rule: machines would have to be designed so that they could not be operated unless both of the worker's hands were outside the stamping area. But OSHA concluded that this was technologically infeasible, despite evidence that compliance, though costly, was possible.8
Not every one of the Nixon-Ford standards was this cost sensitive. Congressional pressure, the whiff of scandal, and a public health crisis focused public attention on OSHA in 1974 and led to the first strong health rule. Organized labor expected the Nixon White House to block implementation of the OSH Act and urged its allies in Congress to pressure the DOL. After several years of dilatory tactics by OSHA, including an attempt to devolve enforcement to the states, the congressional labor committees increased their oversight of agency policy. Revelations that OSHA administrator George Guenther had offered to tailor agency policy to industry concerns in order to help the Committee to Re-Elect the President raise funds for Nixon's 1972 campaign helped labor to focus public attention on the agency.9
In this climate of opinion, widely publicized accounts of the discovery of three worker deaths from vinyl-chloride-induced liver cancer at a B. F. Goodrich plant had an immediate impact on OSHA policy. Once again, worker health was a crisis and required quick action; in response, the agency issued the vinyl chloride standard. Unlike the asbestos standard, this rule downplayed economic considerations and emphasized the technology-forcing aspects of the law rather than economic and technical feasibility. As described above, the plastics industry issued dire warnings about the economic consequences of the rule. But, reversing previous policy, OSHA argued that the industry could maintain production and reduce exposure by developing new methods. It adopted a 1-ppm exposure level, close to the "no-detectable level" that health and safety activists recommended.
At this point OSHA began to shift toward a more activist approach to health standards. Dr. Corn, the agency's third administrator and the first public health professional in that position, publicly rejected the use of economic review to determine exposure levels. It was, he maintained, only applicable to the determination of abatement schedules.10 The coke-oven standard, issued in 1976, reflected this logic. OSHA rejected CWPS's advice that it perform a cost-benefit analysis on its proposal. Instead, it established a PEL at a "lowest-feasible level" determined by the performance of the most advanced coke facility in the United States.
White House review, however, vitiated Corn's efforts to shift the agency's basic approach to standards, and voluntarism prevailed. Although the coke-oven standard was eventually issued, White House scrutiny of OSHA rulemaking intensified. From late 1975 to the end of the Ford administration, OSHA tried but failed to issue a package of 13 health standards proposals, including rules for arsenic, noise, beryllium, ammonia, sodium dioxide, coke-oven emissions, lead, and cotton dust. But IIS requirements imposed by the White House forced the agency to use its scarce resources to justify each proposal in detail. The entire package was delayed, and only the coke-oven rule was issued.11
Voluntarism meant "cooperation" and "education" rather than penalty-based enforcement, and this philosophy was reflected in the agency's record of inspections and fines between 1971 and 1976. In general, variations across administrations in enforcement activities are more subtle than variations in standard setting (see Table 7.3). Individual measures do not always move in similar directions over time. But the outlines of the voluntarist strategy are apparent in most of the activities that measure the intensity of the agency's enforcement effort, including the size of fines, the finding and fining of serious violations and repeat violations, and the proportion of follow-up inspections in the total number of inspections.
If employers are to change their behavior, enforcement must create large and certain financial penalties for violating standards. Not only must firms be inspected, inspectors must find and fine violations and reinspect plants to assure that violations are corrected. In keeping with a penalty-based approach, the OSH Act authorized penalties of up to $1000 for a serious violation of the Act and $10,000 for willful or repeated violations. The voluntarist OSHA however, eschewed large fines, deemphasized serious and repeat violations, and avoided follow-up inspections.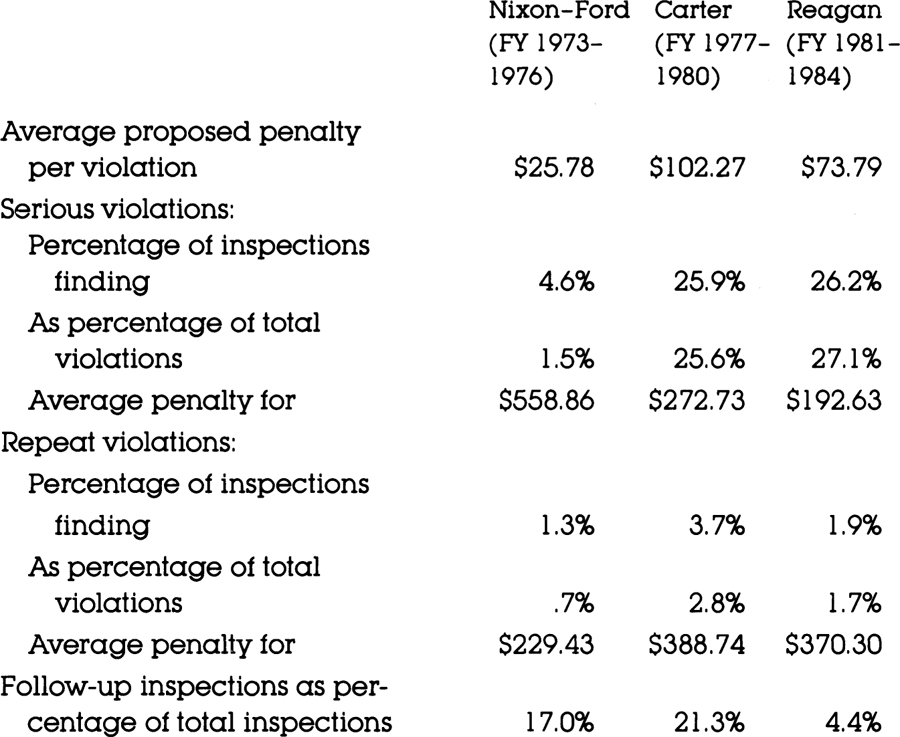 Note: FY 1984 data on establishment inspections with serious violations and repeat violations cover October 1983 to March 1984.
Sources: 1984 data tor percentage of establishment inspections with serious violations and repeat violations from Office of Technology Assessment, Preventing Illness and Injury (Washington, D.C.: Government Printing Office, 1985), table A-7. All other data from U.S. Department of Labor, Occupational Safety and Health Administration, "Federal Compliance Activity Reports," various years.
On some measures, enforcement during the Nixon-Ford years appears strong. The number of inspections and the number of violations rose rapidly through 1976. In fact, both peaked during these years. Average penalties for serous violations were historically high. Taken together, these measures suggest a deterrent approach.
These trends did not challenge the voluntarist approach to enforcement. Although there were relatively large numbers of inspections, compliance officers concentrated on trivial matters and assessed small fines. Almost all violations were nonserious or de minimus. The number of violations was large, but the average penalty per violation was low. The average penalty per serious violation was high, but almost no inspections resulted in serious violations. Finally, there were few follow-up inspections.
Activism
With the change in administration, OSHAs approach shifted dramatically. During the Carter years, under the leadership of Dr. Eula Bingham, activism replaced voluntarism. In general, Carter appointees to the social regulatory agencies were sympathetic to the demands of organized labor and the consumer and environmental movements. Several appointees, such as Joan Claybrook, a former Nader aide who was made director of the National Highway Traffic Safety Administration, were drawn directly from the public-interest movement. Dr. Bingham fit this mold. A public health professor and activist, she was strongly committed to changing the agency's direction. For her, there was still a crisis at the workplace, and OSHA had to confront it. Workers were faced, she maintained, with a "national environmental tragedy" on the job. Moreover, Congress had not created the agency to "mediate between labor and management"; OSHA was created to be an advocate of worker rights to health and safety, even at the risk of economic disruption.12 Bingham was not completely successful in reorienting the agency. Particularly after 1978, OSHA found it difficult to set new health rules or intensify enforcement. But the shift in agency strategy is clear in standard setting and, to a somewhat lesser extent, in enforcement.
First and foremost, activism meant a much more aggressive approach to health rulemaking. Under Bingham, OSHA sought quick and dramatic reductions in PELs and broad coverage for a larger number of workers. Economic and technical feasibility were deemphasized: unless compelling evidence to the contrary was presented, the agency assumed that industries could adopt new technologies and raise the necessary capital to make needed changes. In 1978 OSHA issued six major health standards and, in four of them, set the PELs at the "lowest-feasible level." At the same time, the agency actively opposed risk-benefit and cost-benefit tests for worker health standards.13 Perhaps most important, OSHA attempted to adopt a rulemaking policy to accelerate standard setting on carcinogens in general.
The carcinogens policy was meant to be the centerpiece of the agency's new approach to rulemaking. The Carter administration was acutely aware of the standards logjam that had developed in the last year of the Ford administration. Secretary of Labor Ray Marshall and Dr. Bingham decided to expedite rulemaking by promulgating, as rules, general policies to resolve the scientific issues that caused controversy and delay in each standard-setting case.
There are, for example, few reliable epidemiological studies of workplace illnesses. The agency must rely on evidence from laboratory tests on other mammals (rats and mice) to assess the danger that a particular substance poses to humans. But there is no obvious answer to how the agency should interpret a finding of carcinogenicity in mammals; this is a policy decision. Employers have generally opposed standards based on animal studies. Scientific uncertainty, they contend, should be resolved before the agency requires firms to invest in new control methods. The unions, in contrast, have pressed OSHA to resolve uncertainty by erring on the side of protection. The issue whether to require engineering controls or personal protective devices (PPDs) also recurred in almost every case of standard setting. Employers have preferred performance standards that allow them to rely on masks, ear plugs, and protective clothing. The unions have wanted engineering standards that control hazards at their source.
Given clear agency rules on these issues, standard setting can proceed without the often redundant testimony and time-consuming deliberations that delay it. Moreover, the resolution of legal challenges to the general rules discourages legal challenges to their application in each standards case. Both expedite implementation and encourage compliance.
With the carcinogens policy, announced in the fall of 1977, OSHA proposed to settle, through rulemaking, a number of these first principles and create a set of automatic decisional rules that could be applied to a large number of hazards. As first principles, OSHA proposed that (1) regulations require the "lowest-feasible level" of exposure because there was no "threshold" level of exposure for carcinogens; (2) agency rules extrapolate from animal studies because of the difficulties involved in doing human studies; and (3) source controls be adopted unless an employer could prove that they were technically "infeasible."
The agency then divided hazardous substances into four categories, based on their known toxicity, and developed action-forcing procedures based on this categorization. First-category substances were those whose capacity to cause cancer was established in humans or in two species of mammals, or duplicated in a single species, or for which the secretary of labor had determined that sufficient evidence existed to reach such a conclusion. For these substances, OSHA proposed to issue immediately emergency temporary standards (ETSs). These standards would be followed by permanent standards that reduced exposure to the lowest level technically feasible. Whenever possible, the agency would require that substitutes be used for these substances. The agency also reserved the right to prohibit all exposure to them.
Second-category substances were suspected carcinogens, based on unreplicated positive tests. For these, OSHA would issue permanent standards, but PELs would not be set at the lowest feasible level. Third-category substances were those for which the evidence on carcinogenicity was incomplete or inconclusive. They would be treated through conventional case-by-case rulemaking. Finally, OSHA proposed to issue alerts for, and conduct investigations on, substances not yet found in the workplace but suspected to be toxic.
The original carcinogens policy was never implemented. White House opposition and legal challenges by industry forced the agency to revise and postpone it. But OSHA did adopt a "lowest-feasible-level" policy in case-by-case rulemaking. Like Dr. Corn, Bingham argued that economic impact could not be considered when setting exposure levels.14 Unlike Corn, Bingham was able to translate this general policy into four of the six PELs issued during her administration: benzene, DBCP, lead, and arsenic.
Bingham was also active in mobilizing support for social regulation in general. She joined Douglas Costle, head of the EPA and other bureaucrats in promoting health and safety regulation within and outside government. In fact, because the OSH Act was more stringent than most environmental statutes, Bingham was able to take the most extreme positions when she challenged economic review. Unlike Costle, for example, she publicly rejected the appropriateness and legality of all risk-benefit and cost-benefit tests for health standards.15 At the same time, she used agency resources to gather evidence on the economic benefits of protection and cast doubt on industry data used to calculate compliance costs. Under Bingham, OSHA hired a consulting firm to study the "implicit" social costs of injuries in order to generate data to demonstrate the cost effectiveness of regulation. It also contracted for peer reviews of cost estimates that the agency believed exaggerated the economic impact of standards proposals.16
As the Carter administration became more cost conscious and constrained by economic conditions and business opposition, OSHA did feel and respond to White House pressure. In fact, no new health standards were proposed after January 1978, and existing proposals were subject to strict scrutiny. In the cotton-dust and acrylonitrile cases, regulatory review led to significant concessions to industry. Although the agency was able to resist Schultze's efforts to block the cotton-dust rule, substantial concessions made by the Ford administration were retained, and these reduced compliance costs by almost 75%. With acrylonitrile, the first OSHA rule to be "RARGed," the agency chose an industry-supported PEL that was the least stringent of three feasible possibilities. The agency also retreated from the position that the carcinogens policy was not a "major rule" and, as such, did not require an economic analysis. Finally, OSHA hired its first full-time economist in 1979—a small but significant symbolic concession to the pressure for economic review.
Under Bingham, OSHA enforcement moved toward a deterrent strategy, although this change was less dramatic than the shift in standard setting. Enforcement was rationalized and focused rather than substantially expanded. The number of inspections and violations actually decreased sharply after 1976. But average penalties per violation quadrupled, and the agency explicitly adopted a policy of deemphasizing trivial and emphasizing serious violations. The percentage of inspections with serious violations quadrupled; the proportion of inspections with repeat violations nearly tripled; average penalties per repeat violation increased by 60%; and follow-up inspections rose by a quarter.
The agency also increased its efforts to target health hazards. The proportion of inspections allocated to health hazards more than doubled, from 8% in 1976 to 19% in 1979. Field inspectors were directed to look for serious health violations.17 The level of health penalties also rose dramatically, increasing tenfold from fiscal year 1973 to fiscal year 1979. More could have been done. Health violations still constituted only 9% of total violations in 1979; health inspections only one-quarter of total inspections.18 Nonetheless, the shift in strategy was clear.
Finally, OSHA attempted to increase worker involvement in enforcement. Two OSHA rules sought to lower the costs to workers of participation in decision making on workplace safety and health. The walkaround-pay rule required employers to compensate workers for the time they spent with OSHA inspectors. A second rule forbade employers to penalize workers who refused hazardous work. The agency also took worker complaints more seriously than it had previously. The proportion of inspections devoted to these complaints tripled from the Ford to the Carter administration.19
Undoubtedly, business and White House pressure limited the agency's ability to expand its enforcement efforts further. By the late 1970s, opposition to OSHA fines and inspections was intense. Employers were angered by the deterrent approach and sought relief from OSHRC, Congress, and the White House. Companies flooded OSHRC with appeals, and the percentage of contested inspections more than doubled.20 And OSHRC proved sympathetic to employer complaints and regularly reduced fines and modified agency abatement orders. In some cases, it used employer challenges to enforcement orders to question OSHA's standard-setting policies.21
At the same time, the business lobby succeeded in securing serious congressional and White House consideration of reforms in OSHA's enforcement program. Sponsored by a coalition of Senate Labor Committee Democrats and Republicans, including many of the agency's original supporters, S. 2153, the Occupational Safety and Health Improvement bill, proposed a major statutory revision of the OSH Act. The bill's Democratic supporters argued that it would preclude more radical cutbacks. But S. 2153 incorporated most of the principal recommendations of business about agency enforcement: it exempted "safe" workplaces from inspection; eliminated most civil penalties for firms with joint labor-management safety committees, advisory consultation programs, and good safety records; and restricted the right to request inspections in exempt firms. Under these provisions, nearly 90% of workplaces would have been exempt from OSHA enforcement.22 The White House, in turn, established an Interagency Task Force on Workplace Safety and Health to consider alternatives to OSHA inspections, including injury taxes, performance standards, and workers' compensation reform. These employer efforts were only partially successful; Congress rejected S. 2153 and the task force endorsed higher penalties rather than deregulation23 But heightened scrutiny undoubtedly discouraged OSHA from intensifying its enforcement effort after 1978.
The Restoration of Private Control
With Reagan in the White House, OSHA shifted direction again, and the voluntarist approach was restored. But, under Reagan, voluntarism was elevated from a pragmatic response to industry opposition to a philosophy of state action. Thome Auchter, a Florida construction industry executive appointed by Reagan to head OSHA withdrew booklets on cotton dust, acrylonitrile, health and safety rights, and vinyl chloride because they were too one-sided. A prominent public health activist in NIOSH was fired. The Department of Labor intervened in the pending cotton-dust and lead cases on the side of employers and asked the Supreme Court to return these standards to OSHA so that cost-benefit tests could be performed.
In keeping with the Reagan embargo on new regulations and OMB opposition to imposing substantial costs on the private sector, standard setting was first suspended, then carefully circumscribed. Over a hundred long-delayed rulemaking projects were dropped in 1981, without cost-benefit or cost-effectiveness tests to determine whether or not they could pass the requirements of the new Executive Order. Eight standards proposals were recalled or weakened.
Agency policy on costs and feasibility was reversed. Auchter dropped Bingham's "lowest feasible level" approach to standards; costs became the single most important criterion in standards actions. Although the Supreme Court rejected cost-benefit analysis for Sec. 6b(5) standards in 1981, the agency developed a stringent, fourfold cost-effectiveness test for health standards:
1. Did the hazard pose a "significant risk" to workers?
2. Did the rule substantially reduce the risk?
3. Did the standard adopt the most technologically and economically feasible approach?
4. Was the standard cost effective?
To be issued, health standards had clearly to reduce obvious hazards and to do so with only the most-feasible (i.e., least-costly) control technologies available.24
All nonhealth standards had to meet the requirements of Executive Order 12291 and provide "potential net benefits" greater than their "potential net costs." This category was interpreted broadly. Labeling and noise, or "hearing-conservation," proposals, for example, were classified as nonhealth standards; cost-benefit analyses were done in both cases.
Some standards were issued by OSHA but these proposals were either weak and designed to preempt the possibility of stricter regulation by others or issued in the face of legal challenges. The labeling standard, for example, addressed business apprehension about the worker right-to-know movement. Compared to stringent state and local laws, the OSHA standard covered only 25% of the workers who handled toxic substances and chemicals. But because it was a federal standard, the agency maintained that it preempted stronger state and local efforts.
Other standard-setting activity was designed to weaken existing rules. The hearing-conservation standard was reconsidered and qualified. Similarly, OSHA proposed to revise the cotton-dust standard in order to remove some industries from coverage, delay compliance for others, and allow some firms to substitute respirators for more expensive engineering controls. In addition, the agency proposed to modify and dilute the rule granting employees access to their medical records and the carcinogens policy.
The only two significant new rulemaking actions were done under duress. The ethylene oxide standard was proposed after a ruling by a court of appeals forced the agency to act. Similarly, a 1984 court ruling led OSHA to propose a long-delayed standard for farmworker sanitation. In this case, the agency's reluctance was apparent in its written explanation for the rule. The agency adopted restrictive assumptions about the risks that farmworkers faced from unsanitary field conditions and the benefits to be gained from regulation. As a result, the justification for the standard was so weak in comparison to the agency's own criteria for rulemaking that it all but invited successful industry suits.
In the 1980 campaign Reagan had called for a new approach to workplace safety and health in which OSHA acted as industry's sympathetic adviser. In keeping with that laissez-faire vision, enforcement was all but completely deregulated. Average penalties per violation and per serious violation declined dramatically. Follow-up inspections declined by over three-quarters. The proportion of inspections with repeat violations dropped by nearly 40%. Perhaps employers were cleaning up on their own, but agency policy seems to be a more compelling explanation for the declining enforcement effort. Auchter self-consciously altered OSHA's approach to enforcement. The agency was not mandated, he maintained, to "intrude" in workplace issues. It was to "assist" labor and management.25
In practice, the agency assisted management rather than labor. Most important, it adopted administratively the inspection strategy that had failed as an amendment to the act in 1980. Beginning in 1981, OSHA exempted all but the most hazardous work sites in the most hazardous industries from routine inspection. Pilot programs were started to allow "safe" firms to avoid general inspections entirely by setting up labor-management committees. No effort was made to distinguish between committees that empowered workers and those that left all decisions with management. In fact, firms without labor-management committees could qualify for an exemption if they undertook "intensive" management programs. Concurrently, resources were shifted from on-site inspections to off-site consultation with employers. Worker-complaint inspections were discouraged by routinely referring worker complaints back to employers unless workers alleged, and established in writing and to the agency's satisfaction, that "violations threatening physical harm or an imminent danger" existed.26 Predictably, the proportion of inspections in response to employee initiatives plummeted from a yearly average of 32.3% during the Carter administration to 14.5% under Reagan.27 Finally, the agency directed its field offices to emphasize settlement agreements with firms and to plea-bargain citations. As employers had recommended, regional managers who failed to reduce the number of citations contested by employers were threatened with disciplinary action by their Washington supervisors.28
Some of the changes adopted under Bingham were continued. The share of serious violations in the total number of violations remained constant. The average penalty per repeat violation showed little change after 1981. But the agency failed to take the other, related actions that were necessary to sustain a deterrent approach to enforcement. Thus, while the share of serious violations remained high under Auchter, the average penalty for them declined. While the average penalty per repeat violation remained constant, the share of repeat violations in the total number of violations dropped significantly. The basic pattern signaled by Reagan in 1980 and endorsed by Auchter held. As an enforcement agency, OSHA was rendered toothless. It became, instead, an advocate for the employer's point of view on occupational hazards.
The Anatomy of Policy Failure
Voluntarism and activism were politically expedient responses to changes in the agency's political environment, but both approaches failed to confront the problem of occupational hazards. Voluntarism was completely unsuited to changing those aspects of work and the labor process that made working conditions unsafe. Activism took several steps in the right direction, but this approach was insufficient to improve occupational safety and health.
The analysis in Chapter 1 suggests that an effective occupational safety and health program must force employers to increase their investments in prevention and involve workers in plant governance. To accomplish these goals, the state must set standards that provide employers with clear and consistent signals about the appropriate levels and kinds of investment in protection. It is particularly important that standards anticipate hazards and that standards are revised regularly. Capital expenditures can be minimized if employers take health and safety into account when they purchase new equipment and design new plants. Capital goods producers are likely to comply with existing standards, and firms are likely to acquire state-of-the-art equipment routinely as they invest in new capital. In contrast, it is very costly to retrofit existing plants.
An adequate enforcement policy must create deterrents to the violation of standards. This can be done in one or both of two ways. First, the state can use fines to discourage employers from violating standards. If this approach is chosen, penalties must be stiff, inspections comprehensive, and policy consistent. The rational employer who is out of compliance and contemplating investing in health and safety should consider (1) the odds of being inspected each year; (2) the probability that once he or she is inspected, the violation will be detected; and (3) the size of the penalty that will be assessed if the employer's violation is cited.29 If the odds on inspection are low, the penalties minimal, and/or policy too erratic to be predictable, the economically rational employer would be advised to violate standards with high compliance costs.
Alternatively, the state can create and subsidize a variety of inplant mechanisms through which workers can participate in a decentralized enforcement effort, such as mandatory health and safety committees, safety representatives, and employee-run occupational health clinics. Field inspections can then be linked to worker participation in in-plant institutions to take advantage of worker knowledge, maintain motivation, and facilitate involvement in decision making over the work environment.
As the record of OSHA policy reveals, the agency failed to adopt programs of either sort. Instead, in its search for an acceptable response to the competing political pressures on it, OSHA developed inconstant and inconsistent programs that resulted in few standards and a poorly conceived and implemented enforcement program.
Even on the most conventional performance criteria, voluntarism must be judged a failure. It made no attempt to help employers or employees mount the sustained private effort necessary to monitor and prevent hazards. In defending the corporate sector, voluntarism misunderstood and distorted the realities of private power in the workplace. It failed to confront the incentives to workers and unions to trade away protection for more narrowly defined economic benefits, jobs, and organizational security. It ignored the disincentives to employers to invest in prevention, and their vested interest in preventing workers from playing a larger role in the determination of working conditions.
Activism confronted some of these issues but was overly statist and insufficiently attentive to the underlying problems it attempted to solve. Despite a few efforts to facilitate worker participation in agency enforcement, government relied on penalty-based inspections rather than encourage worker control over decisions about the conditions of work. At the same time, the level of fines and inspections remained too low to provide a real deterrent to employers.
As a result, OSHA had the worst of both worlds. It encouraged business opposition, but failed to change employer practices substantially. The agency was by no means wholly responsible for this outcome. As I stated above, organized labor bears some of the responsibility for failing to mount a concerted attack on occupational hazards or to address the problems inherent in its economistic approach to politics and the workplace. As a result, OSHA was left even more vulnerable to countermobilization by business, and more dependent on penalty-based inspections, than it would otherwise have been. This, in tura, created a vicious cycle in which business opposition made it impossible to mount the kind of penalty-based enforcement policy that could have changed employers' behavior, while the failure to improve worker health and safety legitimated business opposition.
The sheer inconsistency of agency policy compounded the problems inherent in both these approaches. Policy at OSHA failed to communicate clear signals to employers and employees about the costs of violating the law or the possibility of using the agency to facilitate worker action. Employers did not face certain costs of punishment; workers did not get consistent information about the hazards they faced or certain rights to act on their own. Instead, the wide swings in policy probably discouraged workers from organizing around the issue and encouraged employers to risk violating agency standards.
The overall effects of these two regulatory strategies, and the agency's movement back and forth between them, can be seen in the quality of OSHA's standard-setting and enforcement programs. Standard setting was particularly vulnerable to political pressure. The tug-of-war over the meaning of the OSH Act undermined OSHA's efforts to settle the question of economic and technical feasibility and establish a general standards policy. As a result, the agency could not establish a credible presence as a standard-setting organization. Few new standards were issued; outdated consensus standards were left unrevised; standards that were proposed or issued by one administration were recalled and reconsidered by the next. The one major attempt to expedite standard setting, the carcinogens policy, fell victim to White House and business pressure and was not implemented. In 1981 the agency deleted key elements of the rule that applied to first-category substances. In 1982 it proposed to reconsider the entire rule. In 1983 it stayed several of the remaining provisions. In toto, these changes nullified the policy. OSHA was back where it had started—using the slow and cumbersome case-by-case approach that had initially frustrated standard setting.
In 1985 the Office of Technology Assessment (OTA) evaluated OSHA's standard-setting effort by comparing its standards for 123 specific substances to NIOSH recommended standards and the TLVs of the ACGIH. The OTA findings suggest the inadequacy of OSHA's case-by-case approach. In the vast majority of cases, NIOSH recommendations and ACGIH TLVs were more stringent than OSHA standards. This was true for ceiling limits (maximum allowable exposure at a particular time) and "time weighted averages." In addition, ACGIH TLVs covered 200 substances that OSHA had failed to regulate. Most telling, despite continual updating by ACGIH, the PELs for nearly all of the 410 substances regulated by OSHA had not been revised since they were initially adopted in 1971.30
Given the need to send clear signals to employers, OSHA's failure to establish a clear and consistent policy on feasibility was particularly costly for worker health and safety. As we saw, the courts intervened three times to set the basic contours of agency policy on this issue. Judicial rulings left room for considerable discretion, however, and OSHA filled in this space in several different ways. Feasibility weighed heavily in OSHA's first two permanent health standards: asbestos and 14 carcinogens. Cost considerations played an important role in the 1974 proposal to revise the national consensus standard on mechanical power presses. The vinyl chloride standard inaugurated a new approach that emphasized the technology-forcing aspects of the act, and the coke-oven standard followed this logic. Four of the six health standards issued between 1977 and 1981 built on this strategy and adopted a "lowest-feasible-level" approach. Then, under Auchter, OSHA dropped the "lowest-feasible-level" route altogether and adopted a complex set of tests that privileged economic effects in determining what to regulate and the content of standards.
Even Reagan's approach did not produce consistent policy. As critics of economic review have maintained, these economic tests leave considerable room for interpretation. The development of OSHA's labeling standard illustrates the point. After OSHA revised the Bingham rule to limit its coverage and the rights of workers exposed to dangerous chemicals, it resubmitted the standard to OMB with a cost-benefit test that estimated the standard's benefits at $5.2 billion, or twice as much as the estimated $2.6 billion in compliance costs. When OMB rejected OSHA's analysis, it argued that the agency had exaggerated the benefits of labeling by a factor of 80 and that the standard's true benefits were closer to $65 million. When Auchter appealed OMB's decision to Vice-President Bush and the Task Force on Regulatory Relief, a third cost-benefit test, to be prepared by Professor Viscusi, was ordered. Using a different set of assumptions about worker behavior and a willingness-to-pay approach to estimate benefits, Viscusi concluded that a labeling standard would yield $2.85 billion in benefits, just enough to cover the estimated costs. Using Viscusi's study, Bush overrode OMB and approved OSHA's proposal; a final labeling standard was adopted in 1983.31
On the cotton-dust standard, a different kind of industry interest frustrated OMB's attempt to oversee OSHA In line with White House proposals stretching back to the Ford administration, Reagan's OMB suggested that it would be "cost effective" to revise the Carter standard, already upheld by the Supreme Court, to allow firms to substitute dust masks for engineering controls. This change, it argued, would not violate the prohibition on cost-benefit tests of health standards; it would simply make the standard more cost effective. Given OMB's assumption that masks were as effective as engineering controls, it was able to justify this proposal in strictly economic terms. But many of the larger companies in the industry had undertaken expensive capital investment programs and were now in compliance with the 1978 standard. They wanted their competitors to match these investments. As a result, OSHA took their case to David Stockman, director of OMB, and he personally overruled OIRA—despite the obvious economic case for revision.32
With regard to enforcement, political opposition undermined OSHA's ability to induce compliance with those standards that did exist. The inspectorate was small, and the odds of any single firm being inspected were low. In combination, federal and state inspectors were able to inspect less than 4% of firms in a given year.33 The average firm's chances of being inspected were approximately one in a hundred. To make matters worse, many hazards were likely to go undiscovered by inspectors: the average inspection cited 2.1 violations. The violations that were cited incurred small penalties, particularly in comparison to the costs of compliance for many standards. The average penalty during the 1970s, the heyday of agency action, was $193. Penalties for health hazards were higher and averaged a little over $400 per violation over the same period, but few of these violations were cited. The average firm was likely to be fined a total of $7.08, or 34 cents per worker covered by the act. Thus, even OSHA's most punitive actions had limited financial consequences for employers. The financial incentives for compliance were, as Viscusi concluded, "virtually nonexistent."34
OSHA's Impact
The OSHA record can also be gauged by considering the extent to which the agency reduced the incidence of workplace accidents, injuries, and disease. The evidence is ambiguous, but, taken together, the available studies suggest that, at best, OSHA had a small positive impact on worker health and safety.
Before examining the available data in detail, three problems that arise in interpreting the data should be addressed. First, as I noted earlier, it is difficult to measure the impact of health regulation because it is difficult to identify and explain many occupational diseases. Second, the Bureau of Labor Statistics (BLS) collects the data but has not made plant-by-plant data available to OSHA or the general public. Instead, the BLS publishes industrywide aggregate figures on injuries and illnesses for broad risk categories.35 Data on individual companies are available in a few cases; but these cannot be broken down by plant and facilities. As a result, safe plants are grouped together with high-risk plants.36 This makes it almost impossible for the analyst to examine the relationship between specific kinds of work sites and processes and worker health and safety.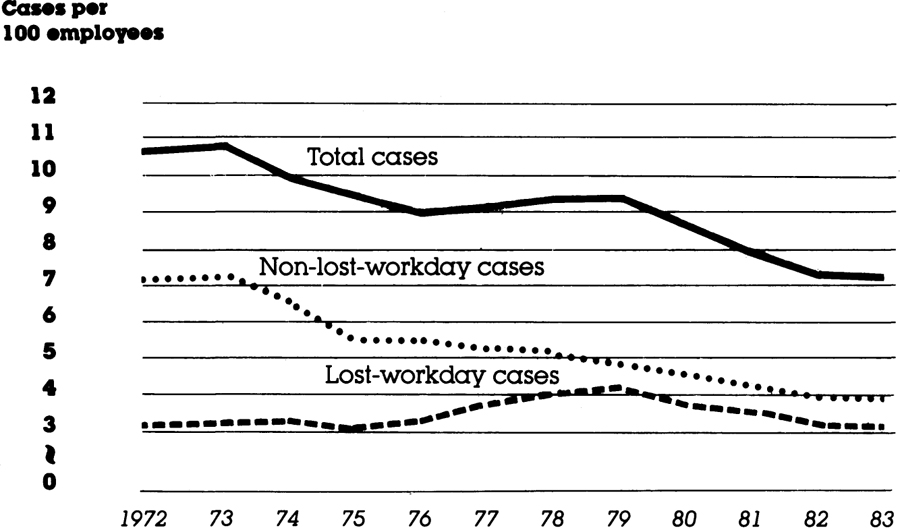 Source: Office of Technology Assessment, Preventing III ness and Injury (Washington, D.C.: GPO, 1985), figure 2.1.
To complicate matters, the BLS changed the definitions of workplace injuries and accidents in 1971 so that pre- and post-1971 data are not comparable. It is possible to splice the two series, but close examination of trends across this divide is difficult, making pre- and post-OSHA comparisons problematic.37
With these caveats in mind, consider the available evidence. At the most general level, there have been significant declines in aggregate occupational injury rates since the creation of OSHA But as the OTA has demonstrated, these improvements are readily explained by factors other than regulatory activity.38 Figure 7.3 charts three separate measures of the injury rate: non-lost-workday cases, lost-workday cases, and total cases (a combination of the first two measures).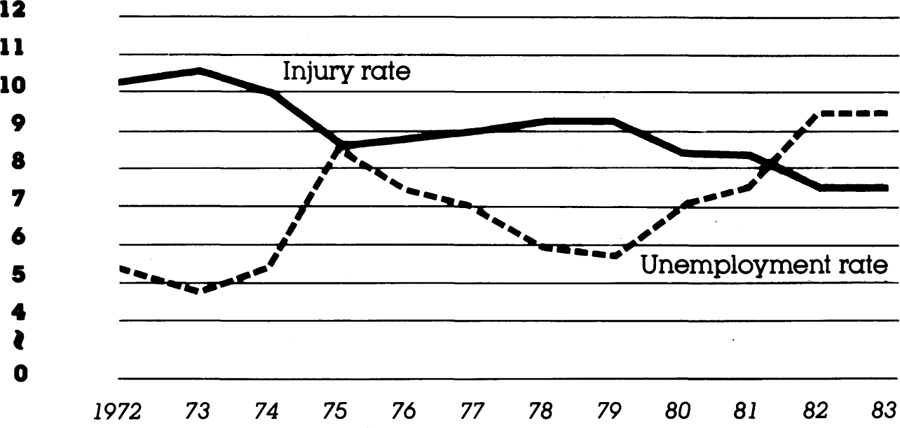 Note: The injury rate is per 100 employees.
Source: Office of Technology Assessment, Preventing Illness and Injury (Washington, D.C.: GPO, 1985), figure 2.2.
The decline in total cases and non-lost-workday cases is significant. Business-cycle factors seem to account for it, however, as Figure 7.4 indicates. Injury rates rise and fall with employment rates. Other studies confirm these findings. The explanation is straightforward; it is the same one encountered in the analysis of the impact of the business cycle on the rise in accident rates in the mid 1960s. As production increases and employment rises, firms hire young and inexperienced workers. They tend to have higher injury rates than older, more experienced workers. Moreover, firms expand facilities, introduce new machinery, and increase the pace of production. These factors increase the likelihood of accidents and injuries. During recessions, the cycle is reversed. In short, accident rates declined in the early Reagan years because of recession, not voluntarism, as the administration proclaimed.
The impact of OSHA on accidents and injuries can be assessed in a variety of ways, ranging from statistical models that predict accident and injury rates without regulation to comparisons of the injury rates of inspected and uninspected firms to comparisons of the injury rates of firms inspected at different points in time.
Generalizations are difficult because the findings are mixed. Smith found that OSHA inspections lowered injury rates in small firms in 1973 but not in 1974.39 McCaffrey found no evidence of a positive impact on safety in 1976, 1977, and 1978.40 In contrast, Cooke and Gautschi's intensive study of one state's experience found that, between 1970 and 1976, inspected firms were more likely to experience decreases in injury rates than uninspected firms.41 Mendeloff's analysis of California data suggested that some kinds of accidents are more easily prevented than others; OSHA helped reduce the frequency of accidents in which workers were caught in or between machinery or hurt in explosions.42 Still, if there is a single conclusion, it is this: OSHA had little impact on safety in the aggregate and a small, positive effect in some situations.43
For the reasons stated, the analysis of health impact is even more problematic. As a result, there are few careful analyses, and the existing estimates vary greatly. There is a consensus that estimates of the incidence of occupational disease based on workers' compensation claims are much too low, but little agreement about the true range. One comprehensive review of the available studies found that published figures range from 10,000 to 210,000 deaths annually.44 Three government reports are widely cited in the literature and the press: the Public Health Service's estimate that there are 390,000 new cases of occupational disease annually; HEW's finding that at least 20% of all cancer deaths are attributable to work-related exposures; and NIOSH's conclusion that 100,000 Americans die every year from occupational health hazards. These reports may be exaggerated. The OTA concludes that the evidence suggests only 5% of cancer deaths can readily be attributed to hazardous work.45 In truth, we simply do not know enough to reach any firm conclusions.
Because of this wide variation in estimates, statistical explanations of health trends are not likely to prove rewarding, and few experts attempt them. As an alternative, some analysts have measured trends in exposure levels for selected substances. Again, the evidence is mixed and generalizations must be tentative. Mendeloff found a significant drop in worker exposure to asbestos—where OSHA had significantly lowered the preexisting threshold limit value—between 1973 and 1979, but no change in exposure to lead, silica, or tricholorethylene, where the relatively weak ACGIH standards had remained in force.46 Other studies have found significant declines in worker exposure to OSHA-regulated substances including cotton dust, vinyl chloride, and lead.47
In sum, it is unlikely that OSHA had a major effect on the safety of American workers between 1971 and 1984. The agency seems to have reduced the risks of occupational disease for workers in a few industries, such as textiles, and helped to prevent some kinds of accidents, such as explosions. Overall, however, OSHA's standard-setting and enforcement activities must be judged a failure, in relation both to the hazards that workers face and to the goals of the OSH Act.
Liberalism at Work: An Empirical Assessment
Why did OSHA fail? The changing balance of political forces clearly frustrated worker protection. As economic conditions declined and business groups mobilized, neither Congress nor the White House was willing to fund or support aggressive implementation. But as I stated earlier, the liberal form of state intervention played a critical role in translating economic decline and business mobilization into effective political opposition to workplace regulation. Moreover, the characteristic infirmities of factory legislation compounded the problems created by the shift to the right. Four characteristics of the liberal approach were most important in this context.
First, by vesting responsibility for changing employer practices in an executive agency instead of attempting to devolve power to workers at the plant level, Congress left the program vulnerable to changes in the short-run balance of political forces. Economic crisis and employer opposition took such a heavy toll on workplace regulation because this approach left protection so dependent on the political interests of elected officials in Congress and the White House.
Second, despite the nominal presence of public authority in the workplace, employers remained free to organize work as they saw fit while OSHA responded to, rather than initiated, change. Most important, the agency could not adopt the long-term, coordinated policy approach advocated by the Frye Report, an approach that could have prevented hazards efficiently by anticipating changes in technology and workplace organization, integrating worker health into a larger program to improve public health, and directing investment to those economic activities that maximized employee health and wellbeing.
Third, OSHA's reliance on a penalty-based approach to compliance actually encouraged business opposition and facilitated White House review. The "intrusive" nature of this approach to enforcement was all but guaranteed to alienate employers. At the same time, the inherent inefficiencies of command-and-control regulation provided the agency's critics with more than enough ammunition to challenge the entire program. The most responsible observers were careful to distinguish between this approach to enforcement and federal regulation in general. But as the political climate shifted against OSHA fewer and fewer of the agency's opponents took the time or effort to make this distinction.
Finally, while state intervention in the workplace alienated employers and facilitated business opposition, it did not encourage worker mobilization. To the contrary, the act encouraged workers to rely on state action rather than build political and economic institutions that might facilitate a more radical restructuring of the relations between employers and employees.