Before OSHA
In the years before 1970, American occupational safety and health policy strongly emphasized voluntary action by firms and employees. Despite a wide variety of state and federal programs, risk and protection were, for the most part, allocated privately. Employers were free to organize the labor process as they saw fit; while workers sought protection from occupational hazards by changing jobs or, if unionized, pressuring employers through collective bargaining and wildcat strikes. There were no worker rights to facilitate participation, or in-plant institutions to assure that participation was effective.
What state action occurred was resolutely liberal and rested on the two traditional pillars of occupational safety and health policy: workers' compensation and factory legislation. The insurance system was supposed to create incentives for employers to prevent hazards and provide injured employees with financial compensation, but it failed to function as intended. Regulatory authority was shared by national and local officials but on both levels the programs were comparatively primitive. Coverage was uneven; standards emphasized safety rather than health and were loose and outdated; enforcement was underfunded and handicapped by jurisdictional conflicts between federal and state officials. This chapter considers the evolution of this system from the early twentieth century to the eve of the passage of the OSH Act.
Business and Working Conditions
Work has always been hazardous, but working conditions deteriorated markedly on several occasions as the American economy matured. As the factory system spread in the early twentieth century, the rates of industrial injuries and deaths appear to have quickened in mining and manufacturing, particularly in the steel mills, textile factories, and coal mines that brought modern industry to the cities and countryside.1 Later, the petrochemical revolution introduced new kinds of health hazards into the workplace. In the 1960s a combination of economic and technical factors led to a sharp increase in the industrial accident rate.
Since the origins of modern capitalism, worker movements have resisted the worst depradations of the market and industry, and have fought to establish the rights of labor and limit the power of employers. Periodically, workers have made occupational safety and health an issue, sometimes in response to declining working conditions, sometimes as part of a wider effort to resist changes in the labor process. This issue played a major part in early efforts to build unions in mining, men's and women's clothing, and steel. The Great Depression's industrial union drives in mining, automobile manufacturing, chemicals, and rubber raised it again. Then, worker discontent over the way that management ran the shop floor fed and was reinforced by labor's efforts to win greater economic security and a larger role in governing American society. For a moment, health and safety moved toward the top of several unions' agendas and helped to stimulate industrial unionism and reorient the labor movement.2
But, for the most part, American firms were able to resist these efforts. As I stated earlier, the institutional arrangements of capitalist democracy facilitate business control over work and make it difficult for unions to challenge property rights successfully. Moreover, industrial interests have often taken care to anticipate and, on occasion, coopt radical movements by crafting "corporate liberal" reforms that have served to diffuse radical protest while consolidating corporate control over production.3 Until 1970, occupational safety and health policy followed this pattern of preemptive reform. Business groups played a leading role in developing a set of public and private institutions that moderated conflict over working conditions and at the same time discouraged the development of more independent and effective programs.
Progressive Era Reforms
The first wave of workplace reform occurred during the Progressive era when manufacturing interests, concerned that the deterioration in working conditions could spark employee unrest, sought to craft public and private programs to deal with accidents and injuries. The steel industry led these efforts and used its considerable political and economic resources to organize business support for a reformed approach to work. Under the auspices of its head, Judge Gary, U.S. Steel developed the first corporate in-plant programs and joined with middle-class reformers to design the workers' compensation system. It hired safety engineers; began employee safety education; and developed the Voluntary Accident Relief Program, the first major private compensation program of its kind in the United States.4
The steel industry had an immediate interest in reform. Although significant sectors of the industry would later become comparatively safe places to work, steel making was difficult and dangerous work, and its hazards were well publicized by muckraking journalists and social reformers. As a result, public concern over worker health and safety focused on this industry. Equally important, steel makers were committed to keeping their factories union free and feared that accidents and injuries would stimulate worker militance.5
Although U.S. Steel led the safety movement, the steel industry was not alone. Its concerns reflected a widespread belief among industrialists that worker militance had to be contained through reform lest it result in effective challenges to managerial control of work or labor radicalism in politics. Other firms joined the safety movement or more broadly based reform organizations, such as the National Civic Federation (NCF). The NCF, a privately organized association of social reformers, industrialists and financiers, and moderate trade union leaders, encouraged labor-management dialogue and developed model reform legislation in areas such as workers' compensation and trade regulation. In joining this and similar groups, leading capitalists were able to play key roles in the development of private and public welfare programs.6
Designed to replace the existing liability system, workers' compensation was the cornerstone of the new approach to occupational safety and health. Traditionally, employers had used three common-law defenses to protect themselves from suits. The first, the assumption-of-risk doctrine, allowed juries to find against workers if the hazard was a known and inherent part of the job. An employer could argue that by taking the job in question, an injured employee voluntarily accepted the possibility that he or she could be injured, and absolved the employer of responsibility. The fellow-servant doctrine, the second of what came to be called the "unholy trinity of defenses," prevented an employee from collecting damages if the employer could prove that another worker's negligence contributed to the accident in question. Finally, the contributory-negligence doctrine prohibited compensation if the worker's negligence helped to cause the injury. Thus the employer who could prove that the injured employee had failed to act safely could also be absolved of responsibility, regardless of whether the firm created or contributed to the accident.
In the early twentieth century, however, several state legislatures began to liberalize the law of negligence. Concurrently, juries began to award larger settlements to injured workers and their families. Predictably, these changes generated concern among employers. As business interests often did at this time, employers turned to middle-class reformers to help them design a new approach. Working with the American Association for Labor Legislation—a research and lobbying organization consisting of liberal academics and other social reformers from the middle and upper classes—and the NCF, industrialists launched a campaign to adopt the workers' compensation system.
From the perspective of business, workers' compensation had two major advantages. First, because it was intended to be a no-fault system with fixed compensation schedules, it precluded employee suits against employers. Thus it promised to cap employers' liability and, thereby, control and regularize the costs of accidents. Second, workers' compensation took conflicts over health and safety out of the workplace and channeled them into an administrative system. There, workers confronted experts—doctors, lawyers, and public officials—rather than employers; accordingly, the issues were redefined. A power struggle between employers and employees over the intensity and conditions of work was transformed through state action into a dispute among third parties over the legal and medical principles governing worker eligibility and income-replacement schedules. In this way, the workers' attention was shifted from the organization of the labor process to the rules and regulations of a distant, often opaque bureaucratic decision-making process.
At first, some smaller firms resisted the idea, convinced that the costs of compensation would leave them at a competitive disadvantage. Represented by the National Association of Manufacturers (NAM), they opposed the plan and almost killed the movement. But larger firms agreed to pool risks with smaller firms. Once this concession was made, the system gained wide support among employers.7
The unions accepted workers' compensation reluctantly. Radicals in the industrial union movement argued for greater worker control of work and direct action on the shop floor. Social democratic reformers fought for strict government supervision of employer practices. More moderate in its general political orientation, the American Federation of Labor (AFL) urged that the tort system be strengthened. The AFL believed that employees would be better served by sizable cash awards under reformed legal standards than by an insurance program. But the alliance between reformist business and middle-class progressives proved decisive. Between 1913 and 1920, all but eight states passed workers' compensation laws. Belatedly, the AFL endorsed the movement.
Corporate Control over Standard Setting
However determined, standards governing worker exposure to toxic substances, machine design, and work practices are integral to most forms of state intervention. They are the major determinants of the employer's and employee's respective rights and responsibilities because they indicate what conditions government will and will not tolerate. Thus, as the state's role in this area grew, affected firms sought mechanisms that allowed them voluntarily to design and adopt occupational safety and health standards, thereby preventing mandatory regulations based on standards set by unsympathetic parties.
In some instances, in cooperation with professionals in their employ, corporations created specialized organizations and then dominated them. U.S. Steel was instrumental, for example, in the formation of the NSC in 1911 and remained a key supporter of the organization. In other cases, industry associations established for lobbying and educational purposes, such as the American Petroleum Institute, developed standard-setting activities. In still other cases, industrialists took over existing professional organizations.
The United States of America Standards Institute (USASI)—the predecessor of the American National Standards Institute (ANSI), the most important private standard-setting organization in the United States today—began in this way. The USASI was originally organized at the behest of a number of professional societies and the Departments of War, Commerce, and Navy to encourage the standardization of industrial products and processes. Then, in the 1920s, it was transformed by an influx of trade and industrial associations. In 1928 it was reorganized to reflect the dominance of corporate interests over professional societies and began to set product-safety standards that industry adopted and used to defend itself against product liability suits.8 A long process of institution building followed, and the organization eventually branched out into workplace safety and health as an ancillary function. By the 1960s, reorganized as ANSI, it had become the principal health and safety standard-setting organization in the country.
This trend toward corporate control over private health and safety organizations was widespread. On the eve of the passage of the OSH Act, hazard identification and program development were dominated by a handful of private professional groups, including the American Society of Safety Engineers (ASSE), the Council on Occupational Health (COH), the American Hygiene Association (AHA), and the Industrial Hygiene Foundation (IHF). For the most part, these organizations deferred to management, tied to employers by financial considerations, membership, and organizational affiliations.9
The NSC stood at the center of this private network. Over time, it had gained considerable legitimacy as a disinterested party, despite the instrumental role that U.S. Steel had played in its formation. Nonetheless, it remained a captive of its member firms: three-quarters of the NSC's trustees were corporate managers, and it functioned as a public relations agency and corporate think tank rather than an independent research body. Because it represented the larger, "safetyconscious" firms, it tended to be more liberal than other organizations in the field.10 But, like the rest, the NSC developed and promoted preventive strategies that coincided with corporate control of production, personnel relations, and plant operations.
The ANSI supplemented the NSC by developing what were called "consensus standards." These were guidelines that employers could, if they wished, apply to their practices. Like the NSC, ANSI claimed to represent a wide constituency, and it regularly invited representatives from business, labor, consumer groups, professional associations, and government agencies to take part in its activities. The standards committees were, in turn, made up of experts from a broad range of these interested organizations. As a result, ANSI was accorded special status by federal and state agencies.
In practice, ANSI, like the NSC, was dominated by the companies and trade associations that helped to organize and finance it. Members enjoyed voting rights on policy issues and dominated the standards committees. As of the late 1960s, only 6 trade unions were authorized to participate in ANSI committee deliberations, compared to 160 trade associations. In the vast majority of cases, government, union, and consumer representatives combined constituted a minority of committee members.11 Scientists employed in the private sector supplied the technical expertise. Proprietary groups (i.e., industry associations) provided summaries of company practices and in-house standards that were used as the starting point for committee work. Proposals by ANSI were also reviewed by industry representatives and a Board of Standards Review. The board was dominated by industry representatives and enjoyed plenary power over all standard-setting activities.12 As a labor department report concluded:
One of the weaknesses of the standards process, in respect to occupational safety and health standards and consumer goods standards has always been that the consumer, the working man or the housewife, has always spoken with a very weak voice in the councils of the standardizing bodies.13
Nearly all of these private and professional organizations subscribed to and propagated a set of principles that legitimated corporate control of work and the privatization of the workplace. According to this view, most accidents were caused by what they called "worker error" or "unsafe acts." Employers, in contrast, were viewed as enlightened, albeit self-interested, guardians of their workers' welfare. Firms, especially large firms, were careful to check new substances before they entered the workplace and take the precautions necessary to assure that work was safe. Indeed, the employer's self-interest served the worker: productivity losses and high insurance premiums resulting from accidents, deaths, and diseases led the rational firm to make work as safe as possible. Smaller businesses might not take equal care, of course. They lacked the money and expertise to match their larger competitors. But their mistakes did not justify wholesale state intervention. Public subsidies for education and training could bring the smaller firms' programs up to par.14
In fact, private action was held to be more efficient than government regulation under almost all circumstances. Government agencies could make existing industry and professional codes available to all firms, conduct research in industrial hygiene, and hold conventions and meetings to encourage interest in worker safety and health. In contrast, detailed codes were unlikely to prevent accidents; indeed, they could have little effect on prevention, since the vast majority of accidents were caused by the employees themselves. Actually, government regulation was likely to discourage accident prevention. It led firms to concentrate their efforts on compliance with artificial codes rather than devote their time and money to the more important effort of educating workers. Thus, private organizations should continue to have the responsibility for developing safety and health standards, and employers should have the freedom to apply them flexibly.
Only the American Conference of Governmental Industrial Hygienists (ACGIH), representing professionals who worked for the government, could claim any real independence from the corporate sector. The ACGIH was created in the 1930s by reformers in the industrial hygiene profession who were dissatisfied with the biases of the corporate-dominated American Industrial Hygiene Association. Alone among organizations in this network, ACGIH promoted awareness of occupational health problems. It set the voluntary threshold limit values (TLVs) for hundreds of toxic substances that later became the basis for many of OSHA's health standards. As a rule, however, corporations did not adopt these standards; and most government agencies deferred to this industry practice.
In-Plant Programs
At the workplace, in-plant programs were limited in scope and purpose. The evidence does not allow for a precise calculation of the extent of corporate activities before 1970, but one reliable estimate of current corporate efforts indicates that most corporations do not provide permanent medical facilities. Only the largest establishments provide any full-time staff; this usually means a single occupational nurse. Almost all work sites with less than 500 employees—approximately four-fifths of the nation's workers work in these establishments—lack any organized preventive program. It is safe to assume that inplant programs were even less developed prior to 1970.15
Even where corporations mounted permanent in-plant programs, these efforts were subordinated to management personnel policies that often conflicted with sound occupational safety and health policies. Health and safety directors were below plant and personnel managers in the corporate hierarchy. In-plant programs were not designed to anticipate and prevent disease and injury; they were organized to screen employees who might be unfit for work. They stressed the physical, mental, and social adaptation of the worker to the workplace, rather than the reverse. Safety, not health, was the priority. Injuries were treated on an emergency basis.16
In this context, prevention devolved into worker education; worker education devolved into propaganda extolling the virtues of management programs and blaming worker carelessness for accidents and injuries. Health and safety committees, where they existed, were usually shut out of corporate decision making about plant-level policies that involved significant expenditures or changes in work relations. One unionist told Congress of his experience with monthly committee meetings in this way:
The committee is very sincere, the safety committee. They devote much of their time to making the plant safe. Management are very good listeners, and they take minutes of our talks. When it comes to getting minor stuff fixed we have no problem but when it comes to something big, where the costs are a lot of money, then we get into a lot of difficulties.17
Organized Labor and the Workplace
Although business strategies were the driving force behind corporate dominance of health and safety at work, the unions helped to reproduce it by pursuing an economistic strategy that ceded control of the labor process to employers. In the late nineteenth century, Samuel Gompers, first president of the AFL, committed the newly formed federation to a "voluntarist" approach to industry and government: workers struck to build and protect unions and voted to win moderate reforms. Despite major changes in American capitalism and the labor movement between the two world wars, the labor movement's strategy remained remarkably consistent in this area. After World War II, the AFL-CIO stressed organizational security and economic gains for workers rather than participation at work or public control over industry.
The Postwar Accord
Rank-and-file workers did challenge corporate decisions about health and safety, and struggled to improve working conditions, particularly through local actions, after the war. But these struggles were framed by a general labor-management "accord" that helped to reinforce the depoliticization of work and private control over health and safety organizations.
By accord, I refer to the institutional arrangements that organized industrial relations in the United States from the New Deal through the 1970s. These arrangements evolved incrementally during the 1930s and 1940s in response to the labor unrest of the Great Depression and World War II. Finally consolidated in the mid 1950s, the accord is best understood as an implicit social contract, or "truce," between American workers, represented by the AFL and CIO unions and the larger multinational corporations.18
Intended to secure labor peace, the accord established a routinized system of political and economic conflict with a fairly clear set of rules. These rules were institutionalized and codified in laws regulating collective bargaining (the Wagner, Taft-Hartley, and Landrum-Griffin acts), social security reforms, statutes and organizations that regulated economic growth (the Council of Economic Advisers, the Employment Act), and employer-employee bargaining strategies.
Characteristically, workers accepted managerial control over production and capitalist control over investment. They also limited their political activities to demands for economic growth and social security rather than the transfer of income and wealth between classes or the reorganization of the labor process. In return, corporations accepted a greater role for unions in national politics and moderated many of the most extreme forms of labor control. They reduced the arbitrariness of plant-level supervision and developed new personnel programs and managerial practices that stressed conciliation and arbitration.
These arrangements did not preclude using state power to advance worker interests at work. The union movement lobbied Congress to strengthen the laws governing collective bargaining so that employees might have greater leverage on the shop floor. Workers retained the right to strike over the conditions of work. But the accord shifted the focus of worker activity away from struggling with management over the organization of production to lobbying public officials for policies promoting full employment and economic security. At the same time, many unions negotiated contracts that consigned conflicts over plant administration to local union bargaining or a highly bureaucratized grievance procedure. In combination, these institutions and practices reinforced corporate control of work and undermined efforts to improve occupational safety and health.
In several respects, the accord was a rational response by organized labor to the subordinate position of American workers in the political economy—a strategic concession designed to maximize workers' limited power resources. The labor movement was weak. Only a small proportion of the labor force was organized; those who were in unions lacked central organization. There was no distinctive labor party to focus worker political activity, and despite the mass protest of the New Deal period, workers remained demobilized in their communities and at the workplace. Moreover, as anticommunism waxed and labor militance waned in the late 1940s, employers used their political power to win labor statutes that banned secondary boycotts and discouraged other cross-sectoral forms of coordination by workers. These laws then reinforced demobilization, disorganization, and divisions among workers.19
Once the arrangements were established, they created incentives for unions to continue along these lines. Barring a classwide political mobilization—unprecedented and unlikely in the United States—opposition to the demands of business for unilateral control over work, investment, and technology were likely to be costly and unsuccessful. In contrast, by granting management these prerogatives at the workplace, organized labor was able to win substantial organizational and economic gains that had previously been denied to unions and workers, including legal protection to organize, substantial wage gains, and a public commitment to high levels of employment.
Intraunion political and organizational factors also helped channel worker activity in these directions. The labor leaders of the 1950s and early 1960s were the survivors of labor's civil war between left and right. Most were firmly procapitalist and hostile to the more radical visions of industrial democracy and worker participation that had flourished in the 1930s. And the union bureaucracies benefited as organizations from routinized collective bargaining and labor peace. Agreements to check off union dues from workers' paychecks maintained union treasuries with a minimum of effort. Favorable National Labor Relations Board decisions protected established union fiefdoms.
The Accord and Health and Safety
However rational it seemed on its own terms, the accord ultimately proved debilitating because it reproduced rather than reduced those factors that constrained worker activity and limited workers' power as a class. The unions' single-minded pursuit of short-term material gain undermined the militant spirit that had helped to rebuild the labor movement in the 1930s. The union-Democratic party alliance encouraged workers to depend on presidential leadership rather than their own organizations for social reform. As amended by the Taft-Hartley Act in 1947, the National Labor-Management Relations Act precluded the kind of classwide organizations that made it possible to surmount the institutional obstacles that workers faced.
As for health and safety, the industrial relations system as a whole discouraged attention to the substantive features of shop-floor relations, including all but the most immediate working conditions. In collective bargaining and in politics, the hazards of work became a secondary issue. Conflicts over working conditions were routinely channeled into the administrative apparatus established to handle local disputes between managers and employees. Occasionally, workers struck over working conditions, but the unions emphasized other issues. Like economism in general, this approach to worker health and safety was rational on its own terms. Divisions within the union movement discouraged radical action in the name of health and safety. The former AFL craft unions were generally indifferent to worker control and job safety. The construction and building trades were difficult and dangerous jobs, but the unions in these occupations preferred to negotiate for risk premiums rather than challenge employer prerogatives.
Moreover, all unions faced disincentives to challenging workplace practices. Conflicts with employers over the conditions of work were costly and did not yield tangible gains. Indeed, the record was bleak. Only the United Auto Workers (UAW) was able to win a major contractual concession on health and safety before the passage of the OSH Act.20 Many union leaders believed that employers would abandon plants and factories rather than increase investment in health and safety. The Papermakers Union in New Jersey is a tragic example. Fearful of the prospects of job loss, it was reluctant to challenge Johns Manville over the hazards of asbestos despite long-standing evidence of the problem. The Mineworkers and Textileworkers had similar concerns and were similarly passive in the face of life-threatening conditions.
The laws governing collective bargaining also discouraged union struggles over working conditions. Administrative and judicial decisions limited the scope of permissible worker activity at work. Prior to 1966, health and safety was not a "mandatory" subject of collective bargaining; managers were bound to discuss it but they could refuse to compromise on it. If unions pressed the issue to the point of impasse, however, they could be penalized for bad-faith bargaining.
Some union leaders actually discouraged worker demands for health and safety because they associated it with rank-and-file challenges to their leadership. Given the nature of the issue, and the workers who remained interested in it, the two were often linked. Dissident Teamsters, for example, made truck safety a major demand, and the Teamster leadership rejected it. The rank-and-file campaign for safety legislation and black lung compensation in the late 1960s fed opposition to Tony Boyle's leadership of the UMW, and Boyle initially tried to block the movement. Boyle endorsed demands for federal legislation only after his opposition to health and safety reform threatened his hold over the union.
For all these reasons, occupational safety and health dropped off organized labor's postwar political and economic agenda. Only the UAW tried to mount an independent program. It had safety and occupational disease services and employed three full-time staff people. Most unions did little to prepare themselves or their workers to recognize or remedy hazards, let alone challenge existing corporate arrangements. Some actively participated with management in the private health and safety network. Union health and safety directors from the Operating Engineers, the United Steelworkers, the Papermakers and Paperworkers, and the United Rubber Workers participated in NSC programs. They won awards and ran articles in their newspapers about safety practices. A few AFL-CIO representatives sat as token members on ANSI's standard-setting committees. For the most part, however, the labor movement was indifferent to the problem. Unions bargained away safety and job control for productivity-based wage gains, health programs, pension plans, and unemployment insurance.
Collective bargaining agreements reveal in quantitative terms the labor movement's position on health and safety. A Bureau of Labor Statistics (BLS) study indicates that before 1971, the typical contract contained only rudimentary protections (see Table 2.1). Less than one-fourth stipulated employee or union rights to information, safety inspections, safety committees, or physical examinations. Moreover, when there were provisions, they had little force. Safety committees were advisory; employee rights to refuse unsafe or hazardous work, when mentioned, were left to further negotiation.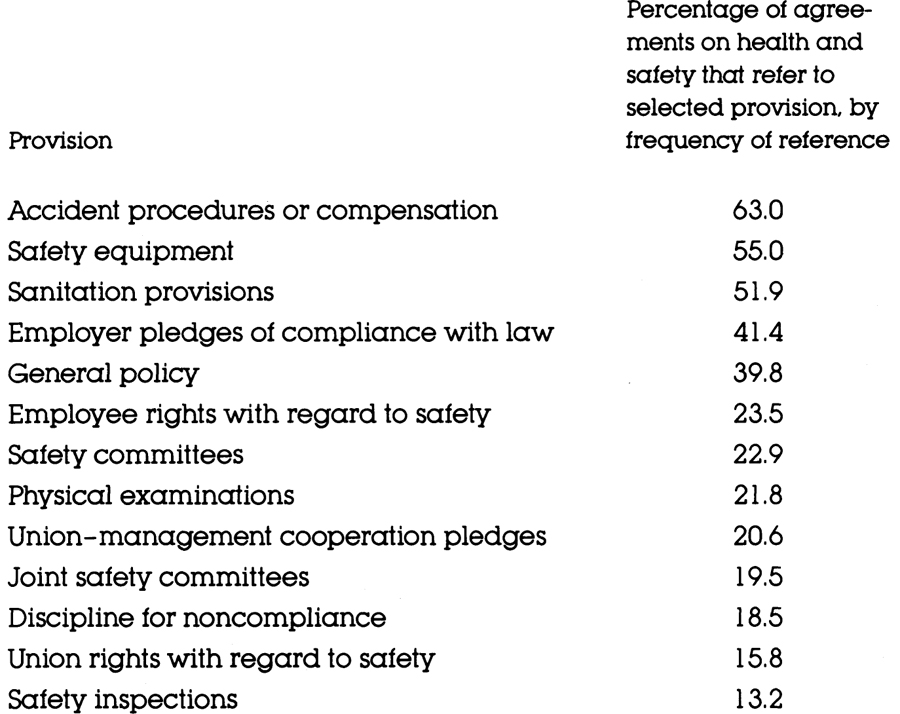 Source: Adapted from Winston Tillery "Safety and Health Provisions Before and After OSHA" Monthly Labor Review 98, no. 9 (1975), table 2, p. 42.
Public Policy Before the OSH Act
Prior to OSHA occupational safety and health policy simply ratified the subordinate position of workers at work and reflected employers' interests in labor control and a depoliticized workplace. Both the workers' compensation system and federal and state regulatory efforts supplemented rather than supplanted corporate programs. Both were extensive, but neither effectively challenged managerial control of work or significantly altered the incentives that employers faced when making health and safety decisions.
Workers' Compensation
Given the options in the early twentieth century, the workers' compensation system was a major advance over the late-nineteenth-century approach. The courts interpreted the "unholy trinity" of employer defenses liberally, and this all but precluded successful employee suits. As a result, tort remedies proved inadequate. One contemporary observer estimated that only 15% of injured employees recovered damages.21 A reformed liability system might have served workers better, but, as the AFL learned, organized labor was not in a position to change the law of negligence over the concerted opposition of employers and middle-class social reformers.
After the Progressive era, workers' compensation grew to include 50 state programs regulated by industrial boards and commissions. Although the details of the programs varied somewhat, all followed a similar pattern. They established a no-fault insurance program in which employers carried liability insurance to cover workplace accidents and disease; employees were compensated for wage loss and medical costs according to schedules and rates established by state legislatures. In return for compensation, workers gave up their right to sue employers for nearly all accidents and injuries.
In this way, the workers' compensation system attempted to achieve the goals of income security and prevention within a market framework rather than provide for the direct regulation of work by public officials. Compensation was intended to replace lost wages due to accidents and cover workers' medical expenses. The system was also designed to send market signals to employers by linking insurance premiums to employers' accident rates. Employers could then make economic decisions about how much safety they wished to provide and in what ways: safer employers would pay lower premiums; employers who failed to provide safe workplaces would choose, in effect, to devote a larger percentage of their expenditures to workers' compensation insurance.
As it developed, however, the system proved severely flawed, as studies done in the 1960s and early 1970s indicate. To begin with, workers' compensation failed to cover all employees; 20% of workers were totally unprotected, and they were concentrated in the lowest-wage occupations; only 12 states covered farm workers; only 8 states covered domestic workers.22 In addition, covered workers were rarely paid for their full losses. Compensation was uneven and lagged behind wages and the cost of living. Short-term injuries were undercompensated because of waiting periods for filing claims. Workers suffering from permanent total disability were especially hard hit. Statutory limits on maximum benefits and on the total number of payments allowed limited their awards. The maximum weekly benefit for all states averaged less than one-half of average weekly wages; actual payments were lower.23 In 42 states, maximum benefit levels did not meet the 1966 standards for a poverty income.24
The system also proved nearly impermeable to worker claims for compensation for occupational disease. Some states limited coverage to lists of specified diseases, and coverage was generally outdated and overly restrictive. Strict time limits for filing claims (often less than a year) were regularly applied. Difficulties in assessing causation, long latency periods, worker ignorance of health hazards, and employer resistance to disease-related compensation combined to depress the number of claims. Research indicates that, at the most, 3% of occupational disease cases actually resulted in compensation.25 Only a minority of employers paid experience-rated insurance premiums. In sum, employers were not forced to internalize the true economic costs of accidents and injuries. Whatever its stated goals, the system failed to create sufficient economic incentives to prevent accidents and diseases.
State Programs
Workers' compensation was supplemented by state regulatory programs. Local regulation began early in the industrial revolution, and most states had some form of safety legislation by 1900. In the 1880s state associations of labor commissioners and factory inspectors were founded to share information and coordinate efforts among the various states. In 1914 this movement resulted in the establishment of the International Association of Governmental Labor Organizations (IAGLO) to coordinate efforts among federal, state, and provincial labor officials in the United States and Canada. By 1970, approximately 90% of all workers in the United States were covered in some way by state regulatory laws. These agencies, in turn, enjoyed a full range of regulatory powers from inspection to penalties, covering both chemical and physical hazards.
But wherever they emerged, these programs quickly adapted to corporate control of work. They deferred to voluntary corporate safety efforts, the insurance carriers who wrote workers' compensation, and private safety organizations such as the NSC. As a result, nearly all programs were weak and ineffectual. Almost all of them focused on safety and virtually ignored health hazards. Less than one-third had regulations covering biological hazards.26 Industrial hygiene programs were, according to a Department of Labor study done in preparation for the debate over OSHA "with but few possible exceptions . . . totally inadequate."27
Most state programs were also starved for resources. Thirty-eight states responded to a labor department survey of fiscal 1968 commitments. On average, they spent 48 cents per nonagricultural worker on occupational health and safety regulation.28 Staffing under these financial constraints was predictably small. The most comprehensive survey of field activities reported a total of 1803 safety inspectors and 489 occupational health and industrial hygienists in all 50 states in 1969. Less than two-thirds of the safety inspectors were assigned exclusively to general safety. Nearly a fifth inspected boilers, elevators, and fire hazards. Only a handful of inspectors specialized in industrial disease.29
State efforts were also hampered by legal and administrative problems. A majority of states divided authority for workplace protection among at least three separate agencies, including industrial commissions and labor and health departments. Most states also restricted agency enforcement powers significantly. Twenty-one states did not allow inspectors to shut down machinery in imminent danger situations; 16 states had no criminal sanctions against deliberate violations of the law; 5 states did not give inspectors the legal right to enter premises without the permission of the employer. Most states relied on weak and outdated standards.30
The emphasis on local rather than national authority further undercut protection by leading to uneven enforcement. The variation in state efforts was extreme and for the most part corresponded to variations in industrial development and the strength of the labor movement. California, Illinois, Michigan, New York, Massachusetts, and Pennsylvania mounted significant regulatory efforts.31 New York, California, and Pennsylvania accounted for nearly one-half of the nation's total inspectorate. The Mountain and southern states spent the least per worker on health and safety; northeastern states spent considerably more. Oregon, Washington, and Colorado—each the home of a particularly dangerous primary or extractive industry—had the best-financed programs.32
Even states with relatively sound programs depended on voluntary compliance by industry rather than enforcement by state agencies. They devoted their resources to education and training and tried to minimize adversarial relationships. States often warned employers in advance of inspections and deemphasized penalties for violations. A study of New York's record of inspections during 1968 found that prosecutions were rare. Of the more than 10,000 violations discovered by inspectors, only 442 cases were referred to prosecution. Only 6 cases resulted in fines.33
Federal Programs
Federal authority was equally compromised. Historically, Washington had deferred to the states and allowed them to set the regulatory agenda. Although the first federal laws and programs were developed during the Progressive era, the federal effort was minimal prior to the Great Depression. In the 1930s federal authority was augmented through the Walsh-Healey Public Contracts Act, passed in 1936 as a stopgap measure to set minimum wages on government contracts until the constitutional issues raised by a general minimumwage law were resolved. It regulated working conditions to assure that firms competing for federal contracts did not cover increased wage costs by cutting back on worker health and safety. Though not central to the act, this provision resulted in extensive federal jurisdiction over working conditions as federal contracting increased during and after World War II, particularly in defense-related sectors.
Public concern over the conservation of labor during World War II also stimulated interest in health and safety. The social security system was used to finance state programs through grants-in-aid to state agencies, and war boards urged employers to improve working conditions. Once the war-induced labor shortages disappeared, however, the federal government retreated from its wartime efforts. A series of Presidential Conferences on Occupational Safety was inaugurated in 1946, but these biannual meetings turned into forums for self-congratulatory speeches by corporate managers and safety professionals. The private organizations regained their customary prominence in the field: in 1953 Congress chartered the NSC as a nongovernmental public service organization; the Department of Labor (DOL), in turn, adopted privately developed standards to implement its Walsh-Healey jurisdiction.
Without strong support from organized labor, the DOL could or would not seek congressional support for an expanded health and safety program. The department's funding requests were perfunctory and unimaginative, and it acquiesced to state governments' demands for local control of workplace regulation. From the late 1940s to the mid 1960s, the DOL lobbied only for grants-in-aid to the states. Even these bills were routinely defeated, often without hearings or any serious lobbying by the secretary of labor or the states that would have benefited.34
Department of Labor jurisdiction expanded in some areas. In 1958 Congress amended the Longshoremen's and Harbor Workers' Compensation Act to allow the labor department to operate a safety program on the docks and in shipbuilding and repair. In the mid 1960s the National Foundation on the Arts and the Humanities Act and the Service Contracts Act extended coverage to groups, agencies, and individuals receiving grants or providing services. By the late 1960s, the department's authority covered over half of the nation's workforce (see Table 2.2).35
Unfortunately, like the states, the department's resources were woefully inadequate. In the late 1960s the Labor Standards Bureau (LSB) spent less than $3 million on all its safety activities combined. Half of this effort was devoted to maritime regulation; 23 people implemented the Walsh-Healey and Public Service Contract acts with a budget of less than $400,000.36 Not surprisingly, fewer than 5% of establishments covered under the terms of the act were inspected in any given year.37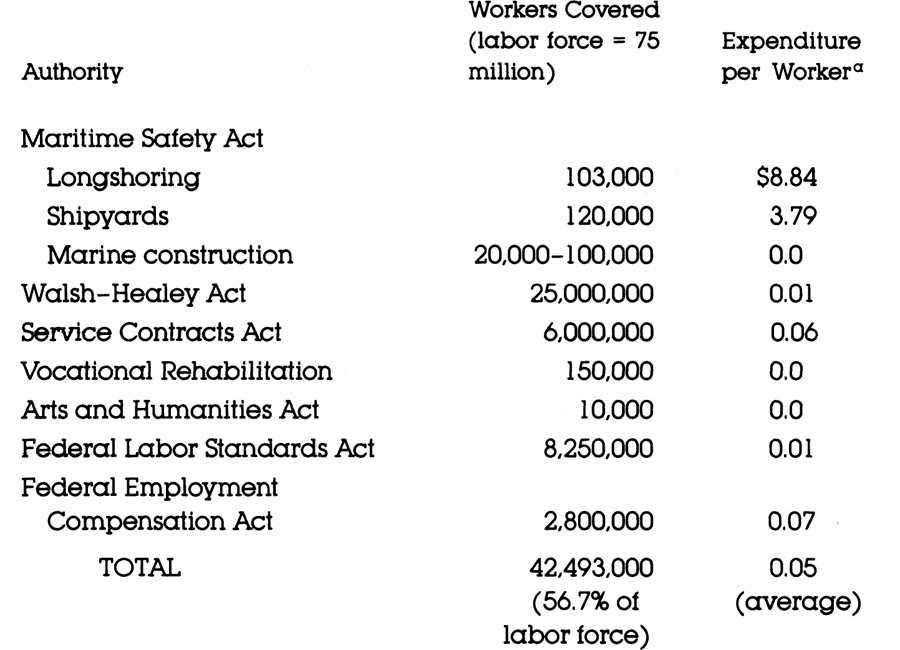 a The total expenditure per program divided by the number of workers covered by that program.
Source: Current Department of Labor Responsibilities and Activities. Attachment Six (Washingtoa D.C.: Department of Labor, 1968).
Instead, the federal government relied on the underfunded and understaffed state agencies for enforcement. But without federal assistance or encouragement from organized labor, state efforts also atrophied. From 1950 to 1969, state agencies lost personnel and programs in occupational health despite a doubling of the states' efforts in the general area of health services. Sadly, occupational health programs were often raided to staff and fund newer programs in airpollution and radiation control.
Jurisdictional disputes compounded these problems by hindering federal-state cooperation. According to a 1968 report to the Department of Labor, there was "an almost complete lack of meaningful interaction between Federal and State officials on basic policy, program and administrative issues."38 The DOL tried to coordinate state-level activities by chairing the International Association of Industrial Accident Boards and Commissions (IAIABC) and IAGLO. It attempted to influence the states through the grants-in-aid programs. The LSB drew up model workers' compensation laws and encouraged states to upgrade their standard-setting and enforcement activities. But these efforts were ineffectual. The states jealously guarded their prerogatives and rejected federal funds that promoted federal supervision of local efforts.39
In the end, like the states, the federal government was forced to depend on the voluntary compliance of private firms. Therefore, like the states, the DOL took care to encourage employers' cooperation. According to one audit, only 34 formal complaints were issued, and only 2 firms were penalized in fiscal year 1969, despite the fact that 95% of the establishments inspected that year were in violation of DOL standards.40 Instead of citing violations, the department emphasized consultation and training for state and private safety organizations. Instead of setting standards independently, it cooperated as an interested organization with private standard setters and adopted ANSI standards to implement the Walsh-Healey program.
The Public Health Service (PHS) was authorized to engage in research on worker health problems, but it was even more passive than the DOL. The Bureau of Occupational Safety and Health (BOSH) had a minuscule budget; in 1955 its total allocation for occupational safety and health amounted to less than one cent per worker per year.41 In combination, BOSH and the National Institute of Environmental Health Sciences spent less than $9 million on environmental health in fiscal year 1970. Equally important, the PHS's leadership respected private control of worker health and safety. Not only did the PHS eschew enforcement, but its research efforts deferred to industry professionals, the American Medical Association (AMA), and local authorities. Despite mounting evidence here and abroad of the link between workplace exposures and disease, it failed to investigate asbestosis, byssinosis, or coal miners' pneumoconeosis. The PHS actually considered abolishing BOSH altogether.42
The Health and Safety Crisis
Given the tendencies inherent in corporate control of the labor process, public deference to employer decision making left workers vulnerable to market processes and management decisions that emphasized production and profitability over hazard control. As a result, the business cycle and the advance of technology determined the quality of working conditions in the postwar period.
The consequences for workers varied by firm size and economic conditions. In manufacturing, mid-size firms employing between 50 and 500 workers were the least safe; establishments with fewer than 20 workers or more than 1000 employees were the safest.43 Accident rates were also sensitive to changes in the overall economy, declining during the years of sluggish growth from the late 1940s to the early 1960s, then rising dramatically in the boom years of the 1960s.44 Trends in worker exposure to health hazards cannot be measured as easily. But what we know about occupational diseases suggests that workers remained vulnerable here as well. Working conditions in the dusty trades, such as textiles and mining, remained dangerous, whereas changes in industrial technology exposed a growing number of workers to the hazardous by-products of the petrochemical revolution and the stress of work in increasingly bureaucratized workplaces.
Job Safety
Changes in injury rates seem to have responded to several forces. As a rule, they are extremely sensitive to the business cycle. The reasons for this are straightforward. As business expands, employers hire new workers, open new plants, bring new machinery into use, and push existing facilities to their limits by running operations around the clock and speeding up assembly lines. Each of these factors tends to increase the likelihood that accidents will occur and workers will be injured. New workers are apt to be young and inexperienced, and these groups tend to have higher injury rates than older, more experienced workers. Both management and workers are likely to be unfamiliar with new machinery and err in its use. Pressing existing facilities and production lines to their limits probably compounds these problems. In combination these factors make it likely that injury rates will rise as the economy heats up. In business downturns, all of these factors are reversed, and injury rates tend to decline.45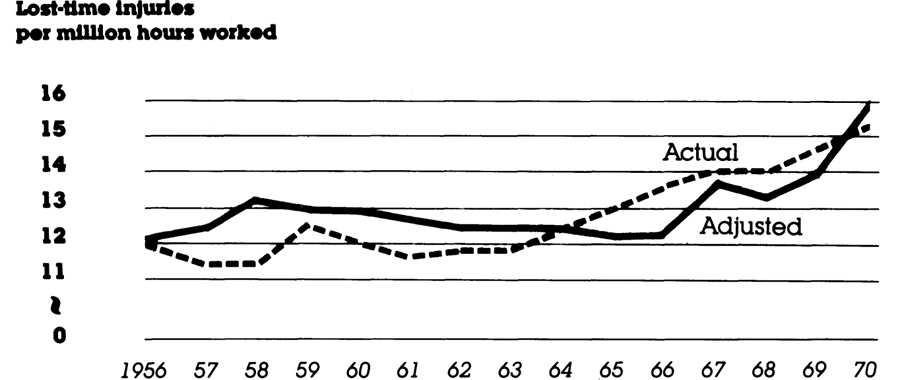 Note: Injury rates are adjusted for cylical changes in overtime, hiring, and capacity utilization.
Source: Robert S. Smith, The Occupational Safety and Health Act (Washington, D.C.: American Enterprise Institute, 1976), figure 1.
Robert Smith's analysis of injury rates in manufacturing indicates that, as this model predicts, cyclical factors were at work in the postwar trends (see Figure 2.1). Nevertheless, as Smith notes, business-cycle factors alone do not explain the deterioration in accident rates after 1958. While an adjustment for cyclical influences affects how we date the upward trend—Smith's adjusted data move it back from 1963 to 1966—even these corrected data indicate a sharp rise in injury rates in the late 1960s.46
Employer strategies in the face of declining profits, and the impact of the Vietnam war mobilization on production, appear to account for the remaining unexplained increase. There is some dispute about the precise role of employer strategies vis-à-vis work. Michel Aglietta suggests that working conditions deteriorated in response to the "hardening of the class struggle" between 1958 and 1966. According to Aglietta, management intensified work in the 1950s in order to improve sluggish profit rates. Unions, weakened at the workplace by the postwar accord, were unable to resist employer efforts and speed-ups. Declining job-safety standards resulted.47 Bowles, Gordon, and Weisskopf concur. But they date the management offensive to the mid 1960s after profit rates had declined dramatically (see Figure 2.2).48 Smith's corrected data appear to support this latter view: accident rates rose after profit rates declined. These interpretations are not mutually exclusive. Profits rates were sluggish in manufacturing in the late 1950s. Employer efforts to intensify work may have begun then and accelerated in the face of continuing economic problems.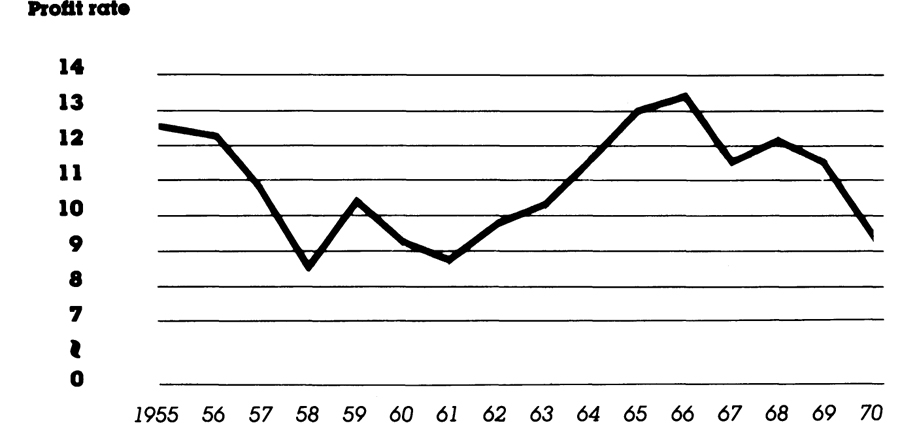 Note: "Profit rate" is the ratio of profits after income taxes to stockholders' equity.
Source: Economic Report of the President 1985 (Washington, D.C.: GPO, 1985), table B-86.
Finally the Vietnam war also appears to have contributed to the deterioration in injury rates. The war induced an exceptional economic boom, pushing American industry to near-full capacity. This economic mobilization may well have undercut worker safety. In fact, accident rates climbed sharply in industries most directly affected by wartime production, including primary metals, fabricated metals, and machinery; the rate of increase doubled in ordnance industries. At the same time, injury rates declined in contract construction between 1958 and 1968 and remained stable in mining over the same period.49
The Health Crisis
The nature of occupational disease and the extent of worker exposure to it is more difficult to assess than all accident and injury rates. The precise causal links between exposure to toxic substances and physical agents are often unclear. Many diseases are caused by multiple factors that interact in complex ways; the hazards of workplace exposures can be exacerbated by general environmental conditions and family histories. Workers who handle asbestos and smoke, for example, are more apt to contract lung disease than those who do not smoke. It is likely that living in a polluted neighborhood or drinking contaminated water increases a worker's susceptibility to developing work-related cancers. To compound the problem, the long latency periods of diseases such as cancer make it difficult to identify causal links.
Corporate control of research in this period further frustrated efforts to pin down these relationships. Several studies were carried out under the auspices of individual firms and trade associations concentrated in particularly hazardous industries. Du Pont, Johns Manville, the Manufacturing Chemical Association, and the American Textile Manufacturers Institute investigated health hazards in their plants. But these studies were often designed or presented to respond to private suits and possible government intervention rather than provide independent measures of the hazards at work. Checked against workmens' compensation data and in-depth state studies, large discrepancies routinely appeared between what was voluntarily described and what was actually occurring.50
Despite statutory commitments to conduct research efforts, neither the Department of Health, Education, and Welfare (HEW) nor the Department of Labor provided independent data. The Public Health Service did not have legal authorization to enter workplaces and was totally dependent on company reports. The LSB had the authority to inspect workplaces to enforce Walsh-Healey standards but did not take advantage of its jurisdiction and was also dependent on data voluntarily supplied by firms.
A few journalists, doctors, and labor activists attempted to fill this void. Frank Wallick, editor of the UAW's staff newsletter, wrote trenchant pieces informing the union's membership of the hazards they faced. Paul Brodeur published a series of articles in the New Yorker on asbestosis at a Pittsburgh-Corning plant in Tyler, Texas. Dr. Irving J. Selikoff, director of the Environmental Sciences Laboratory at Mount Sinai School of Medicine in New York City, mounted a major research effort that finally demonstrated the link between exposure to asbestos and pulmonary asbestosis among insulation workers. Ray Davidson, editor of the Oil, Chemical and Atomic Workers (OCAW) newspaper, published a compelling account of health hazards in the oil and chemical industries.51
For the most part, however, these studies were handicapped by industry's near monopoly on information about occupational health and safety. Only firms in hazardous industries had unlimited access to the reports of company doctors, as well as detailed information on the kinds of substances routinely handled at work. Without this information, health experts had difficulty establishing the links between workplace exposure and occupational diseases. Personal physicians knew little about working conditions and saw too few employees from a single plant to suspect or establish an association between work and illness. Health scientists had to rely on incomplete data taken from death registries and personal employment histories. Some corporations hid evidence of health hazards for fear that publicity would lead to lawsuits and a flood of workers' compensation claims.52
Given all these factors, it is understandable that precise figures on the scope of occupational diseases and deaths varied considerably; they still remain open to dispute. The most commonly quoted estimates suggest that 390,000 cases of occupational illness occur each year and that as many as 100,000 workers die from workplace health hazards. The figure of 390,000 illnesses was cited during the congressional debates on the OSH Act and repeated in a 1972 HEW study of worker health. The estimate of 100,000 deaths is extrapolated from several early epidemiological studies and an analysis of a 1951 British death registry. Neither estimate can be quoted with tremendous confidence; other studies offer widely ranging estimates of between 10,000 and 210,000 worker deaths per year.53 Nonetheless, it is reasonable to conclude that, by the 1960s, work threatened workers' health as much, if not more, than their safety.
The Policy Choice
By the mid 1960s, a growing number of public officials and health professionals recognized that the existing system for protecting workers from occupational hazards was breaking down. Taking a lesson from the nascent environmental and public-interest movements, they and a small group of labor activists began to promote the idea of workplace reform. Their efforts were initially resisted by employers and many of the professionals employed by the private health and safety organizations. The existing system had survived more or less intact for a half century, and corporate managers were intent on retaining control over work and the labor process. But the political climate was receptive to social change, and workplace safety and health reform was caught up in the rising tide for social regulation of industry and the marketplace.
Once the reformers succeeded in placing the issue on the policy agenda, public officials had to choose among the particular forms of state intervention described in the previous chapter. Reform could have strengthened the liability laws and facilitated worker suits. Legislative reform could have made it easier to prove employer negligence and secure punitive damages. Or workers' compensation could have been reformed: the system could have been nationalized; uniform standards could have been applied; coverage could have been extended to all workers; all firms could have been experience rated; and disease-related claims could have been facilitated. The entire emphasis could have been shifted in keeping with the new attention to the total environment: the workplace could have been integrated into a reformed public health program, and resources could have been devoted to creating in-plant clinics linked to a national health-care system.
Reformers also faced the issue of worker participation. Factory legislation can facilitate active participation by employees in the determination of working conditions and the operation of in-plant programs. Or it can rely on decisions by professionals and bureaucrats. Similarly, standard setting can be depoliticized and lodged in an independent commission or subject to political negotiations between labor and capital.
In the end, the Occupational Safety and Health Act strengthened the existing regulatory apparatus and reinforced rather than substantially reformed the liberal mode of regulation already in place. The existing liability laws and workers' compensation system were left unreformed; the public health option was considered and dropped. Some steps were taken to facilitate worker participation, but these were small. The next chapter considers the factors that made occupational safety and health a policy issue in the 1960s and that led Congress and the White House to this choice.