The Political Economy of Workplace Regulation
In capitalist societies, most occupational accidents and diseases arise in the process of private, profit-seeking production. Employers decide what and how to produce, and these decisions determine which technologies are adopted and how workplaces are organized. Workers, in turn, encounter or avoid hazardous work by moving in and out of risky jobs as they sell their labor in markets.
In industrial capitalist economies, the costs of protecting workers from health and safety hazards are high. In the United States, for example, the Council on Wage and Price Stability has estimated that moderately strict standards for all 2415 known or suspected carcinogens could eventually entail $526 billion in capital and recurring costs. OSHA has estimated that changes in machinery and plant design to reduce the permissible level of noise in American industry from 90 dBA to 85 dBA could lead to one-time capital costs of $18.5 billion and recurring annual costs of $1.1 billion. The combined costs of comprehensive chemical labeling to protect workers who handle toxic substances may be as high as $8.2 billion. No doubt some of these figures are inflated; exaggerated cost estimates have been used to discredit occupational safety and health regulation, as Chapters 4 and 6 indicate. Nonetheless, worker protection will absorb a substantial share of society's resources and significantly increase the costs of production.1
Left to its own devices, the economically rational firm should try to avoid incurring these costs. Although there are some benefits to be had from a safe workplace and a healthy workforce, least-cost methods of production argue for leaving workers and public officials to deal with the economic, psychological, and physical impact of accidents and injuries. The structure of capitalist democracy, in turn, discourages public officials and workers from attempting to alter this arrangement.
Given these political and economic processes, the ability of workers and public officials to improve working conditions depends on the adoption of a regulatory approach that increases their power vis-à-vis employers and facilitates challenges to least-cost principles of capitalist production and unregulated labor markets. This chapter provides a preliminary view of the range of available regulatory alternatives and a discussion of their comparative strengths and weaknesses.
By anchoring the analysis in the capitalist organization of work, I do not mean to suggest that occupational safety and health hazards are unique to capitalism. To the contrary, work can and has imperiled the lives of workers throughout history and across modes of production. Dusts from naturally occurring elements or minerals such as arsenic and asbestos have plagued people since they began working with them. Farmers and hunters, mechanics and laborers—all have had to deal with threats to muscle, tissue, and bone since they began to transform nature through work.
Industrial production has undoubtedly increased the number, kinds, and severity of occupational hazards. But capitalism is not alone in promoting industry or exposing workers to the hazardous by-products of industrial production. Socialist societies have not eliminated mine accidents or worker exposure to toxic chemicals. Soviet workers, for example, were exposed to polyvinyl chloride in the manufacture of plastic. Under Mao Zedong, Chinese workers were taught that strict observance of safety measures was "bourgeois" and "cowardly."2
Nor are all industries and firms equally unsafe. Data collected by the Bureau of Labor Statistics indicate that the all-industry private sector incidence of accidents and injuries per 100 full-time workers in 1980 was 8.7. On this measure, wholesale and retail trade (7.4), services (5.2), and finance and real estate (2.0) are relatively safe (i.e., below the all-industry rate). Conversely, construction (15.7), manufacturing (12.2), agriculture, forestry, and fishing (11.9), mining (11.2), and transportation and public utilities (11.1) are relatively hazardous (i.e., above the all-industry rate). The relative hazardousness of industries varies within these broad classifications, particularly in the manufacturing sector (see Table 1.1). Within industries, some employers are known to spend a great deal of time and effort on health and safety; others are more sanguine about occupational hazards.3
Nevertheless, nearly all American firms do share one critical thing in common: they are capitalist enterprises. As such, they create and distribute occupational hazards in similar ways. In market capitalist societies, economic decisions by private investors and corporate managers and, secondarily, wage workers determine the allocation of risk and protection. In contrast, in state socialist societies, political decisions determine the levels and kinds of hazards that workers are exposed to by establishing investment plans, production schedules, work rules, and allocating labor among jobs and occupations. In these societies, occupational safety and health hazards begin with centralized economic decisions. In capitalist societies, hazards emerge from uncoordinated, decentralized, profit-oriented decisions that structure the environment in which workers seek to protect themselves. If they hope to be effective, workers must adopt strategies, and the state must adopt forms of intervention, that are appropriate to this mode of production.
Capitalism and Occupational Safety and Health
The processes of investment and technical change are central to productive activity in all modern industrial societies. Industrial capitalism, however, accomplishes these twin tasks distinctively. The economic surplus available for investment appears in the form of profits, and profit-seeking investors initiate economic growth by commiting capital to production. Corporate managers, in turn, organize and reorganize the labor process to make production as profitable as possible. We can argue over whether profits are the only goal that corporate managers and investors pursue. But since profit is both the necessary and limiting condition for the pursuit of all other goals, I take profit maximization by private investors and corporate managers to be the starting point of the analysis in this section.4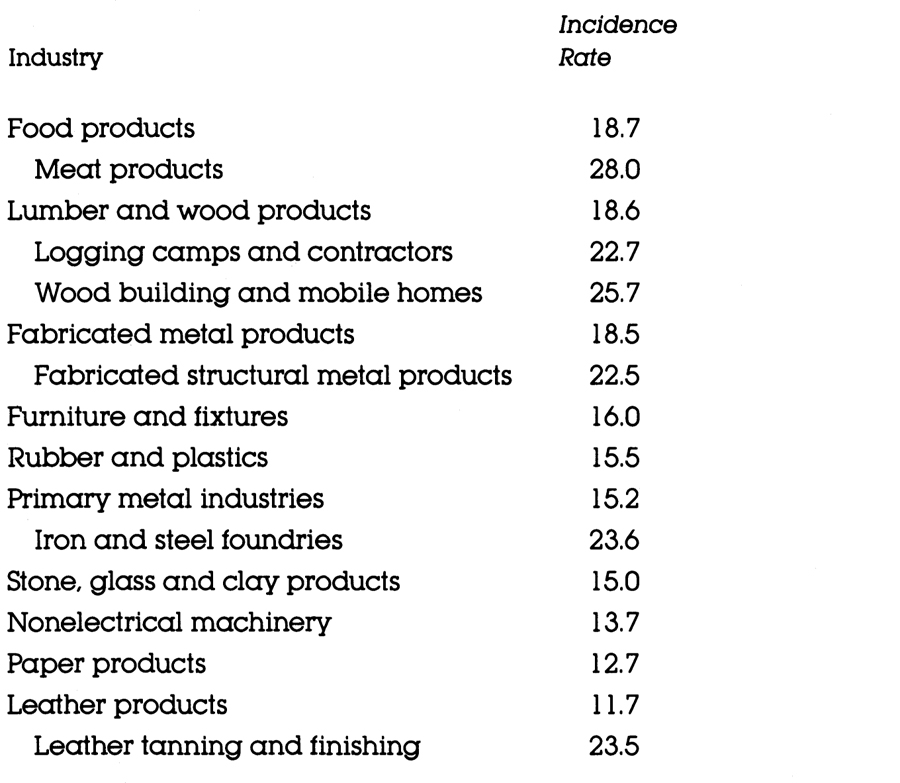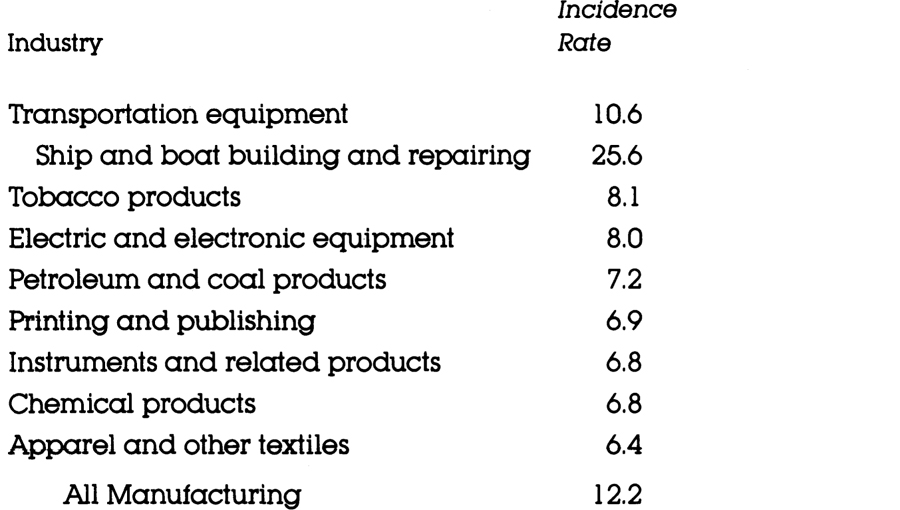 Note: The incidence rates represent the number of injuries and illnesses or lost workdays per 100 full-time workers. General groupings refer to 2-digit Standard Industrial Classification (SIC) codes. Subgroups refer to 3-digit SIC codes. This list does not include all 2- and 3-digit industries.
Source: Bureau of Labor Statistics, Occupational Injuries and Illnesses in the United States, 1980 (Washington, D.C.: GPO, 1982), table 1, pp. 2-13.
Employer Strategies Toward Work
In the process of production, profit maximization leads employers to adopt two related strategies. First, employers attempt to maximize their control over the workplace in order to obtain the greatest possible work effort from their employees. Second, they seek to minimize the costs of production.5 Ordinarily, both strategies are likely to increase the hazards that workers are exposed to and discourage efforts to promote safe and healthy work.
In combination, these strategies can inhibit workplace safety and health in several ways. In attempting to maximize the amount of effort that workers devote to their jobs, employers are led to devalue work practices that make jobs safer. For example, speeding up the production process or reducing the number of workers assigned to each task without reducing production quotas are the simplest ways to intensify work. Both increase the likelihood that workers will make mistakes, be hurt by machinery, or be exposed to other hazards.
Cost minimization also undermines safe working conditions. The economically rational manager adopts new technologies that heighten labor productivity and lower raw materials costs. New product lines that increase market shares are likely to be favored. Many new materials, products, and production processes are hazardous, however. Often the hazards are not known, or if known, methods to control them are not fully developed. But without some mechanism to prevent employers from taking advantage of these investment opportunities, they are apt to develop new products and exploit new markets with less than full regard for the impact of these decisions on working conditions.
Cost minimization commonly entails forgoing safe practices that absorb time and money that otherwise could be saved or devoted to more economically productive uses. Safety tends to raise the costs of production. Two workers may be able to perform a task more efficiently than three; but three workers are likely to do it more safely. Presumably, this "redundant" labor, though adding to workplace health and safety, will be cut in the interests of profit maximization.
Engineering controls, that is, changes in the technical organization of the production process, are generally more effective means of controlling hazards than what specialists in the field call personal protective devices (PPDs), such as dust masks, hard-toe shoes, and ear plugs. Engineering controls are also considerably more expensive than PPDs. Understandably, employers prefer to avoid them whenever possible. Serious worker health and safety training programs are also expensive: they take time away from work; money must be spent on program development and instruction. These efforts, too, are likely to be sacrificed when profitability is at stake. Finally, except when they are convinced that hazardous conditions threaten to damage plant and machinery (as, for example, refinery explosions do), employers are reluctant to shut down production processes or remove workers from risky jobs.
Less generally recognized but equally important, employers' efforts to maximize control over the workplace and minimize costs tend to discourage worker participation at the workplace, and this further undermines occupational safety and health. Research indicates that worker participation in plant safety and health programs and policymaking has a salutary impact on the conditions of work. It provides managers with immediate input about potential hazards and imminent dangers; it encourages workers to cooperate in safety efforts; it incorporates workers' firsthand knowledge and experience in the definition and solution of health and safety problems.6
Nevertheless, taken seriously, worker participation conflicts with managerial control over the labor process. Effective participation means that workers exercise a certain degree of autonomy at work and cooperate among themselves. Both facilitate employee resistance to managerial directives. Therefore, employers who seek to maintain and augment their control are likely to develop highly bureaucratized and centralized forms of personnel management. They will divide production processes into highly differentiated job structures, rotate workers among different jobs, and limit the time and opportunity available to workers to form affinity groups that might provide the basis for worker opposition to managerial control. In collective bargaining, firms will insist on managerial prerogatives over plant administration issues. They will view challenges to the decisions and practices of plant administrators as challenges to managerial control of the labor process.
Finally, efforts to maximize work effort will make work more onerous and disagreeable, and the firm will be forced to supervise workers even more intensively. This will further exacerbate conflict and will encourage adversarial relationships between employers and employees. Worker participation would suffer, and with it, occupational safety and health; the adversarial atmosphere will vitiate attempts to involve workers in plant-level activities. Workers will be discouraged from voicing their concerns over working conditions or refusing hazardous work for fear of employer reprisal. They will also be more likely to view employer efforts to educate them about safety as company propaganda. Employers, in turn, will be predisposed to view worker complaints over working conditions as challenges to managerial prerogatives, and they will be reluctant to admit the existence of unsafe conditions.
In sum, the capitalist organization of production encourages firms to adopt strategies to intensify work and minimize the costs of production. These strategies, in turn, lead directly and indirectly to increased workplace hazards and discourage efforts that might otherwise be made to reduce the risks of work.
Why Employers Might Voluntarily Protect Workers
A number of countervailing tendencies make voluntary efforts on the part of employers to reduce occupational hazards economically rational. For example, accidents and injuries interrupt production, hurt skilled workers, lower productivity, and force employers to pay increased medical bills. These either raise the costs of production or lower total output. In any event, like wages and the costs of raw materials, they cut into employers' profits. In contrast, safe workplaces may increase employee productivity by increasing employee morale.
There also seems to be an inverse relationship between money wages and job hazards.7 Some employers pay what are called risk premiums, that is, wage premiums designed to induce employees to take risky jobs. Conversely, some workers will accept a lower money wage if they are assured of relatively safe working conditions. The existence of these premiums should lead some firms to improve workplace safety in order to lower their wage costs. Individual firms also have an interest in safe work because it can facilitate managerial control of the workplace. Unsafe work breeds alienation and militancy and encourages wildcat strikes and other forms of employee protest.
Employers, as a class, also have common political and economic interests in job safety. Politically, employer programs to promote occupational safety and health can help create the impression that employers are socially responsible and augment their influence in politics. Economically, employers have an interest in conserving labor. A large number of disabled workers decreases the supply of labor; a plentiful labor supply keeps wage costs from rising. In fact, there is a corporate-sponsored movement that promotes workplace safety and health. Represented by the National Safety Council (NSC), it argues that "safety pays." Many of the safer firms and industries are involved in it, as we see in a later chapter.
But the disincentives to devoting resources to prevention are also great. Output can be increased by intensifying work. Market shares can be augmented by the quick introduction of new technologies whose long-term effects are unknown. Workers seldom have a good deal of accurate information about the hazards they face, and they are not likely to be able to rank competing jobs according to their relative risks. This is particularly true with health hazards, where the effects of exposure to toxic substances may take many years to show up, and where it is often difficult to establish the precise etiology of a disease. In addition, workers generally do not know what to make of the information they have. People have a hard time assessing the dangers of low-probability risks; they usually unduly discount these dangers.8 This tendency is probably pronounced when workers are financially dependent on their jobs and have few marketable skills or economic options.
As for risk premiums, the evidence suggests that they do exist in some high-risk blue-collar occupations. But it is not clear whether there are risk premiums for nonfatal as opposed to fatal injuries, and it is far from established that these wage differentials provide significant incentive to employers to take greater care, particularly when hazard control is expensive.9 As employers point out, hazard control can be very expensive.
Safer work may discourage labor militance, but other factors affect what workers do about occupational hazards. Where unions do not focus on health and safety, employers need not worry about strikes over working conditions. In any event, employers have other ways of imposing labor discipline and undermining the efficacy of shop-floor protests.
Finally, firms may have a collective, "objective" interest in conserving labor, but few mechanisms are capable of turning that interest into classwide policy. To the contrary, in the competitive marketplace, firms act as individual economic actors. As such, each firm can be expected to make its own calculations about the costs and benefits of voluntary hazard reduction. These estimates vary widely for different firms. Some companies are in relatively safe industries, such as communication or financial services. Other industries, (e.g., mining) include a large number of high-hazard jobs. Some firms work with old capital equipment that does not have the best available engineering controls. Others have safer equipment because they have retooled. Burlington Mills, for example, recently completed a capital program that substantially increased its ability to control cotton dust. Other smaller, less competitive textile firms have much more primitive equipment. Some companies have been forced to provide safer work by unions; the United Auto Workers (UAW), for example, has been relatively successful in forcing employers to reduce noise levels. Nonunionized manufacturing companies do not face pressure of this sort. We cannot rule out the possibility that class-conscious leadership can emerge to articulate a collective capitalist interest in occupational safety and health and attempt to impose it on business at large. Yet this rarely happens. When corporate leaders have argued for reforms of this sort, they have found it difficult to impose them on a diverse and competitive business community.
Forms of State Intervention
In response to occupational hazards, capitalist states are faced with a choice among three basic forms of intervention: (1) legal liability; (2) workers' compensation; and (3) factory legislation. These three forms are not mutually exclusive. They do, however, represent different governmental responses to the problem. They can be distinguished according to how they approach hazard control and how they respond to the capitalist organization of work.
Legal Liability
The legal-liability approach allows workers to use tort law to sue employers for damages from injuries sustained as a result of negligent exposure to harmful substances and physical conditions at the workplace. If the employer is found to be at fault, he or she is held liable for the full costs of injury. The worker is reimbursed for damages in the form of postinjury compensation. In theory, this approach can serve several purposes. The threat of costly lawsuits should create economic incentives that deter employers from unduly exposing their workers to hazards. At the same time, compensatory payments replace the worker's lost income and cover the costs of medical bills and rehabilitation. Like workers' compensation, legal liability is, in the first instance, a compensatory system; it seeks to make workers economically "whole" after the fact of injury. Like workers' compensation, it can also be used as an incentive system to alter the behavior of firms. Presumably, if unsafe firms are forced to pay damages to injured workers, employers will try to reduce their liability by improving working conditions.
In practice, the level of compensation, and therefore the degree to which this system creates economic incentives for prevention, replaces lost income, and takes care of other injury-related costs, depends on three related factors: the frequency with which workers sue employers; the ease with which employers can challenge workers' claims; and the legal standards applied by the courts. If this system is to function effectively, employees must recognize their injuries, be aware of their rights, and have the economic wherewithal and individual motivation to initiate legal action.
Once a case comes to court, the outcome depends on the ability of an employer to mount an effective defense. This turns on how courts and legislatures define negligence and jurors respond to competing claims. In principle, liability rests on a finding of fault based on the application of legal standards and precedents that establish the rules that employers and employees must follow if they are to avoid liability for damages. These rules can vary significantly. For example, a worker may have to prove that the employer was solely responsible for the accident or condition, and the employer may be allowed to defend himself or herself by demonstrating that reasonable measures were taken to anticipate and prevent hazards. At the other extreme, the employer can be held responsible for all accidents that occur on the firm's premises, regardless of the unsafe acts of other employees or even the precautionary measures taken by the employer. Courts can construe liability narrowly, and only replace lost income, or broadly, and compensate workers for pain and suffering. Legislatures can allow for punitive damages to increase the incentives that employers face.
Workers' Compensation
The creation of the workers' compensation system in the United States in the early twentieth century occurred as part of a more general shift toward administrative forms of conflict resolution. In keeping with this change, workers' compensation shifts the locus of decision making from the courts to boards. Although workers' compensation is an alternative to the liability suit, it, like legal remedies, approaches hazard control indirectly, through market mechanisms. In principle, it is a "no fault" system. Employers agree to establish or contribute to an insurance fund to finance compensation payments. Workers, in turn, give up the right to sue employers for damages and receive, instead, assured compensation based on a schedule of payments for various kinds of losses. Like liability suits, this approach is designed to accomplish several ends, including replacing lost income and paying medical expenses. If employers are experience rated, that is, charged insurance premiums based on their accident records, this system should also create financial incentives to employers to take greater care at work.
Workers' compensation systems vary cross-nationally along a number of dimensions. Some countries emphasize experience rating and use premiums as economic levers. France and Finland, for example, set employer insurance rates to maximize their deterrent effects. The Federal Republic of Germany calculates insurance premiums as a percentage of the employer's total wage costs, risk level, and accident and injury record. In contrast, the British finance their compensation program from a flat-rate premium paid jointly by employers and employees. Some countries attempt to remove obstacles to successful worker claims. Some set benefit levels generously. In Sweden, occupational diseases are compensated under the general health insurance system, which readily recognizes the impact of work on health. The Netherlands makes it possible for employees to receive full benefits regardless of the cause of the injury or disease.10 Compared to most northern European systems, the American workers' compensation program is weak and somewhat miserly. In practice, it functions as a shared-liability rather than a no-fault system, providing partial rather than full compensation. Its deterrent effects are, consequently, limited.11
Factory Legislation
Factory legislation is a form of command-and-control regulation. It refers to the supervision by government of employer practices, including the setting of detailed standards that mandate changes in the design of work and machinery and that are enforced by penalty-based inspections. This legislation is a more direct form of intervention into production than negligence suits or workers' compensation. Nonetheless, it stops short of full public supervision of production. Firms remain privately owned and operated. Employers' discretion to adopt unsafe methods is limited, but government does not direct capital investment to those productive activities that are least hazardous. Nor does it promote health and safety programs, such as inplant occupational health clinics or mandatory worker participation in plant governance, which directly encourage prevention and safer work practices.
Factory legislation is as old as industrial production. The first factory laws governed the length of the working day and workweek and the employment of women and children. Laws specifically regulating occupational health and safety appeared early in the industrial revolution. In 1802 England established regulations that required employers to ventilate and whitewash workplaces that employed more than 20 workers. Machine guards were mandated in 1844. In the 1850s and 1860s Parliament passed comprehensive statutes covering mining and factories. In 1878 the entire regulatory apparatus was consolidated under a single central authority with the power to inspect work sites. Reflecting its delayed emergence as an industrial nation, Germany began regulating work a half-century later. The first German industrial code was adopted in 1869 by the North German Federation and was extended to the newly founded German Empire in 1871. Factory inspections were made mandatory in 1878.12
Workplace regulation emerged in the United States on the state level. Massachusetts established the nation's first Department of Factory Inspection in 1867 and passed the first worker safety law in 1877. Other industrial states followed in the late nineteenth century. By the Progressive period, most had adopted some form of factory and mine safety legislation, most often specifying machine guarding, fire safety, and dust and gas ventilation. The federal government entered the field late, adopted characteristically indirect methods, and, for the most part, relied on the states until the passage of the CSH Act.
Today, every advanced industrial society has some form of factory legislation. The arrangements vary according to the degree of coverage, precise administrative responsibility, and penalty provisions. But most cover their entire workforce except for self-employed or family workers. Generally responsibility for standard, setting and enforcement rests with a Ministry or Department of Labor, and the state can impose penalties on employers who fail to meet regulatory standards.
Worker Strategies Toward Work
Effective reform depends not only on state action but on how workers and unions respond to occupational hazards. As I stated in the Introduction, effective regulation requires that workers take an active role in plant governance and in national policymaking. Despite workers' interest in safe work, neither of these conditions is assured.
In capitalist democracies, workers can try to influence the conditions at work through various means, including strikes, collective bargaining, elections, and lobbying. But the structure of the political economy shapes worker demands and leads workers to consent to private control over investment. This, in turn, makes it difficult for workers to use their political rights to improve working conditions. Within the general background constraint imposed by firm profitability, employees must trade off between demands for higher wages and nonwage demands such as occupational safety and health. Since the former are compatible, in principle, with capitalist control of work and investment, and the latter are not, employees and unions are likely to be reluctant to press demands for radical changes in working conditions.
Employer strategies toward work reinforce this tendency toward economism. Elaborate job ladders, minutely divided tasks, highly routinized work, and centralized systems of labor control make it difficult for workers to coordinate efforts to take an active part in plant governance. Disorganized in this fashion, and excluded from decision making about the organization of work, employees find it difficult to learn about workplace hazards or discover the systemic roots of accidents and diseases. These factors strengthen the barriers to collective action over working conditions and encourage workers and unions to limit their demands to short-term economic gain.
Economism does not preclude collective or individual efforts to improve working conditions. Workers in a particular shop, plant, or office who feel especially threatened can strike over working conditions. If they are organized, they can negotiate improvements with employers. Individual workers can look for new jobs or use their seniority to move to less hazardous jobs. As a rule, however, economistic strategies subordinate workers' interests in occupational safety and health to more directly economic concerns, and workers' efforts are devoted to winning higher wages, shorter hours, early retirement, pensions, and the like. When issues involving working conditions are raised, economism makes it difficult for workers to press them effectively.
Alternatively, workers can adopt a more radical, political strategy and seek control over the workplace and production. This can take many forms. They can try to use their electoral and economic power to win social rights to safe work and force employers to cede some control over the organization of the workplace. They can demand publicly organized and funded occupational safety and health services, compulsory health and safety committees with decisionmaking power over working conditions, and worker control over these committees. They can demand works councils with codetermination rights and employer-financed health clinics. They can also press for individual rights to participate in workplace decisions, to refuse hazardous work, and to know about health and safety conditions.
In each case, however, worker demands reach beyond immediate economic benefits and job security to governance—to effective participation in the workplace and influence, through the state, over production. Seen from this perspective, conflicts over working conditions become conflicts over the organization of the political economy. Organized to make these demands, workers are more apt to be able to exercise control over workplace hazards.
A Comparative Perspective
All advanced capitalist societies rely on the three forms of state intervention outlined above. But different societies combine these forms in different ways, relying more or less exclusively on one or another element. Equally important, societies resolve conflict between employers and employees in different ways. Some rely on pluralist forms of interest representation; others are more corporatist. Labor movements vary in how they see the control of work and production. Some are more economistic than others. Finally, all these factors combine to produce relatively distinctive approaches to occupational hazards.
In the Introduction, I characterized the American approach to regulation as "liberal." Applied to the workplace, liberalism takes the following form: First, government's role in production is limited. Public authority defers to managerial control over the workplace. The private economy—firms and the labor market—are the primary mechanisms for allocating risk and protection, modified by collective bargaining agreements negotiated by employers and employees. Second, when the state does intervene, it tends to rely on factory legislation; workers are minimally involved in enforcement. Before 1970, the American approach to occupational safety and health was essentially liberal in that it rested almost exclusively on markets, private action, and a patchwork system of state laws that were poorly enforced. The OSH Act modified this system in several ways. The new law centralized existing factory legislation by establishing a single federal agency with economywide rulemaking powers. A federal inspectorate was established to monitor firm compliance and empowered to fine employers who violated standards. Worker participation in enforcement was facilitated through worker rights to participate in agency inspections.
Yet these changes deepened rather than transformed the basic approach to occupational hazards; factory legislation remained at the core of the program. The law did not require employers to establish in-plant health and safety committees that might require worker participation, or create occupational clinics to deepen the state's involvement in prevention. No attempt was made to guarantee workers the right to participate in corporate decisions about the organization of work. Finally, the act attempted to limit OSHA's powers by establishing procedural safeguards for employers' property rights, including an appeals system designed to facilitate employer challenges to agency citations.
A comparative view of workplace regulation in the United States helps to clarify how distinctive the United States approach is. The occupational safety and health programs in other Western industrial societies can be distinguished from the American approach on several dimensions.13
In general, few capitalist states exercise so little direct control over production. More commonly, governments either own a significant number of key industrial enterprises or use tax and credit policies to direct private investment. As a result, they enjoy a wider range of levers to influence firm policies across a range of policy issues. This gives public officials greater leverage over what employers do about working conditions.
Neocorporatist forms of interest representation are also common, in contrast to the pluralist arrangements that characterize American politics. Under a neocorporatist arrangement, social and economic policies are set by informal negotiations between organizations authorized by the state to represent the most important sectors of society. In dealing with occupational safety and health, labor unions and employer associations negotiate regulatory policy, including standards, under the auspices of the Ministry of Labor or a related body.
The resulting policies usually depend less on detailed standards. Instead, tripartite negotiations are likely to lead to compliance agreements that are flexible and tailored to the specific conditions of firms and industries. Enforcement programs, in turn, tend to rely on consultation rather than penalties.
Workers also enjoy more extensive rights to participate in enforcement programs and plant governance in many capitalist democracies. Mandatory in-plant programs and services, such as safety representatives, joint health and safety committees, and health clinics are commonplace. Codetermination institutions represent one such arrangement. Codetermination refers to efforts to involve workers, through their unions, in corporate decision making. In West Germany, for example, employees participate through works councils in several aspects of plant governance, and occupational safety and health is viewed as an integral part of codetermination. Workers have a legal right to participate in matters relating to occupational hazards; safety delegates must be appointed in all industrial enterprises; and statutorily mandated health and safety committees operate alongside the works councils.14
In societies governed by social democratic regimes, worker rights are extensive. Unions exercise significant power over national policy and workplace practices. Workers enjoy a variety of statutory rights, including the right to know about hazards and to refuse hazardous work. Health and safety committees are given a central role in plant-level decision making. In Sweden, for example, compulsory health and safety committees coordinate with in-plant union organizations and enjoy veto power over firm decisions that directly affect occupational safety and health. Many of these features are also found in Austria, Norway, and Finland.15
Social democratic regimes are also more likely to view occupational hazards from a public health perspective and rely less on factory legislation. The separation between the workplace and the larger socioeconomic environment is often considered artificial. This orientation can result in various kinds of programs. At a minimum, hazard-control policies emphasize health and prevention rather than punishment or income replacement. Employers, the state, or both provide occupational safety and health services as a supplement or alternative to prohibitive regulations. In-plant clinics and health services are linked with other public health programs in a comprehensive health-care network. At a maximum, employers are required to design production methods and work practices to encourage the worker's general emotional and psychological well-being, as well as accident and disease prevention. Factory-based clinics become building blocks in a preventive national health program. The Swedish program includes many of these features. The West Germans have adopted some aspects of this system.16
American Liberalism at Work: A Theoretical Assessment
In drawing these comparisons I do not wish to suggest that all other advanced capitalist societies have more developed occupational safety and health programs than the United States. Many do not. On paper, worker rights are extensive in Italy and France, for example, but they are rarely enforced. Nor do I wish to suggest that the United States is unique in all regards. The German system is similar to the American one in several respects, though worker rights to participate in plant-level decisions are significantly stronger there. Nor do I wish to imply that neocorporatist arrangements are generally preferable to pluralist systems of interest representation. As I indicate in Chapter 8, neocorporatist institutions do not guarantee organized labor an effective voice in policymaking.
But this comparison does help bring the American system into focus by indicating how workers, unions, and the state can approach workplace hazards differently. Most important, it illustrates how occupational safety and health regulation reflects the assumptions of liberal reform and suggests how, in this instance, those assumptions complicate workers' efforts to win protection from workplace hazards.
First, the liberal approach does not actively involve workers in enforcement. Workers enjoy few rights to participate. Moreover, the spirit of this course reflects and reinforces economism: the state continues to respect private control over the sphere of production and hesitates to intervene in the workplace. Second, the liberal approach relies on factory legislation despite the fact that it is poorly adapted to the economic or political realities of modern industry. Production is now carried out in a large number of enterprises. There are, for example, several hundred thousand manufacturing corporations in the United States. These firms make a great variety of goods under widely varying conditions. They use complex, often new and poorly tested technologies, including recently developed chemicals. As a result, it is difficult to design regulations suited to the multiform conditions of industrial production.
Where regulations do exist, they are difficult to enforce comprehensively. The possibility of inspecting each and every firm regularly is small. The expertise required of the responsible agency is large. Furthermore, liberal-pluralist political systems often offer affected firms many opportunities to challenge standard setting and enforcement policies, often quite effectively.
Factory legislation also does little to generate worker interest in health and safety and motivate workers to take precautions. To the contrary, it encourages workers and unions to leave the development and implementation of occupational safety and health policy to central state authorities rather than become actively involved in plant-level administration. Because workers are not organized to participate in in-plant health and safety activities, public officials have to bear the entire burden of supervising working conditions. This means that the state must field a large inspectorate and rely on centrally determined standards rather than input from enterprise-level organizations. This is apt to encourage employer opposition and produce inflexible and often inappropriate rules.
Finally, factory legislation is doubly difficult to enforce when workers' organizations pursue economistic strategies. When unions do not make occupational safety and health reform a priority, they are unlikely to be able to hold public officials accountable on this issue.
In sum, both theory and comparative evidence suggest that the liberal approach to workplace regulation suffers from several institutional and political infirmities. Later, I return to the comparison between alternative policies in order to assess proposals for regulatory reform. But the next chapters bring this approach into sharper focus by considering it in detail. Chapter 2 takes a close look at the historical evolution of the American system and the factors that explain the commitment to this approach.