ethnicity
An analysis of the ethnic dynamics within the American Communist Party is absolutely essential to an assessment of its effectiveness as an organizing agency. Although there is a certain faddism to the contemporary interest in ethnicity, it remains clear that the problem of group identity in an immigrant society and culture such as that of United States merits serious and sustained attention.1 Ethnically, the CPUSA appears to be a four-cornered playing board of Jews, blacks, white Southern and Eastern European Catholics, and white Anglo-Saxon Protestants.2 It was an organization that had been disproportionately foreign-born and that became native-born and second-generational in the late thirties.
Vivian Gornick's The Romance of American Communism properly focuses on the Party as a passionate community of believers; yet it oddly minimizes the uniqueness of the ethnic composition within the Party—that is, its disproportionately Jewish membership.3 Arthur Liebman, on the other hand, conclusively demonstrates that the American Communist Party, growing out of a Yiddish-socialist subculture transplanted from Eastern Europe, was 40 to 50 percent Jewish in the 1930s.4 The Jewish dominance was especially pronounced in northeastern urban areas such as Philadelphia.
Fully 72.2 percent of Philadelphia's Communists were the children of immigrants who came to the United States in the late nineteenth and early twentieth century. Of the twenty-seven second-generation Americans, twenty-two have parents of Eastern or Central European Jewish origins; one Jewish-American had a foreign-born father and an American-born mother. Of the remaining four, three have Southern European Catholic backgrounds and one has an ethnically mixed Catholic background including an American-born father. Of the nine of native-born parentage, four are black Protestants, two Northern European white Catholics, and only three are Northern European Protestants. The sample is 64 percent Jewish, 19 percent Protestant, and 17 percent Catholic; it is 89 percent white and 11 percent black. Although the sample does not in the least reflect the Depression generation at larger or within greater Philadelphia, it does represent the distribution of Depression-generation Communists within the Philadelphia area (see table).
FAMILY BACKGROUNDS OF THIRTY-SIX PHILADELPHIA COMMUNISTS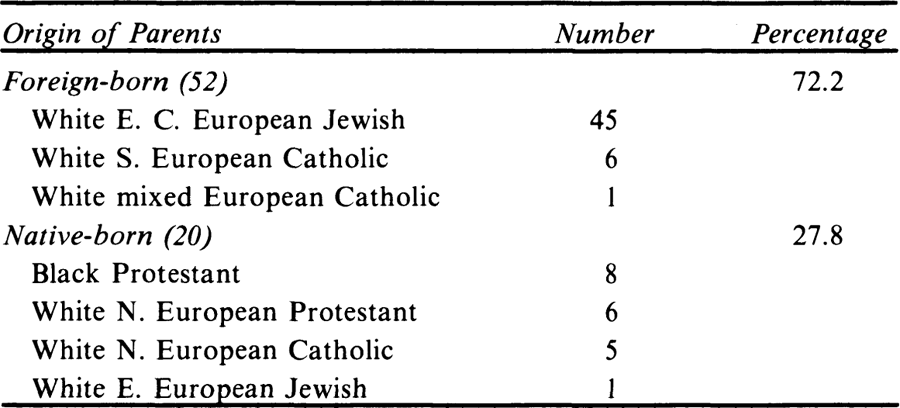 Even the three foreign-born local Communists arrived in the United States before the age of five. It was the thirties generation of Communists who brought the Party in October 1936, to the point where it became more than one-half native-born. The Philadelphia district, according to Nathan Glazer had only fifty native-born members, out of a total of 481, in early 1929.5 As late as June 1933, the national organization was still 70 percent foreign-born.6
It is of critical importance, consequently, to keep in mind that Philadelphia Communists were not only heavily Jewish but also the first American-born generation within their respective families. This is relevant not only to the distinctly Jewish response to the rise of Nazi anti-Semitism, but also to the Party's Popular Front efforts to root itself in native soil, to become thoroughly American.7
To join the Party after 1935 was to enter a potpourri of Americana: celebrations of Lincoln, Jefferson, Douglass, Debs; calls for the revival of indigenous cultural traditions; paeans to folk art. However disingenuously these themes were manipulated at the command level, in many ways Communism became more than the 100 percent Americanism proclaimed by Earl Browder. This was a particularly attractive stance to members unusually sensitive to charges of being aliens. Communists who grew up in homes speaking Yiddish or Italian found great attraction in a Party that proclaimed, "This Land Is Your Land."8
The Jewishness of the American Communist Party is a sensitive issue, both to former and present participants and to liberal and radical scholars.9 Political reactionaries traditionally have attacked leftists along anti-Semitic lines, finding Jewish conspiracies at all turns. The Party in Philadelphia had Jewish membership of at least 75 percent. What were the consequences of this predominance? Scholars need to know how Communists felt about their ethnicity, how potential constituents responded to Jewish organizers, and how Gentile Communists reacted to the Jewish aspects of their organization. The significance of the ethnicity of activists and organizers in an ethnically sensitive culture remains virtually unexplored.
Fred Garst describes the Communist Party as "a Jewish organization with a goyishe cup [Gentile head] and a token Negro." He feels that Communism is simply "a Jewish heresy," involving Jews who avoided their own ethnic identity and who never stopped to discuss seriously the Jewishness of their party. Others indicate that discussions of Jewishness were rare and that most members simply avoided or were oblivious to the issue.10
There is a wide range of responses to Jewish identity. Milt Goldberg admits that he had "very negative feelings toward the Jewish people" and was "anti-Zionist" and "offended by Yiddish." He concludes, "I guess I felt it wasn't American." At the opposite pole, Sammy Cohen comments on his lifelong ethnic identification: "I like being Jewish; my dad was a Jewish Socialist."
Between the above poles of disdain and self-affirmation, one finds a pattern of second-generational adaptation indicating a very substantial Jewishness encased within an encompassing Americanization. Most Jewish Communists wear their Jewishness very casually but experience it deeply. It is not a religious or even an institutional Jewishness for most; nevertheless, it is rooted in a subculture of identity, style, language, and social network. These are "secular Jews." In many ways, the words of Sol Davis—Jewishness "has never been a factor in my life—"speak for all of them. In fact, this second-generation Jewishness was antiethnic and yet the height of ethnicity. The emperor believed that he was clothed in transethnic, American garb, but Gentiles saw the nuances and details of his naked ethnicity.11
Within the Communist movement, most Jews were fervently anti-Zionist (at least until the post-World War II period, when it became acceptable to express sympathy for a Jewish homeland). Jewishness was to be submerged and transcended within the international brotherhood of the proletariat. The Popular Front re-established the value of ethnicity, including Jewishness, but most Jewish Communists of the thirties generation did not choose to identify themselves with specifically Jewish left-wing activities. Some who did were motivated more by the desire to work within a mass organization than by any ethnic identification.12
Indeed, even the Popular Front validation of ethnicity remained essentially instrumental, if not manipulative.13 The Marxist vision was a universalistic one that anticipated the replacement of national with class loyalties. Parochial identifications were being obliterated by market forces generating a universal class with nothing to lose. As Harry Boyte shrewdly notes, "From the pinnacles of 'advanced thinking,' voluntary associations like the family, the church, and ethnic traditions tend to appear as backwaters of culture."14 Most Communists, whatever their feelings about their own ethnic identities, accepted a historical projection biased toward universalism.
Sarah Levy declares, "I don't think that our generation thought consciously of ourselves as Jewish." Her husband, however, adds, "We knew we were Jewish; we felt comfortable among ourselves." Evidence of the importance of ethnicity in general and Jewishness in particular permeates the available record. Many Communists, for example, state that they could never have married a spouse who was not a leftist. When Jews were asked if they could have married Gentiles, many hesitated, surprised by the question, and found it difficult to answer. Upon reflection, many concluded that they had always taken marriage to someone Jewish for granted. The alternative was never really considered, particularly among Jewish men.
The Socialist Party incorporated a Yiddish-socialist left-wing subculture, while the Communists, using a centralized model, sought to reduce the strength of the ethnically rooted foreign-language federations, of which the Yiddish federation was one of the most powerful.15 Jewish Communisits of the pre-Depression era, 1905ers and those who joined in the twenties, usually foreign-born, sometimes flaunted their disdain for organized Judaism, eating at big feasts on Yom Kippur and mocking religious customs in front of synagogues. On one almost legendary occasion in Philadelphia, one Chickie Katz, later a Party leader, intentionally and provocatively ate ham in front of the local synagogue.16
The Jews of the second generation, on the other hand, few of whom could speak fluent Yiddish, many of whom had little or no Jewish education, carried no passionate hostility toward Judaism—only indifference. Nevertheless these acculturated Jews did behave in decidedly "Jewish" ways.
The secondary evidence is contradictory. Mark Naison, a student of Party history in Harlem, implies, in part by omission, that white, usually Jewish Communists felt quite comfortable and competent organizing in black Harlem, despite moments of tension and misunderstanding.17 George Charney, a participant in Harlem organizing, on the other hand, argues that there was considerable self-consciousness and agony about being an alien in a sea of blacks.
I could never walk the streets of Harlem in a leisurely fashion, as though it were my community or stand on the outskirts of a meeting as another member of the throng, even in the company of Negro comrades. I could speak from a platform with passion and feel momentarily a part of the people, but once the meeting was over the sense of unease returned.18
He says he felt guilty about his fears of being attacked but "could never discuss this problem with anyone."19
Many Jewish Communists Anglicized their names. It seemed less risky to work in plants or organize Eastern and Southern European Catholic workers, Southern white Protestant workers, black workers or ghetto unemployed as John Gates, for example, than as Sol Regenstreif.20 Such a practice was not peculiar to Jewish Communists, but given their predominance and the Party's obvious sensitivity to its ethnic composition, one is forced to examine it. Changing one's name for security reasons, a practice quite common in revolutionary movements, does not require a shift in ethnic identity. A Sam Cohen can become an Ira Gold, rather than a Joe Smith. Was this Anglicizing of names a symbolic and unconscious rejection, at least in part, of their own roots? Local Communists disagree about the motives for it, some agreeing that it suggests a certain self-hatred, others arguing that an Anglicized name was simply a ticket to enter industrial America. Sam Katz remembers A. W. Mills (formerly Sam Milgram), the district's D.O. in the early thirties, casually suggesting to Jewish members that perhaps "shorter" names, that were "more American," would be more useful to them. This advice was not policy and had no force behind it; Katz prefers to call such practices "folkways." Gentile subjects were much more likely to see Jewish self-contempt in name changes.21
At the national level, it was an open secret that the top leadership of the Party had to be Gentile. After the late twenties purge of Jay Lovestone, the leaders were Foster, Browder, and Dennis. Did Jewish members resent this? There is no evidence that Jewish Communists saw anything but the practicality of such a policy. After all, many Jews served the Party in prominent posts; they did not seem to be at all disadvantaged. Moreover, the strong opposition of Communists and of the Soviet Union to anti-Semitism and Nazism made Jewish activists tolerant of what appeared to be a practical and superficial form of discrimination.22
The heart of the Party's ethnic problem can best be examined through the relations between the Party's most notable minorities: Jews and blacks. The sociologist and former Communist Harold Cruse claims that Jews dominated the Party and double-binded blacks by furthering their own ethnic domination while denying blacks the right to a distinct identity. He argues that assimilated Jews in leadership positions accepted the existence of Jewish Party institutions—in particular a press and an ethnic organization—while charging similar black efforts with "bourgeois nationalism."23 Cruse particularly resents the way assimilated Jews became the spokesmen on black issues.
Jewish Communists, during the 1930's and 1940's, were able to compete with the Negro Marxist theoretician in the interpretation of the Negro question. As late as the late 1930's the top Communist leader—the section organizer—in the Harlem Communist Party was Jewish. Needless to say, no one in the Communist Party spoke theoretically for Jews but other Jews.24
Morris U. Schappes, a former Communist Party member and the editor of Jewish Currents, on the other hand, argues that Jewish Communists were forced to deny their own ethnicity within the universalistic framework of Party positions on nationalism and nationality. He finds that the Party ignored the fact that proletarian internationalism presupposes the legitimate existence of national identities. Schappes sees nationality work, that is, Party efforts within the IWO, as "pragmatic" and "tactical," and consequently assimilationist at root.25
The Philadelphia experience offers some ways of relating the seemingly opposite views of Cruse and Schappes. A number of Jewish Communists speak of race relations as a primary cause of their radicalization and of the Party's antiracism as one of its primary attractions. Harry Freedman, for example, says "there was nothing like the early Party" in terms of interracial harmony. Many old Leftists felt particularly good about the Party socials, which seemed to demonstrate the possibilities of racial integration. For many, the Party provided their first experience working or socializing with black people. Communists were often deeply moved by such progressive experiences in a still Jim Crow society. After all, in Connie Mack's lily-white Philadelphia as late as the early 1950s, black professional baseball players were not welcome to join the Athletics, nor were they allowed to use the best hotels while in town with visiting squads.
There was also an undercurrent of anxiety about social interaction, particularly dating and sexual relations. Black men, never before able to openly mix with white women, were caught up in a cultural and psychological matrix of attraction and hostility. Interracial dating almost always involved black men and white women, and the women were almost always Jewish.26 Several black Communist men married Jewish women, causing considerable resentment on the part of other blacks. Such patterns and feelings were taboo subjects within the Party.27
A central part of the debate on Party racism concerns the alleged patronizing of black recruits and members. More than a few Communist veterans, all white, mostly Jewish, argue that blacks were brought into the Party without the proper consideration of their political development and allowed to remain in the Party without fulfilling conventional obligations, such as dues payment and regular attendance at meetings. Abe Shapiro remembers a black recruit "who didn't have the faintest idea about the Party." He says that the more experienced Party members "died" when the Party allowed such practices but were afraid to speak out in fear of being labeled "white chauvinists." The postwar period, the era of the Progressive Party movement, seems to have been the time of most alleged abuses: the charge is that young blacks came into the Progressive Party organizations—fronts and mass organizations—attracted by civil rights and integrationist efforts and then were recruited into the Party simply to increase the black composition. The charge is supported by the extraordinary turnover among the black membership.28 One black activist confirms that the Party hesitated to give black recruits material on socialism, preferring to limit itself to black-oriented and liberal subjects. But, he adds, the more receptive and experienced black members advanced to serious discussions about nationality, class, and more general Marxist issues.
George Paine denies that black turnover was unusually high but agrees that recruitment was often careless. All black veterans of the local Party movement charge that the Party was indeed racist or at least insensitive to black people. Paine argues that "there was a great deal of chauvinism" and that "they [the leaders] were still white" and "wanted to edit what you did."
Yet several blacks speak with pride about the Party's advocacy of a separate black identity through the Black Belt thesis—that is, the right of blacks to self-determination in Southern areas with black majorities. Although evidence exists that the Party subordinated the Black Belt thesis to day-to-day civil rights issues, many blacks found it a powerful and compelling symbol, especially when linked with the Soviet Union's much publicized treatment of its own less advanced minorities.29 In all instances, blacks affirm the Party as the vanguard for racial justice in that era. They agree with Mark Naison's conclusion: "No racial organization in twentieth century America had greater success in uniting black and white working people around common ends or in mobilizing white workers to fight racial discrimination."30
Areas of bitterness and anger remain, however, Blacks typically experienced more job discrimination than whites, including Communists. Whereas Jewish people faced limits in the white-collar corporate world, blacks, less educated and less skilled in urban life, faced discrimination in all areas of work. One black Old Leftist, college-educated and experienced, could not find work commensurate with his training and finally was forced to take a factory job. Another educated black applied for a managerial job, only to be informed by the personnel director that he was qualified to be an elevator operator.31
Black Communists also had to deal with the small but emblematic contradictions of white and particularly Jewish Party members. Some Jewish members had black maids; even if they treated them with respect and friendship, this was an obvious source of unease to black members.32 Some Jewish Communists were also able to enjoy summer vacations at Jersey or Pocono resorts and sometimes winter vacations at Miami Beach, all of which were racially restricted.33
Another source of contention is the charge that the Party exploited the black community by selling its literature there while ignoring the allegedly less hospitable white working-class areas. Moe Levy attacked Party leaders for avoiding this issue. Another Jewish rank-and-filer feels that his comrades avoided selling the Party papers in their own neighborhoods because "they lived in fear of exposure." Consequently, they went into the contiguous black neighborhoods.
While many Jewish members resisted going into tough working-class areas like Kensington to sell the paper, there is considerable evidence of resistance and grumbling over going into black neighborhoods like North Philadelphia as well. Moe Levy claims that in North Philadelphia distributors got "respect but not acceptance," whereas in Kensington they were afraid "to get their asses kicked." Others recall many incidents of rank-and-filers from the Jewish West Philadelphia branches objecting to Sunday forays into black neighborhoods. In one striking case, an affluent woman would drive to the edge of the ghetto, park her expensive car, take off her fur coat and put it into the trunk, and, with great and obvious repugnance, take her quota of Workers into the public housing projects.
It seems likely that rank-and-filers, living in their own ethnic enclaves and less fully integrated into the Party social network and behavioral ideal, experienced more ambivalence about race relations and were sometimes insensitive to black feelings. Party cadres, more likely to live in ethnically mixed neighborhoods, with more opportunity to transcend their own ethnic parochialism, were more consistently supportive of efforts to achieve racial equality and were more comfortable around black people.
One experienced cadre believes in an "unspoken negativism" of Jewish members toward blacks, captured in the expression "we'll have to teach them," a decidedly missionary and patronizing attitude. Indeed, one finds similar allegations concerning the treatment of white Gentile working-class constituents.34 As was noted above, some working-class Gentiles also experienced condescension from Jewish party members:
Jewish attitudes, styles and modes of expression did not encourage Gentiles to interact and communicate with them, especially in the context of a tight-knit group that placed so high an evaluation on intellectual sharpness. There was a style of argument, debate, and writing within the Left that had a distinctive Jewish tone and style. It was aggressive, polemical, highly critical, and often personally derogative to even comradely opponents.35
The ethnic dynamics within the Party went beyond Jewish-black relations to incorporate white Gentiles, particularly immigrant Catholic and Southern Protestant working-class people. Every effort was made to promote non-Jewish cadres into leadership. As Nathan Glazer put it:
Members in the categories the party favored—the English-speaking, the industrial workers, Negroes—were given every incentive to enter the party. They were pushed into party jobs, where these were available, they were flattered. They were urged to come in when their understanding and commitment were weak. Under the circumstances, they flowed out almost as fast as they entered.36
Many white Gentile men were attracted to the more verbal and assertive Jewish women they met in the Party. Sally Turpin asserts that she always "felt completely comfortable" among Jews. Other Gentiles agree. But Mark Greenly adds that working-class Gentiles did feel they were especially recruited to diversify the Party's ethnic composition. And several Gentile working-class members believe that they were quickly raised to leadership positions, as Glazer suggests, because of their backgrounds. Greenly, who believes he was favored for this reason, tells a revealing story about being sent as a student representative to a national ASU convention. He says that it became increasingly apparent to most participants that virtually all of the speakers were Jewish New Yorkers. Speakers with thick New York accents would identify themselves as "the delegate from the Lower East Side" or "the comrade from Brownsville." Finally the national leadership called a recess to discuss what was becoming an embarrassment. How could a supposedly national student organization be so totally dominated by New York Jews? Finally, they resolved to intervene and remedy the situation by asking the New York caucus to give "out-of-towners" a chance to speak. The convention was held in Wisconsin.
During the anti-white-chauvinism campaigns of the late forties, spearheaded by black leaders,37 there was great unease and an undercurrent of defensive countercharges. Whites resented the promotion of inexperienced blacks to leadership and considered most of the charges of white chauvinism to be irresponsible and demagogic. In Philadelphia the problem seems to have been moderated, in part, through the leadership role of Ed Strong, a much admired black functionary who at one point served as D.O. On the other hand, some whites, while admiring Strong's abilities, viewed him as too color-conscious and nationalistic. One veteran found Strong's anti-white chauvinism efforts "abhorrent," especially the patronization of blacks, which he describes as "a pathetic grasping of straws in trying to develop black cadres." Black Communists greatly admired Strong and found him sensitive to their needs.38
Jewish and black Communists also clashed over residential problems. Jewish Communists tended to live in urban Jewish neighborhoods, like Strawberry Mansion and West Philadelphia's Parkside, where battles were being fought over black penetration. Blacks followed Jewish residential patterns, in part because other white ethnic groups resisted the black influx with vigilantism, discrimination of the part of real-estate interests, and overt hostility. Jews were more mobile; that is, they moved quickly into middle-class status and were more prone, for historical reasons, to flee rather than resist. Consequently, Jews faced the bulk of black migration and began the flight to Wynnefield, Overbrook Park, the suburbs, and, most often, the Northeast, a postwar quasi-suburb that became the city's section of Jewish concentration.39
Jewish Communists faced a painful dilemma in which their political values often clashed with their personal and familially perceived interests. One describes the struggle in Strawberry Mansion in the early fifties during which Communists fought blockbusting and Jewish flight, built block organizations, and became extensively and vigorously involved in Home and School Associations in order to keep classrooms integrated. Yet the neighborhood changed from Jewish to black and signs of ghettoization appeared—subdivided apartments, abandoned housing, rising crime, racial conflict, and the deterioration of the schools.
Jewish Communists express anguish and pain about this experience. One describes it as "traumatic," arguing that the Communists were "the last ones to leave." She speaks of being "the only white family in the school," with a daughter who was "fairly terrified" by racial antagonism and threats. "The boys were better off; they had black friends," she adds. Another veteran of the Strawberry Mansion struggles, repeating a tale I heard from many, describes the suffering her children experienced in inferior schools, taunted by black children angry at their own plight and taking it out on the only available targets.
The commitment to racial integration was a vital part of the intellectual and behavioral baggage of Communists. One couple specifically joined a racially integrated planned community to uphold such principles. Unfortunately, many Jewish Communists seemed to catch the worst of both worlds, experiencing guilt about deserting the cause of integration and also a final reluctance to impose the consequences of staying on their children. As one put it, "If I had to do it again, I wouldn't permit my children to go to deteriorating schools." Many struggled with this problem, finally finding their own compromises by moving to integrated neighborhoods in Oak Lane, Germantown, and Mount Airy, where they could enroll their children in public schools and continue the fight for an integrated neighborhood.
Others removed themselves from the such struggles by moving into such thoroughly white and Jewish Northeast neighborhoods as Oxford Circle. Given the problems of the period, including McCarthyist harassment, such a flight is not altogether incomprehensible.40 A few Old Leftists, however, speak bitterly about comrades who abandoned the cause by moving precipitantly and far away. Mike Caldwell feels that many Jewish Communists abandoned their integrated neighborhoods too soon. The majority, in fact, seem to have first struggled to remain and then, reluctantly, moved to other promising—that is, integrated—neighborhoods.
From the vantage point of black Communists, the above-mentioned anguish is suspect. Blacks feel another kind of abandonment; after all, they rarely had the luxury of choosing to move out of ghettoized neighborhoods. In addition, while some maintained firm community roots through church affiliations, Paul Jackson found that "we didn't fit into the black community" and were marginal to the Communist subculture as well. And they worried about their children. Would they be able to sustain them? One black says that his neighbors and non-Party friends would ask, "Why do you do something with no future and so many risks, given your skills? Look at so-and-so; he was once like you, but he found a way to get ahead." When the Party began to collapse in the fifties, such blacks were left without any support system. Another black concludes that "Jews don't know anything about black people." Although the black sample is quite small, it expresses attitudes consistent with Cruse's hypothesis and, strangely, with Schappes's as well. After all, while there could be a non-Jewish Jew, it was not possible for there to be a non-black black.41
The problem of ethnicity within the American Communist Party rests on the multiethnic nature of our society and the universalistic biases of the Communist movement. While the working class of the thirties was finally an English-speaking entity for the first time since the flood of immigration in the last quarter of the nineteenth century, it was still an ethnically rooted constituency. Industrial work was often defined by ethnicity; "What are you?" remained a significant question in the shops, factories, and mines of Depression and post-Depression America.42 Jack Ryan got a job at one of the Philadelphia area's largest plants through his father, a local Irish politician who had worked there for a few years. He adds that all of the job areas were ethnically defined.
Several Catholic Communists regret not being more effectively used by the Party. They were never sent into either their own ethnic neighborhoods or areas with their ethnic identity. Mario Russo, for example, born and bred in Italian South Philadelphia, was never sent into either his old neighborhood or other Italian communities, and his experience seems to have been typical.
One of the most successful organizers in the district, Johnny Tisa, was exceptional in that he was able to take advantage of his ethnic and residential ties in his work. Being a South Camden Italian Catholic made a difference in the effort to organize the Campbell's Soup Company. Other Eastern or Southern European Catholic radicals, however, feel that they could not have worked effectively in their own communities. They speak of their estrangement from the parochial and conservative neighborhoods that once choked their imaginations and ridiculed their heresies. They were the rebels, the intellectuals; when they fled, they extinguished any desire ever to return. Angie Repice recalls, "Very few people could you get to make the break with their families, neighbors." She feels that she may have been mistaken in abandoning her ethnic community but ponders, "I wanted to get out; we were the only ones [radicals]. What would we have in common with them; you don't get in, they're clannish."
For a Party with such an ethnic imbalance and such insensitivity to ethnic matters, Communists did remarkably well in reaching outward. Many Jewish Communist organizers were quite successful in reaching white Gentile and black constituents. They had a gift for communicating their idealism and their genuine sense of internationalism, and, most of all, they could deliver services. But the Party bias against what it called "nationalism"—which in fact was ethnic identity—damaged its ability to reach beyond an essentially Jewish-American constituency. When services could no longer be delivered, even the most effective organizers were rejected by constituents—working-class Catholic, black, Appalachian white—hardly touched by the Party's ultimate vision of socialism.43
A series of double-binds confronted the Party. Secularized Jewish Communists could experience "chosenness" as they congregated, shared cultural mores and means of expression, and were sent out into the Gentile world as colonizers, and yet still feel some resentment at the Party's discrimination against them in terms of advancement and national leadership positions. Relations between Jews and blacks were vastly superior within the Party—after all, the idealism, the sharing, the generosity, the racial harmony, were real—and yet fraught with taboos and racist patterns. It simply was not possible to talk about the attraction of some black men to white women or the insensitivity of many Jews to their own cultural arrogance. There was no ideological room to discuss, openly and fully, the sending of Jewish members into black areas to sell subscriptions to the Worker or the tenuousness of sending Jewish colonizers into factories where there were ethnic traditions of anti-Semitism.
It is a fair assumption that the Party, by playing down the role of ethnicity, made it more difficult for Party organizers of all backgrounds to become more sensitive to their own roots and, consequently, to develop greater empathy for possible constituents, all of whom experienced in full the realities of a multiethnic society.