organization and subculture
Many scholarly analyses, influenced by the Cold War, have considered membership in the CPUSA in highly abstract ways, relying on Party manuals, formal doctrine, Party media, and the often jaundiced reports of former adherents.1 Fortunately, more astute scholars recognize the existence of national variation, especially in the wake of the Yugoslav, the Chinese, and now the Euro-Communist divergences.2 In addition, several studies consider sequential variations—the ways in which national Party histories and historical circumstances in general color particular generations within the Communist movement.3
Local realities and variations of the Communist experience are as critical in making sense of national variation, as recent, more localized studies make clear.4 There is not yet a systematic analysis of Communist organizing activity at the local level that looks beyond political analysis to how Communists at all levels of importance and rank lived, worked, and coped within a particular environment. After all, the "colonizing cadre" working in a steel mill in Bethlehem or an electrical equipment factory in Southwest Philadelphia responded to national and international crises like the Nazi-Soviet Non-Aggression Pact through the filters of his social and personal life. Leadership, his fellow cadres and coworkers, his support network within and possibly outside the Party, and his family situation all influenced him. Consequently, to answer the often posed question of why Communist Party members remained loyal under duress and toed the Party line, one must examine the social context within which members lived. Perhaps it is a bias of intellectuals, including academics, to consider behavior exclusively in terms of ideas and ethics; most people, including the majority of Communists, respond to more mundane influences, such as loyalty, tradition, and habit. Harvey Klehr, in his study of the Party's national leadership, notes, "Surprisingly little information is available detailing Party activities at the local level throughout the country."5 As Mark Naison, probably the most incisive recent researcher on American Communism, suggests, "Historians who base their evaluation of the Party solely on Comintern resolutions or writings in the Communist are open to grave errors of interpretation." He correctly adds that "party life at the grass roots could be alive and vital even if it were rigid at the top."6 Naison's studies of Party activity in Harlem apply such insights, but primarily to political activity.
While affirming the need for more political studies at the local level, one may add that such efforts ignore certain factors in the Communist experience. What has been missing is not primarily the "emotional and spiritual context" emphasized by Vivian Gornick,7 but rather the texture of everyday life as shaped by formal and informal organization.
The formal aspect is institutional and bureaucratic. The informal is social and interpersonal.8 Each contributes to the sense of identity and, consequently, the loyalty of a group member. In the literature on the Communist Party, the formal organization has been too often examined exclusively at the national level. While such analysis remains essential, given the Party's highly centralized command structure, scholars need to pay more attention to the subordinate structures where national policies were implemented according to unique, local circumstances and milieux. The differences between the Communist Party in northeastern cities, the midwestern industrial heartland, and the South are striking enough to require more comparative, empirical study.
organization
There are no available official records concerning the Eastern Pennsylvania and Delaware District (District Three) of the CPUSA. The present national Party headquarters in New York does not make such records available, to the extent that they exist at all, and the veterans of the district Party organization know of nothing extant. Information gathered from a variety of old Party sources, however, provides a relatively clear and detailed historical picture of the district. A few key participants who worked at district levels of leadership, a number of items of district literature now in a personal collection, and a judicious culling of information from the national Party press contributed to the following picture.9
The CPUSA, from about 1929 through the late fifties at least, was organized and subdivided into districts, sections, branches, and clubs. In 1929 there were sixteen districts; by 1946 there were twenty-six. The largest district, by a wide margin, was New York State, which, centered in New York City, contained one-half of the total national membership and the major Party media. California, eventually divided into a northern and southern district, was next in importance, having its own regional Party organ. Other important districts were Massachusetts, Ohio, Michigan, New Jersey, Western Pennsylvania, Minnesota, and Washington. The Eastern Pennsylvania and Delaware District was sometimes combined with Western Pennsylvania, parts of New Jersey, and Washington, D.C., but its center was always the greater Philadelphia area.10
District Three was one of the most important Party regions by virtue of its large membership and therefore its contributions to Party fundraising and literature distribution. Five percent of national goals in fundraising and subscription quotas, for example, fell to District Three, at least in the period immediately after World War II.
In most nationwide efforts, District Three ranked second to fifth in importance. Within the national Party press, however, Philadelphia events received significantly less coverage than a half-dozen smaller districts. The Party emphasized the heavy industry districts, especially those of the Midwest; consequently, greater Philadelphia, with its lighter and smaller industry, received less attention.11
The district structure followed closely that of the national organization. At the top was a district committee consisting of between twenty and thirty members. This formally directive body had a cabinet or secretariat that ran the day-to-day operations of the district. It usually included minor functionaries, such as the circulation manager of the Party media, a literature director, an education director (often combined with the literature post), and a treasurer. At the apex of leadership within the committee and the political bureau that determined policy were the organizational secretary (OrgSec), the district organizer (D.O.), and the district chairman. Least important was the chairman, usually an elderly, august figure revered within the Party for past services and reputation but not particularly powerful in decision making.
The OrgSec was responsible for increasing membership within the district. In addition, he worked to increase Daily Worker and Sunday Worker circulation, to organize the distribution of Party literature, and to stay on top of all fundraising efforts. In brief, he supervised all cabinet work.
The D.O. was the most important member of the committee and of all decision-making bodies. For one thing, D.O.s were always appointed by the national office and thus carried policy from the national to the district level. They were usually outsiders, unlike most of the other committeemen. Basically the D.O. was the political leader of the district and the public face of the Party in its dealings with allies and with the non-Party world.
Because the Party operated electorally, there was also a state and a city structure that the district leadership used when convenient. For example, the D.O. in the late thirties and early forties, Sam Darcy, was also the Pennsylvania state secretary.
The district committee included other, often influential members with particular responsibilities, such as Negro work, industrial work, youth work, and professional work. The remainder of the committee reflected the geographical subdivisions of the district.
The sections within the city of Philadelphia were based on electoral, usually congressional, districts. In 1951, for example, Philadelphia had seven sections of varying strength:
the First Congressional District (C.D.) Section in South Philadelphia, an old immigrant section of Italians, Jews, Poles, and blacks the Second C.D. Section in West and Southwest Philadelphia, including an area of Party strength in the Jewish fifty-second and forty-sixth wards
the Third C.D. Section in Center City, parts of North Philadelphia, and some of the so-called working-class river wards
the Fourth C.D. Section in North Philadelphia and a part of West Philadelphia, including Party strongholds in the Jewish twenty-eighth and thirty-second wards of Strawberry Mansion
the Twenty-fourth Ward Section in the Parkside area of West Philadelphia, another Party center, again mostly Jewish
the Fifth C.D. Section in Northeast Philadelphia, running from working-class neighborhoods to new lower-middle and middle-class suburbs in the Far Northeast. A Party focus developed in the thirty-fifth ward (Oxford Circle) among Jews moving out from older inner-city neighborhoods
the Sixth C.D. Section in Northwest Philadelphia, with some Party strength in wards fifty, forty-nine, and twenty-two, middle-class Jewish areas for the most part.
Outside Philadelphia, the district included sections in Camden, Delaware County, Southeast Pennsylvania, Lehigh Valley (Allentown, Bethlehem, Easton), the Scranton, Wilkes-Barre anthracite area, Harrisburg-York, Bucks County, and Delaware. Finally, there was a professional section (clandestine) and possibly two industrial sections. By various indices, West Philadelphia, particularly the twenty-fourth ward, the Strawberry Mansion neighborhood in North Philadelphia, some Jewish pockets in South Philadelphia, and some downtown areas were the center of Party membership and support. All of these areas were disproportionately Jewish. The focus of attention, however, was more often in areas and sections containing those groups the Party most desired to recruit and generally failed to reach—that is, blue-collar working-class whites and working-class and poor blacks (see ward map of Philadelphia.)12
Each section had a section organizer in charge, a section committee, and other subdivisions analogous to those of larger units. Sections were of great importance. Their role was to stimulate recruitment, organization, and activity at middle and lower levels. The section organizers usually were young and motivated activists, or cadres, sifted from the rank-and-file branch members, committed to Party growth, and often looking to further their Party stature and careers with sectionwide successes.13
Each section was divided into branches and clubs. There is some confusion about the difference between the two; the terms are used sometimes interchangeably and sometimes distinctively. A branch was generally a geographically defined unit of fifteen to thirty members. A club could be geographically defined but was sometimes organized according to interests as well. For example, the Party had clubs for nature study, hiking, singing, sports, and dance and a host of youth-oriented activities. A strong district built a rich web of branches and clubs, the smallest units, permeating the neighborhoods, the leisure-time interests, and the vocations of working people. The Coops, the Communist cooperative apartments in the Bronx so movingly described by Vivian Gornick, are, perhaps, the densest subculture the American Communist Party generated. However, such neighborhood-based units, in their insularity and parochialism, could limit rather than nurture districtwide growth.14
Areas of Left-Wing Strength as Indicated by 1948 Progressive Party Election Returns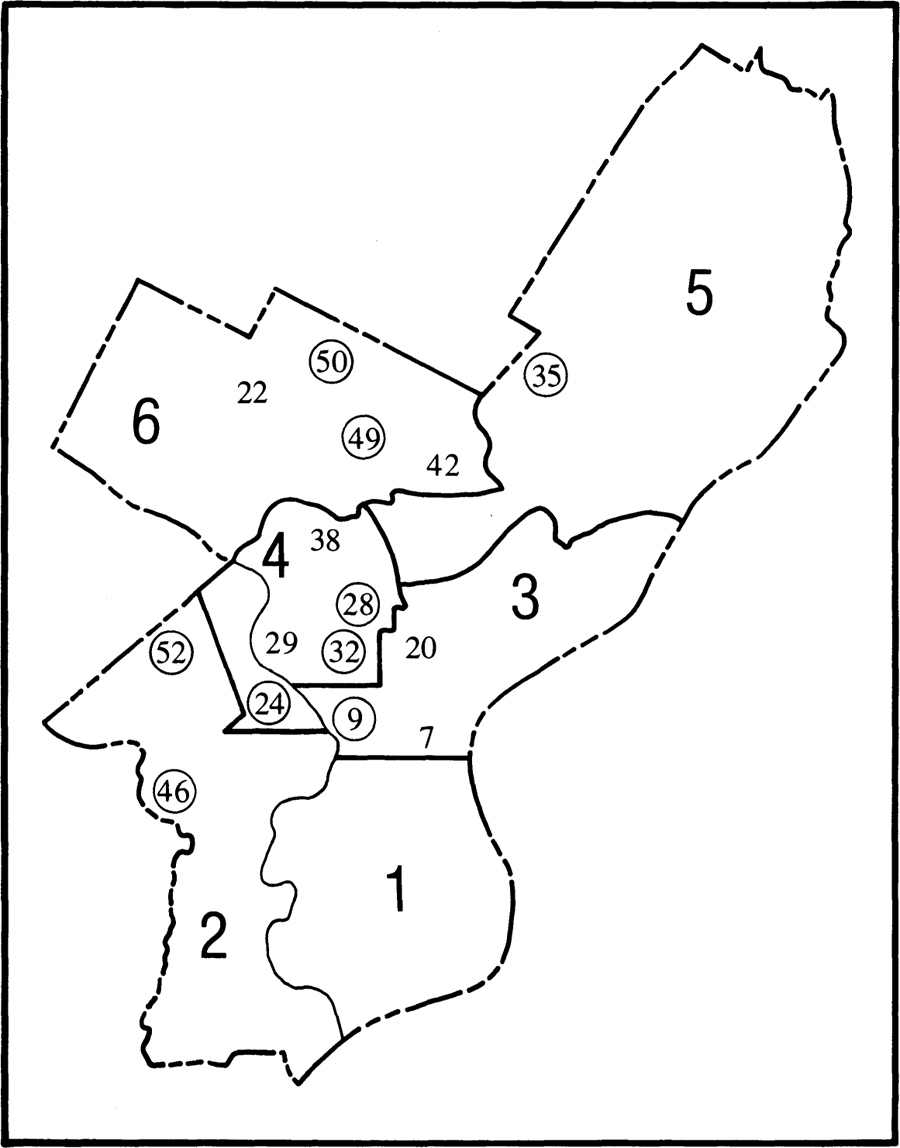 The circled wards (9, 32, 28, 46, 52, 24, 50, 49, 35) indicate areas of Progressive Party strength in the 1948 presidential election. Wallace also had some support (400 votes or more) in wards 7, 20, 22, 29, 38, and 42. Wallace received 20,745 votes in Philadelphia, about 2.5 percent of the total. (Philadelphia Bulletin Almanac [Philadelphia: Philadelphia Bulletin, 1949], pp. 36, 38.)
Before considering district membership, it is useful to examine national figures longitudinally. Most accounts show the Communist Party rising from a low of perhaps 6,000 in 1923 to as many as 100,000 members in the period immediately after World War II, if one includes the YCL. Party membership was chronically unstable; nevertheless, it charts an upward trajectory from the time of the Crash until the late 1930s, especially during the Popular Front period of 1935–1939. The Nazi-Soviet Non-Aggression Pact cut into membership to some extent, but with the Soviet entry into World War II as an American ally, a revived Popular Front produced membership growth during and immediately after the war. The beginning of the Cold War and the McCarthyite repression during the Truman and Eisenhower administrations cut sharply into membership. By 1953 membership had dropped to 24,796, and by 1955 to 22,663. The Party was down but not quite out. Support networks and a central core of cadres still remained, including national and district leaders either released from prison or finally exonerated by higher courts. The final collapse for all intents and purposes came with the traumatic events of 1956—Nikita Khrushchev's Twentieth Party Congress revelations about Stalin's crimes, and the crushing of the Hungarian uprising by Soviet troops. By 1958 the CPUSA had dwindled to a few thousand loyalists without influence or prospects.15
A similar process took place at the district level. The membership of District Three, for example, which numbered in the hundreds in the twenties, rose to perhaps 3,500 by 1938.16 Some members resigned after the Pact, although most sources indicate that losses were relatively slight and mostly among intellectuals. The war period and its immediate aftermath saw district membership range from as low as 2,000 to as high as 3,800. My impression, based on many sources, is that in its heyday—that is, the period from 1936 to 1948—the district averaged approximately 3,000 members.17
In the late 1940s and early 1950s, membership fell off for several reasons, all related to the rising political repression. Some members were dropped from the rolls for failure to fulfill Party chores, including the payment of dues. Others were expelled or dropped for security reasons, on suspicion of being government agents or for ideological causes, such as charges of "white chauvinism" or "Titoism." The Party in this period of retrenchment followed Lenin's line of "better fewer, but better." Purges in Philadelphia, however, were relatively mild.
In fact, the major purge in District Three came in 1944–1945, when Sam Darcy, the D.O. and a nationally respected leader, publicly opposed Earl Browder's replacement of the Party with the Communist Political Association. When Darcy was expelled for his intransigence, an undetermined number of district members joined him. Darcy claims that a significant number of members—working-class members—resigned, but all other sources suggest that perhaps thirty to thirty-five close Darcy loyalists, mostly professional people, resigned or drifted away.18
Most of those who left the Party during the McCarthy period were rank-and-file members who stopped attending meetings and failed to renew their membership, frightened by the mounting assault on radicals and other dissenters. In addition, a significant number of members resigned for practical purposes while retaining their Party loyalties. For example, many faced with loyalty oaths and non-Communist membership strictures in the labor movement or public employment resigned from the Party but remained active. As a result, the Party, although weakened by the Cold War attacks on its members and leaders, retained a hard core of cadres and functionaries as it faced the crisis of the mid-fifties. That cataclysm of soul-searching, reflection, disillusion, and, remarkably, hope ultimately decimated the district.
How was the membership within the district distributed? One former leader put it succinctly and bluntly: "The Jews dominated the district." All sources and interviewees agree that approximately 75 percent of the district membership was Jewish. This striking fact will be extensively analyzed in Chapter Four.19 Black membership was estimated at 10 percent "at best," according to one well-placed authority. The membership included a smattering of white Protestants, a small group of Eastern and Southern European white Catholic workers, and remnants of the foreign-language federations. By the late 1930s, the foreign-language federations had long been transformed into fraternal organizations within the International Workers Order.20 The IWO included a wide range of ethnic affiliates; the most significant nationally and in Philadelphia was the Jewish Peoples Fraternal Order (JPFO), but there were also Greek, German, Russian, Ukrainian, and Italian groups. The IWO usually had a district committee representative, and possibly as many as 800 of the 6,000 fraternal members were in the Party in 1938–1939. Such "1905ers" were the parents of the "red-diaper babies" within the sample.
District Three ran Communist Party candidates for public office without success. Occasionally it established a front party at the local level to try to defeat a particularly noxious Democratic Party candidate.21 In the post-World War II period through the early fifties, the district leaders supported Progressive Party candidates. For much of the time between 1935 and 1958, however, especially in Popular Front periods of coalition and reform, Philadelphia Communists worked in and around the Democratic Party.
Philadelphia was a Republican stronghold until the late 1940s and early 1950s, when liberal reformers headed by Joseph Clark and Richardson Dilworth led a Democratic sweep. The Communist Party of District Three, in the late thirties and early forties, used a Popular Front strategy of working with the minority Democrats in support of New Deal policies and labor legislation and for shared foreign policy objectives. The Party had significant influence in approximately eight out of fifty-one Democratic wards during this period. Most of these wards were in the Jewish and/or black areas of North, West, and South Philadelphia and in Center City, the neighborhoods where the Party had section-level strength. District leaders had ongoing communications, circumspect but not clandestine, with Democratic Party leaders and elected officials. In one period, the chief counsel for the local Democratic Party was, in fact, close to the Communist leadership.22 After the war, with the rise of the Cold War followed by the disaster of the Progressive Party campaign, the district lost the small but strategic influence it had had.23
The large membership of the Amalgamated Clothing Workers (22,000 members) under Charley Weinstein and the Textile Workers (9,000) under Bill Leeder, both old social democrats, ensured that the city CIO Council was never dominated by the Communists. But the Party was a significant force in such unions as the United Electrical, Radio and Machine Workers of America (UE), especially within Local 155, a machine shop local led by business manager Dave Davis, a Party district leader, Westinghouse Local 107, R.C.A. Local 103, and G.E. Local 119. Communists also played significant roles in the Food, Tobacco and Agricultural Workers Union at Campbell's Soup in Camden, in the Transport Workers Union, in the State, County and Municipal Workers Union, the Philadelphia Teachers Union, and among retail and wholesale workers and such skilled craftsmen as jewelers, painters, and paperhangers.
Thus, the Party district was a moderately powerful force that seemed to be growing, albeit slowly. If the Democrats wanted to turn out a big crowd for a visiting New Dealer with progressive credentials, they often called on the Communist district leadership to bring out the troops. And the evidence suggests that the district could, indeed, deliver troops in the thousands for such occasions. Within the labor movement, the Party had a presence, open in some instances, covert in others; it could achieve goals through strategic alliances and was, at least until the late 1940s, a force to be reckoned with.
Finally, the Party made its presence felt through its almost jerrybuilt structure of front groups. Front groups were created to allow for more mass participation under non- but not anti-Communist auspices in areas supported by the Party. These groups included foreign policy fronts like the American Peace Mobilization, the North American Committee for Spanish Democracy, the American League for Peace and Democracy (at one time the American League Against War and Fascism), civil liberties fronts like the International Labor Defense, the Civil Rights Congress, and support groups for such victims of injustice as the Trenton Six and Willie McGee (Willie McGee was a Mississippi black executed for raping a white woman, despite significant doubts about the fairness of his trial. The Trenton Six case involved black men charged with the murder of a New Jersey furniture dealer in 1948. After years of appeal, four were released from prison and acquitted in 1955; one had died in prison, and the last was sentenced.) There were also civil rights fronts, like the National Negro Congress, and specialty fronts, like the Slav Congress and American Youth for Democracy. Party members organized and usually directed such fronts, sometimes in alliance with non-Communist, progressive groups, often disingenuously, trying to make them appear to be autonomous. By 1948, however, the Cold War had mandated that the new form of Popular Frontism was to be Senator Vandenberg's bipartisan alliance of Democrats and Republicans, liberals and conservatives, against the alleged threat of foreign and domestic Communism. At that point, Party fronts became increasingly skeletal.
In the period between the mid-thirties and the late forties, the greater Philadelphia Communist Party organization was a small but important part of a small but important national movement. Its numerical strength was impressive, although weakened by its ethnic imbalance i.e., it was a force in the labor movement, and it played a role in local New Deal and Popular Front electoral politics. To new recruits, the district organization seemed to be a viable and vital entity, providing them with innumerable activities, both political and social. They were part of an impressively structured district organization that was bureaucratically and ideologically linked to a national and, most critically, an international movement.
subculture
Most analyses of the American Communist Party limit themselves to its structural, political, and ideological aspects or, alternatively, study the social or psychological dynamics of its membership. Some recent efforts, however—for example, that of Vivian Gornick—help students of the Party recognize that it generated its own subculture, not simply as a means of entrapment, as so many earlier studies argue, but as a means of both survival and enrichment.24
The Communist Party subculture rested on an institutional framework that included the district, the section, and particularly the branch and club units. In the heyday of the Party, few weeks went by without lectures, classes, parties, concerts, socials, and rallies sponsored by Party units.25 Many Philadelphia Communists speak of particular loyalties to the Party people in their immediate units; these were their closest comrades, their fellow workers, their friends. Abe Shapiro remembers going to meetings every night and "three times on Sunday." On Saturdays he and his wife would go to an early evening Party meeting or session, and then, when it was over, join a few close Party friends for a late movie. Others note that they lacked the money for movies but tell of social get-togethers for cards and food. One woman speaks warmly of weekly pinochle games over hot tea and freshly baked hot bread. Others gathered at favorite spots like the Center City Horn & Hardhart's restaurant known as the "Heel," where they met to chat and eat. Conversation was always the spice of political life, and members cherished the amiable if heated discourse of such occasions. For young, unmarried, or childless radicals, Party social events were lively and fulfilling in the thirties and forties. The comrades seemed the best of people, activity was meaningful and promised success, and energy was at extremely high levels thanks to the adrenalin of youthful idealism and camaraderie.
Stan Wax, as a young YCLer just out of college, organized a chapter of the American League Against War and Fascism with a few neighborhood friends. "I was a street-corner speaker," he brags, describing his successes over the first six months of effort. His world at age twenty-two was one of "total activity" in a "social, fantastic organization" that integrated all aspects of the lives of those involved. The League had a newsweekly, held dances at least once a month, ran various cultural programs including a hiking group, a chorus, and a theater group, and engaged in ongoing protests over anything from an eviction to Italian aggression in Ethiopia. During this energetic period Wax met and courted his wife within a round of Party activities that included informal bull sessions on street corners, on porches, and at kitchen tables. Party activists laughed as well as did their political work together. As Wax indicates, it did not even matter who was and who was not actually a Party member; all came within the compelling orbit of Party-sponsored and Party-staffed activities and their spin-offs.
These social and cultural interactions, these extensive and intensive acquaintanceships and friendships, these social networks of aid, comfort, and warmth, were the core strength of the local Party. The Party's informal organization has too long been underestimated and ignored.26 Who stopped over at one's house after dinner to play cards, listen to a ball game, sit on the porch drinking a beer, discussing the news, imagining the future? Whom could one depend on to take care of the kids, lend one money, go shopping? Who knew of a politically reliable lawyer? With whom did one create a tradition of attending summer concerts in the park? Certainly non-Party neighbors were often friendly and sociable, at least until the McCarthy period, and some Party colonizers mixed smoothly and comfortably with working-class people. But even colonizers off in distant towns were sustained by a Party social network. They would have contact with a few Party people in nearby areas; they would correspond with Party friends back in their old neighborhoods. Many Philadelphia Communists proclaim that they still can go anywhere in the country and be welcomed by Party friends they have made over the years. "It's like family," Edith Samuels concludes proudly.27
The Party social network acted as a job referral agency for many. Formally, the Party placed some cadres and even rank-and-filers in Party-influenced positions with unions, fronts, and sympathetic political organizations. In addition, Party members found jobs for the faithful in companies owned or managed by sympathizers or members. There are countless stories of such sympathizers coming through with money or employment to help out those giving more time to the Party. In the early and middle fifties, such informal placement salvaged the situation for many Party cadres isolated and injured by political repression and blacklisting. Many were enabled to start new careers through employment assistance rooted in the Party social network.
The organizational density of the Party in the United States and in Greater Philadelphia did not approach that established by the massively supported German and Austrian Social Democrats of the pre-Nazi period and or by contemporary Communist parties in Italy and France.28 The American Party, however, with its IWO fraternal groups among ethnic minorities, its choral groups, sports clubs, nature clubs, lecture clubs, dance and art classes and performances, picnics, and summer camps, established a cluster of activities for locally based members that was, indeed, a subculture.
For example, a Philadelphia Communist, or anyone operating with the Party network, remembered the 1938 May Day picnic at State Chairwoman Mother Bloor's farm near Allentown that celebrated the 35,000 people who marched in Philadelphia carrying caricature placards of Hitler, Mussolini, and Tojo down Broad Street across Chestnut and, finally, to Independence Hall. Some veterans recall a caricature of Neville Chamberlain with an umbrella ten feet high. State Secretary and D.O. Sam Darcy headed a speakers list that included labor representatives (electrical, meat cutters, maritime), ethnic leaders (Czechs and Slovaks, Negro women, IWO), the Workers Alliance, the American Leagure Against War and Fascism, Spanish Republic support groups, and Popular Front student groups. The march was headed by Abraham Lincoln Brigade veterans in uniform. The 1938 May Day Committee included two hundred organizations.
Such impressive outpourings were indeed special—and soon to dissolve with the coming of the Nazi-Soviet Non-Aggression Pact—but they were not rare. The months were packed with activities. In this same period, the spring of 1939, one could go to a fundraising party for Spanish refugees sponsored by the Spanish Popular Front in South Philadelphia on 30 April, attend "Marching Song" at the left-wing New Theatre downtown, stop in at "Philly's First Progressive Flying Club Music Center," or attend the progressive Camp Ridgedale's conference on 2 May, and then, on 6 May, frolic at a dance party featuring the Merle Hirsch Dancers at the Artists Union Studios on Walnut Street.29 There were lectures sponsored by the New World Bookshop Forum and the National Negro Congress, a Retail Clerks' Artist Union, lectures at the People's Forum, and even jitterbug contests at a YCL dance. The Philadelphia Workers School gave a broad range of courses in addition to sponsoring a "Dude Ranch and Amateur Show." There were always Workers to sell, quotas to fill, branch and section meetings to attend, and, in that heyday of Popular Front efforts against a rising fascism, Spanish Civil War support efforts: relief ships to fund, orphans to save, recently returned visitors to welcome. The Philadelphia Communist subculture offered much more than mere ideology and bureaucratic organization to its members.
Vivian Gornick quotes a former Party member who reveals the subtle force and warmth of that subculture.
You know, it's funny. In the old days of the Party, I never had "personal relationships." Now I have personal relationships. Everybody's in analysis, everybody's confessing their lives to each other day and night, and there are an awful lot of people about whom I just know an awful lot of personal stuff. And they know an awful lot about me. And yet, it really is odd. I don't feel intimate with any of these people. And I know I never will. And with the people from the Party, I felt intimate. I couldn't tell them anything about what we call my "personal life," but I felt an intimacy with them I also know I'll never feel again with anyone else.30
The sociologist Richard Sennett argues that contemporary life, by blurring and merging public and private spheres, eliminates the possibility for people to play roles and establish a space within which they can explore and create; thus, it destroys the qualities of intimacy rooted in family and friendship by vulgarly universalizing them.31 The Communist subculture, at the same time as it interfered with certain aspects of one's personal life through its rich and enveloping milieu, accepted and respected the fundamental distinction between public and private spheres. There were sometimes gross violations—for example, the shunning of expelled members, the use of personal attacks against members for "white chauvinism" or "male supremacy" to settle personal scores. But such essentially totalitarian interventions were characteristic of the Party apparatus, not of the subculture. There, tenuous balance between political responsibilities and personal and private life was more the norm. The Party's total environment allowed for primary group intimacy and personal discretion.
Some members, of course, suffered from blocking personal feelings, as Gornick argues;32 others, however, were saved from aggressive intrusions into their affairs by such discretion. They were raised to withhold personal feelings, especially in public; failure to do so was not considered to be proper and indicated a certain lack of character. Within the subculture, respect for privacy was the rule.33
Clearly Communists were and are not "psychological men" or "protean" in any way.34 They are, especially the men, singularly naive about the subleties of personal behavior. Party culture always eschewed psychological explanation, seeing it as a bourgeois smokescreen obfuscating the realities of the material and objective world. As a result, Communists often seem to have a poorly developed sense of dynamics of individual behavior that is not at the level of the rational, the material, or the political. This is not to suggest that they are bereft of common sense, merely that they are strikingly rationalistic.
These are not cold or austere people; indeed, the stereotype of the humorless Communist fits only a very few within the sample. Most seem quite unremarkable in their ability to laugh, kid, sing, enjoy, and reflect on life. Many Communists were raised in immigrant households filled with storytelling traditions, boisterous table talk, and a sense of humor that necessarily included oneself as a target. Fred Garst, in the middle of our interview, mischievously asked me, "What's a Shmarxist?" I replied, like a good straight man, "I don't know," anticipating his Yiddishist response; "A shmuck who believes in Marx." Of course, a loosening up and a certain mellowness come with aging and removal from the intensity and intolerances of Party life. But it would be a great error to describe these Old Leftists as characteristically repressed or humorless.
Many speak of youthful friendships established through politics, that have continued to the present. Abe Shapiro met his closest friends while in his first year in college. They would meet every day in the gym locker room to talk about current events, politics, Marxism, sports—seven to ten guys beginning their involvement in campus radicalism. One died in the war, another got divorced and left town, a few others have moved elsewhere, and one is very ill and incapacitated, but Abe still maintains contact with all of them who are still living. His friendship with those who have stayed in Philadelphia covers forty-five years. When Abe gets together with Mario Russo and Sammy Cohen, the conversations and, more subtly, the gestures, the signals, the raised eyebrows and momentary glances, evoke the sense of familiarity one associates with a well-worn, loving, but utterly human—that is, slightly irascible—married couple.
One finds surprisingly little bitterness. Although there are indeed instances of permanent ideological separations between old friends, one also finds former Communists with sharply diverse views still maintaining their friendship today.
In his memoirs, George Charney stresses that among his reasons for joining the Party, "not the least important was the fact that I was in the company of my dearest friends."35 And Jessica Mitford reflects that she was "struck by the instant friendship based on mutual loyalties and shared dangers that one developed with fellow Communists, the total welcome and acceptance by complete strangers once one had established one's comradely credentials."36 One local Communist tells of an out-of-town friend who is constantly astounded by how often she runs into old Party friends and acquaintances. Ike and Edith Samuels constantly talk about their nationwide circle of old Party friends. When they visit the West Coast, they stop in to see old comrades they worked and lived with in another city; at a senior citizen conference Edith runs into someone she worked with for a half-dozen years in New York State; and when old Party friends travel East, they stop in and stay with the Samuels. Although the Party is gone for people like the Samuels, the network based on shared lifelong experiences remains and flourishes.37
Not all Party members ignored friendships with outsiders.38 Professionals in particular were able to uphold social relations with non-Party peers, although usually ideological tolerance or sympathy was a necessary ingredient. The Katzes had a rich and varied social life in their early married years. They went to ball games with a non-Party sports crowd and to the theater with a non-Party circle. By the early fifties, however, their social network and friendships were totally left-wing. Sam Katz views this as a "loss" but feels that under the circumstances of political repression it was inevitable. Those Party people working in the trade-union movement, and able to go on doing so during the fifties, sustained associations and friendships outside Party circles. In fact, in the case of one trade-union leader, non-Party support was critical in that era.
This activist was one of the few to sustain friendships with old neighborhood friends over many decades, totally separate from Party involvements. Many old Leftists look back nostalgically to their old ethnic neighborhoods, but few maintained significant ties, partly because most of those neighborhoods collapsed and were transformed in the period following World War II. Several feel that the stability of their own upbringings contributed to their ability to sustain work, family, friendship, and a special social network of old comrades. They experienced and understood the value of stable relations and rooted lives and sought to replicate them in the unique context of the Party.
A few old Leftists found Philadelphia to provide a less intimate and cohesive radical subculture than districts elsewhere. One couple lived in an apartment building in Washington with "the greatest concentration of leftist people I've ever experienced." Ike Samuels describes extensive political activities, "surrounded by all these magnificent people"; it was, he says, "the happiest time of our life." He stresses that "these were not depressed people, somber people, none; they didn't have any hang-ups." Dozens of young couples with children created daycare and babysitting cooperatives and shared vacations. Another local Communist describes Baltimore as "unusual" in that it had a Party organization that was not stratified and bureaucratic but was instead, filled with "genuine friendships."
Some found Philadelphia at first "a very strange city" containing a segmented Party with "a certain amount of exclusiveness." Others note lower levels of intimacy in Philadelphia as compared with other, smaller, Eastern cities. The unfavorable contrast may derive in part from the fact that such subjects moved to Philadelphia at the outset of the McCarthy period and may have romanticized their previous residences as a result. On the other hand, Philadelphia, as the third largest city in the nation, with a sizable Party operation, may have been less warm and supportive than smaller urban centers. Only comparative empirical research can settle such matters.39
Vivian Gornick says of Communists, "They were like everybody else, only more so."40 Part of the extra ingredient was the radical subculture with its extensive social networks. Joseph Starobin, a historian and former Communist, concludes of the American Communist Party that though it was "not intended to be a family but a quasi-military elite, forged for stern tasks, it was in fact a family to many."41
Like most families, it had expressive functions that were intertwined with the more instrumental operations of the Party's formal organizational structure. The district Party was simultaneously a political instrument, an employment network, a social organization, and a circle of friends, whom Communists called comrades. One of Gornick's subjects sums it up best:
It was a total world, from the schools to which I sent my children to family mores to social life to the quality of our friendships to the doctor, the dentist, and the cleaner. We had community. We had integration. We had that civilizing sense of connectedness, it's the heart and soul of all civilized life. It wasn't just good wine in our veins, that life, it was ambrosia.42