IN THE FIELDS
Women experienced the transformation of the countryside in distinctly female ways. From infancy, they encountered patriarchal social relations rooted in a gender-based division of labor, authority, prestige, and reward.1 In young girlhood, they learned the rules that regulated access to resources and power on the basis of race.2 Yet the forces undermining the rural economy prevented many women from repeating the lives of their mothers and grandmothers. Torn from a past that could not be relived, some ventured onto new terrain. They traveled, however, still burdened with their upbringing in a hierarchical society.
A story told by a Piedmont farmer illustrates how the crop lien system endangered the rural population. The farmer was reacting to the low price paid for cotton in the late 1890s:
At the winding up of the year, the crop lien began to draw and it kept on drawing. It drew all the cotton and the corn, and wheat and oats, the shucks, the hay and the fodder, the horses, and the mules, the cows, the hogs and the poultry, the farm utensils and the wagons . . . and not being satisfied with its drawing outside, it drew the household and the kitchen furniture; and . . . it didn't quit drawing until it got the table, the plates and dishes, the cups and the saucers, the knives and the forks, and when it had gotten everything else, it reached for the dish rag and wiped up the whole concern, not leaving even a grease spot.3
The male narrator emphasized his own concerns, but he acknowledged that hard times did not stop at the kitchen door. If we are to understand women's situation, the subject added by the farmer as an afterthought must become the focus of our discussion. It must be stressed, however that women's working lives were not confined within the walls of the farmhouse but extended into the fields; a sizeable minority of the female population even ventured into "public work." Indeed, given the intimate links between domestic concerns and agricultural prosperity, women who labored in both arenas were doubly affected by the forces undermining family economic self-sufficiency.
As agricultural production increasingly centered in the tenant family household, its women became a more important part of the family's labor supply. Childbearing and childrearing brought additional hands that allowed the family's income to grow, making it possible to buy mules, tools, and, for a very few, additional land. Nearly all rural women carried out the exhausting chores that transformed coarse provisions into food, clothed the family, battled the dirt, nursed the sick, instructed daughters in domestic tasks, gardened, and tended the domestic animals. Women also worked in the fields when necessary, which was especially frequent while children were young. In addition, women engaged in wage labor to help lift a household out of desperate poverty. The state census, however, consistently underestimated the importance of women's wage contributions to rural households. Taking in laundry, providing for boarders, and working as occasional farmhands were occupations that often went unrecorded. Active in all three arenas of work—domestic labor, field labor, and hired labor—women exhausted themselves in the unrelieved drudgery necessary to sustain a farm household in the emerging cash-crop economy.
Women carried out their duties in a society that was evolving from a simple to a more complex system of market-regulated economic transactions. A woman's labor in a prosperous property-holding household might take place entirely outside the market. That is, she did not help to produce the crop. In a tenant or sharecropping household, however, her labor was recompensed in the family's share of the crop produced by its combined efforts. Some tenant women and even more women in laboring households participated in wage labor; here the employers appropriated the product. Whether women's labor had become a commodity in a formal sense, it typically occurred within a family labor system that distributed tasks among the family members according to gender, age, and the requirements of the crop cycle.4 Ideally, the father presided over the farm "autocracy" like an "overlord . . . in the ancient patriarchal fashion" that had prevailed among the yeomen of the pre-Civil War South. The mother fulfilled domestic responsibilities and directed her daughters' labor whenever they could be spared from the fields.5 Tobacco culture, with its varied range of light and heavy, skilled and unskilled duties, was suited to the family labor system. As a cash crop produced by tenants, however, tobacco production undermined both the independence of the family economy and patriarchal authority. The farm household remained the site where production took place in the rural Piedmont, but increasingly landlords assumed control over the family's labor resources.6
Bright-leaf tobacco was a labor-intensive crop, requiring more than 400 hours of labor per acre.7 The father and older sons would prepare the seedbed in January and transplant the young seedlings in the spring after they had plowed the fields. Small children could drop the young plants in rows while the father and older hands planted them. Later the father would direct the labor of the older children (and perhaps the mother) as the family labor force chopped the weeds in repeated trips through the fields and picked off the tobacco worms before they damaged the leaves. A nursing mother would bring her infant to the fields, lay the baby on a quilt, and tend it between trips up and down the rows. Men performed the harder and more skilled tasks, such as topping (breaking off the just-formed flower buds), which prevented the tobacco going to seed before harvest. The women and children could then break off the suckers that grew after the loss of the flower bud.
The father and other male hands took charge of the most laborious work of the year—harvesting and curing the leaf—which took over 250 hours of labor per acre.8 Originally, male strength was employed to split the stalk in two with a single stroke of the knife, while children held the sticks over which the bisected plants were draped. As the technique of priming (picking each leaf as it ripened up the stalk) supplanted cutting, women and children took a more active part in the harvest after the father had determined that a layer of leaves was ready to be cured. Where priming was the method of harvesting, women and girls would loop the individual leaves into "hands" and drape the hands over sticks to be inserted into racks in the curing barns.
Men then took charge of the five-day process that cured the leaf. Day and night they carefully regulated the fires that sent smoke through the flues of tobacco barns, slowly heating the leaf to fix the color and produce the most marketable shade and texture. Men, but sometimes women, then graded and sorted the cured leaf by color, size, thickness, texture, and original position on the stalk. Finally the head of the household or the landlord took the cured leaf to town and sold it. Proceeds were disbursed to creditors, landlords, and merchants.
As women in the tobacco-growing region around Durham affirmed into the late 1930s, men, not women, "toted the pocketbook."9 Although age-and sex-divided tasks gave each participant a sense of purpose in the collective enterprise, tradition designated the male household head as "the farmer" and the rest merely as "family labor."10 The patriarchal cast of the tobacco culture was reflected in the secular ritual of the tobacco auction, the climax of the thirteen-month crop cycle. Jonathan Daniels, who sympathetically depicted the plight of the grower, somewhat inadvertently recorded the racial and sexual subordination that permeated the public ceremonies surrounding tobacco production:
Some of them [tobacco farmers] do only get a poor frolic for a driven year. There were . . . more Indian boys and purse snatchers and prostitutes and liquor stores and high pressure business men all waiting beyond the time merchant and the landlord for what is left. But there is thrift, too. You could see it in the eyes of some of the women waiting for their husbands to come back from the warehouses . . . The farmer is at the end of the line, waiting and working, working and hoping, but not getting rich out of the richest crop in the world. But once a year, while the auctioneer chants and sways and the buyers march to his chanting, the intoxication of riches spreads through the towns and overflows on the land. That exaltation is emphasized by the sadder years when the chant is a wail and merchants and bankers and farmers walk together in sorrow. Too often the whole region is nigger rich or nigger poor. And both, like the black man under all his laughter, can sometimes be sad.
Daniels was a compassionate observer, but he missed in one detail. It was the farm wives and farm families and not the farmer who were actually "at the end of the line, waiting and working, working and hoping." Women, moreover, despite the "driven year" they had endured in the service of the family economy, could enjoy the "poor frolic" offered their husbands only at the risk of their respectability.11 Instead, the women waited at the farm or somewhere in town to learn how much would be left after the merchant, the landlord, and the family head had taken their shares.
Women rarely questioned the sexual division of labor that marked the patriarchal enterprise. They accepted their roles as helpmates fitted for work of lesser prestige. According to the daughter of a black landowner who lived in northern Durham County in the late nineteenth and early twentieth centuries,
Men's work was for men. Women crossed over more doing whatever was needed. They worked in the fields when necessary, but that was man's work. Men chopped wood, shoveled snow, cut tobacco when it was ready to be primed. Women held the sticks and men draped the tobacco leaves over the sticks . . . Women didn't do much of the barn curing. Men did the sorting but women tied it up in bundles. Men just understood what grades the tobacco leaves should be put in. It was based upon the color of the leaf and there were four to eight grades. It seemed that men could detect the grades better. Men took the tobacco into town and sold it. Women didn't go into town much.12
Bertie Loman, a black woman who lived all her adult life on a Person County tobacco farm, took pride in a life of "crossing over" to do men's work:
When my daddy died, I was older than my brother. Of course, I knowed how to plow before he died, because I'd had to rest him. I plowed up until he [her brother] got bigger. Still I loved to plow and I plowed after I got married. I cut wheat with a cradle. I did everything but drive a tractor. I cut wheat, grubbed, cleared the ground, primed tobacco. I done my part of hard work.13
When not occupied with fieldwork, caring for six children, and housework, Mrs. Loman strung Bull Durham tobacco bags "to pay for the fertilizer that went on the tobacco." A similar pride was expressed in the interviews conducted by Margaret Hagood among white tenant farm women in the Durham area during the 1930s. These women accepted the distinction between men's and women's work, but also testified to the frequency with which women crossed the boundaries. Displaying a detailed knowledge of tobacco culture, they delighted in their husbands' or fathers' praise of their skills as tobacco hands. Like their black counterparts, they recognized which work carried the greatest prestige.14
When discussions turned to "women's work," the evidence suggests that women's unpaid labor in the home was losing status in an agricultural economy increasingly oriented toward the market. As cash, not the usefulness of labor to the household, became the major measure of labor's value, the partnership between men and women rooted in a simple market society began to erode. Analyses of women's position in Farmers' Alliance publications and public forums reflect the decline. When the journal Progressive Farmer functioned as the organ of the Farmers' Alliance and the Populists under the editorship of Leonidias Polk, it simultaneously offered articles on housekeeping, encouraged women to defend the independent producer, and asked its male readership to provide "conveniences for the good and faithful wife." Polk urged farmers to rescue themselves from the perils of the cash-crop economy by diversifying their crops and becoming more self-sufficient in food production. He justified "progressive agriculture" in the name of the farm woman, who would be able to adorn her home and "attend to her milk and butter, eggs, bees, chickens, and other poultry," rather than wear out "her life in cooking for a lot of negroes to work the cotton." The female supporters of the Progressive Farmer and the Alliance enthusiastically responded to such appeals, and sometimes went beyond the rhetoric of wifely submission. In 1888, one correspondent wrote:
Let us all put our shoulders to this great wheel, the Alliance, and push with one purpose in view—independence and freedom. As sisters of this Alliance we may feel we are silent factors in this work . . . [but] let us so entwine ourselves around our brothers that should we be taken away they will feel they are tottering.15
When the Progressive Farmer under Polk's successor became a booster of commercial agriculture (having abandoned the political definition of "progressive"), its pages became a forum for women's frustrations with chronic overwork and isolation, economic dependence on their husbands, lack of adequate resources to ease household chores, and men's indifference to their concerns. Although women in more prosperous tenant and landowning families could eventually purchase labor-saving devices—such as fireless cookers, gas or oil stoves, gasoline-powered irons and mechanical washers in the 1920s and 1930s—mere access to appliances did not always produce satisfaction for even the most privileged women.16
Surveys of women's lives in the tenant and sharecropping classes in rural North Carolina revealed little enthusiasm for domestic labor. Investigators from the U.S. Children's Bureau in 1916 discovered that black women preferred work in cotton fields because it paid better, allowed greater sociability, and offered opportunity to display skills. White women were less adamant about their preferences. The investigators also documented the arduous nature of household chores in ill-equipped houses. Both black and white women (more than three-quarters of whom also worked in the fields) carried water from springs or distant wells, cooked over wood-burning stoves that made homes stifling hot in summer, and cleaned cramped and ramshackle cabins that lacked screens, indoor plumbing, or privies.17 A study of white tenant families in Caswell County in the early 1920s recorded similar conditions.18 In the late 1930s, Margaret Hagood's survey of white tenant farm women in the Durham area found that the typical house lacked electricity, running water, a radio, or a phonograph; it did possess, however, a sewing machine, "inadequate screens," a wood-burning stove, a safe for storing and keeping food, and drab interiors decorated with calendars. Having systematically inventoried these conditions, Hagood expressed no surprise at women's enthusiasm for outdoor work. She wondered only that those she interviewed were "able to keep up the level of energy output during almost every waking hour, day in and day out, year after year, which is demanded for getting big families fed, cleaned after, washed and sewed for, with such meager and inadequate equipment, and with such antiquated methods." She understood why one older woman felt it necessary to apologize for doing only housework: "I just can't hold out any more in the field, though I used to work like a man."19 Working like a woman brought little recognition or reward.
Detailed study of white farm family budgets in North Carolina during the 1920s explains the lack of labor-saving equipment in farm households. Expenditures for "home and household" equaled 3 percent of the average landowning or tenant household budget, while "farm and investment" consumed 48.9 percent of the yeoman budget and 33.1 percent of the tenant budget. In 1929, with the average tenant farm income at $800 per year, household needs were far behind the farm, food, clothing, auto, and health concerns in priority.20 Men's work took precedence because it produced cash and satisfied creditors. The "crop lien" story related above got things backward: the insatiable system devoured spoons and plates first. Horses and farm utensils had to be preserved to the last. Virtually all family income (after paying creditors) went into supplies for the next crop and for food during the winter and early spring.
The informal swap work exchanges between relatives and neighbors also distinguished between men's and women's work. Groups of men often shared the tasks of hog killing, corn shucking, wood chopping, wheat threshing, and barn or house building. Women often worked for days preparing food for the men involved in swap work, as they also did for church suppers, family reunions, and neighborhood picnics—while the men relaxed.21 When black men and white men jointly participated, the women were required to cook and serve three separate meals: one for white men, one for white women, and one for black men. Black women, if present, ate after all others had finished.22 When women gathered for shared work, they met in small groups, "just three or four," to piece together quilts, knit, and talk. Their work was more often restricted to a circle of kin and nearby neighbors than done in the wider community where men performed.
Whether they worked in the household or earned wages, women received less reward for their labors than did men. Nevertheless, they rarely protested. Even an ardent feminist like Margaret Hagood could detect little resentment against the pervasive assumption of female subordination. Men, of course, benefited from their privileged position. Even the least successful men believed in their rightful superiority over their wives.23 Women's acceptance of this situation is harder for us to understand. The general absence of any public forum available to rural women may be partial explanation. If women had complaints, they vented them in privacy and left no trace for a curious historian.
In the pages of the Progressive Farmer, a few farm wives criticized domineering husbands, but most women kept their views out of the public media.24 Women rarely expressed resentment of male authority even in interviews. They were more likely to complain when husbands failed their patriarchal responsibilities; women faulted the incompetent farmer and manager and not the successful household head. The few women able to confine themselves to women's work because of the success of their husbands took pride in their good fortune. Less favored women took pride in their ability to do men's work. Both attitudes equally reflected acceptance of the social status quo.25
Women's initiative in childbearing is harder to document than their role in the production of tobacco or cotton. Reproduction was considered inevitable and took place within one patriarchal family unit. Except for the occasional problem of determining paternity, motherhood rarely became an issue in the public world of men. Only later, following controversy over women's employment outside the home, did scholars take an interest in the subject. And just as white women's employment provoked more debate, so too did white women's reproductive activities. A few studies compared black and white women's fertility in the rural Piedmont, but most researchers concentrated on white women's experiences—despite black women's higher birth rates (see Table 5). The same cultural assumptions that valued white women for their reproductive capacities (while extolling their sexual purity) devalued black motherhood (while exploiting black women's sexuality). Researchers, apparently influenced by the same attitudes, wrote books such as Mothers of the South, which referred primarily to white women.
A few researchers went beyond simple comparisons of fertility by racial or tenure group. Margaret Hagood gathered detailed information from 117 tenant farm women concerning their involvement in the "producing and rearing of children." She noted that these women produced an average of 6.4 children during the average 18.9-year marriage. She also reported the pride shown by her subjects as they related their experiences in "those most fundamental of realities." Although the "lines of class distinction" vanished in their conversations, Hagood was always conscious that economic pressures were one of the major factors perpetuating the high rates of fertility. The women whom she interviewed were adding "field workers of economic value" to their family economies. She also sensed ambivalence in the frequent remark, "I hope this is the last one." But if women wished "to keep from having them," they took no direct action to stop conception. Some relied on withdrawal: one woman explained, "If you don't want butter, pull out the dasher in time!" The majority complied with their womanly duties. The 1934 birth rate, however, was about a third less than the 1915–1919 average.
Births Per 1,000 Married Women, 15–44 Years of Age, by Race and Tenure Status for Five Rural Areas in North Carolina, 1915–1934

SOURCE: C. Horace Hamilton, "Recent Changes in the Social and Economic Status of Farm Families in North Carolina," North Carolina Agricultural Experiment Station, Bulletin No. 309, May 1937, p. 157.
Hagood's study ventured beyond the concerns of demographers, census takers, and labor supply specialists and examined the process of socialization within the Piedmont household. She was particularly sensitive to the rearing of the next generation of tenant farm women. Girls learned early to perform household chores so that "by ten they can clean house, make beds, and straighten up and by twelve or thirteen can cook a meal if they have to." They also shared the farm work with their brothers when young, but encountered greater restrictions when they entered puberty. Fear that a girl would "get in trouble" led to parental anxiety but not to sex education. Daughters were warned against breaking a rigid code of sexual purity and punished for infractions, but the mysteries of the code were never fully explained. Such girls replicated their mother's lives because they lacked other opportunities—for education, for occupational mobility, or for relationships with men outside their own class. Although about a fifth of the tenant farm women had sought outside work by the late 1930s, the majority were "resigned to the fact that their economic goals cannot be achieved," accepted their deprived existence through "moralizations," tolerated mild discontent "without being bitter," and hoped that their daughters might realize their dreams.26
The actual balance of power within a household depended on resources and force of character, but males enjoyed unchallenged authority outside. A public patriarchy controlled by white men enforced the power of the male household head over all other household members. Public areas—the tobacco auction, the county courthouse, the jury box, the judge's bench, the lawyer's office, the legislature in Raleigh, the pulpit, the bank, and the state university in nearby Chapel Hill—were white male territory. Any white women present were self-effacing and silent. Black men and women, if present, were required to defer to whites. The two hierarchies of gender and race enhanced the status of the white men, who dominated both. Even white men who were poor and powerless enjoyed a privileged status; they ventured into town more frequently than women to do the family shopping, to sell the family crop, to arrange for loans, and to acquire information about economic, political, and social affairs.
Although women were more devout than men, the rural church was a male-controlled institution. Preaching a literal interpretation of the Bible, rural ministers insisted on female subordination as a fitting punishment for Eve's original sin. The Baptists and, to a lesser extent, the Methodists stressed women's position as "helpmates" to males. Feminism, implicitly and sometimes explicitly, was damned in fundamentalist teaching as unchristian, unwomanly, antifamily, and contrary to the sacred traditions of the South. Many rural churches reinforced gender consciousness by seating women on one side and men on the other. Some women, particularly in black churches, might assume positions of leadership, but their careers were less likely to reach the highest governing bodies. An implicit feminist critique (conveyed by women missionaries, teachers, and female organizations) countered the patriarchal version of Christianity in some churches, but rural ministers overwhelmingly opposed the notion that women had an equal right with men to interpret God's word.27
Exhorted to obey their fathers and their husbands, women rarely found encouragement to challenge a male authority endorsed by the church, the state, and popular opinion. Yet the forces undermining the family economy made it difficult for men to maintain control over their households. The tenant or the mortgaged farmowner could not operate like an independent producer. Landlords and creditors insisted that a tenant plant a large cash crop to ensure repayment of the family's obligations at the end of the year. The pressure of the debt could force the entire family into the fields in order to produce the maximum yield. Tenants could not always keep women out of the fields or send their children to school. Wives became an essential part of the family labor force, as comparisons between the amount of field labor performed by women in tenant and landowning families demonstrates. Families that lacked other resources utilized their potential labor power with less distinction between male and female, adult and child, than occurred in more economically advantaged households. Finally, the most impoverished families would surrender some labor power by sending women in pursuit of the meager wages paid to female labor in the rural countryside (see Table 6). Such a strategy may have declined in popularity as migration into cities became an attractive alternative to remaining on the land for families dependent on female wage-earning. In either case, fathers and husbands gradually lost their monopoly over the labor of their womenfolk and their ability to shield them from potential sexual encounters.
Studies that compared the rates at which rural households lost labor power as children moved away disclosed that tenant children were more likely to leave home at younger ages and more likely to live further away than were the children of landowners. In one study of late-1920s white farm households in Wake County, 39.2 percent of the owners' sons lived in the same township as their parents, compared with 21.3 percent of tenants' sons. The variations for daughters was less extreme but still significant: 34.9 percent of owners' daughters lived near their parents, compared with 25.3 percent of tenants' daughters. Another 30 to 40 percent from each category had moved to cities, primarily Raleigh and Durham. Since tenants' children left earlier and tended to live further away, the study made clear that a tenant family more quickly depleted its most important resource—the labor of its children—than did the household that could promise its offspring an inheritance.28 A study conducted in 1935, however, found fewer differences in migration patterns between children of landowning and landless families. This later study also examined racial variations in the distance between migrant children and their parents. Black women were the least likely to live in the same township as their parents, followed by white women, then black men, and then white men; in fact, 44.2 percent of white men lived in the same township as their parents. Of all the tenure classes, sharecroppers' children moved the greatest distance from the parental home; less than 38 percent lived in the same township, and 33 percent lived in other parts of North Carolina or in an adjoining state. Taken together, the surveys indicated the tenuous hold that landless patriarchs had on their children. The landowner enjoyed a further advantage: he could replace family labor with tenant or hired labor. A comparison of income, acreage under cultivation, and expenditures makes clear the tenant household's greater dependence on family labor. Although average incomes peaked when children reached their teen years, the tenant income never exceeded slightly more than half of the average landowner income. As children left the household, the incomes of both groups dropped, but the tenant income fell to $750 while the landowner income dropped to $1,200, an amount equal to the highest tenant income.29 More vulnerable to the vagaries of biology and less able to command the labor of their children, aging tenant couples often moved into the households of married children to end their days in dependency.
Tenure Status of Rural Households and Percentage of Employed Women in Such Households in Durham,* Granville, and Person Counties, 1880–1900

* 1880 figures for parts of Orange/Wake County that became Durham County in 1881.
SOURCE: 10th and 12th Censuses of the United States (manuscript) Population Schedules for 1880 and 1900, sample from counties indicated, National Archives, Washington, D.C . (See Appendix for description of sampling techniques used).
Although all households grew more vulnerable to a market increasingly beyond their control, households headed by women were less secure. Landlords preferred to rent the most desirable farms to families boasting a healthy male head and a full complement of sons. Many women abandoned the fight to remain on the land. Widows and ex-widows who remained on tenant farms always "stressed the economic value of a husband," according to Margaret Hagood, as well as their struggles to farm and raise children on "the little they had to eat." When they turned to paid work, women's choices were limited to domestic work and farm labor, and their wages rarely averaged more than half the average male wage. In the late nineteenth century, women earned about 25 cents a day for domestic labor and about $5 a month for farm labor. During the labor scarcity of the First World War, male farm laborers' wages climbed to $3.50 a day but females earned only half that.30 When wages fell in the 1920s and 1930s, women's wages remained at a fourth to a half of those received by men.
Women who wanted to avoid working away from their families supplemented their incomes at home by making, stringing, and tagging sacks for Bull Durham smoking tobacco. Gradually, however, that supplementary income was lost to mechanization and governmental regulation against homework. In the late 1880s a machine began manufacturing the bags at the Bull Durham factory, but the bags were still sent out to be strung with drawstrings and tagged with the Bull Durham label. In the 1910s the sacks began to be strung mechanically. Finally, in the late 1930s, a machine took over "tagging the Bulls," ending the last part of a production process that enabled rural women to earn money without going into "public work."31 As the security of the family economy dissolved along with the opportunity for landownership, rural women, especially in female-headed households, found it difficult to stay on the land in a market that paid them little for their labor or their crops.
▪ Race, not class, represented the most visible social category that divided women from one another and determined the men with whom they could form acceptable relationships. Like class, race was a powerful determinant of female access to security and prestige. Yet race was something more than a biological equivalent or mask for class. Southern racial traditions and institutions incorporated caste-like practices that regulated access not only to the privileged race but to all desirable resources. Concern about property rights, the focus of the class system, became inseparable from concern about sexual property. Women, whose fertility and sexual availability were the medium of exchange in the reproductive system, became the objects for whom property rights were claimed or denied in conflicts between men. Sexual relations between white women and black men, originally prohibited because their issue would create an anomalous group of free blacks, were particularly dangerous. White women, the symbolic and actual agents whose choice of sexual partners protected or defiled "white" bloodlines, were both elevated and subordinated to the cause of racial purity. Black women, seen as the negative image of the white virgin-mothers, were assigned roles as sexual prey whose carnality made them willing accomplices to the desires of white men. Black men, the group most likely to compete for patriarchal status with white men, threatened the racial order to the extent that their aspirations most resembled white men's. In the set of emotional appeals developed by white racists to defend their supremacy, the image of the black beast contrasted with the white man's chosen role of the knight. White or black, women belonged to racial communities whose boundaries hemmed them in while men guarded the racial frontiers.32
Although men generally took a more aggressive role in defending or attacking white dominance, women participated in the brutal encounters that reconstructed race relations after the end of slavery. Opposed to the radical reforms of the Republican-dominated legislature in the late 1860s and to the new state constitution of 1868, North Carolina's traditional elite—the major controllers of wealth, land, and labor, "chose to draw the color line in politics." In the name of virtue, property, and intelligence, conservative leaders condemned the political reforms that had put power into the "hands of mere numbers." As part of their "total struggle" against Republicanism, the elite embarked on a campaign of terrorism through secret organizations such as the White Brotherhood, the Constitutional Union Guard, and the Invisible Empire. Both black people, particularly those active in Republican campaigns or the Union League, and white Republicans were the targets of terrorist assaults. The specter of the black rapist supplied one pretext for intimidating any advocate of political or "social equality." After a lynching in Hillsborough, a town twelve miles northwest of Durham, the killers left a note saying, "All Barn-burners, all women offenders, we Kuklux hang by the neck till they are dead, dead, dead." The widow of one of the victims, assured that she would be protected by "good men" if she identified the perpetrators, replied, "The Lord knows who the good men were, I didn't." A white woman suffered an assault at the hands of the nocturnal raiders, who whipped her crippled husband for teaching in an integrated school.33 A black man who came South to teach the freedmen was advised by the county official in charge of education that he would "do better in the field" than in the classroom. Nightly visits from "masked Klansmen" convinced Robert Fitzgerald that the secret organization and public officials shared a common hostility to the cause of "educating the black race for their own future welfare."34 While the Fitzgeralds refused to be intimidated, other white and black Republicans fled from rural Orange, Chatham, Wake, and other counties, seeking a place "where there was no Ku Klux."
The use of the Klan aided the Conservative Party in its goal of recapturing the state legislature in 1870. Once in power, the Conservatives consolidated the victory by pressing impeachment proceedings against the Republican governor who had commanded the state militia to do battle against the Klan. After Governor Holden had been driven from office in 1871, the Conservatives reorganized district boundaries, lengthened residential requirements, and disfranchised voters arrested for petty crimes in order to cleanse the voting rolls of blacks and poor whites. Finally, in 1875, the Conservatives, now reconstituted as the Democratic Party, seized control of a new constitutional convention that took away many of the reforms imposed under Radical Reconstruction. The next year they climaxed their drive to regain power by electing a Democrat as governor.35 A mixture of terror against opponents and incitement to racist fears among white men had succeeded in restoring the former rulers to political control.
Although denied the right to participate actively in the electoral process, women could not be sheltered from the turmoil that was altering the political economy of the Piedmont. Black farm laborers of both sexes rose to tenant status by refusing to accept the lesser rewards of wage labor. Black women participated in the struggle for education, for land, and for the political rights that could advance those goals. White women, frightened by the threat of rape and perplexed by the unsettling economic changes that forced many of them to occupy the same class position as former slaves, generally applauded the actions conducted by white men to advance white supremacy. Some women, however, joined the Alliances and the Knights in attempts to create a class-based solidarity. A few black women sought to escape from outbreaks of racial violence by joining an exodus in the late 1870s and the late 1880s that brought black settlers to Kansas, Arkansas, Texas, Mississippi, and Indiana territories.36 The majority remained in the state despite the indignities visited upon their people. They supported black men even when women's needs were not completely incorporated into the agenda established by black leaders. They shared the vision evoked by George White, the representative of North Carolina's Second District and the last black man to serve a district from the South until modern times. Speaking to Congress in 1898, White told his audience:
Despite all the oppression which has fallen upon our shoulders, we have been rising, steadily rising and in some instances we hope ere long to be able to measure our achievements with those of all other men and women in the land. This tendency on the part of some of us to rise and assert our manhood along all lines, is, I fear, what has brought about this changed condition.37
Although White did not call on black females to assert their womanhood, they lost a champion when the aggressive campaign for disfranchisement intimidated enough black voters in the Second District that White was forced out of office in 1901. White women, on the other side of the widening racial divide, enthusiastically endorsed the notion of white supremacy and the defense of white womanhood. In a tense atmosphere, the Progressive Farmer, initially sponsored by the Knights and the Farmers' Alliance, carried white farmers' recommendations that the "whipping-post" be reestablished and education for black children be eliminated because literate blacks would become "a disturbing element in politics." Women, coming to consciousness in this environment, could not escape the contagion of racial hatreds that classified blacks as enemies to be rendered powerless, ignorant, and abjectly dependent on their white overlords.
Not content with a political victory, some white leaders sought still stricter controls over black life. Clarence Poe, heir to the farmers' movement of the late nineteenth century, broke sharply with its tradition of racial cooperation. Writing as a defender of the "laboring white man who must compete industrially with a race with lower living standards," Poe, the editor of the post-Alliance Progressive Farmer, argued for segregation in rural areas to prevent economic competition between the races. He denounced black tenants for living in "shabbier houses," eating "meaner food," and wearing "dirtier clothes," and argued that competition with the cheaper labor of black tenants forced white farmers into tenancy or out of agriculture altogether.38 Probably because white landlords benefited from the very conditions Poe sought to eliminate, rural segregation statutes were never passed. Rigid social boundaries, however, operated without explicit legal sanction. There were taboos against eating together, sitting together, or participating in any social event where the white was not clearly defined as superior. When taboos were violated or hard times intensified white anger, lynching and other terrorist acts deflected the attention of poor whites from powerful white landlords to the black victims of the same class.
Informal controls kept blacks economically subordinate through low wages and limited access to land. The Christian Recorder car ed a letter from a Hillsborough, North Carolina, reader describing the situation that forced many blacks to leave the state:
The cause of our people leaving the state was, first, for a living. The average wage in North Carolina for men is about $8 to $10 . . . They hope to be able to keep us from even being able to buy land . . . Should you ever become able to make them an offer they will charge you from $10 to $12 per acre for land that would not produce five bushels to the acre . . . The women get from $3 to $4, $5 or $6 and find their own room. Should they accidentally break an old plate, they charge them 50 to 75¢.39
Arthur Raper, who was born into a landowning family, argued that black farmers still faced the same constraints in 1929: "The definition of 'his place' hedges the Negro landowner about by restrictions similar to those which define and enforce the chronic dependency of the landless Negroes."40 A black farmer, as reported by a black agricultural agent born in northern Durham County in the early twentieth century, needed a white patron before he could expect to acquire land. Even then, he would probably be sold the "backbone and spareribs" rather than the prime farm land. Late into this century, the workings of a white-controlled system of credit, patronage, and political power operated to prevent blacks from gaining control over land, to detach black farmers from the land, and to retain white control over black labor.41
Black women, more likely than their white counterparts to be attached to a propertyless household, bore the economic consequences of a mutually reinforcing system of racial, class, and gender subordination that drove them from the land when they were widowed or deserted. As a result, black women were less likely than white women to head rural households. In 1880, almost 20 percent of white households in the rural areas sampled were headed by women, compared with only 14 percent of black households; in 1900, almost 17 percent of white households had female heads, compared with less than 10 percent of black households. It was harder for black women to sustain viable households in an economy that severely restricted their access to resources. The destiny of black women who headed households and remained on the land was suggested by the high proportion of such women listed in the ranks of the laboring class in the 1880 census (see Table 6). Although the remaining female-headed households moved up the tenure ladder between 1880 and 1900, the decrease in their proportions in the total farm population reflects a propensity of the less advantaged to migrate rather than marked improvements for their standing in commercial agriculture. Those female heads able to rent or own land, a small number in any case, were more likely to remain as farmers; those forced to subsist on farm laborers' wages found it preferable to migrate to cities instead. Furthermore, as the higher rates of female labor from members of female-headed households testify, women clung to the land only by taking on paid employment or by acting as unpaid field labor and domestic labor within their households. Such households, especially those headed by black women, inevitably endured greater hardships than did those whose members could devote their energies entirely to farming (see Table 7).
The exhausting round of work pursued by Mrs. Callie Ruffin, whose family sharecropped on the Stagville portion of the old Cameron plantation, illustrated the plight of black women who lacked an adult male farmer to lead the family enterprises. Tilling a small farm on the estate where her elderly husband had been enslaved, Mrs. Ruffin struggled to support him and their eleven children in the 1920s. In addition to performing all the domestic chores, she nursed the family with her knowledge of herbs and roots. She worked in the fields beside her sons. She also washed clothes for the inhabitants of a small mill village five miles from her home in northern Durham County. Carrying "one bundle on her head and two up under her arms," Mrs. Ruffin walked to and from Orange Factory. Rubbing the clothes on a washboard, cleaning them with homemade soap, and boiling the clothes in a large iron pot, she washed and rinsed them with water she transported from a nearby spring. After washing, boiling, rinsing, blueing, and starching the shirts, she ironed them with a heavy flatiron heated on a wood-burning stove. Upon returning the bundles to her mill village customers, she received fifty to seventy-five cents for each family's wash. This laborious process consumed two to three days a week. Rather than lamenting her hard lot, however, Callie Ruffin expressed gratitude to Bennehan Cameron for allowing her the privilege of sharecropping his land when her children were young. When she moved to Snow Hill in 1935, she took pleasure in the family's new-found access to a privy.42 Mrs. Ruffin was aware that other women lacked her blessings. Her landlord was willing to rent to a female-headed family, and she commanded the loyalty of sons who remained unmarried to help support their mother and younger siblings. Many were less fortunate.
Employed Women Aged 15 and Over by Race and Sex of Household Head and by Race of Women Employed, in Rural Durham,* Person, Granville, and Wake Counties, 1880–1924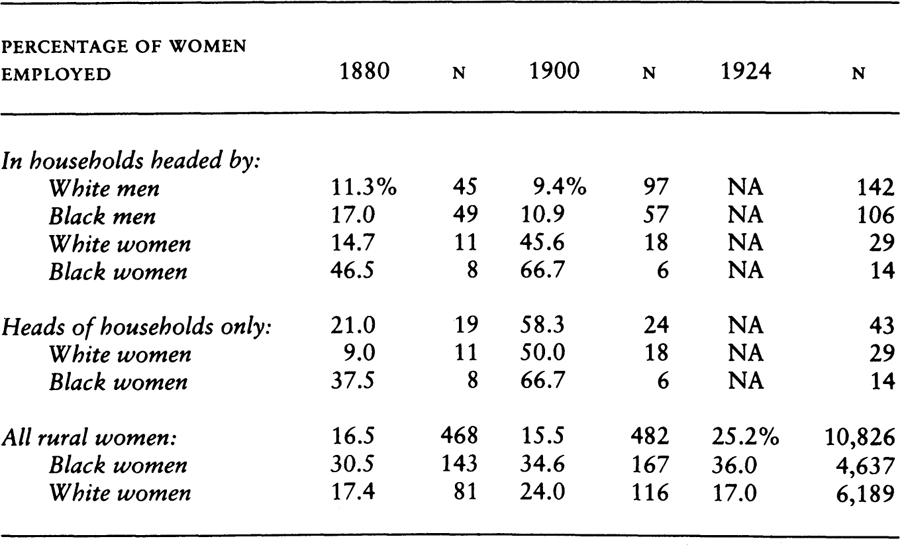 *1880 figures for parts of Orange/Wake County that became Durham County in 1881; 1924 figures for rural Wake County.
SOURCES: 10th, 12th Censuses of the United States (manuscript) Population Schedules for 1880 and 1900, sample from the counties indicated, National Archives, Washington, D.C. (see Appendix for description of sampling techniques used); 1924 figures from U.S. Department of Commerce, Bureau of the Census, Farm Population of Selected Counties (Washington, D.C.: G.P.O., 1924).
Black women's heavier responsibilities for labor outside the immediate household were compounded by frequent childbearing. Crude ratios, like the number of children under five years of age per women of reproductive age (roughly fifteen to forty-four), consistently revealed heavy reproductive activity among rural black women in the 1930s. By 1931, largely rural Granville and Person Counties were recording birth rates of 28.2 and 29.5 per thousand black women in those areas, with white birth rates of 21.8 and 26.5, while the city of Durham in the predominantly urban county of Durham posted birth rates of 19.9 for black women and 22.1 for white women. Black women were also bearing children under less favorable conditions: their infant mortality rates were more than double those faced by white mothers. In 1931 the rural death rate per thousand black infants in North Carolina approximated 92.8, compared to 58.7 for white infants; in the city of Durham the black infant death toll reached 126.9 compared to 58.8 for white babies.43 Government researchers, attempting to reduce the infant mortality rates, attributed the greater susceptibility of black children to their mothers' heavy workloads. Observing childbearing among black and white households in 1916, they noted that white women rested at least nine days after childbirth before resuming their labors, where black women got up within five days. The researchers pointed out that 71 percent of white mothers and 95 percent of black mothers combined fieldwork with housework and childcare, and concluded that overwork deprived black mothers of sufficient strength and time to fulfill their maternal duties. They also noted that inferior housing, inadequate supplies of water, and lack of inside plumbing made it more difficult to provide a healthy environment for mother or child.44
Racial oppression went beyond the merely quantifiable. In addition to poisoning contacts between the races, it corroded relationships within the black family and community. A particularly cruel manifestation arose from the parental need to teach children survival skills. It was a black mother's duty to socialize her children to their subordinate place in the racial hierarchy. Nearly sixty years later, Zina Riddle remembered the whippings her mother had given her when she forgot to "put a handle" to white people's names.45 Other parents imparted the same bitter lessons. Failure to instruct children might cost the life of a child; one young boy was lynched for throwing a rock at a white-owned car.46 On the other hand, instructing daughters and sons in degrading behaviors commonly led to anger between parent and child. Often black children were never explicitly told to defer to whites; they learned by seeing their parents enact self-effacing rituals in the presence of whites. Children were instructed to ignore rather than resist hostile or sexually insulting attentions from white men.47 When parents could not protect their children or explain why they should submit to injustice, respect between family members was damaged.
Memories of relationships with whites revealed a range of emotions from resignation to open rage. Callie Ruffin taught her children by her patient, long-enduring example to accept their situation as the will of God. Living through "hard times and tribulations," Mrs. Ruffin left her daughter with peaceful memories:
She worked all her life as long as I knowed her and never had nothing, but was a very happy person . . . They had religion, they had faith . . . They didn't have nothing else to believe . . . I can remember about how my mother used to wash and she would be singing those hymns, "Amazing Grace" . . . But what could you do? You didn't have any other choice 'cause there wasn't anywhere else to go . . . They had to stay there. There wasn't anywhere else and this is why that I say that they made themselves happy.48
Zina Riddle, who was the daughter of a farm laborer, painted a bleaker picture of her early life: "Back then we had it rough. Sometimes it seemed like the white folks hated the black folk, but there wasn't nothing you could do about it. They were so mean."49
Mamie Gray, whose family bought land through the combined labors of herself, her husband, and their twelve children, reported a more satisfying life. She liked farming, she explained, because "you could be your own boss. When you got tired, you could sit down and rest. It wasn't like it is now . . . White and black would help each other sometimes, but not too often. It wasn't like it is now. It was much more separate."50 As a member of a landowning family, Mamie Gray was able to avoid the most bruising encounters with white employers. Most black laborers were not so fortunate, and years of unrewarded labor had taught black women like Zina Riddle and Callie Ruffin to accept what they could not change as a sign of God's "amazing grace."51
Against odds, black women, along with black men, created a set of social institutions that helped maintain their personal integrity. Black families, churches, schools, and self-help organizations offered protection against the often brutal interactions with whites, as well as with more conventional life crises. Elastic networks of household and kinship provided care for the old and young; children were taught to become contributing members to the family economy and to respect the authority of their parents. Churches, which attracted a predominantly female membership, offered perhaps the fullest opportunity for blacks to assume positions of leadership. Boards of stewards or deacons might deliberate over the hiring of local teachers, the building of a school, or ways to gain needed services from a hostile, white-dominated local government. Churches and schools provided gathering places where a dispersed rural population met for worship, lectures, picnics, courtship, and funerals. There, news was exchanged about local affairs and family matters. Black women also gained a sense of power through church activities. They worked as Sunday School teachers, supported missionary societies, and served on church governing boards—although they faced opposition when they challenged male authority. Black school teachers also filled a position of respect. Battles over equal funds for black schools and equal pay for black teachers placed teachers on the front lines of one of the major black campaigns in the state in the 1930s. Finally, community organizations like the Masons, Eastern Star, and insurance societies advanced the collective interests of the black community while enhancing the lives of individual members.52
Unlike their black counterparts, white women benefited in obvious ways from racial domination. Black women assisted them in household chores and sometimes relieved them from work in the fields. White women could bully their servants if they chose. Although some white women lived in families as poor as many blacks, many others enjoyed the benefits of higher incomes and better living conditions. As a consequence, white women enjoyed longer life spans despite the hardships that they also endured.53
Black women's degraded social status also enhanced the white women's image of superior virtue. Indeed, the presumed superiority underlay white men's fierce determination to defend their women against the allegedly predatory black male. Yet, this same system simultaneously trapped white women, as a small group of female reformers recognized. Dependent on white males for protection, women were expected to obey those who guarded their virtue. Furthermore, the notion of defending white womanhood assumed that white women's sexuality was the private possession of their present or future husbands; while black women's bodies were the common property of white men. This sexual double standard punished white women for behavior that their men tolerated in themselves.54
Most white farm women accepted the tenets of this deeply racist culture. The theology preached in rural churches declared that God had annointed whites to rule over the inferior races. The religious press endorsed white supremacy as morally correct and socially necessary. The editor of the Biblical Recorder, a Baptist newspaper published in Raleigh, advised his readers in 1873 on dealing with black farm laborers:
Never so lose sight of your own self-respect so as to socialize with him; if you do, you at once subvert your influence and destroy your mutual interest . . . avoid the suicidal policy of making him believe he is as good as you are—he will drop you at once, and naturally and justly should.55
The Methodists and Baptists, whose congregations worshiped in segregated churches, also urged racial separation unless blacks could be clearly defined as subordinate. Although southern churches usually insisted that religion should not mix with politics, the religious press actively supported the Democratic campaigns for white supremacy and black disfranchisement during the 1890s. One Baptist newspaper expressed the sweeping sentiment, "Old Baptists believe in white supremacy in church matters and so do all churches." Southern Methodists also conformed to the practice of white supremacy, although they criticized its more savage abuses.56 The decision by black Protestants to form independent churches confirmed the justness of segregation in the eyes of southern whites.
The poorest white women, often scarcely connected to the churches of their more affluent neighbors, thoroughly embraced white supremacist attitudes. They used the threat of the "Big Black Nig" to keep their children obedient. Sometimes they ignored the very existence of black homes, churches, or schools when discussing the local community—even when giving directions. Unable to demonstrate their superiority by employing black maids, white tenant women might denounce the practice of having white children cared for by "niggers."57 According to their testimony, these women cherished a system that ensured that someone, at least, would always remain fixed beneath them.
White women were deeply implicated in some of the most brutal racial incidents. Newspapers reports of lynchings noted the presence of white women in the crowds that watched and cheered.58 While researching the causes of lynching, Arthur Raper investigated the circumstances surrounding the hanging of a black tobacco tenant in Edgecombe County, not far from Durham. According to the Raleigh News and Observer, families flocked to see the "show of the countryside." Parents brought young children to educate them in the workings of white justice, men traded jokes, and young girls giggled beside the dangling body of the black victim. The local paper justified the hanging, although some ministers in the large town churches criticized the use of mob violence. When Raper asked local residents about race relations in the county, he was told repeatedly, "We've got the best Negroes of any county in the State; they are good workers and 'they know their place.'" White men and women, Raper explained, saw lynching as a method of ensuring that blacks never strayed beyond the narrow limits of "their place."59
Black women, subject to the same constraints as black men, rarely challenged the system in overt ways that might invite retaliation. When asked how her mother or other croppers on the Cameron lands had survived under oppressive conditions, Anna Ruffin Whitted replied:
They had to believe in God and have a lot of faith to do this. I never heard them say like people say, "I will not do this. Before I do this I'll kill." If anybody on that plantation where we used to be ever said that, I can't remember . . . They just went on ahead . . . They said one day we will overcome. I may not see it but my children will see it.60
Another woman, reared in a cotton-growing area of South Carolina, remembered a confrontation between a white stationmaster and her cousin, the son of a prominent local landowner, who "didn't know what it was to bow to white people." The black man won that battle, but the family, like many other rural blacks, eventually left South Carolina to escape racial and sexual exploitation.61 Although Durham blacks were never free of both heavy-handed and subtle reminders of their subordinate position, their plight could have been worse. Urban life in the Upper South "lacked the savage racial prejudice" that was unleashed in rural areas of the lower states.62
Paralleling their secular estrangement, black and white women worshiped separately. Black women's membership in the church invited them into a sisterhood that extended beyond biological or marital kinship, but not across racial lines; their ties to the church set them more firmly apart from whites.63 Becoming a sister marked a young black woman's rite of passage into full adulthood. Her allegiance to the church—where an essential part of her earthly identity was forged—often continued throughout her life.64 A young white woman's conversion experience also marked her rite of passage to adulthood, but her identity was less linked to a specific congregation than to a Protestant affiliation. Her church membership was more easily transferred to a new church when she left her original home.65
The diverse experiences of the two races deeply influenced their interpretations of the Christian message. White Christians, who conceived of God in profoundly moral terms, placed their greatest emphasis on avoiding sin in order to achieve salvation. Black Christians, conscious of evil as an inescapable part of their condition as an oppressed people, more often defined salvation as the release from bondage and suffering rather than from sin. The Devil was an outside force that sought to entrap them rather than an evil force from within that had to be subdued.66 And so, despite their common identity as Christians, black and white women found no meeting place in the church; the most important public institution in the rural Piedmont reinforced the racial segregation that shaped all areas of social life.
▪ The major forms of human interaction that this study calls race, gender, and class have been relatively easy to demonstrate. How those relationships manifest themselves in human consciousness is harder to establish. Whether an individual or group wholeheartedly subscribed to the prevailing view of racial, gender, or class relationships cannot be determined by simple questioning. The majority of relevant witnesses are not accessible. What can be reliably examined, however, are the sets of analytical frameworks, the "languages" by which people explained their place in the world. Understanding the messages women both gave and received helps to illuminate the ongoing negotiations between the dominant and the dominated.67
Although the post-Civil War period saw an ongoing conflict between the propertied and the propertyless, class allegiances were usually submerged beneath racial alliances and conflicts. In the 1880s and 1890s, however, following emancipation and the expansion of the cash-crop economy, class tensions erupted with an uncommon intensity. Frustrated white farmers, thwarted in their desires to become yeomen or planters, began to identify as enemies the bankers, industrialists, warehousemen, and landlords who profited from their impoverishment. This political warfare gave the majority of whites a brief "democratic moment" of choice: to align themselves with white elites on the basis of racial solidarity or to unite with black farmers on the basis of class lines. As members of the Farmers' Alliances and the Knights of Labor, women joined in the discussions that defined their problems as rooted in economic and political domination by small elites rather than in competition between the races. Yet the appeal to common class identities was blunted by the realities of economic conflicts and the deep-seated traditions of racial antagonism. When even the editor of the Tarboro Farmers' Advocate could ask "why the colored man should aim a blow at the white farmer who gives him employment and pays the best wages he can afford," it was clear that the Populist appeal to common class interests could not counteract the deep prejudices and economic differences that divided whites and blacks into separate racial blocs.68
The publications of the Populists and Knights record only the words of white women, though acknowledging the activities of rural women, black and white. Letters to the Progressive Farmer demonstrate women's enthusiasm but also their skepticism about men's acceptance of their full participation in the activities of the movement. The editor, who received the letters pouring in from women, detected an "undercurrent of unrest." One woman advised male voters against swallowing "the whole Democratic Party." She added, "I could say a good deal more on this line, but will stop for fear some fool will ask: 'Are you a woman?'" As subordinated partners in patriarchal family economies, female Populists may well have sensed some inadequacies in the male-dominated movement representing the interests of those who only "located exploitation in the sphere of exchange" and not within the patriarchal household.69
Despite internal contradictions, the Populists presented southerners with an agrarian version of the social gospel that challenged the New South orthodoxy. Dr. Cyrus Thompson, a president of the North Carolina Farmers' Alliance in the mid-1890s, preached that the degradation of the farmer was contrary to the will of God. Thompson, an active Methodist, criticized more conservative church members for supporting the "corporate interest" and ignoring the "masses [who] are impoverished, degraded, and enslaved." The western editor of the North Carolina Christian Advocate, a Methodist journal, supported the Populist claim that economic exploitation was of "great moral significance." Ultimately defeated by a conservative Methodist leadership that chose to ally itself with tobacco manufacturers like James B. Duke, the Populist-inspired religious spokesmen instructed some women in a version of the gospel that included a critique of "money domination" as well as of personal morality.70
The destruction of the Populist movement deprived women of an opportunity to develop a complex vocabulary by which to analyse their plight. It obviously retarded the ability of white women to examine their racial and class assumptions; it also decreased the likelihood that black women would ever conceive of whites as allies. Black and white, good and evil, remained the basic reference points. By the 1920s and 1930s, black and white women spoke about "mean" or "kind" landlords and employers. Black women condemned the "meanness" of whites, but saw no way to escape except through the mercy of God. A tenant told one interviewer in the late 1930s that her family moved "around in cricles like the mule that pulls the syrup mill." Another woman told Margaret Hagood, "Things is unbalanced and the poor don't get their share." Yet, as Hagood concluded, their analysis was content with condemning particular landlords. After the Populists vanished, the area surrounding Durham never produced another movement that invited women to examine their social roles. Black and white, rural women understood their situation as being rooted in the personal depravity of individuals and, therefore, as unchangeable except by relocating under a better landlord.71
Profoundly aware of their class, yet unable to envisage an alternative to their subordination, the women of the expanding rural proletariat adapted as best they could. For the most part, they learned to live within their meager means. The most restless and the least bound by kin or property ties saw migration into towns as the major escape from rural deprivation. For a brief interlude, the wistful Mollie Goodwin, the prototype of the tenant woman presented by Margaret Hagood, fulfilled her dreams by following her cousin into a Durham tobacco factory. Called back by her father to resume the unrewarding tasks of a dutiful daughter, she determined that her own daughter would one day work in town, where she would "never have to do field work or heavy housework."72 Some "made themselves happy," in one black woman's words, by accepting overwork and chronic poverty without complaint.73 A few were able to ascend the tenure ladder; many others avoided the pain that came from failure by never striving for a goal that appeared unattainable. Burdened as they were by childcare, housework, and agricultural labor, women's energies were largely absorbed by the laborious process of making next-to-nothing go a long way. Their menfolk handled most of the transactions in the larger world. As in the Populist movement itself, therefore, women's encounters with economic and political forces were often mediated through their relationships with men and expressed through a male-formulated vocabulary.74 Under such conditions, women were too involved with dealing with the status quo to challenge it.
Like other groups with limited resources, rural women in the tenant and laboring classes depended on extended networks of kin and neighbors to provide services. Yet the conditions of tenant life lessened contact with kin and neighbors. Frequent moves could disrupt these networks. Lack of suitable clothing could keep some women and children from taking part in school, church, or social gatherings. In white communities, tenants were less likely to attend church than were their wealthier neighbors; in rural black communities class distinctions were less sharply developed. Among tenant and sharecropping families, mothers' activities outside the household were also restricted by repeated childbearing (see Table 5). Even trips to town or church were less frequent while children were young.75
It is difficult to determine the average woman's isolation without diaries or personal observation. Data from the census, because the census takers were oriented to the static household unit, tended to overlook the elastic quality of human relationships, even in the household itself.76
Since women's lives were inextricably bound up in these daily interactions, many of their activities escaped notice. Still, to the extent that such activities were measurable, women appeared to have lived in greater social isolation than men. The same fragmentary evidence also suggests that women from the propertyless classes were more likely to live enclosed within the narrow boundaries of the household and were less likely to be involved in schools, churches, or the marketplace.
The nearly universal practice of defining women as wives, mothers, sisters, or daughters in relationship to individual men, rather than as farmers, landlords, merchants, or ministers, symbolized their subordinate class identities.77 The unattached woman found it almost impossible to survive on the land. The attached woman's position depended on the economic status of her menfolk. A black landowner like Oscar Suitt, who prohibited his daughters from "working out" in some "white man's kitchen," offered them protection while demonstrating his ability to control their labor and guard them from sexual exploitation. A black tenant farmer, unable to subsist without a wife's wage-earning, could afford more limited protection: his wife could wash clothes at home rather than do "menial labor in someone's kitchen or in the field."78 More desperate male tenants or laborers surrendered their women to outside service because the household needed all the wages its members could earn.
Thus a man's economic status correlated with his ability to monopolize the services of his wife and daughters. Conversely, higher economic status for women resulted in their greater dependence on the male household head and in their sexuality being more tightly controlled.79 Black men's protective instincts were activated by white men's refusal to respect their sexual claims over black women. Operating by the same measures of male prestige and economic status, white men restricted the types of labor performed by their women and zealously defended their sexual honor (while attempting to deny the same prerogatives to black men). Even a white tenant farmer, whose daughters' labor was essential to making the tobacco crop, could elevate his status by restricting "pulling or stripping fodder" to women in the families of his black subtenants. In the mind of Lacey Turrentine, tobacco was a fit crop for a white woman to tend, but transforming cornstalks into animal feed was "nigger's work."80 More successful white tenants or farmers affirmed their claims to superiority by employing black women as domestic labor and fieldhands and regarding them as sexual prey. White male standing was enhanced by the ability to control white women's behavior while dishonoring black women and men in sexually-specific assaults. In an anachronistic demonstration of the current feminist slogan, "the personal is the political," sexual intercourse assumed the "character of a truly 'political' act" and became a "dominant idiom for political relations."81 Just as crucially, the "politics of housework" in the rural Piedmont expressed the interconnections between the "private" household and "public" power.82 Intertwined in a complex social hierarchy, the interaction among gender, race, and class prevented women from ever occupying the same social space as men, or from wielding the same power.
By the same token, class and racial differences rendered the feminist ideal of sisterhood inconceivable to rural women. The encounters between the wife of Paul Cameron, the wealthiest landowner in Durham County, and her domestic servants, the Camerons' former slaves, illustrated the gulf between privileged white women and impoverished black women. Paying her cooks and maids wages of twenty-five cents a day in the 1880s, Mrs. Cameron deducted a dollar for each plate or cup broken. The business practices of her husband, simultaneously a landlord, employer, and storekeeper, made wage-earning a necessity for the women whom his wife employed.83 Rather than sympathizing with the women forced to work in the hot tobacco fields, a landowner's wife was more likely to take pride in her ignorance of agricultural methods and to forbid her daughters to go into the tobacco patch. Margaret Hagood observed a woman from a white farm family during a corn shucking. Having hired a black woman to assist her, she ordered the woman to wash the dishes in the three separate batches required to feed the white men, the black men, and the white women. When the black woman refused to do that much work, the white employer exclaimed that she hated that "independent type of nigger."84 Possibly because of Hagood's presence, however, the white women present washed the dishes while the black woman savored a small victory in the one-sided conflict between white employers and black labor. Significantly, the white women never challenged the custom that men eat before the women; nor did the black men demand to be fed at the same table as the whites.
Still lower on the tenure ladder, the daughter of a white tenant was expected to keep silent in the tobacco fields rather than join in the singing of her black coworkers in order to maintain her superiority to black people. A half century later, one woman still refused to join the communal singing in an integrated senior citizens residence although she knew the words to every song.85 Anna Ruffin Whitted affectionately remembered the mill workers who had given her biscuits, but such gestures also bore the stamp of charity toward the children of the woman (Anna's mother) who washed clothes for the residents of Orange Factory.86 Without being explicitly instructed, the children of a black landowner learned to defer to whites as an inescapable fact of life in northern Durham County.87 Whether black women responded to white condescension and brutality with anger, with subtle diplomacy, or by avoiding contact with whites whenever possible, they learned to distrust white motives, to shelter their opinions from inquiring whites, and to deceive them when necessary.88 Under such conditions, the parallels between black and white women's situations were submerged by more powerful antagonisms.
Within each racial community, women from the more privileged classes strove to maintain distance between themselves and their social inferiors. The pressures of racial oppression forced black women to associate across class lines in church or school, but some prided themselves on their lighter skin color, on their reputation for sexual restraint, or on other badges of respectability. Daughters in such families were sometimes warned against consorting with men not their social equals. A young girl, born in a rural black community in Durham County in the early 1930s, found that dark skin was looked down on at her segregated country school—prizes always went to girls with the lightest skin and the straightest hair.89 Rural whites, reared in a more economically stratified community, were even more likely to express awareness of class differences. Tenant children occasionally disliked school because they might be laughed at by better-off children. Tenant parents did not like their children to pick up "notions" at consolidated schools. One woman's children, for example, refused to eat corn bread after beng exposed to store-bought "loaf bread" at school in town. Another mother refused to let her children play with neighbors who were not the "right sort." Such attitudes, which more often inculcated a sense of shame among those looked down upon than outrage at "biggity" owners, indeed nurtured an "awareness of separation from the owning class," but in the absence of "farm union organizers," it did not lead to collective resistance.90
Hostage to low prices, indebtedness, weather, and biology, few families could maintain a secure footing on the land. Some families shattered after a household head died, a couple broke up, or debts mounted. Working in factories without walls, some members of this rapidly expanding rural proletariat began to consider a move to factory communities. Their decision, as reflected in variable rates of migration, depended in part on their own positions in the rural hierarchy. More likely to move if female or black or both, these victims of economic and social dislocation did not journey alone. In addition to family and friends, they brought with them the legacy of exploitation by landlords and merchants, embittered relations between the races, and a general acceptance of patriarchal authority. However few their possessions, rural women traveled into Durham encumbered with other baggage.
Nevertheless, their legacy included countervailing strengths. They were proud of their ability to work "like a man" and were grittily determined to improve their lives. They brought with them the faith that had sustained them through hard times. The contradictory ideas in which they believed included notions of human dignity and equality, the right to challenge unjust authority, and codes of morality and decency by which everyone should be judged. These ideas clashed with other notions, including conventional deference to male authorities, the inevitable separation of the races, and the impossibility of "social equality" or of the poor ever getting "their share." Whether individual women accepted these contradictions uncritically or sought ways to preserve some traditions and escape others, they embarked on a journey to a new society bringing with them expectations rooted in the past.