The White House Review Programs
The OSH Act's right to protection rests on OSHA's ability to design and implement policies that give it force; by placing OSHA in an executive department, however, the law made it likely that business would lobby the White House to curtail occupational safety and health regulation. As Chapter 4 described, business opposition to social regulation in general, and the OSH Act in particular, was intense as business groups mobilized in new ways to block the implementation of these reforms.
Predictably, employers took their case to the executive branch, and as the balance of political forces shifted against the idea of worker protection in the 1970s, the White House responded. Undoubtedly the well-funded and well-organized business campaign helped shape presidential policy toward health and safety regulation. But the White House had its own reasons for seeking to control OSHA As I discussed in the Introduction, the capitalist organization of production generally constrains public policy; economic crisis in the 1970s heightened this constraint. After 1973, as the economy weakened, Presidents Ford, Carter, and Reagan used their executive powers in an effort to force OSHA to take economic factors into account.
Designed to assess and minimize the economic impact of social regulation, the resulting White House review programs involved unprecedented presidential supervision of administrative regulation. Before the 1970s, presidents were reluctant to become directly involved in regulatory agency decisions. Most agencies are distant from the Oval Office and protected by political and legal norms of deference to administrative expertise and nonpartisanship. Most agencies are also defended by well-organized constituents who will mobilize to prevent unwanted interference with rulemaking. Under these circumstances, the benefits of intervention are not likely to be large, and the potential costs are high. As a result, agencies are generally left to negotiate policy among affected groups in their immediate environment, and White House officials, particularly the president, let them alone. But as this chapter chronicles, after 1973, business mobilization and economic crisis led to a fundamental change in the relationship between the president and the social regulatory agencies, and severely limited OSHA's policy options.
Economic Crisis and the Problem of Business Confidence
The concentration of control over productive resources in the hands of private investors and employers constrains public officials who seek to regulate them. This constraint is probably most effective when economic conditions are uncertain and profit rates are low or declining. Then, elected leaders are apt to solicit business confidence by pursuing policies that promote corporate profitability.
One way to do this is to reject reforms that challenge business interests. Or, if these reforms are already law, they can be "rationalized" administratively. That is, program implementation can be crafted to take costs and managerial prerogatives into account—to respect the needs and logic of private capitalist investment. The trajectory of White House intervention into social regulation after 1973 suggests that this did in fact occur. A decade of economic recession and sluggish growth led successive administrations to develop an economic review program that they then used to protect business interests from health, safety, and environmental regulation.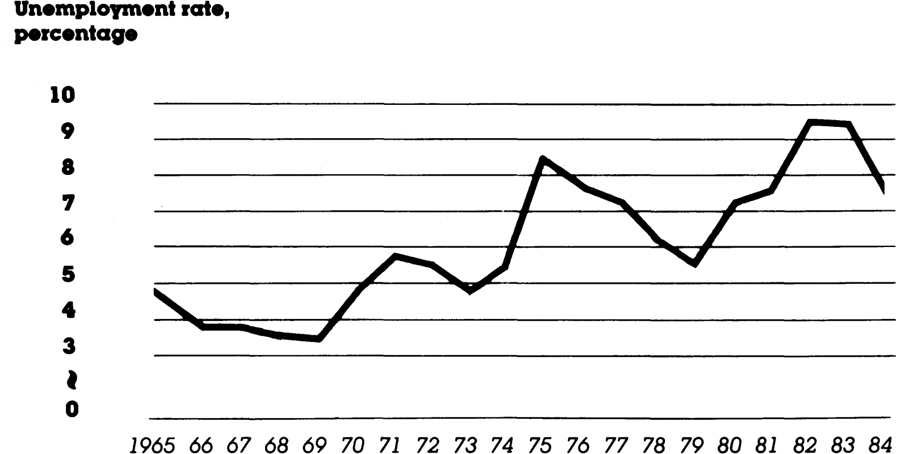 Source: Economic Report of the President 1985 (Washington, D.C.: GPO, 1985), table B-29.
That the review program developed at least in part in response to structural forces is suggested by the close correspondence between changes in the state of the economy from 1971 to 1984 and changes in White House policy toward social regulation. The economic crisis of the 1970s and early 1980s is familiar: after 1973, economic decline replaced the high-spirited growth of the mid and late 1960s, and despite several cyclical recoveries, sluggish growth remained a fact of economic life through 1982.
Figures 6.1, 6.2, and 6.3 indicate the scope and severity of economic problems in this period by displaying the rates of unemployment, inflation, and capital investment between 1965 and 1984. The rates of unemployment and inflation indicate that private investors had good reason to be wary of the American economy in the 1970s, and investment rates suggest that they were. The economy was deeply disturbed.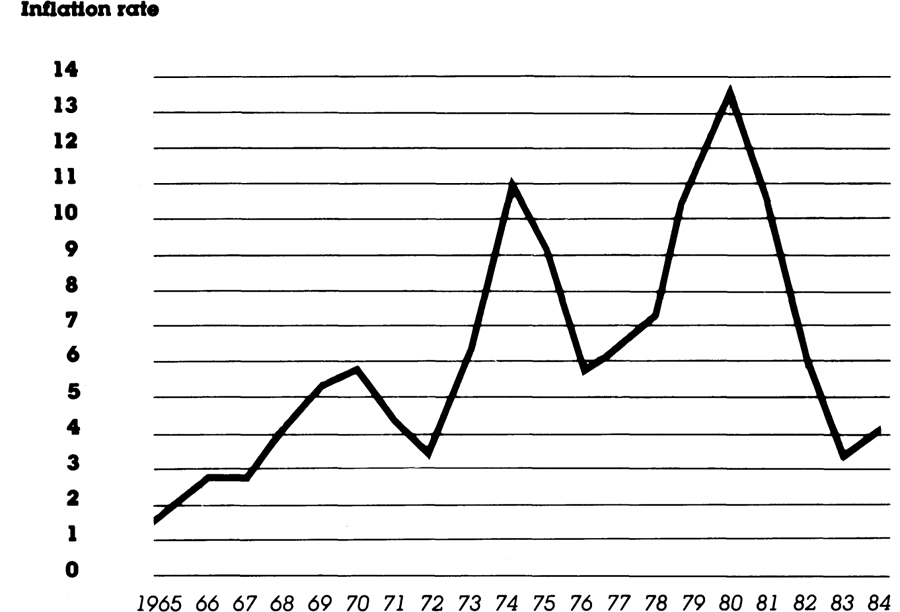 Note: Rate is the year-to-year change in the consumer price index.
Source : Economic Report of the President 1985 (Washington, D.C.: GPO, 1985), table B-56.
White House Oversight of Social Regulation
As a rule, the president's economic advisers watch trends closely and recommend policies to counteract declining business confidence. Normally, they concentrate on conventional economic levers, such as budget deficits, tax and interest rates, and the money supply. The timing of the White House review programs, however, suggests that their concerns were felt in this area as well.
The executive branch took the first step toward presidential review of agency rulemaking during the first half of the Nixon administration as inflation surged to new heights, but the program did not sink institutional roots until the 1973-1975 recession. In 1974 Nixon singled out regulation in his last public speech on inflation and ordered the Office of Management and Budget (OMB) to make a "sweeping review" of regulations that restricted supplies and fed inflation.1 On taking office after Nixon's resignation, Gerald Ford issued the first Executive Order requiring agencies to submit Inflation Impact Statements (IISs) to OMB, created the Domestic Council Review Group on Regulatory Reform to coordinate White House efforts, and called the first Regulatory Summit Meeting of agency heads and White House policy advisers.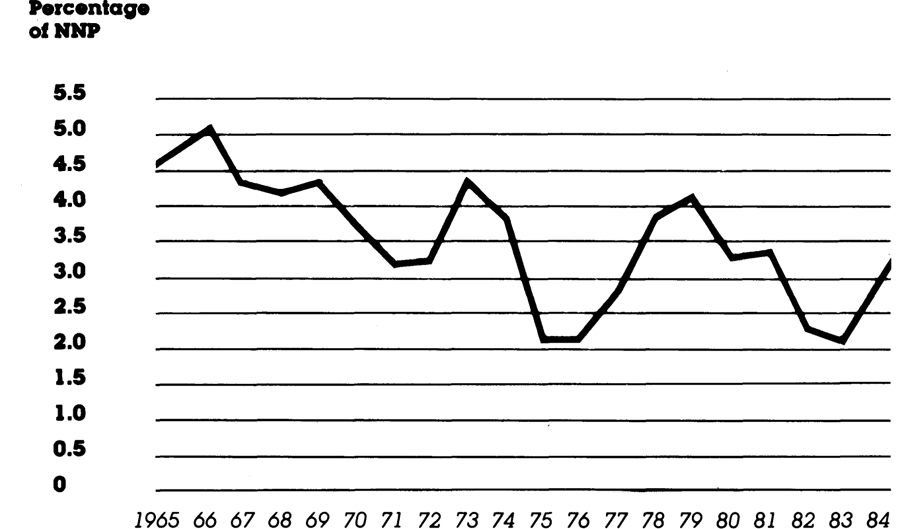 Note: Percentage of net national product (NNP).
Source: Economic Report of the President 1985 (Washington, D.C.: GPO, 1985), table B-29.
From 1974 through 1983, each administration built on its predecessor's efforts to augment the White House's oversight powers. Control over social regulation was centralized in the Executive Office of the President (EOP), and the economic evaluation of health, safety, and environmental standard-setting and enforcement activities was systematized. Carter followed Ford's Executive Order with one that required Economic Impact Statements (EISs) and created two additional White House agencies: the Regulatory Analysis Review Group (RARG) and the Regulatory Council (RC), to administer the program. Reagan strengthened the program by requiring Regulatory Analyses (RAs), creating the Office of Information and Regulatory Affairs (OIRA) in OMB to coordinate all oversight programs, and establishing the White House Task Force on Regulatory Relief to supervise the entire deregulation campaign (see Table 6.1).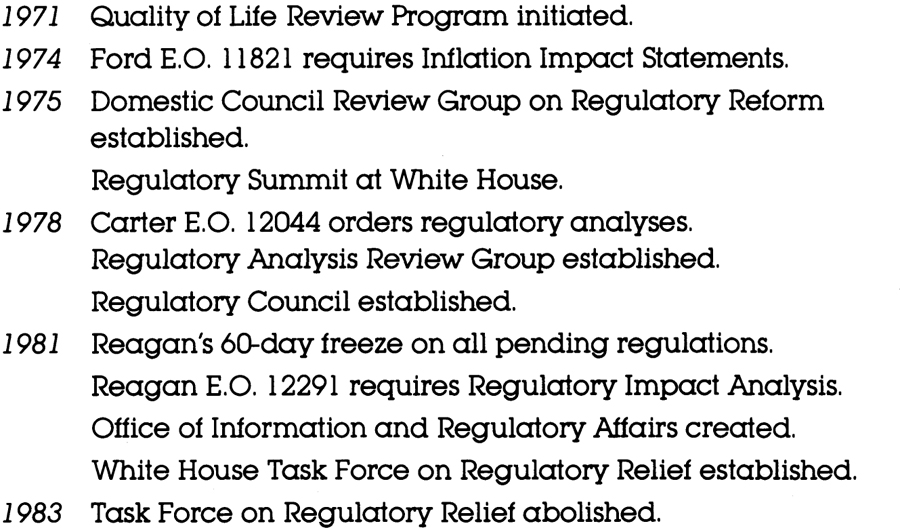 Even the cyclical movements of the economy correspond to variations in the timing and intensity of the White House review effort. The fairly strong economic recovery between 1976 and 1979 is reflected in the failure of either Ford or Carter to make social regulation an issue in the 1976 presidential election. That the economy expanded at a healthy rate during the first year and a half of Carter's term helps explain why he felt free to respond to labor pressure and moderate the review program in 1977. Carter's increased interest in cost control after 1978 corresponds to a rising rate of inflation in the second half of his administration. Even the development of the Reagan review program corresponds to cyclical economic changes. Along with tax relief, the administration offered deregulation as one of its principal economic recovery measures in 1981 and pressed the program for two years. Murray Weidenbaum was appointed chair of the CEA; OMB reviewed thousands of regulatory proposals; hundreds of major actions were delayed or discarded. But in 1983, with recovery at hand, the Task Force on Regulatory Relief was abolished, and deregulation was dropped from Reagan's agenda.
Of course, care should be taken in analyzing these short-term correlations. White House aides were at work on policy proposals long before they became public and programs were implemented. Shortterm political forces undoubtedly affected the timing of various initiatives as well as the intensity of White House support. Reagan's general ideological opposition to government regulation of business certainly played a greater role in his support for economic review of social regulation than short-term changes in economic activity. The success of his deregulation campaign probably eliminated the need to strengthen the program after 1983. Nonetheless, the relationship between the development of the White House review program and changes in the economy suggests a clear relationship between presidential concern for business confidence and the subordination of social regulation to White House review.
Capitalist Symbols
An analysis of the ways in which the economy constrains public officials argues that efforts to rationalize social policy be viewed as a form of symbolic politics. Two facts indicate that the White House's review program was a symbolic concession designed to restore business confidence in troubled economic times.
First, social regulation does not seem actually to account for a significant part of the post-1973 economic decline. The Weidenbaum study showed that regulatory compliance accounted for 4% of the GNP and more than one-third of all private investment in new plant and equipment.2 From these figures, Weidenbaum concluded that the macroeconomic effects were likely to be debilitating. More careful studies of the impact of regulation on productivity, economic growth, employment, and inflation have reached more modest conclusions. Edward Denison's work on the slowdown in productivity from the late 1960s through the mid 1970s concluded that changes in the "legal and human environment" between 1973 and 1976 accounted for only 12.5% of the 3.2% decline in the growth in national income per person during that period. Pollution-control expenditures accounted for more than half of this small share; worker health and safety accounted for approximately 30%.3 Other studies, using slightly different methodologies, have come up with slightly different estimates, but none supports Weidenbaum's belief that regulation was strangling free enterprise. William Nordhaus, summarizing this literature, offers a "best guess" estimate that it accounted for approximately 10% of the productivity decline.4
Other studies suggest that even these estimates are overstated.5 Even if we accept Denison's figures, they do not show that deregulation would do much, on its own, to increase productivity or reduce inflation. More important for our purposes, OSHA itself played a very small part in the overall picture. Since its regulations accounted for less than one-third of the productivity gap that Denison attributed to regulation, it caused, at most, 3.8% of the total productivity shortfall.
As for capital diverted from more "productive" uses, OSHA regulations absorbed only 2.1% of total capital spending per year in the manufacturing sector between 1972 and 1983 (see Figure 6.4). To be sure, some standards were costly. The textile, electrical instruments, transportation, rubber, iron and steel, and chemical industries all increased capital investment in worker health and safety at some point after 1971 to come into compliance with agency standards. But only one of these industries devoted more than 10% of its total capital investment in any single year to OSHA-related activities. In general, capital spending on OSHA was minimal.6
Nonetheless, public officials understood the psychological importance of economic review and self-consciously used the program to communicate to business their commitment to economic recovery, sound public finance, and the verities of capitalist economics. As Carter's top economic advisers wrote him shortly after his inauguration, OSHA was important because it was the "leading national symbol of overregulation." "Not to act decisively," they warned, "would be perceived outside the labor movement as a retreat from your commitment to major regulatory reform." Changing OSHA was a way of showing nonlabor groups that "the composition of the reform effort reflects their concerns."7 White House aide Simon Lazarus, in charge of regulatory reform for Carter's Domestic Policy Staff, was especially frank: "No one is silly enough to pretend that these efforts will affect the consumer price index by half a point," he observed. But regulatory reform was a way of showing "that government is doing what it can to restrain inflation."8 In a similar spirit, OMB Director David Stockman wrote Reagan that regulatory relief was important for the "long term signals it will provide to corporate investment planners."9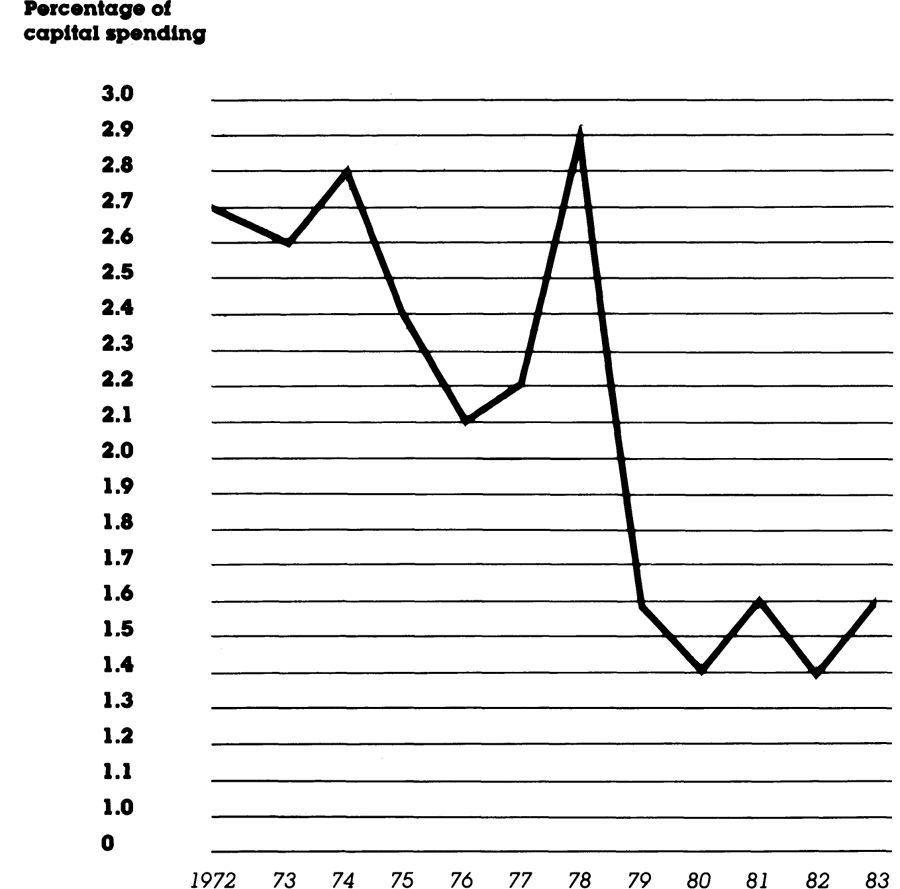 Source: Annual McGraw-Hill Survey of Investment in Employee Safety and Health (New York: McGraw-Hill, 1984).
Deregulation as Economic Policy
To signal their concern about business confidence in the American economy, Presidents Ford, Carter, and Reagan made deregulation a major part of their economic policies. Although they often couched their criticisms in conciliatory tones, they paid close attention to what industry was saying, and White House rhetoric mirrored industry's concerns: protective regulation was blamed for economic decline, and society's general interest in capital investment was counterposed against the particular interests of workers in protection.
As Republicans, Ford and Reagan were more critical of social regulation than was Carter. They were quicker to blame regulation for economic decline and they were quicker to question the basic goals and methods of protective legislation. Ford's efforts were path-breaking in two ways. First, he focused the reviewers' attention on the impact of regulation on the private sector rather than on federal budget outlays, the traditional concern of "cost-conscious" Republican administrations. To this end, Ford issued an Executive Order that empowered OMB to review all regulations "which may have a significant impact on inflation."10 Second, Ford argued explicitly that society's general interest in investment and growth justified deregulation. Social regulation was, he maintained, one of the prime determinants of almost every economic ill plaguing America, from inflation to unemployment to the decline of innovation, entrepreneurial enterprise, and individual liberty. Using makeshift, exaggerated cost estimates, he claimed that regulation cost Americans $2000 per family per year.11
The Reagan administration took up the cause and made deregulation—by then a household word—a centerpiece of its conservative revolution. During the presidential campaign, Reagan made his intentions toward OSHA clear in an interview with the Washington Post.
My idea of an OSHA would be if government set up an agency that would do research and study how things could be improved, and industry could go to it and say, we have a problem here and seem to lose more people by accidents in this particular function. Would you come look at our plant, and then come back and give us a survey.12
After the election, he implemented his views of regulation in general and OSHA in particular. Before a joint session of Congress, the President repeated the verities. America had experienced "a virtual explosion in Government regulation" resulting in "higher prices, higher unemployment, and lower productivity growth."13 All pending regulations were "embargoed" and the Task Force on Regulatory Relief was established.
Vice-President George Bush, the task force's chair, spelled out the administration's goals in greater detail:
This administration considers regulatory relief one of its major economic initiatives designed to restore the productive capacity of the economy in order to create work for the jobless and lower the rate of inflation that is devastating every American, especially the poor and middle income workers.14
Regulatory relief, Bush maintained, could "expand the opportunities, the productivity and the earning power of every American and every segment of the economy."15
Carter was much less hostile to the principle of government regulation or the goals of the new agencies. He said little about the issue in the 1976 campaign, and his transition team all but ignored it.16 When Carter addressed the problem of health, safety, and the environment, he seemed sympathetic. He urged reforms that would make compliance programs more efficient and reduce the paperwork burden on business; he recommended changes that streamlined enforcement and relied on incentive systems to make compliance more cost effective.17
As a result, although they were intent on regulatory reform, Carter's economic advisers avoided a frontal assault on the agencies. They focused their criticisms on regulatory methods instead. Led by Charles Schultze, an academic economist and CEA chair, they convinced Carter that what Schultze had named "command-and-control" programs were obstacles to economic growth and entrepreneurialism. In 1977 Carter formally endorsed this view. The OSH Act, he told a Yazoo City Town Hall meeting, was a "good piece of legislation." But its "emphasis on detailed regulations on safety" was "too much."18
The Consolidation of White House Control
Given the particular features of the American system of government, the effort to involve economic policy advisers in agency decision making required significant changes in the relationship between the White House and the agencies. Several affected agencies, notably the Consumer Product Safety Commission (CPSC) and the Federal Trade Commission (FTC), were independent commissions; White House leverage over them was limited. But even executive branch agencies such as OSHA had traditionally enjoyed a good deal of discretion. While the president was ultimately accountable for their decisions, the agencies' authorizing statutes gave the various departments direct responsibility for agency policy.
The OSH Act authorized the secretary of labor to set and enforce standards or delegate that responsibility to an assistant secretary. The president could assert control by hiring and firing the secretary or by supporting or rejecting agency budget requests. But the act did not give the White House direct control over OSHA decision making. Thus the development of the review program required that new, more centralized institutions be created to increase presidential supervision of day-to-day agency policy. The same held true for the National Highway Traffic Safety Administration in the Department of Transportation, or the EPA, an independent executive agency.
Just as White House efforts to control the budgetary process had led to the growth of the Bureau of the Budget a half century earlier. White House efforts to control regulation led to the expansion and reorganization of the Office of Management and Budget in the 1970s and 1980s. The first efforts to supervise the EPA were carried out by the "budget" side of OMB. Then, in 1974, regulatory oversight was transferred to OMB's "management" side; subsequently, regulatory oversight capacity increased dramatically. In 1981, OIRA was created to coordinate the entire oversight process. By 1984, OMB exercised nearly complete control over agency actions.
The precise role of OMB, including its relationships to other executive agencies interested in overseeing social regulation, varied by administration. Before 1981, OMB shared power with several other EOP organizations. These included the Council of Wage and Price Stability (CWPS), the CEA and, during the Carter administration, RARG and the RC. After 1980, OIRA played the dominant role, supplemented by the White House Task Force on Regulatory Relief.
Overall, however, the institutional developments followed a fairly constant trajectory. White House oversight was increased and formalized through Executive Orders and supplementary OMB circulars that required executive agencies and departments to assess the economic consequences of proposed actions, keep OMB and other reviewing bodies abreast of proposals, and justify their proposals to OMB. In this way, the EOP gained greater and greater control over social regulation.
Ford's Executive Order required agencies to submit Inflationary Impact Statements, modeled on Environmental Impact Statements required by the National Environmental Protection Act, for all major regulatory actions. The OMB and CWPS monitored agency compliance with the Executive Order and filed formal written comments on agency inflation-impact statements. The latter, created and lodged in the EOP by Congress in 1974 in response to the president's request for increased authority to fight inflation, entered formal advisory statements in agency rulemaking proceedings.
Carter's Executive Order expanded the review process. Agencies were required to justify their actions with Economic Impact Statements that included "regulatory analyses" of the problem they proposed to tackle. These had to specify the alternative solutions considered by the agency; the economic consequences of each alternative, including their costs and benefits; and a comprehensive explanation of why the agency chose the alternative it proposed. Oversight was shared among a larger number of advisers and agencies, and the CEA played a greater role than it had in the previous administration. The RARG was created to represent the major executive branch agencies with "economic" responsibilities, including the DOL, Treasury, Commerce, OMB, and the CEA The CWPS continued to file written comments under Carter; but RARG supplemented CWPS efforts by focusing the attention of EOP officials on a small number of particularly controversial regulations, thereby establishing a climate of heightened scrutiny.
After 1980, oversight was augmented, and OMB's powers were expanded. Both Ford's and Carter's efforts emphasized cost-effectiveness rather than cost-benefit tests, and in both administrations the reviewers' recommendations were advisory. Under Reagan, the emphasis of the review program shifted from regulatory "reform" to regulatory "relief" for business. Reagan replaced RARG with the White House Task Force on Regulatory Relief, similar in composition to RARG, but more visible and highly placed within the EOP.19
The Reagan review mechanism was much more elaborate and harder to satisfy than earlier programs. All executive agencies were required to justify rules with cost-benefit analyses. Agencies also were required to select regulatory objectives that "maximize the net benefits to society" and choose rules "involving the least net cost to society." Regulations not only had to pass cost-benefit tests but had to meet a restrictive definition of cost effectiveness imposed by the White House.
Reagan's Executive Order also formalized OMB's oversight powers. Agencies were required to secure OMB approval before publishing pending proposals and impact statements, renamed Regulatory Impact Analyses. The order also gave OMB the authority to specify precisely how these analyses were to be done. All these powers were lodged in OIRA and OIRA's staff and resources were substantially increased, while OMB refused agency requests for additional funds to hire more impact-analysis personnel.20
Although it could not legally decide agency rules, OIRA's supervisory powers were so extensive that it wielded an effective veto over rulemaking. It could reject agency requests to publish proposals and final regulations until they satisfied its analysis requirements. It also had complete discretion to define those requirements. At the same time, OIRA could choose to waive these requirements if it so chose, making it possible for the administration to "fast track" deregulatory efforts that could not meet cost-benefit tests. Thus, supplemented by the 1980 Paperwork Reduction Act, which required OMB approval for all agency actions that imposed significant information-reporting requirements on affected organizations, the Executive Order made the White House the final arbiter of agency actions, qualified only by those statutory obstacles in the agencies' authorizing legislation and recognized by the courts.
By consolidating oversight of health and safety regulation in the White House, the review process restructured regulatory policymaking in three ways. In combination, these changes helped to accomplish what employers hoped to do: equate their interests in profits with society's general interests in economic security and well-being.
To begin with, White House economic advisers became more important in social regulatory decision making. The president's top economic advisers were given the power to intervene, as "interested parties," in regulatory proceedings, and Paul MacAvoy (CEA chair under Ford), Charles Schultze (CEA chair under Carter), and Murray Weidenbaum (CEA chair under Reagan) took this opportunity. Moreover, the oversight staff was drawn from, or attached to, EOP economic agencies. Economists became active in regulatory policymaking, and critics of regulation were appointed to economic policy positions.
At the same time, it became harder for workers and consumers to influence agency policies. As agency heads became less important and economic advisers became more influential, nonbusiness interests found it harder to have their voices heard. According to a General Accounting Office (GAO) report on OMB activities under the Reagan Executive Order, OIRA became obsessed with maximizing White House discretion and minimizing public input into social regulatory policymaking. It made its decisions secretly; it did not keep written records; it refused to make its decision-making criteria public. And it engaged in extensive ex parte contact with affected business interests while resisting congressional scrutiny of its activities.21
The Reagan administration was forthright about its effort to give special access to business interests. The task force, it claimed, was supposed to serve as a court of appeal for business. Boyden Gray, Vice-President Bush's counsel and counsel to the task force, encouraged executives to take their problems to him: "If you go to the agency first," he told a Chamber of Commerce audience, "don't be too pessimistic if they can't solve the problem there. If they don't that's what the Task Force is for."22
According to Weidenbaum, the exclusion of labor, consumer, and public-interest groups was one of the task force's principal attributes. It did not "have any interest group constituency to protect and defend. Its only constituency is the president and the president's program for rationalizing regulation."23 James Miller, the task force's first director, praised its ability to resist demands for protection:
The very existence of the task force can stiffen the back of an agency head who's being pressured by a constituent. He or she can say: "I'd like to do it for you, but there's no chance the task force members would go along—and they'd be right. The president set the principles and I've got to follow them."24
Finally, agencies were forced to take macroeconomic considerations into account when assessing regulatory actions. Beginning in 1974, agencies were specifically required to assess the impact of regulation on inflation. By 1981, when it was disbanded by Reagan, CWPS had filed approximately 125 analyses and statements covering regulations proposed by 10 executive branch agencies and 11 independent agencies. Although RARG acted in fewer cases, its interventions were more salient and served notice that an agency action had caught the attention of Carter's top economic advisers. Under Reagan, OMB and the task force rescinded or blocked 182 major rules in its first two years of operation. When it was disbanded in 1983, the task force claimed to have saved the economy between $15.2 and $17.2 billion in one-time capital costs and from $13.5 and $13.8 billion in recurring costs, including $137 million a year in OSHA compliance costs.25
The review process was by no means an unalloyed success. It was poorly coordinated at first, and the social regulatory agencies found ways around it. Under Ford, many agencies used the Inflationary Impact Statements to justify decisions made on other grounds. The CPWS reports tended to be after-the-fact critiques that delayed rather than significantly altered pending rules. Both CPWS and OMB complained about their inability to control the health and safety agencies.26
The Carter administration, more sympathetic to the agencies than either Republican president, created the Regulatory Council to provide the regulators with their own forum, and they used it to facilitate interagency efforts to combat economic review and justify continued rulemaking. As a result, the Carter review program worked at cross purposes. The CEA CWPS, RARG, and OMB pressured the health and safety agencies to scale back their regulatory proposals. Through the council, agency heads coordinated their case against economic reviewers. In 1979, the heads of OSHA EPA CPSC, and FTC formed an additional group—the Interagency Regulatory Liaison Group—to take their case to the public.27
The White House reviewers were not easily deterred, and the agencies finally succumbed to pressure in the second half of Carter's term. In 1979, OMB announced that it would use compliance with the Executive Order as one criterion in reviewing agency budget requests; and in 1980, the CEA endorsed a proposal to create a "regulatory budget" that would cap the total costs that any single agency could impose on the economy. The agencies heard the message. The OSHA standard-setting and enforcement activities declined significantly after 1978. The EPA agreed to do risk-benefit analyses of its standards and experimented with incentive-based compliance methods such as the "bubble," a plan to allocate pollution "rights" to plants and firms in a designated geographical area and then allow them to trade these rights among themselves. The Reagan program, explicitly designed to overcome resistance, overwhelmed the agencies. All of the president's powers, from appointments to oversight to budgets to Court actions, were used to secure White House control over the health and safety agencies. By the end of 1984, social regulation was dead in the water.
Legal Challenges to Presidential Intervention
Presidents had previously reorganized the executive branch and attempted to increase their control over administrative agencies. Indeed, presidential calls for government reorganization are a well-established part of the American tradition of political reform. The original Bureau of the Budget grew out of White House efforts, earlier in the century, to increase its control over the bureaucracy. But the degree and kind of control achieved by the regulatory review program were unprecedented. Previous administrative reorganizations proceeded from legislative grants of authority and were subject to congressional approval. They dealt with administrative structure rather than the content of policy. Where reorganization was justified substantively, it was almost always in terms of government "efficiency" rather than the consequences of public action on the private economy.
In contrast, the White House's new powers, particularly OMB's expanded role in regulatory "management," went beyond structural considerations to the heart of substantive policy concerns. Especially after 1980, OMB's authority to oversee agency compliance with the procedural requirements of the review process was used to write, rewrite, and rescind agency rules.
Moreover, unlike previous reorganization efforts, OMB's broad powers were not firmly rooted in statute or precedent. The review program's authority derived from Executive Orders establishing it and three ancillary statutes: the 1974 Act that established CWPS; the Paperwork Reduction Act of 1980; and the 1980 Regulatory Flexibility Act, which gave OMB the power to monitor the impact of regulations on small business. These statutes were much too specific to justify OMB's comprehensive role. And the Executive Orders raised rather than resolved troubling constitutional issues, ranging from due process protections to the limits of presidential authority to revise congressional statutes through the implementation process.
The legality of OMB's role in overseeing regulation became the subject of intense political controversy as soon as the Ford administration augmented OMB's authority. Organized labor, the consumer lobby, and the public-interest and environmental movements challenged the propriety of OMB oversight, and congressional liberals protested the review program. Committee chairs sympathetic to the agencies responded to Ford's 1975 Regulatory Summit by stepping up committee oversight of the review process. Subsequently, liberal Democrats in the House and the Senate maintained constant pressure on the reviewers and supported agency efforts to avoid White House control.28
Both chambers held hearings on the constitutionality of OMB oversight and its applicability to the OSH Act during the Carter administration. In keeping with the tradition of congressional deference to the executive in administrative matters, liberals in Congress were willing to accept some OMB supervision of the agencies, but they insisted that there was an important difference between "monitoring" agency compliance with an Executive Order and "assuring" the adoption of OMB recommendations. Carter's reviewers, they claimed, were engaged in the latter, and they challenged policies that gave OMB authority to "override or substantially interfere with or delay decisions on substantive issues made by legislatively designated decision makers."29 Representative Paul Rogers (D-Fla.), chair of the House Commerce Subcommittee on Health and Environment, condemned the Regulatory Calendar as "blatantly illegal." Senator Edmund Muskie (D-Maine) asserted that Congress had already taken cost problems into account in writing the underlying statues. "Second guessing" by "bureaucratic-economists" was inappropriate and unnecessary.30
Critics of the review program raised two sorts of legal challenges. The first focused on procedural issues raised by the personal intervention of White House reviewers into rulemaking activities. The second targeted administration interpretations of the substantive legislative grants of authority to the agencies.
The EPA OSHA, and other social regulatory agencies make rules "informally." They can, if they choose, establish general rules based on an in-house, expert review of the available evidence pertaining to the problem at hand. They do not, for example, need to resort to a formal, trial-like procedure in which affected parties cross-examine witnesses. Nor must they deal with each hazardous situation individually. Their discretion, however, is limited. Congress, in the Administrative Procedure Act of 1946, and the courts, through judicial review of agency proceedings, have established guidelines for informal rulemaking. Agency officials must give advance public notice of proposed regulations; they must allow the public an opportunity to comment on proposed actions, and they must consider these comments; information that is not subject to public review cannot be used as a basis for their decisions; and agencies must explain and support their actions with reference to information in the public rulemaking record. Moreover, the courts have generally prohibited ex partecontacts—representations made outside the official rulemaking process—between agency officials and interested parties. Such contacts are held to violate the spirit of open and accountable agency deliberations based on a public record.
Nonetheless, the review program encouraged informal White House negotiations with agency officials, particularly after the close of the formal comment period, and Carter's critics argued that these were illegal ex parte contacts. In Natural Resource Defense Council v. Schultze, the NRDC asked the court to bar the CEA chairman from participation in the development of strip-mining regulations for this reason.31 In Sierra Club v. Costle, environmentalists challenged presidential interventions in the development of new-source performance standards for steam electric power plants on similar grounds.32
White House oversight under Reagan raised additional questions about the legality of the review process because of OMB's extra effort to impose strict central control. A Congressional Research Service report on the effects of the Reagan Executive Order on the regulatory process summarized the principal procedural objections. First, in exercising control over final agency rules, OMB violated the separation of powers by supplanting congressional with executive authority. Second, the Executive Order violated the procedural safeguards established in the Administrative Procedures Act in several ways: it gave the director of OMB the authority to determine when an agency could issue a rule; it imposed uniform procedural standards on agencies with disparate legislative mandates; and it imposed biased decisional rules such as cost-benefit analyses on agency decision making. Finally, the review process violated the due process rights of parties affected by regulation because it failed to prevent undisclosed, exporte contacts. In fact, it created the possibility that White House aides would serve as "conduits" for private lobbyists and/or seek to control rulemaking after the close of the formal comment period.33
The Executive Order's requirement that agency rules pass cost-benefit analyses was particularly problematic because it either contradicted or reinterpreted existing statutes. Most of the social regulatory laws do require the agencies to weigh multiple considerations, including the reduction of risk to health and safety and adverse economic effects, before taking action. But specific provisions vary considerably. Some statutes require that several factors be taken into account. The National Environmental Protection Act of 1969 tells agencies to consider the economy and existing technology along with the environment. The Toxic Substances Control Act requires the EPA administrator to consider the environmental, economic, and social impact of actions. Some statutes specify balancing, but do so in general terms. Under the provisions of the Consumer Product Safety Act, the CPSC's standards must weigh the risks of injury against the economic impact of standards on consumers and affected businesses. The Clean Water Act requires state water-quality standards to take into account the availability of water for industrial uses, as well as the cost of technology and the age of existing equipment and facilities.
Some statutes require cost-benefit analyses. Under the terms of The Federal Insecticide, Fungicide and Rodenticide Act, for example, the EPA must compare the economic, social, and environmental costs of prohibiting the use of particular chemicals to the attendant health benefits of regulation. The Clean Air Act requires that standards that require emission-control devices or prohibit the use of certain fuels or fuel additives must be accompanied by a cost-benefit analysis.
Still, Congress generally left the agencies with discretion to balance these multiple objectives as they saw fit. When it required cost-benefit analyses, Congress left the agency free to choose a specific decisional framework, to decide how various factors were to be defined and weighed, and to resolve other issues raised by the application of this technique to social regulation.
In contrast, the Reagan Executive Order imposed a uniform set of procedural and substantive obligations on the agencies. All agencies were required to justify rules with cost-benefit analyses; all were required to select regulatory objectives that "maximize the net benefits to society" and choose rules "involving the least net cost to society." Moreover, regulations not only had to pass cost-benefit tests but had to meet a specific definition of cost effectiveness imposed by the White House. And the order gave OMB the authority to specify precisely how the analysis should be done. The administration was sensitive to the legal issues posed by this review process—the order applied only "to the extent permitted by law." But, in practice, OMB imposed a common set of criteria on the social regulatory agencies and did not draw clear distinctions among the various health, safety, and environmental statutes. The OMB review of OSHA rules was particularly controversial because none of the provisions of the OSH Act require OSHA to take costs into account. In fact, its language and its history, as we saw, and as the Supreme Court decided in 1981, are relatively inhospitable to economic review.
Congressional Deference to the Executive
Since the New Deal, Congress has generally deferred to presidential leadership of the executive branch and confined itself to more limited oversight activities. Although congressional liberals responded critically to White House efforts to impose economic review on social regulation, this pattern of deference held here as well, and the legislature failed to curtail the growth in OMB's review powers.
The failure of Congress to block the White House review programs is striking, since the legislature had its own institutional reasons to do so. White House oversight threatened the legislature's autonomy and gave administrators the power to rewrite statutes, and institutional interests might have reinforced liberal efforts to limit economic review. They did not. Instead, political and ideological factors proved more important in determining Congress's response to White House review than any sense of its own institutional prerogatives.
Many conservative legislators, for example, seem to have bristled at the White House's effort to diminish the role of Congress. But they also wanted to deregulate industry. Some sought to reconcile these competing interests with proposals to create new forms of legislative oversight. One group sought to codify the review program and increase Congress's authority over the agencies by creating a legislative veto of agency rules. Others proposed a legislatively mandated cost-benefit test for health and safety rules.
Conservatives outside Congress warned that efforts to codify regulatory review could be counterproductive. They noted that many regulations that imposed substantial costs on business could pass cost-benefit tests. If these costs were to be controlled, the White House would have to exercise more discretion than conservative legislators might like. Anthony Scalia, the coeditor of the American Enterprise Institute's Regulation magazine, warned congressional advocates of a statutorily imposed cost-benefit test requirement that it could backfire. "Regulatory reformers who do not recognize this fact," he cautioned, "and who continue to support the unmodified proposals of the past as though the fundamental game has not been altered, will be scoring points for the other team."34 James Miller, director of the task force, told congressional staffers that an omnibus regulatory reform bill could create "impediments to the kind of work that needs to be done."35 In response, congressional advocates of legislatively imposed cost-benefit analysis dropped their proposals and accepted the White House's version of economic review.
In contrast, liberal Democrats supported the administration position, even though they opposed deregulation. In their case, strategic considerations dominated. As their political power declined in the 1970s, they endorsed presidential oversight in order to block more conservative, legislatively imposed reforms. At the end of the decade, they joined Carter, who opposed any congressional interference with the oversight program and, together, they offered moderate, committee-supported bills to preempt conservative demands for legislative deregulation. These bills proposed a "balanced" review process that required agencies to do economic impact studies under OMB supervision, but freed them from rigidly applied cost-benefit tests.36
After 1980, liberals joined Reagan to block efforts by congressional conservatives to impose legislative vetos, heightened judicial review, and strict cost-benefit tests on the agencies. Reagan did not oppose congressional efforts to codify and supplement restrictions on the agencies; he supported the idea of amending the OSH Act and extending White House control over the independent commissions. But he opposed legislative measures that restricted OMB's discretion. In a marriage of convenience, Reagan allied with consumer, labor, and environmental groups to kill Senator Paul Laxalt's (R-Nev.) Omnibus Regulatory Reform bill, a proposal that would have strengthened the role of Congress at the expense of the White House's discretionary powers.37
The Courts and Economic Review
The courts could not avoid playing a major role in defining the limits of the White House review program. Judicial review has traditionally played an important part in structuring the regulatory policymaking process. Proponents and opponents of health and safety regulation understood this and took every opportunity to appeal agency decisions and OMB's efforts to shape them. Still, like Congress, the courts deferred to the president. The judiciary established some limits on the White House, particularly in the case of OSHA But, overall, economic review was allowed to take root and flourish.
The courts were particularly reluctant to condemn the procedures adopted by White House reviewers. The NRDC's claim that Schultze's intervention constituted an illegal ex porte intervention was rejected. In this case, the court held that the availability of written records of contacts between the CEA and outside parties allowed a reviewing court to determine whether the final rule was based on information in the record or industry lobbying. The Sierra Club's challenge to White House intervention in EPA rulemaking on steam electric power plants was also dismissed. In that case, the court agreed with the White House: the president and his aides had the authority to supervise the activities of executive branch agencies, to monitor their activities, and to engage in unrecorded face-to-face contacts with regulators after the close of the period for public comments. The court acknowledged the possibility that presidential intervention might become a conduit for industry influence. But it argued that political factors were a necessary and inevitable part of the regulatory process. "We do not believe," the court of appeals wrote, "that Congress intended that the courts convert informal rulemaking into a rarefied technocratic process, unaffected by political considerations or the presence of Presidential power."38
When they addressed the substantive issues raised by economic review of OSHA the courts took a more interventionist position. This, however, cut both ways. On the one hand, they interpreted the act's language to allow for economic review. At the same time, cost-benefit analysis of health standards was rejected.
The first important judicial ruling on economic review occurred in 1974, when the court of appeals resolved the controversy over the asbestos standard described in Chapter 4. The courts further limited OSHA's discretion in 1980 in the benzene case. Then the Supreme Court ruled that OSHA had to provide quantifiable evidence of the benefits of health standards. Benzene is a known carcinogen and in dealing with known carcinogens it was agency policy during the Carter administration to adopt the lowest exposure level consistent with technical feasibility and the economic survival of the entire industry. In 1978 OSHA established a 1-ppm benzene standard and rejected a petroleum industry proposal for a more lenient, 10-ppm rule. The industry challenged OSHA's standard on the grounds that it had failed to determine the dose-response relationship between benzene and leukemia, the principal health hazard with benzene. Therefore, it claimed, the agency could not specify the benefits that would result from the costly tenfold reduction involved in adopting the 1-ppm rule rather than the industry's 10-ppm recommendation.
In contrast to the 1974 asbestos ruling, the Court looked to Sec. 3(8) of the act, which generally defined a standard, rather than to Sec. 6b(5), which established the criteria for health standards. Based on this section, it imposed a "substantial evidence" test on all agency rules. Sec. 3(8) of the act, it argued, required standards to be "reasonably necessary or appropriate." That meant that OSHA had to demonstrate that its preferred exposure level was more "necessary or appropriate" than the alternatives it rejected. Specifically, it had to demonstrate that a standard eliminated a "significant risk." This was not, the Court insisted, a cost-benefit test. It was a stiff test nonetheless. Despite the absence of reliable data on it, the agency had to justify its standards with hard evidence about the relationship between levels of exposure and morbidity. This would be difficult where costs were high and health effects uncertain.39
Taken together, the asbestos and benzene cases forced OSHA to consider economic impact in two ways. First, the agency had to make sure that entire industries were not threatened by particular standards. Second, it had to attempt to quantify the benefits of particular exposure levels. Several issues, however, were left unresolved. Most important, these cases did not directly address industry's demands for cost-benefit analyses of OSHA standards.
This issue was settled by the 1981 cotton-dust ruling. In this case, the textile industry challenged OSHA's standard because the agency had failed to perform a cost-benefit analysis. Many observers expected the Court to find for the industry; the benzene decision appeared to foreshadow further judicial limits on OSHA's discretion. Moreover, the Reagan administration supported the industry—the standard had been issued during the Carter administration and did not reflect Reagan administration policy on regulation. In an unusual move, it urged the Court to return the standard to the labor department so that a cost-benefit test could be done.
This time the Court rejected the industry position and restricted oversight of OSHA Here the Supreme Court returned to Sec. 6b(5) and emphasized the protective vision of the act. According to the Court, the law already contained a general congressional decision about the appropriate relationship between costs and benefits. Congress, the Court ruled, understood that worker protection would be costly and might reduce profits. Nonetheless, Congress decided that, in dealing with health standards at least, practicability was the only limiting criterion.40
In combination, then, these three cases simultaneously established the limits of agency rules and White House oversight. Standards had to meet the "significant risk" doctrine promulgated by the Court in the benzene case. They could not threaten the existence of entire industries, as the court of appeals had held. A standard that satisfied these two criteria was "capable of being done" or, in the language of the act, "feasible." Otherwise, OSHA was precluded from using cost-benefit tests to determine what to regulate or the appropriate levels of protection.
White House Review of OSHA
From the moment that President Ford made OSHA a prime example of overregulation, economic reviewers peppered the agency with critical commentaries on standards proposals. The sheer number of interventions into OSHA rulemaking is impressive, as Table 6.2 indicates.
Beyond their number, these interventions were important for what they said because they argued for a dramatic reinterpretation of the rights created by the OSH Act. In attempting to make OSHA's health standards more efficient, White House reviewers also argued for an economist's notion of protection, and this contradicted the OSH Act's provisions. As I have noted in several places, the OSH Act created a universal right to protection. But cost-benefit and cost-effectiveness tests argued for disaggregating that right in the name of efficiency. Two rulemaking cases illustrate this view in practice.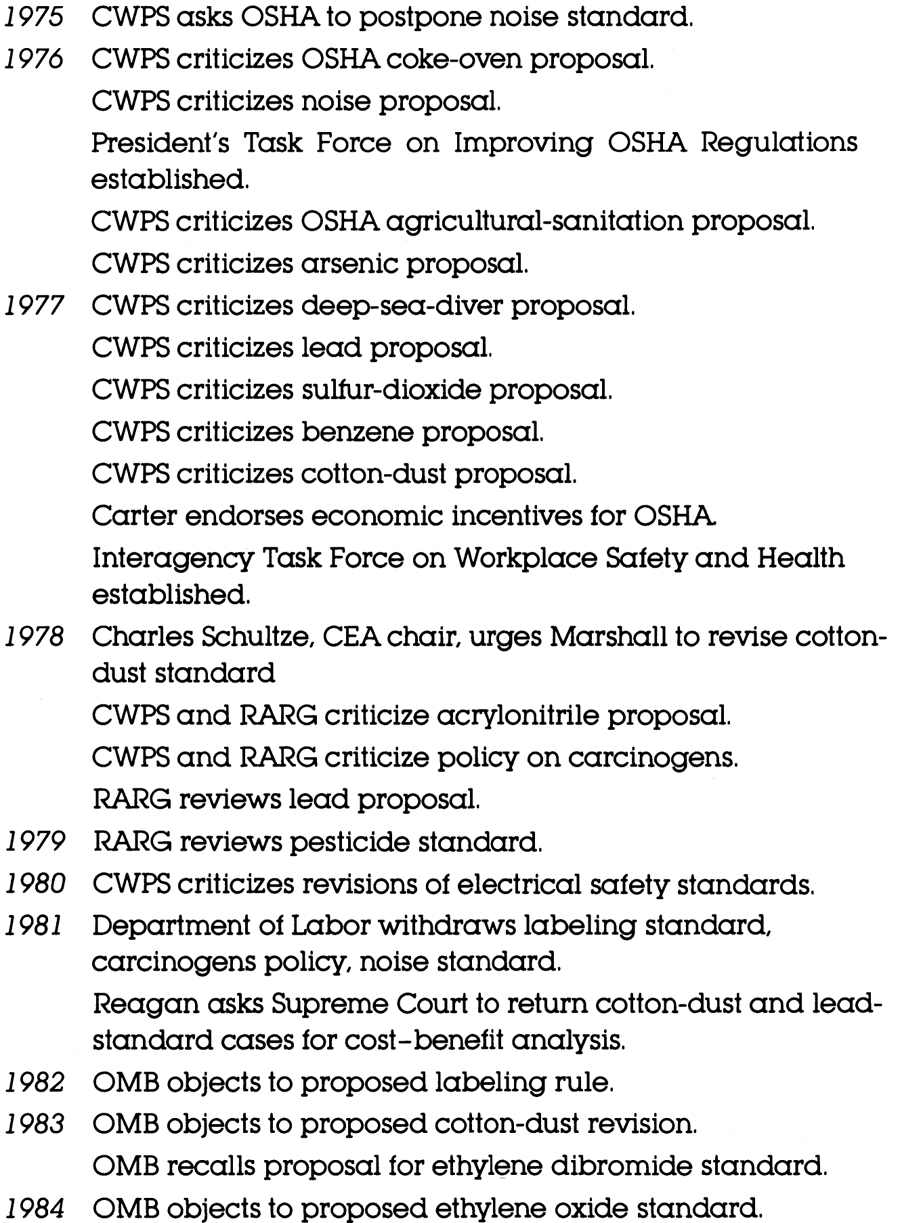 In 1975 OSHA proposed to reduce the permissible exposure limit (PEL) for workers exposed to coke-oven emissions. Coke is a byproduct of coal and is used as a fuel in steelmaking and in foundries, and as a reducing agent in blast furnaces. The materials produced during the distillation of coal are known to cause lung cancer, skin cancer, and cancer of the urinary system. In the mid 1970s, approximately 22,100 workers were believed to be at risk from this hazard. When it proposed to reduce the PEL, the agency submitted an IIS to OMB in conformance with the requirements of Ford's Executive Order. The IIS estimated that the coke-oven standard would cost between $218 million and $241 million per year and save up to 240 lives yearly.
The following year, CWPS challenged OSHA's analysis of the standard's costs and benefits, as well as the logic underlying its decision to regulate. Although OSHA had refused to do a cost-benefit analysis, CWPS did one for it. Using OSHA's own figures, CWPS calculated that OSHA proposed to "spend" between $9 and $48 million to save the life of a worker at risk. Also, CWPS supplied its own figures and did a second analysis along the same lines. It lowered OSHA's estimate of the number of lives that would be saved yearly as well as its cost estimate. Based on these new figures, CWPS calculated that the true costs of protection in this case were between $4.5 and $158 million per life. This was, CWPS suggested, excessive. It recommended that OSHA consider regulating risks in "other occupations with both higher relative risks and much larger absolute numbers" of workers at risk, thereby taking advantage of "the potential of saving more lives at lower costs."41
Although OSHA rejected the CWPS recommendations—it cited the act and the 1974 court decision limiting economic review to the determination that standards not endanger the viability of entire industries—the coke-oven case was an important landmark in the development of economic review. The reviewers were not content to check OSHA's estimates; they did not argue that the steel industry would be imperiled by the standard; they did not maintain that the macroeconomy would be weakened. Instead, CWPS used economic review to argue for the disaggregation of the right to protection and against the equalization of risk for workers. Efficiency considerations, CWPS maintained, argued for leaving the affected steelworkers unprotected and protecting workers in other industries where morbidity rates were high and the costs of protection low.
Actually, CWPS used the issue of equity—central to the vision of the act—against OSHA It agreed that it "must be considered," but CWPS interpretation of equity in this context was based, not on the language and history of the act, but on an economist's reading of the problem of protection:
There are many other occupations . . . that present us with the potential of saving more lives at lower costs. This is important because the nation's resources that may be devoted to saving lives are limited. The total number of lives saved can be maximized only if the expenditures devoted toward saving lives are made in such a way so as to be equalized at the margin.42
The labeling standards case also illustrates how the review program led to the administrative reinterpretation of the worker rights in the OSH Act. This controversy began in the last days of the Carter administration when OSHA proposed a rule requiring employers and chemical manufacturers to identify chemical hazards in the workplace and make this information available to employees. In keeping with the administration's regulatory relief program, Thorne Auchter, Reagan's choice to head the agency, immediately withdrew the proposal for reconsideration. There was strong employer support for some sort of agency action, however. Supported by unions, environmentalists, and public-interest groups, the "right to know" movement was proving successful in passing state and local labeling laws; many of them were quite stringent. After 1980, the chemical industry and other affected employers shifted their position on federal regulation and sought sympathetic federal action as a means of preempting more hostile state and local regulation.
In response, Reagan's OSHA proposed a revised rule that substantially limited coverage and augmented employer rights to withhold trade secrets. In keeping with the Executive Order, the agency submitted a cost-benefit analysis that calculated the rule's benefits to be $5.2 billion versus compliance costs of $2.6 billion (both in present, i.e., discounted future, values). The rule, OSHA claimed, would save medical costs and augment labor productivity because better-informed employees would have fewer injuries and illnesses. Moreover, it would serve the public interest in two ways. State-level protection would lead to uneven coverage, whereas OSHA's rule would provide uniform protection. In addition, the labeling standard would provide workers with more information—an important but undersupplied public good.
The OMB rejected OSHA's logic and the rule. The claim by OSHA that more information and uniform standards were in the public interest did not adhere to the economic values of the review process. From an economic point of view, a federal standard was a positive disability. "By increasing smaller companies' overhead costs," OMB argued, the standard "would put them at a competitive disadvantage relative to companies that already have such programs." In addition, information could not be treated as a general public good. Although "some value should be ascribed to knowledge even if it does not improve safety," OMB admitted, "this knowledge should not be considered a 'right' in isolation from cost considerations." To OMB, the survival of small business was as important as worker protection, and workers' right to know about hazards had to be balanced against economic considerations.43
The Regulatory Environment
Overall, OSHA's record of wins and losses against the White House reviewers was mixed. Before 1981, the agency tried, often successfully, to resist OMB control. Under Ford, the economic review program led to criticisms of OSHA and as the next chapter describes, delays in rulemaking. But the agency was able to avoid more serious damage. In the second half of the decade, union protests and congressional pressure deterred Carter's domestic policy advisers. And OSHA successfully resisted the reviewers' demands that it change its enforcement strategy from penalty-based inspections to incentives; it rejected CWPS's and RARG's attempts to force it to set performance standards and avoid engineering controls. The efforts by CEA chair Schultze to secure significant changes in the cotton-dust standard were personally rejected by Carter after the labor movement and Secretary of Labor Marshall came to OSHA's aid. After 1981, the review program was considerably more successful, although political pressure by industry succeeded in at least one case in overturning an OMB decision.
Nonetheless, the agency's batting average is probably less important than the overall impact of the review process on the agency's decision-making processes. On this level, the trend is quite clear, as the next chapter indicates. The centralization of executive oversight in the White House and the introduction of economic criteria not found in the OSH Act into agency rulemaking created a highly politicized and uncertain regulatory environment that undermined OSHA's autonomy and its ability to make rational health and safety policy. In this environment, OSHA could not do the things that it had to if it was to establish itself as an effective, expert agency. It could not devote its time and resources to building its organizational competence, to experimentation, and to deliberation. Instead, it was caught in a struggle of titanic proportions, one in which agency policies came to symbolize the class affiliations of the state itself. And that struggle, rather than the realities of workplace safety and health, finally determined the course of the agency's policies.