Labor's Defense of Social Regulation
The OSH Act threatened employers and forced them to defend their property rights, but it offered the labor movement an opportunity to take the offensive on three fronts: to argue for an expanded vision of the rights of workers, to link workers' demands for protection to a general program of progressive social reform, and to establish itself as a leader among the new social movements that developed in the 1960s and in the early 1970s.
To do these things, the unions had to change the way they approached work, the environment, and the state. As Chapters 2 and 3 indicated, economism continued to dominate organized labor's approach to social change throughout the 1960s. Barring a few exceptional cases, the union leadership had not been drawn to the quality-of-life agenda or demands for a more participatory society and economy. A complex set of conjunctural factors, rather than a major change in organized labor's political and economic strategies, had made the passage of the OSH Act possible. For the most part, this remained true after 1970. As this chapter describes, despite some signs of change on the part of rank-and-file workers and some unions, and despite efforts by the environmental movement to forge stronger links with organized labor, the patterns established in the postwar accord held.
The Possibilities
The act provided a stepping-off point for organized labor by giving employees a new kind of right. The right to healthy and safe work is, as I have stated, a dramatic extension of the way that worker rights have been understood in the welfare state: it is substantive rather than procedural, and it draws the state into supervising managerial decisions over the actual conditions of work. In giving workers the right to participate in OSHA enforcement, and empowering the state to regulate the workplace, the act suggested broader democratic principles that led naturally to other, equally radical rights: that workers should influence the local conditions of work and that, through the state, the public might exercise greater social control over the processes of capital investment and technological change.
These broader democratic principles are particularly important to a movement that seeks to unify people in diverse economic and social settings. Not all workers, after all, are exposed to the same levels and kinds of risks. Blue-collar workers generally have more job-related injuries than white-collar workers. The injury rate of laborers is more than two-and-one-half times that of craft workers and four times that of service workers (see Table 5.1). By linking the right to occupational safety and health to the idea of state regulation of production and investment, the labor movement could overcome these divisions by appealing to a shared interest in public control over the economy, including job creation, plant location, and community development.
The vision underlying the OSH Act could also be used to legitimate rights to information about technology, investment, and employer practices. Workers could demand access to medical records, information about management decisions affecting health and safety, prenotification about the introduction of new production methods, and independent surveys of the potential health impact of changes in the workplace. Workers could also demand new rights to their jobs: employees incapacitated by health hazards at work could be given the right to other, equally well-paid work; firms could be required to protect employees from shutdowns caused by high abatement costs.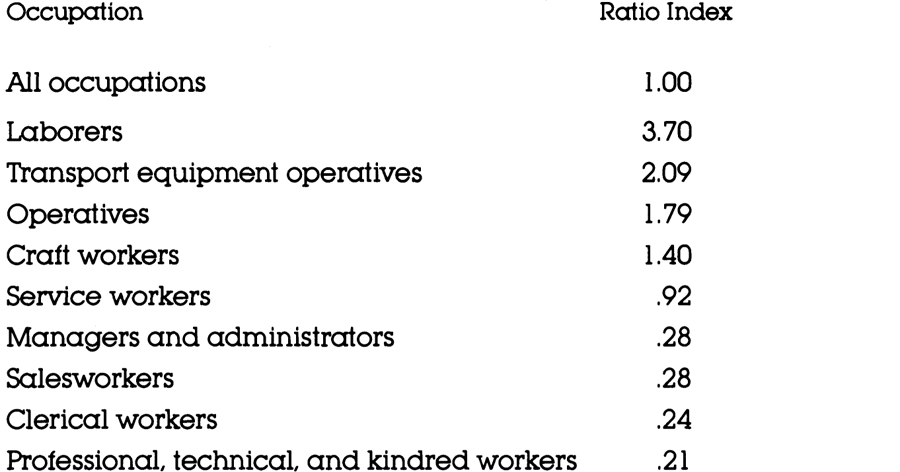 Note: Excludes data lor agriculture, forestry, and fisheries; private households; and the public sector. Indexes are derived by dividing the occupation's percentage of total injuries by its percentage of total employment.
Source: Norman Root and Deborah Sebastiaa "BLS Develops Measure of Job Risk by Occupation," Monthly Labor Review 104, no. 10 (1981), table 1, p. 28.
In addition, the act's right to safe work could be used as a first step toward redefining the very notion of occupational health and turning criticisms of the impact of industrial capitalism on the quality of life into a positive program for new forms of production that promoted noneconomic values, including emotional well-being and job satisfaction. The growing interest in stress and other psychosocial health hazards caused by the work environment points in this direction. The Scandinavian countries have done pioneering research on the subject.1 This is an obvious next step for a society in transition from conventional forms of industrialism to newer, automated technologies, including information processing, which promise to increase stress at work and, consequently, increase the incidence of diseases such as hypertension.
Occupational safety and health reform also provided the labor movement with a way of forging closer links with nonlabor groups and, at the same time, making good on its claim to represent workers as a whole rather than only union members. Throughout the 1970s and early 1980s, public opinion supported social regulation. Despite long-standing opposition by the majority of Americans to greater regulation of business in general, opinion polls indicated that the public clearly endorsed health, safety, and environmental reform. People were skeptical about the benefits of economic regulation of industries such as airlines and trucking, but they strongly supported protective legislation designed to improve product safety and air and water quality, and reduce workplace hazards.2
According to survey research, Americans were worried about health and safety hazards and wanted the government to take strong action to protect them. One poll found that two-thirds of its respondents supported the idea that regulators set standards that lowered exposure to carcinogens to "zero" or the "lowest possible level."3 In another, 85% endorsed the idea that the federal government should set increasingly strict standards for auto emissions.4 An ABC News/Harris survey reported that 93% of those polled believed that federal standards prohibiting dumping of toxic chemicals should be stricter;5 86% wanted the provisions of the Clean Air Act maintained or strengthened; and 93% felt this way about the Clean Water Act.6
Most people also believed that work was dangerous, that corporations would not take measures on their own to protect workers, and that OSHA should not be deregulated. Pollsters found that a majority of Americans believed that exposure on the job was an important source of cancer but that only one-third thought that industry was trying to reduce exposure to cancer-causing agents.7 A CBS/New York Times survey found that nearly three-quarters of those polled believed that government should set standards and implement them.8 In a 1981 Harris survey, taken at the height of Reagan's deregulation campaign, two-thirds of those surveyed rejected "cutting back sharply on the enforcement of employee safety regulation by OSHA"9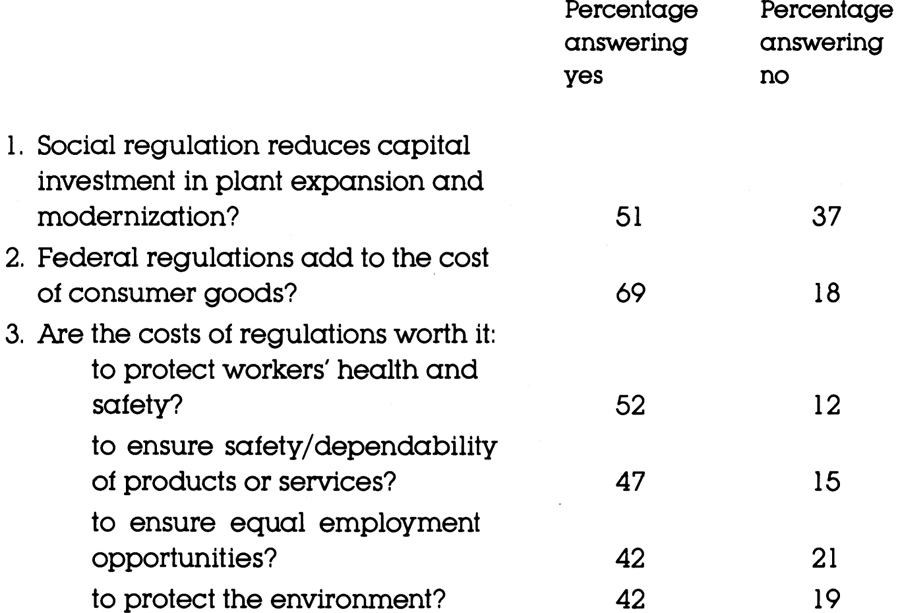 Note: Totals do not include those with no opinion. Question wording is as follows: 1. "The money that business spends meeting government requirements for environmental protection, health and safety, equal employment opportunities, etc., has significantly reduced the amount that business can invest in the expansion and modernization of plants and equipment." 2. "Federal regulations and requirements add to cost of consumer products or services." 3. "Costs added by regulations are worth it to . . . ."
Source: Opinion Research Corporation, Government Regulation of Business: The New Outlook, the New Realities (Princeton, N.J.: Opinion Research Corporation, 1978), pp. 34-36.
Majorities understood that protective regulation was costly and were prepared to pay the price. A1982 Harris survey on consumerism for Atlantic Richfield Corporation found that people thought the costs of consumer protection were worth the effort; there was "hardly any support at all . . . for regulatory rollback or dismantling in the consumer protection area."10 A survey done for the Continental Group, a company with interests in timber, oil, gas, and land development, found that half of the respondents were willing to accept a slower growth rate to protect the environment. Only one-quarter wanted to lower environmental standards to achieve economic growth; the rest believed that both growth and protection were possible.11 The findings of a 1978 survey, displayed in Table 5.2, demonstrate the public's commitment to protection, including occupational safety and health regulation, despite the costs.
Perhaps most important, public opinion polls suggest that the support for protective regulation was broadly based and provided the labor movement with an issue that could widen its appeal. The majorities in favor of product safety, for example, encompassed the traditional working-class and minority constituencies of the New Deal coalition, as well as many in the middle class. The breadth of the potential coalition was enormous, ranging from poor blacks to white suburbanites.12 The overwhelming majorities in favor of air- and water-pollution control suggest the same conclusion. In all these cases, only the poorest, rural residents, and those with the least education balked at strict regulation. Even among them, the differences between their attitudes and those of the general population were not large. In short, the public was ready to see worker protection as part of the public interest rather than a narrow union demand. If the labor movement framed it in these terms, it could strengthen its claim to speak for the common good.
The act itself provided several natural bridges between labor and other social movements. By emphasizing health hazards, for example, it facilitated links between the unions and the environmental, black, and feminist movements. The noneconomic character of workplace reform appealed to environmentalists, who already saw the workplace as a microcosm of the larger environment, one that threatened workers inside plants and residents in surrounding communities. Many were eager to forge links between their organizations and the union movement to force the implementation of the whole range of new health, safety, and environmental statutes.
Occupational health is a particularly important issue to blacks and women. Both groups are employed in large numbers in high-hazard industries, but both find it difficult to improve their situation. Blacks have particularly high morbidity rates from hypertension and other stress-related disorders. Black steelworkers, for example, suffer disproportionately from hypertension and arteriosclerotic heart diseases compared to the general population or coworkers. Compared to white coworkers, blacks in laundry and dry cleaning firms have twice the death rate from circulatory diseases. Often, discriminatory employment practices contribute to these conditions by forcing black workers into the least desirable jobs. But industry and the labor movement have ignored the problem. Indeed, the special health hazards of black workers have been all but invisible.13
Stress is also a major occupational hazard for employed women. Overall, women's safety record is better than that of men, probably because relatively few are in hazardous blue-collar manufacturing jobs. But women's dual role as paid worker and unpaid homemaker increases the psychological and physiological costs of labor-force participation. "Pink-collar" clerical jobs are characterized by factors most clearly associated with stress, including machine-paced work, low compensation, excessive hours, boredom, and discrepancies between education and occupational status. The double burden of wage work and homework, especially for the growing number of single women parents, compounds these problems. But, again, women's health hazards have traditionally received little attention.14
Worker rights to participate in OSHA enforcement and to know about hazards provided a natural bridge to the public-interest movement as well. They appealed to Ralph Nader during the legislative struggle and remained important issues after the passage of the act. Although often indifferent and even hostile to union wage demands, middle-class reformers were comfortable with the participatory spirit behind demands for information about working conditions and agency actions. As an administrative agency, OSHA was also an obvious target for public-interest groups that sought to play the role of watchdog and hold the regulatory bureaucracy accountable.
Thus the OSH Act, and business opposition to it, posed a dual challenge to organized labor. First, the implementation of the act would require unions to force Congress and the White House to implement a law opposed by employers. If the unions were to accomplish this, they would have to forge the broadest possible coalition of liberal and progressive groups and convince the public and public officials that occupational safety and health was a general societal issue rather than a demand, by labor, for "special" organizational or economic advantages.15 Second, to expand the act's rights, the labor movement would have to demand further reforms from employers and government. Managers would have to accept health and safety committees with rights to inspect plants, shut down machinery in imminent-danger situations, veto changes in work organization, and inspect new equipment before its introduction. The state, in turn, would have to mandate many of these provisions, force employers to increase their financial commitments to in-plant health services such as occupational clinics, and undertake a more extensive research effort into the causes and consequences of occupational diseases.
These two challenges were related because they depended on the same strategic shift. To secure the implementation of the act and further reforms, the labor movement would have to mobilize a coalition of unions, environmentalists, public-interest groups, civil rights groups, and feminists to pressure Congress and the White House. But political mobilization meant that workplace safety and health had to be cast in the broadest possible terms. In short, to make occupational safety and health reform effective, organized labor had to fold it into a broad conception of participatory democracy and social reform.
Signs of Change
There were some significant signs of change. Survey research indicates, for example, that rank-and-file workers became more aware of occupational hazards after 1970 and sensitive to health hazards in particular. While official injury rates declined after 1969, the number of "work-related injuries" reported by workers on the University of Michigan Quality of Employment Surveys (QES) increased between 1969 and 1972. Workers also began to focus on occupational diseases: the ratio of health to "traumatic" or safety injuries in the total number of worker-reported injuries increased substantially between 1969 and 1977.16
In fact, rank-and-file workers began to consider workplace safety and health a priority. Data are not available to assess changes over time on worker tradeoffs between safety and wages, or on attitudes about worker input into decisions over working conditions, but a third of the production workers surveyed in the 1977 QES indicated that they were willing to forgo a 10% increase in pay for "a little more" workplace safety and health. Most striking, over three-quarters believed that they should have "a lot" or "complete" control over safety and health. This was more than twice the percentage of workers who thought they should have this kind of power over any other issue, including how work was done, wage levels, hiring and firing, and hours and days of work. Significantly, rank-and-file interest in health and safety was uniformly strong among production workers.17
Union Activities
Several unions also made occupational safety and health an issue in collective bargaining and in politics. Union contracts in the auto, steel, rubber, and chemical industries reflected a new awareness; contracts signed during or in the immediate aftermath of the struggle over the OSH Act were especially innovative. The United Rubber Workers' 1970 contract with the major rubber companies established a five-year, company-financed, labor-management-run, university-administered research program in occupational health hazards in the industry. The UAW signed the first union contract with a national safety and health clause, and it closely followed the terms of the OSH Act. The contract specified worker rights to information about working conditions, including local union rights to receive industrial hygiene data and to take air samples; worker rights to receive reports on accident investigations; and worker rights to be given access to information on chemicals used in the plants. The contract also obliged employers to train union safety representatives at company expense. In 1971 the USWA negotiated company-paid joint committees and union inspection rights, expedited procedures for handling grievances of imminent-danger situations, and management recognition of its responsibility to respect the worker rights provisions of the act. Local 1557 of the Steelworkers won a detailed agreement designed to reduce worker exposure to coke-oven emissions at the Clairton Works in Pennsylvania, the largest coke-oven plant in the United States.18
In 1973 OCAW became the first union on record to bargain to an impasse over occupational health and safety. The union had attempted to win major concessions from the petroleum industry in 1970-1971, but had failed. In the next round of talks, OCAW refused to back down and ultimately forced the companies to agree to periodic company-financed surveys for work hazards by independent industrial health consultants selected with the approval of the union. Unlike the Rubber Workers, OCAW failed to win a company-financed health research fund. In other respects, however, the agreement was stronger than the URW contract because it specified a procedure for remedying hazards reported by the survey. A joint labor-management health and safety committee was established to decide on the implementation of corrective measures. If labor and management failed to agree on a plan, the union could take the issue to grievance or third-party arbitration.19
Many unions established or increased in-house health and safety activities. Before the passage of the OSH Act, only a few had active health and safety departments. By the early 1980s, 50 unions had ongoing efforts. The UAW, URW, Amalgamated Clothing and Textile Workers, International Union of Electrical Workers, United Electrical Workers, and International Chemical Workers joined OCAW, UAW, and USWA in creating local safety and health representatives. The UAW, OCAW, the Machinists, and the UMW developed training programs for local leaders. The UAW established an elaborate health and safety committee network, linking local efforts to the international's social security and health and safety departments. The Mineworkers established mandatory health education classes for approximately 3000 local committee members. The USWA and OCAW set up programs to monitor workplace hazards and published and distributed health and safety materials to their members.20
Some unions increased their staff and financial commitments to worker health and safety. The HRG conducted surveys of the health and safety activities of more than a dozen unions in high-health-hazard industries in 1976 and 1983 (see Table 5.3). During those eight years, the professional health and safety staff of these unions doubled; the ratio of full-to part-time staff increased by 28%. Health and safety budgets also grew. In 1976, 6 of the 15 unions surveyed spent less than $50,000 a year on health and safety; the minimum union expenditure rose to over $100,000 per year by 1983.21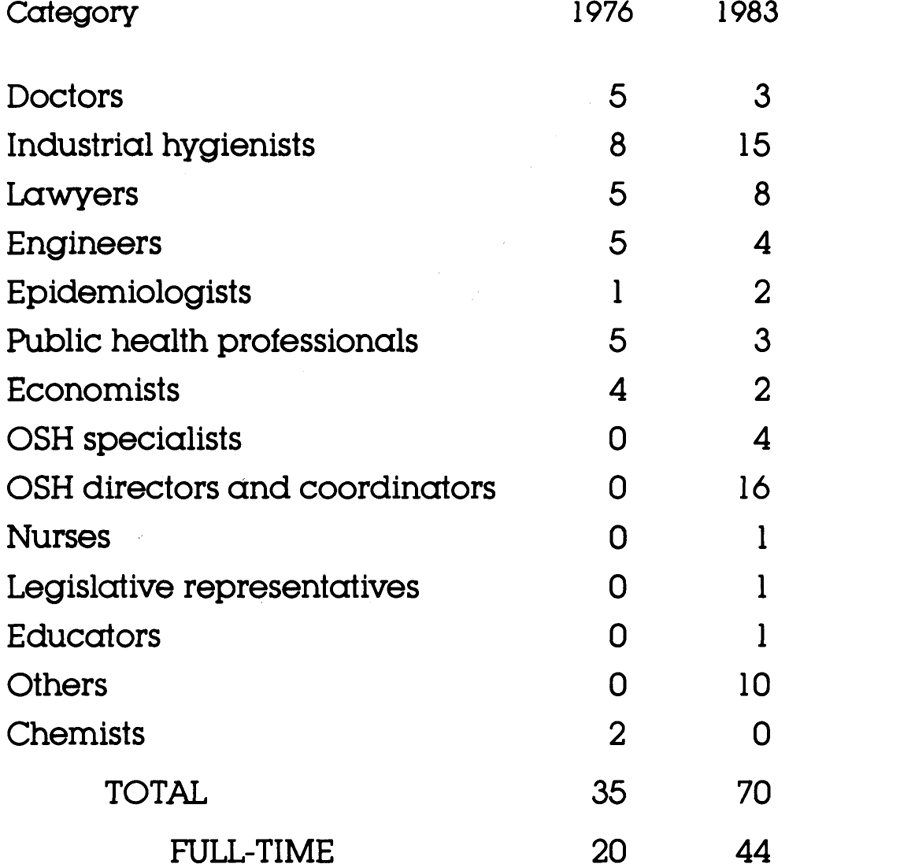 a Staff is restricted to professional technical, and supervisory staff. In 1983 the 14 unions reported a category of additional "union staff" that had no analogue in the original survey. Such staff is generally composed of union staff members who have received training in occupational safety and health issues but are not specialists in the area. They have been omitted from the table for the sake of cross-year comparison.
Sources: 1983 Survey of Fourteen Union Occupational Safety and Health Programs (Washington, D.C.: Public Citizen Health Research Group, 1984) for 1983 figures; Survey of Occupational Health Efforts of Fifteen Major Labor Unions (Washington, D.C.: Public Citizen Health Research Group, 1976) for the 1976 data. Note that the sample changed slightly from 1976 to 1983. Only 14 of the original 15 unions responded.
The Labor-Environment Coalition
The unions' political efforts also showed signs of change. Most important, the links forged by labor activists with middle-class health and safety reformers in the 1960s remained and, in some cases, deepened. A coalition of environmentalists, public-interest groups, and labor representatives formed to lobby in defense of the social regulatory agencies, including OSHA EPA and CPSC. Eighteen national environmental, labor, and urban-action groups, including the Sierra Club, the UAW, the National Welfare Rights Organization, and the USWA formed the Urban Environment Conference (UEC).
Reflecting an increased awareness of the need to overcome potentially divisive issues, unionists and environmentalists cosponsored a number of committees and organizations to promote the idea that environmentalism and jobs were not mutually exclusive. These efforts were critical to both movements. The postwar accord rested on a consensus on the necessity for economic growth. If industry or conservative trade unionists could convince workers that their jobs were threatened by health and safety regulations, efforts to forge new alliances, or even to implement existing protective legislation, were likely to fail. President Abel of USWA clearly recognized the problem and urged his colleagues in organized labor in 1971 not to succumb to "environmental blackmail." In keeping with this strategy, the Steelworkers supported several air-pollution regulations opposed by the steel industry.22
Most environmental groups and some unionists agreed, and the links between organized labor and the environmental movement were strengthened. Several new groups and coalitions were formed, including Environmentalists for Full Employment (EFFE), the National Committee for Full Employment (NCFE), and the Labor Committee for Safe Energy and Full Employment, organized by EFFE and several union staffers. The EFFE was founded by community and environmental activists "to publicize the fact that it is possible simultaneously to create jobs, conserve energy and natural resources and protect the environment." Cosponsoring groups called for a "general re-evaluation of our human and natural resource policies" and an end to the "exploitation that environmentalists and labor unions have, heretofore, fought independently." In 1976, with the UAW, UEC, and National People's Action, EFFE held a conference on "Working for Environmental and Economic Justice and Jobs" at the UAW's Black Lake Conference Center. Attended by members from OCAW, the Sierra Club, the Natural Resources Defense Council (NRDC), and the Environmental Defense Fund, it was designed to develop the unionenvironmental network and educate activists in both movements about issues of common concern. Organized at the end of the decade, the Labor Committee for Safe Energy and Full Employment held conferences and published newsletters with the support of approximately a dozen unions, including the UAW, Machinists, and Mineworkers. Twenty trade unionists, including William Winpisinger, president of the Machinists, signed a letter against nuclear "blackmail" in 1979. In 1981, OSHA/Environmental Network was formed by national labor and environmental groups to monitor Reagan administration efforts to deregulate health and safety.23
More focused efforts also were tried. The Nader-sponsored Health Research Group (HRG) worked with unions to petition and sue OSHA to set and enforce standards. Led by Dr. Sidney Wolfe, the HRG was particularly active in efforts to force the agency to issue standards covering sanitary conditions for farmworkers, exposure to pesticides in the fields, cotton dust, and worker rights to information about hazards. The Women's Occupational Health Resource Center was established by Jeanne Stellman at Columbia University's School of Public Health. The Coalition for Reproductive Rights of Workers was formed to deal with workplace hazards that threatened fertility. The White Lung Association was formed to lobby and publish materials on asbestos.
Grass-Roots Struggles
There were also significant signs of radical change at the grass roots. Committees, Councils, Coalitions (and, in a few cases, Projects) on Occupational Safety and Health (uniformly referred to as COSHs) formed in the early 1970s to educate workers about health hazards and forge links among the rank and file, health professionals, and labor activists interested in issues of workplace democracy and worker participation. Begun by Chicago-area medical doctors in 1972, the COSH movement spread throughout the industrial areas of the Midwest and northeast. In 1980, at the height of the movement, there were approximately 20 COSHs, with especially active groups in Philadelphia (PHILAPOSH) and New York (NYCOSH). Most included union locals, individual workers, and health and labor activists.24
The COSHs were organized locally and remained independent organizations, coordinated informally by a network of health and safety activists. As a rule, they emphasized worker education and political action, although the specific mix of activities, as well as the emphasis given to national and local issues, varied by group. To educate workers, COSHs organized conferences, published fact sheets, and held seminars on the hazards faced by local unions. They also lobbied state and local governments for improved occupational health statutes, enforcement of existing laws, and reform of the workers' compensation system. Some COSHs focused on OSHA serving as the agency's grass-roots watchdog. In 1980 the movement coordinated its efforts to help defeat S. 2153, a sweeping congressional amendment to the OSH Act that would have exempted approximately 90% of workplaces from OSHA inspections.
Many COSH members were New Leftists, and they brought a more radical vision to the problem of working conditions than most union officials did. The COSHs argued for worker control over working conditions and encouraged rank-and-file organization and participation as they lobbied for legislative reforms and educated union locals about health hazards. After 1977, under Dr. Eula Bingham's leadership, OSHA provided financial support to the COSH movement through the New Directions Grant Program. This program was designed to fund private efforts by business, labor, and nonprofit organizations to "increase employer and employee awareness of occupational safety and health." The program was small; its yearly budgets were in the $3 million to $4 million range and spread over a large number of organizations. But nearly half of the COSHs received funding, including groups in Chicago, Philadelphia, Maryland, Massachusetts, North Carolina, New Jersey, Rhode Island, and New York.25
Significantly, grass-roots efforts and innovative forms of direct action by rank-and-file workers, local unionists, and community activists often produced results that OSHA could not. The Philadelphia COSH, PHILAPOSH, compiled a list of examples taken from the Pennsylvania area that is worth considering at some length.26
▪ United Electrical Workers Local 141 conducted a mass-education campaign among workers at Cooper Industries' Penn Pump plant in Easton, Pennsylvania, that led the company to change the solvent used in production and improve the spray booths where workers applied it.
▪ The chief steward of Local 111 of the International Union of Electricians took worker complaints about exposure to PCB to a local television station. In response, the company industrial hygienist ordered new handling procedures and started medical exams for employees already exposed to the substance.
▪ AFSCME Local 2187 in the Philadelphia City Health Clinic forced the city to remove asbestos from ceilings after local union officers threatened to leaflet patients in the clinic about the danger.
▪ Pennsylvania Service Employees Local 668 of state welfare workers used mass picketing to force management to reduce workloads after employees complained of chronic stress.
▪ UAW Local 1612 at the Gould assembly plant in Philadelphia held a "nurse-out" to force the company to stop using a new fiberglass-coated wire suspected of causing itching and skin rashes. With 50 to 60 workers per day leaving their posts to be examined by the nurse, the company replaced the wire.
▪ An OCAW local in a Tenneco plant in New Jersey used a "lunchout" (they refused to eat in the company lunchroom and ate on the lawn instead) to protest the company's failure to correct illegal levels of lead, cadmium, and carbon black found by OSHA After local media and community residents became involved, the company made a variety of concessions, including new contract language on informational rights, health and safety training, and a new grievance procedure in which the burden of proof was shifted to the company to prove that an alleged hazard was safe.
▪ A United Electrical Workers local at Dynamic Products in Middletown, Pennsylvania, protested cold conditions in the plant by working only in warm areas. When the company refused to pay the workers, they successfully claimed unemployment insurance. Management installed new heaters.
▪ An International Chemical Workers Union local in Boyertown, Pennsylvania adopted a policy of making all complaints about working conditions in writing. In 1980 they filed 697 complaints with the company and threatened to take each through the grievance procedure or to OSHA
▪ UAW Local 1612 filed 35 grievances based on existing OSHA standards and overwhelmed an unprepared management, which then negotiated with the union.
▪ United Electrical Workers Local 168 tested for and found dangerously high vapor levels and forced the Rois Manufacturing Company to install a fan and hood.
▪ Seven hundred employees in a Communications Workers local in Camden County, New Jersey, protested the lack of ventilation in the summer by walking out and urging reporters to take temperature readings. The company fixed the ventilation system and paid the workers for the time they were off.
▪ USWA Local 4588 at Budd's trailer plant in Eagle, Pennsylvania, negotiated the right of the safety committee to "red tag" machines that cause imminent dangers or to call in an international union representative to do the same.
Similar examples can be cited from other states and unions. But in almost all cases the pattern is the same: workers at the local level were able to use sympathetic media and health and safety activists to force firms to comply with OSHA rules or make changes not covered by OSHA regulations.27
The Reproduction of Economism
For the most part, however, the possibility of radical action on this issue went unrealized. Despite the impact of grass-roots efforts and the good intentions of some union leaders, the labor movement did not take full advantage of the opportunities afforded it by health and safety reform. Instead, it retained its economistic strategy and focused its money and time on defending the organizational interests of the unions and the economic interests of the rank and file. Control over work and the labor process was ceded to employers.
As a result, many of the more promising changes that initially occurred in union lobbying and collective bargaining were not sustained, and links to other movements remained superficial. Most unions continued, or returned to, traditional bargaining and political strategies. They defended OSHA but their defense was unimaginative, uninspired, poorly funded, and often ineffectual.
To some extent, the decision to pursue conventional strategies was a nondecision; unions continued to do what they had done for so long. But several of the more health-and safety-conscious unions grappled with the strategic issues raised by regulation and the business attack on it, and a few recognized at least some of the stakes involved. From the beginning, USWA leaders anticipated that social regulation's opponents would attempt to drive a wedge between environmentalists and labor. They also understood the importance of involving members in the defense of health and safety. The USWA's in-house analysis of the success of the anti-OSHA forces concluded that "the lack of grass roots political support . . . indicates an area in which our own approach must change. The workplace environment must become a politically emotional issue among our members" (emphasis in original).28 The UAW recommended a four-point response to attacks on OSHA including strengthening the local union programs, involving members in in-plant programs, and developing "grassroots coalitions with environmental and consumer groups, activist medical and public health students and faculty, concerned professionals and other labor unions at the local level."29
Even though these recommendations were modest, most unions found them to be more than they could or wished to follow. This is evident on a variety of fronts. Collective bargaining provisions covering health and safety, for example, remained relatively constant before and after the OSH Act. The 1975 study for the Bureau of Labor Statistics cited earlier indicates that, at best, modest overall gains were made in specific rights to safety and health after 1970. Equally important, many unions had failed to learn the lessons of the OSH Act. Few of the existing provisions unambiguously granted worker rights, clearly detailed company responsibilities, or empowered joint labormanagement health and safety committees to establish and implement safety rules and work practices independent of approval by plant supervisors and higher authorities. Employee rights to physical examinations actually declined slightly (see Table 5.4).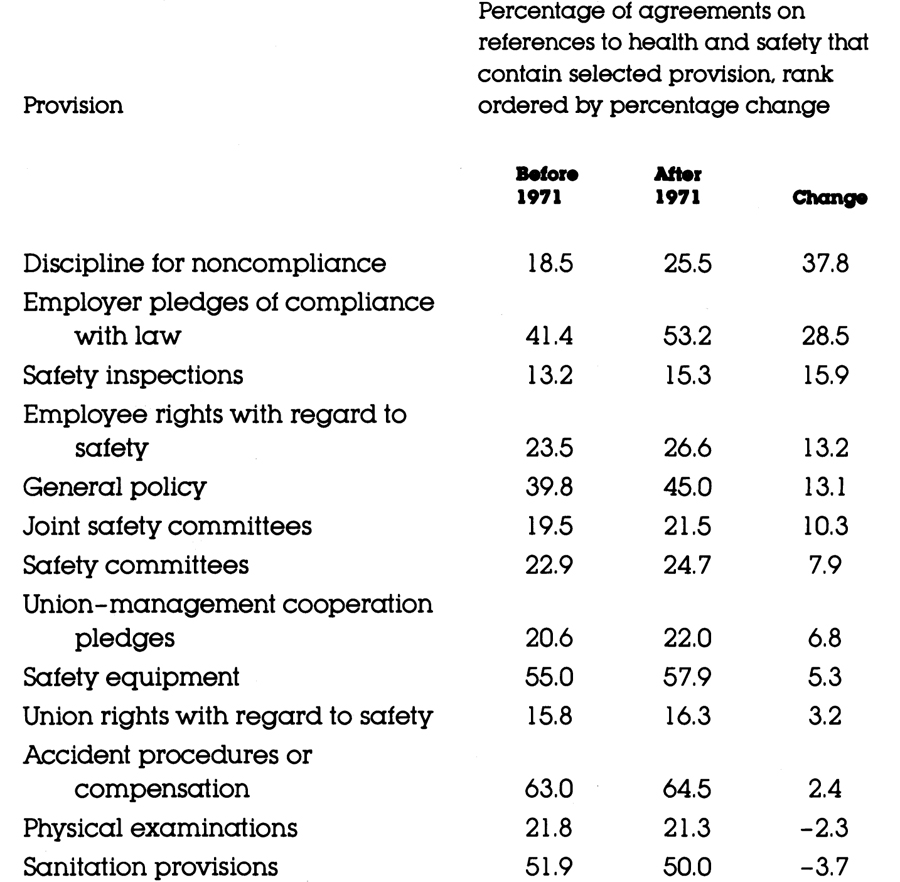 Source: Adapted from Winston Tillery, "Safety and Health Provisions Before and After OSHA," Monthly Labor Review 98, no. 9 (1975), table 2, p. 42.
Union staff and budgetary increases were also less significant than they appear at first sight. Base-year totals were small and exaggerate the rate of increase. Most of the new staff was concentrated in four unions: the mineworkers, OCAW, and the painters' and paperworkers' unions. Only five unions reported more than one staff person per 50,000 workers; only six reported spending more than a dollar per worker per year on health and safety. As the HRG concluded, these unions "still employ a largely inadequate number of health and safety personnel," and few showed "significant staff improvements over the past seven years."30
Most telling, the unions continued to use their political resources to lobby as they had done throughout the postwar period—as interest groups and clients of the state rather than as advocates of radical changes in the organization of production or the relationship between the state and economy. The labor movement did not question the liberal approach to work that it, and the act, had taken. To the AFL-CIO and the individual unions that pressured the agency and Congress, the issue was one of implementation. They demanded full enforcement of the act and individual standards for particular groups of workers. Specific issues varied over time: in the early 1970s the unions vehemently protested the Nixon administration's effort to allow the states to take back enforcement of the act without adequate supervision; in the mid 1970s they concentrated their efforts on blocking amendments to the OSH Act that would have exempted small business from enforcement; in the late 1970s they lobbied for higher penalties, stricter standards, and funding for union education programs. As a rule, however, the labor movement restated a traditional theme: the agency's failures resulted from limited resources, poorly designed programs, and bad faith on the part of political leaders.31
In most cases involving standards, the unions engaged in what can be called "hazard-driven" lobbying: individual unions or ad hoc coalitions of unions demanded and defended policies that protected their workers. The Textile Workers lobbied for the cotton-dust standard; the Rubber Workers lobbied on benzene and acrylonitrile; the Steelworkers lobbied on lead, coke-oven emissions, and chromium; the UAW lobbied on noise. Multiunion coalitions formed only when hazards affected a cross-section of workers, as was true with the noise standard when the UAW, I AM, and USWA worked together to lobby the agency.
Although strategically placed to do so, the AFL-CIO failed to exercise significant leadership in these efforts. To the contrary, reprising its efforts of the 1960s, it played a marginal role, content to take credit but reluctant to contribute. The federation mounted occasional "OSHA Watch" mobilizations, but these were perfunctory. Its health and safety staff remained small—one full-time industrial hygienist and one full-time director through 1983; one full-time director after 1983. It monitored rather than directed union activity and took its lead from more aggressive unions, principally USWA and UAW, and public-interest lobbies, notably HRG.
While broad multi-interest coalitions formed to defend the OSH Act and other health and safety statutes, these efforts did not result in the creation of permanent political organizations that institutionalized the health and safety movement or linked it to a wider political movement for reform of the economy. Environmentalists' efforts to forge a coalition with labor in the mid 1970s around jobs and environmentalism were frustrated by labor's economism. Pronuclear, the building and construction trades were particularly hostile to the environmental movement and its concern for safe and renewable energy sources. The AFL-CIO, dominated by these unions, followed suit and rejected the movement's criticism of organized labor's growth-at-any-price philosophy. As George Meany's aide reportedly told Black Lake conference organizers, "Where exactly the energy comes from for [these jobs] is not a big issue with trade unions."32 Efforts to link the issues of nuclear energy and nuclear arms, or even to focus attention on the hazards of radiation to workers, ran into the same kind of cold-warrior opposition that frustrated attempts to publicize the hazards of uranium mining in the 1960s.
Although the UAW and OCAW continued to support the EFFE after Black Lake, even the liberal unions failed to do all that they could to promote stronger ties. Apparently, the Old Left in the labor movement saw these issues as marginal or frivolous. The Progressive Alliance, a UAW project designed to provide the more liberal unions with an independent political voice, excluded all but one environmental group from its board of directors.33
Broad coalitions also formed in response to economic review during the Carter administration, but they were ad hoc and did not change the way that groups seeking protection approached the state. These groups typically included the OCAW, USWA Sierra Club, National Wildlife Federation, NRDC, EDF, Consumers Union, and National Consumers League. No permanent umbrella organization emerged to coordinate the efforts. Indeed, several of the largest unions moved in and out of these coalitions as the particular issue changed. Labor leaders contributed their names and organizational affiliations, but little more.
Having failed to link up with other movements, or to take its own radical rank-and-file movements seriously, organized labor was unable to offer a positive vision of worker health and safety that tied the gains made in the OSH Act to a new vision of how work might be organized or the economy restructured. As a result, although they defended social regulation, neither the federation nor individual unions were able to do what business had done—link their interests to a compelling societal interest. Instead, organized labor simply asserted that workers had rights to protection and that these rights were natural and incontrovertible. Or, in the words of the AFL-CIO's legislative director, health and safety was "as basic a right as any of our freedoms."34
Thus the labor movement was unable to respond imaginatively to the claim by business that resource constraints had to be taken into account when selecting hazards for control. The OSH Act's critics were able to portray demands for worker health and safety as another costly, "special" interest, paid for by other Americans. Public opinion was sympathetic to occupational safety and health regulation, but without a positive vision that linked self-determination at work to democratic control over the organization of production generally, unionists found themselves on the defensive, and ineffectual in the face of organized opposition to reform.
Ultimately, the unions' conservatism also helped undermine the COSH movement; despite their innovative approach to health and safety, the COSHs withered for lack of union support. True to their radical origins, most COSHs found it difficult to work easily with union leaders. For their part, many national unions feared the impact of the COSH movement on their organizations. Despite its strong commitment to OSHA, for example, the Steelworkers initially opposed the establishment of the Pittsburgh COSH because it feared its impact on employee-union relations. Many USWA locals eventually became actively involved in the Chicago-area COSH, but national unions remained suspicious of the movement. Some COSHs excluded unions. For example, NYCOSH did not admit union locals as members until the end of the 1970s, and its membership consisted of individual health professionals and union staff members.
Consequently, the COSHs developed alongside rather than within organized labor. By the mid 1970s, most COSHs recognized the costs of political isolation in an increasingly hostile political environment. In response, many forged closer working relationships with union leaders. But to gain national union support, the COSHs moderated their demands and narrowed their activities to conform to union approaches to work. Only a dozen or so COSHs survived intact into the 1980s, and these were pale reflections of the original radical vision. They continued to do important work, but the last bridge between conventional labor liberalism and the more radical vision of the original health and safety reformers had been seriously weakened.35
Why Organized Labor Failed to Take the Initiative
Several things help explain the unions' failure to alter their approach to work and the economy. The structural organization of the political economy remained in place and undoubtedly helped to shape worker demands. As I noted earlier, workers' economic dependence on private investors and employers leads them to moderate their demands. This tends to discourage movements for health and safety and encourage unions to focus their attention on traditional economic issues. Clearly these incentives remained in place. Worker attitudes did change, however, and there were signs of more radical grassroots activities. Three additional factors account for the unions' failure to marshall this discontent and use it to strengthen their position.
Perhaps most important, the labor movement entered a period of decline in the 1970s. Union membership fell precipitously from the late 1960s to the early 1980s—from 25% of the labor force in 1969 to 18% in 1982. The number of workers in unions actually began to decline absolutely in 1978; by 1982, there were fewer workers in unions than there had been in 1969. As membership declined, unions found it difficult to win at the bargaining table. Although powerful unions such as the UAW and USWA were able to hold their own throughout the 1970s, other unions found it harder and harder to negotiate significant wage increases or, more important, to expand the scope of bargaining rights. By the 1980s, most unions, including the UAW and USWA were making contract concessions on wages and work rules. The unions in manufacturing industries, such as the UAW, USWA, ACTWU, and URW—the unions most active on occupational safety and health issues—were particularly hard hit.36
The union decline was also reflected in the waning of rank-and-file militance, union strike activity, and union political power. Wildcat strikes, for example, went from a peak of 39.8% of all strikes in 1972 to 13.4% in 1980. The number of strikes called to win improvements in wages and benefits fell, while the proportion of "defensive" strikes—called to protect existing rights and benefits—rose.37 The unions' clout on Capitol Hill followed a similar trajectory. From the mid 1970s onward, the percentage of members of Congress supported by COPE or with voting records favorable to organized labor fell from nearly two-thirds in both the House and Senate to less than a majority by 1980.38 Nowhere is the unions' declining political power more evident than in their unsuccessful fight in 1977 and 1978 to pass a labor law reform bill—organized labor's top legislative priority—despite nominal support from the Democratic party and President Carter.
The causes of the union decline are complex, but five factors stand out. First, the cumulative effect of a decade of high unemployment undoubtedly weakened the labor movement. Second, competition from international sources and from nonunion domestic firms also undercut workers' bargaining position. Third, government policy reinforced these factors, particularly after 1981 as the Reagan administration embarked on a campaign to reduce social spending and discourage labor militance. Cuts in unemployment insurance payments, for example, increased the economic costs to workers of job loss, while the government's hard-line position in the airline controller (PATCO) strike and antiunion appointments to the NLRB raised the risks of job loss for striking workers. Fourth, many corporations and industries shifted from a policy of accommodation with labor to a campaign to roll back unionism. Just as employers efforts against OSHA became more class conscious and coordinated, antiunion efforts became more militant and effective.
Finally, the labor movement's political and economic strategies failed to confront the new situation. Instead of organizing nonunion workers or reaching out to new constituencies, most unions sought to defend their own organizational and economic interests and eschewed broad-based economic and political mobilization. In regard to occupational safety and health, this meant politics as usual, as I outlined above. The labor movement lobbied Congress and the White House to increase OSHA budgets and pressured OSHA officials to enforce the act. It policed the agency rather than mobilized workers.
The consequences of the union decline for occupational safety and health were immediate. As membership dropped and unions failed to win wage increases, their resource base declined. All union activities suffered, particularly those, such as health and safety, that were traditionally considered secondary issues. Many unions refocused their efforts on fighting battles that they thought had been won, including defending themselves against business attempts to win decertification elections. Union attention to health and safety in collective bargaining peaked between the passage of the OSH Act and 1975; subsequently, most unions devoted more attention to jobs and union security and less to the "quality of life" at work or in the environment. The AFL-CIO maintained its OSHA Watch and cooperated with environmentalists and public-interest groups in coalitional work, but little attention and even fewer resources were devoted to these efforts.
An Ideological Defeat
By the late 1970s, business had retaken the ideological offensive and organized labor had failed to resist the assault. Labor's conventional strategy proved less and less successful as economic conditions worsened and business pressures mounted. As a result, social rights had less resonance on Capitol Hill and in the White House. Business lobbyists were not able to win everything they wanted in the 1970s. As we see later, Carter was only partially sympathetic to their demands; the unions were able to keep OSHA alive and growing, albeit slowly, until the end of the decade. But among elites and opinion leaders, the climate had shifted against organized labor and workplace reform. In the next chapter we look at how this shift resonated through the White House and the courts.