Revivalists: The Militias of Christ
On a muggy summer day in August 1828 Kensington's hand loom weavers announced a holiday from their daily toil. News of the affair circulated throughout the district and by mid-afternoon the hard-living frame tenders and their comrades turned the neighborhood avenues of commerce into a playground. Knots of lounging workers joked and exchanged gossip, and sought relief from the suffocating heat with generous helpings of liquor and beer. The more athletic challenged one another to foot races and games, but, like their fellows, also quenched their thirst with frequent drams. The spree was a classic celebration of St. Monday.1
Spirits were more somber in the adjoining borough, the Northern Liberties. There workingmen's wives went door-to-door, bible in hand, preaching the gospel to the unregenerate. They were emissaries of the Reverend James Patterson of the district's First Presbyterian church and were carrying out their minister's charge to "go out into 'the streets and lanes of the city,' according to Christ's command, and 'compel' the impenitent to come" into his house of God. And come they did. Persuaded by Patterson's zealots, hundreds of men joined their wives and daughters at church, and sat in nervous expectation of the evangelist's fiery words. Few of them made it through one of Patterson's intimidating sermons without breaking down into tears or flailing their arms about in fits of uncontrolled emotion—and then opening their troubled hearts to Jesus.2
As these residents of Kensington and Northern Liberties worshipped their respective saints, still another gathering of wage earners took place in the lower end of the city, at Commissioners' Hall in Southwark. William Heighton, an English-born and Philadelphia-bred shoemaker, rose to the rostrum and delivered a prepared speech on "The Principles of Aristocratic Legislation." Neither the gathering nor the role was strange to the humble but articulate journeyman. Twice in 1827 Heighton had come before the same audience with a radical polemic and the outline of a plan to unite workingmen into a city central union around a program of social reconstruction. His listeners had heeded the clarion, and in 1827 joined forces in the Mechanics' Union of Trade Associations, the nation's first city-wide organization of journeymen. They now gave an attentive ear to their leader's analysis of the causes of inequality and the need for its antidote in the form of a unified and enlightened working class.3
These vignettes each resonate with one of the working-class cultures forged in the two decades preceding the panic of 1837. Such cultures can be formalized in the following way: the St. Monday celebration of the Kensington weavers may be called traditionalism; the evangelical meeting of the Northern Liberties men and women may be called revivalism; and the conclave of Southwark journeymen may be called (rationalist) radicalism.4 These cultures were the lens through which wage earners imagined one another and their social superiors both inside and outside the workplace. None of these was wholly new or completely old. Much like the industrial base of the city, each contained elements of the past and the present, and none can be easily understood without some grasp of its antecedents. Revivalism is a case in point.
Philadelphia revivalism took shape in the first quarter of the nineteenth century within the contexts of religious apathy in the larger society and rancor in the Protestant denominations. The apathy was a carryover of late eighteenth-century rationalistic humanism, and manifested itself in low church attendance and a falling rate of baptisms.5 Most Philadelphians remained shamelessly unchurched and some were openly hostile to mainstream religion. The dissension within denominations pitted factions of revivalist Arminians against orthodox Calvinists in bitter squabble deriving from the painful process of industrialism.
Orthodoxy was synonymous with the Presbyterian in Philadelphia. No Protestant denomination had a larger following in the Early National period and no clergy was as self-consciously conservative. Stodgy and aristocratic to begin with, older Presbyterian divines closed ranks around the Westminster Confession when they were confronted with mounting attacks from New England liberal Calvinists and local revisionists. They invoked the doctrine of human depravity and appealed to the arbitrary God of John Calvin in answer to those who bent their energies toward improving public morality, doing good works, and saving souls. Some, to be sure, were concerned about the moral climate, but all of them insisted that salvation was independent of personal conduct and human will. Theirs was an inscrutible God who conferred grace as He saw fit.
Orthodox Presbyterians thus spoke for the old order. Their casehardened Calvinism was thoroughly consonant with hierarchical social arrangements in which each man knew his place and opportunities for rapid advancement were limited. They gave their blessing to static social forms and offered no comfort to laymen who claimed superior social or religious status on the basis of worldly success or moral rectitude. In the elusive search for salvation, the merchant prince enjoyed no inherent advantage over the drawer of water, and here lay the central dilemma of orthodoxy.6
Religious reformers in rural and urban areas undergoing economic change discarded old-style Protestantism. Led by Charles Finney, they adjusted doctrine to the market economy and spread out across the nation in the 1820s. Finney's protégés won over throngs of converts in rural America before bringing their message to the city in the late 1820s. Philadelphia was fertile ground for their "new measurers."7
Finney's chief counterpart in the Quaker City was Albert Barnes. Born in small-town New Jersey in 1798, Barnes graduated from Princeton Seminary in 1824, and a year later was called to the pulpit in his native village of Morristown. As spiritual leader of the First Church, Barnes pushed the moderate liberalism he learned at Princeton to Arminian extremes. Rejecting limited atonement, the cornerstone of orthodoxy, he affirmed that salvation was more a matter of human will than divine whim. "I stand as a messenger of God," the flamboyant rebel told his communicants in 1829, "with the assurance, that all that will may be saved; that the atonement was full and free; and that if any will perish, it will be because they chose to die, and not because they are straitened by God."8
An outspoken Arminian, a spellbinding revivalist, and a tireless temperance advocate who singlehandedly closed down the local liquor business, Barnes quickly gained regional eminence. His reputation stretched to Philadelphia, where the members of the prestigious First Church called him to their pulpit. Never one to avoid a challenge, Barnes accepted the invitation and promptly set off a storm of controversy in the capital of orthodoxy. The Old Guard wasted no time in registering their feelings, and twice charged him with heresy. Yet through all the turmoil of the trials, Barnes commanded the unyielding loyalty of his wealthy parishoners; they saw him not as a heretic but as a prophet of the new order.9
Barnes' sermons and lectures can be read as celebrations of industrialism and acquisitive man. Lecturing on the "Choice of a Profession," he characteristically summoned the metaphors of economic advancement. He exhorted his listeners to employ their talents wisely lest they "wear out the system like a machine without a balance wheel or governor," and likened the professional's contribution to society to "the movement of each part of a well structured machine."10 Those who achieved success, Barnes assured, need not suffer the guilt and psychic anguish that tormented the orthodox, for as with religion, so with individual achievement. Men were responsible for their own destiny before both God and society, and success in one's calling was a sign of regeneration rather than disgrace. Or, as Barnes maintained, "By their fruits they shall be known."11
Like most antebellum Arminians, however, Barnes stopped short of condoning wordly success per se. He shared the current suspicion of inherited fortunes and the accumulation of "sudden wealth" and counseled "stability of purpose and settled intention," and "honest and sober industry."12 In keeping with these strictures and with his labors in New Jersey, he held communicants to total abstinence from drink, and became a leading crusader against liquor in Philadelphia. His temperance pronouncements bore the same homiletic imprint as his sermons, and pressed the same themes. Singing the praises of temperance in a July Fourth speech in 1835, Barnes linked total abstinence with success, drink with failure and ruin, warning that the consumption of spirits "produces idleness and loss of property." To underscore the point, he draped the temperance cause in the mantle of patriotism and left his listeners with this thought: "Our freedom rests on securing the avails of honest industry. The man who will not work, I repeat, is the enemy of this country."13
The growing popularity of Arminianism and moral reformism, or what Paul Faler aptly terms "industrial morality," on the one hand, and the hardening of orthodoxy, on the other, opened an unbridgable gap within Presbyterianism.14 Furious debates between New and Old Schoolers reduced the sedate General Assembly to the chaos of a Democratic party convention. The climax came in 1837 when, after years of raging battle, the factions split into separate churches.15
The Presbyterians were not the only Protestant sect to become embroiled over moral issues. Methodists went through a similar, if less publicized, debate in this period. Early church records belie the image of the ascetic Methodist damning sin and evil, and reveal that the behavior of the typical Revolutionary Methodist would have scandalized his offspring. Circuit riders supplemented paltry incomes by peddling spirits; merchants kept kegs of liquor on hand for the enjoyment of leisurely shoppers; and congregations paid a portion of tradesmen's wages in liquor, as did the communicants of Southwark's Ebenezer Church.16 An entry in the church record during the 1790s thus reads: "Cash—rum and sugar for work men at the fence."17 Such practices explain why the General Conference repealed Joseph Wesley's ban on the buying and selling of ardent spirits in 1791.18
Some early nineteenth-century church officials took offense at these violations of the Wesleyan spirit. Inspired by reigning American Bishop Francis Asbury, they campaigned for tighter motality on the local and national level. They were repeatedly thwarted, however, and usually resorted to weak pronouncements and anemic amendments to the discipline. Philadelphia Methodists who chafed at church-sponsored "fancy" fairs and pressed for their prohibition had to settle for a mild 1834 resolution describing such events as "improper" and "inexpedient."19 Two years later the Philadelphia Conference passed an equally moderate motion vowing "more energetic administration of the Discipline, particularly in excluding . . . immoral persons."20 And restoring Wesley's restriction on drink caused no end of frustration. Local congregations made some progress under the leadership of forceful ministers who preached temperance, but their numbers did not amount to much in regional and national conferences. As late as 1828 the General Conference went no further than advising members to discontinue the manufacture and sale of drink, and urging employers to cease giving grog to their employees.21 Not until 1848 did Methodism succeed in reestablishing the founder's prohibition on drinking.22
As in the Presbyterian church, this adoption of a strict code of conduct was part of a larger process in which evangelicals conformed to the exigencies of economic change. Methodist ministers who condemned popular amusements and advocated total abstinence, sexual continence, and other injunctions of the new morality also welcomed the advent of the industrial age. The Reverend J. Kennady is typical. A dynamic lecturer and rabid revivalist, Kennady at once interpreted the transportation revolution and "steam power" as evidence of "man's elevation" and urged an audience of Sunday School teachers to do their part for industrialism by impressing children with the value of celerity and promptitude. "Be punctual and prompt in your attendance and doings," he enjoined them.23 One of his colleagues put the issue even more directly by exhorting teachers to instill "habits of industry" and "love of employment" in their young pupils.24
It is difficult to measure accurately the strength of new Protestantism prior to the panic of 1837. Figures on church membership are often unreliable and can be misleading because they do not separate communicants and constituents (those who attended church but were not formal members). More difficult, perhaps, is distinguishing evangelical-Arminian congregations from orthodox and traditional churches. Membership figures, therefore, should be used with caution and regarded as no more than a rough gauge of general trends. The figures show a steady but modest growth in Presbyterian and Methodist strength between the War of 1812 and the Great Panic. These churches added 240 and 265 members annually which gave them an aggregate following of about 14,000 (6,000 Presbyterians and 7,340 Methodists) in this period.25 Even if the minions of smaller sects are included, it is hard to escape the conclusion that in spite of the accretion, organized religion had a small following. And if we can generalize from the schism in the Presbyterian church, it appears that only about half the members were new Protestants.
Formal church membership, however, is rarely a reliable index of the popularity of religion and religious values. This is especially true in an age of reformist zeal that saw Arminian divines exercise influence beyond their pews and pulpits by means of a crusade designed to foist the new morality on the unchurched. New School Presbyterians were in the forefront of this effort.26 Their theological guide was Samuel Hopkins (1721–1803), the influential New Englander who had argued that true Christian endeavor and Christian love required the exercise of "disinterested benevolence."27 Early application of this principle led to the famous Plan of Union (1801) and to Presbyterian-Congregationalist cosponsorship of the bible and tract societies, Sunday school unions, missions, temperance groups, and other components of the "benevolent empire" that stretched from city to frontier by the 1820s.28
This crusade was a major point of contention between Old and New School Presbyterians. It had the moral and financial backing of New School laymen, as well as the clergy, and, as Robert Doherty has shown, this is easily understood. Doherty's study of Old and New School congregations in the downtown area discloses that each faction appealed to different social strata. Old Schoolers tended to have the support of artisans and unskilled workers. New Schoolers, conversely, were likely to be merchants and large manufacturers, to own more real and personal property, and to invest heavily in industry and transportation. Rising entrepreneurs like locomotive builder Matthias Baldwin were a natural constituency for New School Presbyterianism, whose Arminian theology justified their own worldly strivings and whose Arminian morality, as expressed through the benevolent empire, promised to create a sober and tractable working class.29
New School ministers and their lay advocates lashed out at all manner of sin and urban measures that, in their view, abetted idleness and profligacy. One of their favorite targets was social welfare. They attacked outdoor relief as a subsidy to dependence, and condemned gathering the needy into the poorhouse because it reduced the "sense of shame, by creating a community of paupers, protected from the gaze of all who are not in their class."30 They fought for free public schools, not because poor children needed instruction, but because schools reached a portion of the community—"the ignorant, the degraded, the grossly sensual, the idle, the worthless—the refuse of society"—who could not be reached through revivals. Their classrooms were the agents of social control providing "self-denying instruction" for the children of the needy.31
Of all the causes advocated by moral reformers none consumed more energy than the battle against demon rum. The temperance movement in the Quaker City surfaced in 1827 when the communicants of the Second Presbyterian church joined forces with like-minded clergy and laymen in the Pennsylvania Society for Discouraging the Use of Ardent Spirits. An ecumenical group, the Pennsylvania Society included Quakers, some Old School Presbyterians, and even Universalists, but was dominated by New School Presbyterians and the wealthy, regardless of religious preference. Its roster included Matthew Newkirk, wealthy merchant and inspirational force behind the Pennsylvania Railroad; Alexander Henry, retired merchant turned industrial investor; and locomotive builder Matthias Baldwin. The Pennsylvania Society affiliated with the American Temperance Society, but quickly took an advanced position within the national organization, rejecting temperance for total abstinence from all intoxicants. (So did the Pennsylvania Temperance Society which succeeded it in 1834.) Like most branches of the American Society, the Pennsylvania held lectures and distributed tracts that blended homilies with the latest "scientific" data on the harms of drink. It also gave rise to local groups variously known as the Union Temperance Society, the Young Men's Temperance Society, and similar organizations.32
How successful were these agencies of social control? There is no simple measure of this, but there is reason to doubt that moral reformers had much impact on worker behavior and morality in this period. Reformers compiled a mixed record in seeking to mold municipal institutions to their interests. They condemned the laxity of the police and the rowdyism of the firemen, but never did achieve their goals of replacing these volunteers with paid professionals. Both services remained in the hands of workers, the very people the reformers wished to control. Even when the forces of order and morality had their way, the results were not always gratifying. Barnes and his supporters, for example, were largely responsible for establishing the public school system in 1834, and for designing the curriculum, but it is doubtful that classrooms exerted much influence on working-class children in the thirties, both because the system was so new and because parents did not immediately take advantage of it. Parents seemed to be more interested in teaching their children a trade than in educating them, which helps account for the low and erratic attendance in early classrooms.33
The temperance crusade evoked a similar reaction. The movement was suspect among wage earners because it promoted total abstinence and was closely identified with the Presbyterian clergy. Presbyterian domination of the antiliquor movement prompted the enmity of freethinking and unchurched workingmen, who dismissed it as a vehicle of "creeping priestcraft."34 They were also offended by the Presbyterians' upper-class pretentiousness. Even Thomas Hunt, a Presbyterian minister himself, thought as much, and accused his colleagues of being "too conservative" and of casting "a look of suspicion upon all workingmen."35 The most sympathetic wage earners, as Hunt understood, supported temperance in the thirties, but looked upon advocates of total abstinence as "fanatics." For example, Benjamin Sewell, a journeymen tanner and local labor leader, in recalling his days as a wage earner, said that his comrades had "no objection" to moderate drinking. "My company all drank a little," he observed, "'but nothing to hurt' we used to say."36 Men like Sewell were so accustomed to drink that they could not break the habit, even if so inclined, simply by signing a temperance or total abstinence pledge (which the Pennsylvania Society naively considered "essential to the support and prosperity" of the cause).37 They needed the encouragement of their peers, but most workers were unprepared to lend such support. Sewell thus remembered the tragedy of a young friend who signed a total abstinence pledge against the advice of comrades who recommended that he simply "cut down." Branded as a teetotaler and chided by shopmates, he relapsed into heavy drinking and lost his job. He then left for West Philadelphia in order to "hunt work and reform," but was told by an employer acquainted with his drinking problem, "we have no work for you." Distraught and demoralized, he wandered aimlessly for a few days and then hanged himself.38
Such factors dampened the popularity of the early temperance movement and restricted memberships in mainstream societies to respectable Philadelphians. The Pennsylvania Society, for example, counted only 4,500 temperance advocates in the county by the middle of the thirties, despite years of energetic campaigning, and most of these partisans were probably middle class.39 Even temperance groups that advertised themselves as workingmen's societies had heavy middle-class memberships. One such group, the Mechanics' and Workingmen's Temperance Society, was not working-class at all. Its list of leaders was crowded with the names of prominent merchants, large manufacturers, and master craftsmen, and included the wealthy entrepreneurs Baldwin and (shipbuilder) John Vaughan. The social composition of the Society, in fact, closely resembled that of the New School Presbyterian church.40
This is not to suggest journeymen were immune to evangelical Protestantism or the new morality. To the contrary, there is compelling evidence of a small and growing group of working-class evangelicals in the late 1820s and 1830s,41 but to attribute their conversion to the persuasion and manipulation of upper-class Philadelphians and their clergy is to inflate the power and influence exercised by the elite. Some wage earners joined the evangelical fold because the new morality filled their needs and because humble New School Presbyterian and Methodist clergymen related to them more effectively than did the prominent divines.
These obscure ministers had much in common. With the notable exception of James Patterson (1779–1837), they were born around the end of the eighteenth century and most attended, but were not graduated from, Princeton Seminary.42 They abandoned bucolic but dull Princeton for the challenge of saving souls in the city, finding Presbyterian Philadelphia, however, no more hospitable than did Barnes. The "Doctors" or "Reverend Fathers," as they referred to their superiors in the Presbytery, conveyed an intimidating air of "coldness and formality," and, on top of this, often withheld preaching licenses from novitiates suspected of Arminian inclinations.43 Most of them, in fact, were drawn to Philadelphia and subsidized by lay groups and not the Presbytery.44 As urban missionaries stationed at store-front churches and leading fledgling congregations in the working-class suburbs, they considered themselves to be a group apart from the clerical establishment, so much so that they formed their own organization, the Pastors' Association, in the late 1820s. Monthly meetings of the Association brought Patterson together with William Ramsey, Anson Rood, Robert Adair, William Carroll, and others, and featured discourse on the "best plan of doing good to the immense population in the suburbs."45
Theirs was a monumental task. The moral state of the outlying districts was so appalling that established clergymen—Old School and New School alike—considered them lost and confined their ministrations to the city. Patterson and his clique of zealous neophytes were no less horrified. A. O. Halsey described the southern suburbs as the "very charnal house of this ungodly city . . . a 'fac simile' of the very portals of the regions of all moral filth and blasphemy."46 William Ramsey, one of Halsey's associates fresh from seminary in the mid-twenties, patiently recorded his thoughts in a voluminous diary. Awe-struck by Southwark's libertine street life, he intoned "Lord have mercy on Southwark."47 The northern suburbs, bailiwick of Robert Adair, were not much better. There one found a "mass of neglected population who went nowhere to hear the gospel." Instead, "they desecrated the Sabbath by collecting in groups round the dram shops . . . spending . . . [the] holy hours in rioting and drunkenness."48
The very conditions that repelled downtown clerics proved an incentive to the young pastors. In their crusade against sin, James Patterson, minister of the First Church in Northern Liberties and one of the most imaginative evangelicals of his time, was the guiding light. Employing Finneyite measures long before Finney himself deserted the bar for the pulpit, Patterson staged protracted meetings as early as 1816. One of them extended for seventy-six consecutive evenings and nearly cost the indefatigable divine his voice. Patterson preached from the soap box in vacant lots and the district square, visited private homes and workshops, and pioneered methods of lay participation worthy of a skilled community organizer. Women were divided into committees of two, assigned a specific neighborhood, and then charged with proselytizing the impenitent wherever they were found. The "anxious" were encouraged to attend church, where they occupied special pews and were subjected to peer pressure to mend their ways. Those unmoved by exuberant laymen and women might be inspired by accounts of Patterson's revivals in local newspapers. He was one of the first of his profession to advertise church events in the press and, by all accounts, was Philadelphia's premier evangelist.49
Patterson's admirers borrowed some of his methods. None came close to duplicating their mentor's achievement, but they did make enough converts to elevate their missions and shabby store fronts into settled congregations. By the early thirties they went a step further and, joining with sympathetic downtown ministers, formed a separate Presbytery.50 A center of pro-Finney sentiment and revivalist fervor, this Presbytery rallied to the defense of fellow member Barnes in his ongoing battle with the Old Guard, and became the nucleus of New School élan in the impending schism.
Members of the Pastors' Association sided with downtown New School ministers, but did not necessarily impart the same message to their flock. A major class difference existed between the communicants of each cluster of churches, and ministers tailored their style and sermons accordingly. Ramsey had several sobering encounters with the evangelicalism of the wealthy. One of these occurred in 1824, when he paid a visit to Thomas Skinner's finely appointed church in the downtown. "What splendor!" he wrote in amazement. "The church is beautiful . . . a mahogeny pulpit, sloping pews—a descending floor—and a hollow-toned organ," he continued and added with more than a tinge of sarcasm that such opulence "constitute[s] the ornaments of the house of God."51 Four years later he discovered that the tastes of class extended beyond aesthetics to what was expected of ministers. Ramsey was asked to deliver a guest sermon in another elite church and evidently gave considerable thought to his presentation. He wrestled with the idea of recognizing the genteel sensibilities of his listeners and sparing them his disposition for fire and brimstone, but decided to treat them as he would his plebian parishoners in Southwark. The young pastor preached "the law," speaking "very plainly" . . . [on] the importance of doing Something for the Lord Speedily," but was received coldly. "I expect my message was unwelcome," he lamented, but then buoyed himself, musing, "God forbid that I should ever preach to please those who are dosing away . . . and rock the cradle while they Sleep. I told them what they must do if they desired the blessings of God to rest upon them." His lofty mission in the service of Christ required him to "preach the truth" whether "I preach before beggars or Kings."52
Ramsey's sloppy social categories may be challenged, but he deserves to be credited for identifying a major dimension of antebellum religion, nonetheless. Religion, he implied, was not class-neutral or beyond the leaven of social distinctions. What suited Southwark's plebian churches was inappropriate in fasionable places of worship, notwithstanding the fact that both were Presbyterian (and New School). As Ramsey learned, class mediated religious practice and the differences alluded to by the young minister manifested themselves in a number of ways.
The style of delivery New School ministers used for working-class congregations was more appropriate to the firebrand Methodist than to the Presbyterian, Old or New School. Much like new Methodists but unlike lettered Presbyterians, such ministers eschewed written sermons and "splendid specimens of rhetoric," as one of them put it, for extemporaneous speaking.53 As a result, none of their sermons survive, but diary entries and cryptic notes indicate that they had the Methodist penchant for what E. P. Thompson calls "religious terrorism." Patterson, wrote an observer, "attacked and exposed the peculiar vices of his hearers" and "Against these crimes . . . arrayed the terrors of the Lord, passed on them an unsparing condemnation, and pointed out the tremendous punishment which God would inflict on their finally impertinent perpetrators."54 Ramsey employed the same tactic of dangling frightening images in front of communicants. "No soul gets into heaven without being scared," he asserted. "If sinners were only dipped into hell a few times & were right well schorched [sic] . . . there would be fewer of them in hell."55
These ministers resembled new Methodists in another respect. They enforced strict standards of behavior and resorted to remedial measures that were simply unacceptable in upper-class congregations. Patterson was an especially severe disciplinarian. He was one of the first Presbyterians in Philadelphia to subject prospective communicants and members charged with moral turpitude to the scrutiny of the church. The accused were ordered to appear before the church session and those found guilty were suspended or expelled, if they were members, and denied admission, if they were new converts.56 Patterson's youthful followers disciplined members for such sins as "playing cards," "using profanity," "fornication," an act for which women alone were castigated, and, of course, "drinking."57
Observers insist that such ministerial labors produced two closely related results. First, it is claimed, these efforts ushered in a fundamental change in the morality and social personality of suburban dwellers. This population, exulted Reverend Robert Adair, "seemed to start into a new social, intellectual and moral life. Habits of sobriety, industry, economy, peace, and friendship were formed." Second, "many" communicants were said to have acquired a "competency, and enjoyed domestic comforts to which they had been strangers."58 The first contention is excessive. As we shall see, a large segment, and perhaps a majority, of suburbanites stood outside the moral force of the church, and some converts found it impossible to negotiate between the moral rigidity of evangelicalism and the surveillance of fellow Christians. These backsliders were expelled, banished, as it were, from the community of Christ. The dutiful Christian, however, unquestionably experienced the kind of personality transformation described by Adair. Evangelical ministers would have it no other way.
The second assessment is tested in Tables 5 through 7, which list the occupations and property holdings, and trace the careers of the members of the Ebenezer Methodist Episcopal and the First Presbyterian Churches in Southwark. The data on property suffer from the shortcomings of the 1850 census, the sole catalogue of property holders, which fails to record many members of the sample. Moreover, there is no way of determining holdings prior to 1850; consequently, we do not know whether an individual lost wealth, although this is unlikely since many were of humble origins. The data, therefore, are imperfect, but good enough to construct a reasonably accurate picture of the congregations.
The findings tend to support the relationship that ministers perceived between evangelicalism and modest property accumulation. (See Table 7.) About one-third of each church owned real property at mid-century, with the average holding falling between $3,800 and $4,280, not a princely sum but more than enough for a well-furnished house on a good-sized lot. Such a finding takes on added significance when one recalls that only 10 percent of Philadelphia's adult male population owned any property at all in 1850. These evangelicals were uncommonly successful.
Occupational Profile of Revivalists, 1830s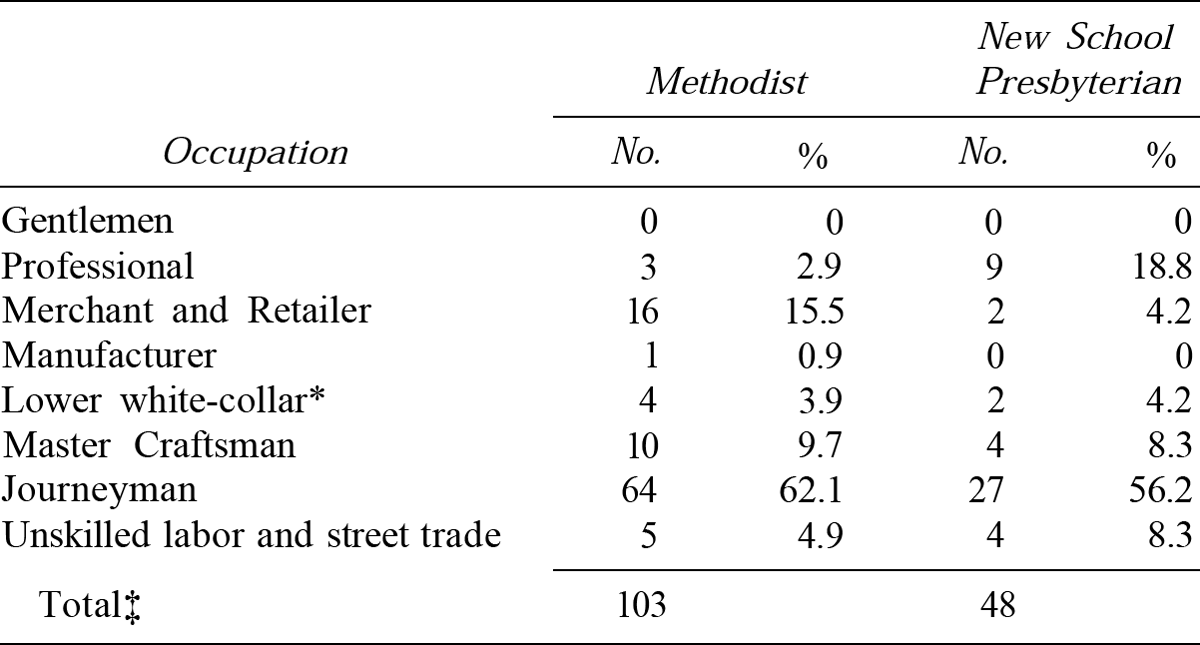 *Includes clerks and public officials.
†Craftsmen with two addresses listed in the directories, one for residence and one for place of business, are treated as masters. Those with a single address are treated as journeymen. Admittedly, this is an imperfect method of distinguishing masters from journeymen since some masters ran their businesses from their homes. It would have been preferable to differentiate these groups on the basis of property holding, but the necessary sources, local tax lists, have not survived.
‡The original Presbyterian sample contained 77 names; the original Methodist sample contained 119 names. Forty-eight or 62.3 percent of the former and 103, or 86.5 percent of the latter, were located in the directories. The disparity is probably explained by two factors: the Methodist sample is drawn from a published source, which is not as complete as the Presbyterian church manuscripts, and the Methodists lived closer to the city and thus are more fully covered in the city directories.
Source: First Presbyterian Church in Southwark, Minutes, 1830–1840, Presbyterian Historical Society, Philadelphia: First Presbyterian Church of Southwark, Trustees Minutes, 1818–1832, Presbyterian Historical Society, Philadelphia; and Centennial Publishing Committee, History of Ebenezer Methodist Church, Southwark (Philadelphia: J. B. Lippincott, 1892); and city directories, 1830–1835.
Career Mobility of Journeymen, 1830–1850

*Represents 76.5 percent of the journeymen in the linked sample.
†Represents 55.5 percent of the journeymen in the linked sample.
Source: First Presbyterian Church in Southwark, Minutes, 1830–1840, Presbyterian Historical Society, Philadelphia; First Presbyterian Church of Southwark, Trustee Minutes, 1818–1832, Presbyterian Historical Society, Philadelphia; and Centennial Publishing Committee, History of Ebenezer Methodist Church, Southwark (Philadelphia: J. R. Lippincott, 1892); and city directories, 1830–1835.
An analysis of their occupational careers shows the same pattern. The great majority of both chuches were journeymen in the late 1820s, but not typical wage earners. (See Table 5.) As Stuart Blumin has shown, opportunities for advancement narrowed in the four decades preceding the Civil War and artisans were more likely to experience downward rather than upward mobility.59 Evangelical journeymen were glaring exceptions to this rule. Over half of the Presbyterians and the Methodists who started out as journeymen in early thirties wound up as master craftsmen or small retailers by 1850.60 (See Table 6.)
We gain further insight into the status of these evangelicals by comparing them with their downtown coreligionists. According to Doherty, downtown evangelicals were rising industrialists who lacked the pedigree and wealth to be considered "proper Philadelphians" but did "lay the base for eventual acceptance into the city's upper class."61 Suburban evangelicals were a cut below Doherty's nascent elite. Only a third of them owned real property, compared with 90 percent of the downtowners, and average holdings were modest by comparison. (See Table 7.) The employers among them, moreover, hardly measured up to the likes of Matthias Baldwin and other center-city entrepreneurs. Methodist iron founder Thomas Tasker was the largest of the group and his work force of 200 employees was a third of Baldwin's. Most of Tasker's entrepreneurial colleagues employed fewer than twelve workers, and were neighborhood artisans and garret bosses.62 If Doherty's New Schoolers constituted an emergent upper class, these evangelicals were a rising middle class of former journeymen who had scratched their way to employer status and middling respectability.
Several forces propelled these Philadelphians into evangelicalism. Chance cannot be discounted. The accidents of personal loss or tragedy—debilitating illness, the death of a friend or loved one, or even extended unemployment—could move the depressed into seeking consolation in religious emotionalism.63 Dynamic ministers also swelled revivalist ranks. Their charisma could capture the most hardened doubter, regardless of his health or state of mind. Nor should one discount the influence of evangelical women. Widows, wives, and daughters comprised the vast majority of evangelical parishioners, and they diffused the revivalist spirit in public and in the privacy of their homes. Cadres of female home visitors coaxed men into James Patterson's pews, and evangelized wives often passed on their religion to husbands. Mrs. F. V. Bussier, for example, worshipped at William Ramsey's church, but her husband was a former Quaker converted to Unitarianism and a "remarkably worldly" man. Bussier had some toleration for his wife's religious instincts but precious little for her minister and even less for his social calls and evangelical dissertations at the dinner table. Ramsey's visits aggravated the family's denominational differences and so upset Bussier that he scribbled a note to Ramsey complaining that he disturbed domestic harmony and warning him against setting foot in his house again. Peace reigned in the Bussier household thereafter, but not because of Ramsey's absence. Instead, Mrs. Bussier's piety infected her husband and he jettisoned the cold formality of Unitarianism for the enthusiasm of revivalism.64 The Mrs. Bussiers of Philadelphia proved effective agents of revivalism and temperance.65 Their crusading spirit and quiet advocacy recruited untold numbers into both causes and gave revivalist organizations a unique cast of sexual integration. But three factors, each of which reflect deeper social experiences, bear more weight.
Property Holding

*Represents 77.7 percent of the linked sample.
†Represents 45.8 percent of the linked sample.
Source: Robert M. Doherty, "Social Basis of the Presbyterian Schism, 1837–1839: The Philadelphia Case," Journal of Social History 2 (Fall, 1968): 74–75; and United States Census Office, Census of the United States, Population Schedule, Philadelphia County (Southwark), 1850 (microfilm, MSS, National Archives, Washington, D.C.)
The first is social background. Church records show that congregations were rather volatile, losing members due to apostasy and out-migration, and replenishing themselves through revivals and "transfers."66 Transfers typically were rural-urban migrants whose backgrounds and reasons for migrating predisposed them to evangelicalism. Most of them, and possibly many converts as well, were church members out of rustic New Jersey and Pennsylvania who came to Philadelphia in search of opportunity and simply reestablished church ties or were "quickened" during the revivals of the late 1820s and early 1830s.67
The quality of the urban milieu and of the work settings in which these newcomers found themselves also reinforced the evangelical urge. Strangers in the impersonal city, they discovered the consolation of community and fraternity in the church. Bonds of friendship that grew out of the collective experience of conversion imparted a sense of belonging in the anonymity of the burgeoning metropolis. Moreover, since these migrants were without skills, they entered the most advanced work settings, which relied more on brawn and dexterity than craft knowledge, and which enforced a rigorous work routine. The regimen of the factories, manufactories, and sweatshops that absorbed newcomers, in turn, conditioned worker behavior along the lines expressed by the new Protestantism. We get a hint of this process in a letter by Manayunk's Methodist textile hands, who swore off drink and came together in a temperance society in the mid-thirties. As if assuring readers that they had not been manipulated by employers, they boasted that their society was gotten up "without the aid or countenance of the talented and influential members of the community!" Work conditions, not employer machinations, impelled them to forsake spirits, for intoxicants tended to "confuse the brain, cloud the mind, and warp the judgment, thereby rendering those who indulge in them, totally unfit to superintend the movements of complicated machinery."68 Their religious counterparts working in Southwark and other suburban districts outside the textile mills admittedly did not operate power-driven equipment or confront so taxing a work pace, but the incentive to endorse the new morality was the same for all in-migrants employed in modernizing plants: the need for greater self-discipline wrought by the unfolding of industrial capitalism.69
Finally, the career patterns discussed above helped sustain working-class evangelicalism. For these workers, at least, the promise of social mobility that was rapidly becoming a national faith, thanks in large part to the efforts of their own ministry, was no pipe-dream. Highly mobile men, they had careers that coincided with, and might have hinged on, the Protestant work ethic conveyed by the new morality. Worldly success and evangelical morality reinforced one another, and the mobile journeyman became a model to emulate, living proof of the promise inherent in evangelicalism.70
Thus revivalist workers represented a distinct culture with its own values, institutions, and standards of right and wrong. Social activity and moral conduct outside the workplace were governed by the strictures of the new Protestantism and by peer pressure, which together ruled out traditional working-class pastimes and radical politics. Life revolved around hearth, home, and the church. When not acting the part of the dutiful father, husband, and responsible breadwinner, the revivalist filled his social calender with church activities, such as entertaining the pastor, holding evening Bible class, attending frequent meetings on congregational governance, and volunteering assistance for special events.71
The new morality imbued revivalists with a unique social identity and cultural perspective. Unlike long-time artisans of urban birth and urban upbringing, who identified as workingmen or as practitioners of a specific craft, revivalists saw themselves in ethnocultural terms and identified themselves as Protestant Americans. Fortified by the heavy-handed morality and effusive spirit of evangelicalism, they were intolerant of nonevangelicals and reserved special hostility for Catholics, who were considered carriers of moral decay and religious corruption. This nativist bias, when coupled to the cultural causes championed by leading ministers, not only set them against other workers, but also cemented political ties between revivalist workers and moral reformers, through the agency of the Whig party.
The relationship between revivalist workers and their employers at the point of production was complicated. No group of workers was so consumed by the drive for material improvement, and this preoccupation could turn them against employers who arbitrarily reduced wages or lengthened the workday. But such moments were rare. In the main revivalists were the most individualistic and deferential of all wage earners. An evangelical who had "nothing to boast of, in regard to this world's wealth or its honors, and who looks for none save the attainment (by honest industry and the use of his right arm) of a competency for himself and family" still attacked trade unionism as subversive.72 He attributed poverty to individual shortcomings, flawed character, and the inability to overcome "habit's power." His advice to those who shared his dream for a competency was disciplined effort at the workbench.