Radicals: Thomas Paine's Progeny
Philadelphians received unsettling news in the spring of 1832. For months they had nervously followed reports of the cholera epidemic sweeping westward across Europe. They now learned that the disease had attacked England and threatened to cross the Atlantic. In June the inevitable happened. The pestilence struck east coast cities and towns, sparing only Boston and Charleston, before beginning its death march inland. It took a heavy toll in Philadelphia's poorest enclaves and set off a panic. Thousands retreated to the safety of the countryside. Thousands more, many of them impoverished and infirm, remained stranded, and crowded into churches in search of solace and reassurance.1
Denominational rivalries dissolved as God's agents pulled together in the crisis. In late June, leading Protestant clergymen called a meeting to consider remedial action, and the gathering, attended by over 250 preachers of various sects, was one of the largest church-sponsored ecumenical events ever held in Philadelphia. Speakers described the epidemic as divine retribution for man's depravity and called for a day of fasting and prayer "as means of averting the scourge and inducing the Lord to be gracious."2 The resolutions passed overwhelmingly, with only two dissenters being recorded.
The lone dissidents, Zelotes Fuller and Abel Thomas, were Universalist ministers. Thomas examined the proposals point by point, and rebutted each one with impeccable logic. He scoffed at the idea of fasting, which he saw as debilitating and likely to reduce one's resistance, and discouraged large prayer meetings that risked spreading the epidemic. The act of praying implied that the disease was a "visitation from God, in consequence of the sins of the people, a "judgment," or even a "malady of the soul," in spite of the scientific evidence that cholera had a "natural cause" and was not amenable to spiritual remedy. But he convinced no one, and the hostile audience applauded a disparager who denounced him an an infidel.3
This disagreement was part of a deeper division between casts of mind and cultures. One of these, or evangelicalism, is already familiar. The other, a prime example of rationalist radicalism, has either received surprisingly short shrift from historians of the period or has been dismissed as unimportant. A recent scholar of early radicalism tells us, for example, that "In England, anticlerical rationalism was a major component of radical thought throughout the nineteenth century; in America, far more critics of society spoke the language of revivalist Protestantism and of Christian perfectionism than of deist rationalism."4 This assessment applied to New England, where radicalism and evangelicalism blended together easily in the minds of prominent working-class leaders, such as Seth Luther, and to post-depression radicals in Philadelphia, where there was no contradiction at all between these strains of thought. Predepression radicals in the Philadelphia region were different.
They wedded rationalism to radicalism and the consonance between these formulations emerges in bold relief in Anthony F. C. Wallace's masterful study of Rockdale, a small textile hamlet just south of Philadelphia. There, anticapitalist rationalism constituted a major cultural force that waged a heady battle with evangelical capitalism, or "Christian capitalism," as Wallace would have it, during the second quarter of the nineteenth century. Wallace is rationalism's best historian to date. To his credit, he places rationalism at the center of the cultural paroxysm generated by the early industrial revolution, but his rendition of it is slightly distorted. He relies mainly on elite sources and the social identities of his antievangelicals mirror the bias of such materials. Wallace finds only one "son of the Enlightenment" in Rockdale, an eccentric mill owner who still managed to socialize with the evangelistic members of his class. This discouraging fact forces him to look outside the village for a rationalist consituency. Turning to Philadelphia and its environs, he uncovers a large following, but chooses to focus on its intellectuals, most of whom leaned toward utopian socialism. Thus he ignores working-class rationalists in Rockdale, if indeed there were any, and mentions their Philadelphia counterparts in passing.5 Their rationalism and the interior life of their culture remain mysterious to us, but it is they who occupy our attention here.
Universalism and Free Thought, the two most important rationalist currents, were products of the liberal humanism of the Enlightenment. Late eighteenth-century Universalists and Free Thinkers, to be sure, had their differences with regard to church policy and the fine points of doctrine. Universalists were closer to conventional religion. They attended formal churches, consulted the bible for inspiration and moral guidance, and sponsored a ministry, although their ministry's training hardly measured up to that of established denominations. Free Thinkers resembled debating clubs more than congregations. They did without a clergy and dismissed the bible as a bundle of contradictions providing no evidence of a benevolent deity. Both groups, however, shared a common view of God and man wholly at variance with orthodoxy and reformed Protestantism. They deprecated orthodoxy's miserly deity for conferring grace on an anonymous few, and attacked Arminianism's more democratic but discriminating God for dispensing salvation as reward for good works and worldly success. Their deity promised salvation to all, regardless of moral character or social station. He was a moral instructor and a mechanic whose handiwork was revealed through scientific inquiry. His children were inherently virtuous and accountable to one another in this life; they understood that benevolence was both its own reward and inextricably bound to the pursuit of happiness.6 "To be good," proclaimed a leading deist, "was to be happy."7
Neither group survived the eighteenth century in quite this form. Universalists were rent by discord between unitarians and trinitarians, and underwent several schisms following the War of 1812.8 Some of them, unable to resist current religious styles, even adopted evangelical ways. Free Thinkers, whose forebearers resisted the stigma of atheist or infidel, gave up all pretense to being Christians and took some pride in the label "infidel" by the 1820s.9 But the broad outlines of both movements, particularly their emphasis on reason, scientific inquiry, and moral integrity, remained substantially intact by the time Andrew Jackson assumed the Presidency for the first time.
Partly in reaction to revivalism, both groups enjoyed a rebirth in the twenties and thirties. The First Universalist Church, founded in the 1780s and located near the southern line of the city close to the artisan stronghold of Southwark, was the lone Universalist institution in Philadelphia in 1815. Within twenty years there were two additional congregations in the Northern Liberties and Kensington, and a third in the city.10 Unlike Universalist organizations, deist groups failed to span the eighteenth and nineteenth centuries. Societies gotten up in the late eighteenth century atrophied or died off shortly thereafter, leaving the city without any Free Thought clubs until the mid-twenties and early thirties, when at least two, and possibly as many as four, organizations and a newspaper suddenly appeared.11 Neither group had a great following in terms of formal members. Taken together there were about two thousand Universalists and Free Thinkers (or as they preferred Free Enquirers) on the rolls of churches and societies by the beginning of the thirties, about four-fifths of which were Universalists.12 But such rationalists included the most active and vocal trade-union radicals in Philadelphia, such as the cordwainers William Heighton, Solomon Demars, John Caney, William English, and Israel Young; the carpenters Thomas Wise and William Thompson; and the hand loom weaver John Ferral. They also had a hefty constituency whose numerical strength cannot be gauged, but if traditionalists were the largest working-class subculture and revivalists the smallest, it is probable that radicals fell somewhere in between.
The organizational base of radicalism was two-tiered. One of these, to be treated in the next chapter, consisted of trade unions and their auxiliaries, and embraced workers of other subcultures. The other, which concerns us here, represented a network of debating clubs, lyceums, and discussion groups, and was more restrictive, though not by design. The curious were always welcome, and some did attend, but they catered to the committed. Topics of interest ranged from religion, political economy, and science to contemporary poetry and prose, and these were aired at several forums. Universalist communicants formed scientific study groups independent of churches, while congregations spawned libraries and reading rooms, as well as institutes for adults and adolescents that held lectures and discussion on holy scripture, politics, self-improvement, and other matters that appealed to rationalist sensibilities.13
Deist intellectuals belonged to the Society of Free Enquirers. Founded in the early 1830s, it sponsored debates as well as annual dinners in commemoration of patriotic events and the birthdays of Revolutionary heroes. On January 29, for example, the Society celebrated the birthday of Thomas Paine with a light meal followed by guest speakers and toasts in which members showed their respect for the written word and their intellectual versatility. One celebrant raised his glass to "Godwin and Shelley—posterity will appreciate their merits." Another honored "the writings of Byron and Shelley." Still another paid tribute to Paine himself and with a twinkle in his eye, offered the toast, "Thomas Paine has proved to the patriots of '76 and their posterity that he was no sham Paine."14 Those interested in nature and technology, or what passed for "useful knowledge," studied science and medicine and discussed the latest technological literature. Phrenology commanded special interest because of its inherent fascination and because it suited polemical needs: deists, ever attentive to the practical application of knowledge, used it to disprove the existence of the soul and hence of the afterlife!15 Followers of both groups, wishing to own personal copies of political tracts, literary classics, and scientific brochures but unable to afford them, organized early-day versions of book clubs that supplied cheap editions.16
Such intellectual endeavors flowed logically from the ethical code of radical artisans, who carried on the Enlightenment's tradition of critical inquiry and its penchant for self-education. They were autodidacts who, like William English, "never . . . entered a school by the light of day," and taught themselves to read and write or were instructed by friends and parents.17 English's will to improve himself is paralled by his predictable opinions on drink and recreation. Radicals decried total abstinence as the extremism of punitive evangelicals, but practised and counseled temperance because the latest medical intelligence frowned upon excessive drinking and because over-indulgence interfered with individual enrichment. Honor and dignity were also at stake: drunkenness was disgraceful. Radicals dedicated their leisure hours to cultivating themselves by reading and reflecting and to challenging one another in debate and discourse. Such intellectuals stood clear of revivalist and traditionalist gathering places.18
Subtle status differences also set radicals apart from revivalists. We get a sense of this in Table 8, which presents occupational profiles of the members of the Society of Free Enquires and the First and Second Universalist Churches, and, for the sake of comparison, the communicants of Ebenezer Methodist Church in Southwark. The data show that artisans dominated all groups. The Universalists appear to be more prestigious than the Methodists since a fourth of them were nonmanual workers and gentlemen. On closer examination, however, this impression is blurred. The public officials among them were not rich and powerful politicians, but appointed public servants who earned low salaries and exercised virtually no authority. The manufacturers were also something less than their title indicates. They were small producers of light consumer goods such as buttons, tobacco, lamps, suspenders, ornaments, and stoves—hardly the stuff out of which industrial revolutions are made—and thus resembled master craftsmen more than manufacturers. By lumping them together with the masters in the Universalist sample, we inflate the proportion of master craftsmen to over 20 percent, or about twice the size of the Methodists.
Social Profile of Free Thinkers, Universalists, and Methodists, Late 1820s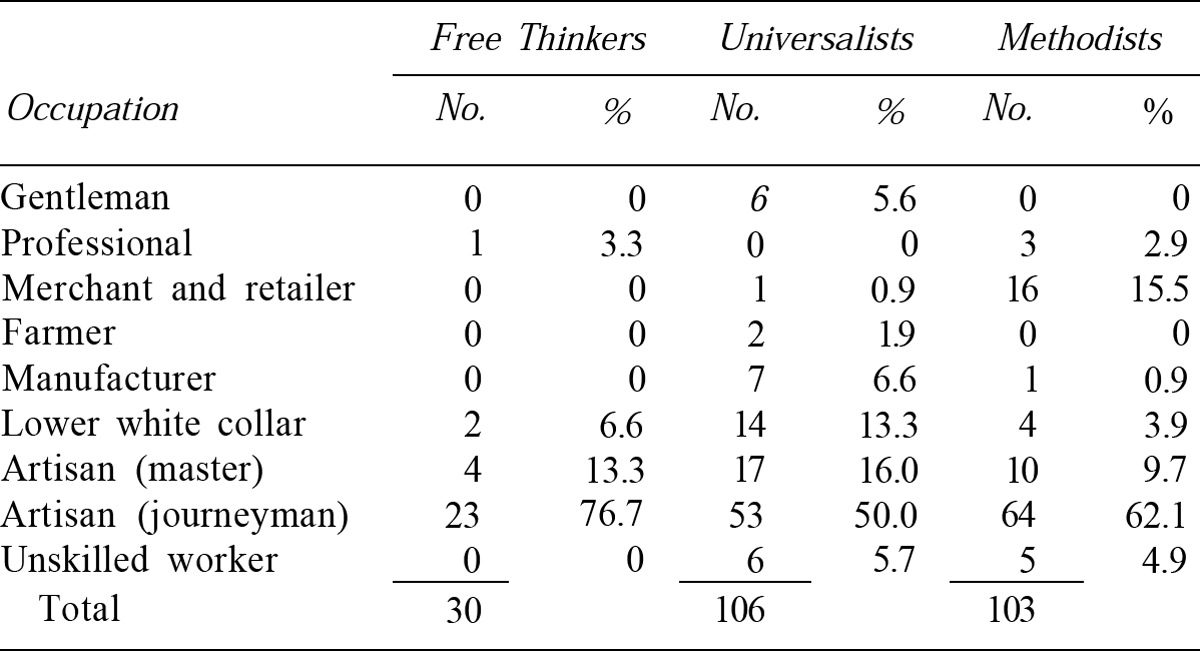 Source: First Universalist Church, Minute Book, 1820–1842, Historical Society of Pennsylvania, Philadelphia; Second Universalist Church. Minute Book, 1820–1854, Pennsylvania Historical Society, Philadelphia; Temple of Reason, Feb. 6, 1837, and Feb. 8, 1838; Thompson, Oration, on the Ninety-Eight Anniversary of the Birthday of Thomas Paine, at the Military Hall, before the Society of Free Enquirers (Philadelphia: Thomas Clark, 1834); Centennial Publishing Committee, History of Ebenezer Methodist Church, Southwark (Philadelphia: J. B. Lippincott, 1892); and city directories, 1824–1834.
During the early thirties, then, the Universalists were more established in politics and in small businesses than the Methodists. The reason is clear. Like most evangelicals, Methodists drew disproportionately from those in their teens or twenties, while Universalists recruited older folk. The evidence supporting this contention is twofold. First, a goodly number of the names on the roll of the First Universalist Church at the end of the twenties appear on the church's charter of incorporation of 1802.19 Assuming that these members were in their twenties at the time of incorporation, they were evidently in their forties or fifties by the 1820s. Both churches attracted younger followers in this period, but the continued presence of the founding members inflated the average age of the Universalist sample. This age dimension in turn helps explain the occupational superiority of the Universalists during the late twenties and early thirties. Because many of them were middle-aged, they were at the pinnacle of their careers and slightly better off than the younger Methodists who were just entering their most productive years. It is hardly surprising, therefore, that the journeymen in the Universalist sample did not achieve the success of their Methodist counterparts in the ensuing two decades. Indeed nearly 60 percent of them, as against 45 percent of the Methodists, remained wage earners throughout their lives. (See Table 9.)
There were narrow but significant differences in the occupational preferences of each group as well. As we have seen, revivalists tended to come from vocations (and segments of them) undergoing the division of labor, and performed in factories, manufactories, and sweatshops. Rationalists were divided between tradesmen in honorable pursuits practiced in small shops or at home—including clock and watchmaking, comb- and brush-making, and hand loom weaving—and tradesmen in the sweated crafts being debased through the division of labor and increasingly carried on in manufactories and sweatshops—including shoemaking and tailoring. The background of these artisans is unknown, but their cosmopolitan perspective and defense of artisanship suggests that they were long-time urban residents rather than recent in-migrants from the countryside, and had served regular apprenticeships in Philadelphia or other urban areas. Their national origins are difficult to pin down. John Ferral and William Heighton were Irish and English immigrants, respectively, but to imagine radicalism as a foreign import is to accept at face value the stigma attached to it by conservative critics. Most radicals appear to have been native-born Americans.20
Occupational Mobility of Universalists and Methodists, 1830–1850

*Represents 58.4% in the linked sample.
†Represents 76.5% in the linked sample.
Source: First Universalist Church, Minute Book, 1820–1842, Historical Society of Pennsylvania, Philadelphia; Second Universalist Church, Minute Book, 1820–1854, Historical Society of Pennsylvania, Philadelphia; Centennial Publishing Committee, History of Ebenezer Methodist Church, Southwark (Philadelphia: J. B. Lippincott, 1892); and city directories, 1830–1850.
This portrait strengthens our grasp of early radicalism's social basis. As scholars of European socialists and radicals have observed, these dissenters were not neophytic factory hands or proletarians, but veteran artisans who shaped an independent culture in the autonomy accompanying handicraft production.21 Nor were they upwardly mobile workers or "expectant capitalists" clamoring for greater opportunity in the name of radicalism. Comparatively few of them ascended the occupational ladder or expressed much concern for mobility. They aimed for a competency, and seemed less riled over narrowing opportunities than over growing inequality and the steady decrement of artisanship and independence. Yet radical hostility toward industralism did not depend on material self-interest alone. As rationalists and practitioners of a discrete way of life, they recognized the cultural side of industrialism and distinguished between, but did not separate, the cultural and the material. Their touchstones were economic and cultural, and they employed both in putting forth a holistic critique of emerging industrial society.
The labor theory of value was at the core of radical thought. This formulation was not the invention of militant Philadelphians, for it informed the work of John Locke, Adam Smith, David Ricardo, and other classical political economists, and versions of it enjoyed wide currency in antebellum America. No Philadelphian read such economists with a more critical eye than William Heighton. Born in Oundle, Northamptonshire in 1800, Heighton came to Philadelphia as a youth, and by about the close of the war of 1812, earned his living at a shoemaker's bench.22 Nothing is known of his early manhood or what became of him after he left the Quaker City in the early 1830s. But during his relatively brief stay in the city, he distinguished himself as its most influential working-class activist and intellectual. He digested the classical thinkers and their critics, including John Gray and Robert Owen, and emerged as the American analogue of contemporary radical intellectuals in England.23 Like his English comrades writing in the 1820s, he shifted the emphasis of radical discourse from the purely political to a balance of the political and the economic, and popularized ideas that were accessible only to the most literate mechanics. In contrast to Owen, however, he rejected utopianism and the retreat into the wilderness, and yet still managed to retain the admiration of the Owenites. No less a figure than Owen himself judged that one of Heighton's addresses (which he read during a visit to the United States in 1827) imparted more insight than "all the writings on political economy I have met with."24 This speech and two more Heighton delivered in 1827 and 1828—one of them, it should be noted, in the Second Universalist Church—are among the most eloquent and lucid examples of early working-class radicalism.25
Simply put, the labor theory of value insisted that labor was the source of all wealth. Manual workers—and they alone—created wealth by setting their hands to the land or raw materials. Heighton labeled those who performed such tasks "producers," but also went a step beyond current radical thinkers in recognizing two subgroups within this category: productive labor, which consisted of those who fashioned commodities and raised crops, or artisans and yeoman; and official labor, which included those who transported the fruits of productive labor, or unskilled and casual laborers.26 The remaining socioeconomic groupings and classes—bankers, merchants, landlords, military officers, professionals, clergymen—fell into the category of "absorbents" or "capitalists," or more commonly, "accumulators." They exchanged and lived off wealth, but did not produce it, and here was the central paradox. Those who made the goods and commodities and who were entitled by right to the "full product of their labor" existed on the edge of subsistence, while those who produced nothing lived in affluence.27
Heighton traced the source of this paradox to economic and political arrangements. The political root of exploitation was monopolistic or aristocratic legislation, chiefly charters of incorporation, which empowered a privileged few to engross markets, and banking charters, which gave legal life to the most hateful of all enterprise. Class legislation of this kind, however, simply aided the machinations of accumulators. The degradation of labor was inherent in the economic order because capitalism, or so Heighton believed, reversed the "natural order of things":
the production of wealth . . . which must take place before it can be either exchanged or distributed, and which is of necessity first in the order of nature, instead of being made an employment of the first importance, held in the highest estimation, and the surest means of a gradual and certain accumulation, is on the contrary rendered one of the meanest, most precarious, and most unprofitable modes of obtaining a subsistence; while the mere exchange and distribution of it, is made, to the greater part of mankind, the only possible means of accumulation, or even of ordinary enjoyment.28
Since exchange yielded a greater and surer return than production, commerce and merchandizing called forth more and more rivalries in an endless "struggle to undersell . . . and this struggle is called competition."29 This pervasive competitiveness was the bane of the workingman.
In fleshing out the social costs of competition, Heighton consulted the latest word on the subject, John Gray's "Lecture on Human Happiness" published in 1825. Gray maintained (and Heighton echoed) that there was no natural limit to production except "the exhaustion of our productive powers and the satisfaction of our wants."30 But under the imperatives of captialism, output was ruled by demand, and demand by competition. Thus the "quantity of wealth" accruing to journeymen in the jungle of the market plummeted because the competition both among them and among employers, depressed wages, usually to subsistence levels. All employers, however, were not equally at fault. Manufacturers who no longer worked with their hands relinquished any claim to producer status, but master craftsmen were excusable and qualified as producers for two reasons: they still performed manual labor and were forced to reckon with "accumulators more powerful than themselves," who lent capital and extended credit at usurious rates.31 This distinction between dishonorable employers, or accumulators, and honorable masters, or producers, though implicit in Heighton's work, was quite explicit in the polemic of a fellow cordwainer. This journeyman perceived a "vast difference between an employer and a master":
The duties of one are to devise, lay out, and direct the labor of those in his employ, and if they do not comply with his directions, he has a remedy always at hand—he can discharge them; whilst the other can command an implicit obedience to all his decrees, whether right or wrong, and can enforce them by various punishments. In the one case there are two parties to any rule to be established, and the strict rules of equity would seem to require that both parties be consulted before a rule is permanently established.32
True enough, there was the master who respected the traditional prerogatives of journeymen and honored the maxim that they were "worthy of their hire." But he employed a diminishing proportion of them and was himself joining their ranks in growing numbers.
Time and again radicals returned to these motifs of dependence and the diffusion of marketplace values. They decried the "system of individual interest and competition," which not only demoted independent artisans to wage earners, but also eroded the autonomy of individuals outside the workplace, and constrained a more general form of dependence. Sturdy and autonomous citizens who once possessed a rudimentary understanding of simple mechanics, medicine, and other skills gradually grew more reliant upon specialists and professionals who monopolized knowledge and, worse yet, peddled their training for a fee. Survival skills, like manual labor itself, became commodities; doctors, lawyers, and others practiced their professions "not for the purpose of alleviating human suffering, but for lining [their] own pockets."33 And this mounting dependence on professionals, argued radicals, dampened the inquisitive spirit in all individuals.
This critique of rising industrial capitalism should not be confused with an argument for socialism. The radical agenda listed state sponsorship of education and public ownership and distribution of fuel and certain foodstuffs, without proposing state control of the means of production. Radicals had no qualms about private property, but they did object to excessive accumulation on the part of individuals and corporate entities and to the concentration of power at the top of society. Doctrinaire egalitarians imbued with a cooperationist ethic, Heighton's minions despised economic individualism and proposed to redress the growing maldistribution of wealth and power through collective worker action at the polls and at workplaces. They thus looked forward to impressing workers of other subcultures with the value of cooperative production; the burning question was how to marshall support for so lofty a goal.
The question of support necessarily raised the issue of worker deference and impotence. Ignorance and intraclass divisiveness are obvious answers, but radicals were not content with such explanations. They probed the reasons behind both and, in so doing, evinced a keen understanding of their differences with other workers (and in the process took cognizance of approximately the same cultural groups examined in this study, even though they did not use the labels of traditionalist and revivalist).
In 1828, for example, Heighton editorialized on the causes of labor's recent organizing. Predictably, he cited the need to combat "monopolistic legislation," which concentrated the wealth "in a few rich hands," and to lobby for free public education, which would help bring workers out of darkness. He also showed awareness of traditionalist culture. Having listed the evils of monopoly and a false promise of education, he went on to argue that workers who frittered away their time in bars and gaming rooms instead of searching out the causes of inequality and taking remedial action unwittingly abetted the ignorance that enthralled them. Sheer numbers made such workers potentially important allies, but radicals could not hope to reach and educate them without lending a sympathetic hand and offering alternatives to what Heighton called the extensive "facilities for vending 'ardent spirits'" and for "Lottery Gambling."34 Radicals thus intended the labor movement to be an educative enterprise for the moral and intellectual uplift of the ignorant, without subjecting them to the harsh moralizing and humiliation of revivalism.
Radicals were even more concerned with revivalists and especially with the Presbyterian ministry. The more daring of them challenged evangelical spokesmen in public, as did Thomas and Fuller during the cholera epidemic. Others eschewed such confrontation and directed a torrent of abuse against their opponents in editorials and letters to editors of their press. They were predisposed to stress the darker side of the Protestant establishment, but the excesses of evangelists reinforced this instinct.35 Radical spokesmen never let their followers forget that Ezra Styles Ely, one of the city's leading clergymen, unabashedly called for a "christian party in politics" in order to promote Protestant interests.36 Ely's coreligionists, they charged with some accuracy, presided over the "benevolent empire"—that solvent and ubiquitous matrix of reformist groups blanketing Philadelphia with evangelical propaganda and flexing its political muscle at all levels of government. Bible and tract societies, temperance organizations, and other Presbyterian auxiliaries—derisively known to radicals as "tributaries of the great machine"—were disconcerting enough.37 What made them truly alarming was their subsidy by the industrial elite, the avowed foes of radicalism. The combination of "proud ecclesiastics and rich civilians" convinced radicals that revivalism was not the innocent emotionalism of an evangelical ministry, but a front for clerical and lay boosters of evangelical capitalism.38
Radicals did their best to expose the nefarious designs of the Presbyterian hierarchy. They mocked the inhumane methods of ministers who used every pernicious gimmick, including fear, simply to fill their pews. Their version of the Declaration of Independence likened clerical tyranny to that of George III, and accused evangelists of bringing together "large numbers of . . . citizens at places uncomfortable, unusual, and distant from their houses for the purpose of . . . scaring them into a belief of their holy fables."39 In a more serious vein, John Gihon, a printer by trade and Universalist "minister" by avocation, scorned those who "frighten[ed]" Philadelphians into church.40 He and other radicals made a point of condemning evangelical efforts to proscribe working-class pastimes under the guise of humanitarism. Their favorite target in this regard was the American Temperance Society (A.T.S.), an ostensibly humane group whose activities were no more enlightened than those of its parent, the Presbyterian church. The radicals detected Presbyterian influence in the A.T.S.'s "fanatical" campaign for total abstinence and its studied refusal to minister to the real needs of the poor drunkard, his "miserable wife," and "beggardly children." They described the A.T.S. as another appendage of the benevolent empire, "that hydra-headed monster" that invested more energy in filling its treasury than in alleviating the plight of the poor.41 Sabbatarianism, the handmaiden of the temperance movement, also aroused radical ire. An angry contributor to the Mechanics' Free Press, apparently sympathetic to wholesome working-class recreation, railed against churches for deterring travel by enforcing a blue law that allowed them to stretch chains across public streets on the Sabbath. He extended this attack to include clergymen who scowled at "the proprietors of steam boats, stages, etc., who afforded facilities for recreation of the many who are occupied the entire week."42
Radicals saw Presbyterian chains elsewhere as well. They imagined the values promoted by the Presbyterian clergy and its wealthy lay advocates as the fetters of working-class discord and deference. To their way of thinking no other group bore more responsibility for dividing workers into hostile camps of feuding sectarians. John Gihon contrasted the gentle persuasion of Universalist usage with the ravings of Presbyterians, who enlisted converts with "terrific appeals to their baser passions . . . and slander of other denominations."43 Other Universalists, pursuing this comparative theme, stressed the toleration and liberalism of their faith, and rose to the defense of the victims of Presbyterian invective–both Protestant and non-Protestant. Universalist–turned–Free Thinker Russell Canfield even sided with Catholics, who routinely bore the brunt of evangelical bigotry and conspiracy charges. "With Catholics, as mere religionists," he once wrote, "we have no sympathy; but as men, as republicans, and as members of a persecuted sect we have much—and as such, we extend to them the tokens of fellow feeling, and so far as power extends, of protection."44
Judging from the intensity of their polemics, radicals were especially troubled by the apparent deferential teachings of Presbyterianism. Time and again they accused Presbyterian and sometimes evangelical theology in general of stripping individuals of their capacity for critical thought, and of fostering resignation to injustice. "When you have complained of oppression," barked an irritated radical ventillating his feelings about ministers, "they have told you that such was the dispensation of Providence, and you must be obedient."45 Heighton sounded the same argument with even more indignation, venomously concluding an editorial with the exclamations," Resignation! Economy, and Industry!!! Resignation!—What Stuff!"46
Whether they leveled their guns on accumulators or ministers, radicals subsumed their phillipics under the broader context of republicanism. As other historians have observed, radical workers were not the only upholders of republicanism or the only Jacksonians claimants to the Revolutionary faith. Republicanism was a popular creed espoused by Americans of all classes and continually celebrated in the oratory and iconography of the many national holidays and patriotic observances that packed the calendar of the early republic.47 The consensus understanding of it implied a belief in (white, male) equality of opportunity and freedom from arbitrary rule, or much rule at all, and a justification of action in pursuit of these ideals. But each working-class subculture emphasized different facets of the republican ideal. To revivalists, republicanism affirmed a fluid and culturally homogeneous social order and the obligation to preserve it from foreign and domestic enemies. As it turned out, they usually saw such threats as external or foreign, and endorsed such corrective measures as tariffs and moral legislation of one sort or another. To traditionalists, it meant the duty of voluntary service in militia units and fire companies and the right to resist the encroachments of the state.
Republican feeling ran deeper in radical circles. In addition to celebrating national holidays with paeans to republicanism, radicals showed their republican-revolutionary spirit by dating their correspondence in terms of the years following 1776 and signing their publications with the pseudonyms of Revolutionary heroes.48 "Sherman" and "Jefferson," as opposed to "Franklin" who was worshipped by revivalists, were favorites along with such classical appellations as "Publicus" and "Rusticus"49 They considered themselves not only the direct ideological heirs of the patriots of '76, but also locked in struggle to complete the work of the Revolution. Where their forefathers threw off the yoke of English rule, they would strike at the ramparts of competetive capitalism, in behalf of economic independence and social equality.
These dissidents thus infused republicanism with the same meaning as economic radicalism. They looked upon producers as the "bone and sinew" of society and linked the fate of one to the other: no independent producers, no republican order. Such radicals convinced themselves that to do battle for the full proceeds of labor's toil was to strive for the preservation of republican society itself. Their view of republicanism in effect confirmed the right to equality, not simply equal opportunity, and laid the blame for social injustice at the same doorsteps as the labor theory of value.50 Their adversary was not the immigrant or foreign-made product but the corrupt politician, the accumulator, and the revivalist clergyman colluding to reduce free and independent workingmen to spiritual and material dependents. No republican worthy of the name could suffer such sinister forces lightly.
Radicals, in sum, constituted a subculture apart from traditionalists and revivalists. They were seasoned artisans of urban birth or upbringing who identified themselves as republican workingmen. Literate and conversant with a wide range of literature, they were singularly sophisticated and cosmopolitan. Above all else they were radicals and rationalists with a political perspective that imparted an acute awareness of inequality, a unique interpretation of its cause, and a comprehensive program for its cure. They located the origins of inequality and deference in the behavior of accumulators and their religious colleagues, just as they found the cause of cholera in the workings of biological processes. Both were different sides of the same rationalist coin; neither divine intervention nor depraved souls, as revivalists would have it, had much to do with social or natural phenomena. In proposing a tonic for inequality, radicals spurned the violence of traditionalists for effective organization. Their remedial program provided social alternatives, both to the pub of the traditionalist and to the church of the revivalist, that they hoped would spread the influence of their politics, if not their controversial religion, to expand the base of radicalism. They would reach some members of both groups in the 1830s under the aegis of the more expansive representation of their culture—the General Trades' Union of the City and County of Philadelphia.