Rationalist radicals felt profound discomfort when surveying the cultural landscape of the late forties. Their luminous years were behind them and their dream of rescuing labor from the incapacities of ignorance and bigotry came crashing down under the weight of intraclass discord. They helplessly watched the revivalist clerics, the ethnic politicians, and the fire company captains push them aside and—make a mockery of Philadelphia's renown as the "City of Brotherly Love." Every raucous gang war and malicious nativist diatribe came as a chilling reminder of their impotence and of the power of the merchants of hate.
Ethnic antagonism was disconcerting enough to old radicals. More troubling still was the condition of their own culture. Rationalist radicalism never recovered from the demographic changes and the cultural leavening that accompanied the depression years. Many radicals died or left Philadelphia; numerous others defected to revivalism and nativism, which thinned their number, making them a small minority. The few remaining were left with the onerous task of reviving their shattered organizations. None achieved much success. The indefatigable John Caney, perennial treasurer of the General
Material on nativism has been adapted from Bruce Laurie, "'Nothing on Compulsion': Life Styles of Philadelphia Artisans, 1820–1850," Labor History 15 (Summer 1974): 337–366, with permission of the publisher.
Trades' Union and leading light in the Society of Free Enquirers (S.F.E.), tried to reorganize the S.F.E. as the Liberal Union, but met with indifference and had to abandon his effort.1
Universalists fared somewhat better at first. Larger in number and socially more established than the deists, they had no difficulty surviving the depression and even underwent a fleeting rebirth during it, when their churches gained new members and two "preaching stations" were founded. By the mid-1840s, however, both stations had closed, the Kensington church was in disarray and on the verge of collapse, and the parent churches in Southwark and the Northern Liberties were on the wane.2 Universalist auxiliaries, such as the Young Men's Institute and various scientific groups, fell apart, and the Universalist press, which had conducted an animated exchange with mainstream religion in the thirties, was not heard from in the forties.
A marked change in the social composition of Universalism attended its decline. Church discipline was lax and asked only that communicants pay nominal pew rents and reject the notion of the divinity of Christ (as stipulated in Article X). This article was never really enforced until the depression, when there were flagrant violations of both provisions by Universalists of all classes, who joined evangelical churches, and by the poor, who could not afford pew rents. The First Church then decided to clear its books of both groups and expelled no less than 170 members—on the grounds of violating Article X. Most of them were impoverished tradesmen and unskilled workers who evidently left Universalism for evangelicalism.3 The desertion and subsequent expulsion of these workers virtually destroyed the working-class contingent of the church and assigned Universalism to the middle and upper-middle classes.
Trade unions were the sole institutional survivals of the old radicalism with emphatic working-class memberships. Even these were confined to the sweated trades and persisted only because of continuity in leadership. The tailors William Doores and Joseph D. Miller, and the cordwainers Solomon Demars and Frederick M. Rooke, whose trade-union careers extended back to the Mechanics' Union and the Trades' Union, continued to lead combinations in their respective vocations during the forties.4 These worthy veterans kept radicalism in touch with unionism, but their societies hardly recovered at all from the ravages of lean times. They presided over tattered unions too weak to challenge capital and more effective as debating clubs and beneficial groups.
Just as the old radicalism teetered on the brink of extinction, it received an infusion of life from two streams of immigrants originating in England and Germany. Each flowed at its own pace. The English arrived in two flurries in the early and late forties, and the Germans came in a mounting wave that peaked in 1846–1847, and ebbed with the tumult of 1848.5 By the end of the decade some 40,000 Germans and English aliens were deposited in Philadelphia, and they accounted for 6 and 4 percent of the population, respectively.6
Their backgrounds diverged sharply from the Irish. Both groups hailed from nations and states that were in the throes of the industrial revolution but provided different contexts for the unsettling transition from handicraft to mass production. As Mack Walker has shown, the typical unit of German settlement was not the sullen peasant village or the Dickens-like Coketown with satanic mills belching out soot but the small town with scores of artisans specializing in handicraft work. Such tradesmen governed the terms of recruitment, training, production, and merchandising through guilds whose rules and regulations had the force of law. Apprenticeship was still intact. Young trainees advanced to journeyman status under the strict supervision of masters. They graduated to master status providing their workmanship and character met the approval of guildsmen and market conditions warranted additional shops. This interlocking of guild law and practice, coupled with local tariff barriers, gave guildsmen virtual monopolies in their callings.7 No European region boasted such a pervasive system of craft production and local autonomy.
Two groups tested the resiliency of the guilds in the first four decades of the nineteenth century. Cosmopolitan merchants, bankers, rising industrial capitalists, and nationalist intellectuals united around a program of economic growth and national unity, and strove to undermine the guilds and the political basis of localism. By the early 1820s they effectively qualified or abolished artisan law and rights in many states. The guildsmen answered with a campaign of their own. They restored and patched up protective law, but it was a phyrric victory. What the cosmopolitans lost in the states and principalities, they gained on the national level, both by organizing the Zollverein and erecting a transportation network, a tandem that broke down the defenses of localism and of the guilds.8
This unleashing of free market forces threatened masters from above, while journeymen began to challenge them and the industrialists from below. Young craftsmen who had completed their apprenticeship customarily did a stint as journeymen, and then spent a year tramping through western Europe. They returned home expecting to set up on their own in accordance with tradition. A privileged few fulfilled this time-worn dream, but many more ran up against the frustrations of modernization. Opportunities for advancement contracted and working conditions declined as foreign competition ruined many masters and the panicky survivors restricted access to their ranks and bore down on their workers. This created an expanding class of journeymen destined either to spend their lives in the employ of masters in degraded conditions or as industrial workers toiling in the mills of the burgeoning cities.9 Neither course sat well with craft-proud journeymen, and they shook urban centers to the foundations with militant strikes and dramatic riots in the 1830s.10
New ideological and political forms took root in the labor unrest that wracked Germany. Republicanism and varieties of radicalism and pre-Marxian socialism, which would gain more currency as 1848 approached, enraptured disillusioned workers and disaffected middle-class intellectuals. Such ferment alarmed church and state alike. It led to the persecution and forced exile of thousands of political dissidents, who fled to London, Paris, and other metropolitan centers where they collected in intellectual communities that throbbed with radical discourse.11 The repression of the thirties, endorsed as it was by the church, stimulated worker interest in the anticlericism then being fomented by European intellectuals. This blend of radicalism and anticlericist rationalism distinguished the culture of German leftists during the 1840s.12
Guilds had long passed out of existence in contemporary England. They were only dim memories by the time of the Reform Bill of 1834, and English workers now agitated for the equality of primitive socialism and not for the structural asymmetry of the guild system. Some English radicals embraced rationalism as they reclaimed the "Rights of Freeborn Englishmen," first as Owenites and then as Chartists.13
Such rationalist radicals were among the thousands of German and English immigrants who made their way to Philadelphia during the course of the 1840s. There they reestablished Old World ties and transplanted the institutions of radicalism in the soil of the Quaker City. The most outspoken, if less numerous, of them was a group of Chartists, many of whom bolted from England at the point of a gun. In Philadelphia they may have relived the drama of the past over mugs of beer in Chartist inns and taverns, much like their comrades in New York, who gathered at Peter Bussey's boarding house. It is certain that John Campbell, David Johnston, Joseph Smith, and William Butterworth—to name just a few veterans of the Chartist uprising—were the inspirational forces behind several lyceums and debating clubs, including the Chartist League of Philadelphia, that appeared after 1845.14
Campbell was a key figure in the English radical community. Born in Ireland in 1810, he migrated to Manchester as a youth and spent his formative years manning a loom in the city's bleak mills. He was also schooled in radicalism in Manchester's vibrant workingmen's clubs. By the late thirties he was a confirmed radical and, by 1841, secretary of the National Charter Association, a position that made him fair game for the authorities. He fled England and a prison sentence, landing in Philadelphia in 1843, and here found ample opportunity to resume his trade. Instead, Campbell opened a small book shop in partnership with Edward Power, a part-time cabinetmaker with Chartist leanings. Lagging business kept Campbell poor and forced him into secondary employment as a writer and journalist. It also enabled him to pursue a busy schedule of political activism that included membership in the Chartist League and Friends of Ten Hours.15 Campbell's most important organizational initiative was the Social Reform Society, which was a debating club that he started in the mid-forties, comprised of English and native-born radicals and loosely affiliated with George Henry Evans' National Reform Association.16
The language barrier closed groups like the Chartist League and Social Reform Society to German-speaking rationalists. They came together in separate organizations and meeting places that manifested larger German influences and the distinct character of German radicalism. Beer halls and singing societies, popular among non-evangelical Germans, were the social centers of community life, where lounging tradesmen discussed politics, recalled Old World experiences, and sang the old beer hall songs, foaming steins in hand.17 Several Free Thought societies (and at least two radical newspapers) served the intellectual interests of deists and skeptics.18 The societies exhibited the national penchant for order and structure. More formal than analogous English-language institutions, they hired "speakers" who read selections from popular radical tracts to their attentive listeners. Debate and discussion followed, and while familiar to English-speaking rationalists, it reflected the context of its rehabilitation in Europe.19 American Free Thinkers, it will be recalled, equated the religious establishment with Presbyterianism and occasionally expressed sympathy with the victims of Presbyterian invective, both Catholic and Protestant. Since the Presbyterians were the cutting edge of the antiliquor forces in Philadelphia Germans shared this animus.20 But the bitter entanglement with Continental Catholicism was seered in the German radical mind and the Catholic presence in the Quaker City rekindled this antipathy. Thus, German rationalists continued to be more anti-Catholic than their American cohorts.21
Though founded by immigrant radicals, Free Thought groups, debating clubs, and even trade unions should not be seen simply as cultural transplants existing independently of conditions in Philadelphia or sustained solely by the influx of radical émigrés. They were the cultural products of newcomers whose political inclinations originated in the Old World but would not have amounted to much were it not for the surroundings that greeted both radical activists and ordinary immigrants only casually acquainted with radicalism. Apart from the émigrés, most immigrants left for the New World in hopes of finding an environment more hospitable to social customs and laboring traditions. The German Auswanderer, writes Mack Walker, went to America less "to till new fields and find new customers [than] . . . to keep ways of life they were used to, which the new Europe seemed determined to destroy."22 This was very much on the mind of an Esslingen wine gardener who requested the release of his foster son from military service because the lad had "(a) . . . learned the saddlers' trade, but that trade has been seriously affected hereabouts in recent times by the railroad; (b) a brother and other relatives in America have invited him to join them; and (c) he will be better and sooner able to assure his future there."23 Seventy-five Badenese villagers set out for America with similar intentions. "We have reached the decision," they reasoned, "since Capital so commands Labor in our Fatherland, to find a new home . . . where the reverse relationship prevails."24 English immigrants also thought they were entering a workingman's paradise that promised independence to the industrious. Their correspondence, Charlotte Erickson concluded, indicates that the goals of English immigrants "were directed towards the non-material ends of independence and leisure, not so much towards the acquisition of a higher standard of living in material goods."25
The political and economic experiences of these Philadelphia immigrants were mixed. They deeply appreciated popular democratic attitudes and freedom from arbitrary rule, to say nothing of the right to vote. "We like this country very well," an English immigrant wrote home, "and I am glad to think that we are in a free country, free from the . . . tyrannies of Kings, Priests, and Lords."26 But what of the current political climate and the tyrannies of nativists? Few English and German immigrants had much pity for Catholics, but fewer still savored the fulsome bigotry of American Republicansim, even through party orators singled out Catholics for abuse. This was small consolation, for the American Republican platform made no such distinction. It would disfranchise aliens of whatever religion and its program drove most English and Germans to the shelter of the Democratic party.
Some of the newcomers did well as employees. Wages were higher, jobs were plentiful, if more taxing than in the Old World, and the dream of establishing independence by purchasing a farm or opening a small shop was still possible. Unknown numbers did accumulate enough income to buy a modest farm or set up shop, but only after years of frugal living.27 And they were probably exceptional; the great number concentrated in the sweated trades and in factory work.28 The haven from industrial capitalism that they so eagerly sought in the New World eluded them in Philadelphia.
Antagonized by the exactions of sweatshop and factory, immigrant radicals might have lashed out in several directions. They could have turned against Irish immigrants crowding the sweated trades or they might have followed middle-class politicians contriving to contain worker frustration. There was precedent for both courses in the 1840s. Many native-born tradesmen imputed the decline of artisanship to immigration and to the plunder of accumulators, and fell in line behind radical politicians who, as we shall see, thought of themselves as producers and exploited popular suspicions of aliens and financiers. Yet neither course impelled foreign-born radicals. Such dissidents were simply not preoccupied by Catholics either as a cultural menace or as job competitors. They scorned the ethnic fulminations and class formulations of middle-class radicals because such politicians were incorrigibly nativistic. These radicals espoused a purer form of the producer ideology—one that posited their right to the full product of their labor. A minority of immigrant radicals, best represented by John Campbell and Edward Power, shied from the class confrontation prescribed by this version of the producer ideology and wandered off into utopian socialism.29 Most English and German immigrants spurned the romantic radicalism of Campbell and the watery radicalism of middle-class nativists. They braced for conflict, forming their own combinations or enrolling in those of American radicals.
The New Radicalism
English and German political émigrés gave the old radicalism a new lease on life, but their numbers were insufficient to revive it from minority status within the radical community. It was eclipsed by a new radical subculture that consisted of the producer ideology and revivalist morality. This would become the dominant expression of American radicalism, or, more formally, radical revivalism.
Who were the radical revivalists? Their leaders liked to think of themselves as spokesmen for respectable mechanics—that is, skilled workers in the sweated trades, craftsmen in the prestigious pursuits, and the employers of both.30 There is no direct way of identifying the social base of radical revivalism with certainty. Complete membership lists of radical revivalist groups are lacking and when they are available, it is difficult to differentiate the skilled from the semiskilled workers within most trades. The one group that did come closest to representing such mechanics was the American Republican party and, in this regard, it is helpful to compare the social profile of its activists with that of the Democrats, the party of old radicals and immigrant traditionalists.
Table 11 reveals several differences between the groups in Southwark. The most unsurprising of these is national origins: all American Republicans were native-born, while Democrats included sizable minorities of English, Irish, and German immigrants. Some foreign-born Protestants, presumably evangelical Protestants, may have voted American Republican, but did not figure in the party hierarchy. As other studies of nativism have shown, American Republicans were younger and perhaps not as politically experienced as their rivals.31 Equal numbers in both groups, about 40 percent, owned real property in 1850, but Democratic holdings were larger and more unevenly distributed. Two Democratic stalwarts, Joseph Diamond and Dr. D. F. Condie, were among the wealthiest men in the district, which hints at another distinction between the parties. Both leaderships contained substantial representations of artisans, but twice as many Democrats, a third of the party chieftains, were involved in nonmanual work. Their party was a classic coalition of the very rich and the poor—gentlemen, merchants, and professionals, on the one hand, and propertyless wage earners, on the other. By way of contrast, American Republican leadership was the exclusive preserve of artisans and tradesmen of all callings, but drawn disproportionately from printing, construction, the shipbuilding trades, gun making, and other honorable occupations. Fully half of these mechanics were masters who ran small businesses. Having less than eight journeymen in his employ, the typical proprietor was either a custom producer or a subcontractor.32 His business was as new as it was modest; he had been a journeyman who inched his way to master status after 1845, no mean achievement in a period of declining opportunity.33
This social configuration confirms the impressions of American Republicans themselves. Their party did include mechanics of the "better" trades but more important, it united journeymen and masters under the domination of the latter. Most nativist leaders, moreover, had been radical Democrats, such as the master mechanics Lamuel Paynter and Thomas Grover, or former Trades' Unionists, such as the bricklayer John Bottsford, the coachmaker Joshua Fletcher, and the printer Hector Orr. Their shift into American Republicanism left the Democracy with a narrow base in the artisan community and, at the same time, made American Republicanism the voice of native-born mechanics.
Democrats and American Republicans: Southwark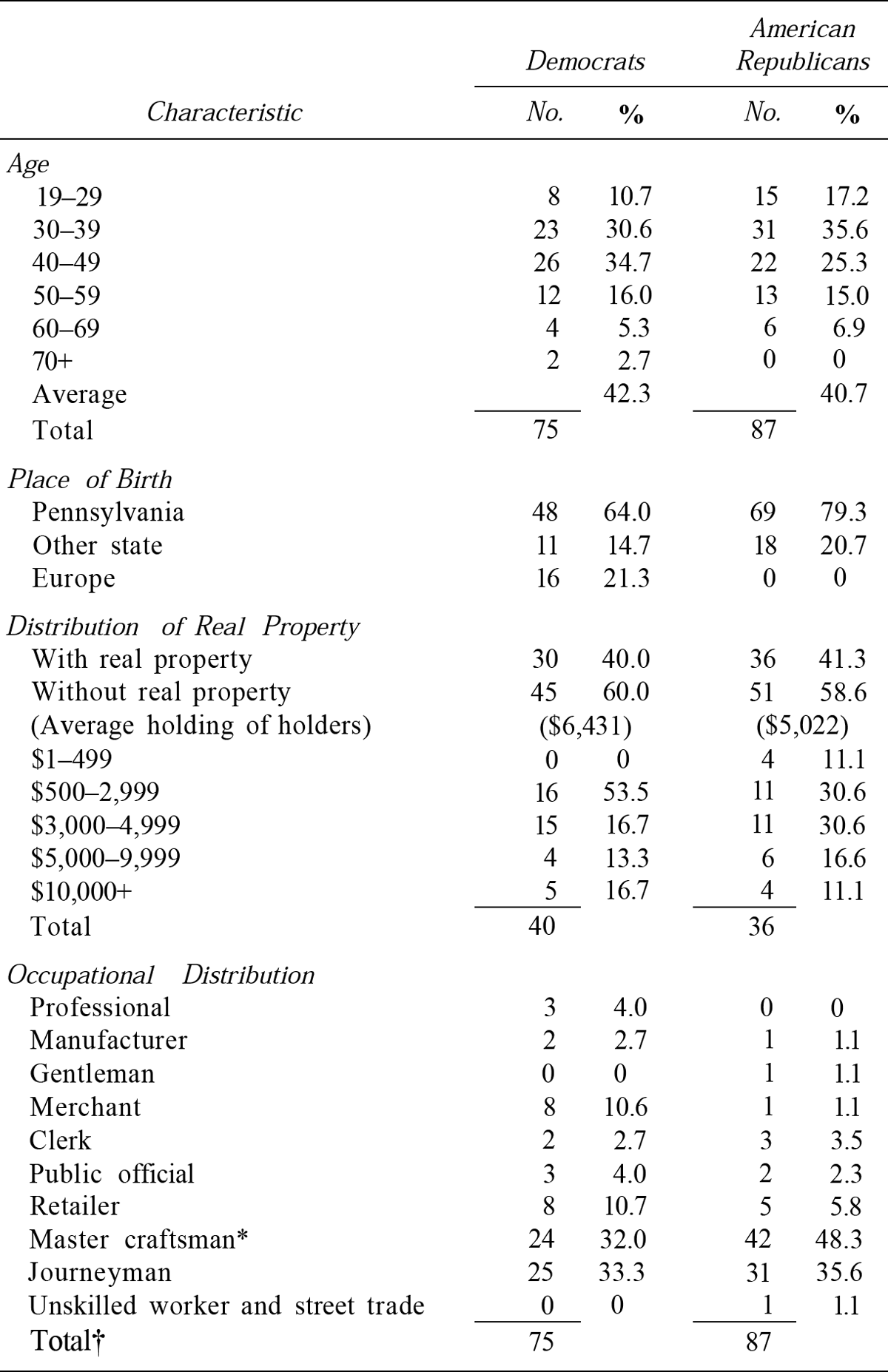 *See Table 5.
†There were 100 Democrats and 104 American Republicans on the original list. Seventy-five of the former, or 75 percent of the sample, were located in the directories and the census, and 87 of the latter, or 83.6 percent, were located in both sources.
Source: The names of party activists were collected from Public Ledger and Daily Sun for the years 1846 to 1848 and traced to the corresponding city directories, to the United States Census Office, Census of the United States, Population Schedule, (Southwark), 1850, (microfilm, MSS, National Archives, Washington. D.C.,); and to United States Census, Industrial Schedule (Southwark), Philadelphia County, 1850.
These one-time radicals followed various routes from the Democracy to American Republicanism, and from the old radicalism to the new. Some of them underwent conversion in the evangelical surge of the depression; others were attracted to the revivalist temperance movement, if not to the church itself.34 Neither group, however, subscribed entirely to revivalism in quite the same way as Benjamin Sewell, the former vice president of the Trades' Union and then Methodist convert who became an apostle of revivalist culture. Like Sewell, they accepted the moral side of revivalism but unlike him, rebuffed its conservative thrust. The politics and morality of these radicals were distinct and separate.
Radical revivalist mechanics did not completely segregate themselves from revivalists or traditionalists. They commingled with both groups in the American Republican party, but none lazed about in fire houses or fraternized in pubs and few showed much interest in the life of the church. Although respecting Protestantism, they had a residual mistrust of the clergy and were revivalist constituents, rather than formal church members.35 They reserved displays of piety for holidays, weddings, baptisms, and similar occasions that usually drew nonmembers to pews. Some of them consorted with revivalists in temperance-beneficial societies and other voluntary associations gotten up by the clergy, but they also organized parallel groups free of clerical influence and restricted to masters and journeymen.36
As evangelical Protestants, such mechanics expressed revivalism's cultural interests. They could be equally nativistic and, in a sense, even more so than the most avid revivalist. The latter, for example, welcomed immigrant converts into their churches during revivals, when the holy spirit crossed ethnic boundaries and brought Irish immigrants into American congregations. This integration of suburban churches occurred without raising tensions between native-born and immigrant; native-born evangelicals accepted their Irish coreligionists in the community of Christ, if nowhere else. Radical revivalists were not always so charitable. They spurned Protestant immigrants seeking nomination for office on the American Republican ticket and barred foreigners from fraternal orders under their control.37 They constituted a militant brigade within the cold-water army, and, judging from the records of their social organizations, enforced the liquor ban as rigidly as any evangelical minister.38 Here the consonance between radicals and revivalists ended.
Radical revivalists did not identify exclusively as Protestants or view the world through the myopic glass of evangelicalism. They conceived of themselves as Protestant mechanics and workingmen. They remained loyal to the radical faith of their youth, the labor theory of value, and grafted the new morality onto this venerable creed. The result was that they perceived social phenomena through the dual lens of evangelical morality and class, as they understood the term, and passed judgment on the basis of both. Such radicals never disguised their low opinion of nonproducers of whatever nationality. They defamed the Irish, for example, not only because of their national origin and thirst for liquor, but also because they refrained from productive labor. "Three-fourths of the grocery stores and nine-tenths of the liquor stores," wrote one radical, "seem to be kept by Irishmen. These are not productive occupations."39 Another divided the foreign-born into two groups, the Irish and everyone else, and confessed to grudging respect for the resourceful Swiss and Germans who settled in the west and worked the land. The Irish, however, lingered in the city and shunned "honest industry and economy" for the "mean [and] squalid" life.40 Then there were the urban commercial and financial elites. They basked in extravagance on incomes accumulated through "speculation," "robbery," and means as unproductive as Irish occupations. Both the elites and the immigrants were drones subsisting on wealth produced by honest mechanics and their very existence led a radical to ask "Whether a country is most benefitted by a community of farmers and workingmen, or a community of loafers, agents, idlers and gamblers?"41
Revivalist radicals were preeminently concerned with the causes of inequality and poverty. Why, they asked, must worthy mechanics struggle to provide for their families, while merchants and bankers lived in affluence? They rejected the revivalist contention that the hardship of producers resulted from faulty character traits alone. Diligence and pluck, industry and sobriety, in their view, carried one only so far—and normally not far enough. Mechanics suffered chiefly because of the pressures exerted by immigrants and by accumulators. Foreign-born workers, it was argued, depressed wages and displaced skilled journeymen and endowed their unscrupulous employers with a cheap labor pool that gave them a competitive edge over the honest master craftsman who "pays fair wages, and charges fair prices."42 Such masters, and all but the most craven entrepreneurs, insisted radical revivalist spokesmen, qualified as producers and as the friends of journeymen. They were the mere "agents of capital," captives of the iron laws of supply and demand, for when capital was abundant and cheap, they and their employees reaped the fruits of prosperity. But when denied credit, they had to slash wages or cut employment rolls in order to survive.43 The real culprits were accumulators who regulated the money supply. They had the "leisure to combine, . . . scheme and make enormous profits, sometimes without investing a cent" and "the power to elevate or depress the market, . . . make money plenty [sic] or scarce, gamble with impunity, even control, by combination and monopoly, the very circulating medium."44 Nor were they alone in villany. Corrupt legislators, who chartered banks and corporations, were inseparable from the accumulators.45
Thus, master and journeyman had common foes in the upper and lower reaches of society. This community-of-interest—the equivalent of what Lewis Levin had in mind when he called for "knitting up the sympathies" between the classes—became a central theme of American Republicanism and radical revivalism. Party orators cultivated it by acting as champions of productive labor and of moral and material improvement, independence, and respectability. In this effort they secured the aid of self-made proprietors who considered their careers to be models of emulation, or they praised those who had achieved public recognition without abandoning the mechanical arts. H. H. K. Elliot thus exhorted a gathering of nativist artisans: "Look around . . . and . . . discover in your own city, among those who now have high places, great wealth, and much respect, very many who started in life as, and who continue [to be], mechanics."46
Outside the party no radical revivalist group better illustrated the community-of-interest ideal than the Order of United American Mechanics (U.A.M.). Founded in 1845, appropriately in Jefferson Temperance Hall, it spread like wildfire through artisan neighborhoods, and five years later could claim over one hundred lodges in the county, with memberships ranging from ten to a hundred.47 Twenty-three charter members, both masters and journeymen, came from such skilled occupations as carpentry and printing, but the Order, much like the American Republican party, also had a following of workmen in the baser crafts.48 Leaders belonged to kindred nativist groups. Founding member and journeyman carpenter George F. Turner was an American Republican party activist; so, too, were journeyman bricklayer John Bottsford and journeyman bookbinder James Bayne. Bottsford, Bayne, and Joseph Hollenbeck, a shoemaker by trade, were temperance advocates as well as officials of trade-based teetotal clubs and temperance-beneficial societies.49 Master craftsmen included such nativist darlings as Oliver P. Cornman, a journeyman house painter turned newspaper editor, and H. H. K. Elliot, the publisher.
Radical revivalist morality and politics supplied the cement of this union of masters and journeymen within the U.A.M. The Order barred nonproducers—merchants, bankers, and professionals—and immigrants. It was so nativist, in fact, that the Executive Council once turned down an applicant "born on the seas."50 And upon learning of a Vatican bequest of a block of marble for the proposed Washington Monument, the Council moved to withdraw its own donation "in solemn protest against foreignism in all its forms."51 Those who did gain entry displayed an abiding respect for the new morality. They pledged loyalty to the motto "Honesty, Industry, Sobriety" as individuals and as members of an enterprise instilled with evangelical purpose. Members not only swore off drink and other libertine habits, they also policed one another's behavior and reported incidents of swearing, profanation of the Sabbath, whoring, and, of course, drinking. Backsliders were fined, suspended, expelled, or refused welfare benefits.52
The U.A.M. also offered a program of economic improvement. A fraternal order and beneficial society rather than a union, it nonetheless proposed to pursue "every honorable means to obtain 'a fair day's wage for a fair day's work'" so that fellows could "support themselves and their families in comfort and respectability" and could "accumulate a sufficient sum . . . to . . . sustain them through the mischances and mishaps of a rainy day."53 But the Order recoiled from setting worker against employer. On the contrary, its followers were encouraged to behave as mechanics with mutual needs rather than employers and employees with conflicting interests. They attended seminars on "How to Accumulate Property" and set up shop, and they heard lectures on the producer ideology, which reviled commercial and financial capital.54 Those in financial straits, owing to joblessness, irregular work, or bad luck, were urged to sign an unemployment register which was circulated among appropriate employers.55 Members were also advised to patronize American mechanics only in the hope of providing more business and employment for fellow artisans.56 Such measures, in conjunction with the political program of the American Republican party, would, it was thought, harmonize class relations and bring independence and respectability.
This rendition of radicalism represented a subtle change in emphasis within the radical tradition. Working-class rationalist radicals of the thirties and forties consorted with Philadelphians of middling status in debating clubs, lyceums, and political organizations, but they also had maintained some distance and independence from employers through the medium of trade unionism. Revivalist radicals sacrificed such independence. They were allied with master craftsmen in the American Republican party, the Order of United American Mechanics and temperance organizations, and they had little use for unions or for battling employers.
This change in the temper of radicalism owed to three factors. The uneven course of capitalist development sundered employers into a class of large entrepreneurs and a class of small subcontractors and master craftsmen. The petty producers far outnumbered the entrepreneurs, and they dominated the leadership of the American Republican party, the United American Mechanics, and other nativist groups, and controlled the nativist press. Such employers were one-time journeymen with modest accumulations whose social practice was more consonant with the workers who joined their organizations and staffed their shops than with the large producers. They shunned fashionable dress and other markings of social status for the plebian garb of their crafts; they worked with their hands at the same benches as those in their employ; and many still boarded their own journeymen.
The petty producers also boasted of paying "good" or "fair" wages, and they were not far from the truth, if one substitutes "better" for fair and makes the entrepreneur the standard of comparison. Statistical evidence shows that masters did offer better wages, and journeymen were probably aware of this.57 Such structural arrangements laid the groundwork for the mutual respect and fraternal feeling that united small producer and journeymen and received organizational expression in the U.A.M. and the American Republican party.
Secondly, the resurgence of revivalism and temperance built a cultural bridge between the petite bourgeoisie and radical workers—one that was nonexistent a decade earlier, when skepticism and Free Thought were handmaidens of radical culture. Radicals who turned to revivalist morality during the depression moved closer to the middle class and left themselves vulnerable to the oratory of politicians adept at manipulating the symbols of the new morality and exploiting popular anxieties. Every nativist politician understood the political capital to be gained from cloaking himself in the mantle of the new morality and agitating the "foreign question" among recruits to the temperance crusade. These recruits, after all, had known the insecurity and horror of unemployment, and feared for their jobs in the wake of the immigrant influx during good times.
Third, the producer ideology was so flexible that it accommodated masters and small producers as well as journeymen. The struggling small producer who worked with his hands and depended upon money markets was difficult to place. No radical theoretican, not even William Heighton, settled the question. Heighton, it will be recalled, discussed exploitative master craftsmen and excused them on the grounds that they were obligated to bargain with "accumulators more powerful than themselves" or merchants and financiers. This ideological loophole gave master craftsmen access to the producer class and allowed them to enter it on their own terms. Those in the American Republican party, picking up where Heighton left off, read themselves into the producing class and vented their spleen against merchants, bankers, and "monopolistic legislation," the standard bette noire of radicalism. In so doing they deflected worker animus from themselves and onto those who extracted profit through exchange.
They also paid homage to mechanics and artisans at every opportunity. National holidays, such as Independence Day, were turned into nativist spectacles in which tradesmen wore the dress of their crafts and marched according to trade. Thousands of admirers turned out to pay their respects, and speakers waxed rhapsodic in addresses identifying nativistic mechanics as the keepers of true republicanism.58 Party organs published and reprinted poems, songs, and sentimental short stories in praise of mechanics. Politicians listed their occupations in campaign propaganda in order to enlist mechanic support. Political slogans proclaimed "Native agriculture we cherish first—native industry first and last, in every branch of trade—art—ingenuity—mechanics—and invention."59 No political organization of the period, with the possible exception of the Working Men, made such a point of identifying with the producing classes.
Yet this master and journeyman connection was fragile. It depended on the capacity of the market economy and the measures of nativism to fulfill the mechanics' dream of independence—a dream nurtured by the producer ideology itself. By the mid-1840s cracks were already discernible.
Toward Unity
Old radicals wasted no time in rebuilding their ragged combinations. On two occasions, in 1843–1844 and in 1847, radical shoemakers and tailors staged vigorous organizing drives in preparation for strikes to recoup the wage reductions of the depression. Their struggles conformed to a pattern. Radical orators lectured on the "condition of the craft," in an attempt to renew interest in unionism; committees drafted lists of prices for presentation to employers; and organizing teams fanned out through the county, visiting homes and workshops, just as they had done a decade before.60
The organizers confronted imposing obstacles. Shoe and clothing workers were dispersed among manufactories, garrets, and sweatshops in the downtown and in distant suburbs, and many still worked at home, which made communication and coordination difficult. The workers themselves were a heterogeneous lot. Radicals constituted a distinct minority in the trades which had become cultural mosaics under the impact of immigration and revivalism. There were traditionalists, revivalists, and radical revivalists of both sexes and all nationalities; and their cooperation was vital. Radicals had no difficulty obtaining the support of the German radicals, who formed separate unions and joined together with their American counterparts in both standouts.61 They were frustrated, however, in the effort to reach those in other subcultures.
The organizing committee of the Journeymen Tailors' Association, for example, could not mobilize the many outworkers of the trade. Strike committees, which intercepted cottagers carrying raw materials and finished goods to and from shops, succeeded only in strengthening the resolve of the strikebreakers. Scabbing outworkers so resented such harassment that they pressed charges against their antagonists and landed them in jail during both standouts. The second legal ensnarement (and perhaps the first as well) resulted in the conviction of several Association members for conspiracy.62
The cultural identities of the scabs is difficult to determine. Strikers did not refer to them in cultural terms, but there is reason to believe that they were revivalists and traditionalists. Evangelized workers, after all, were singularly timid and usually refrained from confronting employers except over the hours issue. They were also imbued with nativist feeling and the presence of immigrant leadership in the Journeymen Tailors' Association and Union Beneficial Society of Journeymen Cordwainers, Men's Branch, further tainted the unions. Traditionalists stood aloof because they brought minimal expectations to the workplace and had a low standard of what constituted a fair wage. Or, at least, this is the impression left by radical organizers who constantly bemoaned the refusal of lowly and uninitiated workers to join unions or participate in strikes. "Don't stay away because you are poor," implored the radical tailors in an appeal to scabs. "If you continue to work as you do, you will be even poorer, if it were possible for you to be so."63 Striking cordwainers betrayed the same exasperation in an even more pointed reference to the immigrants—the Irish in this instance. In a circular letter addressed to the famine generation, they observed that Irish immigrants had belonged to the Union Beneficial Society in the thirties and called upon "those who in the past have done honor to our trade, but now refuse to join our society, the majority of whom are strangers in our city . . . and are consequently ignorant of the things of which . . . [we] complain."64
Radical revivalists, on the other hand, were caught in cross pressures of their own culture and economic change. The first of these was the combination of nativism and the entrepreneurial rendition of the producer ideology, which bound them to employers in the organizational matrix of radical revivalism. They believed it futile to assail bosses, if, as their spokesmen insisted, avaricious financiers and ignorant immigrants lurked behind the degradation of craftsmanship and the erosion of earnings. This formula was convincing enough at first, but less so with the growing domination of entrepreneurs in shoe and clothing production and the attendant worsening of conditions. Radical revivalism had reached a crisis. It was unequal to the task of arresting the ravages of growth or mollifying its working-class adherents with protestations against foreigner and financier. Entrepreneurs were accountable to the money changers, just as radical revivalist leaders argued, but this was small comfort to restive workers. Such employers and not bankers or merchants turned down even the modest wage demands of old radicals. Their behavior belied the community-of-interest ideal and now estranged new radicals.
These new radicals thus parted company with their employers. On the eve of the tailors' strike in 1847, for example, U.A.M. member and nativist activist William Green organized the United Brotherhood of Tailors, an independent union of journeymen, and his group collaborated with unions of English and German-speaking tradesmen.65 Green's radical revivalist colleagues in shoe production evidently filed into the Union Beneficial Society and both groups manned the pickets in the 1847 standouts. Their numbers bolstered the ranks of the strikers, but shoe and clothing manufacturers still turned back the journeymen for the second time in four years.
United but unable to improve conditions through strikes, old and new radicals scheduled a meeting in 1847 to discuss "certain measures which would tend materially to their happiness and prosperity."66 The ensuing Trades' Convention brought out many delegates who had just gone through the disasterous strikes and were determined to find an alternative. They shelved standouts but not their radicalism and mused over several schemes that would guarantee workers the full product of their labor. There was virtual unanimity in favor of cooperation, and several resolutions outlining alternative methods of collective endeavor were put forth. After some debate, the delegates opted for protective unions, which were then being formed in other urban centers.67 Such unions began with consumer cooperatives that raised the capital for productive ventures in light consumer goods. The Convention thus sponsored a grocery store in the winter of 1848–1849, and then branched out into cooperative workshops specializing in shoes, clothing, and hats. But this cooperationist scheme was cut short. Financial difficulties, deepened by the recession of 1849, destroyed two stores and eventually claimed the rest.68
The Convention is noteworthy because of the occupations and cultural identities of its delegates. Organizers looked forward to uniting workers in all trades and subcultures. Advertisements in the press beckoned "operatives in the different mechanical arts" and included a special invitation to the hand loom weavers.69 Old radicals of all nationalities responded to the call. Germans in the Northern Liberties, who had recently come together under the German Workingmen's Union, resolved to "act in concert" with the "American Laboring classes" and sent several deputies, among them the boot and shoemakers T. C. Liebrich and Lewis Mahlke.70 Yorkshire-born tailor John Shedden, an ardent cooperationist who would turn up in the International Workingmen's Association in the late 1860s, attended along with Irish radicals (and presumably ex-Chartists) James McShane and Peter McIlroy. Native-born delegates included Joseph D. Miller, longtime leader of the Association of Journeymen Tailors, and William Hunter, current president of the United Brotherhood of Tailors.71 The Convention thus cast a fairly narrow net. Traditionalist and loom weavers, indifferent to unionism in general and increasingly circumspect of radicalism, were conspicuous by their absence. So were radical revivalists outside the sweated trades. New radical printers and building craftsmen persisted in looking upon immigrants and financiers as greater threats to their well-being than employers.
Indeed, as the Trades' Convention took shape, new radicals planned a rally at Independence Square in June 1847. A publicity committee of nine, dominated by construction workers and small entrepreneurs closely identified with the American Republican party and the United American Mechanics, flooded the press with advertisements and plastered fences with broadsides welcoming "Honest" American workingmen to attend and register their opposition to the growing tide of immigration.72 Their nativistic comrades made a beeline to the State House yard. A great crowd had already assembled when American Republican favorite Peter Sken Smith rose to speak. As he began, an even larger contingent of suburban workingmen marched into the Square, in step to the rhythm of a fife and drum. Their dramatic arrival elicited a reception of nine cheers and made this one of the largest demonstrations of mechanics since the antibank rallies of the late thirties. Speakers hammered away at the central themes of radical revivalism. Sken Smith, the temperance orator and newspaper publisher, was followed by master carpenter Jacob Beck and journeyman bricklayer John Bottsford. All lambasted unproductive labor in the parlance of producerism, arraigning "professional politicians" and singling out the immigrants. Lax immigration laws were the root of the problem, Beck asserted: ease of naturalization lured immigrants who "depressed and is [sic] depressing with perpetually increasing rapidity, the rewards of American Labor by glutting the market with laborers beyond all possible demand . . . sinking at the same time the boasted respectability and moral standing of the American Mechanic and Workingman."73 This motiff ran through a set of resolutions that would compel candidates in the upcoming elections to endorse the principle that "American labor is entitled to legal protection against the labor of imported laborers by duty, capitation tax, and sanitary regulations."74 These radicals still perceived immigrants as the bane of American labor and employers as honorable allies in the campaign to turn back Europe's hordes. The wage earners among them were not yet inclined to cohere with foreigners, radicals or not, in a workers' movement.
But what of those employers who were absorbing a larger share of the labor market in the respectable trades and who increasingly resembled accumulators? They were holding down wages and making tidy profits on the labor of those in their employ, like their counterparts in the sweated industries. Such developments were beginning to antagonize new radicals with expectations of a fair compensation for honest endeavor and a life of dignity. They aired their grievances in letters to the local press at the twilight of the forties. Journeyman carpenter George F. Turner, a noted temperance advocate, American Republican official, and founder of the U.A.M., vividly captured the aspirations and disappointments of the respectable radical revivalist. The "worthy mechanic," he wrote, was fully entitled to a "house . . . on a front street, three stories high, bath room, hydrant, good yard, cellar . . . house furniture, bedding, amusements," but was barely able to provide the basic necessities for his family.75 Fellow carpenter and U.A.M. comrade Matthew W. Robinson, writing to "further add to the example so nobly set for us by . . . Turner," had no objection to an individual who purchased luxuries, but continued,
here is where I [do] object. The Carpenters or any other trade, shall be compelled to toil for low wages, themselves not able to procure the necessaries, much less the comforts, while the luxuries must not be drempt of; while on the other hand, those who "toil not neither do they spin," are in full possession of every article which can and does make a paradise of this world of ours. The Carpenters look around them, and they behold that the palaces built in part by their labor, in possession of—not themselves—but of others.76
This blend of Christian imagery, worldly aspiration, and class consciousness also cropped up in a letter of journeyman printer George W. Heilig. "In earlier times," he wrote, man was content simply to "eat and clothe himself," but the "sciences and arts have at this day disclosed an artificial, intellectual, moral, and social life, which . . . is as essential to maintain as the merely natural; and, as it is more refined and exalted, so also does it require a freer and more liberal nourishment." Workingmen had to
meet the demands of this more elevated life, which . . . is the religious as well as the political duty of every American to seek and maintain. The true light now lighteth every man that cometh into the world, and it will be received. We must, therefore, also be in a condition that will enable us to contribute to the support of churches and other associations that will afford us the opportunity of engaging in such religious exercises and social duties as may tend to bring into genial activity our religious feelings and moral affections.77
Radical revivalists in the better trades found themselves pursuing the illusory goal of a life of respectability, while earning little better than subsistence wages. Awareness of this contradiction spread with the realization that the program of the American Republican party failed to relieve the maldistribution of wealth or improve the lot of wage earners. Middle-class leaders might condemn bankers, but, as Matthew W. Robinson observed, it was the employers who could afford "pianos and music books, ottomans and plate, carriage horses, or livery and servants" because of the toil of workers. "By what process," he inquired, "is it that wealth producers are generally in indigence, if not in absolute want, while the classes who do not produce, are at the summit of society? The carpenters are making these inquiries; and in due time satisfactory answers will be evolved."78
Such introspection was part of a larger process in which new radicals in the prestigious crafts despaired of the community-of-interest ideal and gradually arrived at the same conclusions as old radicals. Most likely, some of them took part in strikes (if not in unions) headed by rationalist building tradesmen in 1847 and 1848.79 Most assuredly, they became the dominant trade-union force in such vocations by the close of the decade. The very same George F. Turner and Matthew W. Robinson, whose angry letters appeared in the local press, became leaders in the newly formed Association of Journeymen House Carpenters in 1850. William G. Russell, another member of the U.A.M., was secretary.80 But the union transcended the community of new radicals. Robert Mansure, an old radical and president of the Trades' Union in 1837 who withdrew from unionism in the forties, now lent his experienced voice to the Association.81 Other old radicals undoubtedly followed Mansure, duplicating in his union the coalition that had emerged during the mid-1840s within the tailors' and shoemakers' societies.
United in the Association, old and new radicals drafted a list of wage and nonwage demands for presentation to masters and contractors. But their timing was poor. Builders, locked into contracts signed several months earlier, were in no mood to compromise. They flatly refused to consider the issues and thus precipitated a strike that dragged into late summer. By early September demoralized radicals began to return to work, but vowed to resume the struggle the following spring.82 They spent the winter of 1850–1851 girding for a resumption of the strike, and this time achieved a qualified success: about half the masters and contractors agreed to advance wages $.25 per day and to recognize worker control over recruitment of apprentices and work loads. But the rest were as tenacious as ever, and wore down the journeymen by midsummer.83
Such frustrating strikes further shook radical revivalist faith in the community-of-interest ideal. They also helped turn worker thinking toward cooperative production. Thus, during the 1851 strike, George F. Turner opined that carpenters "ought" to be "producing for themselves" and should "unite to work fewer hours." He advised an inquiry "into that system of acquisition and distribution" that assured workers the full proceeds of their labor, and he struck a resonant chord among his strike-weary followers.84 They discussed the virtues of cooperation in the midst of their standout and then organized several cooperative firms in the summer of 1851.85
Radical revivalist printers followed the same path to class conflict and cooperation as the carpenters. They differed only in their prompt recognition of the need for unionization. By 1843 a group of them organized the Franklin Typographical Association, which originated as a union but never conducted a strike, not even in the mid-forties, when fellow radicals in the sweated trades broke with employers over wages.86 Nor is this surprising. No trade society boasted such a solid phalanx of radical revivalists as the Franklin. Virtually all of its executive officers belonged to the American Republican party or the U.A.M., and usually both. Financial secretary Henry L. Walter was an American Republican ward leader, as was his successor, Robert Phillips, who served as secretary of the American Republican Association of the Second Ward in Moyamensing and headed that district's rabidly nativistic John Hancock Temperance Beneficial Society. John Henderson, corresponding secretary and then president, sat on the executive board of the U.A.M. and William Sharpless, holder of several offices in the Franklin, was a founder of the U.A.M.87 Under their direction, the Franklin lost sight of its purpose and was metamorphosed from a trade union into a nativistic fraternal lodge.
This transformation worked to the detriment of the printers. Preoccupied with the immigrant menace, they stood idly by as their trade underwent a boom marked by expansion and modernization, as well as by mushrooming small book and job shops. Printers who had once worked their trade in the casual setting of the small shop now faced the choice of doing increasingly specialized tasks in large factories or sweatshops. They saw their work traditions assaulted as employers divided up skills and hired "half-trained" men and women, many of whom had their hours extended to eleven and twelve a day. On top of this, wages hardly improved in the course of the decade, and journeymen printers, still the best paid of all artisans, were beginning to grow restless.
This degradation of workers fractured the accord between radical revivalist printers and their employers. Preliminary indications of stress were there in the summer of 1849, when the Franklin's leadership, alarmed over the decline of the trade, ordered a union committee to survey its calling in Philadelphia County. The committee reported what the membership had already suspected. There was a decided worsening of conditions, mirrored in the changed distribution of the labor force. A fourth of the 728 workers, read the report, were apprentices and minors doing routinized jobs and over half the trade found employment in the book and job shops, the industry's answer to garrets, where conditions were especially harsh.88 The committee did not note that the proprietors of such establishments were among the devotées of the community-of-interest ideal, but the lesson was not lost on the membership.
Resolved to rescue their trade from the perils of industrialization, the Franklin men pursued a new strategy—one that conformed closely to that of the carpenters. They dissolved the outmoded Franklin Association in the winter of 1849–1850 and reconstituted themselves as a trade union, which would later affiliate with the International Typographical Union (I.T.U.) as I.T.U. No. 2.89 They also sought to broaden their base with an inspired organizing campaign geared to rearch all practitioners of the craft, native-born and foreign-born alike. It proved a mixed success, in spite of a series of shop meetings and mass rallies aimed at bona fide journeymen and marginal workers. Many specialized workers rejected the union, while the journeymen signed up by the score. Old radicals, such as William Wellington, who had been inactive for the greater part of the decade, joined the I.T.U., along with those Germans who spoke English.90 Though German-speaking immigrants were organized separately, they purposed to stand together with the I.T.U. in the event of a strike.
A strike was precisely what the newly unionized printers had in mind. As organizing committees met in shops and public places, tradesmen employed by publishers and jobbers drew up a laundry list of demands that included a rate advance, a ten-hour day where it was not acknowledged, a limitation on the apprentice-journeyman ratio, a closed shop, and the maintenance of traditional work practices.91 The employers received this package in early August and within a month all but two of the publishers and two-thirds of the jobbers conceded.92 The resisters triggered a protracted standout that extended for two long months and posed a severe test for the journeymen. Internal discord occurred when nonradicals, who had joined the strike in order to reduce working hours, refused to hold out from other nonwage issues and pressed for acceptance of an employer compromise. Their moderation sent the new radicals to their quills in an attempt to sustain militancy and resolution. Radical polemics appealed for solidarity, in language clearly aimed at the sensibilities of revivalists. "Cultivated and mature minds," one of them affirmed, "cannot be bound in chains; circumstances for a time may oppress them, but they will eventually burst the bands that are wrapped around them, and stand forth as exemplars of what God intended man to be."93 The radicalism of the leaders also became more pronounced in the course of the strike, as debate turned toward cooperation. Such ideas further repelled the acquisitive and individualistic revivalists who censured the "ultra agrarian sentiments" of the leadership and returned to work.94 Their abandonment of the strike brought it to a halt, but did not arrest the ideological ferment building among the radicals. Instead of manning the presses and composition rooms of boss printers, they organized cooperatives.95
The spirit of independence shown by the carpenters and printers simultaneously began to make itself evident in other trades dominated by radical revivalists. Stone cutters, plasterers, and related building tradesmen as well as bookbinders and cabinetmakers unionized in violation of the community-of-interest ideal.96 This union movement reawakened the interest of old radicals in building a council of trades, and in October 1850—during the printers' strike—the Germans proposed a convention of mechanics. No one knows precisely who attended the October German-American Workingmen's Congress, which convened in Philadelphia, but it probably did not evoke much interest in radical revivalist circles. Most delegates represented trades identified with German workers and, we may believe, German radicals dominated. The proceedings also suggest the prominence of immigrants. Resolutions openly attacked nativism and indirectly attacked revivalism by condemning Sabbatarian laws.97
Nothing came of this convention. Proposals for labor exchanges linked to producer and consumer cooperatives were warmly endorsed but never implemented, at least not in Philadelphia. But the gathering did have catalytic value. Six members of the I.T.U. called a meeting of the local workingmen that would settle upon a plan to "free each individual from the oppressive hand of capital."98