ECONOMIC CONDITION OF BLACK WORKERS AT THE TURN OF THE TWENTIETH-CENTURY
Contemporary assessments of the Negro's economic status at the turn of the twentieth century vary according to one's commitment to the perennial racial debate over heredity or environment as the key explanation for the depressed economic status of Afro-Americans. The author of an article published in The Textile World, a southern organ printed in Boston, demonstrated the prevalence of racial mythology in economic judgments when he claimed that only whites could be employed in cotton mills because "the hum of the machinery" would put blacks to sleep (Doc. 1). Although the prominent white sociologist Jerome Dowd agreed that Negroes were not without "aptness in the mechanical arts," he believed that black operatives produced defective work because of their "constitutional and hereditary physical and moral unfitness for the exactions of manufacturing occupations." Factory work called for "prolonged attention, patience, disciplined temper and social adaptability," and these qualities Negroes did not possess (Doc. 3). Dowd determined that these presumed defects were hereditary.
Blacks perceived the problem differently. "A Negro Woman" complained that too many whites "claim to know us thoroughly," but boast that they have no social intercourse with us. How could their judgment be taken seriously when they perceived Negroes as happy, unthinking creatures? In fact, the sensible Negro was restless, insecure, and almost "panic-stricken about the future" because of the Caucasian's commitment to keeping him at the bottom of the economic ladder (Doc. 4). The black social critic Kelly Miller asserted that the weak position of the Negroes in the industrial sector does not argue against his "aptitude or inclination for such vocations. He is the creature, or rather the victim, of circumstances over which he exercises no control," for he is ground beneath the "iron heal of Aryan competition." White employers preferred employees of the same race when they were available. Therefore, blacks were hired only as a last resort (Doc. 6).
Even among Afro-Americans, however, there was wide-ranging debate regarding the appropriate strategy for improving the life of black workers. Many agreed with Booker T. Washington that racial uplift had to be an internal development achieved through training and industrial education. The strategy was based on the premise that if blacks were in possession of the requisite skills, a rational economic system could not long ignore them. Consequently, they denounced prejudice in the market place as a retrogressive barrier to the optimal operation of the system. As one self-help advocate argued, whites could not "legislate into us" the attitudes and skills required to succeed in the industrial world, but they should allow blacks a "free hand, a fair field, and a cordial God-speed" (Doc. 9).
Some pointed to the decline of black representation in menial jobs in the northern cities as evidence of occupational progress. In 1905 one observer of black workers in Chicago claimed that these jobs were going to new immigrants, and blacks were assuming a variety of occupations which "they never thought of doing twenty years ago . . . , there are no Negro beggars in our streets" (Doc. 10). But Ida B. Wells-Barnett (see note 16) drew a different conclusion about black employment in Chicago when she complained that white employers rejected black workers until by 1911 the city was filled with unemployed Negroes (Doc. 14). Observers in other cities agreed. In Boston, 73 per cent of black men were employed in unskilled, low-paying, and thus "inferior occupations" (Doc. 11). Similarly, in New York, blacks were losing previously Negro jobs, such as waiting on tables, to Irish, German, and Italian immigrants. "There are no colored artisans in New York," one writer claimed in Harper's Weekly, "the trades unions would prevent any such from receiving employment" (Doc. 12). William Bulkley, a black principal in New York, agreed that the unions had squeezed out skilled artisans in New York by barring membership and apprenticeship training to those of African descent (Doc. 13). Scholars, such as W. E. B. DuBois, found very few black craftsmen in the North, where they were politically freer, whereas, in the South he found a significant number of black artisans, particularly in crafts where they were traditionally employed (Doc. 15–22).
For idyllic relations between employer and employed, look to the South. That is the gist of an article in The Textile World (Boston) by Mr. Cuyler Smith, a Southern cotton manufacturer. No "wage slavery," no "class consciousness," seems to exist there, and all attempts of "labor leaders" to organize unions and start labor wars seem to have failed. Mr. Smith tells the reason for this as follows:
"The operatives of the new cotton-factories are the children and grandchildren of the men who fought in the Civil War, now gray veterans who spend the evening of their lives in the cottage chimney corners, oracles and Nestors for all the young folks gone up to town to handle the spinning-frame and loom.
"No sooner is a mill company organized by the progressive capitalists of the village than the old soldier, hearing the good news bawled over the fence by a passing neighbor, back from a day's trading in town, calls up his family and announces his intention of journeying 'ter town termorrer, an' I reckon the colonel will give yer er chanst ter help him run his factory.'
"The old man does go to the colonel, the same man who led him and his friends on the great battle-fields of that regrettable struggle. He takes his wealthy friend aside and bespeaks his 'takin' them chillun, ever one uv 'em, in yer new mill. Me and my ole woman need the support, Colonel, an' the chillun will sho' work yer way, sah, if yer'll only give um er chanst.'
"The mill is built, and the old man brings the hands to live in the clean, brightly painted cottage on the hill to begin a new life where all the family may work and earn more clear money in one month than they have made in twelve months on the cotton farm.
"The old man goes home to his cabin, but the young people are never away from his conservative influence, for Saturday night sees them going out for Sunday at the old home. Then all questions, especially the one now coming to the front, 'Shall we join a labor union?' are discussed. These old men advise against the joining of a union. Monday the operatives are at the mill, and turned a deaf ear to the organizer who was eagerly listened to last week. It is a combination of all these peculiar conditions that makes the growth of labor unions among Southern cotton-mill workers slow growth."
Another factor that makes for industrial peace in the new manufacturing South is the fact that the stock in the cotton-mills is owned by the local bankers, merchants, and farmers, large and small, so that "an operative is usually a cousin of some stockholder." The managers of the mills, too, feel a personal interest in the employees. Says Mr. Smith:
"One Georgian, who has made a large fortune by manufacturing, said, looking at his operatives passing out from the mill, 'I enjoy feeding and clothing these people more than all the money I have made.' Another said to me, 'I am taking all my operatives picnicking Saturday and footing the bills myself.' This man gives his young help half an hour off twice a day to play in the grove surrounding that mill.
"Many mills, like those at Pelzer and Piedmont, S.C., provided free schools and enforce attendance. These are the two largest Southern mills. House rent is usually gratis, or at the rate of 50 cents per room a month. Fuel is at a nominal cost, and not necessary, save for cooking, exceeding ninety days a year."
Wages, Mr. Smith says, are about ten per cent lower than in the East, and the hours are longer, but "the operatives have so vastly improved their condition by working in the mill, not on the farm, that they are little inclined to ask for shorter hours or increased wages. They are the most uniformly contented and prosperous class in the South." The factory at High Shoals, for example, has been in operation forty years with labor drawn from the vicinity, and "no strike has ever occurred, not even a misunderstanding arisen." Trion factory in Northern Georgia, established by the Allgood family, affords another instance. It has been running fifty-five years, and "no strike, friction of any kind, or demand for change of hours or pay ever occurred at this large mill." Practically all the operatives are white, the blacks acting as servants in the operatives' households or draymen at the mill. (Some leaders among the Southern blacks have organized cotton-mills to be operated by negro labor, but this interesting phase of the Southern industrial situation is still in the experimental stage). It is Mr. Smith's opinion that "the negroes are going to return to farming when the whites come to the mill." He adds: "A negro can't work in a mill. The hum of the machinery would put him to sleep, and if he even got a dollar ahead he would loaf a week."
The Literary Digest, 21 (December 22, 1900):763–64.
The availability and value of colored labor in factories in the South have been frequently called in question. The manager of the Vesta cotton mill, Charleston, S.C., is, in this case, a competent witness. Captain Montgomery admits the failure of his Negro labor experiment, but ascribes it rather to local conditions than to any inherent defects in Negro character.
He is very clear and decisive in his statement that, while the public may call the Negro as a mill operative a failure, he does not believe it. He believes that a cotton mill located in a rural district, with tenements owned and controlled by the company, could be sucessfully operated with colored labor. Many Negro operatives in all departments of the Vesta mill proved themselves quite as efficient as white workers. The trucking business around Charleston interfered with mill labor. In the bean, and strawberry seasons, pickers were in great demand, and at higher wages than paid by the mills. Although these seasons are short, Negroes like those with regular jobs at the Vesta sought the fields and bigger pay.
Captain Montgomery's experience was that under local conditions at Charleston, it was quite as difficult to keep a white force as a Negro force steadily at work. Out of a Negro contingent of between 400 and 500, 200 were reliable. Experience had shown that a considerable number of white operatives were quite as unreliable as colored workers. The number of white unreliable was not indeed, so large, but still too ample for healthy working conditions.
The Colored American, March 9, 1901.
By Jerome Dowd1
About 1815 a ship arrived at Charleston, S.C., freighted with African slaves. Colonel Ephraim Brevard, who then conducted an iron foundry in Lincoln county, N.C., hearing of the arrival of this ship, proceeded to Charleston on horseback, followed by one of his wagons, and purchased and brought home a load of Negro boys. These boys were mere savages. They knew no English. They would kill and eat a pig without cleaning or cooking it. They fought like animals over their meals. It was some weeks before they could be persuaded to use a plate or knife and fork. In a short time, however, they adopted civilized habits and became expert molders, and skilled in general mechanical work.
These facts, quoted from an article by Mr. B. F. McDowell in the Charlotte Observer, show the natural adaptability of the Negro and the rapidity with which he learns a trade. In my opinion there is no doubt about the Negro's aptness in the mechanical arts. In iron, tobacco, fertilizer, cotton and other manufacturing industries the Negro has fully demonstrated his capacity to do good work. Negro operatives have been employed for several years in a silk factory at Fayetteville, N.C., and the superintendent testifies that they are thoroughly competent. I have often watched the Negroes working in tobacco factories and have wondered at their deftness and general cleverness. Some of them are marvelously swift and expert. I have also seen the operatives in the Coleman cotton factory at Concord, N.C., and they seemed to be just as capable as the white help in other factories. The superintendent, who has had experience in cotton mills in Massachusetts, says that the Negro operative can do, if he has a mind to, just as good work and turn out just as good a product as the white operative.
Yet, from the standpoint of the interest of both the operatives and the capitalists, Negro labor has not been altogether satisfactory. Notwithstanding the skill of the Negro, there is something about his work that is deficient, giving rise to a prejudice against him for that sort of labor.
What is the defect? I think that it consists in constitutional and hereditary physical and moral unfitness for the exactions of manufacturing occupations.
The wear and tear of factory life tells on the most robust physique and is especially injurious to the lungs. It is well known that consumption is a disease peculiarly fatal to all of the dark races living in the temperate zone. This and other diseases peculiar to the Negro would necessitate frequent changes in the working force of a factory in which Negroes worked, and would also cause frequent absence from work. In the next place factory labor requires the exercise of moral qualities which are hardly sufficiently developed in the most civilized races. It requires men and women who lead stable lives and who can be depended upon to remain long in one community, to be at the post of duty every day in the week, to respond promptly to every blow of the whistle. Factory work requires prolonged attention, patience, disciplined temper and social adaptability. Again, the crowded nature of a factory community, and the necessity for relaxation after the working hours are over, beset the operatives with temptations and lead to forms of dissipation which the strongest character finds some difficulty in withstanding. Factory life has been a terrible demoralization to the white race and I sometimes doubt whether all the blessings of machinery and cheap goods overbalance the physical and moral damage which the factory has wrought.
The failure of the cotton mill at Charleston, which employed Negro labor, was due chiefly to the difficulty of getting a steady and permanent force of operatives. Charleston is a gay place, where street parades, festivals, dances, theatres, bar-rooms and other things tempt the Negro to squander his time and money; and similar temptations are found, more or less, in every manufacturing community. The Negro factory operative is inclined to work a few days of the week and idle a few. Chafing under the confinement, and prone to violent reactions from the day's restraints, at night he carouses, debauches, keeps late hours and the next day is unfit for work, drowsy and inattentive. He makes many excuses to get a few hours off, pleading that his grandfather, or his aunt has died and that he must attend the funeral.
The superintendent of a large tobacco factory writes me that the Negro "has skill in his work, but don't care. He can live on a very little and don't care to work only for enough to get bread." A superintendent of a hosiery mill writes me that some of the Negroes "are skillful, but have little care about them. Their chief drawback is from their natural disposition to be careless, unconcerned, and indolent, and some of them are much inclined to liquors. As factory hands they are unreliable. The work is too exacting and confining and too regular for them."
Work in manufacturing lines is becoming more and more intensive and requires for success, men who are not only skilled but who live an orderly life and have acquired special traits of character. Character is coming to be the paramount factor of success in all lines of activity. The chief difference between races, nations and individuals is in character, rather than in intellect. The Greeks were mighty in intellect, but they succumbed to the corruptions of the flesh. Even the French people acknowledge their own deficiency in ability to give the prolonged attention and to exercise the patience and self-restraint so necessary to factory life; and hence I do not hesitate to say that the Negro has not yet reached the stage of development which fits him for manufacturing occupations. This statement should not shock the most optimistic of the Negro race, for the reason that after a century of trial the white man is hardly yet qualified for such work.
The white man has developed through several economic stages; first, through the fishing and hunting stages, second, the pastoral, third, the agricultural, and he is now just entering the stage of manufacturing. The last stage is the highest and most difficult in which to live, requiring an intellectual and moral attainment which the highest race of mankind has certainly not fully reached.
One of the concomitants of the manufacturing era is a congested population. In order that people may survive who are so congested, it is necessary that they acquire sanitary habits. Knowing the past history of the Negro and the length of time which it required for the white race to become accustomed to sanitary living, it is not surprising to find that the death rate of the Negroes in all of our large cities is very high.
At the present time, therefore, I regard the employment of Negroes in factories as a step in the wrong direction. Even if it were profitable to the capitalists, it would be injurious to the wage-earners. For some years to come it should be the aim of the leaders of the Negro race to direct the energies of their fellows into those occupations which belong to the agricultural stage. The tilling of the soil and the mechanical arts connected therewith, are not only best for the Negro but also for the great majority of white people. There is a moral stamina that comes from farming and village life, which is necessary as a foundation for the more intensive labor and the more demoralizing atmosphere of the factory.
The great problem for the Negro, as for all races of men, is the building of character. It is only the moral race that makes progress. Teaching the Negro to read and write is not solving the problem of his destiny. He must be established in those occupations which correspond to his stage of development. With the proper industrial footing, he cannot have too much literary or other knowledge. The greatest mistake that the Negro has made in the past (a mistake made by most people) has been the attempt to start at the top instead of at the bottom. I think that the avenues should be kept open for any exceptionally endowed Negro to reach the very summit of human attainment, but for the great mass of the race, the most rapid lines of advance lie in the direction of agricultural pursuits.
The Southern Workman, 30 (November, 1902):588–90.
I am a colored woman, wife and mother. I have lived all my life in the South, and have often thought what a peculiar fact it is that the more ignorant the Southern whites are of us the more vehement they are in their denunciation of us. They boast that they have little intercourse with us, never see us in our homes, churches or places of amusement, but still they know us thoroughly.
They also admit that they know us in no capacity except as servants, yet they say that we are at our best in that single capacity. What philosophers they are! The Southerners saw we Negroes are a happy, laughing set of people, with no thought of tomorrow. How mistaken they are! The educated, thinking Negro is just the opposite. There is a feeling of unrest, insecurity, almost panic among the best class of Negroes in the South. In our homes, in our churches, wherever two or three are gathered together, there is a discussion of what is best to do. Must we remain in the South or go elsewhere? Where can we go to feel that security which other people feel? Is it best to go in great numbers or only in several families? These and many other things are discussed over and over.
People who have security in their homes, whose children can go on the street unmolested, whose wives and daughters are treated as women, cannot, perhaps, sympathize with the Southern Negro's anxieties and complaints. I ask forbearance of such people. . . .
I know of houses occupied by poor Negroes in which a respectable farmer would not keep his cattle. It is impossible for them to rent elsewhere. All Southern real estate agents have "white property" and "colored property." In one of the largest Southern cities there is a colored minister, a graduate of Harvard, whose wife is an educated, Christian woman, who lived for weeks in a tumble-down rookery because he could neither rent nor buy in a respectable locality.
Many colored women who wash, iron, scrub, cook or sew all the week to help pay the rent for these miserable hovels and help fill the many small mouths, would deny themselves some of the necessaries of life if they could take their little children and teething babies on the cars to the parks of a Sunday afternoon and sit under the trees, enjoy the cool breezes and breathe God's pure air for only two or three hours; but this is denied them. Some of the parks have signs, "No Negroes allowed on these grounds except as servants." Pitiful, pitiful customs and laws that make war on women and babes! There is no wonder that we die; the wonder is that we persist in living.
Fourteen years ago I had just married. My husband had saved sufficient money to buy a small home. On account of our limited means we went to the suburbs, on unpaved streets, to look for a home, only asking for a high, healthy locality. Some real estate agents were "sorry, but had nothing to suit," some had "just the thing," but we discovered on investigation that they had "just the thing" for an unhealthy pigsty. Others had no "colored property." One agent said that he had what we wanted, but we should have to go to see the lot after dark, or walk by and give the place a casual look; for, he said, "all the white people in the neighborhood would be down on me." Finally we bought this lot. When the house was being built we went to see it. Consternation reigned. We had ruined this neighborhood of poor people; poor as we, poorer in manners at least. The people who lived next door received the sympathy of their friends. When we walked on the street (there were no sidewalks) we were embarrassed by the stare of many unfriendly eyes.
Two years passed before a single woman spoke to me, and only then because I helped one of them when a little sudden trouble came to her. Such was the reception, I a happy young woman, just married, received from people among whom I wanted to make a home. Fourteen years have now passed, four children have been born to us, and one has died in this same home, among these same neighbors. Although the neighbors speak to us, and occasionally one will send a child to borrow the morning's paper or ask the loan of a pattern, not one woman has ever been inside of my house, not even at the times when a woman would doubly appreciate the slightest attention of a neighbor.
The Southerner boasts that he is our friend; he educates our children, he pays us for work and is most noble and generous to us. Did not the Negro by his labor for over three hundred years to help to educate the white man's children? Is thirty equal to three hundred? Does a white man deserve praise for paying a black man for his work?
The Southerner also claims that the Negro get justice. Not long ago Negro man was cursed and struck in the face by an electric car conductor. The Negro knocked the conductor down and although it was clearly proven in a court of "justice" that the conductor was in the wrong the Negro had to pay a fine of $10. The judge told him "I fine you that much to teach you that you must respect white folks." The conductor was acquitted. "Most noble judge! A second Daniel!" This is the South's idea of justice.2
A noble man, who has established rescue homes for fallen women all over the country, visited a Southern city. The women of the city were invited to meet him in one of the churches. The fallen women were especially invited and both good and bad went. They sat wherever they could find a seat, so long as their faces were white; but I, a respectable married woman, was asked to sit apart. A colored woman, however respectable, is lower than the white prostitute. The Southern white woman will declare that no Negro women are virtuous, yet she places her innocent children in their care. . . .
The Southerner says "the Negro must keep in his place." That means the particular place the white man says is his. . . . A self-respecting colored man who does not cringe but walks erect, supports his family, educates his children, and by example and precept teaches them that God made all men equal, is called a "dangerous Negro;" "he is too smart;" "he wants to be white and act like white people." Now we are told that the Negro has the worst traits of the whole human family and the Southern white man the best; but we must not profit by his example or we are regarded as "dangerous Negroes."
White agents and other chance visitors who come into our homes ask questions that we must not dare ask their wives. They express surprise that our children have clean faces and that their hair is combed. You cannot insult a colored woman, you know. . . .
There are aristocrats in crime, in poverty and in misfortune in the South. The white criminal cannot think of eating or sleeping in the same part of the penitentiary with the Negro criminal. The white pauper is just as exclusive; and although the blind cannot see color, nor the insane care about it, they must be kept separate, at great extra expense. Lastly, the dead white man's bones must not be contaminated with the dead black man's. . . .
Whenever a crime is committed, in the South the policemen look for the Negro in the case. A white man with face and hands blackened can commit any crime in the calendar. The first friendly stream soon washes away his guilt and he is ready to join in the hunt to lynch the "big, black burly brute." When a white man in the South does commit a crime, that is simply one white man gone wrong. If his crime is especially brutal he is a freak or temporarily insane. If one low, ignorant black wretch commits a crime, that is different. All of us must bear his guilt. A young white boy's badness is simply the overflowing of young animal spirits; the black boy's badness is badness, pure and simple. . . .
When we were shouting for Dewey, Sampson, Schley and Hobson, and were on tiptoe to touch the hem of their garments, we were delighted to know that some of our Spanish-American heroes were coming where we could get a glimpse of them. Had not black men helped in a small way to give them their honors? In the cities of the South, where these heroes went, the white school children were assembled, flags were waved, flowers strewn, speeches made, and "My Country, 'tis of Thee, Sweet Land of Liberty," was sung. Our children who need to be taught so much, were not assembled, their hands waved no flags, they threw no flowers, heard no thrilling speech, sang no song of their country. And this is the South's idea of justice. Is it surprising that feeling grows more bitter, when the white mother teaches her boy to hate my boy, not because he is mean, but because his skin is dark? I have seen very small white children hang their black dolls. It is not the child's fault, he is simply an apt pupil.3
Someone will at last arise who will champion our cause and compel the world to see that we deserve justice; as other heroes compelled it to see that we deserved freedom.
The Independent, 54 (Sept. 18, 1902):2221–24.
5. NEGROES OF FARMVILLE, VIRGINIA
OCCUPATIONS, BY SEX AND AGE PERIODS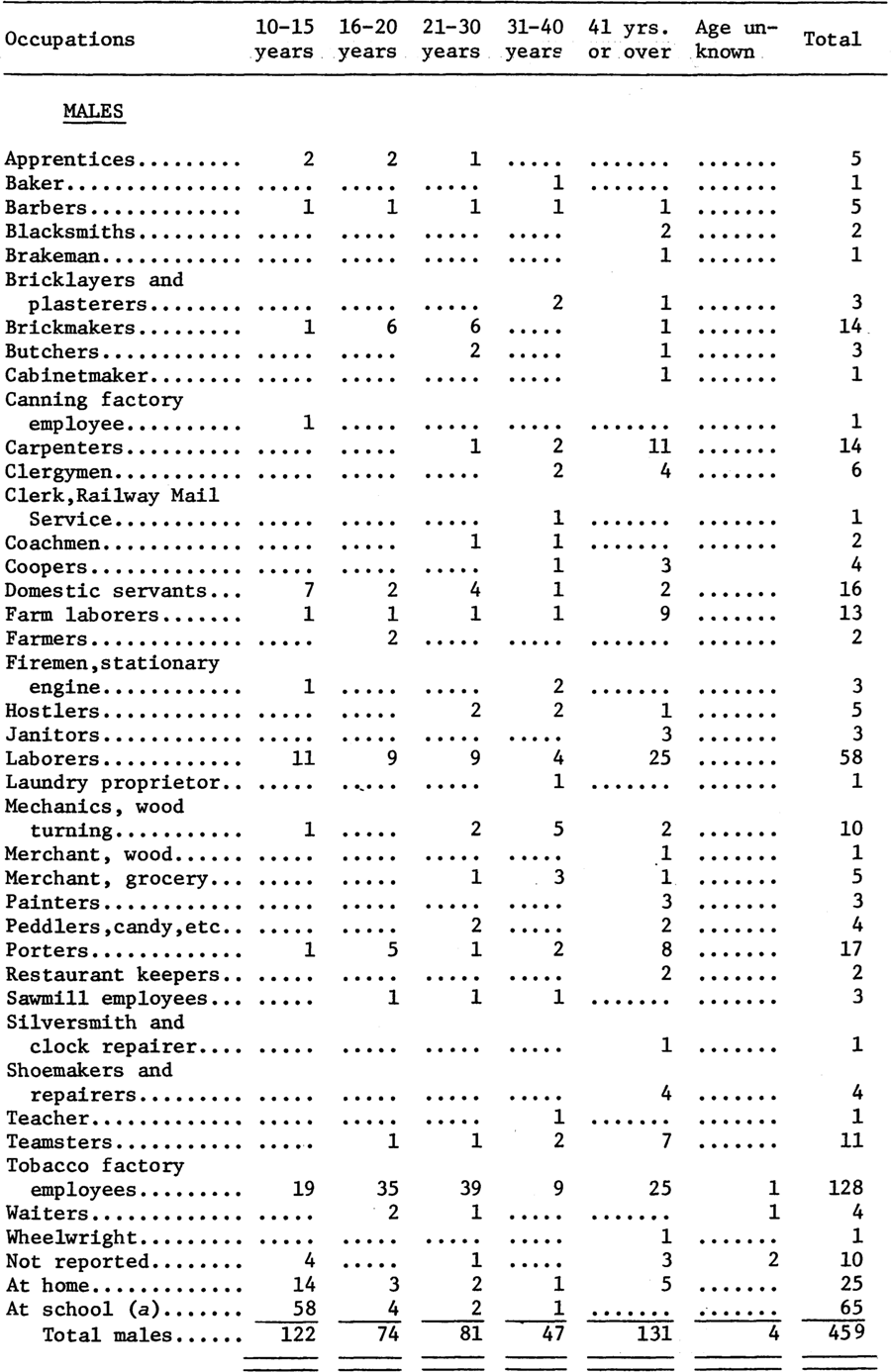 aChildren who do nothing but attend school. Many of the children work at service or in the tobacco factories a part of the year and also attend school. Such children are here enumerated under their occupations, and not as school children.
OCCUPATIONS, BY SEX AND AGE PERIODS—Concluded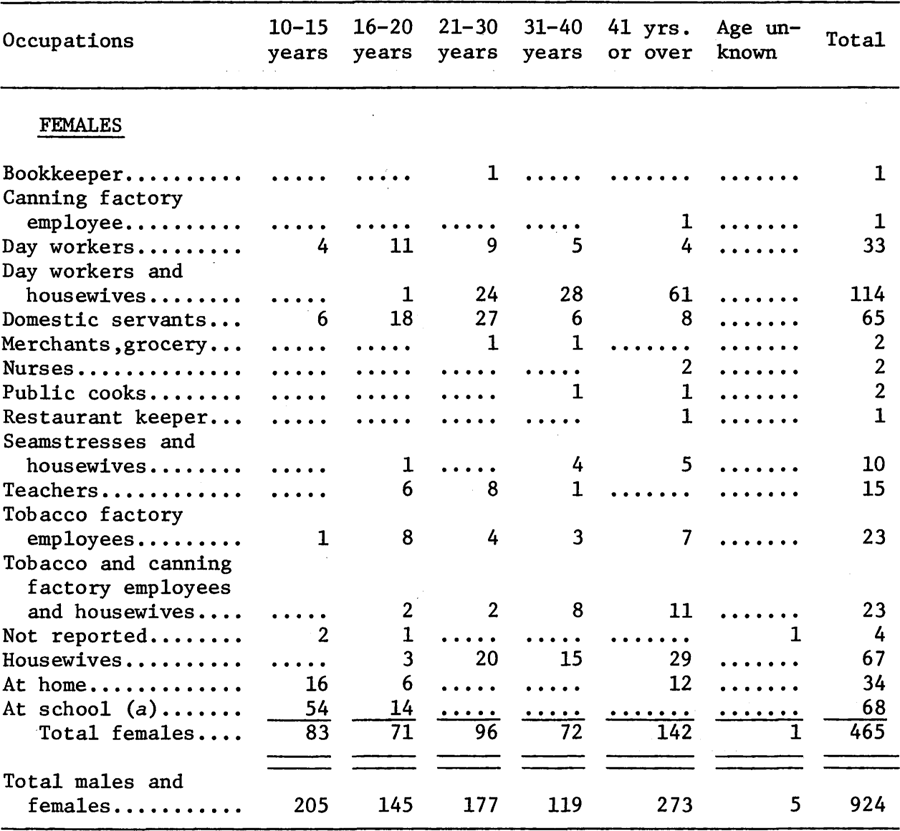 aChildren who do nothing but attend school. Many of the children work at service or in the tobacco factories a part of the year and also attend school. Such children are here enumerated under their occupations, and not as school children.
PER CENT OF NEGROES OF FARMVILLE AND OF TOTAL POPULATION OF THE UNITED STATES AT WORK, ENGAGED IN EACH CLASS OF GAINFUL OCCUPATIONS
[The figures for Farmville are from schedules; those for the United States are from the census of 1890.]

Department of Labor Bulletin No. 14, January 1898, W. E. B. DuBois, "The Negroes of Farmville, Virginia, a Local Study," pp. 15,16. [adapted by the editors.]
Industrial Status4
Kelly Miller
[Prof. Miller's first article in his study of "The City Negro" appeared in our April issue. Mr. Miller says that the urban Negro constitutes a larger proportion of the race than is generally supposed, and proceeds to show, by tables made up from the last census, how the race is distributed in the various cities of the United States. The most striking phenomenon presented by the city Negro population he declares to be the predominance of the female element. Ed.]
It was the desire of the writer to include in this article the data furnished by the twelfth census, but unfortunately this phase of the work will not be taken up by the Census Bureau for some time to come. Rather than interrupt the series on "The City Negro," it seemed best to proceed with the data of ten years ago. This course is adopted with less hesitation because it is confidently believed that the forthcoming information will not show any radical change in the Negro's industrial status. It is easily perceivable also that the value of an article of this nature consists rather in the general truth conveyed than in a microscopic presentation of facts.
In any well-regulated community the inhabitants will distribute themselves among the various trades and occupations along the lines of the needs of the community, and according to individual opportunity, aptitude or inclination. The position of the Negro in the industrial world, however, is an anomalous one. The fact that he does not figure in the higher lines of industrial activity by no means argues that he has no aptitude or inclination for such vocations. He is the creature, or rather the victim, of circumstances over which he exercises no control. In the cities, at least, he is ground beneath the iron heel of Aryan competition.
This is the age of combination, both of capital and labor. What the trusts are to capital, trades unions are to labor. This is truly the age in which the individual withers and the "combine" is more and more. Consolidation among whites always proves inimical to the interests of the Negro. The black workman is accorded a fair chance only in those localities where labor unions do not dominate. These trades unions do not treat with members of the colored race on the basis of individual merit, but wherever it is possible to do so, they simplify the situation by placing the whole race on the black list. They will not admit the Negro, in large numbers, on equal terms of rivalry. If any industrial fact is clearly demonstrated in our history, it is that white labor avoids open rivalry with black labor. Many poor whites of the South, rather than compete with the Negro workman before the war, betook themselves to the woods and pine thickets, where they dwelt in idleness and poverty, constituting that worthless class known far and wide as "poor white trash." Indeed, if we may accept the implication involved in the term "clay eater," some of them preferred to eat the earth itself rather than cultivate it after the manner of the black competitor. The fierce political struggles incident to the development of the Western States grew out of the competition of slave and free labor. But in the last analysis it will be found that even there color was a controling factor. In all of our larger cities white men are driving Negroes out of their wonted employments. This is not so much, I am persuaded, because the Negro is incompetent, as it is an exemplification of the same old story of the driving out of the weak. When the stronger races have pressed against the limits of subsistence in their own area, they have always overrun the territory of their weaker neighbors. This is indeed the underlying spirit in the expansion movement which is just now so rife in all the powerful peoples of the earth. The Chinese are excluded from industrial competition, avowedly on the ground that they have too much skill, thrift and economy. It is thinly disguised argument that excludes the Negro because of a lack of industrial virtues and at the same time shuts out the Mongolian because of an excess of them. It is too painfully plain that the same motive lies at the bottom of both cases. This is one way in which Aryan rivalry asserts itself. Negroes are ruthlessly shut out from vocations where no complaint has ever been lodged against their efficiency. It is a notorious fact that in all the large centres of population the positions of coachmen, waiters and barbers are being filled by white men. The aptitude and competence of the colored waiter has never been questioned; white men do not make more courteous, safe or reliable coachmen; while the whole world acknowledges that the Negro is an expert with the razor.5
All will agree that under present circumstances the Negro cannot compete with the Anglo-Saxon for political domination; he is equally unable to maintain the contest for industrial supremacy where the Aryan exerts himself to the utmost. The stronghold of the Negro hitherto has been his ability to do crude work along lines where the white man did not care to compete; but he has not been able to stand the onward march of skilled labor and machinery. As the population increases and as the pressure upon the several vocations becomes stronger, this industrial intolerance will bear more and more hardly upon the Negro. He must beware lest he be eliminated from the industrial equation by exclusion. Industrial rivalry is fierce and brutal. Kindness is not characteristic of sharp competition. It is needless to expect that the white man is going to surrender the advantage which his color confers and admit the Negro on equal terms. Human nature is not yet sufficiently sanctified for such sublime acts of self-surrender. This is indeed a dark picture, and one will say that such doleful descriptions smack of the wail of the pessimist. But what advantage is there in gainsaying the truth? The pessimism of truth is better than the optimism of falsehood. Let us see to what extent Negroes are employed in our largest cities.
Negroes engaged in gainful pursuits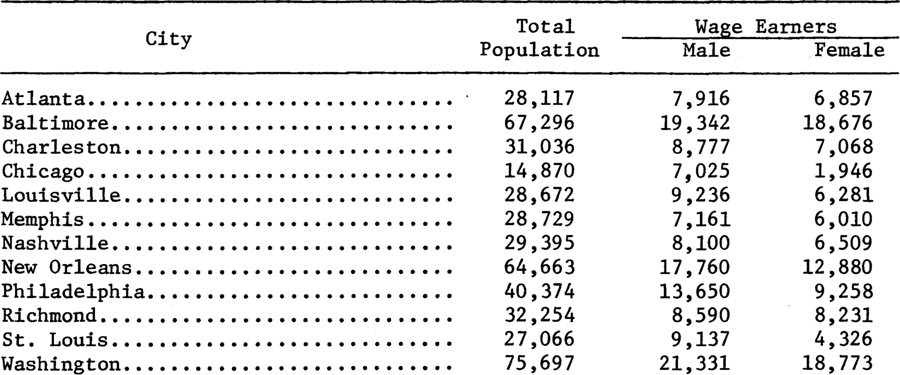 This table reveals the fact that about one half the colored race in the large cities are engaged in gainful occupations. The most striking lesson, however, that this table reveals is the large number of women who figure in the industrial equation. When we take into account that housewives who do not receive stipulated wages are not included in this list, it will be clearly seen what an important factor the women form in the industrial life of the city Negro. The colored woman has a much more certain and assured industrial status in the cities than the Negro man.
The eleventh census listed fifty occupations for men and twenty-five for women. Of these, colored men were confined largely to three or four lines of unskilled or menial pursuits while colored women were limited almost exclusively to domestic service and "taking in washing."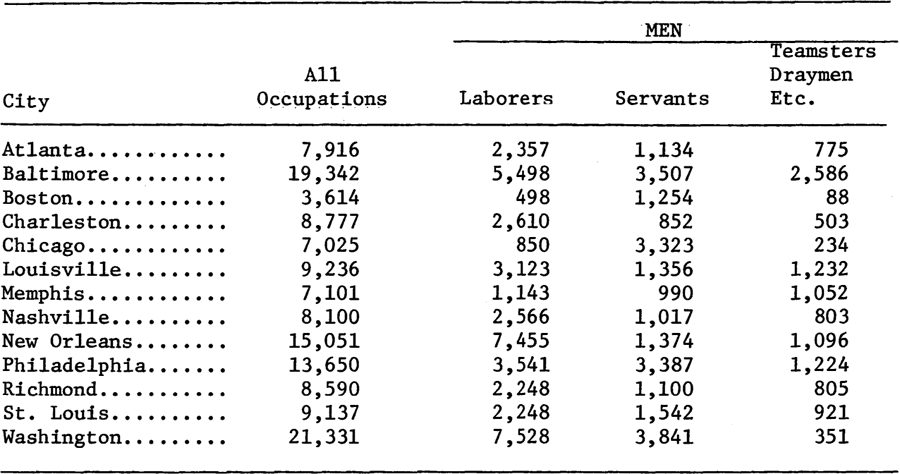 Occupations of Negroes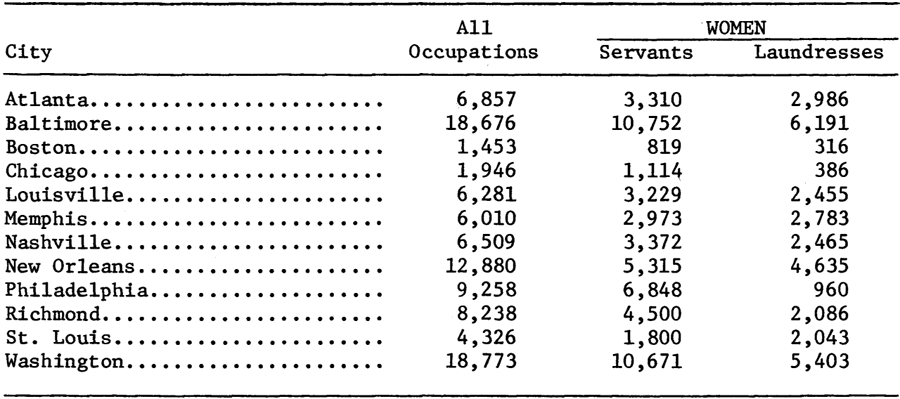 These figures carry their own comment. The men are found mainly in those pursuits which are placed at the bottom of the industrial ladder. Of course there are Negroes scattered among the other forty-seven occupations, but as a general thing there are not enough in any one pursuit to affect materially the general equation. When we consider the vocations followed by colored women the situation is much simplified. They are confined almost wholly to domestic and laundry service. In Baltimore there were 16,943 colored women in these two pursuits, against 1,733 in all other lines of gainful work. In Washington there were 16,074 colored servants and washerwomen and only 2,699 such wage-earners in the other twenty-three listed pursuits. Each of these cities has an excess of something like 10,000 colored women. This makes it imperative that they should engage in remunerative work. Domestic service, including washing, is about the only field that is open to them. No human prevision can foresee the time when this condition will be materially different. These people should be made competent and efficient along the lines of work which inevitably devolves upon them. Any service can be dignified by putting intelligence, skill and character into it.
Negroes employed in typical mechanical trades

It will be seen that the number of Negroes in the mechanical pursuits is quite considerable in the South, but fades away to the vanishing point as we proceed towards the North. We hear it said also that even in the South the Negro mechanic is fast giving way to the white workman. The forthcoming census will furnish data for an interesting study as to the growth or decline of the Negro workman along lines of higher mechanical skill.
The Negro has hardly as yet entered upon such pursuits as merchant, dealer and pedler, which is perhaps the chief business of the city. Indications are not wanting, however, to show that there has recently been considerable activity in this direction. The business league recently organized by Mr. Booker Washington gives promise of being of as great value to the city Negro as his more famous industrial policy is calculated to benefit the rural masses.6
Negro merchants, dealers, etc.

Dressmaking and needlework afford an opening in which not a few colored women are engaged. This is the largest independent or semi-independent pursuit open to them. They are far more numerous than the school teachers, a class of which we hear a great deal.
Dressmakers, seamstresses, school teachers

I have so far dealt with the masses rather than with the individual exceptions who under any circumstances will make their way to positions of influence and honor. In all of the large centers there is a goodly sprinkling of Negroes known as men of standing and substance and dignified occupations. But the industrial status of a people is determined by the lowest common multiple rather than the highest common factor. In Baltimore there were 30,000 Negroes engaged in service and unskilled labor against a few hundred following independent pursuits. In Washington there were 16,000 colored women in domestic service, and 287 school teachers. It is the industrial condition of the masses with which we are vitally concerned. The problem weighs heavily upon us.
Relief may be brought about through the following agencies:
1. Develop in the masses a sense of thoroughness and efficiency in whatever work they many find to do. Intelligence and character will count as surely in the lowest as in the highest forms of service.
2. The schools should impart such forms of industrial and domestic knowledge as the pupils will inevitably need in their future vocations. An adequate educational program to meet this situation is yet to be worked out in our city schools.
3. Moral appeal must be made to the intolerant spirit of the white man which denies the Negro an equal chance to work. Perhaps he will admit the plea.
4. Any movement looking to the withdrawal of surplus numbers from the cities to the country where they might become useful and willing agricultural workers should be encouraged. The Hart Farm School near Washington, D.C., is the pioneer in a movement which promises large results towards the solution of city problems.
5. The Negro must take the industrial initiative. Any people can make opportunity for themselves by catering to their own needs. In places of five thousand or more Negroes, they should conduct and patronize their own stores and co-operative enterprises.
The Southern Workman, 30 (June, 1903):340–45.
7. ECONOMIC CONDITIONS IN NASHVILLE, TENN., 1904
1. The first test related to the wage-earning employment of the negro. The information supplied by the city directory, indicating the distribution among certain general lines of employment, was supplimented by personal inquiries to ascertain the wages earned and the steadiness of employment. The following table sets forth the results:
Black Males with Jobs in Nashville*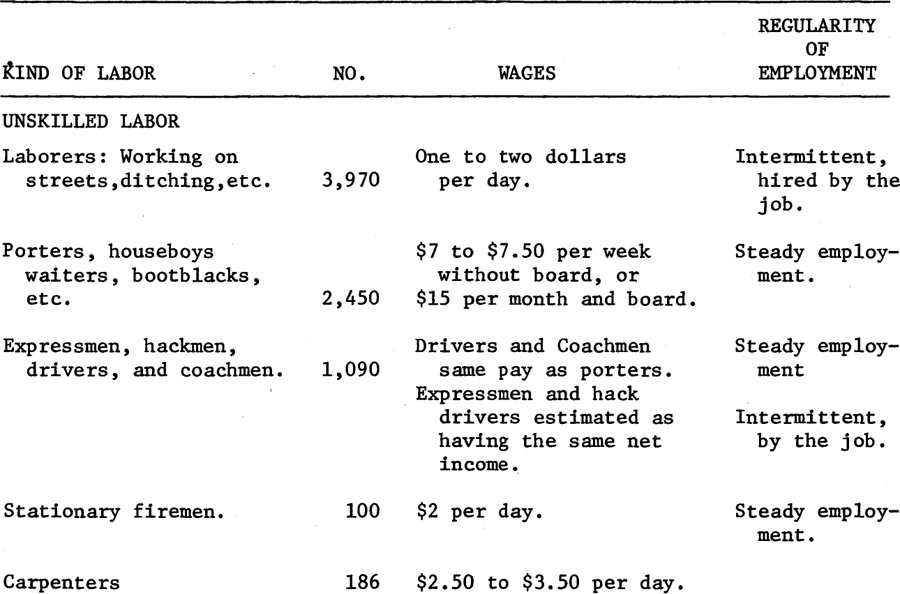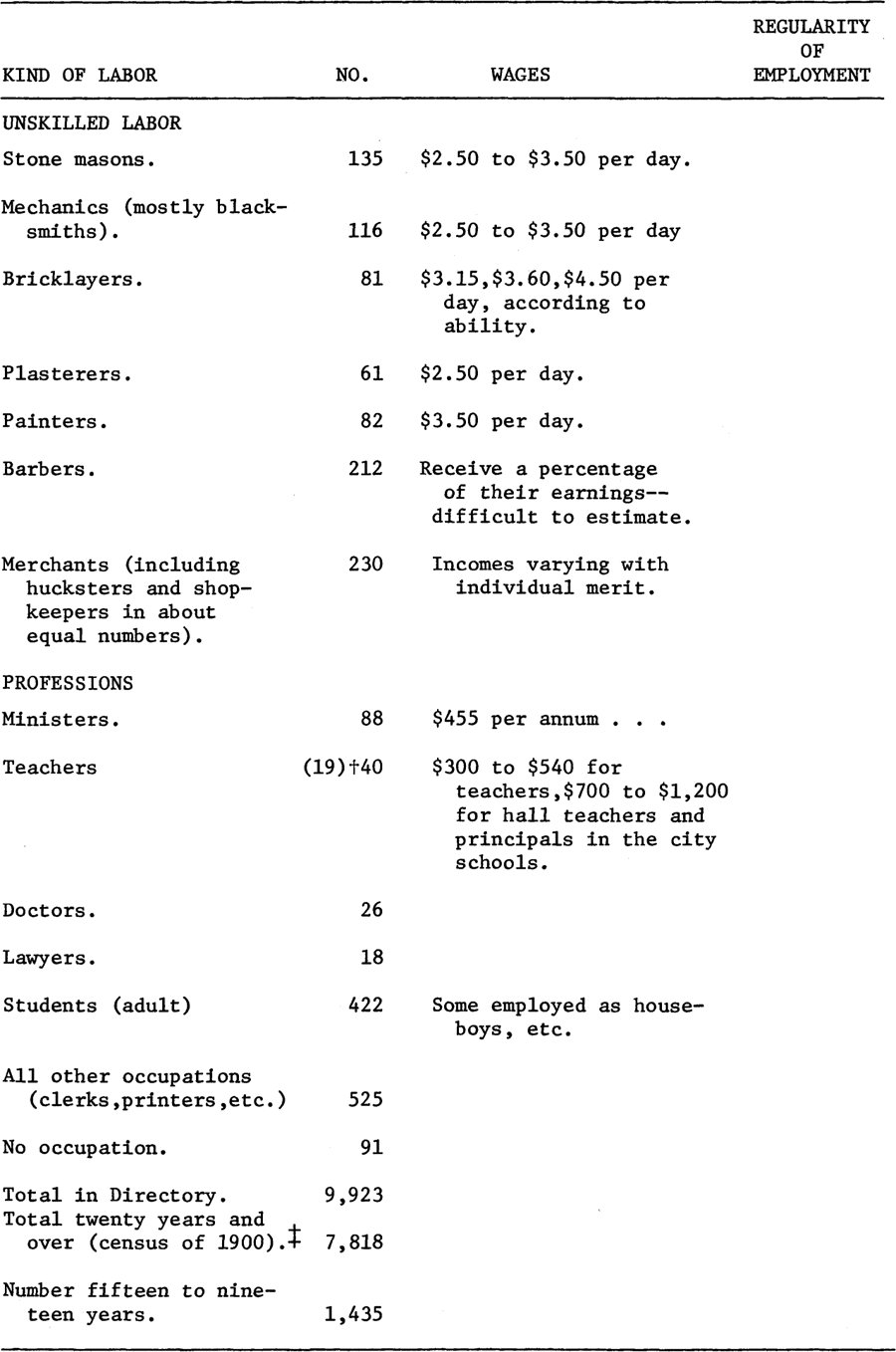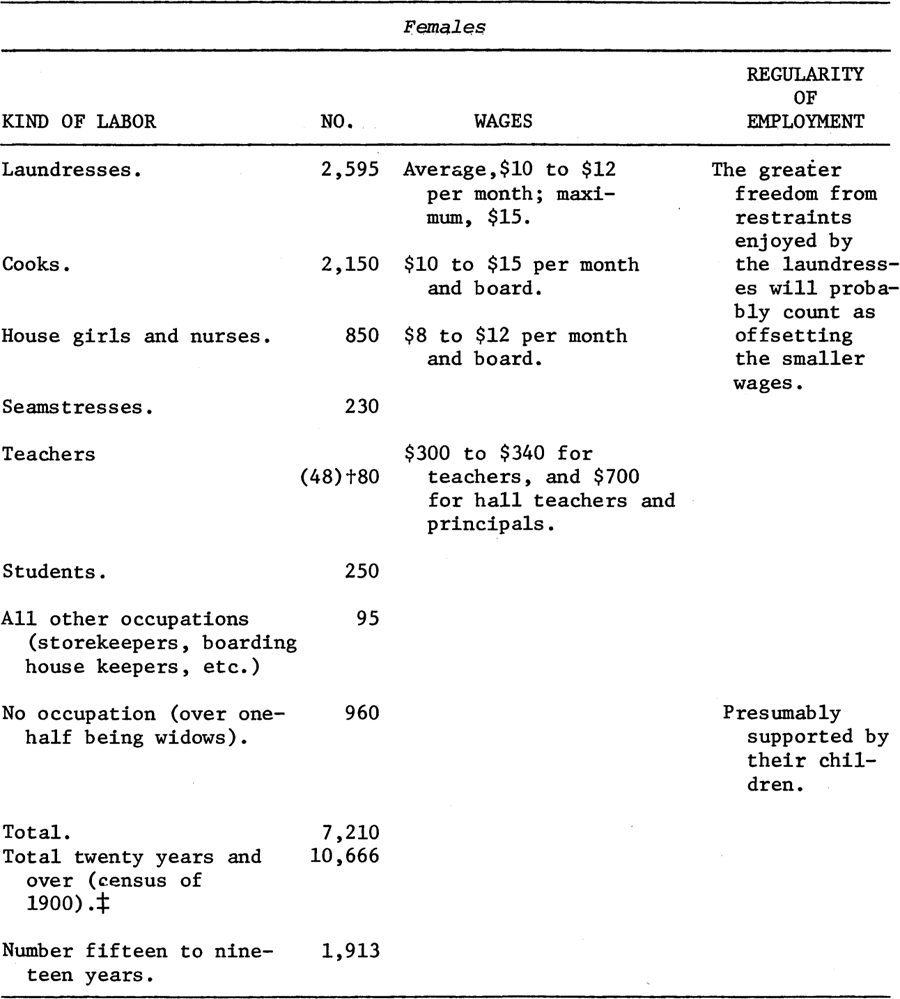 *According to the 1900 U.S. census, Nashville had a black population of 30,044. This table is based on information in the Nashville City Directory, 1902/3.
†In the city schools.
‡The Directory includes a larger area than the census, which is limited to the bounds of the corporation. Census figures added by the editor.
2. The relation of the negroes to organized labor. The unions affiliated with the American Federation of Labor are prevented by constitutional provision from barring the negro on account of race. In reality, however, negroes are frequently excluded by the "black ball."
The labor leaders of the city are in favor of organizing the negroes to control the formidable array of "scab" labor which this race might furnish in a strike and also to keep wages up, for the negro, being ablt to live so much more cheaply than the whites, could easily underbid the latter under free competition in the labor market.
It is generally considered preferable to have the negroes organized in separate unions, and to maintain the very necessary relation with them by allowing them representation in the city Trades and Labor Council. There are six unions composed exclusively of negroes—barbers, stone masons, carpenters, colored laborers, hod carriers, and stationary firemen. In the bricklayers' and plasterers' unions both races are found.
The barbers' union has thirty-three members, with three delegates in the Trades and Labor Council. The barbers of this union cater to white trade exclusively, leaving the negro trade to the non-union shops. Their minimum wage is sixty per cent of their earnings. They provide a sick benefit of five dollars per week for not more than sixteen weeks, and in case of death a sixty-dollar burial benefit. The same general provisions exist in all of the unions. Thus the stone masons' union does not provide a burial benefit, but gives a sick benefit of two dollars per week for an unlimited time; and the bricklayers' union has no sick benefit, but provides a one-hundred dollar burial benefit. None of them omit altogether to make provision for mutual help in time of need.
3. Closely allied with this feature of the labor unions, and holding an important place in the life of the negro, are the benevolent organizations. There are a dozen or more of these which, beneath the surface of parade and show, have some features of real worth. The organization of the "Immaculates," which will serve as a good example of them all, has dues of fifty cents to seven dollars the year. The sick benefit varies from one dollar and fifty cents to seven dollars and fifty cents, according to the degree taken in the lodge. In case of death there is a fifty-dollar endowment, and funeral expenses are paid. Furthermore, these advantages are not limited to the men alone, for quite a number of the organizations have "branches" for women and for children. The women's branch is called the "Court" and the children's branch the "Juveniles," or the "Gem." . . . Relying chiefly upon the personal knowledge of the tax assessor, about 11.3 per cent of the total value of taxable property was gone over and it was found that about 2-1/2 per cent of it belonged to negroes. At the same rate the negroes would own $742,068 in a total assessment of $29,682,740. The $83,950 actually ascertained to be the property of negroes was distributed according to size among one hundred and forty-two owners as follows:

Most of the items are seen to be small, and none exceeded $10,000.
It is an interesting fact that most of the property in the vicinity of Fisk University is owned by negroes. When we reflect that the property-owning negroes form the better class, we see in the circumstance mentioned a very strong indication, if not a proof, that the more enlightened negroes appreciate the institution, and are giving it their moral support.7
It is also to be noted that the property owned by the negroes is not usually of the poorest grade. The negroes who live in the meanest parts of the city are not able and have not the thrift to own their homes, but rent from some white owner. The negro who has succeeded well enough to own his home is not generally content to live in the lower quarters of the city, but moves to a better neighborhood.
4. Industrial education. In the higher institutions of learning for negroes in the city some instruction in manual training and the trades is given; in carpentering, printing, bookkeeping, and other similar trades for the men; and in dressmaking, plain sewing, housekeeping, etc., for the women. But the number of students in these institutions is not large, and most of them come from without the city and return thence. Manual training has not been introduced into the city free schools for blacks, indeed only tentatively into the free schools for whites. Altogether the facts show that a large percentage of the negro artisans in the city have learned their trades by practical experience in them. . . .
Richard Davis Smart, "The Economic Condition of Negroes in Nashville, Tenn.," Vanderbilt University Quarterly (April 1904):108–13, as reproduced in Hollis R. Lynch (ed.), The Black Urban Condition: A Documentary History, 1866–1971 (New York:Thomas Y. Crowell Company, 1973), pp. 72–76.
Of far-reaching importance to industrial workers in the South and in the Pennsylvania mine and iron making fields, was the action of the War Department today in awarding a contract for the construction of two large dams in the Black Warrior River, Alabama, to the Pittsburg Corporation, known as the Dravo Contracting Company, at their bid of $700,000. This corporation already has done much river and harbor work for the government, but it is now, with the knowledge of the War Department, about to engage in an experiment of great interest and importance to the South in undertaking to carry out this large project by the use of white labor exclusively. The basis for this decision is the fact that the contractors believe they can at the present time easily secure the necessary amount of high grade white labor in Pennsylvania and adjacent manufacturing States as a result of the existing industrial depression. The object of the dams is to open a slack water navigation in the Black Warrior River, giving access to the great coal fields that are expected to supply the large quantity of fuel required for the shipping that will frequent the Panama canal.
We shall watch with great interest the result of this experiment of using exclusively white labor in the construction of this work on Southern soil.
We remember it was once heralded to the world that no Negroes should fight in the late Civil War, and later that the Panama Canal was to be dug by white men, but later developments brought out a good many Negroes on both of these enterprises, and they were welcomed as a valuable aid in these great efforts. Let the Negroes go on with what work they are allowed to do and do it well. Prejudice sometimes breaks its own neck when given rope enough.
The Colored American Magazine, 14 (February-March, 1908):87–88.
9. THE TRAINING OF THE NEGRO LABORER IN THE NORTH
By Hugh M. Browne, Principal Institute for Colored Youth, Cheyney, Pa.
"All nations have their message from on high,
Each the messiah of some central thought,
For the fulfillment and delight of man;
One has to teach that labor is divine;
Another Freedom; and another Mind;
And all, that God is open-eyed and just,
The happy centre and calm heart of all."
An English colonist of South Africa, writing about the future of the native African in that section, says, "The natives must go; or they must work as laboriously to develop the land as we are prepared to do." Ex-President Harrison was accustomed to say, "The Indian has citizenship and a white man's chance offered to him, and must take it or perish." These two statements, I candidly believe, represent the attitude of the vast majority of the Anglo-Saxon race toward "retarded races." This attitude means that we, as a race, must "work as laboriously" and as successfully to overcome in the struggle for existence as the white man has done, or we must go—whether we dwell in dear old Africa or sojourn in other lands. What I should like to see expressed in every word and act of my race is the determination not to go—whether the going means annihilation or amalgamation. But, determining to stay, shall we labor to produce an imitation of a white man or a thoroughly developed black man? Shall our goal be an artificial flower or a naturally developed wild flower? Or, to be specific, shall citizenship de jure and de facto in these United States be the end of the colored man's efforts in social and political development, or the means by which he shall become the founder and builder of a developed African nation? Should the thoughtful colored men—whether pure black or mixed blood—come out into the open and answer honestly this aim-settling question, the Negro problem would become clarified and we could call a spade a spade, and the adjustment of the races would become an easier proposition. For myself, I stand for a developed African race in Africa and, to me, the United States is the greatest of the schools from which the founders and builders of this African nation are to be graduated. This race lesson, which I learned first at my mother's knee, has been confirmed by the observations and experiences of my life in this country, in Europe, and in Africa.8
I accepted the honor of an invitation to take part in the discussion of the topic, "The Training of the Negro Laborer in the North," before this distinguished Academy, solely that I might, perchance, invite its thought to this view-point of the Negro problem and present some considerations which make the economic training of the Negro laborer a necessity.
I believe God has ordained of races, as well as of plants, that each shall bear fruit after its kind, and that the periods of maturity—fruit-bearing times—differ among races as they do among plants. I have, therefore, no patience with the sentimentalities, weak excuses, and grotesque imitations which flaunt themselves as solutions of a problem which, under God's Providence, must be solved by natural laws.
We have before us today the records of two and a half centuries of slavery in this country; the records of forty-three years of freedom in this country; quite an extensive knowledge of Africa and its peoples, and the records of the civilizations of the other races and peoples which inhabit the earth. The time has fully come for us to read our destiny in these records. We shall, however, most assuredly fail to discover God's purpose concerning us if we fix our attention upon any one, or any class of facts in our history or in these records. We must take in the whole range of His Providences if we would know by what path He leadeth us, and appreciate the design in any one of them.
Let me illustrate by the following story, which I heard while in Africa: A clerk in one of the European factories there was previously a member of a German military band. He carried his horn with him to Africa and regularly practiced alone the bass parts of the pieces which he had been accustomed to play at home. A native boy, who worked in the same factory, frequently expressed his surprise that the white man, who could do so many wonderful things, could not produce any better music than that which came from the clerk's bass horn. It chanced that one of the agents took this lad to Hamburg, where he heard a full brass band. On his return he said to the clerk, in the English of the west coast of Africa, "Daddy, your horn no be fit for something by himself; but suppose you can blow him one time with all dem horns, he be fine plenty." It is only in the harmony of all our experiences that we appreciate the music of any one of them. Joseph in the pit; a chattel in the Ishmaelite's caravan; Joseph a slave in Potiphar's house; Joseph a common convict in the Egyptian jail, are single facts in which there is no music; but these several facts blending and harmonizing in Joseph the Prime Minister of Egypt and the saviour of Israel from starvation, produce rapturous music which lifts us to "a height from which we anticipate better ages;" to a height from which we comprehendingly and joyously swell the chorus when Shakespeare sings:
"Sweet are the uses of adversity,
Which like the toad, ugly and venomous,
Wears yet a precious jewel in his head."
To this height I would have every thoughtful Negro climb today, and from it interpret our present condition and environment in this country and learn that misfortunes, single or many, unrequited toils, and terrific violences in the life of a race, do not indicate that God has no gracious purpose concerning it, but that these are but the chastisements of a loving Father, made necessary by the stiffneckedness of that race. Our view of the Negro problem, then would be comprehensive and racial. It would not be colored by impulses and desires born of selfishness and egotism, nor would it limit the time element of the individual reformer to the three score and ten years.
The development of a race or people is a process which requires not years, but centuries; the food on which it feeds requires such a long time to digest, and affords at each meal little real nutriment. Listen to this historical statement concerning the civilization of Europe. Says Guizot, "The history of the European civilization may be thrown into three great periods: First, a period which I shall call that of origin, or formation, during which the different elements of society disengaged themselves from chaos, assumed an existence, and showed themselves in their native forms, with the principles by which they are animated; this period lasted almost till the twelfth century. The second period is a period of experiment, attempts, groping; the different elements of society approach and enter into combinations, feeling each other, as it were, but without producing anything general, regular or durable; this state of things, to say the truth, did not terminate until the sixteenth century. Then comes the third period, or the period of development, in which human society in Europe takes a definite form, follows a determinate direction, proceeds rapidly and with a general movement toward a clear and precise object; this began in the sixteenth century and is now running its course."
I am disposed often to look upon the proscriptions, discriminations and prejudices which we are made to feel at every turn in this country as a chastisement necessary to accomplish in us what the chastisements of the wilderness accomplished in the Jews. And I fear that we have, as yet, but tasted of the bitter waters of Marah; the deadly bite of the serpent is yet to come, unless, happily, our necks prove not so stiff as theirs and we become persuaded by gentler strokes in this, the formative period of our development, to learn, among others, the following vital and indispensable lessons:
1. We must come to know God as the God of our fathers. He must become to us Jehovah, a God perfecting that which he has begun in us; a God fulfilling the promises which he made to our fathers. We must come to understand and believe that blessings dispensed by Him are equally efficacious, whether we picture Him dispensing them with ebony black or lily white hands. Yea, we must come to know of a truth that He says to us, as a race, "If you obey My voice you shall be a peculiar treasure unto Me."
2. We must come to know ourselves. If the proper study of mankind is man, than we should specialize in the study of the black man. Our present progress has begun to create a demand for this knowledge, and the data for it is fast coming to hand.
When the Jew entered the wilderness all his types of civilization were Egyptian; but he did not wander long before he felt the necessity for types of his own: then he began to use the former as a means to an end. Like the old-fashioned pump-makers, he poured the water of the pumps in operation down the barrel of the new pump, to enable it to send forth its own. This lesson a kind Providence is teaching us now. All the lessons of civilization which we learned in slavery and are now learning in freedom must be regarded by us as the water from the pump in operation, to be poured into the barrel of the new one. "Keep thy heart with all diligence, for out of it are the issues of life," is commanded of races as well as of individuals; and the inscription over the temple of learning is also the inscription over the gate which opens to the highway of a race's development, namely, "Know thyself."
It is, however, so much easier to live upon the crumbs that fall from the rich race's table than to raise the grain and make one's own bread that many are satisfied to eke out an existence in this way. But the time will come, under God's Providence, when these crumbs will produce nausea, and their starving bodies, minds and hearts will turn toward more appropriate and nutritious food. I am aware that this is a strange doctrine to those of my people who have grown fat on these crumbs and believe this fatness to be health. These men are not so wise as the foolish servant who wrapped his talent in a napkin and hid it. They give their talent at once to the man who has five, and are idiotic enough to believe that they will share the profits which he earns. If he who brought back all that his Lord gave him is accounted accursed, what shall be the lot of these? Tell me not that God has put millions of black men on this earth and given them a rich continent for no special purpose! Tell me, rather, what history teaches, that the black man has not yet reached that stage in his development where the idea of race mission enters—where races fall upon their faces and exclaim, "Lord, what will thou have me to do?"
3. We must come to know that the potentialities of a nation have been emplanted in us. In Egypt Israel was a family and a tribe; in the wilderness she became a nation. God made the black race for a nation. He is the Father of all nations and will be glorified by their differences. He has appointed different nations for different missions in the accomplishment of His purposes in this world. "There are diversities of gifts, but the same spirit; diversities of workings, but the same God who worketh in all."
There is no malice against the white race in this view-point of the Negro problem, nor is there any antagonism to the effects of the white people of this country to assist in our peculiar development. A nobler and more Christ-like body of laborers never entered the field for humanity than the white philanthropists and teachers who started and, in many instances, are still carrying on the work of education among our people in the South—be these philanthropists and teachers northern or southern. On the contrary, their assistance from this view-point becomes more essential and effective, because it will touch our struggle only at points where the impossible, to us, presents itself. With the spirit of the Master before the tomb of Lazarus, these benevolent friends will do for us only that which we cannot do for ourselves, and they will require us to roll away the stone. Assistance rendered us in this wise will not interfere but hasten the accomplishment of the God-appointed mission of the black race. The duckling will take to the water, even though the hen furnish the warmth for its incubation. Confusion, incongruities and consequent waste of effort and means arise when the hen attempts to make a chick of the duckling.
We rejoice in the soul-stirring song which our white brother is still writing and singing to the world. What encouragement and enthusiasm it carries to those who are in the thickest of the struggle for life, and how the arches of heaven must ring with the strains of altruism which, ever and anon, burst forth to strengthen those who struggle for the life of others. But
"Because the nightingale so sweetly sings,
Shall meadow-lark and hermit thrush be still?"
Give us not this song as a substitute for ours because ours is still unwritten. Rather, teach us the theory and practice of music and the art of composition, that we may write and sing ours. Teach us this in the spirit of the brotherhood of man, and we shall produce our song and sing it; not in opposition nor in competition, but as a part of that God-ordained variety which must be the charm of heaven as it is the spice of life on earth.
The Japanese who fifty years ago were known as little, harmless heathen, are today, in their same home, one of the first nations of the world. They gathered all over the western world the waters to start their pumps, and the life-giving and preserving value of the flow of these pumps has astounded the world. In God's appointed time the same will be true of the now heathen African, and the western waters which shall start the flow of his pumps will be carried back to Africa principally by American citizens of African descent. Already a band of Tuskegee graduates, under the auspices of the German Government, has introduced cotton raising among the native Africans in Togo, Africa. I beg pardon for the personal allusion, but I consider it the greatest privilege of my life that, twenty years ago, I was permitted to furrow the ground for the seeds of industrial education in the Republic of Liberia.
In all due modesty, let me suggest that:
The soul which under the benumbing influences of slavery has given the world the Negro plantation melodies possesses a natural endowment too rich to be developed for any other mission than its own;
The slave who has supported and protected the wife and daughter of his master while the latter fought to perpetuate his slavery has too much altruism to sell his birthright at any price;
The man who has forgiven and forgotten so readily and willingly as has the Negro the most barbarous outrages on his wife and daughter has too much of the Christ-spirit to sail on the sea of life under any other colors than his own.
Let me affirm, in this connection, that the training in civilization, citizenship, and self-government which my people are receiving in this country will no more lead to the bugbear of Negro domination or the scarecrow of amalgamation than will a course in gymnastics lead to the change in the color of their skin. On the contrary, the desire to strike out for themselves will vary directly as this training.
Having stated my point of view, I wish now to refer briefly to the necessity for our training in the economic activities of your civilization. When I was in Africa I saw two farms; the first was worth twenty times its original purchasing price, and the second was worth simply its original cost. These farms had the same soil, the same climate, the same sunshine and rain, and were on the bank of the same river. What nature had done for one she had done also for the other; but the owner of the first farm had cleared it, set out coffee trees, cultivated them, cured and hulled the coffee bean, shipped the same to Europe and lived on the money returns; while the owner of the second farm had left it almost as he found it and lived on its wild products. When I came to know them, I found that these two men differed as much as did the farms. The difference in value between the two farms was due to the amount of work done on each by its owner, and the difference between the two men was due to the amount of work done on each by his farm. The first man was a strong, vigorous physical specimen of humanity; every stroke of the axe, every stroke of the hoe, every pull of the rake, reacted on his body and made his muscles supple and strong, his digestion good. This man was also considered a strong man mentally; he was considered by his neighbors as a well-informed man, a man of good judgment; in his efforts to plant and cultivate a profitable coffee farm he had read all the literature and sought all the practical advice obtainable on this subject; he had tested this information in the practical management of his farm; he had gone further and experimented along lines which his actual observations had suggested; he had purchased and used implements employed in other countries on coffee farms; he had reconstructed some of these and made others of his own. All the thought and manipulation that he thus gave to the cultivation of his farm reacted upon his mind and made him what his neighbors considered him. Further, this man was looked up to as a man of good principles, a morally strong man. In the purchasing of the things required for the development of his farm and selling the harvest of the same he had bargained with other men, had been cheated and cheated others; but, bent on success, he learned first, amid these experiences, that honesty is the best policy, and, later on, became a disciple of the Golden Rule.
As I thought of these two men it seemed to me that the difference between them was, in a general way, from an economic standpoint at least, the difference between your race and mine. We have, practically, lived for centuries upon the wild products of Africa, while you have cut down the forests, gone down into the mines, crossed the seas, captured the forces of nature, made them do your bidding, and are now the strong and the conquering race that you are, by reason of the reaction on you of the work you have done on nature. So tremendous, so complex, and so subtle have become your efforts that you have outgrown the capacity of the organs of your senses, the medium of communication between you and nature. Why, if the instruments which you have invented to reinforce the natural capacities of these organs were destroyed, you would be as helpless in many departments of the activities of your civilization as a man deaf, dumb and blind. We have not yet reached the stage in our development which even suggests that the natural capacities of these organs are limited. The qualities contributing to social efficiency which you possess by reason of your achievements, viz., "such characteristics as strength and energy of character, probity and integrity and simple-minded devotion to conceptions of duty in such circumstances as arise," are attainable by us, and you, under God's Providence, have become our teachers and our trainers. You cannot legislate these qualities into us, nor can you preach them into us; but you can, and you should, secure for us "a free hand, a fair field, and a cordial God-speed" in the economic activities and avocations of your civilization; so that, struggling in these, we may develop such qualities. Work is the means by which you have succeeded and it is the only means by which we shall succeed. Our introduction to continuous work was in slavery in the Southern States. The climate was similar to Africa, vegetation was similar to the vegetation of Africa and the economic system was exceedingly simple. This condition permitted us to pass somewhat gradually from the work of gathering wild products to the work of cultivating these products. The reaction from the work in slavery produced the natural results, as benumbing and degrading as the system was. During slavery the mental element was a minimum and the moral element was present by precept only. I have no excuse to offer for slavery; nevertheless it has brought us into contact with a more advanced race, and whatever of civilization and development we now possess came to us by means of it. The blessings to Israel in Egypt were mightier than the hardships endured, and I am persuaded that we shall, by and by, acknowledge the same concerning our bondage in this country.
Since slavery the elements of self-help, self-direction and self-protection have entered into our work; but the change from unskilled labor to skilled labor has lagged far behind the natural and necessary demand on the part of my people for it. We have received about all the developing influences which can come to us as a reaction from unskilled labor, and we stand face to face today in this country with the tragic situation of a race shut out from the only economic means which will secure its natural development in its present stage—the opportunity to learn and practice skilled labor. As a class, my people are today restricted to the formulated knowledge of books treating of the economic activities of your civilization. Exercise in these activities out of which these books grow and by which you have been developed, is denied us. And yet many of you are surprised that we do not possess the social efficiency which is the effect of this exercise. The most serious feature of our condition in this country today is the lack of opportunity to engage in work which requires knowledge, thought and skill.
As the poor man in the midst of wealth feels his poverty all the more keenly, so the northern colored laborer, living in the section of discovery, invention, commercial enterprise, and all the other myriad forms of Yankee ingenuity, realizes more keenly this lack of economic opportunity. It is also observable that the benumbing and degrading effects of this deprivation are more pronounced in him by reason of this environment.
It does seem to me that the necessity to train the colored laborers in the North would follow also from considerations like the following:
1. The surest and quickest way, if not the only way, for him to get a working knowledge of your civilization is through systematic and continuous work in the scientific processes and with the devices, machinery, apparatus and the like, which are the useful applications of the formulated knowledge of your civilization. Or, if you please, in this way only can he learn to work your farm profitably to you and gain thereby the requisite knowledge and skill to eventually work his own farm. (I know there are people who, having read a book on electricity, think they can run an electric plant, but the man who owns such a plant never thinks so). This is the way the colored laborer of the North can catch the spirit of progress and thrift of the present day, and by skill, dexterity and excellence make the profits of his labor purchase other and better opportunities. Unless he is allowed the benefits of such training he will remain, as now, in the procession of your progress, but out of step.
2. Training in the economic activities of your civilization will best enable the northern colored laborer to discover in work other returns than the wage. Such, for instance, as the satisfaction of having done a piece of work well, and the highest reward of all, the development which comes by reaction to the worker. At present he sees only the wage and takes the shortest cut to obtain it. Sometimes I wonder if you fully realize the amount of friction between us which this short-cut method is producing. It causes you serious vexations and it is lessening daily our opportunities for even unskilled labor. I tremble with anxiety when I think of the possible end to which this may lead.
3. The saddest and possibly the most serious feature of this lack of economic opportunity is the effect on the children of the laborer. Fancy a child pursuing a course of instruction every concept of which has been built up by another race and from first-hand facts, about which neither his parents nor his playmates know anything. This fact simply paralyzes the vital principle in education of apperception.
In this connection, let me testify that if ever there was a man sent of God to a needy people at the psychological moment, Booker T. Washington is one. And I would further testify that the support which the white people have given him is today the rainbow of promise that the door of hope will not be closed to the brother in black. Christian industrial Tuskegee, under a corps of colored executive officers and colored teachers, is today the most potent force at work in our development in this country. It was the realization of the importance of contact with these first-hand facts that led the Friends to establish at Cheyney, two years ago, a normal school which will supply these first-hand facts in the classroom.
We are further insisting, in this connection, at Cheyney, that the present condition of the colored people makes it necessary that the school teacher be able to give helpful precept and practice along all the lines of everyday activity. For many years to come the colored teacher will find parents' meetings a field for vital usefulness, almost as large and important as that of his school. Nicely prepared essays and speeches will not avail in these meetings; the developing influence for these meetings consists of the teachers' ability to actually perform, after the most approved and economic methods, the everyday activities of the housewife and the husbandman.
In conclusion, I wish to say that those of us who regret most the lack of these opportunities bear no malice to you, never dream of despair, and are firmly convinced that we shall secure a "free hand, fair field and a hearty God-speed" in these opportunities some day only by deserving them through our own activity and our own spirit of love. In this spirit would I remind you that you are the truant officers who have brought us into your own school, and beseech you in the name of our common Master and your sense of fair play to teach us after the laboratory method.
The Annals of the American Academy of Political and Social Science, 27 (January-June, 1907): 117–27.
10. MENIAL JOBS LOST, WE GO HIGHER
Bootblacks, Waiters, Barbers and Janitors Become Teamsters or Skilled Workmen, Clerks and Independent Businessmen-Dedication of Lincoln Center
CHICAGO, Ill. June 12. The timely discussion in THE AGE of our loss of occupations in the Northern cities may well include conditions in Chicago as a further illustration. Here every industrial and economic problem not only exists but takes on an intensity of meaning peculiar to Chicago. Even the everlasting Negro problem is a little different here from what it is in other cities. Everything in Chicago is quick-acting. No sooner do you arrive here than the question: What are you going to do and how long are you going to do it? confronts you for a speedy answer.
It is quite safe to say that in the last 15 years the colored people have lost about every occupation that was regarded as peculiarly their own. Among the occupations that seem to be permanently lost are barbering, boot-blacking, cooking, hotel and restaurant waiting, janitors in office buildings, elevator service and calcimining.
These occupations are so far lost that not more than about twenty per cent of the persons now employed in these industries are colored people. What is the cause of this loss to our people of these opportunities to make a living? The question is perhaps sufficiently answered by saying that white men wanted these places and were strong enough to displace the unorganized, thoughtless and easy-going occupants of them. When the hordes of Greeks, Italians, Swedes and other foreign folks began to pour into Chicago, the demand for the Negro's places began. One occupation after another that the colored people thought was theirs forever by a sort of divine right fell into the hands of these foreign invaders. This loss was not so much due to prejudices against color, as to the ability of these foreigners to increase the importance of the places sought and captured. The Swedes have captured the janitor business by organizing and training men for this work in such a way as to increase the efficiency and reliability of the service.
White men have made more of the barber business than did the colored men and by organization they have driven every Negro barber from the business district. The "shoe polisher" has supplanted the Negro bootblack and does business in finely appointed parlors with mahogany finish and electric lights. Thus a menial occupation has become a well organized and genteel business with capital and system behind it. But perhaps all this is commonplace, as it has been said again and again by such careful students of economies as Dr. Washington, Mr. Fortune and others.
The interesting question growing out of these observations is: What becomes of the Negroes who are thus pushed out of the occupations that were theirs almost by prescriptive right? Those of us who have lived in Chicago for any length of time and have watched the wholesale displacement of colored employees from the occupations mentioned, are ourselves puzzled to know what becomes of these losing men. The situation is almost paradoxical. Here are some peculiar facts: The Negro population is increasing in Chicago at a greater rate than in almost any Northern city. Outside of the sporting classes there is less idleness among the colored people than among any other class of citizens in the city. There are no Negro beggars on our streets. The landlords all say that Negro tenants pay a larger rent and pay more promptly than any other class of citizens of like grade. The question naturally arises as to what our people find to do to make the above statement possible since the old places have been taken away from them.
The answer to this question is altogether creditable to the pluck, the versatility and adaptability of the race. It can be truthfully said that one of the results of the conditions already described is that the colored people are employed in a greater variety of occupations and are doing things that they never thought of doing twenty years ago. In the wholesale districts of the city the ex-waiter and ex-bootblack and would-be barber are employed extensively as teamsters, porters, expressmen, foremen and, in some cases as shipping clerks, and here and there in increasing numbers, as regular clerks in stores and offices. Others are employers as laborers in building operations, hodcarriers, coachmen and watchmen, and thousands of them have found occupations at the stockyards where they do all grades of work from that of the common laborer to the highest priced positions for skilled work. Hundreds of young men are also employed in the post office, who, under old conditions, would be waiters in hotels and cafes where "fat tips," are to be had. Those who have trades are of course quite independent and do not suffer for lack of employment, either in or out of the unions.
There is still another outlet for the competent young men who formerly had no other opening, and that is the establishment of business enterprises. With the large increase of our colored population who are for the most part grouped together in certain parts of the city, there have developed opportunities for the establishment of small business ventures, such as grocery stores, printing offices, restaurants, haberdashers, manufacturers of ice cream, manufacturers of shoe polish, coal dealers, caterers, expressmen, druggists, shoe-dealers, real estate brokers, undertakers and still others. Hundreds of young men and women also within the last five years have found employment, as well as a splendid business training, in these small business enterprises that have gained ground since the loss of the old occupations. These hundred or more little shops, stores, offices and factories constitute the most important and interesting part of Negro courage and enterprise in Chicago. It is not too much to expect that out of these small beginnings the future Negro merchant and capitalist will be developed.
I think it quite safe to say that more good than harm will come to the race by its being forced to widen its field of occupation and employment. It does not seem wise or well that we should be known only to certain kinds of employment. The opportunity to engage in a greater variety of occupations and thus be brought into a wider touch and contact with the white race will do much to lessen the tendency to proscription against us. In other words, experience in Chicago shows that the Negro is not going to be worse off by being forced out of grooves which were fixed for him in the days of servitude and by the limitations of prejudice. . . .
New York Age, June 15, 1905.
11. BLACK OCCUPATIONS IN BOSTON, MASS., 1905
In 1900 there were in the city of Boston 11,500 Negroes. At present . . . there are probably about 15,000. In the metropolitan district, including Cambridge with its 8,000 there are perhaps 26,000.
. . . there are in the entire metropolitan district in the neighborhood of 9,750 and in the city of Boston . . . about 5,625 Negro men who can be and may be at work.
. . . in 1900, according to the census, no less than seventy-six per cent of the Negro males in Boston were in gainful occupations. . . .
. . . in the following discussion, the writer will attempt a rough presentation of the Negro's occupations according to grade, using . . . the census findings as a base. The presentation will comprise four groups: the first, certain inferior occupations in which most of the Negroes are found; the second, waged, salaried, or commissioned occupations of higher grade; the third, business proprietorships, and the fourth, the professions.
The first of these industrial groups comprehended, in 1900, the following occupations and number of individuals [table below]:
Well, in this group were comprised in 1900 no less than seventy-three per cent—3,288 out of 4,510—of the Negro males at work in Boston. . . .
Of the bootblacks, hostlers, messenger boys, railway laborers and porters, there is nothing to be said that the reader will not understand for himself. These occupations command, of course, only the wages of rough, unskilled work. Of the "laborers" and the "servants" a goodly proportion are what have already been referred to as "men-of-any-work"—floorscrubbers, window-cleaners, garden-trimmers, barbers' boys and what not—scratchers here and there for a living. As before mentioned, these Negro men-of-any-work constitute a large class in the city. Many of them are by training skilled artisans, but having come here to this Northern city they are forced to take what they can get. This is the class of industrial scavengers.

The waiters and stewards are classes of skilled laborers—much more skilled than the uninformed would imagine—and their income, chiefly from tips, is such—in the case of waiters most fortunately situated as much as $115 per month—as to constitute them the aristocracy of wealth in this particular industrial group. A number of the wealthiest Negroes in Boston are waiters. It is true, also that many of the leading Negroes of the country have risen from the ranks of waiters. The janitors, however, are the aristocracy of respectability. The responsibility placed upon them calls out their best . . . traits, their often resulting long tenure of position gives them a good place in the esteem of their employers, and altogether they are a steady, dependable class who are helping their race by the force of example.
There are these differences between the occupations in this group. But on all these occupations alike there is, in greater or less degree, this brand of inferiority. . . .
The . . . waged, salaried or commissioned occupations of a higher grade . . . was in 1900 constituted as follows: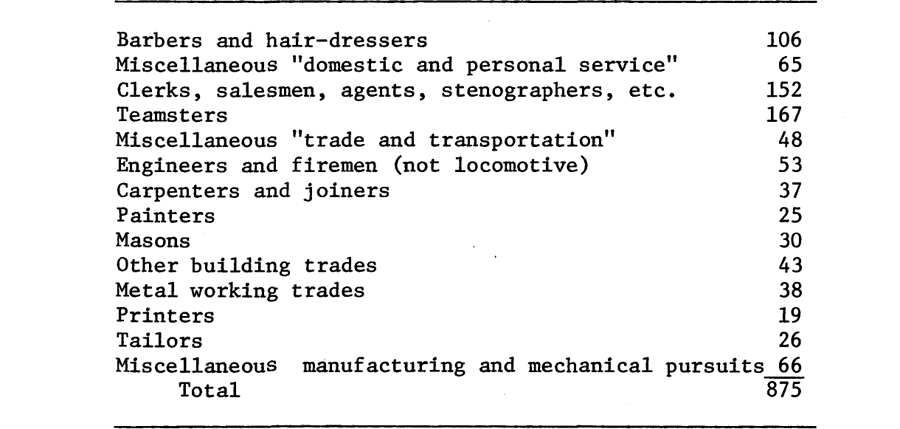 . . . diversity is one of the striking features of the Negro's industrial situation here, showing as it does that at present there is no distinct relegation of the Negro to merely a few pursuits of this class.
There is the Negro barber, who once had such a grip in the North, but who now in Boston as elsewhere, is being excluded by the wide-spreading anti-Negro feeling, and the apparent economic incapacity of the Negro to set up as pretentious an establishment as his competitors of other races. There are no first-class Negro barber shops in Boston now. Many of the Negro shops, however, get a good deal of white patronage. Then there is the clerk class among the Negroes. There are many Negroes who by personal qualities, education and ability, are fitted for such positions as clerks, salesmen, and the like; but the difficulty usually is that the white employes raise objections to working with Negroes, and so the employer is not entirely a free agent. None of the department stores, for instance, ever employ Negro salesmen or saleswomen, for this reason. The teamsters, who are now a large and well-paid group, originally came into their position as strike-breakers. A few being called in some years ago to fill the places of strikers, they formed an opening for others of their race, who got into the unions and prospered. So far as the writer has observed they are on an equality with the whites in the teamsters' unions; a number of the officers of these unions are Negroes. The Negro carpenters, masons, painters, and the like, are mostly immigrants from the South, having the skilled trade, but being unable to get better than intermittent occupation here in the North, largely because white artisans dislike to work with them.
. . . In 1900 there were in this group 875 of the 4,510, or about twenty per cent of the working Negro men. . . . figures seem to show that in the entire state of Massachusetts the number of Negroes in this group is increasing, both absolutely and as a percentage of the total Negro male population. The writer . . . must say that all he has ascertained thus far indicates that the unions are treating the Negroes fairly and helpfully.
Now we come to the group of commercial and industrial proprietorships. So far as the census represents the facts, this group was in 1900 thus composed:

Observation leads us to the belief that one cannot, however, get from the census an adequate representation of this group. . . . Doubtless 200 Negroes, or two and one-half per cent of the total, were in 1900 independent proprietors.
This is the most picturesque of the industrial groups. All over the city, chiefly in districts where Negroes live, of course, but also in the other districts, these Negro business establishments are found. A few are of such proportions as to stand out above the rest. For instance, one of the leading tailors in the city is a Negro who got his start by being especially clever in the making of the "bell" trousers in vogue a dozen years ago, and who became so prosperous as to be able to move into fashionable quarters. Again, the largest wig manufactory in Massachusetts is operated by a Boston Negro, and a very reputable undertaker of the city is a Negro.
Most of the Negro business establishments, however, are of unpretentious and humble proportions. . . .
Of Negro establishments . . . there are a number of barber shops, poolrooms, restaurants, newsstands, tailor shops, a men's furnishings store, printing shops, and lodging houses. . . .
Finally, we arrive at the professional group, the make-up of which was in 1900 as follows: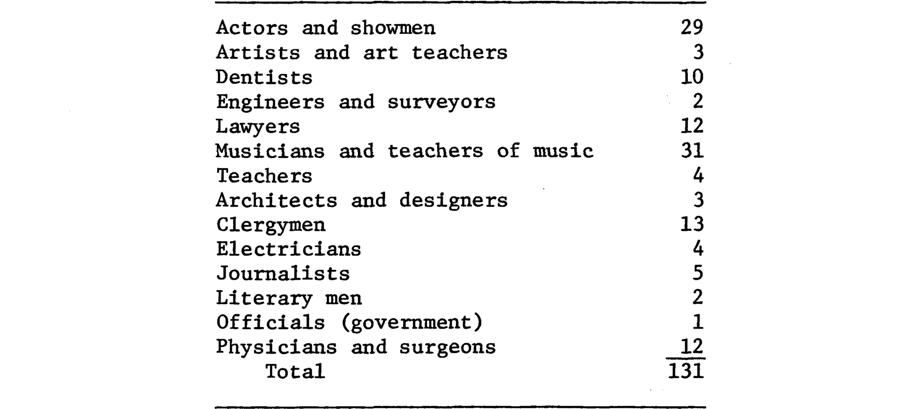 Naturally, most of the prominent Negroes in the city are found in the professions. Boston has two Negro journalists of national name, a young poet of great promise, and several other Negroes of literary distinction. Among the dentists, physicians and surgeons are some most of whose practice is among the whites, and two, at least, who have attained high distinction in their professions. In the ranks of the lawyers are a number of not only prominent Negroes but prominent citizens. The number of Negroes in the professions is increasing from year to year.
These Negroes of the professions are admirably fitted, by education and present position, to be leaders of their race and interpreters standing between the ranks of the Negroes and the white. But it seems to be true that many of the Negro professional men, and likewise of the Negroes who through other occupations have risen to positions above their fellows, prefer to use their position to get as far away as possible from their race, and as near as possible to the whites. . . .
John Daniels, "Industrial Conditions Among Negro Men in Boston," The Negro in the Cities of the North (New York: Charities Publication Committee, 1905), pp. 35–39, as reproduced in Lynch, Black Urban Condition, pp. 106–09.
A Study of the Social and Industrial Condition of the Colored People in the Metropolis
By John Gilmer Speed
The prospect for the negro in New York city is not very encouraging. His race is not numerically very strong in the metropolis, and the number is not rapidly increasing either by births or by migrating from the South. The riot of August, when a mob attacked negroes in the streets without much, if any, restraint from the police, was even more of a surprise than it would have been at almost any time during the preceding quarter of a century. There have been no times when the negroes in New York were increasing with rapidity. At this time the opportunities of negroes are less in New York than they have ever been, and there does not seem any likelihood that present conditions will be immediately changed. This riot, however, has directed the attention of the people to the negro population, and if the truth be disclosed it may be that their present hard lot may in time be ameliorated.
The negro is not a new-comer in New York. He has been here for two centuries and a half. In the beginning and until 1785 he was a slave, but even during the time of bondage his condition was not much worse than now. The slavery that existed in New York was of a very mild sort, and the amiable Dutchmen who were the first slave-owners were very good and considerate masters. The English were not so gentle, and in the first half of the eighteenth century there were two severe disturbances, each marked with a loss of life. In 1709 there was so much traffic in slaves that a slave market was opened in Wall Street, and black men and women were dealt in as though they were cattle or swine. The negroes were quite numerous in proportion to the white population, and there was always apprehension that there might be a slave uprising. In 1712 a house was burned, the slaves attacked the whites, and after killing several, were suppressed by the Royal troops of the garrison. For twenty-nine years there was comparative quiet, though one-fifth of the population was black. In 1741 there were ten thousand inhabitants of New York. Of these two thousand were negro slaves. There was an epidemic of incendiary fires. The investigations were not more scientifically judicial than the witchcraft trials in Salem. The most improbable and contradictory stories were believed, and many negroes were condemned in consequence. Some were hanged and some were burned at the stake. It was an anxious time in the little island city, and the officers of justice seem to have lost their heads pretty completely. This anxiety made slavery itself unpopular, and in 1785 the new State was quite willing to abolish the institution. At that time there were about 22,000 negro slaves in the State, a considerable proportion of these being held in and around the city. This abolition of slavery in New York did not cause the death of the slave trade, however, for this was participated in by New York merchants until the whole wretched business was wiped out by the civil war and the emancipation proclamation. Free negroes continued to live in New York from the time of the abolition of slavery until now, but they have always kept very much to themselves, living in colonies and engaged in a few special occupations in which they were reasonably prosperous. In 1850, when New York had a population of 515,547, there were 13,815 negroes in the city. This was not a formidable proportion, only about two and a half per cent., but the negroes then in the city were in many regards much better off than their successors are fifty years later. At that time the chief caterers of the city were negroes, as they continued to be in Philadelphia till a very few years ago. There were many barber shops manned by colored men. The whitewashing trade belonged almost exclusively to negroes. Negroes also were the private coachmen of the town, and not a few drove public hacks. The bootblack business was theirs, and very many, if not most, of the hotel dining-rooms and restaurants had negro waiters. This was half a century ago, when the opportunity for negro employment in New York was at high-water mark. From that mark it has been receding ever since. At first slowly, but in the past dozen years very rapidly.
In the decade between 1850 and 1860 the negro population in New York actually decreased. This was due to the immense influx of foreign population and the consequent competition in all the unskilled branches of labor, and also to the prejudice against the race incident to the fierce political passions which culminated in the Civil War. In 1860 the population of New York was 805,651, while of negroes there were 12,472, or one and a half per cent. The occupations of these colored people were just about what they had been ten years before. And, indeed, there was no appreciable change in this until after 1880. During the decade ending in 1870, there was a slight increase in the colored population, but a decrease in the percentage. The whole population was 942,292, and the negroes numbered 13,072, or one and one-third per cent. By 1880, the number had increased to 19,663, which was a little in excess of one and a half per cent of the total population of 1,206,299. This was the period when the decline in the industrial opportunities of the negroes in New York became very apparent. Nevertheless, they increased during the next decade both in numbers and in percentage of the whole. In 1890 the city's population was 1,515,301, and that of the negroes 25,674, or one and seven-tenths per cent of the total. By this time there were few callings open to the men of the race, and the women who worked were chiefly enployed in domestic service. But the increase up to the present year was steady, and the population now is estimated at 35,000. The census of this year puts the population of the Borough of Manhattan (all of these figures have had to do with this borough and not with the Greater New York) at 1,950,000, so the percentage is now slightly higher than it was ten years ago, having increased about one-tenth of one per cent.
It will be seen from the figures given above that the negroes in New York do not constitute a very considerable proportion of the population. The Irish, the Germans, the Italians, the Russians, and even the Scandinavians out number them, in the order given, while they are about as numerous as the French. Why there should be any race feeling against such an insignificant element of the population seems superficially strange. It is quite true that the Irish seem to have a natural antipathy to the negroes, but the other north-of-Europe races seem to have no natural feeling of repugnance and the Italians are quite devoid of it. The strangest thing about this strange problem is that so many native Americans should feel hostile—not actively hostile, but in sympathy with the lawless negro-baiters. I heard many native Americans, even New Englanders, say after the riot that they would have been glad if many of the negroes had been killed. For this feeling, which there is no doubt of, there must be some other cause than mere race prejudice. It may be that this cause will be made clearer as I proceed.
Why, let us inquire, have the negroes in New York lost so many of the old-time opportunities for employment? Take the waiters in hotels and restaurants. This twenty-five and even twenty years ago was a great source of employment for negro men. Every middle-aged man can recall when very many of the best metropolitan hotels had negro servants. Some may continue to employ them. But very few. The trade of waiting, so far as negroes is concerned, has practically died out in New York. But why? The general introduction of French cooks had something to do with it, and the quicker intelligence of the white men who went into this trade had something more, while fashion completed the revolution which has supplanted the negroes in this employment. Your French cook rarely knows English; your negro never knows French. So these two could not communicate, and the negro waiter and the French cook had to part company. The young Germans and Frenchmen who make up the great body of dining-room servants in New York are much better educated than any save very exceptional negroes, and they undoubtedly seem more in earnest in the work that they do. That the negroes should suffer by this competition was as inevitable as any of the laws of nature. Fashion began to frown on the negro in hotel and domestic service many years ago. This attitude was partly one of prejudice and partly due to a love of comfort. The pigment in the skin of the black has an odor which is not agreeable to delicate olfactory nerves. At any rate, the negro waiters were displaced by whites in one place and another until the trade was practically no longer open to them.
Fifty, thirty, even twenty, years ago there were a great many negro coachmen in New York, and in the social scale the coachmen ranked next perhaps to the caterers. When we began to use English styles of equipage, to bang and dock our horses' tails, then we also cultivated a preference for English and Irish coachmen and stable hands. There was no race prejudice in this; it was to a very great extent a matter of style. But in this occupation also white men are more efficient. They are not only better drivers, but they are better horsemen. The negro is often most careless of the horses in his charge, and when he is in a temper he is very frequently cruel. There are negro coachmen still in New York, but compared with the number employed in the sixties and seventies they are very few.
Now, the negro caterers used to be men of much consideration and substance. Several of the men who flourished a generation ago left comfortable estates to their progeny. There may be negro caterers still in New York, but I do not recall to have been to an entertainment in twenty years where one was employed. In the old days there were colored men who ranked as Sherry and Delmonico do now. There are none such now, because the men of the race do not seem to be able to keep step in the march of progress.
As New York grew richer the people demanded greater luxury and more elegance. The negroes did not have enterprise enough to see this, and they have dropped out of the race. Then again the taste has changed as to cooking. The homely things which pleased our fathers and grandfathers do not completely satisfy us, and we require a French cook in a white cap instead of an old black mammy in a bandanna turban. In this field, as in others, the competition has been too strong for the colored men, and so the old caterers who used to serve the people who dwelt in the fashionable precincts of Bleecker Street and Washington Square have either been gathered to their fathers or shut up shop; and they have left no successors.
There were also a great many negro barbers in New York twenty-five years ago. There may be some still, but they are most engaged in barbering the men of their own race. Prejudice probably had much to do with killing this trade, but the indisposition on the part of some white people to get close to negroes had also something to do with it. At any rate, the trade is dead.
Then the whitewashing business used to seem to belong to negroes as though it was theirs by right. But there are few negroes now employed in this trade in New York. The house-painters and decorators and paper-hangers have taken it up, and the peripatetic darky whitewasher might walk his legs off in the metropolitan streets before finding a job. The boot-blacking business also once was his. But the Italians now have it. They conquered it. They put up thrones on the street corners, paying in work for the privilege, and then by doing better jobs they drove the negroes out of business.
There are no colored artisans in New York. The trades unions would prevent any such from receiving employment. As common laborers they are received on almost equal terms with others, but this is not an attractive occupation for the ambitious negroes who have come to New York to make fortunes. Even the women are not as much in demand for household servants as formerly. This decadence is due no doubt to the change in fashion, and possibly somewhat to a greater efficiency on the part of white servants. But the women are not sought as they once were. Even the people who came here from the Southern States, where negro servants are universal, prefer the Irish, German, and Scandinavian women as cooks, chambermaids, and waitresses.
In this rapid survey we have seen that the industrial opportunities for colored people have been lessening all the time, and now the sphere of their activities has become so narrow that it is a wonder that even thirty-five thousand of them can earn honest livings.
And they do not. The proportion of criminals among the negroes in New York is alarmingly large, and their influence is very dangerous. The birth-rate among the Negroes in New York is small and the death-rate is large, being thirty in a thousand, as against nineteen in a thousand for the white population. If it were not for accessions from the South the negro population in New York would by no means hold its own. It is in these accessions that there is great danger. The best of the race in the country know or soon learn that the opportunities in New York are limited in comparison with those in Southern cities, so they stay away. They are not influenced in the same way that white people are towards New York.
A white man of ability, when he feels his strength to be above that of his fellows in his own neighborhood, is much inclined towards New York, where success means so much more than it does in smaller places. New York's white population, therefore, is always being re-enforced by the strongest and hardiest and most adventuresome of the men of the country. So also the particularly alert among the vicious and criminal know that their opportunities for wrong-doing are wider in the metropolis, and they hurry to it. The good negro in the South knows there is scanter chance for him in New York than at home, so he stays at home. The vicious and criminal negroes in the South know that their field of vice is broader in New York, so the more sturdy of these rogues come hither. The good stay away and the evil pour in. This is very bad but it is made a hundredfold worse by reason of the necessity which compels classes of negroes to huddle together in New York.
Property is not rented to negroes in New York until white people will no longer have it. Then rents are put up from thirty to fifty per cent, and negroes are permitted to take a street or sometimes a neighborhood. There are really not many negro sections, and all that exist are fearfully crowded. Nor are there good neighborhoods and bad neighborhoods. Into each all classes are compelled go, and the virtuous and the vicious elbow each other in the closest kind of quarters. This is a great source of moral contagion, and vice spreads with great rapidity among the women of such quarters. During the day the decent men are at work. Then the vicious and the idle have full sway. If it were possible to make a census of the negroes and go into this phase of their social condition, I have no doubt that it would be found that more men of the race are idle and without visible means of support in proportion to the total number than in any other neighborhood in the world except those frankly given over to the criminal classes.
The testimony of clergymen and other religious workers among the negroes is to the effect that the harm done by the crowding is so serious that it is always threatening to undo the good work of the churches. This is very disheartening to the more intelligent among the negroes, and they see no remedy so long as this dreadful overcrowding continues. One clergyman said to me that when he saw the dreadful discomforts of the places that negroes in New York had to call home he could not in his heart blame them for drinking, if that mitigated the hardships of their unwholesome dwellings.
The landlords undoubtedly treat the negroes with very little kindness. They charge enormous rentals for very inferior houses and tenements, which yield more when the negroes have taken possession then they did in time of seemingly greater prosperity. Of course negroes in a neighborhood put a blight upon it, but the owners get a very large reward by reason of the higher rentals. Moreover, they make no repairs, and the property usually goes to rack and ruin. The negroes are not responsible for this, even though they are the cause. I knew a negro adventurer who took advantage of this prejudice against his people and made profit out of it. He would select a promising land-and-improvement scheme and through a white man would buy a lot. After a dozen houses had gone up he would appear on the scene with a gang of Italians and begin digging a cellar. The neighbors, always interested in new improvements, would ask who was to build. "I am," the negro would reply. "I am building a home for myself and family." In a little while there would be consternation in that neighborhood, and the promoter of the scheme would be visited. His scheme would be ruined if the negro persisted. The negro would express great determination to go ahead. Then in self-defense the promoter would buy him out at handsome profit to the negro. He did this half a dozen times in as many years, making in the aggregate a handsome profit. As a rule, however, the negroes in New York are not beholden to the property-owners for anything except discomfort and extortion. If they stay in New York they are compelled to live in places where health, decency, and privacy are all but impossible. Housed as they are it is wonderful that they should be as good as they are; it is wonderful that they are not all entirely worthless.
Nearly all of the negroes in New York are literate—that is, nearly all can read and write. Few, however, have even a common-school education, and those who are liberally educated are but an insignificant remnant. Dr. DuBois of the University of Pennsylvania has made an exhaustive study of the negro in Philadelphia and also in other places further south. He says: "The great deficiency of the negro is his small knowledge of the art of organized social life—that last expression of human culture. His development in group life was abruptly broken off by the slaveship, directed into abnormal channels, and dwarfed by the Black Codes, and suddenly wrenched anew by the Emancipation Proclamation. He finds himself, therefore, peculiarly weak in that nice adaptation of individual life to the life of the group which is the essence of civilization. This is shown in the grosser forms of sexual immorality, disease, and crime, and also in the difficulty of race organization for common ends in economic or in intellectual lines."10
Harper's Weekly, 44 (December 22, 1900): 1249–50.
13. THE INDUSTRIAL CONDITION OF THE NEGRO IN NEW YORK CITY
By William L. Bulkley11
Principal Public School No. 80, Borough of Manhattan, New York
During the nineteenth century the century the Afro-American population of New York State increased more than 300 per cent, or from 31,320 to 99,232. The greatest percentage of increase in any decade was from 1890 to 1900, or 70,092 to 99,392.
New York City has received the largest part of this increase, the population almost doubling in the twenty years from 1880 to 1900, or 36,134 to 65,984. In 1890 the Afro-American population of New York City was 42,816; to 1900 there was a gain of 23,000. In the whole State during the same period there was a gain of 29,000.
New York City now has a larger Negro population than any other Northern city, and stands fourth in the list of all cities of the United States.
This great influx is due both to the universal tendency to drift to urban centres (the larger the city the more attractive) and also to the intolerable civil, social, educational, and political conditions existing in various parts of the South.
But we are not to discuss the cause of their flocking to the city, but rather to discover what they are capable of, what they are now doing, and what hope is before them. Therefore,
(1) Is the Afro-American possessed of the necessary qualifications to hold his own in the strenous industrial and economic conflicts of a city like New York?
(2) Are his opportunities for employment conducive to the development of the best of which he is capable?
(3) What kinds of employment are open to him?
(4) Is the prejudice increasing or diminishing? Is there reason to hope that he will find a satisfactory place among other craftsmen in the various lines of industrial endeavor?
(1) With regard to the first question, it would be needless to take time to touch upon it, if one would only remember that for two centuries almost all the labor of the South, both skilled and unskilled, was by the man of African lineage. He was not only the butcher that slaughtered the cattle, but also the tanner that prepared the hide, and the shoemaker that put it into shape. He was the laborer who felled the tree as well as he who sawed it into boards, and he who built the house. He was the brickyard hand who dug the clay and burned the brick; he was also the workman who put the finished product into buildings. Though his field is being now encroached upon by the native white man and the foreigner, he is still the ubiquitous artisan of the South. He comes to New York and other cities with this same skill of hand, ready and anxious to continue his trade. Where he has found employment he has given satisfaction.
(2) Such being the case, does he readily find employment? Or, rather, does he find employment as readily as the other immigrants to the city? Does he, a native of the United States, have an equal chance with the unnaturalized European immigrant, or does he suffer a disadvantage? Unfortunately and regretfully the last is the case. While there are many unions that are, in their constitution, open to all men, there are others which bar the doors tight against any man with an admixture of African blood. There is, further, a conviction that even the supposedly open unions do not always give the black brother a cordial welcome. As a result of these conditions there were reported in the last census only 4,419 men and 1,401 women engaged in manufacturing and mechanical pursuits out of a total population of 99,232 in the State. It is safe to assume that many of these so rated were only irregularly employed, working at their trades as odd jobs. An investigation of the rosters of trades unions would in all probability show only a minority of them as members.
(3) What, then, are the vocations in which the majority of Afro-Americans are to be found? The census of 1900 shows that there were in New York State 57,000 at work over ten years of age. Deducting from the aggregate those in professional service, such as physicians, dentists, teachers, clergymen, actors, musicians, etc., 1,342; trade and transportation, 1,021; manufacturing and mechanical pursuits, 5,820, we have left about 49,000 in service more or less menial. Between the 57,000 reported as at work and the 99,000 in population we have the difference of 42,000 to be accounted for as follows:

We would still have 13,000 to acount for as in hospitals, institutions, unable to work, or idle.
Most of the skilled laborers among Afro-Americans in New York have migrated there after learning their trades in the South or the West Indies—fathers of families many of them; in some cases bringing their families with them; in others leaving their families till employment is secured. As deeply concerned as one may be about their welfare, of no less importance is the problem, what shall be done with and for the boys and girls that are growing up in our city?
Some one has remarked that, if a boy in the city of New York wants to learn a trade he must commit a crime, meaning by this that he would be sent to one of the reformatories where manual training forms an important part of the school curriculum. It may not be so bad as this, but this much is certain, the boy, whether white or black, finds it no easy task to learn a trade. For the white boy, however, this difficulty is counterbalanced, at least to some extent, by the many opportunities offered in business. The colored boy, on the other hand, runs sheer up against a stone wall here. As an illustration of the difficulties that confront a colored boy I may cite one case. I received a communication the other day from an electric company (possibly all other male principals received the same) stating that they could use some bright, clean, industrious boys in their business, starting them at so much a week and aiding them to learn the business. I suspected that they did not comprehend colored boys under the generic term "boys," but thought to try. So I wrote asking if they would give employment to a colored boy who could answer to the qualifications stated. The next mail brought the expected reply that no colored boy, however promising, was wanted. I heaved a sigh and went on.
The saddest thing that faces me in my work is the small opportunity for a colored boy or girl to find proper employment. A boy comes to my office and asks for his working papers. He may be well up in the school, possibly with graduation only a few months off. I question him somewhat as follows: "Well, my boy, you want to go to work, do you?" "What are you going to do?" "I am going to be a doorboy, sir." "Well, you will get $2.50 or $3 a week, but after awhile that will not be enough; what then?" After a moment's pause he will reply" "I should like to be an office boy." "Well, what next?" A moment's silence, and, "I should try to get a position as bell-boy." "Well, then, what next?" A rather contemplative mood, and then, "I should like to climb to the position of head bell-boy." He has now arrived at the top; farther than this he sees no hope. He must face the bald fact that he must enter business as a boy and wind up as a boy.
A bright boy came to me one day for his working papers. I was sorry to see him want to leave school, but he had no father, and his poor mother had the hardest sort of job to earn enough over the wash-tub to pay the rent for their two rooms and to buy their meager food and clothing. The boy earned what little he could by odd jobs in the afternoon, Saturdays and holidays. Still, I felt that if I could get him to stay till he could finish he might chance to find something better; but that would mean at least three years more of school. In reply to my urgent request that he try to battle through, with sad face he said: "I am old enough now to help mother; she needs me. And, again, there is nothing better for a colored boy to do if he finishes the course." The reply pierced my heart like a white-hot bolt. I shall remember that scene till my dying day. All the monster evils of prejudice passed before me in procession like the hideous creatures of an Inferno, and I thought of the millions of hopes that have been blighted, the myriads of human possibilities that have been crushed, the intellects that have been stunted, the moral lives that have been gnarled and twisted, all because the iron heel of this base, hell-born caste is upon the neck of every boy, of every girl who chanced to be born black.
(4) But should he despair? Is there any rift in the cloud? Can one catch here and there a ray of light, of hope, of encouragement through the oppressive pall?
Let me cite a few instances why we should not despair in New York City.
(a) The liberal educational system.
(b) The numerous stalwart friends of humanity in the pulpit, at the bar, in the press, on the rostrum, in business, and in the trades.
(c) The influx of foreigners.
(d) The spirit of our government.
(e) The growth of socialism.
(f) The determination of the people to rise.
(a) Our educational system. There is no such a thing as a caste public school in the whole Empire State. The two men who, as Governors of our State, did most to kill this vicious distinction in our public schools are the two men who deserve to rank through all time among our most distinguished Presidents—Grover Cleveland and Theodore Roosevelt. Educate the children of our land together; the result is a better understanding of each other, a kinder feeling one for the other; a diminishing distrust; and an increasing mutual respect. Common interests in childhood are the seeds that develop into common interests in manhood. This system of mixed schools is to me one of the most hopeful means of a satisfactory solution of our civil and industrial problems. Further, through the liberal-mindedness of our excellent city superintendent and his aides and because of the fairness of our Board of Education and the Board of Examiners there are possibly more colored teachers in our public schools than in any city north of the Mason and Dixon line. They stand entirely on their merit, and are winning the respect and confidence of all who know them.12
(b) A powerful force for present and future good are the many men and women in the higher professions who stand for equality of opportunity, liberty, justice. They are legion. They are the sinew, the brain, the blood, the very life of every movement for the betterment of our people in this city. They are too numerous to mention. To name even one would be unfair to the thousands of equal zeal and goodness. No false note there; their ring is always clear and true and forceful.
(c) The cosmopolitan nature of our population. The hundreds of thousands of Europeans who crowd our city have brought nothing against the black man. All that they know and feel has been learned and acquired here. It is skin-deep only; not born in them, soaked through the bone and marrow.
(d) The spirit of our constitution is all right. Whatever is wrong is but the flapping of the sail; the old ship is secure. The time must come when all men under the stars and stripes will enjoy the right to work as well as the right to life, liberty, and the pursuit of happiness!
(e) The growth of socialism, as represented by such men as Eugene V. Debs, promises equal opportunity to all men.13
(f) Lastly, the determination of the people to rise is itself the highest and best encouragement. Even with all the keen opposition that a small business man feels, one finds scores, yes hundreds of small enterprises, mercantile and industrial, conducted by colored men and women in the city. They are increasing with normal rapidity.
A most encouraging evidence of the eagerness to know how to do something well, to be prepared for some sphere of industrial usefulness was the attendance this winter at our evening school for adults. We had expected to register possibly 200 people in the common branches (the three R's) and the industrial classes; but we registered 1,500 people, of whom about 1,300 were colored. The enthusiasm in the work, the faithfulness in attendance, the excellence of results, so pleased the Board of Education that they are planning to enlarge the plant next year.
To show the spirit that filled this school, permit me to draw a picture as I drew it some months ago in the press of New York:
FUTURE OF COLORED RACE
To the Editor of the New York Times:
While Dixon's "Clansman" is being played next door, Evening School No. 80, in which 1,000 colored men and women have registered, is industriously attending to business.14
Within thirty feet of my office, where I now write this, the curtain is possibly being raised at this moment in an effort to portray the negro race in the worst possible colors; within this building hundreds of the maligned race are at the same moment quietly but earnestly working at their books or in the trades.
So far as I can not, not one of them cares a straw what slanders any marplot may heap upon them; happy, hopeful, busy each and all.
What a refutation to all pessimism would it be if the audience in the theatre would take a recess for a few moments and go through our classrooms! Suppose they could see these men and women, up to sixty-seven years of age, present in full force this stormy night, hungry for knowledge, determined to learn some trade that will make them worth more to the community—what an object lesson it would be!
Not a room in the building is vacant. Even seats for baby pupils and kindergarten tables are occupied. Neither cold nor heat, snow nor moonshine, with all their attendant drawbacks or attractions, can keep these people away.
In the theatre the audience is looking at the past; these people are looking into the future. To the one crowd despair; to the other hope.
What may be the thoughts of the people who are witnessing the play I do not know, but of this much I am sure—there are not 700 happier people in any building in New York than those who are busy here tonight.
WILLIAM L. BULKLEY, Principal
New York, January 8, 1906
To be sure, we have our full share of worthless men and women who are a disgrace to humankind. May their tribe diminish! But, in my moments of quiet contemplation, I wonder not that there are so many Afro-Americans that are good for nothing, but that there are so few. It takes tremendous courage and determination to rise to the plane of respectability beneath such a Cyclopean weight of prejudice. A little charity towards the weak brother and sister cannot surely be too much to ask.
In closing, let me appeal for the establishment of trade schools in the cities of the North to do work similar to that done in our industrial schools in the South. And, then, let this be held out before every boy and girl of all the races as one of the fundamentals of our constitution—the right to work; opportunity to work; encouragement to work in any sphere in which one may be useful.
The Annals of the American Academy of Political and Social Science, 27 (January-June, 1906): 129–34.
14. THE NEGRO'S QUEST FOR WORK
The negro as well as every other race variety of our cosmopolitan civilization has come face to face with the problem of the unemployed. To his, especially, it comes with crushing force, for whatever obstacles handicap other working classes, no other of them suffer from the barrier of color. With all the others the question when seeking work is, "What and how much work can you do?" With him the primary question is, "Have you negro blood in your veins?"
This tendency is turning down the colored skilled laborer even more effectually than the unskilled. The man who has a trade at his fingers' ends finds all forces combined to prevent him from making a living thereby. First, the employer tells him that he has no prejudice against color, but that his employees will object and make his business suffer. If, perchance the negro gets by, is given a chance to make good, the employees in the office, factory and workshop combine to injure his work and to make life miserable for him. The unskilled laborer who has little of such competition is a shade better off, because his work is usually done alone; but even there he finds that the neighbors of his employer have white servants, and that neighbors and white servants look askance at a man who prefers negro help.
These conclusions are the result of investigations set on foot by the Negro Fellowship League. Hundreds of young colored men who congregate on the street evidently have no place in which to spend their leisure hours. Thus it was seen that what was needed was a reading room where men who had a few hours of leisure could spend them amid good and healthful surroundings. Chicago is a great railway center, and thousands of railroad porters make their headquarters there. Many of them have excellent homes, cultured families and are citizens of many years' standing. Others are unmarried men who have neither homes nor families here and therefore are thrown more on their own resources to find some place for social enjoyment. Some are here for different periods of time ranging from two to three hours to two to three days.15
Thus, it came about that through the influence of friends the league established the reading room and social center at 2830 State street one year ago the first of May. During that time 15,000 registrations have been made in this reading room by men and boys. Some come regularly to read the standard authors on the book shelves, others to read the daily and weekly papers that are on the tables; and others keep track of what is being said and done through the monthly magazines. There is still another large number who cannot read, but who come to the reading room to spend a few quiet moments socially and play a game of checkers. Two classes especially patronize the checker games; one of the other men who cannot read, the other, boys ranging from 12 to 18 years of age. Then, too, we have tables and apparatus for those who wish to write letters.
Personal inquiries of a large number of these boys and men develop the fact that while they are glad of this reading room there is with them a keen anxiety because their opportunities for earning a livelihood are so restricted. More and more, during the past few months, is heard the cry, "We cannot find anything to do!" The Pullman service is overcrowded; the company has now a waiting list of more men than it can use. Hotels which employ colored help are gradually letting them out and supplying their places with workers of other nationalities.
The negro has no capital to invest in business and thereby provide employment for the scores of young men who are coming out of schools and from the farms into this great city of the west. Investigation shows that a large number of them are becoming embittered and hopeless. They feel that the world owes them a living, and they want to work, and in many instances can do the best of work; but always and everywhere the answer comes back to applicants: "We don't employ colored help."
Hundreds tramp miles in efforts to get work and come back with the despairing cry that they have not money enough even to pay for a bed to a 10-cent lodging house. When one suggests to them that they should have remained in the South or return there, they invariably tell some tale of horror, as of a lynching bee, which drove them off the farm or out of the town in which they were making a living into the North, where they might at least have freedom and protection.
One young man who learned to be a wheelwright in Booker T. Washington's school has tried for the last two weeks to secure employment at his trade in Chicago. He has not only failed, but has come to the point where he has been willing to wash dishes and do porter work for the sake of getting money with which to feed himself. Up to the present moment he has been able to get only a few days' work at the stockyards. This young man comes of a good family. His father is a pastor of a large church in the South and gives his children a fair education, and this young man went to Tuskegee because he has been told that men who knew how to work at some trade could always get work to do. Never before in his life has he ever known what it was to want bread, and it is pitiful to see the changes that are slowly taking place in him. Were it not that he has a married sister in the city who would share her last crust with him, probably he would have given up long ago. Another man is an electrician, who belongs to the union and has everything in proper shape. But wherever he gets a job of wiring a building or furnishing electricity for moving pictures he finds it hard to get enough men who know the business to help him, and the white workmen who can help him either refuse to work with him or "queer" his work. He claims that the supply men furnish him with inferior material which the inspector invariably condemns. In short, he was so hampered and harassed that he has given the business up as a bad job for the colored man in this city.
What then shall the black man do? What is Chicago willing to do to help reduce the number of idle men on the streets and to give them work? They are anxious as well as able. Idleness is the father of crime it is said. If our social forces drive men into idleness, do they not also drive them into crime? The jail, the penitentiary and the reformatory have a large number of this unfortunate race within their bounds. Many of them are there because they were refused a chance to earn a livelihood on account of their color. Would not the ounce of prevention be better than a pound of cure? Would it not better pay the State to help the large number in the black belt take care of themselves than make paupers and convicts of them and force the State to take care of them?
One place that is trying to answer these questions has found work for 141 men and boys and sixteen women. Clothing has been given twenty-four men and boys and four women and babies. Food to thirty-eight women and children. Money for beds or food, nineteen men, six women. And this without a systematic attempt, facts or to get material help.—Ida B. Wells-Barnett in the Chicago News.16
New York Call, July 23, 1911.
15. HANDICAPS OF NEGRO MECHANICS
Harry E. Thomas
There is perhaps no public statement made which is so harmful to the courage and aspirations of the colored youth in our industrial schools and other institutions as the oft-repeated declaration that the labor unions of the Northern states are debarring colored mechanics from the various mechanical vocations. There are numerous localities, both North and South, where the union movement has never existed, and yet we find the same scarcity of colored mechanics that we find in the union cities, especially in the trades requiring considerable skill.
Ten years as a workman in the North in various workshops, where I came in personal contact with the rank and file and also with the leading spirits of trade-union movements, and where I was often in the midst of disturbances in which brickbats and rocks served as means of vindication and arbitration, have convinced me that the power of the unions has been overestimated, and that statements concerning their strength have been too loosely applied. Nearly all of the hundred and twenty skilled colored mechanics with whom I am personally acquainted, live in the Northern cities, and each one of them is steadily employed at the standard rate of wages and work, where union men can see them. Of course it cannot be denied that a large element of the union movement is prejudiced against the colored men, and white men also, for I well remember quite a disturbance among my shopmates at one time over the employment of several white men who belonged to a certain religious organization. Four different times I have been called with the other workmen to consider and act against certain factions of workmen who were considered objectionable, and in each case those opposed were white men.
Any great amount of work on the part of labor unions to debar colored workmen would be time lost and energy wasted, since the number of colored skilled workmen is so small in the entire country as to warrant no consideration. I know a firm of colored men that hunted carefully over eight states to find a first-class colored plumber competent to erect and install modern fixtures in first-class buildings and residences, and I know another company that was in search of a colored pattern-maker for two years without success. Statistics show that during the last twenty years, less than three per cent of our colored youth have entered the mechanical arts and sciences to remain, while nearly forty-five per cent have made a choice of common vocations and have worked as porters and hotel employes, where the remuneration and intelligence required are meager. It is believed that much of the reason for the unwise choice of vocation on the part of our colored youth is that they have been discouraged by this groundless and unwise claim that the unions, or some other class of men without either means or motives, will defeat any effort they may make except in the lines of common labor or servitude.
There will always be in America an opportunity for the fittest, and the time is near at hand when there will not be countenanced or encouraged any attempt based on the prejudices or whims of any class of men to keep honest employment from any other class. Still, there are other reasons why so few colored youth have entered mechanical lines. First, in the sharp competition in the field of labor in recent years, not half of the white applications for apprenticeship have been favored by our workshops and factories; and the colored boy, having the least of influential support and consideration, has been left out. Second, in parts of the country where colored people are most numerous, the common-school system is so deficient and the attendance so poor that very few young men can pass the examination for apprenticeship for want of general intelligence. The restrictions which the labor unions have placed on the apprentice system are not placed there to debar colored boys, for they apply to all boys who may wish to be mechanics, whether white or colored. Some of the brightest white boys whom I have the pleasure to remember were kept out of the trades on account of the fact that the unions allowed at that time only three apprentices to every one hundred workmen employed.
There is beginning to be an earnest call for colored mechanics, and colored youth are coming to feel the need of learning something about the forces of nature. They want to work with the reaper, the steam engine and the dynamo. During last year I received a letter from a Northern firm asking that they be sent forty colored boiler-makers to work in a new addition to their works. A few months later, a well-known Chicago firm desired us to send them six graduate mechanics, and this year we received letters from Indiana, Pennsylvania and Alabama asking us to send colored mechanics in the metal-working trades to the number of eighteen. During the last three years we have been unable to furnish half of the colored youth called for in the mechanical engineering lines; and we are satisfied that they were not called to fill the places of strikers. In all cases the call came from men of force and standing who desired to give these opportunities to colored youth.
To those conversant with conditions in the industrial world, it is known that the handicap of the colored mechanic in securing employment is not so much due to labor organization as it is to prejudiced foremen in control of the various lines of work—men whose ability is in the direction of bulldozing and "driving" rather than in that of skilled management. I have known a number of instances where these "fossils of former days" have objected even to a colored man passing through their departments. Fortunately rapid improvements are being made in our industrial system, and many establishments are introducing ideas of social and industrial betterment among their employes which call for better and broader men as foremen and superintendents, and the "rapid drivers" are being replaced by young men of training and honesty of purpose. I have the honor to know personally one of these young men who last year took a position as superintendent of works employing two thousand three hundred men. Having received applications from four colored mechanics, he employed them, whereupon the union men of the department where the colored men were working started a strike, as a result of which they were told by the new superintendent that the time had passed in that shop when the color of a man would play any part in his employment or discharge. Two weeks of the rigors of a Northern winter persuaded them to go to work with the colored men, and it is reported that there has been no further trouble at these works since that time.
Certain classes of our colored youth are too well satisfied with these reports that they are locked out of the world of labor, since they have no special desire to enter any vocations where physical activity is a requirement. This class may be found in large numbers employed around our railroad stations, barber shops and pool rooms, but we never find them around the busy shops and factories seeking employment from the superintendents. I have often heard some of this class uproarously denouncing, fully three miles from his works, some superintendent or manager for his color prejudice when I knew they would not work five consecutive weeks at the best job within the gift of this manager. But there are other classes, industrious and eager to receive training, who do wish to work along industrial lines. To help develop the dormant power of these intelligent colored youth, some of the leading states and some generous Americans are furnishing means to equip industrial schools with workshops and laboratories. Most of these schools have a proficient teaching force and are being equipped with the needed tools and apparatus. There are few needs so urgent as industrial education for colored youth, and in the best schools much is being done to broaden the courses and provide the latest tools and devices, so as to keep in touch with the modern practices adopted by our leading captains of industry. A people without industrial status in this modern age is an undesirable incumbrance on any community.
The Southern Workman, 31 (November, 1902): 614–16.
The November number of the Southern Workman contained a many article by Mr. Harry E. Thomas, Instructor in the Machine and Engineering Department of Tuskegee Institute, in which he says that the exclusion of young colored men from the machine shops of the North and South is not due so much to prejudice as to their inability to do the best work.
This fact finds easy explanation in the poor school advantages that the colored youth have in many cases received and in the lack of the inherited mechanical skill which one finds among foreign workmen; but it is refreshing to have a young colored man face the facts in the case. The trades unions are right in taking a stand against poor work, and as much of the work done by young colored mechanics hitherto has been of inferior quality, it is natural that the colored men should suffer.
Undoubtedly, too, race prejudice has existed, but Mr. Thomas is quite right in saying, "There will always be in America an opportunity for the fittest." Mr. Thomas is endeavoring at Tuskegee to make good mechanics, fit for the best positions, and is having, as we are at Hampton, far more applications than can be filled for thoroughly trained men.
It is true that the ardor of colored youth is dampened by the oft-repeated statement that the labor unions of the North exclude colored mechanics. Certainly every fair-minded person will sympathize with Negro youth in the difficulties that they have in their struggle upward, but to represent that there is no chance for them is to do them and the community injustice. A somewhat careful investigation into the condition of the peasant classes of Europe has convinced the writer that none of them have as good opportunities as belong to the poorer class of blacks in our country. As General Armstrong was accustomed to say, "The work of a young colored man in the South often receives even readier recognition from a white community than would be accorded a white man under the same conditions."17
The Southern Workman, 31 (December, 1902): 646–47.
17. THE NEGRO AS A SKILLED WORKMAN
The impression entertained by many people that the negro is not well fitted for fine and skilful work seems to be confirmed, in some degree, by an investigation the Chattanooga Tradesman has been making during the last few months. A circular letter was sent to all the manufacturers in the South, asking how many negroes they employ, how many of them are skilled or semi-skilled, what kind of skilled work they do, what wages they receive, how they compare in efficiency with the white workmen, whether they are improving in efficiency, how much education they have had, what the effect of the education has been, and whether the employers intend to continue to employ skilled negro workmen. About five hundred replies were received, giving the most contradictory answers; but The Tradesman reaches this conclusion:
"In our investigations we find the negro more useful and skilled in the cotton-seed oil-mills, the lumber-mills, the foundries, brick kilns, mines and blast-furnaces. They are superior to white labor and possibly superior to any other labor in these establishments, but not in the capacity of skillful and ingenious artisans. It is more in the line of experienced assistants that they are valuable and almost indispensable. As brick masons, carpenters, blacksmiths, firemen, and engineers many of them become fairly expert, but in the textile industries, fine cabinet-work, watch-making, nice tool and machine constructing, and in the professions the number who have distinguished themselves is too small to be appreciable as affecting the possibilities of the race."
The replies of the manufacturers are summarized as follows:
"In formulating a summary of the information elicited concerning negro skilled or semi-skilled labor in connection with Southern manufactures, we shall deal entirely with facts and information received from those manufacturing establishments that reported the employment of this species of negro labor—to wit, skilled or semi-skilled.
"We have ascertained that of 500 manufacturing plants that answered our inquiries 344 employ negroes. Of this number 209 concerns employing 27,000 persons of all kinds, both white and black, report the employment of 12,840 negroes, and of this number 2,650 negroes are skilled or semi-skilled."
"The highest wages paid to skilled labor is reported from Arkansas, where as much as $4 per day is paid to skilled negro laborers, in some of the establishments, especially in the cotton-oil mills and the lumber-mills. The lowest wages paid to semi-skilled labor seems to be in Virginia, West Virginia, North and South Carolina, where they sometimes get as low as $1 per day. The average rate prevailing, however, in most of the Southern States for skilled and semi-skilled labor is from $1.25 to $3 per day."
"Of the 209 establishments reporting the employment of skilled labor, in answer to question No. 9, 'How do they compare in efficiency with white workmen?' 105 concerns employing 12,060 men of all kinds say that they compare favorably, while 91 concerns, employing 13,310 men of all kinds, say that they compare unfavorably, and 13 concerns employing 1,630 men of all kinds fail to express an opinion either way. For heavy work calling for endurance nearly all unite in saying that the negro common laborer is far superior to the white labor that is procurable in the South."
"In answer to question 10, 'Are the negro workmen improving in efficiency?' 87 concerns, employing 13,880 men of all kinds, say 'Yes'; 91 concerns, employing 9,235 men of all kinds, say 'No,' and 31 concerns, employing 3,855 men of all kinds, either fail to answer the question or answer indefinitely."
"In answer to question 12, 'What effect has education had on your negro workmen?' 67 concerns, employing 6,855 persons of all kinds, say 'Bad'; 47 concerns, employing 10,090 persons of all kinds, say 'Good'; 95 concerns, employing 10,055 persons of all kinds, either fail to answer the question or their answers are that no effect is perceptible, or their answers are too indefinite to be considered."
"The only information elicited from question 11, 'How much education have your negro workmen received?' was that the number that were educated beyong the rudiments, reading, writing, and arithmetic was so small as to mark them as phenomenal instances and not more than 15 such were noted. About 40 per cent could read, write, and cipher, but the majority were untaught so far as regular schooling is concerned."
"In answer to question 13, 'Shall you continue to employ skilled negro workmen?' a very large majority expressed it as their intention to continue to employ them. The general inference drawn from the numerous answers of employers was that, in their experience, but little first-class skilled negro labor was to be had. In certain industries the semi-skilled negro was especially desirable, and as common laborers they were in almost every instance considered preferable to the Southern white labor."
The Literary Digest, 25 (November 8, 1902): 590.
18. THE AMERICAN NEGRO ARTISAN
What is Being Done to Replace the Artisans of Slavery Times—Thomas J. Calloway in Cassier's Magazine
The slavery system of training mechanics produced a type of Negro artisan which served the plantation needs fairly well, and to some extent supplied town carpenters and village blacksmiths. With the passing of slavery, however, that type of artisan is also passing, and the question now arises as to what extent post-bellum Negroes are finding their way into the trades. Industrial education, as the term has been generally employed in relation to Negro schools of the south, has meant a system of education serving not only to give the elements of academic learning, but likewise to train, in shop and farm, young people who may fill the demands of the industrial world for skilled labor, be that labor agricultural, domestic, or manufacturing. Exponents and friends of the system have never claimed that the young people which it graduates can possibly be of that high degree of skill which results only from long application to a specialty; but the claim has been made, and, it is believed, proven by the results, that in an elementary and primary way the better-equipped industrial schools are fitting a superior grade of artisans for the trades to take the place of the slavery trained mechanics.
Each of the industrial schools gives instruction in all or a portion of the following trades: agriculture, horticulture, carpentry, blacksmithing, wheelwrighting, printing, painting, foundry and machine work, shoemaking, bricklaying, plastering, brickmaking, saw-milling, tinning, harness-making, tailoring, plain sewing, dressmaking, millinery, cooking, laundering, nurse-training, housekeeping, mechanical and architectural drawing, and perhaps others. The actual number of graduates from these schools who have entered into the trades is comparatively small, due to the greater demand for teachers and for persons to take other occupations for which a knowledge of the trades is a material aid. It has been estimated that the industrial schools have sent out about a thousand actual artisans,—not enough to man a single large manufacturing plant. As representing an awakening process, these thousand graduates must be regarded not so much for the actual proportion they represent to the millions of their race, but their true estimate is that of the compressed yeast cake which is leavening the infinitely larger race problems.
(The author gives the results of his observations of Negro artisans on a recent trip through the south). At Atlanta colored men were found doing skilled labor in the manufacture of fertilizers and chemicals, the making of bricks, as coopers, wagon and buggy makers, shoemakers, and as size-mixers and cotton-classers in the cotton mills. They were generally employed in all branches of the building trades. At Anniston and Birmingham, Alabama, and vicinity many thousands were employed in the mines and in the production of coke, pig iron, and steel. Colored men were observed to be holding the responsible positions of foremen, cupola men, furnace-keepers, and iron-graders. At Knoxville, Chattanooga, Richmond, and indeed at all the places visited, Negroes were employed as blacksmiths, blacksmiths' helpers, machinists' helpers, molders, puddlers, rollers, roughers, catchers, furnace men, and boiler-makers. At Knoxville, Tennessee, hundreds of Negroes were employed in cutting, shaping, and polishing "Tennessee marble"—a work requiring close attention and considerable skill. In the various places visited in North Carolina and Virginia colored men were engaged in tanneries and tobacco factories; and throughout the south they are almost entirely used in the cotton-seed oil mills.
Noteworthy examples are not wanting of individuals and enterprises that fully illustrate the upward strivings of the Negro in mechanics. The Coleman manufacturing company is a capitalized corporation composed of colored stockholders and is managed by a board of directors of the same race, of whom Warren C. Coleman, an ex-slave, is the president and general manager, as well as the largest stockholder. The company has built, equipped, and is conducting a cotton mill at Concord, North Carolina. As race pride and race improvement were the moving spirits in the enterprise, a special effort was made to employ Negro mechanics in all features of the construction and operation. The architect, the brick-makers and masons, the carpenters, and the factory employees now engaged in turning out a fair grade of cotton goods, sheetings, etc., are all colored. "Reformers' Hall," a business building, containing a theater, office rooms, an armory, etc., has just been completed in the heart of Washington, D.C., at a cost of a hundred thousand dollars, by an architect, J. A. Lankford, contractors, and mechanics, all of the Negro race.
R. R. Taylor, instructor in mechanical and architectural drawing at the Tuskegee institute, in Alabama, and the architect of the numerous buildings of that institution, is probably the best equipped in training and experience of any Negro architect in the United States. He graduated from the Massachusetts Institute of Technology several years ago, and has designed a score or more of the buildings for the Tuskegee school, ranging in value from $50,000 downward. A chapel seating 2,000 persons and a Carnegie library are his best designs. The United States patent office was able to Identify in 1900, through correspondence with patent attorneys, 357 patents issued to Negroes. Probably as many more existed which could not be identified.
Public Opinion, 36 (March 24, 1904): 365.
19. SKILLED LABOR IN MEMPHIS, TENN., 1908
For several months it was the privilege of the author to visit factories of every character and note with his own eyes just what the opportunities of the colored people really are along the line of employment; and the results of his observations were as astonishing as they were gratifying. His investigations were particularly directed along the line of skilled labor. . . . He visited the candy factories and found some of their most efficient and reliable workmen colored men. In one of the factories the foreman is a colored man of intelligence and culture, Mr. Charles Taylor, and practically the whole working force are colored men. Very much the same may be said of the other candy factories in Memphis. Mr. James Wooten, Donald Hayden, Chas. Taylor and many others have been creditably identified for years with the candy making business and enjoy the confidence of their employers. Possibly the oldest candy maker in Memphis and the pioneer in that business is Mr. Charles Morton, who has made candy for nearly 45 years.
The author visited the broom factories and found some of their most expert operatives to be colored men. He found similar conditions in the matress factories. It is hardly probable that two more efficient mattress makers than Maurice Larry and Garnett Hopkins can be found in the whole country; and there are others quite as skillful in the same line of work. The author visited several blacksmith and horse-shoeing shops and found no one white except the proprietor. In the great lumber yards he found many colored men holding the most responsible positions and that not a foot of lumber is carried out of these yards without their inspection. He visited the slaughter houses and found the veteran butchers to be colored. At one of the largest slaughter houses he found a colored man the foreman, Mr. Fred Smith, a very kind and courteous gentleman. He found that many of the engineers running the various plants are colored men of experience and ability. In many of the best white tailoring establishments may be found first-class colored tailors doing everything that is to be done in that business. Without further elaboration it may be repeated that the results of the author's observations were as astonishing as they were gratifying.
It is quite probable that no part of the great northern section of this country gives to the colored man such great opportunities along the lines of skilled labor. It is a common occurrence for colored contractors to erect buildings for white people, notwithstanding fierce competition from white contractors of ability who feel that racial considerations alone entitle them to the work. In the laying of brick and the erection of buildings in general skilled workmen of both races work side by side and no serious objection is made. . . .
In many respects the city of Memphis has a distinct advantage over most of the other cities of the South, but in few other respects is the advantage for colored people more pronounced than in business opportunities. Having the largest colored population in the far South, it is very natural that the business outlook for energetic, capable and shrewd business men should be of the most favorable character. . . .
In the past few years the colored people have awakened to the fact that it is commendable in them to patronize the business enterprises of their own people and there is at present a general inclination to do so. . . .
In the city of Memphis no serious effort has ever been made by the colored people to go into the dry goods business on a scale that would enable them to compete with the big concerns that are already in the field. It has always been a question of doubt whether the colored man would be able to compete successfully with the Hebrews who seem to have an instinctive knowledge and mastery of the dry goods business. . . .
The colored people are well represented in the grocery business and have many examples of mercantile success. There are attractive drug stores, photograph studios, tailor shops, feed stores, restaurants, barber shops, blacksmith shops, undertaking establishments, jewelry stores, dental parlors, coal and wood yards, laundries, shoe shops, shoe stores, ice cream manufactories, shoe shining parlors, newspaper plants, printing offices, silk and lace cleaning establishments, harness making stores and many other kinds of business establishments in Memphis.
The greatest and most successful competitor that the colored businessman must meet is the Italian. We are not able to account for the Italian's complete mastery of the patronage of the colored people; but he holds it nevertheless as if in the hollow of his hands. The Italian lunch houses and grocery stores will be packed to suffocation with colored patrons while colored establishments of a similar character would be practically empty. . . . The general explanation . . . is that the Italian is much craftier as a businessman. He is a good mixer with colored people and a great jollier. . . .
G. P. Hamilton, The Bright Side of Memphis (Memphis: By the Author, 1908), pp. 11–17, as reproduced in Lynch, Black Urban Condition, pp. 79–80.
20. THE ECONOMIC CONDITION OF NEGROES IN THE NORTH: THE NEGRO SKILLED MECHANIC IN THE NORTH
R. R. Wright, Jr.18
Negroes were known to have been in some of the Northern colonies within ten years after their introduction as slaves into Jamestown, Virginia, in 1619; and by 1650 Negro slavery was very generally recognized in New England and New York. The Quaker Colony of Pennsylvania had slaves from its beginning in 1682; and almost from the beginning there existed a conflict between white free labor and black slave labor. As early as 1708 this conflict is indicated by a protest which white workmen presented to the Pennsylvania Assembly against the practice, in which some masters indulged, of hiring their Negro slaves out, thus increasing the competition with white workingmen. In Pennsylvania the practice continued, as did also the protest against it. In 1722 the General Assembly was again appealed to by white workmen, and it declared that "the principle (that masters could hire slaves to compete with free white mechanics) is dangerous and injurious and not to be sanctioned." We have, from time to time, sketches of Negro life in Pennsylvania, and these uniformly agree as to the difficulties in the way of Negroes following skilled mechanical trades. In 1838 in the Register of Trades of Colored People of Philadelphia, the observer writes: "We are aware that the greater part of them are engaged in the most menial service and the severest labor. They are met (in the higher branches of labor) with prejudices, with which they have to contend, which render it difficult for them to find places for their sons as apprentices to learn mechanical trades." In 1856 Benjamin Bacon, a Friend, who published "The Statistics of the Colored People of Philadelphia," reported that "less than two-thirds of those who have trades follow them. A few of the remainder pursue other avocations from choice, but the greater number are compelled to abandon their trades on account of the unrelenting prejudice against their color." At this time, however, Mr. Bacon enumerated 53 Negro brickmakers, 49 carpenters, 112 shoemakers, 248 barbers, 49 tailors, 588 dressmakers, 22 blacksmiths, also cabinetmakers, weavers, plasterers, sail-makers, etc. Not all of them, however, were following their trades. In 1898 Dr. W. E. B. DuBois, in his study of "The Philadelphia Negro," discussed "The practical exclusion of the Negro from the trades and industries of a great city like Philadelphia."
From the best information which we have at hand, there is today a smaller proportion of Negroes in mechanical trades in the North than there was before the Civil War. This is due largely to the introduction of machinery and the enlargement of the factory system, which has either absorbed or driven out of business a large proportion of those who were able to ply their trades alone.
For example, in 1856, there were 112 Negro shoemakers and 22 blacksmiths in the city of Philadelphia; while in 1900 there were in the same city only 60 boot and shoemakers and 30 blacksmiths and wheelwrights, notwithstanding the fact that the population had increased more than three-fold.
According to the Census of 1900, there were then 275,116 Negroes in manufacturing pursuits on the mainland of the United States. Of these, 51,144 were in Northern states and 223,972 in Southern states. In other words, there were 311 Negroes in this class of occupation to every 10,000 Negroes in the country; there were 562 Negroes following mechanical pursuits in the North to every 10,000 Negroes in the North, and 283 Negroes following such pursuits in the South to every 10,000 Negroes in the South. The table [presented below is] taken from the United States Census of 1900, gives the principal occupations pursued by Negroes of this class in the North and South.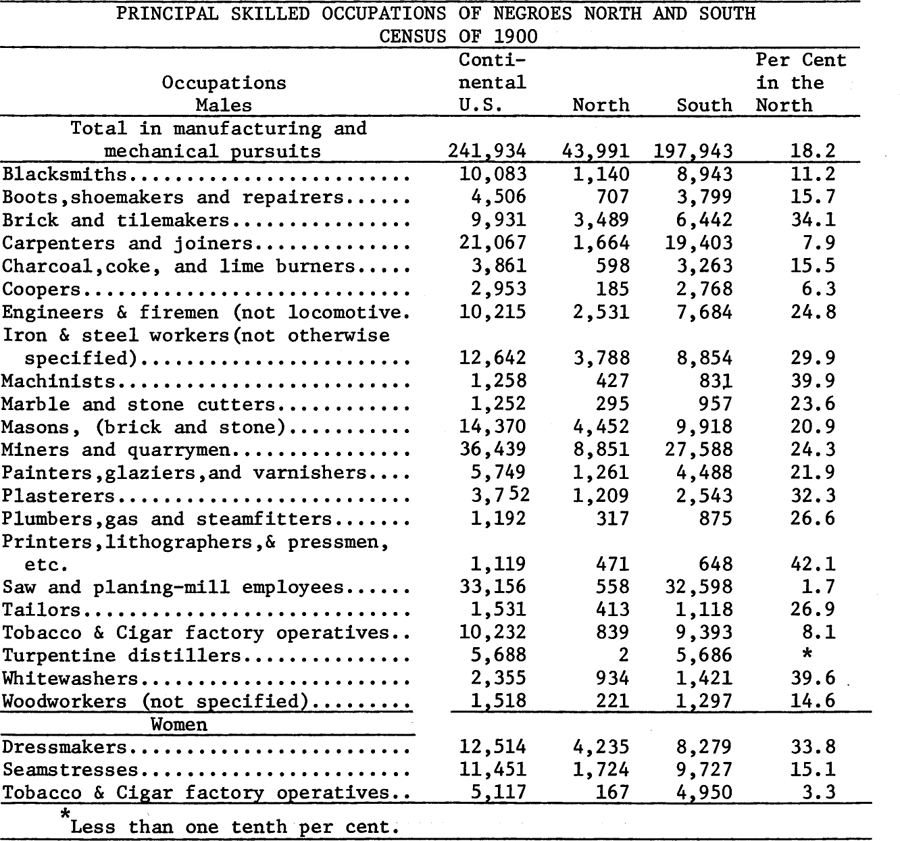 This table shows that in nearly every one of the more important mechanical trades in which Negroes are engaged, there is in proportion to the Negro population in each section, a larger number of Negro mechanics in the North than in the South. The Negroes of the North form a little more than ten per cent of the total Negro population, but in some trades they form more than four times as large a proportion of the Negro workers in these trades. More than two-fifths of the entire number of Negro printers and pressmen, and almost as large a proportion of Negro iron and steel workers and of Negro whitewashers, live in the North; more than a third of the dressmakers, and of brick and tile-makers, and more than one-fourth of the stationary engineers and firemen, plumbers, gasfitters, and tailors are in the same section.
In the principal occupations the Negroes form a smaller percentage of the total number of Negroes in the trades, in the following occupations only; carpenters and joiners, in which they form 7.9 per cent; coopers, 6.3 per cent; tobacco and cigar factory operatives, in which they are 8.1 per cent; and turpentine distillers, in which only two Negroes were returned in the North. The results of this table are probably directly opposed to the observations of many people. But this is so because the observations have been largely in the cities. The large proportion of Northern Negroes is in the cities and the manufacturing and mechanical pursuits are largely city pursuits. A more accurate comparison between the North and the South would therefore consist of a presentation of conditions among Negroes in the cities of each section.
The tables on the next two pages show some interesting things: a comparison of the number of mechanics in the specified cities in 1890 and 1900, from which the increase during the decade can be easily deduced; and the number of Negroes in each specified pursuit for every 10,000 Negroes in each city respectively. Thus, confining the comparison to the cities, there is not the large preponderance in favor of the North as shown in the former table. Indeed, in most of the trades, the Southern cities still have a larger number of workmen than the cities of the North and also a larger proportion. But the increase in the number of mechanics in the Northern cities is more uniform than in the Southern cities. There has been a gradual increase of Negro mechanics in the Northern cities, while on the other hand the increase in the Southern cities is considerably slower, and in many cases there is actual decrease. In Boston, in only four of the trades mentioned was there a decrease; namely, among the blacksmiths and wheelwrights, boot and shoemakers, machinists, and tailors. In Philadelphia and Indianapolis, there was a decrease in two trades; namely, among boot and shoemakers, brickmakers, and potters in Philadelphia, and cabinetmakers, upholsterers, and marble and stone-cutters in Indianapolis. In Cincinnati, there was a decrease in only one trade, that of carpenters and joiners, while in Pittsburg and Chicago, there was a decrease of Negro workmen in none of the trades. The total decrease in the Northern cities was 279 as against a total increase of 2,366, being a net increase of 2,087 Negro mechanics during the decade from 1890 to 1900. On the other hand, of the Southern cities, Atlanta, Georgia, decreased in blacksmiths and wheelwrights, cabinetmakers, and upholsterers, carpenters and joiners, plasterers and printers, engravers, etc. Baltimore decreased in blacksmiths and wheelwrights, boot and shoemakers, brickmakers and potters, butchers, carpenters and joiners, plumbers, gasfitters, and tailors; Nashville, Tenn., decreased in blacksmiths and wheelwrights, boot and shoemakers, brickmakers and potters, butchers, carpenters and joiners, machinists, marble and stone-cutters, brick and stone masons, painters, glaziers, and plasterers; New Orleans decreased in boot and shoemakers, carpenters and joiners, iron and steel workers, machinists, tailors, and dressmakers; Memphis, Tennessee, decreased in plasterers and printers. Richmond, Virginia, decreased in blacksmiths and wheelwrights, boot and shoemakers, cabinetmakers and upholsterers, carpenters and joiners, iron and steel workers, machinists, marble and stone-cutters, painters, glaziers, etc., plasterers, plumbers, gasfitters, and tailors. The total decrease in the six Southern cities was 1887, while the total increase was 1754, a net decrease of 133 Negro mechanics in Southern cities. This comparison shows important tendencies; the North slowly but surely increasing, the South struggling to hold its own.
Although there has been a general increase of Negroes in skilled mechanical trades in the North during the past two decades, yet, as compared with the white population, the Negroes of the North fall far short of having their proper proportion of mechanics. The Negroes are 4.8 per cent of the total population of Philadelphia, but they form only 1.2 per cent of those in manufacturing and mechanical pursuits; 3.5 per cent of the Negroes of Pittsburg are engaged in this class of occupations, while the Negroes are 5.3 per cent of the population. In Boston the proportion of Negro population is 2.1 per cent of the whole population, while employees in manufacturing and mechanical trades are only 0.7 per cent; in Chicago the Negroes are 1.8 per cent of the total population, and 0.6 per cent of the total workers are in mechanical trades; in Indianapolis 9.4 and 3.2 per cent are the respective percentages of the Negroes in the total population and in mechanical pursuits; and in Cincinnati the percentages are respectively 4.4 and 1.5. Of these cities Philadelphia has the smallest proportion and Pittsburg the largest, other cities having about one-third their proper proportion of Negroes in manufacturing and mechanical pursuits.
CHIEF OCCUPATIONS OF NEGRO MECHANICS IN PRINCIPAL CITIES, NORTH AND SOUTH, IN 1890 AND 1900, AND PROPORTION PER 10,000 OF POPULATION IN 1900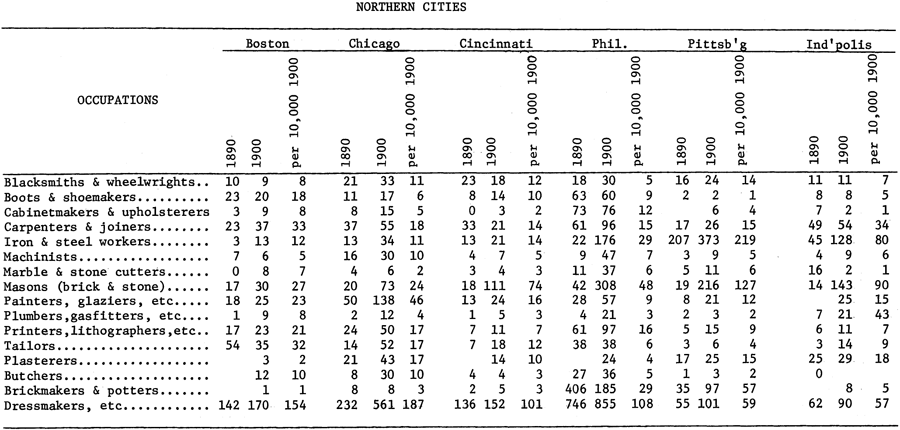 The cause of the scarcity of Negroes in the trades is often said to be chiefly race prejudice; but there are other causes which are much more easily described. In the first place, there are the very meagre opportunities for Negroes to learn trades. In the North there are but few schools where the Negro boy or girl can learn a mechanical trade. It follows that it is practically impossible for the large proportion of Negro children born in the North to learn trades. The North therefore has to depend most largely for its Negro mechanics upon Southern sources; and it remains a fact that the large proportion of Negro mechanics in the North are of Southern birth and training. Another reason why there are few Negroes in the North in mechanical trades is the competition that exists in the North. Negro workmen are not infrequently deficient in one or both of the things most necessary in competition—speed and accuracy. As a rule, the Negro who has learned his trade in slavery, and his son who learned under him in the South, cannot do work with the same accuracy and finish as the white workman in the North; or if they can do the work with the same degree of accuracy, they generally take a much longer time to do it. Still another reason is that in the North conditions of work contain less of the personal element, and every man is expected to work regularly, to report promptly, and to let nothing interfere with his work. Many Negroes who have had opportunities in the North have lost them because they have not learned the lessons of regularity and punctuality. A fourth very important reason has to do with labor organizations. As a rule Negroes are ignorant of the value of labor organizations, or, if they know their value, they are quite unable to organize themselves. They complain generally because they are excluded from, or rather not heartily invited into, labor unions; and their efforts have generally ended with their complaints. Yet they have not usually proved that they are desirable union members, either by organizing themselves or by any active, intelligent interest in labor union affairs in cases where they are admitted to white unions. They have not (largely because of lack of numbers but also because of former training and lack of industrial intelligence) made themselves a desirable quantity for the labor unions, except in some rare and notable cases; and the unions do not yet see that they should hand over to them the privileges and advantages which it has taken them years of struggle and agitation and organization to gain.
Notwithstanding the difficulties, there is a steady increase in Negro mechanics and they are gradually learning, in the school of hard experience, how to overcome many of the obstacles which now hinder them. The extent of the progress among Negro mechanics is not known to the public. For, in a city like New York, or Chicago, or Philadelphia, where tens of thousands of mechanics are employed, a hundred Negroes would hardly be noticed; and if they increased to a hundred and fifty the increase, though fifty per cent, would create no stir. If they were transferred, however, to a small Southern town they would be very conspicuous; but as it is now, a million or more people in the large city are absolutely ignorant of them and one finds out about them only through special investigation. Furthermore, if some of these Negro mechanics in large Northern cities should do the same amount of business in the Southern towns that they now do in New York, or Chicago, or Indianapolis, or Philadelphia, they would be rated as most successful contractors. But in the environment in which they are placed, where the building business often averages over a million dollars per week, they are practically lost, and it is difficult for the casual observer to measure their progress.
Yet, in a few trades in some cities of the North, Negroes form a larger proportion of the workmen than they do of the population. For example, in Pittsburg, where the Negroes are 5.3 per cent of the population, they formed at the Census of 1900 more than 20 per cent of the brick and tile makers, about 9 per cent of the stationary engineers and firemen, 14 per cent of the brick and stone masons, 8 per cent of the plasterers, over 10 per cent of the paper hangers; and of the iron and steel workers, who constitute Pittsburg's chief skilled mechanical workers, the Negroes comprise 3.9 per cent. In Chicago 1.8 per cent of the population are Negroes, but 3.1 per cent of the plasterers, 5.5 per cent of the paper hangers, and 17.4 per cent of the whitewashers are Negroes. In New York the Negroes are 1.8 per cent of the population but comprise 5.7 per cent of the stove, furnace, and grate makers.
The gaining of a foothold in the North has been no easy task for the Negro mechanic. Every Northern city has scores of men who were rated as mechanics in their Southern homes but who are now engaged in domestic and personal service. In Philadelphia, for example, there are fully twice as many Negroes, who claim to be mechanics, working in other lines of endeavor, as are following their trades. The fierceness of competition and the "struggle for existence" can be well illustrated by recounting the experiences of the Negro mechanic in the North. His chief problem is to get work. Often he has come from a section where there was plenty of work, and where he had but little difficulty in securing it, where every contractor knew him and he knew every contractor; or he may have been a contractor himself. But in the large city it happens often that there are two or more men who want every job. If he is not a first-class mechanic he generally gives up and enters one of the numerous avenues of domestic and personal service, where competition is not so great. Necessity drives him to this. If he has more than the average pluck and the average skill, he still continues to hunt work. Occasionally he succeeds as a journeyman. But in the majority of cases, if he is a carpenter, bricklayer, painter, plasterer, or connected with some other branch of the building trades, he becomes a "contractor" in that branch, and takes small jobs of repairing and altering. In the large cities there are scores of these jobbers who seldom hire anyone, and who rarely have any one job of as much as a thousand dollars. Yet they make a living. A good workman, even though he is slow, can in this way build up quite a trade, and when he is busiest can give work to the other jobbers and eventually hire one or two men regularly, or, as is sometimes the case, form a partnership with them. Thus accumulating capital and confidence, he may reach the point where he can launch out into business on a much larger scale; in some such way most of the Negro builders whom I have met in the North have gotten their start.
But there is another method which is not so long nor so tedious; but which is less highly esteemed and has brought Negroes into disrepute in some labor union circles. I refer to strike breaking, and the unions condemn Negroes for this. Strike-breaking is wrong from the point of view of the union just as the strike is wrong from the point of view of the employer. But it is one of the few methods which Negroes have used to force recognition from the unions, and has been possibly an economic necessity. For the Negroes are used by the employers, and generally solely for the employers' benefit; yet, from the point of view of the Negro the breaking of a strike is a crude kind of organization on the part of the Negroes which forces them prominently before the unions. And so far, much of the recognition which they have received from unions in the North has come in consequence of their being used to break strikes. In Chicago, for example, prior to 1900, the Negroes had practically no recognition in the building trades unions. But in that year, there was a great strike or boycott of the building trades. Negroes were employed to break the strike, and the unions found that they would be defeated. Therefore, as a last resort, the labor unions issued to the Negroes the following appeal: "The frequency with which unscrupulous employers of labor are of late supplanting white men by their colored brethren in times of industrial trouble is a question of most serious moment to the wage-earners of this country. In callling attention to this question it is not our intention to arouse sentiment which might lead to race prejudice or a race war, which would be deplorable in its results, but rather in a friendly spirit to lay before our colored brethren a statement of facts which we hope may convince them of their error. We do not even condemn them, believing they are more justly entitled to our sympathy and support. In slavery days, now happily gone by, when the traffic in human flesh and blood remained a blot on our civilization, the Negro was unable to free himself from bondage. His white brother arose in arms and declared that the slave should be free. Today the Negro is being used to keep the white man in industrial slavery. The colored man, more simple in his ways, with fewer wants and these more easily satisfied, is contented to work under conditions which are irksome to the white workman, and he is today, perhaps unconsciously, being used to drag the white man down to a level lower than was the Negro before he was freed from slavery. It is to remedy this that we appeal to him, to welcome him into our fold, to elevate him to our standards, and to better his condition as well as our own. The trades-union movement knows no race or color. Its aims are the bettering of the conditions of the wage-earner, whatever his color or creed. In this spirit we appeal to the colored workman to join us in our work. Come into our trades unions, give us your assistance, and in return receive our support, so that race hatred may be forever buried and the workers of the country united in a solid phalanx to demand what we are justly entitled to—a fair share of the fruits of our industry."
Similarly in Chicago also, Negroes have gained entrance into other avenues; notably in the packing houses where a few years ago there were but few. The great strike of 1905 opened up many places to them. In the mining industry Negroes, as a rule, are loyal to the unions, which, so far as I can ascertain, have but little complaint against them. Yet they very largely won recognition after being used as strike breakers. In Buxton, Iowa, where there is one of the strongest and most loyal coal miners' unions west of the Mississippi River, the foothold was gotten thirty years ago by Negro strike breakers. Similarly in the steel industry, Negroes have gained places by breaking strikes. A few years ago, at their Cleveland meeting, the Amalgamated Association of Steel and Iron Workers refused to organize Negroes. But Negroes have worked themselves gradually into the steel industry of Pittsburg; and at the last meeting of the Amalgamated Association, at Youngstown, Ohio, it was resolved to attempt to organize Negroes because it was found that they were injuring the Association by being used as strike breakers.
It is in the strike, often attended as it is by riot and bloodshed, that we see the worst form of competition. Still, after all is said and done, it is probably true that the Negro has been the gainer. For not only has he in many cases secured a place, but he is gradually leading the labor unions and his race to appreciate the fact that the value of Negro labor is increased if it is organized. Heretofore, the spirit of the union has been more that of indifference than hostility. In some cases after a strike there has been left a bitter sting, and indifference has grown to hostility. But in many cases and especially from the leaders' point of view there is a growing sincerity in the matter of organizing Negroes.
There have been several attempts at independent organization of Negroes by Negroes. The largest of them was that attempted by James N. Davis of Pittsburg. Mr. Davis is a practical engineer and has charge of the plant at the Nixon Theatre, Pittsburg. Seeing the need of an organization he started an association among the men of his own craft, getting together about forty. So successful were they in obtaining and holding work that they attempted to organize on a larger scale; and in 1903 "The National Association of Steam and Gas Engineers and Skilled Workmen of America" was formed. This organization is yet weak, having only about a dozen local lodges. Another plan of organization has been undertaken from a philanthropic point of view by "The Committee for Improving the Industrial Condition of Negroes in New York." During last year, this committee sought out a large number of mechanics, chiefly carpenters. They were successful in getting the men to form an association and later to apply for a charter from the United Brotherhood of Carpenters and Joiners of America; they were successful in their application and now have a separate local union composed entirely of Negroes. Similarly in Philadelphia, the Armstrong Association has been instrumental in organizing two crafts guilds—one of carpenters and the other of bricklayers, stone masons, plasterers, and lathers. But the most effective organization of Negroes will probably not be along the line of either of the above—along racial lines or along philanthropic lines. These may all lead the way and teach Negro workmen the value of organization. They cannot do more; for on the one hand the Negro race in the North is too small to maintain for any great length of time any effective independent labor organization; and on the other hand, philanthropy, backed largely by employers and persons not themselves mechanics, will find it difficult to take the point of view of the laborer in things most essential and fundamental. The final organization must be along purely industrial lines and must include workers of both races whose interests bring them together. In lines of work not requiring much skill this is already becoming true. The asphalt pavers in New York and elsewhere have no color line; the hod-carriers make no distinction as to color. Possibly one of the wealthiest locals in Philadelphia is the Light Star Lodge of Hod Carriers, three-fourths of whose members are Negroes but which claims to know no color line.
There are many cases where Negroes have achieved more than ordinary success in some mechanical trade. I give, in conclusion, a few examples, confining myself entirely to Philadelphia. Frank Thompson, a Negro fifty-three years of age, came to Philadelphia about twelve years ago with about fifty cents in his pocket and a fair knowledge of his trade. He had been a slave and had not learned to read and write. After doing some odd jobs in the city he invested his first extra five dollars in a lot in Elmwood, then thought to be a most uninviting section of the city. The lot, which was bought on the easy payment plan—"five dollars down and two dollars per month"—did not remain vacant very long; for Frank started a house on it as soon as he accumulated capital enough to buy a few bricks and other material. To him possibly more than to any other man is due the "boom" in Elmwood. He has put up more than seventy buildings and has induced scores of Negroes to move into this section. He and his wife are highly religious and they gave a lot to the Baptists, putting up a church for them. They have no children but they plan to donate land and erect an orphanage. Mr. Thompson does much of his work himself but sometimes hires as many as ten men. I inquired of one of the leading men of Elmwood if he knew Frank Thompson, and he said, "Yes, I know the old man and am proud to call him my friend; for, besides being absolutely honest, he is one of the most level headed and practical men to be found in Philadelphia, and I would trust him with any amount of money."
The Booker brothers—Robert and Benjamin—are two young Negroes from Virginia, who have been in Philadelphia less than a dozen years. The following is the testimony of Robert Booker, the younger of the two brothers: "I have been a plasterer of some sort ever since I was eleven years old. My brother Benjamin taught me the trade. I came here a few years ago on a large job, working for another man. I learned how to do good work and to estimate carefully. About five years ago my brother and I started in an independent business. We are always busy, and sometimes hire as many as thirty men. We have plastered my contract more than six hundred houses since we started business, and we now have a force of fifteen men working on a contract for a hundred and five houses. Besides this we do odd jobs. I hire colored men generally but have frequently hired white men. I want mechanics when I do a job and can't be bothered about their color."
William Morrow is a very black man from Virginia and a cement contractor. He informed me that he had two contracts under way and that he employs twenty-three men. He came to the city without capital but with a knowledge of his trade and a determination to succeed. His discouragements as a journeyman were many, so he started business for himself as a "contractor" and has done well for about three years. He owns a good home in the suburbs and four or five brick houses which he rents. Alonzo Currington started in the plumbing business in Philadelphia less than a year ago and is rapidly succeeding. His previous experience had been at Bryn Mawr College, and at the University of Chicago; he did the plumbing in the Long Island residence of John D. Rockefeller and that in the residence of the Vice President of the Pennsylvania Railroad.
The Gary Brothers—John, William, and Robert—came from Norfolk, Virginia, and went directly to painting. They now do a very extensive business of paperhanging, painting, and decorating, and have secured several large jobs. Their store is at Seventeenth and Catherine Streets, and compares favorably with any of the smaller stores south of Market Street. . . .
The Southern Workman, 38 (March, 1909): 155–68.
21. THE COLORED WOMAN AS AN ECONOMIC FACTOR
By Addie W. Hunton
It will interest our readers to know that the writer of this informing article is herself a colored woman who has studied at the University of Strassburg, taught in the South, been identified with club work among colored women since its beginning, and was for four years an organizer for the National Association of Colored Women.
Much has been written concerning the marvelous economic progress of the Negro during the past fifty-two years. This particular line of his progress has even been heralded by many as the most eloquent promise of his final emancipation to full citizenship. The world has been content to know that he has made a remarkable economic advance. The factors concerned have not received much concern. The share of the colored woman in this economic advance has won but scant recognition thus far.
Ignorant, poverty-stricken and incomplete as was the best of his home life a half century ago, still all economic progress, made by the Negro had its foundation there. The man and the woman TOGETHER have sowed and cultivated and together they have reaped. In a short article no comprehensive view is possible of the rare capacity of the Negro woman for endurance and self-sacrifice as evidenced in her struggle for a normal standard of living. Whether working at her own fireside or engaged in outside pursuits, her actuating motive has been largely for race betterment—which means first of all individual and family betterment.
From the United States census of 1910 we learn that more than half of the almost ten million colored people of the United States are females and that 2,013,981 of these 5,000,000 are wage earners, grouped as follows:

Since more than 70 per cent of the Negro population of the United States is rural, it is natural that the great mass of Negro women should be found on the farm. More than half of the 2,000,000 wage earning women of the race are engaged in agriculture from its roughest and rudest forms to its highest and most attractive. Perhaps it is among this great army of toiling women we hear of the saddest cases of the exploitation of our womanhood and at the same time are lifted up by the most thrilling acts of heroism.
In spite of the "one crop," "credit" and "tenant" systems, there has been a phenomenal change from farm laborers to farm owners. The 15,792,579 acres owned and cultivated by Negroes, which with buildings and equipment and rented farm lands reach a valuation approaching a billion dollars, represent not only the hardihood and perseverance of the Negro man but the power for physical and mental endurance of the woman working by his side. Many of the farms owned by colored men are managed entirely by the women of the family while these men give themselves to other employment.
We recall the sad story of a successful and well-known teacher in one of our Southern schools. His wife, a woman of education and ability, so successfully managed their farming interests that they were the most important in their county, thereby arousing the envy and enmity of their less successful neighbors and finally led to the tragic death of the husband.
As a teacher in the South, I knew a number of women who were successful farmers and supported their children in a bording school by their earnings.
A close touch with farm life and seeking to help it to higher standards has ever been an important part of the work of a large number of our school teachers of the South. We will, however, more fully realize how largely this standardization has been in the hands of women, if we recall the fact that, of a total of 29,485 teachers, 22,450 are women. The country teacher has been, for the most part, more largely endowed with common sense and high aspirations than with any great amount of real book learning. She has, after her own way, been social worker as well as teacher, and highly successful in developing a spirit of self-reliance and initiative that have helped our farm life. The rapid advance in farm conditions, and ownership from 1900 to 1915 has been due largely to the farmers' institutes and the recognition of the value of efficiency in rural teaching by the Jeannes Fund. The fascinating story of the constructive work of Virginia Randolph, teaching in Henrico County, Virginia, approaches the ideal of a rural system of education.
There is still another group, comprising some 800,000 colored women, working for the most part in cities and ordinarily classified as domestics. The real economic contribution of this class is less easily seen, although highly important. City life, with its fierce competition, its constant and increasing demand for better service and its utter neglect of the the worker's environment, has a cruel method of listing those who faint and fall in the struggle, and of preserving no record of those who are developed by it into self-sacrificing, self-supporting and self-respecting women. . . . Among Negroes, as among other people, are the immoral element, and they are usually not far to seek. We have our parasites feeding upon the meagre earnings of unfortunate women. But it is to the honor of a half million Negro men that they own the homes that shelter their families and to another million and a half that they pay rent for their families.
Thirty-eight thousand dressmakers and 17,000 nurses, 2,500 of whom are trained, join our wage earners throughout the country.
Colored women are forging their way into the skill industries and into the professions. But it is here they meet the strongest opposition. Generally where anything worthwhile has been achieved there is attached thereto a story of bitter struggle against prejudice and its traditions.
Recently I talked with a young colored woman who had graduated with honor in medicine in the city of New York, but who had begged in vain for admittance to a clinic in the same city.
But, in spite of this, the census of 1910 is a gratifying surprise in the number of colored women listed both in skilled labor and in the professions.
Colored women are displaying surprising genius in conducting successful business enterprises. One of the most successful bank presidents of the race is a woman. A volume might be written on the achievements of the colored business woman. Evidences of her thrift and wisdom are being constantly increased. She displays keen ability in organization. A notable example of this is to be had in the National Association of Colored Women. From 1912 to 1914, 200 (of the several hundred clubs of this organization), with a membership of 10,908 and owning property valued at $113,332.25, collected $83,500. . . .
Alert to her opportunities, aware of her handicaps, struggling to protect herself and those dependent upon her, she must slowly but surely in God's own time and way, take her rightful place in the sisterhood of the nation.
New York Call, February 27, 1916.
By W. E. B. Du Bois
. . . For some years following the war the Negro mechanic still held undisputed sway. Three occurrences, however, soon disturbed the situation:
(a). The competition of white mechanics.
(b). The efforts of the Negro for self-protection.
(c). The new industrial development of the South.
These changes were spread over a series of years and are not yet complete, but they are the real explanation of certain facts which have hitherto been explained in false and inadequate ways. It has, for instance, been said repeatedly that the Negro mechanic carelessly threw away his monopoly of the Southern labor market and allowed the white mechanic to supplant him. This is only partially true. To be sure, the ex-slave was not alert, quick and ready to meet competition. His business hitherto had been to do work but not to get work, save in exceptional cases. The whole slave system of labor saved him from certain sorts of competition, and when he was suddenly called to face the competition of white mechanics he was at a loss. His especial weakness was the lack of a hiring contractor. His master or a white contractor had usually taken jobs and hired him. The white contractor still hired him but there was no one now to see that the contractor gave him fair wages. Indeed, as the white mechanics pressed forward the only refuge of the Negro mechanic was lower wages. There were a few Negro contractors here and there but they again could only hope to maintain themselves by markedly underbidding all competitors and attaining a certain standing in the community.
What the Negro mechanic needed then was social protection—the protection of law and order, perfectly fair judicial processes and that personal power which is in the hands of all modern laboring classes in civilized lands, viz., the right of suffrage. It has often been said that the freedman throwing away his industrial opportunities after the war gave his energies to politics and succeeded in alienating his friends and exasperating his enemies, and proving his inability to rule. It is doubtless true that the freedman laid too much stress on the efficacy of political power in making a straight road to real freedom. And undoubtedly, too, a bad class of politicians, white and black, took advantage of this and made the reconstruction Negro voter a hissing in the ears of the South. Notwithstanding this the Negro was fundamentally right. If the whole class of mechanics here, as in the Middle Age, had been without the suffrage and half-free, the Negro would have had an equal chance with the white mechanic, and could have afforded to wait. But he saw himself coming more and more into competition with men who had the right to vote, the prestige of race and blood, the advantage of intimate relations with those acquainted with the market and the demand. The Negro saw clearly that his industrial rise depended, to an important degree, upon his political power and he therefore sought that power. In this seeking he failed primarily because of his own poor training, the uncompromising enmity and apprehensions of his white neighbors and the selfishness and half-hearted measures of his emancipators. The result was that the black artisan entered the race heavily handicapped—the member of a proscribed class, with restricted rights and privileges, without political and social power. The result was of course that he was enabled to maintain himself only by accepting low wages and keeping at all hazards the good-will of the community.
Even here however he could not wholly succeed. The industrial conditions in the country were rapidly changing. Slowly but surely the new industrial South began to arise and with it came new demands on the mechanic. Now the Negro mechanic could not in the very nature of the case meet these demands; he knew how to do a few things by rule of thumb—he could build one of the rambling old-fashioned southern mansions, he could build a slave shanty; he could construct a rough sugar hogshead and resole a shoe; in exceptional cases he could do even careful and ingenious work in certain lines; but as a rule he knew little of the niceties of modern carpentry or iron-working, he knew practically nothing of mills and machinery, very little about railroads—in fact he was especially ignorant in those very lines of mechanical and industrial development in which the South has taken the longest strides in the last thirty years. And if he was ignorant, who was to teach him? Certainly not his white fellow workmen, for they were his bitterest opponents because of strong race-prejudice and because of the fact that the Negro works for low wages. Apprenticeship to the older Negro mechanics was but partially successful for they could not teach what they had never learned. In fact, it was only through the lever of low wages that the Negro secured any share in the new industries. By that means he was enabled to replace white laborers in many branches, but he thereby increased the enmity of trades-unions and labor-leaders. Such in brief was the complicated effort of emancipation on the Negro artisan and one could not well imagine a situation more difficult to remedy. . . .
When the Civil War opened and the fall of slavery seemed imminent, some of the earliest suggestions for educating the blacks insisted on industrial training. The development, however, was slow and interesting. We may indicate the evolution of the Southern industrial school somewhat as follows:
1. Janitor work and chores performed by students.
2. Repair work and equipment by student labor.
3. Teaching of ordinary housework to girls.
4. Teaching of house-service for the training of servants.
5. The school of work; co-operative industry for gain, by use of student labor.
6. Teaching of trades.
7. The industrial settlement.
8. The social settlement.
9. Manual training.
10. Technological education.
No report is available as to dress-makers, nor as to graduates and students who are earning a living partially as artisans. In tailoring and blacksmithing the graduates have experienced no difficulty in obtaining work, and in other trades "no serious difficulty." They do not as a general thing join trades unions.
Tuskegee Institute, Ala.
"We have been keeping a record only of our academic graduates and those who have certificates from the industrial department. I send you under separate cover today our catalog which contains our alumni record. The institution cannot be fairly judged only by those who are referred to in the catalog as there are many others who have been working regularly at their trades of whom no record is made."
In the catalogue the occupations of graduates of the school are given as follows:


Persons who work at their trades when not employed at some other principal occupation:

Other occupations of graduates*:

Summarized we have:

Claflin University, S.C.19
The following graduates and former students have been sent out with trades:

Total 98; 60 of these are following their trades. 12 or more graduates besides these earn a living partially as artisans, usually combining teaching and farming with the trade. Fourteen of the graduates* are instructors in industries.
These artisans are working principally in South Carolina. They are usually preferred by contractors and have had no difficulty in obtaining work. They do not usually join trades unions, as there are not many unions in the state.
A. & M. College, Ala.
This institution has no record of its undergraduates. The following have graduated as artisans:

The number of these who are following their trades at present is not known; some of these combine teaching with their trades, but the exact number is not stated. The chief difficulty encountered by these artisans is the "Trades Unions, which, in some localities, control labor and will not admit them to membership." In any case they seldom join the unions. Ten teach industries in schools.
Bishop College, Texas
This institution sends a partial report. "The incompleteness of the report is not due to lack of students at work as artisans, but to the lack of method in keeping track of them."

A. & M. College, Greensboro, N.C.
This institution which graduated its first class in 1899 reports as follows:

"One of our graduates—a machinist with less than two years' experience—is employed in a Northern factory at $5 a day."
Most of the other graduates are located in North Carolina. The six mentioned above usually combine teaching with their trade. They do not usually join trades unions and have no difficulty in getting work save "their own imperfections or lack of energy."
"While we have done much industrial work we have not had special graduation from industrial courses, but have co-ordinated the hand work with the other as part of an all-round education. Until comparatively recently the call for artisans has not been so strong in this state as in some others. It is predominantly an agricultural state."
The artisans reported are:

Three in addition teach industries in schools. They do not join trades unions and find work with but little difficulty.
Schofield N. & I. School, S.C.
This school returns "a partial list, but there are many more who have entered and are following trades." The following are known to be pursuing these trades:

"Very many" others are following their trades, but there are no exact records; 6 are teaching industries in schools.
These persons are located in South Carolina, Georgia and Florida. Some are in the North.
Barrett C. & I. Institute, N.C.
This institution has trained 157 artisans, chiefly blacksmiths, masons, dressmakers, plasterers and carpenters. Of these "about 10 or more" are earning their living entirely as artisans. Others are combining their trades with teaching. They do not join trades unions and meet little difficulty in getting work.
Haines Institute, Ga.
"Ours is simply a manual training school and makes no pretense at teaching trades. The following are earning a living at their trades, not having studied them elsewhere than here."

They are in Georgia, New Jersey and District of Columbia.
Knoxville College, Tenn.
This institution reports among its graduates:

Eight are teaching industries in schools. Others, formerly students are working as artisans, and "a large number" are gaining a living by combining a trade with teaching or other pursuits.
Institute for Colored Youth, Penna.
This institution reports:

Two teach industries in schools.
Most of these artisans are at work in Philadelphia and vicinity. They do not join the trades unions.
Fort Valley H. & I. School, Ga.
This institution reports:

One is teaching industries.
17 are earning a living partially as artisans. They are located in Georgia, have no trouble in getting work, and do not join Trades Unions. "Our industrial departments have not been established long enough for us to make a very good showing in the industries yet."
State Normal School, Montgomery, Ala.
"This institution has graduated 320 in the past twenty-two years. Of this number twelve had died, sixty-four women are married and housekeeping, 185 are teachers, four merchants, one millwright, eight medical doctors, twenty-one farmers, one house plasterer, two carpenters, one each, dentist, blacksmith, house painter, two in Government service, three bookkeepers, eight dressmakers, two teachers of music, seven students in higher schools."
This makes 14 artisans in all. Three others teach trades. About 25% of the graduates and former students practice their trades casually. They often combine teaching or farming with the trade. They have no difficulty in finding work and are located mostly in Birmingham and Montgomery, Ala. They usually join trades unions.
Ballard Normal School, Ala.
One graduate of this school is an architect and builder at Norfolk, Va.; another learned his trade after leaving and was instructor in tailoring at Tuskegee. Most of the graduates teach.
Alcorn A. & M. College, Miss.
The industrial departments here are of recent establishment and only two or three classes have been sent out. There are among these:

Washburn Seminary, N.C.
This school reports:

Clark University, Ga.
This school gives among its graduates, as published in its catalogue:

The catalogue of this school gives the following artisans:
Apparently none of these were trained at this school, but took up the trades after leaving. The principal was unable to give any accurate information.
Rust University, Miss.
This institution reports:

Two teach industries in schools. They do not join trades unions.
Arkansas Baptist College, Ark.
This institution has trained in all 79 artisans, but does not report the number of these following their trades. They meet color prejudice in getting work and their own "lack of superior preparation" is a disadvantage.
The following institutions sent no reports, but on consulting their catalogues a list of artisans has been made out as there given: Benedict College, S.C; Lincoln Institute, Mo.; Wilberforce University, 0.; Biddle University, N.C.; Walden University, (Central Tenn. College), Tenn.; Tillotson College, Tex.; Orange Park N. & I. Schhol, Fla.; State Normal School, Miss.; Knox Institute, Ga.; LeMoyne Institute, Tenn.
Among the graduates of these schools are:

Two urgent requests for reports were sent to all other industrial schools but no replies were received. It may be taken for granted that most of them have very little real trade teaching and no records of the few graduates who have acquired trades after leaving them. A few others have only manual training and the record of their graduates is interesting in this connection only as showing how far such training turns students' ideals toward trade-learning. The most conspicuous of the larger institutions with manual training and without trade departments are Shaw University,* N.C., and Atlanta University. The latter has among its graduates and former students:
1. Superintendent of Industries, Biddle University, N.C.
2. Superintendent of Mechanical Department, Prairie View State Normal School, Texas.
3. Instructor in Manual Training, Knox Institute, Ga.
4. Instructor in Carpentry, Brick N. & A. School, N.C.
5. Superintendent of Manual Training, Talladega College, Ala.
6. Instructor in Manual Training, V. N. & C. I., Va.
7. Instructor in Bench Work, LeMoyne Institute, Tenn.
8. Instructor in Printing,    "    "    "
9. Instructor in Carpentry, Kowaliga I. Acad., Ala.
10. Instructor in Manual Training, Haines Inst., Ga.
11. Teacher of Sewing, Fort Valley H. & I. School, Ga.
12. Teacher of Cooking,    "   "     "   "   "
Three others are heads of industrial schools but ought to be counted as teachers than as artisans. Several former students are artisans but the exact number is unknown. . . . No report at all is made of other than trade school graduates. Tuskegee gives no record of her trade graduates before 1890, and Claflin's report of 60 at work is an estimate and not a detailed report. However, we may make the following table:
Tuskegee:
Total graduate, 423, or 100%.
Of these 11% work at trades, and 6.5% teach trades.
Total trade graduates, about 150*, or 100%.
Of these 32% work at trades, and 19% teach trades.
Hampton:
Total trade graduates, 217, or 100%.
Of these 51.5% work at trades, and 12% teach trades.
Claflin:
Total trade graduates, 98, or 100%.
Of these about 47% work at trades, and about 14% teach trades.
Possibly it would be fair to say that in the best industrial schools something less than a quarter of all the graduates, and about three-fifths of all the trade graduates, actually practice their trades or teach them.
If to the 743 artisans working and teaching we add for the school at Normal, Ala., and the Arkansas Baptist College an estimated number of 60 additional artisans, we have 803 artisans. The unreported artisans would bring this number up to at least 1,000, so that it would be a conservative statement to say that the hundred schools giving industrial training have in the last twenty years sent one thousand actual artisans into the world, beside a large number who combine their mechanical skill with other callings.
Local Conditions: Indianapolis, Ind., (by W. T. B. Williams.**) All the figures I give below were obtained in June, 1900, from foremen and mechanics and from the offices of large manufacturing plants. Though they are meager, yet I think they are thoroughly reliable. They come, too, from representative establishments and laborers.
Indianapolis had, in 1900, a Negro population of 15,931 in a total population of 169,164.
The mass of Negro population has come to Indianapolis from the South during the last thirty years. The greater part are fairly recent comers. Many of the whites are also from the South. In fact, Indianapolis is in some respects very much of a Southern city. Being in the North, however, the relations existing between the whites and blacks relating to labor savor of both sections.
By far the great majority of Negro laborers are unskilled. But representatives of the ordinary trades are found in appreciable numbers.
The following are the results of my investigations. They refer to the city only:
BLACKSMITHS
Four shops run by Negroes

The Blacksmiths' Union is open to Negroes. J. K. Donnell, a Negro, is corresponding secretary of the union. He is also a member of Master Horseshoers' Protective Association.
FOUNDRIES

I found also

My conclusion after visiting a number of foundries is that there is no uniformity in their attitude toward Negro laborers. Most foundries employ no Negroes. Some employ a few. Most claim that no Negroes apply as skilled laborers. One admitted having received one application which was rejected only because there was no vacancy. Wherever Negroes were employed they were spoken of as efficient and satisfactory.
Negro foundrymen do not belong to the unions. Employers, however, say no trouble comes from that. Whites and blacks in all cases are given work together.
CARPENTERS

Carpenters' Union admits Negroes, but the Negroes do not join. They say that while they may join the unions yet the boss carpenters will not look out for work for them and that white carpenters will not work with them, though they are union men. Negroes gain in times of strikes by not belonging.
BRICKLAYERS

Bricklayers' Union admits colored men but none join for the same reason given by the carpenters.
PLASTERERS

Very good feeling seemed to exist at the factory where the two turners worked. The foreman declared that the factory could not tolerate interference from unions and that men were advanced according to merit.
CEMENT WORKERS

No organization in city.
HOD CARRIERS

Union mainly composed of Negroes, but a few whites belong.
This union is not affiliated with the National Association.
PAPER HANGERS
Can not give exact figures, but not more than . . . 6
Indianapolis has a fine industrial training school with good courses in wood-work, i.e., making of joints, etc., and turning, and in iron forging and machine fitting, etc. An appreciable number of colored boys attend this school, but I was unable to learn of anyone's having applied to any of the factories or foundries for work. Some mechanics felt that the school has not been in existence long enough to have exerted any marked influence upon the quantity or quality of skilled laborers in the market.
From all I could learn Negro carpenters are decreasing in number. But in every other trade there is an increase. This is very marked though the gain in actual numbers is small in the factories and foundries.
A probable cause of the increase of skilled laborers in this locality is the steady emigration northward of the Negro from the South. It is not due to any considerable number of younger men of the city entering the trades. This will probably be changed in a few years for the industrial training offered by the city in one of its high schools seems to appeal strongly to the colored youth who enter the high school. And though there is much prejudice against the Negro as a skilled laborer yet I think he has a fighting chance in Indianapolis.
Alabama. The state of Alabama had 678,489 Negroes in 1890 and 827,307 in 1900. In 1890 there were reported the following skilled and semi-skilled laborers:*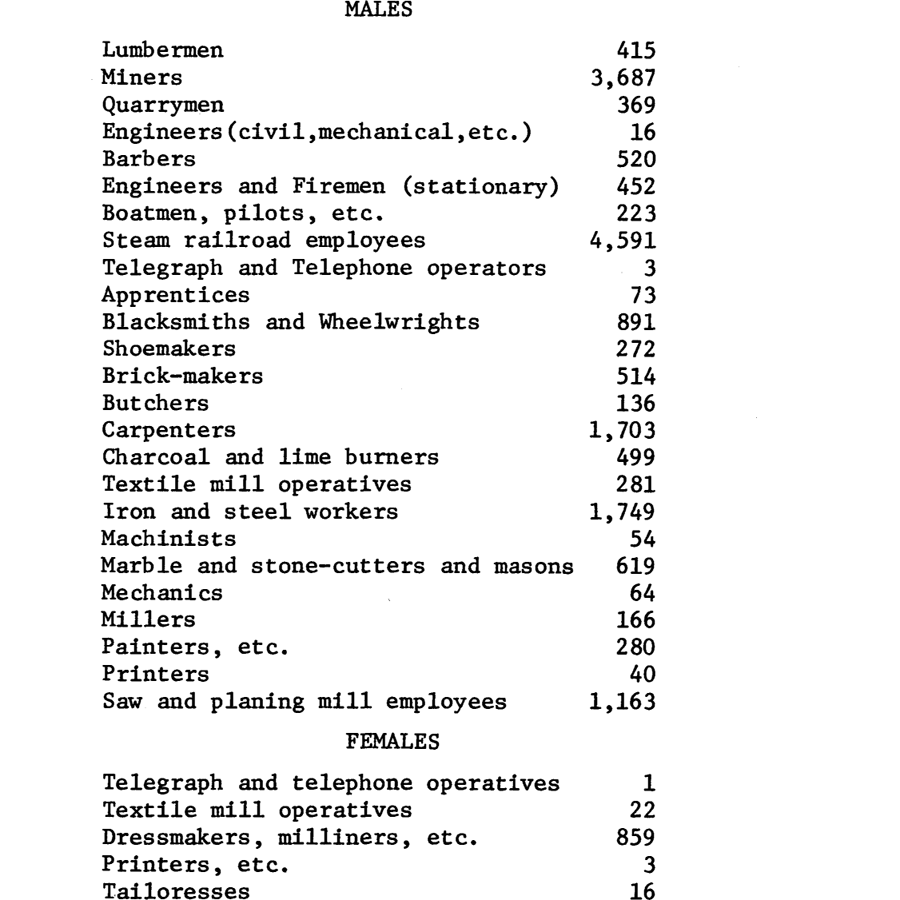 A special report from Tuskegee says that a "consensus of best opinions" agree that in that region the Negro artisan "is gaining for the past six or eight years." Up to that time and since the War he had been losing. His losses were due to neglect and reaction. Today inefficiency and increased competition still hamper him. "Competent colored laborers are too few for the demand." The sentiment among the colored people are in regard to entering the trades has "greatly changed in this and surrounding states" during recent years. Prejudice still is an obstacle before the young mechanic and yet the difference in wages is due largely to the fact that competent colored laborers are too few to supply the demand, hence cannot command highest wages; and also to the further fact that colored laborers' standard of living is lower and they are consequently willing to work for less. These Negro mechanics can and do join the labor unions, some 5,000 being members throughout the state, chiefly in the United Mine Workers. They have separate local organizations however. There are at Tuskegee, including the teachers at the Institute, the following artisans:

Unfortunately no detailed report is available from the great industrial centers like Birmingham, Anniston, etc.
California. There were in California 11,322 Negroes in 1890, and 11,045 in 1900. The colored artisans reported in 1890 include both Negroes and Chinese: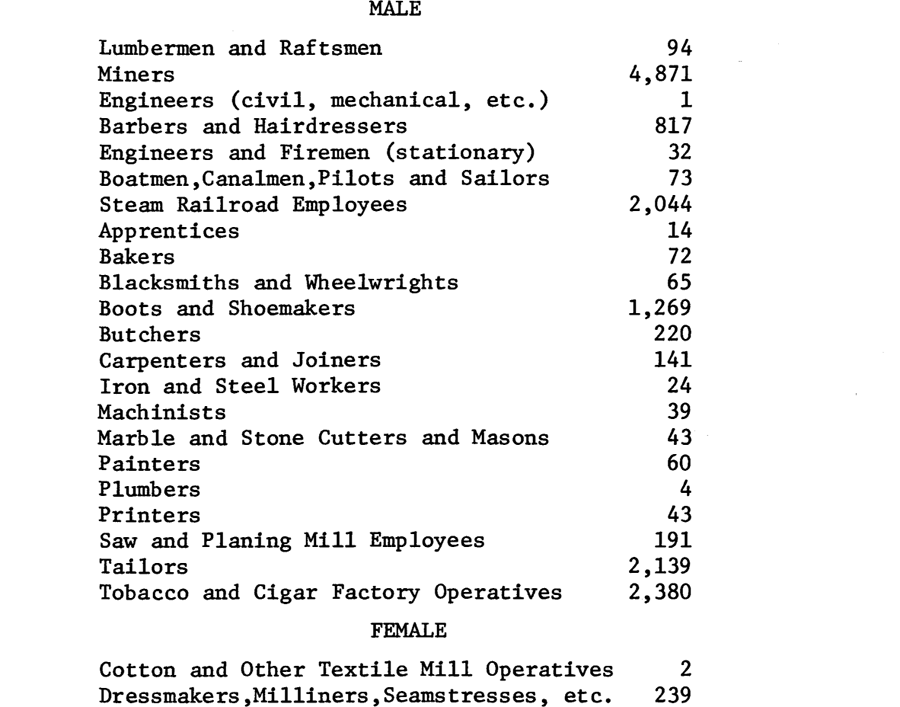 There are four colored carpenters in San Francisco in a Union of 2,500, and about 100 colored members among the teamsters', stablemens', longshoremens', seamens' and laborers' unions. In Pueblo there are a few lathers, building laborers, plasterers and stationary engineers, and also barbers. In Stockton there are a few longshoremen and hod carriers; in Los Angeles there are a few cement workers, plasterers, lathers and painters. Fresno has a butcher and several mortar mixers. On the whole a Negro mechanic is a rare thing in California.
Colorado. There were 6,215 Negroes in Colorado in 1890, and 8,570 in 1900. There were reported in 1890 the following artisans, including a few Chinese, etc.: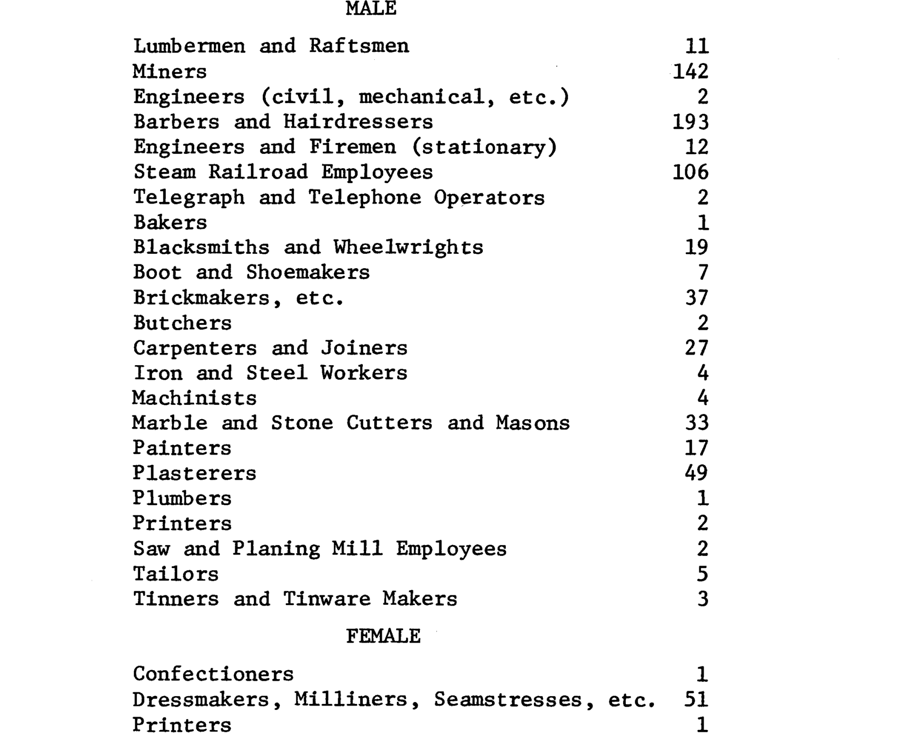 Nearly half the Negro population of the state is in Denver. Here a special report says that the artisans are chiefly in the building trades, although there are not many. The leading artisans include 3 bricklayers, one of whom is a contractor, 7 plasterers, 4 carpenters, 1 ink-maker, 1 machinist and 4 printers. "Master mechanics can enter the trades but there is no opening for apprentices."
District of Columbia. There were in 1890, 75,572 Negroes in the District of Columbia, and 86,702 in 1900. This is in many ways a remarkable population, nearly three-fourths being in domestic and personal service and the other fourth containing a considerable number of clerks and professional people. The census of 1890 reported: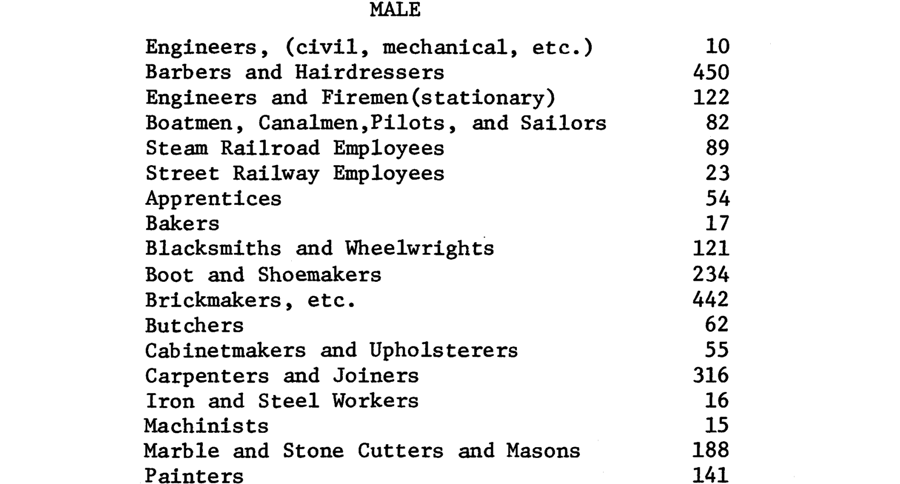 The Union League Directory, compiled by Mr. Andrew F. Hilyer, reported the leading Negro artisans as follows. This is not an exhaustive list, but gives the more prominent men in 1902: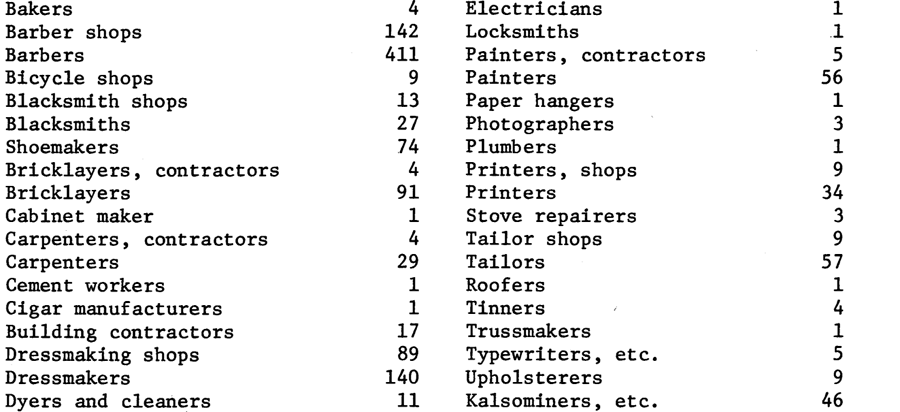 It is probable that a list like this is more reliable as a guide to actual effective artisans than the census of 1890, where helpers and casual artisans and those claiming to be artisans are set down under the various trades. The directory referred to has a further study of these artisans by Mr. George W. Ellis, as follows:
YEARS AT WORK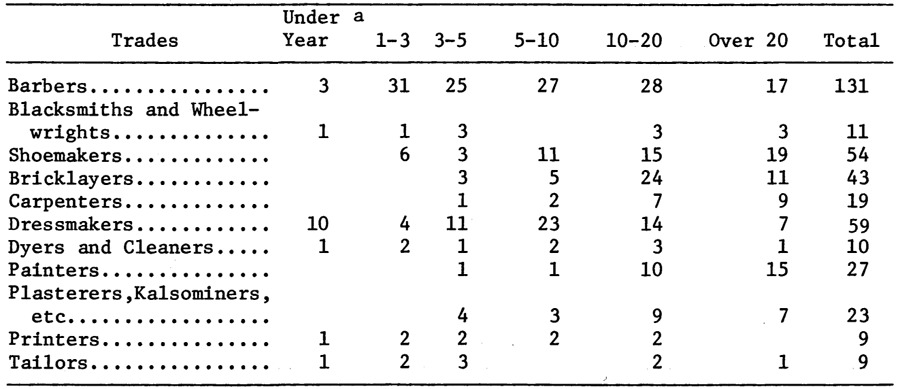 In his report to the Hampton Conference in 1899 Mr. A. F. Hilyer said: "In Washington there are over 500 skilled colored workmen not including barbers. There are about 100 bricklayers, 75 carpenters, 80 painters, 75 plasterers, 100 stationary engineers, 100 of various other skilled occupations. There are also many skilled brickmakers. Only the engineers and barbers are organized. * * * * During the last ten years over 500 houses have been built in Washington almost entirely by colored labor, some of them costing as high as fifteen thousand dollars. Many of them are fine specimens of the mechanic's art."
Florida. There were 166,180 Negroes in Florida in 1890, and 230,730 in 1900. The census of 1890 reported the following Negro artisans:
MALE

FEMALE

There were in the Florida labor unions in 1902 about 2,000 Negro cigar makers, 1,000 carpenters, 1,200 building laborers, 200 painters, 800 longshoremen, 200 bricklayers and 300 plasterers. In Jacksonville a prominent Negro contractor and builder reports that there are a "great many" Negro skilled laborers, and that the Negroes are represented in more trades than formerly. The 33 leading Negro artisans include 7 carpenters, 9 masons, 2 blacksmiths, 2 engineers, 4 tailors and 8 tinners. The Negro is gaining in skilled trades, and in the trades mentioned meets little opposition. Usually, too, there is no discrimination in wages, but this is not always true. These are the following Negro union men in Jacksonville:
Bricklayers. . . . . . . . . . 75    Painters. . . . . . . . . . 50    Carpenters. . . . . . . . . . 250?
In some of the unions there are a number of colored women.
In Pensacola the skilled work is about evenly divided between black and white. Of the 169 leading Negro mechanics there are 95 carpenters, 19 painters, 7 blacksmiths, 23 plasterers and bricklayers, 5 tailors, 8 cigar makers, 7 shoemakers, 2 tinners and 3 cabinet makers. There is "no perceptible loss or gain here," the Negro mechanic "is measurably holding his own." Almost all the artisans "have come up as apprentices" and there are few from the industrial schools. As to general conditions Mr. M. M. Lewy reports: "Carpenters and bricklayers work side by side and receive the same union wages; sometimes, and quite usually, Negroes are the contractors on private and business buildings. Blacksmiths, stonecutters, tailors and shoemakers do a good business here without the semblance of friction between the races. There are several noted cases of Negroes doing contract for large firms." In St. Augustine there is a colored painters' union of 30 members and a Negro members of the masons', plasterers' and carpenters' unions. In Tampa there are 20 colored carpenters in the union, and a number of cigar makers.
Georgia. There were 858,815 Negroes in Georgia in 1890 and 1,034,813 in 1900. The census of 1890 reported the following Negro artisans:
MALE

FEMALE

There are about 1,500 Negroes in the unions of Georgia, chiefly carpenters, masons, stone-quarrymen, lathers and plasterers. At Greensboro the leading 13 colored artisans include 4 blacksmiths, 6 carpenters, 1 mason and 2 shoemakers. There is neither gain nor loss in number, and the artisan "might do better if his opportunities in early life had been more favorable." Industrial schools "are cultivating a higher respect for manual labor." The chief obstacle of the Negro is his own inefficiency. At Milledgeville the 10 leading artisans include 1 contractor, 2 masons, 2 stationary engineers, 2 tinsmiths, 1 blacksmith and 2 painters. The Negro artisan in this town "is gaining. All the painters and blacksmiths are colored and they are in the majority in all the trades." So far as industrial schools are concerned the report says: "I cannot yet see the result of industrial training which I would like to see. Many of our artisans are young men and some of them have attended industrial schools but preferred to complete their trades at home." As to obstacles the report continues: "In my opinion he has no obstacles in the South and especially in small towns and villages. The whole field is his. What he needs to do is to equip himself and occupy it." At Washington, there are about 35 Negro artisans, the 8 leading ones being 3 masons, 1 carpenter, 3 painters and 1 kalsominer. As to numbers "there may be some falling off due to lack of work." There is little interest manifested in industrial training. "The Negroes at Washington do excellent work but there is not sufficient work to keep them all employed. Some are in Augusta, quite a number in Crawfordsville, and some in South Carolina at work." At Marshallville there are a few artisans, chiefly carpenters, masons and blacksmiths, and they are gaining. "There were only two Negro artisans here before the civil war, now there are fourteen." Albany, Ga., there are many skilled laborers; the 17 leading artisans include 6 carpenters, 3 blacksmiths, 1 carriage maker, 6 masons and 1 painter. "In this community the Negro seems to be losing in skilled work," chiefly because of the "great growth of the South in industrial lines; the poor white man is taking to the trades in large numbers." Moreover, "there are very few young men here who have had the advantage of industrial school training. Some are now in these schools. Most of the younger men in the trades, however, entered under the apprenticeship system." Competition and color-discrimination are considerable obstacles for the Negro. "The discrimination is very marked in wages; white artisans receive from one-fourth to one-third more for the same kind of work."
All of the above towns are small semi-rural communities. In the larger cities of Georgia—Atlanta, Savannah, Macon and Augusta—the Negro artisan is conspicuous. In Savannah there are 7 trades unions composed entirely of Negroes:—the bricklayers, carpenters, coopers, building laborers, lathers, painters and tinners. There are also colored members in some of the other unions. Both Macon and Augusta have large numbers of artisans. The condition of all of these may be judged from the special study of the Negro artisan in Atlanta given below.
Some general information as to the three chief sections of Georgia has come to us by correspondence. Miss E. E. White says:
"From a gentleman who has spent much time in South-western Georgia I learn that this section of the state being devoted to fruit, turpentine, and cotton does not require many artisans, and those who follow the carpenter and brick mason trades are unemployed for perhaps six months. In several places there is very little discrimination shown toward good workmen, although sometimes the wages of colored are less than those of the whites; in other places there is much prejudice toward colored workmen and most of their dealings must of necessity be with their own race."
In Northeastern Georgia the following wage scale for 42 artisans was reported by the artisans themselves; they could all read and write and were from 30 to 40 years of age: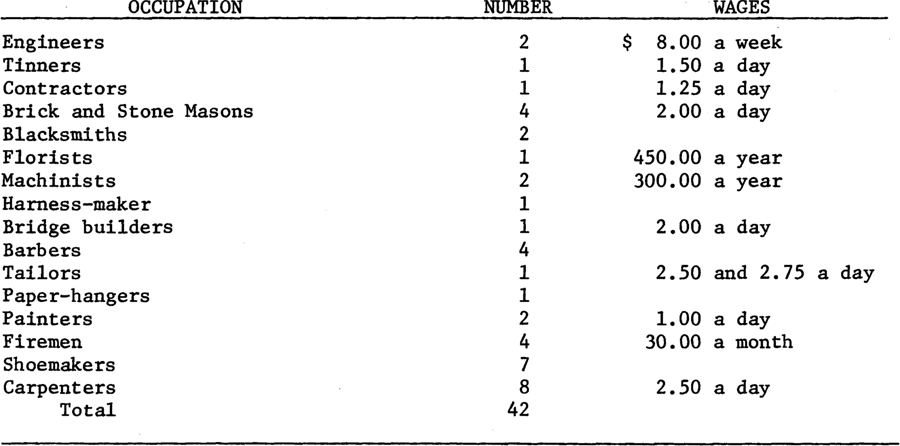 From eastern Georgia, Miss L. D. Davis reports:
"The relations with the whites in most communities are friendly. Few communities have trades unions. In Athens Negroes can join some of the unions with whites; none are organized among themselves. Augusta has several Negro trades unions. The painters, brickmasons and carpenters are well organized. Negroes cannot join white unions in Augusta.
"At first I had a little trouble to get the question of wages received answered. Negroes do not receive the same wages as whites, there were some exceptions, but generally whites receive from 25₵ to 50₵ more than Negroes. (1.) Carpenters get from $1 to $2.50 a day. (2.) Brick masons and stone cutters get the same wages of whites in the same trade, from $2.00 to $4.00 per day. (3.) Plasterers get 33-1/2₵ per hour. Barbers, tailors and blacksmiths conduct their own business, and did not as a general rule tell their profits."
"Those reporting who own real estate, by trades, were: Barbers, 0; Blacksmiths, 6; Printers, 1; Shoemakers, 0; Tailors, 1; Plumbers, 1; Plasterers, 3; Tinners, 4; Painters, 4; Mechanics, 4; Telegraph linemen, 0; Brick masons, 15; Carpenters, 16."
Atlanta, Ga. In the spring of 1902 a number of seniors from Atlanta University were given sections of the city to investigate as to the number and condition of Negro artisans. Extracts from these reports are appended and form the best general picture obtainable of industrial conditions as seen by young observers.
Mr. H. H. Pace says:
"The first person from whom I obtained any real information was a brickmason who received me cordially and who was inclined to talk. He was at home then (the middle of the afternoon) and said that it was the season when he never did much. He was a Union man and said that colored brickmasons were well received by the white unions 'if they knew their business,' although the initiation fee was larger for colored men and the sick and death benefits much smaller for them than for whites. I next saw a machinist who lived in a tumble down house in a rather poor locality. But he said he owned the house. I found a carpenter who was almost totally despondent. He couldn't get work, he said, and was sorry he ever came to Atlanta. 'I own a farm in Jackson county,' he said, 'but quit farming and came here thinking to do better at my trade. But if things don't change soon I think I'll go back to it.'"
"The next thing of particular interest to me was a gang of men, white and black, at work upon ten or twelve three-room houses. The person in charge of the work was a colored man who gave his name and address as Tom Carlton, Edgewood, Ga. He talked to me himself but refused to let me talk to his employees. He was willing to give me plenty of information about himself, still I was unable to persuade him to let me interview those at work. He said he could join the white union now, they were after him every day to do so. But he wouldn't, because once awhile back when he was working for wages he was refused admission. As soon, however, as he became his own boss they wanted him."
"A tailor, who conducted a small shop at . . . told me that he cleared one hundred and twenty dollars a month from his business. But from his confession that he owned no real estate, the appearance of his shop and its location I concluded that he did well to collect one hundred and twenty dollars altogether in six months. In comparison with this shop was another tailoring establishment farther up the street which was neat and progressive. The proprietor told me he had been there only six months and averaged now, from his business, an income of about fifty dollars a month. He had another man at work and seemed to have enough work on hand to keep him employed for some time."
"Of the whole number questioned except, of course, shoemakers and tailors who ran their own shops, all had worked at some time or did work sometimes with whites in the same work. The painters said that the white painters were not very friendly disposed toward them, and did not allow them to join their union under any circumstances. The plumbers were under somewhat the same ban."
"Not one of the artisans in my territory had been to a trade school. Nearly everyone had simply 'worked awhile under a first-class brickmason or 'carpenter,' etc. Several had learned their trades during slavery and followed them ever since. One had learned his trade of blacksmith in the U.S. Army. None answered 'Yes' to the question of any 'higher training.'"
"The most interesting bit of information in regard to color discriminination was obtained from a colored fireman on the Southern Railway. He said the Company refused to sign a contract and wage scale with his union but did sign one with the white union. Moreover, he said, 'If I take a train from here to Greenville, S.C., I get for that trip $2.60, the white engineer gets $6.00. But if that same train had the same engineer and a white fireman, the engineer would get his $6.00 just the same but the fireman would get $3.25. He gets 65 cents more for doing the same work I do. At the end of the run we have to make out our time on a card, which, with the other necessary wording has two spaces marked 'white' and 'colored' respectively. I cross out the "colored" and get $2.60; he crosses out the 'white' and gets $3.25. That's all the difference there is between our work."
Mr. Pace interviewed 67 artisans in all. Mr. J. F. Lemon studied 89 artisans. Twelve per cent of them owned property, 5% owned several pieces of property; 27% were married, 4% were illiterate, 25% had respectable homes and 10% were first-class workmen. He says:
"During my tour of research, I did not find many high-class artisans, most of the shoemakers, carpenters, and barbers, being hardly more than 'botchers." There were, however, among the brickmasons, carriage-workers, painters, etc., some good workmen. Most of them are married and have families to support."
"About one-fifth of the artisans lived in nice homes of their own, well furnished, and comfortable; another third lived in fair homes of three or four rooms fairly well furnished, but the remaining half of the total number of artisans lived in homes too poor and ill-kept to warrant their being called artisans who might earn enough to decently support a small family."
"Most children in the public schools. Many of the wives of male artisans are laundresses, helping to earn the needed running expenses, while a few wives are in good paying work, as school teachers, etc."
"Many of the men belong to secret orders, but I found only two who belonged to any labor union, although they knew of the International to which Negroes are admitted."
"Only three of my artisans attended trade schools, most of them having learned as helpers, apprentices or 'picked it up.'"
"Almost all could read and write, but only about half a dozen had any higher training. I found several who had attended Atlanta University, Spelman, and other schools, none, however, being graduates. I found two enterprising and successful contractors, who do the best work, have plenty to do and own property themselves as a result of their success."
"Many of the poorer artisans are old ex-slaves and some cannot read or write and they are no credit to their trades. The better class of artisans are the young who were born since slavery."
"The different trades pay, per day, from an average of 75₵ for the seamstress to about $3.00 for brickmasons and carriage-workers, the others varying between these figures. The wages of whites in like trades are slightly better in most cases."
Mr. A. C. Tolliver was "very much surprised at the poor condition of some of the artisans' homes, particularly of men whom I know to be good workmen and engaged nearly the year round."
"Very few, if any, of the artisans, as you will see from the statistics, learned their trade at a Trade School. I found one, a glazier, at Woodward Lumber Co., West End, who had attended Tuskegee. Everything seemed to be learned by apprenticeship."
"The plasterers all seemed to have served under the same man, who was a noted workman in his day. The molders whom I found worked at the Southern Terra Cotta Works. Of the 53 artisans I studied, 35 were illiterate."
"The following table shows a comparison of the average wages of the white and colored artisans engaged in the same trade, per day."

"The wages of the whites are computed as given by the colored men themselves; in a few instances I think the amount given is a little too large. It seems to be the opinion of every colored artisan that he gets from 25 to 75 per cent less than his white brother for his work."
"Very few artisans seem to own any real estate, and if they do, they will not always tell you of it for fear of the tax collector; of the 53 artisans of my district only 8 owned any property. Those houses from outside and inside appearance were in very good condition."
"The fellow who gave his trade as an electrician learned what he knew by correspondence. I questioned him very closely. He can only put in electric bells, which he worked at all of last summer, but for a living and regular work, he cleaned cars in the Southern Railroad shops. Yet he makes extra money by putting in electric bells when the days are long."
The number of Negro artisans by age, conjugal condition and trades was reported by the canvassers as follows:
ATLANTA ARTISANS
CONJUGAL CONDITION AND AGE—MALES

FEMALES

Those designated as "separated" are not divorced and not in all cases permanently separated, although usually so. About thirty per cent of these artisans are under thirty, and about sixty per cent are under forty years of age.
We may now separate these 900 artisans according to the trades they follow.
OCCUPATIONS OF ATLANTA ARTISANS—MALES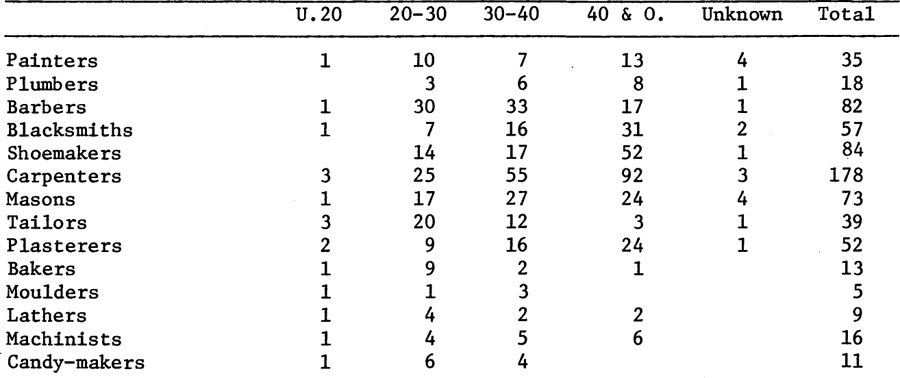 FEMALES

The chief artisans are carpenters, shoemakers and barbers; after these come masons, blacksmiths and plasterers, tailors and painters. The firemen are both stationary and locomotive; the plumbers are usually helpers and not many are masters of the trade.
The wages of artisans in the city are reported as follows:
ATLANTA ARTISANS: WAGES PER MONTH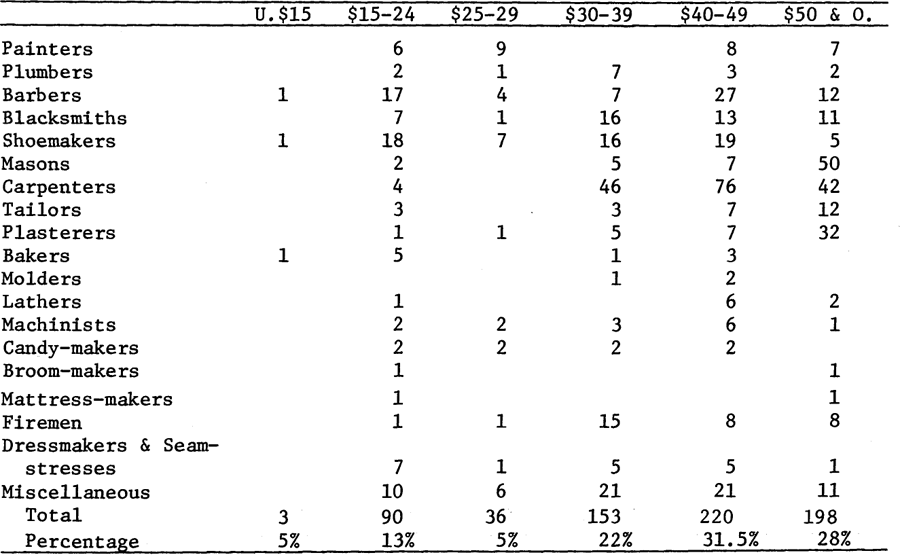 Probably in the wages of $50 and more there was exaggeration due to the desire to appear prosperous. On the whole, however, the returns seem reliable and the earnings of the Negro artisan are seen to be small.
There is no very satisfactory way of ascertaining the growth or decline in number of the Negro artisans in Atlanta. One method tried by the class in economics in Atlanta University was to count the number given in the directories for a series of years. The directories, however, are inaccurate and especially careless in regard to Negroes. The following table, however, is of some interest:
REPORTED NUMBER OF NEGRO ARTISANS IN ATLANTA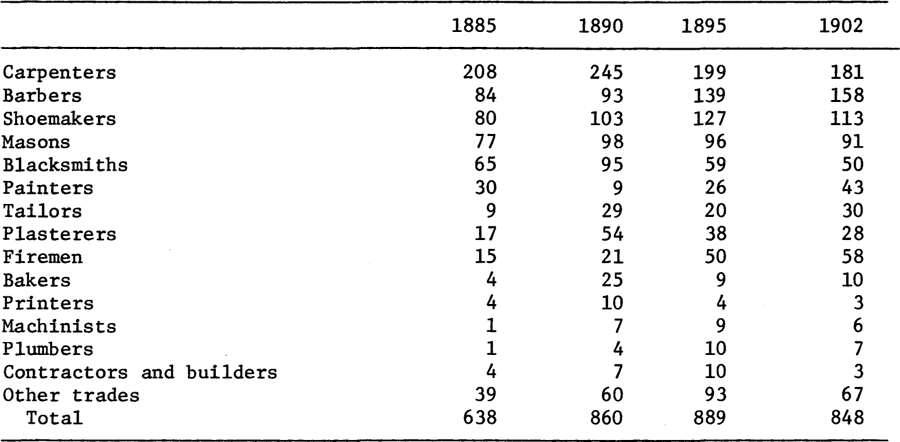 The apparent slight decrease in number of Negro artisans is offset by two considerations; 1st. The increased competition of later years has had the effect of sifting out the poorer Negro artisans so that the survivors in 1902 are probably better artisans on the average than those of 15 or 20 years earlier. 2nd. There is in South Atlanta a settlement of Negro artisans and home-owners centering about Clark University who are really a part of the city life. The number and wages of some of these artisans is reported as follows in 1902:
ARTISANS AND MONTHLY WAGES—SOUTH ATLANTA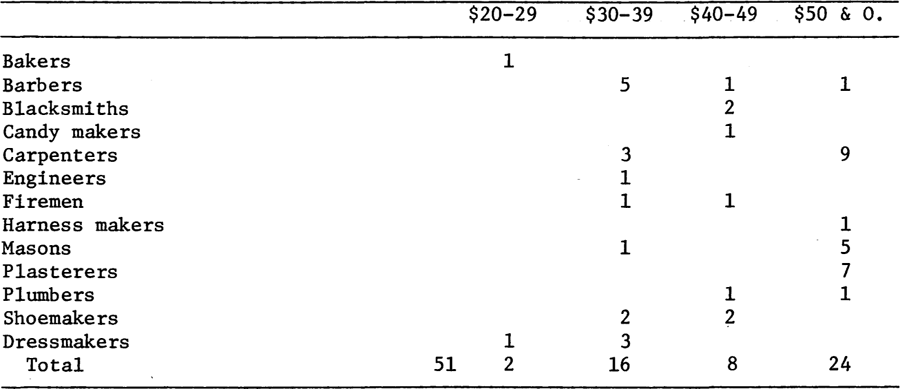 The artisans of Atlanta proper reported that 301 of them are accustomed at times to work with whites at these trades; 594 were not. 238 artisans work usually for white patrons; 101 for Negroes, and 266 for both; 210 of the artisans were illiterate, 631 could read and write; 53 had some higher training; 290 own real estate, 494 own none, and 111 gave no answer; 26 had attended trade schools at Spelman Seminary, Tuskegee Institute, Clark University and Atlanta University. Only 85 artisans reported themselves as belonging to 251 of the men were accustomed once in awhile to work along side of whites in pursuing their trade; 59 never worked thus. 148 work primarily for whites, 35 for Negroes, 157 for both; 69 belong to trade unions, 240 do not; 98 said they could join the same trade unions as the whites, 128 said they could not, 180 did not know; 274 could read and write; 44 had had some higher training; 240 owned real estate, 125 did not, 49 gave no answer.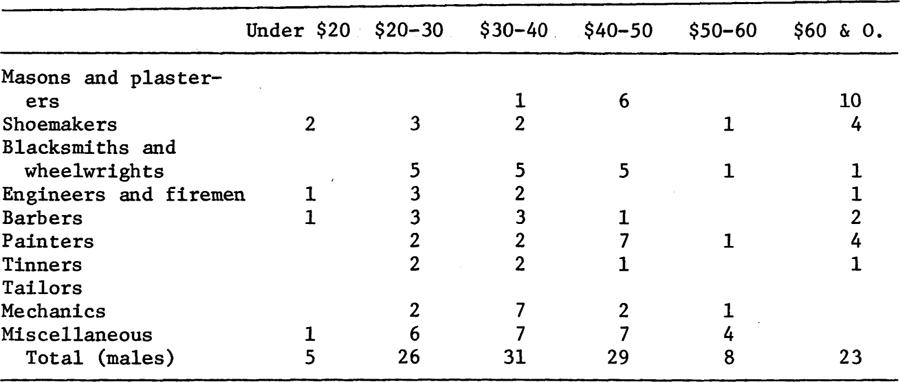 The following extracts from letters and reports give an idea of the condition of these artisans:
LaGrange—Bridge Builder. "For 20 years I have worked for the LaGrange Bridge Co. Have done very well. Save but little. Live very well. Have 6 girls, all in school."
Darien—Tailor. "There is but one other tailor in this locality. Our town is not very large, hence we two workmen do the work of our town. Neither of us hire others."
Augusta—Tinsmith. "I started at the trade in 1853 as an apprentice, and served some five years. From that time I worked by the day until 1867 at $2 per day. Since that time I have been engaged in business of my own up until the present. I also have a son who learned the trade under my instruction, and is now in business with me. He is 33 years old. I have been successful in my business up to the present time. Since I have been in business I have turned out 72 good workmen that served under me at the trade."
Bricklayer. "We, as Negroes, have to work mostly for what we can get, and the whites always get the best of all."
Augusta—Brickmason. "I have saved with my labor in cash $800 and that with what I have in real estate all makes a total of $1,200."
Gainesville—Brickmason. "I have helped to build 'Vesta' and 'Pacelot' mills here, and also was a foreman over both colored and white in Spartanburg, S.C., on Enaree mill."
St. Mary's—Brickmason and Plasterer. "Mr. was among the mechanics that laid the foundations of Atlanta University, and worked there until the building was ready for use, working for $3.00 per day, and also for $3.50 on the Kimball House."
Athens—Carpenter. "No contracts from whites are given to colored carpenters in Athens, but colored and white carpenters work together."
Augusta—Carpenter. "I am not contracting this year. I am foreman for one of the leading contractors in this city. Prejudice is very strong between the white and colored mechanics here. Even the architects are against us. I get there just the same."
trade unions; however, there are some others who also belong. They reported as follows as to their work:

Other Towns in Georgia. Detailed reports covering over four hundred artisans were received from other towns in Georgia. The ages of these artisans were as follows:

Their trades were as follows:
MALE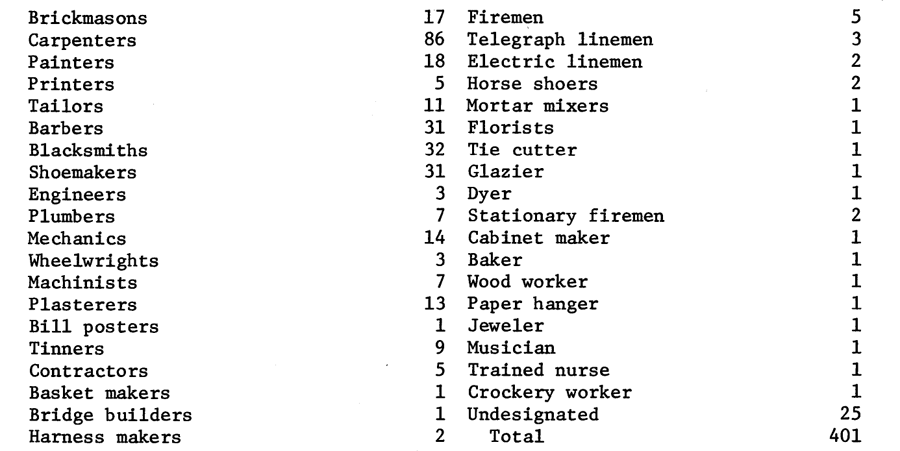 FEMALE

Of these 426 artisans, 6 had attended trade school. The wages received by 122 men were as follows, per month, not counting unoccupied time:
Athens—Carpenter. "Work almost entirely for non-union white contractor, who employs and pays white and colored alike. There has arisen within the last three years a feeling on the part of white union carpenters against my present employer for using on equal terms and wages, white and colored mechanics."
Carpenter.—"I have been working at the trade for 40 years and can do any kind of finishing, and can get a reputation from any contractors who know me. I have worked both North and South."
Augusta—Painter. "The Negro painters are doing well."
LaGrange—Carpenter and Contractor. "I learned my trade under my father. I have been a contractor and bridge builder for 30 years. My contracts for 1901 amounted to $10,000."
Augusta—Plasterer. "Negro workmen have very little competition in this line of work, as this kind of work is too hard for whites."
Eatonton—"I am a painter at $1.50 per day. The white men get $2.00 per day. I work 10 hours per day, and keep pretty busy all the year. I began work in 1889."
Buena Vista—Turner and Glazier. "This boy is a fireman, glazier and turner. I have been knowing him some 12 or more years as a fireman. He has the certificates of his trade."
Quitman—Carpenter. "I am employed almost the entire year, mostly for whites. I work with white and colored. There is very little discrimination shown toward good workmen."
Thomasville—Tinner. "We have several skilled workmen here, such as carpenters, blacksmiths, and shoemakers."
Marietta—Blacksmith. "In the year 1890 I went to work at the American Marble Co., as a yard hand, and in three weeks I was sent to the shop as a helper to make and dress marble tools and in three months I was given a forge. In the year 1894 I was made foreman and machinist. My first wages were 90₵ per day. Then my wages were $1.25 during the part of the year 1894. Afterward I went to Canton, Ga., to work for the Georgia Marble Finishing Works for $1.50 and my expenses of travel paid. In the year 1895 I went into business of my own. In 1897 I was offered $2.00 per day by the McNeal Marble Company of Marietta, Ga. Now I am working for the Butler Brothers, of Marietta, Ga., and others."
Fort Valley—"The town is being benefited no little by the different trades that are taught the boys and girls at the Fort Valley High and Industrial School."
Athens—Carpenter. "I fail to work about one-third of the year. I get $1.50 up to $2.00 per day. There is a white union here but the colored do not belong to it."
Darien—Contractor and Builder, now Post Master. "This is my third term as post master, but I continue with my trade. I have men working now. I pay them $1.00, $1.50 and $2.00 per day."
College—Mason and Plasterer. "I am instructor in Ga. State College. Have erected $20,000 brick dormitory with student labor. Under my supervision students work for both white and colored around the College."
Wrightsville—Carpenter. "There is some discrimination as to color where the colored mechanic is not of high standard."
Savannah—Contractor. "When I first went out to learn the trade I received 50₵ per week; as my trade advanced, wages advanced, and now I am foreman of my work."
Augusta—Bricklayer. "I am a bricklayer by trade. I have been working for the leading contractor of Augusta for 20 years. I work regularly when it is so we can work."
Eatonton—Contractor of Brick, Tile and Plastering. "I own property and real estate. I am a competent and active contractor and have been engaged in it for 35 years. I have learned nearly 50 young men to be first-class workmen, together with my two sons."
LaGrange—Blacksmith and Machinist. "I worked in one shop two years, and where I am now I have been working 13 years, and I am the only colored man in the shop, and I stand equal to any man in the shop; if you need any references you can get them."
Roberta—Carpenter. "I have been engaged in this trade for about 14 years and follow it about half of my time now. I farm and carry on my trade whenever called on to do a job of work."
Valdosta—Painter. "As to unions, we can have separate branches and cooperate with whites in cases of a strike or regulation of hours per day or wages, by a committee."
St. Mary's—Carpenter. "I have contracted for work and worked quite large gangs, both colored and whites, but have been working for ______ for 10 years at Cumberland Island, Ga."
Augusta—Plumbers. "There is no union among the colored laborers here at all. I wish there were. At the shop where I am employed, Mr. ______ and myself are the only two that are reliable. We both work right along by the side of the white men. We do gas and steam fitting just the same as the white men. But still we don't get the same wages for the work. Of course, there are a great many others that will work, but they work only as helpers with white men."
Marietta—Plumber. "I have been a steady workman under others for nine years. I can do tin work of any kind; I can set bathtubs, toilets, rough a job on new houses; can fit up any kind of steam work in the line of plumbing; make steam quirls, can wipe a pretty good joint, and most any work in common plumbing. I am sorry I cannot give you a more interesting sketch. A man must have a good head to run that trade for himself to make anything out of it. I have a home, and I like the farm and the country the best. I have no idle time through the year, for when I am out of the shop I am in the field."
Marietta—Plumber. "I have worked at the trade for ten years, and have found many discouragements. It is a known fact that the whites do everything they possibly can to prevent a Negro from getting into the plumber's trade, and after he gets in he can get no employment in a white shop. I have been doing business for myself as a plumbing and tinning contractor for 2-1/2 years and have had as much work as I can do."
Illinois. The state of Illinois had 57,028 Negroes in 1890 and 85,078 in 1900. Over a third of these persons (30,150) live in the city of Chicago. The census of 1890 reported the following artisans:
FEMALE

The Negroes are found in the trades as follows in various towns:
In Chicago there are carpenters, bricklayers, blacksmiths, stationary engineers, plasterers, butchers, coopers, etc. They are slowly gaining in the trades. The lack of leading contractors and the restrictions on apprentices keep the Negroes out of the trades, as well as their own lack of appreciation of the advantages of mechanical trades. In Springfield there are over 400 Negro miners and a number of hod-carriers, plasterers and barbers. In Centralia, Streator, Pontiac, Rock Island and Danville many Negro miners are reported; at Alton there are hod-carriers and a few firemen and masons; at Peoria, barbers, building laborers and firemen; at Galesburg, building laborers.
Indiana. There were 45,215 Negroes in Indiana in 1890, and 57,505 in 1900. Over a fourth of these persons live in Indianapolis, which has already been spoken of in § 22. The census of 1890 reported the following Negro artisans:
MALE

FEMALE
Indiana has but a small number of Negro artisans and the opposition of Trade Unions is strong. A report from Mount Vernon says there are several bricklayers, masons and engineers there and that the Negro is gaining in the trades. The chief obstacles are "prejudice among the masses and the hostility of organized white artisans." There is some discrimination in wages and Negroes are barred out of the unions. Before the war there were no artisans in the place. Since then artisans have come from the South, the most conspicuous one from Alabama. "He is a very fine mechanic and engineer."
Indian Territory and Oklahoma. These two territories had a Negro population of 21,609 in 1890, and 55,684 in 1900. Oklahoma with 2,873 Negroes in 1890 had the following artisans:
FEMALE
Dressmakers, milliners, seamstresses, etc. 1
A report from Ardmore, Indian Territory, says there are not many skilled Negro laborers there; the leading ones include 3 blacksmiths, 4 carpenters, 2 printers, 2 shoemakers and a type-writer. The Negro mechanics are gaining, however, and young men are entering the trades. Only lack of skill hinders the black artisan. There are no trade unions and "white men have been let out of jobs for colored mechanics of greater ability."
Iowa and Kansas. Kansas had 49,710 Negroes in 1890 and 52,003 in 1900; Iowa had respectively 10,685 and 12,693. There were the following artisans reported in the two states in 1890:
MALE

FEMALE

In Atchison, Kansas, there are very few Negro artisans, and they are chiefly blacksmiths. Nevertheless, the Negro is gaining and numbers of young people are entering the industrial schools. In Kansas City there are a number of stationary firemen and beef-butchers. The trade unions are the chief obstacles. In Iowa there are a large number of Negro miners and many in the building trades. In Ottumwa there are hod-carriers, steel and metal workers, plasterers, carpenters, and miners in considerable numbers.
Kentucky. In 1890 there were 268,071 Negroes in Kentucky and 284,706 in 1900. The census of 1890 reported the following artisans:
FEMALE

The chief artisans are miners, tobacco workers, hod-carriers, marine firemen, carpenters, railway men, etc. At Paducah there are many artisans; the 22 leading ones include 9 carpenters, 3 bricklayers, 4 plasterers, 3 painters and 3 blacksmiths. The black artisans are gaining here. In Lebanon there are carpenters, blacksmiths and masons, but they are losing ground on account of inefficiency. "Old artisans are dying out and no young men are taking their places." At Danville, Ky., the leading artisans include carpenters, masons, painters and plasterers. They are gaining as a result of industrial training and the entrance of young men into the trades. In Georgetown the leading artisans include 2 contracting carpenters, 4 contracting masons, 1 cabinet maker and 1 paper hanger. Young men are entering the trades and the Negro is gaining. In Louisville there are perhaps 500 artisans of various kinds. They are not gaining perceptibly.
Louisiana. There were 559,193 Negroes in Louisiana in 1890, and 650,804 in 1900. The census of 1890 reported the following artisans:
MALE

FEMALE

In New Orleans there are large numbers of artisans in the building trades and in shoemaking, cigar making, blacksmithing, coopering, etc. The impression seems to be that the Negro artisan here is either gaining or at least not losing. There are about 4,000 Negroes in the trade unions. The influx of white mechanics is increasing the competition, however, and "the brief life, so far, of the industrial school among the colored people will not permit one to see any large results as yet. It is promising, however, and ought to be encouraged." There is no apparent discrimination in wages in this city and the trade unions are open to Negroes in most cases. One report says: "There is no way of telling the number of Negro artisans in this city. The directories do not distinguish them from others. Before and since the war they have built some of the best structures of our city. They work in various shops and in cigar factories, but have been lately crowded out of machine shops. The new stone library of Tulane University is now being erected by Negroes entirely."
Another report says: "The city of New Orleans comprises among its population Negro artisans who receive recognition in their respective trades, are widely employed and paid remunerative wages. Contractors of public buildings and private work appreciate the Negro workmen and a majority of the most imposing structures in the city were built by colored men. The number of artisans has increased since the war, and their condition is better. A large proportion of them are property-holders." Baton Rouge is said to be "an exceptionally good community for Negro artisans" and they are gaining there. "The old slave time plasterers, masons and carpenters trained up an array of youngsters to fill their shoes and they are doing it most admirably." Among the buildings erected entirely by Negro mechanics are a $25,000 dormitory, a $25,000 public school building and a $10,000 bank building.
There are many strong Negro trade unions in Louisiana, especially the Longshoremen's Benevolent Association, the Screwmen, the Cotton Yard men, the Teamsters and Loaders, the Excelsior Freight Handlers, the Round Freight Teamsters, etc.
At Shreveport there are carpenters, hod-carriers and bricklayers organized in unions. On the whole the Negro artisans seem better organized and more aggressive in this state than in any other. The colored secretary of the Central Labor Union says: "By amalgamation of organizations and through International connections we expect to have the color line in work removed."
Maine and Massachusetts. These two states have a comparatively small proportion of Negroes: Maine had 1,190 in 1890, and 1,319 in 1900; Massachusetts had 22,144 aand 31,974. The report of artisans in 1890 for both states was:
MALE

FEMALE

In portland, Maine, there are five skilled workmen in the unions and they stand well.
In Massachusetts the meat handlers, longshoremen, and building trades are represented and a great many are in the unions. In Boston the Negroes are in the building trades, cigar makers', meat handlers', and a few in the machinists' unions. In Springfield there are masons and mason tenders and barbers; but not many. They are good workmen. Brockton has a few electric linemen, stationary firemen, boot and shoemakers and laundry workers. In the smaller towns there is here and there an artisan.
Maryland. There were 215,657 Negroes in Maryland in 1890, and 235,064 in 1900. There were reported in 1890 the following artisans:

FEMALE

The Negro population of this state centres in Baltimore, where over a third of the colored people live. Here the Negroes have had an interesting industrial history. Before the war the Negroes made brick, shucked oysters, loaded ships and did the caulking; there were also carpenters and blacksmiths. Then came foreign competition and the war until gradually by skill and prejudice the Negroes were more and more forced out. There are still painters and building laborers, brickmakers and other artisans, but the trades unions have largely confined these to job-work. The hod-carriers are still strong and there was a strong union of caulkers in 1890. The brickmakers, too, are well organized and have white and black members.
There have been in Baltimore some interesting experiments in industrial co-operation, the most noted of which was that of the Chesapeake Marine Railway. There was a brickmakers' strike after the war which led to colored men organizing a brick yard which flourished awhile and died. A strike against colored caulkers and stevedore followed which forced most of them out of work; as a result the Negroes raised $10,000, bought a ship yard and marine railway and several hundred caulkers went to work. The capital was soon raised to $30,000. The venture was successful until it was found that instead of having been purchased outright the yard had only been leased for 20 years and at the end of that time the yard passed into the hands of whites and left the Negroes with nothing but the two or three dividends that had been paid.
As an example of the situation of Negro artisans in the country districts in Maryland we may take the village of Sandy Spring with about a thousand Negroes. There were here in 1900:

Five of these own their homes.
Michigan, Minnesota and Wisconsin. Michigan had 15,223 Negroes in 1890 and 15,816 in 1900; Minnesota had 3,683 and 4,959 in those years, and Wisconsin 2,444 and 2,542. The following artisans were reported in these states in 1890:
FEMALE

In Michigan there are about 500 barbers, engineers, plumbers, bricklayers and coal-miners in the unions. In Grand Rapids there are building trades laborers; in Detroit there are longshoremen, engineers, and carpenters. This is one of the few cities where there are several colored motormen and conductors on the street railways. They were forced in by political influence but have proven excellent workmen. In Sault Ste. Marie there are several good mechanics. "We have no toughs in the race here." There is an excellent Negro plumber at Flint, and several good mechanics in Ann Arbor. One in the latter city does considerable small contracting. In Kalamazoo there are bricklayers and masons.
In Minnesota there are few Negroes and fewer artisans; there are a number of barbers in the twin cities, a few cigar makers, printers and carpenters.
In Wisconsin there are few artisans except barbers here and there. In Milwaukee there are a few cigar makers.
Mississippi. There were 742,559 Negroes in Mississippi in 1890 and 907,630 in 1900. The census of 1890 reported these artisans:
MALE
FEMALE

A report from Westside says: "Our population is mostly rural, but the towns are growing constantly in number and importance; and, whereas heretofore few skilled artisans were needed in Mississippi the demand for them grows constantly.
"As there are no trades unions in the state to interfere colored mechanics find work without difficulty. There appears to be few labor organizations in the state; there is one at Vicksburg. I presume it was instigated by white mechanics, who induced colored men to organize with them in order that they, the whites, might then more easily obtain work where they were thrown into competition with colored mechanics. They thus procured work through the aid of colored men. There is no trouble whatever on the part of colored men to obtain work in this state as carpenters, blacksmiths, brickmasons, brickmakers, shoemakers, painters or plasterers.
"There is a brickmasons' union at Meridian, Miss. The colored masons are allowed to join it, there being only two such masons in the city. There is somewhat of a dearth of colored masons in the state. This fact being appreciated by the authorities of this institution arrangements are now being made to give instructions in brickmaking and brickmasonry."
A report from Ebenezer mentions blacksmithing as the chief trade and thinks the status of artisans is about the same as in the past although they "may be gaining." There is general lack of efficiency, but students from industrial schools are entering the trades. There is some color discrimination in wages. In Woodville the leading 14 artisans include two builders and contractors, two carpenters, four blacksmiths, one smith and carpenter, three machinists, and two painters. They are competing with white labor and are gaining. The effect of industrial training is apparent; but there is a lack of leading contractors with capital. In all lines but brickmasonry there is discrimination in wages. There are so few white masons that the differences do not extend to this trade. Gloster has a number of carpenters, blacksmiths, painters, engineers and bakers. The writer of the reports "cannot say the Negro is losing as an artisan, but his gains are not satisfactory." There is a demand for better artisans, but there are no industrial schools near and young men are not entering the trades. There is very little discrimination in wages. "We have no organized unions but the colored men generally confer and have certain mutual understandings with each other." The great drawback is lack of sufficient skill and education to follow plans and specifications and do the highest grades of work. Mound Bayou has a number of blacksmiths, engineers, surveyors, carpenters, printers and masons. The artisans are gaining fast here. "This is a distinctively Negro town and colony comprising 2,500—3,000 inhabitants, with 20,000—39,000 acres of rich land. We have three cotton gins, two of them with saw-mill attachments. There are three blacksmith shops and one printing press. These are handled exclusively by Negro labor and Negro managers. The settlement was established about 1887 and the inhabitants are chiefly cotton-growers."
At Holly Springs many young men from the industrial schools are entering the trades; there are several carpenters and masons. There is discrimination in wages. At Grace the Negro artisans are gaining. The leading artisans include 3 carpenters, 1 engineer, 4 masons and a blacksmith. Young men are entering the trades.
Missouri. There were 150,184 Negroes in this state in 1890 and 161,234 in 1900. The census of 1890 reported these artisans:
MALE

FEMALE

As to industrial training, "there has been manual training departments in the colored schools for more than ten years but I have not heard of any thus trained who have got positions thereby." In St. Joseph, on the other hand, there are 65 or 70 Negro artisans and they are gaining. The nine leading artisans include one paper hanger, one kalsominer, three carpenters, one painter, one mattress maker, one plasterer and one tailor. "Trade unions have to a great extent hindered the Negroes' progress" and they are barred from nearly all the unions. At Kansas City Negroes are reported by a leading trade unionist to "have done good work at bricklaying, plastering, painting, carpentry and paper hanging." Only the hod-carriers, however, are in the unions. At Joplin there are a few masons and stone cutters; at Commerce there are carpenters, blacksmiths and engineers, but the Negro is losing. The chief obstacles are "trade unions, prejudice and the lack of capital among our people."
Other New England States, (N.H., Vt., R.I., and Conn.) The states of New Hampshire, Vermont, Rhode Island and Connecticut had altogether 21,246 Negroes in 1890, and 25,806 in 1900. Over half these Negroes live in Connecticut. The census of 1890 reported the following artisans in these states:
MALE

FEMALE

There are very few Negro artisans in these states except barbers; Rhode Island has a few printers, longshoremen and masons. New Hampshire has a few in the building trades. Connecticut seems to have very few if any artisans. . . .
W. E. B. DuBois, The Negro Artisan, (Atlanta: Atlanta University Press, 1902), pp. 22–23, 31, 71–77, 79, 104–32. Footnotes have been eliminated from the text by the editors.
Notes
*Including the 33 who work at their trades only a part of their time. They are here counted under their principal occupations.
**Including 3 who also keep house.
†Including 27 who practice trades in vacation, 16 who teach and keep house, 4 who teach and keep store, 9 who teach and farm, and 2 who teach and preach.
††Not counting 4 who teach and keep store.
‡i.e., Housewives?
*Probably included in the above 60. The report is not explicit on this point.
* The report from Shaw University unfortunately arrived too late for insertion.
* i.e., 134 since 1890 and an estimated number of 16 before that time who finished their trades.
** Submitted through the courtesy of Mr. A. F. Hilyer, of Washington, D.C., at whose suggestion the study was made.
*These figures include a negligible "number of "Chinese, Japanese and civilized Indians." The figures given here and in succeeding sections are from the census of 1890, volume on population, part 2. Just how far these are accurate there is no means of knowing. In some cases I have had grave suspicions of their validity, in others they seem reasonable. At any rate they are the only available figures and are given for what they are worth. The plan followed in these state reports was to select those occupations most largely represented in the state; in this way it often happens that those occupations given are not necessarily those in which Negroes are most largely engaged. This should be borne in mind.