THE GREAT MIGRATION
The migration of southern blacks to the northern cities was marked by dramatic changes in the demography of Afro-America. From 1860 to 1900, the black population demonstrated no marked shift in its traditional concentration in the South. In 1865 blacks represented about 1.7 per cent of the total population in the north, and about 1.8 per cent in 1900. Even though blacks remained a southern folk during the first two decades of the twentieth century, the rate of growth was only 12.5 per cent in the South, while it reached nearly 100 per cent in the Northeast, and 60 per cent in the north-central states. Black scholar R. R. Wright, Jr., found that, of the pre-1900 migrants he interviewed, about 60 per cent came North for economic reasons (Doc. 1).
The explanation for the sudden migration during the second decade of the century is to be found in a complex set of social developments which congealed at the time. The machinery of segregation had been installed by 1900, and the accompanying economic intimidation, violence, and lynching constituted further evidence for blacks that the South held no future for them. At the same time, industry in the northern urban centers was stimulated by the production of the armaments for World War I. Simultaneously the demand for labor increased at a time when European immigration ended and white Americans left their factory jobs for the battlefront. Blacks fought in the war as well, and many simply refused to return to their rigidly segregated southern hometowns, preferring instead to remain in the anonymous northern cities. In addition, the South was economically devastated during the period by an unusual epidemic of boll weevils and floods which brought financial ruin to farmers of both races. Many tenants and sharecroppers were weary of being cheated by their white landlords (Doc. 2–5). A headline in the Norfolk Journal and Guide summed it up: "To North—Bad Treatment, Low Pay" (Doc. 6).
While much of this movement was the result of unorganized and spontaneous individual or family decisions, perhaps 10 to 20 per cent of the black workers were transported north by labor agents. Sometimes these agents simply backed a train into a southern city and invited blacks to a free trip North with the promise of a better job once they arrived. To escape his undesirable circumstance, the worker merely signed an agreement to work for the company which had given him passage. A sample "Freedom Ticket" is reproduced in Document 8.
It is important to bear in mind that the social significance of the demographic changes represented by the Great Migration lies in the human drama of a people compelled to abandon the security of the familiar, however restricted, for an unknown future. Documents 10–14 reveal that drama by reproducing a sample of letters written by the migrants themselves. Emmett J. Scott gathered these letters from the files of the Chicago Defender, a black newspaper which acted as a clearinghouse of information for the migrants. Scott was a Texas newspaper editor who in 1897 became Booker T. Washington's secretary. Later he was elected secretary of the National Negro Business League, and, when World War I broke out, became a special assistant to the Secretary of War. Primarily concerned with what initiated their actions, the letters Scott gathered represent the broad spectrum of those motives, the patterns of urban settlement, the new work in which the migrants were engaged, the significance of southern violence, and the conflict with white workers in the North.61
1. THE MIGRATION OF NEGROES TO THE NORTH
By R. R. Wright, Jr.,
I. THE EXTENT OF NEGRO MIGRATION TO THE NORTH.
There is no way of directly measuring this migration, as in this country there is no registration of persons who go from one place to another, as there is in some European countries. Hence we are left largely to approximate measurements afforded by the figures of the United States Census.
According to this authority, the movement of the center of the negro population during the past century has been steadily toward the southwest over four hundred miles, and during the two decades from 1880 to 1900, thirty-one miles from Walker Country, Georgia, to Dekalb County, in northeast Alabama. The northern movement is directly opposite to this tendency, and in the past forty years has been so great as to transfer from the South to the North 2.5 per cent of the entire negro population.
In 1860 there were 344,719 negroes in the North, and in 1900 911,025, an increase of 164.3 per cent, as against an increase of 93.4 per cent for the negroes of the South during the same period. The following table gives the growth of the negro population of the North and the South from 1860 to 1900 by decades:
Negro Population by Decades, 1860 to 1900 (U.S. Census).

Percentage of Increase.

Forty years ago only 7.8 per cent of the negroes were in the North; today more than 10.3 per cent. This increase is due almost entirely to migration; for the available statistics seem to show that the birth rate of the Northern negro barely equals the death rate, making a natural increase practically impossible.
The following table will show the nativity of the negro population by divisions of States, according to the United States Census:
Per 10,000 Distribution of Native Negro Population in each Division, by Division of Birth (Census Bulletin No. 8, 1900).

This table show that of every 10, 000 native negroes living in the North Atlantic division 4,439 were born in the South Atlantic division, and 156 in the South Central States, 5,198 in the North Atlantic division, and 126 in the North Central and Western divisions. In other words, 53.24 per cent were born in the North and 45.95 per cent were born in the South. Of every 10,000 native negroes living in the North Central States in 1900, 6,448 were born in that division, 2,406 were born in the South Central division, 910 in the South Atlantic division, while 131 were born in the North Atlantic and Western divisions; that is, about one-third of the negroes of the North Central division were born in the South. Of every 10,000 negroes living in the Western States, 2,660 were born in that division, while 2,500 were born in the other Northern States, and 4,609 were born in the South. Of the total number of native negroes who live in the North, about forty per cent are migrants from the South.
The above table also shows something of the course of migration, which is along the line of the least resistance. The South Atlantic States send negroes up the seabord to the North Atlantic, and from the South Central division they come up the Mississippi Valley to the North Central States; and from both Southern divisions they go West, some coming up the Mississippi and crossing over through Missouri and Kansas, and others going around the Southwest through Texas.
But, to be still more definite, they are the so-called border States which furnish most migrants to the North, as the following table will show:

From Virginia, North Carolina and Maryland come about two-thirds of the negro migrants of New York and New Jersey, and more than two-thirds of those of Pennsylvania, while these States furnish only about one-third of the migrants to Ohio, and less than one-tenth to Illinois, Indiana and Kansas. On the other hand, from Kentucky and Tennessee come about 72 per cent of the migrants of Indiana, and about two-fifths of those of Ohio and Indiana, while these States furnish about one-fiftieth, one-sixtieth and one one-hundred and thirtieth of the migrants to New York, Pennsylvania and New Jersey respectively.
But the movement has not been uniform to all portions of the North, for between 1880 and 1900 five Northern States decreased in negro population, viz.: Maine, New Hampshire, Vermont, Nevada and Wisconsin; and between 1890 and 1900 the two Dakotas, New Mexico, Oregon and California did the same. The Northern migration has been a movement to the Northern cities, and to the great cities particularly. Within the two decades from 1880 to 1900 the negro population of cities of 4,000 inhabitants and over more than doubled, while the rural population actually decreased more than one-tenth. The rural districts of most of the Northern States east of the Mississippi River decreased, while the cities of 100,000 inhabitants or more increased over three times more rapidly in negro population than in whites.
Today two of the four largest urban aggregations of negroes in the world are north of Mason and Dixon's line, and are increasing, as the following table will show:
Northern Negro Population in Cities and Rural Districts, 1880 and 1900 (U.S. Census.)

Increase of Cities 1890–1900 (U.S. Census).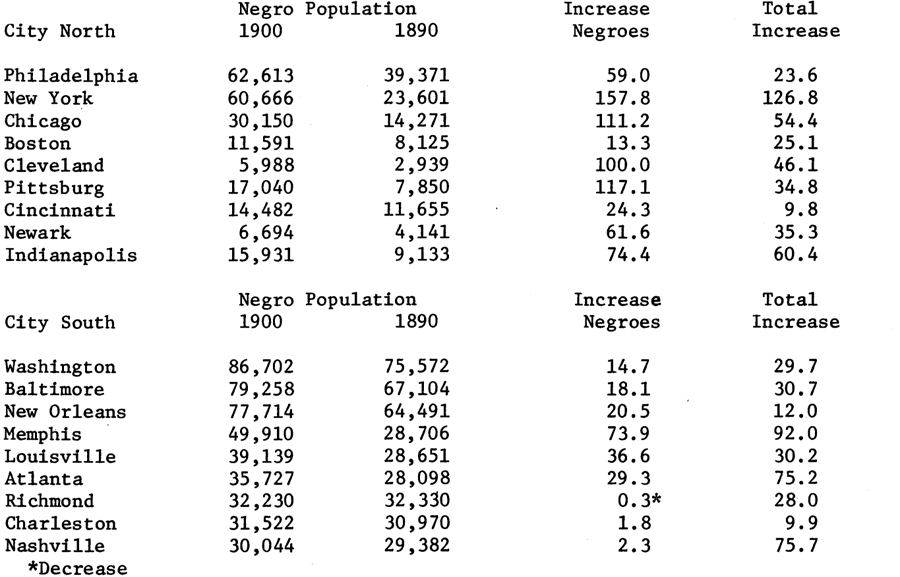 These comparisons show a remarkable amount of migration to the Northern cities, when it is considered that from the most reliable data the birth rate is low and the death rate high. For example, the death rate of New York negroes exceeded the birth rate every year from 1895 to 1904, and in 1904 it was 10.43 per thousand in excess, while the same was true for the ten years in Indianapolis, where the excess of deaths in 1904 was 3.2 per 1,000, and in Cincinnati, where it was 30.9 per 1,000. Had there been no migration to these cities the negro population would have decreased very considerably.
Temporary Migration. The census figures, used above give at best only the minimum figures, and a very crude measurement of the permanent migration at two points, namely, the birthplace and the place of residence at the time of the census. It gives nothing as to the temporary migration as such, nor can we do more than form an estimate of this. We may describe the temporary migrants as summer migrants, winter migrants and roving or irregular migrants. The summer migrants are made up of those who come North every summer to work in the hotels and in domestic service chiefly at the seashore resorts. They come chiefly from Maryland and Virginia, but also from the States as far down as Florida and Louisiana, and are scattered along the seashore from New Jersey to Maine, often doubling, and even trebling, the negro population of a given place in a season. Among these are hundreds of negro students who earn their next year's school expenses in the North during the summer. There is also another class, which comes generally from the small towns and rural districts to work on the farms of Pennsylvania and Maryland, where they are in great demand. The employment agents of Philadelphia find it extremely difficult to secure the Southern negroes wanted by farmers in the vicinity of that city, and often the farmers, not trusting to agents, go down to the boats themselves in order to persuade incoming negroes to go to farm work. These summer migrants, or a large part of them, return South when the winter's cold comes the students go back to the Southern schools, a large number of waiters, porters, and other domestic workers go to work in Southern winter resorts in Florida and other States, and many go back to their former labor.
In the winter there come to the large cities many unskilled laborers, who find work scarce in the small cities and on the farms. Many of these have been farm laborers during the summer—some as tenants on Southern farms. Among them are many married men, who leave their families behind and go back to them in the spring. From both classes of these temporary migrants the permanent residents of the North are recruited. Some remain, having come to the city for the first time, while others go regularly from North to South each season for a dozen years or more before becoming permanently settled in the North.
There are also many temporary migrants who roam from place to place living in one section only a very short time. They are unskilled laborers, of the unsteady type, and roving is made easy because of the demand for unskilled labor in the large cities. These migrants are from sixteen years of age to forty. After forty there are very few "rovers."
Sex and Age of Migrants. In the total negro population there is an excess of females, but in the Northern negro population the males are in the majority, there being 1,025 males to each 1,000 females. The large cities of the East, however, have an excess of females, except Pittsburgh and Boston, due to the fact that few women go to rural districts, while there is great demand foe men on the farms.
As to age, the migration begins at about fifteen years and extends to forty, being greatest between eighteen and twenty-eight for men and fifteen and twenty-five for women. The following table of 512 persons questioned by me as to the age of leaving their birthplace and the age at coming to Philadelphia illustrates this point:

The above table shows that considerable time elapsed between that of leaving home and arriving in the city of Philadelphia. Only about half of the migrants came directly to the city, while the other half lived in various places covering a period which averaged over eight years. The large number of children (sixty-eight) who are reported as leaving their place of birth under ten years of age, and most of them from ten to fourteen, were with their parents or guardians. After fourteen the migration is generally of individuals.
The census brings out clearly the effect of this migration, as a comparison between the population of Pennsylvania and Virginia shows:

Negro population of
The sudden drop after fifteen years in the case of Virginia is due to emigration, while the rise at fifteen for Pennsylvania is due to immigration.
II. CAUSES OF MIGRATION
As a general rule migration proceeds from the country of greatest density, most highly developed resources, greatest competition and highest cost of living, to that of less density, comparatively low cost of living, and undeveloped but rich resources, especially where there is an opportunity for exploitation. On this principle, millions of Europeans left their native shores for the American continent, and upon this principle thousands of the men of the East went to the West, and thousands are today going to the Northwest and the South. The negroes, however, seem to be going contrary to this principle, so far as they are coming from the undeveloped South—the land of opportunity and future wealth—and crowding to the highly developed Northern cities where competition is severest, and cost of living highest. As we have seen, very few Northern-born negroes migrate South, while many Southern-born migrate North. To get the point of view of the migrants themselves I submitted to several hundred of them the question, "Why did you leave the South?" Their answers are given in the following table:
Causes for Leaving the South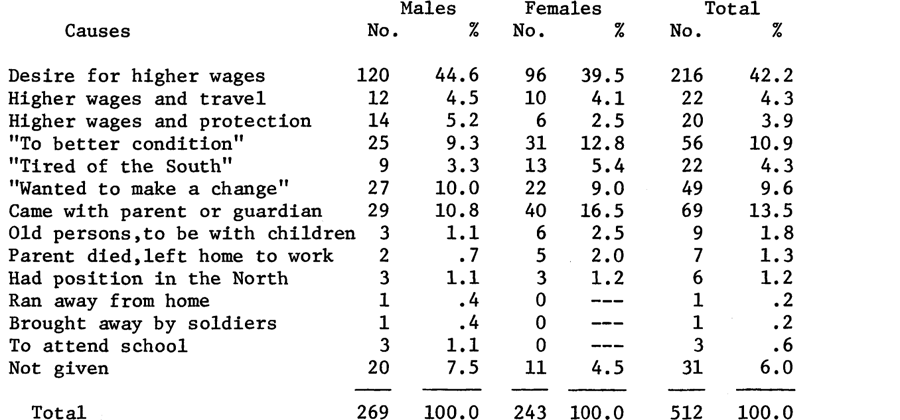 Over fifty per cent gave as their reason for leaving the South the desire for higher wages; about eight per cent wanted, beside higher wages, protection and travel; 10.9 per cent wanted "to better their condition," while 4.3 per cent left because they were "tired of the South;" came with their parents, and 9.6 per cent left simply because they "wanted to make a change." These answers, though not very profound, leave us without doubt that the chief cause for the movement northward is economic—and is seen from the migrants' point of view in the higher wages offered in the North.
A comparison of the wages which these persons received in the South and those which, according to their testimony, they are now receiving in the North makes even clearer the force which higher wages has in the migration from the South. The following table is based upon the answers of 512 migrants:
Number of Negroes Receiving Specified Wages per Week in the South and in the North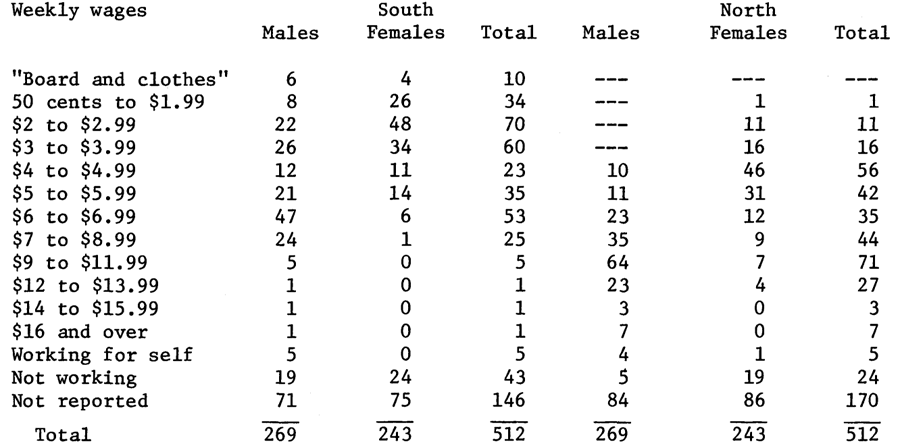 The wages generally paid to the women in the South were $1.50 per week ($6 per month) to $3 per week in the small towns, and from $2 to $4 in the cities; while men received $2 to $3.50 in the small towns and on the farms, and from $5 to $9 in the cities. These wages are bettered by from 75 per cent to 150 per cent in the North. Domestic servants among women earn in Philadelphia from $3 to $6 per week, averaging about $4.50; while men earn from $6 to $12 per week, averaging about $9, with more, however, receiving $12 per week than $6.
These figures are corroborated so far as the South is concerned by special local studies published by the United States Government. The Bulletin of Labor, January, 1898, says of domestic service in Farmville, Va: "The men receive from $8 to $10 a month; the women receive from $1 to $5, according to age and work; a general servant in an ordinary family receiving $4, a nurse girl $1 to $3 and a cook $5." Laborers in Farmville receive from 30 cents to $1 per day. In Sandy Spring, Md., (Bulletin of Labor, January, 1901), "the wages range from 'victuals and clothers' and lodging (in two cases) to $10 a month. The usual wages for a young nurse girl is from $1.50 to $4 a month, generally $3; for a housemaid, from $4 to $7, generally $6; for a cook $6 to $10, generally $7 or $8."
This same contrast holds good for farm labor in the North and in the South.
According to the report of the United States Department of Agriculture, the following table represents wages paid to negroes in typical Northern and Southern States:
Wages of Negro Farm Labor per Month, by the Year, Without Board and with Board; also per day, ordinary labor, 1898 and 1902


*Connecticut and New York make no separate returns for the labor of negroes; all the other States do.
We notice that New Jersey pays the highest price to negro labor on the farm. There is also more migration of farm labor to this State, which according to the report quoted above, is the State most affected by the incoming of negro farm laborers.
Another cause, not entirely economic but having very definite economic bearing, is that suggested in such answers in the above table as "tired of the South," "desire for higher wages and protection," "to better one's conditions." There is no doubt that the social unrest resulting from the discriminations against negroes in the South is having the effect of driving an increasing number of them from that section. The South has known the negro chiefly as a slave without political, social or even personal rights, save those which whites condescended to give. And by erecting double standards of morality, legality, social and economic efficiency, the white South seems determined that the blacks shall share in its economy to the least degree possible. On the other hand, growing intelligence on the part of the negroes demands more and more of appreciation, and when this is not given, the unrest becomes intense. This is not the desire which some wish to denote by the much misused term "social equality." It is that fundamental desire of human nature which Professor A. W. Small, of the University of Chicago, says the sociologist must assume as natural to every individual. "Each man," he says, "embodies a claim to be an undiminished unit among like units. . . . The Germans talk of 'persönliche Geltung,' 'counting for all that one is essentially worth,' and this again seems to be an utterance of the native human instinct. The privilege of standing over against his fellow, with the assured franchise of equal freedom of self-expression, is an explicit demand of every unspoiled man. The demand is not primarily an assertion of 'equality' in the sense in which the idea is notoriously abused by pseudo-democrats. It is the demand that such as I am, with such sort and size of merit as I personally possess, I may be permitted to assert myself without suppression or subversion by the arrogation of others." "The root of the matter," continues Professor Small, "is not to be socially discounted in accordance with any fictitious scale." (American Journal of Sociology, Sept., 1900). This inability on the part of negroes to secure this "persönliche Geltung" is one of the most serious factors in the progress of the negro and of the South, and needs thorough and unbiased study. At present free speech on the subject is not allowed to negroes or whites in the South, and Northern students of social conditions are not inclined to look the matter squarely in the face.
The two general causes for migration to the North are higher wages and opportunity for freer self-expression. These are the arguments which thousands of negroes now living in the North use in their letters to their friends in the South whom they are endeavoring to persuade to come North. These are the arguments which employment agents have used to bring thousands of negroes from their Southern homes. It is very quaintly summed up in the expression of a South Carolina negro who said to me: "The white folks respects you up here. You ain't no worse than any other working man. You get what you'se worth, that's all. Down where I come from, you are all right among your own color, but when there's a white man in it, you's sho' goin' to get left."
There has been, in recent years, no wholesale emigration from any part of the South, but simply a steady flow, which in some sections is causing a slow depopulation. The young people leave first. If a young man, he sends for his brother, uncle, father or other relative, and friends. He tells of the many advantages, he compares the life in the country town with that of the Northern city, mentioning often in detail every superiority of the latter over the former, but he generally does not tell of his struggles, disappointments and sorrows. The young women write in the same strain. They persuade their relatives and friends to come North, often "just for a summer;" they secure places of employment for them, and thus the migration begins and continues. I have written dozens of letters for migrants from the South to their Southern friends and relatives, and not a few times have I had to suggest to the author not to paint the picture of Northern conditions too beautiful, which they were often inclined to do.
They are not the best negroes, from the economic point of view, who come North, just as they are not the best Russians or Italians who come to America. They are the ill-adjusted. We may divide the negroes of the South into four classes: First, the property-holders, which include most of the professional class, business men, the most intelligent artisans and farmers; second, the tenant farmers, the artisans, domestic servants of skill and intelligence, who do not own their homes; third, the unskilled laborer of the city, and the country farm hand; fourth, the vagrant and criminal class. Of these four classes, the majority of migrants to the North come from the third class, who first feel the economic stress, and who find it more difficult to get work enough to support them in the South than in the North. The second and fourth classes furnish respectively the next largest number, while the first class furnishes the fewest migrants.
This might lead one to ask why do not the best negroes leave the South? for they, more than all others, ought to feel the pressure of their Southern environment. The reason can be found in the policy of race separation, which tends to develop among the negroes an upper class, who hold their places not so much because of superior efficiency as because they are negroes. Thus negro teachers, preachers, doctors, and leaders in small business concerns have been developed. It would be difficult for these, who have gotten their places under a limited competition, to hold the corresponding place in the economic system of the North as of the South. For example, the South has twenty negro college presidents, who would hardly hold the same position if they migrated to the North. But there is an increasing amount of migration even among this class. Ministers are being transferred. Many students who study in the North fail to return South, and negroes are gradually working into the public school system and in business in the North.
Since I have been gathering information with regard to migration a surprising amount of material has come to me of a type of negro who, because of his inability to use free speech in the South, has come North, where almost invariably he has proved useful. A few examples of this type are: A Georgia negro editor who was forced to leave his native city because he too strongly denounced lynching, now conducts two successful printing offices in New York. He is a college graduate. Another negro who was forced to leave the same place where he engaged in teaching is now the secretary of the Y.M.C.A. in a New Jersey town. A Tennessee woman who edited a negro newspaper was accused of teaching unwholesome doctrine to the negroes of her vicinity and had to leave to save herself from bodily harm. She is now a most useful woman in social reform work in Chicago. A South Carolina negro says: "After a dispute with a white man who became angry with me over a trivial matter, I thought that he might kill me and there would have been no redress whatever; after thinking of my three little girls who might grow to virtuous womanhood, but whose virture had no protection in public sentiment, I decided to take my chances in a freer, though harder climate." This man is now head of one of the largest schools in a metropolitan city of the North. Boston, Philadelphia, New York, Buffalo, Chicago, and nearly every large Northern city contains many such of these "exiles" from the South.
III. SOME EFFECTS OF NEGRO MIGRATION TO THE NORTH
What, it may be asked, are some of the effects of the migration of negroes to the North—on the North, on the South, on the negroes?
(a) The effect on the North has been but slight. The immigration of foreigners has so balanced the migration of negroes to the North that in the forty years from 1860 to 1900 the proportion of negroes to the total population has remained about the same.
Percentage of White and Negro to total Population for each Geographical Division of the North, from 1860 to 1900 (U.S. Census)

In 1860 the negroes were 1.7 per cent of the population of the North, and in 1900 1.8 per cent.
Industrially the negroes have affected the North only in isolated places and in unskilled labor and in domestic service. As has been seen, there are enough negroes in New Jersey to affect the farm labor of the Southern district. In the large cities negroes furnish a great proportion of the unskilled labor about mills and factories. Negroes are the chief laborers in the laying of asphalt pavement; they are quite a considerable factor in domestic service, and in some cities they compose as high as one-fifth of the workers in domestic and personal service. Negroes have been used effectively as strike breakers in unskilled work, notably in the Chicago stockyards' strike of 1904 and the Chicago teamsters' strike of 1905, and have been able in isolated cases to demand recognition from labor unions.
(b) The South has suffered economically from the migration of negroes, for this is the time when laborers are needed, and especially on the farm. There was afforded last winter a striking example of the effect of migration on the South by the fact that the State of Virginia made a special bid for workers from abroad. The State is in sore need of laborers; negroes form a large part of the laborers. They are leaving by the thousands, while "thousands of acres of agricultural land is now going to weeds." In the past twenty years, i.e., from 1880 to 1900, two-thirds of the counties of the State decreased in negro population. The census of 1900 reports over 250,000 negroes who were born in Virginia and are now living in other States, while only 35,000 negroes had migrated to Virginia from other States. In other words, the minimum figure would put Virginia's loss of negroes at 215,000. These negroes leave, as we have seen, after the age of fifteen years, to spend the years of their economic efficiency in other States. If we use Dr. Farr's method of determining the economic loss due to emigration, we may place the loss of Virginia, because of the emigration of negroes, at not less than $215,000,000, allowing an average of $300 as the lowest estimate of the social loss in maintaining the individual up to the age of fifteen years, and $700 as an estimate of the lowest average gain to the community by the presence of the individual negro. Other Southern States have suffered proportionately, as they have needed and have lost negroes. Some of these States have sought to reduce to a minimum, if not to prohibit, the emigration of negroes by excessive license fees required of "emigrant agents." Virginia, South Carolina, North Carolina, Georgia, Florida and Alabama have such laws; but they do not prove very effective.
(c) The effect upon the negroes. In preparing this paper, I have read many articles bearing upon the condition of negroes in the North. Most of these articles claimed that the North was bad in its effect upon negroes; and some advised negroes not to migrate North. I have talked with thousands of Southern-born negroes, who now live in the North, and while with rare exception each said that he was prospering in the North far better than the South, the general opinion was that the Northern negro was degenerating. It is here we have the individual and social point of view in greatest contrast.
Considering the Southern negro in the North from the point of view of social development, there can be no doubt at all that the North has been of benefit to the negro and the negro has profited by it.
The reasons why the Northern Negro does not appear to have made as rapid strides as the Southern negro are many, a few of which may be mentioned: First, the records of the races are not separated, as in the case of property lists, school attendance, etc., and therefore do not stand out so prominently; second, the extremes of poverty and wealth are greater in the North than in the South. A negro owning $10,000 in the South is rated rich; a negro drug store or grocery, though small, is easily seen in the South; but in the North no one especially notices a $10,000 man, even though he be a negro, and drug stores and groceries are so common that when a negro establishes one there is but little comment.
But there is an upward and a downward tendency among the negroes as a result of migration to the North. The increased amount of crime, which is slightly in excess of the South, and the high death rates—often greatly in excess of births, as in New York—indicate a downward tendency. Tuberculosis and pneumonia take away thousands of negroes from the large cities each year. Competition and the cold climate are relentless in driving the weaker negroes, the more ignorant and shiftless, to the very lowest round of the social ladder. New opportunities for crime and vice, indeed, the very opportunity for fuller self-expression, tend to develop a class of criminals, loafers and street loungers, who are all too prominent in the negro sections of any great Northern city.
But if sociology has been unfortunate in any particular with regard to its method, it has certainly been quite unfortunate, especially at the hands of the so-called practical sociologist, in giving far too large a place to pathological conditions. This has especially been true in studying the negroes. Crime, disease and degeneracy do have a place, but they have only a very small place in determining the course of social development as a whole or of a particular group. It should never be forgotten by the social student that the normal is more important than the abnormal, and especially when the abnormal is a very small percentage of the whole. Yet even in social pathology an interesting study of crime in the North might not be unprofitable, if it would reveal to us just how much is a result of degeneracy, or ill-adjustment to the new environment; how much is a result of that freedom of expression permitted in the North, which is the one great requisite for the highest social activity, though it sometime leads to anti-social actions.
There are, however, many positive evidences of a healthful effect and an upward tendency among the negroes of the North. Physically they are improving; the death rate is decreasing, and the birth rate increasing in most of the large centers. If we keep in mind the class of negroes from which the immigrants generally come and note their condition here and that of the negroes of their class in their native homes, the progress in the north is quite remarkable. Only a few points which need more thorough investigation can be given here.
The Northern negro is intellectually improved. The illiteracy of the negro of the North is 18.1 per cent; of the South it is 48. In fact the Northern negro under thirty is less illiterate than the Southern white, as the following table shows:
Illiteracy of Negroes of the North, and Whites and Negroes of the South by Ages, According to Census of 1900

Good schools, compulsory education, free libraries, cheap newspapers, free entry to theatres, museums and other places of amusement and enlightenment, are great stimuli to the mental activity of the negro of the North, and the whole Northern environment, unlike the South, puts a value upon intelligence and demands it as a requisite for success in the negro as well as in the white man.
Competition has raised the standard of negro efficiency in every line of endeavor. Employment agents who have placed over 100,000 negro domestic servants in the past fifteen years are almost a unit in declaring that the servant who comes from the South, even with good recommendations is rarely efficient, and that the change in two years is remarkable. It is often remarked that the concentration of the Northern negro in domestic service shows that he is losing rather than gaining; but when it is considered that these persons were very poor servants, or largely farm hands, and casual laborers in their Southern home, the concentration in the North in a higher grade of domestic service is really a gain for the negro rather than a loss. But not only in domestic service has the negro gained a higher efficiency, but in business and in the professions. It takes more for negroes to succeed in the North in the professions or in business than it does in the South, because the competition is greater. In the South a negro competes with negroes for negro patronage; in the North he competes with all men for all the patronage he can get. One would suppose that most negro business and professional men would go where the race is represented in greatest numbers, but that this is not the case, as the following table, based on the United States census for 1900, seems to indicate:
Number of Negroes in Business and Professions and the Proportion of the same to every 1,000 Negroes in the North and South, Based on U. S. Census 1900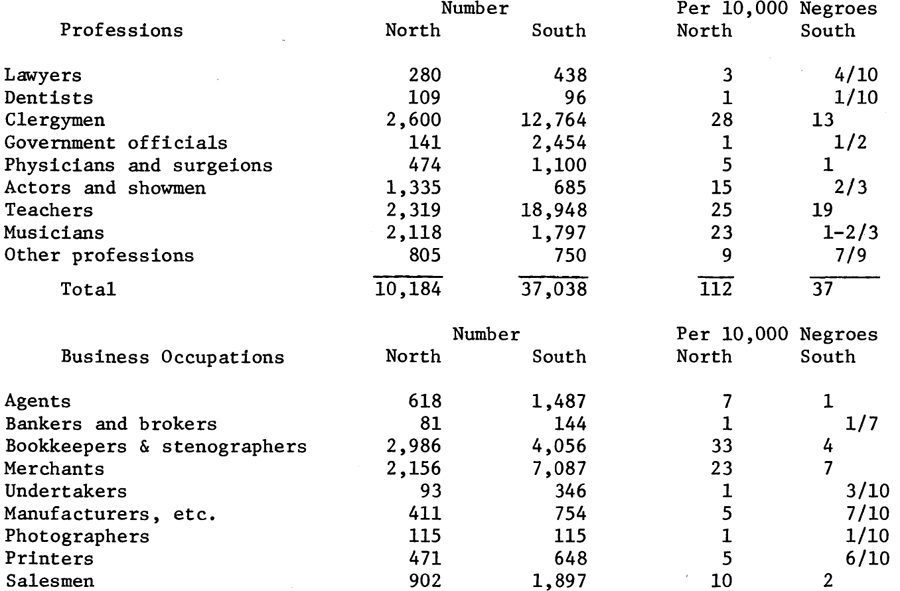 When the competition which one has to undergo to succeed is taken into consideration, it should be expected that the highest individual efficiency would be found in the North, and so it is. The largest businesses, the oldest and largest newspapers, and five out of eight negro magazines, are in the North. The majority of negro inventors and the best authors were either born in the North or migrated to the North. If the following tables, from Bulletin No. 8 of the United States census, are correct, the average size and value of the negroes' farms in the North are above those of the South:
Number and Acreage of Negro Farms

Average Value of Property on Farms of Negroes, 1900

The average size and value of the Northern negro's farm even exceed the same for the Southern white's farm.
The Northern negro earns more, as we have seen in the comparison wages. He is, therefore, able to maintain a higher standard of living. His expenses are a great deal higher, but not for the same things, but for better things. He lives in a much better house by far, and he pays sometimes two or three times as much rent for it; he wears better clothing; he has more leisure; he has more amusement; and with all his high expenses he is able to save more. Of the 373,450 homes owned by negroes in 1900, 45,913, or 12.3 per cent, were owned by the negroes of the North, who compose 10.3 per cent, of the negro population. If the farm homes are excluded, the Northern negroes would own 22 per cent of the remaining.
The North has taught the negroes the value of money; of economy; it has taught more sustained effort in work, punctuality and regularity; it has taught negroes even a greater race respect and race loyalty. And though the negroes, with the weight of the inheritance of slavery (for perhaps 95 per cent of the Northern negroes are descendants of slaves), and with the weight of ignorance and poverty, together with the great inconvenience they suffer because of their color, from the American point of view, are only beginning to be real Americans; and though they are greatly handicapped in the struggle in the North, I think I can safely say that the North is indeed the great and hard school for them, where they are learning their best and often their first lessons in American thrift and industry, and the true dignity of American citizenship.
Annals of the Academy of Political and Social Science, 27 (January-June, 1906): 97–116.
2. THE NEGRO EXODUS FROM THE SOUTH
By W. T. B. Williams
For a number of years it has been apparent to even the casual observer that a stream of Negroes has been flowing into the North from the border southern States. Some have been going from the lower South also, but that section has not hitherto been greatly affected. However, recent extraordinary occurrences—the war in Europe, with the consequent shortage of labor in the North, the ravages of boll weevil and flood conditions in the South—have set on foot a general movement of Negroes northward that is affecting the whole South.
No southern State is entirely free from the loss of necessary and desirable Negro labor due to this movement. Such States as Texas, Louisiana, the delta section of Mississippi, Arkansas, and Oklahoma, where the cotton crop of 1916 was good, seem to have suffered less than the others. In the States most affected certain sections have been harder hit than others. It seems quite clear that the exodus had its main start and recruited its largest numbers in those sections which suffered most from the boll weevil and the floods and in those where the general treatment of the Negro has been at its worst.
With the floods of 1916 everything in large sections of Alabama and Mississippi, where for several years previously the cotton had been a failure owing to the ravages of the boll weevil, the banks, merchants, and planters were unable or unwilling to make further advances to the Negro laborers on the farms. Many of the employers turned the Negroes out with nothing to live on. Some urged them to go away to find work, and for the most of them it was a" matter of go or starve. Fortunately the unusual demand for Negro labor in the North at that time gave many of the colored people a chance to secure remunerative employment. Thus the exodus had its beginnings.
In the midst of these conditions some planters were wise enough to inaugurate movements for employing and keeping their labor. They set about improving their farms, digging ditches for better drainage, building fences, etc. Such men invariably held on to their labor. Dougherty County, Ga., furnishes an interesting example of the effect of consideration and kindly treatment of the Negroes on the part of the whites. This county has lost few Negroes in comparison with the counties all about it. The Jews are the dominating influence here to a greater extent perhaps than in any other county in the South. The Negroes declare they "are not a cruel people" and that they "never stop 'advancing.'" They treat the Negroes kindly, leave them a large share of freedom, and do not harass them on the plantations. All the Jews want apparently is their money, of which they doubtless get as much as any other planters or merchants, but they keep the Negro happy while delivering it.
Many of the large corporations employing Negro labor have lost but few men owing to the care they take of them and to the advances they made in wages to meet the rapidly rising cost of living. The Newport News Shipbuilding & Dry Dock Co., in Virginia, which employs nearly 4,000 colored men, is another great corporation which, through considerate, appreciative, and fair treatment of its Negro workmen, has not been disturbed by the exodus, though the attractive wages in the North have carried off many thousands of Negroes from Virginia.
Though Negroes may go from a section in large numbers, as from Lowndes County, Ala., for example, which was severly affected by the boll weevil and the floods, yet few, if any, usually leave the neighborhood of a good school in such a locality. About the Calhoun Colored School, in Lowndes County, Ala., there are perhaps a hundred Negro farmers, who, through the instrumentality of the school, have been able to buy and pay for their lands. Not one of these men has been attracted away by the opportunities in the North; and other Negroes in this neighborhood, though living under hard conditions on great plantations, declare that they remain on account of the good school for their children. A number of other similar illustrations could be given.
However, the exodus has carried off a surprisingly large number of Negroes from many sections. The movement has been confined to no one class entirely; the ignorant and the intelligent, the inefficient and the capable Negroes have gone, and they have left both the city and the country. They have taken positions in the North mainly as common laborers on the farms, on the railroads, and about the great industrial plants, while a considerable number are employed as mechanics.
The less reliable class of Negroes, especially from the cities and towns, were among the first to go, owing to the indiscriminate methods used by some of the railroads in gathering up laborers for their lines. In some instances they simply ran trains into towns and offered to take anyone who was willing to go. Some of the larger cities, like Birmingham, for instance, at first rejoiced to be thus easily rid of their less desirable element of Negroes. But even these men in some instances were attracted by the large amount of money they could earn by working steadily, and set about making good. The more industrious, steady one, forced out of the country district, naturally did well. The alluring reports from these pioneers, together with the eloquent promises of labor agents, set up a movement among the conservative, dependable portions of the colored people which is going steadily forward and even promises to increase in some sections as soon as the present crops are gathered.
The exodus is carrying off in considerable numbers not only the common laborers from the farms and industries of the South but also many of the skilled Negro mechanics from the larger cities, like New Orleans, Montgomery, Birmingham, Savannah, and Charleston; many of the trained workers with less skill; and even Negro business men, ministers, and physicians. For example, in several sections I found cotton-oil-mill men in doubt as to whether they would be able to find enough of their trained hands to operate the mills to advantage when they planned to begin work. A certain Negro medical college publishes a striking list of its graduates who have recently moved from the South to the North. Five out of one class are reported to have gone to Chicago. I know personally of several colored physicians with fine practices and good standing in southern cities who have pulled up within the last 18 months and gone North.
This abnormal movement among the colored people is striking in many ways. It seems to be a general response to the call of better economic and social opportunities. The movement is without organization or leadership. The negroes just quietly move away without taking their recognized leaders into their confidence any more than they do the white people about them. A Negro minister may have all his deacons with him at the mid-week meeting, but by Sunday every church officer is likely to be in the North. They write the minister that they forgot to tell him they were going away. They rarely consult the white people, and never those who may exercise some control over their actions. They will not allow their own leaders to advise them against going North. A Rev. Mr. Carter, of Tampa, Fla., who was brave enough to attempt such advice from the pulpit, was stabbed next day for so doing. They are likely to suspect that such men are in the employ of white people. An influential Negro newspaper in Virginia made an earnest effort at the outset to stem the movement northward. Its supporters brought such influence to bear upon it that, according to the report of its editor, it was forced to change its attitude. In fact, very litele positive effort of any kind within the race is made to check the movement. Most Negroes have, of course, no idea of leaving the South themselves. They know that for many reasons the greater part of the race will likely remain better off in the South than in the North. But practically all are convinced that this exodus will result in great good for Negroes generally. It is the universal feeling, in fact, that good has already come out of it.
The exodus has pointedly called attention to the value of Negro labor to the South and to the South's dependence upon it. Accordingly the Negroes remaining in the South are being given a consideration never before accorded them. Influential white men are coming to the conclusion, they told me in a number of cases, that they must give the Negro better treatment and a more nearly square deal. Owing to the scarcity of labor, a Georgia farmer near Albany this year laid aside his whip and gun, with which it is reported he has been accustomed to drive his hands, and begged for laborers; and the more progressive men are seeing, too, that if they would keep the colored people on their places they must give them better houses and more of the ordinary comforts of the home. The exodus has carried off the surplus labor which has existed in so great abundance that the South has been prodigal and contemptuous of it. The result is less competition among the Negroes for the work the South has to offer and an increased demand among employers for labor. Wages, though still low, are advancing. A North Carolina editor complained of the "outrageous wages." ($1.25 per day) which certain farmers had found it necessary to pay Negro farm hands. The commissioner of commerce and labor of Georgia reported two instances of Negro farm hands receiving $1 and $1.10, respectively, per day, which, he admitted, was far above the average pay.
Negroes are not alone in approving of the exodus. A number of southern white men also, for various reasons, look with favor upon the movement. Many of them feel that the Negro can better his condition by going and that he ought to be free to go. A greater number by far feel that the Negro is making a mistake, and many of them would go to any length to prevent his leaving. Some white men see that if enough Negroes leave the South the masses of white men will be put to work. They are eager to have this brought about. Others, including the commissioner of agriculture of Alabama, believe, too, that the going of the Negro in sufficient quantities means the breaking up of the big plantations. This will enable more whites, and also the Negroes who remain, to get land and become responsible citizens. Some whites feel, too, that they are being demoralized by the excessive employment of Negroes under existing conditions. The competition for Negro labor often becomes so keen that the whites will do anything to get it. They wink at all kinds of wrong and crime, and so debauch themselves. A State officeholder in Alabama confessed to me that he had once got a murderer out of jail to work on his farm. And there are southern whites who declared that they would like to see the Negroes scatter over the North, so as to give that section a taste of the Negro problem. Some feel, as did the editor of one of the leading dailies of South Carolina, that it is undesirable to have a preponderating number of Negroes in a number of southern localities and in States like South Carolina and Mississippi. So not only have many Negroes been forced out of some sections by unfavorable natural causes, and are being lured off from others by better wages and the promise of wider opportunities in the North, but they are also being encouraged to go by many Negroes and some white people. Meanwhile, comparatively little positive effort is being put forth to check the movement, which has grown to threatening proportions.
SIZE OF THE EXODUS
As to the number of Negroes who have left the South in this movement all sorts of figures have been given. They are mainly, however, mere guesses, few reliable figures being available. In fact, the States interested seem to have no means of promptly gathering such data. The commissioner of commerce and labor of Georgia reported 50,000 as a reasonably correct figure for the number that had left his State. These figures were obtained from the auditing departments of the several railroads handling the traffic out of Georgia. In Alabama the commissioner of agriculture gave figures derived from similar sources. In that State, according to this authority, the exodus of Negroes has reached 90,000. In Mississippi the Negro insurance companies, which keep in pretty close touch with movement among colored people, estimate upon a conservative basis that 100,000 Negroes have gone from that State. The editor of the Daily News, Jackson, Miss., put the number at not less than 75,000.
It does not seem probable that any of the other States not mentioned have lost as many Negroes as Georgia. More may have been shipped from Virginia, but the bulk of them came in all probability from farther South, where in many cases obstacles have been placed in the way of a direct movement to the North. From these sections Negroes have come to Richmond; then they take a new start either upon their own initiative or with the aid of labor agents. As a sample of the difficulties to be overcome by any large number of these migrants, the Southern Railway, according to the Montgomery Advertiser of June 5, 1917, ordered that no special coaches or other facilities be placed at the command of the labor movement. However, there can be little doubt that several hundred thousand Negroes, mainly men, have left the South in this movement. The wives and children are swelling the lists of those that are still leaving. And the end is not yet in sight.
SOME EFFECTS OF THE EXODUS
Naturally so great a movement of labor from one section would have some harmful effects. The loud and widespread objections to the exodus raised by the farming and industrial interests of the South indicate that the losses and interruptions to business have been considerable and significant. In a comparatively few and isolated cases farming and even industries have been paralyzed, as, for instance, in eastern Mississippi and western Alabama. In a number of industries production has been "slowed down," owing to the necessity of breaking in new men to take places of experienced men, as in the lumber mills all over the South, in the mines, on the docks, and, as is likely to prove, in the cotton-oil mills. But on the whole the evil effects are not so great as one might have expected. Most of the industries have managed, with some extra effort no doubt, to keep steadily at work, and the crops in the South have rarely been better.
The boll weevil is slowly bringing about a change in methods of farming. Fewer acres of cotton are now planted to the plow and diversification of crops is gradually gaining headway. Farming under these conditions requires fewer laborers than formerly; then, too, planters are putting more and more of their land "under wire" for cattle raising. So it was not so difficult, when put to the test, to grow good crops this year, even with a loss of labor. In fact, with such methods gaining ground, it was simply a matter of time anyway, in all probability, before many Negroes would have been forced out of the South for profitable employment elsewhere. The actions of a large planter in Lowndes County, Ala., are suggestive in this connection. He called together a group of his Negro tenants, showed them a handsome Hereford bull, which he had just unloaded from the car, and threatened them that unless they worked harder he would, through breeding cattle, drive every one of them off his plantation.
Seriously costly effects of the exodus are not hard to find in many places. In every State from the Carolinas to Mississippi thousands of acres of land are reported to be lying idle that would have been cultivated had labor been available. And even where good crops have been grown it is a question in many places as to whether sufficient labor for gathering them can be secured. From Abbeville and Greenwood Counties, in South Carolina, Negroes have streamed northward. Large plantations in the neighborhood of Sumter in the same State are reported to have been seriously crippled by the exodus. At Dillon and other points severe measures were used by the authorities to prevent the movement from the State. The Georgia commissioner of commerce and labor reported that farming had been "especially but not disastrously affected" by the exodus from his State. The editor of the Times Record of Americus, Ga., reported that there were 2,000 acres of land usually cultivated lying idle within a radius of 3 miles of Americus. The president of the chamber of commerce, Valdosta, Ga., declared that the migration of the colored people had seriously affected the situation in that section. He said: "It has made the change from a surplus of labor to a scarcity. Every man that goes now creates a vacancy and is missed."
At Uniontown, Ala., the president of the Planters and Merchants' Bank told of a 2,000-acre plantation near by that had only two or three Negro families left on it. Other plantations in this section were in more or less the same condition. The whole southwestern portion of Alabama has been hard hit by the exodus; and particularly have suffered the large plantations that are owned by absentee landlords, whose agents usually had no authority to care for the suffering tenants after the destruction caused by the boll weevil and the floods. Similar conditions are to be seen in northern and eastern Mississippi. For the region about Meridian, the chamber of commerce reported that the acreage cultivated had been reduced. At Okolona an officer of the First National Bank said many thousands of acres formerly cultivated thereabout were now lying idle. The editor of the Okolona Messenger, many colored business men, farmers, and tenants confirmed the banker's report. Some farms hereabout are turning to dairying; but, as the editor pointed out, they will need many laborers even for that work. He felt, too, that there was little likelihood that cotton growing would be materially lessened for any great length of time. So the loss of labor was keenly felt in any event. He did not blame the Negroes for leaving. Many whites, he reported, had gone for the same reasons—boll weevils and floods, and the chance to better their condition. Other farming sections of eastern Mississippi are said to have suffered even more than the region about Okolona, and the sawmill industry, the big business of southern Mississippi, was reported seriously affected.
From the cities and towns all over the South a great many colored women and girls have gone North in this movement. This means that many of the best trained domestic servants have been lost to southern homes. That causes more acute suffering of a kind than the loss of the men laborers. New servants from the towns and from the country have taken the places left vacant, but they lack the training of the old servants, and, above all, are not known to nor trusted by their employers, as were the old ones. This means a real hardship for wives and daughters, from whom come the loudest complaints against the migration of the Negroes.
UNDERLYING CAUSES OF THE EXODUS
From the average white man one hears only of the attractive wages offered the Negro in the North and the work of labor agents in the South as the causes of the exodus of Negroes. Both have had their effect, but there are other significant, underlying causes. The North needed labor sorely and sought it where it was available. The South has done little to meet this competition except to complain and to argue that from 50 cents to $1 a day is worth as much to the Negro in the South as the pay of from $2 to $4 and over per day is worth to him in the North. The Negro, however, seems not to be convinced. He appears to be interested in having some experience with from four to six times as much pay as he has ever had before, whatever the conditions. This increased wage, to many almost fabulous sums, has without doubt been the immediately impelling influence that has taken the Negro suddenly into the North in such large numbers. "Better wages" has been the universal response from black and white alike to my inquiry as to why the Negroes are leaving the South. In responding to the call of better wages, the Negro has done as labor usually does and as white men about him in the South are now doing. I ran across a number of white men in industrial plants who explained to me that only their family relations, property holdings, etc., kept them from the better wages to be had in the North. A leading citizen of Tuskegee, Ala., reports that 500 white men from his county have recently gone North. At least 50 of these are employed in one plant at Akron, Ohio. And Negroes from the South report the presence of large numbers of southern white men in a wide range of northern industries.
I have already indicated the effect of the boll weevil and floods in driving the Negroes out of the South. They were "starved out of Alabama," as a well-informed Negro in one of the affected districts put it. This condition of affairs made the work of the labor agent easy; but he did little more than point the way out of the unfortunate situation.
The Negro's success in the North has been far more effective in carrying off labor than agents could possibly have been. Every Negro that makes good in the North, as thousands are doing, and writes back to his friends that "everything is pretty," starts off a new group to the "promised land." It is this quiet, effective work that leads the whites to think that labor agents in large numbers are working secretly still. Then, too, a great deal of money has been sent back into the South by the migrants, and this attracts no end of attention. There are little towns in Alabama, for instance, where colored people are reported to be handling more real money now than ever before in their lives, it having come from friends and relations in the North. It is said that at the Selma (Ala.) post office the special delivery letter and money-order business among Negroes has increased to such an extent that the delivery boys who formerly earned $35 or $40 per month now earn from $75 to $100. A Negro minister whose son is thus employed assured me that his earnings amounted to $75 per month.
The unusual amounts of money coming in, the glowing accounts from the North, and the excitement and stir of great crowds leaving, work upon the feelings of many Negroes. They pull up and follow the crowd almost without a reason. They are stampeded into action. This accounts in large part for the apparently unreasonable doings of many who give up good positions or sacrifice valuable property or good businesses to go North. There are also Negroes of all classes who profoundly believe that God has opened this way for them out of the restrictions and oppressions that beset them on every hand in the South; moving out is an expression of their faith. Unfortunately the South gives the Negro abundant occasions for wanting to leave. As some one has put it, it is not only the northern pull but also the southern push that is sending so many Negroes out of the South.
The treatment accorded the Negro always stood second, when not first, among the reasons given by Negroes for leaving the South. I talked with all classes of colored people from Virginia to Louisiana—farm hands, tenants, farmers, hack drivers, porters, mechanics, barbers, merchants, insurance men, teachers, heads of schools, ministers, druggists, physicians, and lawyers—and in every instance the matter of treatment came to the front voluntarily. This is the all-absorbing, burning question among Negroes. For years no group of the thoughtful, intelligent class of Negroes, at any rate, have met for any purpose without finally drifting into some discussion of their treatment at the hands of white people.
The average white man, however, seems to have little knowledge or appreciation of this feeling among Negroes. Few think apparently that enything but money, or the novelty of change, or desire for what they call "social equality" has anything to do with the migration from the South; but they are greatly deceiving themselves. Even so well-informed a man as the leading editor of one of South Carolina's foremost dailies assured me that the treatment of the Negro in the South would include only 10 per cent of the reasons for the exodus. Such positive ill-treatment as lynching, beating, and other physical abuses he evaluated at 2 per cent, and he gave 8 per cent to such negative treatment as the white man's neglect of the Negro, including his lack of concern about the way the Negro lives, for the kind of house he gives him, for his inadequate and ineffective schools, and his indifference toward the Negro's general welfare and development. The other 90 per cent of the reasons he thought were covered by the effects of the boll weevil, the floods, and the desire for better wages. Indeed, it was rare to find a southern white man who felt, or would at least admit to me, that the South's treatment of the Negro had anything to do with the exodus. However, the editor of the Albany (Ga.) Herald said: "The Negro is leaving because he thinks he is not getting a square deal; and he is not. We have got to treat him better." The representative of the Montgomery Advertiser, Farm Department, reported as effective causes bad housing conditions and poor wages; but he thought he recognized a recent tendency to overcome these unfavorable conditions on the part of employers. The editor of the Evening Star, Meridian, Miss., said Negroes were leaving because they think they are not treated fairly in the matter of wages, in civil affairs, and in the courts. He declared, however, that the South regards the Negro as a servant and will not under any conditions think of him otherwise. "This is the nut," he added, "that must be cracked before any situation agreeable to both whites and blacks can be established."
A State official of Georgia said: "Negroes suffer as dependent people always suffer. There is no question about their being wronged and cheated by many whites, who, however, would wrong and cheat anyone they could. Suspicion and hate of the Negro has been sown by the white man. The Negro has responded in kind." The secretary of the chamber of commerce of an important southern port recognizes the justice of many of the Negro's grievances, and said: "We must change the point of view toward the Negro. He is human and must be given consideration as such. We must drop the attitude of 'Oh, well, he is just a nigger.' We must pay him better. The South just must meet northern competition." As attorney for the Mobile & Ohio Railroad, a lawyer of distinction and a large plantation owner, ascribed a lack of education on the part of the Negro as a cause of the migration. If Negroes were better educated, he argued, they would not believe the flattering promises of the labor agents, they would understand the laws, would know how to keep accounts, and would be less likely to think they are cheated and wronged. In reply to my question, "Why, then, does not the South educate the Negro?" he said, "The South has to be educated to this."
Because Negroes have made few public complaints about their condition in the South, the average white man has assumed that they are satisfied; but there is a vast amount of dissatisfaction among them over their lot. There seemed to be no escape and little remedy for it, so there was no point in stirring up trouble for themselves by publicly railing about their plight. The easiest way was the best way. The opportunity to make a living in the North, where hitherto no considerable number of Negroes were wanted, gave them the chance long looked for to move out and to better their condition. Nevertheless these migrants love the South; many of them write back longingly of their homes; still they break their old ties and face a new life in a strange land for the sake of the larger, freer life which they believe awaits them and, particularly, their children. It has taken something more than money to move these masses of people, though money is a necessary condition for the movement and is the immediate occasion of the exodus; but the Negro's list of grievances that have prepared him for this migration is a long one.
The effect of the Negro press in making the Negro actively conscious of his condition is little known outside of the Negro race. At least two of these publications have exercised a tremendous influence in arousing Negroes to this movement from the South. One of these Negro newspapers in Chicago makes its lurid appeal to the lowly class of Negroes. It has increased its circulation in the South many fold during the last year. In some sections it has probably been more effective in carrying off Negroes than all the labor agents put together. It sums up the Negro's troubles and keeps them constantly before him, and it points out to him in terms he can understand the way of escape. It neglects to mention the new troubles he is likely to meet, but plays up the advantages open to him in most inviting style.
One of the most serious of the long-standing grievances of the Negro is the small pay he receives for his work in the South. Even now, with a comparative scarcity of labor, common laborers on southern farms receive from 50 to 75 cents and rarely $1 per day. Women and children receive 35 and 40 cents per day. Only in some instances are meals given with these wages; more often than not no meals are given. The following are typical of the wages for common laborers in such industries as saw mills, cotton-oil mills, etc.:

As tenant, the Negro works under varying conditions from State to State and in different sections of the same State. In typical portions of South Carolina, the tenant furnishes the stock, plants, cultivates, and gathers the crop for one-half of everything except the cotton seed of which he gets none; or, if he merely furnishes his labor, he gets one-third of everything except the cotton seed.
Similar conditions for tenant farming obtain in the sections of eastern Mississippi which I visited. But many of the Negro tenants feel that it makes little difference what part of the crop is promised them, for the white man gets it all anyway. In the portions of Alabama and Georgia which I visited conditions are apparently easier, for there the tenants get half of the cotton seed as well as half of everything else.
Commenting on conditions like the above the Charlotte Observer says:
The real thing that started the exodus lies at the door of the farmer and is easily within his power to remedy. The Negro must be given better homes and better surroundings. Fifty years after the Civil War he should not be expected to be content with the same conditions which existed at the close of the war. We cannot blame him for no longer countenancing life in the windowless cabin, nor with being discontented with the same scale of remuneration for his labor that prevailed when farmers were unable to do anything better for him. If, as is represented, it is the custom of farmers not to divide the cotton seed with the Negro tenant, then a hitherto undiscussed cause of grievance is brought to light, and reveals an injustice to the Negro which no landowner could defend. Cotton seed is now the important part of the bale. That the Negro's share of the money-producing crop should be withheld from him ought to be in itself regarded as justification for immediate migration from the farm upon which such a system is in operation.
In certain parts of Mississippi, at any rate, Negro renters fare but little better than tenants. They are subject to the overseer's driving and directions, and must respond to the landlord's bell, just as the other hands do; and when the renter has made his cotton crop he cannot sell it. According to the law of the State, only the landlord can give a clear title to the cotton sold. This gives rise to the frequently deferred settlements of which the colored people complain bitterly. Apparently, in order to secure his labor, the landlord often will not settle for the year's work till late in the spring when the next crop has been "pitched." The Negro is then bound hand and foot and must accept the landlord's terms. It usually means that it is impossible for him to get out of the landlord's clutches, no matter how he is being treated. In many cases the Negro does not dare ask for a settlement. Planters often regard it an insult to be required, even by the courts, "to go to their books." A lawyer and planter cited to me the planters' typical excuse: "It is unnecessary to make a settlement, when the tenant is in debt." As to the facts in the case the landlord's word must suffice. It is not easy to get capable lawyers to take Negroes' cases against landlords, even when it is quite apparent injustice is being done. It not infrequently happens that the Negro who obviously makes money and gets out of debt is dismissed from the plantation, a common expression being that as soon as a Negro begins to make money he is no longer any account.
Another form of injustice that has long been preparing the Negro to escape at his first opportunity is the charging of exorbitant prices by the merchants and planters for the "advances" to the Negroes, and the practice of usury in lending money to them. For example, the tenant contracts for his money advances from the 1st of January. He usually receives no money, however, till the 1st of March and none after the 1st of August. But he must pay interest on the whole amount for a year, and sometimes even for the extra months up to the time of the deferred settlement. This practice has become so common that the Comptroller of the United States Treasury, I was reliably informed, has warned all Southern banks that such practice is usury, and if it is continued, he will close the banks indulging in it.
Other common practices that keep Negroes stirred up and tend to drive them away are carried on in many places to an extent hardly believable. In a number of the small towns and villages Negroes are roughly handled and severely punished by the whites. The beating of farm hands on the large plantations in the lower South is so common that many colored people look upon every great plantation as a peon camp; and in sawmills and other public works it is not at all unusual for bosses to knock Negroes around with pieces of lumber or anything else that happens to come to hand. A "poem" written by a southern Negro descriptive of conditions as he sees them in the South and printed several times has two lines bearing on this point:
If a thousand whites work at a place, Each one there is my "boss."
On the whole, the plantations or industrial camps that have given any attention worth considering to the housing and general comforts of their employees are rare.
In the cities and towns, Negro sections are usually shamefully neglected in the matter of street improvements, sewer facilities, water, and light. Most of the larger southern cities not only exclude Negroes from their fine parks, but make little or no provisions for the recreation of the colored people. Harassing, humiliating "Jim Crow" regulations surround Negroes on every hand and invite unnecessaryily severe and annoying treatment from the public and even from public servants. To avoid trouble, interference, and even injury, Negroes must practice eternal vigilance in the streets and on common carriers. The possibilities of trouble are greatly increased if the colored men are accompanied by their wives, daughters, or sweethearts. For then they are more likely to resent violently any rough treatment or abuse and insulting language whether addressed directly to them or to the women. Colored women understand this so well that they frequently take up their own defense rather than expose their male friends to the danger of protecting them.
The abnormal, unwarranted activities of southern police officers are responsible for deep grievances among Negroes. In many cases the police have been the tools of powers higher up. Many colored people believe that employers of convicts urge the police to greater activities among Negroes in order to fill up convict camps; and, as if encouraging arrests, the authorities frequently do not pay the constable and other petty officers salaries for their services but reward them in accordance with the number of arrests made. Naturally, they get all out of it that the business will stand. The Negro suffers and pays the bill. These officers have become so notorious that even some influential whites have revolted at the enormity of their practices.
On this point the Daily News, of Jackson, Miss., has the following to say:
We allow petty officers of the law to harass and oppress our Negro labor, mulcting them of their wages, assessing stiff fines on trivial charges, and often they are convicted on charges which if preferred against a white man would result in prompt acquittal.
An editorial in the Macon Telegraph is also informing in this connection:
Everybody seems to be asleep about what is going on right under our noses—that is, everybody but those farmers who waked up on mornings recently to find every Negro over 21 on their places gone—to Cleveland, to Pittsburgh, to Chicago, to Indianapolis. Better jobs, better treatment, higher pay—the bait held out is being swallowed by thousands of them about us. And while our very solvency is being sucked from underneath us we go about our affairs as usual—our police raid pool rooms for "loafing Negroes," bring in 12, keep them in the barracks all night, and next morning find that 10 of them have steady jobs and were there merely to spend an hour in the only indoor recreation they have; our county officers hear of a disturbance at a Negro resort and bring in fifty-odd men, women, boys, and girls to spend the night in jail, to make a bond at 10 per cent, to hire lawyers, to mortgage half of two months' wages to get back their jobs Monday morning, although but a half-dozen could have been guilty of the disorderly conduct. It was a week following that several Macon employers found good Negroes, men trained in their work, secure and respected in their jobs, valuable assets to their white employers, had suddenly left and gone to Cleveland, "where they didn't arrest 50 niggers for what three of 'em done."
Another source of long slumbering discontent is the matter of Negro schools. Southern white people know so little about the schools for Negroes, or regard their education so lightly, that they do not often look upon the lack of facilities for even elementary education among the colored people as an impelling cause of unrest among them; but in whatever else Negroes may seem to differ they are one in their desire for education for their children. The movement of the Negroes from the country to the cities and towns in the South has been largely an effort in this direction. Naturally, the good schools of the North, together with the opportunity to earn better wages, serve as a strong attraction to the colored people and particularly to the more intelligent classes. Among the others this motive for going was not given as often as I had expected it would be; but, as the principal of an effective colored school in Georgia thinks, their lack of expressed desire for better schools in particular is probably due to their ignorance of what good schools really are.
Another of the more effective causes of the exodus, a cause that appeals to every Negro whether high or low, industrious or idle, respected or contemned, is the Negro's insecurity from mob violence and lynching. He may or may not know of the sporadic cases of lynching in the North, but he does know it is epidemic in the South. It was the State, of Columbia, S.C., I think, that asked its white readers if they would not leave a country where they might be lynched by mistake. Recent lynchings, and particularly that of Anthony Crawford at Abbeville, S. C., have led Negroes generally to feel that character and worth secure no more protection for them than less desirable qualities, and that no Negro is safe. Regarding the Crawford lynching the Charlotte Observer comments significantly as follows:62
It must be admitted that out of that revolting incident the Negro recognized his insecurity and began to move like sheep to any land that even promised better conditions. It was the South Carolina incident which gave impetus to a movement that was then but slumbering.
The broadening intelligence of the Negroes makes them more restive under these unfavorable conditions than they have been in the past. Even the masses of them feel vaguely something of the great world movement for democracy. They bear unwillingly the treatment usually given them in the South, and they are making use of this first great opportunity to escape from it. To assume that the Negro has been blind and insensible to all his limitations, proscriptions, and persecutions, as so many whites appear to do, is to ascribe to the Negro less sense than is required to earn the money which alone the South seems to think is taking him away. Money, of course, he must have to live in the South, to say nothing of the North; but the Negro really cares very little for money as such. Cupidity is hardly a Negro vice. There is a good deal in the statement of a leading colored woman of Florida: "Negroes are not so greatly disturbed about wages. They are tired of being treated as children; they want to be men." So they are going where the conditions are more promising in that direction; and the mass of the migrants will in all probability not come back, as the whites generally think they will. Even if they do come back they will be very different people. From a good deal of evidence that is available, it seems that more of the migrants are making good in the North, where they plan to stay.
In my travels I met a number of men returning from work in the North. Only one was coming back to stay any length of time; none had any complaint to make of their opportunities in the North. The most successful common laborer I saw had been at work in a steel plant in Pennsylvania. His wages were 30 cents an hour, with an opportunity to work 12 hours per day for seven days in the week. His pay envelopes showed he had earned from $48 to $54 for every two weeks during the three months he had been at work in the North. He was going to his home in North Carolina to pay his family a short visit.
Two intelligent colored men—a teacher and a physician—of Americus, Ga., went north to see how the colored people who left Americus in great numbers were faring. They visited New York City, Philadelphia, Springfield, Mass., Hartford and New Haven, Conn., and they asked their friends who had gone away why they left the South. They replied that wages were not the most important considerations; that they "wanted to be free, to get good treatment, to be away from getting into the wrong seat on street cars." They declared, however, that they still loved the South. Every family from Americus was doing well. One man's pay envelope showed $30 pay for 40 hours' work. Four other bricklayers like himself were being paid at the same rate, as were plasterers. A carpenter had had trouble with the union which he joined; he got his money back and left it. Women were paid 25 cents an hour and 10 cents car fare besides.
These Georgians were rapidly learning northern city ways. They were renting and subletting houses. In some cases too many were living in one house. All had plenty to eat and were saving their money. They were adding, the visitors thought, "life and vigor and vision" to the northern Negroes who have been overshadowed by the superior numbers and wisdom of the whites about them. New Negro enterprises were springing up. The only uncomfortable persons they saw were several colored women school-teachers from about Americus who were embarrassed to have their old friends find them at work in the tobacco fields along with their husbands. They found no one who meant to come back South to live. After looking over the field, these two thoughtful colored men advise the masses of the colored people to remain in the South and particularly those with property. Common laborers should go north for the better wages.
The head Negro farm demonstrator for Alabama, with headquarters at Tuskegee Institute, sent out a questionnaire on the exodus to persons in the North who are known to Tuskegee Institute. In order to get hold of answers from people familiar with conditions both North and South, I examined six replies sent in by Tuskegee graduates or by men who had been employed at Tuskegee. These replies happened to come from Ohio, Iowa, Wisconsin, and California. As to whether the Negroes who have gone North in the past 12 months are making good, all answered "yes." One made exceptions of a few persons he knew. As to whether Negroes in large numbers could adjust themselves to northern conditions, all six replied affirmatively; but two would not have them come too suddenly, owing to lack of available accommodations. As to an unusual death rate due to cold weather and poor housing, four reported not a single death; one, the death of an old man; and one, from Iowa, "no unusual death rate." In regard to any discrimination in wages paid to white and colored laborers in the North, five reported "none;" one at Akron, Ohio, thought there was some discrimination against Negroes. As to whether the whites were alarmed over the large number of Negroes coming into the North, three answered "no." One from Des Moines, Iowa, said: "Better class are not; the laboring class are." One at Cleveland, Ohio, said: "No large degree of alarm; occasional editorials." One at Akron, Ohio, said "Northerners are not; those from the border States are."63
The respondent from Iowa added the following suggestive remarks:
The whites welcome Negroes, especially to the farms, for they say they can not depend upon foreign labor. The white churches helped the Negroes to adjust themselves. At first they found it difficult to get houses, but that was remedied. Negroes receive the same pay as whites for the same work. They are employed where Negroes were never employed before in factories, shops, hotels, railroad stations, and on farms. Negroes can adjust themselves in the North on farms, in dairies, and at lumbering. Where Negroes have settled, their labor is in demand. Few of the Negroes coming into the section owned homes in the South or lived where they had schools. The first reason they give for coming North is to educate their children; the second is to get better wages and shorter hours; and the third is to have the privilege of voting.
As far as I have been able to learn, there is yet no falling off in the demand for Negro labor in the North. I know of no case where Negro labor has been given up after it has been given a fair trial. It seems that as the Negro continues to prove his worth and ability the demand for his services increases. For instance, a big pump factory in Massachusetts offers to take all the mechanics a certain well-known school will recommend. The northern railroads are taking Negro workmen by thousands. Some of the roads are making commendable preparations, I am told, for caring for the men, and are placing trained social workers among them. A big corporation recently offered $500 to the man who would get 500 Negro workmen for its works; and it is said that the Westinghouse people alone are asking for 1,000.
It is quite evident that an unprecedented movement of colored people from the South to the North is taking place. During the year I have been repeatedly on practically every great railroad leading out of the South. In every instance I have found groups of Negroes bound for the North. From many southern centers the movement has been large and attended with dramatic incidents. In some instances the public authorities have attempted to use force to check the movement. At Sumter, S.C., a popular Negro minister who went to the station to see some of his members off was arrested as a labor agent. At Albany, Ga., the police tore up the tickets of migrants about to leave for the North, and at Savannah the police arrested and jailed every Negro found in the station on one occasion, without regard as to where he might be going. Fortunately all these arbitrary acts were righted later. Meanwhile, the exodus went on increasing in volume until easily several hundred thousand, it may be half a million, Negroes have left the South. The movement has carried off many of the best workers; new ones had to be trained at no little cost and annoyance, and many readjustments to the new conditions had to be made. But the South has been affected seriously only locally; production has been lessened in some quarters, and business has been affected in some of the smaller towns, as, for instance, at Uniontown, Ala., where practically all of the formerly thriving Negro business and a good deal of the white business was paralyzed by the heavy exodus from that section.
Though there are many powerfully contributing influences, the better wages offered by the North have been the immediate occasion for the exodus. Wages on southern farms have not nearly kept pace with the rising cost of living, in fact they have remained practically stationary. The Progressive Farmer is quoted as follows in a letter to the Ledger-Dispatch, of Norfolk, Va.:
Farm labor has always commanded smaller wages in the South than in other parts of the country. In 1910 the average monthly wage of male farm laborers in the South Atlantic States was only $18.76, and in the South Central States $20.27, while in the North Atlantic and North Central States the average exceeded $30, and in the Western States reached $44.35. * * * We ought to face the competition of other sections, not by taxing and mobbing labor agents, but by treating our own labor so fairly that it will be willing to stay with us.
But the general treatment of the Negro in the South has also had a fundamental influence in sending him away.
The white South strenuously opposes the Negro movement and loudly objects to the loss of her labor, but she is slow to adopt any constructive measures for retaining it. Indeed many feel that there is nothing to do but to let the movement run its course. The Negroes generally feel that good has already come to them from the exodus. New fields of labor with favorable conditions for larger development have opened to the Negro; his migration has awakened the South to a keener appreciation of the value of Negro labor, admittedly the best labor possible for the South; and selfish interests, at least, should lead the South to make that labor efficient and contented with its pay and treatment. So the Negro feels that there is a better day ahead for him, both north and South.
U.S. Department of Labor, Negro Migration in 1916–1917 (Washington, D.C.: Government Printing Office, 1919), pp. 93–111.
The migration of Negro laborers to the North is causing some uneasiness and considerable comment. The New Republic has had two articles on the matter. In the first it said:
"In almost every occupation the Negro is numerically weak. If the twelve thousand white barbers of New York refuse to work with the two hundred Negro barbers, the latter must submit. If the thirty thousand white carpenters and joiners choose to draw the color line, the one hundred Negro carpenters must look for odd jobs or work from their own people. The Negro gets a chance to work only when there is no one else. He is the last served; his are the industrial leavings and scraps. Being superfluous, possessing no industrial weapon against race prejudice, he is forced to work for a grotesquely low wage at menial jobs, which the white man disdains."
"We often wonder what the reflective Negro thinks as he listen so our orators, who welcome the immigrant to this land of liberty, to this free world of opportunity for all men. What does he think of our democracy, morality, religion, as he views it from his side of the color line?"
In the second it says:
"If the southern Negro, finding political and social conditions intolerable, were able to migrate to the North, he would have in his hand a weapon as effective as any he could find in the ballot box."
"This weapon of the southern Negro is all the more formidable because it can be used quietly and without open threats. Against the opposition of the preponderant white population, the southern Negro has few defenses. He has no vote; he has no wealth; and as for the protection of the law, that is a sword held by the white man, with the edge toward the Negro. He can not better his conditions by political action or armed revolt. His one defense is—to move away. If in a certain county or State conditions become very bad, the Negro, by emigration, can put so heavy a burden upon the white employer and upon the whole white population as to force them to change their policy. Today there is a steady drift of Negroes from country districts, where they are oppressed—and above all bored—to the southern cities. If to this alternative there is added a new chance in the North, with high wages and greater liberty and more fun, the South will be hard put to it to keep its full complement of workers. It will be compelled either to make concessions or face economic stagnation."
The Crisis, 12 (September, 1917): 237.
The War, by cutting off immigration from Europe, has started a northward movement of negro laborers, which journalistic observers find most significant. For the negro, it is said to be the entrance upon "a new stage in his progress 'up from slavery.'" For the North, it is the intensification of its negro-problem. The South may gain by the partial transfer of its race-problem, and its added attractiveness to white immigrants. But the prevailing Southern comment is represented by the Montgomery Advertiser's question, if the negroes go, "where shall we get labor to take their places?"
This movement of negroes is assuming large dimensions, the Springfield Republican notes, and—
"It is being systematically stimulated by Northern employers of labor. The Pennsylvania Railroad has taken 4,000 blacks from the South, 3,000 being brought North in one train of six sections. Persons familiar with our New England tobacco-farms have observed this season the appearance of negro laborers in much increased numbers. Exaggerated estimates of the movement are in circulation. At the negro conference in Washington last week, representing the New England and Middle Atlantic States, it was asserted that more than 500,000 blacks from the South had come North in the past six months. But, whatever the figures may be, letters and telegrams were read at the conference from many manufacturers, mine-owners, and others, giving assurances that negroes would be encouraged to make their homes in the North and would receive a 'square deal.' It was represented that the industrial situation in Pennsylvania and New York was such that at least 2,000,000 negro laborers could be employed in the next year."
At least one important Southern daily, the Columbia State, thinks that South Carolina might be just as well off if a number of its 900,000 negroes should go North. This would increase the white majority and might help to attract more white immigrants. It might improve economic conditions, for the "cheap negro laborer of the South presses down the white laborer." But here, the New York Evening Post remarks, The State "will not find many in the South to agree with it, for most Southerners revel in their cheap negro labor as the basis of their prosperity, dwell upon the absence of negro labor-unions, and exult that the negro protects the South from the hordes of foreigners." The South, says the Washington Times, "is suffering because of its losses. It is a bad situation." As The Times sees it:
"The negro is better off in the South in the long run than anywhere else. He will be apt to be the first person out of work in the North, when slack times come again; in the South he is, in certain realms, the possessor of a near-monopoly of the labor franchise. It is bad for the South and will not ultimately be good for the North, which doesn't understand managing the colored brother so well as the South does."
Within the last quarter-century, says the Montgomery Journal, it has been satisfactorily demonstrated "that no other section of the country is quite so well fitted for the existence of the colored citizens as this part of the South, and any attempt to inveigle workmen from this section will result disastrously." The New Orleans Times-Picayune, in a section less troubled by the loss of negro labor, warns the people of Louisiana to "throw such safeguards and protection around both employer and laborer as are necessary to make sure that no harm or demoralization results from the excessive and unusually unscrupulous activity of labor agents from the North." The situation is so grave, in the Nashville Southern Lumberman's as to afford "ample warrant for the legislative steps being taken against the movement in some sections."
Now, remarks The Southwestern Christian Advocate (New Orleans), a representative of negro Methodism in the South, "if negro labor is as objectionable and worthless and as non-dependable as our Southern friends would often assert, why all these drastic measures to prevent this worthless labor from going elsewhere?" "Let us for a moment be frank with each other," it continues,
"The negro at heart loves the South, its activities, its sunshine, its climate, but he is very much dissatisfied with the treatment that he otherwise receives. His families do not receive proper protection at the hands of constitutional authorities as well as at the bar of public opinion. There are not proper facilities for the education of his children. There is not a congenial atmosphere for the development of self-respect and of racial contentment. We are disfranchised, we are hedged about, and we are lynched without redress. Even a worm sometimes will recoil and a half-dead hound will resent constant mistreatment. Is it any surprise, therefore, that in spite of all the negro's natural inclination to Southern climate that he so eagerly seizes an opportunity to go elsewhere?
"If our Southern friends are anxious to prevent this immigration to the North, they have the remedy in their own hands. It will not be by coercion, or threats, or arrests, it will be because the South recognizes the negro as a human being with all the rights and privileges of a human being. . . . If Georgia, Florida, and the other States of the South want to retain the negro in their borders and have him pile up their wealth and happiness, there are some things that must be guaranteed: . . . protect our families, improve educational facilities, regard the human rights of the negro, give him the franchise by whatever standards we may, but let that standard be honestly and squarely administered; make it possible for the negro to have recreation under healthful conditions and remove the constant dread and suspicion that constantly surround him. If this is done the South will have all the labor that it wants, a labor which it has known for at least three hundred years and tried under all conditions and proved to be the best labor of the world. Shall the negro continue to move north or is he to remain at home? We wait for the answer."
A Northern negro paper, the New York Age, speaks of the negro as a "tremendous asset" to the South. Perhaps, it concludes, "this threatened exodus will bring a fuller realization" of his great importance.
Among thoughtful negroes, says the New York Evening Post, there is great rejoicing over the new situation. According to this consistent friend of the colored people,
"They feel that if various sections and large interests of the country begin to bid for the negro, the charge that he is a cheap laborer will speedily disappear. He will rise in the wage-scale precisely as have the Hungarians and other races whose representatives are now being paid $2.50 and $3.00 a day for unskilled labor. More than that it is believed that if the various sections begin bidding against each other for the negro, he will not only earn more money but he will receive greater consideration and something a little more nearly approaching justice."
The possibility of "a Northern movement of a million or even of a million and a half of negroes during the next ten or twelve years" is seen by a writer in The New Republic, who sketches some of the consequences as follows:
"In the beginning such a migration of negroes would increase the present race-friction in the North. . . . The antidote to persecution, however, is power, and if the Northern negroes are more numerous and more urgently needed in our industrial life, they could protect themselves from the worst forms of discrimination. . . .
"For the national as a whole, such a gradual dissemination of the negroes among all the States would ultimately be of real advantage. If at the end of half a century, only 50 or 60 per cent, instead of 89 per cent, of the negroes were congregated in the Southern States, it would end the fear of race domination, and take from the South many of its peculiar characteristics which today hamper development. To the negro it would be of even more obvious benefit. The race would be far better educated, considerably richer, and with greater political power. Success for the negroes of the North would mean better conditions for Southern negroes. For if the Southern negro, finding political and social conditions intolerable, were able to migrate to the North, he would have in his hand a weapon as effective as any he could find in the ballot-box. . . .
"Thus the negro, a half-century after emancipation is today entering upon a new stage in his progress 'up from slavery.'"
Literary Digest, 53 (October 7, 1916): 877–78.
Those who are encouraging the migration upon the grounds that unrestricted freedom of action, new privileges and unheard of opportunities await these laborers in the North should read the following statement from The Pittsburg Courier, one of the leading colored papers of the North:
"The Courier believes that the Negro should be told the whole truth not after, BUT BEFORE, he leaves his Southern home. He should know exactly where he is going; for whom he is to work, the conditions of the community to which he goes, and just what advantages and disadvantages he may expect to find."
"As to his new found privileges, we assert that he who comes to Pittsburg looking for "new privileges" will find himself the most mistaken man living. Even when the black man reaches Pittsburg he will soon find that he is still in the United States, and he will here encounter PREJUDICE, HATRED, AND SCORN NOT UNLIKE THAT HE SEEKS TO ESCAPE BY LEAVING ALABAMA."
"Before leaving the South, let the Negro know the whole truth. Let him understand that the North is no asylum. Let him know that the sun does not shine on the spot of United States soil where there is no prejudice. Let him know . . . that the laws governing the citizens of the North will not be relaxed for the benefit of any man."
"Also, let him be informed that LABOR UNIONS OF THE NORTH WILL NOT TAKE HIM INTO THEIR ORGANIZATION. LET HIM KNOW THAT LABOR UNIONS OF THE NORTH ARE ARE OPPOSED TO THEIR COMING."
"There will always be a North and there will always be a South, but be it remembered that both sections fall within the common boundary of the United States, and the exactions of the Negro are practically the same throughout the Union."
These ringing statements from a Northern Negro paper should be a solemn warning to those who are being exploited by the sentimentalists who desire to get them out of the South to satisfy their own selfish desires.
Naturally enough the Journal and Guide believes that the Negro people as a whole, have more and better opportunities to better their condition in the South than in any other section of the country, or in the world, outside of continental and Latin-America. Those of them who have prospered and are reasonably contented with their surroundings have no disposition to leave their homes and associations of a lifetime; they prefer to remain in a section where they were born and among the people among whom they have one sort of association and another all of their lives. They have a stake in the places where they are, and they are not disposed to sacrifice it. Those who are yielding to the impulse to migrate are mostly of that great unskilled and unlettered mass of laborers. . . .
Norfolk Journal and Guide, March 24, 1917.
6. TO NORTH: BAD TREATMENT, LOW PAY
Negroes Possessed With Feeling That They Have No Chance for a Square Deal in South
New Orleans, La.—Dr. James H. Dillard, formerly dean of Tulane University of New Orleans, and now president of the Jeanes Fund Board and director of the Slater Fund, of Charlottesville, Va., is in Louisiana, investigating the migration of Negroes to the North, as the special agent of Commissioner Wilson, of the Department of Labor, at Washington. Dr. Dillard spent one day in New Orleans, where he conferred with Mayor Martin Behrman and other city officials on the Negro exodus and their opinion as to the remedy for it. Thereafter he went to Baton Rouge for a conference with 40 Jeanes Fund supervising teachers of rural Negro schools of Louisiana and Mississippi.
"The causes of the migration of the 250,000 Negroes who have left the South for the North, have not yet been determined exactly," said Dr. Dillard, "but there are two principles which certainly underlie the movement: First, the lack of adequate white labor in the North, due to the stoppage of immigration from Europe, and second, the growing discontent of the Negroes and the feeling possessed by all of them that they have no chance of a square deal in the South.
"The mistaken idea exists that this vast army of laborers has been enticed to the North through the devices of labor agents and of the railroad for the purpose of securing fees for the former and transportation payment for the latter. My observation is that less than one-fourth of the total has been induced to move by either of these causes. To my mind, the migration of the Negro to the North is purely an economic problem. In many instances, the Negroes have been poorly paid, as low as 70 cents a day, and we all know what such an allowance amounts to at present prices of food."
"My investigations also indicate that the migration has been by no means confined to the poorer classes of Negroes. Negroes who earned what was considered good wages in the South, found they could nearly or quite double them in the North, and, naturally enough, they went. As I have said before, the cause of the migration is purely economic and must be settled by finding the solution in the payment and treatment of the Negro in the South. The hardest part of the situation is that the majority of the migrants have been young Negroes, who have gone northward, leaving the old to take care of themselves. In many instances, however, I find that the young Negroes have remained loyal and have sent money regularly to parents they left behind in the South."
Norfolk Journal and Guide, July 7, 1917.
7. WHY THE NEGRO LEAVES THE SOUTH
The cause is complex and many-angled, not simple and categorical. Perhaps the greatest element in all this causation is the Jim Crow car. It is worse than lynching; lynching occasionally kills one man; the Jim Crow car perpetually tortures ten thousand.
I am writing on board a Jim Crow car from Little Rock, Ark., toward St. Louis, Mo.—a horrible night ride. The colored women have one end of a smoker, separated from smoking white men by a petition that rises only part of the way from the floor toward the ceiling of the car. All of the smoke and fumes, and some of the oaths, come over. Some of these colored people have already spent two nights in this same car-end, coming all the way from the lower side of Texas. For them the name of this train must sound very much like irony, that is "The Sunshine Special."
Just behind us is a chair car for white people, where they can stretch out and rest with sanitary napkins under their heads. They have paid exactly the same "first class" fares paid by these colored passengers. But in the Jim Crow car there are only straight-backed seats filled with the dust grime of neglect. All of these colored people are wishing, and some of them giving audible expression to the wish, to reach Poplar Bluff, the first stop in Missouri, so that they can go back into that chair car and out of the squalor and discomfort of this car-end. And some of these colored men are in the service of the United States, summoned from the far corners of Texas to Newport News, Va., to be trained to fight for democracy in Europe; and because they travel practically all of the way through Southern territory they must sit up for three nights and days, without change of clothing or a bite of warm food—certainly a good preparation for trench warfare.
They, "Why does the Negro leave the South?" indeed! You would FEEL a large part of the answer if you could be on this train, in this Jim Crow car, and share for one might the longing of these people to reach the line that divides Missouri from Arkansas, or any other part of the "the line" that separates Dixie from the rest of creation!
WM. PICKENS,64
Morgan College
Baltimore, Md.
Norfolk Journal and Guide, October 6, 1917.
It is hereby understood that I am to work for the above-named company as ———, the rate of pay to be——. The ——— Railroad agrees to furnish transportation and food to destination. I agree to work on any part of the ———— Railroad where I may be assigned. I further agree to reimburse the ——— Railroad for the cost of my railroad transportation, in addition to which I agree to pay —— to cover the cost of meals and other expenses incidental to my employment.
I authorize the company to deduct from my wages money to pay for the above expenses.
In consideration of the ——— Railroad paying my car fare, board, and other expenses, I agree to remain in the service of the aforesaid company until such time as I reimburse them for the expenses of my transportation, food, etc.
It is agreed upon the part of the railroad company that if I shall remain in the service for one year the ——— Railroad agrees to return to me the amount of car fare from point of shipment to ————. By continuous service for one year is meant that I shall not absent myself from duty any time during the period without the consent of my superior officer.
It is understood by me that the Railroad will not grant me free transportation to the point where I was employed.
I am not less than 21 or more than 45 years of age, and have no veneral disease. If my statement in this respect is found to be incorrect this contract becomes void.
Laborer's name.
U.S. Department of Labor, Negro Migration in 1916–1917 (Washington, D.C.: Government Printing Office, 1919), pp. 120-21.
9. THE BLACK MIGRANT: HOUSING AND EMPLOYMENT
The Negro population of the Pittsburgh districts in Allegheny County was 27,753 in the year 1900 and had increased to 34,217 by the year 1910, according to the latest United States Census figures available. The increase during this period was 23.3%. Assuming the continuation of this rate of increase, the total Negro population in 1915 would be about 38,000.
From a canvass of twenty typical industries in the Pittsburgh district, it was found that there were 2,550 Negroes employed in 1915, and 8,325 in 1917, an increase of 5,775 or 225% . . . the number of Negroes now employed in the district may be placed at 14,000. This means that there are about 9,750 more Negroes working in the district today than there were in 1915, an addition due to the migration from the South.
A schedule study of over five hundred Negro migrants indicates that thirty per cent of the new-comers have their families with them, and that the average family consists of three persons, excluding the father. Adding to the total number of new workers (9,750), the product obtained by multiplying thirty per cent by three (average family), we find a probable total new Negro population of 18,550 in 1917.
This sudden and abnormal increase in the Negro population, within so short a time, of necessity involves a tremendous change, and creates a new situation, which merits the attention of the whole community. Before this great influx of Negroes from the South, the Negro population, which constituted only 3.4% of the total city population, lived in a half dozen sections of the city. Although not absolutely segregated, these districts were distinct.
Because of the high cost of materials and labor, incident to the war, because the taxation system still does not encourage improvements and because of investment attractions other than in realty, few houses have been built and practically no improvements have been made. This is most strikingly apparent in the poorer sections of the city. In the Negro sections, for instance, there have been almost no houses added and few vacated by whites within the last two years. The addition, therefore, of thousands of Negroes, just arrived from Southern states, meant not only the creation of new Negro quarters and the dispersion of Negroes throughout the city, but also the utmost utilization of every place in the Negro sections capable of being transformed into a habitation. Attics and cellars, store-rooms and basements, churches, shed and warehouses had to be employed for the accommodation of these new-comers. Whenever a Negro had space which he could possibly spare, it was converted into a sleeping place; as many beds as possible were crowded into it, and the maximum number of men per bed were lodged. Either because their own rents were high, or because they were unable to withstand the temptation of the sudden, and, for all they knew, temporary harvest, or, perhaps because of the altruistic desire to assist their race fellows, a majority of the Negroes in Pittsburgh converted their homes into lodging houses.
Because rooms were hard to come by, the lodgers were not disposed to complain about the living conditions or the prices charged. They were only too glad to secure a place where they could share a half or at least a part of an unclaimed bed. It was no easy task to find room for a family, as most boarding houses would accept only single men, and refused to admit women and children. Many a man, who with his family occupied only one or two rooms, made place for a friend or former townsman and his family. In many instances this was done from unselfish motives and in a humane spirit.
The great majority of the Negro migrants come North because of the better economic and social opportunities here. But even here they are not permitted to enter industry freely. They are kept in the ranks of unskilled labor and in the field of personal service. Until the present demand for unskilled labor arose, the Negroes in the North were for the most part servants. There were very few Negroes occupied otherwise than as porters, chauffeurs, janitors and the like. The Negro at present has entered the productive industries, but he is kept still on the lowest rung of the economic ladder.
Industrial Concerns Studied in the Pittsburgh District [during July and August, 1917]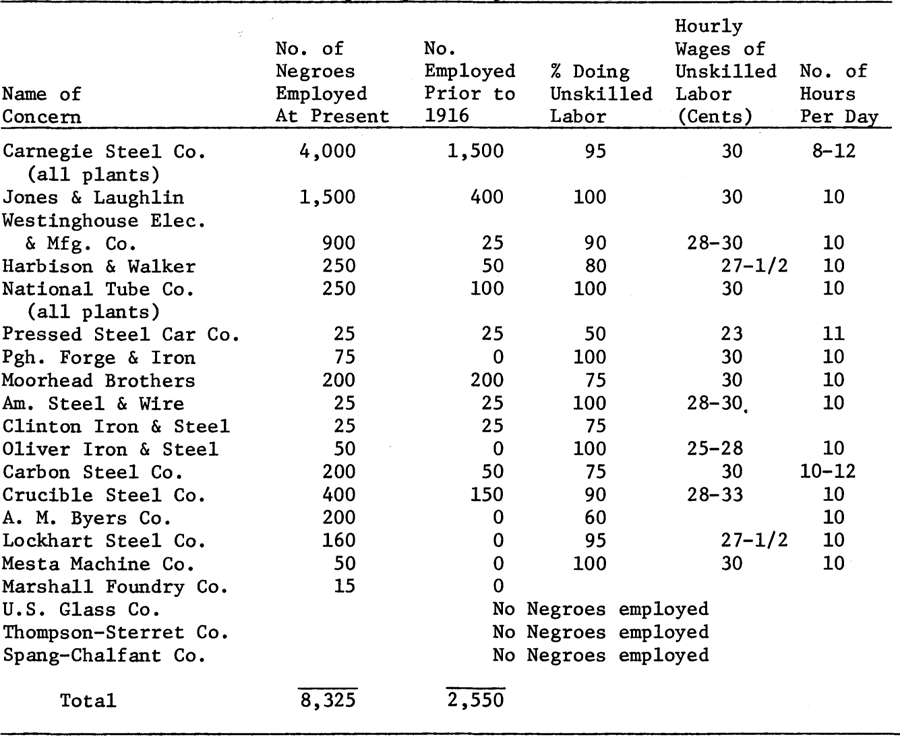 From a study of colored employees in twenty of the largest industrial plants, in the Pittsburgh district, arbitrarily selected, we find that most of the concerns have employed colored labor only since May or June of 1916. Very few of the Pittsburgh industries have used colored labor in capacities other than as janitors and window cleaners. A few of the plants visited had not begun to employ colored people until the spring of 1917, while a few others had not yet come to employ Negroes, either because they believed the Negro workers to be inferior and inefficient, or because they feared that their white labor force would refuse to work with the blacks. The Superintendent of one big steel plant which has not employed colored labor during the past few years admitted that he faced a decided shortage of labor, and that he was in need of men; but he said he would employ Negroes only as a last resort, and that the situation was as yet not sufficiently acute to warrant their employment. In a big glass plant, the company attempted to use Negro labor last winter, but the white workers "ran them out" by swearing at them, calling them "Nigger" and making conditions so unpleasant for them that they were forced to quit. This company has therefore given up any further attempt at employing colored labor. . . .
About ninety-five per cent of the colored workers in the steel mills visited in our survey were doing unskilled labor. In the bigger plants, where many hundreds of Negroes are employed, almost one hundred per cent are doing common labor, while in the smaller plants, a few might be found doing labor which required some skill.
Abraham Epstein, The Negro Migrant in Pittsburgh (Pittsburgh: University of Pittsburgh Press, 1918; New York: Arno Press, 1969), pp. 7–8, 30–32.
10. LETTERS OF NEGRO MIGRANTS, 1916–1918
LETTERS ASKING FOR INFORMATION ABOUT THE NORTH
FAYETTE, GA., January 17, 1917
Dear Sir: I have learned of the splendid work which you are doing in placing colored men in touch with industrial opportunities. I therefore write you to ask if you have an opening anywhere for me. I am a college graduate and understand Bookkeeping. But I am not above doing hard labor in a foundry or other industrial establishment. Please let me know if you can place me.
CHARLESTON, S.C., Feb. 10, 1917
Gentlemen: Upon reading the N.Y. age, have seen where there are need of employees in some sugar concern in New York. Kindly answer this letter, and tell me the nature of the work.
As I am from the south and it is an average difficulty for a southerner to endure the cold without being climatize. If it is possiable for you to get any other job for me regardless to its nature just since the work is indoor I'll appreciate the same.
As it is understood the times in the south is very hard and one can scarcely live. Kindly take the matters into consideration, and reply to my request at your earliest convenience.
WININA, MISS., March 19, 1917
My dear driend: it is With murch pleaser that i rite to You to let You no i reed Your letter & Was glad to hear from you all so i excepts all you Said that you wood do for me so i am a Painter and Carter to So i am willing to learn in neything in works kind So mr. ______ i thank You for Your kindes for all of Your aid so i am a Barber to so i am a good farmer to al all kind So i am not Set do Wn at all so if You Can healp pleas do So So i have niCe famely so i will tell you i am a Curch member for 38 years i and all of my famely but 3 children so i am not a de Sever So mr. ______ i wood ask you for the monney So i Was so glad to get your letter dear Sit When I com up thire look for me at your offes Pleas so mr ______ i all waYs hold gob When i get wone So in god name pleas healp me up there and i will pay you When i com up thire mr ______ i Cant raise my famely hear i wanter to So this all Your friend
PORT ARTHUR, TEXAS
Kind sir: inclose you will find Just a word to you in reading the News I found your address and was very glad to see it Kind sir I write you with my hole heart and I do not mean Just to pass off time my brothers and I are now writing you to please send 2 tickets one for ____ and one for ____
we are Very Well Experence long many lines so long as publice work I am now employed in the largest Company in the south it is the Gulf Refining Co. I have ben Working for them for a number of years Write soon I remain yours very truly.
JAZOO CITY, MISS., April 3, 1917
dear sir: I owe in Con sist to write you a few lines as in the regards of my ability as I am anxus to get some work to do I have a famely to work for and I habe bein workin as helper and bon do most any Kind of work. Has been in the Bixness as MoChinest helper for 7 years and Have fally good ExpernCe in it and would like for you to Help me out if possibl to do so I Would like to work in some Shop or Millplant and I Would lik for you to send me a transpotation and I will pay out of my salry so answer soon and let me no what you Can do for me I Will Close.
WINONA, MISS., April 13, 1917
In reading the defender I saw your advertising for more men I would like very much to come up their I wants to leave the South and go whear I can make a support for myself and Family. I have a wife and six children to take cair of and I would like to bee whair I could cair for Them my occupation is Carpenter but I can do most any kind of work will you furnish me a Transportation to com up thair on
HOUSTON, TEXAS, April 21, 1917
Dear Sir: As I was looking over your great news paper I would like very mutch to get Some infermation from you about Comeing to your great City, I have a famile and Can give you good Referns about my Self. I am a Working man and will Prove up to what I say and would be very glad to Know from you, about a Job Allthough I am at work But, If I Could get Something to do I would be very glad to leave the South as I Read in the Chicago Defender about Some of my Race going north and makeing good.—well I would like to be on the List not with Standing my reputation is all O.K.
I thank you.
MOBILE, ALA., April 21, 1917
Dear Sirs: I am a man that would like to get work in some place where I can elevate my self & family & I think some where in the north is the place for me & I would like to get you gentlemen to advise me in getting a location my trade is cook rail Road camp cars pre fered but will do enything els that I can do. so if you all can help me out in eny way I will Sure take it as a favor.
NEW ORLEANS, April 22, 1917
under the head lines in the Chicago Defender of Saturday April 22–17 I red how some of us that goes up north are being treated. there is a few that have gone from this city north, and came back a few wees. some say they came back on account of being to cold "The others Say they ware to pay so much to get work etc" I would like to go north. and would rather be in some place. other then Chicago. or near Chicago. I am a union man" but dont expect to work at union only" there is a few of us union men that are planing to go north and Kindly please write me" all so I mail you one of my union cards hoping to heare from you soon I am respectfully, Yours.
JACKSONVILLE, FLA.
I seen your advertisement in the Chicago defender where you would direct men with families where to go in order to find good work. I am a Southern cook, butler or Janitor I have two boys age 15 yrs & 13 yrs, and wife that does maid work now I would like for you to help me locate myself & family some where up there for work I can furnish reference to thirteen years of service at one place I am anxious to come right away.
NEW ORLEANS, LA., April 23, 1917
Dear Sir: Reading a article in the 21st issue of the Chicago Defender about the trouble you had to obtain men for work out of Chicago and also seeing a advertisement for men in Detroit saying to apply to you I beg to state to you that if your could secure me a position in or around Chicago or any northern section with fairly good wages & good living conditions for myself and family I will gladly take same and if ther could be any ways of sending me transportation I will gladly let you or the firm you get me position with deduct transportation fee out of my salary. as I said before I will gladly take position in northern city or county where a mans a man here are a few positions which I am capable of holding down. Laborer, expirance porter, butler or driver of Ford car. Thaking you in advance for your kindness, beg to remain.
DALLAS, TEX.,
April 23, 1917
Dear Sir: Having been informed through the Chicago Defender paper that I can secure information from you. I am a constant reader of the Defender and am comtemplating on leaving here for some point north. Having your city in view I thought to inquire of you about conditions for work, housing, wages and everything necessary. I am now employed as a laborer in a structural shop, have worked for the firm five years.
I stored cars for Armour packing co. 3 years, I also claims to know something about candy making, am handy at most anything for an honest living. I am 31 yrs. old have a very industrious wife, no children. If chances are available for work of any kind let me know. Any information you can give me will be highly appreciated.
WINSTON-SALEM, N.C., April 23, 1917
Dear Sir: Colored people of this place who know you by note of your great paper the Age and otherwise desire to get information from you of jobs of better opportunities for them and better advantages.
You will do us a great favor to answer us in advance.
SAVANNAH, GA., April 24, 1917
Sir: I saw an advertisement in the Chicago Ledger where you would send tickets to any one desireing to come up there. I am a married man with a wife only, and I am 38 years of age, and both of us have so far splendid health and would like very much to come out there provided we could get good employment regarding the advertisement.
PINE BLUFF, ARK., April 24, 1917
Mr. R. S. Abbott
Kine frind: I am riting you asting you to see if you can get me a job with some of the ship bilders I am a carpenter & can Do most iny thing so if you can get me a job pleas rite me at once.
BROOK HAVEN, MISS., April 24, 1917
CHICAGO URBAN LEAGUE.
Sirs: I was reading in the defender that theare was good openings for Men in Smalle towns near Chicago would like to know if they are seeking loborers or mechanics I am going to come north in a few days and would rather try to have me a position in view would you kindly advise me along this line as I am not particular about locateing in the city all I desire is a good position where I can earn a good living I am experienced in plumbing and all kinds of metal roofing and compositeon roofing an ans from you on this subject would certainly be appreciated find enclosed addressed envelop for reply I wait your early reply as I want to leave here not later than May 8th I remain respectfully yours,
P.S. will say that I am a Man of family dont think that I am picking my Job as any position in any kind of shop would be appreciated have had 12 years experience in pipe fitting.
DECATUR, ALA., April 25, 1917
THE CHICAGO URBAN LEAGUE.
Gentlemen: Gentlemens desious of Settling in some Small Northern Town With a modrate Population & also Where a Colored man may open a business Also where one may receive fairly good wedges for a While ontill well enough azainted with Place to do a buiseness in other words Wonts to locate in Some Coming town Were agoodly no, of colard People is. Wonts to Work At Some occupation ontill I can arrange for other buiseness Just Give Me information As to the best placers for a young buiseness Negro to locate & make good. in. Any Northern State
Thaning you inavance any information you may give in regards to Laber & buiseness Location Also when good Schools or in opration Please adress
P.S. answer this at once as I plain to leave the South my May the 3rd. I can furnish best reffreces.
ATLANTA, GA.
TO THE URBAN COMMITTY—
Dear Sir: I am comming north and have read advice in the Chicago Defender and I would be very much obliged to you if you would direct me to some firm that is in need of brick layers for that is my Professical trade and can do any class of work and if I can't get Brick Work now I will consider any other good Job as I want to come right away I have 3 in fambly and I have no objection to work in other small towns I will be very glad to hear from you right away as I have never been north and advice will be excepted yours truly and friend of the race.
PENSACOLA, FLA., April 25, 1917
Dear Sir: Having read in the "Chicago Defender" are helping the negroes of the South to secure employment I am writing you this note asking you to please put me & my friend in touch with some firm that are employing men.
Please do what you can for us.
NEW ORLEANS, April 25, 1917
Kind Sir: I noticed in last weeks Defender an issieu relating to ocupations in your territory I am a Laborer of N. 0. and desire to get information concerning Best ways and means of securing a Position I am absolutely will to do manual Labor any-where will you—Kindly inform me as to what step can be taken for further reference if necessary apply to—Hoping this will meet with your generous approval I remain
JACKSONVILLE, FLA., April 25, 1917
Dear Sir: in reading a copy of the Chicago defender note that if i get in touch with you you would assist me in getting imployment. i am now imployed in Florida East coast R R service road way department any thing in working line myself and friends would be very glad to get in touch with as labors. We would be more than glad to do so and would highly appreciate it the very best we can advise where we can get work to do, fairly good wages also is it possible that we could get transportation to the destination. We are working men with familys. Please answer at once. i am your of esteem. We are not particular about the electric lights and all i want is fairly good wages and steady work.
SANFORD, FLA., April 27, 1917
Dear Sir: I have seen through the Chicago Defender that you and the people of Chicago are helping newcomers. I am asking you for some information about conditions in some small town near Chicago.
There are some families here thinking of moving up, and are desirous of knowing what to expect before leaving. Please state about treatment, work, rent and schools. Please answer at some spare time.
PENSACOLA, FLA., April 28, 1917
Dear Sir: I seen in the Chicago Defender where men was wanted in small towns near Chicago at fair wages. As i want to lokate in the north i thought it very nessary to consult you in the direction of this work. hoping to receive from you full pertikulars i a wate a reply.
FULLERTON, LA., April 28, 1917
Dear sir: I was reading about you was neading labor ninety miles of Chicago what is the name of the place and R R extends ther i wants to come north and i wants a stedy employment ther what doe you pay per day i dont no anything about molding works but have been working around machinery for 10 years. Let me no what doe you pay for such work and can you give me a job of that kind or a job at common labor and let me no your prices and how many hours for a day.
JACKSONVILLE, FLA., April 29, 1917
My dear Sir: I take grate pleazer in writing you. as I found in your Chicago Defender this morning where you are secur job for men as I realey diden no if you can get a good job for me as am a woman and a widowe with two girls and would like to no if you can get one for me and the girls. We will do any kind of work and I would like to hear from you at once not any of us has any husbands.
TALLADEGA, ALA., April 29, 1917
Dear Sir: I am a subscriber for the Chicago Defender and have been reading in your paper of occupations waiting to be filled. And as I understand you want the person writing to state just what kind of work they can do. I can car petter work and have been off and on for some years. I am not a finished up carpenter, I can do ware-house work, I can work in a wholesale, I have not sufficient money to come on will you be obliging to send me my transportation. I am near thirty eight (38) years old and weighs about one hundred and ninety five (195) pounds. If you will send a transportation please write me at once at Talladega.
TEMPLE, TEXAS, April 29, 1917
Mr. T. Arnold Hill, 3719 State St., Chicago, Ill.
Dear Sir: Being a reader of the Defender and young man seeking to better my conditions in the business world, I have decided to leave this State for North or West. I would like to get in touch with a person or firm that I might know where I can secure steady work. I would certainly appericate any information you might be able to give. I finished the course in Blacksmithing and horseshoeing at Prairie View College this State and took special wood working in Hampton Institute Hampton Va. Have been inpractical business for several years also I am specializing auto work. I am a married man a member of the church. Thanking you in advance for any favors Am very truly
ANNISTON, ALA., April 29, 1918
Dear sir: I read a peas in the defender about the member com north I shall be vary glad to com in touch with you, as am planing on coming north and I riting you that you mite no of som good town in that secson I am a carpenter by traid and I would like for you to locate in me as I should not like to com in that secson with out no enfremation.
ATLANTA, GA., April 30, 1917
Sir: I would thank you kindly to explain to me how you get work and what term I am comeing to Chicago this spring and would like to know jest what to do would thank and appreciate a letter from you soon telling me the thing that I wont to know.
NEW ORLEANS, LA., April 30, 1917
Dear Sir: Seeing you ad in the defender I am writing you to please give me some information concerning positions—unskilled labor or hotel work, waiter, porter, bell boy, clothes cleaning and pressing. I am experienced in those things, especially in the hotel line. am 27 years of age, good health—have a wife—wish you could give me information as I am not ready to come up at present. would be thankful if you could arrange with some one who would forward transportation for me and wife. would be very glad to hear from you as soon as convenient. Thanking you in advance for interest shown me.
KNOXVILLE, TENN., April 30, 1917
Dear Sir: I am anxious to come to Chicago. I have thirteen years experiance as janitor in large residence apartment house, am also handy with tools.
I have a wife and four children. If you can place me where I can earn a decent living for my family will appreciate it.
MACON, GA., April 30, 1917
Mr. ______: i War took and Read the Chicago Defender and i read for the Wanted laborers and i am rinten to you to let you here from we all that Wold liKe to taKe a laborers part with Manufacturing and We or Willing to do ennery kind of Work and We or men Will Work and or Glad that me seet With this canne and We will gladly come if you will Send us transportation for 9 Mens and We Will Come at once and these Mens is Men With Famly and We all or hard work men and i Will Say A Gin that Me will do enny Kind of Work dut Me thave a tirde Some us
COLLINS, MISS., May 1, 1917
Dear Sir: By being a Subscriber and reader of the Chicago Defender, I read an advertisement where they are wanting and needing help. Needing Moulders and Machinist of course I do not know anything about the trade. But they Said they would pay men $2.25 begin with and Learn the trade And transportation forworded and they would deduct it Out of their wages.
I am Very Anxious to Come Up North. And I would put all of my energy and mind on my work. And try in every way to please the One for whom I am working for. They could get about five men from here. One that is a Pretty good Machinist I am Writting you as they Gave two branches for Colored and that you is the head of the ______ So Any favors extended towards Me will be highly Appreciated hoping to hear from you at an early Date I remain yours truly.
McDONOGHVILLE, LA., May 1, 1917
dear Mr. ______: it afford me With pleasur to right to you on Some infermashian how to get me a transportation to Some town in the North as i Would like to Come out there to Live and better my condition as i am A young Man and desire to get With the good Clase of Laboring people i have not got a trade but i have Work all My time around oil Mill and Coopper Shop for the Last 8 years and i cand work at Moust enj thing if i get A Little experence.
My age is—24 years good healt good behaver good record in the south this is all to tell now but if you would Like to no My record i caNd give it to you from my Lodge—are from my church—good by
ATLANTA, GA., May 1, 1917
MR. ARNOLD HILL.
Dear Sire: I am a glazer and want information on My line of work. I am a cutter and can do anything in a glazing room.
I reads the Defender and like it so much. hoping to hear from you soon
PATTERSON, LA., May 1, 1917
Kind Sir: I saw your ad in the Defender for Laborers I am anxious to get north to do something I am a Cleaner and Presser by Trade exprence Hoffman Pressing mashine oppreator of this Trade is Not in your line. I would be very glad if you could get me a Transportation Advanced from Chicago to woek with the Molders I am anxious to lean That Trade I hope you with them and I would like to learn the Trade.
I hope you will attend to the above matter as I am in Eanest about this matter.
MOBILE, ALA., May 4, 1917
Dear Sir: I write you a few line to find out about the Work and if I could get you to Send me and Wife and Son a transportation I am not a loafer and can send references that I will work.
P.S. Please rite me at once I am anxious to here from you.
MIAMI, FLA., May 4, 1917
Dear Sir: Some time ago down this side it was a rumour about the great work going on in the north. But at the present time every thing is quite there, people saying that all we have been hearing was false until I caught hold of the Chicago Defender I see where its more positions are still open. Now I am very anxious to get up there. I follows up cooking. I also was a stevedor. I used to have from 150 to 200 men under my charge. They thought I was capable in doing the work and at the meantime I am willing to do anything. I have a wife and she is a very good cook. She has lots of references from the north and south. Now dear sir if you can send me a ticket so I can come up there and after I get straightened out I will send for my wife. You will obliged me by doing so at as early date as possible.
MOSS POINT, MISS., May 5, 1917
Dear Sirs: Will you please send me in formation towards a first class cookeing job or washing job I want a job as soon as you can find one for me also I want a job for three young girls ages 13 to 16 years. Please oblige.
MEMPHIS, TENN., May 5, 1917
Dear Sir: I saw your add in the Chicago Defender papa and me being a firman and a all around man I thought I would write you. perhaps You might could do me lots of good. and if you can use me any way write me and let me No. in my trade or in foundry work. all so I got a boy 19 years old he is pretty apt in Learning I would Like to get him up there and Learn him a trade and I have several others would come previding if there be an opening for them. So this is all ans. soon
NEW ORLEANS, LA., May 5, 1917
Dear Sirs: I was advised by the Chicago Defender to get in touch with you if I desired to locate in or around Chicago. I write this to find out what kind of work that you have on slate. I expect to locate in or around Chicago by the first of June.
Dear Sir: Am applying for a position in your city if there be any work of my trade. I am a water pipe corker and has worked foreman on subservice drainage and sewer in this city for ten (10) years. I am now out of work and want to leave this city. I am a man of family therefore I am very anxious for an immediate reply. Please find enclosed self addressed envelop for return answer.
VICKSBURG, MISS., May 5, 1917
Sir: Just wants you to give me a few words of enfermation of labor situations in your city or south Dakota grain farms what is their offers and their adress. Will thank you for any enfermation given of same.
NEW ORLEANS, LA., May 7, 1917
Gentlemen: I read Defender every week and see so much good youre doing for the southern people & would like to know if you do the same for me as I am thinking of coming to Chicago about the first of June, and wants a position. I have very fine references if needed. I am a widow of 28. No children, not a relative living and I can do first class work as house maid and dining room or care for invalid ladies. I am honest and neat and refined with a fairly good education. I would like a position where I could live on places because its very trying for a good girl to be out in a large city by self among strangers is why I would like a good home with good people. Trusting to hear from you.
BEAUMONT, TEXAS, May 8, 1917
Dear Sir: I wrote you some time ago, and never received any answer. I learn you can assist me in bettering my condition. I would like very much to come North. I have no trade but Im a willing worker, and the Job I have now I have had it for eight years and there is no advancement here for me. I can give eight year refference I would like mechinist helper or some thing where I could learn a trade I have a fair education and I wish is a chance I need no transportation Im very well fix financial Im single and 29 years old if you can help me in any way it will be highly appreciate. hoping to hear from you soon.
PASCA GOULA, MISS., May 8, 1917
Dear Sir & frend: as understand that you ar the man for me to con for to & i want to Com to you & my frend & i has not got the money to Com Will you pleas Sir send me & my frend a ticket to Com and if you will I will glad La Com at onC & will worK et out will Be glad to do so I will not ask you to send the redey Casch for you dont nae me & if you Will Send me 2 tickets i will gladly take the, & i will Com Jest now hoping to hear from you be re torn male Yors Evor.
MEMPHIS TENN., May 12, 1917
Dear Sir: I am a constant reader of your paper which can be purchased here at the Panama Cafe newsstand. Mr. _____ at present I am employed as agent for the Interstate Life and acc'd ins. Co. but on account of the race people leaving here so very fast my present job is no longer a profitable one. I have a number of young friends in your city who are advising me to come to Chicago and I have just about made up my mind to come, but before leaving here I wanted to ask Some advice from you along certain lines. I am buying property here and taking up notes each month on Same these notes now are aroun $14 per month. and with my present Salary and the unusual high price on everything I can't possibly protect myself very long against a foreclosure on above mentioned property on account of my Salary being less than $50.00 per month. Mr. _____ do you think I could come to your city with myself and wife rent this place out here and better my condition financially? I am strong and able to do anything kind of work so long as the Salary is O.K. I have a fair experience as a meat cutter and can furnish the best of reference from business houses one of them is Swift & Co of this city. I hope you can understand me clearly, it is my aim to make an honest living and would not dream of any other method. I am prepared to leave here at any time and must go Some place but Chicago is the place that impress me most. and having the confidence in you as a great race man I am writing you for your honest opinion concerning the facts in the matter. Many thanks for the information in today's paper under the Caption ("Know thyself") hoping this will meet with your hearty Cooperation.
P.S. What is about the average salaries paid there for unskilled laborers and what is board and room rent? if I come would it be advisable to come alone and Secure location and everything and then have my wife come later?
LEXINGTON, MISS., May 12, 1917
My dear Mr. H______:______I am writing to you for some information and assistance if you can give it.
I am a young man and am disable, in a very great degree, to do hard manual labor. I was educated at Alcorn College and have been teaching a few years; but ah: me the Superintendent under whom we poor colored teachers have to teach cares less for a colored man than he does for the vilest beast. I am compelled to teach 150 children without any assistance and receives only $27.00 a month, the white with 30 get $100.
I am so sick I am so tired of such conditions that I sometime think that life for me is not worth while and most eminently believe with Patrick Henry "Give me liberty or give me death." If I was a strong able bodied man I would have gone from here long ago, but this handicaps me and, I must make inquiries before I leap.
Mr. H______, do you think you can assist me to a position I am good at stenography typewriting and bookkeeping or any kind of work not to rough or heavy. I am 4 feet 6 in high and weigh 105 pounds.
I will gladly give any other information you may desire and will greatly appreciate any assistance you may render me.
BESSEMER, ALA., May 14, 1917
Sirs: Noticing an ad in Chicago Defender of your assitance to those desiring employment there I thought mayhaps you could help me secure work in your Windy City I'm a married man have one child. I have common school education this is my hand write. I am presently employed as a miner has been for 14 years but would like a Change I'm apt to learn would like to get where I could go on up and support myself and family. You know more about it than I but in your opinion could I make anything as pullman porter being inexsperienced? I'd be so grateful to U. to place me in something I've worked myself too hard for nothing. I'm sober and can adjust my life with any kind and am a quiet christian man.
BEAUMONT, TEX., May 14, 1917
My dear Sir: Please write me particulars concerning emigration to the north. I am a skilled machinist and longshoreman.
ALGIERS, LA., May 16, 1917
Sir: I saw sometime ago in the Chicago Defender, that you needed me for different work, would like to state that I can bring you all the men that you need, to do anything fo work. or send them, would like to Come my self Con recomend all the men I bring to do any kind of work, and will give satisfaction; I have bin foreman for 20 yrs over some of these men in different work from R. R. work to Boiler Shop machine shop Blacksmith shop Concreet finishing or puting down pipe or any work to be did. they are all hard working men and will work at any kind of work also plastering anything in the labor line, from Clerical work down, I will not bring a man that is looking for a easy time only hard working men, that want good wages for there work, let me here from you at once.
Dear Sir: "Ive" just read your ad in the Chicago Definder on getting employment. So I will now ask you to do the best you can for me. Now, Mr.
______, I am not a tramp by any means, I am a high class churchman and business man.
I am the Daddy of the Transfer Business in this city. And carried it on for ten years. Seven years ago I sold out to a white Concern.
I prefer a job in a Retail furniture store if I can be placed I'll now name a few things that I do. Viz I can repair and Finish furniture, I am an Exspert packer & Crater of furniture, I pack China, Cut Glass & Silver ware.
I can Enamel, Grain & paint furniture. I can repair Violins, Guitars, & Mandolins, I am a first-class Umbrella Man, I can do any thing that can manage a Transfer Business, I understand all about Shipping H.H. Goods & furniture, I can make out Bills of Lading & write tages for the same.
Now if you can place me on any of these Trades it will be all O.K.
SELMA, ALA., May 19, 1917
Dear Sir: I am a reader of the Chicago Defender I think it is one of the Most Wonderful Papers of our race printed. Sirs I am writeing to see if You all will please get me a job. And Sir I can wash dishes, wash iron nursing work in grociers and dry good stores. Just any of these I can do. Sir, who so ever you get the job from please tell them to send me a ticket and I will pay them. When I get their as I have not got enough money to pay my way. I am a girl of 17 years old and in the 8 grade at Knox Academy School. But on account of not having money enough I had to stop school. Sir I will thank you with all my heart. May God Bless you all. Please answer in return mail.
JACKSONVILLE, FLA., May 22, 1917
Chicago Defender: I wish to go North got money enuff to come I can do any kind of housework laundress nurse good cook has cook for northen people I am 27 years of age just my self would you kindly inderseed for me a job with some rich white people who would send me a ticket and I pay them back please help me. I am brown skin just meaden size.
MEMPHIS, TENN., May 22, 1917
Sir: As you will see from the above that I am working in an office somewhat similar to the one I am addressing, but that is not the purpose with which I sat out to write.
What I would like best to know is can you secure me a position there? I will not say that I am capable of doing any kind of labor as I am not. Have had an accidental injury to my right foot; hence I am incapable of running up and down stairs, but can go up and down by taking my time. I can perform janitors duties, tend bar, or grociery store, as clerk. I am also a graduate of the Law Department, Howard University, Washington, D.C. Class of '85 but this fact has not swelled head. I am willing to do almost any thing that I can do that there is a dollar to it. I am a man of 63 years of age. Lived here all of my life, barring 5 or 6 years spent in Washington and the East. Am a Christian, Baptist by affiliation.
Have been a teacher, clerk in the government department, Law and Pension offices, for 5 years, also a watchman in the War Dept. also collector and rental agent for the R.R. Church, Esq.' Member of Canaan Baptist Church, Covington, Tenn. Now this is the indictment I plead to.
Sir; If you can place me I will be willing to pay anything in reason for the service. I have selected a place to stop with a friend of earlier days at ______, whenever I can get placed there. An early reply will be appreciated by yours respectfully.
CHARLESTON, S.C., May 25, 1917
Sir: Having been informed that you can secure jobs for people who desire to leave the south, I would like to get information about the conditions and wages either in Niagra or Detroit. I would prefer work in a factory in either town. Also advise as to climate.
Dear Sirs: Having heard of you through a friend of mine, I thought that I would write asking you to please send me full information as to conditions and chances for the advancement of the negro in the north.
I am seeking for the opportunity and chance of advancement as far as my ability is capable as I am a negro my self.
I would like very much to get in touch with you if you think that you can give me some assistance along the line which I have spoken.
HATTIESBURG, MISS., May 27, 1917
Gentlemen: by reading in the defender of the position you are in for securing jobs. I thought I would write, and see if you could place me. Now my job pay me well, but as my wife and Children are anxious to come north I would try and get a job now I am a yellow Pine Lumber inspecter and checker can furnish recomdation from some reliable Saw Mill Firms as there is in South Miss. As Gradeing Triming & Checking yellow pine lumber.
P.S. I know I can make good in any Lumber Yard such as checking & stowing Lumber if you Will place me write on what terms to—
GONZALES, TEXAS, May 28, 1917
New York Age, New York, N.Y.
Gentlemen: I wish to know if a man from the south come north, such as common laborer, stationery engineer, gasoline engineer, fireman or janitor able to care for heating plants ets. and able to pay his own way there, is a likelihood of finding lucrative employment?
I would be plased to have you advise me on the same as myself and several other men of good morals and sober habits and who are able to bear our own expenses would like to better our conditions by coming North.
If you can advise us or Know of any one or place that we can get the desired information please give us the benefit of the same..
Find stamp enclosed for answer.
HAMLET, N.C., May 29, 1917
Gentlemen: I am very desirous of changing my location and am writing to know whether or not you can find a lucrative opening for me somewhere in the North.
I am 42 years old, married, wife and four children and a public school teacher and printer by profession and trade. Will accept any kind of work with living wages, on tobacco farm or factory. I am a sober, steady worker and shall endeavor to render satisfaction in any position in which I am placed.
JACKSONVILLE, FLA., June 12, 1917
dear sir: I am writing to you for information concerning a Job I have a wife and 2 children and who so ever my employer may Be I would ask that they may send trancipertation for me and my family and I will pay as i work I am a come laber man my wife is a good launders all So my daughter and My Son is a laber all so I am a railroad mon By trade please aBlige mr______
BEAUMONT, TEXAS, July 16, 1917
Dear Sir: I am a colored, am desiring work in New York or some of the adjoining states. I am not a skilled workman but I can do most any kind of common labor. I have spent several years in the plaining mills of the south. I know all about feeding planers and I can also keep them up very well. I have checked lumber and in fact, I can do a number of different things.
Will you be kind enough to put me in correspondence with some one who would like to employ a good conscientious steady laborer.
I have a family and I would be glad to come north to live. So please be so kind as to do me the favor above asked. I have a little education too if it could be used to any advantage.
Hoping an early reply.
NEW ORLEANS, LA., August 27, 1917
Dear Sir: i am wrighting you for help i haird of you by telling my troble i was told to right you. I wont to come there and work i have ben looking for work here for three month and cand find any i once found a place $1 a week for a 15 year old girl and i did not take that. now you may say how can that be but New Orleans is so haird tell some have to work for food and the only help i have is my mother and she have work 2 week now and she have four children young then me and i am 15ttn and she have such a hard time tell she is willing for me to go and if you will sin me a pass you will not be sorry i am not no lazy girl i am smart i have got very much learning but i can do any work that come to my hand to do i am set here to day worry i could explane it to you i have been out three time to day and it only 12 oclock. and if you please sire sine me a pass. it more thin i am able to tell you how i will thank you i have clothes to bring wenter dress to ware. my grand mama dress me but now she is dead and all i have is my mother now please sire sin me a pass and you wont be sorry of it and if you right and speake mean please ancer i will be glad of that but if you would sin a pass i would be so much gladder i will work and pay for my pass if you sin it i am so sorry tell i cant talk like i wont to and if you and your famely dont wont to be worry with me I will stay where i work and will come and see you all and do any think i can for you all from little A_____ V_____. excuse bad righting.
PENSACOLA, FLA., May 30, 1917
Dear Sir: in answer to your advertisement for labors I am a man want to work am noes a opertunity Please notiefie me at ane as I Want to get Job with you I Will Ask a Transportation an will leve when its reaches me Please take my letter in canceration ans me at once as I very anxious to from I am stiedy drink no whiskey or eny thing that is intosicating an give fot the infomation Right soon
NATCHEZ, MISS., September 22, 1917
Mr. R. S. ABBOTT, Editor.
Dear Sir: I thought that you might help me in Some way either personally or through your influence, is why I am worrying you for which I beg pardon.
I am a married man having wife and mother to support, (I mention this in order to properly convey my plight) conditions here are not altogether good and living expenses growing while wages are small. My greatest desire is to leave for a better place but am unable to raise the money.
I can write short stories all of which potray negro characters but no burlesque can also write poem, have a gift for cartooning but have never learned the technicalities of comic drawing. these things will never profit me anything here in Natchez. Would like to know if you could use one or two of my short stories in serial form in your great paper they are very interesting and would furnish good reading matter. By this means I could probably leave here in short and thus come in possession of better employment enabling me to take up my drawing which I like best.
Kindly let me hear from you and if you cannot favor me could you refer me to any Negro publication buying fiction from their race.
MARCEL, MISS., October 4, 1917
Dear Sir: Although I am a stranger to you but I am a man of the so called colored race and can give you the very best or reference as to my character and ability by prominent citizens of my community by both white and colored people that knows me although am native of Ohio whiles I am a northern desent were reared in this state of Mississippi. Now I am a reader of your paper the Chicago Defender. After reading your writing ever wek I am compell & persuade to say that I know you are a real man of my color you have I know heard of the south land & I need not tell you any thing about it. I am going to ask you a favor and at the same time beg you for your kind and best advice. I wants to come to Chicago to live. I am a man of a family wife and 1 child I can do just any kind of work in the line of common labor & I have for the present sufficient means to support us till I can obtain a position. Now should I come to your town, would you please to assist me in getting a position I am willing to pay whatever you charge I dont want you to loan me not 1 cent but help me to find an occupation there in your town now I has a present position that will keep me employed till the first of Dec. 1917. now please give me your best advice on this subject. I enclose stamp for reply.
NATCHEZ, MISS., Oct. 5, 1917
Dear Sir: Now I am writing you to oblige me to put my application in the papers for me please. I am a body servant or nice house maid. My hair is black and my eyes are black and smooth skin and clear and brown, good teeth and strong and good health and my weight is 136 1b.
MONTGOMERY, ALA., December 3, 1916
Dear Sir: in Reading The Defender I See Where you are Disirious of Communicating With a better class of working men To supply the different trades. Please advise Some place by which I could better my condition North or East.
I would be glad To come in to a better Knowing by writing you before Starting
11. LETTERS ABOUT GROUPS FOR THE NORTH
SAVANNAH, GA., March 16, 1917
Gentlemen: Having learned that you ar short of laborers, I respectfully offer myself as an applicant for a situation, and would be glad to get a hearing from you as soon as it would be convenient for you to reply. There are also many of my friends that would be glad to get a situation. I am willing to do most eny kind of earnest work. I am 36 years of age and can read and wright the english language. and have good experance in business. Any communication whitch you may be pleased to make addressed as above will receive prompt attention.
CHARLESTON, S.C., April 2, 1917
Dear Sir: I saw your want in the paper and I thought i would right you and find out about it and if you have work for me and my wife I will be glad to come and if you have no work for her you can send for me and I will be glad to come and bring along manny more if you want them. You can let me know at once and i will be glad to do so. so you can write me at once and I will know just what to do.
HATTIESBURG, MISS., April 13, 1917
Sir: Please oblige me in getting me a pass to Chicago to some firm that are in need of labors I have three in family besides myself I have four or five other men with me now want to know if you can secure that pass we will come at once this would be about eight passes, my self and two in family and five men which will be eight passes. these are able and good work men if you can arrange this & let the list of passes bear each name so as to form a club. let hear from you soon.
MOBILE, ALA., May 15, 1917
Dear Sir and Brother: I am in the information of your labores league and while in this city I have been asked about the conditions of work in the north and at the same time we have about 300 men here in this city of different trades. Some are farmers, mail men iron and stell workers, mechanics and of all classes of work. They ask me in their union to find out just the conditions of the afair. They wants to know if they can go to work in one or two days after they get there? if so some of them can pay all of their fair some half and some wants to come on conditions. will the company send them a pass and let them pay them back weekly? if so I can send 500 more or less in order that you may know who I am I will send you some of my papers that you may know what I stand for and what I have been taking along. please let me hear from you at once and what you think about it.
MOBILE, ALA., April 21, 1917
Gentlemen: Please have the kindness to let me know if you can handle any labor as I wish to come north but would like to know just who I am going to work for before starting so as to not be there on expences and in the main time I have other friends that would like to have a steady imployment while they are unable to raise the money for transportation. Let me know what disposition you could make in regards to the same.
MOBILE, ALA., April 21, 1917
Dear Sirs: We have a club of 108 good men wants work we are willing to go north or west but we are not abel to pay rail road fare now if you can help us get work and get to it please answer at once. Hope to hear from you.
MOBILE, ALA., April 23, 1917
Dear Sirs: You will find my full name and address from which please give infermation about jobs and also tell me will you pay my fare up there and take it out of my work after geting to work and i can get a great many men and family if you want them. they wants to come but they cant get no work to do so they can get the money to come on. I can get men women and families so please answer and let me no what you will do if you need them.
PLAQUEMINE, LA., April 28, 1917
Dear sir: only a few lines in regards you advertismen this week Chicago Defender and it verry intresting to me and other that why Im wrighten you because it my benifit me in the futur I know about twenty five young men would like to go north but accorden to present conditions in the south wont allow them to save enough to go if their a possible chance of you doing enything we all good worker and think if you will give us a chance will proof to you that we can work and if you give us transportation we will work and pay it back from the start. I will close hope you will kindly except our offer and give it your persinel intrest.
DE RIDDER, LA., April 29, 1917
Dear Sir: there is lots of us southern mens wants transportation and we want to leave ratway as soon as you let us here from you some of us is married mens who need work we would like to bring our wife with us there is 20 head of good mens want transportation and if you need us let us no by return mail we all are redy only wants here from you there may be more all of our peoples wont to leave here and I want you to send as much as 20 tickets anyway I will get you up plenty hands to do most any kind of work all you have to do is send for them. looking to here from you. This is among us collerd.
COLUMBUS, GA., April 29, 1917
Dear sir: I seen your adds in the paper & after reading I saw where I could do some business for you & if you will write & let me know promptly what you will allow me for heads & let me know right away I can get you as many as thirty at once & I know that you do not want nothing but able bodied men if you will as soon as you get this mail let me know by wireing me & I can get the men ready by Thursday wire me as soon as your early convenence. will also send you my recamendation that I am a true and reliable negro if you take the notion to send the ticket send me money enough to feed them until we get there you can estamate about how much it will take to feed thirty all of them is anxious to go & will go at the word from you please return the recamendation back.
Dear Sir: I was reading you advertisement in the Chicago Defender and it come intresting to me and I thought I would rite you to get information about it. There are 5 or six families of us wants to know would you send us a ticket if you would we would like to heare from you at once and we will explain our statement in my next letter. I am looking for reply soon.
MOBILE, ALA., April 30, 1917
Dear Sir: In answer to your Ad. which apeared in the Chicago Defender for laborer wanted to work in Foundry warehouse and yard work I can recruit 15 good honest men whom I believe would make good and can leave as soon as transportation for same is provided. Hopeing to hear from you soon I remain Yours truly.
SAVANNAH, GA., April 30, 1917
Dear sir: in reply to the labor wanted I write you let you know I am a poor afflicted man can not do anything come to hand but am willing to work and do need something to make a support now will you please look up a job for me I could sweep or do any thing light like that could watch act as janitor if you will send me a transportation when I get there you see my willingness you would make me a job now if you will except I will get you some men and bring with me because I know numbers of men want to come and can get as many as you want. Just give me a trial.
ST. PETERSBURG, FLA., May 1, 1917
Dear sir: I am in receipt of your letter of the 16th of April in reply to a letter I written to you. I will say at this junction that there are more than 250 men desire to come north but is not able to come if your manufacture men would like to have 75 men labores from the south why he can get them for the fair from here to New York is only 19.00 nineteen dollars and I do not think that is a high transportation cost to get good labor. Now there are men here that will work that can have 10.00 ten dollars on there fair and for a little assistance they will come at once for the condishion there is terrible the low wage and high cost of living and bad treatment is causing all to want to come north. Now I have a family of 8 only, one boy that can work in the north for he is 18 years the others is school children and I would like to get them up there with me for I was raise in the eastern state Massachusett Cambridge and pass as a master workman in Denver Colorader making brick. Now if there is any way to assist why do so now if you can only assist me why just do it as a brother & friend I have 5 to pay for but I have a little moeny but not enough to pay all way 3 full and 2 half fair so you can readily see just where Im at but I got my fare but rather bring my family with me.
CHATTANOOGA, TENN., May 1, 1917
Dear Sur: will you send me a transportation I am a foundry man i want to come where i can get same pay for my work and you plese send me a transportation for 4 good hard labore man please send and i can get you some good mens here i am down here working hard and gett nothing for it so i hop you will ancer soon and let me here from you i have had 7 years exprense in foundry works i noes my jobe well i will expet to here from you rat way so good by.
PATTERSON, LA., May 1, 1917
Dear Sir: I was reading one of the Chicago Defender papers and I seen a splendid opportunity to grasp a good job. Now if you could fowerd me a pass from New Orleans I would be very glad because I am a willing worker, write me a letter as soon as possible and let me know just what job you will put me to, of cours I dont know any trade but will be willing to learn a good trade. this aid I seen reads like this:
Laborers wanted for foundry, warehouse and yard work. Excellent opportunity for learning trades, paying good money start $2.50–$2.75 so I would like to learn a trade. I might can get you some more from here. I will close hope I will hear from you at once. Before sending the transportation write me a letter.
JACKSON, MISS., May 1, 1917
sir: I was looking over the Chicago Defender and seen ad for labers both woman an men it is a great lots of us would come at once if we was only abel but we is not abel to come but if you will send me a pas for 25 women and men I will send them north at once men an women
CHATTANOOGA, TENN., May 2, 1917
Dear Sir: I beg to call you tension of some employment in your country. I has been inform that you will give instruction an get work any wher in the northern stats. I have some of the best labor that is in south as some of the best molders if we can get employment in north we wil go.
a waiting your reply.
JACKSONVILLE, FLA., May 2, 1917
Deer sir: i reed in the Chicago Defender that you wanted some molder in your city i dont no whether you mene lumber are iron moulder but i am 4 years experence in lumber but if you mene iron molder i dont think i will be many days learning the trade if it is any chance that i can get a good job eith you i would like to hear from you at once i am maried and would like to get 2 transportation if i can and if you want some hard working mens let no and i will do all that i can for you and bring them on with me if you will make same range ment to get them there i mean that i will get you some good men hard working mens like myself so let me here from you at once Please
CHATTANOGGA, TENN., May 2, 1917
Dear sir: i only had the chance to see your ad today at noon i was to glad to see it and hop that i am not to lat to full it i am fuly sattisfied i can get as many as 10 or 15 reddy by the 7 or 8 and we will be reddy by that time if you will tret us rite we will stand by you to the las
PASCAGOULA, MISS., May 3, 1917
Dear Sirs: Whilse reading over the want adv. of the Defender I find where you wants bench molders 20 not saying I am one but I am a labering man and verry apt to lern anything in a short while and desires to come and give it a trile or something else I can do eny thing in common labor hoping you will send me a transportation and give me a trile and I can all so bring you as meny men as you want if you dont want me to bring eny men send me a transportation for my self. hopeing to hear from you by return mail.
SAVANNAH, GA., May 3, 1917
Dare sier: I understand that you wont some mens and if you wood sen me transportation for ten mens wood bee turly glad and please write to me at wonce and let me hir form you.
MEMPHIS, TENN., May 3, 1917
Dear Sir: Seeing you add in the Chicago definder that you are in need of labor I write you for full information at once hope you will please give me. I am willing to come & if you kneed any more labor I am sufficient to bring them.
Now my dear sir if you can give me a steady job please send me a pass hope you will write me at once.
PORT ARTHUR, TEXAS May 5, 1917
Dear Sir: Permitt me to inform you that I have had the pleasure of reading the Defender for the first time in my life as I never dreamed that there was such a race paper published and I must say that its some paper.
However I can unhesitatingly say that it is extraordinarily interesting and had I know that there was such a paper in my town or such being handled in my vicinity I would have been a subscriber years ago.
Nevertheless I read every space of the paper dated April 28th which is my first and only paper at present. Although I am greatfully anticipating the pleasure of receiving my next Defender as I now consider myself a full fledged defender fan and I have also requested the representative of said paper to deliver my Defender weekly.
In reading the Defenders want ad I notice that there is lots of work to be had and if I havent miscomprehended I think I also understand that the transportation is advanced to able bodied working men who is out of work and desire work. Am I not right? with the understanding that those who have been advanced transportation same will be deducted from their salary after they have begun work. Now then if this is they proposition I have about 10 or 15 good working men who is out of work and are dying to leave the south and I assure you that they are working men and will be too glad to come north east or west, any where but the south.
Now then if this is the proposition kindly let me know by return mail. However I assure you that it shall be my pleasure to furnish you with further or all information that you may undertake to ask or all information necessary concerning this communication.
Thanking you in advance for the courtesy of a prompt reply with much interest, I am
MOBILE, ALA., May 11, 1917
Dear sir and brother: on last Sunday I addressed you a letter asking you for information and I have received no answer. but we would like to know could 300 or 500 men and women get employment? and will the company or thoes that needs help send them a ticket or a pass and let them pay it back in weekly payments? We men and women here in all lines fo work we have organized a association to help them through you.
We are anxiously awaiting your reply.
JACKSONVILLE, FLA., May 21, 1917
Dear sir: i am today righting you a few lines asking you to please give me some information and that is this if you know of any one that wants help of any kind men or women and one that would send a few tickets would you please give me they address I was told to right to you for information please lead me in the light as i could get five familys and 8 or 9 good men for any firm that wanted help. so I am awaiting your promp reply.
ORANGEBURG, S.C., June 14, 1917
Dear Sir: your addess was gave to me this after noon by a young man by the name of Mr. ______ who is now in Conn. and I write him to see if he could get me a good job so he said to me on his card that he was listening for a vacan place to apply for but hesen found any thing not as yet but he said he wood do his very best for me. This time of the year most people are now goeing north so much I thought I wood come two so he told me to write you and see if I could get you to get me a good job and have the people to write me and advance me a transportation from Orangeburg to New York. He said you are the best man in New York to assist good fellow in to good paying jobs. I will look two here from you very soon.
ASHFORD, ALA., December 8, 1916
Dear sir: I take great pleasure in writing you and replying to your advertiser that you all wanted colored laborers and I want to come up north and could get you 75 more responsible hands if you want them so if you please send me 3 passes are as manny as you like and I garontee you that I will fill them out with responsible hands and good ones so please let me here from you at once.
12. LETTERS ABOUT LABOR AGENTS
DERIDDER, LA., April 18, 1917
Dear Sir: in regards of helth and all so in need that I am riting you these fue lines to day to you. this few lines leves famly and I well at the present an doe trus by the help of Godd these will find you the same. Now what I want you to doe for me is this will you please give this letter to the Chicago Defender printers and I will bee oblige to you. I wood of back this letter to the Chicago defenders but they never wood of receve it from here.
I am to day riting you jus a fue lines for infermasion I wil state my complant is this. now her is 18 hundred of the colored race have paid to a man $2.00 to be transfered to Chicago to work. he tel us that thire is great demand in the north for labor and wee not it is true bee cors ther is thousands of them going from Alabama and fla. and Gergia and all so other states and this white man was to send us to Chicago on the 15 of march and eavery time we ask him about it he tell us that the companys is not redy for us and we all wants to get out of the south. wee herd that this man have fould wee people out of this money. wee has a duplicate shorn that wee have paid him this money and if ther is iny compnys that wants these men and will furnis transportation for us will you please notifie me at once bee cors I am tired of bne dog as I was a beast and wee will come at wonce. So I will be oblige to you if you will help us out of the south.
LIVE OAK, FLA., April 25, 1917
Dear sir: I wish to become in touch with you. I have been thinking of leaving the south and have had several ofers presented to me if only would say I would go and pay down so mutch money until a certain date but dont aprove of sutch. Know would be glad to have you relate to me weather I can get a job in or near the city.
I am now working at a commission house. Listen there have been several crooks out saying they are getting men for difrent works in the north, all you had to do pay them $2 or $3 dollars and meet him on a certain day and that would be the last. Will you relate to me some of the difrent kinds of works & prices.
Nothing more, I remain.
ANNISTON, ALA., April 26, 1917
Dear sir: Seeing in the Chicago Defender that you wanted men to work and that you are not to rob them of their half loaf; interested me very much. So much that I am inquiring for a job; one for my wife, auntie and myself. My wife is a seamster, my auntie a cook I do janitor work or comon labor. We all will do the work you give us. Please reply early.
MOBILE, ALA., April 26, 1917
Dear Sir Bro: I take great pane in droping you a few lines hopeing that this will find you enjoying the best of health as it leave me at this time present. Dear sir I seen in the Defender where you was helping us a long in securing a posission as brickmason plaster cementers stone mason. I am writing to you for advice about comeing north. I am a brickmason an I can do cement work an stone work. I written to a firm in Birmingham an they sent me a blank stateing $2.00 would get me a ticket an pay 10 per ct of my salary for the 1st month and $24.92₵ would be paid after I reach Detorit and went to work where they sent me to work. I had to stay there until I pay them the sum of $24.92₵ so I want to leave Mobile for there. if there nothing there for me to make a support for my self and family. My wife is seamstress. We want to get away the 15 or 20 of May so please give this matter your earnest consideration an let me hear from you by return mail as my bro. in law want to get away to. He is a carpenter by trade. so please help us as we are in need of your help as we wanted to go to Detroit but if you says no we go where ever you sends us until we can get to Detroit. We expect to do whatever you says. There is nothing here for the colored man but a hard time wich these southern crackers gives us. We has not had any work to do in 4 wks. and every thing is high to the colored man so please let me hear from you by return mail. Please do this for your brother
SHREVEPORT, LA., 22, 1917
Dear Sir: I want to get some infirmation about getting out up there I did learn that they had a man here agent for to send people up there I have never seen him yet and I want you to tell me how to get up there. they are passing people out up there that are unable to come I would like to hear from you at once from your unknown friend.
MOBILE, ALA., December 4, 1916
Dear Sir: While reading Sunday's Defender I read where you was coming South looking for labor I see you want intelligent industrious men to work in factories so I thought I would write and get a little information about it. there are a lot of idle men here that are very anxious to come north. every day they are fooled about go and see the man. pleanty of men have quit thier jobs with the expectation of going but when they go the man that is to take them cant be found. last week there was a preacher giving lecturers on going. took up collection and when the men got to the depot he could not be found, so if you will allow me the privaledge I can get you as many men as you need that are hard working honest men that will be glad to come. I will send you these names and address if you will send for them to come. there is not work here every thing is so high what little money you make we have to eat it up. so if what I say to you is agreeable please answer.
13. LETTERS ABOUT THE GREAT NORTHERN DRIVE OF 1917
PENSACOLA, FLA., April 21, 1917
Sir: You will please give us the names of firms where we can secure employment. Also please explain the Great Northern Drive for May 15th. We will come by the thousands. Some of us like farm work. The colored people will leave if you will assist them.
NEW ORLEANS, LA., April 23, 1917
Dear Editor: I am a reader of the Defender and I am askeso much about the great Northern drive on the 15th of May. We want more understanding about it for there is a great many wants to get ready for that day & the depot agents never gives us any satisfaction when we ask for they dont want us to leave here, I want to ask you to please publish in your next Saturdays paper just what the fair will be on that day so we all will know & can be ready. So many women here are wanting to go that day. They are all working women and we cant get work here so much now, the white women tell us we just want to make money to go North and we do so please kindly ans. this in your next paper if you do I will read it every word in the Defender, had rather read it then to eat when Saturday comes, it is my hearts delight & hope your paper will continue on in the South until every one reads it for it is a God sent blessing to the Race. Will close with best wishes.
NEW ORLEANS, LA., April 25, 1917
Dear Sir: Would you kindely advise me of a good place where I can get a good job out in some of the small places from Chicago about 50 Or 60 miles. I am expecting to leave the south about the 15th of May and will bring my family later on. Answer soon.
MOBILE, ALA., April 25, 1917
Sir: I was reading in theat paper about the Colored race and while reading it I seen in it where cars would be here for the 15 of May which is one month from to day. Will you be so kind as to let me know where they are coming to and I will be glad to know because I am a poor woman and have a husband and five children living and three dead one single and two twin girls six months old today and my husband can hardly make bread for them in Mobile. This is my native home but it is not fit to live in just as the Chicago Defender say it says the truth and my husband only get $1.50 a day and pays $7.50 a month for house rent and can hardly feed me and his self and children. I am the mother of 8 children 25 years old and I want to get out of this dog hold because I dont know what I am raising them up for in this place and I want to get to Chicago where I know they will be raised and my husband crazy to get there because he know he can get more to raise his children and will you please let me know where the cars is going to stop to so that he can come where he can take care of me and my children. He get there a while and then he can send for me. I heard they wasnt coming here so I sent to find out and he can go and meet them at the place they are going and go from there to Chicago. No more at present. hoping to hear from you soon from your needed and worried friend.
PASS CHRISTIAN, MISS., April 30, 1917
Sir: I want to come north on 15th of May, & I would like to get a job at once. & if you will please locate one for me & let me know in return mail & oblige. Will except a job on farm or in town. I have a little education & I am aquainted with work all right. Hope to here from you soon.
MONTGOMERY, ALA., May 7, 1917
My dear Sir: I am writing to solicit your aid and advice as to how I may best obtain employment at my trade in your city. I shall be coming that way on the 15th of May and I wish to find immediate employment if possible.
I have varied experience as a compositor and printer. Job composition is my hobby. I have no experience as linotype operator, but can fill any other place in a printing office. Please communicate with me at the above address at once. Thanking you in advance for any assistance and information in the matter.
ROME, GA., May 13, 1917
Dear Sir: I am writing you in regards to present conditions in Chicago in Getting employment. I am an experienced hotel man—in all departments, such as bellman, waiter, buss boy, or any other work pertaining to hotel and would like to know in return could you furnish me transportation to Chicago as you advertise in the Chicago Defender. Am good honest and sober worker, can furnish recermendations if necessary. Have worked at the Palmer House during year 1911 as bus boy in Cafe. But returned South for awhile and since the Northern Drive has begun I have decided to return to Chicago as I am well acquainted with the city. Hope to hear from you soon on this matter as it is of great importance to me.
14. LETTERS EMPHASIZING RACE WELFARE
Dear sur: I ritting to you in order to get in touch with you about the work for the betterment of the race I shure want to better my condeshon in the Chicago Defender I seen whear that you say those wishing to locate in smaller towns with fairly good wages that what I want to suner the better for me. Answer at wonce.
Dear Sir: I was very much impressed when I read the Defender where you are taking so much interest securing jobs for the race from the south. Please secure a job for man & wife in some small town and write me all information at once.
NEW ORLEANS, LA., April 22, 1917
Dear sir: in reading the defender I seen where this was an oportunity for work, for the betterment of the race. Just out of the city and I thought to get in touch with you to see if their would be a chance for me an my brother. i dident no if you meant any one this far from Chicago or not but i rite to find out. but i hope you will except me please and let me no your wages. i hope to hear from you and if you will except me i can pick you up some responseful families mens but if you dont want them take me because i wants work. so good by.
MEMPHIS, TENN., April 23, 1917
Gentlemen: I want to get in tuch with you in regard of a good location & a job I am for race elevation every way. I want a job in a small town some where in the north where I can receive verry good wages and where I can educate my 3 little girls and demand respect of intelegence. I prefer a job as cabinet maker or any kind of furniture mfg. if possible.
Let me hear from you all at once please. State minimum wages and kind of work.
PENSACOLA, FLA., April 25, 1917
My dear Sir: I noticed an article in the Chicago Defender that officers and members of your organization officer to assist any member of the race to secure steady employment in small cities near Chicago. I am verry anxious to secure a job the year round at any kind of honest work. trusting that I may hear from you at an early date, I beg to remain.
HOUSTON, TEX., April 27, 1917
Dear Sirs: I am a reader of the Chicago Defender and I seen where you are in need of men and are also in the position for firms to seek you. I see where you are in the lines of work for the betterment of the race.
ROME, GA., April 28, 1917
My dear Northern friend: I saw in the Chicago Defender where labors are wanted I am sure a man that wants to get out of the south and would do most any kind of work I has a wife she works all the time. We has a boy age 13 years he has been working with me 5 years I has been working at the pipe shop 11 year but I can do other work you said you will sind a transportation after labores please send after me I can get 10 more mens if you want them. ans. soon so that I will no what to do but I hope you will say yes. hope you will say get the mens and let us sind for you all I am a man woks all the time I has a wife and 4 childrens.
SANFORD, FLA., April 29, 1917
Dear sir: as a member of the Race who desire to join in and with and be among the better side of our Race I ask that you surcue me a job and have me a ticket sent or please send transportation fees at once. Write soon as I will watch for answer from you.
KISSIMMEE, FLA., May 1, 1917
Dear Sir: I am a subscriber for the Chicago Defender have read of the good work you are doing in employing help for your large factories and how you are striving to help get the better class of people to the north. I am a teacher and have been teaching five years successful, and as our school here has closed my cousin and I have decided to go north for the summer who is also a teacher of this county. I am writing you to secure for us a position that we could fit and one that would fit us, if there be any that is vacant.
We can furnish you with the best of reference. We would not like to advertise through a paper. Hoping to hear from you at an early date, I am
NEW ORLEANS, LA., May 1, 1917
Dear sir: i am a reader of the Chicago defender and i seen in the defender that you are interrested in the well fair of the colored people those of the classe that is interested in themselves and coming to the north for a better chance so i take pleashure in riting to you that i may get some under standing about conditions of getting work as i see that you are in turch with the foundrys warehouses and the manufacturing concerns that is in need of laborers and i thought it was best to rite you and get some understanding as it is 4 of us expecting to leave here in a few days to come north but we are not coming for pleasure we are looking for wirk and better treatment and more money and i ask your aid in helping us to secure a good position fo work as we are men of familys and we canot aford to loaf and i will be very glad to hear from you and an my arival i will call at your place to see you.
DELAND, FLA., May 1, 1917
Dear sir: I being onknon to you in personnal but by reading the Chicago Defender I notice in its ad that there is chance for all kind of imployment that a men that will work can get and as I am one of the negro race that dont mind working study so it is understand that you will please let me no as to wheather you can place me in some of those positions for I suppose to be in this town about 5 more weeks. after leving her stopping in Savannah my home city to see my too bro. and mother I will then leve for the northern states I will thank you for some information.
dear sirs: I sene in Defender wher more positions open then men for them I am colord an do woork hard for my living an dont mind it is not no bad habits I work but dont get but small wedges I am up bilder of my colord race an love to help one when he dezirs to better his condishon I want to ast you for a favor of helping me to get to you an your office to get me a woork to do I want to learn a trade and I will pay you to look out for me an get me a job if you kindly will. Please send me 3 tickets as we three good woorking mens make the time you can corleck ever weeak pay for you at once be cause we meanse buisness now.
JACKSONVILLE, FLA., May 2, 1917
Dear sir: I am writing you a few lines seacking information about some work as i was read a Chicago Defender i saw where labarers wanted very much I am a labarer now have not no work here to do i am married man have one child and would like for you to give me work to do anything I am well expereinced in warehouse and foundry and if there any way for you to fearnish me a transportation to come at once do i can go so i can make my family a desen living you will please let me know and if you would help a poor need man i am willing to come any time if I had the money i would pay my own way but i realy ain got it so i am asking you to please do this for me i am realy in need if you can do a poor negro any good please do this for me.
COLUMBIA, S.C., May 7, 1917
Dir sur: i saw in one of our colord papers your ad i now seat my selft to seak work thru your ade of which i beleve is ernest devotion to our betterment i am a brick layer and plastrer i rite to no if i can get or you can get work for me please let me know detales plese.
MONTGOMERY, ALA., May 19, 1917
Dear sir: I notice in the Chicago defender that you are working to better the condiction of the colored people of the south. I am a member of the race & want to come north for to better the condiction of my famely i have five children my self and a wife & I want you to seek for me a job please. I will send you the trade I follows while here in the south. I works in the packing houses & also wholesale grocers houses. Either one I can do but I rather the packing the best, you can get a half of dozen womens from here that want work & wants information about jobs such as cooking, nurseing & cleaning up or anything else they can do.
SHERMAN, GA., November 28, 1916
Dear sir: This letter comes to ask for all infirmations concern-employment in your conection in the warmest climate. Now I am in a family of (11) eleven more or less boys and girls (men and women) mixed sizes who want to go north as soon as arrangements can be made and employment given places for shelter an so en (etc) now this are farming people they were raised on the farm and are good farm hands I of course have some experence and qualefication as a coman school teacher and hotel waiter and along few other lines.
I wish you would write me at your first chance and tell me if you can give us employment at what time and about what wages will you pay and what kind of arrangement can be made for our shelter. Tell me when can you best use us now or later.
Will you send us tickets if so on what terms and at what price what is the cost per head and by what route should we come. We are Negroes and try to show ourselves worthy of all we may get from any friendly source we endeavor to be true to all good causes, if you can we thank you to help up to come north as soon as you can.
Adapted from Emmett J. Scott (ed.), "Letters of Negro Migrants of 1916–1918," Journal of Negro History, 4 (July, 1919): 290–340 passim.