1. COLORED WOMEN AS INDUSTRIAL WORKERS IN PHILADELPHIA
INTRODUCTION
This study has discovered no indication of any considerable number of colored women being employed before the World War, outside of domestic service and those industries included in the general term "public housekeeping." With the war came opportunities that brought a new day to this race. These opportunities were mainly due to three causes: (a) the industries were calling for workers, (b) immigration to the United States was rapidly decreasing, and (c) a large percentage of the male population of working age was being withdrawn for war service.
(a) The demand for workers was great because of Philadelphia's industrial position and the fact that the Federal Government operates here three establishments that have especially to do with army and navy preparations, namely, Frankford Arsenal, the United States Navy Yard, and the Philadelphia Depot of the Quartermaster's Department, United States Army.
(b) While the industries were needing workers the immigration decreased in the whole United States as follows:

In the port of Philadelphia the decline of immigration is even more noticeable:

(c) The third thing mentioned as contributing toward a new day for the colored was the fact that, roughly estimated, the men who went into war service from Philadelphia numbered 85,000, which meant just so many less workers at home.
It will be shown that the industrial labor supply was augmented to a considerable extent by colored women from domestic service, but in addition to this mere transference from one occupation to others, an actual increase in the colored population of the city at this time increased the total supply of colored labor. The census figures for 1910 showed 84,459 colored here in a total population of 1,549,000. To go a step further, 66,480 negroes were fifteen years of age and over, and of this number, 35,790 were females of working age. . . .
The Philadelphia Year Book estimates that the negroes in 1919 in Philadelphia number 125,000, or an increase of 48 per cent in nine years.
The fact that colored women were engaging in new and totally different lines of industry was noticeable. They were on Noble Street cleaning up after the track repairers and, in an interview while taking shelter during a rain storm, one woman said they were there because of the "almighty dollar." In a laundry they had been getting only $7 a week with a $2 a month bonus, and on the street work the wage was 30 cents an hour. On still another street they worked on the tracks with picks and shovels. They were also in evidence in and about railroad terminals, cleaning the outside of trains and replacing the night men who cleaned the waiting rooms. In office buildings they were replacing men as elevator operators.
The newspapers reflected the situation:
"Use negro woman labor to fill war workers' gaps," reads one caption.
"Negro women take places of men in industries; work as railroad track-hands, munition makers, inspectors and porters," reads another, which continues, "Negro women are repairing railway tracks, making explosives, and serving as porters and inspectors in many industries here, taking the places of men who have gone to war or have entered other industries. Through a government agency more than 300 of these women have been placed in positions within a week.         , manager of the agency, says an average of 100 negro women a day apply there. Many of these women are at work at the Frankford Arsenal and other government plants about the city. Others are working as track-hands on the          Railroad."
"Ice women replace men here. Four women now handle the ice tongs at the          Ice plant, replacing men who have gone to war. They have made good."
"Colored girls avoid housework. Y.W.C.A. is placing many in shops and factories, but few seek domestic service."
"Negro's chance coming at last. Stoppage of immigration due to war strips South of colored labor."
Newspaper advertisements such as the following frequently appeared:
"Twenty-five colored operators wanted with experience on double needle machine for government bed sacks—wages from $24.00 up."
One in authority reported that there were 500 women munition workers on the night force in the Arsenal; a colored employment agency reported that many Philadelphia colored girls were in munition works in the neighboring towns that could be reached by trolley; an official visitor to a large number of garment and needle factories that were producing supplies for the government, observed colored women employees; and a study among the home workers for the Schuykill Arsenal not only showed that the colored women took home shirts and other garments to sew for the army, but that they were often rated among the best workers. A hosiery firm (possibly anticipating a labor shortage) rented a hall in connection with a colored institution, and installed knitting machines under the supervision of a white forelady. Great difficulty was encountered in getting women to go there to learn, and it was said that those who did go were mostly southern negroes who had never been in a factory before. This difficulty in recruiting might have been due to the very low wages given; a flat rate of $4.50 a week was offered while learning, after which 8-1/2 cents a dozen pairs was given with a one-half cent bonus on sixteen dozen pairs a day, and one cent on eighteen dozen. When this place was visited one girl was getting $9.40 a week for eighteen dozens a day; another girl could make fifteen dozens, thereby getting $7. In a waste factory visited, colored women had replaced men, sewing up bales of the waste which necessitated continuous standing and working in unattractive surroundings, permeated with much dust, and, to quote the employer, were "doing work that no white women would do." In a shoddy mill some colored girls fed the picker machines for $11 a week. They had been doing it six months when interviewed and although working in a basement where there was much dust from the product, they were enthusiastic about factory work; particularly liking the regular hours with no night work and no Sunday work. Realizing that many were entering the garment trades, an effort was made to ascertain their status, and it was found that at least fifty union shops had some colored workers. They were a new element and brought to the union many perplexing problems which will be discussed in this study.
Such, briefly, were the conditions when the armistice was signed: housekeepers were complaining that their domestic workers had deserted them for their husbands' business; it was a matter of much comment that colored women were working on the streets—obviously in positions that involved too much strain for women; the newspapers devoted space to assignments on the colored women workers and carried advertisements for them; factory inspectors noted them as innovations and the unions reported they were in their shops and even that they "had driven the whites from a few shops." With few exceptions, wages were low and were threatening to undermine fair and reasonable standards. A need was felt for more information on the subject, and the Consumers' League decided to undertake this study in order to present information that could be a help in clarifying public thinking.
The Chamber of Commerce expressed its interest in a letter to its members, saying "the League will attempt to discover the number of colored women who have worked in the industries of Philadelphia during the war and the number who are now employed, the nature and quality of their work, with the idea of discovering for what particular work colored women are best suited," and asked them to "co-operate with the Consumers' League to the fullest extent in furnishing information and affording facilities for gathering the necessary data in making this very valuable study." The League is happy to state that the majority of the employers called upon were most generous in their co-operation. The Waist and Dress Manufacturers' Association extended an invitation to visit all its shops. Among the organizations of the city that helped were the following: Armstrong Association, Public Schools, Department of Compulsory Attendance, Young Women's Christian Association, Unions, Society for Organizing Charity and Red Cross. To all of these, and to the friends who contributed time and money, and to the colored workers interviewed, the League extends its very great thanks.
SCOPE
The investigation of which this report is the summary, was undertaken with a view to ascertaining how far colored women in Philadelphia have entered the industrial field and with what results.
The table of contents and the questionnaires in the back show the phases of the subject that have been covered. Throughout the work, the League has tried to be non-partisan; it has enlisted the services of two paid colored workers to assist its staff of white workers; experienced white research workers have visited 108 factories and shops and have asked the employers and managers for their candid opinions; white and colored workers have visited 190 colored girls and women outside of working hours to ascertain facts concerning their working experiences; and the League has asked the unions to express their policies toward the colored women.
The field work was done between September, 1919 and June, 1920. More or less difficulty was encountered because of the generally unsettled labor conditions; the garment industry for example, that was found to offer the broadest field for colored women workers, had a slack period that extended from January until the study was completed.
It is to be noted that all employers did not answer every question touched upon and that their remarks about wages were not read from payrolls.
Industries (28) and Processes (74) in Which Colored Women Were Found
Garments
Trimmers
Pressers
Operators
Caps
Trimmers
Pressers
Quilts
Trimmers
Operators
Embroideries
Stampers
Trimmers
Hand embroiderers
Operators
Tobacco
Strippers
Banders
Packers
Department Stores
Stock girls
Maids
Cleaners
Elevator operators
Waitresses
Wrappers
Sorters
Porters
Shirts
Trimmers
Pressers
Operators
Candy
Packers
Machine operators
Dippers
Makers
Paper Boxes
Folders
Machine operators
Stitchers
Toppers
Cutters
Paper Novelties
Folders
Packers
Assistants at presses
Cleaning and Dyeing
Pressers
Mangle workers
Sorters
Machine ironers
Hand ironers
Wrappers
Markers
Glass
Assistants to blowers
Cleaners of globes
Files
Assistants to forge men
Scrapers
Jellies and Preserves
Fruit preparers
Jar fillers
Railroads
Cleaners
Linen clerks
Arsenal
Carpenters in cot salvage department
Knitting—Sweaters and Hosiery
Trimmers
Pressers
Menders
Machine sewers
Winders
Operators
Elevators
Operators
Restaurants and Hotels
Maids
Cleaners
Cooks
Waitresses
Waste
Sorters
Machine feeders
Overgaiters
Button sewers
Buttons
Button covering machine operators
Pickles
Cutters
Millinery Trimmings
Winders
Ornament makers
Textiles
Sorter
Bakeries
Cleaners
Pan greasers
Private Dressmaking
Assistant
SOME INDUSTRIES OF PHILADELPHIA EMPLOYING COLORED WOMEN, AND THE WAGES THEY PAY
Garments
From the standpoint of the numbers employed, the number of processes performed, the progress made, and the range of wages paid, the garment industry is the most important for the colored women. From the standpoint of opportunities for collective bargaining, it is also one of the most important.
In 126 garment shops, for which information was secured, there were 5,822 women and of this number 842, or 14 per cent, were colored; 42 shops employed no colored; and in the 84 others, out of a total of 3,622 women, 842, or 33 per cent, were colored. Four shops employed only colored, while nine employed more colored than white. The majority of the colored women were pressers (38 per cent) and trimmers (32 per cent)—the least skilled work—and only about 30 per cent were power machine operators. For the most part these operators were doing the coarser work on middies, overalls, and house dresses, but in a few of the better shops they were making georgette waists, silk dresses and gowns. No men's shirt factories were visited, but some of the workers were interviewed who press and operate in them.
When one considers the short time that they have had access to this skilled industry the progress that they have made is surprising. Of 53 employers who made statements concerning the length of time they had had colored women, 10 had employed them less than one year, 17 for one year, 11 for two years, 6 for three years, 4 for four years, 2 for five years, 1 "off and on" for ten years, and 2 for fifteen years. Furthermore there are records in the Consumers' League office that show that not longer ago than 1912, the subject of colored women entering the shirtwaist trade was causing especial concern to the organized workers and to people interested in the welfare of the colored race. At that date there was one shop employing colored women exclusively. Interest in the question centered about these points: the reliability of the colored women, their speed, their accuracy, and a comparison of their wages with wages of white workers.
Work records were secured for 54 women in this industry. Twenty-three had been domestics in private homes; an equal number had done no other work; one had been a teacher and the rest had worked in laundries, box factories, printing shops or munition plants. Not more than half had two years of experience in any industry.
Some employers are unaware how far the colored have entered industry, and especially their own industry, for as one manager of a prominent shop said, "Why, colored girls have been coming and asking for work as operators just like white girls!"
According to the statements made by employers concerning the wages paid to colored workers, 50 per cent of them received $16 a week or less, the operators averaging $19, the pressers $16, and the trimmers $13. The wages received by the women interviewed were lower, for the range of wages of the operators was $7 to $39; as a matter of fact, the majority fell between $10 and $20. The median wage was $16 (that is, 50 per cent received this amount or less). For the trimmers, the wages ranged from $10 to $16 with a median wage of $13, and for the pressers, wages ranged from $7 to $20 with a median of $11. According to these workers the median wage was $13, contrasted with the employers' median of $16, and only 35 per cent received $16 or more, as contrasted with the employers' estimate of 50 per cent. If the wages are considered on a yearly basis they are even less, for this industry is seasonal and the workers are usually out of employment or on part time work eight weeks during the year. In abnormal times the slack period may be even longer, as it has been since January 1 of this year; most of the girls have been out of work from three to six months, and there is now little prospect that work will be resumed before another three months. The majority of the operators and pressers are paid on a piece work scale, while almost all of the trimmers are paid by the week.
Twenty-three of 64 employers interviewed were entirely satisfied with their colored employees, 16 thought them "slow," "careless," "lazy," or "unreliable," 5 considered them "inferior to the white workers," 7 were satisfied with those they had, but did not care to employ more or to try them in other departments, 3 employed them on one process, but had found them inefficient on others and 11 were satisfied with the quality of their work, but found them unsatisfactory in other respects, principally in regularity of attendance. This fault was so often mentioned by employers in other industries as well that it will be discussed in a later page in connection with the general record of colored girls as industrial workers, but it might be said here that the garment industry itself is notorious for irregularity of employment, holding one of the most prominent places in the list of industries described as "seasonal."
Closely related to the garment industry are the embroidery shops, quilt factories, and cap manufacturing establishments, where girls are employed in the same processes—trimming, pressing and operating. In the embroidery shops colored girls are also working as pinners, stampers and hand embroiderers, for which they receive wages ranging from $9 to $12, with an average of only $10.
One factory making quilts had employed colored women for the last two years. They were replacing men, who, the employer said, "were too much Bolsheviks, and wanted more money and shorter hours." These women were getting from $8 to $16. There were 20 operators and 10 finishers.
In a cap factory three colored girls were found sewing and pressing, work which they had been doing during the past year. Their wages were $10, $12 and $15 a week.
In 1919 the Bureau of Labor Statistics of the New York Department of Labor published a special bulletin on "Weekly Earnings of Women in Five Industries" (paper boxes, shirts and collars, confectionery, cigars and tobacco, and mercantile establishments). In explaining the purpose and scope of this investigation, they said that aside from the general interest in the subject, "there was special occasion for securing such information just at this time owing to the active movement for minimum wage legislation at the present session of the Legislature. With the question of the wisdom of such legislation or with argument for or against it, this bulletin does not undertake to deal. The aim is only to afford some substantial, impartial and accurate information as to what women's wages actually are at the present time, which information would seem to be the necessary background for most intelligent discussion of legislative proposals dealing with the subject." Among the reasons given for selecting these particular five industries was mentioned "to take those in which women's wages are of grades relatively low rather than high."
The present study found colored girls in these relatively low-paid industries in Philadelphia as the following paragraphs will show.
Tobacco
In tobacco factories, colored women have been employed possibly a longer time than in any other industry. Six out of eight factories had had them for nine years or more, and one factory had employed them so long the managers could not remember just how long—"about seventy years," they thought. The girls are working for the most part on the least skilled process, that of stripping, which is pulling the midrib from the tobacco leaf, and is the first step in the manufacture of cigars. While it is the least skilled, it requires considerable dexterity and speed. It is extremely monotonous and is usually done in dark and crowded rooms, where the workers sit on low stools and boxes. Very few white girls do this work, but many colored; one factory alone employed 175, and in eleven establishments there were 425. They are skillful strippers, and most of the employers say they would not have white women for the work. In one place where both white and colored women work, the colored make more money than the white.
Stripping is almost entirely piece work, and the women come and go as they please. When asked how many hours they worked, one foreman said, "Oh, some come in for only seven hours a week." In only two establishments were colored girls employed on other processes; in one, 150 girls were packing cigarettes, and in the other, one girl was banding and one packing cigars. "Banding," which is pasting the paper band around the cigar, is not skilled work; but "packing," which is sorting the cigars according to shades and placing them in boxes, is an operation that requires some skill and experience. No colored girls were found as "makers," the most skilled process in the industry. During the war they were put on trial in this process in one factory. At the end of two months the experiment was abandoned because, as the manager said, "the girls were too slow in their movements ever to become good makers."
It was rather difficult to secure through the investigation information concerning wages in the tobacco trade. According to the statements of 9 employers, the average wage was $18, but the 5 tobacco workers interviewed averaged only $10. In the monthly Labor Review for March, 1920, there is published a study of wages and hours in the tobacco industry. Six Philadelphia establishments with 354 strippers, were covered, showing the average wage as $10.85 a week and the average number of hours worked a week as 42.6.
In the factory where the girls packed cigarettes, they were paid better wages and worked in light, well-ventilated quarters and were said to be very satisfactory. No fault was found either with their speed or with the regularity of their attendance. They received from $12 to $16 a week.
Department Stores
Most of the larger department stores have had colored girls many years, "ten years at least," said one employment manager. The majority work as maids, cleaners, elevator operators and waitresses, with some as stock girls, wrappers, soda fountain girls, porters and sorters (of packages)—principally, it will be noticed, in capacities in which they do not come in contact with the public.
Five of the largest department stores employ about 400 at wages ranging from $8 to $12, with the greatest number receiving $8, $9 and $10. Waitresses are paid from $4 to $6 plus tips, but the girls say that even with tips one seldom averages more than $12 a week.
Shirts
Seven girls were interviewed who were pressers or power machine operators in shirt factories. Their wages ranged from $9 to $33 a week, and averaged $15. However, these included two very experienced operators who made $20 and $33 a week respectively. The remainder averaged only $10 a week.
Candy
It was said in one of the largest candy factories which has been employing colored girls since the war, that they now number at least 50 per cent. Thirty-one girls who had worked there or were working there at the time this study was made described conditions. Those who had left complained of wages that were not only low, but lower for colored than for white, of trouble with the white foreman, and of friction between them and the white workers. All complained of insanitary toilets and lack of adequate facilities for washing, dirty conditions in the factory, and insufficient locker space; some that they were subject to sore hands as a result of working in chocolate without rubber gloves. "Girls come and go frequently," they said, and the ever-present "girls wanted" sign in the window seems to substantiate this criticism.
Wage reports were obtained from twenty-one girls now working there. They range from $8 to $13, with only one receiving $13, one $12, two $10, thirteen $9, and four $8; only four, therefore, were receiving more than $9. The two girls who were getting $12 and $13 were machine feeders; the others, wrappers, packers, moulders, mixers and machine operators.
There seemed to be no policy concerning raises; in fact, few had had them. Six of the girls had worked for one year or more and were still receiving the initial wage, $8 or $9; for only eight had there been a raise. Some complained that they had been promised an increase, but had never received it.
Colored girls were found in three small factories as packers, dippers and helpers. One shop employing five colored girls and twice as many white, had three colored girls as helpers, one as a dipper, and one who worked with the candy makers, doing work usually done by a man. In these smaller shops the wages ranged from $9 to $15, with the majority at the lower wages.
Wages in the candy industry are low generally. In "Wages of Candy Makers in Philadelphia in 1919," a study made by the Women in Industry Service of the United States Department of Labor, it is stated (page 17) that the median weekly wage of 1,246 candy workers was $10.30. In the present study the wages of the colored seem to average even less. Candy making is a seasonal industry, which means that the yearly earnings are less than represented by the weekly statements.
Paper Boxes and Paper Novelties
Low wages are also general in the paper box and paper novelty industries. When learners, the girls get from $7 to $10 a week, and when experienced, seldom make more than $14 or $16. The hand work of folding and packing requires little skill, but operating cutting, taping and stitching machines calls for quickness and accuracy, and colored girls were working on all these processes. Two employers interviewed said that they had proved very satisfactory, and one factory employed only colored girls.
A novelty shop that makes paper caps and horns employed only colored girls, cutting, covering and pasting. They were not considered so skillful as the white girls whom they had replaced, but as they had been employed only four months, it was rather soon to expect them to have acquired skill.
A large lithographing company making calendars, postcards and holiday cards, employs about 25 colored girls and 74 white girls. The white girls tint the cards and operate the presses for the most part, while the colored girls fold and pack the cards, and assist at the presses. The work is easy and pleasant and the conditions are good, but as the wages are only $7 and $8, the employer is continually trying to replenish his labor force.
Cleaning and Dyeing
Pressing in the cleaning and dyeing establishments has been done by colored women for the last eight or ten years. This is done with a heavy iron and necessitates continuous standing. Six establishments were visited; five had employed them at least six years, three had employed no white pressers, and in the three others the majority were colored. In these six establishments 188 women were employed, of whom 77 per cent were colored.
The wages are usually based on piece rates, and range from $10 to $20 a week. Nine women interviewed averaged $15 a week. They said that the work is seasonal and the slack period lasts from October to March, so that they may be out of work as many as six months during the year. Preference is given to colored women in this industry as they are considered the more skillful.
Laundries
Before the war the colored girls were assigned principally to the mangles, where the freshly washed pieces are passed between two heated rollers. Generally they stand on raised platforms for this work. With the coming of the war and the extensive adjustments in industries, opportunities to do the more skilled work were given; from mangling they advanced to machine ironing, sorting marking and hand ironing. There they have remained to a limited extent, although some of the better laundries either discharged them or so reduced their wages that they were forced to go back to their less skilled work, or to seek employment elsewhere.
Seven laundries about which information was secured, employed 310 colored women and 212 white women; one of these alone having 165 colored out of a total labor force of 200.
The wages of 24 laundry workers interviewed ranged from $7 to $13.50, with an average of $10. Nine received this amount and only four a larger wage. They were said to be efficient, though somewhat slower than white girls.
Glass and Files
In the majority of industries the colored girl has been the marginal worker, the last to be hired and the first to be discharged. In spite of this, in some instances she has gained a permanent place, especially when she has proved herself superior to the worker displaced, as in the glass industry. Boys, from fourteen to sixteen years of age, were formerly employed to open and close the moulds in which the blowers place the hot glass, and to carry the glass, after it has been blown, to the ovens for baking; but colored girls after trial were said to be far more reliable and capable and better able to stand the heat than were the boys, and to have better judgment. A few clean glass globes with acid. They seemed to enjoy glass factory work and to be willing to travel long distances to and from the factory. In the same way colored girls were taken on in the file factories. Here they replaced young boys as assistants to the men at the forges, and they were also scraping files.
In two glass factories employing 90 and 30 colored girls respectively, the wage is $12 for a 48-hour week. In a file factory employing 50 colored girls on the two processes already mentioned, wages are $12 to $18 for a 53-1/2 hour week.
Jellies and Preserves
Preference was shown colored women in the canning factory visited, and the same preference was reported to be given in similar establishments because, as was said, "colored women can stand the heat." The season is very short and the hours are long. The wages paid depend upon the amount of work to be done and the labor supply available, and were said to average $12 to $14 a week.
Railroads
The railroads, offering colored women work that is similar to much of the domestic labor that has been their lot almost entirely, have employed them for a number of years, mostly as car cleaners—sweeping, mopping, washing woodwork and windows, and polishing metal fixtures. Recently they have advanced them to the position of linen clerk, in which they received soiled linen from the Pullmans, count it, keep record sheets, and bundle it for the laundry; and when it comes from the laundry, count and apportion it for each.
Wage information was obtained from the union and also from the workers; linen clerks are paid about $95 a month, car cleaners, 45 cents an hour, or an average of $20 to $22 a week. About 50 women are employed for the latter work, and of these very few are not colored. The work is hard and dirty, and takes the car cleaners out about the rail yard in getting to and from cars and the central office; but the wages and hours (eight-hour day) are good, which is probably a cause for the colored workers' regularity in this trade. Of nine women interviewed, three had done this work for one year, three for two years, two for three years, and the other did not state for how long.
Arsenal
After the need for production in the garment department of the Arsenal had passed, some of the colored women were transferred to the cot salvage department. Here they proved themselves very efficient examining the cots, and recommending and making the necessary repairs. All of this is done standing and most of it is heavy and noisy carpentry. Metal joints and broken parts of the framework are removed and new joints and parts substituted. This had been men's work, but the colored women seem well satisfied. They like the standards of the arsenal—eight-hour day and an initial wage of $2.50 a day with regular increases (after six months the wage is $2.50 with a compound bonus which makes it $3.26). There are separate lunch rooms, lockers and toilets for the colored.
Knitting—Sweaters and Hosiery
Knitting mills have only recently accepted colored girls and even now they seldom employ them on any operations except the least skilled. In one hosiery mill there are 30 colored girls; some press the stockings by fitting them on steam-heated forms, others match, pair and stamp them. This is all piece work and the girls average from $7 to $20, in a 54-hour week. One girl interviewed had worked two months as a presser and was making from $12 to $15 a week.
A large sweater mill, employing about 250 women, introduced colored girls as an experiment during the war and found them so satisfactory that it has retained about 50 girls for handmachine sewing. The wage for a learner is $6 a week, and in addition she is paid the regular piece work rates; the week rate is decreased as the worker increases her piece work until she works entirely on a piece rate basis. The wages range from $7 to $18 with the majority receiving the lowest figures.
Another mill making the same product has a total labor force of about 60 women, of whom half are colored. It has employed them for the last five years as hand sewers, menders, button sewers, machine and operators. Twenty are considered to be efficient and reliable and to compare favorably with the white workers, but the employer expressed an opinion that it would probably be necessary to try out an additional hundred in order to secure ten more good workers. He believed that the industry had not been opened to them long enough to produce experienced workers, but, as his best colored operators had proved so successful, he was willing to train others. The girls in this factory seemed to appreciate this employer, and one said, "Conditions in the factory are splendid, and as for the employer, he is so kind you wouldn't know he was white." The initial wage was paid by the week and was only $8; at the end of two weeks the girls were put on piece work.
A third sweater factory with 100 women employees has colored women workers as follows: 7 as winders, 13 as machine sewers, 2 as examiners, and 7 as operators. Two of the operators who have had ten months' experience average $18 a week.
Elevators
The public is generally aware that, since the war, colored girls have been employed in great numbers as elevator operators in stores, apartment houses and office buildings. The median weekly wages according to records in employment agencies is $10. This was corroborated by the two girls interviewed.
Restaurants and Hotels
The public is also doubtless aware that colored girls are employed in great numbers as maids and cleaners in stores, theatres and hotels, and as waitresses, cooks and pantry girls in hotels and restaurants. The maids and cleaners interviewed received from $8 to $13 a week. The wages of the waitresses, cooks and pantry girls were hard to estimate because of the tips received and the meals furnished. One girl who worked five hours a day received $4.50 a week and two meals, and with her tips she averaged from $16 to $20 a week; another received $8 a week and three meals for ten hours' work. Eleven girls who worked in restaurants and hotels averaged $10 a week, including tips, and received either two or three meals a day.
Waste, Overgaiters, Buttons, Pickles, Millinery Trimmings, Textiles, Bakers and Private Dressmaking.
Sorting rags and feeding picker machines in waste mills, sewing buttons on overgaiters, operating button covering machines in button factories, cutting pickles in a pickle factory, winding ribbons and braid, and making ornaments in a millinery trimming shop, sorting pieces of cotton goods in a textile factory, cleaning and greasing pans in a bakery, and assisting in private dressmaking were other occupations in which they were found.
One waste mill had about 30 colored and no white girls. The only definite information that the Consumers' League has concerning the wages in this industry was secured during the war; at that time all women's wages were supposedly high, but in thirteen of these factories the wages for white and colored ranged only from $7 to $16.50 a week, with the colored on picker machines receiving $11.
The girls who worked in the overgaiter factory were said by the employer to start at $8 a week; the button factory girls received from $7 to $8 a week; the pickle cutters $1 for every barrelful cut, and two barrels a day was the record of a woman with seven years' experience.
In a large establishment manufacturing millinery trimming, where about 50 women were employed, there were 25 colored women as helpers. They wound braid and ribbon on board forms, and, in the busy season, made ornaments and sewed braid. There was a flat wage of $12 to $14 a week, according to information secured from the employer, but according to the girls, in the busy season they were put on piece work and could make from $12 to $20.
One bakery employing 50 girls had 15 colored to clean pans, put icing on cakes, grease pans, and lift heavy pans in the baking room—work to which white women objected, as the employer said. They were started at $12 a week.
One colored girl interviewed, assisted in a dressmaking establishment at $3 a day.
Note
In considering the employment of colored women and in planning for the future, it might be helpful to note that 8 of the 190 girls interviewed during this study were working as typists, stenographers, clerks or bookkeepers, with an average weekly wage of $11. One bank, owned and operated by colored people, employs them as stenographers and clerks. With the withdrawal of men tellers for war service, women were secured and proved so successful that they have been retained. Colored women are acting as ushers and ticket sellers in theaters.
From January, 1915, to June, 1919, 81 colored girls graduated from the Philadelphia Normal School for Girls—of these, 63 were assigned to Philadelphia schools as teachers, and in November, 1919, 56 of them were still serving.
It is not uncommon to find colored women conducting businesses for themselves; they manage small stores, run dressmaking establishments and hairdressing parlors. To the better educated colored girls "nursing" is one of the few professions open. Two Philadelphia hospitals that are maintained for the colored people have colored nurses and the doctors report that they "are fortunate in having excellent ones." Some social work among colored people is now being carried on by trained colored women.
COLLECTIVE BARGAINING AND THE COLORED WORKER
The American Federation of Labor has gone on record in respect to the colored worker. In June, 1919, in Atlantic City, at their annual convention, they voted to open the doors of all labor organizations to the colored. It is to be noted that hitherto they had often been discriminated against, and that they had had to plead for recognition. One colored worker is reported to have said on the convention floor:
"If you can take in immigrants who cannot speak the English language, why can't you take in the Negro, who has been loyal to you from Washington to the battlefields of France."
In the convention of 1920, held in Montreal, the Federation again discussed the question. Apparently some local unions were still opposed to the application of the principle adopted in 1919.
Three industries open to colored women, the Arsenal, the railroads and the garment trades, stand out as having good conditions, opportunities for advancement, or good wages. These have collective bargaining. Recognition to the right of its employees throughout the country to organize is given by the United States Government, and is expressed in the Federal Employees' Union. The colored arsenal workers, therefore, have the right to collective bargaining. They are not affiliated with their union, but they work under the same conditions as those who are. The colored railroad workers are 100 per cent organized, and belong to the Railroad Coach and Car Cleaners' Local No. 16702, which is affiliated with the American Federation of Labor. This is composed almost wholly of colored, and the officers are colored men and women.
The garment industries have strong organizations and they admit colored. Shirt workers belong to the Amalgamated Clothing Workers of America, which is not affiliated with the American Federation of Labor, and the others, to Local No. 15 of the International Ladies' Garment Workers' Union. During the war one local reported that colored women were in 50 per cent of its shops. However, it cannot be said that any large percentage of these women are union members; only 14 of the 54 interviewed by the Consumers' League were. Sixteen of these 54 women worked in union shops and averaged $19 a week; 38 worked in non-union shops and averaged $13. Unquestionably those in union shops fared better as to wages.
The feeling on the part of the union that the unorganized colored are undercutting them and are undermining their attainments in the trade in general, is borne out by the many instances of the colored used to break strikes and to displace union girls. One employer admitted he had secured all colored workers "because the white girls go out on strike so often." The girls in his shop are averaging $6 a week less than those in union shops. On their part, the colored realize that they frequently get their jobs because of these conditions. The pressers, in a factory where all the operators were union members, wanted to affiliate with the union. When the foreman overheard their plans, he threatened to discharge them if they did, and to give their jobs to white girls. One girl continued to agitate for collective bargaining and was told not to return for work. The union, however, compelled the employer to reopen her job to her.
There still lurks in the minds of some colored women a suspicion of the union's insincerity, for, as one girl said, "They never ask us to join except when they want to strike;" and there is always the fear that they may not receive justice in the union. Furthermore, they realize that much of the social intercourse coming through the organization and supplying necessary recreation to the workers, is either not open to them, or, if open, holds no inducements. On the whole, however, there is approval of the union, for it is recognized as the only means of protection against low wages, long hours, and particularly against differences in the wage scales. All of the women interviewed not only knew about unionism, but held opinions either for or against, and were ready with their reasons to support their opinions. A few of the girls were not aware that the unions were open to them.
Those girls who were members appreciated the protection of the union, the increase in wages they had received, and the opportunity to be on an equal footing with the white girls in regard to wages. Only two girls made complaints —one that the union gave "all show to the white girls," and another that "the union did not help," because since she joined she had not been able to make more than $12.50 a week and "that is not a living wage." One woman was a most enthusiastic union member and thought that every colored girl should join; she herself had organized several shops for the union. Some of the organized girls felt that the unions might do more successful work if they approached the colored girls in the trade through colored organizers and if they delegated colored chairladies for colored workers.
THE COLORED WORKER
It is a question how far some of those now in industry can be classified as industrial workers, because they alternate between factory and house work. One girl can be cited as typical of this group. Earning only $7 to $9 a week and paying $6.50 of this for room and board, she was continually running short in her budget. At such times she would return to domestic work and save, eventually seeking factory work again. Then there was the girl who worked in a candy factory for $8 a week, left for a boarding house position at $8 a week and meals, and at the time interviewed had returned to the candy factory, saying she liked a nine and one-quarter hour day, and Saturday afternoons and Sundays off.
The majority of the industrial workers have come from domestic service, 54 per cent of those interviewed having done house work at some time; only a few said they would consider going back and this was because they liked receiving room and board which made their real wages higher. An equal number of girls were strongly opposed to domestic work because "the work was too hard," "the wages were so low," and "they work you too hard for no money." One girl said she felt so strongly on the subject that she would rather starve than ever do it again. The majority of the girls did not object to the work itself, but preferred the freedom of the factory, the release from a personal boss, the definite and shorter hours, and the free nights, Sundays and holidays. The latter were given in almost every instance as the reasons for preferring factory work.
Budgets
The most salient fact emerging from a study of colored women in industry is that with few exceptions they are receiving appallingly low wages. Fifty per cent of 177 women interviewed received $10 a week or less. (Ten who worked in restaurants, and the three who were waitresses in department stores, are omitted because their wages could not be estimated on account of irregular meals given).
Thirteen states and the District of Columbia have followed England and Australia and New Zealand in establishing by law the right of women workers to a wage sufficient to cover the cost of the necesaries of life. The most recent wage set by the Minimum Wage Board of the District of Columbia is $16.50, and applies to women workers (white and colored) in restaurants and hotels and allied industries. Eighty per cent of the colored women interviewed received less than this amount.
Because of the low wages, the Consumers' League was concerned with what could be done with so little and what was the result. Forty girls were found living away from home, and with only two exceptions, they rented rooms with the privilege of using the kitchen, where they prepared their own food. This is a common practice among the colored; often several families, sometimes related, live in one house, each furnishing and preparing its own food in the common kitchen.
Thirty-one of these girls gave estimates of the amount spent for rent and food. Rents ranged from $1 to $3 a week, and the average and median were $2. This is 65 cents less than the average amount asked in 1919 for single rooms for white women, according to information taken from the files of the United States House Registry Service with regard to rooms costing $3.50 a week and under.
The cost of food ranged from $2.50 (one girl insisted that she did not and could not afford to spend more than $2.50 a week for food) to $7.50 a week. The most frequent sum and also the average was $5. Room and board averaged $7, $2.30 less than the amount accepted by the District of Columbia Minimum Wage Conference in 1919–1920 as the minimum allowance for room and board.
For seventy-two girls, who lived at home and who paid a certain amount to the family purse each week, the median amount contributed was $5, and the amounts ranged from $1.50 to $12.50 a week. Twenty-five girls gave no certain amount to the family. They either contributed different amounts each week, or gave when the family needed it, or put the entire amount into the family pocket book and received room, board, clothes and sundries (all of which usually exceeded the amount given) in return.
Of the married women who did not make a definite contribution each week, thirteen gave various sums; twelve gave all for family expenses; five saved their money, putting it in the bank to meet some future emergency, or invested it in a building and loan association; or used it to help buy a home.
It was noticeable that when the women were paid higher wages their standard of living rose accordingly. Twenty-six candy workers, whose wages averaged $9 a week, averaged only $5 a week for room and board, or $4.50 for contributions to the family; those in the laundries, another low paid industry, averaged only $10 a week and paid $5.50 for room and board, or gave $5 a week to the family. On the other hand, fifty-four garment workers, who received on an average of $15 a week, paid (on an average) $7.50 a week for board and room, or contributed $7 a week to the family. The nine women who worked on the railroad and received $22 a week, paid $8.50 a week for their room and board, or gave $9.50 a week to the family.
It is an interesting fact that 182 of these girls interviewed carried insurance—only 8 did not—and the majority of the policies were for sickness and accidents. Forty-six per cent had one policy, 32 per cent had two, and 14 per cent had three, 4 per cent had four, and 5 per cent had five. The premiums paid ranged from 5 cents to $2.85 a week. Half of the girls paid 38 cents a week or more.
Those girls who were receiving low wages and who were forced to economize usually did so by curtailing their expenditures for food, thereby lowering their vitality. A machine operator whose wage averaged $10 a week was living with a brother and a sister and was paying $1.75 a week for rent, and 35 cents a week for insurance. She had been sending her fifteen-year-old-son, who could not be kept in school here, to a school in Virginia, for which she was paying $17 a month. Her sister, who earned $17 a week, had been helping her. She said they tried to reduce expenses by cutting down on their food. "We never bother about breakfast, but we eat one or two sandwiches for lunch, and then we get a little something to eat when we come home at night."
A girl who had received from $7 to $11.50 in the last year and a half, paid $1.50 for her room and $4 a week for her food, which she herself prepared. When asked what kind of food she had she replied, "Oh, I have lots of bread and tea and coffee," and she found it difficult to think of anything else.
Another girl who received $10 a week as a wrapper in a department store, paid $3 a week for her room and was able to get her board for $4 by helping with the housework. Even so she found it impossible to get along if she did not do extra work at night—she did typewriting at 30 cents an hour as often as her health would permit.
With most of the girls the struggle to pay the room rent, board, insurance, and carfare is hard enough, but securing clothes is an even greater problem. The League interviewed a southern girl who had worked four months in a munition factory at $16 to $20 a week when the armistice was signed. An illness wiped out her savings that had been intended to pay her railroad fare home, and she found nothing more lucrative than work in an embroidery shop that paid $6 at the start and increased to $11. Her room cost $3 a week, her groceries $5, her insurance 25 cents and carfare 60 cents. When new shoes, or new clothes, were bought, she allowed the room rent to lapse for a week, and borrowed extra money from her girl friend (returning it when her friend wished to buy clothes).
Purchasing clothes on "store orders" is a method pursued by some girls. Credit for a certain amount of money is bought from an agent. This credit is honored in a long list of stores, and is very expensive—it is reported that as much as $5 is paid for the use of $30.
Schooling and Training
The colored women have been in industry too short a time, perhaps to draw conclusions about education on the one hand and progress and opportunities open to them on the other. As will be shown later on, certain vocations are open to them as to others, only on the basis of education. Many take advantage of this and, having acquired the requisite education, become teachers, nurses, stenographers and typists, and clerks in banks run by the colored. However, the placement of colored girls who have had training is extremely difficult because of the limited numbers of establishments employing colored. This is a deterrent to all, but the most ambitious and persistent, from special training.
Of the girls interviewed, 25 per cent had had high school, normal school, or Southern college training. Twenty-nine per cent with a majority of them from the South, had never reached the sixth grade. Ninety-nine had gone to school in Philadelphia, and of these 25 per cent, started to work before they were 16. Four girls said they had had courses in domestic science (mostly in high schools), 9 in millinery, and 2 in power machine operating in a trade school.
According to records in the office of the Bureau of Compulsory Education about 40,000 general working certificates and 13,000 vacation working certificates were issued to all children in the last two years. To colored children only 19 general certificates—3 for restaurants, 12 for factories, and 3 for general housework—were issued, and 8 vacation certificates—1 for a store, 1 for a restaurant, and 6 for factories. This small number of certificates issued may be due in part to the general retardation of colored children in the schools. Many of them do not reach the sixth grade before they are 16 years of age and after that they are not required to secure working certificates. Very few colored children are in the continuation schools where they have an opportunity to continue with their education up to the age of sixteen years while employed.
Those girls who had had more than an eighth grade education were found in candy factories, restaurants, laundries, offices, in clerical positions, department stores, on the railroads, and in garment factories, in fact in almost all the industries in which those with less education were employed. Their wages ranged from $7 to $39, but the median wage was only $10. For those who did not go beyond the eighth grade the range of wages was from $6 to $33, also with a median wage of $10. It seems a great pity that more schooling has not repaid with higher wages, and it is surprising that the colored girls continue beyond the required grades in the face of such a discouraging prospect.
One girl who had had four years of normal training and who had taught school for three years in another state found employment in a candy factory at $7 a week. At the end of two years she was making $10. Another girl, 23 years old, with three years high school training was working in a laundry for $10. Other examples of like nature could be cited.
Some, not all, of the trade schools of the city are closed to colored; but few colored girls have taken advantage of those which are open to them. In the Philadelphia Girls' Trade School, in 1919, 13 out of the 157 students in the day school are colored; 9 are taking the elementary dressmaking course; 2, the power machine operating course; and 2, the intermediate and advanced dressmaking course. In this school there has also been a night class in power machine operating for colored girls who are employed during the day.
An industrial school for colored, with an enrollment of 130 girls, offers courses in dressmaking, plain sewing, needlework, tailoring, printing, stenography and academic work. Recently a hosiery company has installed knitting machines here and instruction is given to about forty girls. A small weekly wage is paid.
How She Finds Employment
In comparison with the opportunities of white women in industry, those of the colored are very limited. Out of the long lists in the advertisements of the newspaper columns, only those places are open to them that specifically say so, and sometimes for days and days none will be so listed. Of those who stated how their positions were obtained, 63 per cent obtained their jobs, or heard about them, through other employees; 29 per cent, answered advertisements in the paper and only 1 per cent had obtained positions through an agency.
The following table will explain more in detail:

Conditions in Factories in Which She is Working
No general statement can be made about the character of the factories open to colored women. It is unfortunately true that there are many buildings that are old, poorly lighted, and poorly constructed, and have narrow hallways and stairs. In these buildings it is not uncommon to find poor ventilation, insanitary toilets, and no provision for dressing rooms. Formerly, the most recent immigrants found work in these until better opportunities came along and they moved on, to be replaced by others less fortunate than they. The colored have been among the less fortunate in recent years. They are ready, however, to join those in pursuit of higher standards of working conditions, just as soon as the opportunity presents itself, for they are very conscious of the differences between these shops and better ones, and they talk about the subject and bring it up for discussion when gathered together in their meetings.
On the other hand, some of the newest and most up-to-date factories are employing colored women. The fifty-four garment factories visited were rated as follows: Sixteen were superior; twenty-six, average; eight, rather inferior; and four, inferior.
Some of the tobacco factories were crowded into old buildings, with poor seating accommodations and with much tobacco lying about to be stripped. A candy factory referred to in this study, had conditions that were objectionable enough to convince one that if the health and comfort of the workers is not important enough for the community to be concerned about, at least the product which is for consumption should be—some of these conditions were insanitary toilets, lack of proper and adequate washing facilities, the substitution of petticoats for towels, and the custom of returning chocolate, dropped onto the floor, to the vats for further use.
Aside from the health hazards existing in insanitary factories, there is this added harm to colored women in general who must work—it is almost impossible to open up new opportunities of work in the same neighborhood. Poor factories attract, or at least hold, a poor type of worker, and the impression created by these girls seems to affect the minds of the neighboring employers to such an extent that they are not willing to offer colored women opportunities. Perhaps this point can be made clearer by a definite illustration: A manager with a good plant was asked by a colored employment agency to try augmenting his depleted force with colored women, but he positively refused to consider the proposition on the ground that he had seen enough for himself. As a matter of fact, he had seen the poor grade girls who work in a most undesirable plant.
The garment factories that are organized have a forty-four-hour week, and some of them concentrate this time into five days a week; unorganized shops work longer. The railroad and arsenal workers have an eight-hour day. Pennsylvania still has a fifty-four-hour law, and many of the other industries worked to the limit allowed by law. It is to be noted that in seeking for causes of labor turnover, the girls very often said "the hours are too long."
Health
In considering the colored women as workers in this first study of the subject, the Consumers' League thinks it advisable to call attention to the report of the Health Insurance Commission of Pennsylvania, 1919, pp. 59 and 60. In a section captioned, "Extent of Sickness by Color, Race and Location," it says:
"The negro population has a higher sickness rate than the white, according to available evidence. Since negroes from the south are at present migrating to Pennsylvania in large numbers, this means the possibility of a great increase in the sickness problem of the state, particularly during the period of acclimation when pre-disposition to disease is markedly shown. . . .
"Three of the seven districts covered by the Philadelphia Survey were inhabited mainly by negroes, and, while the average sickness rate found in the survey was 4.28 per cent, the rates in these districts were 4.45, 9.20 and 3.87 per cent, respectively. The abnormal rate of 9.30 was in a district of negroes fresh from the south, receiving low wages and living under crowded insanitary conditions. Dr. Miller, who had the survey in charge, felt that unless drastic measures to improve the health conditions were taken in this neighborhood, there was danger of an epidemic which might menace the city."
"If we consider mortality statistics as an indication of the extent of sickness, the same high rate among negroes appears. In 1916 the death rate in Pennsylvania from all causes was 14.3 per 1,000 white persons as against 23.6 for the colored population."
"The rate among negroes in the cities was about 15 per cent higher than among those in the rural districts. Analyzed by diseases, the greatest differences appear in organic heart disease, pneumonia and tuberculosis in all its forms, where the rates for the colored are more than double those for the white population. Tuberculosis of the lungs, for instance, had a rate in 1916 of 105.0 per 100,000 for the white population, but a rate of 389.3 for the colored. Other forms of tuberculosis showed rates of 7.7 vs. 16.3 and 9.4 vs. 25.8, more than twice the rate for the white population in each case. Communicable diseases, diabetes, cancer and suicide are apparently slightly less frequent among the colored than among the white."
"The Metropolitan Life Insurance Company made for the Commission a special compilation of claim-rates in Pennsylvania among Industrial Policy Holders, classifying the insured by color, over a period of three years—1915, 1916, 1917. Rates are given for twenty-six localities in the state, in addition to fourteen districts in Philadelphia and four in Pittsburgh. In practically every instance, the rates are from 50 to 100 per cent higher for the colored than for the white policy-holders. For the entire state the claim rates were 12.4 for the white, in 1917, and 15.7 for the colored. . . . These claim rates, of course, must be viewed in the light of varying sex and age characteristics of the several groups, and of the degree to which the company has developed its Nursing Service in the district."
"Examining the claim rates by cause of death, the same differences appear as are evident from the general mortality statistics of the state. Deaths from typhoid fever, tuberculosis, and pneumonia, show decidely higher rates for the colored, while communicable diseases, cancer, cerebral hemorrhage and external causes are somewhat lower."
CRITICISMS BY EMPLOYERS
As has been pointed out, colored women workers have run the gamut of criticism from "satisfactory" to "incompetent," concerning the quality of work done. However, on the railroads, where the colored have been employed for many years, very few white women are employed; the garment industry is anxious to have experienced workers or people whom it can train; in certain processes in cleaning and dyeing, and in making cigars colored women are employed almost exclusively; and many establishments which employed them as an experiment are retaining them as a permanent force. In some factories judgments of "stubborn," "lazy," "indifferent" and "slow" have been passed. Many employers reported that colored workers needed more instruction and more careful supervision than white girls, and, as one, who was well satisfied with his colored workers, said, "one must be willing to teach a colored girl, not once, but several times." Another reported it difficult to train colored girls because they were so apt to take offense at correction, thinking they were being corrected merely because they were colored. Several complained that colored girls were lacking in ambition, and, therefore, did not make speedy workers, and for this reason they were put on piece work, so that the responsibility for making good wages was left to them.
One, who employed during the war about twice as many colored girls as he now has, said, "Most of the colored girls did abominable work, and only because of the stress of war did their work pass—and some of the girls made as much as $40 a week." He felt that making the readjustments which would result in better work and in wages more commensurate with the grade of work, would be difficult.
But the most general criticism is that the colored women are irregular. "They are late in getting to work;" "they do not come to the factory every day;" and "they do not stay long in any factory." A garment manufacturer had on his force a colored girl who had been with him three years, and who, in that time, had never worked a full week, although she had been offered, in addition to her $20 wage, a bonus of $1 a week if she did so. "Their work is all right, but I cannot rely upon them" said another. "I may have some special work to get out on Saturday morning and not a presser [he had six] will show up. Monday morning, when I ask them why they didn't come, one will say, 'I had to do my marketing for Sunday;' another, 'I had to buy a hat,' and another, 'I had to do my washing.'" Once an employer reported that although he had more colored than white, and he found the grade of their work satisfactory, he considered it necessary to employ two white girls who could operate any machine, so that absences among the colored workers would not interfere with continuous processes.
Among the other reasons given by the employers for this irregularity were the following: "They stay out two or three days a week to do 'day's work' to make more money;" "the married women [and there is a large percentage in this class] stay out to do their own house work;" "the colored women are content to live on their earnings of a few days, if they are paid well;" and "sickness."
These shortcomings are in no sense to be overlooked, but it does seem that in justice to the workers a word should be said about the peculiarities of operation and management in many of the industries employing colored. For instance, these industries are themselves irregular; they are "seasonal" in character; they have regular periods of great activity and then regular periods of slackness or no work whatever. This is particularly true in the garment industries, in cleaning and dyeing, and in the manufacture of candy. While this study was in progress, some garment shops had been closed five months, some four and three months, and some had only part-time work each week for several months. The workers interviewed corroborated the statement made in the report on "Wages of Candy Makers in Philadelphia," that this industry has one slack period after Christmas and another in summer.
How far then are occupations that are seasonal in character responsible, if not for the irregularity of workers, at least for a lack of appreciation of regularity.
ARE THE COLORED GETTING A SQUARE DEAL?
The colored complain most frequently of the difference in wage scales for the white and colored employees, and in many cases their complaints are well founded. In one candy factory the colored girls are started at $8 and $9, and the white girls at $9 and $10, and the colored girls are given the harder and more unpleasant work to do. A white investigator, who worked in the factory, was told by a forelady, "The colored girls start at $8 a week; of course, they wouldn't pay a white girl that." That same difference seems to exist with raises, for some colored girls who have been there a year and a half are still receiving the initial wage, while the investigator received a raise of $1 a week on the second day.
The manager of a large lithographing establishment, that was greatly in need of labor, stated that the initial wage was $10 a week. But the colored girls who applied for positions there were offered $7. When the employer was questioned concerning the discrepancy in wages he stated that that was the wage paid to white girls and he really was not aware of the amount paid to colored girls, although in one department they were doing the same work. He said he was ready to assure any colored girl that her wages would be rapidly increased if she showed a willingness to stay. And yet one of his colored girls interviewed started at $7 a week and did not receive a raise until three months later, and then she had to ask for it; another worked five months before her wage was increased to $9. A white girl who started at $10 was given a raise of $1 after two weeks. Colored girls had worked for months as assistants to the pressfeeders, but when a vacancy came as pressfeeder, a white girl who had been there only a few weeks was given the job. The employer apparently did not realize that there might be any connection between this and the exceedingly high turnover among his colored labor, and the continual friction between the white and colored in his shop.
A large department store replaced white girls, receiving $12.50 a week, by colored girls at $10 a week, in spite of the fact that the head of this store took time to come into the workroom to shake the girls' hands and to assure them that they were doing their work quite as efficiently as their predecessors.
One employer, when asked if his colored workers were as satisfactory as his white workers, said, "Oh, yes, even more so, for white women would not have the patience to sit there and work for as little as they [the colored] are paid."
Few firms are as willing to admit the difference in wages, as was the laundry that, applying to an employment agency for colored women, wrote, "Girls without any laundry experience are paid as follows to start: white girls, $12 up per week; colored girls, $9 to $10 per week."
Other unfair distinctions are said to be made; for instance, they are often given the oldest and hardest machines to operate; they are not permitted to do piece work, which would increase their earnings; they are not allowed to work after they have earned a certain amount; in one case they have to go downstairs for their materials, while the white girls have materials brought to them; they have poorer workroom conditions and sanitary provisions; they have the darker and more poorly ventilated section, the smallest locker space, the worst sanitary provisions; and they are discriminated against in the matter of rest rooms. A laundry that employs 165 colored women and 35 white women has a large rest room for the white and a small one for the colored, and some factories that have rest rooms for the white have none for the colored.
On the first point a girl who had been making $11.50 a week testified that when she was given a better machine, making possible an increase of $5.50 in her earnings, the white girls objected and the employer moved her back to her old machine. Another girl complained that when new machines were bought they were given to white girls and the discarded machines were transferred to the colored working in another building belonging to the same employer.
WILL THE COLORED AND WHITE WORK TOGETHER?
To the employer who is introducing colored labor, one of the most important questions is, will the white and the colored work side by side? They have heard rumors, or they have been told something that leads them to question. Perhaps the story reached them of the knitting mill that was in dire need of workers during the war and brought a government official to state the need and to ask for the approval of the workers to admit the colored. As the story was given to the writer at the time, no complaints were heard and the official departed, thinking the men and women were willing to work with the colored. They were not, as a matter of fact, and said so very plainly, and no colored were employed. It should be added that this neighborhood once had been the scene of an unfortunate strife between white and colored.
As might be expected, the testimony of the employers was contradictory. Some said their white employees would not work in the same room, on the same floor, or in the same factory with colored girls; yet other employers reported that white and colored worked together and that there had been no trouble.
The working arrangements in fifty-four garment shops were studied. In two, colored only were employed; in twenty-four, the white and colored girls worked together; and in twenty-nine, they were separated. The reasons given for the separation were, in fifteen cases, that they were not doing the same kind of work and were necessarily placed in different parts of the shop; in twelve, that the white girls refused to work with the colored; and in two, that it would avoid trouble.
Some firms which have had colored or which now employ only one or two to do the least skilled work, or to do cleaning, reported that they would not employ colored again, or that they would not employ more, because it was impossible to secure the best class of white girls if they had colored. Many employers who tried colored and white girls together, have now separated them and find that the friction is eliminated in this way.
An employer who had colored and white girls working together with no trouble find it advisable to have separate dressing rooms, "Because," he said, "if anything is missing the white girls are certain to blame it on the colored girls."
"When the colored girls first came I had to be continually on the job to settle disputes," said one man, "now I have no trouble." He said he had taken pains to prevent friction from the very first.
Not only are colored and white working side by side, but in a small candy factory white girls were found working under the direction of a colored forelady. The manager said the white girls rather objected at first, until he explained that she was the only one who knew all the processes and it was necessary to have someone who could teach the others. No trouble was experienced after that.
The almost unanimous opinion among employers is that where colored workers are in a department by themselves the most satisfactory arrangement is to have a colored rather than a white forewoman.
The fact that that colored and white girls are working side by side is proof conclusive that they can do it. A great deal depends upon the manner in which they are introduced, whether they are brought in as equal workers or whether, as the girls suspect, they come as possible undercutters; and upon the attitude of the employers toward them. Discrimination on the part of the employers means antagonism on the part of the employees.
RECOMMENDATIONS
A.—For Workers
1. Since the criticism is made with apparent justification that colored women are irregular in getting to work on time and in working a full week, effort should be made to correct these faults if the colored people expect to enjoy equal opportunities in industry with the white.
2. Workers should try to ascertain conditions within an establishment before working there, especially sanitary and wage conditions.
3. Since higher wages and better hours seem to prevail in shops having collective bargaining, it would seem wise to endeavor to work in union shops, and to affiliate with the organization.
B.—For Employers
1. To those employing colored workers it is recommended that they make no discrimination solely on account of color, but allow them equal pay for equal work, and as good machines, sanitary facilities and opportunities for advancement as the white workers of the same grade.
2. To those contemplating employing them, it is recommended that they should not judge all colored workers by those who work in factories of the poorest sort.
C.—For Organizations, Public and Private
1. The Consumers' League especially begs consideration of the section of this study bearing on the sickness record of the colored, as given by the Pennsylvania Health Insurance Commission, and recommends that a program be formulated for the improvement of the health of the colored population.
2. It calls attention to the need for raising the standard of education among the colored.
3. Since 50 per cent of the women interviewed for this study received $10 a week or less, while the amount necessary to cover the essential cost of living for a single woman has been variously estimated at from $8.53, in 1914, to $16.76, in 1919, and since thirteen states and the District of Columbia have prevented such impossible situations by legislation, the Consumers' League recommends that the next Pennsylvania Legislature enact a Minimum Wage Law.
4. The interest in the progress that colored women are making is great enough to suggest that it would be most desirable to have the United States Department of Labor make a comprehensive report for the United States.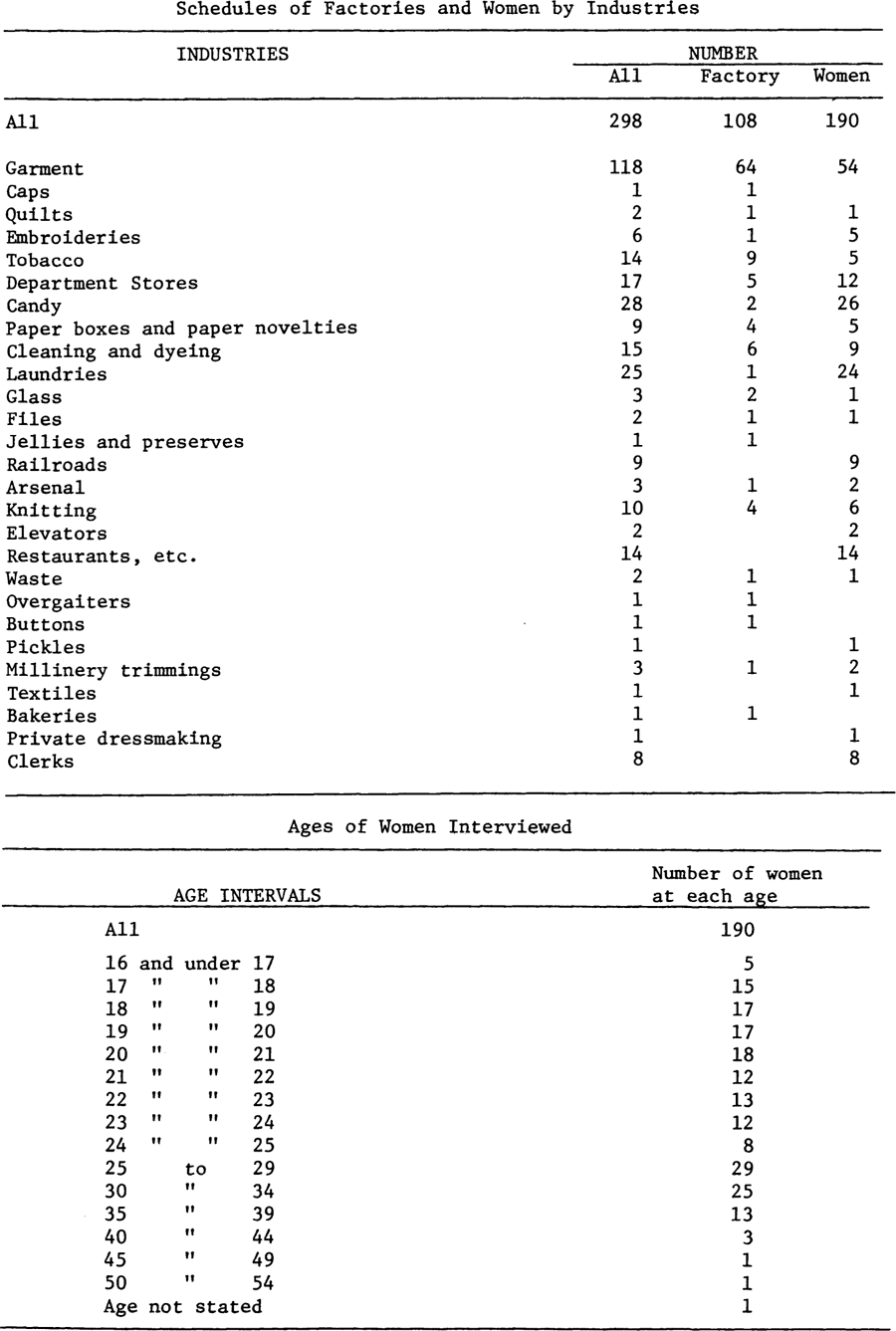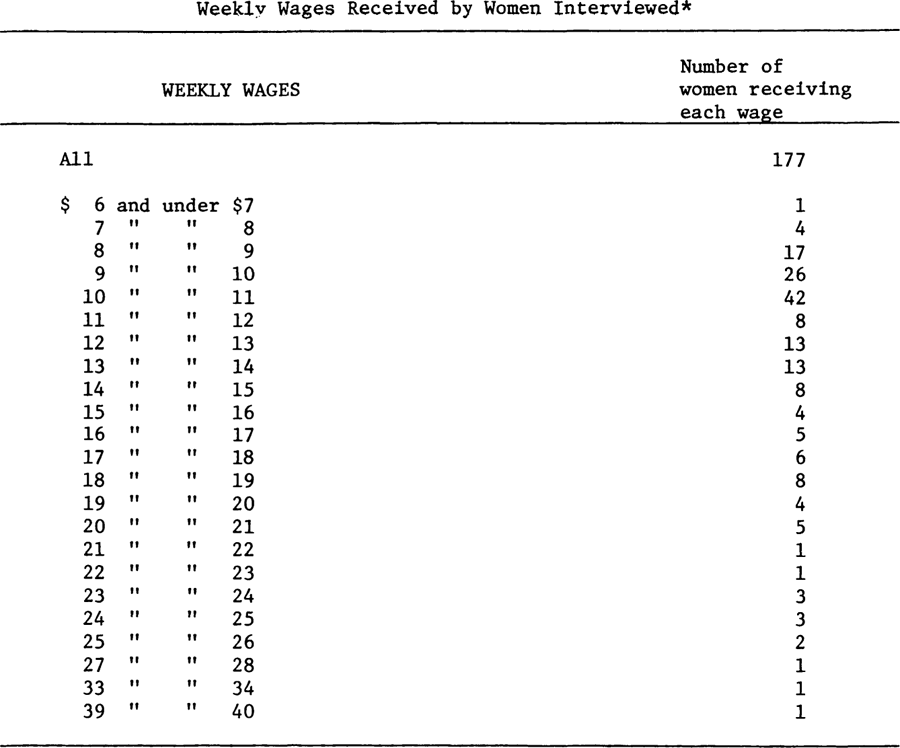 Median Weekly Wage $10.00
*Ten who worked in restaurants, and three who worked in department stores as waitresses are omitted.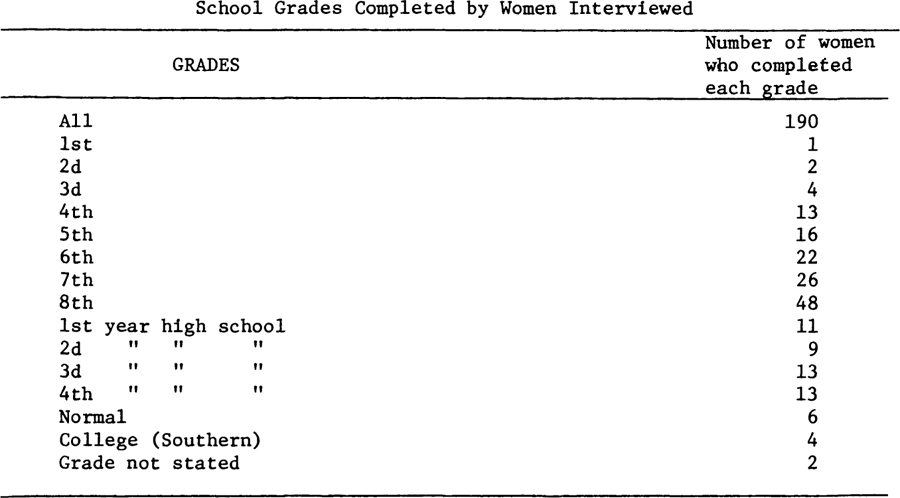 Colored Women as Industrial Workers in Philadelphia (Philadelphia: Consumers' League of Eastern Pennsylvania, 1920). Adapted from the original in the U.S. Department of Labor Library.
By Helen Sayre
The Nachmann Company were having considerable difficulty with their colored help. They sought counsel of the Chicago Urban League which was instrumental in placing Mrs. Sayre to do the necessary work at that factory. Mrs. Sayre had had previous experience in welfare work, being introduced by the League into the Montgomery Ward & Company unit where she was Welfare Secretary for 600 girls. When that office closed she became Examiner of Women in the Industrial Department of the Chicago Urban League. After two year's service the League made possible her appointment with the Nachmann Company where she is putting in practical operation the League's plan of industrial adjustment of Negro labor.
Upon assuming the position of Welfare and Labor Administrator for Nachmann Company, manufacturers of spring filled cushions used for automobile seats, mattresses and furniture, we felt that it was very necessary to take invrntory of all conditions that in the final analysis told their story on the production sheet.
The girls were promptly taken into confidence and told just why we were there and what we hoped to accomplish with their cooperation. This appeared to establish a bond of friendliness and general understanding.
To further the plan of contact, a personal inventory was taken using cards to register name, address, age, education, length of service, number of times rehired, as well as matters of general interest. By this means we succeeded in gaining a more accurate slant on the personnel on hand as well as their general attitude towards their work.
In assuming charge of employment there also devolved the responsibility of adjustments and discipline. We advised with the superintendents and forewomen on special details of the work. From the first it was aimed to work through the heads of the departments so that there might be neither misunderstanding nor conflict of management. In a general survey we noted conditions of dressing rooms, first-aid equipment, general appearance of the girls at work, and lunch conveniences. Physical adjustments were made simple by the splendid co-operation from the company in making such changes as seemed desirable for improvement.
The situation at this factory had developed the very critical question of continuing colored workers. The large labor turn-over, lack of punctuality and general irregularity in attendance of the colored workers had created a bad situation. There was only one day in the week when the factory could count on getting out full production and that was pay day. The day after pay day there would be a falling off of 50 per cent in attendance.
The most important task, it seemed, was that of developing in the worker's mind her personal responsibility to become a regular and efficient employee and of showing her the requirements and standards of satisfactory service. Next in importance was the question of wages, because it is only reasonable to assume that if a girl is to be stimulated to put out good work she must have tangible encouragement in her pay envelope.
These two things had to be done promptly. But the question of wages was bound up in the efficiency of work. The sewing of covers, inserting of springs and tying are paid for on a piece work basis, which is just, and to my mind is the most satisfactory basis of the wage scale. By posting the progressive wage scale of some particular efficient operator each week, by posting the list of girls making above $20.00 a week a friendly rivalry for rank has been aroused. By calling attention to some of their shortcomings in a general way, interviewing certain delinquents, and putting up bulletins to inform them of the amount of production each day, we have decidedly improved these records, and production has actually increased in the sewing department from an average of 250,000 to a peak one day of 367,000. Further, a more regular production has been accomplished and full production for four days of the week out of the six. The peak of production for the week has shown on the days before and after pay day as well as on that day.
At the present time there are over 600 colored employers. There are also both white and colored employees working harmoniously together in each department. One floor is in charge of a white forewoman and another in charge of a colored forewoman. The spirit of co-operation seems to hold good throughout the factory. We have here a splendid demonstration of what can be done when the officials are disposed to be impartial.
A system of rules is being established now that will eliminate entirely the indifferent worker. No girl who is not up to standard in workmanship and does not respect rules of punctuality and attendance will be retained. This class of workers is largely responsible for low averages in industry by colored workers. At the present time we feel we have had some degree of success. If we can educate the workers as well as give them evidences of appreciation for loyalty and good work, we have gone a long way towards making factory work attractive and colored workers efficient. It is a task but we believe it can be done.
Opportunity, 1 (February, 1923): 17–18.
What She Faces in Making a Living
By Mary Louise Williams
My working career started a few years back in a small city in New York State, with a high school education. After graduation, being filled with the enthusiasm of youth, I naturally turned my thoughts to "something different."
I applied to several offices for employment, seeking even as inferior a position as addressing envelopes. At every place I met with disappointment. None felt they could use colored help in that capacity.
By this time I felt somewhat like a peacock who had looked at his feet. Now, I worked around at odd jobs and housework until one day I received a surprise.
Through the kind intercession of the Vice-President of a manufactory I was given an opportunity in its perfume department. I was to act as forelady and stock clerk. I made good. The management, being so well pleased, doubled my salary after a year's service. No question of color ever arose. In the course of a few more months I was walking home with a co-worker and met my mother. Naturally I was proud of her and wanted my friends to meet her. At the corner, as had been our habit, we separated. Next morning I was summoned to the office. You can imagine my surprise upon finding my services were no longer needed. Mr. Vice-President softened it as best he could: "There is no fault with your work, but the girls will not work with a Negro. We would gladly keep you if we could, but it is better to lose one girl than to lose twenty."
On another occasion I answered an advertisement in the paper worded thus: "Wanted: a young colored girl, high school graduate preferred. Apply Dey's Department Store." I dressed with care expecting to find at least a saleslady's opening. Just picture for yourself my chagrin upon learning they desired a bootblack in the ladies' rest room! The reason they wanted an educated girl was to keep their wealthy customers from coming in contact with objectionable Negroes. I had no chance to refuse the job because Mr. T. said I looked too much like a Caucasian and he could not use me. He finally hired a high school graduate who had trained two years for a teacher. Is it not a pity that a colored girl must be educated to qualify as a bootblack?
Finding no real openings for me in the clerical line, I turned my attention to shop work. I did this for three reasons. First, it gave me more time for myself than housework. Second, I received a more liberal reward per hour for my services. Third, it placed me on a more equal basis with the other workers although I needed no education other than to read and write. At this work I made just enough money to make both ends meet and sometimes I had to stretch pretty yard to do so, especially when we had a holiday. Naturally I received a little less pay than the white workers. The difference in pay was due possibly to the open shop. In this city there is no colored garment workers' union and the white unions do not take the Negro in. In the shops the Negro has no chance of advancement.
I heard so much about Cleveland. I went there and found conditions more favorable, due probably to the fact that the Negro himself was more enterprising. Here I found a Negro Vaudeville employing all Negro help. There were also colored doctors, lawyers, clubs, hotels, rooming houses, ice cream parlors, drug stores, and restaurants. These were all using colored help. The Phyllis Wheatly Home and the National Association for the Advancement of Colored People took an active part in placing girls in suitable positions. Still there were many girls uncared for.
I happened to be one of these and took a job to wash glasses and silver in a white hotel. I found hotel conditions here very much as they were at home. Though we ate the same food as the whites, we ate at the dishwashers' table, men and women eating together. Here I worked nine hours a day for forty dollars a month. Out of this paid carfare twice a day, for one meal a day, four dollars a week for a room, and one dollar for laundry. This left me very little for the pleasures of life. I was about discouraged when the assistant steward was taken up in the draft. After this the head steward had quite a job to keep this place filled. So I braved the lion in his den and the result was I became the assistant. It was really a man's job. I had to take care of the storeroom and coolers also to keep track of the cost of keeping up the various parts of the hotel. I probably would be there yet only peace was declared and with it came the return of the former assistant steward. This position afforded me so many luxuries of life that it showed me what a joy work would be to the Negro woman if given a position and salary instead of a job and wages.
Being a little homesick I returned. Somehow I expected to see conditions changed. With the exception of a few elevator operators, girls to dust china and furniture, two or three girls to rearrange stock behind white salesladies, and a few more women working in shops, I found no change. Oh, yes, I found three women working as salesladies, but as these were "passing" they mean less than nothing in the history of the Negro Woman.
Not being able to find anything that pleased me I turned my attention to canvassing. Even now I feel a loathing for this work. If I called at the front door I was directed to the rear. In many instances the door was shut in my face before I could make my errand known. Others treated me well, but that expression of incredulity upon seeing a Negro agent spoke louder than words. Some business men would give me an audience, sometimes with an order. Others received me with so much attention I felt they thought my magazines were only a camouflage.
And since there is a general tendency to expand the field of her operations, manual and mental, let us say with Longfellow:
"Out of the shadow of night
The world moves into light,
It is daybreak everywhere!"
The Messenger, 5 (July, 1923): 763.
4. THE NEGRO WOMAN IN THE TRADE UNION MOVEMENT
By Nora Newsome
The modern trade union movement is a product of the struggle between labor and capital. It had its rise in the industrial revolution which took place in the latter part of the 18th century. The industrial revolution introduced labor-saving machinery which was gradually concentrated into the hands of a few persons. This concentration of economic control over capital invested the owners with enormous power which they naturally employed in obedience to their self-interest, for the exploitation of the defenseless workers, who were now gathered in what is modernly known as a factory.
The growing refinement and specialization of machinery resulted in the partial displacement of the man worker, rendering it possible for the woman, and even the child, to compete in the factories with the men. Thus, it is clear, from a cursory survey of industrial history, that women, both black and white, have been forced to violate the proverbial dogma that "woman's place is the home" and go into the sweat shops as the result of the iron law of economic necessity. This was no less true in America than in Europe.
In the United States the union movement is of later growth than in Europe. In that country, as early as 1348, soon after the Black Plague, workers held meetings for the purpose of fixing wages and hours. It is estimated that fifty per cent of the laborers perished in that epidemic and this dimution in the labor supply had the effect of doubling the wages paid to the survivors. This resulted in a statute being passed by Parliament prohibiting laborers from accepting higher wages than they had been receiving before the Plague. Another statute presecibed what the workers should eat and wear, and made it a penal offense for a laboring man to eat better food or wear better clothing than that provided for in the statute.
Of course, America was not discovered until 1492, and her industrial development was, of necessity, much later than that of the Old World.
Among early labor organizations in the United States were the Caulker's Club of Boston, organized for political purposes in the first quarter of the 18th century, and the union of bakers, which declared a strike in New York City in 1742.
Authors disagree as to the number of periods of trade union development. Richard T. Ely in his "Outlines of Economics" gives periods, and Frank T. Carlton in "Organized Labor in American History" gives seven, and still others vary as to the number and sequence. I have tried to inter-relate them as follows:36
(1) 1789–1825—Germinal period, which covers the history of the colonies, and of the first fifty years after the Declaration of Independence, and is our prefactory state of industrial development. Labor organizations are found only in the latter portion of this period, and these consist of only a few local and temporary trade societies.
(2) 1825–1837—Revolutionary Period. The introduction of the American factory system, which ushers in an epoch of extraordinary and premature organization of labor; close connection between trade unionism and more radical reforms, such as socialism and co-operation.
(3) 1838–1857—Period of Humanitarianism.
(4) 1859–1873—Civil War Period.
(5) 1876–1895—Federation Period. Characterized by the enlargement of business; unusual middle class agitation, the rise and decline of the Knights of Labor, the first successful general organization in the United States, and the birth of the American Federation of Labor in 1881.
(6) 1896–1923—Period of Collective Bargaining; so-called because of the rapid expansion of unionism, and the establishment of new national or district systems of collective bargaining after the industrial depression of 1893–1897; and because it is only in recent years that employers and the general public have recognized the fact that trade unionism is here to stay, and must be regarded as a permanent institution with which many employers of labor must bargain, whether they like it or not.
The trade union movement is bringing to the woman worker an immeasurable degree of economic independence, without which he is the natural and inevitable victim, the uplift Christian reformers to the contrary notwithstanding, of the necessity to barter her honor for gain. This is all the more obvious to modern psychological sociologists, who are beginning to see that the irresistible force of the "social me" drives the woman to fight, not only for the acquisition of necessities, but also for the satisfaction of her higher wants, or what is more euphemistically and reproachfully known as vanity.
The first American crusade against low wages for women was carried on by Matthew Carey, a Philadelphia publisher, from 1828 to the time of his death in 1839. In 1830, Carey estimated that there were between 18,000 and 20,000 "working women" in the four cities of New York, Boston, Philadelphia and Baltimore. "At least 12,000 of these," he said, "could not earn by constant employment for 16 hours out of the 24, more than $1.25 per week." Think of it! Matthew Carey also believed that there was a direct relationship between low wages and prostitution.37
It is interesting to know that he offered a prize, valued at one hundred dollars, for the best essay "on the inadequacy of the wages generally paid to seamstresses, spoolers, spinners, shoe binders, etc., to procure food, raiment and lodging; on the effect of that inadequacy upon the happiness and morals of these females and their families, when they have any, and on the probability that these low wages frequently force poor women to the choice between dishonor and absolute want of common necessities." Note that he said "common necessities" and not luxuries. This prize was won by a well-known social worker of that period, Rev. Joseph Tuckerman.
One of the most formidable trade unions of today is the Amalgamated Clothing Workers of America, which is composed of workers in the men's garment industry. It consolidated these workers, who had been most brutally exploited in the sweatshops, into one of the most aggressive and progressive organizations known in the labor movement. As an evidence of its foresight and policy of fair dealing, the Amalgamated has been the first union to put on a colored organizer, because it realizes that the most vital necessity exists for the organization of Negroes in industry into trade unions.
When I first reported to the business manager of the local for which I was to start organizing, he seemed a bit sceptical about my getting results. This local has an Italian organizer who had been sent to talk to the girls, both colored and white, in the open shops. The majority of the colored girls would not even listen to his arguments in favor of unionism, and the others would listen courteously but remain unorganized. I told this official that Negroes bitterly distrusted white people and had no faith in their promises, and that they could not reasonably expect to eradicate in one day, a week, or even a month, the impression that centuries of cruel treatment had created in the Negroes' minds. Of course, the A. C. W. A. has never discriminated against Negroes in its entire history, but they do not know that. To them it is simply a union, and they do not possess the necessary knowledge to discriminate between the good and bad unions.
I have been quite successful from the very beginning. The girls, almost without exception, have received me courteously and listened attentively to what I had to say. Several expressed themselves as being pleased that a colored woman organizer had been sent to talk to them, and voiced a dislike for men organizers. They felt, and rightly so, that a colored woman knew more than a white man possibly could about the specific ills from which their group suffered. Of course, there are certain generalizations that hold true and are applicable to both black and white alike, but the white has never been proscribed and denied the right of opportunity in industry as has the Negro.
Some of the girls were anxious to join the union and said they were glad I had been sent to them; that they knew union members received higher wages, and worked shorter hours under better conditions. One girl told me she wanted to join the union because the foreman in her shop would not let the colored girls do piece work. They are compelled to work for a flat salary of $17.00 or $18.00 a week, whereas, if they did piece work, in an open shop, they would make from $25 to $30. The union wage for the same work is at least $40.00. The white pressers, mostly Italian men, in this shop, do piece work because they are organized and would not work there at all unless they did. The foreman, being non-union, is on the side of the employer, and if he can force the twelve colored pressers in his shop to work for $18.00 a week when they could make $30.00, he has saved $144.00 a week for the boss. By the union standard he has saved at least $264.00.
On the other hand, some of the workers fear that they might lose their jobs if it came to the ears of their employer that they had joined the union; others fear the loss of wages through strikes. I point out to them that if they lose their jobs because of joining the union, we find other jobs for them in union shops. When we organize a shop, our representative calls on the owner and informs him that he must institute union conditions and wages in his shop. If he agrees, very well; if he refuses, we call a strike, and if the strike lasts over a period of weeks, we pay benefits to the strikers, if we cannot find suitable jobs for them. After all, they usually see that they have everything to gain and nothing to lose by coming into the union.
I find a disposition on the part of owners of open shops to employ more colored girls than white because the colored girls are usually unorganized and consequently work for lower wages. Then, too, some bosses pay the prevailing union wage in their fight to maintain the "open shop" in order to discourage workers from joining the union and fighting for increases.
Many of the girls possess a high degree of intelligence—indeed, many of them have a high school education for a job which requires no special education whatever. Of course, that is because the opportunity to learn the skilled branches of the trade as apprentices has been denied to them because of color, and they must, perforce, become pressers or not work at all. The A. C. W. of A. has the record of only one colored girl who was employed as an operator. She was discharged by the boss on account of color, and immediately all the white operators went on strike and forced him to reinstate their colored comrade.
One afternoon, while I was waiting for the girls at closing time, a white girl was distributing circulars to employees of another shop in the building. The circulars were not sent out by our union, but I wanted to know, for general information, what they contained, so I asked for one. As I was reading it, a policeman came up and told me that I could not distribute circulars around there. I replied that I could not possibly be distributing them when I possessed only one, and that that one was for my personal satisfaction. I stayed where I was and talked to the girls as they came out of the building, but he did not trouble me again.
Some elevator operators, both white and colored, have co-operated with me splendidly in my organization work. They can render assistance in several ways, such as identifying the workers of a particular shop, the employer, the foreman, whether the girls go to lunch, and all that sort of thing.
One factor that retards the organization of colored workers is their migratory tendency. They are constantly changing from one job to another. With each successive change, they hope to find something better than they left behind; a mute expression, as it were, of the eternal desire of the human heart.
Organization into trade unions will usher in a new day for the Negro woman worker. Her economic problem arises from her ignorance of economic values, and from the exploitation to which this ignorance subjects her. The social pressure, which confines them to the most unskilled and low-grade occupations, most of which do not tend to uplift or develop them, is deadening, and the labor movement, as such, can never achieve the goal for which it is striving while its colored component is like the "Old Man of the Sea" on its back, because it is denied the opportunity to attain the heights aspired to by the other group.
Unionism, perhaps more than any other agency, will do much toward cementing the relationship between white and colored workers. When white and colored men and women meet on an equal basis in the workroom, fight together for their common betterment, and together bear the suffering resulting from that fight, I cannot possibly see how they can hate each other in the class room, restaurant, theatre or any other place where social intercourse is desirable.
The labor movement offers a glorious opportunity to young colored women of education and ideals to give creative, constructive service to the Negro race in particular, and the workers in general. Ever since my emancipation from the fetish of white collar supremacy and intellectual aloofness, I have yearned to become one of that steadily increasing number who, by means of voice and pen, are trying to hasten the dawn of a new day for the world's producers.
There is no data available on Negro women in the trade unions because they are not listed as such, and I have presented only the matter coming within my own experience as organizer for the Amalgamated Clothing Workers of America.
The Messenger, 5 (July, 1923): 560-62.
5. BOOTLEGGERS WELCOME ON THE NORTH SIDE
"Bootleggers welcome—'niggers' keep out!"
This is the stand taken by the small business men of Chicago's silk-stocking district, organized into the Loyola-Sheridan Business Association, in attempting to prevent the lease of the building at 6344-46 Broadway as a boarding school for colored girls.
It Was Former Cabaret
The building was formerly occupied by the Northern Lights cabaret, a notorious bootleg joint. This brought no protest from the Loyola-Sheridan Business Association, in fact, members of the association had to call in their attorneys to discover that the place had been ordered closed by the courts, and that it had been re-opened in contempt of court.
But the information that a school for colored girls might open in the same building resulted in the calling of a special meeting of the Loyola business men.
And the Loyola business men, fearing the effect which the presence of self-respecting colored girls, trying to get an education, might have no real-estate values, will do everything in their power to prevent the signing of the lease.
Make "Jim Crow" City
The action of the Loyola association is in keeping with the campaign of small business men of Chicago with the aid of the police to prevent the Negroes from breaking thru the set boundaries of an established colored zone. A few days ago a colored man and a white woman, walking together, were approached by a policeman and forced to separate.
Every possible help in the plans to Jim-Crow the city is being given by the Chicago Tribune, which characterizes the news of the possible establishment of the school as a piece of "disconcerting intelligence."
Daily Worker, October 2, 1924.
6. STRIKE OF NEGRO NURSES AT NEW ORLEANS BACKED BY DOCTORS, WHO FILE CHARGE AGAINST WHITE BOSS
NEW ORLEANS, La., May 14.—The Negro student nurses have struck at the Flint-Goodridge Hospital operated here by the Negro division of the methodist episcopal church, and the Negro doctors of the institution have filed charges against Dr. T. Restin Heath, white head of the hospital, it has been disclosed.
Altho the hospital officials are suppressing publicity, it is learned that the student nurses struck against the intolerable conditions imposed on them. They complained particularly of the poor food they are forced to eat.
The doctors filed the charges with the board of trustees of the church at Cincinnati, Ohio. Heath has been busy canvassing the local board of the trustees of the hospital here, composed of Negro ministers, and is endeavoring to line them up with him against the Negro doctors. He has had poor success so far.
One of the charges filed with the trustees by the doctors is that Heath called the doctors, "nigger doctors," in a staff meeting, and issued orders that they must not stop in the halls or be seen in front of the hospital. Another charge is that the superintendent refused to allow them to inspect the charts of patients who have been treated by white doctors without first obtaining permission of the white doctors.
The doctors declare they will resign unless conditions are bettered.
Daily Worker, May 15, 1925.
What can we tell about the economic status and prospect of Negro families by the number of men working? The recent analysis of the census figures on occupations by the Women's Bureau throws more light on the situation. These facts may be summarized:
Negro women represent about 10 per cent of all women, but 18.4 per cent of those at work.
Over twice as many of them work as native whites and foreign whites, and just about 60 per cent more of them work than native white women of foreign or mixed parentage.
The number employed in agriculture dropped between 1910 and 1920 from 1,051,137 to 612,261 and increased in industry from 67,937 to 104,983. Here the movement from the farm is strikingly evident and the opening of the industries of the North is definitely indicated. Yet in the shift, 333,093 are lost.
There are 62,756 more domestics than there were in 1910.
There are six times as many Negro girls under 16 working as native white girls and four times as many Negro women over 65 at work as white. Thus, at both extremes they must be wage-earners.
Of the married Negro working women 15 years of age and over, 44.9 per cent must work as compared with 19.4 per cent for native white women of native parents, and 11.7 for native white women of foreign parentage.
Marriage, it seems does not offer any significant change in the status of Negro women.
Both the problems of birth-rate and death-rate are bound up in this economic necessity. Working mothers can neither give the maximum vitality to the children to whom they give birth nor a reasonable measure of care to their health and education after they are born. There may, after all, be a closer relation than we suspect between the declining Negro death-rate in the more advanced communities and the decreasing proportions of married women who must work between the problems of Negro health, broadly, and the opportunity of the father to earn a decent livelihood.
Opportunity, 3 (August, 1925): 226.
8. START CAMPAIGN TO HELP NEGRO WOMEN'S STRIKE
Strikers Get Credentials From C.F. of L.
A campaign to raise strike funds for the Negro women, employed as date stuffers at the Maras company factory, who have been on strike since last Saturday, is under way in Chicago.
Credentials to solicit funds from local unions will be given the strikers Monday by the Federation of Labor, it is announced. The Federation also will urge support of the strike in its Saturday and Sunday radio program.
A campaign to raise strike funds for the women, who on account of the low wages they were paid while working, and the fact that they have been on strike for a week, are almost destitute, is being conducted by the I.W.A.
Committees For Funds
Some 15 committees have been formed to solicit funds from the various Negro organizations and churches in the city who are sympathetic with the strikers. Ranks of the strikers have grown daily. Organization is the goal of the women.
Two of the strikers who were arrested for picketing were released from jail after bond was furnished by the International Labor Defense. The women demanded a jury trial on the charge of disorderly conduct. The date of the trial has not yet been set.
Daily Worker, October 9, 1926.
9. TWO MORE WOMEN JAILED BY COPS IN DATE STRIKE
25 Other Workers Join the Ranks
Two more women were arrested by police here Tuesday morning in an effort to break the strike of the Negro women, employed as date stuffers at the Maras and Company date factory, 214 West Kinzie street.
Tuesday's arrests were made without the slightest provocation on the part of the workers, who were peacefully picketing the factory premises.
The women, Mrs. Robert Jones, 509 East Thirty-fifth street, and Mrs. Ella Smith, 17 S. State street, were taken to the Chicago avenue police station, and held there charged with disorderly conduct until intervention was made by the International Labor Defense. They were handled roughly by the officers, and it is possible that charges will be filed against the police.
Strike Spreading
The strike, which has been in progress since Oct. 2, is growing stronger every day. Twenty-five more women workers joined the ranks of the strikers Tuesday morning, swelling the total to more than 125.
The strike was called when the Maras company posted a notice of a wage reduction.
A temporary union organization has been formed by the women, and headquarters established at 30 North Wells street.
Daily Worker, October 6, 1926.
10. SOMETHING NEW—NEGRO WOMEN STRIKERS
The strike of some 150 or 200 Negro women, employed by a Chicago confectionary concern in protest against a wage cut is one of the encouraging signs of movement among unorganized workers in low-paid and unskilled occupations.
The number of workers involved in this struggle is insignificant, but the strike is important first, because it is a strike of Negroes and second, because it is a strike of Negro women workers—the most exploited and harassed section of the Negro masses.
Able to make a maximum of $14 per week only by the most intensive and sustained labor at piece work, an attempt to reduce this miserable wage still further resulted in the strike. Unorganized, these women secured aid from the American Negro Labor Congress, set up a temporary organization and have now the support of the Chicago Federation of Labor and the Women's Trade Union League.38
The manner in which the labor movement has responded to the appeal of these workers makes one of the few bright spots in recent labor history here.
There are rumors that similar revolts of underpaid Negro women workers may be expected in other lines of industry and there is no reason why, with these workers proving their desire for organization and their will to struggle, the Chicago trade unions should not be able to undertake a successful organizing campaign which would bring thousands of Negro men and women into the ranks of organized labor.
The Chicago Federation of Labor unanimously pledged its support at its Sunday meeting and this support must not be allowed to dissipate itself in the passing of resolutions, but be expressed in concrete organizational steps.
In the meantime financial aid for the present strike is needed and it should be given generously. If it is it will pay huge dividends to the trade union movement in Chicago and result in immense progress towards breaking down the racial bars which still divide the working class in and out of the unions.
Daily Worker, October 19, 1926.
11. POLICE JAIL TWO NEGRO WOMEN IN CHICAGO STRIKE
Passaic police tactics were used in Chicago Monday morning when a squad of coppers was used to disperse a crowd of Negro women strikers who were picketing the premises of the Maras & Company date factory, 214 West Kinzie street.
Summoned by the officials of the factory, who Friday had given notice of a wage reduction, the third within a year, the police rushed the strikers. Two of the women were taken to jail. They were Elizabeth Griffin, 3638 Ellis Park, and Mrs. Laura Smith, 17 South State Street.
Held in jail two hours, they were released only after intercession by the American Negro Labor Congress.
Every one of the hundred workers who walked out in a body Saturday appeared at the factory Monday morning for picket duty despite the heavy rain that fell all morning.
Earned $14 A Week
The workers had been receiving six and one-half cents per pound stuffing dates. At this rate, an extra speedy worker might be able to make $2.60 a day by working nine hours without a let-up.
The average amount earned by the workers was $14 a week. But the Maras company desired to cut their earnings even still more and issued Friday's notice. Other workers at the factory have even lower scales.
Hold Meeting
From the factory premises the workers went to 30 North Wells St. where a strikers' demonstration meeting was held. The trade union committee of the American Negro Labor Congress offered its assistance and helped organize a relief committee that will work with the I.W.A.
A delegation was sent to headquarters of the Chicago Federation of Labor to ask for unionization. No action had been taken by the federation up to Monday night. A temporary union organization, however, has been begun. Headquarters are at 30 North Wells street.
Daily Worker, October 8, 1926.
The Negro woman is a worker. There are very few leisure class women among us. Under slavery our women toiled in the field, and labored in the house.
Today large numbers still slave on farms in the South and in the domestic service all over the country. But thousands have gone into factories, mills and shops in the big cities. We have also developed a considerable professional class of teachers, doctors, nurses and lawyers. . . .
Small pay, filthy work, and long hours are the lot of the colored woman in industry. All the evils of the South, lynching, discrimination, poor schools, Jim Crow laws, peonage and the chain gang which bear so heavily on Negro men are doubly hard for Negro women. . . .
Of all the working class, the Negro woman is least organized. But she at last realizes her power of organized labor. She recognizes her own power as a worker.
Now only a few factory workers belong to progressive unions in the large cities. The number will grow as the colored woman herself goes out to organize her sisters.
Have we any examples of revolutionary leadership? Yes, Harriet Tubman, fugitive slave, made nineteen trips back into slave territory, and brought out over three hundred slaves.
Sojourner Truth, freed, when slavery was abolished in New York, gave her time, and used her simple eloquence in the abolitionist cause.
Their examples will inspire us.39
Daily Worker, March 8, 1927.
13. MUST ORGANIZE NEGRO WOMEN TO STOP SCABBING
Thousands in Many Trades Want Union
By a Woman Worker Correspondent
Negro women in the past have been almost entirely confined to domestic work. It is comparatively in very recent years that the Negro woman has come into industry. The trades in which she is now chiefly confined are those that have branched off from the home, the needle trades, hotels and restaurants, laundries, and as car and office cleaners, etc. There are few in the basic industries, except in some of the southern textile mills.
Lamp Shade Slaves
In Chicago Negro women work in many of the novelty industries; for instance, in the silk lamp shade trade. Thousands and thousands in Chicago learned this "fly by night" work. Not only did they toil in the factories every day, but they were allowed to carry lamp shades home at night. Children in the homes wrapped the frames for their mothers and older sisters to cover with the silk cloth. The whole family learned the trade, and as soon as each girl was old enough, she followed her mother or sister into the factory.
Flower Trade
I mention this case because it is one of the most outstanding, but it is similar to many trades in which Negro women are found; such trades as the making of artificial flowers, party favors, children's toys, decorative stationery, valentines and ten-cent store trinkets.
In the past, Negro men, in order to force their way into industry, were often compelled to scab and Negro women should not be reduced to such a choice. When given an opportunity to act as a group and to demonstrate their solidarity against the employers, they have done so.
In New York, the unorganized Negro laundresses walked out 100 per cent in sympathy with the striking drivers. In Chicago, Negro date workers put up a militant fight for better conditions without guidance from the trade unions.
If the organized labor movement would turn its attention to the Negro working women, there is no question but that it would find eager and valuable allies.
ROMANIA FERGUSON
Daily Worker, March 21, 1928.
By Fanny Austin
Negro women employed in domestic service and as office and shop cleaners have organized a union known as the Harlem Women Day Workers League under the leadership of Fanny Austin, well-known labor organizer.
The organization has a membership of nearly a hundred workers, who meet regularly and discuss ways and means of improving their economic conditions, especially with respect to the unsanitary and exorbitant houseing problem in Harlem.
Sister Austin and her associates are drawing a large number of workers into the organization which has adopted a militant program of action.
Workers in domestic service are among the most exploited sections of the working class, due largely to their lack of organization. The Harlem Women Day Workers League is supplying a long felt need and should be supported by every class-conscious worker engaged in this line of service.
The League has an office at 200 West 135th Street, Room 211, New York City, where full information can be obtained.
Negro Champion, August 28, 1928.
15. EVA, THE BLACK WORKING GIRL
Eva is a black girl. She had the misfortune to be born of black-skinned parents, and for such a crime, for which neither she nor her race is responsible, she is punished with scorn and insults.
When Eva came to work in my shop as a presser, all the white snobs threw angry looks at her and protested. They asked with an injured air and with indignation: "What is this?" How does a Negress come here? And where does she get the nerve to come among whites? But Eva had enough tact and pretended not to notice anything. She ignored them.
At lunch time when she finished her meal, she read the Daily Worker or one of the books that deal with the problems of the class struggle. Eva belongs to the Workers (Communist Party and does very efficient work among her despised brothers and sisters. She possesses a native intelligence which is not found among most of the hundred per cent Americans. It would be fine if all the white-skinned swells would take lessons of the black girl Eva, then we would have hope for a quick victory of our struggle for freedom.
Negro Champion, August 28, 1928.
16. PAY FOR NEGRO LAUNDRY SLAVES
Girls, Women Driven Mercilessly
By Mary Adams Reprinted from the Negro Champion
To my question, "How are the conditions in your laundry?" I received a flood of protests and complaints from the Negro girls and women working in this particular laundry.
Conditions are terrible and well nigh intolerable, they all agreed. The pay is miserable. They get on an average about $12 a week. In addition, they are never sure of what's in their pay envelopes. They are constantly docked and never told for what reason. In fact, they simply get what the boss feels like handing out each particular pay day.
Slave 12-Hour Day
"Our hours are not fixed. We understand we should go home at six. We start work at seven in the morning, but often have to stay until seven at night, and several times we were worked until eleven. We had no extra pay for this overtime.
"I have never been able to get a definite agreement about wages," added a dignified woman, the best worker in the place, I was told.
"When I came I told the boss I had been getting $18 a week. He said, 'All right come on. I will do the right thing by you.' But at no time have I received more than $15. He always puts me off with promises when I approach him on the subject."
Miserable wages, long hours, overtime without pay, uncertainty of pay and many other evils are the rule in the laundries.
These conditions must be changed. These girls and women show a desire to do something definite. They lack leadership. The Workers (Communist) Party and the American Negro Labor Congress must supply this leadership. The Congress has helped to organize and give leadership to Negro workers in other industries. We must supply leadership and inspiration to the thousands of Negro workers who are being exploited under the most damnable and inhuman conditions in the laundries of this city.
Daily Worker, March 8, 1929.
17. NEGRO WOMAN CIGAR SLAVES IN WALKOUT
Demand to Be Taken Into Union
(By a Worker Correspondent)
PHILADELPHIA.—Over 100 unorganized Negro women workers at the world's largest cigar factory, Bayuk Brothers, corner Ninth St. and Columbia Ave., walked out a few weeks ago in protest against the miserable slave conditions they had to work under. Given a rate of 25 cents for stipping 12 and a half pounds of tobacco, the pay envelopes of the group for a full week ranged from $3.50 to $11 a week, the average the women made being around $9.
The girls demanded an increase of 10 cents in the rate and walked out in a body when the bosses refused to grant the demand. The girls are forced to work 10 hours a day or more, and the conditions they work under are unsanitary. In a few years the girls and women working in the Bayuk factory come out with their health nearly completely destroyed. They were entirely unorganized at the time the strike started.
The Cigarmakers' Union officials did not try to organize these workers, but the girls were so anxious to join a union, that they walked in a body down to the office of the union asking to be taken in the union. They were tired of the long years of slavery they had to stand when they were not organized, and naturally tho the union officials did not seem to care about them, they were desperate and went to the officials of the union to be organized.
IDA, A Negro Cigar Slave.
Daily Worker, February 18, 1929.
Negro Women in Industry
The United States Women's Bureau has recently brought together the findings of its various studies of negro women in industry and published them as Bulletin No. 70. The most comprehensive of these studies was a survey made in 1920-21, covering 11,812 women in 150 manufacturing plants in 9 States. In addition to this, the bureau has made industrial surveys of 15 States in which negro women were included, the dates of these studies ranging from 1918 to 1925, and the size of the negro group covered from 18 in Iowa to 5,032 in Virginia. These 15 studies which are here brought together dealt with 17,134 colored women employed in 682 establishments. Of these, 4,850 employed in 370 plants have been omitted, since "the interest of this bulletin centers in the negro woman in the newer manufacturing pursuits and those excluded were known to be engaged in occupations considered customary for negro women, such as sweeping and cleaning, or were in laundries, hotels, or restaurants." It will be noticed that the data were gathered at different times through a period of seven years, the comprehensiveness of the separate studies varies, and it is possible that changes in industrial progress since 1918 have altered some of the conditions. Nevertheless, the findings have been brought together in the belief that they present a fairly accurate cross section of the prevailing status of negro women in manufacturing industries during the first half of the present decade.
Industrial employment is a comparatively new thing for negro women, and showed a marked increase at the very time that the extent of their employment in gainful occupations showed a decrease. In 1910, according to the census of that year, 54.7 per cent of all negro women were gainfully employed, but in 1920 only 38.9 per cent were so employed, the number employed in industrial occupations, however, increased during the period by 37,046, and the proportionate increase was even greater.
The proportion of the employed negro women who were in the manufacturing and mechanical industries nearly doubled, rising from 3.4 per cent of the total in 1910 to 6.7 per cent of the total in 1920, when 104,983 are listed in manufacturing and mechanical pursuits. This is in vivid contrast to the increase of only one-tenth of 1 per cent in all women so engaged, and shows a very striking change in the status of negro women during the decade.
Occupational Distribution
It is a Truism that newcomers usually make their entrance into industry through the least desirable trades or processes. This is especially true of negro women, who in securing their footing had to overcome a discrimination based on sex as well as race. By far the largest group, 6,411, or 52.2 per cent, were working in tobacco and tobacco products, more than one-half being in the occupation known as "stemming" or "stripping." Food products including in this term bakers, the canning and preserving of fruits and vegetables, slaughtering and meat packing, and nuts, employed 2,302 or 19.5 per cent. The largest single group here was working on nuts, four-fifths of whom were engaged in picking out kernels, and none followed unusual occupations, except that in one case a negro woman was forewoman in a room of 19 workers. Few of the food workers were in occupations requiring skill, and some were engaged in exceedingly disagreeable work.
The 800 in slaughtering and meat packing were engaged in the dirtiest, roughest, or most disagreeable operations in which any women were employed in this industry, where practically all the processes except the final packing may be considered dirty, rough or disagreeable. One-third of those reported worked with casings and chitterlings. In one plant a few were engaged on the killing floor. More than 100 were occupied with hand-knife processes that require dexterity, skill, and sometimes a good deal of strength.
Textiles employed a total of 1,176 or 9.6 per cent of the entire group. The majority of these were in plants making cotton yard goods or hosiery and knit goods, but smaller groups were found in bag-making factories, in the manufacture of cordage and twine, in yarn plants, in waste factories and in other miscellaneous textile establishments. In most of these cases, the colored women were engaged in general labor or were helping the machine operators. "The work requiring most skill was that in hosiery, where of the 327 included more than two-fifths were looping and seaming, a few were spinning, and 70 were boarding."
Wood products employed 980, or 8 per cent of the total, mostly at such occupations as stacking wood, off-bearing, sandpapering, gluing, or varnishing. A few were assembling parts and a number were assisting at saws.
No other occupational group accounted for as much as 5 per cent of the total. Two and eight-tenths per cent were in house furnishings, 2.4 per cent in glass products, 1 per cent in clothing, 0.8 per cent in paper and paper products, 0.6 per cent in metal products, 1.9 per cent in miscellaneous manufacturing, and 1.3 per cent in general mercantile occupations. To a large extent they were employed in the less skilled kinds of work, but some exceptions were found.
One of the most significant cases in the whole range of the establishments studied was that of a printing and publishing company, where there were 17 negro women. They were in high-grade occupations at which comparatively few women work. The firm was that of a negro religious paper in a southern State, and 7 women were in the bindery, 3 were in the composing room, 3 were monotype operators, 1 was a press operator, and 3 read proof.
Wages and hours are given in considerable detail, but naturally these varied so widely according to locality and industry it would be difficult to summarize them. The same is true of earnings. A study of the time the women had spent in the trades in which they were found showed that of 2,819 who reported, slightly over three-fifths (61.7 per cent) had been at their work for at least two years, while over one-sixth (17.6 per cent) had been in the same trade for 5 and under 10 years, and 11.4 per cent for 10 years and over. They were not a conspicuously youthful group, 13.1 per cent of the 3,150 reporting on age being under 20, 42.7 per cent 20 and under 30, 25.7 per cent 30 and under 40, 12.7 per cent 40 and under 50, and 5.8 per cent over 50. Of 3,048 reporting on marital status, 39.9 per cent were married, 29.8 per cent widowed, separated, or divorced, and 30.2 per cent single.
As a result of the studies it is felt that the situation justifies a somewhat optimistic view. The work negro women were doing when these studies were made was an advance over earlier conditions.
The types of work in which negro women were found may safely be said to represent, for them, distinct if somewhat slow industrial progress. Large numbers were still engaged in sweeping and in cleaning of various kinds and many of these have been omitted from the present study. Others worked at tasks that would properly be classified under general labor. Still others were in employments that, while scarcely unusual in themselves, were notable because they represented the carrying over of the older traditional occupations, sometimes with changes in method, into the newer industrial system. A considerable number operated machines of different kinds, many of which involved only simple operations or movements repeated indefinitely, but some of which required dexterity or a degree of skill. A few were found in supervisory posts or in positions involving more or less responsibility. . . . Occupations that required the greatest skill were those of the spinners in textile plants and of the loopers and seamers in hosiery mills, of the operators of power sewing machines and of metal presses of the riveters in bag factories, of the core makers in metal plants of a few of those working in wooden-box making, and of those found in one printing and publishing house in which negro women are carrying on all parts of the work, however skilled, including monotype operating, composing, and proof reading.
Monthly Labor Review, 29 (September, 1929): 54–56.
19. NO RACE PREJUDICE IN NEEDLE TRADES UNION
By Henry Rosemond
(Vice-President of the Needle Trades Workers' Industrial Union)
Under the leadership of the Left wingers, race prejudice has been completely abolished in the Needle Trades Industrial Union, which includes in its membership large numbers of colored people of various nationalities. This new union wages a militant struggle against race discrimination, and although it was founded only a short while ago, the effects of its policies are already being felt among the colored workers in the shops. This is not the policy of the yellow International Ladies' Garment Workers, that are under the control of the A.F. of L. In these unions race prejudice and race discrimination are encouraged because they serve the bosses to keep the workers in constant struggle against each other and thus help the bosses to keep the workers in slavery.
The new needle trades union was formed with some Negro workers playing an active part in the convention as well as in filling some of the highest positions in the union. Wednesday, February 6, the first strike of this new Union, a great number of Negroes have been militantly active in it. Over 40 of them have joined the Strike and Picket Committees; one of them is a member of the Strike Finance Committee, and another is a member of the Joint Board.
During the strike I have been around and have spoken to many of the strikers: Marie Franklin, Edith Brown, Edna Kemp, Mattie Brian, Louise Martin, Eva Mayo, Laura Smith, and many others. They all said that they were treated royal by the leaders and the white strikers in the halls and elsewhere. The four last ones mentioned were back to work, they being strikers from shops that have signed the agreement concluded by the new union. These colored girls stated that they will do their very best to support the union and also see that their parents and friends who are in the trade join this union—the Needle Trades Workers' Industrial Union of the U.S.A.—the only one in the trade that really fights for the interests of the workers, not only white, but colored as well.
Daily Worker, March 1, 1929.
Food Strikers Call for Aid of Negro Women
"Negro women! Don't be deceived by labor fakers! Join a real fighting organization!" were the slogans heading a leaflet distributed by members of the striking Hotel, Restaurant and Cafeteria Workers' Union to Negro women workers. . . .
Attempting to capitalize on the growing spirit of revolt against the intolerable conditions, William Lehman, vice-president of the A.F. of L. Waiters' Local No. 1, which discriminated against Negroes and which is now helping the cafeteria bosses against the restaurant strikers, and Victor C. Gasper, an agent of the labor fakers, who tried to wreck the Women's Day Workers League and the House Painters called the meeting.
At the meeting last night the fakers, under the pretense of organizing the fake "Progressive Women's Union," in reality tried to use the Negro workers who they discriminate against, to betray the workers and try to break the cafeteria workers' strike.
The leaflet of the militant cafeteria workers' union pointed out the treachery of these officials, who, while organizing a very small portion of the waiters—the aristocrats of food workers—and left the masses of other food workers to be badly exploited. Lehman has done nothing to better the conditions of the Negro, Chinese and Spanish workers who slave 12 to 14 hours a day in hot kitchens for such low wages as $12 a week and has refused membership in the union. Now he wants to organize a Jim-Crow union with a separate charter.
The leaflet calls upon the Negro women workers to support the cafeteria strike and join the union, the Hotel, Restaurant and Cafeteria Workers Union, in which there is no discriminations.
Daily Worker, May 16, 1929.
Announcement that the International Ladies' Garment Workers Union is making a drive to organize the colored women employed in the dress industry of New York City is welcome news. Now that the organization has reestablished itself after some years of internal strife which had left it prostrate, the organization of the colored women in the industry is the next big job.
The spread between the wages paid these women workers in the unorganized shops ($8 and $12 per week) and the union wage ($26 to $44 per week) is an example of the revolting conditions that are possible for the sweated workers. Their starvation wage is a menace to labor standards throughout the industry and we hope that this organization job will bring a big majority of the colored women workers within the protective fold of the union.
New Leader, September 28, 1929.
22. A STARVING NEGRO WOMAN WORKER WHO IS READY TO FIGHT
Same Slavery in Cleveland As She Had in Hell-Hole Town in Mississippi
Tells Jobless Women Workers Not to Starve But Join Unemployed Councils and Fight
(By a Worker Correspondent)
CLEVELAND, Ohio.—In this little town by the name of Louisville, Miss., they don't want a Negro from the North to live. What kind of a world is this for the working people? The club and pistol were made for the working class. If we all were capitalists it would not be "club and pistol." What they do is to give us poor colored people, some of us, $3.50 worth of groceries for all of us in the family to last a week. It's just enough to keep us alive, and we are in rags. The community fund says you don't have to go in rags, we will give you some and then what do they do? They give us a card to go and get some clothes and then they want us to pay for them, such clothes, all patched up and stinky.
The community fund don't know what they should do, well, I'll tell them; they better get us some food so we don't have to starve, and do that to every hungry worker, and clothes, too.
They get millions of dollars every year out of us—people's wages—and then, when they should give it back, they say they do not have any. If they have those millions of dollars every year they get from us, then they must have it and must give it to us and besides the unemployment situation must be changed; we want relief from this hunger, we want clothes, why don't the government take care of us while there isn't any work, so that we don't have to freeze and starve and walk all the time because we do not even have money for street car fare?
Every working woman should join the Unemployed Council if she is not working. I certainly will be ready to fight because I am hungry and so are my children.40
NEGRO WOMAN WORKER.
Daily Worker, June 16, 1930.
23. SLAVERY IN ATLANTA LAUNDRY
(By a Worker Correspondent)
Atlanta, Ga.
Colored girls and married women slave here in the laundry of a boss who called himself "revolutionary," from early in the morning till late at night. When finished with the work they can hardly walk home from exhaustion.
They get 30 minutes for lunch. The girls are always on time, and dare not take a chance on being late for they are sure of losing their job.
When the girls thought the boss was out one day, they took a couple of minutes to say a few words to each other to change the monotony, but the boss was in, he jumped out of his office like a crazy man. The next day five of the girls remained home, canned for having allowed themselves the luxury of talking.
As to the wages, you can call it that, if you want. It's just a pitiful existence. One girl who worked in the place for over two and a half years will make $6.50 a week if she works from 7:15 a.m. to 7:00 p.m. But this happens very seldom because the boss does not always give her enough work, and besides he doesn't want her to make "so much."
Long hours and constant fear of losing their jobs—these are the conditions of the many Negro girls in a shop whose slave owner was at one time a member of the working class, and even a so-called fighter for the workers' cause. The workers in this shop must organize and demand decent wages and conditions.
J.C.
Southern Worker, October 25, 1930.
24. NEGRO WOMEN SLAVE FOR $4 WEEKLY IN CHARLESTON
Charleston, S.C.
At the bagging mill in Charleston over 600 Negro young girls and old women slave under the most miserable conditions, from early sunrise to sunset, 10 to 12 hours a day for $4 a week.
The highest that anyone ever made in this mill, and there are women here who have worked for 6 and 10 years, is $7. But in order to make this "very high wage," one must be very fast.
For being 5 minutes late to work the boss man takes off 25 cents from the week's wages. If a fight should take place between two girls during the lunch hour, each girl must pay $2 to the boss out of her weekly $4 wage.
Working under the most unsanitary conditions and long hours, and with miserable conditions at home (for what kind of a home can a worker have on $4 a week?) these women and girls are disgusted and are ready for organization.
One girl said that if someone from the union would come and speak to them that she was sure all of them would join and fight for decent conditions and more pay. "For there is nothing we have that we can lose," she said. "The pay we got, after the rent is taken out of it, we have enough money left for some little rice to buy, and then there is not enough. We keep hoping that some day the bosses will have pity on us and give us a little more money, but it seems like he is not interested in us, and don't care if we starve, so I reckon we better join up in the Union and fight for our right to live."
Is there any wonder there is so much Pellagra and other diseases among the workers? We are beginning to organize there.
J.C.
Southern Worker, September 13, 1930.
25. 50-YEAR-OLD NEGRO WOMAN SET FOR FIGHT
By a Worker Correspondent
Charlotte, N.C.
I am a Negro working woman who has done all kinds of work, even pick sweeps in a cotton mill where we had to pick all the white cotton out of the lint and spit. But when times got so hard the boss told me I would have to hunt me a job.
I walked from house to house, begging for something to do and could not even find washing or scrubbing.
When I heard of the Trade Union Unity League I went to two meetings and heard the speakers and saw what they were trying to do, I joined up.
I am 50 years old and hope to live to see my people free and the poor white people also.
—A Negro Working Woman.
Southern Worker, February 14, 1931.
26. UNORGANIZED DOMESTIC TOILERS ARE PREY TO RICH SNEAKS
Negro Woman Worker Tells of Mistreatment in Homes of Wealthy People
By a Worker Correspondent
NEW YORK—In the struggle to win the Negro people to the revolutionary program in New York City, the task of building a strong functioning Domestic Workers Union, is of fundamental importance.
Recently a case of deliberate and malicious mistreatment of a domestic worker, by employers who were sure there could be no comeback, came to my attention.
A young Negro girl, a college graduate forced into domestic service by economic conditions, was refused the miserly monthly payment, $20, agreed upon, on the assertion of the employers that the agreement had been made for $20 a season that is, for three months, instead of for one month.
This was "explained" after the girl, having worked two months and having obtained $10 of her money and being tired of continually asking for money due her had decided to pack up and leave for good.
The last time the girl asked for money, the woman had said she intended to pay her "everything at the end of the season." Not at any time was the "agreement" about $20 for 90 days work mentioned, or even hinted at.
When the girl's family protested, the employer angrily insisted that she had made the agreement not with the family, but with the girl, and the school agency. The job was obtained through the Brooklyn College Employment Agency.
That the whole thing was a deliberate trick cannot be doubted. This, however, is only one incident. We Negroes and those who have worked among the Negro people know of other cases.
There have been times when the "madam" framed up cases of robbery. She lost some valuables just about pay time. Other times her husband's business goes bankrupt, or she intends to pay, but by the time the maid has spent a few dollars in carfare trying to collect, she gives up all hope of ever getting paid.
We are going to fight this case presented here. We are going to protest to the College Agency. But we ought to make an example of this. It is the duty of the militant class-conscious worker to enter into the struggle of the Negro domestic worker, to fight not only for improved conditions, but for a cessation of this outright robbery.
If actions like this are allowed to go unchecked, they will do much to retard the march of the Negro woman worker toward joint struggle with her white sister in fighting against discrimination of all woman workers.
I call upon all domestic workers to get in touch with the Domestic Workers' Union, 415 Lenox Ave., New York City, to organize.
I call upon all revolutionary workers to bear in mind these special problems of the Negro worker. It is not vague assaults on general problems, but concrete action that will win these workers to our program.
A NEGRO WOMAN WORKER.
Daily Worker, September 3, 1934.
27. THE GARMENT UNION COMES TO THE NEGRO WORKER
By Edith Kine
If one were to hazard the suggestion, a year ago, that in April 1934, thousands of Negro women—and men—would form solid blocks of organized workers within an established A.F. of L. needle trades' union, he would have been dismissed as little short of visionary. Such a sceptical—or realistic—attitude would have been perfectly justified nevertheless. Until last year Negro workers, in an organizational sense, had been distinctly on the outer side of the periphery in the great women's garment industry. Not that there were no Negroes in the dressmakers' or white goods workers' union until the Summer of 1933. A sprinkling of them, of a wideawake, altruistic strain, had percolated into these organizations several years ago and their presence in these unions of white girls and men was not only tolerated—it was pointed at occasionally with a pride which had the unmistakable veneer of showmanship.
En masse, however, the Negroes in the garment trades were considered as poor organizable material. This prejudice—not unlike a superstition—had not been weakened in 1930 and in 1932, when fervent appeals by the leadership of the Dressmakers' Union of New York, an affiliate of the International Ladies' Garment Workers' Union, to join in general strikes failed to make an impression on the Negro workers in the dress shops. In Chicago, Philadelphia and elesewhere where Negro workers are employed in dress shops, the experience was similar.
Yet, the selfsame Negro women and men came down from their shops literally in the thousands in August, 1933, joined the union, and have since become integrated as inseparable parts of the organized shop units.
This metamorphosis has come about so quickly that it is difficult to ascribe it to any one factor. The fact, nevertheless, remains that today, for the first time since Negroes have entered industry, they are, at least in one major industry, on a footing of equality with their white fellow workers. Color is no longer a factor, in the needle trades shop, in determining wages or hours of work. The Negro workers, not singly but as an entire group, are no longer viewed with distrust or dislike as possible strikebreakers or as cheap labor.
Is it fair to state that it was the NRA that was responsible for this literal upheaval in the status of the Negro worker in the women's apparel shops? Has the Recovery Act played eccentric Santa Claus to the West Harlem of New York or the South Side of Chicago, leaving in thousands of workers' homes not a vagrant windfall but permanent security of wage equality and employment opportunity?
On the face of outward facts no other answer seems possible. Yet, the perspective of this change would be woefully inadequate were we to rest it solely on the impetus furnished by the NRA. The truth is that in the Summer of 1933, by the time the first industrial codes were beginning to shape up on the horizon, employment conditions had hit bottom in all industry—and in the garment trades in particular—affecting with frightful severity not only the Negro workers but the white workers as well. It was not merely the Negro workers in the garment shops who were being exploited to a breaking point—tens of thousands of white dress workers—Jews, Italians, Hungarians, Poles and natives—had been reduced to a sweatshop level in nearly every market the country over. And it was not the Negro workers alone who had stayed away from the union at that time. In New York City, out of the estimated 90,000 dress shop workers, not more than 20,000 were on the roll of the union, while the preponderant majority kept either aloof or was pronouncedly anti-union.
Another sidelight should not be ignored in considering the NRA potentialities for the Negro workers, especially during the early stages. There appeared, at that time, in many an industry, the distinct menace that the employers, forbidden by code terms to exploit Negroes as they had in the past, would not hesitate to dismiss colored workers and replace them by white workers. This obvious danger, by the way, has not entirely disappeared in many trades, but insofar as the garment industry is concerned, it was obviated by the swift turn of events let loose upon the initiative of workers' organization.
As the codes were being bargained over and shaped in Washington, an avalanche of organizing campaigns and strikes, under the direction of the I.L.G.W.U., began to inundate the women's garment shops. The dress strike in New York, a touchstone of this union movement in 1933, brought down nearly 60,000 formerly non-union workers from the shops into the union halls, and along with this great mass came thousands of Negro workers, excited, enthusiastic, with song on their lips and an augury of a miraculous change in their hearts. This spontaneous response of the Negro workers to the strike call has since proved a great boon to themselves inasmuch as their wages have been doubled, their work week astoundingly shortened and, most important of all, they have for the first time come to enjoy the feeling of genuine economic equality with white women workers. No better proof of this allegation may be furnished than by the fact that since August, 1933, quite a number of Negro girls have been selected in several shops—with mixed colored and white working staffs—as shop "chairladies," heretofore an unheard of honor to the workers of the Negro race.
A little more of the background of Negro labor history may be in place to light up the current race facet of worker relations in the garment shops and to offer a cue to their possible unfolding.
Until the days of the World War, Negro women, in the less industrialized sections, were employed almost wholly in farm work, while in the cities they were mainly in demand for domestic or personal service, and in each case they were flagrantly underpaid. On the whole, Negro women were considered incapable of factory and other so-called skilled labor. In many parts of the country the whites resented the competition of cheap Negro labor, and refused to work with them. But during the War, because of the universal shortage of labor, Negro women were permitted and even urged to enter the manufacturing pursuits in large numbers, although mainly in unskilled jobs. But even in those golden days they were concentrated in unorganizable occupations, and were victims of economic exploitation and discrimination which resulted in unequal pay despite a satisfactory standard of efficiency.
In the natural course of events, Negro women began trickling into the dress and allied shop industries, but even in these trades they were regarded with suspicion and distrust by the white workers, in those years largely Jewish women, who looked upon the Negro girls as prospective strikebreakers and as an element that would eventually degrade working conditions. The fact is that in 1927, during an exciting strike of dress workers which lasted 26 weeks, they were brought into the shops of Chicago as strikebreakers. With that, they were stigmatized, and later they were largely employed as all-around help, cleaners, examiners, etc. The I.L.G.W.U. had made every effort to include them in the union but with little success.
Two or three years afterward, Negro women began to be employed as ironers, and later as finishers, but they were never employed as operators, and but a handful of them work at the machines even today. The Negro garment worker, however, made the best of the little she had gained, and became very adept as finisher, trimmer, examiner and ironer. Employers did not hesitate to hire them in larger numbers during periods of labor troubles, for they worked for lower wages and were regarded as non-aggressive and docile. In the shops, they were usually separated from the white workers.
The walkout of the Negro women dressmakers on August 16, 1933, together with the white workers, in one fell swoop upturned these glaring inequalities. Nearly 4,000 joined Local 22 of the International Ladies' Garment Workers' Union during that memorable week, a phenomenal jump from the 600 Negroes who had been members until that time. And Section 7a of the Recovery Act, giving the right to all employees to deal collectively with employers through representatives of their own choosing, made the Negroes confident that they were not jeopardizing their jobs by fighting for better working conditions and a living wage.
These new Negro recruits in Local 22 are employed mostly as finishers in the better dress houses where finishing is an essential part of the garment. Until the strike, their average pay ran from $10 to $15 for a 50 or a 55-hour week. As a result of the strike and their union affiliations, their earnings have nearly doubled. Today they start with $22.75 as a guaranteed minimum wage for 35 hours of work, and the majority earn more than that. Negro women workers in the dress industry are among the best paid of their race in Harlem, where they have a union branch of their own. They take an active part in the executive activity of the dressmakers' organization and have four delegates on the Executive Board—(Lillian Gaskin, Violet Williams, Gussie Stanford and Edith Hansom).
The Dress Pressers' Union, Local 60 of the I.L.G.W.U., has 550 colored members who are ironers of dresses, most of whom are women. To them the Union has been a Cinderella talc come true. Formerly exploited menials, they are now the highest wage earners among the women of Negro Harlem. A recent investigation showed that the wages of these pressers have nearly trebled in the past eight months. Where once $18 was considered a good week's wages, now $45 and $50 a week is thought only normal—and this for a 35-hour week! Dress pressing is a difficult trade and requires considerable speed and skill, and the greater the speed the greater the amount earned.
These Negro women are extremely enthusiastic members of the Unions. At a recent meeting in Renaissance Casino, 138th Street and 7th Avenue, this enthusiasm was obvious on every face and was expressed in shouts and applause for the speakers who were both black and white.
A few more facts.
One thousand colored women have joined the underwear workers' organization, Local 62 of the I.L.G.W.U., since last August. These girls are mostly quite young. They are pressers and earn as much as the white girls,—not as much as the girls in the dress shops, but fair subsistence wages. Within that local they are looked upon as an unusually intelligent group. In many instances they have been appointed by their fellow-workers, both black and white, as spokesmen for the shop before the employer and as the union's representative on the premises, which is a position of great trust and responsibility.
There is the same spirit of equality in the children's dress trade, where about 900 Negro women belong to Local 91. They are considered "one of the best elements of the organization," in the words of Harry Greenberg, manager of the local. Most of them are ironers, and a few are operators. Eight of them are chairladies of their respective shops, and three of them are on the executive board of the local union.
The embroidery workers' organization, Local 66, reports that they have 100 Negro men and women in the machine and Bonnaz embroidery shops where they receive equal pay with the white workers.
The same story comes from Chicago and Philadelphia of standardized and improved wage levels. In the dress workers' organization, Local 100, in Chicago, there are 500 Negro girls, all dependable union workers, and most of them are new members. They, too, joined the union on the wave of the general strike in the dress industry last August.
Thousands of Negro women in Chicago are working in the cotton and wash goods dress shops, but they are still unorganized. Although they are working under the Cotton Garment Code regulations, they enjoy small benefits from them, for in these shops code rules are honored largely in the breach. As there is no union control of working conditions in these shops, the 40-hour week is stretched to 48 and the $13 minimum wage is being systematically whittled down with or without pretext.
The union in Chicago is now conducting an organized drive among these workers and is employing the pulpits of the Negro churches in the factory districts among other educational devices for interesting these workers in a trade union. The employers have not hesitated to raise the race issue against the union organizers by telling the Negro workers that they will lose their jobs if the union succeeds in organizing the shops, for the union will replace them with white workers.
In Philadelphia, nearly 1,000 Negro girls belong to the well-organized dress union of that city, and they, too, enjoy complete equality of pay and working conditions with the white employees.
The organized group of women in the garment industry, of course, is but a small part of the great mass of Negro workers in the United States, still unorganized and working largely under codes which offer scant protection against greed and exploitation.
There can, nevertheless, be hardly two opinions concerning the significance of the achievements of this group not only for themselves but for the Negro worker as a whole. The fact that this successful organization movement among the Negro workers is not confined to one city, but extends to Chicago, Philadelphia, Boston, St. Louis, Kansas City and Los Angeles, offers proof that the trade union appeal is finding a deep, widespread root among them. At the next convention of the national organization, with which they are affiliated, in Chicago, early in June, it is expected that not less than twenty Negro delegates will attend.
Their fellow white members in the I.L.G.W.U. appear to have full faith in the loyalty and militancy of their Negro shop associates. There is, nevertheless, not entirely absent the feeling that the test of ultimate allegiance is yet to come. When the next move comes—on the offensive or the defensive—will the Negro workers, still relatively new in the union, measure up to the full code of labor's fighting ethics or will they be found wanting?
The overwhelming consensus of opinion appears to be that the Negro garment workers will stick to their union guns.
Opportunity, 12 (April, 1934): 107-10.
By Ernest Hays Calloway
The day of abstract theories in regard to Negro labor problems is passed. The present demands more concerted action and concrete ideas in order to solve this jig-saw puzzle.
After launching the Recovery Act, President Roosevelt turned to the American Federation of Labor for assistance, as this organization has been for years dominant in the American Labor Movement. After many years through the grace of the Federation's many labor subsidiaries, the government had at last recognized the unequivocal rights of labor. But the A.F. of L. represented only 20 per cent of the American labor membership being composed largely of skilled workers. Unskilled labor never had a "showdown" with the Administration because it never has had a representative. The American Federation of Labor has shown its incompetence in organizing unskilled labor. The Negro constitutes a large percentage of the unskilled labor, and probably that is one reason for the Federation's incompetence. Therefore only a small percentage of American labor is really enjoying the direct benefits of the Recovery program.
In the South, the industrialists have by combined agreement kept the wage to a lower level than in the North and educated the worker that labor unions were something un-American. By this economic exploitation the average southern laborer is kept in a state of semi-poverty and docility, with little or no means for fighting industrial despotism. The Dixie industrialists are fighting the Recovery Administrations with their backs against the wall in order to maintain their low wage standards.
The Negro's position has always been precarious since the abolition of slavery, and the Negro has done very little to change this position. All over the South the Negro is subjected to either extreme indifference on one hand, or utter desperation on the other; on one side are the masses flanked by a great army of those who are not concerned at all about their own progress, and on the other side by a minority group who will stoop to anything, even betraying themselves and others for temporary security, making the really industrious southern Negro hemmed in by a vast legion of "Stepin Fetchits" and a corps of "Uncle Toms." The following paragraphs are taken from a Lynchburg, Va., Chamber of Commerce bulletin, published before the Recovery Act.
"Lynchburg is unusually fortunate as regards the labor situation, for here all demands are met with respect to ample supply both male and female, class and characteristics, intelligence and contentment. The average number of workers employed in Lynchburg manufacturing concerns is 7,000. Practically all of these are native born whites or Negroes, for labor Lynchburg is almost 100 per cent American. There being only a small fraction of 1 per cent foreign born in the city, all of which has been easily assimilated. While most of the industries show a preponderance of male labor, there is an ample supply of female labor, the greatest number of which are found in the textile mills, hosiery mills, shoe factories or clothing industries.
"The Negro population of Lynchburg has been on the wane during the last decade, and the growth of the city during that time has been almost altogether in whites, so the large bulk of labor supply in Lynchburg is skilled.
"The outstanding asset from the manufacturer's standpoint is the character of labor supply. A close survey of labor conditions in Lynchburg will show that this preponderance of native white labor is of exceptional stock, being descended from Old Colonial stock, which founded the state, and as far as intelligance is concerned will rate higher than in practically any other industrial city in this country. So-called 'cheaper' labor may abound in many other cities, consisting of the raw, unintelligent and inexperienced foreigners who cannot be assimilated or the shiftless, irresponsible Negroes. With these and the numerous problems that their existence brings Lynchburg fortunately does not have to contend. The walking delegate the labor agitator, the wild-eyed bolshevik and radical have no place in this city for Lynchburg labor is too busy with giving a dollar's worth of service for a dollar's worth of wage to worry about unions and organizations."
This same attitude concerning the Negro as a skilled worker existed 14 years ago when a group of civic minded Negroes and well meaning whites approached the management of a hosiery mill, seeking employment for Negro girls. Of course the management excused its failure to employ colored girls by asserting that they were shiftless and irresponsible, which made them unfit for skilled labor. But the civic minded Negroes among them Rev. George E. Curry, prominent Methodist minister, and Professor H. A. M. Johns, local insurance executive, received a promise from the mill owners that they (the mill owners) would open another factory and give Negro girls a trial. The promise was kept, a building was procured, and the necessary machinery installed. A group of girls was drafted, mostly from domestic service in the homes of the well-to-do whites and put on the machines. The conditions were as follows: If the girls succeeded in producing a standard amount of hosiery daily this experimental project would become a permanent fixture in the local economic structure; if the girls failed they were to return to their culinary arts and baby carriages.
The girls were taught to operate the machines and began working. They were handicapped at first because they were expected to come up to the production peak of the white girls, who had been practically born in the hosiery mills, as their parents and grand parents before them had held the same type of job. The white girls knowing all the intricacies of the "game," were able to keep a higher production standard, and too the Negro girls suffered from lack of industrial experience, having been uprooted from the 3 or 4 dollar a week domestic service of whites. They brought the same attitude to the mill as that which the average domestic maintains to her job, an attitude of complete satisfaction with the $5 or $6 weekly wage and a lackadaisical interest in her work. They didn't realize that the mill couldn't operate profitably if they didn't come up to a certain production standard. They drifted on without showing any real signs of improvement. Some would work enough to migrate to some northern city, new girls had to be broken in. All in all they served to keep their civic minded sponsors fearful lest any day the project would fail.
Then came the depression. The mill began operating on part time and some time not at all. Many of the girls were thrown out of jobs. After the Recovery Act the mill reopened in full blast. The girls received the 40-hour week, and each girls was to make enough hosiery to insure her 12 dollars per week. They fell below the $12 a week standard and an investigator from Washington was on the point of having the mill closed, when a committee of citizens went to Washington to intercede for the girls, asking NRA officials to give them another chance. They were successful and the mill remained open on probation.
Some people blamed the machinery for their poor production and three white girls were brought from the white factory and put on the Negro girls' machines and were able to produce the same amount of hosiery there as they did in their own factory.
At present the colored girls are keeping up to $12 a week standard, once in awhile one will fall a dollar or so below, but not often.
Their success and the future success of the mill depends entirely on the girls themselves. If they remain industrious and gain a better knowledge of their work, rather than indulging in too many outside diversions, they can become an important factor in solving the local Negro labor problem
As to labor unions and organizations the girls are hopelessly dependent on the manufacturer to carry out the technical provisions of their Code, which makes the situation a bit silly, one depending on labor, and labor depending on the one depending on labor. In fact throughout all the city and surrounding towns where Negroes are hired in abundance, such as in the foundry works, bark mills and tobacco warehouses, there is not a single organization for the real welfare of the worker, evidence of the lethargic state in which the southern Negro laborer has cast himself.
The white workers are busy as bees, organizing themselves into labor units. And these are the ones who are enjoying the direct benefits of the National Industrial Recovery Act.
Opportunity, 12 (June, 1934): 181-82.
29. NEGRO LABOR COMMITTEE IN DRIVE TO AID WOMEN
Campaign Under Way to Win the Protection of Compensation Laws for 30,000 Negro Women in City's Industries
The Negro Labor Committee, through its chairman, Frank R. Crosswaith,41 announced yesterday the beginning of an extensive drive to bring 30,000 Negro women of the city under the protection of the workmen's compensation law.
Crosswaith said the committee will offer the state legislature a series of amendments that will not only bring these 30,000 women within provisions of the law, but will also "eliminate the procrastination and quite often fatal delay to which many injuries women are at present exposed."
The Negro Labor Committee will establish a workmen's compensation information bureau at 312 West 126th Street to which injured workers, regardless of race, sex or trade may apply for free information and guidance.
"While within recent years as encouragingly large number of Negro working women have been entering industrial pursuits, notably the garment industry," Crosswaith said, "nevertheless, the great bulk of Negro women are still confined to doing service in order to keep body and soul together."
"Contrary to popular acceptance these workers are exposed to many hazards, but as far as the Compensation Law of the State is concerned, they have no protection. At present the law is applicable to these workers only when four or more of them are employed together. The ridiculousness of such a requirement is too obvious for comment," said Crosswaith.
"Also it is not generally known that many Negro workmen now covered by the provision of the Compensation Law are in many instances deprived of their legally required compensation when injured and in a great many cases are exposed in having their case adequately adjusted."
Daily Worker, June 29, 1936.
30. NEWSPAPER GUILD INDORSES DOMESTIC WORKERS' UNION
The Domestic Workers' Union, which has grown gradually since its organization a year ago by Dr. C. Garland Smyer, has been endorsed by a number of local unions, including the Washington Newspaper Guild, it was learned this week.
A representative of the guild attended the meeting of the organization at the YWCA, Thursday night and brought messages of support from his organization.
The group, which meets at the Y the first and third Thursdays in each month, wrote a letter to Mrs. Franklin D. Roosevelt last week, asking for her sympathetic support, since she has been known to express her interest in the raising of wage standards and the shortening of hours for domestic workers.
Will Ask Charter
There are about forty active members of the local group at present. When the goal of 100 members is reached, Miss Harriet Short, secretary, said, the organization will apply for a charter to affiliate with the A.F. of L.
The Launching of the union has been a long, hard pull, according to the officers, and more difficulty will be encountered before it becomes a successfully functioning body. The officers of the local are located at 717 Florida Avenue at the headquarters of the National Negro Congress.42
There are very few similar unions functioning. One is in New York City. It includes members of all races, but most of them are colored. The union here is to be open to both races.
The 1930 census of Washington shows that there were 21,000 domestic workers, 18,000 of whom were colored. The union plans to establish an employment agency where experienced workers can be obtained.
Officers for the year, will be elected at the next meeting.
Baltimore Afro-American, October 10, 1936.
31. THE DISADVANTAGE OF BEING FEMALE AND BLACK
One in every six women workers in America is a Negro according to the latest census figures—those of 1930. In all, nearly 2,000,000 Negro women were classed as gainful workers at that time. How many of these women now have jobs and how many are unemployed; where the employed women are working; how much they earn, and how their wages compare with those of white women workers; these are questions that have a direct bearing on the economic problems of today.
Though women in general have been discriminated against and exploited through limitation of their opportunities for employment, through long hours, low wages, and harmful working conditions, such hardships have fallen upon Negro women with double harshness. As the members of a new and inexperienced group arrive at the doors of industry, the jobs that open up to them ordinarily are those vacated by other workers who move on to more highly paid occupations. Negro women have formed such a new and inexperienced group in wage employment. To their lot, therefore, have fallen the more menial jobs, the lower-paid, the more hazardous—in general, the least agreeable and desirable. And one of the tragedies of the depression was the realization that the unsteady foothold Negro women had attained in even these jobs was lost when great numbers of unemployed workers from other fields clamored for employment.
Not very much is actually known about the economic position of Negro women today. The depression caused serious employment displacements that cannot be measured accurately. However, certain work problems of Negro women are outstanding and may be discussed with some measure of authority. To that end it may be well to discuss what is known concerning the general occupational position of Negro women; and further, something of each major occupational group as to numbers of workers, employment opportunities, hours, wages, and working conditions, and any other factors that may be of special importance.
Occupational Status
On the whole, most women, white or Negro, work for their living just as do men, not because they want to but because they must. The reason larger proportions of Negro than of white women work lies largely in the low scale of earnings of Negro men. In their pre-Civil War status it was the ability of Negro women to work that governed their market value. At the close of the Civil War a large proportion of all Negro women—married as well as single—were forced to engage in breadwinning activities. In 1930, at the time of the latest census, it was found still true that a larger proportion of Negro women than of white women were gainfully occupied. Practically two in five Negro women, in contrast to one in five white women, work for their living.
In pre-Civil War days the employment of the Negro woman was almost completely restricted to two fields where work is largely unskilled and heavy—agriculture and domestic service. Agriculture utilized the large majority of workers. In 1930 about nine in every ten Negro women still were engaged in farm work or in domestic and personal service, with more than two-thirds of them in domestic and personal service. The major occupational shift for Negro women has been, therefore, within these two large fields of employment. What occupational progress Negro women have made has been for the most part in connection with their entrance into the better paid, better-standardized occupations in domestic and personal service. In addition, increases have been shown in the last twenty years in the professions and in clerical work. From 1910 to 1930 there was an increase of 33,000 Negro women in manufacturing, though a small decrease took place between 1920 and 1930. . . .
Unemployment. Today, eight years after that [1930] census, though there are no complete statistics on unemployment for the whole country, it is certain that the plight of Negro domestics since the beginning of the depression has been an exceedingly serious one. Certain scattered data such as follow are indicative of the situation as a whole.
In a comprehensive study of employment and unemployment in Louisville, Ky., conducted by the state Department of Labor in the spring of 1933, it was found that a little over one-half of the Negro women, in contrast to less than three-tenths of the white women, were without jobs. More than three-fourths of the Negro women wage earners in the survey depended on domestic and personal service for their livelihood, but the depression had thrown 56 per cent of these out of work.
In a survey by the Federal Emergency Relief Administration of persons on relief in forty urban centers as of May 1, 1934, over two-thirds of the approximately 150,000 women who described their usual occupations in terms of servants and allied workers were Negro. For twenty-three northern and midwestern cities the difference in number between white and Negro women in this classification was not so great—54,000 Negro women as against 37,000 white women; but in the seventeen southern cities covered in the FERA report there were only 5,000 white women, as against 52,000 Negro women, classed as servants and allied workers.
Household service. So much for the unemployment of Negro domestic labor. But what about the working conditions of various types of domestic and personal service workers? The largest group, and the one concerning which there is the least definite information as to employment standards, is that of household workers. . . .
From common knowledge, and according to the few recent scattered studies that are available, low wages and long hours are characteristic of household service. In a survey of household employment in Lynchburg, Va., in the spring of 1937, the typical wage of the group covered—largely Negro workers—was $5 or $6 a week. Two cases were reported at $1.50 and one at $10, and there was one report of payment in the form of a house "on the lot" rent-free, and one of payment nade only in clothing. The typical hours were seventy-two a week. There were sixteen reports of eighty to ninety hours and there was one report of a week of ninety-one hours.
A compilation of household employment data for the South in 1934, in which some twenty-six YWCA local associations cooperated, showed that the average weekly wage for Negro workers was $6.17 and the average workweek was sixty-six hours.
During the period of the National Recovery Administration a survey of household employment in thirty-three northern counties in Mississippi, conducted by the Joint Committee on National Recovery, showed that wages of Negro domestics usually amounted to less than $2 a week.
An informal investigation of household employment was made in the spring of 1937 by a Washington, D.C., committee representing women's organizations, by inquiries of both private and public employment agencies. The study showed that the general minimum weekly wage at which workers were placed was $5, and the average was from $7 to $10. The chief demands were for mothers' helpers at the $5 wage, and for general workers. The large majority of applicants were Negro women. Inadequate living and working conditions on the job were reported for many households. In a number of homes no bathing facilities were provided for the workers; too often the bed was found to consist of a cot in the living room or furnace room. Long hours and heavy work were characteristic of many jobs and the difficulty of managing children constituted another problem.
Laundresses and laundry operatives. The census makes a distinction between women laundresses who are self-employed, working in their own or their employers' homes, and operatives employed in commercial laundries. In 1930 there still were about 270,000 Negro women laundresses not in laundries, despite the rapid rise of power laundries in the decade from 1920 to 1930. There were nearly 50,000 Negro women laundry operatives.
Though employment conditions generally are better standardized and more favorable for women in commercial laundries than in private homes, the direct influence of home laundry work on the hour and wage standards set by the commercial laundry can be seen clearly. In a study of laundries by the Women's Bureau in 1935, bureau agents were told again and again that commercial laundries, especially in the South, were having a terrific struggle to compete with Negro washwomen. The following comments made by laundry employers, employment office officials, and other informed persons illustrate the conditions at that time:
Since the depression, servants are required to do laundry as well as maid work; most of them get only $3 a week on the average.
Greatest competition is colored washwomen. Will take a thirty-pound bundle for a dollar. Some of them do a week's washing for fifty cents.
The washwomen charges only 60 to 75 per cent of what the laundry charges for the same size bundle.
The manager knew of a number of washwomen who were glad to get a day's work for carfare, lunch, and an old dress.
Jean Collier Brown, The Negro Woman Worker, Bulletin 165 of the Woman's Bureau (Washington, D.C.: Government Printing Office, 1938), pp. 1–4.