CONTEMPORARY ASSESSMENTS
Albion W. Tourgee was a carpetbagger judge in North Carolina during the Reconstruction who had earned the undying enmity of conservative whites for his views on racial equality. After the state was redeemed, however, he moved to New York and became a novelist. Even though Tourgee abandoned the South, he had not forgotten the black struggle for equal rights. During the 1890s Tourgee became a leader in the National Citizens Rights Association, a civil rights organization founded to combat the passage of segregation laws. Tourgee became active in a campaign to challenge their constitutionality, but ultimately lost the Supreme Court decision of Plessey v. Ferguson (1896), which validated the principle of "separate but equal." Because of his close association with the civil rights cause, many blacks wrote to him of the intimidation, the violence, and the general disregard for basic rights in the South. Several of the more poignant letters received by Tourgee are reproduced in Document 1.
Another contemporary political reformer-novelist, Ignatius Donnelly, denounced the southern racial system. His Doctor Huguet: A Novel (1891), published to deservedly dismal reviews, was a story about a young southern white physician with radical racial views. Through a rather contrived Faustian transfiguration, the doctor's mind and soul are placed inside the body of a brutally coarse Negro, who in turn assumes possession of Huguet's body. The novel then follows the failures of this transfigured mind, which, because its is housed in a black body, is perceived as a threat by the white community. Huguet is finally released from captivity when the Negro slays his own body, and Huguet's body and soul are reunited. The book was a hard-hitting satire on the southern caste system, in which social status was acquired only through the color of one's skin. Document 2 reproduces a chapter from the novel which describes the failures of Huguet's mind to find employment.
The late nineteenth century was a time of remarkable economic growth in the United States. During this period the nation was transformed from a preeminently agricultural nation to an industrial colossus, and although this enormous economic expansion produced significant benefits for capitalists and workers alike, the extent of the growth, coupled with the speed at which it came, also created severe social and economic dislocations. The nature of the problems created was not clearly understood at the time, however, and several federal commissions were established to define the difficulties and to propose solutions. The most important such commission of the 1890s was the Industrial Commission on the Relations of Capital and Labor, which convened in 1898, and heard testimony from witnesses from all walks of life over a period of several years. Eventually, the testimony and findings were published in a nineteen-volume report, prepared by experts on the subjects addressed. Some of the testimony relating to black labor is reproduced in Document 3.
In 1897, W. E. B. DuBois, the prominent black intellectual and protest leader, accepted a teaching position at Atlanta University. While at Atlanta between 1897 and 1914, he took it upon himself to supervise sixteen monographic studies which came to represent a valuable contribution to Afro-American sociology. One of the best of the series, The Negro Artisan (1902), was based on data derived from questionnaires distributed to hundreds of black artisans, union officials, and local "correspondents" throughout the nation. The questions, responses, and DuBois' assessment of racial patterns affecting black workers are partially summarized in Document 4. DuBois was prepared for the Atlanta monographs by research for his now classic study, The Philadelphia Negro (1896). His study was founded upon door-to-door interviews with black families of the Seventh Ward, the center of Negro life in Philadelphia, from which emerged a vivid picture of the social pathology resulting from poverty and discrimination. Document 5 partially reproduces DuBois' analysis.
STATUS OF THE BLACK WORKER AT THE TURN OF THE TWENTIETH CENTURY
1. LETTERS TO ALBION W. TOURGEE122
Wayneboro, Miss.
December 17, 1891
Mr. Albion W. Tourgee. . . .
We are women of Wayne County Miss. and we thought we would write and let you know what is going on as the men was afraid to do it for fear it would not be very good for them to let it be known we are continuly haveing some trouble the white peope of this county are taking the colored men and beating them and putting them in jail they beat a young man nearly to death this week and put him in Jail and said they would take him out and mob him the men have to pay a too dollar Poll Tax and them that cannot vote a colored man cannot get any charge made against a white man here they take the colored man and send him to the penitensiary and the law is not executed on the white man at all too houses was robed Sunday night and they said some Negro done it and they beat this man monday and put him in Jail there were three other towns robed and the citizens never taking any colored man up for it I cannot tell how it is all done down here We will have to have some protection or else go away from here We cannot live here much longer at this I cannot write any more now.
Yours truly
Jane Evans
Minnie Evans
Austin Tex Feb 21th 1892
Dear Sir it is with much pleasure that I take this opportunity of giving vent to my appreciation of your Common Cence articles which are the best and most timely that I have had the good fortune to read concerning my Race God knows we need all the help we can possibly get to pull us through and am very much afraid that unless we can get Friends to stand by us we are lost or if we were able to arm our selves for self Protection but we have no chance and we are satisfied that State nor Federal government can not protect us in our lives and Property they cant do it They never did nor never will protect the Life of a poor unarmed inofensive niger from the Blood Thirsty Deamons of the South look if you please at Chili Two white men got killed out there123 and the Government spent over two millions of money in Bringing Chilli to account for the Crime Committed. There has been killed in round numbers since the serender of 17711 nigers in the south and not as much as a finger has bin raised in our behalf Could you or any man or men love such a Country or such a government no no Sir the Federal government is not able for the Task nor never will be able we have found that out long ago so we will go to Mexico as the only accesable Country where we will become Citizens and be protected as such and as we go we will sing
My native land from thee
Oh land of misery from thee I fly
Land where we have often tried
Thy harsh laws to abide
But we will now let you slid and go to Old Mexico where we will become Citizens and soldiers if she wants us. . . .
I remain very Respectfully
Jos. W. Smith
Dear Sir Language cannot express the warmth of heart I have for you and the earnestness with which I pray that God may long let you live, give you strength and Courage to continue to battle for righteousness and justice for the oppressed race with which I am identified. I do not believe that the Republican party will have done its duty toward God or man till the end for which you are laboring will be reached. . . . Under the present situation we down here can't be of very much help but we are in full sympathy with you and are ready to act in anything that we can with safety. Why, Sir, the Colored people in some localities are as slaves in this very state—they are knocked and cuffed and kicked around and are afraid to leave their homes to even come to town. They are simply not their own and if they resent this treatment the mob steps in and its the end of that person. What is true of Alabama is true of every other Southern State. I should be happy to live to see the day when this would be indeed the land of the free. Again I believe the National Government should enact a marriage law; our women are degraded by white men raising families by them and then the whole race is scorned for it and the white man, of course retains his purity (?) In many cases, no doubt, the white men would marry the colored woman and raise a respectable family if the laws would permit. If one of our men look at a white woman very hard and she complains he is lynched for it; white men on the high ways and in their stores and on the trains will insult our women and we are powerless to resent it as it would only be an invitation for our lives to be taken.
The South is a pretty good organized mob and will remain so until bursted by the Federal Government. It is strange to me how some of the northern people can make so much ado over the goodness of the South when all of these outrages are going on against a helpless people and not one of their newspapers will condemn them but rather encourage them. A good law would be to prohibit these newspapers, publishing these outrages seemingly endorsing them, from passing through the mails; such only encourages others to do likewise. . . .
Sincerely yours,
A. N. Jackson
Pastor M.E. Church
Duncan Miss Bolivar Co July 4th 1892
Dear Sir; In your notes to the Interocean June 7th last, you give notice to all Lovers of Liberty, Justice and Freedom, and especially to those belonging to the National Citizens Equal Rights association to Form what is to be known as Local unions, accordingly We have met and considered the matter carefully, you are satisfied that there is no Law in this State to protect a Black man who makes any attempt to enlighten his Race on any political question; Surely you do not realize the situation as we do, who lives here, the man or Woman who attempts to strike a Blow here for Freedom must be killed out right—or he must be Exiled from all he possesses at once as Miss Ida B. Wells of124 the Memphis Free Speech have been. In a word he must be made such an example of, untill no other Negro will attempt to do such a thing again, We are a little tired of having to show our Corpse to prove to the world that the Laws of this Country is not sufficient to protect the Black man as well as the white We read your notes Regular and Readily, our liberty have been taken from us so long untill we have almost got use to it, In a word we see no possible chance of ever being Free under The Flag of Liberty and christian civilization. Do you know my Dear sir, that there are standing armies in every county in every Southern State called Malitia, and are at the command of the Governors of the different States, who are Negro haters and who are willing to sacrufice everything even Life in order to give the negro to know that he mast obey the white man, These armies are always ready to go to any scene where a negro resist a White man no matter how small the case may be, or however wrong the white man may be, The Negro must submit It is no use to try the Law, Now what can people do who are Situated as we are, Just as complete into the hands of our Enemies in 1892 as we were in 1852 It is possible that something can be done, but how it is to be done, is as fare out of our sight as the God who created the heavens & the Earth, It took this government Four yrs with all of the modern artilry and the most skilful men of war, With as much money as they needed and more men than they did need, to drive these same men from the same power they have now, and how can we ever do such, with no men of war, no artilery, and no money. It is simply absurd, but we have deciden to do what you have requested even if we are exterminated we shall hope to hear from you as early as possible stating what you further will have us do
Very Respectfully
S. R. Kendrick
These letters were reproduced from Otto H. Olson (ed.), "Albion W. Tourgee and Negro Militants of the 1890's: A Documentary Selection," Science & Society 28 (Spring, 1964): 191–95, 198.
2. DOGTOR HUGUET: A NOVEL125
CHAPTER XXV
FREE AGAIN
"Where am I now? Feet, find me out a way,
Without the counsel of my troubled heart:
I'll follow you boldly about these woods,
O'er mountains, through brambles, pits and floods.
Heaven, I hope, will ease me. I am sick."
—Philaster (Beaumont and Fletcher).
The day arrived on which my sentence expired. I shook hands with the jailer and his assistants. They regarded me with a species of awe. I certainly had not acted like the notorious Sam Johnsing. I think they were rather glad to get clear of me: there was to them something mysterious and uncanny about the whole business. They could not understand it.
Ben was on hand to take charge of me. He insisted that I must go to my own house; and there he would secrete me, and care for me, until the "hoodoo," as he called it, terminated. But I declined his kind offer. I told him that the spell had been placed upon me because I had not done my duty according to the lights of my own conscience, my inmost monitor; and that I could only escape from the curse under which I suffered by going out into the world and laboring for the welfare of the black race. If I hid myself and lived a life of pampered idleness, the spell would remain upon me forever.
Then he wanted me to agree that I would receive a certain sum of money from him every week—enough to pay my board and other expenses of living. He would take it out of my own income. But this offer also I declined. I told him that I desired to show the negroes that the fault of their not rising to greater heights of distinction, and so overcoming the cruel prejudices which surrounded them, was because they did not address themselves to the task of success with a white man's brain and energy. I proposed, I said, to throw myself, bare-handed, into the shock and battle of life, and win by sheer force of intellect. In the day of my success it would not do to be subject to the reproach that I was indebted, for my triumph, to the fact that I had been in receipt of an income which placed me above want, and gave me an advantage over other black men. No! I would go into the conflict as a negro, and win as a negro, or fail as a negro; but I had no fear of failure. I felt so confident of the advantages which my thoroughly equipped intelligence gave me that I was sure I should revolutionize the whole social status of the negroes of the entire world. Yes, I said, the new era for the black man of America would date from my going forth from these walls to-day, even as the calendar of the Moslem begins with the Hegira of Mahommed from Mecca to Medina.
And so, shaking hands warmly with my faithful friend, we parted, and I started forth upon my mission.
I had given the subject a good deal of thought, during my imprisonment, and it had seemed to me that, if I was to teach the colored people, it would be well to seek a place as a professor in some college or university. This would give me a vantage-ground—a standing—from which I could readily move to a higher level of statesmanship and statecraft.
There were two institutions of learning in C_____, both of prominence. I would make ray first applications there.
I sought out the president of the most important of these first. I found him a pleasant, smiling, affable gentleman, with gray hair, and gold spectacles on his nose, an eminently respectable, scholastic-looking personage; a minister of the gospel and a pillar of society. He received me courteously and asked my business. I told him I wanted an opportunity to teach in his college, in however humble a capacity, or for however small a compensation. His face broke into a broad smile, which he politely tried to suppress.
"What can you teach?" he asked, good-naturedly,
"Latin, Greek, French, German, Italian, music, English literature, or medicine," I replied.
He looked surprised and handed me a copy of a Greek work, and requested me to translate a few lines of it into English. I did so readily and correctly.
His astonishment was great, and his manner became more respectful. He asked me several questions as to where I had been educated, all the time studying my rude, black features with a bewildered expression. He offered me a chair. I inquired whether there was any place in his institution I could secure, in which I could make use of my knowledge to earn a living.
He politely told me that he regretted to say there was none; that his institution was purely and solely for the education of white students, and that they would not receive learning from one of my color. He added that such prejudices were foolish, he was ready to acknowledge, but they existed, and as a practical man he had to recognize them; if he employed a single negro tutor in his school he might just as well close up his doors. He said they needed a servant, however, to look after the stables, and—
But I interrupted him, and replied that I did not want to do menial work; and, thanking him for his courtesy, I bowed myself out.
I was not discouraged; I expected rebuffs. I made my way to the other institution. The head of it was very unlike the gentleman I had just seen. He was beetle-browed, dark—dark as a mulatto—with great quantities of black hair on his hands and arms; in fact, his hands were furred, so to speak, except on the palms and knuckles. I could not help but think of Darwin and Evolution and the great apes. His voice was coarse and gruff, and manner brusque. He had none of the sweetness and suavity of the other gentleman. He roared with laughter, in my very face, when he heard my proposition; and did not even trouble himself to test my attainments, or make any explanations, but rudely ordered me out of the room. He told me he had no time to waste in such nonsense.
Still I was not discouraged. If I could not get employment in any institution of learning, at least the merchants' stores were open to me. I must find a resting place, a fulcrum, for the Archimedean lever with which I proposed to move the world.
I walked past several stores and scanned the proprietors and the establishments carefully. At last I came to a large dry-goods shop, with many salesmen. A benevolent-looking old gentleman seemed to be in charge of the place. I entered. I think the employer was of Quaker stock, for he used the "thee" and "thou" of that quaint, interesting and admirable people.
I told him I wanted a situation as a salesman; that I would work for the first month for nothing (I had money enough to carry me along for a time); and after that I would ask such small stipend as he thought would be reasonable, sufficient merely to pay my board.
The old gentlemen smiled on me blandly and replied:
"Thee cannot belong to this place, friend, or thee would know that people of thy color cannot be employed, side by side, with white people, in such an establishment as this. If I employed thee, and thou wert ready to work for nothing, still it would not do. The mere sight of thy black face (I say it kindly, friend), behind this counter, would drive away every white customer from my store and bring me to bankruptcy."
"Is there no store in which I can get employment?"
"No," he replied; "not one. The line of color is clearly drawn."
"Are there any negro stores?" I asked.
"No,' he replied; "thy people are generally poor and would scarcely be able to maintain stores; and if they were established the better off among them would probably prefer to patronize the white stores, for they are, naturally enough, ambitious to be something higher than their fellows. The aristocratic distinctions are as clearly defined among thy people as among the whites, as thou art probably aware."
My heart began to sink. What a dreadful and all-pervading thing this race-feeling was. No outlet for a black man among the whites, and none among his own color! No wonder they were forced down into servile places, such as waiters, barbers, etc. But I would not be driven in that direction. I would continue the fight. I thanked the pleasant-looking old gentleman for his courtesy and politeness, and started out again.
I walked for some time before I had the courage to make another attempt. At length I passed a lumberyard. In the office a fat man sat perched upon a high, three-legged stool, making entries in a book. I bowed politely to him, taking off my hat and standing humbly before him, and asked him if he needed a clerk.
"A clerk!" he replied, in a loud voice, staring at me insolently.
"Yes," I replied; "I am a book-keeper and have a thorough education. I can speak French and German as well as English. If I could make myself useful to you I would work for a very small compensation."
He hopped down off his chair, and, pointing to the door, yelled at me:
"Get out of here! It's a pretty state of things when d—d niggers, like you, can speak French and German and know more than their betters, and ask to be bookkeepers! Go down to the levee and yank cotton bales. That's the kind of work you are fit for! Out of here!"
I retired before this burst of vituperative bigotry, perfectly overwhelmed.
But why pursue further the wretched narrative of rebuffs and disappointments? All day long I passed from place to place, trying to find employment fit for a gentleman. Sometimes I was treated civilly, sometimes insolently, and sometimes canes and yard-sticks were raised over my head.
I had the money to pay my board in a comfortable hotel, but all such were shut in my face; and I had to put up for the night in a low, dirty haunt of men of my own color.
It was a long time before I could get to sleep. The high hopes and aspirations with which I had started out in the morning were all blasted and withered. I began to lose confidence in my own theories. The Archimedean lever would not work. I could not find a fulcrum for it. It seemed to me that the eloquence of Daniel Webster or the learning of William E. Gladstone, wrapped up in a black hide, would amount to nothing. The saddest part of the business was the dreadful revelation of the baseness of human nature which I had witnessed; for, during the day, I had made applications for employment to several of my intimate friends, whose faces had never before been turned to mine save when wreathed in obsequious smiles, and I had started back before the dark and scowling brows with which they greeted a helpless inferior. The world is a wretched-looking object viewed from below, but grand and gaudy as stage scenery to him who can contemplate it from above. The highest test of a true gentleman is gentleness to servants and courtesy to the unfortunate. The man who can address a begger with the same tones of voice which he will use toward a prince is one of nature's noblemen,—yea, a species of demi-god, and fit to be worshiped by common humanity.126
I had also found that it was impossible for me to force my way into many of the trades and mechanical pursuits, even as an apprentice. They all had their laws limiting the number who could learn the business.
What was left for me? I must either resort to servile employment or hard physical toil. . . .
Ignatius Donnelly, Doctor Huguet; A Novel (Chicago, 1891), 197–201.
3. HEARINGS BEFORE THE INDUSTRIAL COMMISSION, 1898–1900
Washington, D.C., April 17, 1898
TESTIMONY OF MR. JOHN HEALY,
First General Vice-President, National Building Trades Council of America
FORM OF CONTRACT ADOPTED BY THE BUILDING TRADES COUNCIL, WASHINGTON, D.C., AT ITS MEETING, FEBRUARY 25, 1896
In consideration of the organizations represented in the building trades council, a central representative body of the District of Columbia, pledging their support and assistance to the undersigned concerns and individuals, the latter hereby agree and pledge their faith to employ none but local union labor, recognized as such by the said building trades council, on all their work in the District of Columbia, in the lines of business sought to be protected and assisted by the said council, whether such work be in the construction, repair, or remodeling of buildings owned by said undersigned concerns or individuals.
It is expressly understood and agreed, however, that if any local union, whether it be a member of the said council or not, refuses to ratify this agreement by entering into a contract similar to the foregoing and relating to its particular trade or craft, then the employment by said concerns or the said individuals, or either of them, of any person or persons not members of the said nonratifying or refusing union, shall not be the basis or form an excuse for the calling off of the hands of the unions which have ratified and accepted this contract, or for any strike or boycott on its or their part against said employing concerns or individuals, or either of them.
And in cases of differences growing out of the failure to observe the foregoing undertakings, or which may arise in the employment of any unfair labor, and which can not be settled between the said organization and the concern or individual complained of a board of arbitration shall be elected, as follows:
Three arbitrators shall be elected by the said building trades council and three by the concerns or individual complained of, and if necessary, these six shall elect a seventh impartial man.
The decision of this board of arbitration shall be binding on all parties concerned.
This contract shall go into force on the ______day of_____, A.D. 1896, and remain so until the_____day of_____, A.D._____.
In witness whereof the said building trades council has caused these presents to be signed with its name by its president and secretary, and its seal annexed, and the said concerns and individuals have on their part caused same to be signed with their names, on this_____day of_____, A.D. 1896.
_______________.
_______________.
Q. Do you have any colored men in your organization?—A. Not in the local organization; but the national organization does not prohibit colored men from becoming members. There are colored bricklayers in Washington, but not connected with our organization.
Q. (By Representative Gardner.) For what reason? Why are they not connected with you?—A. Because we do not permit them; we do not admit colored men to our organization.
Q. (By Mr. KENNEDY.) Have you affiliated with the hod-carriers' union, who are largely union men?—A. We affiliate with them in the building trades council.
Q. (By Representative GARDNER.) What latitude have the local organizations the country over in the admission of members; that is, the grounds on which they arbitrarily decline to admit persons as members? For instance, you said awhile ago a bricklayer had to be vouched for by 2 people, and so on.—A. I stated also he had to be a citizen of the United States or Canada.
Q. It seems to be true that the local organization here has power to draw the color line absolutely, without regard to the qualifications of the applicant. To what extent does that power generally go with local organizations? Is it absolute? Could it extend to a roman nose, gray eyes, wart on the chin, or must it rest upon some reason? What is the law about it?—A. Such a condition might be possible, but not at all probable.
Q. You mean then that all those things rest absolutely upon the will of the local organization?—A. Why, yes; they rest upon the will of the majority, but I want to say that this method of excluding the colored men is not adopted all over the country in every organization affiliated with the national union. In the cities of New York, Boston, and all through the east they are admitted to membership to any local and admitted to membership in the national union.
Q. (By Mr. FARQUHAR.) You say that the local union does not admit the negro?—A. Yes.
Q. Suppose a negro comes from a local union with an international card; what is this union going to do?—A. We will admit him; we recognize his card all the time.
Q. Is it not common that a great many of the unions south of the Potomac and Ohio rivers draw the color line?—A. South of the Potomac River.
Q. And the Ohio.—A. South of the Potomac River it is common for white and black to be mingled in the same organization. That has been forced upon them as a matter of necessity, because in some localities, especially in the far South, the colored mechanic is in the majority.
Q. Then the farther north you go the line is closer drawn?—A. I can not say that, but when you get to Washington the line is drawn, and before you get to Washington, Norfolk and Richmond, and those places not so very far south of the Potomac, the line is very distinctly drawn, and as far as Washington and Baltimore. But when you get as far as New York—I do not know about Philadelphia—but when you get to New York the colored man is on a par with the white man, and so it is farther east and north. You go to Chicago and they are on an equality with the white mechanic. While the laws of our organization exclude colored men, I want to say that we have less trouble, less opposition from the colored man than we have had from those few white men who have remained outside of the pale of our organization. We have worked in entire harmony with the colored men. The colored men, I believe, understand, as we do, one of the most important reasons for excluding them from membership in our organization, and that is that 99 per cent of the colored bricklayers, especially those in Washington, are not qualified to hold their own with the white man, and of course we could not admit them to membership unless we regulate that as a whole.
Q. Bring down your own standard?—A. We would have to bring down our own standard; we recognize that fact.
Q. (By Mr. A. L. HARRIS.) Is that from natural qualities, the want of efficiency?—A. They have never had the opportunity to become efficient, as has been stated here before, like those people who have served apprenticeships and worked in the larger cities.
Q. (By Representative GARDNER.) They are admitted in New York and Boston?—A. Yes.
Q. Probably have a pretty good standard of work there?—A, Yes.
Q. Now, do you know whether those colored men generally belonging to the unions in New York and Boston are freed slaves, or are they the descendants of colored people who have lived in the North for generations?—A. I do not know, but I would presume that they are the descendants of people who have lived in the North for generations.
Q. That is to say, they become competent, more competent mechanics by being more thoroughly de-Africanized?—A. Yes, by being constantly in closer touch with the white men of their particular trade or calling. . . .
Washington, D.C., May 5, 1899
TESTIMONY OF MR. G. W. PERKINS127
President of the Cigar Makers International Union
Q. (By Mr. FARQUHAR.) How does he get any particular benefits?—A; Increased wages, shorter hours generally, and improved shop conditions.
To bring out more clearly the point I made a short time ago regarding expenditures for out-of-work benefits, let me say that in 1893 the expenditures for out-of-work benefits, in round numbers, was $89,000; 1894, $174, 000; 1895, $166,000; 1896, which was the banner year, $175,000; then the decline commenced; 1897, $117,000; 1898, $70,000.
Q. Explain this out-of-work benefit.—A. We pay $3 a week to any member who is unemployed and in good standing.
Q. (By Mr. KENNEDY.) Do you make any distinction between married and unmarried members?—A. No distinction whatever. Every member is served precisely alike. We make no distinction regarding sex, color, creed, nationality, whether married or single.
Q. (By Mr. PHILLIPS.) Have you many female members?—A. Very few, comparatively speaking, to the large number of females employed in the trade. We have probably, not over 5,000, all told, and they are largely located in New York and through Pennsylvania.
Q. How many colored members have you?—A. Quite a few in the South. That is, I say, quite a few when compared with the members that are in other trades. Regarding the colored question, I want to say now, if it is permissible: Our constitution makes it obligatory on the part of local unions to accept journeymen cigar makers as members. Any journeyman cigar maker who has served 3 years at the trade can come in, and by paying his initiation fee in installments, if he wants to, he is regarded as having been initiated. It requires no vote; the constitution makes it mandatory. . . .
Washington, D.C., April 7, 1899.
TESTIMONY OF MISS CLARE DE GRAFFENRIED
United States Department of Labor
Q. (By Mr. SMYTH,) Do you not think that the cost of living is very much less in the South?—A. Very much less in every way. In the first place, the expense of fuel is inconsiderable. At the North it has to be used at least 8 months in the year; in the South, probably 3 or 4. Next, the clothing is entirely different; the heavy expensive wool stuffs used in the North are not needed in the South. As to food, not only is the dietary less varied and extensive than it is in the North, but many kinds of food are cheaper. I should like to see a better dietary among certain Southern mill operatives, who now use no sugar, no milk, few fresh vegetables and meats, and live on pork and corn bread. There are many Southern mills where the dietary is good, where pasturage is provided, where cows are kept, where the people have plenty of milk, and raise vegetables and fruit. That is true of the mills along the Patapsco. The corporations not only furnish certain land for a garden, but they also have a sort of communal garden, and each family is allowed to have a strip in that garden which they may tend and cultivate. Of course this enables them to live better than they could otherwise. In other parts of the South the same is true. I know a mill In Athens, Ga., where the superintendent has a garden plot for each family. It is just as much a part of his work to have those gardens ploughed and those houses whitewashed as to pay dividends to the stockholders. At other mills no attention is paid to that sort of thing, and the operatives do not work in the gardens, being tired with their tasks in the mills. Those are the districts where the families are so poor that they use no milk or sugar. On the other hand, you will find that many poor farmers do not feed their cows and they are without milk, except in summer, when the pasturage is good.
Q. (By Mr. FARQUHAR.) Is it mainly the local population that is employed in those mills?—A. It is altogether a local population—that is to say, local within a radius of fifty or a hundred miles. You know, of course, that no negro labor is employed in the mills of the South except in the picker room. Negroes also are employed as porters and teamsters, but they do not tend machines. Columbia has a cooperative mill owned and worked by negroes.
Q. (BY Mr. SMYTH.) Has that not failed?—A. So I understood. I understand there is a mill in Charleston that employs only negroes. The reason I call attention to the fact that there are no negroes employed with whites on textiles in the South is that In the course of some remarks I was making in Boston on the subject of Southern spinners I was interrupted by a man who said that all that work was done, of course, by negroes. He was a mill owner himself, yet was under that false Impression. . . .
Washington, D.C., April 21, 1899
TESTIMONY OF MR. J. W. BRIDWELL
Secretary of the Atlanta Federation of Trades
Q. (By Mr. KENNEDY.) You say there are very few strikes in the South. Do you attribute that to the fact that organization is comparatively weak in the South?—A. Yes; that is one of the reasons.
Q. You consider organized labor in its infancy in the South almost, do you not, and struggling to get to the front?—A. Yes; but gaining very rapidly.
Q. (By Mr. RATCHFORD.) Do you think the number of strikes would increase or diminish if the organizations were strengthened?—A. I think it would diminish.
Q. (By Representative LIVINGSTON.) If we had the same proportion of foreign labor mixed up in Atlanta as they have in Chicago, would you have more strikes or less?—A. We would have more strikes.
Q. (By Mr. FARQUHAR.) What reason can you give for that?—A. It is the restless condition of the foreign element.
Q. How long have you been acquainted with Southern unions of all kinds?
A. I have been a member of unions for sixteen years.
Q. Has there not been, proportionately to the number of members in the Southern unions, as many strikes there as there have in the North or West or East?—A. Proportionately, we have our share of them.
Q. (By Mr. PHILLIPS.) Have you any strikes of the colored labor in the South?—A. Yes, occasionally; unorganized strikes, and sometimes organized.
Q. Do the colored people belong to any organizations in the South?—A. Yes; they have members in a number of organizations.
Q. (By Mr. KENNEDY.) If you pay the same proportion of dues that are paid by the membership elsewhere, and you have occasional strikes in Georgia, is it probable that you get your full share of the benefits from the international organizations?—A. Yes; we get our full share.
Q. You have no fault to find?—A. No.
Q. (By Representative LIVINGSTON.) Do you suppose you have as many as 5,000 or 6,000 laborers in Georgia in organizations of different kinds?—A. Yes; in good standing, exclusive of the railroad organizations. The cotton mills' operatives organized in Augusta with 1,500 or 2,000 alone, and Columbus has just been organized. We have 5,000 or 6,000, in round numbers, outside of these just organized. . . .
Q. What relations have you with nonunion labor? For instance, in the typographical union, does the nonunion man have the same rights and privileges there in Atlanta as a union man would have?—A. There are some printing establishments he can not work in at all, not being member of the typographical union. The same rule applies to other organizations.
Q. (By Mr, KENNEDY,) Can he work in the Constitution office or the Journal office?—A. The Constitution is an open shop; the Journal is a union shop or office.128
Q. It is said the Constitution does not recognize the union at all. Is that so?—A. We have a majority at the present time—members of the typographical union.
Q. (By Representative LIVINGSTON.) Have you had much trouble with nonunion labor?—A. We have had no more than our share that you will run across around the country.
Q. As a rule, are the negroes able to pay the initiation fees and dues? A. No; but the unions always provide a way where they can pay the initiations and dues. They can pay the dues more easily after they get into the union on account of the higher rate of wages.
Q. In the first instance, how could they get in?—A. There are different rules in the organizations; most organizations give them an opportunity to pay as they earn. Some organizations will not admit them to membership.
Q. Do they have the same facilities and opportunities that our white people have?—A. Yes, excepting the railroad organizations.
Q. Do they get the same money?—A. They get the same amount of money in trades they are employed in. The railroad organizations debar them from membership.
Q. How about the typographical union; does it debar them?—A. I can not answer that; we have no colored typographical men in the South that I know of
Q. Stonecutters—they can cut stone?—A, No; we have no colored stonecutters. We have quite a number of stone masons. I have heard of two stonecutters in the State, but they are not connected with the union.
Q. Do you fight nonunion men, oppose them, browbeat them, or fight them out of employment, as a rule?—A. We keep them out of employment in certain shops where they get in our way. . . .
Q. (By Mr. KENNEDY.) Can you state the sentiment of organized labor in Atlanta as to the question of immigration; are they in favor of restricting it; have they considered it; passed resolutions on the subject?—A. They are in favor of restriction.
Q. (By Representative LIVINGSTON.) Why?—A. So as not to put so many laborers on the market.
Q. Which is to get rid of competition they would naturally bring in? A. Yes.
Q. Do you not think your social standard would be lowered if they were tumbled in on you there?—A. Undoubtedly; yes.
Q. Have you any suggestions to make on this immigration question?--A. No; except we believe it should be restricted.
Q. You want to make that an educational restriction?—A. Educational.
Q. Colored labor?—A. Colored labor is most unskilled labor in the South. There are quite a number of them engaged in trades, and some are organized. In Augusta, Ga., for instance, they have a carpenters' colored local and painters' union, and seem to take care of themselves as well as any other organization.
Q. What about convict labor; do they affect you in any way in the South?—A. They affect the miners seriously, and common labor considerably in the manufacture of brick and work on farms. I believe these are the only industries where they are used in that section. It takes the employment out of the hands of that much free labor. I do not know as it seriously affects farmers as much as it does the miners.
Q. (By Mr. KENNEDY.) Have your organizations petitioned the legislature to provide noncompetitive employment for convict labor?—A. They have not, so far; but they will through the legislative committee this coming convention.
Q. (By Representative LIVINGSTON.) In other words, where manufacturers are selling their goods made by convict labor, you propose to have something to say about that?—A. Yes; in several ways; to have them branded as convict-made goods, for instance, is one way.
Q. (By Mr. RATCHFORD.) Has the organized labor which you represent taken action, giving their representatives and officers of the association instructions, through this State convention, to bring this matter up and finally have it referred to the legislative committee, which will appear before the legislature, to have these bills properly introduced?—A, Yes.
Q. Are you satisfied that the sentiment of free labor is against the employment of convicts in the mines and in the trades which you mention?—A. Yes.
Q. Are there any suggestions offered by the organization as to how the situation can be relieved?—A. It could be relieved by working convicts on public roadbeds, putting public roads in better condition, and keeping them in repair after once made.
Q. Is labeling the product of prison-made goods regarded as being a cure for the situation, or simply a remedy that will relieve it to some extent?—A. It would be a way. We could relieve ourselves to some extent by not patronizing convict-made goods of any description.
Q. (By Mr. FARQUHAR.) Have you an acquaintance with the convict-labor law in the State of Georgia?—A. They let the convicts out through a lease. The system was changed a short while back, I believe; a certain number to be worked in the mines and a certain number on the farms.
Q. Are these leases determined by the penal sentences of the prisoners, for instance, 5, 10, 15 or 20 years?—A. Yes. They are leased according to the crime. In the State of Georgia certain prisoners are governed by the county authorities, and others are governed by the action of the prison commission, and a law as to how they shall lease these fellows.
Q. (By Representative LIVINGSTON.) A man that is sentenced for life; what do you do with him?—A. Usually send him to the mines. . . .
Charlotte, N.C., March 14, 1900
TESTIMONY OF MR. JAMES L. ORR
President and Treasurer, Piedmont Manufacturing Company, Graniteville, S.C.
Q. Your place of residence?—A. Greenville, S.C.
Q. And your business?—A. President and treasurer of the Piedmont Manufacturing Company, situated on the Saluda River, 11 miles south of Greenville, on the Southern Railroad.
Q. The Piedmont Company is a cotton mill corporation?—A. Yes; we manufacture sheetings and drillings; we have about 60,000 spindles and looms.
Q. It is one of the first and one of the largest cotton mills established in South Carolina after the war?—A, Yes; it was one of the first mills established. It is not one of the largest now, though it is probably fifth or sixth.
Q. Do you use entire white labor?—A. Yes; we use no negro labor at all, except scavengers and firemen, and all our teamsters are white.
Q. (By Mr. C. J. HARRIS.) Do you not employ negro labor in the mills?—A. I do not think it is desirable to work the two together. I think that the preference should be given to the white labor, as long as we can get it, because they have had a hard time in the South for a long time in competition with negro labor, and this is the only sphere, as it was, set aside for their benefit. As long as I can use the white labor to any advantage I intend to do it.
Q. Is that the custom in all the cotton mills you know of?—A. Yes. There are some mills—there is one mill I know which is using negro labor exclusively, except the overseers. Negro labor was used in the South for a number of years before the war, to a limited extent. One of my superintendents worked before the war in the late Saluda mill near Columbia, where some negro labor was employed.
Q. Is there anywhere a mixture of white and colored labor? It is either one thing or the other?—A. Yes, except in some of the mills they use negroes for scrubbers and outside hands, and such as that; but inside the mills, some of them use negroes as picker hands in the picker room.
Q. (By Mr. RATCHFORD.) Why is it not desirable to mix the races in their employment?—A. In the first place, between the class of hands that work in the mills and the negro labor there is considerable feeling; that is one objection. Then another, the social feature that it would bring about.
Q. What feeling is it—race feeling?—A. Yes.
Q. Would it, in your opinion, do justice to both races to have them come into closer contact with each other, both in their employment and in social matters?—A. Hardly socially, sir.
Q. Would it tend to elevate the lower classes?—A. I think not. I think the history of the world shows it is rather dragging down than bringing up.
Q. (By Mr. SMYTH.) The whites would resent it?—A. Very much.
Q. It would be very hard to force them to work together?—A. Yes.
Q. (By Mr. RATCHFORD.) Do they resent it in other occupations?—A. Not on the farm; not in the mines; but there, you see, there are principally males occupied, whereas if the negro was allowed to work in the cotton mills, generally, they would be mixed up with the women, too.
Q. (By Mr. C. J. HARRIS.) I should like to ask you in regard to the supply of labor for mills; is it plentiful, or the reverse?—A. Up to this time we have had ample labor for the mills. You know, in the upper part of South Carolina, and the upper part of Georgia, and western part of North Carolina the white population largely predominates, and we get our help principally from these three sections. There will be some scarcity until the hands are trained, in consequence of the number of new mills going up now, I apprehend.
Q. (By Mr. SMYTH.) What work does this white labor come from?—A, From farms almost exclusively.
Q. Why do they leave the farms? Are the attractions and opportunities better?—A. Yes; they have much better facilities for schools. The mills, so far as I know, everywhere run their schools longer than they do in the country. For instance, we have for a number of years at Piedmont supplemented the public school fund so that we teach 10-1/2 months in the year. Then they have the advantages of churches. We have 5 churches in Piedmont regularly supplied. Being close together, they have social advantages which they do not have in the country. Probably a more weighty reason than any of the others is that they can have employment 310 days in the year at fairly good wages, much better than they can make on the farm. . . .
Q. Is there always a plentiful supply of colored labor?—A. Yes.
Q. What have you to suggest as an improvement for that condition?—A. Nothing suggests itself just now to me.
Q. The colonization of the negro has been advocated by witnesses before this commission. What is your judgment upon that?—A. I think it would be the greatest misfortune that could happen to the South. I think the negro labor is the best for the farm that we can get. They can live on less and they can do more work when properly treated than any class of labor that we can have. But for the negro labor we could not live on 5 cent cotton, and but for 5 cent cotton the South would not be able to control the cotton markets of the world. So I am utterly opposed to taking the negroes away from the South.
Q. Do you think that ultimately the assimilation of the races will result in the building up of a higher standard among that class?—A. By assimilation I do not suppose you mean miscegenation. That would be the greatest curse on earth to this or any other country. They are an imitative people, and I think their condition has improved very much through association with the white people. What satisfies me of that is the condition of the negroes in the upper part of the State where they come into contact with the white people, and that of those of the lower part of the State, where they live by themselves very much. The negroes in the upper part of the State are very much more intelligent, I think, sir.
Q. As the result of the influences surrounding them?—A. Yes, environments.
Q. (By Mr. SMYTH.) Is it a fact that the negroes In the lower counties of the State have actually retrograded in intelligence?—A. That seems to be the universal judgment of everybody down there.
Q. That is, since the control of the whites has been removed where they gather in large bodies by themselves?—A, Large bodies by themselves, and have no association with the white people; I think they have deteriorated mentally, morally, and physically, from what I can see and hear.
Q. In your neighborhood the negroes are working as carpenters and bricklayers with the whites, are they not?—A. Yes, particularly in the building of new enterprises—mills and warehouses and stores—you will see negro carpenters, negro bricklayers, and negro plasterers working along with the white people.
Q. In that way they come into competition with the white mechanic?—A. Yes.
Q. And force them to take lower wages?—A, Yes.
Q. In other words, the wages are based on the lowest stratum?—A. Not only with us, but, I think, with everyone in the world.
Q. That is one difficulty with the laboring class in the South—the competition with negro labor, which forms the basis of comparison?—A. Yes; the white people in the South of that class have found that they could go to the mills where the negroes have not been able to go. They have had that sphere to themselves heretofore.
Q. But the negro has followed them there in Charleston?—A, Yes; they are running the mill entirely by negroes, except the bosses.
Q. (By Mr. RATCHFORD.) Admitting that the lowest wages paid do much to fix the standard for all, is it not also true in thus fixing a low standard of wages the low standard of living follows, and all that accompanies a low standard of living?—A. The amount of wages received, of course, regulates the living. . . .
Charlotte, N.C., March 14, 1900
TESTIMONY OF MR. THOMAS H. RENNIE,
Superintendent Graniteville Manufacturing Company, Graniteville, S.C.
The subcommission of the United States Industrial Commission met at the Southern Manufacturers' Club at 10 a.m., Mr, E. A. Smyth, presiding. Mr. Thomas H. Rennie, superintendent of the Graniteville Manufacturing Company, Graniteville, S.C., was introduced as a witness at 10:35 a.m., and, being duly sworn, testified as follows:
Q. (By Mr. SMYTH.) Please give your name.—A. Thomas H. Rennie.
Q. Your place of residence?—A. Graniteville, S.C.
Q. What is your business?—A. Superintendent of the Graniteville Manufacturing Company.
Q. That is a cotton mill?—A. Yes.
Q. That mill was established a good many years before the war by Mr.129 Gregg, I believe?—A. In 1845.
Q. It is about the oldest mill in South Carolina?—A. The oldest.
Q. As well as one of the most successful?—A. Yes.
Q. How long have you been connected with that industry in South Carolina?—A. Eighteen years.
Q. Are you a native of South Carolina?—A. I am a native of the State of New York.
Q. Were you in the cotton-mill business before coming to Graniteville? A Yes.
Q. For how long a time?—A. Sixteen years.
Q. You were for 16 years engaged in cotton manufacturing in the North, and you have been for 18 years, you say, in the South?—A. Yes.
Q. You are therefore somewhat conversant with the labor conditions on both sides of the line?—A, Yes.
Q. Do you employ any colored hands in your mills?—A. In the picker department, roustabouts around the yards, etc.
Q. You employ none in the mill proper?—A. None in the mill proper except to carry water, wash floors, and that class of labor.
Q. Would it not be practicable to employ the races together in the cotton mill?—A. It would be impracticable.
Q. It would be resented by the white operators?—A. It certainly would. They would not work side by side.
Q. That is a matter of race prejudice—race feeling?—A. Yes; that is older than we are, I suppose.
Q. (By C, J. HARRIS.) In the mines and in other work here in the South we work whites and blacks together without friction; that is, where only males and adults are worked. I do not see that there is any particular friction in other employments?—A. Your question answers itself because you state "where only males are employed."
Q. (By Mr. SMYTH.) There are a large number of mechanics, colored bricklayers, etc.—A. Yes.
Q. They work side by side—A. They do.
Q. What effect does their wage have on the white mechanics?—A. It affects them.
Q. (By Mr. RATCHFORD.) Do they offer themselves for less wages than the white mechanic?—A. They do.
Q. What is the difference in wages?—A. The white journeyman bricklayer in our section gets $2.50 a day, and we are able to employ a colored bricklayer for $1.75.
Q. Skill being about equal?—A. Skill being about equal.
Q. Does it not follow that the colored bricklayer is usually employed and gets the preference where there is not a market for the labor of both?—A. I should say yes.
Q. (By Mr. SMYTH.) It has been stated here that the mill In Charleston is employing colored labor with white overseers. Do you know whether this is working successfully?—A. The managers of the enterprise say yes, and skilled manufacturers who have gone in and examined the work say no.
Q. Do you think there is any reason why the colored people cannot be taught cotton manufacturing?—A. I do not know of any reason.
Q. They work for less wages than the whites in Charleston?—A. About two-thirds of the wages of the whites. The only difficulty they have experienced so far is regularity of work. They stay away from their work a great deal, and it takes a great many more hands to operate a mill with colored labor.
Q. If that becomes successful to any great extent it will have its effect and bearing upon the wages of the white operator, will it not?—A. Most assuredly.
Q. (By Mr. RATCHFORD.) Do we understand that the colored labor is not as attentive to the work and does not work as regularly as the white labor? A. That has been, the experience at the Charleston mill, sir.
Q. (By Mr. SMYTH.) From your testimony, then, you think the colored laboring class as a rule are a drag on the white laboring class in the South, and tend to cut down their wages?—A. They are, most assuredly.
Q. And in South Carolina you have about two blacks to one white?—A. That is about the proportion. The white journeyman represents about one-third of the labor of South Carolina.
Q. (By Mr. RATCHFORD.) The employing class are invariably the white class, are they not?—A. Always. I say "always;" I will change that by saying it is almost the invariable rule. There are some colored contractors in our section.
Q. Then if the employers of your State would pay the same rate of wages and the same scale, whether to the black or to the white man, would it not remove that evil of which the white man complains, to white labor?—A. It would create another inequality. The colored man does not expend for his living or for his family what the white man does. It costs the white laborer more to live. The result is that if the colored labor received the same wages as the white man, he would have the advantage of the white man, even in his living.
Q. Do you not think he would spend it if he made it—if not for the necessaries of life, for something else?—A. He would surely spend it, but it would not be spent as the white man spends it, on his family and on his home.
Q. (By Mr. SMYTH.) You think it would be squandered—wasted?—A. It would be most assuredly squandered. That has been my experience of 18 years in the South with colored labor.
Q. (By Mr. RATCHFORD.) What truth is there in this claim, which has been made by witnesses before this commission, that, in order to get the best service out of a colored man, his wages must not exceed the living point very much because if it does he will lie idle until the surplus is spent?—A. I have had some very bitter experience myself along that line.
Q. (By Mr. SMYTH.) Supporting that testimony?—A. Supporting that testimony. In other words, where a negro makes a living, just a living, he is a better employee than where he makes a surplus.
Q. He is more regular in his work?—A. He is more regular in his work and a better citizen.
Q. You think, then, that he lacks ambition to accumulate; that he wants a sufficiency, and will not work beyond what will give him that sufficiency? A. I do not know whether that exactly covers the ground. As soon as the negro gets money to spend he wants to make a great big showing and spend it. In other words, as soon as a young negro man commences to earn money he wants to be a sport and a flashily dressed man, and to cut a large figure in colored society, and he usually does it if he gets anything more than a living.
Q. (By Mr. RATCHFORD.) Does it not seem plain to you, in view of these conditions, that the lower rate of wages paid to the colored labor will necessarily reduce the standard of living as well as the wages of white labor?—A. It will tend to regulate the wages of white labor in the South. It would not tend to lower it any from the present standard.
Q. (By Mr. SMYTH.) The price of labor, I suppose, is regulated by supply and demand?—A. I think so.
Q. (By Mr. RATCHFORD.) Let me ask for a moment; If a white bricklayer in your State asks for employment and makes known his rate of wages, which is $2.50 a day, I believe you stated, the employer may say to him in return I can employ a negro bricklayer who has as much skill as you, and will do as good service for $1.75. Now, I will put you on at $2.25. Have you known of any instances of that kind?—A. I have not, in our section.
Q. Are such things not likely to happen?—A. It might happen, but all the white bricklayers in our section are union men with a regulated standard of wages which they never break.
Q. Then you believe the union is a preventive against that particular departure from their rate of wages?—A. I do.
Q. (By Mr. SMYTH.) But as a result a good many jobs go to the negro bricklayer?—A. A good many jobs go to negro bricklayers.
Q. And the white bricklayers are idle?—A. A part of the time.
Q. I mean in consequence of these jobs going to the colored laborers? A. I say they are a part of the time.
Q. (By Mr. RATCHFORD.) Are the negroes unionized?—A. They have recently formed two unions in Augusta, just across the river from us. We are 13 miles from Augusta.
Q. Will the white men accept their membership in their union?—A. They have separate unions.
Q. Separate branches?—A. Separate branches. The object of the white men in organizing the negroes is to get the negro workmen to demand the same wages that they demand, in order to equalize them.
Q. To make them uniform?—A. Yes. . . .
Charlotte, N.C., March 14, 1900
TESTIMONY OF MR. S. B. TANNER
Treasurer Henrietta Mills
The subcommission of the United States Industrial Commission met in the rooms of the Southern Manufacturers' Club at 10 a.m., Mr. Smyth presiding. At 1:03 p.m. Mr. S. B. Tanner was introduced as a witness, and, being first duly sworn, testified as follows:
Q. (By Mr, SMYTH.) What is your name?—A. S. B. Tanner.
What is your occupation?—A. Treasurer of the Henrietta Mills.
Q. These are cotton mills?—A. Yes, sir.
Q. How long have they been established?—A. Since 1888.
Q. How many hands do you employ?—A. We employ about 1,300 hands.
Q. Are they all white?—A. All white except the scrubbers, cotton handlers, etc.
Q. Any operatives in the mill colored?—A. No.
Q. Why not?—A. It has never been the custom to work them that way.
Q. The white operatives would not submit to it?—A. Would not submit to it. We should have to build a separate mill if we worked whites and negroes. Especially the women folks, the whites will not work with the negro.
Q. Notwithstanding white carpenters and mechanics work with colored carpenters and mechanics?—A. On outside work; yes, sir.
Q. But more particularly on account of the females being in the same room and working together?—A. Yes, sir.
Q. (By Mr. RATCHFORD.) Are there any special reasons why they refuse to work with them?—A. They have different reasons.
Q. (By Mr. SMYTH.) Race feeling, I suppose, predominates?—A. Race feeling is the trouble. . . .
Charlotte, N.C., March 14, 1900
TESTIMONY OF MR. BENJAMIN R. LACY
Commissioner of Labor, and Cashier of the Dime Savings Bank, Raleigh, N.C.
Q. Are you familiar with what has been done for other branches of organized labor?—A, I am sorry to say I do not think the others have taken the same stand. We have done it on account of the danger to the public and the company's property. We have no fireman's organization. We had one, but it went out.
Q. (By Mr. SMYTH.) Were the firemen organized?—A. Some few that ran into the State, We have so many negro firemen; that is the only place where they come Into competition with the whites.
Q. Railroad employees?—A. Yes.
Q. (By Mr, RATCHFORD,) Have there been any strikes?—A. No, sir. The truth of it is, a great many engineers like negro firemen best. They had negroes, first and are only working white men in now; the white men are taking the places of negroes.
Q. (By Mr. SMYTH.) The negroes are not admitted into the fireman's brotherhood?—A. No, sir. In most instances they do not pay the same wages.
Q. They will not admit colored members into the fireman's organization? A. No, sir.
Q. There are no colored engineers on the railroad at all?—A. No, sir.
Q. Most of the firemen have been colored and are preferred by the white engineers?—A. A great many of the old engineers prefer negro firemen. They can treat them differently—make them wait on them. The white man does not do that. . . .
Charlotte, N. C, March 14, 1900
TESTIMONY OF MR. J. H. MC ADEN
Cotton Manufacturer, and Banker, Charlotte, N.C.
Q. Do you employ any colored labor?—A. No, sir. Not on account of any prejudice, I have a kind feeling for the negro. I used to own a good many before the war, and I have always felt a deep interest in the colored man. But I do not think it advisable to work them together and I do not think you could do it satisfactorily, and therefore I would rather not try. I have no colored men about the mill who are employed by the mill. There are some few women around there—washerwomen—who do not live inside the corporation, and a few men who chop wood and work for the different families; but they have no employment in the mill. Even my teamster is a white man. . . .
Charlotte, N.C., March 14, 1900
TESTIMONY OF MR. 3. WITTKOWSKY
President, Chamber of Commerce, Charlotte, N.C.
Q. (By Mr. RATCHFORD.) Do I understand you to say that today they get more wages than then?—A. Yes.
Q. In what particular lines?—A, I think in all lines. I think wages in all lines have advanced.
Q. The wages then were 65 cents a day?—A. That is what he got.
Q. Common labor?—A. Yes; in the foundry as a laborer.
Q. We had testimony before the commission today that the average wages for unskilled mill operators is 65 cents a day.—A. Yes; this man was in a foundry—an iron foundry.
Q. They pay better wages there, do they?—A. Yes; I presume they do, because it is mostly skilled labor.
Q. (By Mr. C. J. HARRIS,) What would be the wages of common labor in the city of Charlotte?
The WITNESS. Today?
Mr. HARRIS. Yes.
The WITNESS. Day labor?
Mr. HARRIS. Yes.
The WITNESS; Well, about 75 cents, I have not been doing a great deal of building the last year, but that is what I have been paying.
Q. (By Mr. RATCHFORD.) To both colored and white labor?—A. Yes.
Q. (By Mr. C. J. HARRIS.) Do you make any distinction in the carpenters that you hire? Do you pay them and the bricklayers less than the whites?—A. That depends on how skilled the labor is. If I want a common job, I get a colored man, and if I want a better job I get a white man.
Q. Suppose they are of equal skill, do they get the same wages?—A. Yes. I had a foreman and gave him $2 a day, and I had a colored man recently who asked me $2 a day and I gave it to him.
Q. It depends mostly on the skill of the individual man, does it.—A. Yes. In this connection I will say that I have been a director in a cotton mill for quite a number of years, I can not speak as to details as well as Dr. McAden, but the labor is getting along very peaceably, very pleasantly, and they are all saving up a little money. I will venture to say that of the $325,000 we have today in our building and loan from $75,000 to $100,000 runs to colored people.
Q. (By Mr. SMYTH.) That applies to the city, of course?—A. Yes; I know nothing about the country.
Q. Wages of course, are higher in the city than in the country?—A. I presume so. Farm labor is always less.
Q. Do you think that because the colored man can make more in the city than in the country is one reason why he crowds to the cities?—A. Yes, and their facilities for schooling are better. They see more sights; they get certainly better wages, and they love to live in the city—dress better and acquire more. I was president of the savings bank for awhile, and the colored people deposited a good deal of money in proportion to the whites here in this city.
Q. (By Mr. C. J. HARRIS.) Do you find that the Southern working people, white or colored, are thrifty in the way of saving? Are they not rather careless?—A. They are becoming so gradually more and more. As they become educated they become more saving. I know some colored people who are just as saving as any white man could possibly be, and as thrifty, but as a class they are not. They part with their money very freely.
Q. This is the greatest drawback to the South?—A. They go and spend their money in any fake thing that comes along. . . .
Atlanta, Ga., March 19, 1900
TESTIMONY OF HON. RUPUS B. BULLOCK130
Cotton manufacturer, Atlanta, Ga.
The subcommission of the United States Industrial Commission met at the Kimball Hotel at 10 a.m., Senator Kyle presiding. Hon. Rufus B. Bullock, 233 Peachtree street, Atlanta, Ga., was introduced as a witness at 2:35 p.m., and, being duly sworn, testified as follows:
The WITNESS. I wish to say, Mr. Chairman and gentlemen, by way of premise, that my relation with manufacture began here with the pioneer mills in Atlanta in the year 1877, and I was actively in charge of the mill as treasurer and president until 1892. Since that time I have not given it any personal attention, although I am still a director of the company; but Mr. Fisher, vice-president of the company, is here, who, I may say, was raised in a mill from boyhood. He knows all there is to be known about it.
I have read very carefully your paper which was sent me by your secretary, but have not prepared a written paper, and I shall be very willing to answer any questions you may see fit to ask.
Q. (By Senator KYLE.) Yours is distinctively a Southern enterprise?—A. Yes.
Q. This is not New England capital invested in the South?—A. There was some Northern capital originally invested in starting the mill, but not New England capital. Mr. Fisher has been here with us 7 or 8 years—9 years.
Q. You being one of the pioneers, it would be very interesting to have your testimony,—A. I am only the pioneer in this immediate vicinity. Of course, there were plenty of cotton mills in the South before ours. Ours was the first one that started in this immediate vicinity. I think we were the pioneers in using steam power in this Southern country.
Q. (By Mr. SMYTH.) Are your mill employees white?—A. White labor, except the colored labor for rough work—sweepers, coal heavers, firemen, etc.
Q. You never attempted to work colored labor in with the white labor? A. No, sir; except when the white help goes out to get a can of snuff the colored sweepers run the loom.
Q. Would the white labor be willing that the colored help be employed in the mill?—A, No, sir.
Q. They would not work together?—A. I should say there would be very serious objection to it. They might consent to it if a person pushed them for the experiment, but it would be wiser to either have ail colored or all white in spinning, weaving, carding, etc.
Q. That is a matter of race prejudice, I suppose?—A. Altogether race prejudice, and social prejudice perhaps more than race prejudice.
Q. Do you know of any cotton mills being run by colored help?—A. Only by newspaper report, in Charleston.
Q. There are none of them you know of your own experience?—A. No, sir; none at all.
Q. Do you think the colored people are competent to serve as employees in cotton mills?—A, Perfectly so; that is, you could make up a corps from colored people.
Q. You think they could be taught as readily as the white population that come to the mills—some of them?—A. As you know, some of them are more intelligent, some are less so; the same as white people. . . .
Atlanta, Ga., March 19, 1900
TESTIMONY OF MR. H. E. FISHER
Cotton manufacturer, Atlanta, Ga.
The subcommission of the United States Industrial Commission met in the parlors of the Kimball House at 10 a.m., Senator Kyle presiding. Mr. H. E. Fisher was introduced as a witness at 3:35 p.m., being duly sworn, testified as follows:131
Q. (By Senator KYLE.) State your name, post-office address, and vocation.—A. H. E. Fisher, manufacturer, Atlanta Cotton Mills, Atlanta.
Q. You may begin by telling us something about the labor in the factory for a period of years, kind of labor, wages paid, and number of female employees, male employees, and number of children employed, school facilities, houses furnished by the company, freights, and so on.—A. The labor, of course, is all white, and as far as the proportions are concerned it is about 30 per cent male, and the rest female and children. The only colored labor that we have is the roustabouts, firemen, and sweepers in the mill. I will say, that we have one colored girl that has worked in the cloth room ever since I have been here, and I think ever since the mill was begun, right along with the white hands, and that is old Carrie Hall. The wages average more than has been stated per week. We employ about 275 hands and have a pay roll of $1,300 a week. You will see it is very nearly $5 a week.
Q. (By Mr. SMYTH.) An average of nearly $1 a day?—A. Yes.
Q. (By Mr. RATCHFORD.) That includes overseers?—A. Includes all the help we employ.
Q. Can you give an average without overseers and bosses?—A. Taking out our engineer and 4 overseers, the payroll will average about $1,175.
Q. (By Senator KYLE.) For 275 men?—A. Two hundred and seventy employees.
Q. (By Mr. SMYTH.) What is the name of your mill?—A. Atlanta Cotton Mills. . . .
Atlanta, Ga., March 20, 1900
TESTIMONY OF HON. A. D. CHANDLER132
Governor of Georgia
Q. (By Representative LIVINGSTON.) For the betterment of the negro race would you prefer an industrial education or a literary education?—A. Our situation is peculiar here. Industrial education is preferable, confined to certain lines. Now, we have this difficulty to encounter: The poorer class of white people engaged in our industrial enterprises are jealous of the negro. They do not work together well in the same factories. Now, I do not think it would be to the interest of either race to mix them in manufacturing establishments, because of these race prejudices which crop out. We may deny it, but they exist in every human being. The negro is the best farm laborer I ever saw; no question about that. He is a skillful and successful farm laborer when under intelligent direction.
Q. (By Mr. RATCHFORD.) You believe that is his natural sphere?—A. I believe he is more useful there than anywhere else.
Q. Do you believe it is a mistake for him to enter the professions?—A. Well, yes; I do. Of course he can preach; that is all right. He is useful there. There is no reason that I see why he sould not practice medicine among his own race. He should be prepared for it though.
Q. (By Mr. SMYTH.) You would prefer the establishment of manual schools for colored boys?—A. The best school I ever saw for the negro, or white boy either, was the corn patch.—to learn the art or science of farming.
Q. I mean manual training for such occupations as bricklayers and carpenters.—A. I doubt if it would be to the interest of either race for them to be trained in these schools.
Q. (By Senator KYLE.) Have you many such colored tradesmen?—A. The bricklayers' trade is very largely in the hands of the negroes in Georgia, and there are a good many carpenters. While I was a contractor I employed both and found as a rule that the whites were better carpenters than the negroes, but as bricklayers some of the best I ever had were negroes.
Q. (By Mr. RATCHFORD.) Do they usually receive the same wages from contractors?—A. Always the same, so far as my observation goes. There are small contractors that do odd jobs, and there is a good deal of cutting there, and negroes frequently do that kind of work lower than white men, but when it comes to building a large house and the contractors employing them to do the work, I know of no discrimination in wages where the skill is equal.
Q. (By Senator KYLE.) Now, if they are to be relegated to the farm, is there an opportunity for their advancement along that line? is there a future before them as owners of the farm?—A. I think so. They now frequently buy and own farms and are as successful as white men. For a number of years nobody, white or black, has been successful on the farm on account of the low prices of farm products; but when farm products brought good prices, I knew quite a number of negroes that bought land and did well.
Q. (By Mr. SMYTH.) To go back to the educational question, have you a compulsory school law in Georgia?—A. No, sir.
Q. Would you favor such a law? Is it needed?—A. I hardly think so, because our people are disposed to go to school all they can now.
Q. You do not think there is an apathy on the part of the parents of some of the white children as to the schooling of their children?—A. So far as my observation goes there is not a great deal; of course there is some. The negroes have manifested a great eagerness for school privileges since they were freed.
Q. Really more than the whites?—A. Yes sir, I think they have more than the whites. They had an idea that education would lift them at once to a level with the whites, and hence they seize on school opportunities.
Q. (By Senator KYLE.) They are not successes as managers, you think?—A. No, as a race they are not.
Q. That is something that is acquired with long experience?—A, That is it exactly.
Q. (By Mr. RATCHFORD.) Parents usually send them to school until what age?—A. The schools are open to them until they are 18, but after they get to be 15 or 16 years old they have a roaming disposition and usually drift away from the parents and go to town and hire out for manual service or work for wages.
Q. (By Mr. SMYTH.) That is the colored children?—A. Yes, sir.
Q. (By Mr. RATCHFORD.) Is it not the general custom among the white families in Georgia as well as the colored, to take the children out of school and put them to work at the age of 12 or 13?—A. They have to do that even earlier—8 or 10 years years—during the crop time, from planting time to lying-by time—up to the middle of July.
Q. (By Mr. SMYTH.) Boys of 10 plow in Georgia?—A. Sometimes they do. I plowed at 10.
Q. (By Mr. RATCHFORD.) You would favor a law restricting the employment of children until they attain a certain age?—A. In factories?
Q. In factories or other works.—A. Well, I do not know. There are families—for instance, widows who cannot, at the wages that they can command, support themselves and children without the aid of the children. Under these circumstances, it seems to me the children ought to be allowed to help the mother earn the food, even though under 12 years old. . . .
Atlanta, Ga., March 20, 1900
TESTIMONY OF MR. H. F. GARRETT
President, State Federation of Labor, Atlanta, Ga.
Q. What can you tell the commission as to any trade—any of the skilled trades in which both white labor and colored labor is employed? Are their wages equal?—A. Yes; in some trades they are; among the stone masons and the brick masons they are equal; the carpenters in some places are and in some places not.
Q. Will the white tradesmen admit negroes into their unions?—A. Well, no; but they organize in separate unions.
Q. They cooperate with them in that way?—A. Yes; and skilled labor in the South has no fear of the negro at all. The negro is a good citizen when you can control him, and you can control him when organized better than the white man. That has been my experience with them.
Q. (By Mr. SMYTH.) Are there any colored men in your shop?—A. No, sir; I never worked in a shop with a negro machinist.
Q. You spoke about apprentices. Those boys, if they were discharged as all-around machinists, would there be any demand for their work?—A. The demand for machinists is great now for the simple reason that nearly every one is running double time, day and night, so there is employment for all skilled labor in the South today.
Q. At the present time?—A. Yes.
Q. (By Mr. RATCHFORD.) Is it not a fact that 30 per cent are only temporarily displaced, or thereabouts; while they may be displaced from the shop temporarily, they move from one department to another?—A. Yes. That is by a different method, from one department to another. The rule of the International Association of Machinists is as to apprentices—! to the shop and 1 to every 5 journeymen.
Q. I am speaking of 30 percent which you say is displaced. To illustrate that point, when the Merganthaler typesetting machine was introduced, each machine did the work of 5 men. When the coal-cutting machine was introduced, probably 40 per cent of the labor in mining a ton of coal was done by machinery, and each of these trades held that men were displaced. Now, the fact remains that there are more printers and miners working than ever. Does not that disprove that labor has been displaced by machinery?—A. Well, to a certain extent, yes.
Q. Is it not because of machines that there have been more machinists employed than ever before?—A. Yes, on account of the business of the country picking up, but you take conditions as we have had them in the last 5 years—there were at least 30 per cent of the machinists walking the streets, and that is a menace to those men at work.
Q. During the last 5 years there has been an unusual depression of labor?—A. Yes; there has.
Q. (By Senator KYLE.) Not only machinists, but all other trades?—A. Yes; that is true. Now, as to negroes in the South, as regards to skilled labor, we never come in contact with them to amount to anything at all, because skilled labor in the South had rather have the negro than any foreign element—Poles or Hungarians.
Q. You prefer the colored man?—A. We prefer to have the negro than to have the Poles and Hungarians that you have around Pittsburg.
Q. (By Mr. SMYTH.) You can control him better?—A. Yes, for this reason; the negroes, very few of them, save their money. They make it and spend it. The foreign immigrants that come to the country—their money is banked in some other city, and there is no tax put on it at all, and I do not consider them good citizens.
Q. (By Mr. RATCHFORD.) And for the additional reason that you can always get the negro to understand you?—A. Yes.
Q. That is a very important reason, too, is it not?—A. Yes.
Q. The tendency, I believe, in the unskilled branches of industry has been to supply colored labor for a less rate per day than white labor can be supplied. Is that right?—A. Yes; that has been the case.
Q. What effect has that upon the wages of the white labor?—A. Well, of course it has this effect; it brings the wages of white labor down. The simple reason is that the labor of the South had never been organized. When they become organized, as they are in the North and East and West, then the negro will get as much pay in proportion as the white man gets for equal work—as much for the same class of work; but there has never been any organization to build those people up and to protect them.
Q. It is claimed by some that if the negro gets a rate of wages higher than the amount that is actually required to sustain him he will not work? A. Well, that may be true.
Q. In other words, it is claimed that if the negro will make enough of money to support him a week in 4 days' work that he will not work more than 4 days a week?—A. Well, you may find some; it will be rare instances. I do not believe that, for the simple reason that negroes used as helpers around where I have always worked are very steady negroes. The trouble is that the negroes like to run after women and spend their money that way. The majority—9 out of 10—have always got 1 or 2 women. What makes the negro loaf around the streets is simply this; if you have a girl cooking around your house, she will steal enough to feed this fellow who is loafing around and doing nothing. This class of negroes is of no benefit to the country at all, but the negro that works is a good citizen in this country. There is no doubt about that part of it.
Q. (By Mr. RATCHFORD.) Are the organized trades of the South hopeful that the negro will be unionized with them?—A. Yes.
Q. In separate branches?—A. Yes.
Q. To what extent are they unionized now, if any?—A. Well, in this city the carpenters are being organized and they are making an effort to organize brick masons.
Q. You speak of the colored class now, do you?—A. Yes. The white carpenters are well organized, but the negro carpenters—there is an effort being made to organize them, and an effort being made to organize the brick masons, both white and colored.
Q. What are the social advantages of your organization, if any?—A. Well, a great deal. Organization makes better citizens. Where a man does not belong to an organization, and does not study nor read, he does not become a better citizen as to the needs and wants, but where he belongs to an organization and hears discussion on economical points, it causes him to think and read, and the consequence is he becomes a better citizen; it makes him more steady and more sober, and gives him an insight into how he should vote and everything of that kind.
Q. Are there any requirements needed in membership—any man with good moral character can join the organization?—A. Yes.
Q. Without it can he join?—A. Some can and some can not.
Q. That is regulated by the local unions?—A. Yes.
Q. It is not encouraged, however, that men who have not a good moral character become members?—A. No, sir. Now, in machinists, he must be a skilled workman and a good moral man. We have considerable trouble in organizing the negro on account of preachers and politicians. They claim it is a political scheme when we organize them, but politics are never discussed in the union at all. The discussion is on economical questions, and they leave it to a man's own judgment how to vote. The rules of the organization do not allow any politics in it at all. . . .
Atlanta, Ga., March 20, 1900
TESTIMONY OF MR. C. C. HOUSTON
Editor of the Journal of Labor, Atlanta, Ga.
Q. (By Hr. RATCHFORD.) Do you care to take up the subject of colored labor briefly and deal with that in its relation to white labor?—A. My observation of the colored labor in the South, so far as it relates to the trades where skilled labor is required, is that it is held over the head of white labor to the extent of holding down wages, except in instances where there are organizations of colored labor. They are required to receive the same wage scale that the white men do. In the building trades, for instance, where more or less skilled labor is required, the wages paid to white labor are based primarily on the wages to colored labor; and in every instance in which an increased wage scale has been secured, with one or two exceptions, it has been reached only after the colored man was organized and a combined effort of the two was made. Of course, as far as unskilled labor is concerned, there is no competition between the white and colored here. That is controlled exclusively by the colored men.
Q. Is there not competition on the farms in the unskilled lines?—A. Well, as to farm labor I am not prepared to say. So far as the manual labor on the farm, the drudgery work is concerned, it is nearly done by colored labor.
Q. Is there not competition in the cities in the unskilled lines?—A. Very little; it is usually done by colored labor.
Q. Is there not competition in the cities in the unskilled lines?—A. Very little; it is usually done by colored labor.
Q. What is the tendency of colored labor—to endeavor to rise to the same plane as the white labor, both as to wages and standard of living, etc?—A, Yes, sir. They have an ambition to receive a wage equal to that of the white man, and to live on a plane relatively equal to that of the white man. The industrial schools of the South, I think, have had something to do with that; that is, the colored industrial schools. In Alabama, I believe, there are two of them, and they turn out colored mechanics.
Q. Your trade union does not admit them to membership?—A. Yes, sir. They are admitted. There are very few mixed unions, but, for instance, in the building trades the carpenters' union will organize a branch of the colored carpenters.
Q. Do you not think mixed unions—by mixed unions I mean unions that admit trademen, journeymen, without reference to their color—would encourage that very ambition that you speak of?—A. To acquire a wage equal to that of the white men, and a social standing?
Q. Yes—A. Certainly it would.
Q. Why is it not done?—A. The white men of the South do not have any disposition to do so.
Q. (By Representative LIVINGSTON.) Do you not think it would encourage the white men to quit the union?—A. Yes; they won't mix.
Q. (By Mr. SMYTH.) Oil and water won't mix?—A. The white laborer does not recognize the colored laborer as a social equal. He recognizes him as a factor in the competitive market and will do as much or more than anybody else to elevate him in his class.
Q. (By Mr. RATCHFORD.) The white man has been forced to recognize the competition of his labor?—A. Yes.
Q. His muscles are as strong?—A. Yes.
Q. He is able to do as much for a dollar as the white man?—A. He has as much capability, comparatively speaking, as the white man, and the white man in order to protect himself has to consider the black man.
Q. Yet you believe that that is among the things that are not likely to occur, to say the least, that the white man and the black man will organize and attend to trade affairs jointly?—A. Not in the same union. They do it through conferences. The black man has his union of carpenters, for instance, and the white man has his, and they will meet together in conference and regulate matters, but not in a general mixed union. They will not accept them in membership. There have been a few instances where it has been attempted, but for only a temporary effect.
Q. You understand the strongest trade union in the world draws no color line?—A. I understand that.
Q. (By Mr. SMYTH.) That is not located in the South?—A. No. we are affiliated with it, but we get around that in a way. We organize them, of course, in separate branches. There are some branches of skilled labor in the South where we can not afford to encourage the colored man at all. In the building trades here they have got a hold that they are bound to retain, and on the railroads.
Q. (By Mr. RATCHFORD.) What would you suggest as a means to the elevation of the colored man to the same standard as the white man—anything in particular?—A. I would not make any suggestions along that line because I do not think there is any means by which the colored man could be raised to the same standard. However, I think, as I explained a moment ago, the white man in order to retain his wages and in the hope of increasing his wage scale, has not only to recognize but assist the black man, and unless you do assist him and raise him up, he is going to pull you down to his standard. In that way and for that reason the white mechanics of the South are assisting the colored men to organize.
Q. (By Mr. SMYTH.) That is from the selfish motive of self-preservation?—A. Not altogether.
Q. (By Mr. Ratchford.) Do you think that the colored man is a less hindrance to the advancement of organized labor than is the Hungarian and Pole in other States?—A. Oh, yes. I would rather deal with the colored man of the South in the labor field than I would with the Pole or Hungarian or Italian. They are more susceptible to teaching and they will act fairly. You get a colored man organized, get him in the trades union, and he will stick to the last ditch.
(Testimony closed.)
Memphis, Term., March 22, 1900
TESTIMONY OF MR. EDWARD B. MILLER
Secretary of the Memphis Industrial League
"There is a great surplus of common muscle labor in the South. The walking delegates of the labor union can not force the negro into their trades unions, nor grade common molding and foundry work to the standard of the higher grade, nor in woodworking to the scale of the cabinetmaker or turner. In the South before the war each plantation was an empire in itself; 'Bill' was the blacksmith, 'Mose' was the carpenter, 'Jim' was the painter, and 'Sam' the brickmason and plasterer. The pickaninnies who clustered around each boss of his trade in those days are today carpenters, masons, blacksmiths and painters throughout the South. The working negro in iron and steel and in the woodworking plants of the South is today filling the sphere of this common muscle or semiskilled labor. He is contented at receiving his 75 cents to $1 a day. In fact, Carroll D. Wright, Commissioner of Labor, asserted that the average work of the Southern negro was 30 hours a week; but his was the best paid, best fed, best clothed, and most tractable and contented labor of this country. Hence the 10,000 Southern negroes are here in the South to stay. When the negro has been enticed North he has been shot down by the labor unions in strikes and refused work in all the trades save that of servant or barber. If 500 or 1,000 in any Southern city are induced to join the unions their employers have 5,000 or more as a supply within 50 miles, who are field hands at $8 to $10 per month, anxious to come in and take their places at $20 to $30 per month, and in a few months these new recruits to the industrial and mechanical field will be equipped by their quick imitative ability to fill the required spheres of labor made vacant by the strikers. The Southern laborer is industrious and tractable when properly directed, and of immense importance at this period as a factor of Southern manufacturing development. The South needs 1,000,000 skilled men from the North and the owners of small factories in all lines to remove here and supply the South, Mexico, West Indies, and soon the Orient with manufactured wares, because commerce sooner or later will demand the shortest distance between two points."
Q. (By Mr. RATCHF0RD.) You have laid special stress upon one subject there that I wish to ask you a few questions relating to—one of the advantages of the South compared with the North is the fact that labor is cheap as a result of cheap living, and it is also nonunion labor. Is that right?—A. Yes.
Q. Do you find that is an advantage to the Southern country to have labor unorganized?—A. Of that class, yes.
Q. Of any class?—A. No; very careful distinctions.
Q. What are they?—A. I said in this that the hewer of wood and the drawer of water that comes on to fill the sphere of semiskilled labor, of muscle, the moment he has obtained a little more skill he has got to be paid a little more, and somebody must come in behind him and take his place in the making of chains, common, heavy, irregular iron, and structural iron, heavy grades of foundry work, the molder of the South. The negroes around the Birmingham district—40 or 50 per cent of them—have been taught molding in 4 months in that character of work. The unions that are in existence there of a higher grade of labor have considered that they were infringing upon their rights. The vast number of planing mills and sawmills operating all through the South, a good many of them in swampy districts, have men that handle swing cut-off saws, planers, and rip saws, and the heavy work, and the negro they pay from $1 to $1.25 a day.
Q. The purpose of your paper, as I understand it, is to encourage capital enterprises to come to the South?—A. Yes.
Q. I want to know whether it is any advantage to that capital you wish to encourage in the South to come here and find labor—any branch of labor—unorganized? Whether the interests of employers are best served by having labor in such a state or otherwise?—A. Permit me to answer that question in this way, if you please: For many years to come the South will not enter into the skill of the North, not even mechanism; but in the handling of lumber and heavy foundry work the negro answers every purpose, and I do not think that he can be ignored and set aside.
Q. Well, that does not seem to answer my question. Could he answer every purpose equally as well if he was a member of a trades union, with the same skill, same ability, same willingness as an employee, instead of dealing with the individual man if the employer would deal with the organization, or its committee officers?—A. I simply contend that the labor is governed by supply and demand. If you admit that negro into your trades union you say he must work for $2 a day, and he must quit work unless he gets wages according to the scale paid for that class of work.
Q. Who makes that scale?—A. The trades union.
Q. Who composes trades unions?—A. The organized labor.
Q. Of individual units, is it not?—A. Yes.
Q. Then the scale you speak of is made by the individual unit. What is the reason it can not be assigned to a committee?—A. Nothing, except it might be cornered.
Q. Now, you speak or the walking delegate. What are we to understand by walking delegate?—A. In my experience of the past few years a number of men from the coal-mining districts of Illinois, men that have been noted as organizers, have been sent into the north Alabama coal-mining districts. They have spent considerable sums of money going around and holding meetings—I have been present at them—trying to organize negro labor into trades unions, and to raise the price of coal mining and of foundry work, and they have failed.
Q. Have not the Alabama miners recently received an advance in wages? A. Yes.
Q. As a result of what?—A. As a result of increased prices.
Q. What had their growing organization to do with it; anything?—A. Had everything to do with it.
Q. You believe organization was—A. (Interrupting.) I believe organization was concerned in that.
Q. Responsible for that?—A. Yes.
Q. Then by walking delegate we understand you to mean the organizer of trades unions, do we?—A. There is a distinction between organizer and what I would term an agitator.
Q. What is it?—A. The organizer is the party delegated from the federation of unions to organize labor under their direction. The agitator comes down into a community that really does not demand any interference with the trade, that has no particular white labor that is in competition, that is ground down by low wages, and simply for the sake, possibly, of a difference of wages in localities, makes an attempt to organize labor that is unorganized. For instance, in the Birmingham district there have been thousands of negroes that would be glad to get $1 and $1.25 a day, and, of course, if they are organized and the union says they can not work for that, it is going to breed dissension and strife and trouble with those who do want to work.
Q. The question that I asked you was to describe the walking delegate. What is he; is he an agitator or organizer?—A. Both.
Q. Delegated by his union?—A. That I do not know.
Q. Have you seen any of those agitators in the Birmingham district? A. Yes.
Q. Among the miners?—A. Yes.
Q. Who were they?—A. I do not remember their names. I attended one of their meetings.
Q. Do they advise strikes?—A. No.
Q. Simply encouraged organization?—A. Yes.
Q. And because of that they are agitators, so classed? Let me ask if the free miners of Alabama do not have to fight the convict labor in mines? A. Yes. How do you mean?
Q. Compete with convict labor.—A. Not for the last few years; no.
Q. When did it exist?—A. There was a time when convict labor was done there, but in recent years there has been too much demand for coal and iron.
Q. Is convict labor still pressed into the mines?—A. Yes.
Q. Is it not a fact that the cheapest part of a commodity does much toward fixing the price of the whole commodity?—A. I do not understand the question.
Q. For instance, 10 per cent of the coal of Alabama might be convict mined. Does that 10 per cent if sold at a lower price than the 90 per cent, do much toward reducing the price of the other 90 per cent?—A. It is not sold lower.
Q. Are you sure of that?—A. Yes.
Q. At the same price?—A. Yes, The men who have the benefit of that convict labor simply have the benefit of the profit.
Q. Now, you take the negroes; you say many of them are willing to work for less wages than the union prescribes. If such a condition existed, would the union men not be obliged to come down and work for the same rate of wages in competition with the cheap labor of the negro?—A. If in that class of work, yes. I will explain this whole thing in one sentence. In my work and efforts, in all talks I have given in my experience of 11 years in the South, I have gone before the Northern people universally and deprecated and advised against labor coming South; there is plenty of common labor; there Is a demand for skilled labor in all classes and all grades, but what I mean to say is this: That there is no demand for common semiskilled labor—shovelers, muscle labor—in the South, and a man is wasting his time to come from the North and compete with that class of labor.
Q. (By Senator KYLE.) What you mean by walking delegate is this, a man who takes it upon himself to go down to Alabama from the Northern States and advise organization and talk of organization without being sent for?—A. Yes.
Q. (By Mr. RATCHFORD.) Do you know any man who took it upon himself to do that?—A. Yes.
Q. Pay his own expenses?—A. That question was thoroughly discussed there, and I am positive of that. A body of 7 came down there and labored 3 months, and they held meetings every night over all the district, and the Cornishmen and English coal miners positively refused to go into a strike that they were trying to get up.
Q. Were you familiar with the mining conditions in States adjoining Alabama at that time?—A. No, sir.
Q. Did you know that at that time the miners of Tennessee were offered a reduction when Alabama was brought up to the level?—A. No, sir.
Q. Did you know that if the miners of Tennessee suffered a reduction the miners of Alabama would also suffer one?—A. No, sir.
Q. Those are things you might well give consideration to.—A. I am a firm believer in organized labor. I believe the highest standard that an American citizen can conceive of in a democratic-republican form of government, such as we have, is the elevation of labor to a higher grade of consideration and respect. In speaking of the South, I am speaking of an absolute condition of 10,000,000 of negroes that have muscle, to a certain degree intelligence, who are here. On the plantations they do not work over 5-1/2 months of the year. There is an enormous loss of muscle. They are idle 6-1/2 months of the year, and it takes the sum they have earned in 5-1/2 months entirely for fuel and food. It is the intent of all industrial negro schools of the South to bring the negroes into a plane of industrial work. In the North they generally won't admit them or allow them to work with them, but they are here in the South as necessary economical factors in the upbuilding of the South. There are only two solutions of the negro question. One is absorption and the other is deportation, and they won't go away, and the Southern people don't want them to go away. Now, I contend that the Southern people by heredity are a pastoral and agricultural people, that will not engage in manufacturing; they do not understand it, and if the section and country is developed on factory lines, it must be by Northern capital. A strong element of saving and greater profit for that capital is the negro labor of the South at its command.
Q. (By Mr. SMYTH.) Do you Chink it would be attractive to Northern capital in the South if the labor of the South was organized?—A. No, sir; I do not.
Q. On the other hand, is that not rather an attraction for Northern capital to be invested in the South, the fact that we have no organized labor as a rule?—A. I have so found it.
Q. Therefore you think it would be a detriment to the South, seeking Northern capital, foreign capital, a detriment to the Southern people to have organized labor?—A. Yes. I can show you letters received in the past few weeks from several piano manufacturers of Chicago taking up this question of labor.
Q. (By Mr. RATCHFORD.) We have testimony before this commission from the president of the Georgia Federation of Labor stating that the trades-unionists of the South would prefer to have the negro to deal with rather than to have the foreigner of the North; that he is not as much a hindrance to the growth and prosperity of organized labor as is the Hungarian, Slav, Pole, and Italian of Pennsylvania, for instance.—A. I believe that, too.
Q. Do you concur in that belief?—A. I do. I have had experience with both classes.
Q. (By Senator KYLE.) The only question of difference, now, is as to the advisability, in your judgment, of organizing the negro; that is the point in this stage of the proceedings?—A. Yes. We can not tell what 10 or 20 years hence will give.
Q. In fact, you are trying to build up manufacturing industry in the South, and you do not think the time has come to organize the negro?—A. That is it.
Q. (By Mr. SMYTH.) Do you think that if there was organization of labor in the South it would retard the development of its manufacturing industry?—A. I most certainly do.
Q. Therefore the direct interests of the South is in not having labor organized?—A. Yes. I have said it and give it as my opinion that there is the greatest demand for a million skilled men.
Mr. RATCHFORD. I believe you.
(Testimony closed.)
Washington, D.C., April 18, 1900
TESTIMONY OF MR. SAMUEL GOMPERS
President, American Federation of Labor
Q. (By Mr. CLARKE.) The emergence of European labor from barbarism through servitude to wage-earning—you said that was not the condition of American workingmen. I would ask you if you would make an exception of the colored people who were emancipated from slavery?—A. Yes; of course, it would be necessary to do that. Of course, we have a population variously estimated now at about 80,000,000.
Q. And their condition has greatly improved, has it not, in certain things?—A. Oh, yes; certainly; but there are still numbers of them who are working at day labor at 50 cents a day, on which they are required to sustain themselves and their families. I say that in the South, some few years ago—the men working on the plantations. Their conditions have not very materially improved around there.
Q. To what extent is labor organized in the South?—A. Rather poorly, comparatively, to the workers of other parts of the country. Good, for instance, in the iron and steel; they are very well organized. In coal they are only fairly organized. In the printing trades they are very well organized. In the finer class of clothing they are very well organized.
Q. (By Mr. FARQUHAR.) How is it in the cotton manufactures?—A. In the cotton and textile industries they are only barely organized; and as I indicated some little time ago in my testimony, we have a number of organizers in the South specially trying to organize the textile industries, and we are meeting with a very great deal of success. I look upon the present movement of the workers to organize with a good deal of hope. I think it may not be amiss for me to say to you that, without being in a position to give you accurate figures, we have organized not less than 400, 000 workingmen within this past year, in addition to those who were organized before that time.
Q. Do you speak of the whole country now?—A. I am speaking of the entire country; yes.
Q. (By Mr. CLARKE.) This does not include agriculture labor, I suppose?—A. Only to a very, very limited extent. There are some of our friends—the farmers—who are now making a very serious effort to organize, and there are men engaged in this work—very serious, earnest men—and I am in hopes that an American Joseph Arch has been developed or discovered by whom the agricultural workers of the country will be organized in a great national union, and affiliated and in full touch with the American labor movement.133
Q. Do the Southern unions take in colored people as well as white?—A. Often; but when they do not they encourage their organization in separate unions. Of course, the color line is drawn socially, and often they do not care to meet with them socially or in the meeting rooms, even though they work side by side.
I may be permitted to relate an incident which may be interesting for you gentlemen to know as well as for the students hereafter to have available. We had some years ago in the city of New Orleans one of the largest134 and most general strikes that ever occurred in this country, and the reason of it all was that the working people of New Orleans were becoming fairly well organized. Some of the unions were in existence many years. The draymen, the teamsters—colored men—formed a union and organized labor generally had their agreements with the employers. The colored draymen's union sent a committee to the employers for the purpose of having their agreements signed, and the employers would not talk to the "niggers." The organized labor of New Orleans sent committees to the employers and wanted to have the agreement signed, and they would not sign it—would not enter into any agreement with "niggers." The organized labor of New Orleans went on a strike; every machinist went on a strike; every printer went on a strike; no paper made its appearance; the men working in the gas houses went on a strike and there was no illumination that night; the bakers went on a strike, and all other white workers went on a strike for the purpose of securing recognition to the colored workmen. And I make mention of this as being what appears to me a very interesting episode in the labor movement, and as an answer to those who have always hurled the epithet to us that we will not assist in the organization of the colored workmen. If there is any union of labor that says anything or takes any action regarding the colored man of the South it is not because of his color; it is because he has as an individual or because they have generally in that trade so conducted themselves as to be a continuous convenient whip placed in the hands of the employer to cow the white men and to compel them to accept conditions of labor. It is not a question of personal prejudice or color prejudice, and, as I tried to show by that incident of the New Orleans strike, when it comes to a question of the interests of labor, the white men are willing to sacrifice their positions and their future in order to secure a recognition of the rights of the colored workmen.
Q. Now, I would like to inquire, when white people and colored people are organized in the same trade, whether or not the union insists upon the same wages irrespective of color?—A. Yes. It may be an interesting incident for you to know that about 2 weeks ago there was a strike in Kansas City, Kans., in one of the large establishments where the colored hod carriers, the building laborers, would not work with the white men [laughter] because the white men were not demanding the same wages that the colored men were receiving. So you see it was not the colored man's prejudice against the white man; it was his prejudice against the cheap man. [Laughter.]
Q. (By Mr. A. L. HARRIS.) May I ask you what the numerical strength of organized labor is in this country today?—A. Well, this is just about the close of our fiscal year. I sent out about 2 months ago, blanks to all of our affiliated organizations, and they are only just coming in to our headquarters. They will be in in about 10 days, completed. We are required to make a report to our annual convention of the American Federation of Labor that is to take place on December 11, at Detroit, Mich., and I might hit wide of the mark by making some haphazard guess; and then it would be a discourtesy, even if I knew, to my colleagues who have made me their executive officer, to report to any other body prior to reporting to them; I should be glad to furnish that information to the commission later on.
Q. (By Mr. FARQUHAR.) What were the numbers for the last year?—A. The number for the last year was about 700,000.
Q. (By Mr. A. L. HARRIS.) I understood you to say that the increase for this year would be in the neighborhood of 400,000?—A, Well, you can draw your own inference now. [Laughter.] Let me say that this does not include all organized labor, because I regret to say that the steam railroad organizations are not yet affiliated with the American Federation of Labor, although within this past month one of the railway organizations, the Order of Railway Telegraphers, has become affiliated; so the first break in that line has been made, and I look forward to good results in that line. And since I gave my testimony here last April, the International Bricklayers and Masons' Union has voted in favor of becoming an affiliated body. We have now indeed the most comprehensive and general federation of labor that has ever existed in the world.
There is something that I had in mind that I ought to have said in connection with the color question, and that is the attitude of the American Federation of Labor upon that subject. We have consistently and persistently insisted that organizations which become affiliated or desire to become affiliated with the American Federation of Labor must of necessity eliminate the color clause from any constitution or laws which the organization may have. We have gone so far, in our convention in Birmingham, Ala., to refuse courtesies such as banquets which had been offered, which had been arranged in honor of our gathering. We declined to participate in a banquet because we had three colored delegates who were not included in the invitation. The Cigar Makers' International Union, of which I am a member, refused, or at least boycotted a hotel. We quitted a hotel because our treasurer, who was a colored man, was given a room, a place for his meals, outside of the dining room—the ordinary or dormitory or some other old place. We insisted that if he could not sit at the table with us, why we declined to be in the hotel. We had to take inferior accommodations at some other place, but we simply desired to attest our adhesion to a principle. The American Federation of Labor declares positively and unequivocally that it is the organization of the working people without regard to politics, nationality, sex, color, or any other condition. The only qualification is that of a wageworker desirous of improving his own condition and the condition of his fellow workmen.
Q. (By Senator KYLE.) And you stated a moment ago that you have hopes of organizing the farm labor?—A. Yes; I have very ardent hopes.
Q. Do you mean the farmers themselves or the laborers on the farms?—A. More particularly the farm laborers, the wageearners on the farms. I believe in organization. The more and the better we are organized in every form for the purpose of accomplishing a good and material and moral purpose, the better will it be for all mankind. And I believe in the organization of the employers; I believe in the organization of labor. I believe that the organized forces meeting with each other will be governed by reason, and that they will respect each other by reason of the power that they have. In the beginning they will fear each other, but in time that fear will wear off, and they will begin to respect each other, respect each other's strength, respect each other's motives, and try to avoid by every means within their power any open hostilities, the cessation of work, strikes, or lockouts. . . .
Washington, D.C., June 12, 1900
TESTIMONY OF MR, N. F. THOMPSON
Secretary of the Southern Industrial Convention, also Secretary of Chamber of Commerce, Huntsville, Ala.
Q. (By Mr. FARQUHAR.) That was given out at your industrial convention, on the question of arbitration?—A. Yes.
Q. Have you in the Southern country now any trouble in respect to strikes?—A. Yes.
Q. In what classes of labor do they usually occur?—A. All classes. The Birmingham district—I might state that I was secretary of the Birmingham Commercial Club and secretary of the Alabama Commercial Association 10 years ago. From there I went to Pennsylvania and was 5 years in Johnstown, Pa., returning to Alabama a year ago. I was secretary of the citizens committee at Birmingham, Ala., during the strike in 1894, in which we had occasion to have before that committee all the labor elements of the district—the labor leaders. The tendency was very general; there was no particular class among them. The leaders there were vicious. They got unfortunately a class of organizers around Birmingham, and it seemed to be that the first thing, after they got a class of labor organized, was to assert themselves by striking. That occurred very frequently. I know of one coal mining company that was in operation there 12 years peacefully and harmoniously. Their labor was organized, and they struck within 60 days—one of the most serious strikes in the district. The plumbers' association organized, where they had been nonunion for a number of years without any difficulty, and a strike occurred there almost immediately. There is quite a number of these instances that have come to my observation. So the tendency is not with any class; there is a tendency very prevalent among all classes.
Q. What you call the unskilled labor—is that organized in the South in any number?—A. Well, not to any great extent. Around the Birmingham district the negroes are being organized. That is regarded as the unskilled labor of the South. Negroes now are taken into the unions practically on the same basis with all others; but there is still a discrimination against them.
Q. Well, in the matter of mining, do the blacks work by themselves or with the whites?—A. Both.
Q. Both ways or both together?—A. Both together. . . .
Washington, D.C., June 14, 1900
TESTIMONY OF MR. JOHN P. COFFIN
Vice-President of the Southern Industrial Convention
Q. Your industrial convention and your officers there have widened the discussion of industrial labor in the South. Have you anything to state to the commission independent of what you had in your paper there, as to the advance in the industrial education of the black man, and how much your States cooperate with it, the public bodies?—A. Well, I did not look that up definitely as to details, but there are several industrial institutions in the South. I mentioned two of the leading ones. There is another at Charlotte, N.C., and there is one for girls at Concord, N.C., and they are doing great good, I consider, in the line of educating them industrially. I have no special figures to give regarding it. I do not know of any.
Q. Do you know what the sentiment of your convention was on this question?—A. Yes. The question has been discussed. We were the first convention that permitted colored men to speak before white men on the subject, and they were both men that had made it a practical life study, both able men, and they are working along these lines.
Q. That was Washington and Council?—A. Washington and Council. I was talking with Council as I came up from Knoxville on this trip. He wants to get manufacturers to locate there and employ different sets of his people at a cheap wage, simply a living wage, simply what they can barely subsist on, to give them the principle of mechanics, in some different lines, in shoe manufacturing and things of that kind that they can handle, and says he will guarantee all the labor and good labor, steady labor, to anyone who will come and locate there and try it in that way.135
Q. I believe you have a standing committee in your organization on Southern education?—A. There is an educational committee; yes. I am on the industrial.
Q. What is the real meaning of the expression in your paper there, of having in the negro of the South a reserve force in case of strikes and labor troubles and combinations against capital in the South?—A. The real meaning that I intended to convey was that he would be a buffer against injustice; that the negro is absolutely loyal to his employer; he is not given to strikes; he does his work faithfully, and can be depended on. Now, while I do not believe it is going—in the near future—to be necessary to use this buffer, in my opinion it is a thing that will keep out much of the agitation of labor in the South, because the Southern people and manufacturers of the South will, before they submit to unjust domination by unions, negroize their industries. They will not want to do this, and they will not do it if labor is at all reasonable. They do not desire it. Many of them today do not think they would do it under any circumstances, but you bring them to the test, and it will be done. If labor is reasonable, if labor will work for anything within reason, white labor will dominate the South forever; but they will not submit to such outrages as have been frequently committed by organized labor.
Q. (By Mr. KENNEDY.) That would bring negro domination in industry then, would it not?—A. It will bring negro domination of the labor market if labor is unjust.
Q. And the white man will dominate the social and political conditions of the South, and the negro will dominate the labor market of the South?—A. The negro will never dominate the labor market of the South, and when I said negro domination, I only had reference to it as far as negro labor was concerned. In other words, he would dominate the labor that he did, but would never dominate the market. The white employer would simply put him in place of unjust white, probably foreign, labor.
Q. If they dominated white labor, white labor would be suppressed?—A. They will never dominate white labor. He will take their places, but domination will rest with the whites. There is no fear of negro domination in the South.
Q. I do not mean domination over the employer, but domination over the white labor. They would be eliminated, would they not?—A. No; the employer would dominate the labor, not the negro. The negro never will dominate the Anglo-Saxon. He may take his place in work under certain conditions, but the Anglo-Saxon was not created to be dominated.
Q. If the Anglo-Saxon who works with his hands, whose capital is his muscle, believes that he Is suffering injustices, and he makes demands to have those injustices righted, and the employer will not accede to them according to his idea, then the employer is going to negroize the labor in these factories; and then it seems to me that the negro certainly does dominate that Anglo-Saxon labor?—A. The first question that will come in will be, according to my idea, compulsory arbitration between the white man and the employer. If the employer is in the wrong he will be compelled to right it; if he is not in the wrong, he ought not to be compelled to accept the situation. . . .
Report of the Industrial Commission on the Relations of Capital and Labor, Vol. 7 (Washington, D.C.: Government Printing Office, 1901), pp. 162–790, passim.
By W. E. B. Du Bois136
Every trades union affiliated with the American Federation of Labor, and all others that could be reached, were asked to answer the following questions. Ninety-seven answered; eleven males made no replies after repeated inquiries:
1. Name of Union.
2. May Negroes join this Union?
3. If not, how is their membership prevented?
4. If they may join, how many Negro members have you at present?
5. How many had you in 1890?
6. How many Negro applicants have been refused admission to your knowledge?
7. Can local Unions refuse to admit a Negro if he is otherwise qualified?
8. Can local Unions refuse to recognize the travelling card of a Negro Union man?
9. Do Negroes make good workmen?
10. What are the chief objections to admitting them to membership in your Union?
11. Are these objections likely to be overcome in time?
12. General observations (add here any facts or opinions you may wish. They will be held as strictly confidential, if you so desire).
The central labor bodies in every city and town of the Union were sent the following schedule of questions. Two hundred of these, representing 30 states, answered:
1. Name of Council or Assembly.
2. Are there any Unions affiliated with you which are composed of Negro members?
3. If so, how many, and what is their membership?
4. Are there any Negro members in any of the local Unions?
5. If so, how many, and in which Unions?
6. Do any of the local Unions bar Negroes from membership?
7. Have Negro applicants ever been refused admission to any of the Unions?
8. Do local Unions ever refuse to recognize the travelling card of a Negro mechanic?
9. Do Negroes make good workmen in any of the trades? In which trades are they the best?
10. What are the chief objections usually raised against admitting them to the Trades Unions?
11. Are these objections likely to disappear in time?
12. General observations (add here any facts or opinions you may wish. They will be held as strictly confidential, if you so desire).
To the state federations a letter was sent asking for whatever general information was available on the subject. Most of them answered these requests.
To the industrial schools the following schedule was sent. Many of the schools were not able to answer definitely, and some returned no answer at all. The principal schools reported:
1. Name of institution.
2. Address.
3. How many of your graduates or former students are earning a living entirely as artisans?
4. How many of the above mentioned are:

5. Where are most of these artisans located at present?
6. How many of the rest of your graduates or former students are earning a living partially as artisans?
7. What trades and other work do they usually combine?
8. What difficulties do your graduates meet in obtaining work as artisans?
9. Do they usually join Trades Unions?
10. How many of them teach industries in schools?
11. Can you furnish us with a list of your graduates from industrial courses, with occupations and addresses?
In 1889 and 1891, the Chattanooga Tradesman made interesting and exhaustive studies of skilled Negro labor in the South. The Corresponding Secretary of the Conference invited the Editors of the Tradesman to cooperate with Atlanta University in a third investigation. In 1902, each bearing half the expense. . . .
The Negro and Organized Labor. It would be interesting to know if Crispus Attucks, the Negro who fell as the first martyr in the Revolution, was a member of that roistering band of rope walk hands whose rashness precipitated the Boston Massacre. If so, then the Negro's connection with organized labor, like his connection with all other movements in the history of the nation, dates back to early times. There appeared, too, in early times that same opposition to Negro workingmen with which we are so familiar today. This opposition came chiefly from the border states where the free Negro mechanics came in contact with white mechanics. On the other hand in the actual organizations of workingmen which began in the North nothing is usually heard of the Negro problem except as the labor movement avowedly made common cause with the abolition movement. The Evans brothers, who came from England as labor agitators about 1825, put among their twelve demands: 10th. Abolition of chattel slavery and of wages slavery. From 1840 to 1850 labor reformers were, in many cases, earnest abolitionists; as one of them said in 1847:137
"In my opinion the great question of labor, when it shall come up, will be found paramount to all others, and the operatives of New England, peasant of Ireland and laborers of South America will not be lost sight of in sympathy for the Southern slave."
"Indeed, the anti-slavery agitation and the organization of the mechanics of the United States kept pace with each other; both were revolutionary in their character and although the agitators differed in methods, the ends in view were the same, viz., the freedom of the man who worked."
Along with this movement went many labor disturbances which had economic causes, especially the series of riots in Philadelphia from 1829 until after the war, when the Negroes suffered greatly at the hands of white workingmen. The civil war with its attendant evils bore heavily on the laboring classes, and led to wide-spread agitation and various attempts at organization.138
"In New York City, especially, the draft was felt to be unjust by laborers because the wealthy could buy exemption for $300. A feeling of disloyalty to union and bitterness toward the Negro arose. A meeting was called in Tammany Hall and Greeley addressed them. Longshoremen and railroad employees struck at times and assaulted non-unionists. In New York Negroes took the places of longshoremen and were assaulted.139
The struggle culminated in the three days' riot which became a sort of local war of extermination against Negroes.
There had been before the war a number of trade unions—the Caulkers of Boston (1724), the Ship-wrights of New York (1803), the Carpenters of New York (1806), the New York Typographical Society (1817), and others. There had also been attempts to unite trades and workingmen in general organizations as the Workingmen's Convention (1830), New York, the General Trades Union of New York City, (1833 or earlier), the National Trades Union (1835) and others. In all these movements the Negro had practically no part and was either tacitly or in plain words excluded from all participation. The trade unions next began to expand from local to national bodies. The journeymen printers met in 1850 and formed a national union in 1852; the iron molders united in 1859, the machinists the same year, and the iron workers the year before. During and soon after the war the railway unions began to form and the cigar makers and masons formed their organizations; nearly all of these excluded the Negro from membership.
After the war attempts to unite all workingmen and to federate the trade unions were renewed and following the influence of the Emancipation Proclamation a more liberal tone was adopted toward black men. On Aug. 19, 1866, the National Labor Union said in its declaration:140
"In this hour of the dark distress of labor, we call upon all laborers of what ever nationality, creed or color, skilled or unskilled, trades unionist and those now out of union to join hands with us and each other to the end that poverty and all its attendant evils shall be abolished forever."
On Aug. 19, 1867, the National Labor Congress met at Chicago, Illinois. There were present 200 delegates from the states of North Carolina, Kentucky, Maryland and Missouri. The president, Z. C. Whatley, in his report said among other things:
"The emancipation of the slaves has placed us in a new position, and the question now arises, What labor position shall they now occupy? They will begin to learn and to think for themselves, and they will soon resort to mechanical pursuits and thus come in contact with white labor. It is necessary that they should not undermine it, therefore the best thing that they can do is to form trades unions, and thus work in harmony with the whites."
It was not, however, until the organization of the Knights of Labor that workingmen began effective co-operation. The Knights of Labor was founded in Philadelphia in 1869 and held its first national convention in 1876. It was for a long time a secret organization, but it is said that from the first it recognized no distinctions of "race, creed or color."
Nevertheless admission must in all cases be subject to a vote of the local assembly where the candidate applied, and at first it required but three black balls to reject an applicant. This must have kept Northern Negroes out pretty effectively in most cases. On the other hand the shadow of black competition began to loom in the horizon. Most people expected it very soon and the Negro exodus of 1879 gave widespread alarm to labor leaders in the North. Evidence of labor movements in the South too gradually appeared and in 1880 the Negroes of New Orleans struck for a dollar a day but were suppressed by the militia.
Such considerations led many trade unions, notably the iron and steel workers and the cigar makers, early in the eighties, to remove "white" from their membership restrictions and leave admittance open to Negroes at least in theory. The Knights of Labor also began proseltyzing in the South and by 1885 were able to report from Virginia:
"The Negroes are with us heart and soul, and have organized seven assemblies in this city (Richmond) and one in Manchester with a large membership."
So, too, the Brotherhood of Carpenters and Joiners said about 1886 that they had Negro unions as far South as New Orleans and Galveston:
"In the Southern States the colored men working at the trades have taken hold of the organization with avidity, and the result is the Brotherhood embraces 14 unions of colored carpenters in the South."
Even the anarchists of this time (1883) declared for "equal rights for all without distinction to sex or race." By 1886, the year of "the great uprising of labor," the labor leaders declared that "the color line had been broken, and black and white were found working together in the same cause." That very year, however, at the Richmond meeting of the Knights of Labor, ominous clouds arose along the color line. District Assembly 49 of New York had brought along a Negro delegate, Mr, F. J. Ferrell, and he was the source of much trouble in the matter of hotels and theatres and in a question of introducing to the convention Governor Fitzhugh Lee. Mr. Powderly had to appeal to the chief of police for protection, the press of the nation was aroused and the Grand Master Workman issued a defense of his position in the Richmond Dispatch:
"You stand face to face with a stern living reality—a responsibility which cannot be avoided or shirked. The Negro question is as prominent today as it ever was. The first proposition that stares us in the face is this: The Negro is free; he is here and he is here to stay. He is a citizen and must learn to manage his own affairs. His labor and that of the white man will be thrown upon the market side by side, and no human eye can detect a difference between the article manufactured by the black mechanics and that manufactured by the white mechanics. Both claim an equal share of the protection afforded to American labor, and both mechanics must sink their differences or fall a prey to the slave labor now being imported to this country.
"Will it be explained to me whether the black man should continue to work for starvation wages? With so many able-bodied colored men in the South who do not know enough to ask for living wages it is not hard to guess that while this race continues to increase in number and ignorance, prosperity will not even knock at the door, much less enter the home of the Southern laborer.
In the field of labor and American citizenship we recognize no line of race, creed, politics or color."
This was high ground for a labor leader to take—too high, in fact, for the constitituency he led, since the history of the labor movement from 1886 to 1902, so far as the Negro is concerned, has been a gradual receding from the righteous declarations of earlier years.
The Knights of Labor, after a brilliant career, having probably at one time over a half a million members, began to decline owing to internal dissensions and today have perhaps 50,000–100,000 members. Coincident with the decline of the Knights of Labor came a larger and more successful movement—the American Federation of Labor which has now nearly a million members. This organization was started in 1881 at a meeting of disaffected members of the Knights of Labor and others. From the beginning this movement represented the particularistic trade union idea as against the all inclusive centralizing tendencies of the Knights. And although the central administration has grown in power and influence in recent years, it is still primarily a federation of mutually independent and autonomous trade-unions, among which it strives to foster co-operation and mutual peace. The declared policy of such a body on the race question is of less importance than in the case of the Knights of Labor, since it is more in the nature of advice than law to the different unions. The attitude of the Federation has summed up as follows:
"It has always been regarded as one of the cardinal principles of the Federation that 'the working people must unite and organize, irrespective of creed, color, sex, nationality or politics.' The Federation formerly refused to admit any union which, in its written constitution excluded Negroes from membership. It was this that kept out the International Association of Machinists for several years, till it eliminated the word "white' from its qualifications for membership. It was said at one time that the color line was the chief obstacle in an affiliation of the Brotherhood of Locomotive Firemen with the Federation. The Federation seems, however, to have modified the strictness of the rule. The Railroad Telegraphers and Trackmen have both been welcomed and both restrict their membership to whites.
"In a considerable degree the color line has been actually wiped out in the affiliated organizations. Great Unions controlled by Northern men have insisted in Southern cities on absolute social equality for their colored members. Many local unions receive whites and blacks on equal terms. Where the number of Negroes is large, however, national unions usually organize their white and their colored members into separate locals. In 1898 the Atlanta Federation of Trades declined to enter the peace jubilee parade because colored delegates were excluded.
"The convention of 1897 adopted a resolution condemning a reported statement of Booker T. Washington that the trades unions were placing obstacles in the way of the material advancement of the Negro, and reaffirming the declaration of the Federation that it welcomes to its ranks all labor without regard to creed, color, sex, race or nationality. One delegate from the South declared, however, that the white people of the South would not submit to the employment of the Negro in the mills, and that the federal labor union of which he was a member did not admit Negroes. President Gompers said that a union affiliated with the Federation had no right to debar the Negro from membership.
"With increasing experience in the effort to organize the wage earners of the South, the leaders have become convinced that for local purposes separate organizations of the colored people must be permitted. President Gompers said in his report to the convention of 1900, that here and there a local had refused to accept membership on account of color. In such cases where there were enough colored workers in one calling, an effort had been made to form a separate colored union, and a trades council composed of representatives of the colored and the white. This had generally been acquiesced in. In some parts of the South, however, a more serious difficulty had arisen. Central bodies chartered by the Federation had refused to receive delegates from local unions of Negroes. The Federation had not been able to insist that they be received, because such insistence would have meant the disruption of the central bodies. President Gompers suggested that separate central bodies composed of Negroes be established where it might seem practicable and necessary. The convention accordingly amended the constitution to permit the executive council to charter central labor unions as well as local trade and federal unions, composed exclusively of colored members."
The attitude of the American Federation of Labor may be summed up as having passed through the following stages:
1. The working people must unite and organize irrespective of creed, color, sex, nationality or politics.
This was an early declaration but was not embodied in the constitution. It was reaffirmed in 1897, after opposition. Bodies confining membership to whites were barred from affiliation.
2. Separate charters may be issued to Central Labor Unions. Local Unions or Federal Labor Unions composed exclusively of colored members.
This was adopted by the convention of 1902 and recognizes the legality of excluding Negroes from local unions, city central labor bodies, &c.
3. A National Union which excludes Negroes expressly by constitutional provision may affiliate with the A.F.L.
No official announcement of this change of policy has been made, but the fact is well known in the case of the Railway Trackmen, Telegraphers, and others.
4. A National Union already affiliated with the A.F.L. may amend its laws so as to exclude Negroes.
This was done by the Stationary Engineers at their Boston convention in 1902, and an (unsuccessful?) attempt in the same line was made by the Molders at their convention the same year. The A.F.L. has taken no public action in these cases.
This is a record of struggle to maintain high and just ideals and of retrogression; the broader minded labor leaders, like Samuel Gompers, have had to contend with narrow prejudice and selfish greed; it is a struggle parallel with that of the Negro for political and civil rights, and just as black Americans in the struggle upward have met temporary defeat in their aspirations for civil and political rights so, too, they have met rebuff in their search for economic freedom. At the same time there are today probably a larger number of effective Negro members in the trade unions than ever before, there is evidence of renewed inspiration toward mechanical trades and a better comprehension of the labor movement. On the other hand the Industrial upbuilding of the South has brought to the front a number of white mechanics, who from birth have regarded Negroes as inferiors and can with the greatest difficulty be brought to regard them as brothers in this battle for better conditions of labor. Such are the forces now arrayed in silent conflict.
If we carefully examine the various trade unions now in existence, we may roughly divide them as follows:
1. Those with a considerable Negro membership.
2. Those with few Negro members.
3. Those with no Negro members.
The first two of these classes may be divided into those who receive Negroes freely, those to whom Negroes never apply, and those who receive Negro workmen only after pressure.
Unions with a Considerable Negro Membership. These unions are as follows: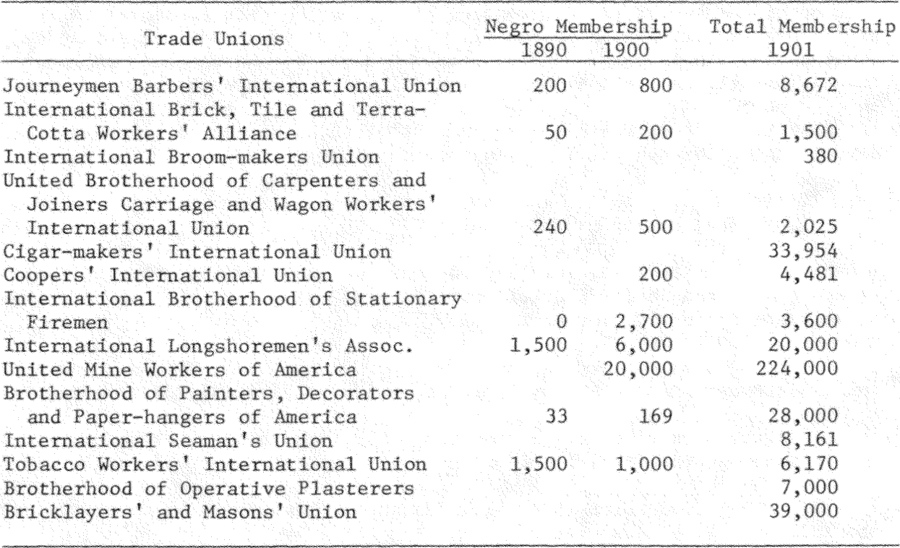 These unions represent the trades in which the Negro on emerging from slavery possessed the most skill, i.e., the building trades, work in tobacco, and work requiring muscle and endurance. Most of these unions deny any color-discrimination, although the secretary of the carpenters merely says, "None that I know of;" the carriage and wagon workers: "None that has been reported;" the coopers: "If any, it was many years ago;" and the painters' secretary: "I do not know." The carpenters and coopers both admit that local unions could refuse to receive Negroes, and the carpenters and plasterers are not certain that the traveling card of a Negro union man would be recognized by all local unions.
The following note in the barbers' official journal throws light on the situation in that craft:
"At a previous convention of our International Union a resolution was passed, calling upon our General Organizer to make a special effort to organize our colored craftsmen in the South. Today, we have, at a fair estimate, about eight or nine hundred colored members. My experience with them, both as General Secretary-Treasurer and President of a local, has shown that when they become members they at once become earnest and faithful workers. I find, however, that during the past term an unusual amount of friction has taken place in the South and that some of our white members, who still have the southern objection to a colored man, have sought to bring about class division. It is, of course, known to all of us, that the labor movement does not recognize class, creed, or color; that the black man with a white heart and a true trade union spirit is just as acceptable to us as a white member. Hundreds of letters have reached me asking if the colored man could not be kept out of the union. In every case I have answered that if he is a competent barber our laws say that he must be accepted. If below the so-called Mason and Dixon line where the color line is still drawn, they have the right to form them into separate unions, If above that line they can join any local.
"A question of the color line, and one which must be acted on in some way by this convention, is the trouble now existing in Little Rock, Ark. Bro. Pinard was in that city in February of last year and organized a union of colored craftsmen. No white union could be formed as they would not attend a meeting. In October following, however, a white union was formed. From that time on there has been trouble. The whites want to control the situation and want our colored local to adopt their laws. The colored local, however, was organized first and refused. This has brought on a heated correspondence and when the photo of delegates was asked for, the delegate from the white union stated distinctly that his photo must not appear near any colored man, as he was a white man and must not be placed near any burly Negro. In a number of places he refers to them as black demons. I know nothing definite as to their trouble, as it is a question of law and as such comes under the jurisdiction of the General President, but I felt that as No. 197 is a union in good standing in the International they were entitled to protection."
The trouble is not confined to the South; in Northern cities barbers are sometimes refused admittance into unions, and one secretary in Pennsylvania writes:
"We have to recognize them co hold our prices and short hours, but we find it very hard to get along with them."
The Negro membership seems, however, to be increasing rapidly and members are reported in nearly every state.
The secretary of the brick-makers writes:
"We have had a number of strikes where the colored man was imported to take the place of any man, therefore, there is more or less prejudice against them but we hope that will be removed in time."
They have but few of the large number of colored brick-makers.
The secretary of the broom-makers writes:
"I am informed that some organizations refuse membership to the Negro. I consider it a serious mistake, as white labor cannot expect the Negro to refrain from taking their place unless we will assist him in bettering his condition,"
Nine-tenths of the black membership of the carpenters is in the South and mostly organized in separate unions from the whites. In the North there are very few in the unions; there are a few in the West. In great cities like Washington, Baltimore, Cincinnati, Philadelphia, New York and even Boston it is almost impossible for a Negro to be admitted to the unions, and there is no appeal from the decision.
The cigar-makers' is one of the few unions that allows its local little discretion as to membership:
"Our constitution makes it obligatory on the part of local unions to accept journeymen cigar makers as members. Any journeyman cigar maker who has served three years at the trade can come in, and by paying his initiation fee in installments, if he wants to, he is regarded as having been initiated. It requires no vote; the constitution makes it mandatory."
Colored cigar makers can be found in small numbers in nearly all Northern cities and in large numbers in the South. Florida alone reports 2,000.
The secretary of the coopers' writes:
"We have local branches composed entirely of colored coopers at Egan, Ga., Norfolk and Lynchburg, Va. At New Orleans, Hawkinsville, Ga., and other places they work together in the same local union."
Practically no Negroes have been admitted to Northern unions—Trenton, N.J., alone reporting a single union Negro.
The stationary firemen in 1899 requested the St. Louis union to stop color discrimination and they have organized a number of Negro locals, especially in the mine regions. They assert that Negroes are received in all locals and this would seem to be so in most cases.
Among the longshoremen, who may be classed as semi-skilled artisans, the Negro element is very strong. From the great lakes a secretary reports:
"We have many colored members in our association, and some of them are among our leading officials of our local branches. In one of our locals that I can call to mind there are over 300 members, of which five are colored; of these two hold the office of President and Secretary; so you can see that nothing but good feeling prevails among our members as regards the colored race, and when you consider that our people average fifty cents per hour when at work, you can readily imagine that our people are not half-starved and illiterate."
From the gulf another writes:
"In New Orleans we have been the means of unity of action among the longshoremen generally of that port, both in regards to work, wages and meeting in hall together. I believe that we are the only craft in that city who have succeeded in wiping out the colored question. Our members meet jointly in the same hall and are the highest paid workmen in New Orleans.'
Still the color question arises here and there:
"In 1899 a color line difficulty arose among the longshoremen of Newport News, Va. The local unions there of longshoremen were composed entirely of colored men. White men refused to join them. The colored men were finally persuaded to consent to the issue of a separate charter for the white men."
The membership of Negroes is very large; Florida alone reports 800; Detroit, Mich., 60, and large numbers in Virginia, Louisiana and Texas.
The United Mine Workers receive Negroes into the same unions with whites, both North and South; Secretary Pearce testified before the Industrial Commission:
"As far as we are concerned as miners, the colored men are with us in the mines. They work side by side with us. They are members of our organization; can receive as much consideration from the officials of the organization as any other members, no matter what color. We treat them that way. They are in the mines, many of them good men. There is only one particular objection, and that is they are used to a great extent in being taken from one place to another to break a strike, as we call it, in such cases as we have here now at Pana, where this trouble is going on, and that trouble they had at Virden, Ill."
In the Alabama mines, 50% of the miners are black, still the whites are said to
"Recognize—as a matter of necessity they were forced to recognize—the identity of interest. I suppose among miners, the same as other white men in the South, there are the same class differences, but they have been forced down, so that they must raise the colored man up or they go down, and they have consequently mixed together in their organization. There are cases where a colored man will be the officer of the local union—president of a local union."
The state president of the Federation, however, reports considerable dissatisfaction on the part of the whites at the recognition of Negroes. Negro union miners are reported in Pennsylvania, West Virginia, Alabama, Illinois, Iowa, Kansas, Kentucky and Missouri. There are also a few members of the Northern Mineral Mine Workers Progressive Union, a kindred organization operating in Michigan.
The secretary of the painters' union writes:
"The only difficulty we find with Negroes is that there is a disposition on their part to work cheaper than the white man. This is due largely to want of education and the influence of men of their own race who are opposed to the Trades Union movement. The Trades Union movement is the only movement that will ever settle the Negro question in America, and men who are interested in the advancement of the Negroes should thoroughly investigate the whole question of Trades Unionism, as it relates to the Negro and the working people in general."
There would seem to be other difficulties, however, as there are almost no colored union painters in the North—one or two being reported in Portland, Me., Cincinnati, O., and Trenton, N.J. They seem to be pretty effectually barred out of the Northern unions, and in the South they are formed usually, if not always, into separate unions. Florida reports a considerable number, but there are not many reported elsewhere.
The secretary of the seamen writes:
"We are exerting every effort to get the Southern Negroes into the union at present, and if we can once convince them that they will have an opportunity for employment equal to the white man I believe that we can succeed. We have nearly all the Portuguese Negroes in the union at present. And they get the same wages as the white men, and the same opportunity for employment. The Negro seaman is now becoming a menace to the white seaman since the ship owner is endeavoring to use him against the union to break down wages, and they take the pains to impress on their minds that if they join the union and demand the same wages as the white men they will not be given employment. The Negro seaman being somewhat more illiterate than his white brother believes this, rather than believe us. We may in time be able to convince them that this is not so, but at present it is an uphill fight. The most of the colored sailing out of New York are union men and we have increased their pay from $16 and $18 to $25 and $30. Our worst ports are Philadelphia, Baltimore and Norfolk."
The following quotation from the testimony of the secretary of the tobacco workers is characteristic of the labor union attitude:
"Probably one of our greatest obstacles will be the colored labor, for it is largely employed in the manufacture of tobacco in the South. It is pretty difficult to educate them to the necessity of organization for the protection of their interests. In the South I suppose 75% in the tobacco business are colored, although there are a number of white people it seems, going in from the country to work in the factories, as I have been told. A number of manufacturers told me they did employ and would employ one where-ever they could, either male or female. . . .
"There was one colored tobacco workers union organized in Winston but the white men resisted the organization and I do not think it succeeded. I do not think there is any colored organization in the state now."
Opposition on the part of Southern white workmen, and the eagerness of union organizers to replace Negro by white laborers explains the difficulty of extending the union movement and the justifiably suspicious attitude of Negroes toward it. The tobacco workers' constitution especially prohibits color distinctions, but separate locals are organized. The colored union men are chiefly in Kentucky, Virginia and the Carolinas.
The plasterers have a good number of Negro members. In Memphis, Birmingham, Atlanta, Richmond, Danville, Savannah and New Orleans they are said to outnumber the whites, and in the South there are some "in most, if not in all, of our locals." They are scarce in the North, however, 2 being in Pennsylvania, 1 in Massachusetts, and a score or more in Illinois. The Southern unions are often mixed.
The masons and bricklayers also have a large Negro membership in the South and often in mixed unions. Considerable numbers are reported in Texas, Tennessee, Virginia, Louisiana and South Carolina; there are some 200 in Florida, and at least that number in Georgia, and probably in Alabama. In the North, however, it is very difficult for Negroes to enter the unions. The First General Vice-President of the National Building Trades Council testified before the Industrial Commission that "we do not permit" Negroes to join our organization in the city of Washington—"we do not admit colored men to our organization." He said, however, that the national organization "does not prohibit colored men from becoming members" and that there were members in some other cities. A Negro bricklayer and plasterer of St. Mary's, Ga., who has long worked as foreman, and can read and write, has travelled over a large part of the country. Although he had his union travelling card he was refused work and recognition in Tampa, Fla., Norfolk, Va., Washington, D.C., Baltimore, Md., and New York City. He was allowed to work in Boston and Chicago and most other Southern towns. In Cincinnati, a report says:
"We have some colored bricklayers here but those that work on buildings with union men and who belong to the unions are men so fair in complexion as not to be noticed, among sun-burned and brick dust covered white men, as colored men. I have a distinct recollection of an experience I had with a black bricklayer who came to this city in 1893 from Chicago. He was a member of a union there and worked with white men in that city. He came to Cincinnati with a band of white bricklayers who vouched for him. They were given, by the local union, union cards and immediately got work. He, the black man, was kept dancing attendance on the master of the local union and delayed upon one pretext and other until he was driven from the city without being permitted to follow his trade because the local union did not give him his card. I was remodeling a building of ours and I gave him work as a plasterer. The union hod carrier, an Irishman, refused to carry mortar for him because he did not have a card from the local plasterers' union as a plasterer. He was compelled to work as a scab to get money enough to get out of town."
The Knights of Labor claim 6,000 Negro members at present, and 8,000 in 1890, a decrease of 25 per cent. This report came too late for insertion in the table.
To sum up we may make the following list in the order of increasing hostility toward the Negro:
Miners—Welcome Negroes in nearly all cases.
Longshoremen—Welcome Negroes in nearly all cases.
Cigar-makers—Admit practically all applicants.
Barbers—Admit many, but restrain Negroes when possible.
Seamen—Admit many, but prefer whites.
Firemen—Admit many, but prefer whites.
Tobacco Workers—Admit many, but prefer whites.
Carriage and Wagon Workers—Admit some, but do not seek Negroes.
Brick-makers—         ″  ″  ″ ″ ″  ″  ″
Coopers—           ″  ″  ″ ″ ″  ″  ″
Broom-makers—         ″  ″  ″ ″ ″  ″  ″
Plasterers—Admit freely in South and a few in North.
Carpenters—Admit many in South, almost none in North.
Masons—    ″  ″   ″   ″    ″  ″   ″   ″
Painters—Admit a few in South, almost none in North.
The evidence on which the above is based cannot all be given here; it is, however, pretty conclusive; there are, for instance, numbers of competent Negro painters, carpenters and masons—yet who has seen one at work in a Northern city? There are numbers of brick-makers, wheelwrights and coopers, but few have been brought into the unions and in the North few can get in. The seamen, firemen and tobacco workers have many Negroes, but Negroes fear to join them lest, by demanding union wages, their white fellow-workmen will hasten to supplant them. This has virtually been admitted by labor leaders and others. A South Carolina employer says that among bricklayers of equal skill Negroes receive $1.75 and whites $2.50 a day and "the object of the white men in organizing the Negroes is to get them to demand the same wages that the whites demand." Messrs. Garrett and Houston, President and Secretary of the Georgia Federation, confirm this, as do many others, and the Secretary of the Southern Industrial Convention adds: "There is discrimination even in the union. The white members try to get employment for each other and to crowd out the colored members." The same thing occurs in the North; now and then a Negro is admitted to a union but even then he stands less chance of getting work than a white man.*
Unions with Few Negro Members: The following national unions report a few Negro members: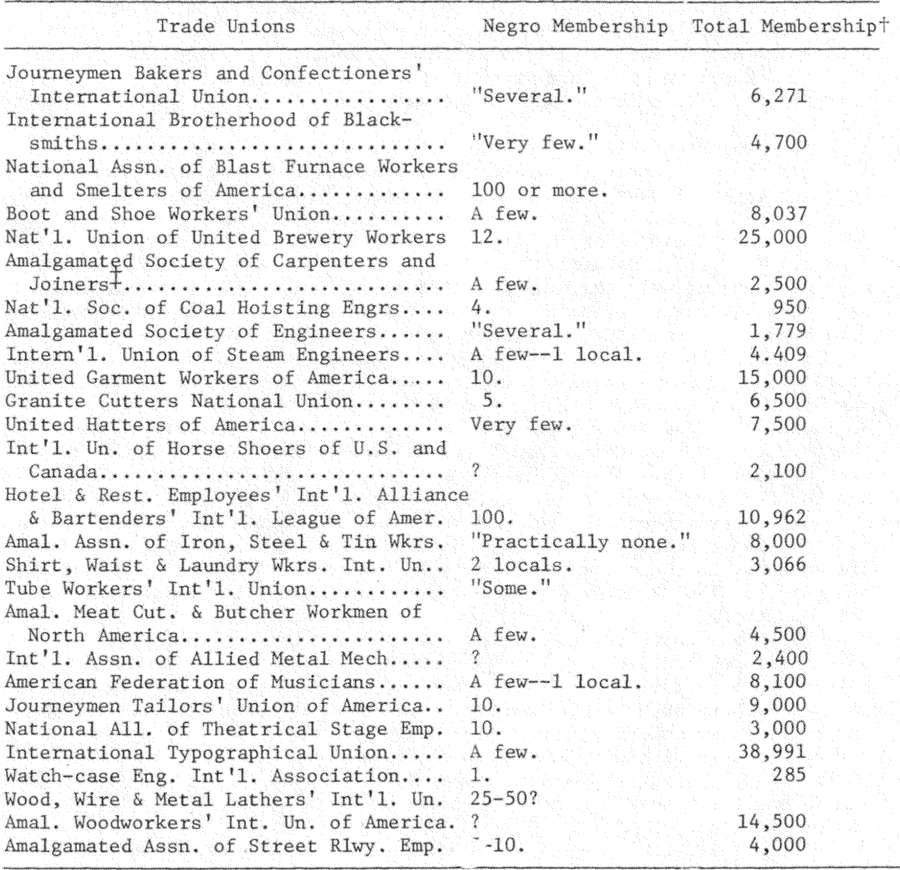 * Possibly the hod-carriers ought to be mentioned under this division as semiskilled laborers. They have a predominating Negro membership in all parts of the country, but have no national association. The local bodies are usually associated with the various city central labor bodies. The teamsters have a national body and many Negro members.
†Based mainly on actual paid membership tax. Cf. Report Industrial Commission: Vol. 17.
‡ Not the same as the Brotherhood of Carpenters and Joiners, but a smaller independent body allied with English unions as well as with the A.F.L.
The small Negro membership in these unions arises from two causes: the lack of Negro mechanics in these lines, and color discrimination. Probably the first is the more important in the case of boot and shoemakers, brewers, granite cutters, hatters, metal workers, watch-case engravers and metal lathers. In these cases the real discrimination is in keeping Negroes from learning the trades. In the case of most of the other unions, however, especially blacksmiths, blast-furnace workers, engineers, horse-shoers, hotel employees, iron and steel workers, musicians, street railway employees and printers, the chief cause of the small number of Negroes in the unions is color discrimination. Without doubt incompetency plays some part here, too, but it is doubtful if it is the leading cause. The granite cutters say that "employers do not care to employ Negro apprentices, hence the few Negro journeymen." The steam engineers say through their secretary:
"The Trade Union movement is based upon the broadest lines and recognizes that every wage worker ought to be within its ranks. There is, of course, an unfortunate feature, one that will take time and education to remove, and that is the biased opinion held in regard to the Negro. Our organization grants charters to Negroes when same is requested and there are a sufficient number of them to support a self-sustaining local. We have some difficulty with the accepting of a card when presented by a Negro but headquarters has always taken action in the matter and endeavored to have the card recognized."
The prejudiced element prevailed, however, at the last meeting in Boston, 1902, of the Stationary Engineers (an organization formed under the Steam Engineers,) and it was voted to have the word "white" placed before the word "engineers" in one of the articles of their constitution. The motion was made by a Mr. Grant of New Orleans, and was the cause of a most passionate debate. The vote was carried by a large majority, but not until there had been many strong speeches, the Southerners of course taking the affirmative and the Northerners opposing. Mr. Grant said that if the association granted "the Negro this social equality he did not deserve," it would lose all standing in the South, and that the Negro belonged in Africa. Mr. Optenberg of Wisconsin said if he voted to shut out the Negro he would be ashamed to look any Grand Army man in the face. Mr. Babbitt of Worcester said he knew colored engineers who deserved respect and he would stand for the colored man. But when Mr. C. Eli Howarth of Fall River declared that there were men present whom he would rather discard than the Negro, he was hissed for a full minute, and the Southerners had their way.
The secretary of the iron and steel workers thinks it is "only a question of time when it will be necessary to accord the Negro the same privileges as are extended to the white brethren." In the recent strike of steel employees against the Steel Trust the color line was broken for the first time and Negroes invited into the union. Few, if any, seem to have entered.
The hotel employees and bartenders have spent $525 "in a futile effort to organize colored locals," no Negro being allowed in a white local. "The main objection from our membership against Negroes appears to come from locals in the southern part of the country." The printers usually exclude Negroes; there are a few individual exceptions here and there, but not many. The secretary of the Atlanta Federation of Trades when asked if the printers there barred Negroes said: "I cannot answer that; we have no colored typographical men in the South that I know of," There are from 50 to 100 black printers in Georgia alone.
The metal lathers report a few members in Birmingham, Savannah, Asheville, Augusta, Memphis, Nashville and Jacksonville, but none in the North. Three colored shoemakers are reported. There was a local in New Orleans which barred Negroes but this is now defunct. The meat handlers have colored members in Kansas City and Boston. In the latter city they took part in the strike of the freight handlers of last summer. In one local a Negro has held office, and the last convention had several Negro delegates. The bookbinders say: "Some of our people refuse to recognize Negroes as mechanics," but there are no actual discriminating statutes.
When asked how many Negro applicants had been refused admission to the unions, the Amalgamated carpenters, musicians, blacksmiths, street railway employees and brewers returned no answer; the engineers, granite cutters and glass workers were evasive, saying that they were without official data or did not know. Most of the others answered, "None." Many acknowledged that local unions could refuse to recognize a traveling card held by a Negro, although several said the action was "illegal." . . .
These unions fall into three main groups: those say that they admit Negroes but have no Negro members; these include the goring weavers, trunk workers, tile layers, leather workers, metal workers, plumbers, plate printers, car workers, paper workers, oil well workers, ladies garment workers, special order clothing workers, chair makers, upholsterers and piano workers. Their explanation is that no Negroes work at these trades and they consequently have no applications. This is true except in the case of plumbers and upholsterers. The plumbers have a semi-secret organization and there can be no doubt that they practically never admit a Negro, although one Negro member is reported in Flint, Mich. The organizer says that most Negroes are incompetent.
"Such Negroes as have shown a greater ability than others have usually found their way into a small business and are patronized by the Negro residents of our Southern cities. There is no general law in our organization to exclude Negroes but as before stated none have ever joined and to the best of my knowledge but one has ever made application to us."
A prominent official of the chain makers reports that they had 6 Negro members in 1901, but that they refused to strike which "naturally would cause hard feelings." The general secretary of the metal workers thinks "there would be no difficulty in initiating a colored metal worker into one of our local unions," but adds, "I am speaking from a personal standpoint on this question. There is no doubt but what we have some members who are prejudiced against the Negro."
The second class of unions is those which are undecided or non-committed on the Negro question. These are the various glass workers, the potters, stove-mounters, jewelry workers, wood carvers, textile workers, stereotypers and electrotypers, printing pressmen, metal polishers, steamfitters and lace curtain operatives. As no Negroes work at most of these trades the question of their admission has not been raised or decided. The textile workers are exceptions and have very clearly drawn the color line, North and South, although they do not acknowledge it. The Negroes working at the trade have never been allowed to join the union, and the attempt to introduce Negro mill labor in Atlanta a few years ago so strengthened the Textile Union in the South that "it is doubtful whether in the future a Southern cotton mill can employ any Negro labor unless it is ready to employ all Negro labor." There appear to be one or two printing pressmen in Rhode Island and Illinois.
The last class of unions Includes those who openly bar the Negro. These are the great railway unions—the engineers, firemen, telegraphers, car men, switchmen, trainmen, track men, and conductors; and the stone cutters, machinists, electrical workers, boiler makers, and wire weavers. The editor of the organ of the engineers attributes the exclusion of the Negro to the prejudices of Southern engineers, but thinks that most of their fellows agree with them. Mr. E. E. Clark, Grand Chief Conductor and member of the Coal Strike Arbitration Commission, writes:
"I think wherever any opposition to the colored race on the part of organized labor is manifested, it can generally be traced to the fact that colored men are always willing to work for wages which white men cannot, and should not be asked, to work for."
The Grand Master of the Trainmen says:
"The Brotherhood has no plans for the organization of colored men employed in railway occupations. Some ideas have lately been proposed along these lines, but as yet they have not met with any general favor among our membership."
Mr. John T. Wilson, president of the trackmen, was once addressing some Negroes in St. Louis on the advantages of unionism. They reminded him of the attitude of his union and he replied that
"I was employed to execute laws, not to make them, and if they could see themselves as I saw them, they would not be surprised at my inability to annihilate race prejudices."
And he added that
"Concerted action on the part of practical and intelligent Negroes and white men of character who really desire to see the conditions of the downtrodden masses improved without regard to race, would eventually cause the white and Negro workmen to co-operate in industrial organization for their mutual advancement."
The Negro locomotive firemen are still active competitors of the white, although forced to take lower wages and do menial work. The Commissioner of Labor of North Carolina testified before the industrial commission that
"The truth of it is, a great many engineers like Negro firemen best. They had Negroes at first and are now only working white men in; the white men are taking the place of Negroes. . . . A great many of the old engineers prefer Negro firemen. They treat them differently—make them wait on them. The white man does not do that."
The Grand Secretary of the Boiler-makers says:
"There is not one man in this order that would present the application of a Negro for membership. This without laws forbidding him. Hence we have none. Being a Southern man myself, having lived 30 years in New Orleans, I know that no Negro has worked at boiler making since the war."
The secretary of the wire weavers says:
"Our laws, up to a few years ago, provided that only white males were eligible, but it at present makes no distinction, but at the same time I am satisfied that our men would not work with a Negro. We work partners and coming in such contact with one another no white man would take a Negro for a partner. And I am frank enough to say that I don't think any of the men would allow a Negro to start at the trade."
The International Association of Machinists was organized in 1888:
"Almost alone among national labor organizations, excepting the railroad brotherhoods, it put a clause in its constitution excluding colored men. It desired to join the American Federation of Labor, but the Federation refused at that time to admit unions whose constitutions recognized distinctions of color. . . .
"At the Federation convention of 1892 the president of the Association of Machinists appeared before a committee of the Federation, expressed satisfaction with the action of the executive council, and stated that the next convention of the Machinists' Association would eliminate the color line from its constitution. It was not until 1895 that affiliation with the Federation was finally effected.
Notwithstanding this the secretary of the Washington lodge writes us in 1899 "the Negro is not admitted to the International Association of Machinists," while the secretary of the National Union refused to answer questions as to the eligibility of black men. A labor leader when asked by the Industrial Commission if he had ever worked with a Negro machinist, answered:
"No, sir; I never worked in a shop with a Negro as a machinist."
"Would you not?" "No, sir; I would not."
The president of Turner Brass Works tells how the machinists in his establishment objected to a colored workman, but the Negro "was so good-natured and did his work so well" that he was permitted to stay—but not to join the union.
"Right there is my objection, and right there is my reason for declining to treat locally with unions, because the men out of the union should have as good a right to employment as the men in the union. We do not ask them if they are Methodists or Democrats, or whether they are Masons or union men. We ask them, "Can you do this work!"
There may possibly be one or two Negroes in the machinists' union in Boston.
The secretary of the electrical workers reports:
"I will state that we have no Negroes in our organization. We received an application from Jacksonville, Fla., but it was thrown down by our locals. We are in favor of the colored men organizing, but we believe that they should have locals of their own, and not mixed with the whites."
In the Jacksonville case it is said that the local was granted a charter; then it was learned that they were colored and the charter was revoked. There are one or two Negro members in Massachusetts and New Jersey.
The reasons adduced for discrimination against Negroes vary:
"Unfit for the business."—Telegraphers.
"Not the equals of white men."—Boilermakers.
"Color."—Electricians, Locomotive Firemen.
"Race prejudice among the rank and file of our members."—Trainmen.
When asked if these objections would disappear in time, the answers were:
"No."–—Locomotive Firemen.
"Eventually; co-operation will come."—Trainmen.
"We hope so."—Electricians.
"Not until prejudice in the South disappears."—Engineers.
"Time makes and works its own changes."—Boilermakers.
"Think not."—Telegraphers.
Finally the Railway Educational Association writes:
"Usually the railroad service is open from the top to the bottom for promotion to those who enter it, but your race seems to be discriminated against and barred from promotion. I understand that you are working on the idea that education is the power that must advance your race, and finally break down opposition to the progress of its members. In this you are surely right, although the time for the realization of your hopes may be more distant than you expect."
There are a number of unions from whom repeated inquiries secured no information, as, for instance, the bridge workers, core makers, table knife grinders, iron molders, paving cutters, tin plate workers, marble workers, lithographers and sheet metal workers. The addresses of others were not found in time, as the powder workers, brickmakers, spinners, box makers, marine engineers and firemen, and stogie makers. Most of these, however, have none or very few Negroes, except possibly the core makers and molders, in which trades many Negroes are employed. In the last Toronto meeting of the molders, 1902, it is said that:
"warm discussion was precipitated in the iron molders convention this morning by a delegate from the South touching the admission of Negroes to the Iron Molders' Union. The delegate thought they should be excluded, but those from the Northern States, ably assisted by the Canadian members, championed the Negro. They thought there should be no difference made. They objected to the making of a race question."
Repeated letters to the secretary of the molders' as to the result of this proposal and the general attitude of the molders, have elicited only this response:
"You will have to kindly excuse me from giving such matters any more of my time as I am very busy with my office work!"
Local option in the choice of members. The general attitude of the Federation of Labor, and even of the National Unions, has little more than a moral effect in the admission of Negroes to trade unions. The present constitution of the Knights of Labor admits members "at the option of each local assembly." The real power of admission in nearly all cases rests with the local assemblies, by whose vote any person may be refused, and in a large number of cases a small minority of any local may absolutely bar a person to whom they object. The object of this is to keep out persons of bad character or sometimes incompetent workmen. In practice, however, it gives the local or a few of its members a monopoly of the labor market and a chance to exercise, consciously or unconsciously, their prejudices against foreigners, or Irishmen, or Jews, or Negroes.
The following unions require a majority vote for admission to the locals:
| | |
| --- | --- |
| Boot and Shoe Workers | Amalgamated Engineers |
| Amalgamated Carpenters | Metal Polishers |
| Bottle Blowers | Stove Mounters |
| Glass Workers | Bakers |
| Wood Workers | Barbers |
| Coopers | Steam Engineers |
| Stogie-makers | Coal Hoisting Engineers |
The woodworkers, coal hoisting engineers, and coopers, require an examining committee in addition.
The following require a two-thirds vote for admission to the locals:
| | |
| --- | --- |
| Brotherhood of Carpenters | Sheet Metal Workers |
| Painters | Pattern-makers |
| Tile Layers | Tin Plate Workers |
| Flint Glass Workers | Broom-makers |
| Iron and Steel Workers | |
Nearly all these require also the favorable report of an examining committee. Among the iron and steel workers and tin plate workers two black balls can make a second election necessary.
These unions require more than a two-thirds vote for admission:
Electrical Workers, two-thirds vote, plus one, and examination.
Molders,     ″   ″  ″  ″ ″
Core-makers,   ″   ″  ″  ″  ″
Boiler-makers, three black balls reject.
Blacksmiths,  ″    ″  ″    ″  two require second election.
Street Railway Employees, three-fourths' vote.
Leather Workers, (horse goods), three black balls reject.
The Typographical Union and printing pressmen and many others leave all questions of admission to the local unions absolutely, except that an appeal lies to the National Union. In nearly all cases save that of the cigar-makers the adverse vote of a local practically bars the applicant. It is here, and not, usually, in the constitutions of the National bodies, that the color line is drawn ruthlessly in the North.
The colloquy between the Industrial Commission and the First General Vice President of the Building Trades Council brought this out with startling clearness:
Question—"It seems to be true here that the local organization has the power to draw the color line absolutely, without regard to the qualifications of the applicant. To what extent does that power generally go with local organizations? Is it absolute? Could it extend to a Roman nose, gray eyes, wart on the chin, or must it rest upon some reason? What is the law about it?
Answer—Such a condition might be possible, but not at all probable.
Q.—You mean that all those things rest absolutely upon the will of the local organization?
A.—Why, yes; they rest upon the will of the majority."
In like manner the methods regulating apprenticeship militate against Negroes in nearly all the trades. Many unions, like the hatters, trunk makers, printers, stone cutters, glass workers, and others, limit the number of apprentices according to the journeymen at work. Very often, as in the case of the hatters, the union prescribes the terms of apprenticeship and oversees the details. In the case of the coal hoisting engineers, elastic goring weavers, and some others, the consent of the local must be obtained before any particular apprentice is admitted. In other cases there are age limits, and there is very general demand among the unions for still more rigid regulation and the use of articles of indenture. Strong unions go so far as to refuse to recognize a workman who has not served his apprenticeship in a union shop or begun it between the ages of 17 and 18. The tin plate union especially enjoins its members from teaching their trade to any unskilled workingmen about the mills. The black boy who gets a chance to learn a trade under such circumstances would indeed be a curiosity.
Strikes against Negro workmen. It is impossible to get accurate statistics on the number of cases where white workmen have refused to work with black men. Usually such strikes, especially in the North, are concealed under the refusal to work with non-union men. Strikes for this cause have occurred in 2,751 establishments in this country in the last 20 years, and nearly 70% of them have been successful. It is thus possible in some trades for three men absolutely to bar any Negro who wishes to pursue this calling.
There are a number of cases where the object of getting rid of Negro workingmen has been openly avowed. These, by causes, are as follows: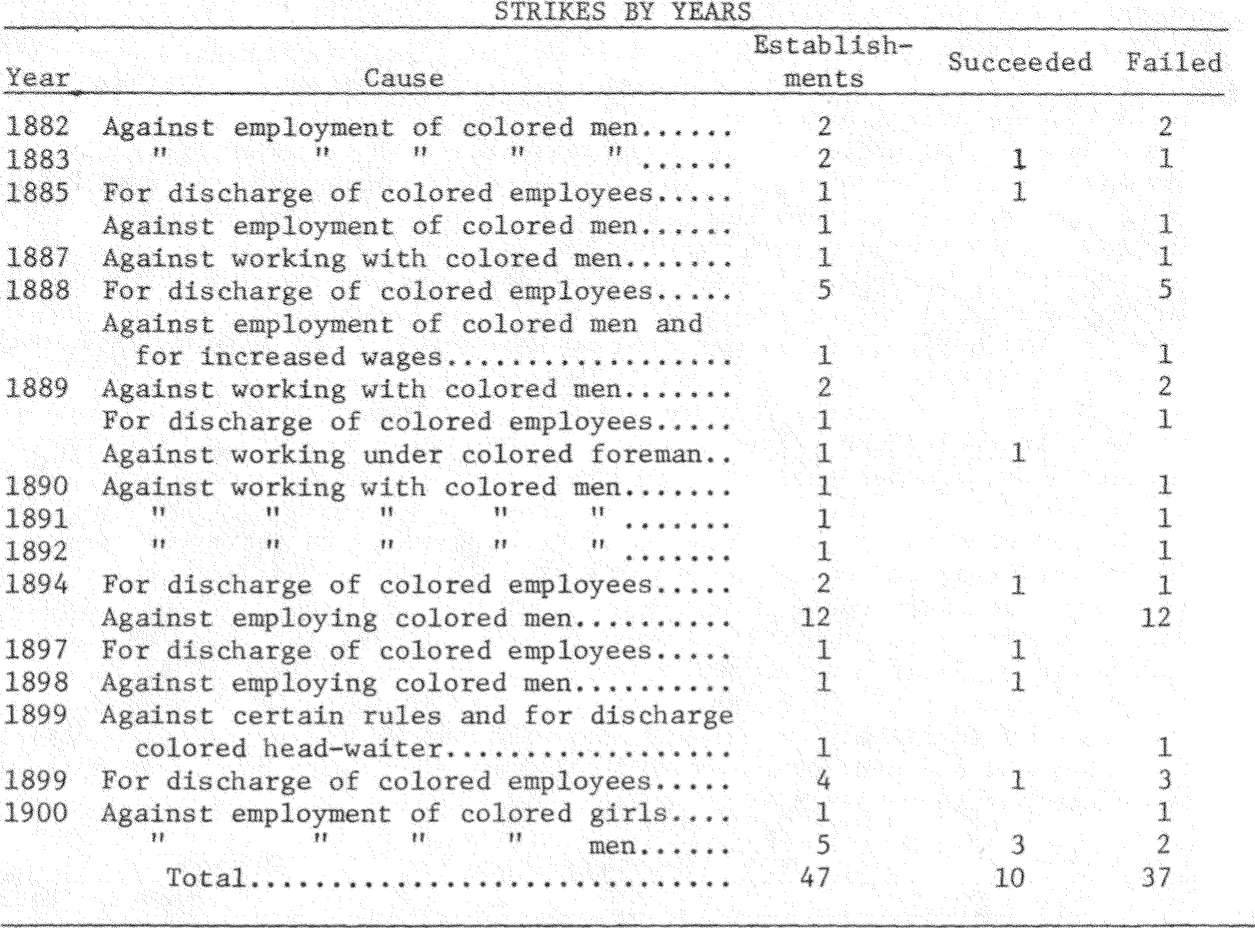 Detailed information as to all of these strikes is unfortunately not available for the last ten years; for the first ten years 1,458 men were engaged in such strikes, involving 21 establishments and entailing a pecuniary loss to employers and employed of $215,945. If the strikes of the last ten years were similar in character we may say that in the last 20 years 3,000 white workingmen have fought against the employment of other workingmen for the sole reason that they were black at a cost of nearly half a million dollars. And that moreover this probably is only a small part of the strikes against colored men, since usually the strike is technically against "nonunion labor."
The greatest strike of which we have record before 1891 is that which took place in a steel works in Pittsburgh in 1890. The Iron and Steel Workers Union ordered out 400 of the 500 employees because Negroes were employed. The strike lasted over eight months and failed. The wage loss was $15,000, toward which labor unions contributed $8,000. The employers lost $25,090 and eventually 300 new hands were hired in place of the strikers.
Summary of the Attitude of Organized Labor. Putting the strength of organized labor in the United States at the conservative estimate of 1,200,000, we may say:
Unions with 500,000 members, include 40,000 Negroes.
Unions with 200,000 members, include 1,000 Negroes.
Unions with 500,000 members, include No Negroes.
The rule of admission of Negroes to unions throughout the country is the sheer necessity of guarding work and wages. In those trades where large numbers of Negroes are skilled they find easy admittance in the parts of the country where their competition is felt. In all other trades they are barred from the unions, save in exceptional cases, either by open or silent color discrimination. There are exceptions to this rule. There are cases where the whites have shown a real feeling of brotherhood; there are cases where the blacks, through incompetence and carelessness, have forfeited their right to the advantages of organization. But on the whole a careful, unprejudiced survey of the facts leads one to believe that the above statement is approximately true all over the land.
It is fair, on such a vital point, however, to let the white labor leaders speak for themselves and the opinions of a few are here appended.
Views of Labor Leaders—(By C. C. Houston, Secretary of the Georgia Federation of Labor, Samuel Gompers, President of the American Federation of Labor, and others).
"A labor union is primarily a business institution and very little sentimentalism enters into its make-up. It is for the collective bargaining, conciliation and arbitration of labor. It is to the working man what the Chamber of Commerce is to the business man. It differs from a commercial trust in that it is not a close corporation, but its influences for good are world-wide, and its membership is restricted only to those qualified to perform the work of any special calling in a workmanlike manner. It gives greater liberty and independence of action to the workman and insures not only a higher standard of wages but a higher standard of living.
"Dr. George E. McNeill, author of a volume entitled 'The Labor Movement,' says: 'There is no such thing as liberty of contract between a single wage-worker and an employer. It first becomes possible through the efforts of trade unions. The union is to the laborer what a republican form of government is to the citizen—it gives him freedom. Unions have first made labor problems a matter of interest to the people generally, and have increased respect for labor. They have brought back self-respect and have a strong educational influence. Drunkenness and other bad habits are frowned upon by labor unions.'141
"Were it not for the labor unions the working people of this and other civilized countries would be in little better condition than were the chattel slaves of this section before the civil war, and this is the only power that can resist the great and growing combination of capital. There are in the United States today over 2,000,000 skilled working men and women enrolled in the ranks of the various labor organizations. The system comprises local, state and national unions. Each local union is a self-governing body, and is to the national body what a single state is to the United States. Each local union has complete trade autonomy, and regulates its own internal affairs. These local unions range in membership from seven to over six thousand, the last being "Big Six" typographical union of New York City, the largest local labor organization in the world.
"The older trade unions, which have practically complete control of their trade membership, such as the printers, stone cutters, tailors, engineers, conductors and cigar makers, have comparatively few strikes and it is only the newer organizations that are usually forced to resort to strikes to gain recognition of demands for wage scales and regulation of hours. In the case of the older trade unions they have local and sometimes national agreements with associations of employers as to wages and hours of labor. Through the efforts of trade unions few skilled workmen now work over ten hours, while in a great majority of instances eight and nine hours constitute a day's labor at a greater wage scale than formerly prevailed for ten and eleven hours.
"In this general trade union movement the Negro artisan has been a beneficiary in proportion to his membership. It is only during the past ten years that the colored workingman has become in any great measure a factor in organized labor affairs, for there are very few unions among unskilled laborers.
"With the possible exception of the railway orders, none of the trade unions of this country, North and South, exclude the Negro, and his connection with the labor movement is becoming more apparent every year, and he is fast finding out that it is to his individual and collective interest to become affiliated with the organization of his craft. In this the white artisan is lending encouragement and assisting the Negro, giving him a seat, with voice and vote, in the labor councils, local, state and national. The feeling that formerly prevailed among the Negro skilled artisans that the white laborer's sympathy for him was for a selfish purpose is being rapidly dispelled by the mutually beneficial results of organization."—C. C. Houston.
The President of the American Federation of Labor writes:
"It has been and is now our endeavor to organize the colored workers whenever and wherever possible. We recognize the necessity of this if it is hoped to secure the best possible conditions for the workers of every class in our country," Later, on reading §53, he replied: "I should say that your statement is neither fair nor accurate. After careful perusal of the summing up of the attitude of the A.F. of L. toward colored workmen, I should say that you are inclined, not only to be pessimistic upon the subject, but you are even unwilling to give credit where credit is due."—Samuel Gompers.
The following opinions are from various states:
VIRGINIA.—"One of the greatest drawbacks to the labor movement in the South is the ignorant prejudice against the Negro on the part of the whites in trades unions."
MASSACHUSETTS.—"I always considered a Negro as good as a white man, in any labor union, provided they live up to the obligations."
KANSAS.—"Unions do not bar Negroes by their laws but do not solicit them. If they would apply they would be rejected."
IOWA.—"There are only a few Negroes here but they are not discriminated against according to my knowledge except in the Federation where a Negro cannot act as a delegate legally."
FLORIDA.—"The Negroes in this city have no need to complain, as the white men work, smoke, eat and drink together with them, meet in Central Union and hold office together. I organized and installed the Central Union, as General Secretary, and I am a Negro, and have held the same for two elections and was elected by the whites, who are in majority. I have presided over the same body, but do not visit their daughters and have no wish. The white painters do in a way draw a line, but not openly; the boiler makers also, but none others."
ILLINOIS.—"We have but one Negro in this town and don't need him."
IOWA.—"The Negro in the world is fast learning to overcome superstition, race prejudice, etc. He is 90% a better citizen than the semi-civilized pack of humanity that is being imported into this country by capitalists from Asia Minor and Syria."
MASSACHUSETTS.—"I have met Negroes in the printing trade who were rapid compositors and good union men."
ILLINOIS.—"There is only one union here but what the Negro stands on a level with whites, and they would take them in when they apply; but the Negro knows better than to apply."
INDIANA.—"It is my opinion that if a Negro proves himself a mechanic and a man, and holds up trades rules, he has a right to work and make an honest living, the same as any one else; but don't understand by this that I am in favor of this class of people in general, for I am not."
PENNSYLVANIA.—"The working people do not believe in distinctions of races at all."
WASHINGTON.—"I want to say under this head that the Negroes as a race are bigoted and should not, in my opinion, be allowed to associate with whites on an equal basis. Although they do not follow my line of business, I have had enough experience with them to convince me that any time they are treated as equals by whites they go too far and apparently consider themselves entitled to more consideration than a native born white American citizen."
PENNSYLVANIA.—"I have known cases here where colored men were refused admittance to a trades union, the reason being that there are so many of them who are unreliable; which is due to a great extent to their want of education, and this but points more forcibly to the need of the 8 hour day for the colored workman, and their organization into some body which will awaken them to the greater possibilities of elevation, both material and intellectual, offered them by trades unionism."
OHIO.—"I am of the opinion that the Negro in common labor pursuits is far ahead of the whites, and many in trade occupations. One Negro friend of mine holds a very responsible position with this union—has been presiding officer since its organization three years ago, and the organization has about 200 members, white and black."
INDIANA.—"We have had no test here in regard to admitting Negroes to our local unions. How they would be received is hard to tell at present."
TEXAS.—"Color discrimination must disappear, if the trade union movement succeeds."
TEXAS.—"The Negro question is the one drawback to the success of the labor movement today, especially is this true in the South. The Negro has always been the stumbling block in the way of success, in many cases; this, however, is not the fault of the Negro, but until the white men realize that it is with the organization and assistance of the Negro, that they can and must win, the labor movement will not be as successful as we hope for. I believe that if the Negro was organized thoroughly, then the solution of the labor problem would be found. They are laborers, in a larger percentage, than their white brothers; they are the ones used to whip the white men into line when striking for their rights or demanding recognition from their employers, whereas, if they were organized, no inducement could be made to cause them to falter in their duty to mankind."
MICHIGAN.—"In my opinion it is only a question of time—the evolution which will bring with it the higher civilization—when a colored man will be recognized and entitled to all the rights and privileges now enjoyed by the whites, and by such enjoyment proving the claim that it is civilization and education that makes the man."
The Employer, the Artisan, and the Right of Suffrage. A few quotations throw an interesting side light on the suffrage question in the South and its relation to the Negro. The last Southern Industrial Convention at Chattanooga said:
"We recommend that every possible means shall be used to educate the public sentiment of the South to regard the Negro as a factor in the upbuilding of the South, and that as such we should use all possible means to make him as efficient as possible, and pledge him the fullest guaranty of earning a living in every honest field of honest endeavor, and protection in his God-given right of self-support."
A prominent Southern man said before the Industrial Commission:
"I believe that in the Negro labor of the South lies the panacea for the wrongs frequently committed by organized labor, and a reserve force from which can be supplied any needed number of workers when the time shall come when they shall be needed."
Most workingmen in the South laugh at such threats because they are certain the Negro cannot become a formidable competitor in skilled labor. A writer in the Holder's Journal makes considerable fun of the exaggerated predictions as to the Negro molder and writes him down as a "dismal failure." Another writer, however, takes him to task and asserts that the writer
"Will not woo us into a sense of fancied security and induce us to look upon the Negro problem in our trade as one that will solve itself by the Negro's demonstrating his incapacity and being ignominiously dismissed from the foundry.
"That is very flattering to our vanity, but it is contrary to facts, I believe I am well within the mark when I say that in the last twenty years Negro molders have increased 500 per cent, and that excluding the Negro pipe molders, whom I do not class as skillful mechanics, I know of two foundries, at least, where the molding is done entirely by Negroes—three if we include the Ross-Mehan annex in Chattanooga. There is the one at the foot of Lookout Mountain, and another in Rome, Ga. A few years ago a mere handful of Negroes worked at molding in Chattanooga, today there are over two hundred; and I am convinced that the question of what shall be done with the Negro molder is one which, in the very near future, will demand more of our attention if we would maintain for ourselves fair wages and condition in the South."
On the other hand a white speaker in the 10 th Barbers' Convention said:
"Is the disfranchisement of the Negro the first step toward making history repeat itself? I for one will not believe it, as I have too much confidence in American manhood to think that they will allow it. Those of you who live in the South may feel, you may even say it is right, and then I will say to you, if it is right to deny the right of franchise to any American citizen, though his color or nationality be what it may, then it may be your turn tomorrow, because those who seek to disfranchise the Negro today will seek to extend their power by disfranchising you tomorrow. Our protection for tomorrow calls on us to protest in favor of the disfranchised Negro of today."
Here, then, are the four great forces: the Northern laborer, the Southern laborer, the Negro and the employer. The Southern laborer and the employer have united to disfranchise the Negro and make color a caste; the laborer is striving to make the whites unite with the Negroes and maintain wages; the employer threatens that if they do raise labor troubles he will employ Negroes. The Northern laborer sees here the danger of a disfranchised, degraded and yet skilled competitor, and raises the note of warning. Is not this a drama worth the watching?
The Employment of Skilled Negroes in the South. The Chattanooga Tradesman made, in 1889 and 1891, inquiries into the status of Negro labor in the South. The employers questioned in 1889, employed 7,000 Negroes of whom possibly 2,000 were skilled or semi-skilled. "The general tenor of the replies indicated perfect satisfaction with Negro labor." In 1891 replies were received from the employers of 7,395 Negroes of whom 978 were skilled and many semi-skilled and the editor concluded that "the Negro, as a free laborer, as a medium skilled and common worker, is by no means a 'failure;' that he is really a remarkable success."
In 1901, a third joint investigation into Negro skilled labor was made by the Tradesman and the Sociological Department of Atlanta University. It was not an exhaustive inquiry and there is no way of knowing what proportion of the employers of skilled Negro laborers were reached. In 1891, twelve per cent, of the Negroes employed by those written to were skilled or semiskilled; in 1901, twenty per cent; 344 firms answered in 1901, employing 35,481 men, of whom 16,145 were Negroes, and 2,652 of these were skilled or semi-skilled workmen. Negroes were employed at given occupations as follows in the various establishments:
KINDS OF EMPLOYMENT FOLLOWED BY NEGROES, BY ESTABLISHMENTS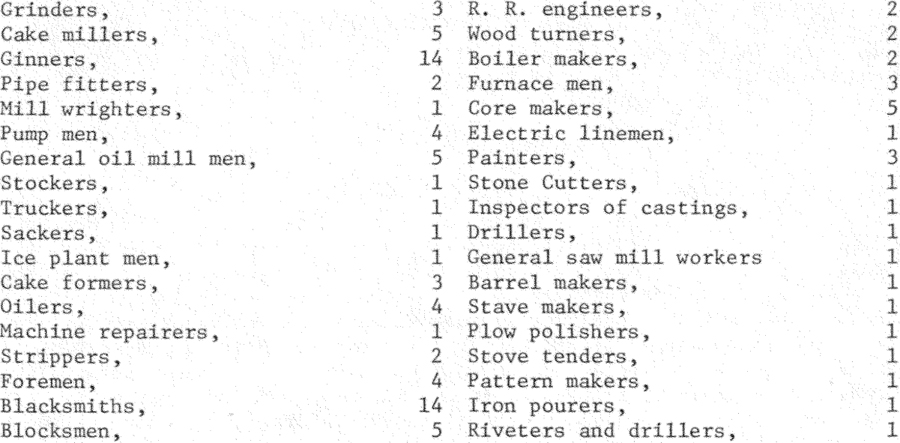 . . . Summary. We have studied in considerable detail the history of the Negro artisan, the industrial schools, the condition of Negro mechanics throughout the country, the attitude of organized labor toward the Negro, the opinions of employers, and Negro inventions. On the whole the survey has been encouraging, although there is much to deplore and criticise. Our conclusions may be summed up as follows:
1. Slavery trained artisans, but they were for the most part careless and inefficient. Only in exceptional cases were they first-class mechanics.
2. Industrial schools are needed. They are costly and, as yet, not well organized or very efficient, but they have given the Negro an ideal of manual toil and helped to a better understanding between whites and Negroes in the South. Eventually they may be expected to send out effective artisans, as they already have begun to do.
3. There are a large number of Negro mechanics all over the land, but especially in the South. Some of these are progressive, efficient workmen. More are careless, slovenly and ill-trained. There are signs of lethargy among these artisans and work is slipping from them in some places; in others they are awakening and seizing the opportunities of the new industrial south.
4. The labor unions, with 1,200,000 members, have less Chan 40,000 Negroes, mostly in a few unions, and largely semi-skilled laborers like miners. Some labor leaders have striven against color prejudice, but it exists and keeps the mass of Negroes out of many trades. This leads to complicated problems, both industrial, political and social.
5. Employers on the whole are satisfied with Negro skilled labor and many of them favor education as tending to increase the efficiency of Negroes Others think it will spoil the docility and tractableness of Negro labor. The employment of Negro skilled labor is slowly increasing.
6. The Negro evinces considerable mechanical ingenuity. On the whole this study of a phase of the vast economic development of the Negro race in America but emphasizes the primal and emphatic need of intelligence. The situation is critical and developing swiftly. Deftly guided with the larger wisdom of men and deeper benevolence of great hearts, an outcome of good to all cannot be doubted. Muddled by half trained men and guided by selfish and sordid interests and all the evils of industrial history may easily be repeated in the South. "Wisdom" then "is the principal thing; therefore, get wisdom, and with all thy getting, get understanding."
W. E. Burghardt Du Bois (ed.), The Negro Artisan (Atlanta: Atlanta University Press, 1902), pp. 10–11, 153–180, 188. Footnotes have been eliminated from the text by the editors.
By W. E. B. DuBois
THE CONTACT OF THE RACES
Color Prejudice.—Incidentally throughout this study the prejudice against the Negro has been again and again mentioned. It is time now to reduce this somewhat indefinite term to something tangible. Everybody speaks of the matter, everybody knows that it exists, but in just what form it shows itself or how influential it is few agree. In the Negro's mind, color prejudice in Philadelphia is that widespread feeling of dislike for his blood, which keeps him and his children out of decent employment, from certain public conveniences and amusements, from hiring houses in many sections, and in general, from being recognized as a man. Negroes regard this prejudice as the chief cause of their present unfortunate condition. On the other hand most white people are quite unconscious of any such powerful and vindictive feeling; they regard color prejudice as the easily explicable feeling that intimate social intercourse with a lower race is not only undesirable but Impracticable if our present standards of culture are to be maintained; and although they are aware that some people feel the aversion more intensely than others, they cannot see how such a feeling has much influence on the real situation, or alters the social condition of the mass of Negroes.
As a matter of fact, color prejudice in this city is something between these two extreme views: It is not today responsible for all, or perhaps the greater part of the Negro problems, or of the disabilities under which the race labors; on the other hand it is a far more powerful social force than most Philadelphians realize. The practical results of the attitude of most of the inhabitants of Philadelphia toward persons of Negro descent are as follows:
1. As to getting work:
No matter how well trained a Negro may be, or how fitted for work of any kind, he cannot in the ordinary course of competition hope to be much more than a menial servant.
He cannot get clerical or supervisory work to do save in exceptional cases.
He cannot teach save in a few of the remaining Negro schools.
He cannot become a mechanic except for small transient jobs, and cannot join a trades union.
A Negro woman has but three careers open to her in this city: domestic service, sewing, or married life.
2. As to keeping work:
The Negro suffers in competition more severely than white men.
Change in fashion is causing him to be replaced by whites in the better paid positions of domestic service.
Whim and accident will cause him to lose a hard-earned place more quickly than the same things would affect a white man.
Being few in number compared with the whites the crime or carelessness of a few of his race is easily imputed to all, and the reputation of the good, industrious and reliable suffer thereby.
Because Negro workmen may not often work side by side with white workmen, the individual black workman is rated not by his own efficiency, but by the efficiency of a whole group of black fellow workmen which may often be low.
Because of these difficulties which virtually increase competition in his case, he is forced to take lower wages for the same work than white workmen.
3. As to entering new lines of work:
Men are used to seeing Negroes in inferior positions; when therefore, by any chance a Negro gets in a better position, most men immediately conclude that he is not fitted for it, even before he has a chance to show his fitness.
If, therefore, he set up a store, men will not patronize him.
If he is put into public position men will complain.
If he gain a position in the commercial world, men will quietly secure his dismissal or see that a white man succeeds him.
4. As to his expenditure:
The comparative smallness of the patronage of the Negro, and the dislike of other customers makes it usual to increase the charges or difficulties in certain directions in which a Negro must spend money. He must pay more house-rent for worse houses than most white people pay.
He is sometimes liable to insult or reluctant service in some restaurants, hotels and stores, at public resorts, theatres and places of recreation; and at nearly all barbershops.
5. As to his children:
The Negro finds it extremely difficult to rear children in such an atmosphere and not have them either cringing or impudent: if he impresses upon them patience with their lot, they may grow up satisfied with their condition; if he inspires them with ambition to rise, they may grow to despise their own people, hate the whites and become embittered with the world.
His children are discriminated against, often in public schools.
They are advised when seeking employment to become waiters and maids.
They are liable to species of insult and temptation peculiarly trying to children.
6. As to social intercourse:
In all walks of life the Negro is liable to meet some objection to his presence or some discourteous treatment; and the ties of friendship or memory seldom are strong enough to hold across the color line.
If an invitation is issued to the public for any occasion, the Negro can never know whether he would be welcomed or not; if he goes he is liable to have his feelings hurt and get into unpleasant altercation; if he stays away, he is blamed for indifference.
If he meet a lifelong white friend on the street, he is in a dilemma; if he does not greet the friend he is put down as boorish and impolite; if he does greet the friend he is liable to be flatly snubbed.
If by chance he is introduced to a white woman or man, he expects to be ignored on the next meeting, and usually is.
White friends may call on him, but he is scarcely expected to call on them, save for strictly business matters.
If he gain the affections of a white woman and marry her he may invariably expect that slurs will be thrown on her reputation and on his, and that both his and her race will shun their company.
When he dies he cannot be buried beside white corpses.
7. The result:
Anyone of these things happening now and then would not be remarkable or call for especial comment; but when one group of people suffer all these little differences of treatment and discriminations and insults continually, the result is either discouragement, or bitterness, or over-sensitiveness, or recklessness. And a people feeling thus cannot do their best.
Presumably the first impulse of the average Philadelphian would be emphatically to deny any such marked and blighting discrimination as the above against a group of citizens in this metropolis. Every one knows that in the past color prejudice in the city was deep and passionate; living men can remember when a Negro could not sit in a street car or walk many streets in peace. These times have passed, however, and many imagine that active discrimination against the Negro has passed with them. Careful inquiry will convince any such one of his error. To be sure a colored man today can walk the streets of Philadelphia without personal insult; he can go to theatres, parks and some places of amusement without meeting more than stares and discourtesy; he can be accommodated at most hotels and restaurants, although his treatment in some would not be pleasant. All this is a vast advance and augurs much for the future. And yet all that has been said of the remaining discrimination is but too true.
During the investigation of 1896 there was collected a number of actual cases, which may illustrate the discriminations spoken of. So far as possible these have been sifted and only those which seem undoubtedly true have been selected.
1. As to getting work.
It is hardly necessary to dwell upon the situation of the Negro in regard to work in the higher walks of life: the white boy may start in the lawyer's office and work himself into a lucrative practice; he may serve a physician as office boy or enter a hospital in a minor position, and have his talent alone between him and affluence and fame; if he is bright in school, he may make his mark in a university, become a tutor with some time and much inspiration for study, and eventually fill a professor's chair. All these careers are at the very outset closed to the Negro on account of his color; what lawyer would give even a minor case to a Negro assistant? or what university would appoint a promising young Negro as tutor? Thus the young white man starts in life knowing that within some limits and barring accidents, talent and application will tell. The young Negro starts knowing that on all sides his advance is made doubly difficult if not wholly shut off, by his color. Let us come, however, to ordinary occupations which concern more nearly the mass of Negroes. Philadelphia is a great industrial and business centre, with thousands of foremen, managers and clerks—the lieutenants of industry, who direct its progress. They are paid for thinking and for skill to direct, and naturally such positions are coveted because they are well paid, well thought of and carry some authority. To such positions Negro boys and girls may not aspire no matter what their qualifications. Even as teachers and ordinary clerks and stenographers they find almost no openings. Let us note some actual instances:
A young woman who graduated with credit from the Girls' Normal School in 1892, has taught in the kindergarten, acted as substitute, and waited in vain for a permanent position. Once she was allowed to substitute in a school with white teachers; the principal commended her work, but when the permanent appointment was made a white woman got it.
A girl who graduated from a Pennsylvania high school and from a business college sought work in the city as a stenographer and typewriter. A prominent lawyer undertook to find her a position; he went to friends and said, "Here is a girl that does excellent work and is of good character; can you not give her work?" Several immediately answered yes. "But," said the lawyer, "I will be perfectly frank with you and tell you she is colored;" and not in the whole city could he find a man willing to employ her. It happened, however, that the girl was so light in complexion that few not knowing would have suspected her descent. The lawyer therefore gave her temporary work in his own office until she found a position outside the city. "But," said he, "to this day I have not dared to tell my clerks that they worked beside a Negress." Another woman graduated from the high school and the Palmer College of Shorthand, but all over the city has met with nothing but refusal of work.
Several graduates in pharmacy have sought to get their three years required apprenticeship in the city and in only one case did one succeed, although they offered to work for nothing. One young pharmacist came from Massachusetts and for weeks sought in vain for work here at any price; "I wouldn't have a darky to clean out my store, much less to stand behind the counter," answered one druggist. A colored man answered an advertisement for a clerk in the suburbs. "What do you suppose we'd want of a nigger? was the plain answer. A graduate of the University of Pennsylvania in mechanical engineering, well recommended, obtained work in the city, through an advertisement, on account of his excellent record. He worked a few hours and then was discharged because he was found to be colored. He is now a waiter at the University Club, where his white fellow graduates dine. Another young man attended Spring Garden Institute and studied drawing for lithography. He had good references from the institute and elsewhere, but application at the five largest establishments in the city could secure him no work. A telegraph operator has hunted in vain for an opening, and two graduates of the Central High School have sunk to menial labor. "What's the use of an education?" asked one. Mr. A____ has elsewhere been employed as a traveling salesman. He applied for a position here by letter and was told he could have one. When they saw him they had no work for him.
Such cases could be multiplied indefinitely. But that is not necessary; one has but to note that notwithstanding the acknowledged ability of many colored men, the Negro is conspicuously absent from all places of honor, trust or emolument, as well as from those of respectable grade in commerce and industry.
Even in the world of skilled labor the Negro is largely excluded. Many would explain the absence of Negroes from higher vocations by saying that while a few may now and then be found competent, the great mass are not fitted for that sort of work and are destined for some time to form a laboring class. In the matter of the trades, however, there can be raised no serious question of ability; for years the Negroes filled satisfactorily the trades of the city, and today in many parts of the South they are still prominent. And yet in Philadelphia a determined prejudice, aided by public opinion, has succeeded nearly in driving them from the field:
A____, who works at a bookbinding establishment on Front street, has learned to bind books and often does so for his friends. He is not allowed to work at the trade in the shop, however, but must remain a porter at a porter's wages.
B____ is a brushmaker; he has applied at several establishments, but they would not even examine his testimonials. They simply said: "We do not employ colored people."
C____ is a shoemaker; he tried to get work in some of the large department stores. They "had no place" for him.
D____ was a bricklayer, but experienced so much trouble in getting work that he is now a messenger.
E____ is a painter, but has found it impossible to get work because he is colored.
F____ is a telegraph line man, who formerly worked in Richmond, Va. When he applied here he was told that Negroes were not employed.
G____ is an iron puddler, who belonged to a Pittsburgh union. Here he was not recognized as a union man and could not get work except as a stevedore.
H____ was a cooper, but could get no work after repeated trials, and is now a common laborer.
I____ is a candy maker, but has never been able to find employment in the city; he is always told that the white help will not work with him.
J____ is a carpenter; he can only secure odd jobs or work where only Negroes are employed.
K____ was an upholsterer, but could get no work save in the few colored shops, which had workmen; he is now a waiter on a dining car.
L____ was a first-class baker; he applied for work sometime ago near Green street and was told shortly, "We don't work no niggers here."
M____ is a good typesetter; he has not been allowed to join the union and has been refused work at eight different places in the city.
N____ is a printer by trade, but can only find work as a porter.
O____ is a sign painter, but can get but little work.
P____ is a painter and gets considerable work, but never with white workmen.
Q____ is a good stationary engineer, but can find no employment; is at present a waiter in a private family.
R____ was born in Jamaica; he went to England and worked fifteen years in the Sir Edward Green Economizing Works in Wakefield, Yorkshire. During dull times he emigrated to America, bringing excellent references. He applied for a place as mechanic in nearly all the large iron working establishments in the city. A locomotive works assured him that his letters were all right, but that their men would not work with Negroes. At a manufactory of railway switches they told him they had no vacancy and he could call again; he called and finally was frankly told that they could not employ Negroes. He applied twice to a foundry company; they told him: "We have use for only one Negro—a porter," and refusing either further conversation or even to look at his letters showed him out. He then applied for work on a new building; the man told him he could leave an application, then added: "To tell the truth, its no use, for we don't employ Negroes." Thus the man has searched for work two years and has not yet found a permanent position. He can only support his family by odd jobs as a common laborer.
S____ is a stonecutter; he was refused work repeatedly on account of color. At last he got a job during a strike and was found to be so good a workman that his employer refused to dismiss him.
T____ was a boy, who, together with a white boy came to the city to hunt work. The colored boy was very light in complexion, and consequently both were taken in as apprentices at a large locomotive works; they worked there some months, but it was finally disclosed that the boy was colored; he was dismissed and the white boy retained.
These all seem typical and reliable cases. There are, of course, some exceptions to the general rule, but even these seem to confirm the fact that exclusion is a matter of prejudice and thoughtlessness which sometimes yields to determination and good sense. The most notable case in point is that of the Midvale Steel Works, where a large number of Negro workmen are regularly employed as mechanics and work alongside whites. If another foreman should take charge there, or if friction should arise, it would be easy for all this to receive a serious set-back, for ultimate success in such matters demands many experiments and a widespread public sympathy.
There are several cases where strong personal influence has secured colored boys positions; in one cabinet making factory, a porter who had served the firm thirty years, asked to have his son learn the trade and work in the shop. The workmen objected strenuously at first, but the employer was firm and the young man has been at work there now seven years. The S. S. White Dental Company has a colored chemist who has worked up to his place and gives satisfaction. A jeweler allowed his colored fellow-soldier in the late war to learn the gold beaters' trade and work in his shop. A few other cases follow:
A____ was intimately acquainted with a merchant and secured his son a position as a typewriter in the merchant's office.
B____, a stationary engineer, came with his employer from Washington and still works with him.
C____, a plasterer, learned his trade with a firm in Virginia who especially recommended him to the firm where he now works.
D____ is a boy whose mother's friend got him work as cutter in a bag and rope factory; the hands objected but the friend's influence was strong enough to keep him there.
All these exceptions prove the rule, viz., that without strong effort and special influence it is next to impossible for a Negro in Philadelphia to get regular employment in most of the trades, except he work as an independent workman and take small transient jobs.
The chief agency that brings about this state of affairs is public opinion; if they were not intrenched, and strongly intrenched, back of an active prejudice or at least passive acquiescence in this effort to deprive Negroes of a decent livelihood, both trades unions and arbitrary bosses would be powerless to do the harm they now do; where, however, a large section of the public more or less openly applaud the stamina of a man who refuses to work with a "Nigger," the results are inevitable. The object of the trades union is purely business-like; it aims to restrict the labor market, just as the manufacturer aims to raise the price of his goods. Here is a chance to keep out of the market a vast number of workmen, and the unions seize the chance save in cases where they dare not as in the case of the cigar-makers and coal-miners. If they could keep out the foreign workmen in the same way they would; but here public opinion within and without their ranks forbids hostile action. Of course, most unions do not flatly declare their discriminations; a few plainly put the word "white" into their constitutions; most of them do not and will say that they consider each case on its merits. Then they quietly blackball the Negro applicant. Others delay and temporize and put off action until the Negro withdraws; still others discriminate against the Negro in initiation fees and dues, making a Negro pay $100, where the whites pay $25. On the other hand in times of strikes or other disturbances cordial invitations to join are often sent to Negro workmen.
At a time when women are engaged in breadwinning to a larger degree than ever before, the field open to Negro women is unusually narrow. This is, of course, due largely to the more intense prejudices of females on all subjects, and especially to the fact that women who work dislike to be in any way mistaken for menials, and they regard Negro women as menials par excellence.
A____, a dressmaker and seamstress of proven ability, sought work in the large department stores. They all commended her work, but could not employ her on account of her color.
B____ is a typewriter, but has applied at stores and offices in vain for work; "very sorry" they all say, but they can give her no work. She has answered many advertisements without result.
C____ has attended the Girls High School for two years, and has been unable to find any work; she is washing and sewing for a living now.
D____ is a dressmaker and milliner, and does bead work. "Your work is very good," they say to her, "but if we hired you all of our ladies would leave."
E____, a seamstress, was given work from a store once to do at home. It was commended as satisfactory, but they gave her no more.
F____ had two daughters who tried to get work as stenographers, but only got one small job.
G____ is a graduate of the Girls High School, with excellent record; both teachers and influential friends have been seeking work for her but have not been able to find any.
H____ a girl, applied at seven stores for some work not menial; they had none.
I____ started at the Schuylkill, on Market street, and applied at almost every store nearly to the Delaware, for work; she was only offered scrubbing.
2. So much for the difficulty of getting work. In addition to this the Negro is meeting difficulties in keeping the work he has, or at least the better part of it. Outside of all dissatisfaction with Negro work there are whims and fashions that affect his economic position; today general European travel has made the trained English servant popular and consequently well-shaven white men-servants, whether English or not, find it easy to replace Negro butlers and coachmen at higher wages. Again, though a man ordinarily does not dismiss all his white mill-hands because some turn out badly, yet it repeatedly happens that men dismiss all their colored servants and condemn their race because one or two in their employ have proven untrustworthy. Finally, the antipathies of lower classes are so great that it is often impracticable to mix races among the servants. A young colored girl went to work temporarily in Germantown; "I should like so much to keep you permanently, said the mistress, "but all my other servants are white." She was discharged. Usually now advertisements for help state whether white or Negro servants are wanted, and the Negro who applies at the wrong place must not be surprised to have the door slammed in his face.
The difficulties encountered by the Negro on account of sweeping conclusions made about him are manifold; a large building, for instance, has several poorly paid Negro janitors, without facilities for their work or guidance in its prosecution. Finally the building is thoroughly overhauled or rebuilt, elevators and electricity installed and a well-paid set of white uniformed janitors put to work under a responsible salaried chief. Immediately the public concludes that the improvement in the service is due to the change of color. In some cases, of course, the change is due to a widening of the field of choice in selecting servants; for assuredly one cannot expect that one twenty-fifth of the population can furnish as many good workmen or as uniformly good ones as the other twenty-four twenty-fifths. One actual case illustrates this tendency to exclude the Negro without proper consideration from even menial employment:
A great church which has a number of members among the most respectable Negro families in the city has recently erected a large new building for its offices, etc., in the city. As the building was nearing completion a colored clergyman of that sect was surprised to hear that no Negroes were to be employed in the building; he thought that a peculiar stand for a Christian church to take and so he went to the manager of the building; the manager blandly assured him that the rumor was true; and that there was not the shadow of a chance for a Negro to get employment under him, except one woman to clean the water closet. The reason for this, he said, was that the janitors and help were all to be uniformed and the whites would not wear uniforms with Negroes. The clergyman thereupon went to a prominent member of the church who was serving on the building committee; he denied that the committee had made any such decision, but sent him to another member of the committee; this member said the same thing and referred to the third, a blunt business man. The business man said: "That building is called the _____ Church House, but it is more than that, it is a business enterprise, to be run on business principles. We hired a man to run it so as to get the most out of it. We found such a man in the present manager, and put all power in his hands." He acknowledged then, that while the committee had made no decision, the question of hiring Negroes had come up and it was left solely to the manager's decision. The manager thought most Negroes were dishonest and untrustworthy, etc. And thus the Christian church joins hands with trades unions and a large public opinion to force Negroes into idleness and crime.
Sometimes Negroes, by special influence, as has been pointed out before, secure good positions; then there are other cases where colored men have by sheer merit and pluck secured positions. In all these cases, however, they are liable to lose their places through no fault of their own and primarily on account of their Negro blood. It may be that at first their Negro descent is not known, or other causes may operate; in all cases the Negro's tenure of office is insecure:
A____ worked in a large tailor's establishment on Third Street for three weeks. His work was acceptable. Then it became known he was colored, and he was discharged as the other tailors refused to work with him.
B____, a pressman, was employed on Twelfth street, but a week later was discharged when they knew he was colored; he then worked as a door-boy for five years, and finally got another job in a Jewish shop as pressman.
C_____ was nine years a painter in Stewart's Furniture Factory, until Stewart failed four years ago. Has applied repeatedly, but could get no work on account of color. He now works as a night watchman on the streets for the city.
D____ was a stationary engineer; his employer died, and he has never been able to find another.
E____ was light in complexion and got a job as driver; he "kept his cap on," but when they found he was colored they discharged him.
F____ was one of many colored laborers at an ink factory. The heads of the firm died, and now whenever a Negro leaves a white man is put in his place.
G____ worked for a long time as a typesetter on Taggart's Times; when the paper changed hands he was discharged and has never been able to get another job; he is now a janitor.
H____ was a brickmason, but his employers finally refused to let him lay brick longer as his fellow workmen were all white; he is now a waiter.
L____ learned the trade of range-setting from his employer; the employer then refused him work and he went into business for himself; he has taught four apprentices.
M____ is a woman whose husband was janitor for a firm twenty years; when they moved to the new Betz Building they discharged him as all the janitors were white; after his death they could find no work for his boy.
N____ was a porter in a book store and rose to be head postmaster of a sub-station in Philadelphia which handles $250,000, it is said, a year; he was also at the head of a very efficient Bureau of Information in a large department store. Recently attempts have been made to displace him, for no specified fault but because "we want his place for another [white] man."
O____ is a well-known instance; an observer in 1898 wrote: "If any Philadelphian who is anxious to study the matter with his own eyes, will walk along South Eleventh street, from Chestnut down, and will note the most tasteful and enterprising stationery and periodical store along the way, it will pay him to enter it. On entering he will, according to his way of thinking, be pleased or grieved to see that it is conducted by Negroes. If the proprietor happens to be in he may know that this keen-looking pleasant young man was once assistant business manager of a large white religious newspaper in the city. A change of management led to his dismissal. No fault was found, his work was commended, but a white man was put into his place, and profuse apologies made.
"The clerk behind the counter is his sister; a neat lady-like woman, educated, and trained in stenography and typewriting. She could not find in the city of Philadelphia, any one who had the slightest use for such a colored woman.
"The result of this situation is this little store, which is remarkably successful. The proprietor owns the stock, the store and the building. This is one tale of its sort with a pleasant ending. Other tales are far less pleasing."
Much discouragement results from the persistent refusal to promote colored employes. The humblest white employe knows that the better he does his work the more chance there is for him to rise in the business. The black employe knows that the better he does his work the longer he may do it; he cannot often hope for promotion. This makes much of the criticism aimed against Negroes, because some of them want to refuse menial labor, lose something of its point. If the better class of Negro boys could look on such labor as a stepping-stone to something higher it would be different; if they must view it as a lifework we cannot wonder at their hesitation:
A____ has been a porter at a great locomotive works for ten years. He is a carpenter by trade and has picked up considerable knowledge of machinery; he was formerly allowed to work a little as a machinist; now that is stopped and he has never been promoted and probably never will be.
B____ has worked in a shop eight years and never been promoted from his porter's position, although he is a capable man.
C____ is a porter; he has been in a hardware store six years; he is bright and has repeatedly been promised advancement but has never got it.
D____ was for seven years in a gang of porters in a department store, and part of the time acted as foreman. He had a white boy under him who disliked him; eventually the boy was promoted but he remained a porter. Finally the boy became his boss and discharged him.
E____, a woman, worked long in a family of lawyers; a white lad went into their office as office-boy and came to be a member of the firm; she had a smart, ambitious son and asked for any sort of office work for him—anything in which he could hope for promotion, "Why don't you make him a waiter?" they asked.
F____ has for twenty-one years driven for a lumber firm; speaks German and is very useful to them, but they have never promoted him.
G____ was a porter; he begged for a chance to work up, offering to do clerical work for nothing, but was refused. White companions were repeatedly promoted over his head. He has been a porter seventeen years.
H____ was a servant in the family of one of the members of a large dry goods firm; he was so capable that the employer sent him down to the store for a place which the manager very reluctantly gave him. He rose to be registering clerk in the delivering department where he worked fourteen years and his work was commended. Recently without notice or complaint he was changed to run an elevator at the same wages. He thinks that pressure from other members of the firm made him lose his work.
Once in awhile there are exceptions to this rule. The Pennsylvania Railroad has promoted one bright and persistent porter to a clerkship, which he has held for years. He had, however, spent his life hunting chances for promotion and had been told "You have ability enough, George, if you were not colored____."
There is much discrimination against Negroes in wages. The Negroes have fewer chances for work, have been used to low wages, and consequently the first thought that occurs to the average employer is to give a Negro less than he would offer a white man for the same work. This is not universal, but it is widespread. In domestic service of the ordinary sort there is no difference, because the wages are a matter of custom. When it comes to waiters, butlers and coachmen, however, there is considerable difference made; while white coachmen receive from $50-$75, the Negroes do not get usually more than $30-$60. Negro hotel waiters get from $18-$20, while whites receive $20-$30. Naturally when a hotel manager replaces $20 men with $30 men he may expect, outside any question of color, better service.
In ordinary work the competition forces down the wages outside mere race reasons, though the Negro is the greatest sufferer; this is especially the case in laundry work. "I've counted as high as seven dozen pieces in that washing," said a weary black woman, "and she pays me only $1.25 a week for it." Persons who throw away $5 a week on gew-gaws will often haggle over twenty-five cents with a washerwoman. There are, however, notable exceptions to these cases, where good wages are paid to persons who have long worked for the same family.
Very often if a Negro is given a chance to work at a trade his wages are cut down for the privilege. This gives the workingman's prejudice additional intensity:
A____ got a job formerly held by a white porter; the wages were reduced from $12 to $8.
B____ worked for a firm as china packer, and they said he was the best packer they had. He, however received but $6 a week while the white packers received $12.
C____ has been porter and assistant shipping clerk in an Arch street store for five years. He receives $6 a week and whites get $8 for the same work.
D____ is a stationary engineer; he learned his trade with this firm and has been with them ten years. Formerly he received $9 a week, now $10.50; whites get $12 for the same work.
E____ is a stationary engineer and has been in his place three years. He receives but $9 a week.
F____ works with several other Negroes with a firm of electrical engineers. The white laborers receive $2 a day: "We've got to be glad to get $1.75."
G____ was a carpenter, but could get neither sufficient work nor satisfactory wages. For a job on which he received $15 week, his white successor got $18.
H____, a cementer, receives $1.75 a day; white workers get $2-$3. He has been promised more next fall.
I____, a plasterer, has worked for one boss twenty-seven years. Regular plasterers get $4 or more a day; he does the same work, but cannot join the union and is paid as a laborer—$2.50 a day.
J____ works as a porter in a department store; is married, and receives $8 a week. "They pay the same to white unmarried shop-girls, who stand a chance to be promoted."
3. If a Negro enters some line of employment in which people are not used to seeing him, he suffers from an assumption that he is unfit for the work. It is reported that a Chestnut street firm once took a Negro shop girl, but the protests of their customers were such that they had to dismiss her. A great many merchants hesitate to advance Negroes lest they should lose custom. Negro merchants who have attempted to start business in the city at first encounter much difficulty from this prejudice:
A____ has a bakery; white people sometimes enter and finding Negroes in charge abruptly leave.
B____ is a baker and had a shop some years on Vine street, but prejudice against him barred him from gaining much custom.
C____ is a successful expressman with a large business; he is sometimes told by persons that they prefer to patronize white expressmen.
D____ is a woman and keeps a hair store on South street. Customers sometimes enter, look at her, and leave.
E____ is a music teacher on Lombard street. Several white people have entered and seeing him, said: "Oh! I thought you were white—excuse me!" or "I'll call again!"
Even among the colored people themselves some prejudice of this sort is met. Once a Negro physician could not get the patronage of Negroes because they were not used to the innovation. Now they have a large part of the Negro patronage. The Negro merchant, however, still lacks the full confidence of his own people though this is slowly growing. It is one of the paradoxes of this question to see a people so discriminated against sometimes add to their misfortunes by discriminating against themselves. They themselves, however, are beginning to recognize this.
4. The chief discrimination against Negroes in expenditure is in the matter of rents. There can be no reasonable doubt but that Negroes pay excessive rents:
A____ paid $13 a month where the preceding white family had paid $10.
B____ paid $16; "heard that former white family paid $12."
C____ paid $25; "heard that former white family paid $20.
D____ paid $12; neighbors say that former white family paid $9.
E____ paid $25, instead of $18.
F____ paid $12, instead of $10.
G____ the Negro inhabitants of the whole street pay $12 to $14 and the whites $9 and $10. The houses are all alike.
H____, whites on this street pay $15-$18; Negroes pay $18-$21.
Not only is there this pretty general discrimination in rent but agents and owners will not usually repair the houses of the blacks willingly or improve them. In addition to this agents and owners in many sections utterly refuse to rent to Negroes on any terms. Both these sorts of discrimination are easily defended from a merely business point of view; public opinion in the city is such as the presence of even a respectable colored family in a block will affect its value for renting or sale; increased rent to Negroes is therefore a sort of insurance, and refusal to rent a device for money-getting. The indefensible cruelty lies with those classes who refuse to recognize the right of respectable Negro citizens to respectable houses. Real estate agents also increase prejudice by refusing to discriminate between different classes of Negroes. A quiet Negro family moves into a street. The agent finds no great objection, and allows the next empty house to go to any Negro who applies. This family may disgrace and scandalize the neighborhood and make it harder for decent families to find homes.
In the last fifteen years, however, public opinion has so greatly changed in this matter that we may expect much in the future. Today the Negro population is more widely scattered over the city than ever before. At the same time it remains true that as a rule they must occupy the worst houses of the districts where they live. The advance made has been a battle for the better class of Negroes. As ex-Minister to Hayti moved to the northwestern part of the city and his white neighbors insulted him, barricaded their steps against him, and tried in every way to make him move; today he is honored and respected in the whole neighborhood. Many such cases have occurred; in others the result was different. An estimable young Negro, just married, moved with his bride into a little street. The neighborhood rose in arms and be-seiged the tenant and the landlord so relentlessly that the landlord leased the house and compelled the young couple to move within a month. One of the bishops of the A.M.E. Church recently moved into the newly purchased Episcopal residence on Belmont avenue, and his neighbors have barricaded their porches against his view.
5. The chief discrimination against Negro children is in the matter of educational facilities. Prejudice here works to compel colored children to attend certain schools where most Negro children go, or to keep them out of private and higher schools.
A ____ tried to get her little girl into the kindergarten nearest to her, at Fifteenth and Locust. The teachers wanted her to send it down across Broad to the kindergarten chiefly attended by colored children and much further away from its home. This journey was dangerous for the child, but the teachers refused to receive it for six months, until the authorities were appealed to.
In transfers from schools Negroes have difficulty in getting accommodations; only within comparatively few years have Negroes been allowed to complete the course at the High and Normal Schools without difficulty. Earlier than that the University of Pennsylvania refused to let Negroes sit in the Auditorium and listen to lectures, much less to be students. Within two or three years a Negro student had to fight his way through a city dental school with his fists, and was treated with every indignity. Several times Negroes have been asked to leave schools of stenography, etc., on account of their fellow students. In 1893 a colored woman applied at Temple College, a church institution, for admission and was refused and advised to go elsewhere. The college then offered scholarships to churches, but would not admit applicants from colored churches. Two years later the same woman applied again. The faculty declared that they did not object, but that the students would; she persisted and was finally admitted with evident reluctance.
It goes without saying that most private schools, music schools, etc., will not admit Negroes and in some cases have insulted applicants.
Such is the tangible form of Negro prejudice in Philadelphia. Possibly some of the particular cases cited can be proven to have had extenuating circumstances unknown to the investigator; at the same time many not cited would be just as much in point. At any rate no one who has with any diligence studied the situation of the Negro in the city can long doubt but that his opportunities are limited and his ambition circumscribed about as has been shown. There are of course numerous exceptions, but the mass of the Negroes have been so often refused openings and discouraged in efforts to better their condition that many of them say, as one said, "I never apply—I know it is useless." Beside these tangible and measurable forms there are deeper and less easily described results of the attitude of the white population toward the Negroes: a certain manifestation of a real or assumed aversion, a spirit of ridicule or patronage, a vindictive hatred in some, absolute indifference in others; all this of course does not make much difference to the mass of the race, but it deeply wounds the better classes, the very classes who are attaining to that to which we wish the mass to attain. Notwithstanding all this, most Negroes would patiently await the effect of time and common sense on such prejudice did it not today touch them in matters of life and death, threaten their homes, their food, their children, their hopes. And the result of this is bound to be increased crime, inefficiency and bitterness.
It would, of course, be idle to assert that most of the Negro crime was caused by prejudice; the violent economic and social changes which the last fifty years have brought to the American Negro, the sad social history that preceded these changes, have all contributed to unsettle morals and pervert talents. Nevertheless it is certain that Negro prejudice in cities like Philadelphia has been a vast factor in aiding and abetting all other causes which impel a half-developed race to recklessness and excess. Certainly a great amount of crime can be without doubt traced to the discrimination against Negro boys and girls in the matter of employment. Or to put it differently, Negro prejudice costs the city something.
The connection of crime and prejudice is, on the other hand, neither simple nor direct. The boy who is refused promotion in his job does not go out and snatch somebody's pocketbook. Conversely the loafers at Twelfth and Kater streets, and the thugs in the county prison are not usually graduates of high schools who have been refused work. The connections are much more subtle and dangerous; it is the atmosphere of rebellion and discontent that unrewarded merit and reasonable but unsatisfied ambition make. The social environment of excuse, listless despair, careless indulgence and lack of inspiration to work is the growing force that turns black boys and girls into gamblers, prostitutes and rascals. And this social environment has been built up slowly out of the disappointments of deserving men and the sloth of the unawakened. How long can a city say to a part of its citizens, "It is useless to work; it is fruitless to deserve well of men; education will gain you nothing but disappointment and humiliation?" How long can a city teach its black children that the road to success is to have a white face? How long can a city do this and escape the inevitable penalty?
For thirty years and more Philadelphia has said to its black children: "Honesty, efficiency and talent have little to do with your success; if you work hard, spend little and are good you may earn your bread and butter at those sorts of work which we frankly confess we despise; if you are dishonest and lazy, the State will furnish your bread free." Thus the class of Negroes which the prejudices of the city have distinctly encouraged is that of the criminal, the lazy and the shiftless; for them the city teems with institutions and charities; for them there is succor and sympathy; for them Philadelphians are thinking and planning; but for the educated and industrious young colored man who wants work and not platitudes, wages and not alms, just rewards and not sermons—for such colored men Philadelphia apparently has no use.
What then do such men do? What becomes of the graduates of the many schools of the city? The answer is simple: Most of those who amount to anything leave the city, the others take what they can get for a livelihood. Let us for a moment glance at the statistics of three colored schools:
1. The O. V, Catto Primary School.
2. The Robert Vaux Grammar School.
3. The Institute for Colored Youth.
There attended the Catto school, 1867–97, 5915 pupils. Of these there were promoted from the full course, 653. 129 of the latter are known to be in positions of higher grade; or taking out 93 who are still in school, there remain 36 as follows: 18 teachers, 10 clerks, 2 physicians, 2 engravers, 2 printers, 1 lawyer and 1 mechanic.
The other 524 are for the most part in service, laborers and housewives. Of the 36 more successful ones fully half are at work outside of the city.
Of the Vaux school there were, 1877–89, 76 graduates. Of these there are 16 unaccounted for; the rest are:

From one-half to two-thirds of these have been compelled to leave the city in order to find work; one, the artist, Tanner, whom France recently honored, could not in his native land much less in his native city find room for his talents. He taught school in Georgia in order to earn money enough to go abroad.142
The Institute of Colored Youth has had 340 graduates, 1856–97; 57 of these are dead. Of the 283 remaining 91 are accounted for. The rest are:

Here, again, nearly three-fourths of the graduates who have amounted to anything have had to leave the city for work. The civil engineer, for instance, tried in vain to get work here and finally had to go to New Jersey to teach.
There have been 9, possibly 11, colored graduates of the Central High School. These are engaged as follows:

It is high time that the best conscience of Philadelphia awakened to her duty; her Negro citizens are here to remain; they can be made good citizens or burdens to the community; if we want them to be sources of wealth and power not of poverty and weakness then they must be given employment according to their ability and encouraged to train that ability and increase their talents by the hope of reasonable reward. To educate boys and girls and then refuse them work is to train loafers and rogues. From another point of view it could be argued with much cogency that the cause of economic stress, and consequently of crime, was the recent inconsiderate rush of Negroes into cities; and that the unpleasant results of this migration, while deplorable, will nevertheless serve to check the movement of Negroes to cities and keep them in the country where their chance for economic development is widest. This argument loses much of its point from the fact that it is the better class of educated Philadelphia-born Negroes who have the most difficulty in obtaining employment. The new immigrant fresh from the South is much more apt to obtain work suitable for him than the black boy born here and trained in efficiency. Nevertheless it is undoubtedly true that the recent migration has both directly and indirectly increased crime and competition. How is this movement to be checked? Much can be done by correcting misrepresentations as to the opportunities of city life made by designing employment bureaus and thoughtless persons; a more strict surveillance of criminals might prevent the influx of undesirable elements. Such efforts, however, would not touch the main stream of immigration. Back of that stream is the world-wide desire in the world, to escape the choking narrowness of the plantation, and the lawless repression of the village, in the South. It is a search for better opportunities of living, and as such it must be discouraged and repressed with great care and delicacy, if at all. The real movement of reform is the raising of economic standards and increase of economic opportunity in the South. Mere land and climate without law and capital and skill, will not develop a country. When Negroes in the South have a larger opportunity to work, accumulate property, be protected in life and limb, and encourage pride and self-respect in their children, there will be a diminution in the stream of immigrants to Northern cities. At the same time if those cities practice industrial exclusion against these immigrants to such an extent that they are forced to become paupers, loafers and criminals, they can scarcely complain of conditions in the South. Northern cities should not, of course, seek to encourage and invite a poor quality of labor, with low standards of life and morals. The standards of wages and respectability should be kept up; but when a man reaches those standards in skill, efficiency and decency no question of color should, in a civilized community, debar him from an equal chance with his peers in earning a living.
Benevolence.—In the attitude of Philadelphia toward the Negro may be traced the same contradictions so often apparent in social phenomena; prejudice and apparent dislike conjoined with widespread and deep sympathy; there can, for instance, be no doubt of the sincerity of the efforts put forth by Philadelphians to help the Negroes. Much of it is unsystematic and ill-directed and yet it has behind it a broad charity and a desire to relieve suffering and distress. The same Philadelphian who would not let a Negro work in his store or mill, will contribute handsomely to relieve Negroes in poverty and distress. There are in the city the following charities exclusively designed for Negroes:
Home for Aged and Infirm Colored Persons, Belmont and Girard avenues.
W. E. Burghardt DuBois, The Philadelphia Negro: A Social Study (Philadelphia, 1899), pp. 322–55. Footnotes have been eliminated from the text by the editors.