This book is for students who are considering entering undergraduate or graduate school programs at a United States college or university. Some of the information in here might be useful for students entering specialty programs such as technical schools, law schools, executive programs, or medical schools. However, it does not directly discuss these programs.
This book is for two specific audiences: first-generation students and international students. If none of your close family members/caregivers/mentors went to college, or if you're an international student whose parents didn't go to college in the United States, you will need to do a lot of fact-finding research on your own. This book can help point you in the right direction.
There is some information that is easy to learn while you're applying for school or after you've entered, such as how to use your campus library or how to join student clubs. However, there is other information that I will call "legacy knowledge" that some students at your same stage of life already know because they have higher education mentors such as parents, relatives, or associates. Imagine it like this maze below: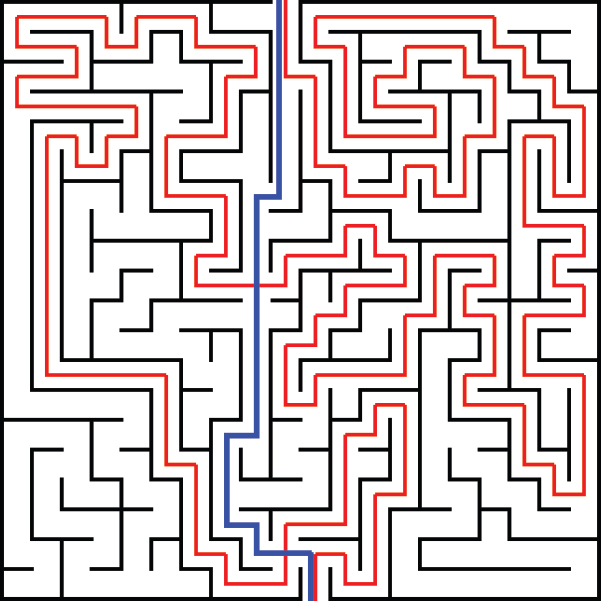 The red line represents first-generation "non-legacy" students, and the blue line represents "legacy" students. Both the red and blue lines begin and end at the same point. However, because of an early turn the red "non-legacy" student makes, their arrival at the exit point takes considerably more effort and time. It seems that the blue "legacy" student, by comparison, knows not to turn at that junction and to keep moving forward instead. The student traveling the blue line might have known the solution to the maze in advance and, therefore, wasn't intimidated by the maze's confusing turns. Perhaps the red student's longer trip through the maze was beautiful, interesting, and worthwhile in the end. However, if that blue path exists and if your goal is to exit this maze, which path would you rather take?
Hopefully, you too will learn all of the things "legacy" students know before you graduate. However, the time it takes on your path to reach the same destination as students with legacy knowledge might be frustratingly longer. As a first-generation undergraduate and graduate school student myself, I hope that this book helps uncover some of this legacy knowledge for you. I hope your journey through the maze has fewer turns and dead ends than my own did.
Let me explain a little about how I tried to write this book for you. I wanted this book to be simple to read. You might need a dictionary sometimes, but I tried to write things as clearly as possible. I also tried to avoid idioms, slang, and cultural references with which you might not be familiar. For English language learners, I hope those of you with a 475 or higher on the paper-based TOEFL test or with a 5.0 on the IELTS test will be able to read this without too many problems.
I also wanted this book to be accessible for visually impaired students using screen readers. Therefore, I left the formatting very simple. For example, instead of using text boxes and charts, I used tables and bulleted lists. Furthermore, I also avoided using many colors in consideration of colorblind users. I have strong protanopia, meaning I can only see about ten thousand shades of color while most other human eyes can see more than ten million. The result of these efforts is a boring-looking textbook. However, I hope that it's one of the easiest to read for people of all abilities.
This book is also shorter than many other college success texts. I didn't want to intimidate you with hundreds of pages of things you need to be or do in order to be a good college student. I wanted you to finish the whole book easily and to feel that satisfaction of accomplishment.
Unlike college success texts in retail stores or online marketplaces, this one is free and will remain so forever. I was very excited to work with North Broad Press on this book because this kind of information should be free and accessible.
Finally, I was also excited to write a Creative Commons-licensed textbook because they often include a "remix" element to them. I worked all through college as a DJ on the radio, in dance clubs, and at parties—I love a good remix. In a Creative Commons project, writers can "remix" the writing of others if we attribute them. Like a musical remix, when I remix something in this book, I take my favorite parts of someone else's work and add my own words to it, arrange it in my own way, and edit things to fit my purpose. For any other authors considering using my work in their remixes, please note that I did not copy and paste any of these other works directly into mine; I added my own grammatical changes, words, and stories. In this book, I remixed the following: